Excuse me, do you have a moment to talk about our savior Customer Service?
Customer service definition
Business owners and customer service managers like to ask potential employees about what customer service means to them. The truth is, different people will give different answers to that question.
For some people, customer service simply means answering questions, while others will say it covers everything from greeting new website visitors with personalized messages to monitoring whether users are employing all the features to their best potential. In this guide, we've tried to cover everything about online customer service, so let's get right to the point.
Customer service is the term of many meanings (and synonyms, for that matter), but they can all be summarized in two words — helping customers.
So, what is customer service?
Customer service is the help you provide to your customers regarding your product. It can mean something as simple as assistance with signing up or something like collecting feature requests and adding them to your roadmap.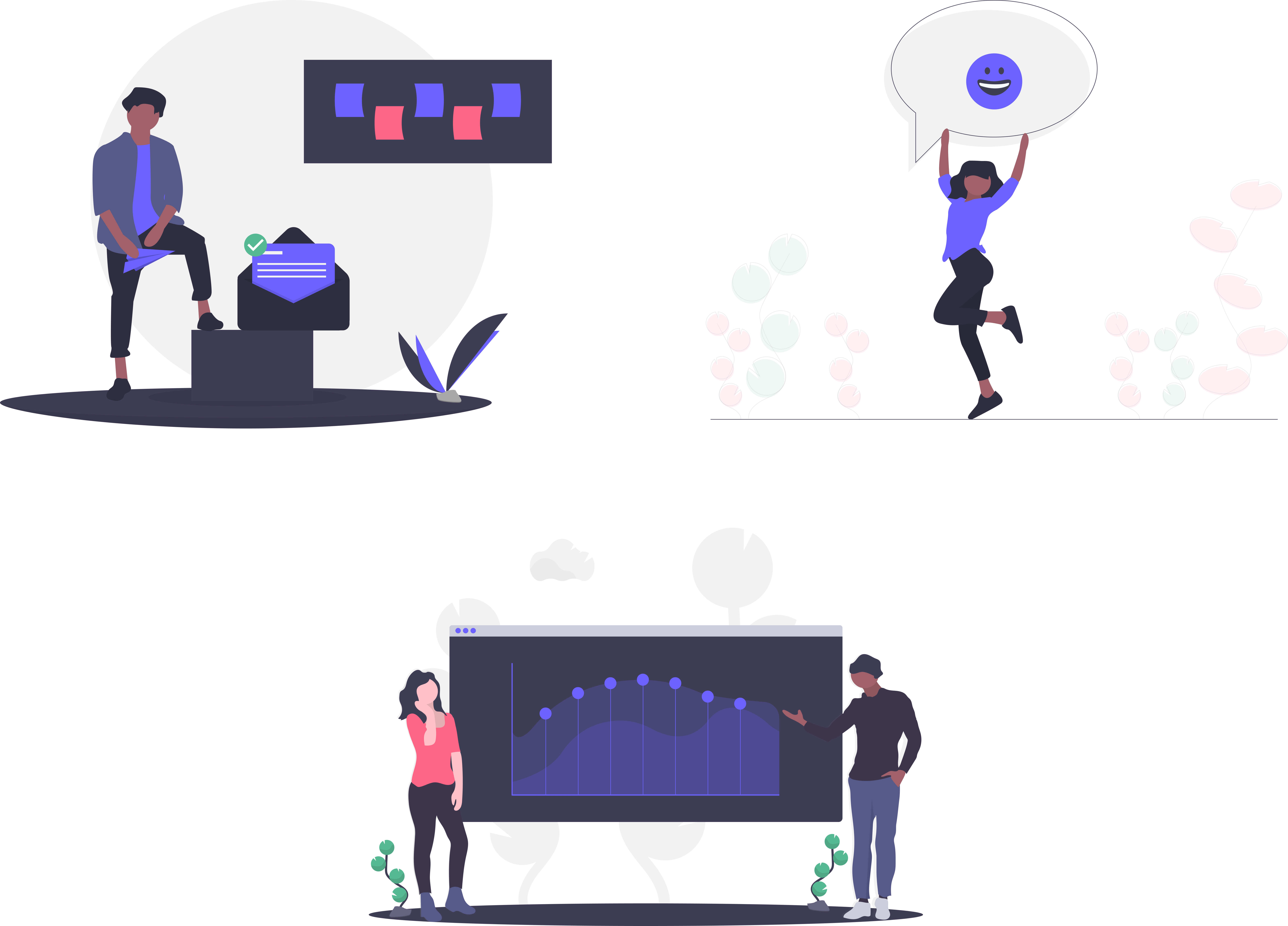 In the most basic terms, your users can email you about some issue they have with your product and you answer them explaining how this issue can be fixed. That's customer service right there. But it's just the general concept as customer service will probably also include:
Onboarding new customers;
Maintaining your knowledge base portal;
Dealing with frustrated and churned users via various channels like emails, chats, social media;
Escalating technical issues and feature requests to the rest of the team;
Engaging customers proactively, etc.
---
Quick note!
Customer service has many other synonyms. There's this big confusion around customer service, support, success, or care (have I forgotten anything here?). For the sake of clarity (and my inner peace), let's look into these terms:
Customer support is a range of customer services to assist customers in making cost-effective and correct use of a product. It includes assistance in planning, installation, training, troubleshooting, maintenance, upgrading, and disposal of a product.
Customer success is a long-term, scientifically engineered, and professionally directed strategy for maximizing customer and company sustainable proven value.
Customer care means how well customers are taken care of while they interact with the brand.
I know, they all sound quite similar to me, too.
Basically, all these terms are parts of a bigger picture of overall customer experience. And the role of customer service here is to make that experience unforgettable.
Why is customer service important?
The next big question is, why is customer service important? Why should I as a business owner invest in it and what do I get from it?
Well, the answer is EVERYTHING.
You need to understand that customer service is the only thing that connects you with your customers — those real people who use your products or services and yeah, need your help from time to time. And if you give them the best customer experience, you will also be the first to benefit from it:
1. Customer service is a great source of valuable customer feedback
Your active users are the best source of information about why your business is great and what it's still missing. And customer service is the only way to gain access to that information. Support representatives are actually the only people that really talk to your users, know their goals and frustrations, and can pass this information to the rest of the team.
You can never underrate the insights you gain from your customers. A true customer service oriented company values every thought and idea and reacts upon them as quickly as humanly possible.
Collect every request you get from customers into a spreadsheet.
Mark them with the corresponding tag within your customer service software.
Calculate how many times each feature has been asked about and differentiate the most popular ones.
Don't forget about complaints, too. Collect all the common pitfalls to a separate doc and inform the responsible department about what needs to be fixed.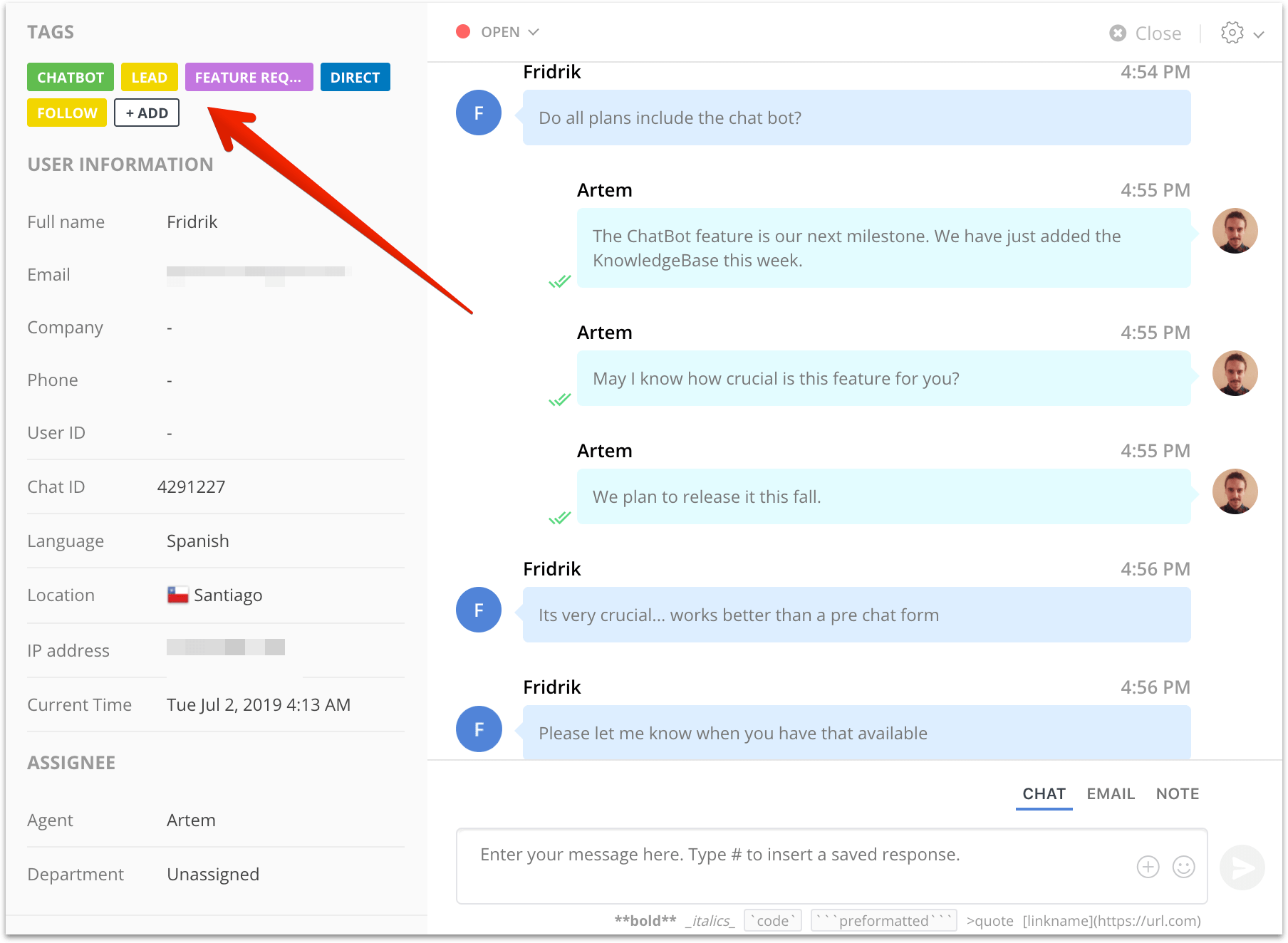 2. Customer service helps you increase your customer retention
In the environment of fierce competition, exceptional customer service is something that will allow you to stand out. And even if users had some frustrations or setbacks using your product, they'd be willing to forgive you if your customer service team addresses them fast and resolves effectively.
Basically, it means that if you manage to satisfy your customers' needs, they will have no reason to leave your company. A satisfied customer is a retained customer, you can be sure of that. At the end of the day, good customer service is something that can save your reputation when nothing else can.
3. Customers are ready to pay more because of good customer service
HubSpot reports that 50% of customers are willing to buy more from a company if they had a positive customer service experience with it, while 86% would pay up to 25% more in order to get a better customer service experience.
Yes, customer support representatives can directly affect the number of upsells and cross-sells as they're in the best position to pitch stuff to those who need it.
4. Customer service increases brand loyalty, which results in word-of-mouth endorsements and referrals
If you meet your customers' expectations, give them what they need on time and make them happy with the services you provide, you will earn something very valuable — people's loyalty.
The way to do so is through customer service, too.
Customers not only expect the customer service associate to resolve their current issue, but they also have a level of blind trust in them. They're receptive to employee recommendations or feelings toward a product. And this becomes even more powerful if the employee is able to solve their initial request.

MultiChannelMerchant
Having loyal customers is often overlooked by big companies, but at the end of the day, it's one of the most powerful marketing channels for you. Loyal customers are those who will tell their friends about your business, mention you on their social media profiles and endorse you every time they have a chance to.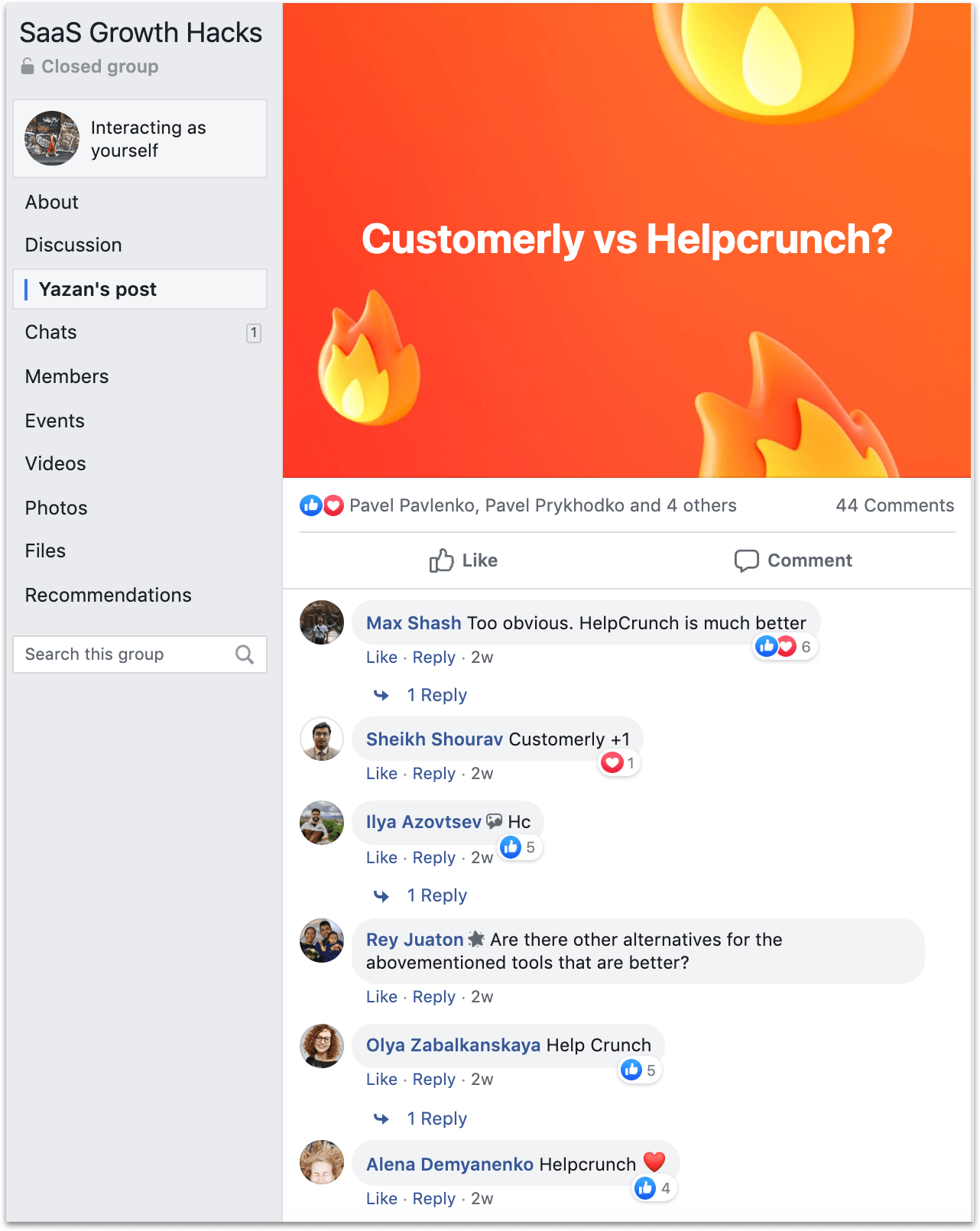 You can also offer your most loyal customers something extra to encourage all the recommendations – like affiliate campaigns, referral programs, or even special discounts.
Types of customer service
There are only two most common classifications of customer service — approach-based and channel-centric.
Approach-based classification of customer service
There are only two ways to do customer service — reactive and proactive.
Reactive customer service is the most basic way to do things. It means your support team reacts upon direct requests from users and visitors, provide them with all the necessary information and help while solving reported issues.
So, whenever someone emails you about a bug or asks how they can get a refund, you help them promptly and efficiently. That's how reactive customer service works in basic terms.
But isn't it just a regular type of customer service, you might ask?
Well, there's another way to help people — more complicated, more time-consuming, but also way more rewarding.
Proactive customer service is the type of support when you initialize a dialogue with customers on your own before they ask for help. It requires more time and dedication as you need to do a hell of a lot of research before you'll be able to be proactive:
Analyze all the previous conversations with customers and their feedback.
Determine the most common pitfalls customers fall to when using your product or service.
Create a series of proactive messages that will be sent to customers based on their behavior.
In practical terms, you can send your users automated emails or chat messages whenever they had trouble finishing installation, missed on some important feature. Or you can call and inform them if you're expecting some technical troubles.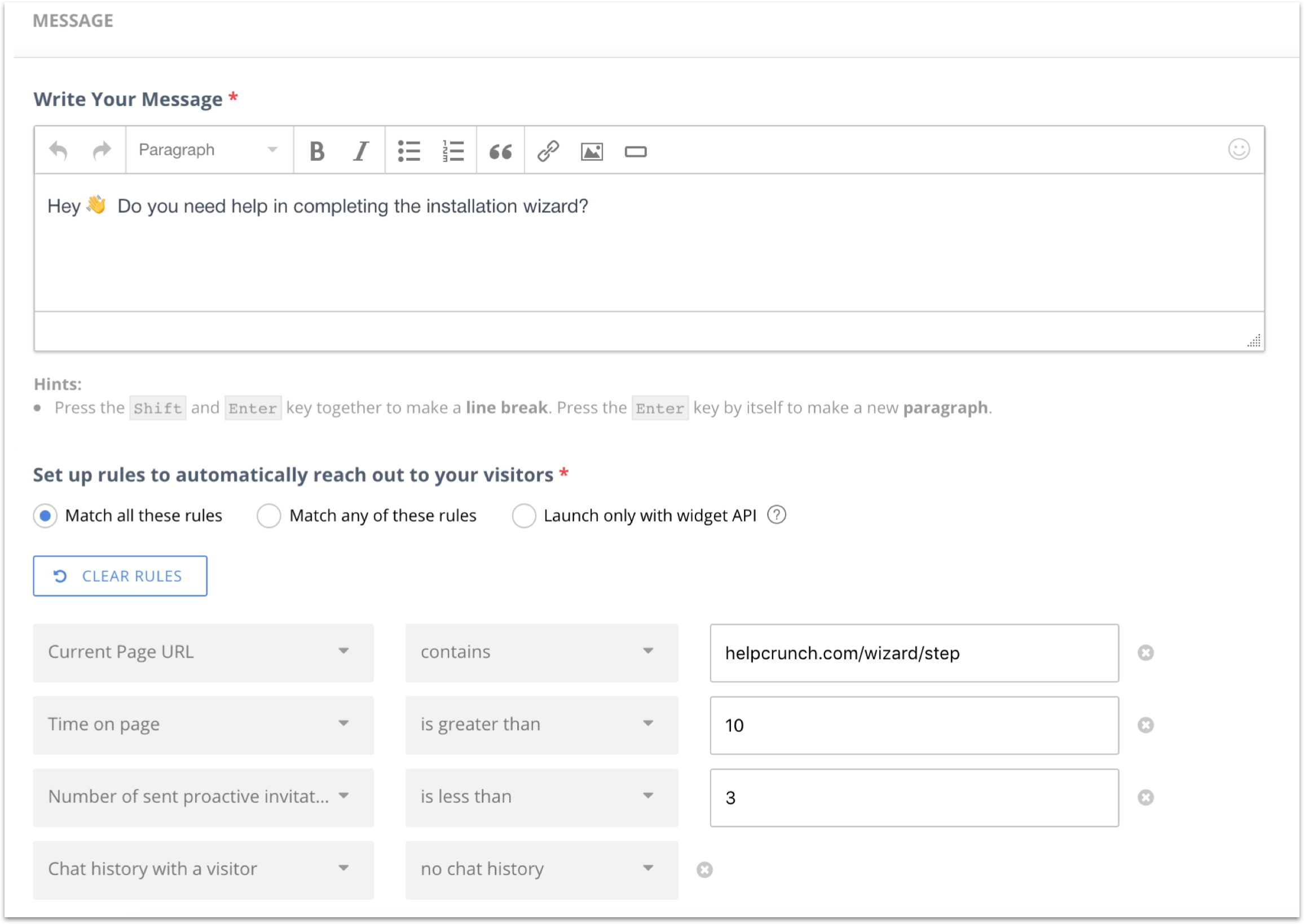 The key moment of proactive customer service is to anticipate your customers questions and issues and resolve them beforehand.
Channel-based types of customer service
Customer service can also be categorized more elaborately based on the channels you can provide it through. Basically, there are 6 different customer service channels and 6 corresponding types of it.
In reality, you'll end up having almost all of them at your company, because it's always people's call how they prefer to contact you. And your goal is to be everywhere for them.
1. Live chat customer service
You can install live chat software to your business website and your customer will have the fastest way to get in touch with you. It looks like a small button at the bottom of the screen. When a website visitor clicks it, they'll get a messenger window where they communicate with your team in real time.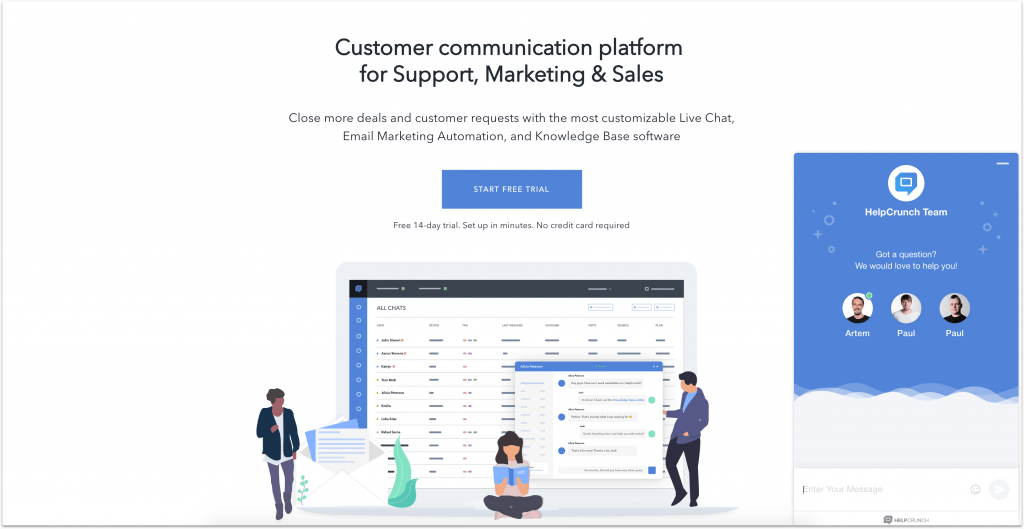 When the time comes and you'll be choosing a customer service channel for your business, just remember that live chat is generally considered the most convenient one. In fact, according to J.D. Power, live chat is preferred by 42% of customers. Compare that to just 23% for email, and 16% for social media or forums.
2. Email customer service
Basically, whenever you visit any 'Contact Us' page at any random website, it'll either contain a contact form or an email address you can write to (e.g. info@website.com or contact@domain.org).
Emails have been an extremely popular way of communication for years. 54% of customers still used it for customer service last year, says Forrester. It only makes sense since we do use emails in our everyday life and it's easier to contact businesses using the familiar channel.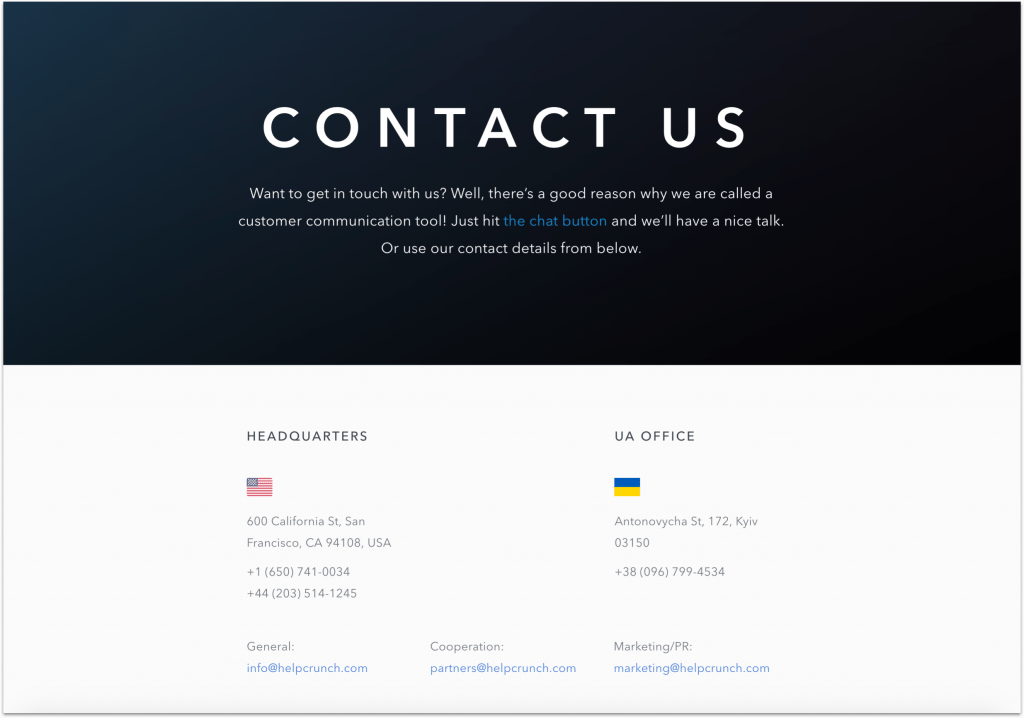 3. Phone customer service
Phone customer service, also known as call centers, means that a customer can call a company's representative via phone and have a live conversation with them.
A few years ago, call centers were on the verge of popularity. You need immediate help – you call a company to get it. At least that's what you'd expect. In reality, you'd probably end up waiting on hold for 15 minutes and being irritated as hell.
I guess that's one of the reasons call center volumes have dropped by 17% since 2015. From a business perspective, phone customer service is way more expensive, resource-consuming, and difficult to scale. You should only do them if you're sure you can satisfy your customers' demands quickly and effectively.
4. Self-help customer service
Another must-have customer service channel is a so-called knowledge base. Basically, they are blog-like portals with answers to all the common questions and issues your customers usually have. Self-help customer service also includes communities like forums where users can ask other people their questions and get the answers.
Your customer service team answers all the same questions several times a day. So, it only makes sense to create a quick guide with all the information people need.
Users love help centers, too. If they can handle their issues without any outside help, they'll gladly do so. 91% of customers would use a single, online knowledge base if it were available and tailored to their needs.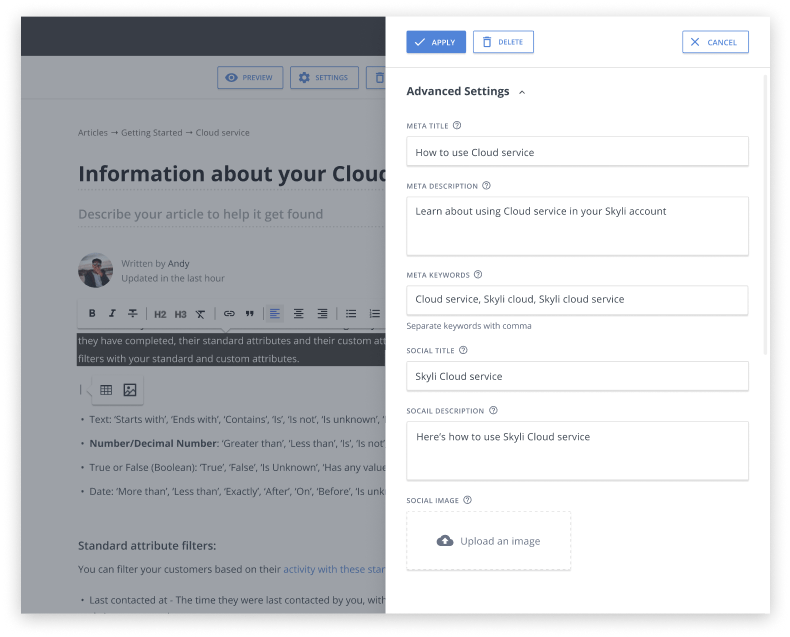 5. Social media customer service
We can't forget those social media mentions and direct messages, too. No matter what customer service channel you'll choose for your business, there will always be people who will prefer to contact you on social media.
It's important to monitor your brand mentions there and address them promptly because negative social media comments can harm your brand reputation. No worries, though, it's not like you'll receive tons of requests on Facebook and Twitter right away. Answering a couple of mentions once a day will suffice.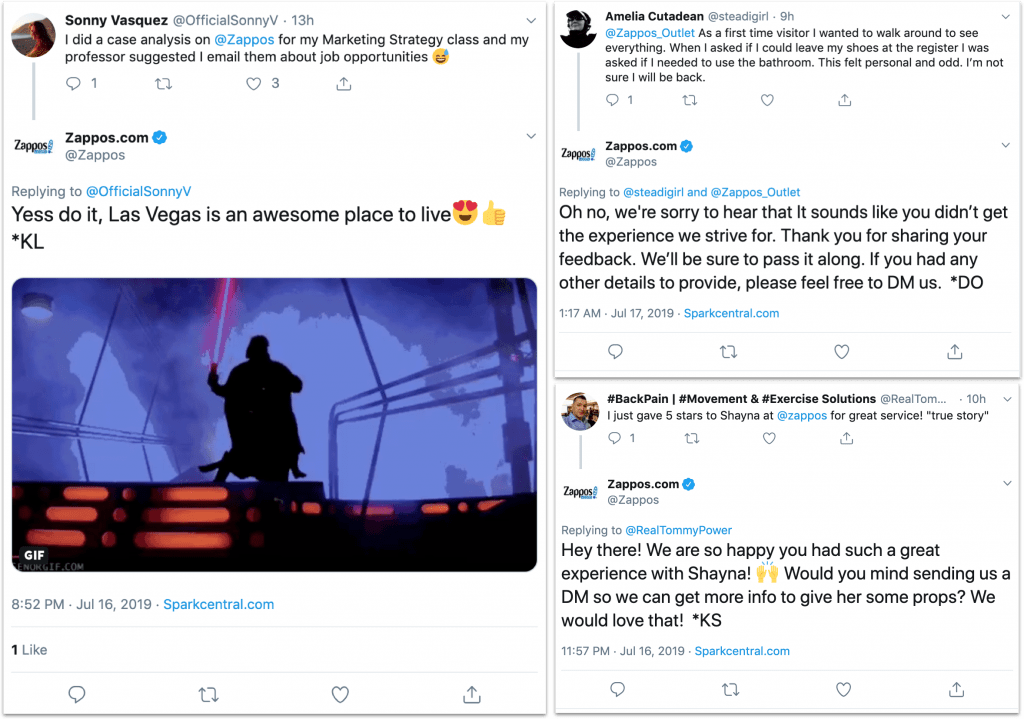 Fortunately, you don't have to do customer service in all these channels separately. Modern support tools like HelpCrunch offer a unified dashboard for live chat, emails, and knowledge base.
5 steps to building top-notch customer service
Now, let's move from the theoretical part of this guide to the more practical one. If we've convinced you that customer service is every business' savior, let's look into actual steps of building a customer service department:
1. Create your own unique customer service philosophy
Before you lay the first stone in the foundation of your customer service, you need a plan. Or better yet, a clear vision of what you want your customer service to be — what values you want to translate, what rules you want to follow and, generally, how you want to be perceived by others.
This is why you need to create a customer service philosophy. Not just for yourself, but the whole company.
Customer service philosophy means values – values that you as a business owner or a manager share with your employees and encourage them to share with customers. If you want to render a consistent message of a friendly and customer-oriented company, you should make it your philosophy. As simple as that.
So, how exactly can a business develop an effective customer service philosophy? Start with outlining the most important qualities you want your team to keep up with. For HelpCrunch, these are as follows (feel free to steal ideas):
1. Be honest about your wins and mistakes
We don't try to make ourselves look better than we are. We're open about our faults and mistakes, but we're also quick to amend them. If a setback happens on our side, we offer an apology, explain why it happened, and fix the issue as soon as we can.
2. Stay genuine
Every member of our team brings a bit of their personality into our customer service work. We are our own people and that's what makes us so special. Impersonal business-like tone is something you'll never see at HelpCrunch. We are more of 'how's your vacation, how are things at work?' kind of people. We communicate on equal terms and want you to see the real us.
3. Put customers first
Our product development strategy relies heavily on our customers' feedback. If you requested some feature from us, you can be sure it was forwarded to the rest of the team, discussed and put into our database. Even if you're the only one who needs it, your inquiry will end up in our backlog and, ultimately, in one of our developers' sprints.
4. Customer service is everyone's job
Yes, we have the best customer service team possible. Our people are highly trained and empowered to help you in every single case. But we think that customer service is everyone's job, so it's not that rare that our CTO Paul will talk to you if you need real technical assistance, or our CMO will jump into conversation if your question is marketing-related.
These ideas are not just mere words. A customer service philosophy should become an integral part of your customer service training so that everyone would know and follow it.
2. Hire people with very specific customer service skills
Now, that you know what your customer service should be like, you should find the right members for your team — people who would share your vision and values and will be ready to put them into work.
So, who is a customer service representative? I think no one said it better than Wikipedia:
A customer service representative is a person who interacts with customers to handle complaints, processes orders, and provides information about an organization's products and services. Qualifications include good communication, problem-solving, and computer skills.
Let's talk more about those qualifications, should we? When you hire someone for your support team, you're looking for some very specific customer service representative skills. But the best part of it, is that those are almost exclusively soft skills like active listening or patience.
I think the best approach in this case is to create customer service skills list of things that are most important to your personally and in line with your philosophy. It should probably include skills like:
Empathy
Problem-solving
Attentiveness
Active listening
Time management
Patience
But above all, your support representatives should be customer service oriented (no pun intended). It simply means that they should focus on customers, their requirements and needs, value them over anything else and respond to them quickly and efficiently.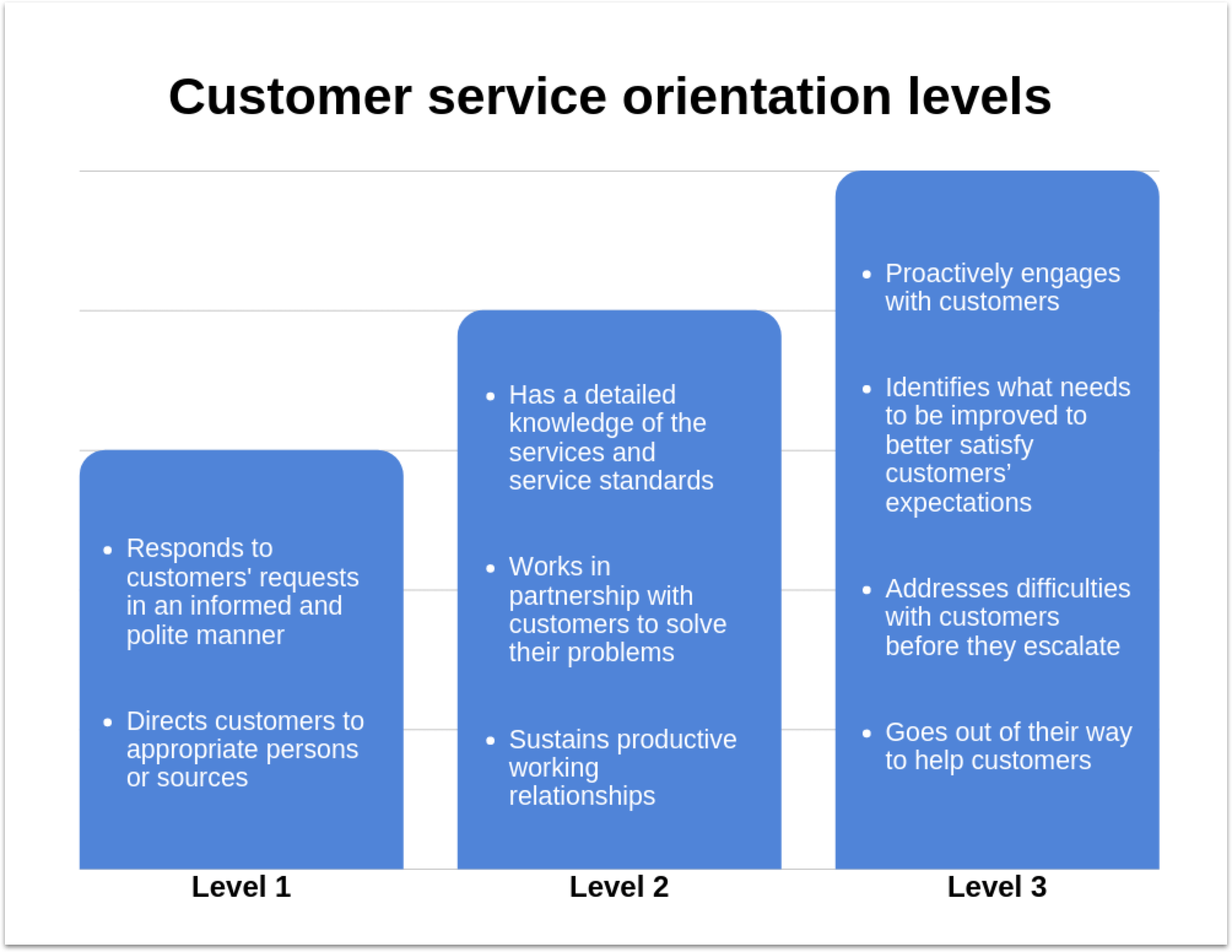 When it comes to actual customer service rep's interview and assessment, we at HelpCrunch do it in three steps:
Interview. In my opinion, the interview part is the most important when it comes to hiring customer service reps. Interview lets a team lead see how a person communicates and handles stressful situations.
Assessment test through a role play. Job applicants should install our live chat tool on their own first (this give us an idea about their technical background). After they do, our team lead plays the role of a customer with some typical problem, and a candidate tries to resolve this problem communicating via live chat.
Bar raising with the rest of the team. This one helps us understand whether this person will fit in our team and shows us their communication skills in action. I think it can be quite stressful to try and charm a room full of strangers, but then again, it's what customer service representatives do every day.
To give you a general idea, here's a list of some schematic customer service interview questions from Job Test Prep:
What do you see as being good customer service?
What is customer service?
Tell me about a time where you had to understand a customer's personal circumstances very quickly; how did you go about doing this?
Tell me about a time when you saw someone who needed help. What did you do to help them?
Tell me about a time you went out of your comfort zone to help someone.
What does excellent customer service mean to you?
Tell me about a time when you showed excellent customer service?
3. Assemble your all-star customer service team
We're slowly moving from hiring customer service reps to managing your assembled support team. Depending on its size and your priorities, you need to outline its structure, range of responsibilities and measure their performance with specific KPI's (key performance indicators).
Every team needs a little bit of orders and here's how you can organize everything:
1. Customer service team structure
Unless, your customer service is a one-person job, you should always start with a team lead. This person will be responsible for everything from training newcomers to tracking your team's overall performance.
After assigning a person that will manage the rest of the team, you can then divide it into smaller departments.
According to Aircall, there are two ways to structure a customer service team:
A two-tiered system, where some members deal with a day-to-day simple routine, while the others handle more difficult issues. This method is more suitable for smaller teams of 3-4 person.
A customer support team divided into departments with different narrow specializations. This is rather something for big companies with greater workload.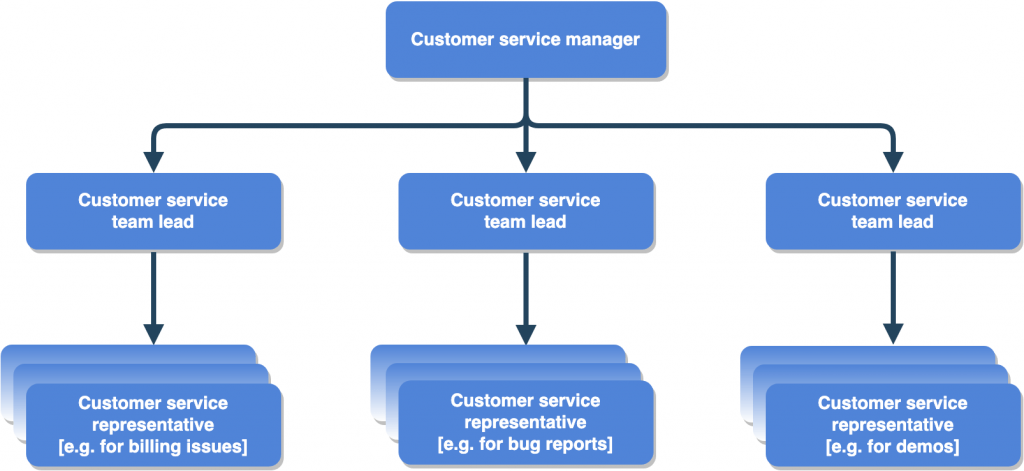 2. Customer service duties
So, what exactly is a customer service team doing? Here's a very brief list of customer service duties which your team should be able to handle:
Onboarding new users;
Responding to customers' questions;
Collecting customers' requests and feedback;
Reporting problems and issues to corresponding departments and monitoring its progress;
Following up on customers who reported issues;
Following up on users who canceled, unsubscribed or left negative reviews;
Collecting positive reviews;
Collecting knowledge base questions and topics and writing corresponding articles;
Providing demos;
Checking customer service reports and improving them.
Naturally, it all depends on the workload your customer service team is dealing with. But in a perfect world, you need to hire enough people to cover ALL of these tasks. The key phrase here is 'enough', because you can't expect that one person will cope with all of them.
3. Customer service KPI's
Only if you have clearly set tasks, you can expect people to accomplish them. But there's also a way to encourage your team members to live up to what you expect from them.
Establish key performance indicators for your customer service team and don't forget to reward when those goals are achieved.
These are the most common customer service KPI's:
1. First response time
This one is extremely important as 73% of customers values a quick reaction over any other metric. It's difficult to give a definitive answer to how long users are ready to wait for an answer as different researches give different results. Here are some common first response benchmarks for different channels:
For live chat support, it should be under 1 minute.
For email support, it should be under 24 hours.
As to call centers, 53% of customers are ready to wait for 3 minutes on the phone.
2. Customer satisfaction rate
You should measure your customer satisfaction rate after each conversation. They say that if you do everything right, live chat support should give you 73% of satisfied customers while other channels show poorer results.
But we at HelpCrunch think that this is rather a bare minimum and this number should be at least 90% or higher. Our customer satisfaction rate never drops below 95%:

3. A number of reviews and demos
This number is very subjective for every business. Demos are good for your sales, that's why your customer service team should be trained to pitch and perform them at a high rate.
As to reviews, it's also easier for your team to collect them as they're closer to customers than anybody else. If they feel that a person is happy with your product and satisfied with customer service they received, it's a good chance to ask them for a review as well.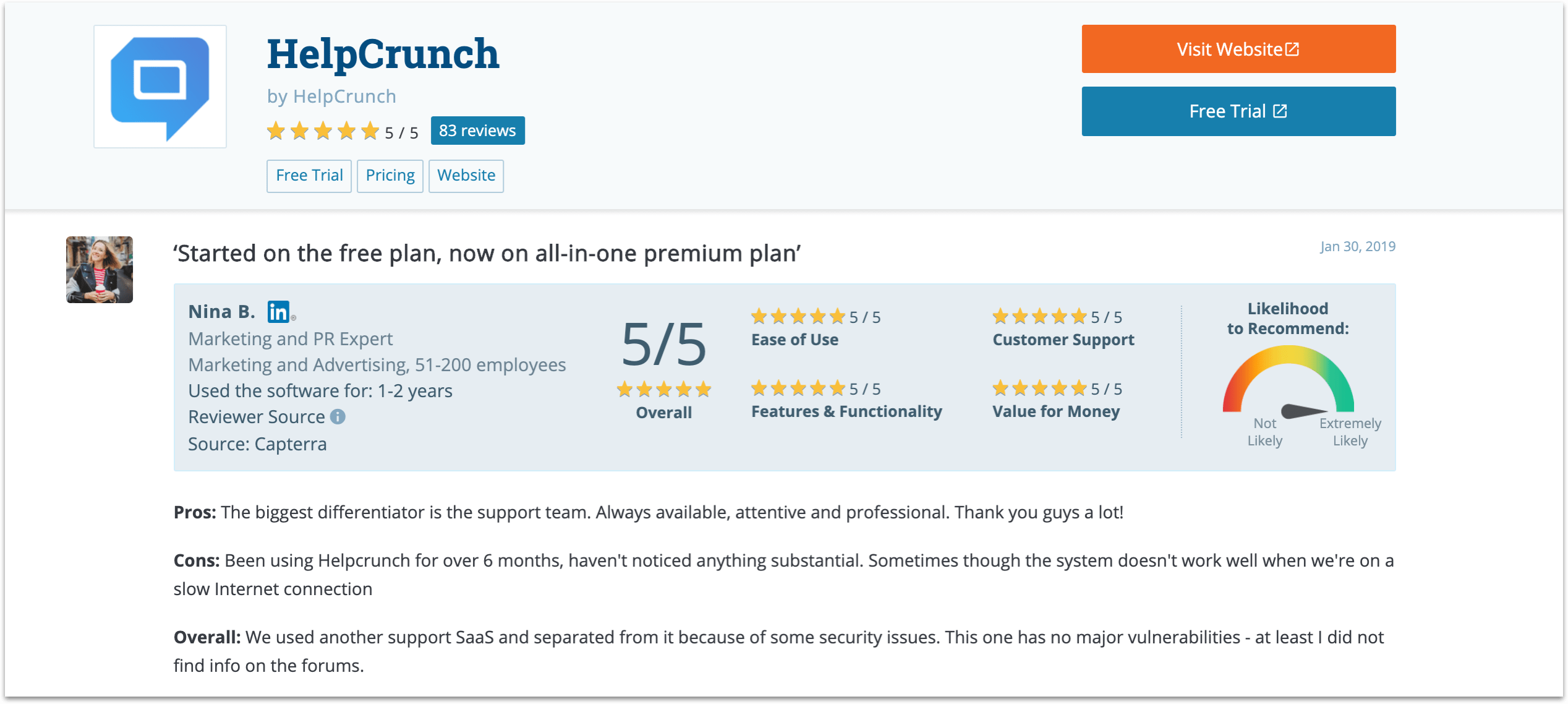 4. Customer service channels and software
With this overwhelming amount of information, there's really only one question left. How can you manage all this effectively? The answer is in the right tools.
According to the recent research, a unified customer service system increases immediately customer satisfaction as well as front-line employee productivity.
You can't just choose one channel for yourself and call it a day. What you need is quality customer service software to manage all the channels and accelerate your team's work. And you better choose a universal tool which will allow you to scale your customer service in the future without trouble.
For instance, HelpCrunch is an omnichannel customer communication platform that offers live chat, email marketing, and knowledge base tools in one dashboard for customer service as well as sales and marketing features that help increase conversions and drive revenue.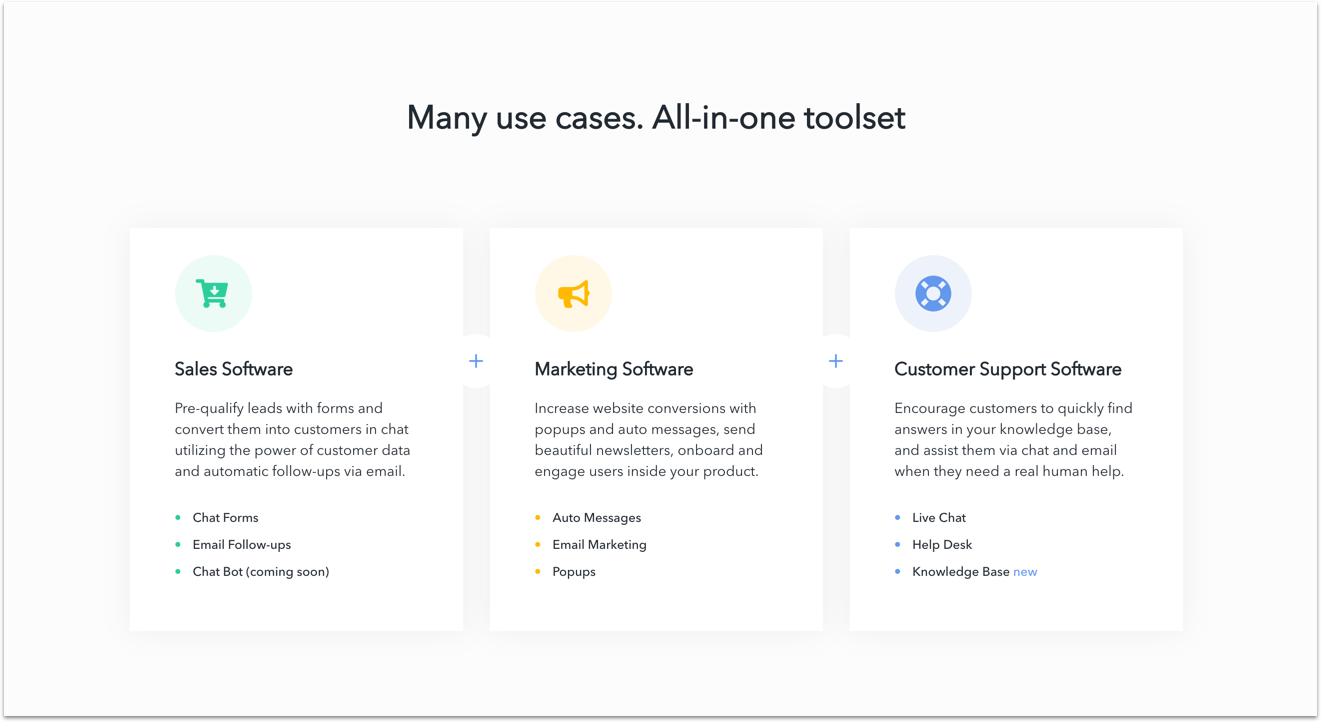 5. Customer service training (online courses, conferences, in-house training and role plays)
You can't make your customers happy unless you make your team happy with their work conditions and perspectives. Every employee wants to feel important and valued, but also be able to grow. If they don't grow in your company, they'll leave.
That's why it's important to help your customer service with all kinds of training, meet-ups and conferences.
Encourage your support team leads and representatives to attend customer service conferences.
Find relevant online and offline courses and offer your customer service team to complete them.
Do in-house training (e.g. role plays) within your team from time to time.
It's obvious that your business will only benefit from trained professional customer service representatives, so you shouldn't be afraid to push them in this direction as well as pay for the events you find useful.
Let's not forget about educational materials that are available for free. There are many great podcasts which can tell you a lot about customer service on the go:
One super cute example of good customer service
Heard about Netflix?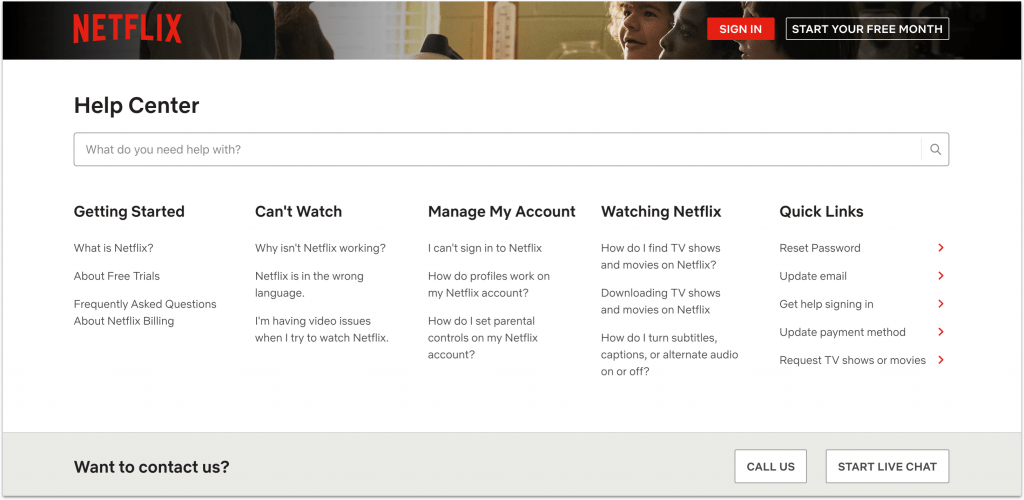 1. Netflix switched from email customer service to call centers in 2007. It was unprecedented for such a big corporation. Usually, companies of this size try to outsource their customer service, move it offshore, and end up distancing themselves from it. But Netflix decided that if their support is the only way customers can get in touch with them, they better make it count.
2. Netflix has created the now-legendary Netflix culture deck where they outlined all their key values and goals. Basically, it all comes down to giving their employees as much freedom as they want and expecting high results in return. It's accessible for anybody who wants to read it.
Now, Netflix is not only legendary as a streaming video service, but also as a great employer. They give their employees unlimited vacation, don't do yearly performance reviews and, well, pay good money for their work.
3. Call centers are great, but there are people who hate phone calls. Netflix also provides live chat support, which brought them a couple of legendary customer service moments. Like this one, where their representative impersonated Captain Kirk in the chat conversation. It was so cute and so uncommon that the story got viral on Reddit in the blink of an eye.
What does this teach us, really?
This giant corporation with millions of users all over the globe somehow manages to stay genuine and super cute in their customer service.
Come to think about it, it doesn't take much — hire great people, treat them well and don't be afraid to bet everything on excellent customer service. Oh, and don't forget to sign up for HelpCrunch if you want the best customer service software for your team.

Read also
Customer service
Are you thinking hard on becoming a customer-oriented person or adopting such an approach in your company? Check out our article with some practical ways on how to do both.
Customer service
Customer communication tools come in all shapes and sizes covering everything from live chats and emails to in-app messages and surveys. Check this selection of top 10 reliable solutions to make a smart choice.
Customer service
Customer communication, when mastered, can turn to your advantage. But what are the secrets and how to interact with clients like a pro? These 10 insightful tips are at your disposal if you want to improve customer communication.