A Key Performance Indicator (KPI) is a measurable value that demonstrates how effectively a company is achieving its key business objectives. Sounds good, doesn't it? Especially the part about achieving business objectives.
The importance of customer service can hardly be overstated. It operates in the area of customer satisfaction, loyalty, and retention, which are undoubtedly the most desired things for any business.
That's why setting the right KPIs for customer service helps business owners and managers determine whether their support team is up to par. It's also one of the most effective methods to motivate employees and give them their well-earned rewards.
So, what are the key performance indicators for customer service? Swift responses and short resolution time are great. But here's something even better: not locking yourself into a single metric when evaluating the performance of your customer success team.
Make your team better by introducing the following 7 customer service KPIs and setting a tangible system or rewards for achieving them.
Note!
Businesses should distinguish between KPIs and customer service metrics. While the former deals with specific goals and their achievement, metrics simply let you keep an eye on various business processes and their status.
1. Customer satisfaction rate
Goal: depends on the industry and customer service channels
for live chat — no less than 90%
for email — 61%
It's true that making a client happy and satisfied is kind of everyone's job. But it's your customer service department that deals with customers on a daily basis. Gauging its performance directly depends on tracking customer satisfaction KPI.
There's no better way to measure satisfaction than directly asking people whether they liked their experience with your business/team / live chat operator. The first rule of the customer satisfaction club is to never annoy people with long and extensive customer satisfaction surveys. No one has got time for them.
If you want to know how people feel about your customer service, just add a simple question at the end of a chat conversation and 2-3 answer options to choose from. This will give you all the insight you need.
For instance, you can turn on the 'chat rating' option in HelpCrunch. This way, every chat conversation will end with a simple survey. For customers, it takes just one click to choose one of the three options — poor, average, or great. Customer satisfaction will be measured from 0 to 100% based on these rates, and you will get a full overview of customer perception and client's thoughts about your service.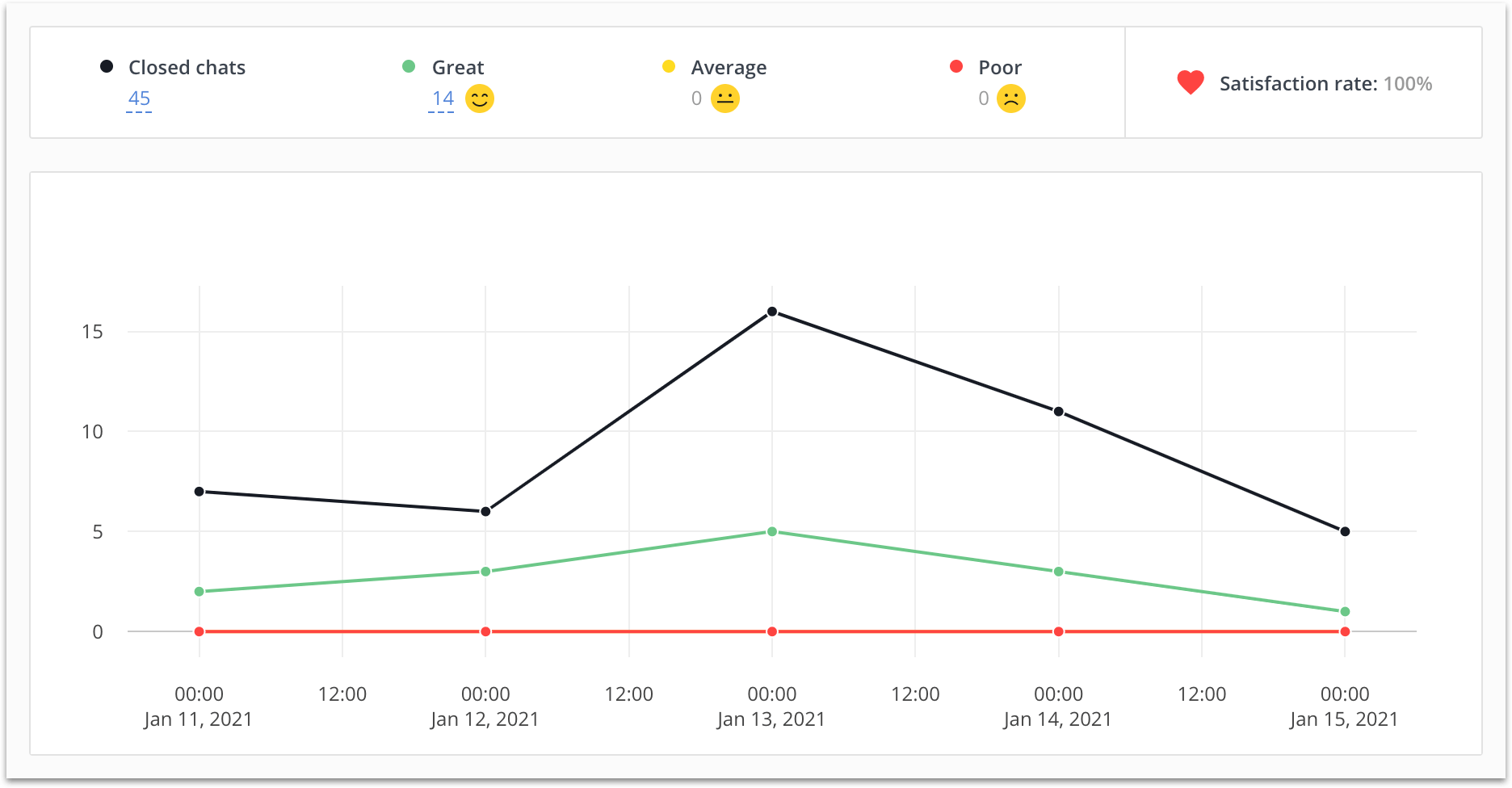 If you need more data, you can always use some other proven customer satisfaction metrics:
Net Promoter Score (NPS) is a customer loyalty and satisfaction measurement taken from asking customers how likely they are to recommend your product or service to others on a scale of 0-10.
Customer Effort Score (CES) is a single-item metric that measures how much effort a customer has to exert to get an issue resolved, a request fulfilled, a product purchased/returned, or a question answered.
Customer satisfaction is a fundamental customer service KPI that helps you test the waters and see how people feel about your business in general, not just its customer service.
However, it's important to remember that the support team is not solely responsible for this metric. If your developers don't react to reported bugs quickly enough or your marketing campaigns are way too aggressive and annoying, this will quickly show in your satisfaction reports.
So, if you see that the numbers are lower than you'd expect, it's a clear cue to analyze the situation right away. Who rated their customer service experience as 'poor'? Did they leave any feedback? What caused such a negative reaction? Is it time to talk to the dev team?
2. First response time
Goal: depends on the industry and customer service channels
For live chat — under 1 minute
For email support — from 4 to 24 hours
For social media — from 1 to 6 hours, no longer than 24 hours
When it comes to customer service, the quicker the better rule applies. Like, always.
We've all been on the receiving end of customer service and know how frustrating it is to wait on hold. But the moment someone gets back to us — even with something as simple as 'Our team is already looking into the issue, we'll keep you updated' — is the moment you don't feel abandoned anymore.
That's why the first response time is the second most important KPI for customer service. Keep an eye on how long people have to wait on hold before someone greets them.
If you see that messages pile up for hours without a reply, it's probably time to grow your team, review their performance and improve some processes. Things like canned responses and knowledge base integration can also help to speed up the process.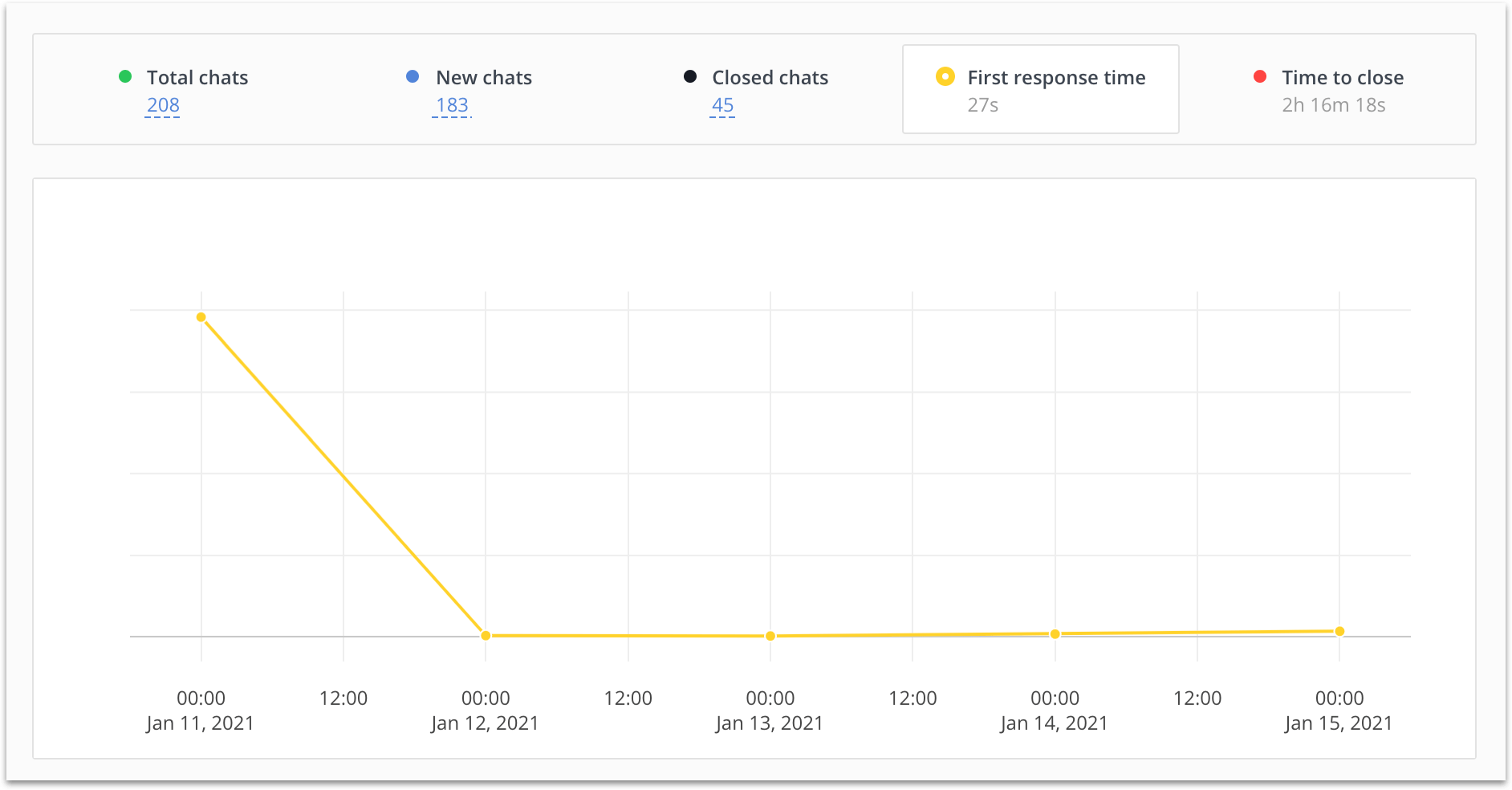 It's also important to note that auto-responders don't have the same effect. Their sole role is to confirm that a message did land into your customer service inbox. The answer from a real human is what counts (so make sure it reads as such).
3. Revenue growth
Goal: Depends on the size of your business
High customer satisfaction and short first response time are rather must-have customer support KPIs. Now that we've established the ground rules, it's time to talk about real stuff.
You can be the most customer-driven company in the world, but every business should earn money. And being on the frontline of customer communications, support representatives should have a vested interest in bringing in more money and customers.
For instance, we at HelpCrunch think that monthly recurring revenue is one of the most important customer service KPIs. So, our customer service reps' biggest bonuses are tied to the MRR growth.
Yes, MRR as a customer support KPI makes perfect sense. Support specialists need to be tied to money stuff and stay on top of everything that's going on in your company. You'll instantly see the change in their attitude.

Some time after we've implemented MRR as a customer service KPI, our live chat agents told me they began to think differently and concentrate on more relevant stuff rather than just answering routine chats. As a result, they were getting more bonuses, which is a win-win situation for everyone — for a business, for CSMs, and for our customers.

Pavel Pavlenko, Co-founder & CEO of HelpCrunch.
It may sound counterintuitive for some people. What does technical support have to do with selling and growing revenue? Isn't it a sales department's job? Well, yes and no.
For one thing, sales and customer success teams should work together in close collaboration to achieve the best results. When the former can push the right buttons and razzle-dazzle, customer service agents can provide knowledgeable advice and put people in the right direction. And that's exactly what they should do — close deals on the go.
4. Number of upsells and cross-sells
Goal: depends on the number of customer service requests you get monthly
As I say, it's not your typical customer service job to cross-sell or upsell. But sometimes, the opportunity just presents itself, and it would be a total shame to miss it.
The main rule of a successful sale is to always think about the customers, not the business. You should genuinely try to help and resolve the issue with your product or service. Think about how the user will benefit from upgrading their subscription or buying additional stuff.
And who would know better customers' pain points and objectives than a customer service team that communicates with them every day? That's the reason upselling and cross-selling often happens in customer service. Agents could organically offer an upgrade as a solution to the user's issue — that's your upsell right there.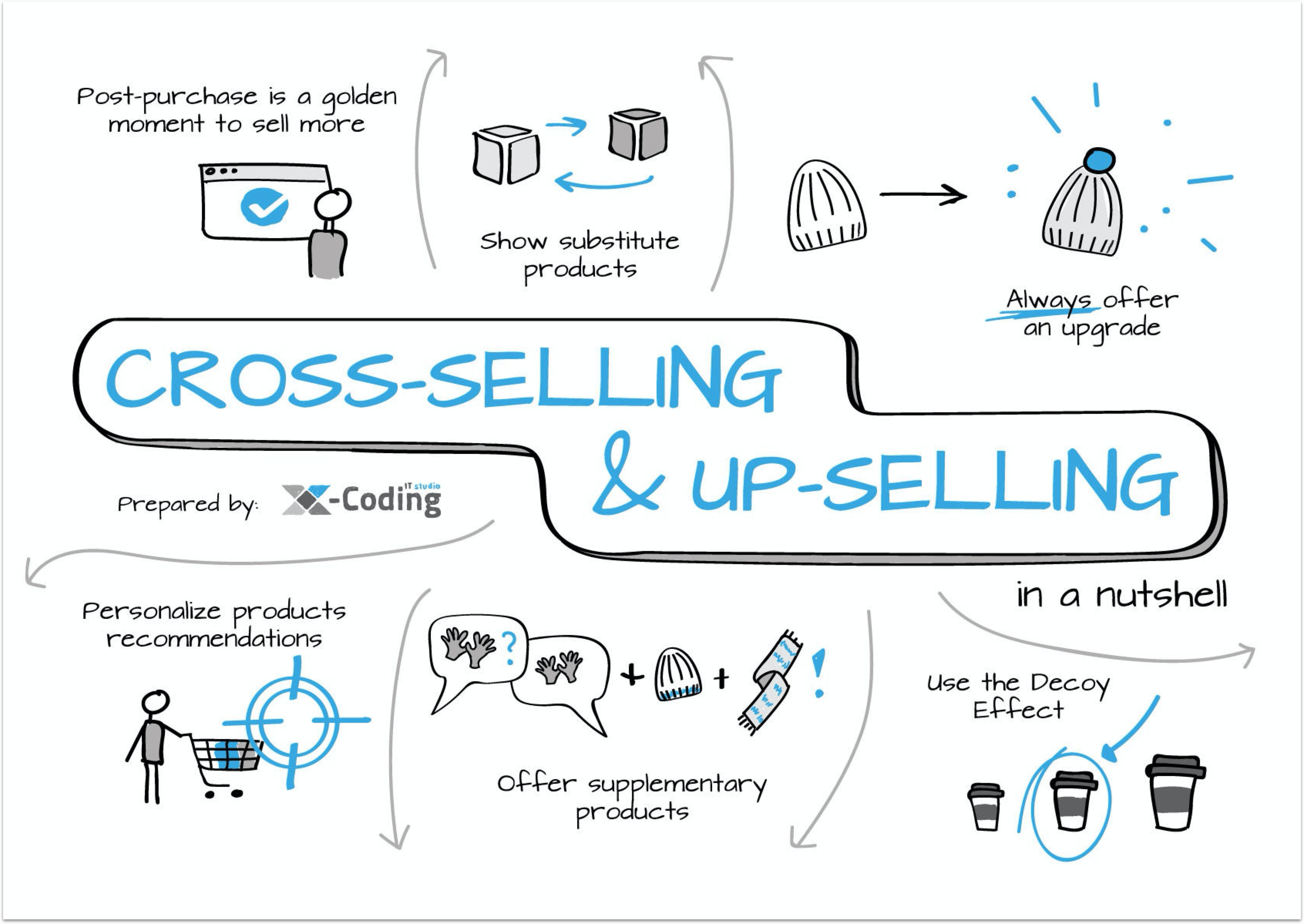 5. Demo-to-registration conversion rate
Goal: not less than 30%
Customer support agents know all the ins and out of your product and can show it in the best light. That's why it's always a good idea to delegate some of the demos to them and track their effectiveness. Are people interested in knowing more about your business? Are they more willing to convert after talking to your customer support team?
Product demos shouldn't take more than 20-30 minutes of their time, but their effect is much more powerful than that of any other channel. Once people see how your product can solve their problems in real time, making a buying decision is much easier.
They can also be successfully used for client onboarding, showcasing your services or products, and increasing customer engagement. And that's a customer success job right there.
That's why you should encourage your customer service team to provide more real-time demos and webinars and track how many leads sign up for your product after them. Just remember that this part of the job is optional. Don't push too hard — and reward those who manage to achieve the monthly goal.
6. Number of acquired reviews
Goal: Depends on the number of customer service requests you get monthly
Statistically speaking, people who had a negative experience with a company are more likely to leave a review. And you guessed it right — it's going to be a negative one. A satisfied customer, on the other hand, is unlikely to leave a good review. Long story short, people won't rate your business on designated websites without a nudge.
There are all kinds of marketing campaigns (like email or social media promotions) aimed at collecting reviews from customers. But no one can get positive feedback better than a customer service representative.
You should train your support team to spot satisfied customers who are likely to leave a positive review. If someone complimented your company on its products or customer service, react accordingly:
Ask for a quick review;
Provide links to relevant review websites;
Offer a small discount or upgrade in return (if it's allowed!).
It might feel a bit awkward at first but remember that satisfied customers rarely leave reviews unless you ask them to. That's why using the number of reviews as a customer KPI will motivate your team to push forward.
7. Number of knowledge base articles
Goal: 2-3 articles per month from one person
More than 80% of customers use the company's FAQs and self-service portals, which makes it the most popular customer service channel. Creating a knowledge base and updating it with fresh articles, information, and screenshots should also be a part of the support team's routine.
The goal is to answer as many questions as possible before people even ask. There are always lots of ideas to write about. Use common questions from your support experience, track niche communities and Quora, and don't forget about your gut's feelings.
HelpCrunch also provides the 'failed searches' report, where you can instantly see the searches people did in your knowledge base but found nothing. This way you'll always have fresh ideas for new articles.
Don't push it for the sake of it, though. If you feel like you've covered every topic users are interested in, there's no point in writing redundant stuff. But it'll probably take you a while to get there.
Maintaining a knowledge base and keeping it fresh is a common-sense KPI for customer service representatives. Not only does it save a lot of time, but it also makes them more trained to answer all kinds of tricky questions.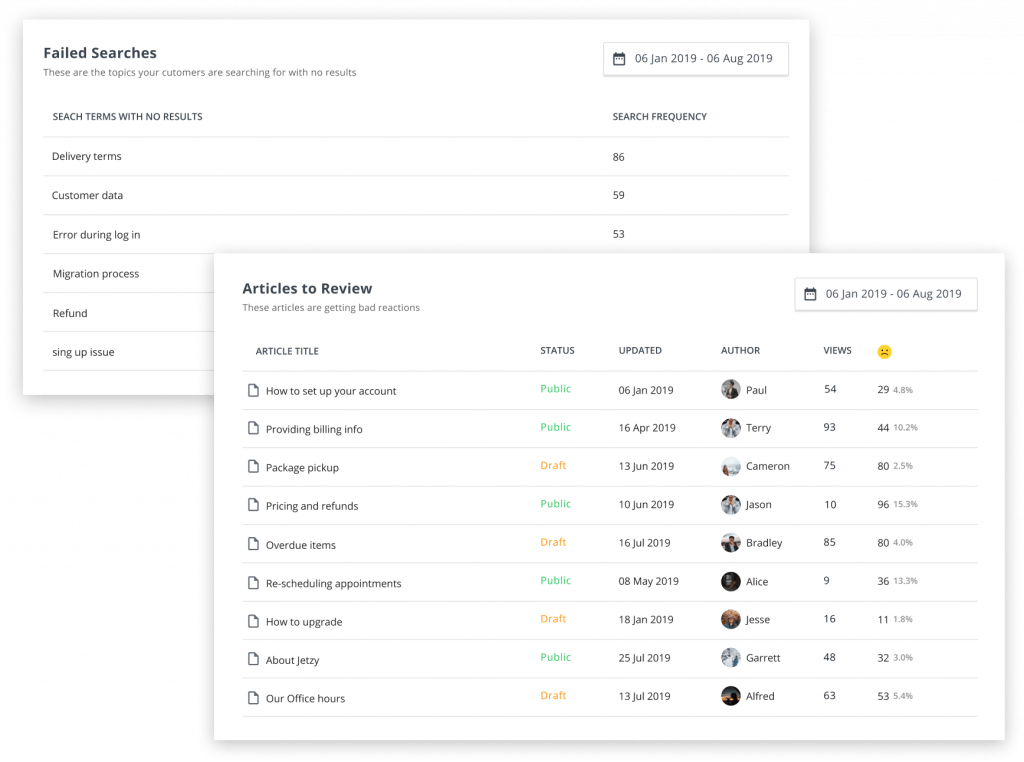 Customer service performance review
Follow every step from the customer service checklist and implement these customer service KPIs to cover all the bases. Maybe your team is great at answering questions but can't collect enough reviews. Maybe you have a strong team of operators who can sell, but they're not great at making existing customers satisfied.
Take support representatives' skills into account and make performance reviews a big part of your strategy. Reward the people who are great at what they're doing. Train those who can do better. And sign up for HelpCrunch to automate most of the processes and deliver top-notch customer support.
HelpCrunch articles delivered straight to your inbox 🚀
All the latests posts. One email per month.
No strings attached.
Read Also
Support
Have you ever thought of real-time support and what impact it had on us over the last few years? We put our mind to it and connected the dots here. Read on!
Support
Designing a killer FAQ page is tough stuff. Luckily, we discuss here 10 design ideas to inspire you. Go for them and decide whether you have to rethink your own page layout.
Support
Knowledge is power! We show all the knowledge management system examples there are on the market today, how you can harmonize information across your company and bring power to your customers.