A Key Performance Indicator (KPI) is a measurable value that demonstrates how effectively a company is achieving key business objectives.
Naturally, you can only set any measurable customer service goals when you have taken care of everything else — hired all the right people, gave them the most powerful and effective tools, and trained them to give the best customer service experience they can. Only after this, you can outline customer service KPI targets that they should aspire to achieve.
What are the key performance indicators for customer service? Swift response times are great. But here's something even better: not locking yourself into a single metric when evaluating the performance of your customer success team.
It's a mistake companies small and large can make. Want to make your team better? Here are 7 customer service metrics that you should have started using yesterday.
1. Customer satisfaction rate
Goal: depends on the industry and customer service channels
for live chat — no less than 90%
for email — 61%
It's true that making a client happy and satisfied is kind of everyone's job. But it's your customer service department that deals with customers on a daily basis. Gauging its performance directly depends on tracking customer satisfaction KPI.
The only way to measure satisfaction is by asking people whether they liked their experience with your business / your team / your live chat operator. Which you can only do through email marketing or customer service.
The first rule of the customer satisfaction club is to never annoy people with long and extensive customer satisfaction surveys. No one has got time for them, really.
If you want to know how people feel about your company and its customer service, just ask them. A simple question at the end of a chat conversation will give you all the insight you need.
In HelpCrunch, you can turn on the 'chat rating' option, which will send a simple message at the end of every chat conversation.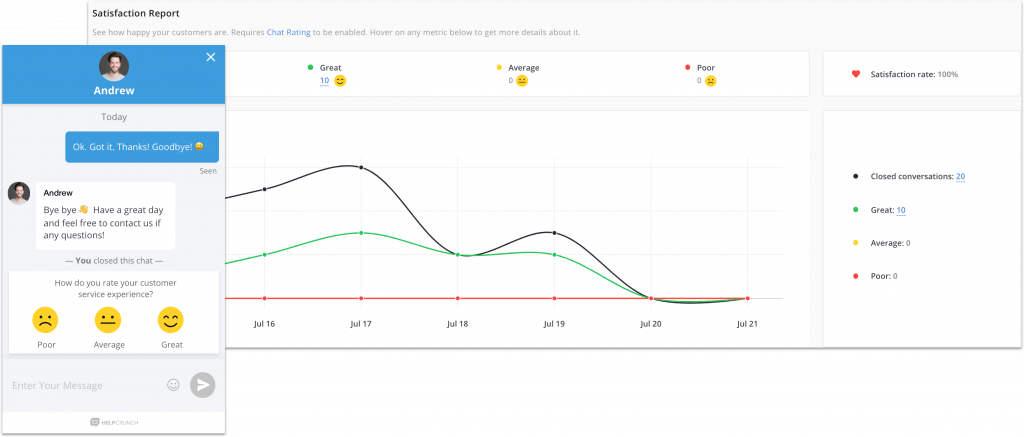 For customers, it takes just one click to choose one of the three options — poor, average, or great. Customer satisfaction will be measured from 0 to 100% based on these rates — and you will get a full view of how your customer service is perceived by people.
Looking for an all-in-one
customer communication tool?
When making customer satisfaction your customer service KPI, it's important to remember that they're not solely responsible for this metric. If your development team doesn't react on reported bugs quickly enough or your marketing campaigns are way too aggressive and annoying, this will quickly show in your customer satisfaction reports.
But there's nothing your support team can really do about it. So, if you see the numbers that are lower than you'd expect, you should analyze the situation right away.

Who rated their customer service experience as 'poor'? Did they leave any feedback? What caused such a negative reaction? Is it time to talk to the dev team? By tracking customer satisfaction you'll be able to solve most issues before they derail your business.
What other types of metrics measure customer satisfaction? If you feel that you want even more data, you can always use some other proven customer satisfaction metrics.
Net Promoter Score (NPS) is a customer loyalty and satisfaction measurement taken from asking customers how likely they are to recommend your product or service to others on a scale of 0-10.
Customer Effort Score (CES) is a single-item metric that measures how much effort a customer has to exert to get an issue resolved, a request fulfilled, a product purchased/returned or a question answered.
As useful as they can be, these metrics have little to do with your customer service. Their goal is to help you test the waters and see how people feel about your business in general, not just its customer service aspect.
2. First response time
Goal: depends on the industry and customer service channels
For live chat — under 1 minute
For email support — from 4 to 24 hours
For social media — from 1 to 6 hours, no longer than 24 hours
When it comes to customer service, the quicker the better rule applies. Like, always.
But it doesn't matter how long you'll take to resolve a customer's issue — as long as you show your genuine effort and attention right from the start.
We've all been on the receiving end of customer service and we all know how frustrating it is to just wait on hold. But the moment someone gets back to us — even with something as simple as 'Our team is already looking into the issue. We'll keep you updated' — is the moment you stop feeling forgotten.
Keep an eye out for the first response time and your customers will be that much happier. If you see that messages pile up for hours without a reply, it's probably time to grow your team, review their performance and improve some processes.
It's also important to note that auto-responders don't have the same effect. Their sole role is to confirm that a message did land into your customer service inbox or dashboard. The answer from a real human is what counts (so make sure it reads as such).
3. Average resolution time
Goal: Depends on the complexity of the issue
Average resolution time is everyone's responsibility — from developers to product managers to team leads. But from the moment a customer has reported their issue till the moment it's fixed, it's your customer service team who's on the frontlines of battling the frustration.
Naturally, not all customer support tickets are equally difficult. Some require 2-3 responses and can be closed in 5 minutes. Others can take weeks of investigating, reporting, fixing and testing. That is why this customer service KPI is tracked by the AVERAGE value.
A good customer service tool will calculate the resolution time automatically. In HelpCrunch Reports, it's tracked for the whole team, as well as individually for each support agent. This way, you're able to see the operators who need assistance (or additional training).

If you see the average resolution time growing, it's time to investigate.

4. Number of acquired reviews
Goal: Depends on the number of customer service requests you get monthly
Statistically speaking, people who had a negative experience with a company are more likely to leave a review. And you guessed it right — it's going to be a negative review.
Who told you it's easy running a business?
A customer who has a positive experience, on the other hand, is unlikely to leave a good review. In my experience, only 1 in 10 happy customers leaves a good review.
Long story short, people won't give you those positive reviews without a nudge or two.
There are all kinds of marketing campaigns (like email or social media promotions) aimed at collecting positive reviews from customers. But no one can get positive feedback better than a customer service representative.
You should train your support team to spot satisfied customers who are likely to leave a positive review. If someone complimented your company on its products or customer service, react accordingly:
Ask for a quick review;
Provide links to relevant review websites;
Offer a small discount or upgrade in return (if it's allowed!).
It might feel a bit awkward at first but remember that satisfied customers rarely leave reviews. Unless you ask, there's little reason for them to do it.
5. Number of knowledge base articles
Goal: 2-3 articles per week from one person
This one is often sidelined by the customer service team leads. But a comprehensive and regularly updated knowledge base is a must — and it's your customer service team's responsibility to keep it that way.
More than 80% of customers use the company's FAQs and self-service portals, which makes it the most popular customer service channel. Updating the company's knowledge base with fresh articles, information, and screenshots should also be a part of the support team's routine.

The goal is to answer as many questions as possible before people even ask. There are always lots of ideas to write about. Use common questions people often ask you or track niche communities and Quora.

Here's another cool idea: HelpCrunch provides the 'failed searches' report, where you can instantly see the searches people did in your knowledge base but found nothing. This way you'll always have fresh ideas for new articles.

Don't push it for the sake of it, though. If you feel like you've covered every topic your users are interested in, there's no point in writing redundant stuff.

But it'll probably take you a while to get there. Make the number of knowledge base articles a performance KPI and you'll save yourself a lot of trouble in the future (as well as get operators who are more prepared to answer curveball questions).

6. Number of demos (optional)
Goal: depends on the size of your customer service team

It's generally known that demos belong to the world of sales. But it's not true for smaller companies where everybody's doing literally everything.

Also, demos shouldn't necessarily be only for selling. Sometimes, they're used for better on-boarding new users, showcasing your services or products and preventing them from churning . And that's some customer success job right there.

Demos often fall on the shoulders of customer support as they know all the ins and out of your product better than anybody else and can show them in the best light.

Just create the Calendly page for your demos and open as many slots as your team can cover.
Demos shouldn't take more than 20-30 minutes of their time, but their effect is much more powerful than that of any other channel. If people can watch your product solving their problems in real time, making a buying decision is much easier.

That's why you should encourage your customer service team to push forward demos and encourage visitors to take them. Only remember that this part of the job is optional. Don't push too hard — and reward those who manage to achieve the monthly goal.

7. Number of upsells and cross-sells (optional)
Goal: depends on the number of customer service requests you get monthly
While all of the above-mentioned customer service KPIs are a must, this one is optional. It's not your typical customer service job to cross-sell or upsell — but sometimes, the opportunity is just there. And it would be a total shame to miss it.

The main rule of a successful sale is to always think about the customers, not the business. You should genuinely approach selling by thinking about how the user will benefit from upgrading their subscription or buying additional stuff.

And who would know better their pain points and objectives than a customer service team that communicates with them on a daily basis? That's the reason upselling and cross-selling often happens in customer service. Customer service representative could organically offer an upgrade as a solution to the user's issue — that's your upsell right there.

If your support team will succeed in this, you have it all, really. Reward the people who do — and never punish those who don't. Remember, it's not their job.
Customer service performance review
By implementing these KPIs you'll see the opportunities you're missing. Maybe your team is great at answering questions — but not at making customers leave reviews. Maybe you have a strong team of operators who can sell — but they're not great at making existing customers satisfied.
Unless you start taking metrics seriously, you'll never know.
Make performance reviews of your customer service team a big part of your strategy. Reward the people who are great at what they're doing. Train those who can do better. Automate the process by signing up for a tool like HelpCrunch which will do most of the review work for you.
Just don't expect a team of two people to hit all metrics out of the ballpark. It's easy to get lost pursuing KPIs but an overworked operator will always underperform.
If you see that the team is struggling to meet their goals, it might be high-time for some bigger changes. What kind of changes? The data will tell you.

HelpCrunch articles delivered straight to your inbox 🚀
All the latests posts. One email per month.
No strings attached.
Read also
Support
Yes, there's a difference between customer service and customer support (a slight one, but still). Click to find out all the details and decide what team you are on.
Support
Follow this customer service checklist template to build a flawless clock-work process. Not a single detail will slip out of sight!
Support
Customer service standards exist so that you can check if you meet the bar on the market. Find out what standards are there and how to measure them to be sure you make everything right.