11 Crucial Customer Service KPI and Metrics to Gauge
Setting up goals and measuring effects are integral parts of success in any business. That's why we've carefully listed the top 11 customer service KPI to gauge today. Welcome in!

Customer relationships sound like too an intangible notion to measure. It operates in the world of emotions, moods, undertones, and spur-of-the-moment decisions. Yet, there are some ground rules you can calibrate your support performance by. That's where customer service KPI and metrics come to the rescue.
A Key Performance Indicator (KPI) is a measurable value that demonstrates how effectively a company is achieving its key business objectives. Sounds good, doesn't it? Especially the part about achieving business objectives.
That's why setting the right KPIs and customer support metrics helps business owners and managers determine whether their support team is up to par. It's also one of the most effective methods to motivate employees and give them their well-earned rewards.
So, what are the key performance indicators for customer service? Swift responses and short resolution time are great. But here's something even better: not locking yourself into a single metric when evaluating the performance of your customer success team.
Make your team better by introducing the following 11 customer service KPIs and metrics and setting a tangible reward system for achieving them.
Note!
KPIs measure progress toward specific goals, and metrics gauge the overall business health. But even though KPIs and metrics for customer service are different things, they do have a lot in common. So you may notice how some concepts and quantities intersect.
Customer service KPIs
If you don't measure any KPIs and metrics in your company, you can never say how your business performs. Monitoring just the revenue won't give you the right insights to keep growing either.
Instead, gauging every aspect of your company operations will allow you to make critical adjustments in the execution to achieve your strategic goals faster.
1. Customer satisfaction rate (CSAT)
Benchmark: depends on the size, structure, industry, and channel. Here is the average benchmark CSAT per channel: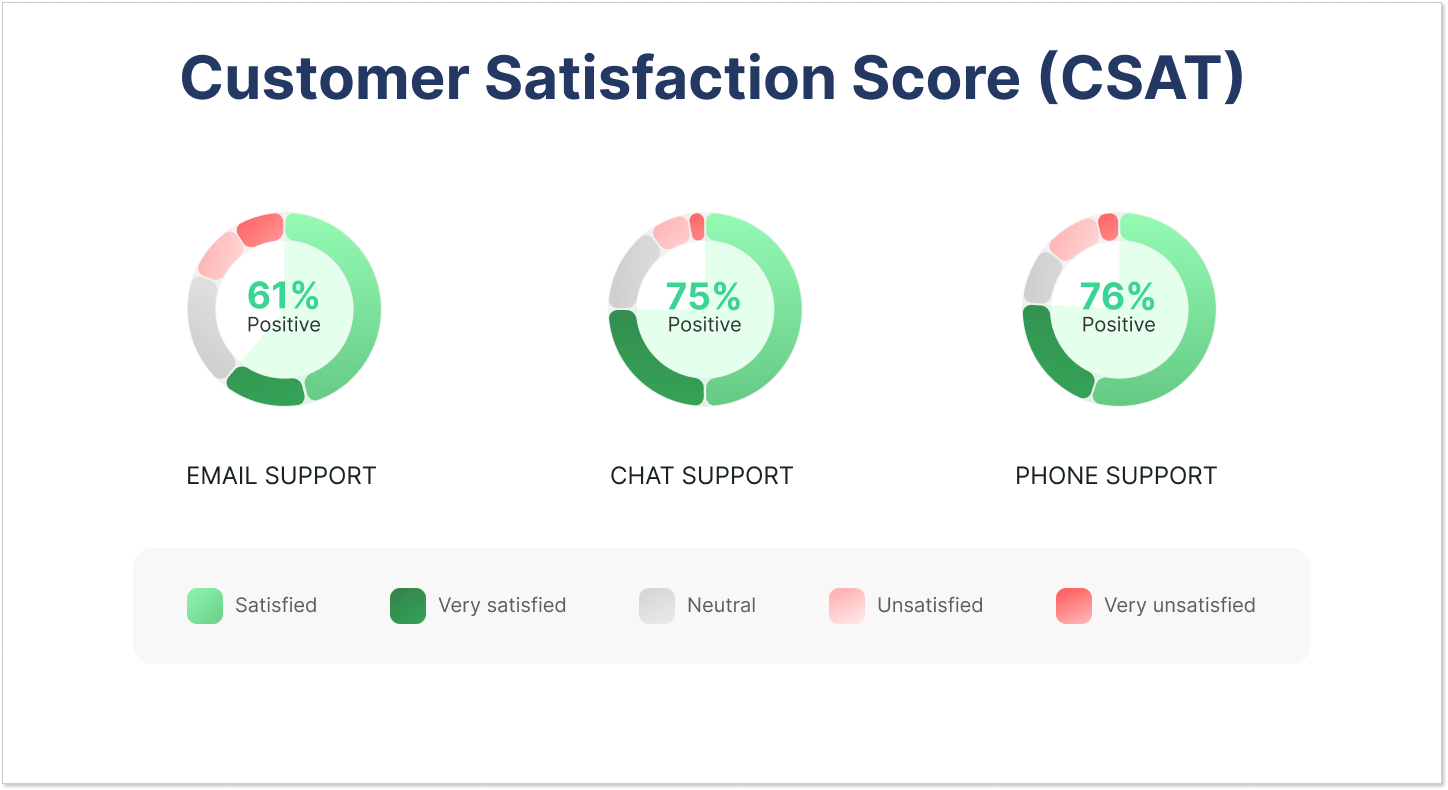 This KPI answers the question "How satisfied are your customers?" There's no better way to measure it than by directly asking people whether they liked their experience with your business or not.
Just add a simple question at the end of a chat conversation and 2-3 answer options to choose from. This will give you all the insight you need.
For instance, you can turn on the 'chat rating' option in HelpCrunch. This way, every chat conversation will end with a simple survey. For customers, it takes just one click to choose one of the three options — poor, average, or great. Customer satisfaction will be measured from 0 to 100% based on these rates, and you will get a full overview of customer perception and clients' thoughts about your service.
2. First response time
Benchmark: depends on the industry and customer service channels.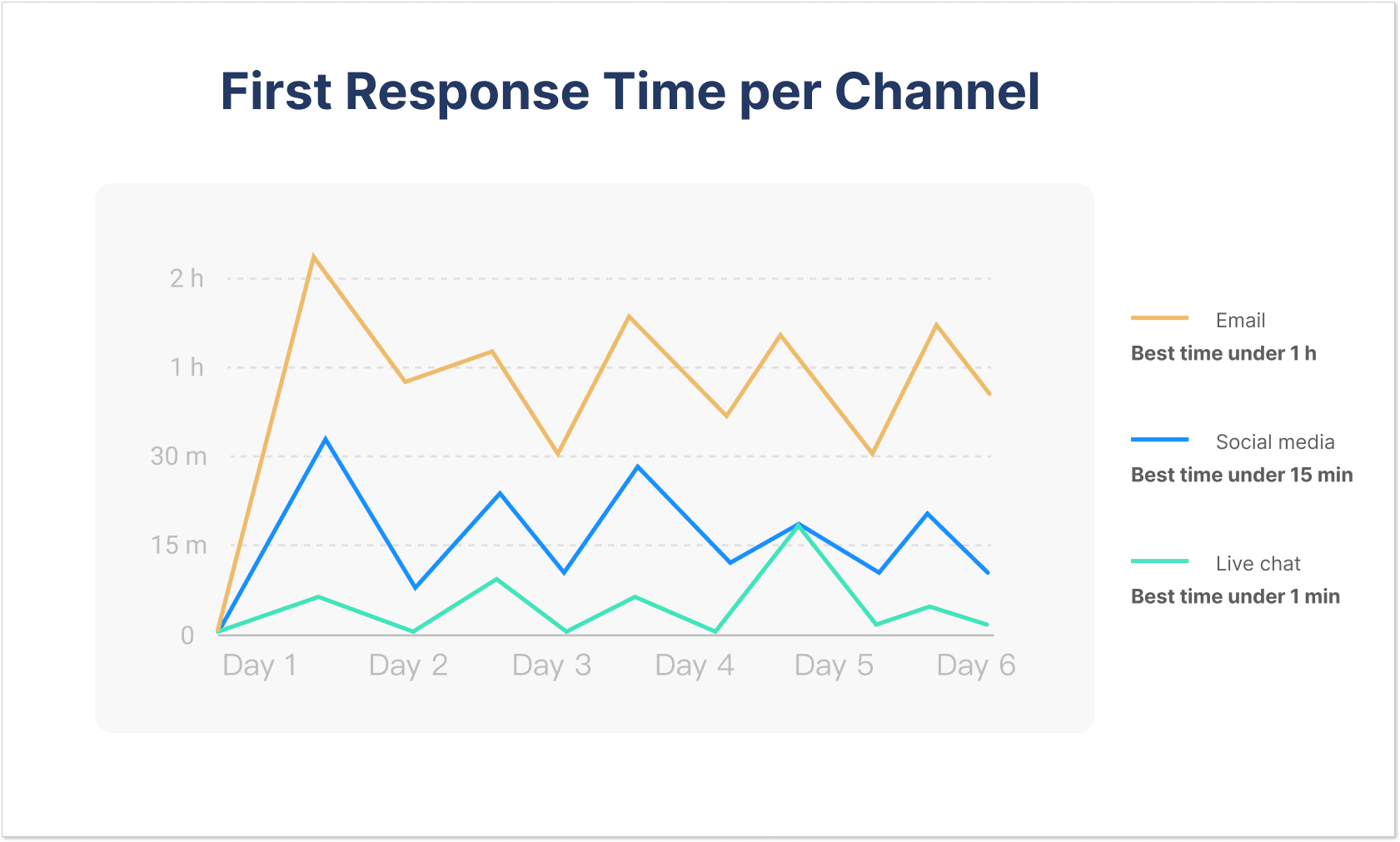 The main task here is to not let your customers feel abandoned. Even if you can't solve the issue immediately, send something as simple as 'Our team is already looking into the issue, we'll keep you updated' and make users feel heard.
That's why the first response time is one of the most important KPIs for customer service. Keep an eye on how long people have to wait on hold before someone greets them.
If you see that messages pile up for hours without a reply, it's probably time to grow your team, review their performance and improve some processes. Things like canned responses and knowledge base integration can also help to speed up the process.
It's also important to note that auto-responders don't have the same effect. Their sole role is to confirm that a message did land into your customer service inbox. The answer from a real human is what counts (so make sure it reads as such).
3. Revenue growth
Benchmark: Depends on the size of your business. On average, companies fall between 15% and 45% for year-over-year growth. Startups should target a 15%+ Net MRR Growth Rate (month-over-month).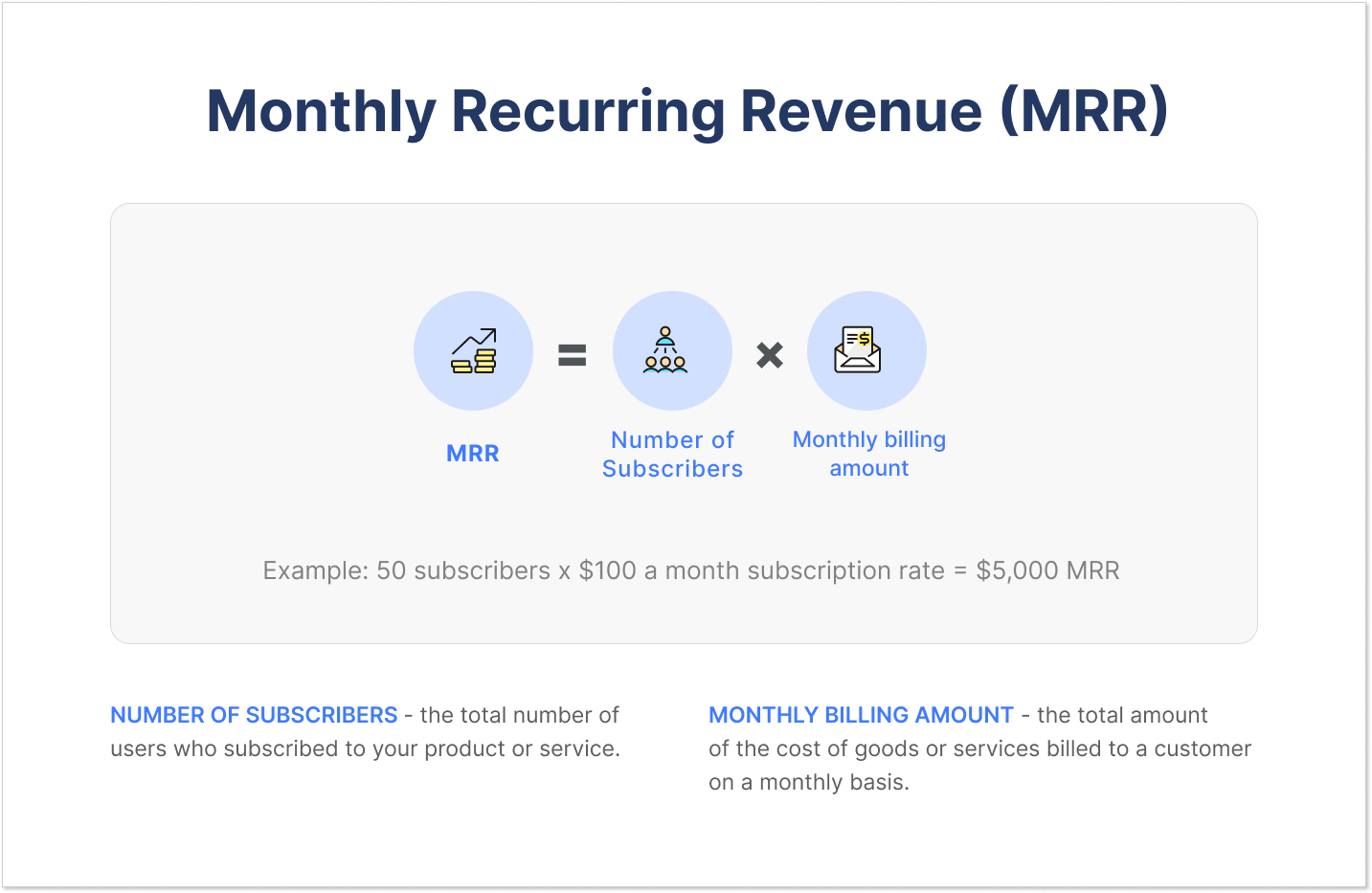 You can be the most customer-driven company in the world, but every business should earn money. And being on the frontline of customer communications, support representatives should have a vested interest in bringing in more money and customers.
For instance, we at HelpCrunch think that monthly recurring revenue is one of the most important customer service KPIs. So, our customer service reps' biggest bonuses are tied to the MRR growth.
Yes, MRR as a customer support KPI makes perfect sense. Support specialists need to be tied to money stuff and stay on top of everything that's going on in your company. You'll instantly see the change in their attitude.

Some time after we've implemented MRR as a customer service KPI, our live chat agents told me they began to think differently and concentrate on more relevant stuff rather than just answering routine chats. As a result, they were getting more bonuses, which is a win-win situation for everyone — for a business, for CSMs, and for our customers.

Pavel Pavlenko, Co-founder & CEO of HelpCrunch.

It may sound counterintuitive for some people. What does technical support have to do with selling and growing revenue? Isn't it a sales department's job? Well, yes and no.
For one thing, sales and customer success teams should work together in close collaboration to achieve the best results. While the former can push the right buttons and razzle-dazzle, customer service agents can provide knowledgeable advice and put people in the right direction. And that's exactly what they should do — close deals on the go.
4. Upsells and cross-sells benefits
Benchmark: you can increase your profits by as much as 30% with cross-selling. It's more cost-effective to cross-sell and upsell to existing customers than acquire new ones.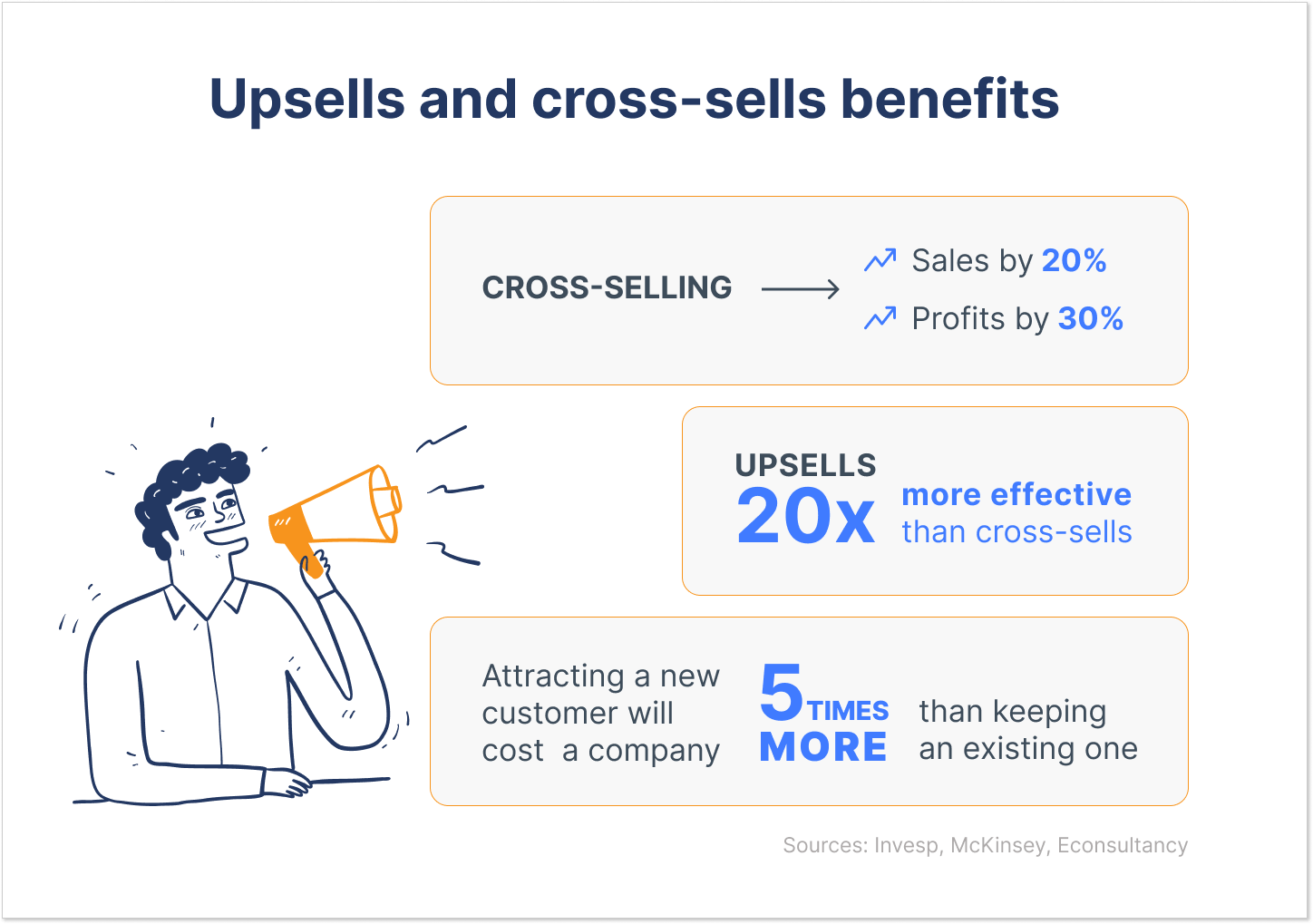 As I say, it's not your typical customer service job to cross-sell or upsell. But sometimes, the opportunity just presents itself, and it would be a total waste to miss it.
The main rule of a successful sale is to always think about the customers, not the business. You should genuinely try to help and resolve the issue with your product or service. Think about how the user will benefit from upgrading their subscription or buying additional stuff.
And who would know better customers' pain points and objectives than a customer service team that communicates with them every day? That's the reason upselling and cross-selling often happen in customer service. Agents could organically offer an upgrade as a solution to the user's issue — that's your upsell right there.
5. Demo-to-registration conversion rate
Benchmark: a conversion metric ranges from 4% to 26% for software products. Read how to improve demo-to-conversion rate with one question. Here is a quick bar chart demonstrating a conversion rate metric by industry: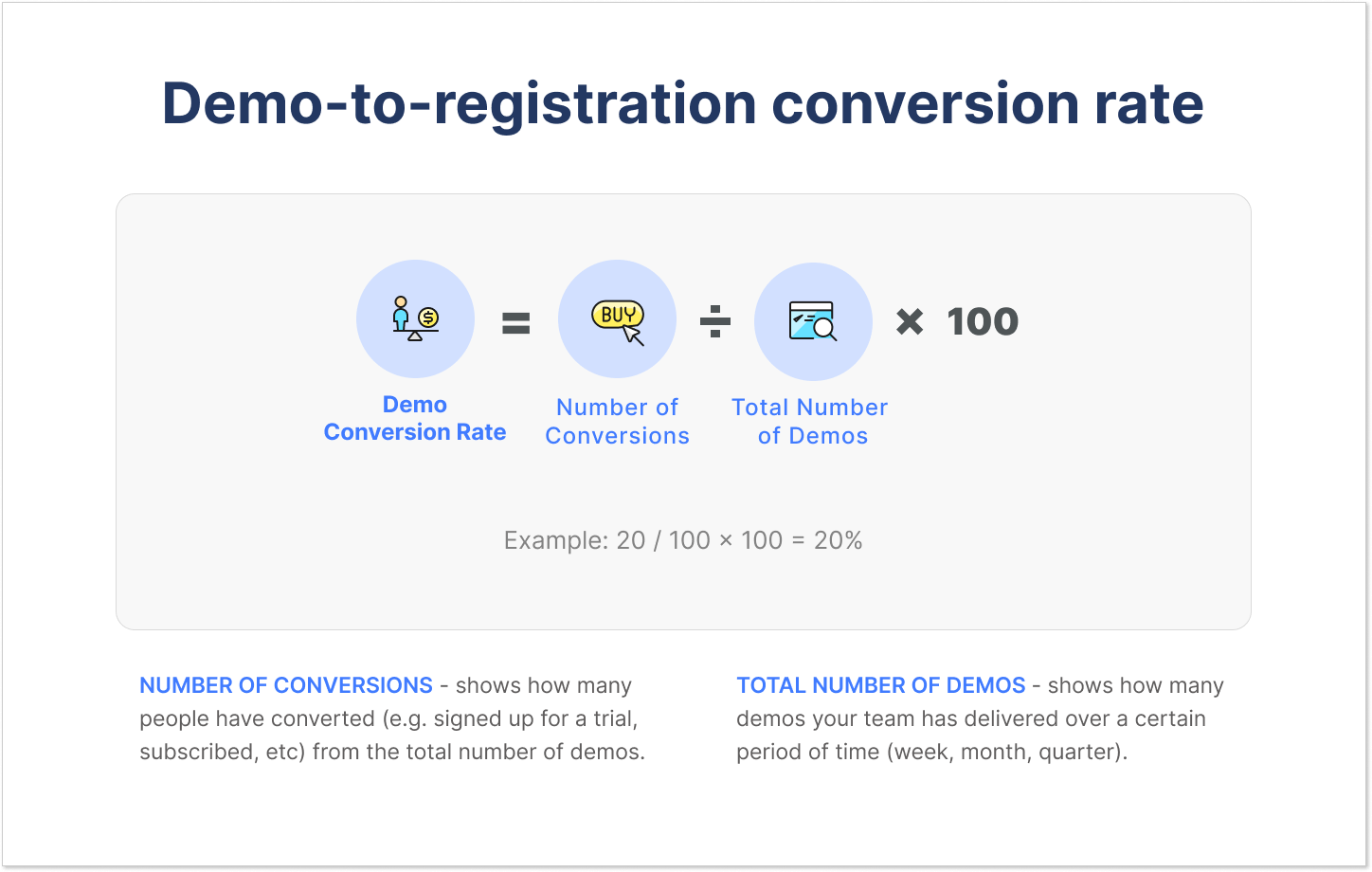 Customer support agents know all the ins and out of your product and can show it in the best light. That's why it's always a good idea to delegate some of the demos to them and track their effectiveness. Are people interested in knowing more about your business? Are they more willing to convert after talking to your customer support team?
Product demos shouldn't take more than 20-30 minutes of their time, but their effect is much more powerful than that of any other channel. Once people see how your business can solve their problems in real-time, making a buying decision is much easier.
That's why you should encourage your customer service team to provide more demos and webinars and track how many leads sign up for your product after them. Just remember that this part of the job is optional. Don't push too hard — and reward those who manage to achieve the monthly goal.
6. Acquired reviews benefits
Benchmark: Having many positive reviews on platforms like G2 or Capterra increases the likelihood of convincing customers to make a purchase.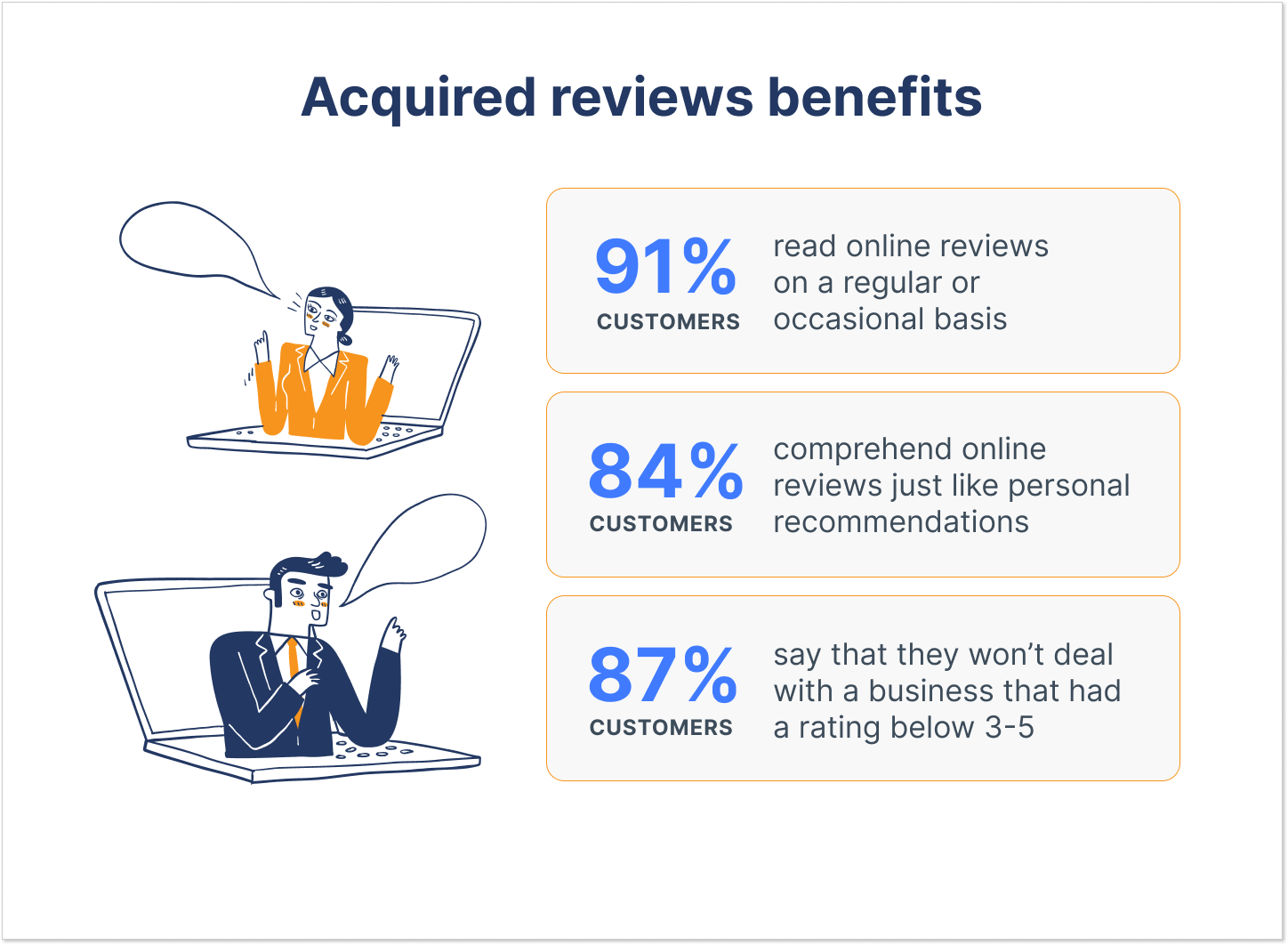 Statistically speaking, people who had a negative experience with a company are more likely to leave a review. And you guessed it right — it's going to be a negative one. A satisfied customer, on the other hand, is unlikely to leave a good review. Long story short, people won't rate your business on designated websites without a nudge.
There are all kinds of marketing campaigns (like email or social media promotions) aimed at collecting reviews from customers. But no one can get positive feedback better than a customer service representative.
You should train your support team to spot satisfied customers who are likely to leave a positive review. If someone complimented your company on its products or customer service, react accordingly:
Ask for a quick review;
Provide links to relevant review websites;
Offer a small discount or upgrade in return (if it's allowed!).
It might feel a bit awkward at first but remember that satisfied customers rarely leave reviews unless you ask them to. That's why using the number of reviews as a customer KPI will motivate your team to push forward.
7. Knowledge base benefits
Benchmark: knowledge base articles help to prevent long wait times in a customer service queue as they address questions that would otherwise have to be answered by employees.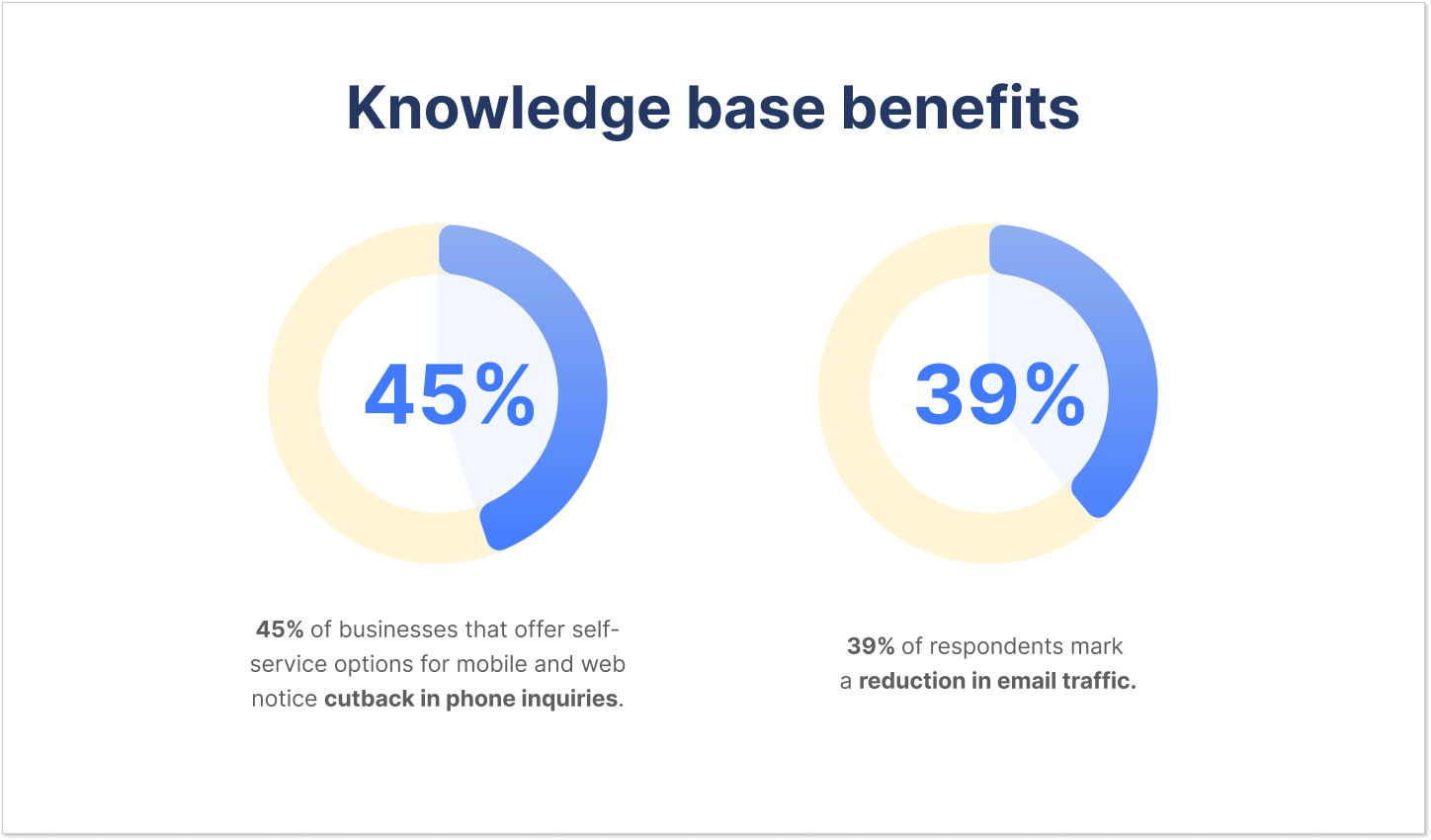 More than 80% of customers use the company's FAQs and self-service portals, which makes it the most popular customer service channel. Creating a knowledge base and updating it with fresh articles, information, and screenshots should also be a part of the support team's routine.
The goal is to answer as many questions as possible before people even ask. There are always lots of ideas to write about. Use common questions from your support experience, track niche communities, and Quora.
HelpCrunch also provides the 'failed searches' report, where you can instantly see the searches people did in your knowledge base but found nothing. This way you'll always have fresh ideas for new articles.
Maintaining a knowledge base and keeping it fresh is a common-sense KPI for customer service representatives. Not only does it save a lot of time, but it also makes them more trained to answer all kinds of tricky questions.
Customer service metrics
8. Net Promoter Score (NPS)
Benchmark: depends on the industry, but on average, above 0 – good, above 20 – favorable, above 50 – excellent, above 80 – world-class.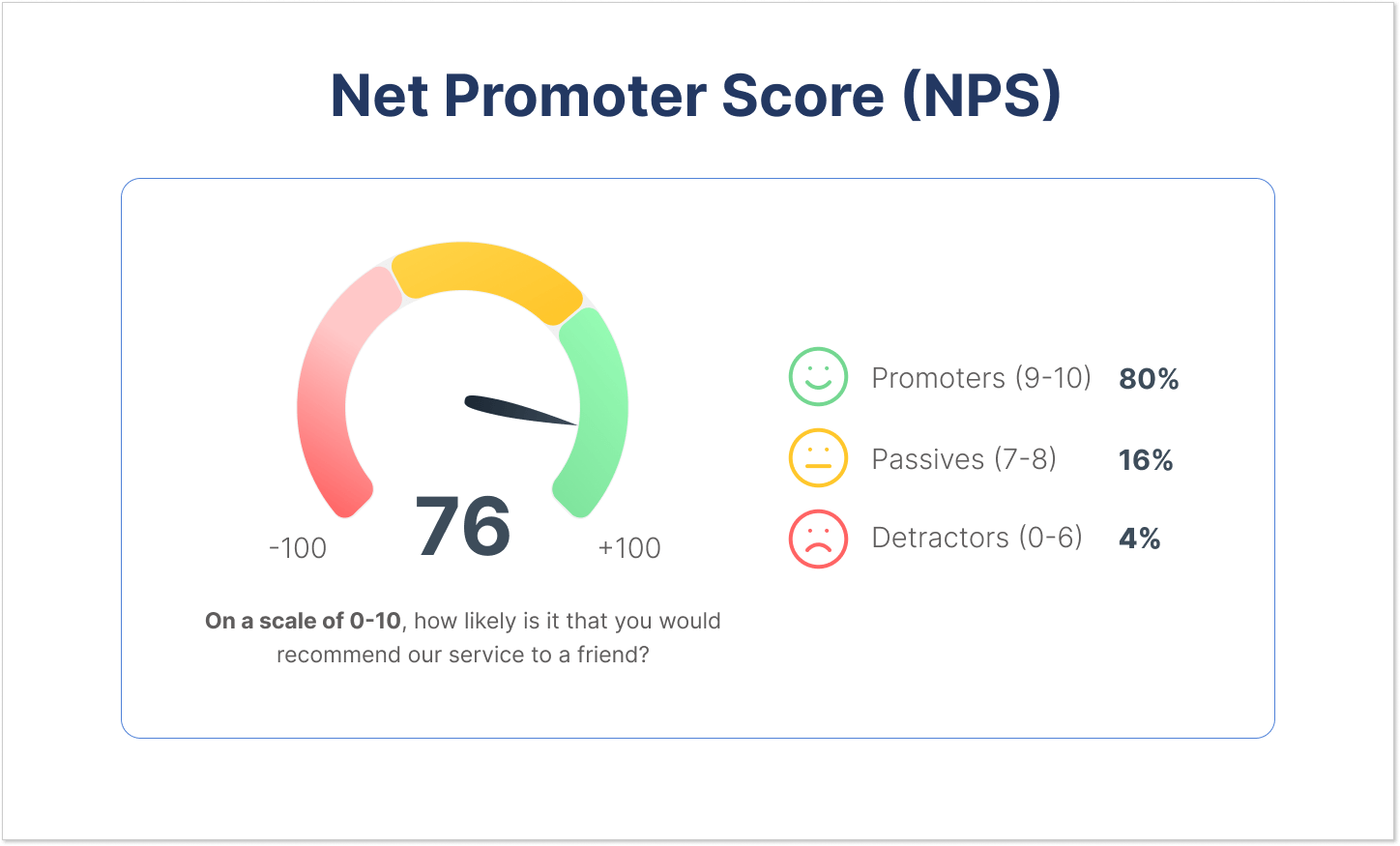 Net Promoter Score (NPS) is one of the most important customer service metrics that measure customer satisfaction and loyalty. It's based on users' willingness to recommend your business to other people on a scale of 0-10.
Based on people's answers, you can break your user base down into three groups:
0–6 range (Detractors)
7–8 range (Passives)
9–10 range (Promoters)
Sounds simple, but it's an evergreen classic that can tell you more about your customers than you think. For one thing, people who are willing to recommend your brand to their friends and colleagues are one step closer to becoming your brand advocates and ambassadors.
On the other hand, dissatisfied customers can churn any minute, so your customer care strategy should be reviewed and adjusted asap.
Your Net Promoter Score is calculated by subtracting the percentage of detractors from the percentage of promoters.
Total % of promoters – total % of detractors = net promoter score
Various discounts and loyalty programs are a proven way to retain people who stick with your brand for a long time. Without a doubt, customer service plays a crucial role in building trusting relationships. However, it's virtually impossible to build an effective loyalty and retention strategy without a solid, reliable, and viable product or service.
9. Customer Effort Score (CES)
Benchmark: The average score is 5 out of 7. The average response rate for CES surveys is around 30%. Basically, anything between 15 – 25% is a good response rate and gives you plenty of data to dig into.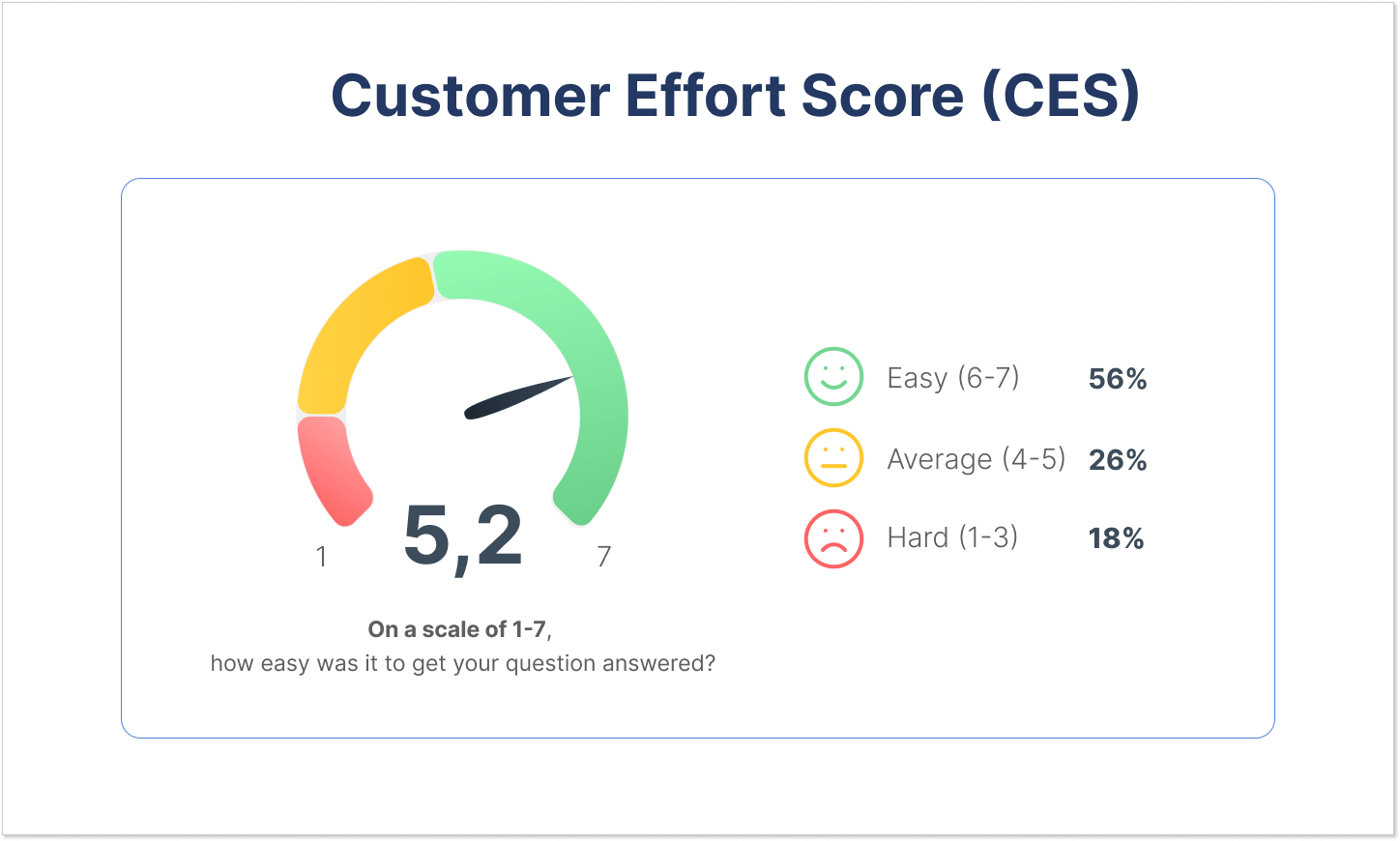 Customer Effort Score (CES) measures how easy it is for a customer to achieve the desired outcome (e.g. resolve their issue, make a purchase, upgrade).
To evaluate the amount of effort people need to apply to contact your support, just send them a post-conversation survey with one question: "On a scale of 1-7, how easy was it to get your question answered?" The votes of 5 and higher mean that your support is fairly helpful and easy to contact. 1 means that finding it was next to impossible. Basically, the higher your CES score, the better.
The CES score is calculated by finding the average of all responses. Here is the equation:
(Total sum of responses) ÷ (Number of responses) = CES score.
The answers will give you a clear understanding of whether you should improve your UX and reevaluate your design decisions.
If a customer needs to search for your 'Contact us' button even for a minute, you've failed your mission. Key actions like signing up or contacting support should take zero thought and effort. The other negative example is when a person is being transferred from one support department to another. And no one can give them at least some sort of a definitive answer.
10. Time to resolution
Benchmark: depends on the industry, but in general, good – less than 12 hours, average – 12-48 hours, bad – more than 48 hours.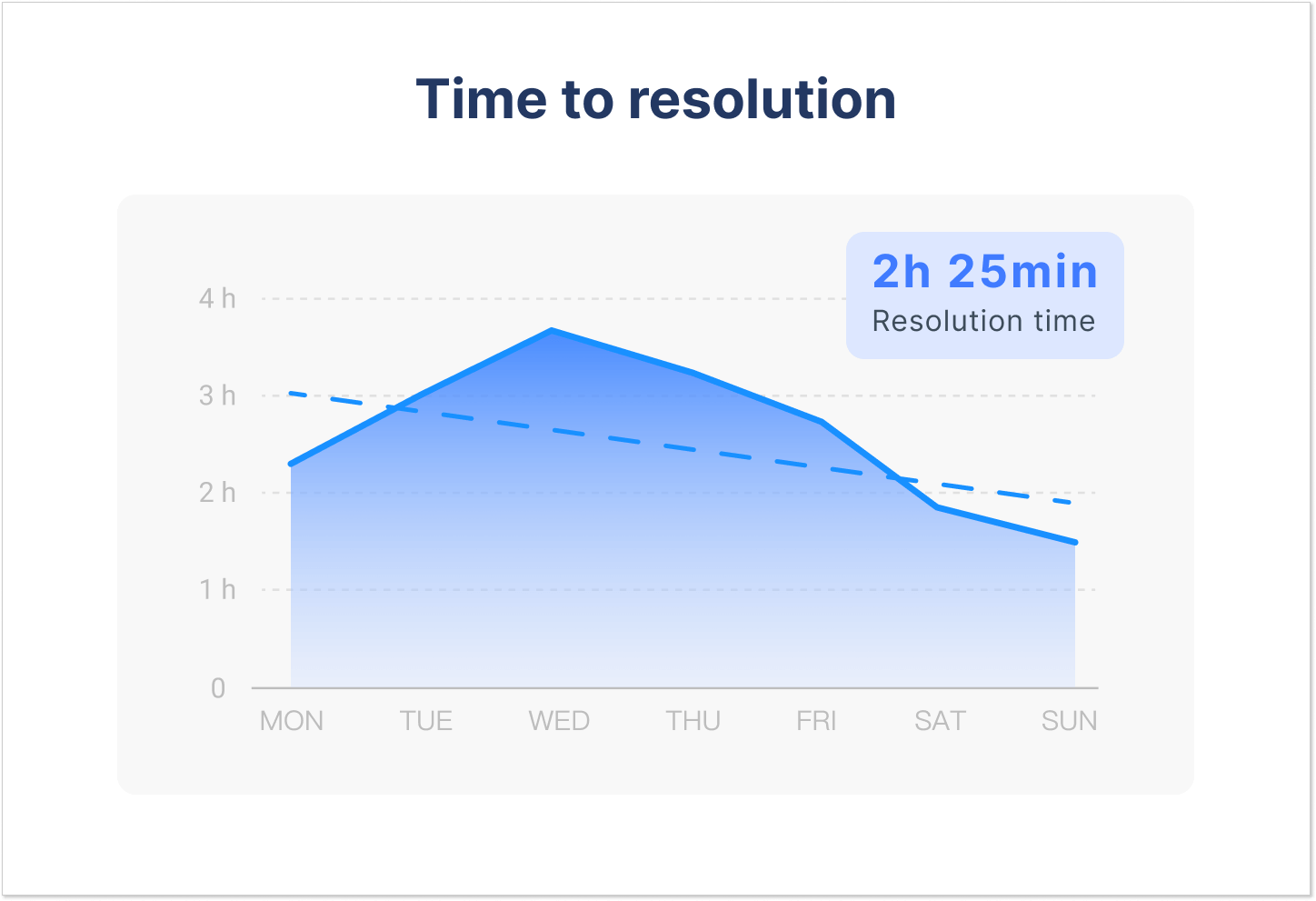 Average resolution time is one of the customer service metrics that gauges the time from the first user query until the ticket is resolved and closed.
It's important to remember that this customer service metric can't be interpreted literally. Some cases take longer to resolve than others. Moreover, technical glitches and bugs are completely out of reach for support reps and can only be resolved by technical departments.
Short ticket resolution time doesn't necessarily mean that issues are resolved correctly. This is why this metric goes hand in hand with the customer satisfaction score that is measured right after a ticket is closed.
You can improve your average resolution time by creating a detailed knowledge base and integrating it into your team inbox (this will allow support reps to share a relevant article in a few clicks). Give your support reps access to real-time customer data and internal notes. Make sure to offer proactive support in your most problematic areas.
11. Total amount of requests per certain period
Benchmark: depends on your website traffic and user base.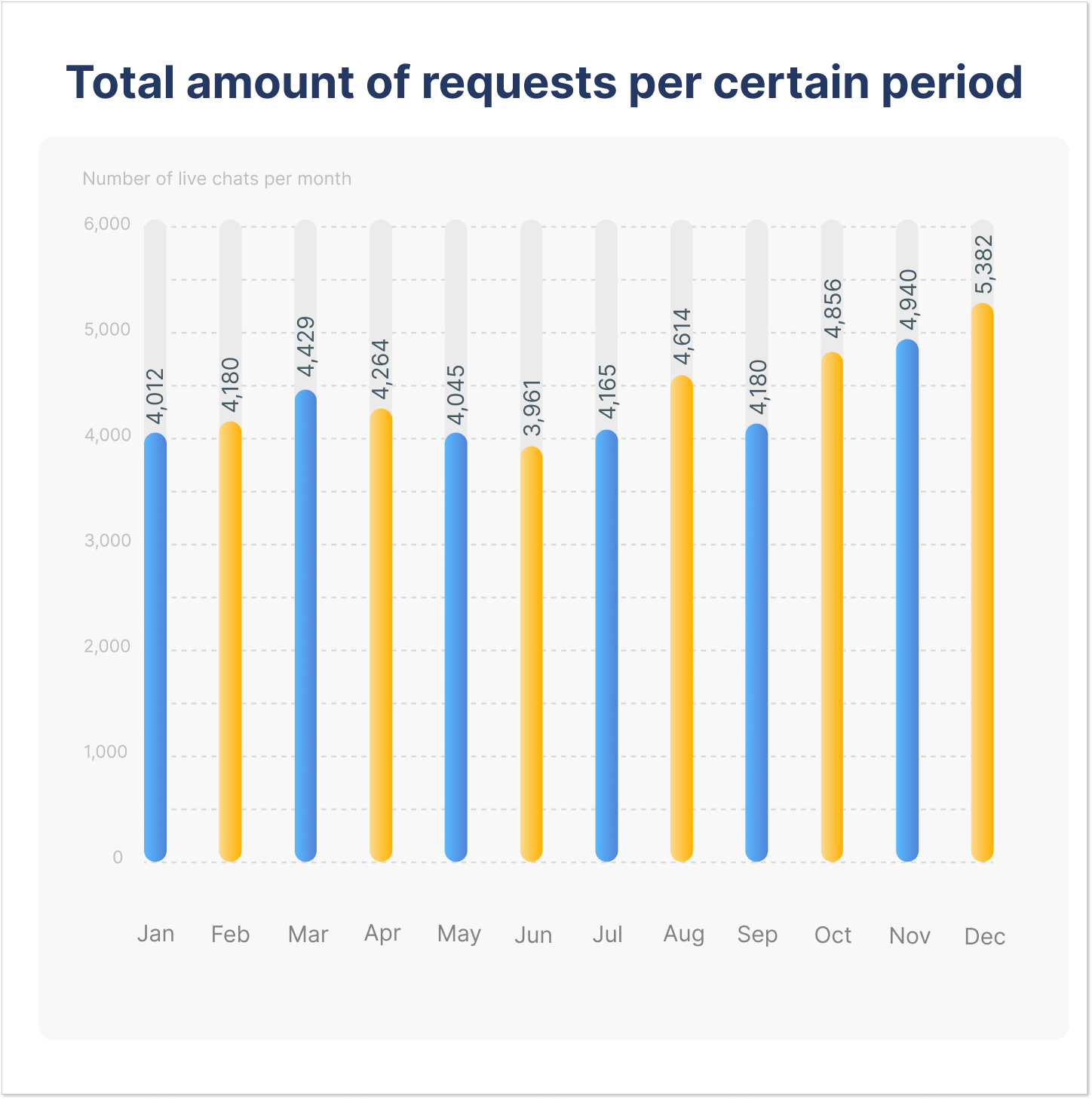 The total amount of requests shows the exact number of unique conversations your support team has in an inbox over a certain time (day/week/month).
This one of the simplest customer service metrics to track can't be really informative or telling if not measured in correlation with their quality and content. In some cases, too many tickets mean that something is wrong with your product or service. Hence, people come to complain and vent out.
In other instances, the same amount of conversations may come from new leads and website visitors who are eager to finish their purchase. And this is definitely a good thing.
So, choose a period for which you would like to track the total number of conversations, and just compare the metric over time. Unusual spikes are what's definitely worth further analysis.
While monitoring the number of tickets, pay attention to their quality as well. It's a subjective metric that defines the relevancy and intent of each incoming request.
We at HelpCrunch have come up with our unique system of tags rating conversations of a scale from 1 to 5 — 1 being irrelevant spam and 5 belonging to high-intent leads. We also have additional tags like 'bugs', 'feature requests', 'follow-ups' to better prioritize messages that come from our active customers.
These insights will give you a better idea of your marketing performance. Too much spam from new leads clearly means that people end up on your website by mistake. So it makes sense to review your campaigns and arrange them so that it targets your buyer persona more precisely.
Wrap up
While each customer service KPI and metric is important, measuring all of them at once might be frustrating for a novice. If that's the case, start with tracking the most crucial one, customer satisfaction rate. It's a fundamental indicator that helps you test the waters and see how people feel about your business in general, not just its customer service.
You can get satisfaction reports within the HelpCrunch platform. It also provides the tools essential for great customer service like live chat, knowledge base, popup editor, and email automation. Sign up for a free trial and see how your business can benefit from it.