What is a Knowledge Base and Why do You Need It?
What does a knowledge base mean? We're puzzling out its definition once and for all in this ultimate guide. Check it out!

Here's the scoop: not all customers are experts when they land on a website. It's like they need info served in bite-sized chunks. But hold up, most customers today are tech-smart and don't have time for waiting. Like, 75% of businesses lost customers due to slow response times. When they want answers, it's like, right now. If they don't get anything, they might not come back.
So, what's the fix? Create a knowledge base. Let them help themselves instead of twiddling their thumbs. People dig help centers more than other self-service channels. Quick answers beat waiting around.
In this guide, we'll dive deep into what is a knowledge base, why it's good for both you and your customers, and show some must-haves for creating a killer online info hub.
Knowledge base definition
A knowledge base is a centralized self-service repository where the information about a product, service, specific topics, or the company as a whole is stored, organized, and shared.
To be more precise, such hubs hold videos, FAQs, how-to guides, white papers, and troubleshooting tips. This pile of wisdom is like the end product of collecting and organizing all the information using knowledge management practices.
In a resource center like this, you'd want to cover stuff like:
Getting going with your product;
Adding billing details to the client's account;
Security and confidentiality basics;
The company's mission statement;
Steps to fix things if something goes wrong.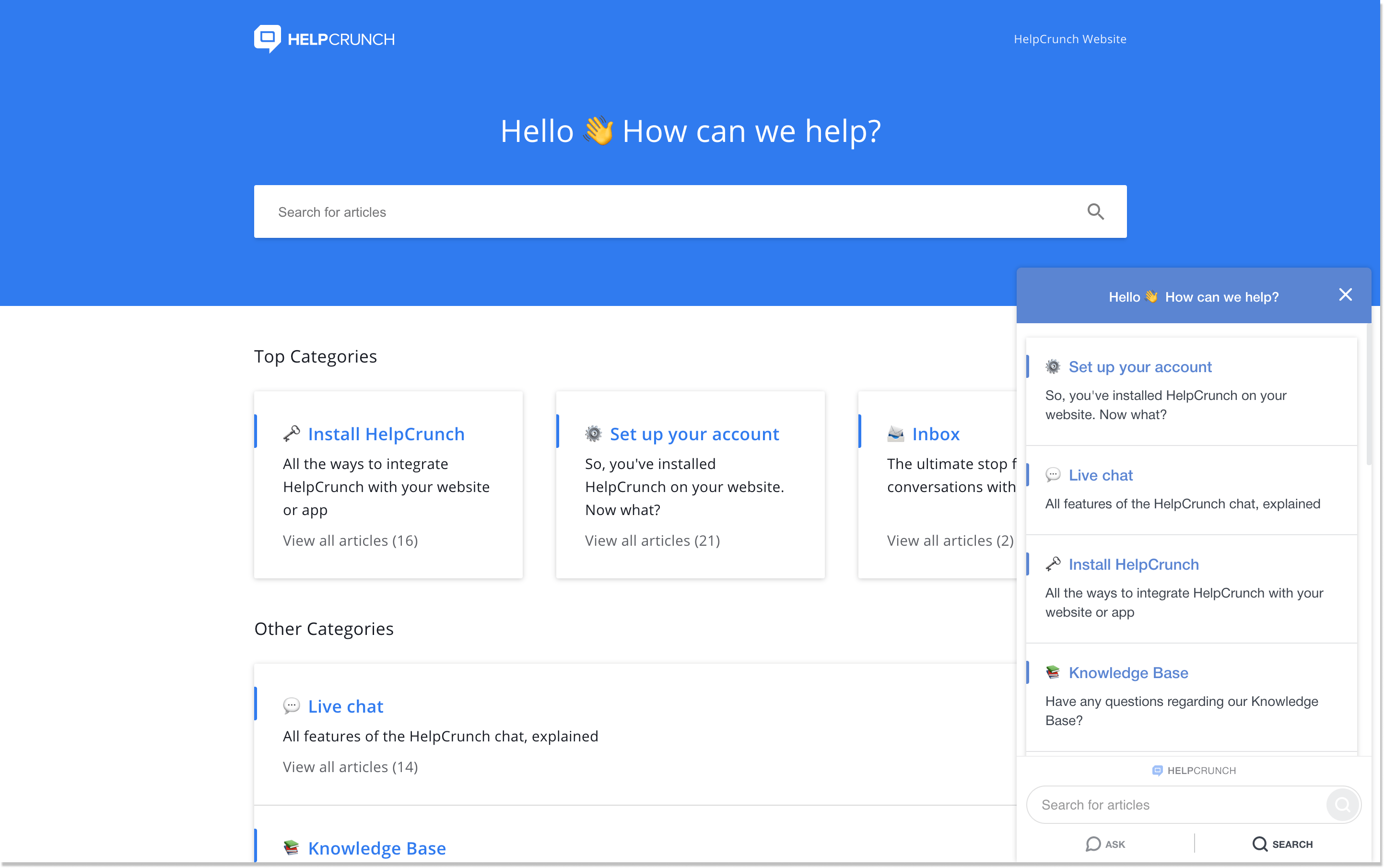 And not only topics are important. The more intuitive and user-friendly it is, the better value your customers can get. If built right, a resource center helps people find their burning questions without reaching out to a customer service agent. They can learn anything about the company's products or services just by reading insightful articles.
If you want your website visitors to find gold, you've got to figure out what kind of info they need, how your help center should look, and how you'll share all this greatness with everyone. And this is exactly what you will get from this guide.
Two main types of knowledge bases
A little off-topic for clarity. According to their functionality, there are two knowledge base types:
Internal: a library of guidelines, instructions, practices, onboarding materials, policies, and rules for employees. Such help centers describe the company's product and explain how to manage, maintain, develop, offer, sell, and service it.
External: a collection of the most common use cases, FAQs, walkthroughs, release notes, and other important materials that customers might need while using the product or shopping. It matters how you pile, structure, and manage the information.
We will focus more on the latter because it is the external knowledge base that is all about customer service. But we have one more thing to clarify.
Knowledge base vs FAQ: Which is better?
FAQ vs Knowledge base confrontation is as old as the world. These two tools are often compared because they are both about answering customer questions. But there are actually more differences than similarities.
When basic customer questions bugging you, FAQs are what you need. It's like a quick fix – round up all the common stuff people ask and fire back with snappy answers. This is what new potential customers usually hit up when they're mulling over getting your product or service. FAQs can be a small section in the footer, a separate page, or part of the help center.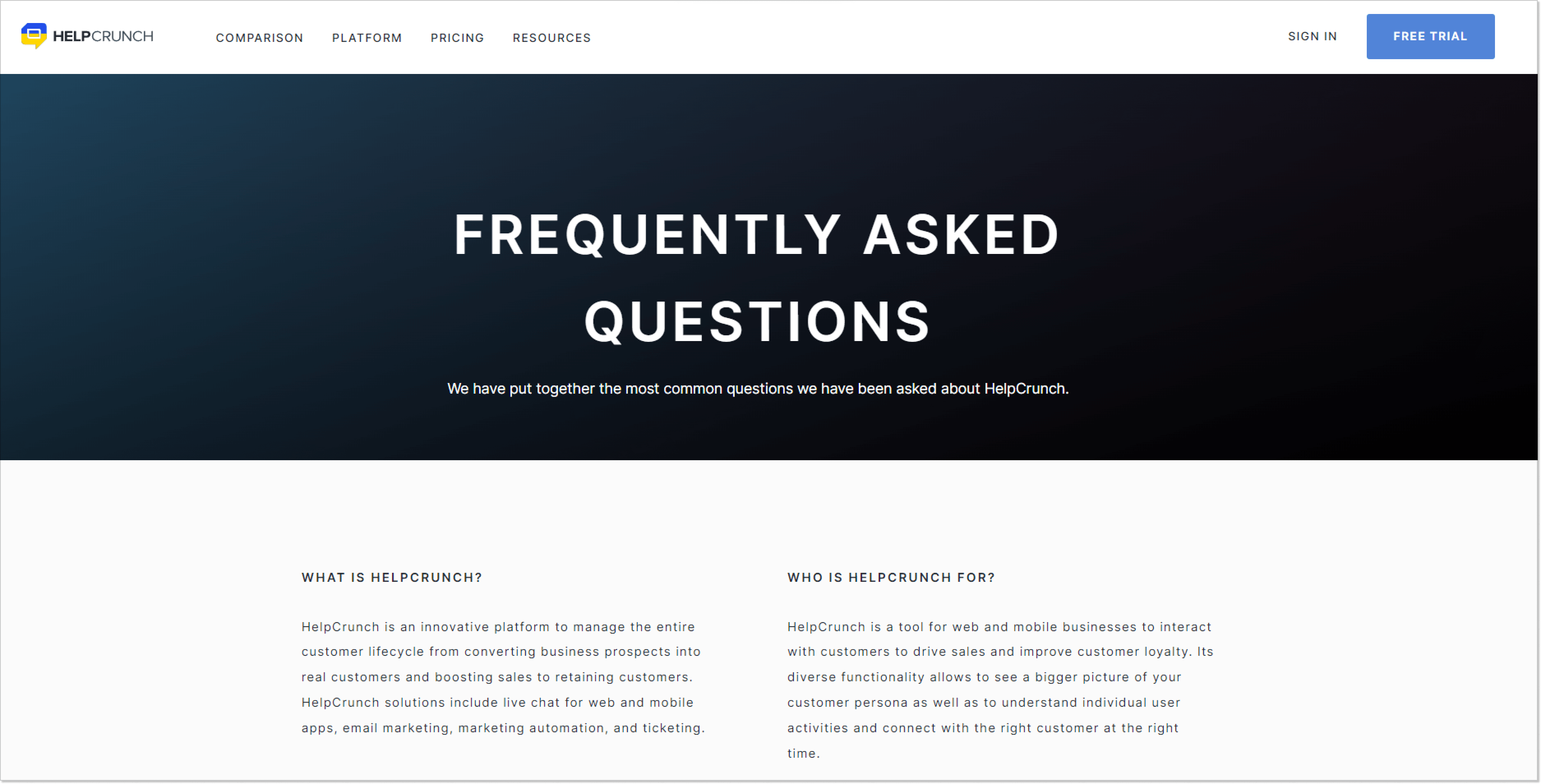 In contrast, a knowledge base is like the go-to place when things get a bit tricky – it's for those complex issues that need more than a quick explanation. Think of it as your product's ultimate information hub. It's there to help out both newbies and those who've been around, offering clear instructions on how to use your stuff.
Thus, these tools carry out different functions with different target audiences and designs. We recommend considering both and wisely using their advantages on your site.
And if you are looking for a specific FAQ solution, we encourage you to look at the article below.
Benefits of creating a knowledge base
We have already pointed out that the help center is crucial. But to what extent? What will you gain as a business manager or customer service guru? There are several knowledge base benefits.
Efficient customer support: Your team can't be online 24/7, but a KB can. Customers can find instant solutions to common queries, getting rid of the waiting for a response. This adds to their experience and frees up your support agents to focus on more complex and unique issues that truly require their expertise.
Reduced workload: Yes, most of the time, your support folks answer the same questions again and again. But a KB tackles those bugging inquiries. For example, support agents can quickly find articles and send them to chat instead of writing everything step by step. The result? Lightning-fast replies and customers who are all smiles because their issues get sorted in no time.
Adding to customer retention: People love it when things get sorted out fast. A super helpful help canter makes their journey smoother and more enjoyable. They can find answers on their own terms, avoiding the frustration of speaking with another sentient being and ultimately leading to higher customer satisfaction rates.
SEO benefits: When customers search for solutions, your articles can lead them to your site. This increases your website's organic traffic and positions your brand as a authoritative source in your industry.
Analytics insights: Many knowledge base tools (like HelpCrunch 🙃) offer analytics. You can track what customers search for and which articles are most popular, giving you insights to refine your content. This data-driven approach helps you keep jazzing up your help center and ensure it's totally in sync with what your visitors are after.
Building a KB might eat up some time, but trust me, the perks are worth it. Think about your team kicking more goals, customers feeling the love, and having all that important info in one cozy spot. See what I'm getting at? It's like putting in some effort now for a bigger win down the road. That's where we get to the juicy part.
Creating your own knowledge base:
Pivotal tips & tricks
So, you're ready to take your customer support game to the next level and create a knowledge base? That's the spirit! We want to help you, so let's go over the basic steps to get you started crafting.
Identifying what topics to include in your knowledge base
First things first, making a list of topics for your help center isn't too tough. Check out the questions you're answering all the time in your support queue, and have a chat with your team to figure out the FAQs.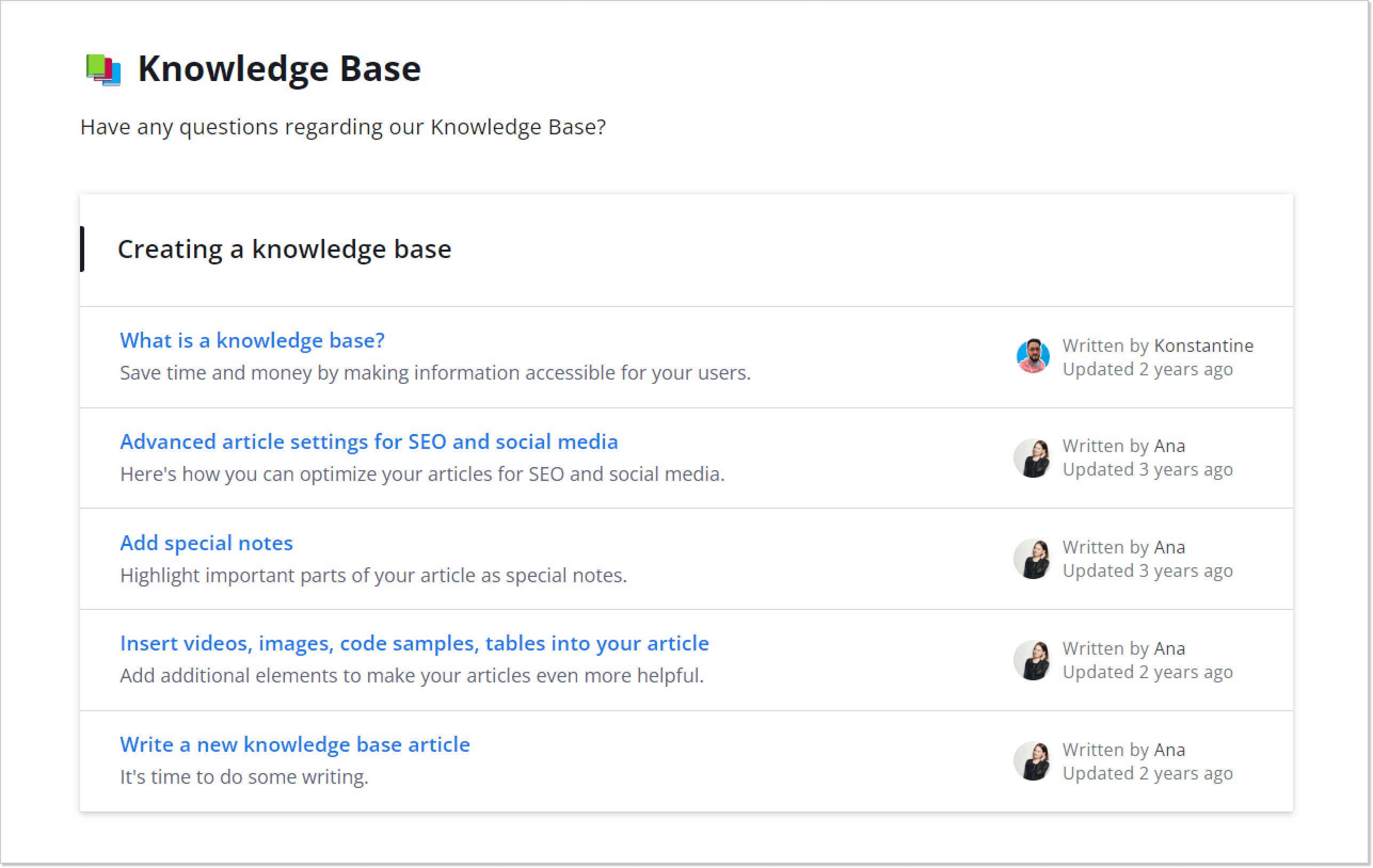 Ideally, your help desk data can help you sort out the most common questions. But hey, if data isn't around, try to review the knowledge bases of your direct competitors and the questions they answer; also Google Trends or tools like Ahrefs can suggest topics to cover. Whatever method you go with, set a goal to have enough content for the launch. Maybe that's the top 20 priority articles on your list, or perhaps all the ones you marked as "high" priority.
Don't worry about nailing every article from the get-go. Once your knowledge base is up and running, you'll gather data that'll show which other articles you really need and which ones you can skip.
Develop the structure and design of your knowledge base
The best setup is like a disk-folder-file: think of categories as disks, sections as folders, and articles as individual files with all the details. This style is super flexible and works great for any business.
At the same time, it's totally up to you how to organize the content inside this structure. But there is one main rule – navigation should be intuitive for users. The same applies to design. No matter how important the information in your KB is, it won't be used if it's unusable. Also, it is self-evident that the KB style should match your brand's so that the page looks like an integral part of your site.
Start by identifying the main categories that should address general topics of your customers' queries. For example, "Getting Started," "Delivery and returns," or "Security." Next, break these categories into separate sections and fill each section with articles on specialized topics.
Write knowledge base articles
Writing knowledge base content is probably the most important part of the process. Given the structure "from larger to smaller," it is logical to assume that one article should cover one particular use case.
But remember, you don't have to start from square one. Chances are, your help desk is packed with stuff you can use – those past replies and saved responses. Using what your team has already written can be a major time-saver.
And keep content writing best practices in mind. Make articles comprehensive and engaging at the same time. Toss in some cool visuals, play around with lists and text styles, and think about adding anchor links for those longer pieces. For example, as shown in the screenshot of the article from our knowledge base below.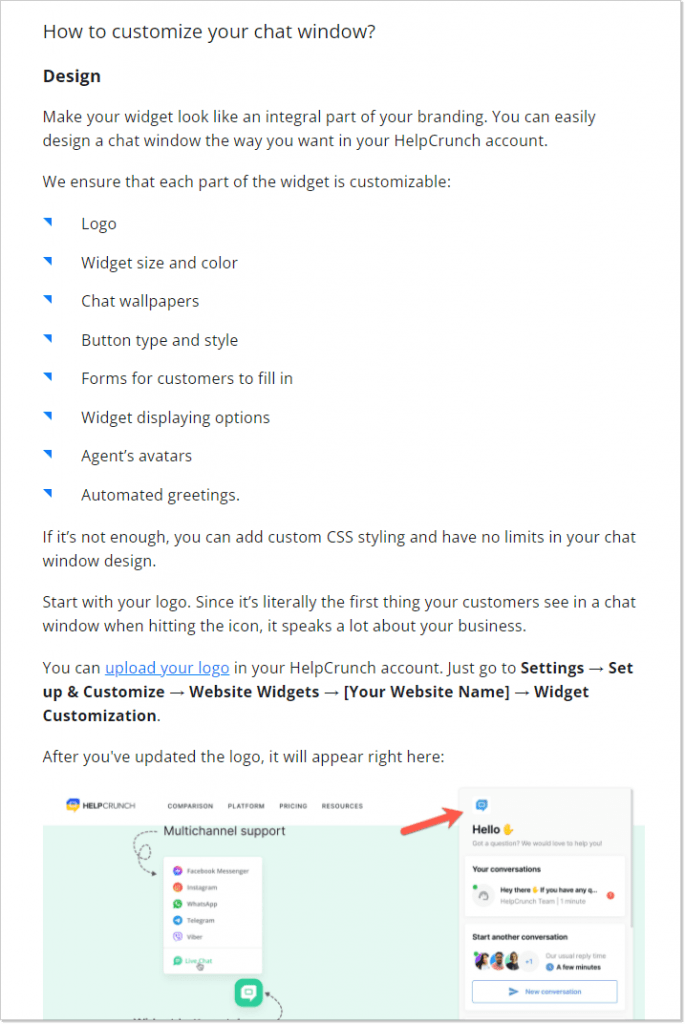 Also, don't stick to one style of article. For this, you can use a convenient template. In particular, you can create:
step-by-step instructions
how-to articles
FAQs
troubleshooting pieces.
Analyze knowledge base performance and improve the content
Tracking the performance of your customer service knowledge base content is like checking the GPS during a road trip – it keeps you on the right path. Most platforms offer analytics tools that help you understand how your article is doing. Keep an eye on metrics and, with the insights, enhance your content:
Updates: If you notice a specific section getting a lot of views, consider updating it with the latest information. Keeping your content fresh shows that you're on top of your game.
Clarity: If readers spend little time on your article, it might be a sign that it's confusing. Simplify complex terms, use clear headings, and break down long paragraphs into smaller, digestible chunks.
Visuals: People love visuals. If your article is a wall of text, consider adding images, diagrams, or even short videos to explain concepts visually.
User feedback: Don't underestimate the power of user feedback. If readers leave comments or rate your article, take their suggestions seriously.
Best knowledge base examples
for inspiration
Let's now look at some of the best examples of knowledge bases and maybe learn something new.
1. WhatsApp
WhatsApp is the free messenger platform that Meta owns. The people who use it for texting, chatting, and video calls come from all around the world. Thus, WhatsApp has a whole bunch of useful info. It's like a guide for users, and it's full of answers to common questions.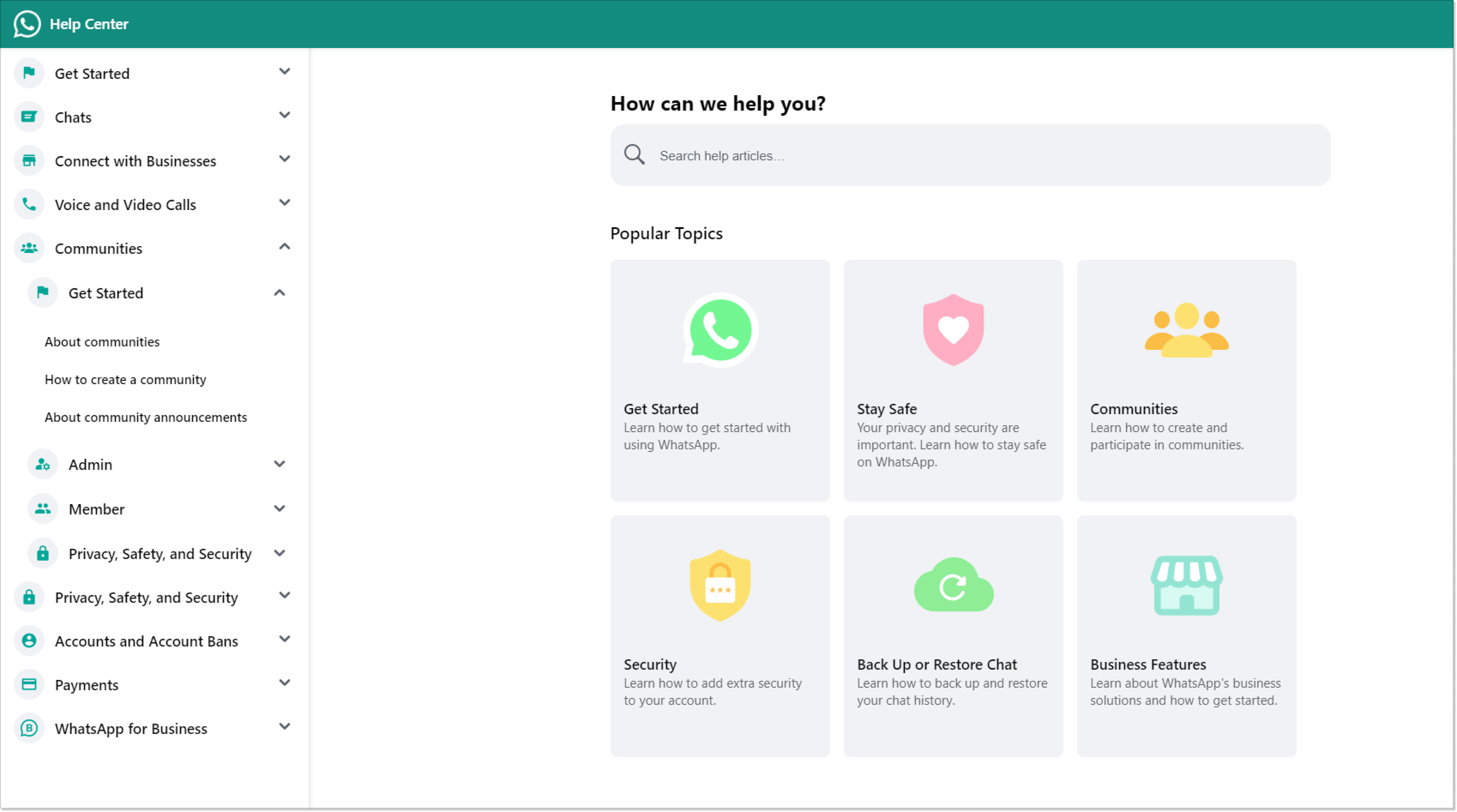 And to be honest, it's one of my favorite knowledge bases out there. Because they're smart about it.
Their design is very thoughtful. The most common categories, illustrated with icons, immediately catch the user's eye. At the same time, an extended menu is available on the side, in which individual points are opened, showing sections and articles, by clicking on which you immediately get to the necessary information.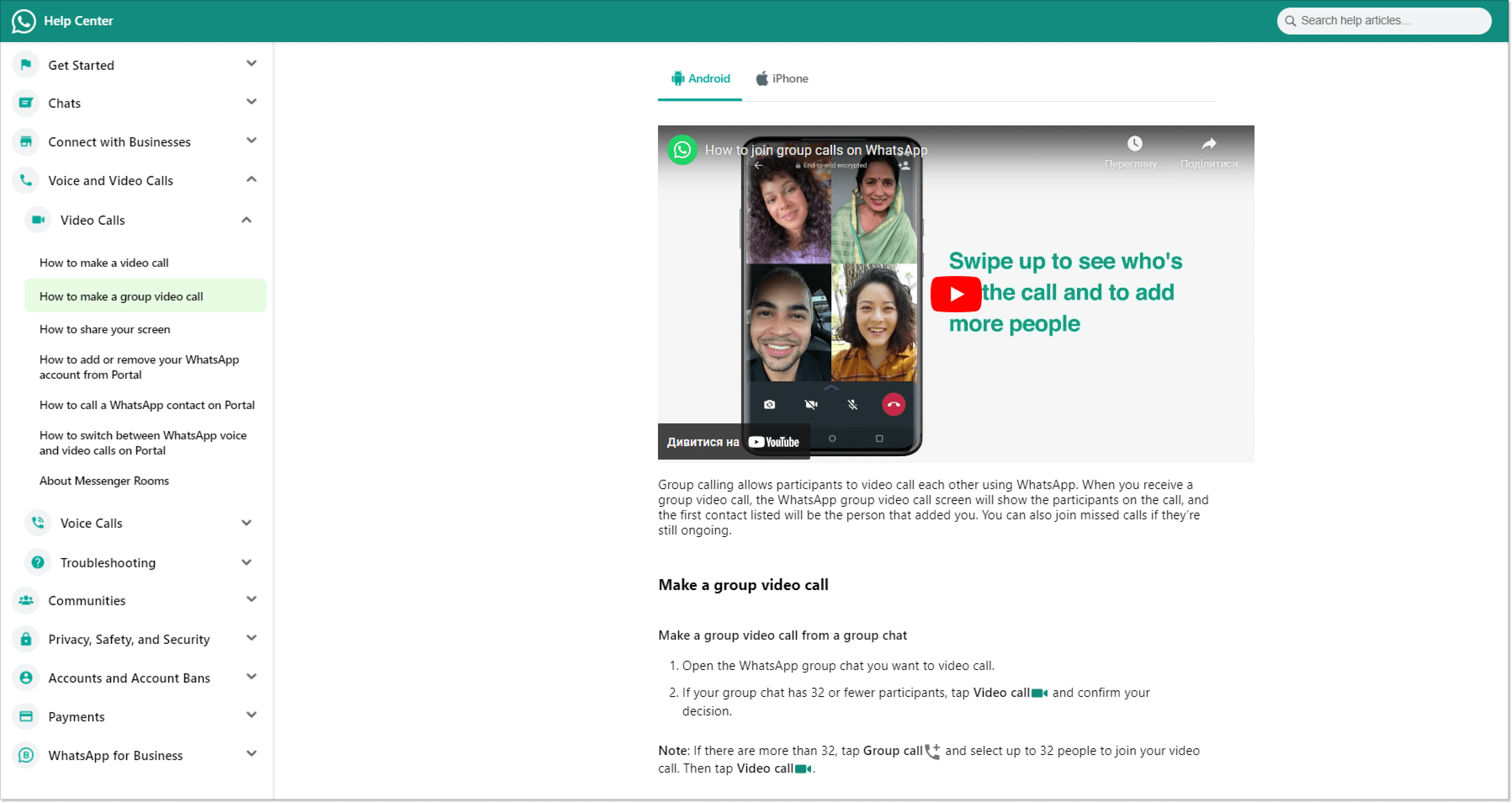 Articles are made for all kinds of users. Android or Apple, mobile or desktop users – they've got everyone covered. You see, how you use the app affects the questions you might have. So, by having different info for different users, WhatsApp is nailing it when it comes to helping people out. Smart move, right?
In addition, the content itself is perfectly structured. Videos and images are used, and what is important for the reader's convenience is that the icons are identical to those they see in the menu of the WhatsApp application.
By the way, we recently added WhatsApp integration, check it out.
2. Surfer
Surfer is a successful SEO platform that actively integrates AI into its products. Working with such a platform may not be immediately clear, especially for beginners. That is why the company uses a very simple, and one can say "classic" design of the knowledge base.
We are greeted by a search box and below are the most important categories, illustrated with icons for easy reading by users. After choosing the right one, we get to a separate page with sections and articles. The texts themselves are unambiguous, with only the essential information.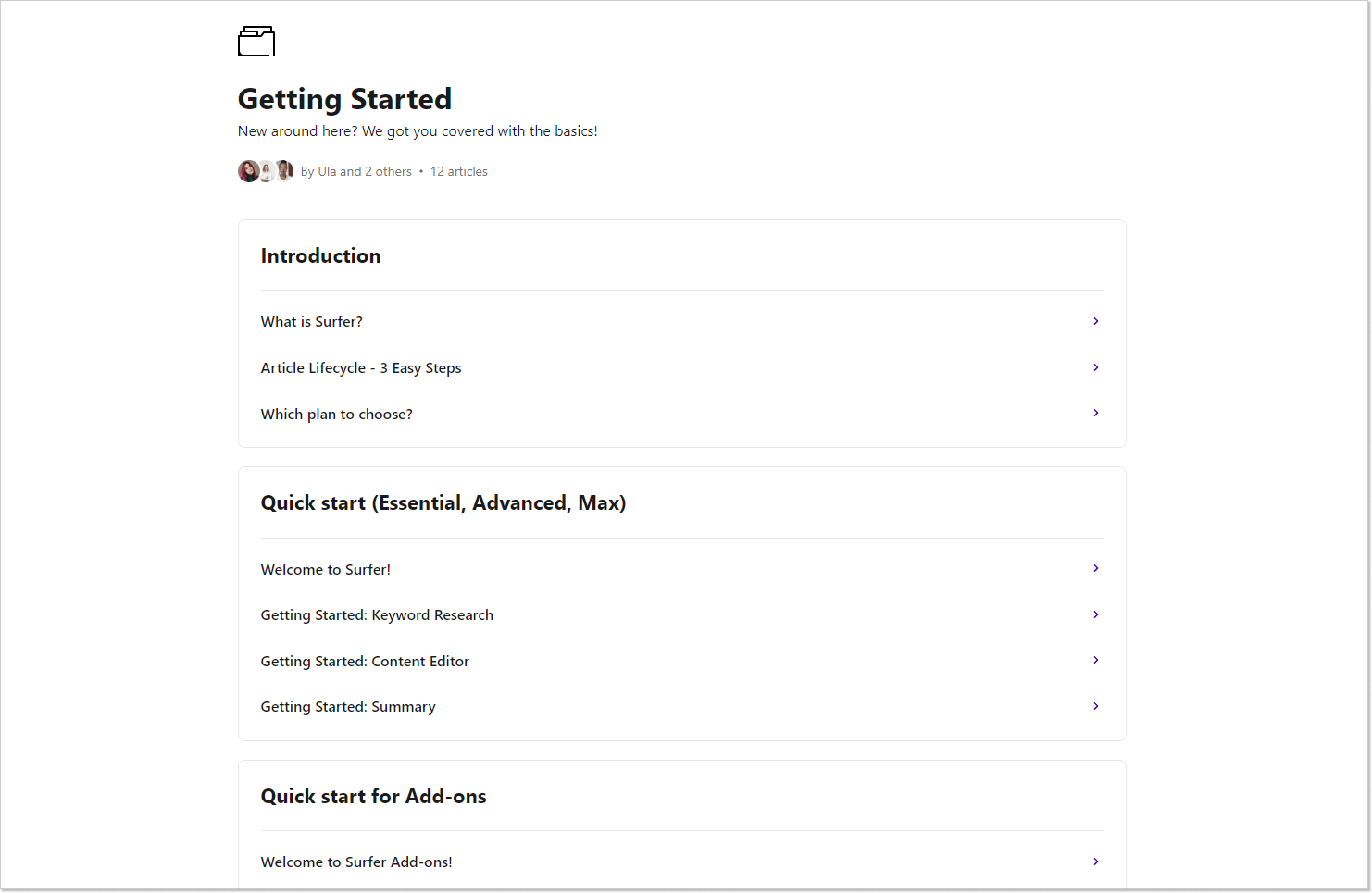 3. Figma
It would be surprising if one of the most popular design platforms, Figma, had a boring page design. So yes, this is probably my other favorite knowledge base. I especially like how the main categories are presented in a very convenient and friendly format – just like a cloud of tags under the search bar. It's all done in a witty color palette with an illustration that literally says, "Hi! Ask me anything, and don't worry, it's cool."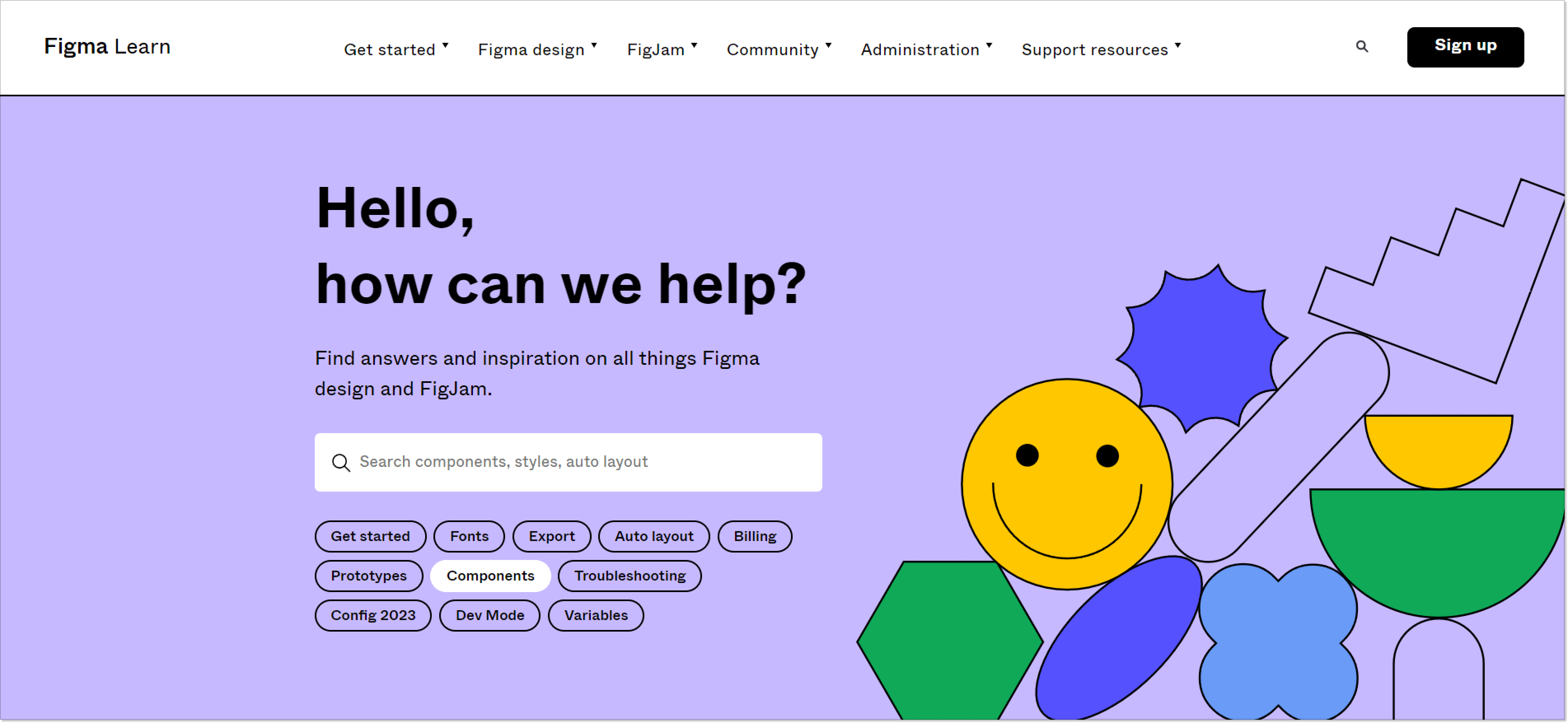 More picky users can scroll down and find classic tiles with categories, a block with new articles, and popular videos. Also, beginners are offered several training courses on designing and using Figma — everything for quick and easy onboarding.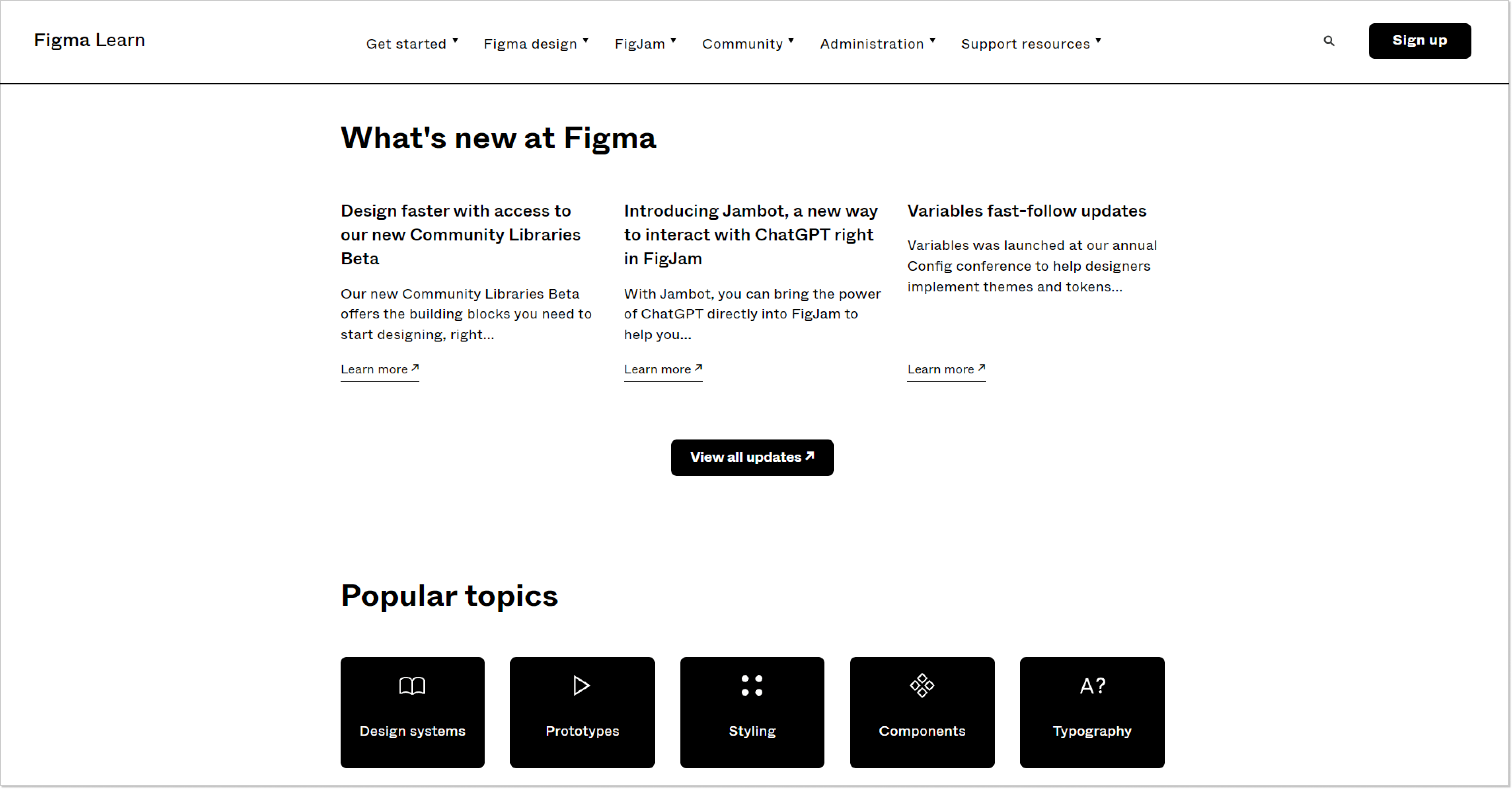 4. Loom
Loom is a video communication platform combined with cool video recording, editing, and sharing features. They have recently integrated AI for video call transcription and are generally doing well in the market.
The team adopted a fairly simple, "classic" design with a search bar at the top and main category tiles. Direct links to the most popular queries and a list of popular articles at the very bottom are also offered. All this in pleasant colors and with lovely animations.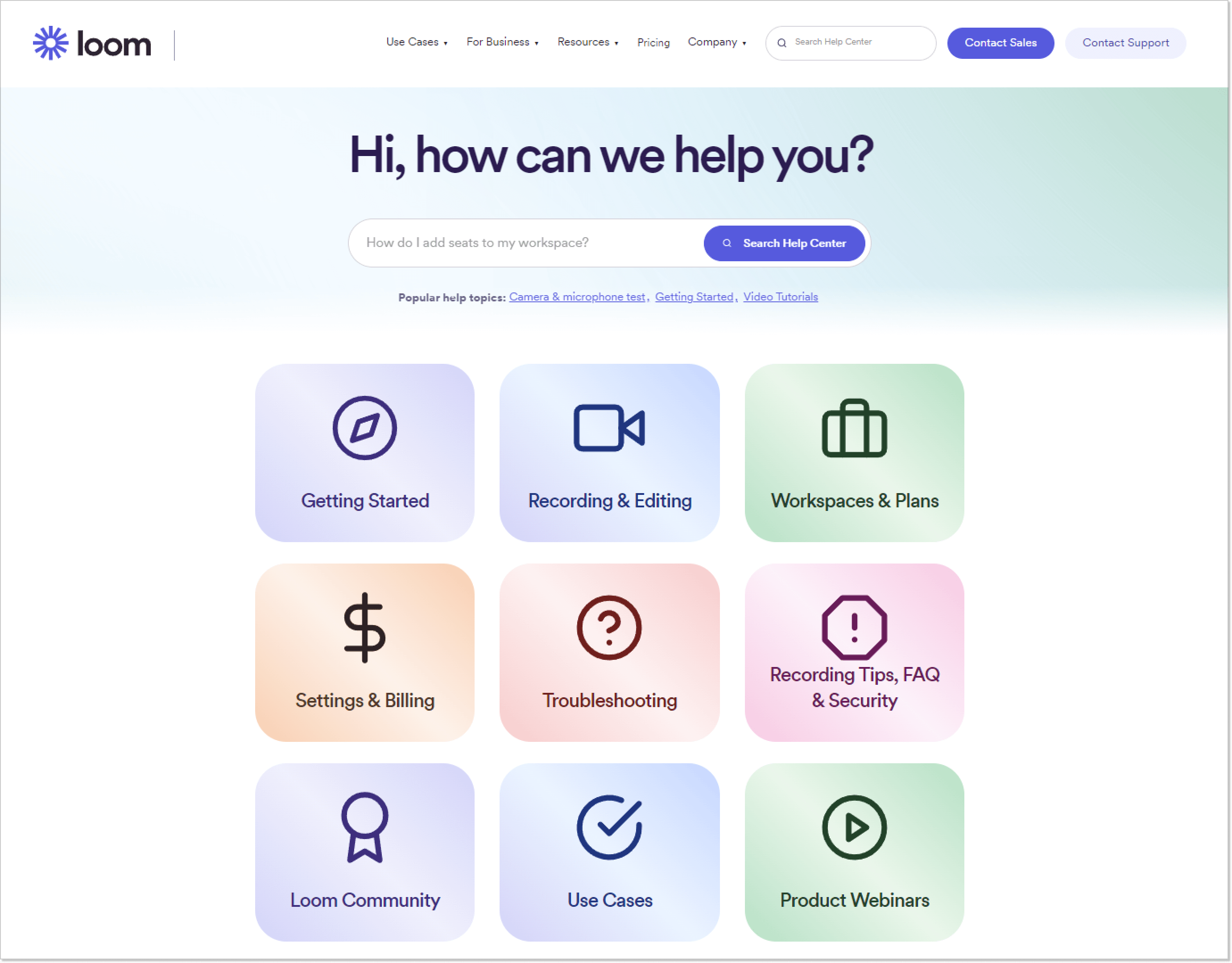 The design of the articles is interesting. More precisely, one element – table of contents. It hangs constantly on the left, allowing the reader to quickly move between pieces as he studies a particular section in its entirety.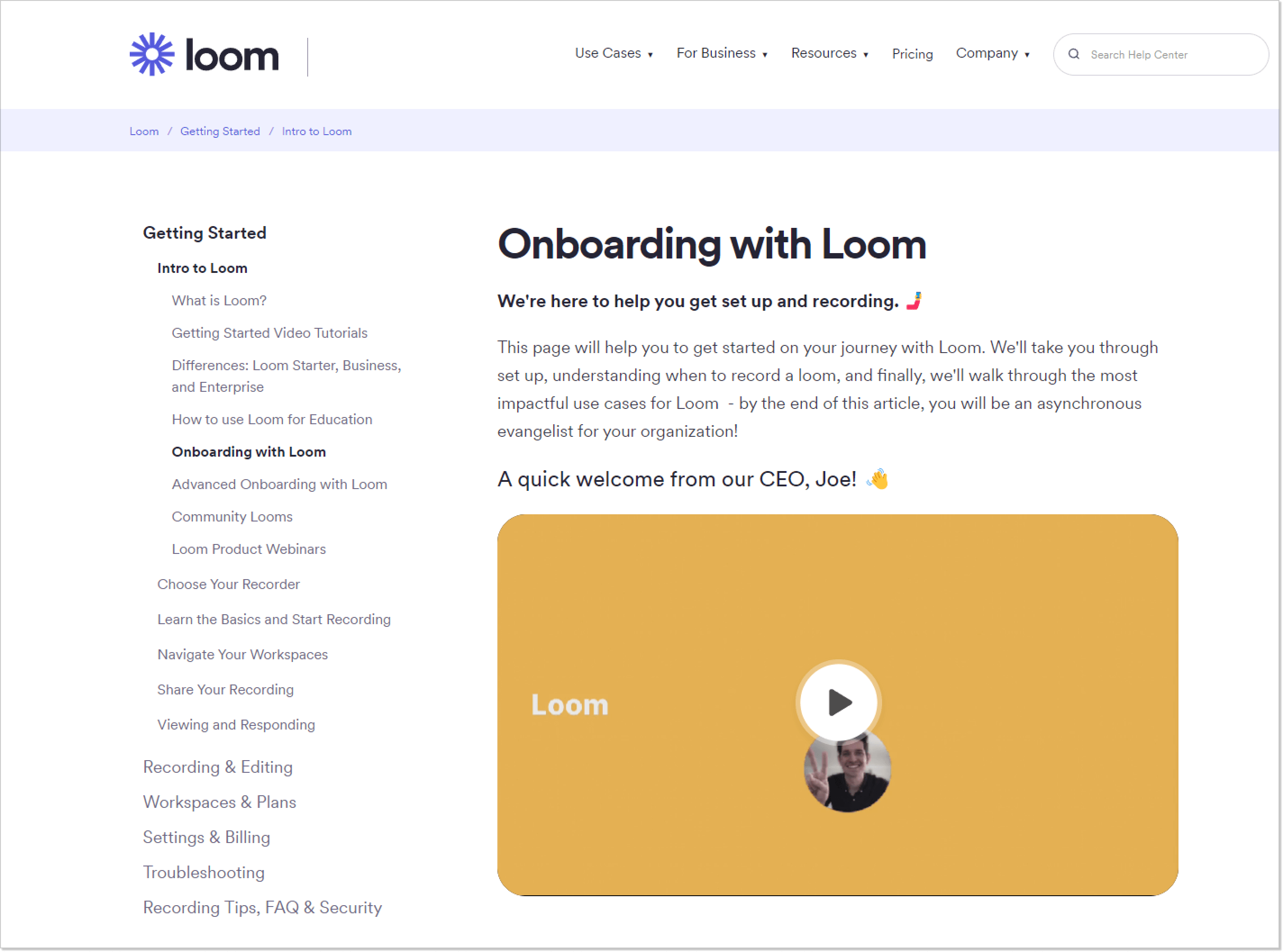 5. Grammarly
Last but not least is a knowledge base from the most famous sponsor of your literacy. Grammarly also opts for a "classic" homepage structure. The search box, below the category tiles, is illustrated with icons in the brand's light visual style.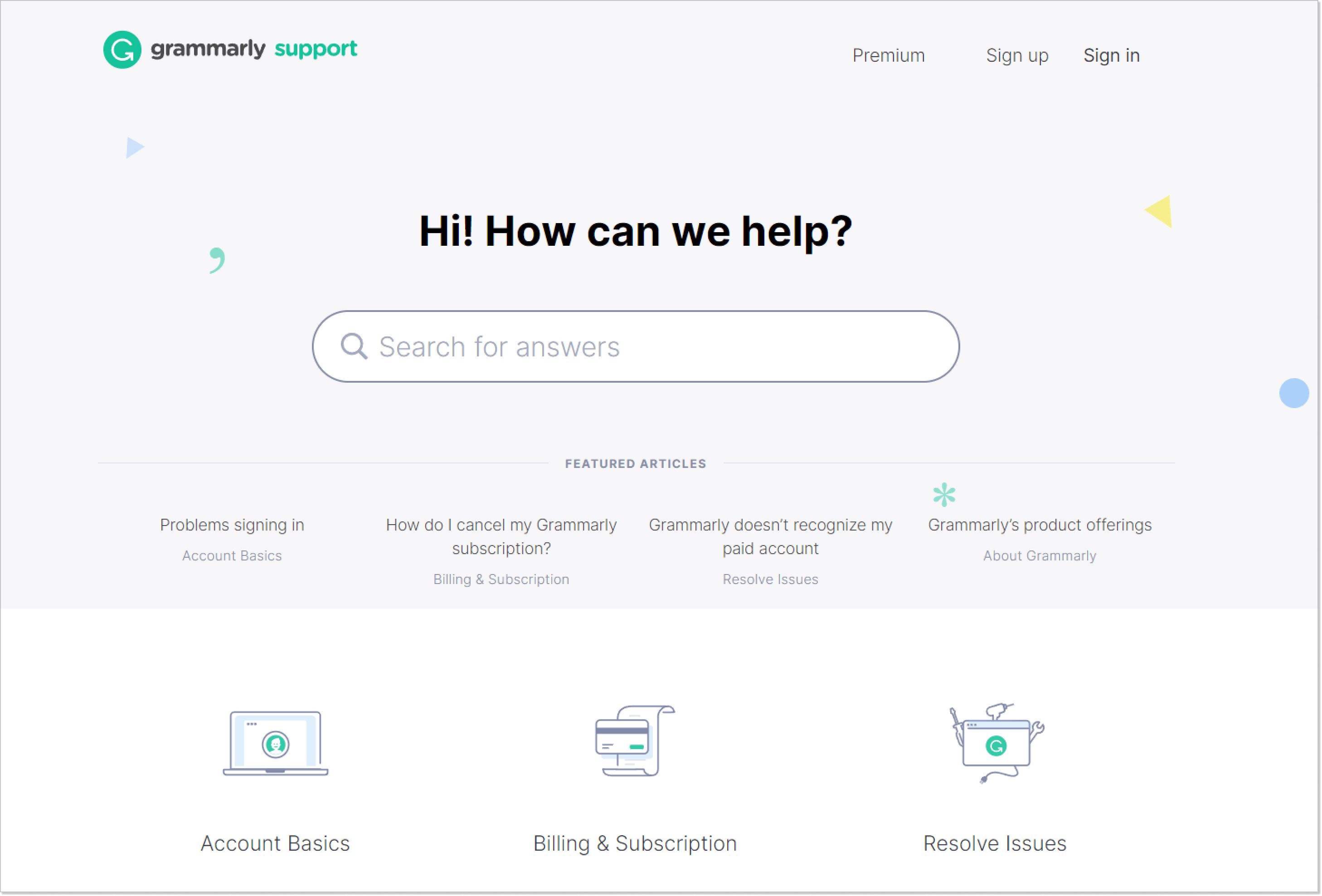 But as the well-known rule of design says, no matter how complex your product is, the user must understand it intuitively and quickly. The Grammarly app itself is a great example of that.
The same applies to their knowledge base. At first glance, a straightforward design hides a huge amount of information. Well-structured sections and articles offer short but comprehensive answers to users' questions.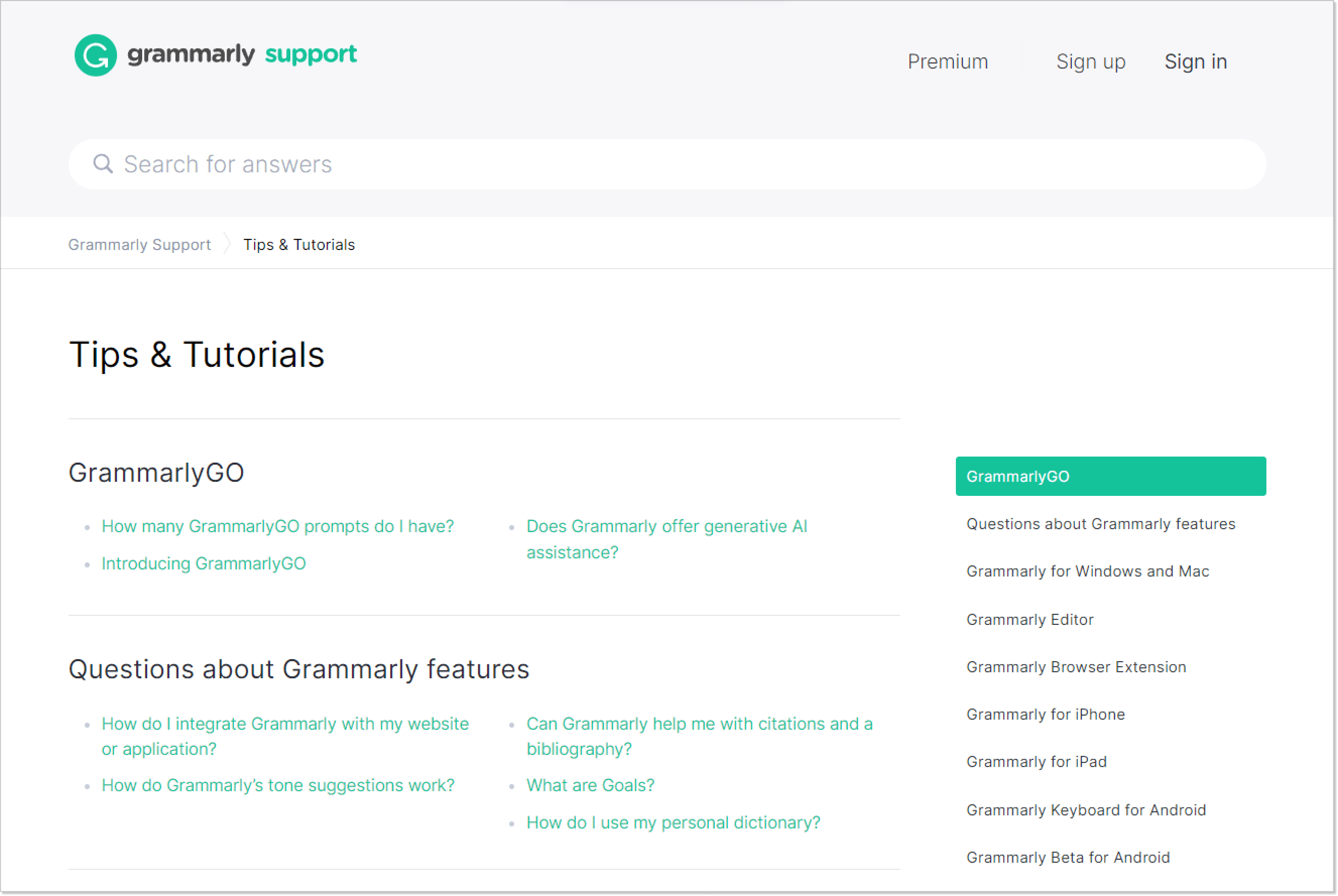 Knowledge base SEO tips
to rank high in Google
Now that we have dealt with creating a knowledge base, let's mind one minor, at first glance, but still vital issue. Articles explaining how this or that works are the content that people will first Google. Thus, it is important not only to be "visible" to search engines but also to occupy high positions and grab all that juicy traffic. We have already covered this issue in the article below. So check it out!
And here, let's run through the main points. After all, by utilizing the right strategies, you'll ensure that your KB content shines brightly and gets noticed by those seeking answers. Therefore, SEO tips tailored to help you with that:
Keyword research is your north star: Think like your audience. What terms would they type into Google when searching for answers? Tools like Google Keyword Planner or SEMrush can give you insights into the keywords and phrases your potential users are searching for. Use them when writing texts.
Craft titles that spark interest: Your title is your ticket to capturing attention. Craft clear, concise, and engaging titles that accurately represent the content. Include your main keywords to let users and search engines know what the article is about.
Master the art of meta-descriptions: The meta-description is your chance to give users a sneak peek of what's inside your article. Make it enticing and concise, summarizing the article's main points. Don't forget to sprinkle in relevant keywords, but keep it natural.
Internal and external links: Interlink your articles within the KB to help users navigate related content. This adds to their experience and signals to search engines that your content is interconnected and valuable. Additionally, including authoritative external links can boost your content's credibility.
Image optimization matters: Images can add visual appeal to your content but can also slow down your page if not optimized. Give your images descriptive file names and alt text. This assists visually impaired users and increases the chances of your content appearing in Google's image search.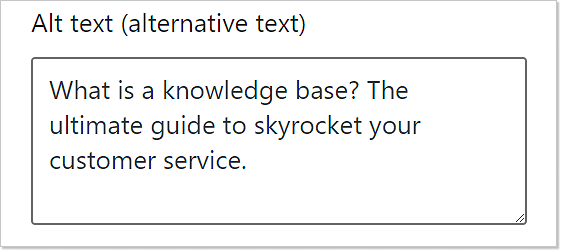 In-depth, value-packed content is key: Google loves content that's both informative and helpful. Create articles that delve deep into a specific topic, comprehensively answering users' questions. Use subheadings, bullet points, and images to break up the content and make it easily digestible.
Embrace mobile friendliness: Mobile users make up a substantial chunk of online searchers. Ensure that your knowledge base is responsive and loads quickly on mobile devices. Google rewards mobile-friendly websites with higher rankings.
Keep it fresh with regular updates: Keep your knowledge base alive by revisiting and updating articles periodically. This not only maintains the relevance of your content but also signals to search engines that your site is dynamic and up-to-date.
Measure and refine: Monitor your knowledge base's performance using tools like Google Analytics or Google Search Console. These insights provide a window into which articles perform well, which keywords drive traffic, and where improvements can be made.
By applying these SEO tips, prepare to witness your KB ascend in Google's rankings, becoming the go-to resource for users seeking solutions.
Best knowledge base software
& how to choose one
Everything written above is undoubtedly good, but without high-quality software, it is unlikely that you will be able to tailor and effectively manage the best help center in the world. Sure, you can just leave a link to a folder with Google documents. However, having the right tools allows you to build a really attractive KB. Therefore, let's finally consider the best knowledge base software out there and what to consider when choosing one.
How to choose the best knowledge base software
The fun part is choosing the perfect software that will make your life (and your customers' lives) much easier. No pressure, right? Don't sweat it – we're here to guide you through the process. Here's what you need to keep in mind:
User-friendly interface: Nobody wants to deal with complicated software that requires a PhD in tech wizardry. The KB should be easy for you and your customers to navigate.
Customization flexibility: Your brand is unique, and your KB should reflect that. Opt for software that lets you customize the look, feel, and branding to match your company's style.
Search functionality: A KB is only as good as its search bar. Make sure to have a robust search function that helps users find answers quickly, even if they're not quite sure how to phrase their questions.
Analytics and insights: How do you know if your help center is doing its job? Look for software that gives you valuable data on what users are searching for, which articles are most popular, and where improvements are needed.
Integration superpowers: Your help center doesn't live in a vacuum. It needs to play nicely with the other tools you're using. Choose software that integrates seamlessly with your live chat widget, customer support systems, and others.
Mobile responsiveness: Your KB needs to look and work great on all devices – from desktops to smartphones. Ensure that the software you choose is fully responsive.
Customer support (yes, for you!): Your customers aren't the only ones who deserve great support. Pick a provider that offers excellent support to help you troubleshoot, customize, and make the most of your software.
Also, there is the "KB vs Wiki" debate, but we won't get into that because that's a specific type of knowledge organization that we're not interested in right now.
List of the best knowledge base software
There are tons of great knowledge bases out there, but we can't cover them all. Therefore, we made a selection of the most interesting in our opinion. In particular, we considered intuitiveness, intriguing design solutions and features. Enjoy!
1. HelpCrunch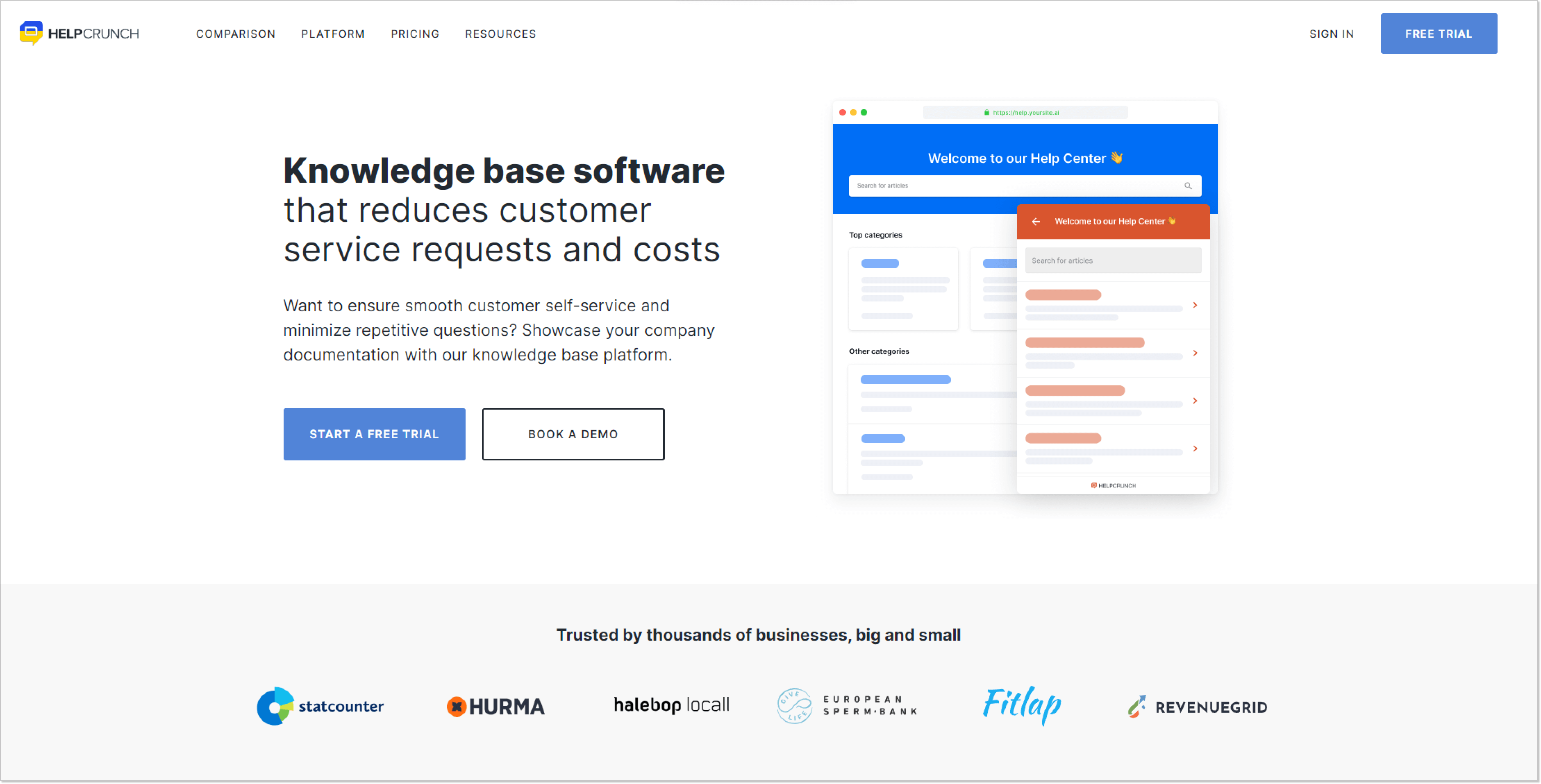 Of course, we will start with ourselves, did you expect otherwise? 😛 As a customer service platform, HelpCrunch's knowledge base is one of the best in the segment. Let's dwell on its functionality in a little more detail.
To begin with, the setup process is straightforward and intuitive; just hit that button, and boom, you're creating articles, categories, and subcategories. No fancy coding is required. Besides, the WYSIWYG text editor lets your support folks easily edit texts, in particular, to optimize each article for search engines. Like, they can change the title tag, meta description, and even the target keyword.
As I mentioned earlier, HelpCrunch is a customer service platform. Thus, you also have access to a live chat, shared inbox, chatbot, popup builder, and an email tool. And the best part is integration. You can add a knowledge base right into your widget to promote self-service. Also, KB articles can be used by the chatbot as one of the response options.
Ready to supercharge your customer service?
We offer you a free 14-day trial!
2. Zendesk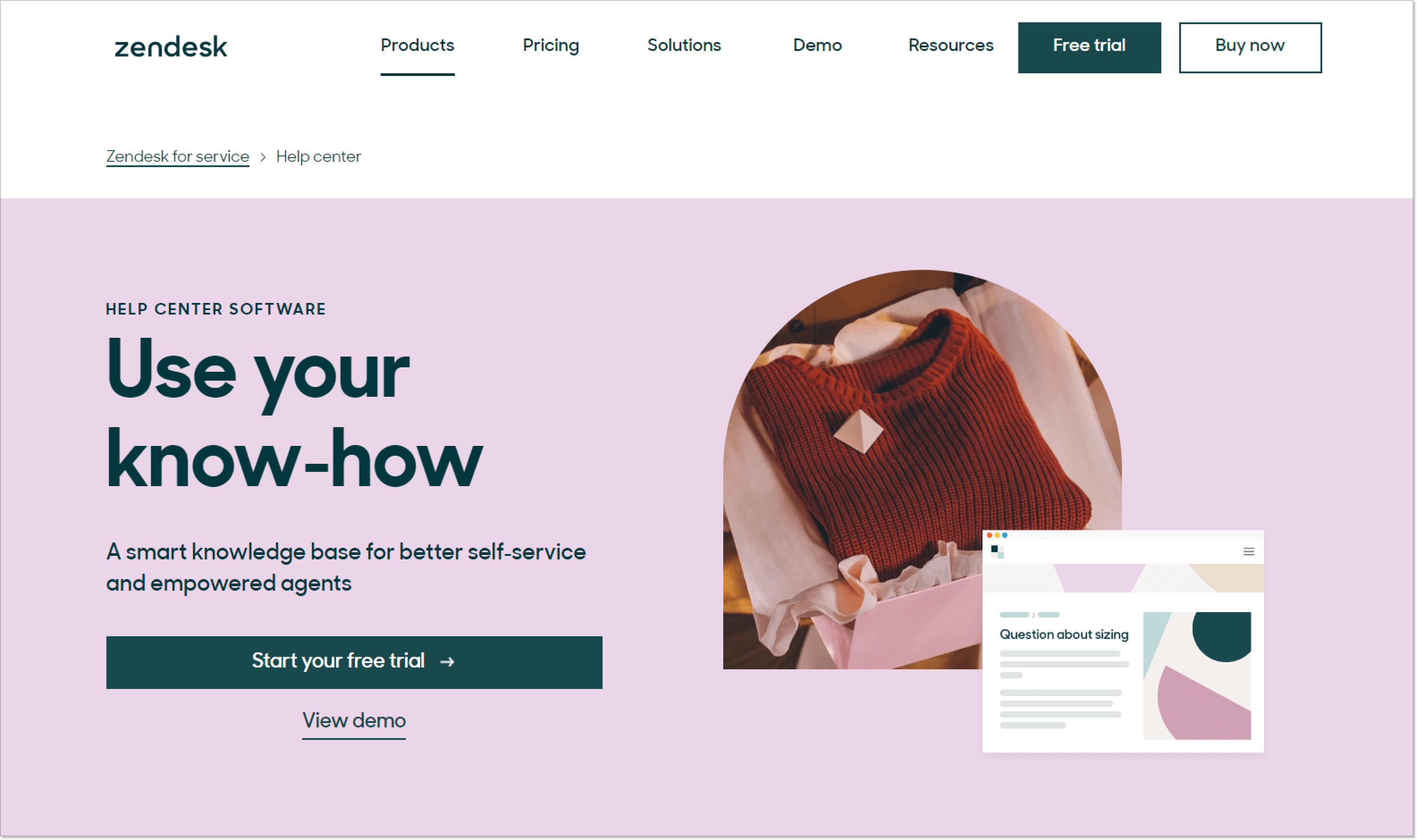 Zendesk is another comprehensive solution for support teams. Among other tools available to users, their knowledge base has turned out to be quite functional. Let's take a closer look.
The tool comes packed with a WYSIWYG editor that's easy to use, plus a drag-and-drop interface to organize your help center. You can whip up content for both your team and the outside world. Also, there's a web widget to show off your articles in your app or on your website. Besides, you get analytics that shows you how well your content is doing and where you might need more info.
Despite its convenience, their KB software has its disadvantages. For example, you have a minimal number of themes available to customize the interface. Do you want more? You gotta hit up the Zendesk Marketplace, but some of those themes come with a hefty price tag.
3. HubSpot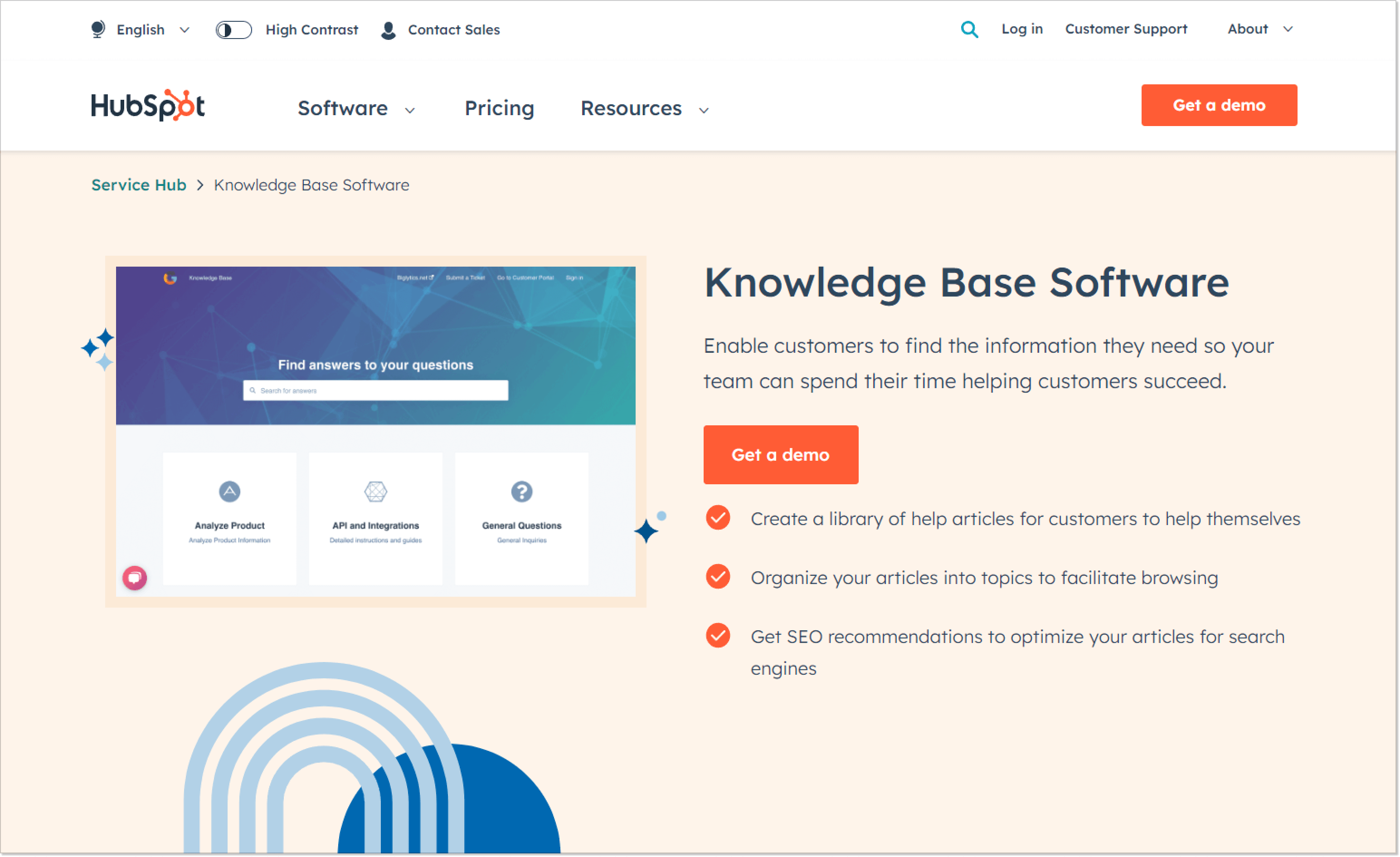 HubSpot is a well-known platform for marketing and sales. Positioning itself as an all-in-one solution, the company offers CRM, CMS, and customer support tools. This case is actually interesting because it demonstrates how a company can focus on everything at once and still make great stuff. Let's look at their knowledge base software to see what it's all about.
Their help center software offers a fairly classic set of tools, including categorizing and creating articles and FAQs. You can use different multimedia and minimally customize the appearance of the knowledge base. The great part is that their KB is part of one of the best sales and customer support platforms out there. Such high integration into marketing and business processes provides many opportunities for agents.
4. Slite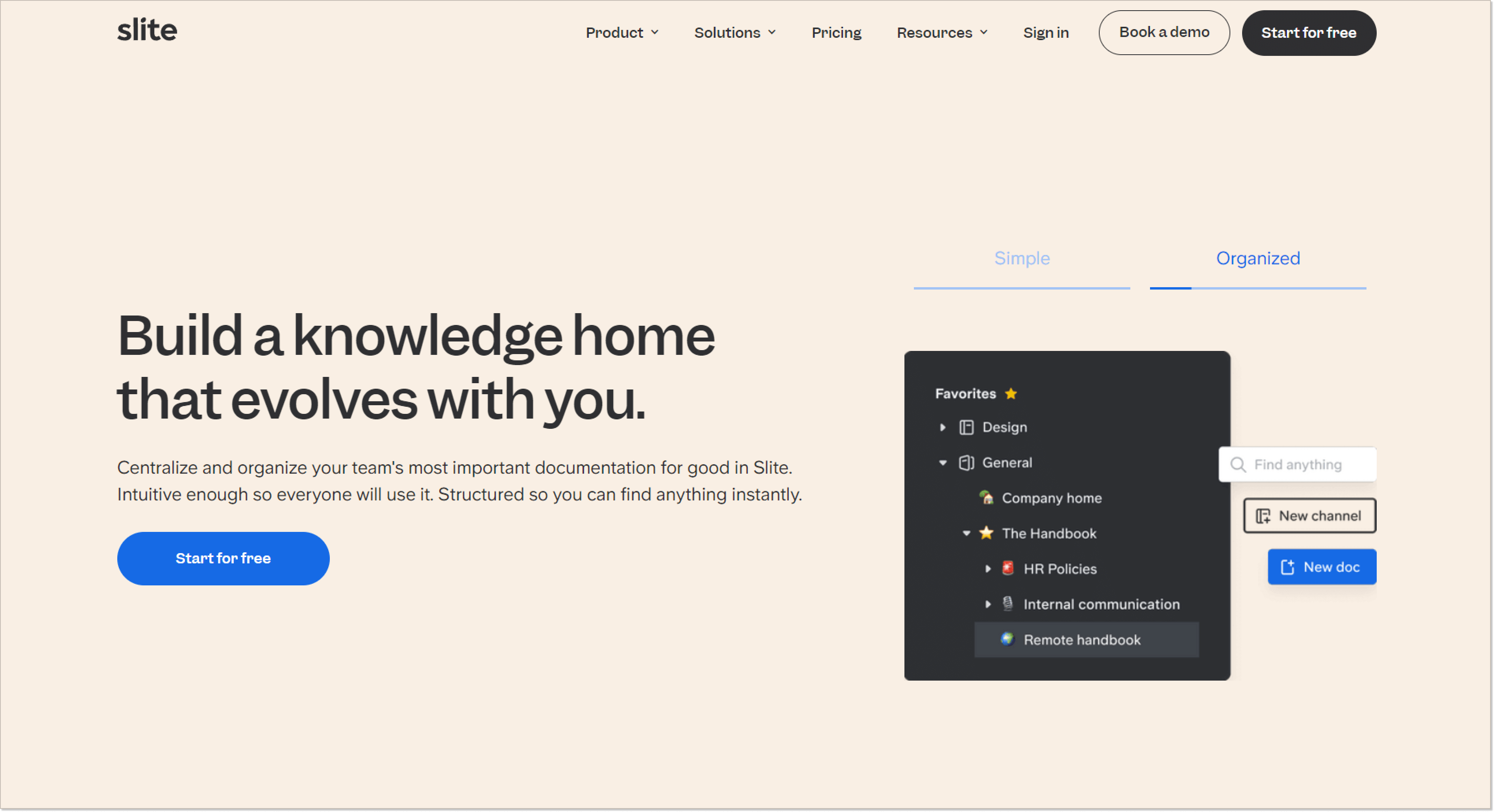 Slite is a platform specifically for creating knowledge bases, help centers, and documentation collection. The product has great functionality, and the team pays special attention to design. The main feature of the platform is its collaborative functions, which greatly simplify work on projects.
The article editor, which allows you to create text in various formats, deserves special attention. When you're jazzing up your text, you've got a ton of cool choices: hints, cards, mentions, calendars, even sketches, and Figma presentations built right in. You can totally play around with formatting right on Slite's website to see how it looks. Plus, they just threw in an AI-powered editor.
Among the collaborative features, it is worth highlighting the visible cursor of another user with a name. By the way, you can add user profiles with a description of documents and texts, as well as leave personal notes on the selected text. Each author has their own separate collection of created pieces with all the important attributes: creation date, review date, tags, etc.
5. Document360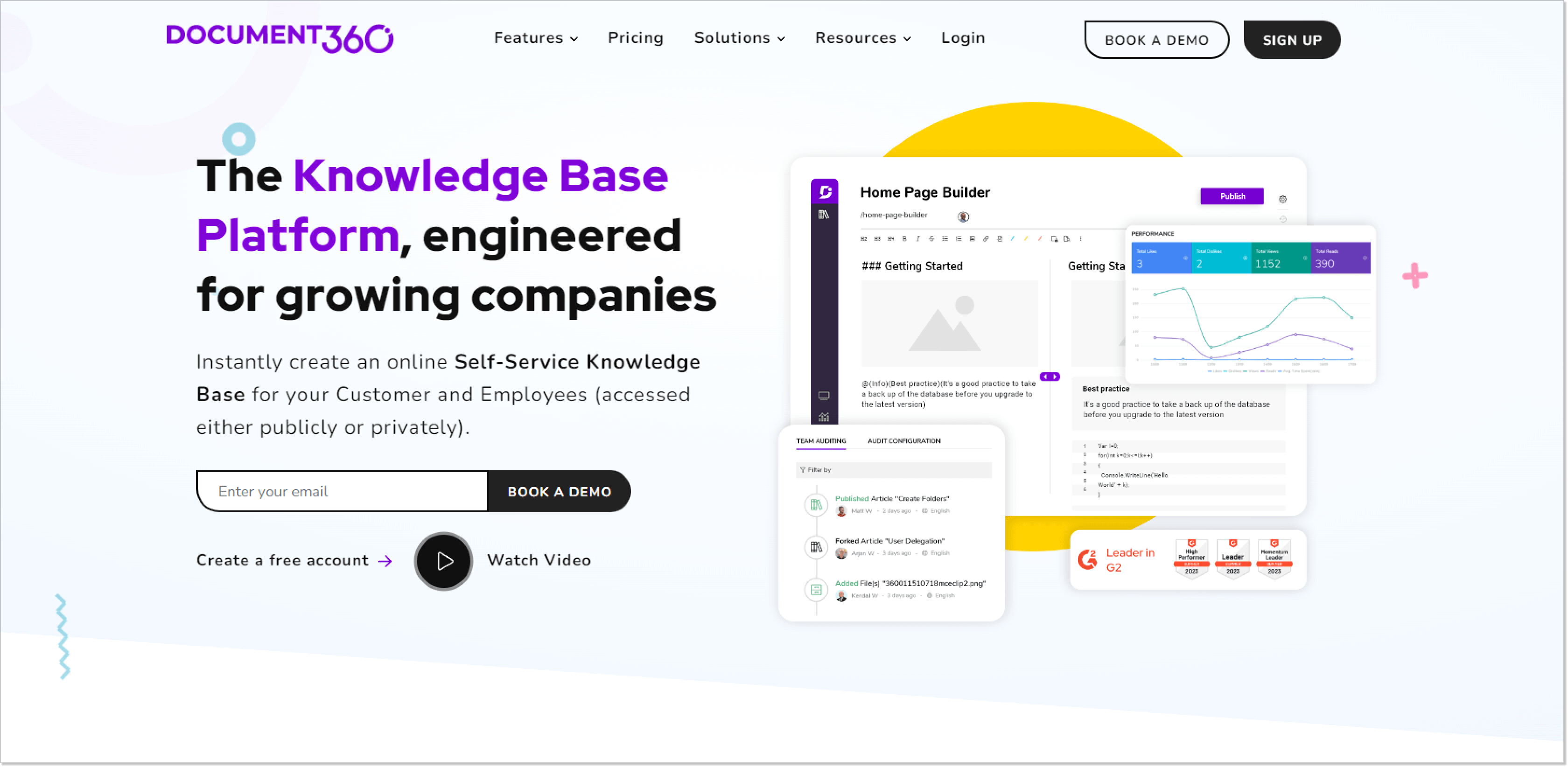 Document360 is a specialized knowledge base platform. Accordingly, the company offers a bunch of features that can be useful primarily for large teams and the enterprise segment. In particular, you will have access to extensive integration and collaboration capabilities.
The text editor, for example, has all the important tools for editing and styling, and you can put in links, pics, videos, code bits, tables, and attention-grabbing call-outs. And that's not all – you can easily export articles to PDF or, vice versa, import them from Word documents.
Among many other features of Document360, the possibility of integration with third-party tools is intriguing. Not being an all-in-one platform, they allow you to integrate your knowledge base with the chatbot, translation service, analytics, team collaboration, and other tools you use.
Let's wrap it up!
Planning, designing, and keeping up a help center might seem like a big job, but think about it – every article you put out could save your team from answering tons of customer questions. Plus, it's like giving your customers a personal guide to using your product whenever they want.
A knowledge base isn't just a win for your support team, it's a win for your customers, too. And guess what? You can get one without spending a fortune. Give HelpCrunch a shot and see how its super useful knowledge base can be a game-changer for educating your customers effortlessly.
FAQ
What types of content do knowledge bases contain?
In the knowledge base, you'll find helpful self-service resources like FAQs, manuals, troubleshooting guides, and runbooks – all the info the product team might have. Some knowledge bases are powered by AI that chats with users, while others are like well-organized encyclopedias.
What is meant by knowledge base in AI?
A knowledge base in artificial intelligence means obtaining knowledge from human experts across different departments to improve decision-making and problem-solving for customer support agents or other specialists. We can also call it a knowledge-based AI, an AI tool trained on the KB articles, aka expert knowledge, that can quickly generate replies to help tackle various issues.
How do you write a knowledge base?
Writing content for KB is the most important stage, so you should follow these steps:
Identify what topics to include
Choose the right software to manage your KB
Develop the structure and design
Write KB articles
Analyze performance and improve the content
What is a  knowledge base structure?
A knowledge base usually comes with a search bar, menu navigation, and multiple categories of content. Its structure provides for the division of knowledge into categories and sections for the convenience of users.