On the one hand, there are no know-it-all clients who land on a website and understand every bit of information. Something still needs to be conveyed in pieces.
On the other hand, the vast majority of customers are tech-savvier than ever and their demands are stricter. They don't appreciate being at the end of the queue. The numbers say that 75% of businesses lost their customers due to long waiting times. When a client craves for the answers, they want them right now. And if they're left with nothing, the chances are they never come back.
What is the alternative solution? My answer is building a helpful knowledge base. It's better to let your audience help themselves rather than make them kick their heels. The recent study confirmed that customers prefer knowledge bases over other self-service channels. This is likely because an immediate response outweighs delayed replies.
In this post, we're going to cover a knowledge base meaning, its importance for both a business and customers, and some top-priority characteristics every powerful online resource hub should have.
What is a knowledge base?
A knowledge base is a centralized self-service collection where the information about a product, service, specific topics, or the company as a whole is stored, organized, and shared. The more intuitive and user-friendly it is, the better value your customers can get.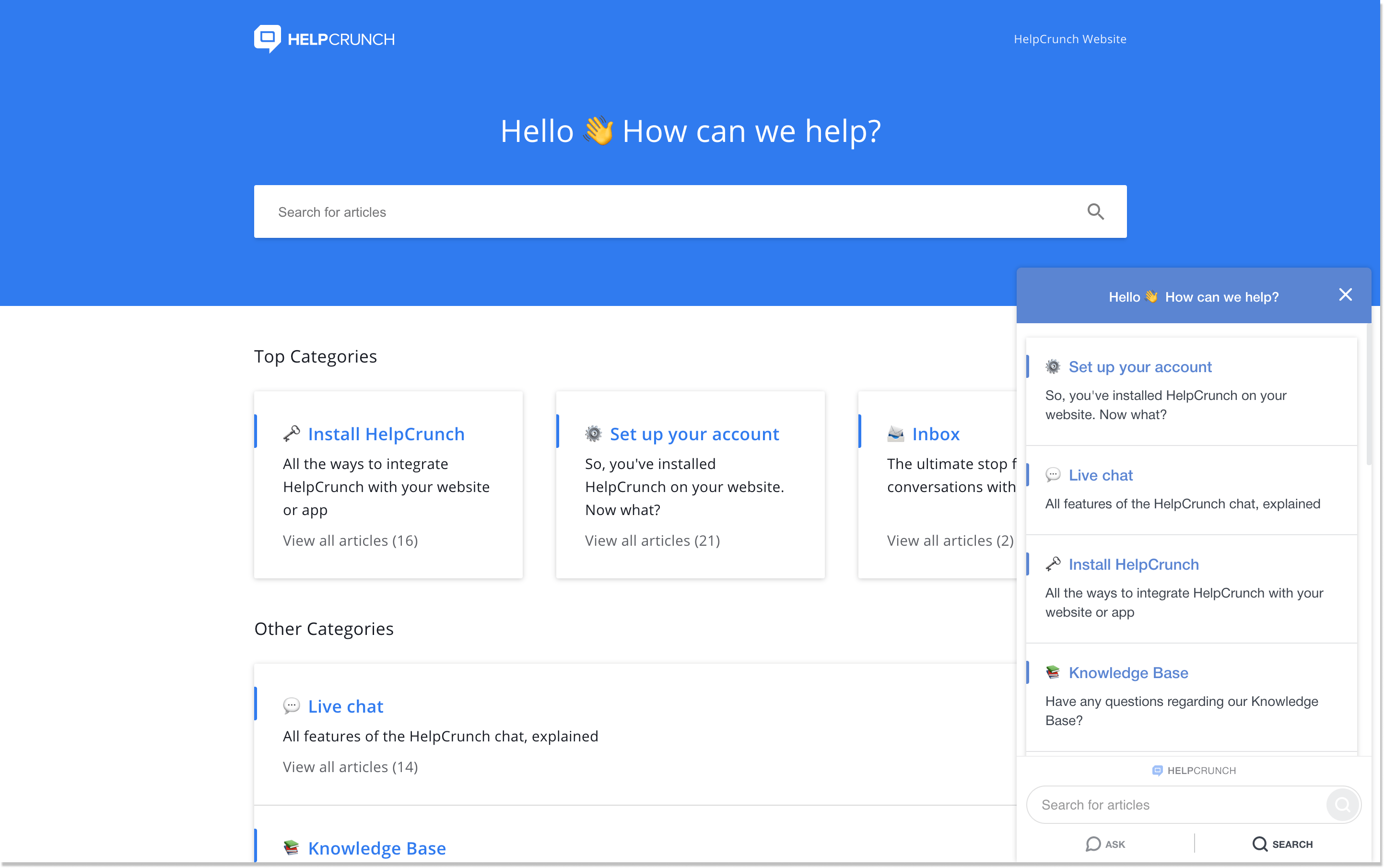 If built right, a resource center helps clients find their burning questions without reaching out to a customer service agent. People can learn anything about the company's products or services just by reading insightful articles.
We also need to go back to the origins here. The "Book of The Dead" from Ancient Egypt was the early analogy to a help center as it contained mortuary texts of spells and magic formulas which helped to achieve a full afterlife. And the first online help center dates back to 1988 when a computer-based directory of files appeared.
Today, an online repository center is where valuable company's documentation is published. This resource hub often includes videos, FAQs, how-to guides, white papers, and troubleshooting instructions.
A knowledge base is the final product of collecting content into a united form through a process called knowledge management. So, if you want to give your website visitors the real value, think through the type of information you want to provide your clients with, what skills you need for that, how your help center will look like, and how you can then share its content with the others.
Two main types of knowledge bases
According to their functionality, help centers are divided into two types:
Internal: a library of guidelines, instructions, practices, onboarding materials, policies, and rules. Such knowledge bases describe the company's product and explain how to manage, maintain, develop, offer, sell, and service it. A Google Drive folder can be an excellent knowledge base example here as it's often shared between the company's employees or within a certain department.
External: a collection of the most common use cases, FAQs, walkthroughs, release notes, and other important materials that customers might need while using the product or shopping. It matters how you pile the information together, structure, and manage it. But we get to that later.
These online resource centers also require different knowledge management software as they have various use cases and purposes. Sure, you can build everything from the get-go. However, having the right tools saves much time and effort.
Why do you need a knowledge base?
The more customers you have, the more questions they are going to ask. "How can I log in to my account if I forgot my password?", "How can I upload this file?", or "What pricing plan can you recommend me?": this list can go and on.
A well-stocked knowledge base can reduce the number of queries. Time to unpack the unbreakable reasons why you need to create it (disclaimer: customer experience will skyrocket):
1. Customers prefer self-service
67% of customers enjoy helping themselves online over speaking to a customer service rep. But how can you hit the mark and find out what information to provide your clients with? That's why everything comes down to knowing your buyer persona.
Keep your customer preferences in mind when shaping your perfect knowledge base. Just as you drew up a list of topics to write about, do research on what your clients prefer better and detect their pain points with your product or service.
Put as much forethought into your resource hub as you do in your blog or sales copy. Only by crafting the tone and style of your articles in a way that speaks to your audience can be winning.
2. A resource hub includes different content
Who says that a knowledge base should contain only texts? It can represent everything from audios to how-tos and other media formats. This way, you let your customers absorb the information the way they want to.
Smartsheet, a collaboration and work management software company, filled up its knowledge base with video tutorials except for ordinary articles. It's really helpful as a user might need a visual example to get to the bottom of the product. They also made it possible to download a video so that you can watch it later.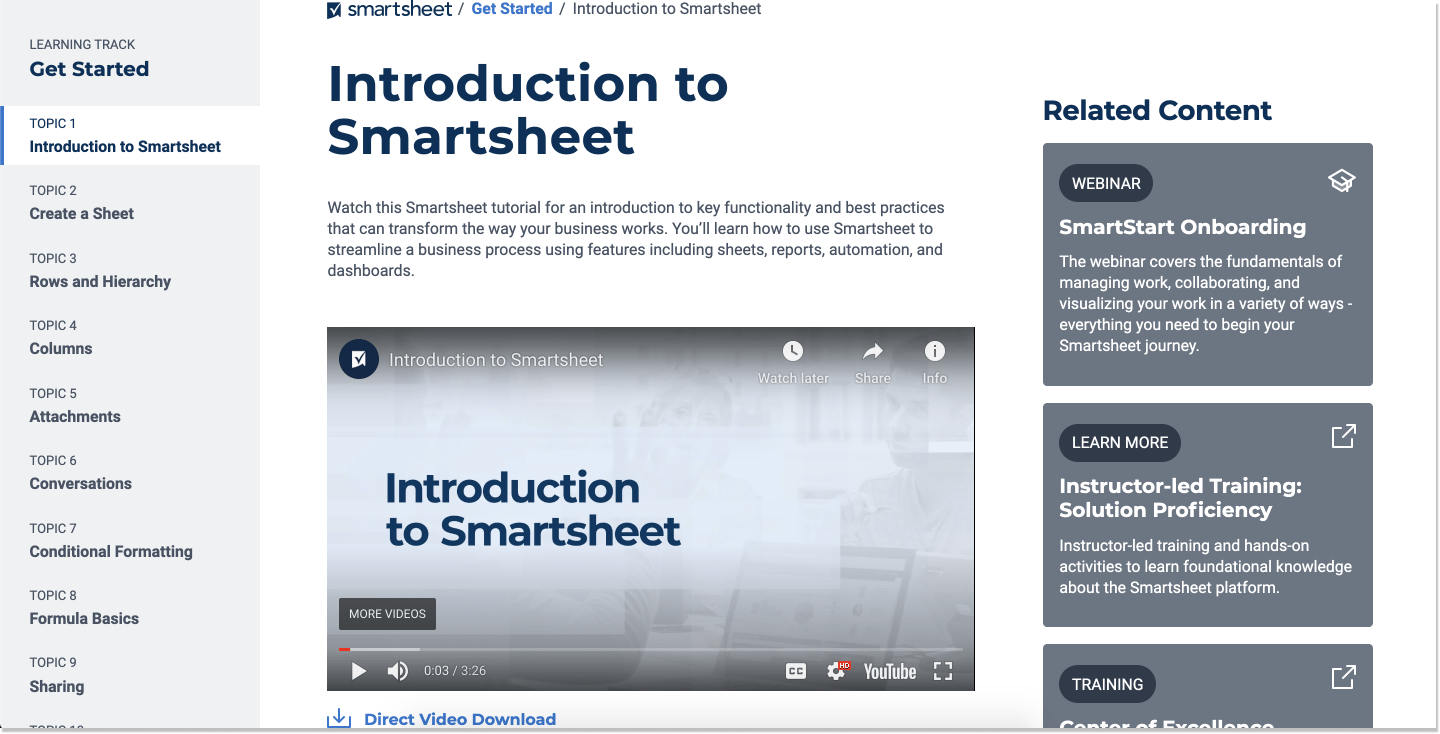 3. An online help center operates 24/7
Your client base may involve customers from all across the globe. If you have a database on your website, it can always be there for them. For instance, HelpCrunch has integrated a knowledge base into the chat widget so that all customers receive their sought-after answers any time they need. With a new access control feature, you can also set restrictions to your articles by a password or trusted IPs.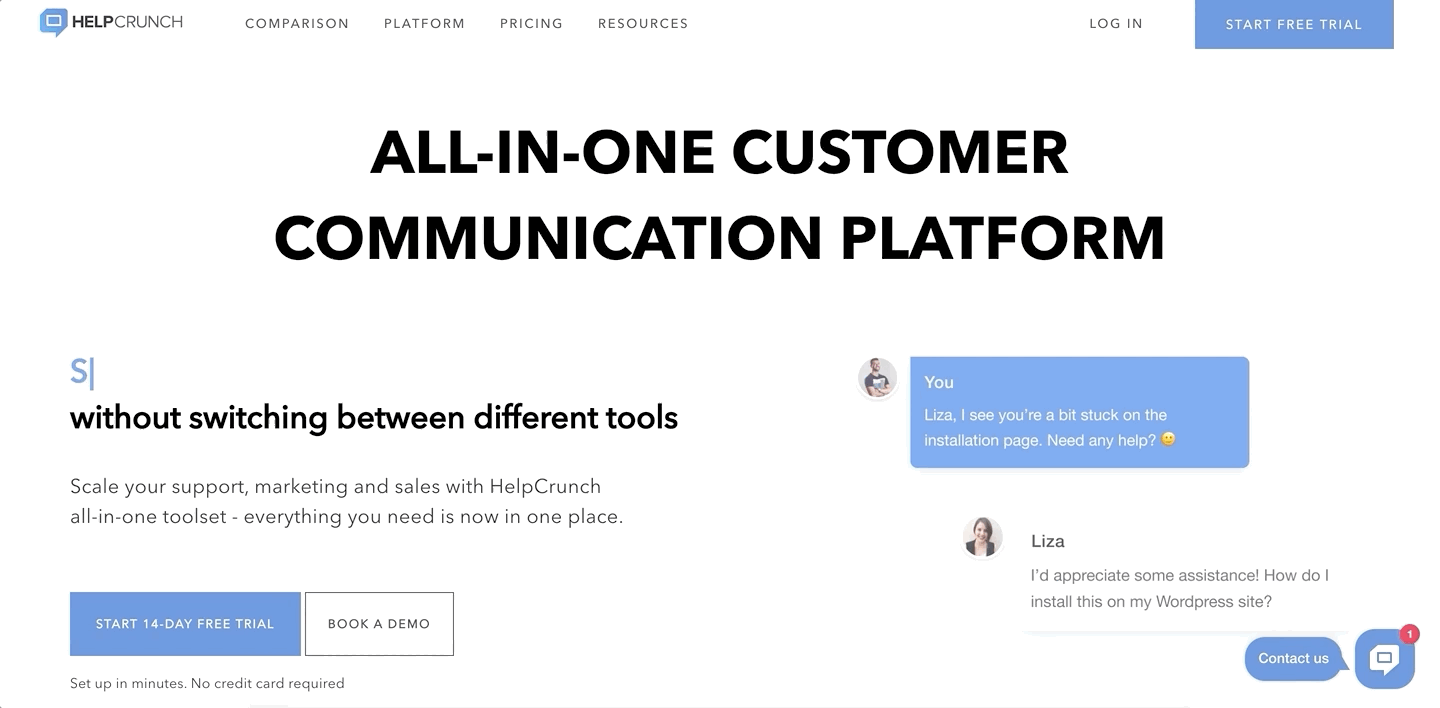 4. You can get useful insights
A lot of knowledge base tools offer reports so that you can track what people are looking for, the terms they use to search, and whether they succeed. For instance, you can see what articles receive bad reactions and what topics your customers can't find at all. Leverage this info to not only brush your content from time to time but also product or service.
6 main criteria of an effective knowledge base
Think of the characteristics the knowledge base should obtain and what steps to take along the way. This all-round list of criteria may come in handy:
1. Accessible
Your website visitors should feel comfortable right from the start. Don't make them navigate your site over and over again and leave in the long run. A knowledge database should be easy-to-find. There are several options here: to place it in the website header (like we did) or go with the footer section.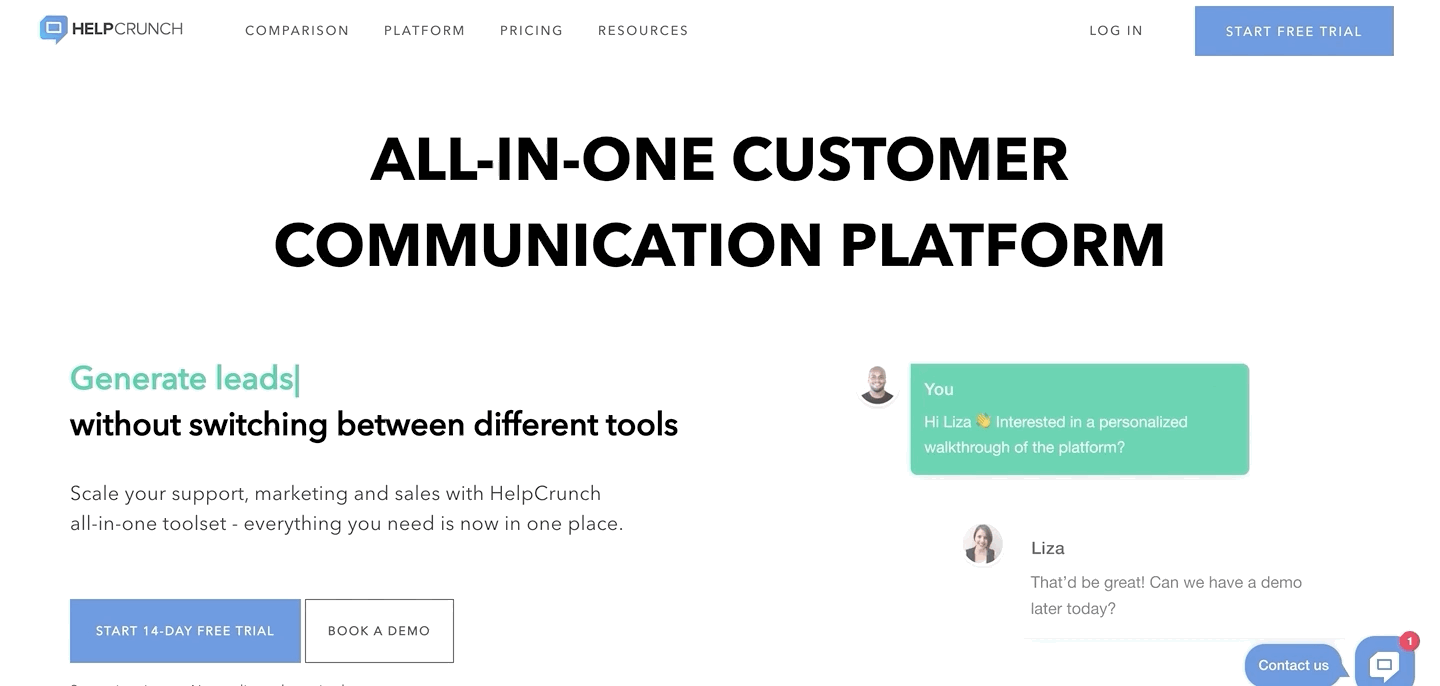 2. Skimmable
Burdening customers with a wall of text is not an ideal option. Provide them with a fast search function nobody can miss and structure a knowledge base so that they don't scour dozens of pages. It's also recommended to use clear headings and subheadings with the most important keywords and have a crisp design to organize content categories.
3. Comprehensive
When clients search for something on a website, they expect to find it either way. To save yourself the trouble of constantly adding information bit by bit, develop a steady knowledge base template. I would say that all your articles should describe the main problem, a step-by-step procedure, achieved results, and related topics.
4. SEO optimized
Bear in mind that people usually search info using just some specific keywords. That's why it's better to use widely-spread words like "create", "join", "send", or others in your headlines to raise the customers' chances.
Your Google optimization routine may include:
Keyword optimization: as customers usually type in specific words, your task is to know them and target the right ones to boost your online presence.
Metadata optimization: include keyword phrases in your titles, URLs, and meta descriptions. They have a huge impact on whether you show up or not. Compare:
| | | |
| --- | --- | --- |
| | Good example? | Bad example?? |
| Title | Set up a custom domain | Tweak a domain |
| Meta description | How to set up a custom domain for your knowledge base using CNAME | If you want to tweak your domain, this is the way to do it. |
| Slug | custom-domains-for-knowledge-base | domain-for-help-center |
The above example shows that it's better to mention keywords multiple times in a knowledge base structure so that the article ranks highly. It's easier for Google to understand what phrases a user might type in, so the relevant article is likely to pop up.
5. Relevant
Your database should be brought up to date. Not to miss the next article update, use task management tools such as Notion or Teamwork, and timely refresh your content as your product or service acquire new features. Don't repeat information in different articles and get it into your habit.
Appointing a knowledge base leader could be also of use. The thing is that both your customer support and customer success teams are the most valuable asset in managing an online resource hub. They know exactly what your customers like and dislike and can help you keep your content up to the point.
6. Intelligible
Easy-to-read knowledge bases are digested better. A founder of Glitch, a project management software company, Joel Spolsky claims that valuable info in a knowledge base should be "enough to teach people who are new to the domain what the product is trying to do".
Avoid advanced terminologies and jargon. Use plain language instead. Even technical terms should be cursorily explained: not all your customers are digitheads. Your coworkers should have a say in creating knowledge bases because their perspective is worthy.
Bonus: How to build a knowledge base
Now that you get the wind of the basics, you might want to start creating your online resource center. To build a knowledge base, follow these simple instructions:
Step 1. Define the core elements of your database: FAQs, a search bar, a "Contact us" section, etc.;
Step 2. Decide on the content: how-to guides, questions your customers ask the most backed by your CRM system;
Step 3. Develop a certain structure: categories, subcategories, FAQs;
Step 4. Write and edit your articles: include bulleted lists, choose informative headlines, keep paragraphs to the point, add visuals;
Step 5. Update your content regularly: check if the screenshots need to be refreshed or product features have to be changed.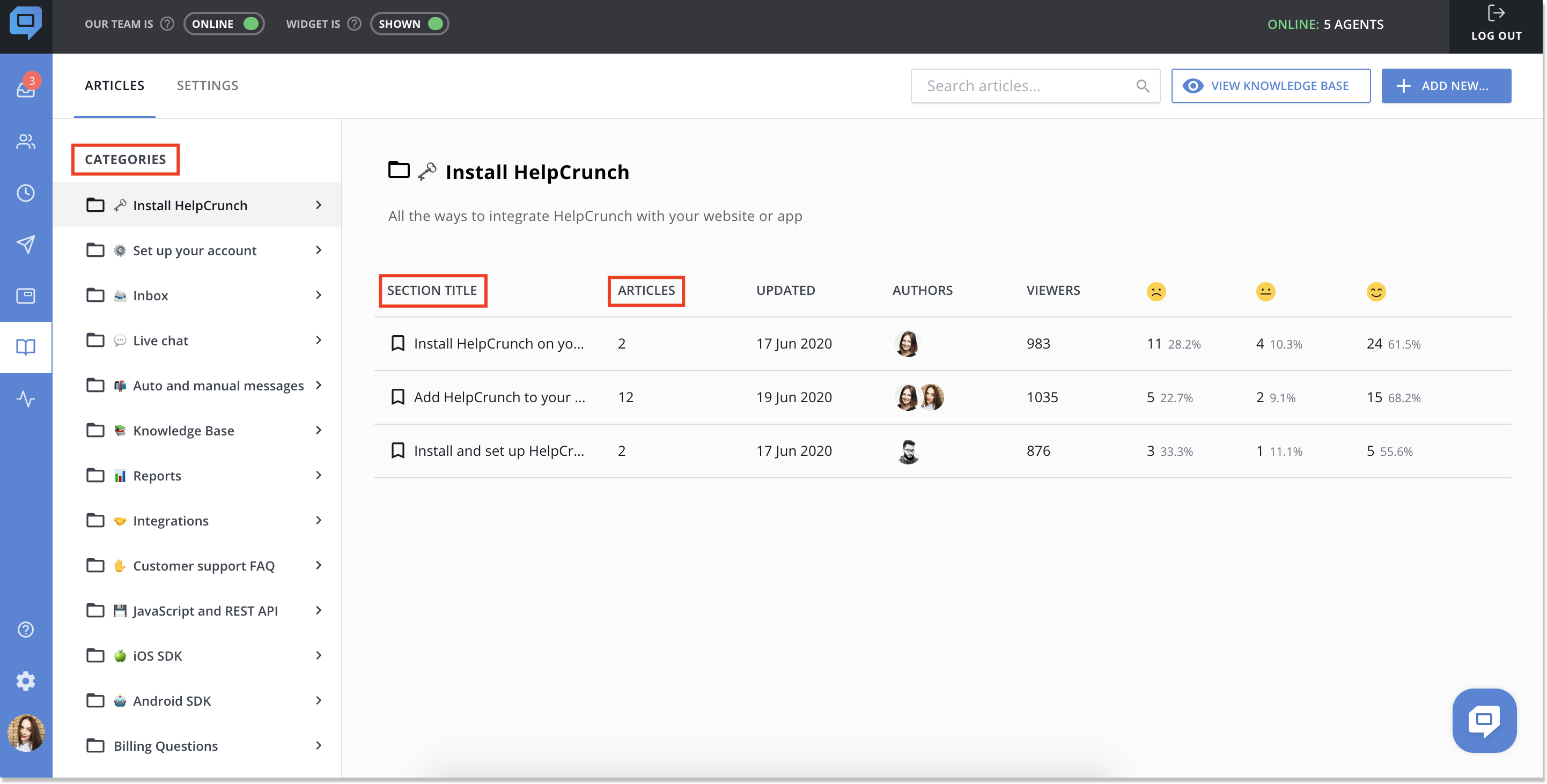 Bottom Line
Planning, designing, and maintaining a help center might be a tall order. However, every article you write might represent hundreds of future customer questions answered without your team's help. Besides, you teach your clients using your product through this resource center in their most convenient way.
A knowledge base can make both your customer support team and clients happier. So, why don't you adopt one without breaking the bank? Sign up for HelpCrunch to test its effective knowledge base and educate your customers hands down.
HelpCrunch articles delivered straight to your inbox 🚀
All the latests posts. One email per month
No strings attached
Read Also
Support
Even a tiny startup faces its clients' wants, pain points, and behavior at some point. Does it ring any bells to you? We explain how to set up customer service for a small business, achieve maximum effectiveness, and boost customer satisfaction.
Support
A post-chat survey can help you get real-time feedback from your customers. Read our guide to ask the right questions that users want to answer and improve your customer experience.
Support
Looking for inspiration? We've put together some of the best tips and examples on how to make your eCommerce FAQ page stand out. Have a look and improve your self-support tool today. Good luck!