The oldest known Ancient Egyptian manuscript is 4,000 years old. It contains religious spells for priests and an illustrated composition of temple rituals.
But wait a minute! Can it be… one of the first self-help knowledge bases or something?
Since they had invented writing, people have felt the importance of collecting and storing valuable information so that other people can utilize it over and over again. The only thing that changed over time is the tools and means that they used for keeping their knowledge accessible to others.
Ancient Chinese loved bamboo, Egyptians preferred papyrus, paper had been especially popular since its invention until the internet has revolutionized things.
These days, people use designated knowledge base tools to keep their valuable information in one place and present it to those who need it. They're powerful, convenient and have so many features to offer — from editing options to visual decorations to SEO setting built right into them.
So what are the best knowledge management solutions on the market today? Let's get right to the point. Knowledge base software comes in two variations — stand-alone solutions and as parts of all-in-one customer support toolsets.
All-in-one customer service tools with knowledge base functionality
All-in-one customer support solutions have one undeniable benefit over stand-alone knowledge base solutions — they help businesses build 360-degree customer care.
You create a knowledge base portal, install live chat on it and on your entire website to provide timely real-time support, add a bunch of lead attractions like automated chat invitations or popups and, basically, never let a visitor leave unsatisfied 🙂
HelpCrunch is an all-in-one customer service tool in its purest form. It offers live chat, ticketing, email marketing, pop-ups and, of course, knowledge base functionality. The best part is that the knowledge base tool is included in all subscription plans starting from the Standard for $15/mo.
What HelpCrunch offers in terms of knowledge base functionality is a simple, sleek, modern tool designed to be as convenient as possible.
Your customer support reps will be creating knowledge base articles in a WYSIWYG text editor, where everything will look basically as in a published version. But it's not even the coolest part of it as HelpCrunch allows you to manually change SEO details for every article to help search engines better understand its content.
Articles can be divided into different categories so that customers will easily navigate through your knowledge base.
The part that your customers can see has a very light and clean design, but you can add your brand colors and tweak it with custom CSS and JavaScript.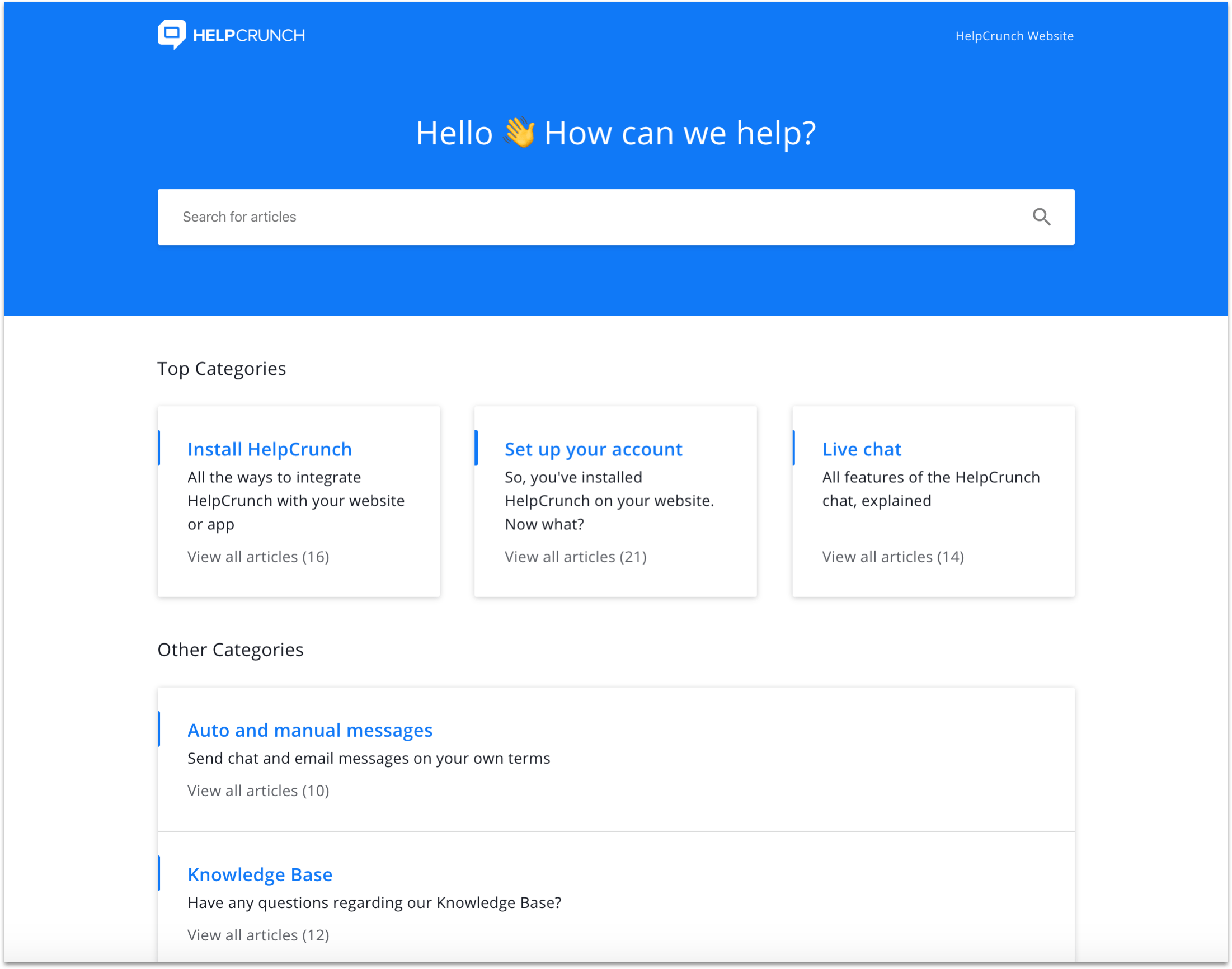 Key knowledge base features:
WYSIWYG text editor. HelpCrunch has created an intuitive text editor (think of Medium). You can insert images, videos, code samples to your articles as well as highlight important information with the help of special notes, warnings, tips.
Categories and section. Organize all the articles in your knowledge base with the help of categories, which can be sub-topically divided into sections.
Customization features. If you run a website already, you probably want your knowledge base to look like its integral part. Not only can you specify a custom domain for your knowledge base, but also customize it with your brand colors, logo, header images, links, and even CSS and JavaScript.
Reports. At the bottom of each article, customers can rate them — and you can see which of your guides perform better and which ones need improvements. Moreover, HelpCrunch offers two kinds of knowledge base reports — a collection of articles that have too many negative rates and a list of terms that people searched for in your knowledge base and found nothing.
Configurable SEO and social media settings. This is a rather unique feature for knowledge base software. You can specify meta titles and meta descriptions for your articles and categories as well as the entire knowledge base. This information helps search engines rank your articles faster and more precise.
The 'Standard' pricing plan starts from $15/mo per team member. It includes live chat, knowledge base, and pop-ups.
Zendesk is one of the oldest and most feature-rich solutions on the customer service market. They started as a ticketing system, though, which often shows in how the whole system works. For instance, you'll see that many of their knowledge base features are only useful if you use them in combination with other tools and channels.
On the plus side, you can combine their tools as you want. You can go with the all-inclusive Zendesk Suite for at least $109/mo/agent or use the Guide (aka knowledge base) or any other Zendesk's feature as an independent solution.
Just like HelpCrunch, Zendesk offers a simple and intuitive WYSIWYG text editor for its knowledge base. In the settings column, you can easily control who can manage and see your article.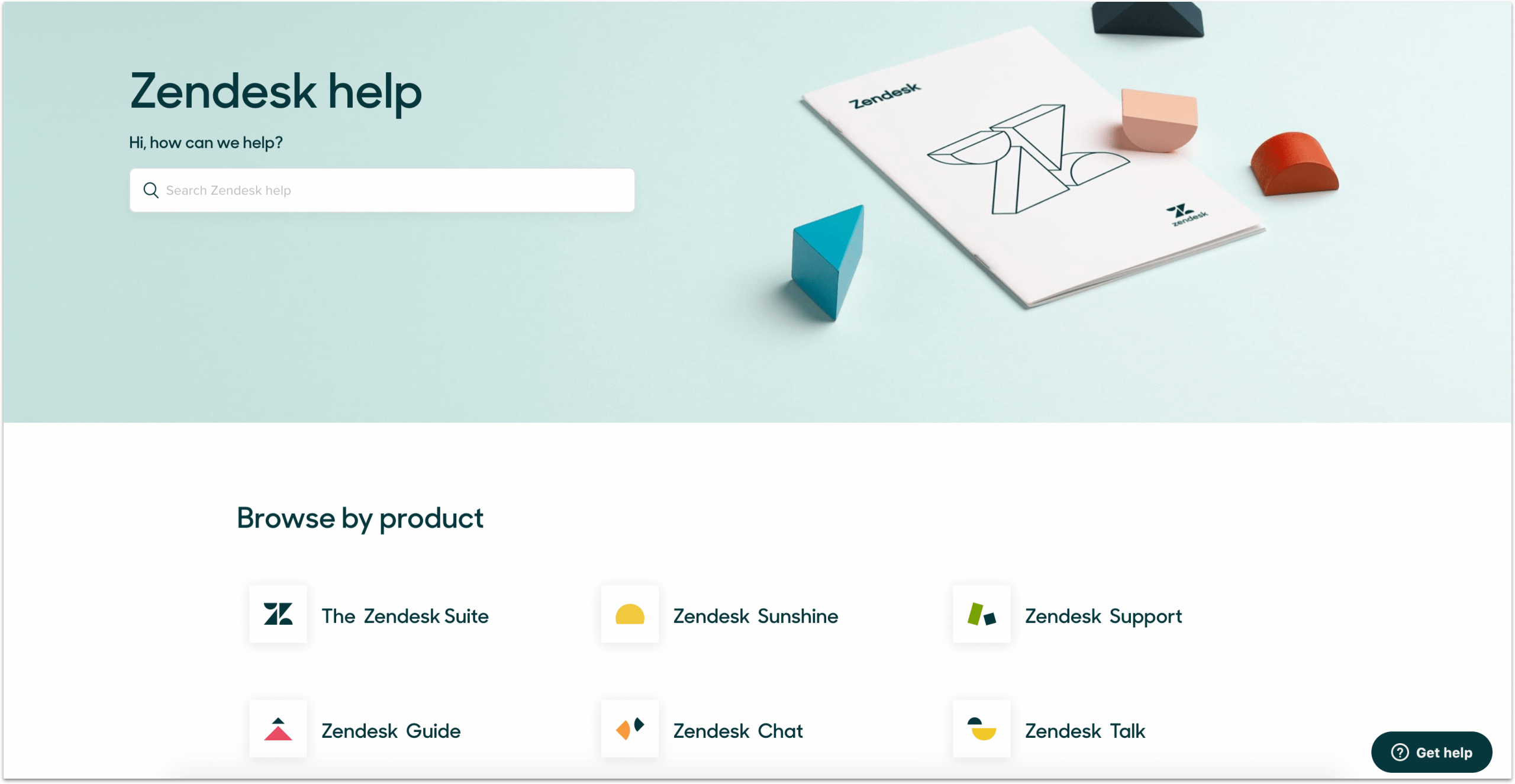 Knowledge base features
WYSIWYG editor with a Google Docs importer to make the process as fast and intuitive as possible.
Customization features. Depending on your subscription plan, you can either use standard knowledge base customization or create custom themes.
Access controlled by role. You can specify which team members can create and edit your knowledge base articles based on their roles.
Knowledge Capture app. This feature allows agents flag and draft new articles for a knowledge base while they're answering to customers' tickets.
Multilingual content. You can offer your knowledge base in several languages and customers can easily switch between them.
Reports. Zendesk offers some great knowledge base reports. The 'Articles to archive' section lists all the articles that haven't been viewed even once for a long time. 'Articles to review' are the ones that are viewed most often and need to be kept up-to-date.
The 'Guide' tool by Zendesk costs at least $19/mo per agent, but there's also a free version available.
There are some awesome knowledge base features that are only offered on the 'Enterprise' subscription for $34/mo per agent. For instance, you can enjoy the 'Content cues' report, that lists ideas collected from your support tickets. Or, you can use article assignments and publishing permissions.
You can also buy the Answer Bot by Zendesk for at least $50/mo or more. It will automatically offer relevant knowledge base articles to customers that submitted their requests via chat or email.
Freshdesk is just one of the many customer service solutions offered by Freshworks (even though it's probably the most famous one). Others include live chat, call center, CRM, etc, but not knowledge base. Please note that these are completely independent products and can be bought separately.
The knowledge base feature is included in the Freshdesk product. So, if you want to use the Freshdesk's knowledge base, you would need to buy the whole ticketing system with it. The good news is that it has a free version.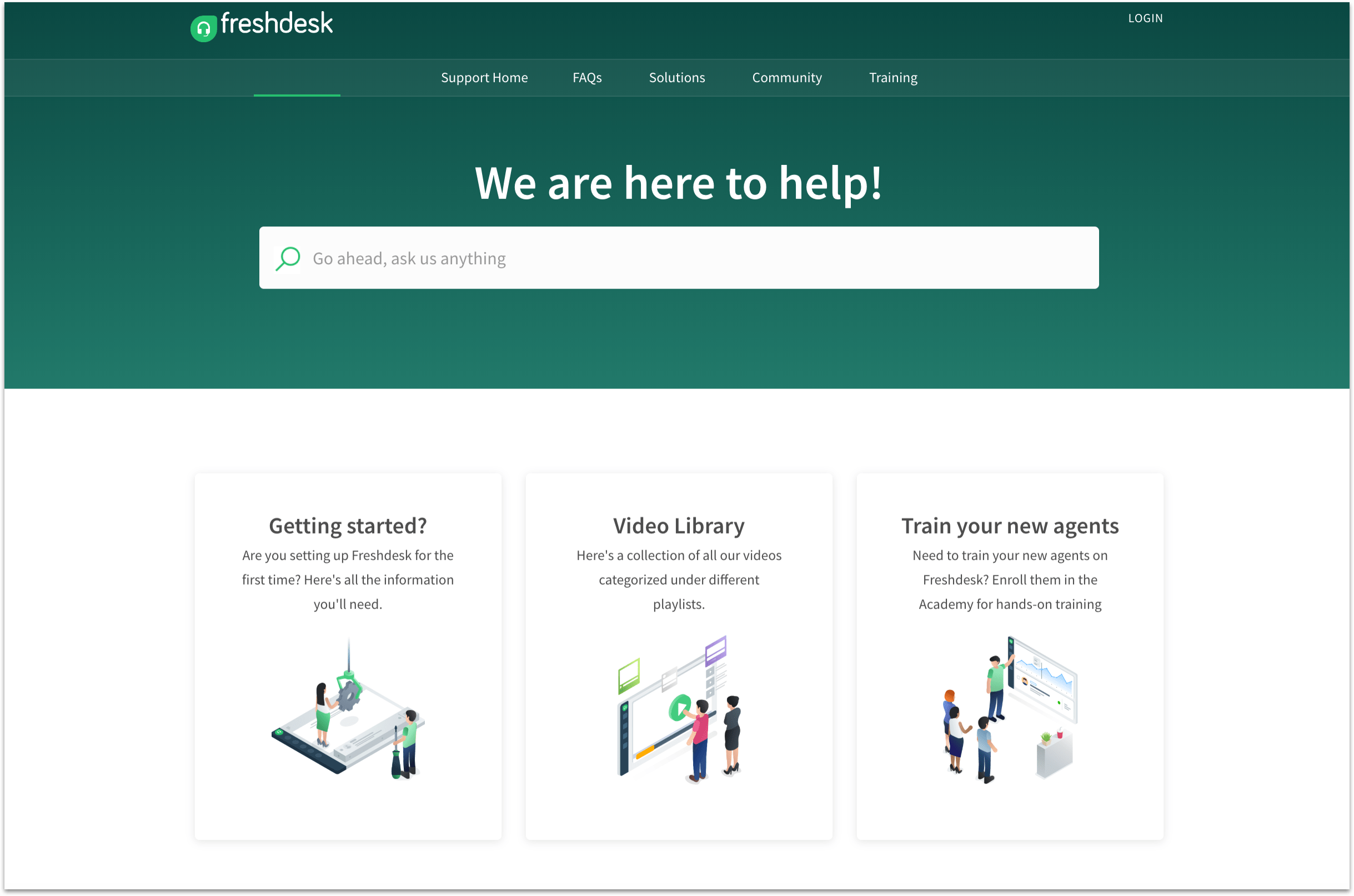 Knowledge base features
WYSIWYG editor with all the necessary formatting and styling features.
Categories and folders. You can organize your knowledge base with the help of categories and folders.
Bulk actions. Make changes to articles, folders, and categories altogether instead of doing repetitive actions over and over again.
Configurable SEO settings. Specify meta titles and meta descriptions for all your knowledge base articles.
Multilingual content. You can translate your knowledge base articles into different languages so that customers can find the answers in their native one.
Reports. Freshdesk's reports are very basic. You can simply check how many views each article has and whether your customers rated it as helpful or unhelpful.
The basic subscription to Freshdesk costs $19/mo per agent, but there's also a free version available
Help Scout offers ticketing, live chat and knowledge base functionality. All products are well integrated which makes working with the whole system easier.
The text editor of the Help Scout's knowledge base looks a bit inconvenient if compared to other knowledge base solutions. But it also has necessary SEO settings that you can change to improve your articles' rankings.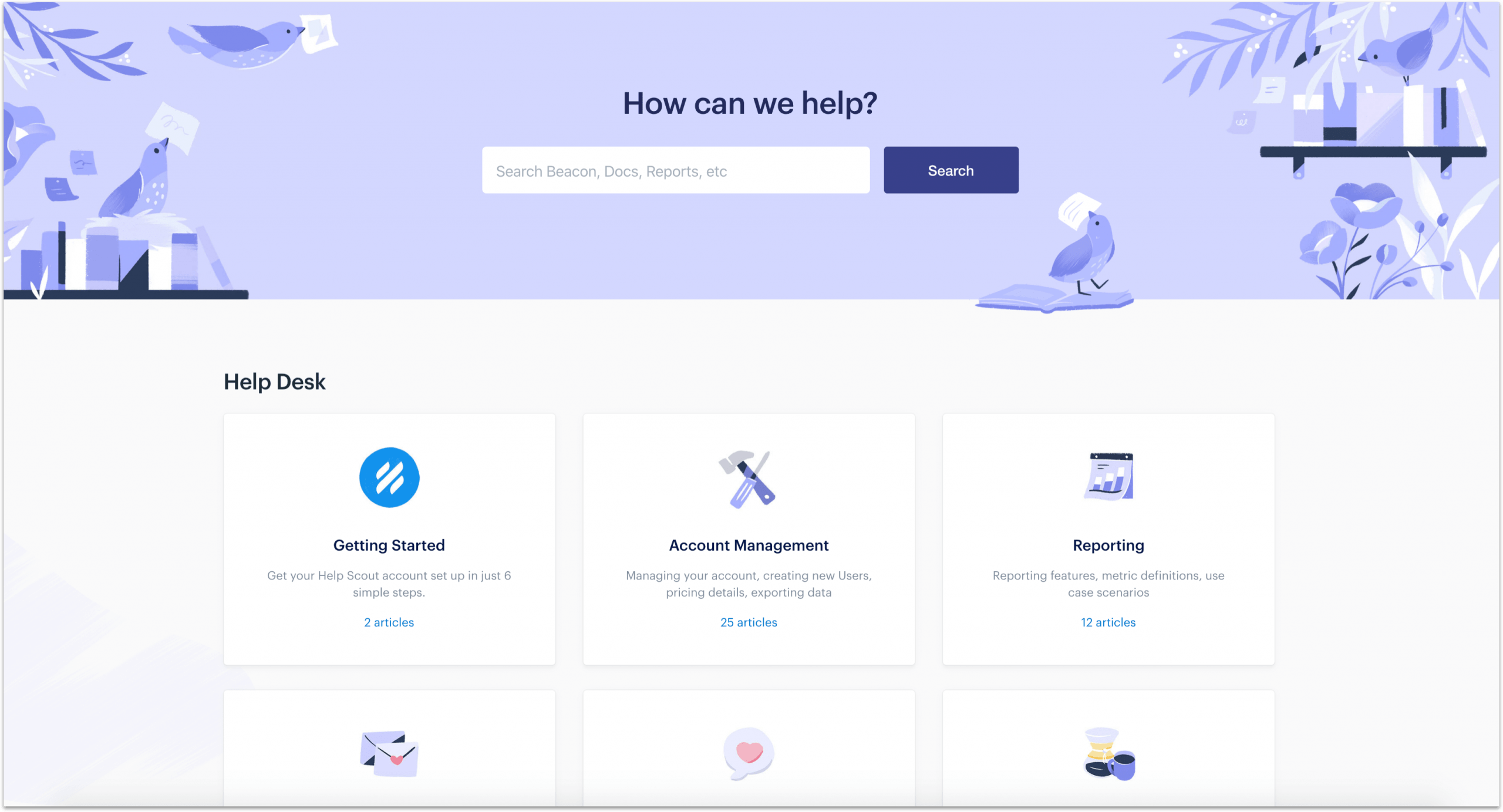 Knowledge base features
Simple text editor. Help Scout offers a nice intuitive text editor. You can also switch between the tabs in one click to quickly customize related articles, see the revision history and change and SEO details.
Customizable SEO settings. You can manually specify meta titles and meta descriptions for your knowledge base articles for SEO purposes.
Customization features. On top of colors and formatting options, you can also customize the knowledge base by Help Scout with the help of custom CSS.
Collision detection immediately alerts you when someone's editing knowledge base articles at the same time as you do.
Chat widget integration. The knowledge base by Help Scout is well integrated into the chat widget. Customers don't have to go anywhere to find answers. They can simply open a chat window and switch between the corresponding tabs in it.
Multilingual content. You can translate your knowledge base articles into different languages.
Reports on visits, articles viewed per visit, search terms and failed searches as well as the percentage of customers that still reached out to your support team after they hadn't found what they needed in your knowledge base.
The 'Basic' subscription plan costs $15/mo per user and includes 1 Docs site, 1 Mailbox, and Beacon with live chat.
Crisp offers live chat and knowledge base functionality together with email marketing tools.
All tools are nice and rich in features, and there's even a free version of Crisp. However, you wouldn't be able to enjoy it since the knowledge base tool is only included in the 'Unlimited' subscription plan for $95/mo/website.
The Crisp knowledge base is rather basic, but there are some nice customization features like the ability to assign custom icons to your knowledge base categories.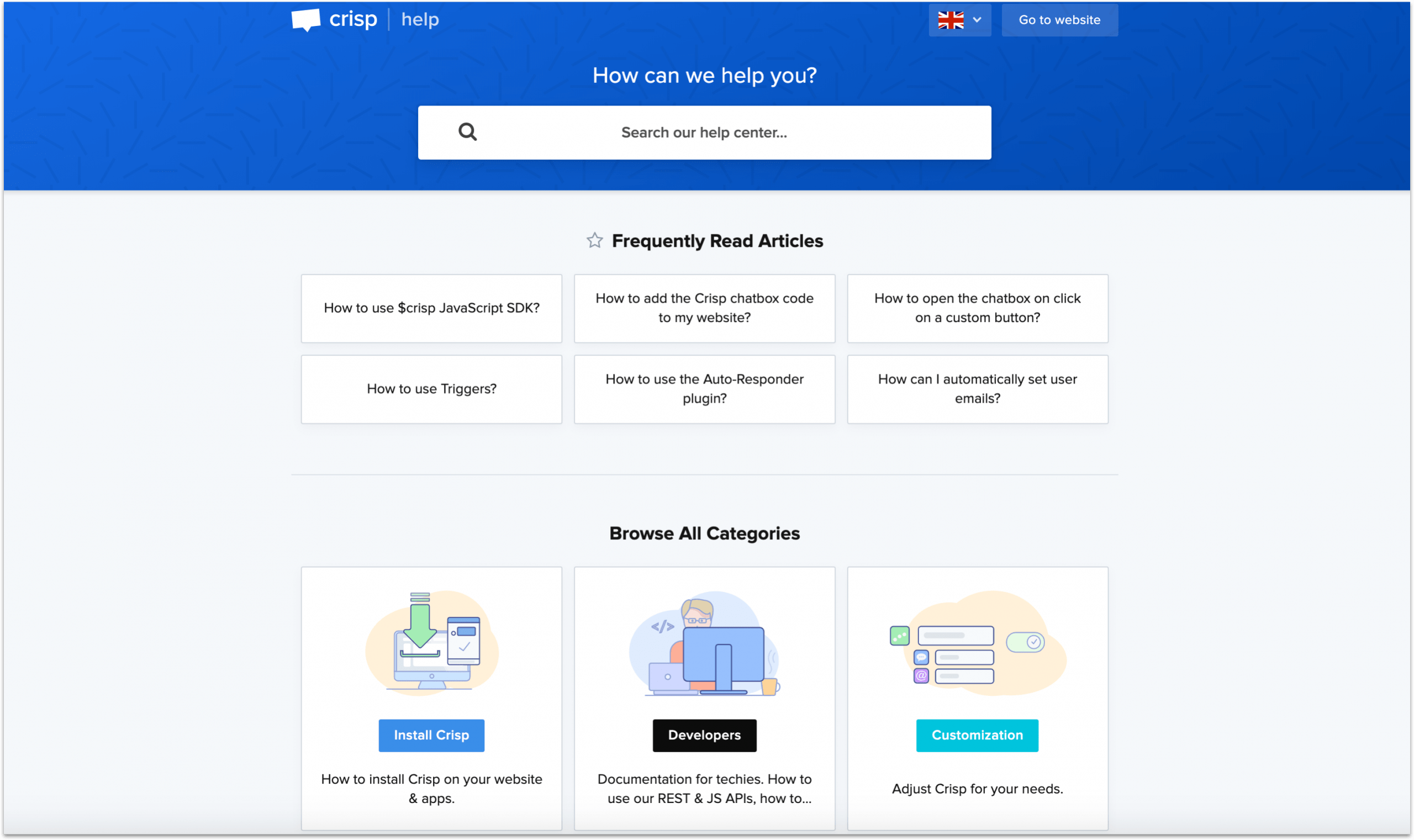 Knowledge base features:
Simple intuitive text editor. You can do all the standard things with your knowledge base content in the Crisp's text editor including inserting Youtube videos, code preview, images, warnings to complex articles.
Categories. Structurize your knowledge base with categories that can be decorated with icons and highlighted by different colors. You can assign icons to each of your categories. You can either choose from the list of default ready-to-use icons or you can upload your own ones.
Multilingual content. Offer your knowledge base content in different languages.
Stand-alone knowledge base software
But what if you don't want to run a heavyweight all-in-one customer service system? What if all you need is a simple knowledge base? Then you should go with a stand-alone knowledge base software.
I don't know about the best stand-alone knowledge base software, but for something really simple you can even use WordPress and its numerous plugins. Sure, they won't give you the full set of knowledge base features, but you'll have your knowledge base.
If you want something more functional and "professional", you can't manage without a "professional" knowledge base software.
Helpjuice offers easy-to-use yet powerful knowledge base software… that costs a lot. I mean, they only offer two subscription plans and the least expensive of them costs $120/mo.
However, if we talk about functionality, HelpJuice offers pretty much the same features we've talked about before, but triple as powerful and diverse.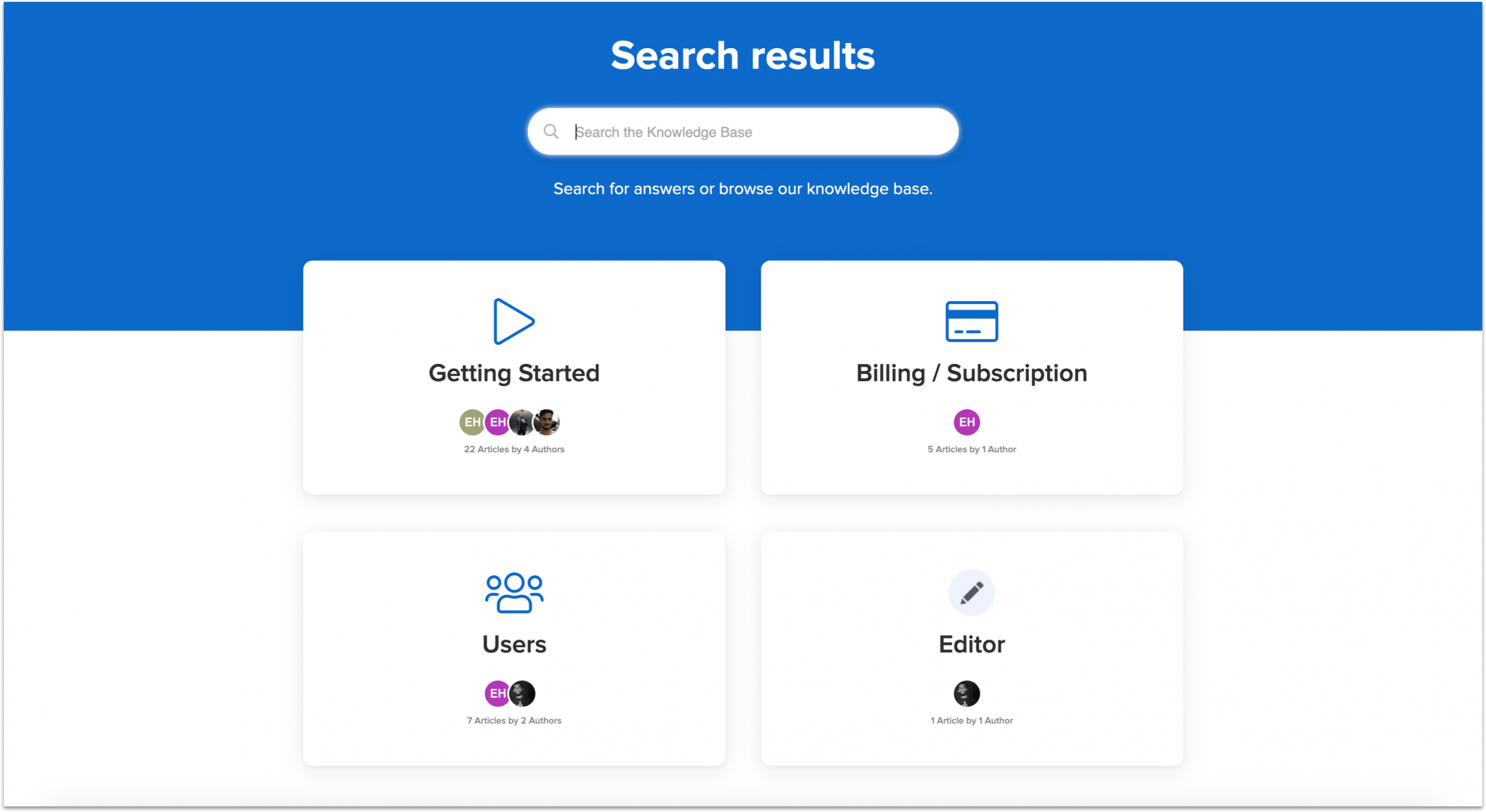 Knowledge base features
Customization features. HelpJuice offers dozens of custom-made themes that allow you to organize everything in your knowledge base according to your taste and brand style. They even claim that their customer success managers can manually customize your knowledge base for you.
Collaboration features. Several authors can simultaneously work on the same article — and all revisions will be saved.
Levels of access. You can choose whether you want to make your knowledge base public or not. There are several levels of access — public, URL-based, specific users, and internal
Reports. HelpJuice offers rich reports on the overall knowledge base performance as well as articles' views, rates, and average time spent on a page. You'll also be able to see all searches that people perform in your knowledge base, their frequency, and other details.
HelpSite is a simpler knowledge base software in terms of functionality and price. Because not all of us are eager to pay $189/mo and that's okay.
It even offers a free version of its software which allows you to add 1 team member, set your custom domain, and publish as many as 25 articles.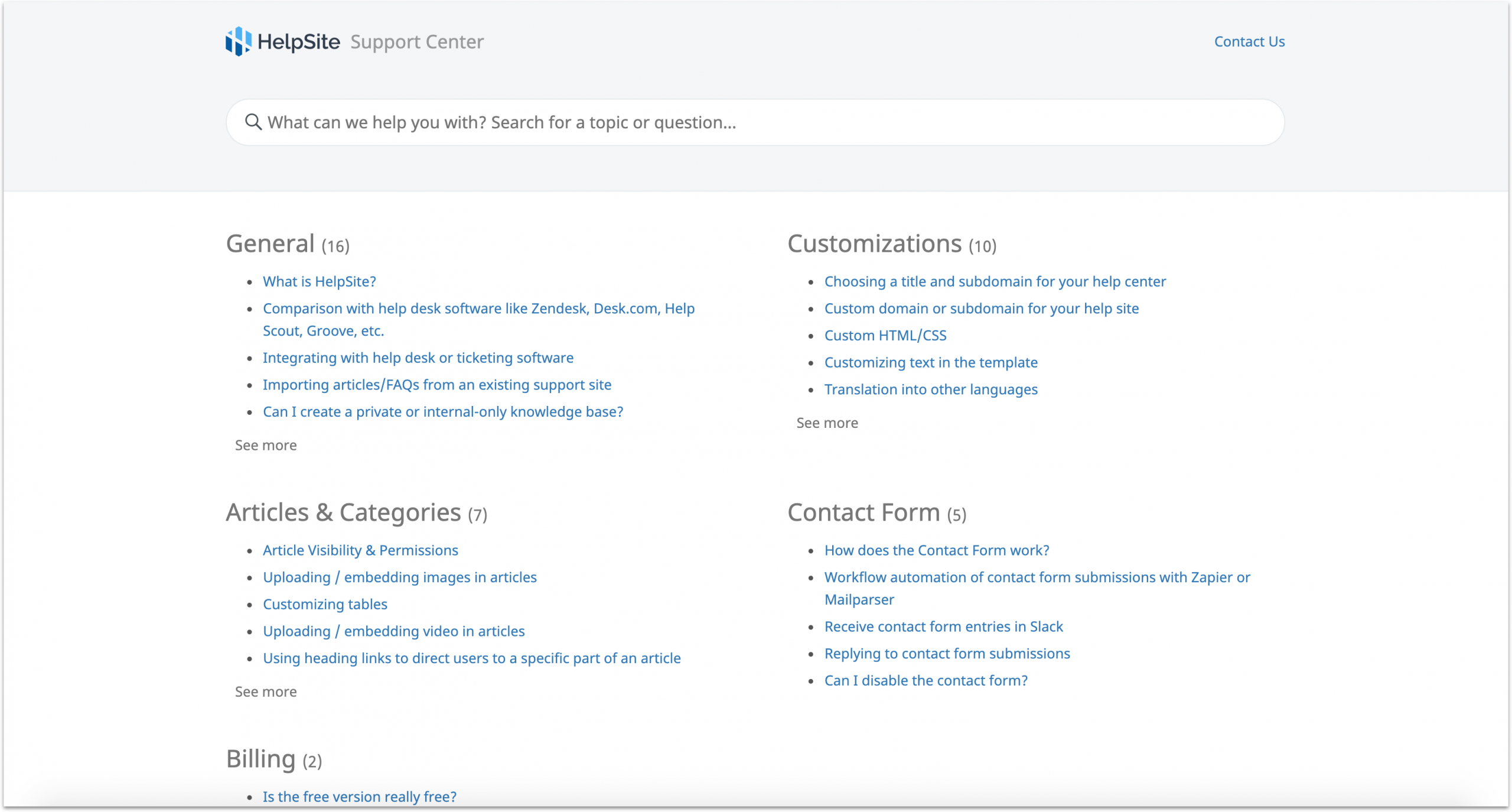 Knowledge base features
Basic text editor. HelpSite's knowledge base editor is very simple and basic (think of the old WordPress interface). It has all the standard editing features, but nothing extra.
Customization features. The knowledge base by HelpSite has rather limited customization options. But if you choose the 'Gold' subscription plan for $49,99/mo, you'll be able to customize the layout with HTML/CSS.
Integrations. Even designated knowledge base tools understand that just a knowledge base is not enough. HelpSite offers integrations with other customer support tools like Desk.com, Zendesk, Groove, etc.
Contact form with knowledge base auto-suggests. You can add the Help Site's contact form to your website – and it will automatically suggest relevant knowledge base articles to those who are trying to contact you. This way, you can dramatically reduce the number of support requests your team has to manage.
The biggest downside to the HelpSite knowledge base is that it doesn't offer any reports at all. You won't even be able to track how your articles perform and see whether you need to improve them somehow.
Their pricing starts from $14/mo and there's also a free version available.
Document360 is a powerful knowledge base tool that offers subscription plans for every budget and taste. And it is probably the best knowledge base software for bigger teams as it has the most collaboration tools.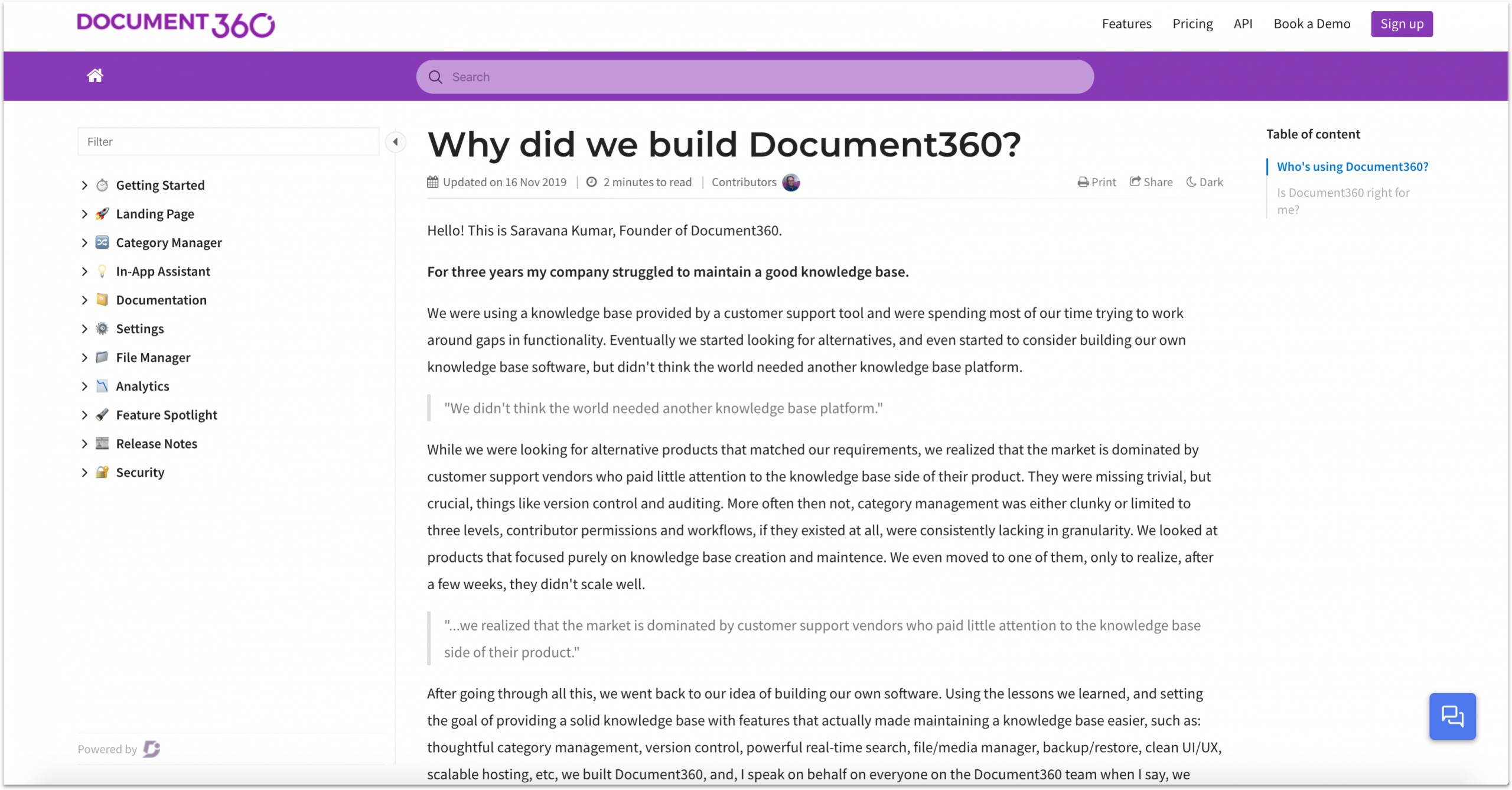 Knowledge base features:
Markdown text editor with all the necessary editing and styling features, where you can also add links, images, videos, code samples, tables, and call-outs. But it's markdown nevertheless.
Two levels of access. You can use Document360 for creating both external and internal knowledge bases.
Multiple knowledge bases. You can create separate knowledge base portals for different projects and manage them all in one dashboard.
Revision history. Your team can access the complete history of articles' revisions and even rollback to previous versions.
Bulk actions. You can move, delete, or hide categories in bulk as well as bulk publish articles based on their tags.
Collaboration tools. Document360 allows you to add team members with different roles — owner, admin, editor, draft writer and readers. They can leave comments to articles (like in Google Docs) and mention other co-workers.
Reports. There are two kinds of knowledge base reports offered by Document360 – performance overview and searches. You can check how each of your articles performs, and what percentage of customers still reach out to your support team after reading your knowledge base. And the 'Searches' report shows you popular and failed searches.
The Document360 knowledge base will cost you at least $59/mo per project.
ProProfs offers many other customer service, marketing, and sales tools on top of its knowledge base. So, it's not a stand-alone knowledge base software in the proper meaning of the word. However, they offer their tools separately and you can sign up for the knowledge base only.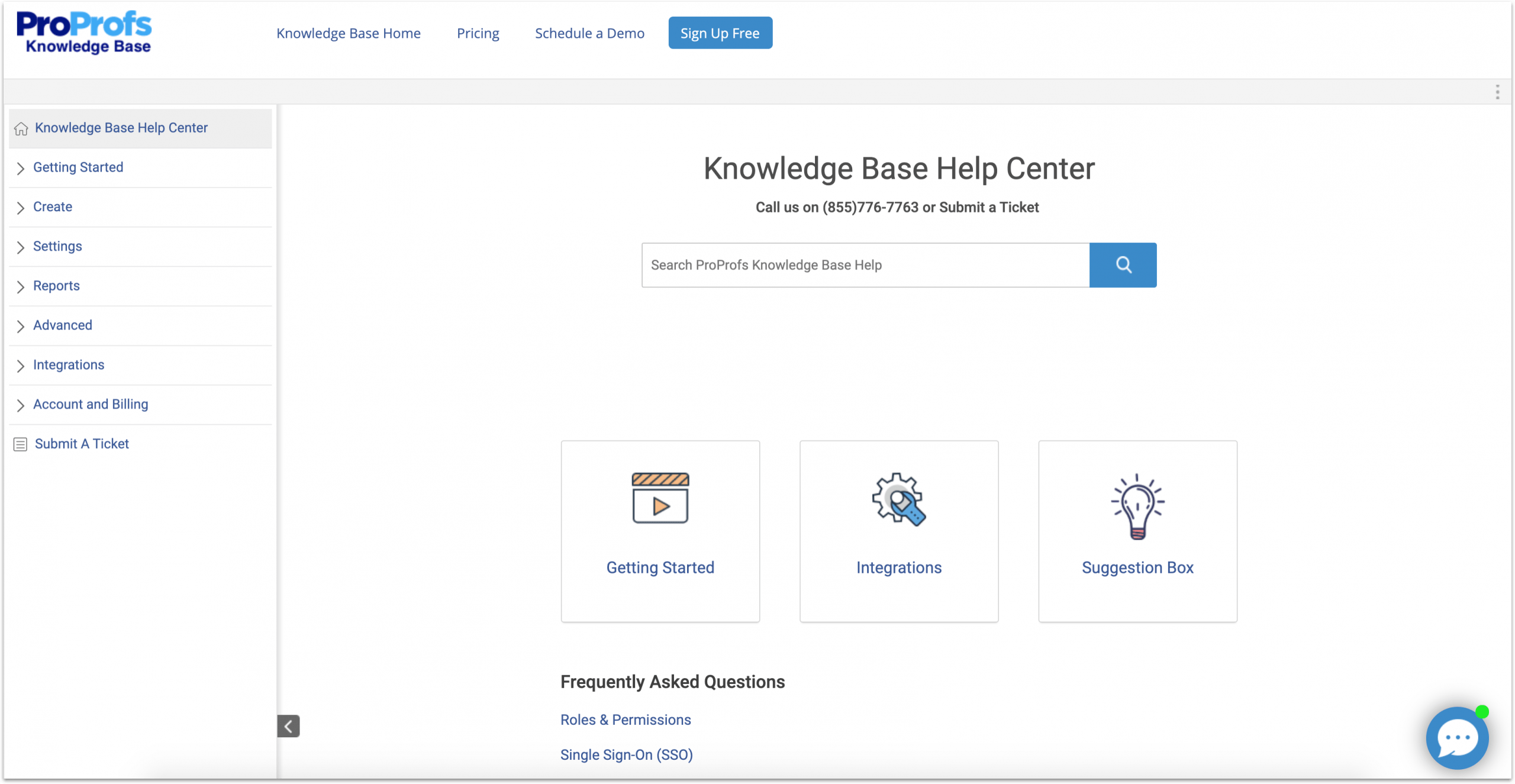 Knowledge base features:
Customization features. You can choose any of the default knowledge base themes and customize it with your logo and custom color scheme.
Articles import. Create new knowledge base articles by importing word docs, PDFs and more.
Revision history. You can always access the complete log of articles' revisions and revert any changes.
Collaboration features. Create different roles and permissions for your team members and specify which of them can access and change knowledge base content. You can set up the process of final reviews so that the final result will be of the best possible quality.
Integrations. Integrate your knowledge base with other ProProfs' products like live chat, help desk as well as with third-party solutions like Zendesk, Olark, SalesForce, etc.
The basic ProProfs plan costs $39/mo and there's also a free version available.
Bottom line
Even if it seems like you only need a knowledge base site at the moment, you should always keep in mind that you might want to scale it in the future. Maybe you'll need a live chat tool sometime in the future. Maybe you'll need a dedicated customer service team.
That's why even if those are not core knowledge base features, pay attention to other features and integrations of your software.

Read also
Customer service
Technological progress made every aspect of our life and work way more convenient. Customer service is no exception. Check these 6 hot customer service trends to jump on the hype train.
Customer service
Check these 7 elements of topnotch customer service management to make sure you're nailing it.
Customer service
Next time you feel frustrated at your job, just check these 12 all-too-familiar customer service memes and see that you're not alone.