The oldest known Ancient Egyptian manuscript is 4,000 years old. It contains religious spells for priests and an illustrated composition of temple rituals. So, can it be… one of the first self-help knowledge bases or what?
Since the invention of writing, people have felt the importance of collecting and storing valuable information so that other people can utilize it over and over again. The only thing that changed over time is the tools.
Ancient Chinese loved bamboo, Egyptians preferred papyrus, and paper had been especially popular since its invention until the internet revolutionized things. These days, people use designated knowledge management software solutions to keep their valuable information in one place and present it to people in need.
What is knowledge management software?
A knowledge base is a database used for knowledge sharing and management. The main point of having a knowledge base is to provide both your customers and team with the most detailed information about your product/services.
Knowledge management software is a set of tools that allow businesses to collect, store, and share company-specific information in one place. Its main goal is to answer all of the common questions about your business. That's why they're also called self-service portals.
Main features of effective knowledge management solutions
From the description above, one might think that choosing knowledge management tools is as easy as a pie. Basically, any WordPress-based website can become a source of self-help articles if you try.
However, there are several specific features that all knowledge management solutions should have. They will make your work faster and more effective right there:
Convenient text editor with the ability to insert images, videos, code samples as well as mark important parts with special notes, warnings, or tips
Categories, sections, folders to organize the articles in a convenient and digestible way
Reports to track how your articles perform in terms of views and helpfulness
Customization options (e.g. brand colors, logo, header images, links, CSS, custom domain) to make your knowledge base look like an integral part of your website
Customizable SEO settings to make your content more attractive for search engines
Search feature so that your visitors can easily find any information they need without having to look through all the articles.
Knowledge management software benefits
Even something as simple as just having it increases your user satisfaction enormously. In fact, 67% of customers prefer to use the company's FAQs to resolve their issues instead of contacting support. And this number is only going to increase.
Other researches provide even more compelling numbers. 77% of customers say they have used a self-service portal at least once and 92% would use an online resource center to help gain insight into a product or service.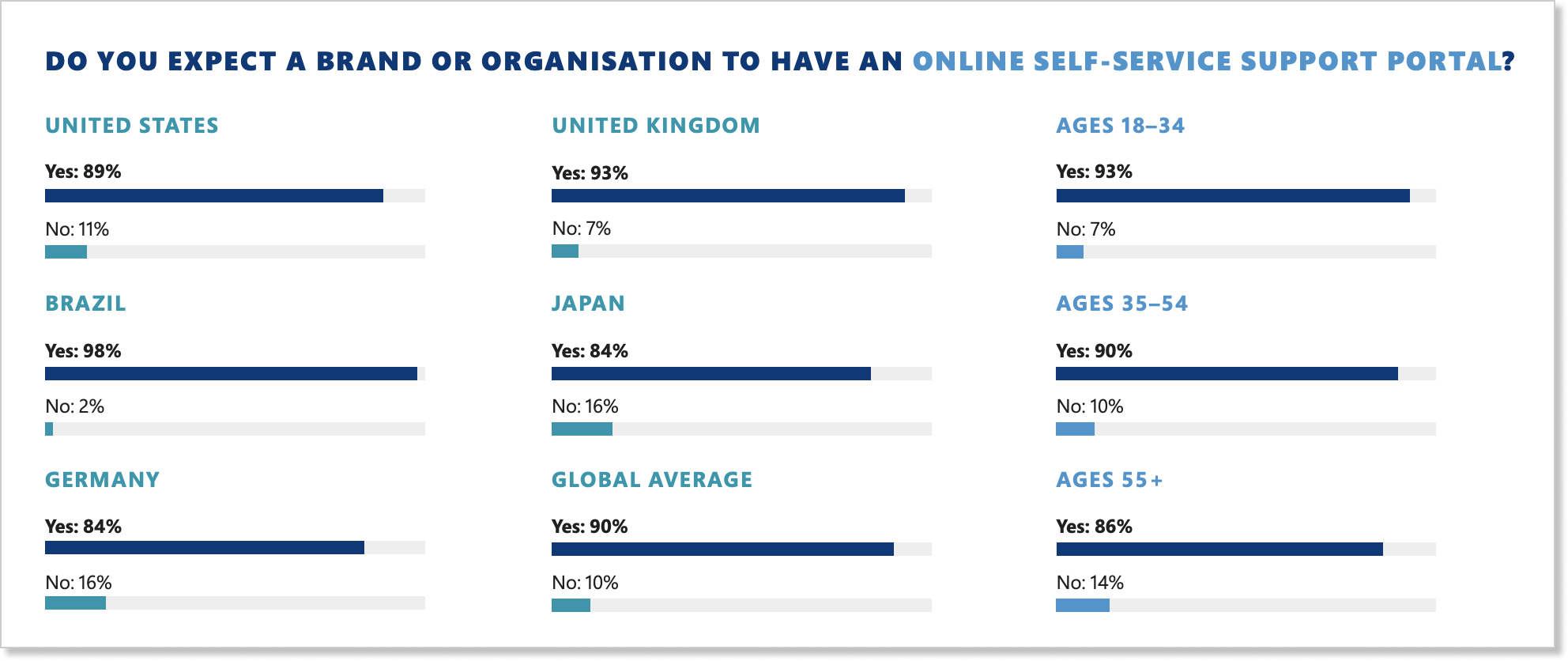 Now, how exactly can a knowledge base be used? And what are the advantages of having one? Here are just some of the benefits you get when choosing the best software for knowledge management:
24/7 availability
Higher satisfaction and retention rates
Lower workload for support reps
Faster support and its automation
All information in one place
Additional organic visits.
All in all, the purpose of knowledge management reaches far beyond just customer support. When people are able to find all the information quickly, they're more likely to stick to your business and stay loyal for years.
10 best knowledge base software for any business
When choosing the best knowledge management software for your business, there are several things you should consider first. First of all, knowledge base tools come in two variations — stand-alone and as part of all-in-one customer support platforms.
If you decide to sign up for an all-in-one option, you can be sure that your knowledge management system is well integrated into other communication channels. However, if you don't ever plan on having any live chat or email support, it's better to go with a monosolution and don't overwhelm yourself with redundant features.
Moreover, knowledge management tools can either be for private internal usage or have public availability. So, what is the best knowledge base software on the market today? Let's delve right into the issue.
Knowledge management software comparison:
COSTS FROM
FREE TRIAL
KB TYPE
G2 REVIEWS
HelpCrunch
$15/mo per team member
14 days
All-in-one
4.7 / 5 ⭐⭐⭐⭐⭐
Document360
$59/mo per project
14 days
Stand-alone
4.7 / 5 ⭐⭐⭐⭐⭐
ProProfs
$40/mo for 100 pages
15 days
All-in-one
4.5 / 5 ⭐⭐⭐⭐⭐
Helpjuice
$120/mo for 4 users
14 days
Stand-alone
4.4 / 5
⭐⭐⭐⭐
HelpSite
$0/mo for 25 articles
–
Stand-alone
5.0 / 5
⭐⭐⭐⭐
Zendesk
$59/mo per agent
14 days
All-in-one
4.2 /5
⭐⭐⭐⭐
Freshdesk
$0/mo
21 days
All-in-one
4.4 / 5
⭐⭐⭐⭐
KnowledgeOwl
$79/mo for 1 author (+20/mo per author)
30 days
Stand-alone
4.5 / 5 ⭐⭐⭐⭐⭐
Confluence by Atlassian
$0/mo
–
Stand-alone
Private
4.0 / 5
⭐⭐⭐⭐
Guru
$6/mo per user
(free for 10 team members)
30 days
Stand-alone
Private
4.6 / 5
⭐⭐⭐⭐⭐
1. HelpCrunch – affordable knowledge management software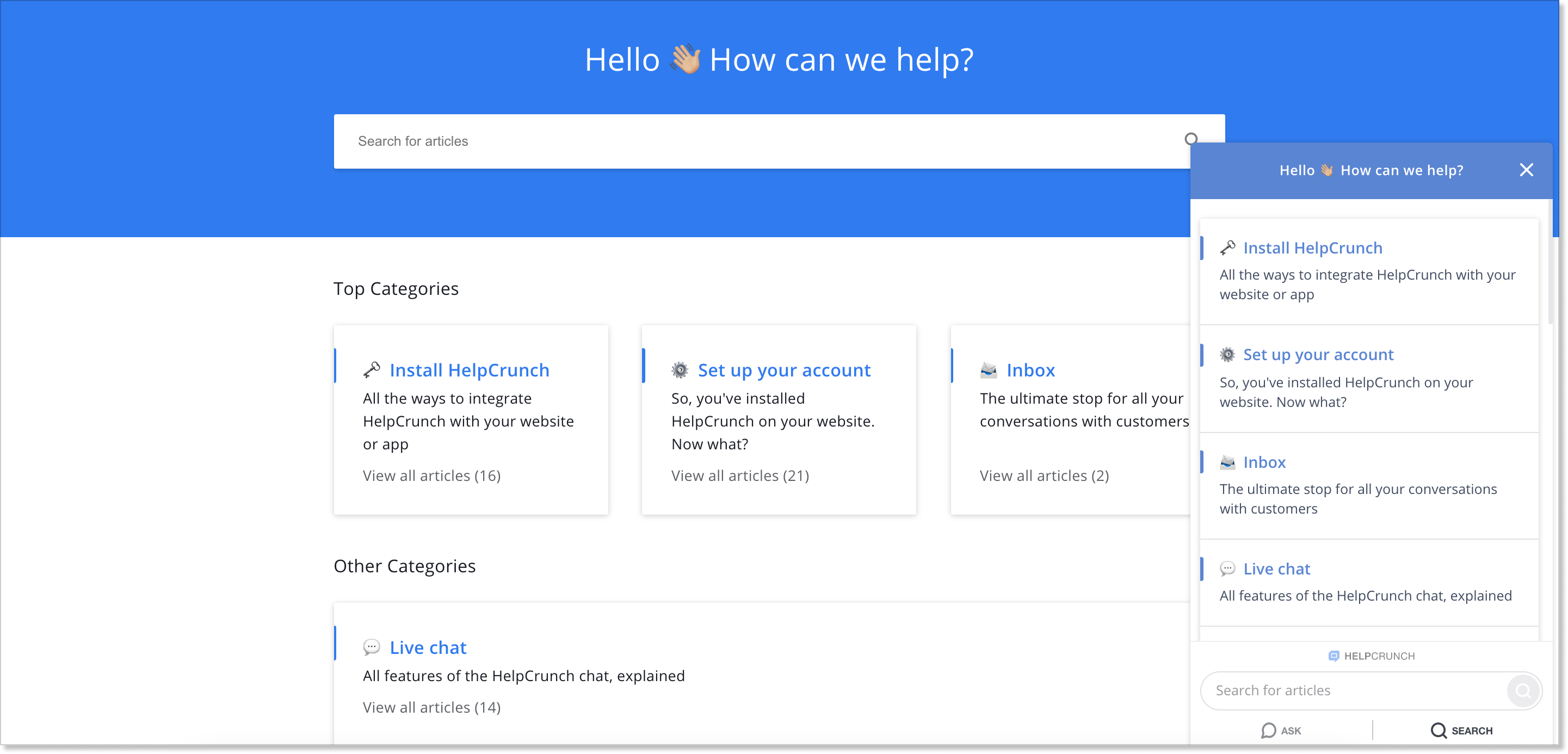 HelpCrunch is an all-in-one customer service tool in its purest form. It offers live chat, chatbot, help desk, email marketing, pop-ups, and knowledge base functionality. The best part is that the knowledge base tool is included in all subscription plans, starting from the Basic for $15/mo.
In terms of knowledge base functionality, HelpCrunch offers a simple, sleek, modern tool designed to be as convenient as possible. Its WYSIWYG text editor allows support reps to manually change SEO details for every article, including a title tag, meta description, and a target keyword. This instantly improves their visibility and indexation by search engines.
With the access control feature, you can set restrictions on some of your articles by a password or trusted IPs. Moreover, customers will enjoy 24/7 self-service offered right in a chat widget. Integrate your knowledge into the live chat on your website, and it will help visitors even when you're offline.
Pricing
The 'Basic' pricing plan starts from $15/mo per team member. It includes a knowledge base, live chat, and pop-up functionality. What's important is that you get the most complete knowledge base functionality for this price, with no restrictions.
Verdict
HelpCrunch is the best knowledge base software for SMBs and startups who want to create a modern help center for their customers. Users will enjoy its simple design, convenient editor, and live chat integration for better client communication.
2. Document360 – the most comprehensive knowledge management tool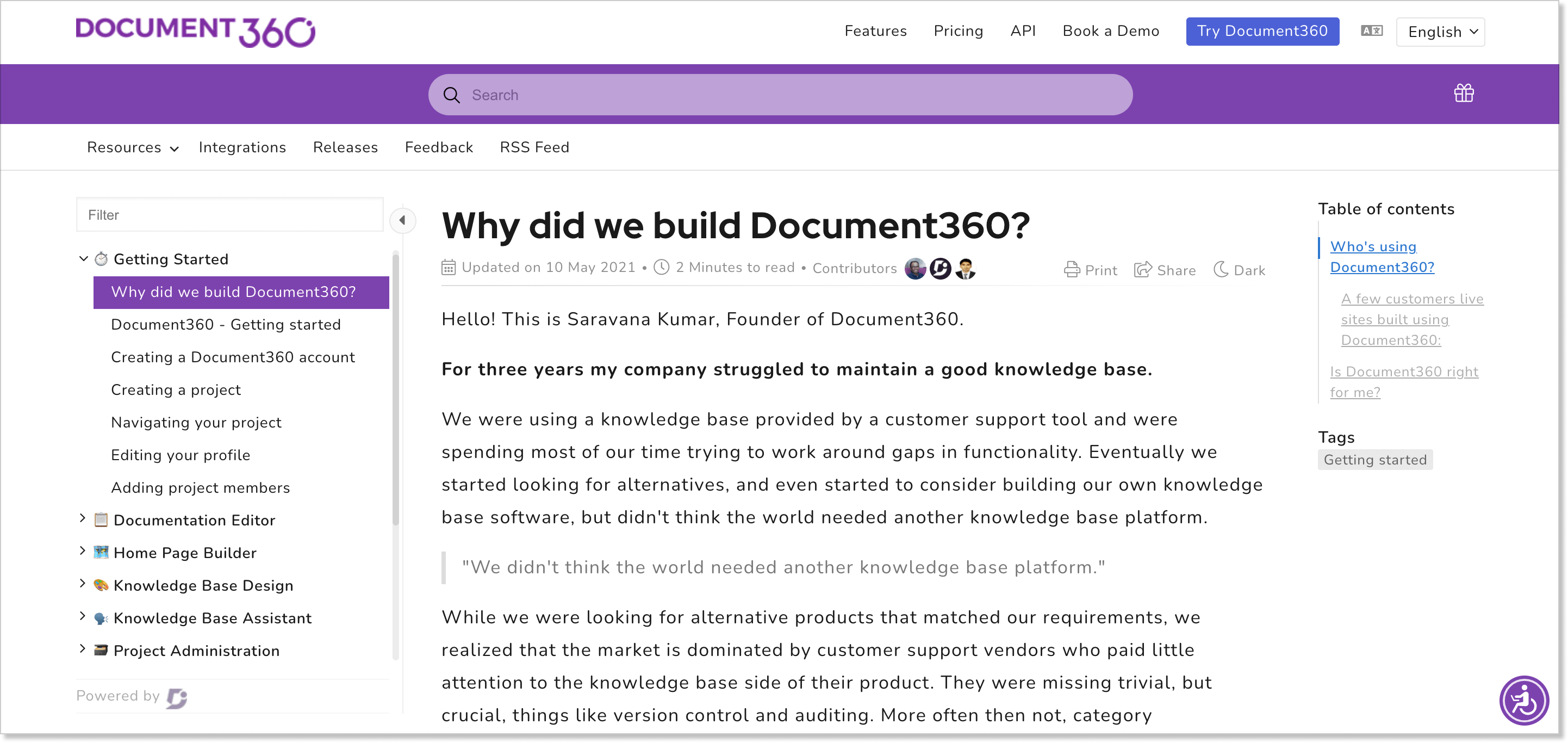 Document360 is a powerful knowledge management platform that offers subscription plans for every budget and taste. And it is probably the best software for knowledge management if you run a huge team and need the widest choice of collaboration features.
The markdown text editor offers all the necessary editing and styling features, where you can also add links, images, videos, code samples, tables, and call-outs. Since the tool offers two levels of access, you can use Document360 for creating both external and internal knowledge bases. In addition to that, it's possible to create multiple knowledge base sites for different projects.
Add team members with different roles — owner, admin, editor, draft writer, and readers. They can leave comments to articles (like in Google Docs) and mention other co-workers while your team can browse the complete history of articles' revisions and rollback to previous versions.
Pricing
The Document360 knowledge base will cost you at least $59/mo per project. For this price, you get 10,000 monthly visitors, 5GB storage, and 2 team members who can contribute as owners or editors. More advanced plans can cost from $179 to $599 per project per month.
Verdict
Document360 is the best knowledge management software for big companies where multiple support reps collaborate on creating new articles and maintaining a help center site. Advanced analytics will help you keep track of everything from articles' performance to customers' behavior. However, not the most affordable prices will scare off small businesses and startups that are not ready to pay $59/mo for just a knowledge management tool.
3. ProProfs – one-size-fits-all knowledge management software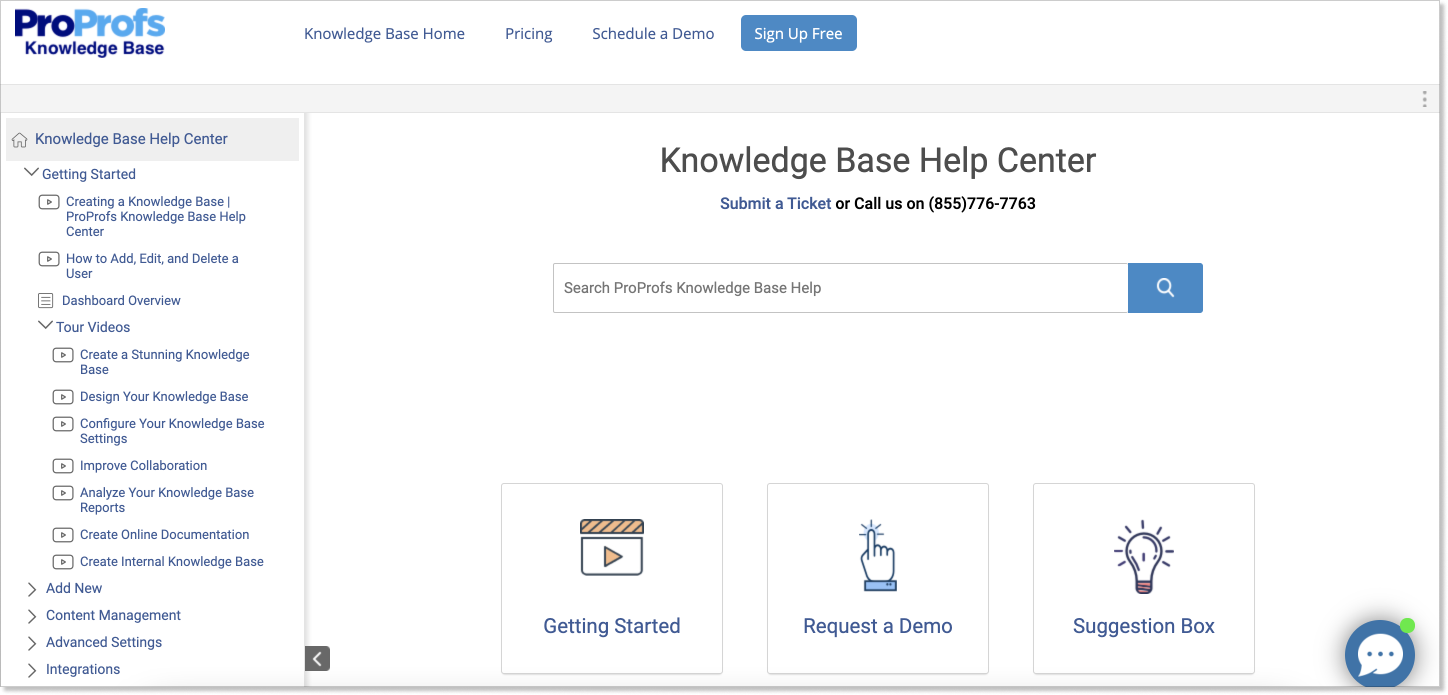 ProProfs offers a set of different tools for all kinds of purposes — from live chat to training maker to even brain games. And yes, this list also includes knowledge base management software.
It offers a rich text editor which, by their own description, looks like Microsoft Word. It has numerous editing tools for styling and formatting, but can feel a little outdated compared to its modern competitors. You can make your knowledge base crawlable and available for search engines and specify meta descriptions for each page.
In terms of appearance customization, you can choose any of the default knowledge base themes and customize it with your brand logo and color scheme. There are templates for all kinds of purposes like user manuals, wikis, technical documentation, or private knowledge bases.
Pricing
The ProProfs Knowledge Base has a different pricing system compared to other knowledge management vendors. They charge for the number of pages in your help center. So, 100 KB pages will cost you from $40 to $0.60 per month, depending on the plan you choose. Please note that the 'private access' mode and different permissions are available only in the Premium subscription, while custom URLs and additional sites cost another $30/mo each. On the plus side, you can create up to 20 pages for free.
Verdict
It seems like ProProfs offers some great solutions for any kind of business. Have a small knowledge base that consists of 20 pages? Go with the free version. Want more? Pay only for the pages you have in your help center. The only downside that I see is that ProProfs' text editor is an acquired taste. It does have all the necessary formatting features but feels a little bit outdated.
4. Helpjuice – comprehensive knowledge management tool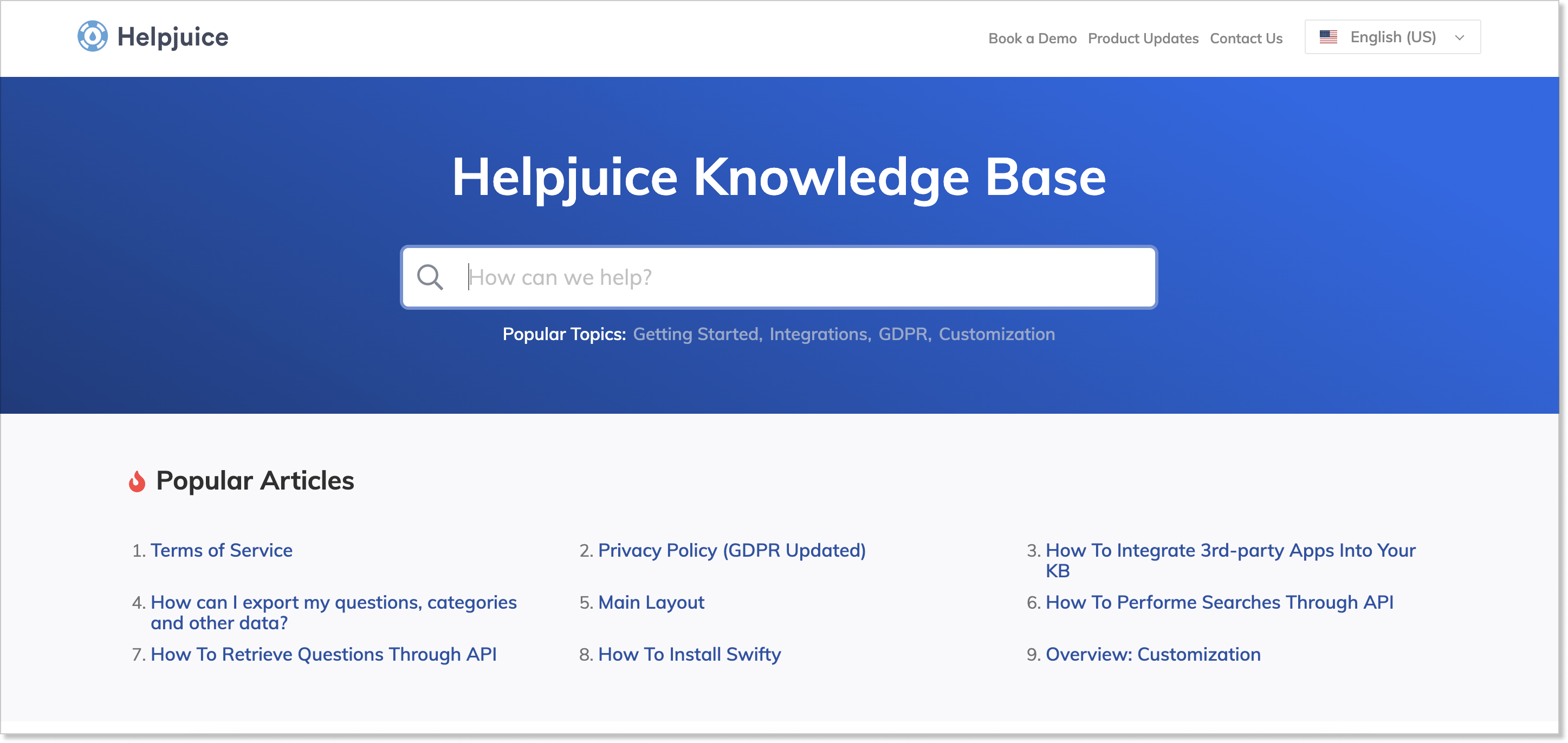 The text editor by Helpjuice is rich in features and, what's also important, feels modern and intuitive. It has all the necessary collaboration features so that multiple authors can work on one article and not bother each other.
There are several levels of access that you can set for your knowledge base — public, URL-based, internal, and for specific users. In terms of customization, there are several pre-made templates that you can choose from. They're fully customizable.
Helpjuice offers some powerful knowledge base analytics — articles' performance in all kinds of numbers and graphs, search terms people use, authors' activity, etc. It's really insightful and can help you improve constantly.
Pricing
The cheapest subscription plan costs $120/mo for 4 users, while the Premium account with unlimited seats goes for $369/mo (*small businesses and startups left the chat*). On the plus side, they all have the same full feature pack and the only difference is in the number of seats.
Verdict
If you're the kind of startup that can spend a couple of hundreds of dollars on a knowledge management solution each month, then Helpjuice can be great for you. Otherwise, this is the product for big companies and enterprises.
5. HelpSite – simple knowledge management tool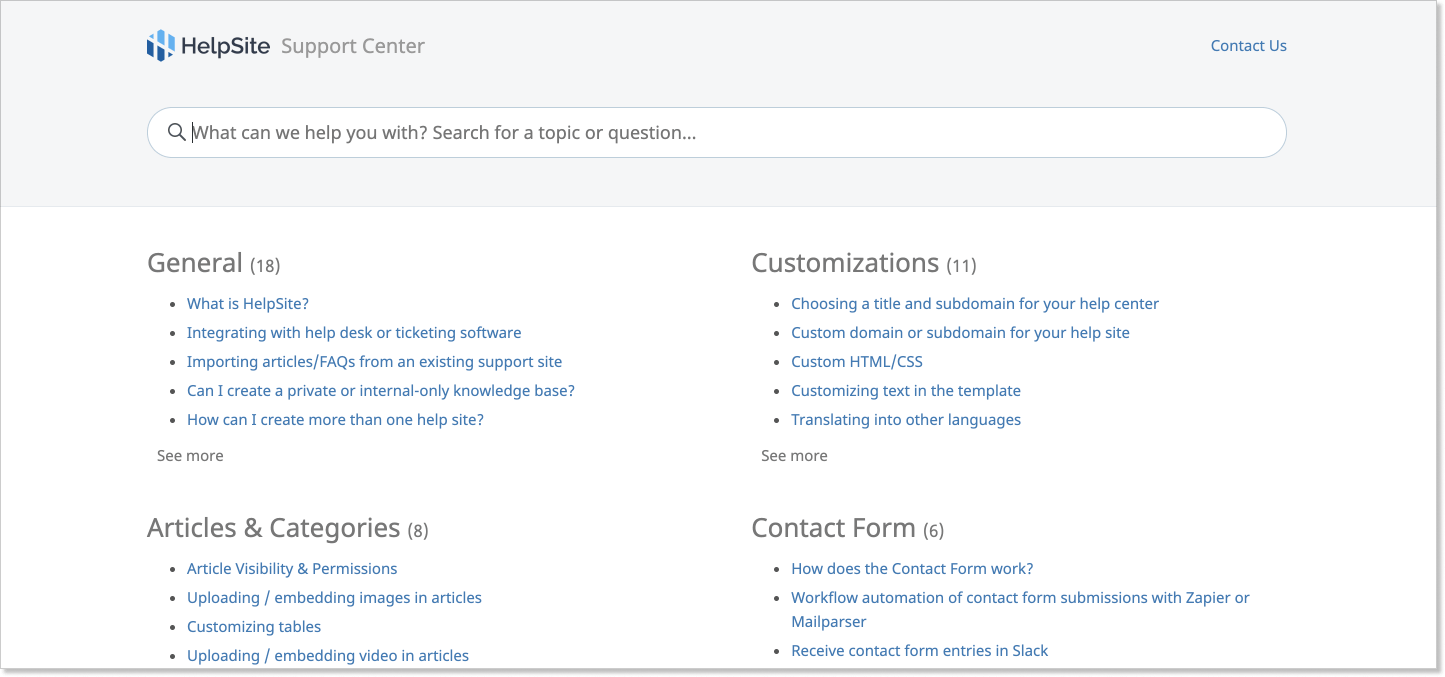 HelpSite is simple knowledge base software in terms of both functionality and price. It offers a basic text editor, which is somewhat similar to the WordPress interface and has all the standard editing features. But nothing extra.
The customization options for the HelpSite knowledge base are rather limited, too. However, you can specify your custom domain and even customize the layout with custom HTML/CSS.
It's possible to add a simple contact form to your knowledge base, which can automatically suggest relevant knowledge base articles to those who are trying to contact you. On top of their native contact form, HelpSite offers integrations with other support tools like Desk.com, Zendesk, Groove, etc.
The biggest downside to the HelpSite knowledge base is that it doesn't offer any reports at all. You won't even be able to track how your articles perform.
Pricing
HelpSite offers a free version of its software which allows you to add 1 team member, set up a custom domain, and publish as many as 25 articles. Paid pricing plans cost from $14,99/mo for 250 articles and 4 team members. And if you choose the 'Gold' subscription plan for $49,99/mo, you'll be able to use custom HTML/CSS to customize your knowledge base's look.
Verdict
HelpSite is probably not the best knowledge management software for bigger companies and businesses. Other than the ability to set up your custom domain, its limited customization options will leave you with an oddly looking help center. And you won't be able to change anything unless you go with the $49,99/mo plan and will be willing to customize it with HTML/CSS only.
However, small startups that only begin their business journeys can enjoy the free version and create 25 simple articles for starters.
6. Zendesk – knowledge management software with numerous integrations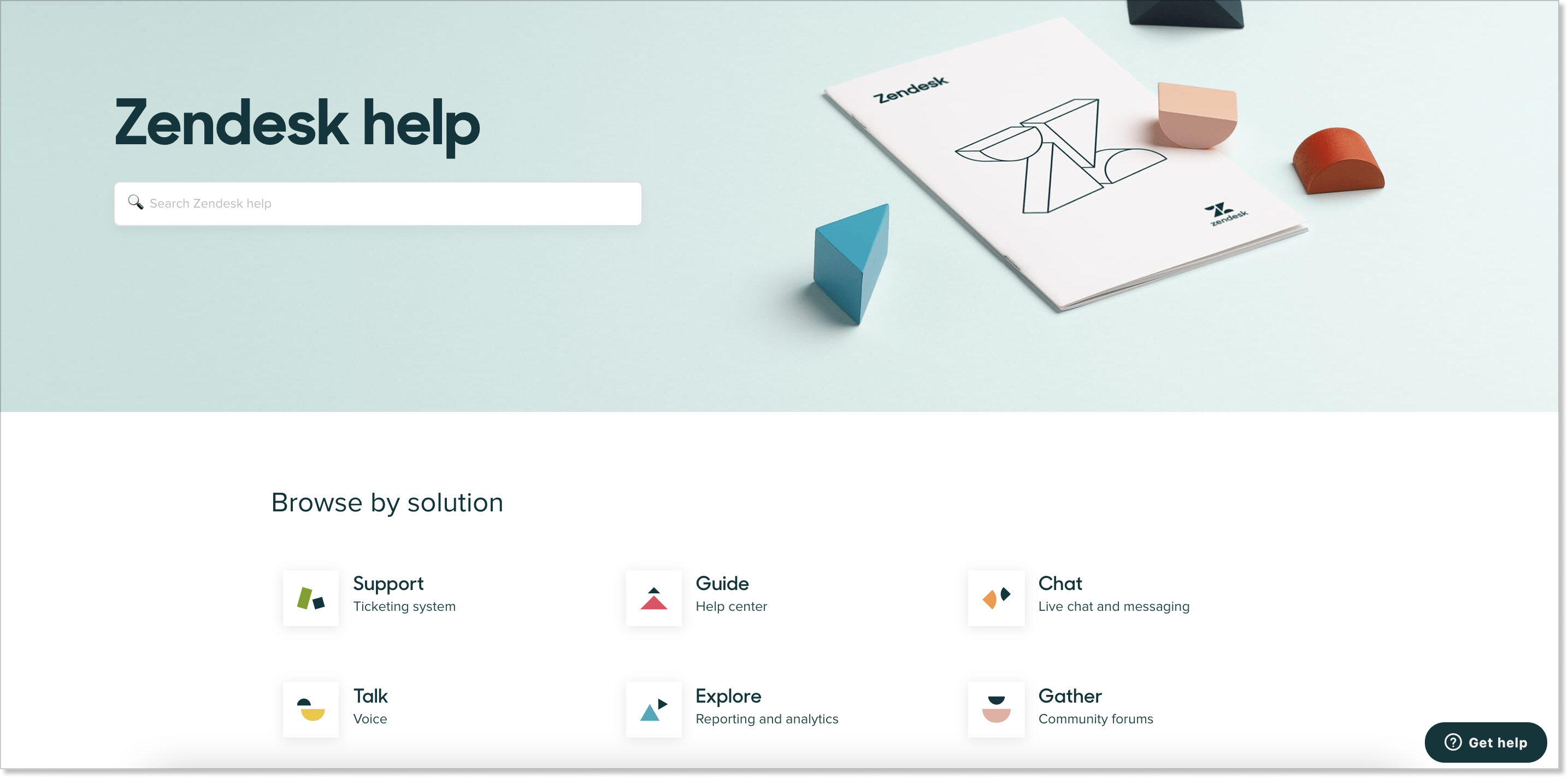 You can find virtually any support feature in the Zendesk toolset — and the knowledge management system is no exception. However, it only comes as part of the Zendesk Suite, and its pricing varies from $59 to $199 per agent per month.
In terms of knowledge base features, you can create articles in a rich text editor and customize your help center with custom themes — you know, the usual stuff. However, customer service representatives will definitely enjoy the Google Docs importer offered by Zendesk. Moreover, the Answer Bot can automatically offer relevant knowledge base articles to customers and ease off support reps' workload dramatically.
Pricing
The basic Zendesk Suite subscription costs at least $59/mo per agent. It includes basic knowledge base features. However, content history & revisions as well as custom themes are only available for the Growth subscribers at $79/agent/mo.
Verdict
If you're a big enterprise managing hundreds of customer requests every day, you will probably enjoy the Zendesk Support Suite. It includes knowledge management solutions as well as numerous ticketing and chat features. However, small business owners won't need half of those features and will be better off with a more affordable Zendesk alternative.
7. Freshdesk – basic knowledge management tool with ticketing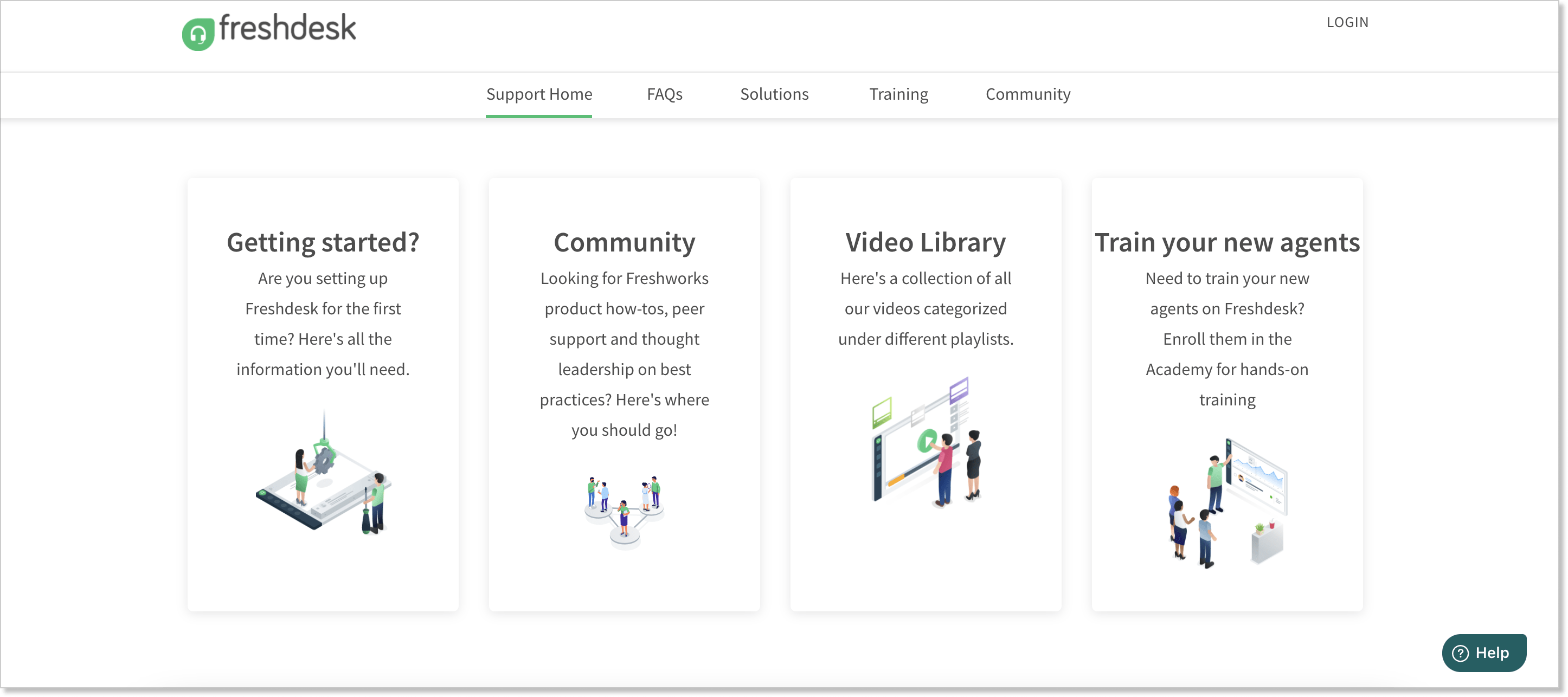 Knowledge software is included in the Freshdesk all-in-one customer support solution. So, if you want to use their knowledge base, you would need to buy the whole ticketing system with it. The good news is that it has a free version.
As a knowledge management app, Freshdesk offers a simple WYSIWYG editor with all the necessary formatting and styling features. You can specify meta titles and meta descriptions for articles and translate them into different languages. Freshdesk offers standard categories and folders for organizing your content.
Just like with Zendesk, customer support agents can add new content on the go, saving their answers as new articles in a few clicks. However, its reports are rather basic in comparison to other knowledge base tools. You can simply check how many views each article has and whether your customers rated it as helpful or unhelpful.
Pricing
The basic subscription to Freshdesk costs $19/mo per agent, but there's also a free version available. For this price, you get the knowledge base and help desk features. However, their functionality will be quite limited. Advanced features may cost from $45/agent to $125/agent monthly.
Verdict
Freshdesk offers rather basic tools for knowledge management. You won't find any advanced reports or notable features there. However, if ticketing and knowledge base are exactly what you're looking for, Freshdesk will be a perfect choice.
8. KnowledgeOwl – feature-rich knowledge management software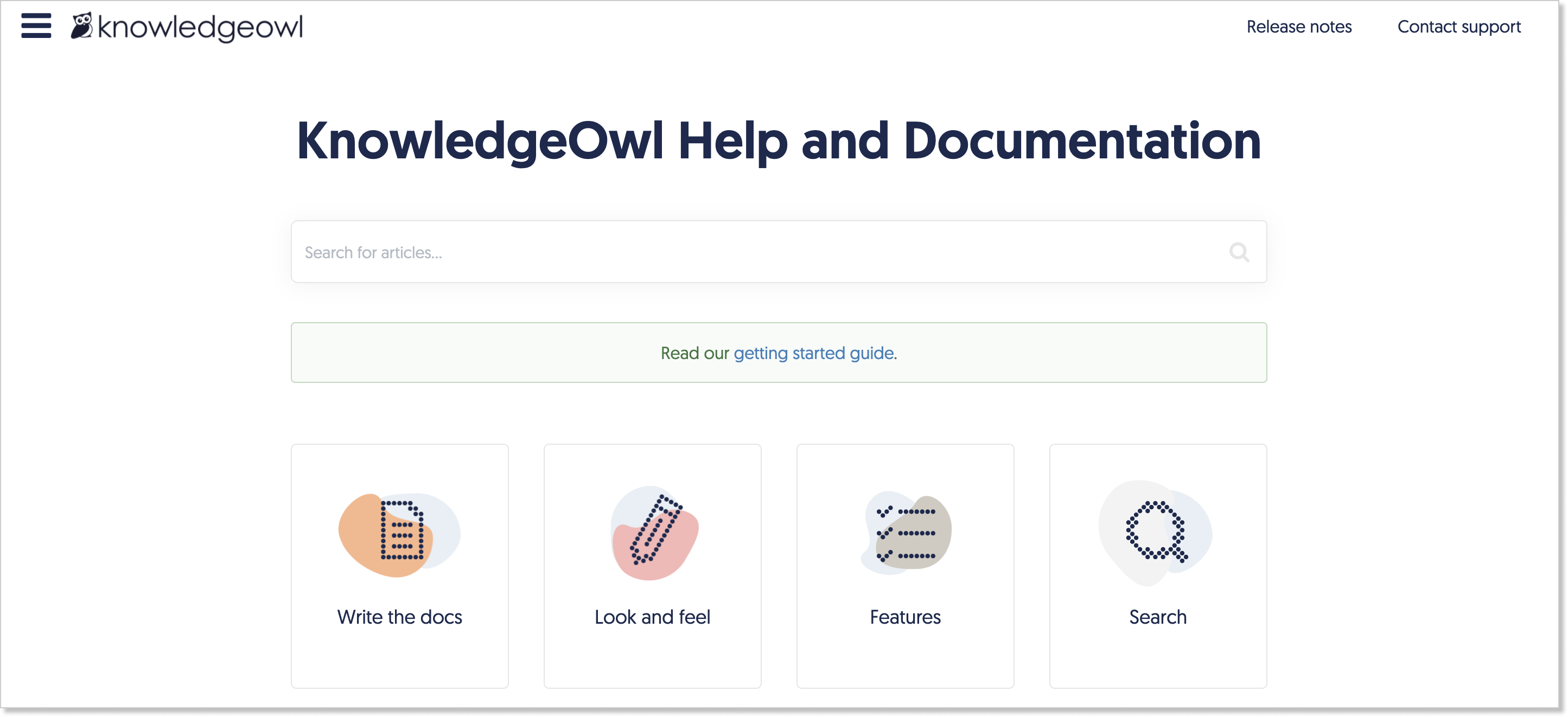 KnowledgeOwl is a modern and convenient knowledge management tool for both internal and external usage. The tool's standard features encompass everything from a WYSIWYG editor to themes and layouts to access control. Each article has built-in rating and comment sections where customers can rate their experience.
The tool is also quite flexible in terms of custom views, bulk actions, and SEO settings. Add a handy table of contents or breadcrumbs to make navigation easier.
There are many unconventional features, too. For instance, you will have a dedicated library for all your files (kind of like WordPress), which you can utilize and manage across your entire knowledge base. The Glossary option allows operators to create a hub of all company-specific terms and insert on-hover definitions.
Pricing
KnowledgeOwl's pricing system is based on the number of authors that you need to add to your account. If you want to create multiple knowledge bases, each of them will also cost you $40/mo
Each package offers all the features, roles and permissions. The difference between them is the level of support, uptime SLA, and security settings. The basic Flex plan costs $79/mo, while the Business plan is available for $299/mo. The package for enterprises starts from $999.
Verdict
KnowledgeOwl is the best knowledge management software for bigger teams that are dedicated to running all the internal and external data in one convenient place. Compared to other knowledge management solutions, KnowledgeOwl seems to be offering a lot of peculiar features like a dedicated file library or navigation features. But the steep price of $79/mo may scare off startups and small businesses.
9. Atlassian – internal knowledge base tool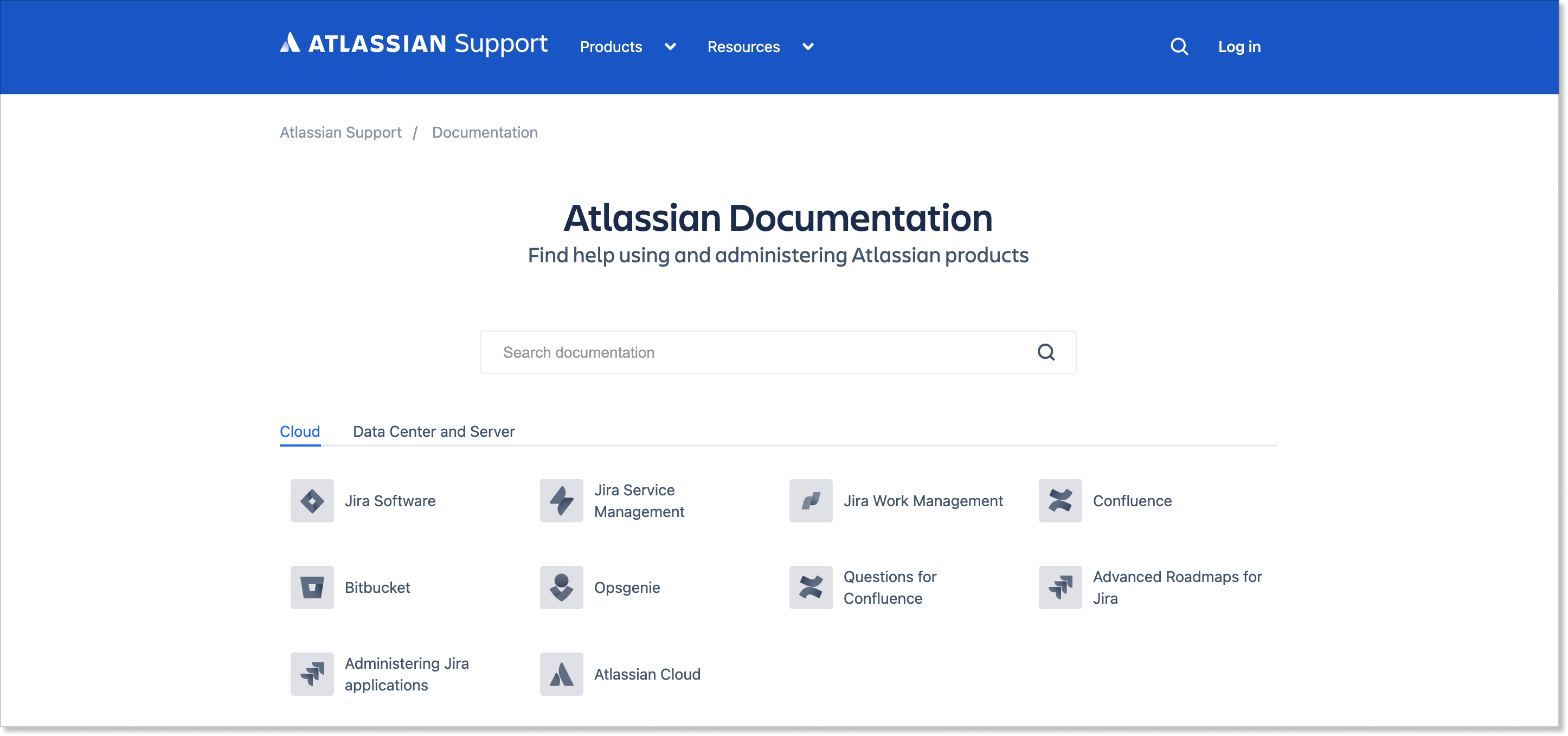 I think the name 'Atlassian' is familiar to every project manager or virtually anybody who works by agile methodology. They're the company behind Jira, one of the most famous issue tracking software. Atlassian also has their internal knowledge base tools called Confluence, where you can store your company's information, notes, plans, and whatnot.
The Confluence knowledge management software comes with templates for all kinds of needs — from project plans to competitive analysis to how-to articles. On all subscription plans, you have unlimited pages and can see the full history of changes for each page. If needed, you can roll back to a previous version at any time.
Such features as analytics and user permissions are only available on paid subscription plans. Moreover, if you decide to pay for Confluence, you will be able to use the 'anonymous access' feature which will allow you to make your knowledge base public.
Pricing
Confluence's prices are based on the number of users you want to add to your account and vary from $5 to $10 per user per month. You can also take advantage of the free version which is crafted for up to 10 co-workers.
Verdict
Confluence is a great choice for small businesses that only need knowledge management software for internal use. You can create a simple and nice private knowledge base for free and call it a day. The price can get a little unpleasant if your team consists of more than 10-20 people.
10. Guru – modern internal knowledge base software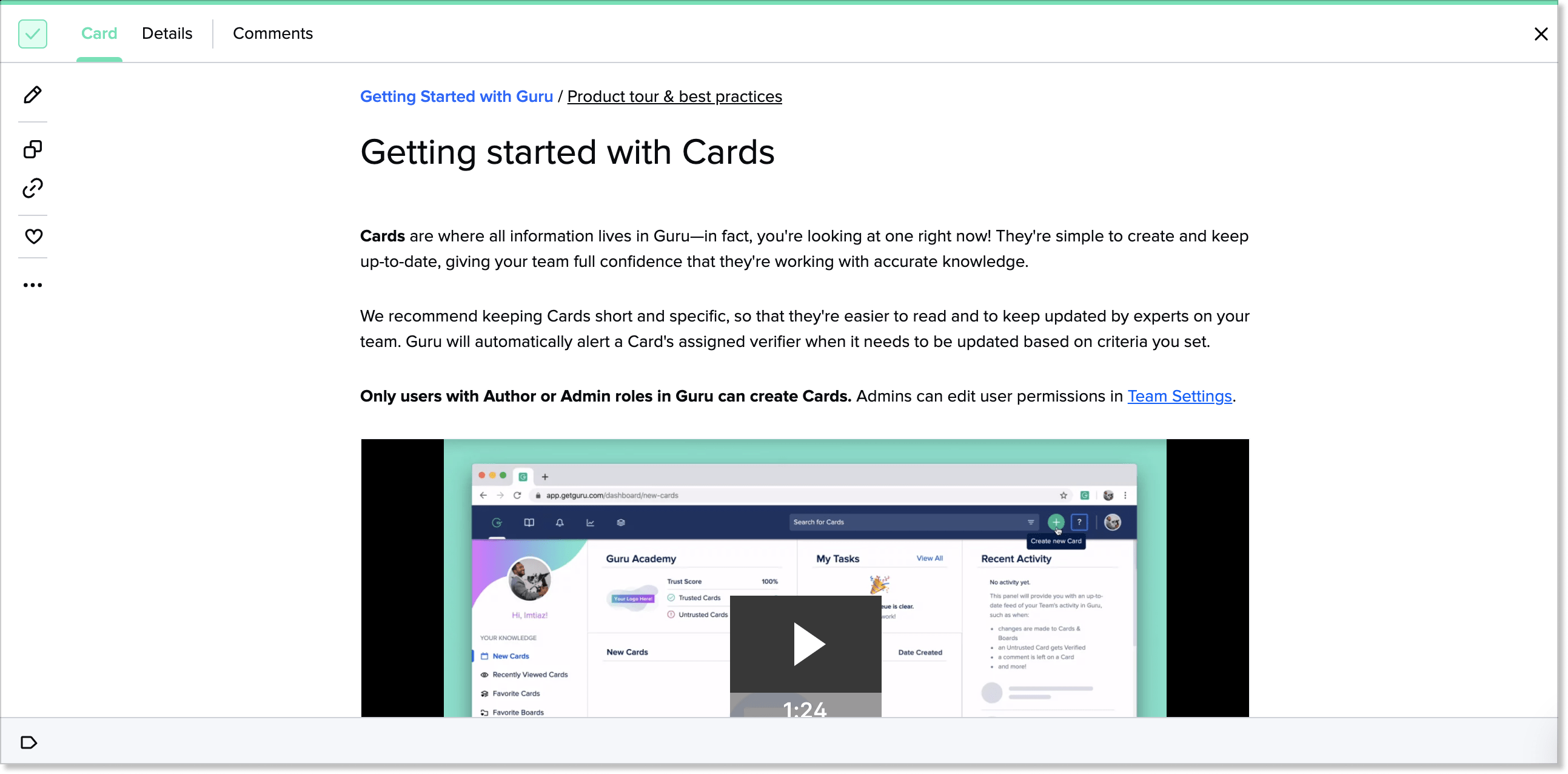 Guru is a comprehensive and feature-rich knowledge sharing software for internal usage. Managers and employees can save and organize any important information about their company. It's a great choice for onboarding, collaboration, and communications inside the team at all times.
The tool allows team members to create helpful content and leave their comments inside the cards, while managers can verify articles in bulk. Knowledge triggers will push relevant information to employees based on a web page they're currently viewing.
In my no-so-humble opinion, the coolest and most convenient feature about Guru is their Chrome extension. It provides all the capabilities of a full-scale knowledge management tool in one simple window. Employees can view articles, create new knowledge cards, and copy any information in a few clicks, without interrupting their workflow.
Pricing
Guru's pricing starts from $6/user per month. If you're team consists of 10 people of less, you can use the solution for free. It has all the basic features and integrations. However, if you want to track at least some statistics about your internal knowledge base or enjoy intelligent duplicate detection, you should go with the Builder plan. It will cost at least $12/user/month. Knowledge triggers and AI-powered suggestions are only available in the Expert subscription for $24/user/mo.
Verdict
By simply looking at their website, you get an instant feeling that Guru is a modern powerful solution for startups that appreciate nice design and convenience. The tool offers quite a few unconventional features with the Chrome extension being the most prominent one. The only downside to the tool is that some of its reviews mention its somewhat steep learning curve.
So, is there the best knowledge base software?
Even if it seems like you only need a knowledge base site at the moment, you should always keep in mind that you might want to scale it in the future. Maybe you'll need a live chat tool sometime in the future. Maybe you'll need a dedicated customer service team.
That's why even if those are not core knowledge base features, pay attention to other features and integrations of your software. Choose top knowledge management software based on its ability to scale in the future.
HelpCrunch articles delivered straight to your inbox 🚀
All the latests posts. One email per month
No strings attached
Read Also
Support
Marketing is all about your ability to influence and persuade. So, what constitutes the power of persuasion? What does empathy have to do with it? And how does one stay true to themselves by selling customers what they need?
Support
Both solutions allow you to explain more about your product to customers. But what's the difference between the tools and which one is more efficient? We are here to answer just that. Click and let's get started!
Support
The question 'how to write FAQs' is finally answered! We share 8 zero-fault tips on the ways to do that as pros do. Besides, we include some cool examples. Have you already seen them?