9 Best Knowledge Base Software in 2023
It's 2023, so we decided to look at the knowledge base software from a new perspective. Here's our compilation of the 9 most wanted solutions.

The oldest known Ancient Egyptian manuscript is 4,000 years old. It contains religious spells for priests and an illustrated composition of temple rituals. So, can it be… one of the first self-help knowledge bases or what?
Since the invention of writing, people have felt the importance of collecting and storing valuable information so that other people can utilize it over and over again. The only thing that changed over time was the tools.
Ancient Chinese loved bamboo, Egyptians preferred papyrus, and paper had been trendy since its invention until the internet revolutionized things. These days, people use the best knowledge base software to keep their valuable information in one place and present it to people in need. Let's strike into the subject.
What is knowledge base software?
Knowledge base software is a set of tools that allow businesses to collect, store, and share company-specific information under the same roof. All in all, its primary goal is to answer all common questions about your business. That's why it's also called a self-service knowledge base. Here we come to what a knowledge base is. This is a database used for knowledge sharing and management. If I were to ask, this is like an online storehouse that is always available on demand. The main point of having such software is to provide both your customers and team with the most detailed information about your product/services.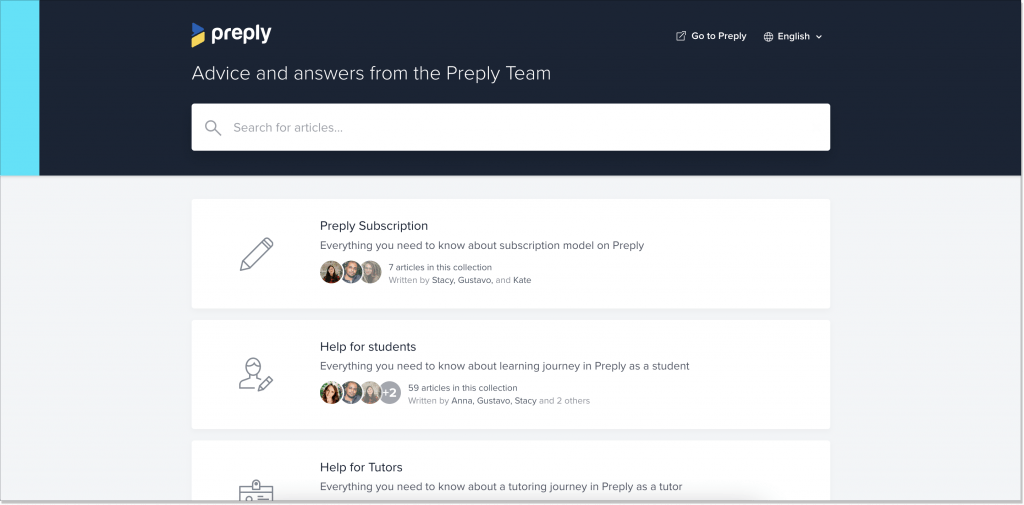 9 best knowledge base software to elevate your support
When choosing the best knowledge management software for your business, there are several things you should consider first.
Number one is that these tools come in two variations — external and internal (stay tuned: there is more to it down the road!).
Number two is that if you sign up for an all-in-one customer service solution, ensure your system is well integrated into other communication channels. However, if you never plan on having a live chat or email support, it's better to go with a mono solution and not overwhelm yourself with redundant features.
Times change, and so does software. Some become less popular, some come here to stay, and some get a second wind. With that in mind, we mounted a challenge to ourselves and rethought the whole approach this year.
Make yourself comfortable as we're delving right into the best software on the market. Everyone will hit the jackpot, whether it's a solution for external or internal use. At the end of the day, it's 2023!
1. HelpCrunch Knowledge Base
📌A no-nonsense solution for organizing content that won't cost you an arm and a leg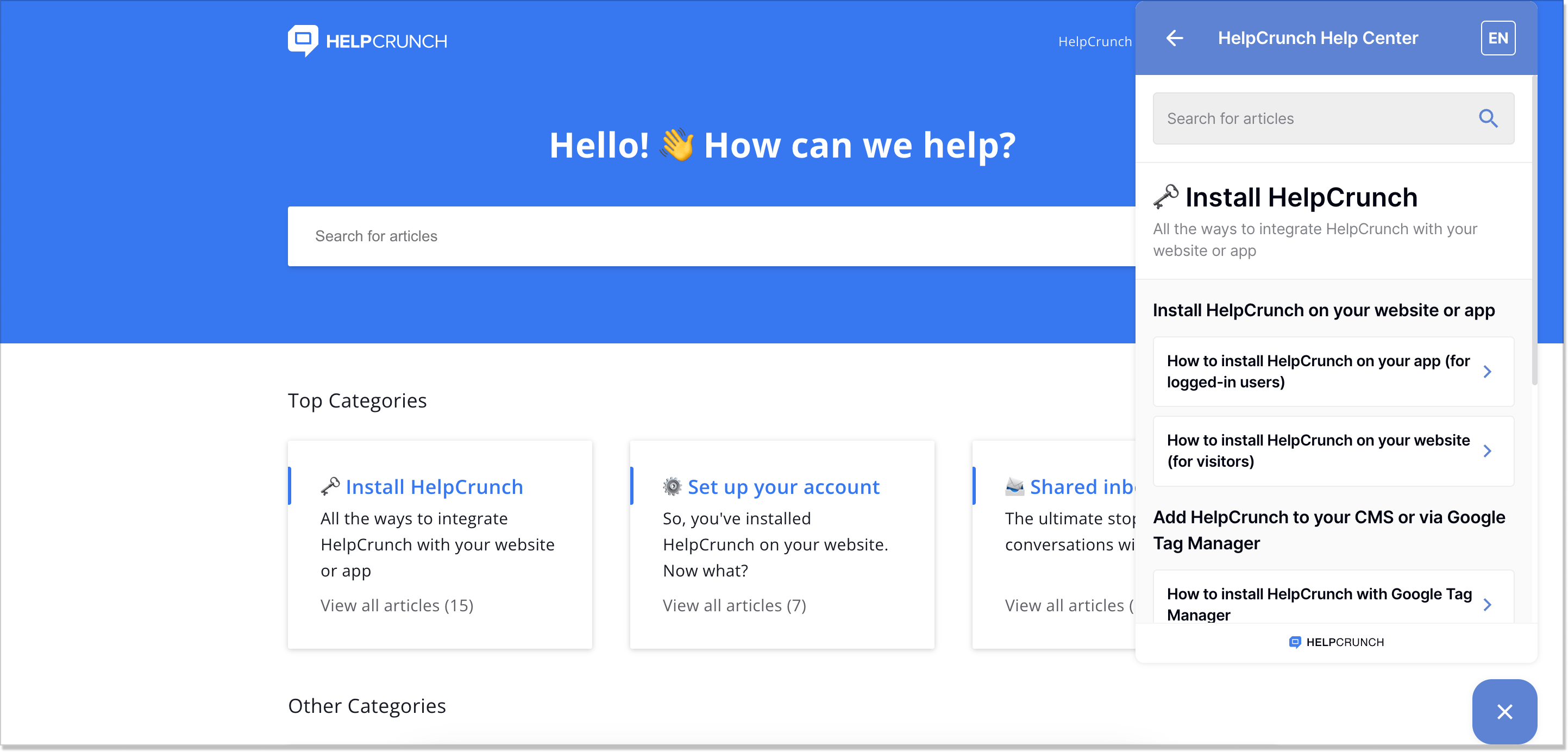 When I say, I mean it! HelpCrunch provides you with anything a business needs for support, marketing, and sales. But let's stick to its knowledge base functionality for today as it's worth attention. I am not going to spill the beans right now, so keep on reading 🤓
One home to all the tools you wish for
As I already mentioned, HelpCrunch has an ace up its sleeve in addition to being a knowledge management tool. It also offers a sleek live chat, a chatbot, a shared inbox, an intuitive popup builder, and email marketing opportunities. With such an array of tools, your support, marketing, and sales crews will provide A+ service and create a sky-high user experience.
Setup & use without stress snapping at your heels
The HelpCrunch knowledge base tool for customer support (and not just that!) is all about intuitive installation and ease of use. Just press the button to create an article/category/subcategory. No coding is needed. Besides, an access control feature helps you set restrictions on some of your articles by a password or trusted IPs.
Ranking high online has never been that easy
Regarding functionality, HelpCrunch offers a simple and modern tool designed to be as convenient as possible. Its WYSIWYG text editor allows support reps to manually change SEO details for every article, including a title tag, meta description, and a target keyword. This instantly improves their visibility and indexation by search engines.
Chat widget integration for better self-service
HelpCrunch has taken a step toward customer self-service. Thanks to the fully integrated software into the chat widget, website visitors and existing clients can scour for the articles independently without waiting for a support rep to answer. Plus, such a feature does the trick when the team isn't online (holidays, off-hours).
What users say about HelpCrunch
At this point and further, we explain users' thoughts about these tools. Think of this paragraph as Pros and Cons but in an offbeat way. Trust me, there is much to eavesdrop on while on review platforms. Truth be told, I enjoyed analyzing G2 accounts – much love and appreciation, which is flattering, sure thing.
Most loved for:
Most affordable pricing on the market
All-in-one-place solution
Swift knowledge base installation and ease of use
Helpful and quick help desk software
Unlimited users
Most hated for:
It doesn't let you create multiple public knowledge bases
Pricing
Basic – $15/month per user (if billed monthly)
Pro – $25/month per user (if billed monthly)
Unlimited – $620/month (if billed monthly)
Believing me on the say-so would be too easy! To fully unlock HelpCrunch's knowledge base potential, sign up for a free 14-day trial. Who knows, maybe the rest of the toolset will strike a chord with you. Go ahead! 🚀
2. Document360
📌Just the thing for huge teams looking for holistic knowledge base software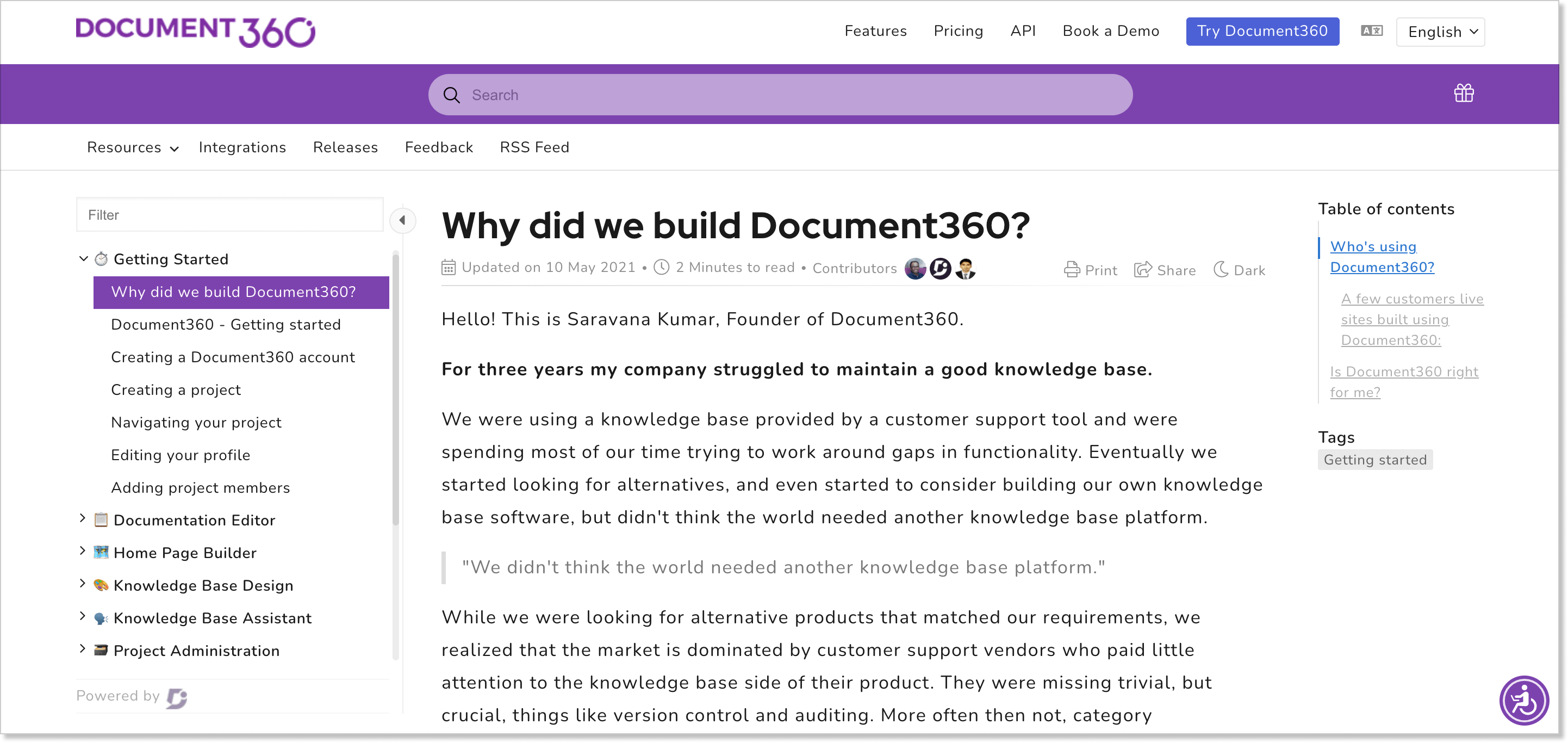 Document360 is a powerful platform offering business subscription plans. Big teams and enterprises may find a better match here. Besides, those who crave the widest choice of collaboration features will be surprised, too.
Stunning editorial functionalities
The markdown and WYSIWYG text editor offer all the necessary editing and styling features, where you can also add links, images, videos, code samples, tables, and call-outs. On top of it, you can organize knowledge base contents seamlessly and create an impeccable information hierarchy with this software.
Cover the bases with this knowledge base software
Rare for other candidates we discuss here, Versioning & Rollback by Document360 helps you view article versions and go back to a previous state. Plus, you can set up review reminders to avoid content stagnation and keep it fresh.
What users say about Document360
When exploring what users love and hate about this platform, I noticed they gave high points to its feature arsenal (duh!). However, there is always a fly in the ointment.
Most loved for:
Simple user interface
Robust set of tools
Comprehensive analytics dashboard
Most hated for:
Difficult-to-use editor
Heavy price tag
Impossible to delete branding
Files storage limit
Messy image uploading
Pricing
Standart – $199/month (if billed monthly)
Professional – $399/month (if billed monthly)
Business – $529/month (if billed monthly)
Enterprise – $599/month (if billed monthly)
* A free lifetime access with limited features is available
3. Infinity
📌 Clutter-free with multiple customization options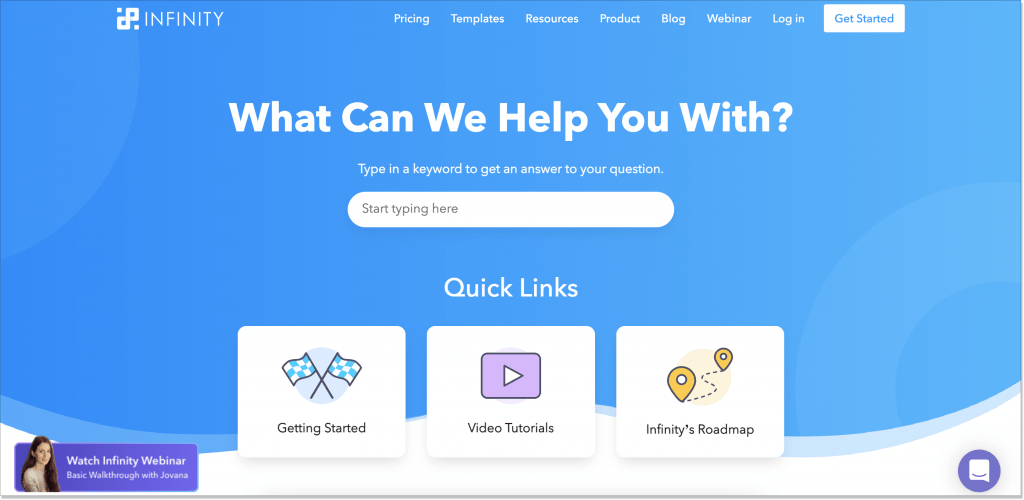 Infinity represents a tool that helps you structure every bit of info your brand wants to keep and share: tables, Gantt charts, lists, calendars – everything for leading a project successfully. By the way, the team behind Infinity chose the naming because there are infinite use cases for leveraging their features.
Extensive template gallery for tidying up your workflow
Infinity's portfolio comprises customizable templates for project management, HR, client management, product development, and marketing, to name a few. Use pre-made samples or create one from scratch – stuff like folders, Trello-like task boards, team collaboration features, or deadline calendars will be available in either case.
Top-notch organizational abilities
Infinity lets you prioritize your work using different workspaces, boards, tabs, and folders. Plus, you can sort, group, and filter knowledge base contents according to your rules. It's even possible to create custom attributes or build a Gantt table. Do you need to make a sprint? Leverage a Kanban board.
What users say about Infinity
Even though there isn't much told about Infinity, I managed to track the tendency in the users' reviews. A fair share of them claims they like flexibility in Infinity the most and other small goodies.
Most loved for:
One hub for all the data (images, tables, graphs, lists, etc.)
Flexibility for small businesses
Good and friendly support
Most hated for:
Still needs additional features on the roadmap
Not really nice platform UI/UX
Pricing
Basic – $5/month per user (if billed monthly)
Pro – $8/month per user (if billed monthly)
Unlimited – from $99/month (if billed monthly)
Enterprise – the pricing is set individually
*No free trial
4. Notion
📌 An advanced hub for storing and managing company knowledge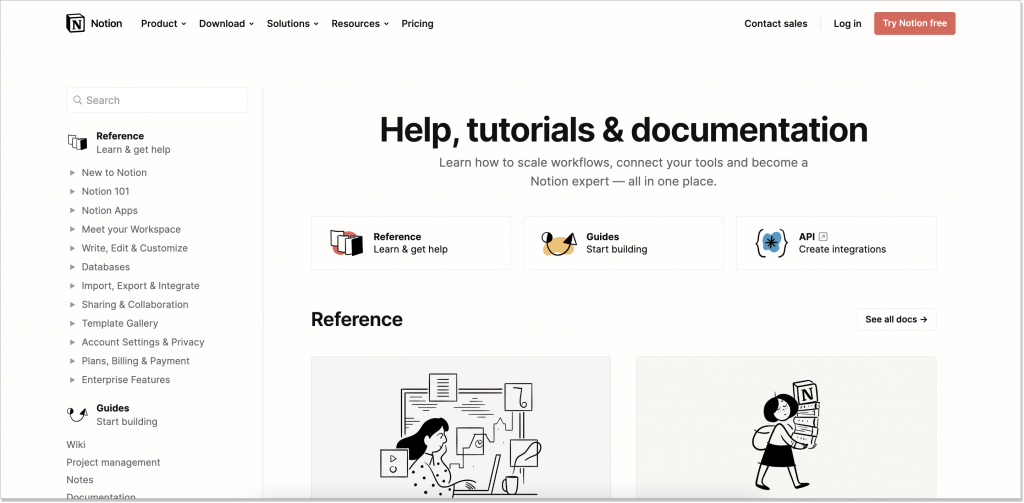 If you want to sort knowledge within your organization and get a bird-eye-view of your teams' projects, Notion will help you do that without a hitch. It represents an all-in-one workspace that combines notes, wikis, and docs – in other quarters, the platform lets teams collaborate and encourage knowledge sharing.
Intelligent file cabinets, aka databases
The best knowledge base software lets you build extensive databases. At Notion, these are a collection of pages. Choose the layout of your database – table, board, or list, to name a few. Add properties (text, dates, media files, etc.), deadlines, team members, and statuses so that the storage looks information-bearing.
Mediocre templates? Not at Notion!
Notion does its homework when it comes to tweaking the product. This knowledge base software allows you to opt for a pre-made template from the gallery or create one on your own. Company wiki, roadmap, content calendar, meeting notes, spaceship launching plan – it all depends on the mood, you know.
What users say about Notion
What CAN they say? It's cool, it's up-to-date, and it's feature-packed. I did not doubt that when looking for the crowd's opinions on Notion.
Most loved for:
Flexible databases
Super customization abilities
Awesome real-time collaboration
Great for internal documentation
Most hated for:
A bit tricky learning curve
The internal analytics dashboard is missing
Limited Google Calendar integration
Pricing
Personal – free
Plus – $10/month (if billed monthly)
Business – $15/month (if billed monthly)
Enterprise – contact the sales team to discuss the individual pricing
*Free Team plan trial until you reach a 1,000-block storage limit
**They also offer an AI-addon that can be added to any plan
5. ProProfs
📌 A software that will wow you with its template collection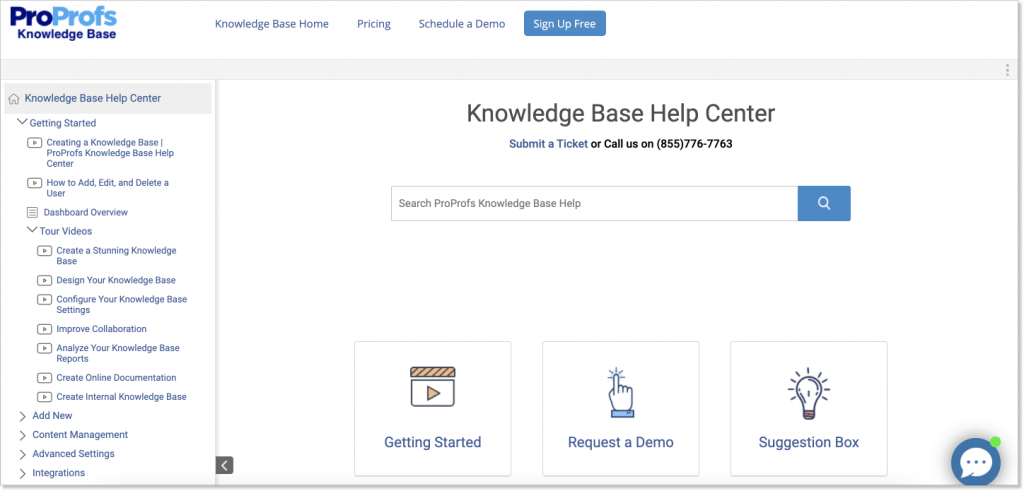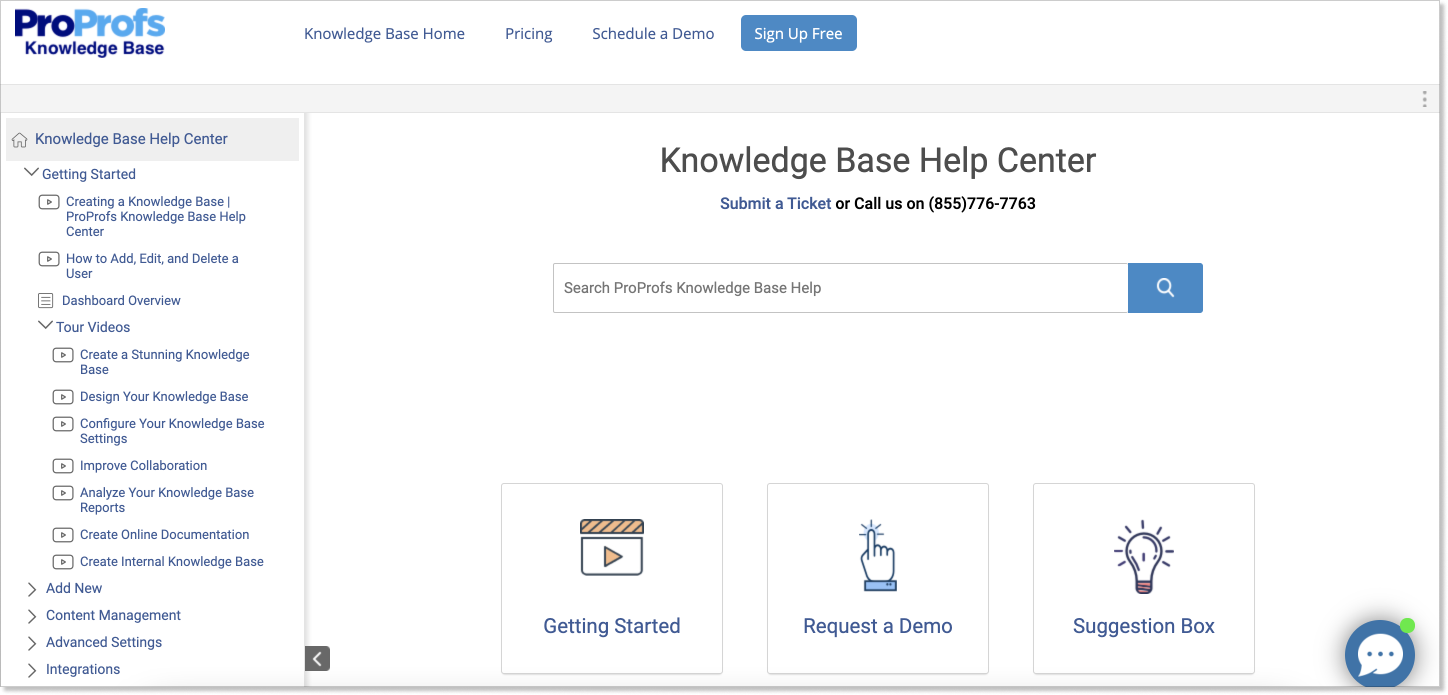 ProProfs offers an abundance of tools for all kinds of purposes — public or private. So if your question is "What is live chat? ", these guys will answer it thoroughly (you'll find it in their package!). The team even provides a training maker and brain games. Yes, this list also comprises a knowledge management solution. What's so special about it? Let's find out!
Multitudinous settings & integrations
This knowledge base software might be top in the integrations & setup race. It offers 100+ options that help you design a help center using branding features, CSS/HTML, and configure tasks such as single sign-on, in-depth security, etc. Plus, there's chat, CSM, help desk, and survey maker integration.
Proper text editor (but not everything's cut and dried)
The text editor looks like conventional Microsoft Word. However, ProProfs has numerous editing tools for styling and formatting. Though, it can still feel a little outdated compared to its modern competitors. Besides, your ProProfs knowledge base can be crawlable and available for search engines with meta descriptions for each page.
Massive template bundle
In terms of appearance customization, choose any of the default themes and align them with your brand logo and color scheme. There are templates for user manuals, wikis, technical documentation, or service desk knowledge base template.
What users say about ProProfs
On the face of it, this tool looks watertight. However, there is always room for improvement (especially for knowledge base systems). In fact, when researching the solution on G2, this phrase caught my eye almost in every user's review.
Most loved for:
No coding required
Easy configuration
Wide-ranging templates
Instant team collaboration functionalities
Most hated for:
Integrations could be more powerful
The templates could be more comprehensive
Pricing
One Price for Everything – $79/author/month (if billed monthly)
Additional Custom Domain & White Label – $30/month (if billed monthly)
*A 15-day trial is available
6. Slite
📌 Collaborating on internal projects is no pain in the neck anymore for remote teams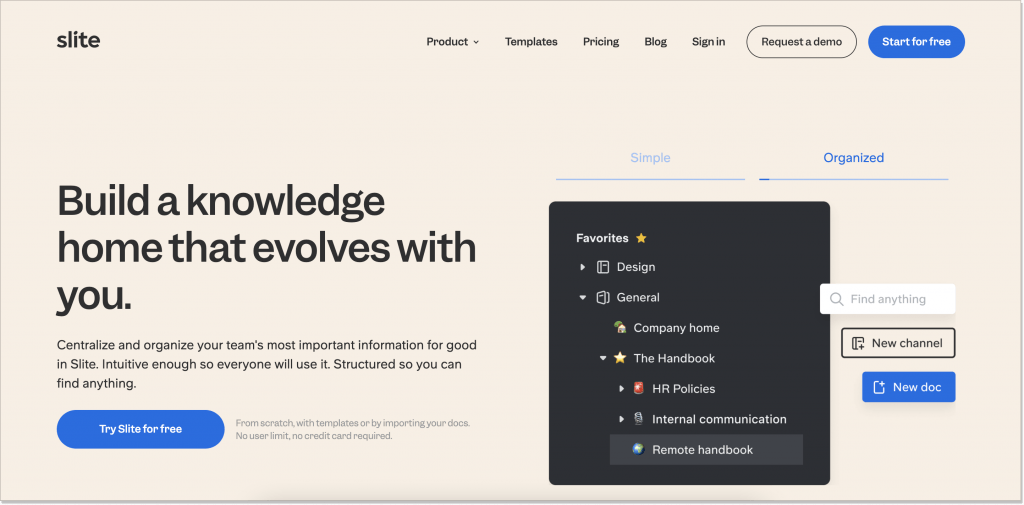 Slite is a solution that makes remote teams' lives much easier thanks to its collaboration specs. By the way, I might be wrong but look at the whole design! Does it ring any bells with you? (Hint: Notion-like colors and the overall styling). In addition, the team is actively working on updates and recently added AI-powered answers to the list of features. Anyway, let's dissect what else Slite has to offer.
No trivial approach to formatting
Knowledge base article writing shouldn't be such a tedious task. And with Slite, it isn't! When you want to edit the text, there is a myriad of options: from quotes to lists and mentions to in-built sketches to Figma presentations. You can even try formatting a text live on Slite's website to get an overview. And recently they added an AI-powered editor. How convenient is that?
All the work is better together
Slite's hallmark feature is collaboration every step of the way. Live editing (you can see your coworker's mouse hovering in the doc), a discussion panel without jumping between the tabs, and sharing content on the fly – make Slite so popular among remote teams.
Say 'Hello' to organized content
Slite takes all the clutter away and lets you structure documents in Collections. Filter them by channel (e.g., General, Marketing, Sales), play with column types, pick how you want to view the doc, or even find a piece of content in Slack (or do just that via an intuitive navigation bar).
What users say about Slite
For what it's worth, Slite's users are mainly grateful. The users are unanimous (in a good way) in their reviews about the interface, collaboration specs, and editing features.
Most loved for:
UI simplicity and highly intuitive design
Automatic document creation
Discussion feature
Most hated for:
No images in tables
No Zapier integration
Not made for public files or knowledge bases
Pricing
Free – $0/member/month
Standard – $10/member/month (if billed monthly)
Premium – $15/member/month (if billed monthly)
*Upgrade needed after 50-doc limit on Free plan
7. HelpSite
📌 A run-of-the-mill knowledge base software covering all the basic business needs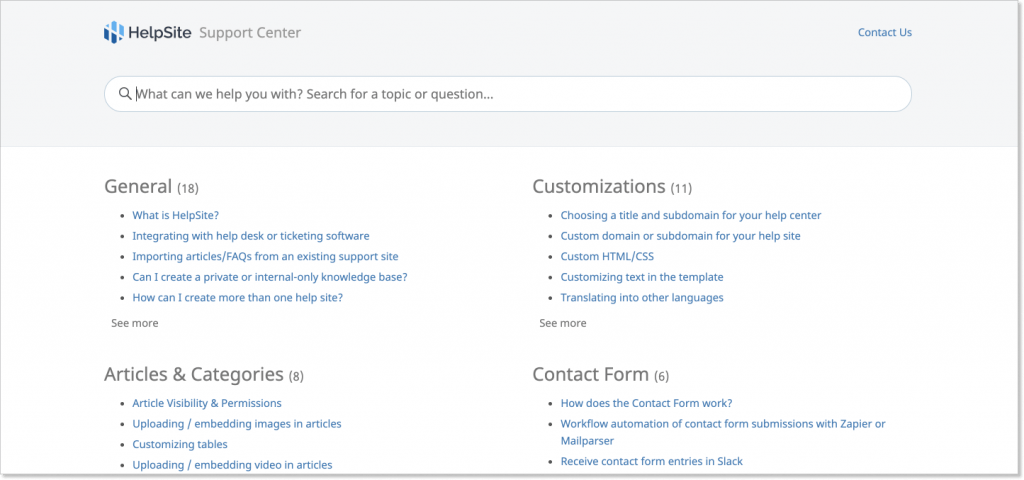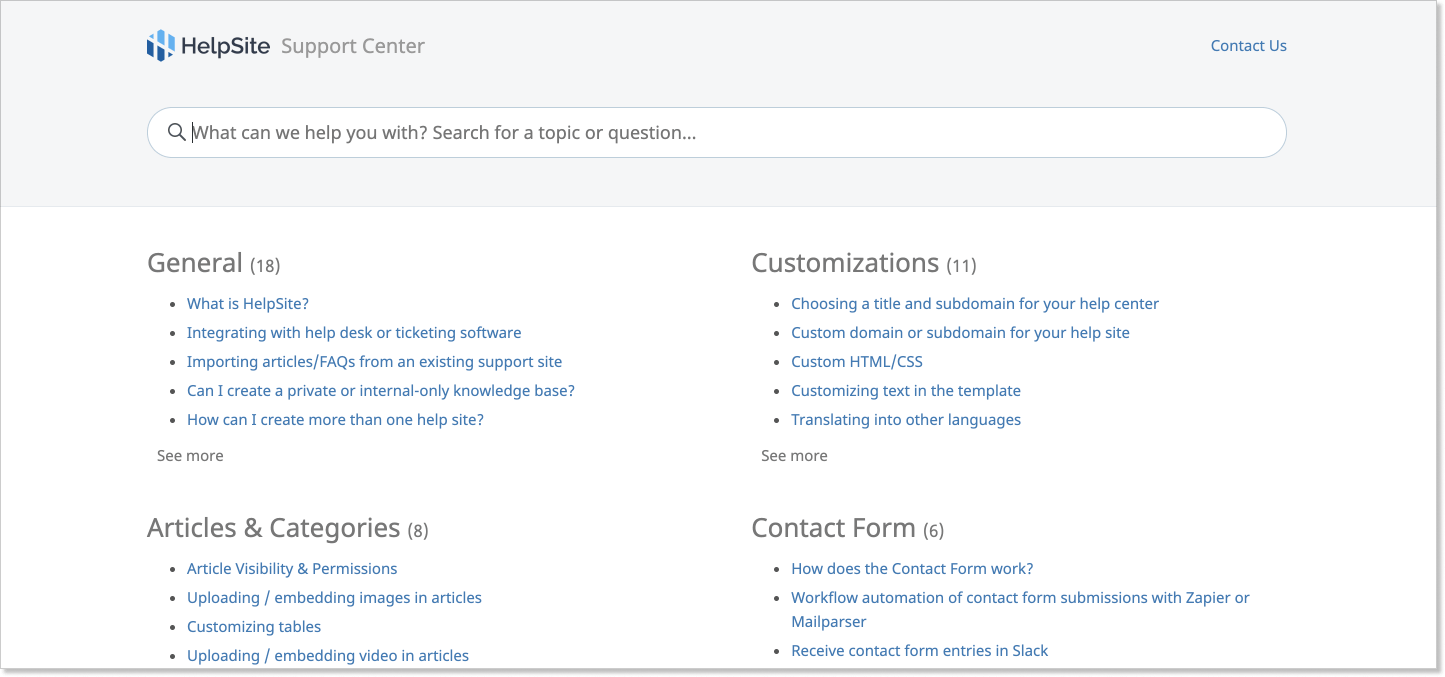 HelpSite is simple knowledge base software in terms of both functionality and price. You can feel it once you land on their website. A basic text editor, which is somewhat similar to the WordPress interface and has all the standard editing features. Nothing extra.
An unpretentious yet hackneyed set of tools
Just like most guys on our list, HelpSite offers both FAQs and a knowledge base for managing a company's content. As for the customization options, you can specify your custom domain, customize the layout with custom HTML/CSS, or upload your logo.
A smart contact form to take the guesswork out
It's possible to add a basic contact form to your knowledge base, which can automatically suggest relevant knowledge base articles to those who are trying to contact you. On top of their native contact form, HelpSite offers integrations with other support tools like Desk.com, Zendesk, Groove, etc.
What users say about HelpSite
I thought people loved the simplicity in everything. However, this is a two-edged sword. On the one hand, the simpler the software, the faster you'll get the ball running. On the other hand, mid-sized and big companies might want something more sophisticated when it comes to knowledge base systems.
Most loved for:
Pretty easy kick-off
The all-embracing free plan (covering most of what a new user needs and more)
Most hated for:
No knowledge base reports
Lack of customization options
Pricing
Free – $0/month
Standard – $14.99/month (if billed monthly)
Gold – $49.99/month (if billed monthly)
Plus – $99.99/month (if billed monthly)
*A 30-day trial is available
8. Guru
📌 Do you want to be progressive? Try to manage your knowledge with this solution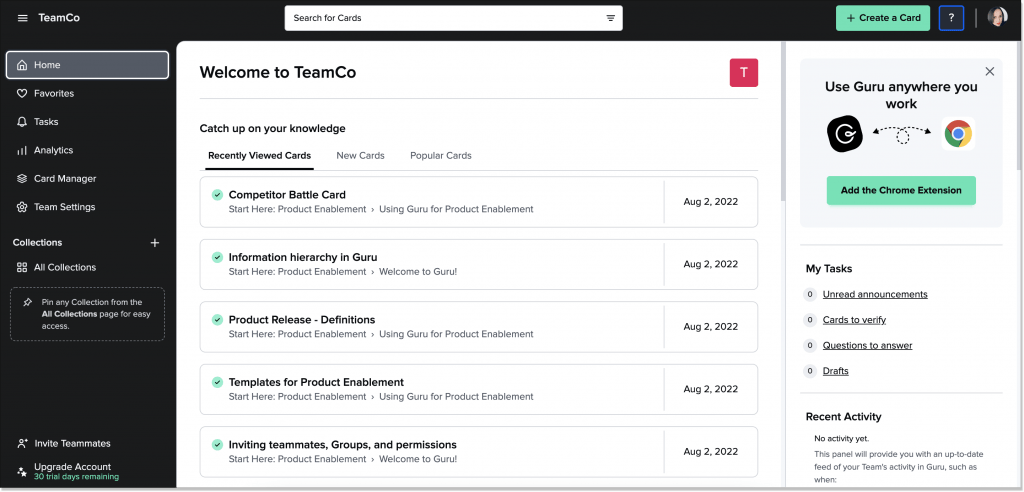 Guru is modern (I would even say hipster-y judging by their cool website design), AI-driven, and feature-rich software for internal knowledge bases. Managers and employees can save and organize any important information about their company. It's a great choice for onboarding, collaboration, and communications inside the team at all times.
Store info in bite-sized pieces
The information hierarchy in this software is plain. Collections make up Boards that consist of Cards. The latter is where all the editorial magic unfolds. Create, store helpful content, and leave comments inside while managers verify articles in bulk. Do I have to mention you get to decide who sees what?
Slack integration to capture and categorize knowledge
We've all been there. Info gets lost within a team. With Guru's Slack integration, it becomes impossible. Once you receive a bit of info in the messenger, you can process and assign it to a certain expert for further activities. Plus, finding the content will be easier. No leaving the app.
Google Chrome extension as the cherry on top
One of the most convenient features of Guru is its Chrome extension. It provides all the capabilities of a full-scale knowledge base tool in one window. Employees can view articles, create new knowledge cards, and copy any information in a few clicks without interrupting their workflow.
What users say about Guru
Off the top of my head, Guru has the largest amount of customer reviews compared to other software for knowledge management – over 1,350. All of them revolve around several things: clutter-free UI and great organization capabilities.
Most loved for:
Super user-friendly interface
Google Chrome and Slack extension
Real-time editing and collaboration
Most hated for:
The tagging and full-text search system seems to have gaps
A bit steep learning curve
Pricing
Starter – free (up to 3 users), $6/user/month (if billed monthly)
Builder – $12/user/month (if billed monthly)
Enterprise – A custom plan with scalable pricing
* Free for 30 days
9. KnowledgeOwl
📌 Designed for both customers and employees with a structure in mind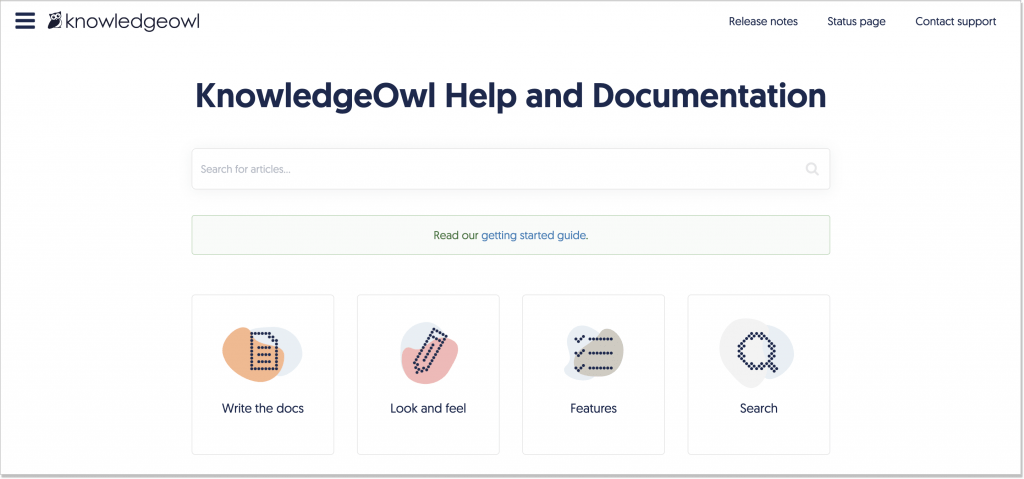 Among all the knowledge management tools we discussed today, KnowledgeOwl is good for creating both internal and external knowledge bases. The tool's standard features encompass everything from a robust WYSIWYG editor to themes, layouts, and access control.
Take the reins of your content
Who can access your resource hub? How do they do that? All that you can set up with software – in our case, this is KnowledgeOwl. Tweak general security options, grant or restrict access to your articles based on their specific needs, and enable single sign-on.
"Reading users' minds" is now possible
It's not like you become a psychic out of the blue. KnowledgeOwl lets you understand what the audience thinks of your content thanks to multiple user feedback options. You can set up ratings, comments, or contact forms to collect their thoughts and react respectively.
Populate an "information tree" within your company
This is a rather unconventional feature – Glossary. There's a dedicated library for all your files (kind of like WordPress), which you can utilize and manage across your entire knowledge base. The Glossary option allows operators to create a hub of all company-specific terms and insert on-hover definitions.
What users say about KnowledgeOwl
"Nothing to dislike" – the phrase I saw several times when snooping around the KnowledgeOwl account on a review platform. Nonetheless, there are some points to think through before searching for the best knowledge base software.
Most loved for:
Flexible features
Super easy to use the tool
Helpful customer and quick service team
Most hated for:
The design themes and the interface is outdated
File management could be better
Pricing
Flex – from $79/month (if billed monthly)
Business – from $299/month (if billed monthly)
Enterprise – from $999/month (if billed monthly)
*A free 30-day trial is available
What are the different types of knowledge base software?
As you can see, not all software is the same. You can pick from different types what is best for your business. Let's nail down some of them based on our list and add a couple more that we didn't cover.
Internal: This type of software focuses on organizing information and answering employee questions. It's a hub for your team to access documents, procedures, and resources, fostering collaboration and knowledge sharing.
External: If you aim to encourage self-service for your customers, external knowledge base software is the way to go. It allows you to create a customer-facing help center where people can find answers to questions without contacting the support team.
SaaS: Software as a Service platforms are cloud-based solutions that offer easy accessibility and scalability. They are suitable for businesses of all sizes and are known for their user-friendly interfaces.
Open source: For those who prefer complete control and customization, open-source knowledge base software is an excellent choice. It gives you the freedom to modify and adapt the software according to your unique requirements.
AI-powered: With the integration of artificial intelligence, this type of software can predict queries, suggest relevant articles, and improve based on user interactions.
How to choose knowledge management software to nail it?
One might think that going for knowledge base systems is as easy as a pie. However, you should think ahead:
What's your business specific? Who is your target audience? Do you want to design a place with only helpful materials for your crew or clients (maybe both)? These are the questions to answer first.
Before you run wild with an option, look at several specific properties all knowledge base solutions should have. They will make your work faster and more effective right there. If some points are missing, don't even bother proceeding with it.
Search engine optimization (SEO) settings – knowledge base solutions should offer SEO settings to help people get the exact info they are looking for. Specifying such criteria as meta description, meta title, meta keywords, and social image will help your articles rank higher in search engines.
Google-like search feature – not finding a piece of content might drive one's nerves. To prevent your users from it, ensure your search box is functional (sorry for the wordiness). For instance, once a user types install cha… on your knowledge base, give them what they want (relevant article on how to install a chatbot). That's how the best knowledge base software should operate.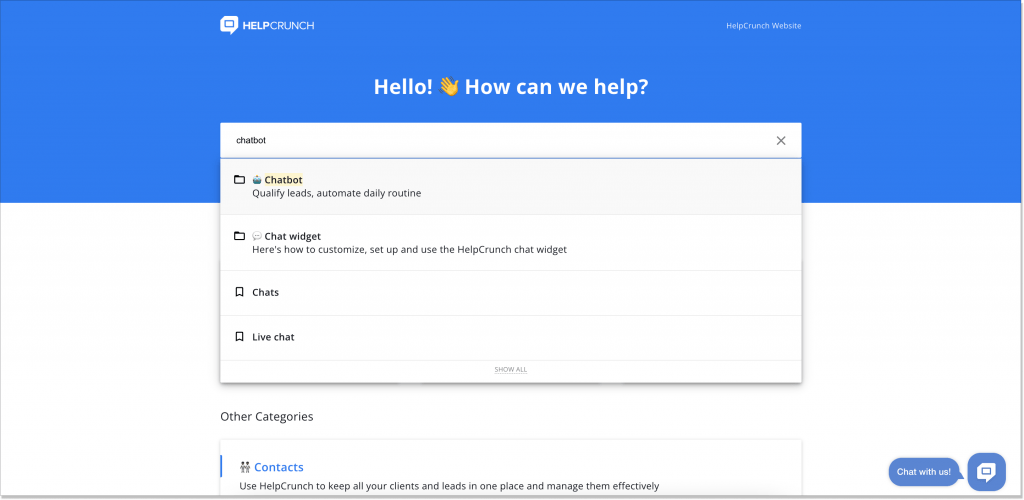 Ultimate user-friendliness – if a help center is a hell to pay, the odds are the users will soon forget it. Knowledge base tools should serve people and solve their problems (preferably over a short period). Make your virtual library scannable, add some alternative ways to contact you (live chat or chatbot), and you'll see how user engagement and things in general change.
Convenient text editor where you can format the content how you want. Start with a draft and then return to it if needed, insert images, videos, or code samples, and mark important parts with special notes, warnings, and tips. The example below clearly depicts it: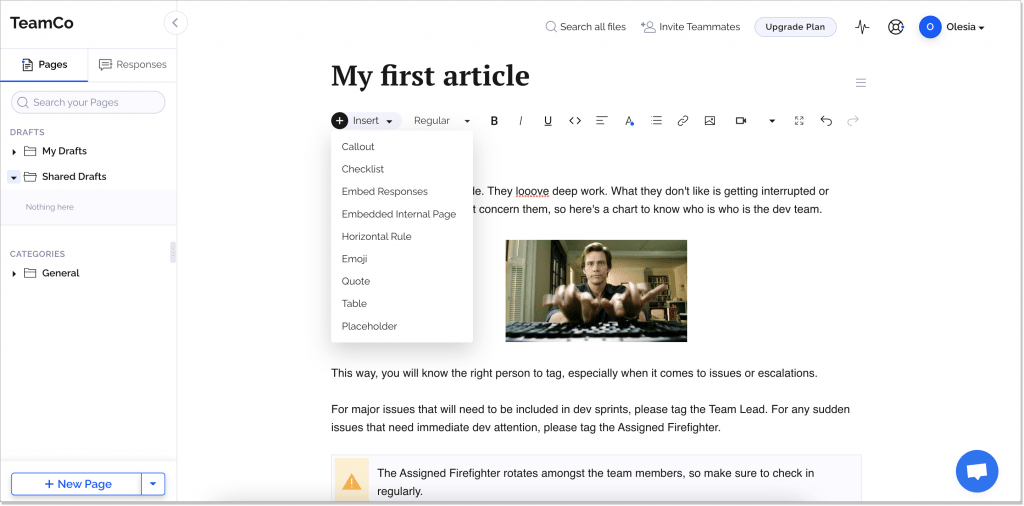 Strict structure – who wants information chaos in a knowledge base? Categories, sections, and folders are indispensable, for that matter. A user should have a feeling your digital library is completely brushed-up. So to rock it, your software should let you organize articles in a convenient and digestible way for both your customers and team.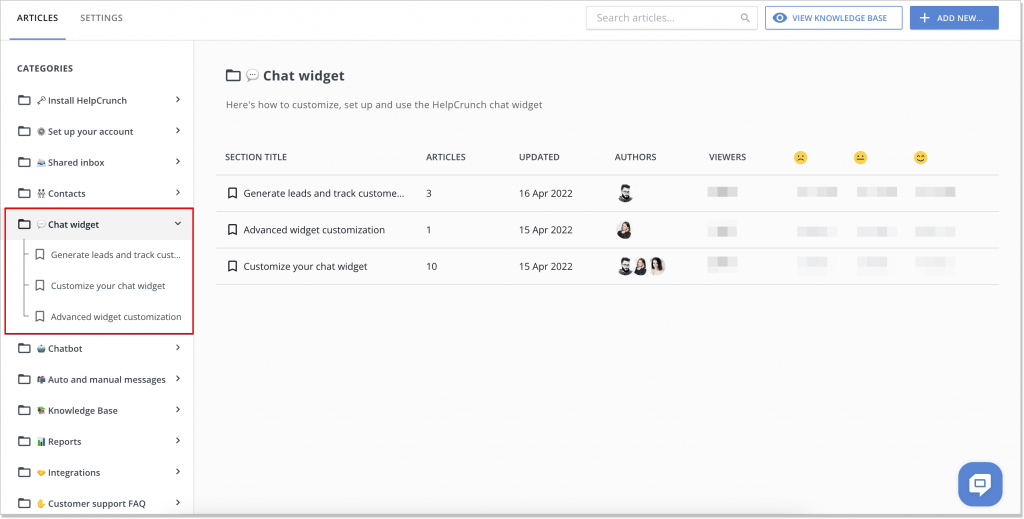 All-encompassing reports & analytics – in our context, you should realize how your articles perform regarding views and helpfulness. Make sure your knowledge management software provides you with report functionalities. It only gives you insights on the content usability, most preferred items, and pieces to reconsider.
Wide range of customization options – once the software comes into your hands, check if it allows you to tailor it to your needs. Go for complete customization and make your knowledge base look like an integral part of your website, use (e.g., change brand colors, include logo, change header images, add links, use CSS, or create a custom domain).
Knowledge base software comparison to see the big picture
When all's said and done, time to recap. Names, prices, and the key features (in case you missed some parts of the story) – it's in our chart! 💁‍♀️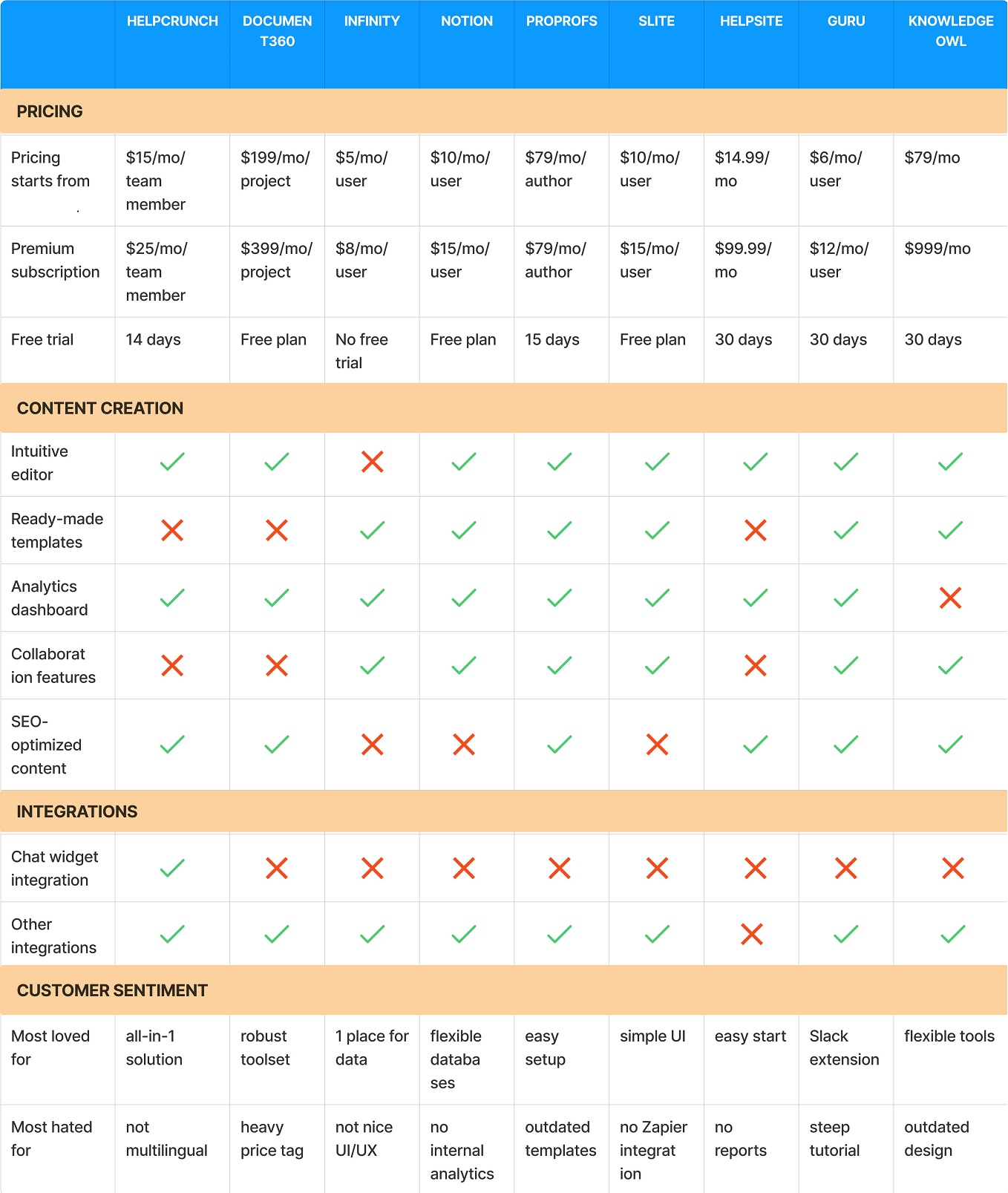 Have you already picked your knowledge base software?
Even if it seems like you only need a knowledge base page at the moment, remember that you might want to scale it in the future. Maybe you'll need a live chat tool sometime in the future. Or a dedicated customer service team.
But if those are not core knowledge base features, pay attention to other features and integrations of your software. Choose the best knowledge base software based on its ability to scale as time goes on.