10 Best Customer Self-Service Software Your Business Can Adopt
How about letting customers find the answers about your product or service much faster and without hassle? Self-service software is the silver bullet in this case. We feature 10 go-to options here, check them out.

Picture a rather casual situation. Your favorite coffee machine just stopped working. Sorry, no cappuccino on almond milk and creamy froth this morning. What would you do: call a manufacturer company's hotline and spend good two hours speaking to really slow human support? Or google to fix the tool? If you ask me, neither.
Everything could be even simpler if the coffee maker manufacturer company had a solid website with an FAQ library or something of the kind. This way, you could dig up all the instructions on how to repair the coffee machine (or find the trouble cause at the very least) on your own, saving both your time and nerves. It is a matter of 20 min tops. In other words, self-service software on that website would change the situation.
What is self-service software?
Customer self-service software represents a platform with free access to information about a product or service. Users can troubleshoot recurring product- or service-related issues by themselves rather than referring to a support agent. Brands often use it to get rid of chaotic client requests around the clock, especially during off-hours. 
Such software usually involves knowledge bases, how-to tutorials, FAQ pages, community forums, and other support content that helps clients be independent whenever they crave answers.
Even though there are some options alike on the market, they do have minor differences and their own hallmarks. Get ready: we shed light on 10 go-to self-service software you might want to adopt in this article.
10 customer self-service software to save the day
1. HelpCrunch
Always wanted to provide maximum value to customers with a self-service solution but had no clue where to get one? HelpCrunch is a one-stop platform for cultivating long-term customer relations that stands a good chance to become your new favorite.
First off, the word "one-stop" in the company's description drives at all those things self-respecting businesses have for performing effective marketing campaigns, sealing the deals in no time, and supporting clients as if they were Gods. I am talking about the HelpCrunch live chat, chatbot, shared inbox, email marketing features, and a popup builder.
Clearly, the solution has everything for trouble-free customer self-service, too. It includes a well-packed knowledge base that is smartly integrated into the chat widget. That means a user can click the "Search" tab and look for the necessary articles right in the widget without surfing thousands of other website pages.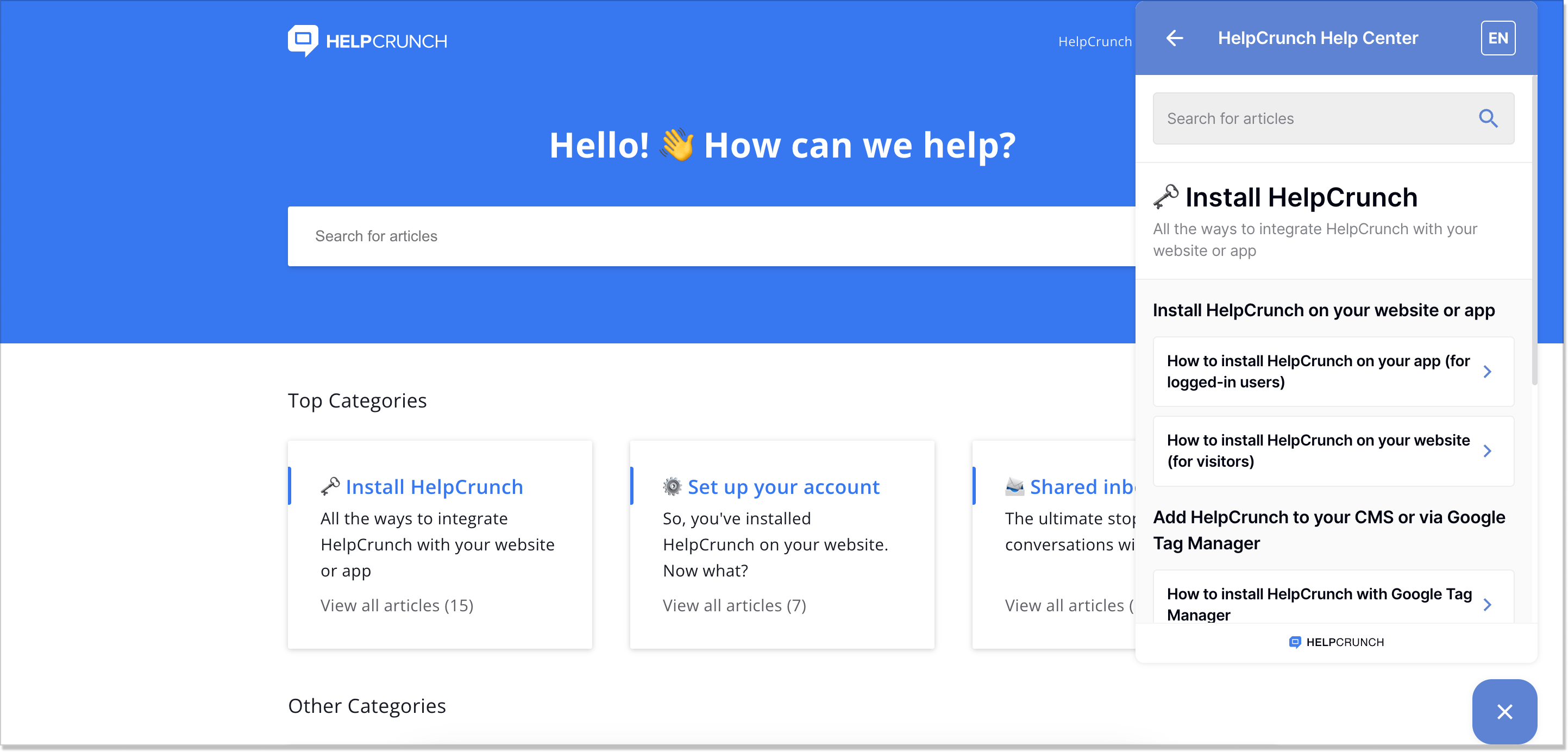 Our knowledge base is an SEO-friendly and fully scalable resource center where you can create an information hierarchy with categories and sections for FAQs your clients usually ask.
The knowledge base WYSIWYG editor is rich and totally the punch line. It allows you to change the text the way you like it, insert visuals to get the best out of your resource hub and educate customers better, make articles public or private. You can also save your pieces as drafts for later and preview them when the work is done.
Chatbot. You can set up the bot from HelpCrunch on your website to improve customer support. HelpBot will handle repetitive questions by sharing knowledge base articles, links, images, or canned responses. It can also collect information about issues upfront, qualify leads, gather contact details, and much more.
The prices start from $12/month per team member on the Live chat ONLY package if billed annually. If you want more opportunities including the chatbot feature, it's $20/month per team member if billed annually. The knowledge base is included in both of them.
Why wait? Sign up for a free 14-day trial with HelpCrunch to deliver do-it-yourself service to your customers now!
2. Freshdesk
Freshdesk is one of the customer support products in the Freshworks family. Along with other helpful features, this self-service software offers such solutions as a knowledge base, chatbot, and a web widget.
Knowledge base. Freshdesk's help center is a rather straightforward solution. Right from the moment you log into the dashboard, you see articles, drafts, and other sections ready to be edited and then published.
There are also pre-made templates you can take advantage of and create your first piece. All in all, the Freshdesk option is an SEO-optimized and customizable knowledge base center that will help you boost your self-service routine.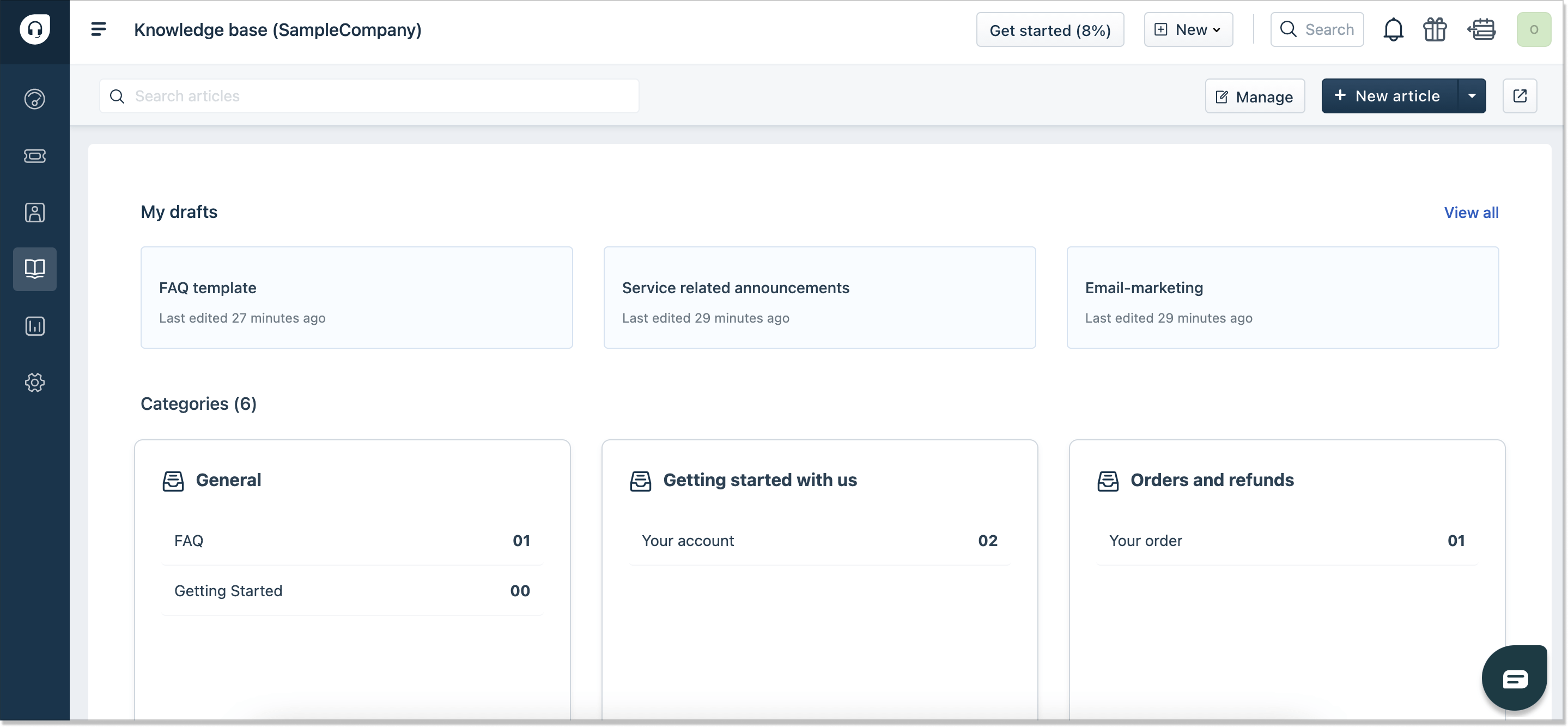 Community forums. This kind of support is a rare occurrence among self-service software. Freshdesk fosters customer-to-customer communication on special forums. Users can discuss their burning questions there, share unique firsthand experiences, and assist each other. It's a win-win situation for both a business and clients.
Chatbot. You can set up the Assist chatbot from your account and help clients navigate the website any time they want. Onboard new-coming clients, highlight important product updates, catch different audience groups, and more. No coding is needed. Keep in mind that the Assist bot is only available in the most expensive package.
There is a free 21-day trial available if you want to look around step by step first. But in case you feel like upgrading, the prices start from $15/month per agent if billed annually. The most expensive Freshdesk package is called Forrest (for big enterprises) and will cost you $99/month per agent if billed annually.
3. Helpshift
If you're casting around opportunities for in-app support, this brand will provide you with such. Helpshift primarily specializes in self-service assistance that is delivered inside an app. However, you can also find here a good old help center solution to adopt with minimal fuss.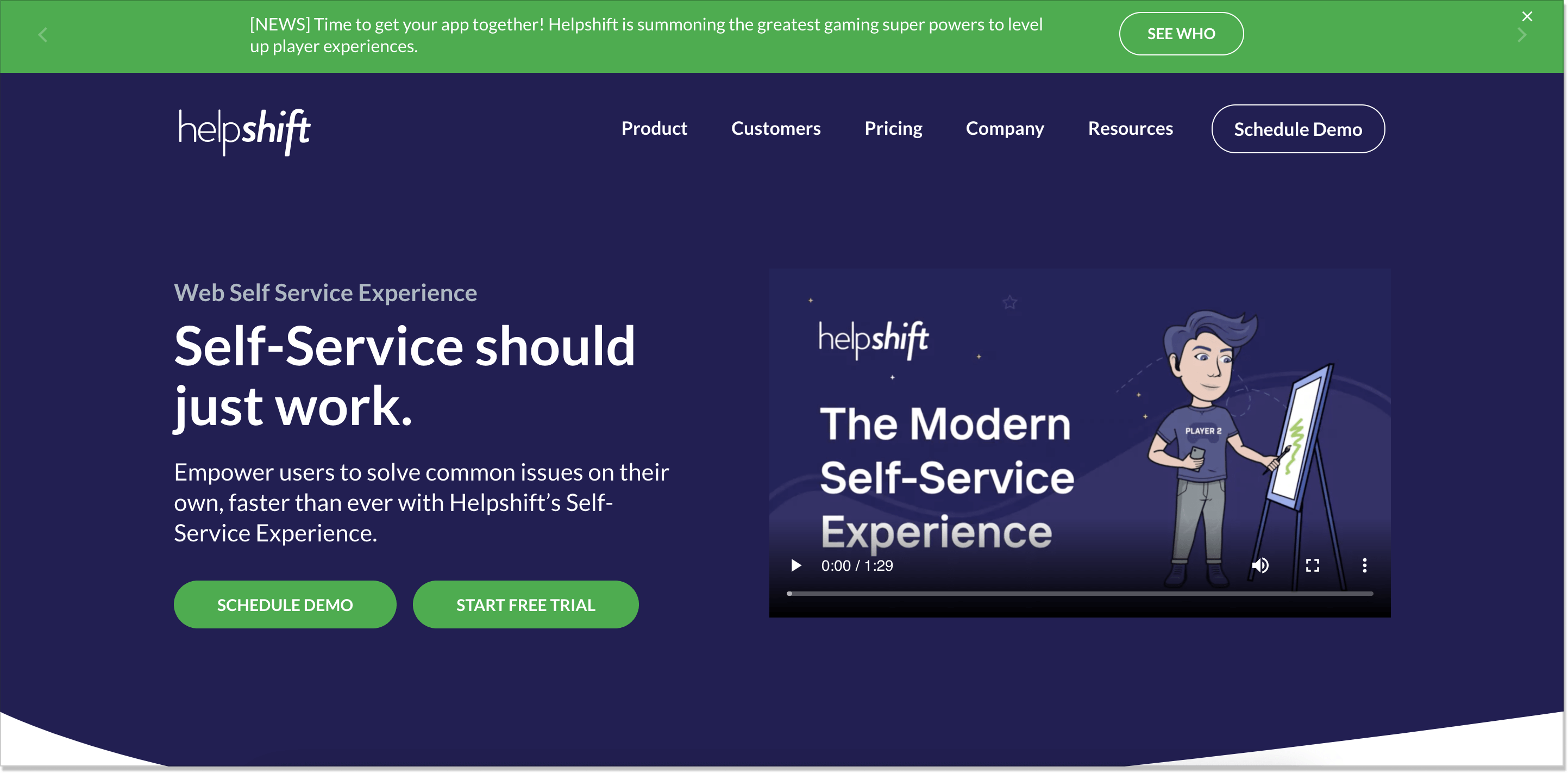 Speaking of, Helpshift's knowledge base can be totally tailored to what you are doing. Thanks to numerous customization options, you can build a resource center of your customers' dreams. Develop rich content and structure your hub for better UI and keeping users from leaving your website or app.
QuickSearch Bot is the chatbot from the Helpshift self-service platform that gives users instant answers 24/7 and pulls right-on solutions from the knowledge base. Its workflow logic is pretty easy. Thanks to NLP (Natural Language Processing) and machine learning algorithms, QuickSearch Bot quickly detects the language and traces relevant articles from the resource database.
Helpshift does suggest a 2-week free trial, but there is more in this than meets the eye. The company's pricing page contains no prices at all, only upon request. There are, however, three packages shown: Starter, Growth, and Enterprise. A friendly piece of advice: keep your eyes peeled so as not to buy a pig in a poke.
4. Document360
If you want out-and-out customer self-service software, Document360 might be good enough. This solution is designed with knowledge bases for both customers and agents, editors and reviewers.
Portal. The resource is meant for content producers and packed with such things as a category manager for article arrangement, a well-known WYSIWYG editor for a smooth text review, versioning for viewing your writing history, and in-depth analytics. Actually, there is a handy toggle on the website that helps you see how your knowledge base portal will look like compared to the website on the go.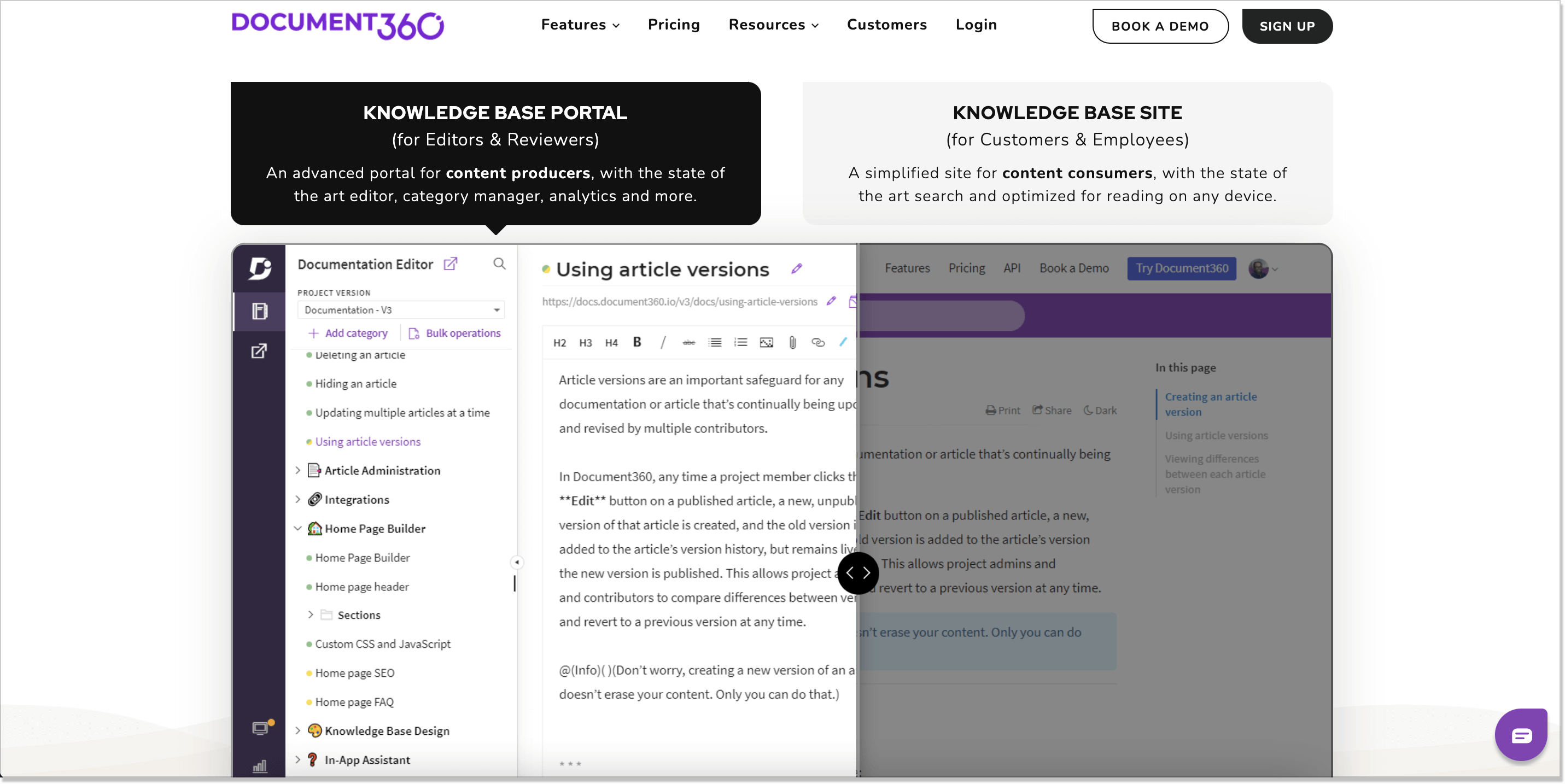 Website. Document360 self-help software provides you with a simplified help center site that you can style to support your customers better. Choose branded colors, come up with a custom domain, use an AI-powered search engine, and enjoy the responsive design.
Assistant. To provide your users with 24/7 instant help, give this knowledge base assistant a try. Thanks to its seamless integration, you can handle customers' requests inside an app wherever they are. A small but powerful help center widget can be fully tweaked and context-aware.
Document360 claims their pricing to be "simple and transparent". Well, I can add fuel to the controversy. You will find 4 packages here (the prices are shown in billed annually):
Startup for $49/month
Business for $149/month
Enterprise for $299/month
Enterprise plus – the price is available upon request
The price range is quite big. Even though this brand introduces lots of usefulness, I would take it slow and see what the other more affordable options look like.
5. Kustomer
Kustomer is a CRM platform for managing the client journey by optimizing high support volumes on all digital channels. Even though customer service automation takes the real bond with clients away, the brand states everything is in good hands. The team says they will "automate 40% of your conversations without compromising quality". Is it rightly so?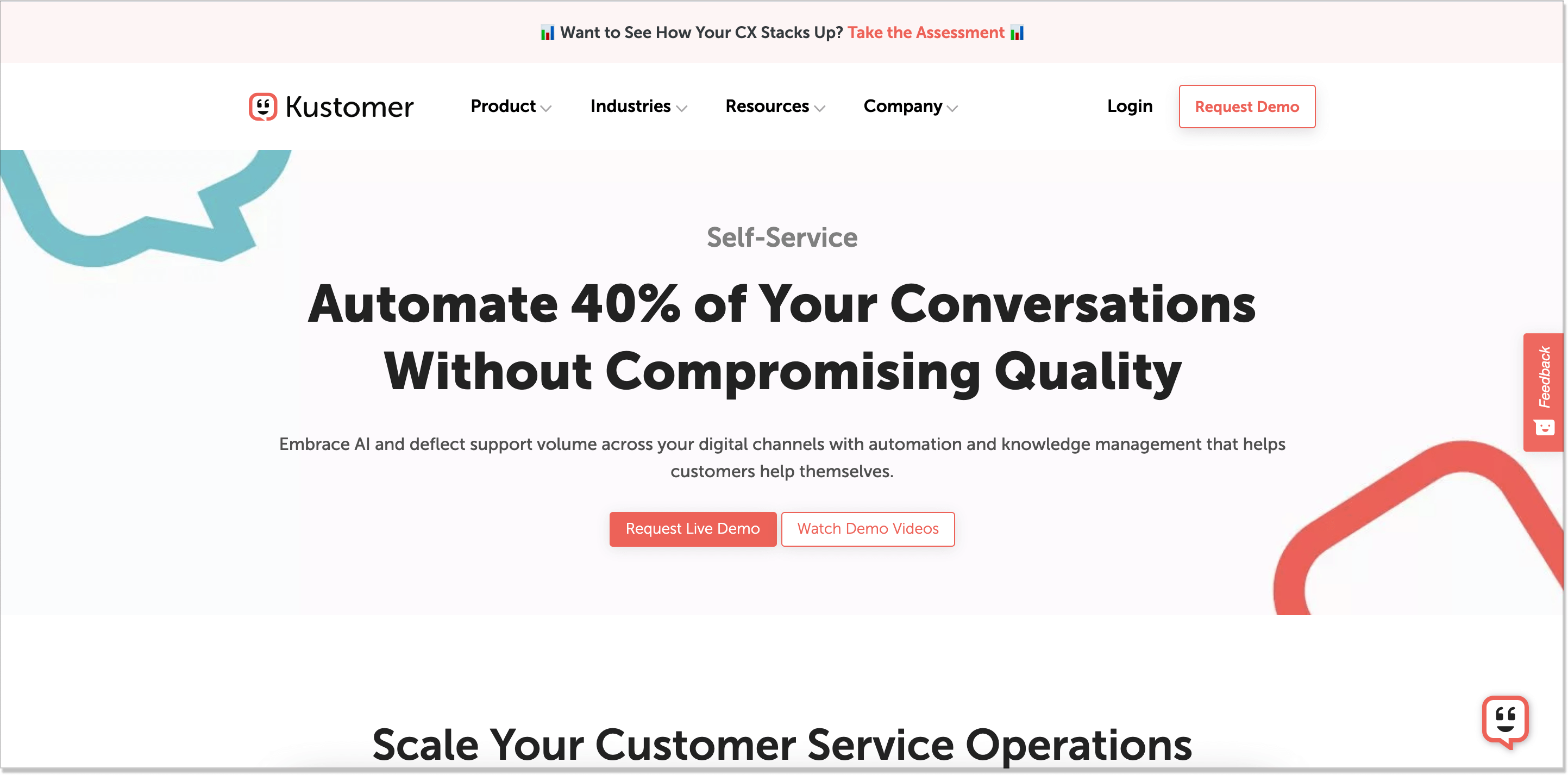 This customer self-service software has two main product lines:
Chatbot. This feature is built to deal with end-to-end resolution across chats, social, and messaging apps. Repetitive questions, essential updates, and other moves are assigned to the chatbot, without involving a customer service agent.
The Kustomer chatbot is multilingual for worldwide support, CRM-powered for data processing, optimized for self-service activities with real-time analytics, and easily customizable for your business goals. This AI assistant integrates with your knowledge base and other relevant systems to ensure customers get exact answers to common questions when they reach out via form, email, or chat.
Help center. Multi-brand customization, content management, categorization, and SEO-optimization – these are the main features of Kustomer's knowledge management tool. Sounds rather pompous, but in reality, it's a pretty simple resource center with a plain design and a user-friendly UI.
To get all of the above mentioned, request a 15-minute demo. If you want to omit manual triage for your agents and automate things for them, the plan will cost you $20/month per user. Enterprise tariff is available for $89/month per user.
6. Gladly
Gladly postures itself as a "natively built-in self-service" providing a smart chat widget and a help center for reducing inbound customer requests.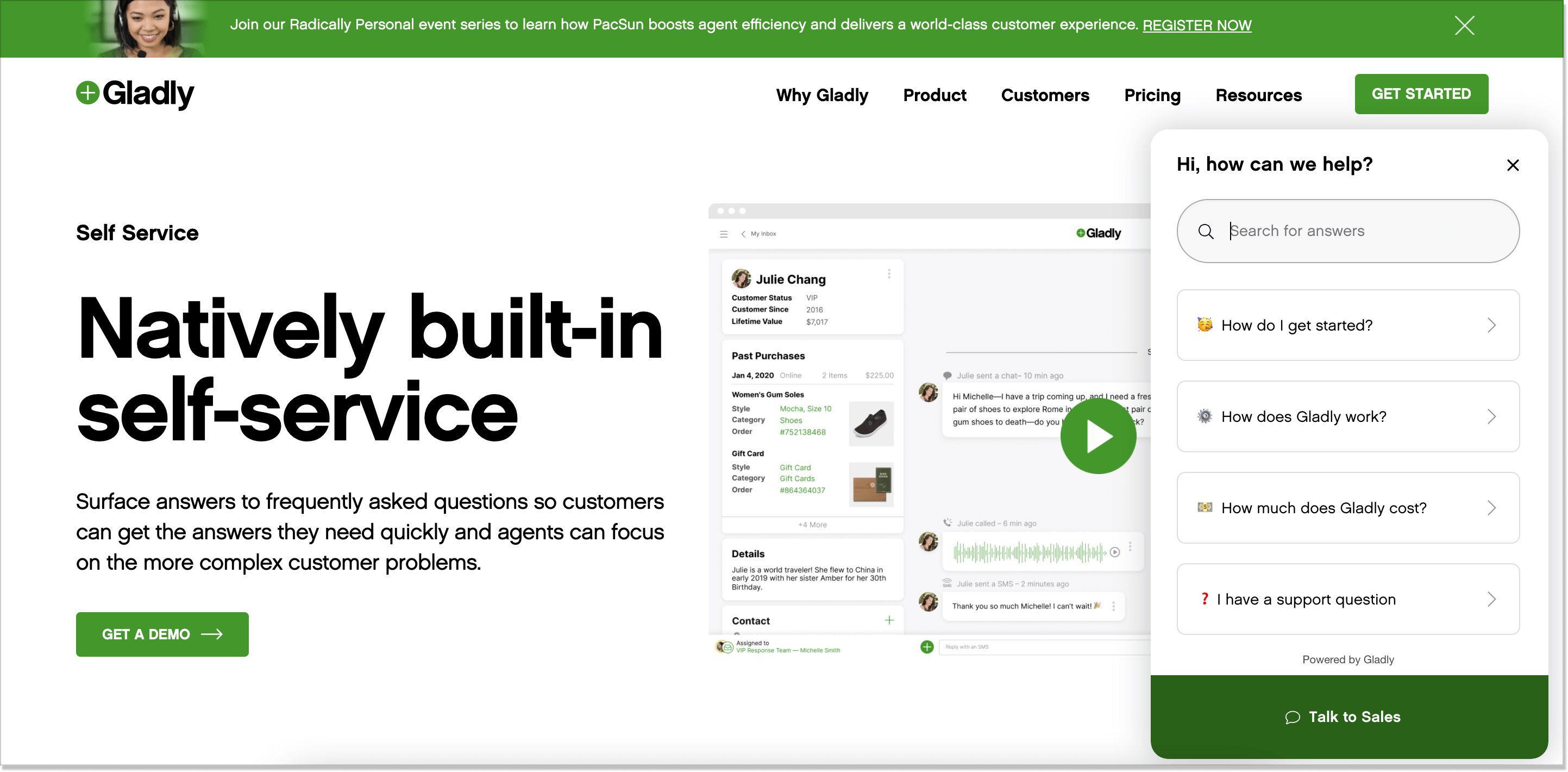 When you click on the Gladly widget, there are FAQs customers tend to ask. These are links that will transfer you to another website page with all the information needed. So, don't expect to read yet another common article in the widget.
Gladly customer self-service software comprises such broad-ranging features as:
Web chat widget. It is accessible from any page of a website so that clients don't have to navigate away from their shopping cart to get the answers they need.
Localized answers. Gladly shows customers relevant answers based on the client's location and language preferences.
Help center. Just like any other self-help software, Gladly provides you with a smart resource hub. It is no-frills yet gives the opportunity to stuff it with all the necessary information your users might need.
Dynamic answers. Depending on the page a user is on, you can display different answers to make the customer experience even smoother.
Gladly customer self-service software is available for free for admins and reporting users, that is for those who use the service to view reports and key performance metrics. It will cost you $38/month for task-based users who will assign tasks and collaborate internally to support other customers. The package of $150/month is for customer-facing users, that is your basic support agent warriors.
7. HelpDocs
When I landed this self-service software's website, I was like "Is it Alice in Wonderland all over again?". The thing is that HelpDocs developed a really cartoon-like homepage that runs counter to some serious business stuff we're talking about here. And it nudges me to re-read or re-watch the original story. This is basically what I am going to do next weekend.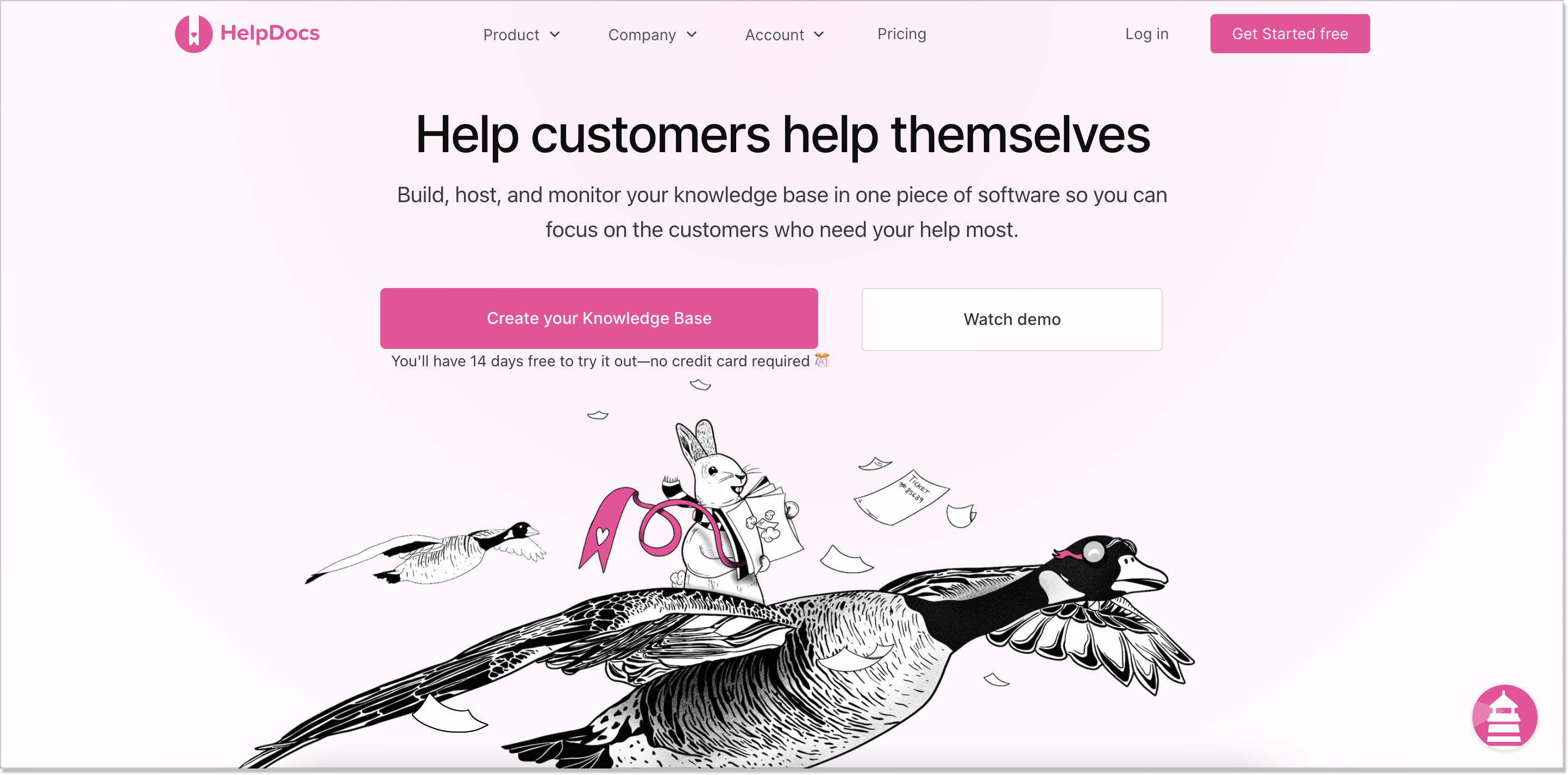 HelpDocs is a platform designed for product-focused teams. It offers two conventional options users can take advantage of:
Knowledge base. Like HelpCrunch, HelpDocs' knowledge base comes packed with all those things self-service software usually does. Its intelligent search box makes searching for articles blazing fast, the customization process is robust, and a text editor is rich.
Plus, you can keep your knowledge base fresh and tidy thanks to the stats option. See which of your articles are frontrunners and which need a bit of improvement, monitor customer feedback, and filter the time period to be always on top of it.
Lighthouse. What a shrewd name for a chat widget! Like a real lighthouse, the HelpDocs widget extension beacons users inside your app and delivers structured, contextual information as ordinary FAQ software. Install it without a code, choose when to activate it, and also use Widget API to give your Lighthouse any look you want.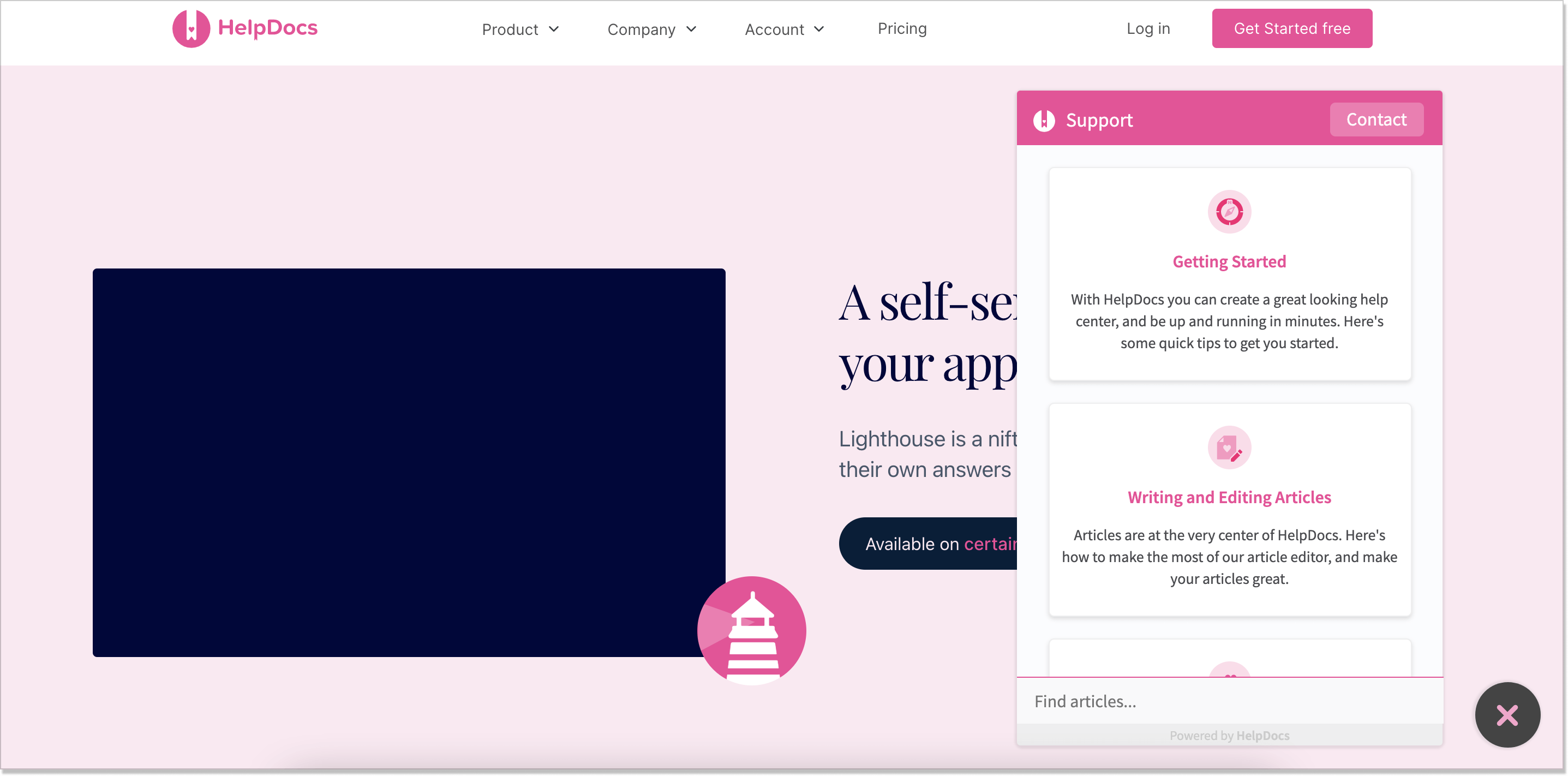 Such a common thing as a 14-day trial is available here at HelpDocs, too. But this is just for testing the waters. If you feel like going for more, you have to pay $49/month, $99/month, or $199/month for Starter, Build, or Grow plans respectively.
8. HelpSpace
HelpSpace is customer self-service software with simplicity in mind. Their Docs options involve three DIY features for clients: help center, documentation, and blog. As for me, this is the most unusual feature set for the given purposes.
Help center. The brand lets you create a well-oiled and structured information system in a jiffy. While writing your articles, you can think of how this or that category will look like taken together. Owing to the Tags feature, assign tags to your pieces so that both your agents and customers don't have to look for info for ages.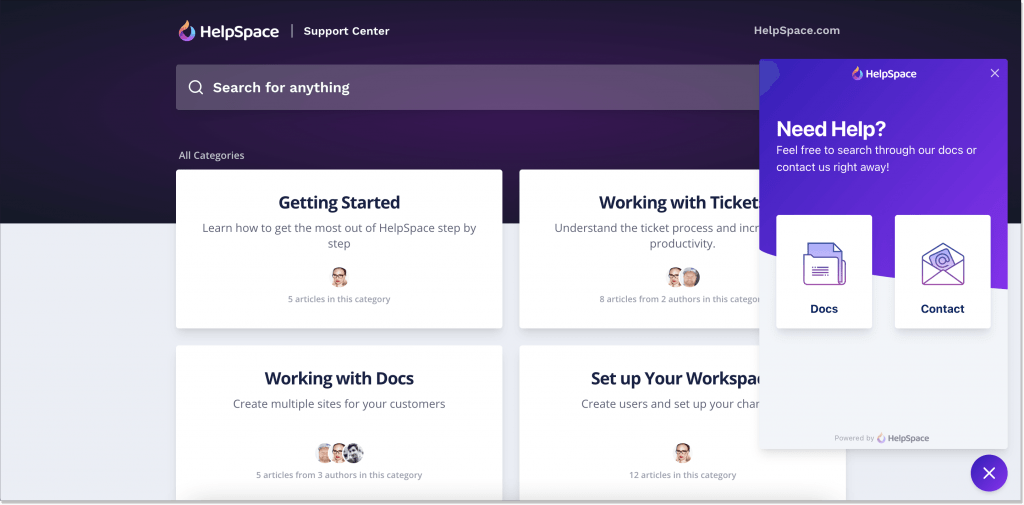 Documentation. This one comes together with the help center. The "no-nonsense editor" allows you to quickly format the text, complement it with visuals, and save articles as drafts. Plus, you can spice things up a little with a full range of customization options and make your docs match your style.
Blog. We all got used to understanding a blog as a piece of content marketing. HelpSpace changes the situation and views it as a self-service solution. In other words, this is the mixture of the Help center and Docs feature – you write stuff, post it on your blog, and users can navigate it as if it was an actual library!
Sure thing, this self-service software has a free trial for 15 days. As for the pricing plans, at HelpSpace they are more than clear:
Starter for $25/month
Team for $49/month
Advanced for $69/month
Business for $99/month
For some extras, you will have to splurge from $5/month to $15/month based on what you wish for.
9. HappyFox
HappyFox is sleek self-service support software that puts clients in the driving seat. If you look for something simple, this is what you will get here. The company claims its help center is searchable, social media ready, and responsive for mobile. Well, is there anything to add?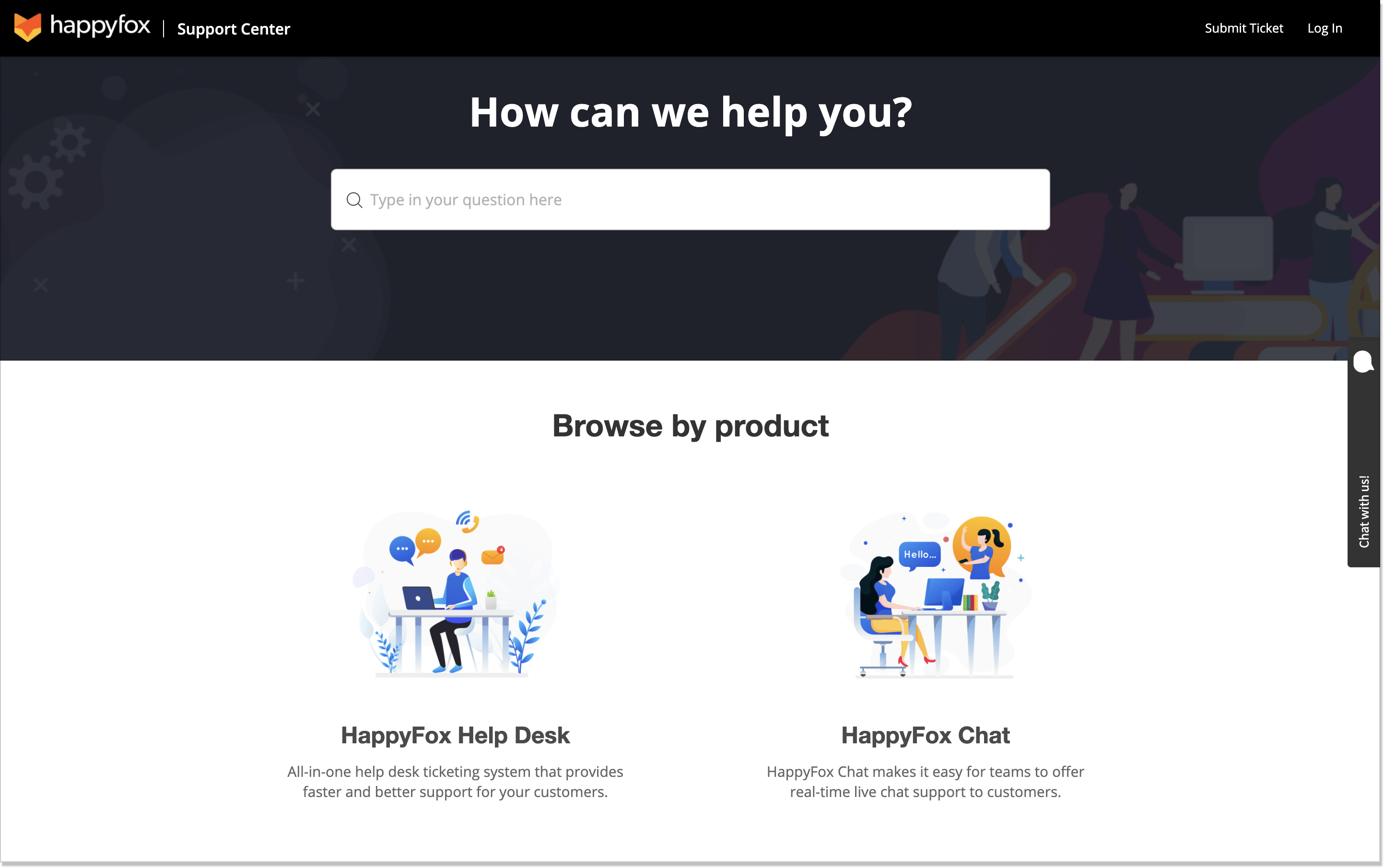 Judge by yourself. The basic range of the features HappyFox offers is enough for helping customers help themselves:
Auto-suggest for guiding users while they are on your website.
A great text editor with sections, categories, and images/videos embeds. By the way, there are also in-line search suggestions as you type your query in the search bar.
Both internal and external knowledge retention for clients who are on the lookout for answers and support agents who need to stock team-wide documentation.
Mobile-friendly knowledge base letting users access the hub from their phones on the go and save lots of time.
Social sharing and feedback for always staying in the know of how customers enjoy (or not) your articles. In fact, if they do like them, they can share the stuff with the crowd with a click of a button.
Now, let's talk money. "Simple and affordable," says the HappyFox customer self-service software pricing page. Well, where are all the prices? The catch is that they want you to request the pricing giving all your contact details. So, do you really want to do that and head for the unknown?
10. Synthetix
Last but not least in this broad list is the UK customer self-service software – Synthetix. They stake on Natural Language Processing and all of the advantages right on their main website.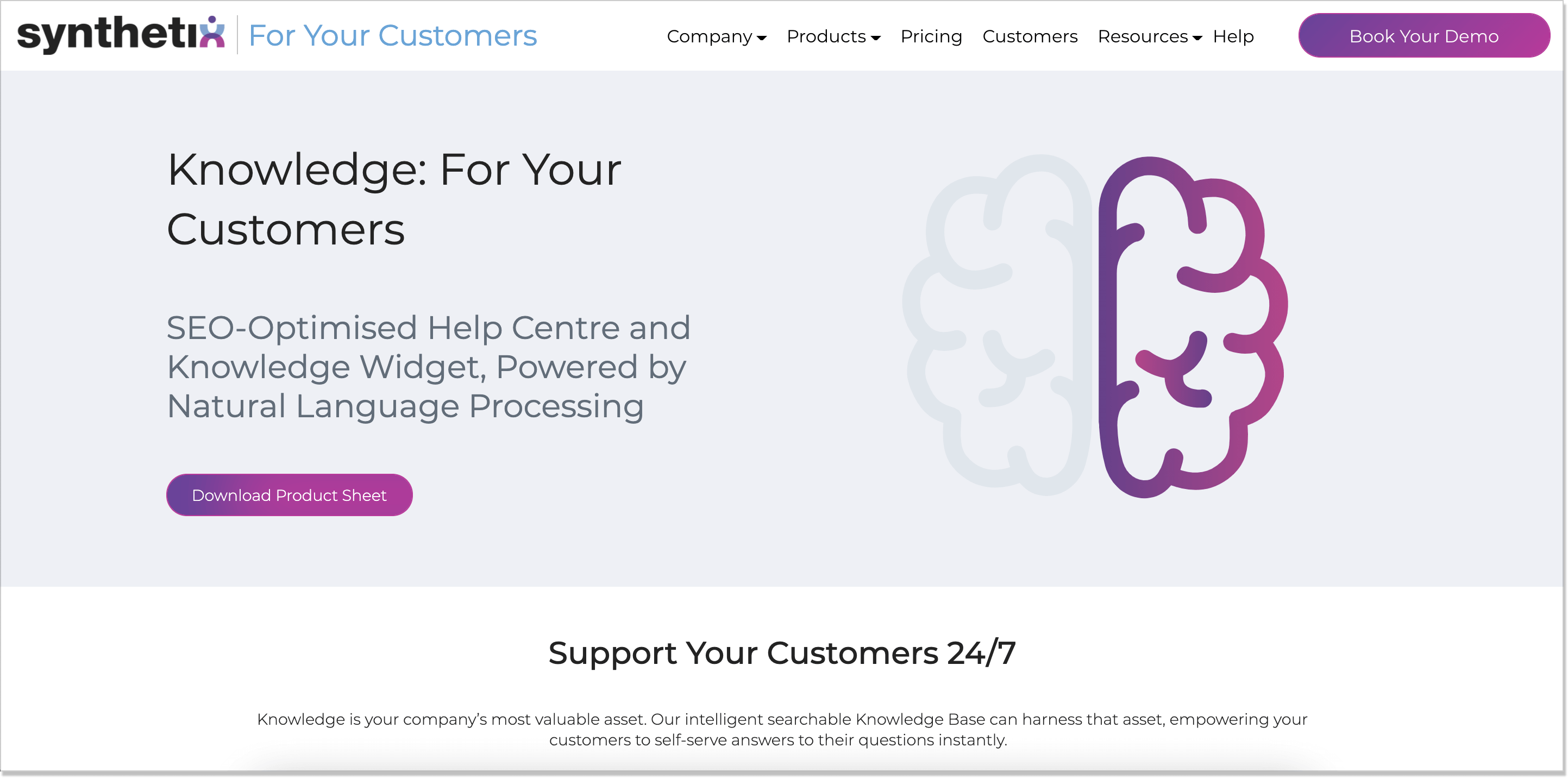 Synthetix self-service platform helps business support their clients with:
SEO-optimized help center. It has full control over your meta titles and descriptions along with deep analytics into user behavior. This way, you can ensure your articles rank at the top of the search results of every user query.
Knowledge widget. Or "Knowledge as a widget" to be precise. You are familiar with the logic. The widget represents a floating window that stays with your clients wherever they are on your website. Besides, it can appear in the form of a full-page help center.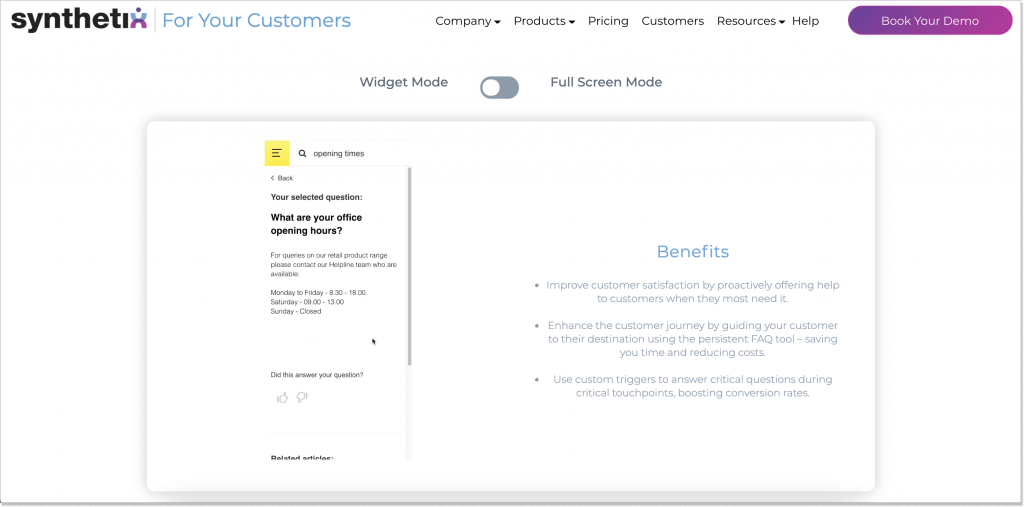 No free trial is a bit of a blunder. When it comes to pricing, Synthetix customer self-service software is quite adamant. There are just two plans: Professional and Enterprise. The former is £50/month per user, while the latter has no prices shown on the website, you have to get in touch with the company's rep to clarify the details.
Is there self-service software you've been looking for?
I know, I know. We have dealt with 10 different yet alike options and it's hard to pick one. Mind if I share my piece of advice with you?
When choosing self-service software, make sure it is up-to-date, user-friendly, and with advanced editing capabilities. Try to also detect its both good and bad sides. At the end of the day, you want your customers to receive the cream of the crop.
Besides, if you opt for an all-in-one solution from the start, you won't have to migrate from software to software, such essential features as live chat and knowledge base will be at your fingertips, and a shared inbox will only make your work faster.
Anyways, there is always an unrivaled one-stop option waiting for you: HelpCrunch with its coolest DIY service opportunities. No pressure, but a free 14-day trial won't magically run itself 😉