What Automated Customer Service Means [and How to Make it Real]
What is automated customer service? How is it possible to implement it in your business? If you already want the answers, read our article with the surefire customer support automation methods inside.

It's next to impossible to run a business at scale without a well-planned customer support system. Given that clients have already become tech-savvier and more demanding than ever, it's essential to cater to their needs to the best extent.
However, customer support isn't always a breeze due to a human aspect: too much pressure, heavy workload, and challenging tasks bring about chronic depression, which leads to job dissatisfaction.
That's when automated customer service gets into a game.
It's next to impossible to run a business at scale without a well-planned customer support system. Given that clients have already become tech-savvier than 10-20 years ago, it's essential to cater to their needs to the best extent.
However, customer support isn't always a breeze due to a human aspect: too much pressure, heavy workload, and challenging tasks bring about chronic depression, which leads to job dissatisfaction and, at the long last, burnout. Urgh!
Well, there may be no 'AHA' moment just for now. However, I know what can be the Rosetta Stone for this matter. That is automated customer service itself. So let's unscramble the issue, see what its pros and cons are, and how to actually make it work shipshape.
What is customer service automation?
Customer service automation is the process of addressing clients' requests with minimal human-to-human touchpoints. In most cases, it's implemented by adding automatic responses to customers' queries. But there is more to it.
On the surface, the concept may seem incongruous to take the human factor out of problem-solving. However, if your customer service is automated, it removes the chance of possible errors saving both customer support reps and clients much time (and what the hell, nerve cells).
The automation in customer service can come in so many shapes, from a smartly written message on a call minder to a pre-written chatbot dialogue. Chatbots, self-service tools, voice recognition, and other technologies are used here to aid the customer experience. Are there any traps and pitfalls you should know before diving into the matter? Sure!
Pros and cons of automated customer service
When you're thinking about customer support automation, the first step is weighing all the pros and cons. Why don't we start with the pluses? Speaking of possible advantages, they come down to:
Automation reduces the human element of your business, which decreases the potential of idleness, possible mistakes when inputting data, etc.
There will be no need to hire more employees for carrying out administrative tasks connected to support. However, there can be some minor payments for the initial software setup and further maintenance.
With customer service automation, all the internal processes such as contacting another department, tracking support tickets, or following up a client will run faster. As a result, a customer will experience quicker response times.
More closed tickets in less time
As your service is now faster, it's possible to handle more customers' queries, which contributes to customer loyalty and word of mouth.
Support is delivered 24/7
Automated customer service helps stay online during off-hours. Clients are assisted even when your support reps are having a rest, which means fewer edgy complaints.
Still, even the most powerful automated systems aren't capable of replacing a human completely. And sometimes, they are annoying as the answers they give are off-the-mark. That's why the drawbacks of automated support can be described as:
An emotional connection will be lost. Automated messages may make clients feel undervalued. Plus, the support they seek may be unique, so it can't be fully programmed.
Inability to fix more complex issues
As the solution may have several options, need more time to resolve, and require urgent attention, it's impossible to predict and automate everything.
Changing a habitual employee workflow
New technologies mean more in-depth knowledge. Customer support agents have to be re-trained to acquire more tech-specific information for delivering better service.
How to automate customer service: tips to embrace
Your customer support automation should start with choosing the right software that meets your business needs. Everything depends on the channel that you want to automate.
But with such a broad-ranging selection of omnichannel customer service today, you are free from picking and choosing. Let's break down the ways of how to automate customer support without losing authenticity.
Tip 1: Automate your communications
1.1. Use a chatbot to automate your workflow
When someone says "automated customer support", I hear a "customer service chatbot". Let's stop here for a while.
A robot makes it easier for clients to get answers on the fly, so they don't have to raise issues on social media, sit through a cumbersome answering machine, or be all over emails. By the way, the stats say that a chatbot can generate up to 90% of responses to questions.
There are some basic tasks that chatbots can perform hands down:
Engage visitors proactively: a chatbot studies visitors' behavior, finds out what pages were seen, or the overall time spent on a website. It uses pre-written scenarios to ask questions, initiates a dialogue, and awakens inactive prospects. You can use it to engage leads by asking relevant questions and then encourage them to purchase.
Automate routine tasks: a chatbot can easily do the scope that would otherwise be done by a person. This could include appointment setting, hotel reservations, and food orders, to name a few. Just in several minutes of chat, a bot clarifies a user's contact data, checks preferred dates, suggests alternatives, etc.
Up- and cross-selling: do you want to increase your revenue? Well, a chatbot can help you with that. Let's say, a user orders pizza on a restaurant's website with the help of a chatbot. So teach your bot to offer a cola and a desert as well.
Pre-qualify leads: before a visitor starts a conversation with a customer support agent, a chatbot can ask for an email, a phone number, occupation, and goals. This way, you already have all the information about a customer for your future marketing or sales activities.
How to actually implement automated customer service with a chatbot? I have one perfect solution at the ready. Read on!
HelpCrunch – a full-house customer communication platform – has released a chatbot feature. Now, you can use pre-made templates or create your own, teach the system to answer clients' requests, assign or reassign chats, and do so much more. Just leave your sales, marketing, or support to our chatbot.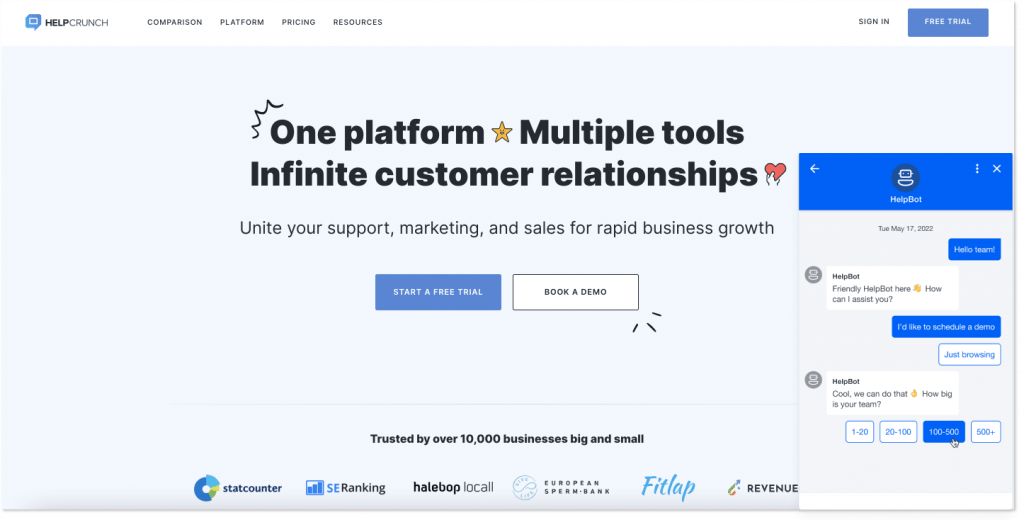 1.2. Develop a well-oiled knowledge base
Customer service automation is all about helping clients get their sought-after answers by themselves. Even though a knowledge base can't be referred to as automation itself, it can relieve support agents' work.
When clients land on a website, they want to see solutions at lightspeed. Provide a self-service knowledge base to reduce the burden on a support department and boost customer satisfaction.
Here is a knowledge base example made by Fibery – the guys use it to showcase product use cases (which makes the customer service team sigh with relief).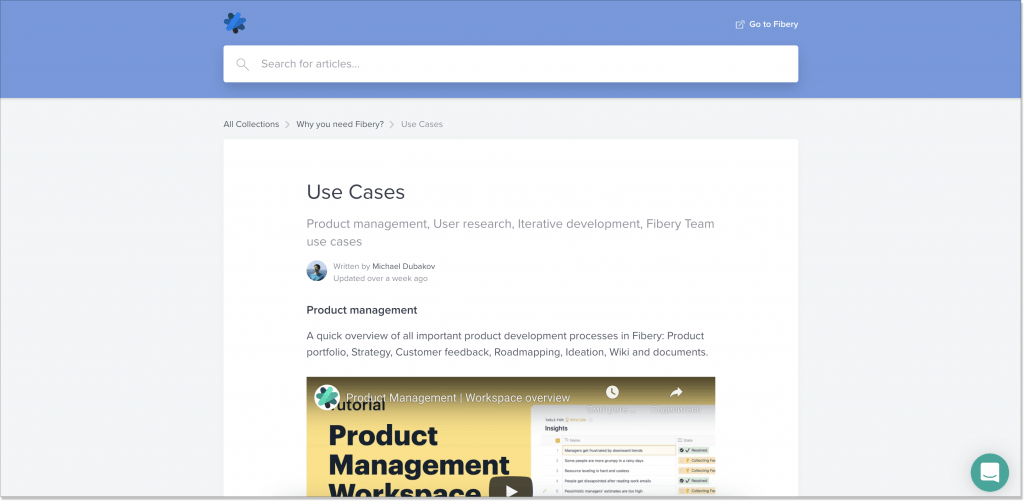 The main objectives of building a helpful knowledge base should be its site-wide visibility and informational hierarchy. No matter what page a visitor is on, put an easy-to-see widget there that would point to your online library.
Place a CTA saying 'I need help', 'Learn more', or alike anywhere you think it would be useful for a client. This button can take a client exactly to an article explaining this very problem. By triggering the right prompts on your website, you can buy a tremendous amount of time for both visitors and support reps. Here's how Slack does it (the 'Learn more' buttons lead not only to their help center):
Remember to put first things first. Group the most common questions on your resource hub page into clearly defined categories and subcategories. You should not forget about visual content, too: explainer videos, images, compelling guides, etc. This hack will help you keep customers engaged and meet their needs faster.
1.3. Encourage self-service with an integrated knowledge base
Now that you've created a well-laid-out resource center, make avail of it in your customer support chat interface. By doing so, service agents can quickly search for articles needed and send them to customers without leaving a chat.
To put an idea in your head, here is what you can do – integrate a knowledge base into a chat widget if your customer support tool allows it. It will be much easier for clients to find quick answers right in a chat. They don't even need to reach out to a support rep.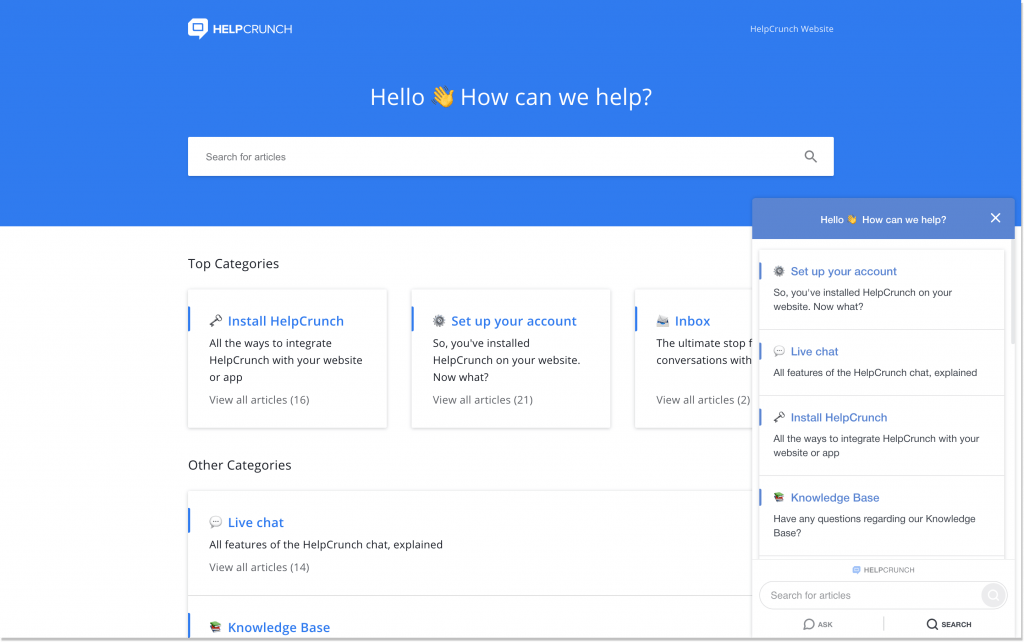 Plus, you can take your automated customer service to the next level by installing an FAQ chatbot. This hi-tech tool is able to analyze and process customers' requests in a chat in a matter of seconds, offering some relevant knowledge base articles that match their demands.
Tip 2: Automate customer service agents' workflow
2.1. Integrate canned responses in live chat
Live chat is a game-changing tool for a thriving business. You can handle several conversations with it at once but still hardly type anything. Therefore, there's a way out – canned responses (aka saved responses).
Such messages serve as quick replies, save much time, and prevent support reps from being repetitive. Besides, they reduce typos and disperse customer support rep's stress. Bear in mind that there's still a chance to sound like a robot. So, use saved responses without going too far. Look at how Tidio gets it right (they call such messages "quick responses"):
When it comes to situations when these messages make sense, the list boils down to:
Greetings
Ending the chat
Asking for further details
Clarifying your understanding of a question
Admitting a mistake
Transferring to another live chat agent
Talking about features
To put it bluntly, such quick replies can be used in many ways. You can always take a look at canned response examples from HelpCrunch for inspiration.
2.2. Automate ticket routing
To dive into automating customer service deeper, it's important to mention ticket routing. This is a process of assigning a client's query to an appropriate agent or department. By adopting such an approach, your customer service will be exceptional and complete.
Once a client comes up with a certain question, your automated customer service tools can transfer it to a department that specializes in it best. For instance, if you're a chatbot user, make sure it can route product- or service-related issues to a support squad and sales requests to a marketing or sales team. As a result, you get hand-in-glove work and happy customers.
Instead of handling a pile of requests manually, it's possible to set up ticket routing rules, such as topic, language, country, and other filters. Such automation helps decide whether an issue should be rejected, routed to another employee with the necessary knowledge, and what ticket details should be especially taken into account.
Even though this activity happens behind the scenes, it has still a massive impact on the customer experience. There is nothing more irritating than endless on-hold minutes, being passed around from agent to agent with no solution to a problem. To avoid unnecessary complaints, let automation do its work.
2.3. Follow up on autopilot
If a customer didn't read a message in a chat, you can send a follow-up message, using the 'Resend if unseen' feature. By setting the timing, you just ease the burden, as the system will send a follow-up message automatically. Let me show you how to do that in HelpCrunch (Settings –> Automations –> General):

2.4. Set up automatic chat transcript sending
What if you want to always keep your finger on the pulse in case something happens after you speak to a customer? Have a chat transcript sent to your team (or a client) once you finish a conversation. Just to be on the safe side.
A fair share of modern software offers this functionality. Let me show how to set it up in HelpCrunch. So, to configure chat transcripts, go to Settings → Automations → General → Chat transcripts.

2.5. Automatically close chats after inactive time
When a chat becomes inactive, it definitely clogs your team's performance. To omit the chaos in your Inbox, you can let automated customer service do its thing. If your software allows it, active the closing of inactive chats automatically.
This feature will come in handy if, let's say, a customer doesn't reply to an agent's message for quite some time. Don't forget to specify the exact period of time after which you want an inactive chat to be closed.
2.6. Snooze important chats to get reminders about them later
Thanks to a chat snooze feature, you can just put a conversation aside for a little while and get back to it when the snoozing period is finished. As a rule of thumb, you can make the conversations 'doze off' starting from a couple of hours or choose a custom setting.
All you have to do is tick a certain box in your live chat or any software alike.
Tip 3: Automate feedback collection
It's impossible to ignore clients' thoughts because it's directly connected to customer satisfaction. You can gather feedback without manual intervention by a variety of methods:
3.1. Send chat rating surveys
To know if a client is pleased with a talk, choose between short slider polls that pop up on a site or longer, conventional surveys. And remember to write open-ended and thoughtful questions or create rating scales.
So send a chat rating survey after you close a conversation. You can always set it up in the Automations section of your software. Here is an example of how HelpCrunch makes this automation in customer service real: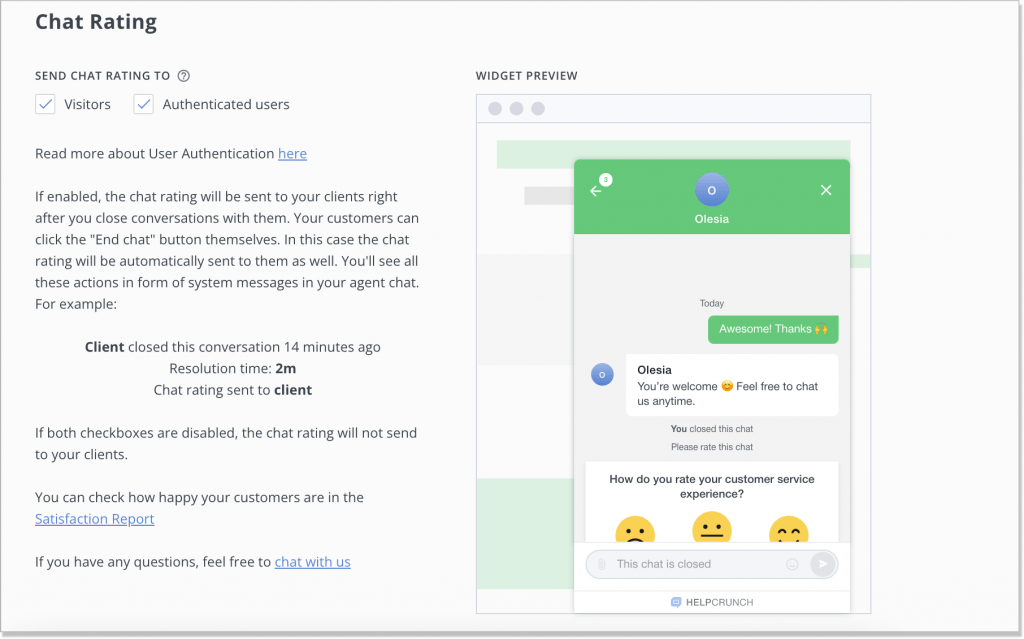 3.2. Knowledge base article rating and feedback
The rating and feedback feature lets you stay in the know of how users find content in your resource center. You can use a thumbs-up/down or a 5-star rating system, when a customer just clicks the button. It all depends on the knowledge base software you're using.
For instance, Miro resource hub offers the question "Was this article helpful?" and an opportunity to describe what was really unhelpful in the article:
3.3. Leverage social media
This one can be a win-win tool for a business. Create a survey with a built-in poll tool in your Instagram account and see how it goes. Oh, and don't shrug off Instagram stories: I mean, they do have a poll feature inside. Then, think of including some incentives to let people know what they can get after they finish the survey. Check the example from Starbucks:
Tip 4: Know when not to automate
If you automate customer service happy-go-lucky, the odds are you will produce more damage than good. That is why I want to highlight several delicate scenarios when you'd better steer clear of the automation in customer service:
A new customer. There are companies that wouldn't even lift a finger. And they are completely in the wrong! You know how the first impression works, so please, don't make another mistake and let automation morph into a catastrophe. I mean, when a person feels just yet another number in the system.
A customer comes in to return an item or needs a refund. Here you deal with the financial side of the issue, so it's in your best interest to let a client contact a human agent. This is the time when a person wants to feel your support, care, and faithfulness.
A VIP user. Yes, this is the opposite of what we've talked about in the first bullet point here. The VIPs love personalization and all that human-to-human touch. So give it to them! You can even assign a special agent to care for such clients. They will appreciate such service. Then let customer service and support automation do the talking!
3 common customer service automation lessons learned
Alright, alright. We got that automation of customer service is a real deal. However, you need to make sure everything is done right in order to rock it. For that, here are 3 widely spread mistakes a business can face in this context. Learn from them!
1. Automation for the sake of automation
Sometimes, a user just wants a real person to talk to. Don't take my word for it: 30% of users say that not being able to communicate with a human agent is the most frustrating thing of their experience. So boiling the ocean when it comes to automation is not going to help, no matter how you slice it.
2. Not paying enough attention to content
Who wants to stumble on an old-fashioned knowledge base article when looking for answers? Or who likes to deal with an old piece of software when it's the 21st century already? No one! Not to make this one yet another problem, always go along with the progress. 59% of customers worldwide already say they have higher expectations than they had just a year ago.
3. No personal approach
As you can guess, automation for customer service may have serious aftermath. For instance, 57% of customers still prefer using a live chat when contacting a website's support. To prevent customer churn, always offer an alternative to switch to a human agent be it an email (write a certain agent or a department) or live chat conversation.
Closing thoughts
All these massive benefits of automated customer service may lure you into automating everything. However, there's still a fine balance between what you can automate and what you can't. Anything that nudges you to avoid conversations with clients should be ignored. Needless to say that people appreciate talking to a real support rep and that is what keeps them coming back.
Firstly, decide how you want the workflow in your company to be organized: if there's a point in brushing up your content base, automating email campaigns, and installing a chatbot.
Then, do some research and choose the software that suits your business best. Just to seed an idea, here is your potential first step: consider HelpCrunch (it has all the magic features we've described above). Create an account (no credit card required) to test its chatbot, live chat, email marketing, or knowledge base and go nuts with customer service automation in your business.