It's next to impossible to run a business at scale without a well-planned customer support system. Given that clients have already become tech-savvier and more demanding than ever, it's essential to cater to their needs to the best extent.
However, customer support isn't always a breeze due to a human aspect: too much pressure, heavy workload, and challenging tasks bring about chronic depression, which leads to job dissatisfaction.
That's when automated customer service gets into a game.
What is automated customer service?
Automated customer service involves carrying out customer support tasks with Artificial Intelligence, including tagging tickets, routing queries to the correct customer support teams, and responding to issues automatically

Everything You Should Know about Customer Service Automation
It minimizes human-to-human touchpoints in addressing clients' requests, removes the chance of possible errors, and saves both customer support reps and clients much time.
Before we explore some ways of how you can automate your customer support, let's see what advantages and disadvantages it has.
Pros and cons of automated customer service
When you're thinking about automating some processes in your company, the first step is weighing all the pros and cons. The same goes for customer support automation. Speaking of possible advantages, they come down to:
Automation reduces the human element of your business, which decreases the potential of idleness, possible mistakes when inputting data, etc.
There will be no need to hire more employees for carrying out administrative tasks connected to support. However, there can be some minor payments for the initial software setup and further maintenance.
With customer service automation, all the internal processes such as contacting another department, tracking support tickets, or following up a client will run faster. As a result, a customer will experience quicker response times.
As your service is now faster, it's possible to handle more customers' queries, which contributes to customer loyalty and word of mouth.
Support is delivered 24/7
Automated customer service helps stay online during off-hours. Clients are assisted even when your support reps are having a rest, which means less edgy complaints.
Still, even the most powerful automated systems aren't capable of replacing a human completely. And sometimes, they are annoying as the answers they give are off-the-mark. That's why the drawbacks of customer service automation can be described as:
An emotional connection will be lost. Automated messages may make clients feel undervalued. Plus, the support they seek may be unique, so it can't be fully programmed.
Inability to fix more complex issues
As the solution may have several options, need more time to resolve, and require urgent attention, it's impossible to predict and automate everything.
Changing a habitual employee workflow
New technologies mean more in-depth knowledge. Customer support agents have to be re-trained to acquire more tech-specific information for delivering better service.
How to set up automated customer service
Your customer support automation should start with choosing the right software that meets your business needs. Everything depends on a customer support channel that you want to automate. But with such a broad-ranging selection of omnichannel customer service today, you are free from picking and choosing. Now, let's break down 6 ways on how to automate customer support without losing authenticity.
Tip #1: Develop a well-thought-out knowledge base
Customer service automation is all about helping clients get their sought-after answers by themselves. Even though a knowledge base can't be referred to as automation itself, it can relieve support agents' work. When clients land on a website, they want to see solutions at lightspeed. Provide a self-service knowledge base to reduce the burden on a support department and boost customer satisfaction.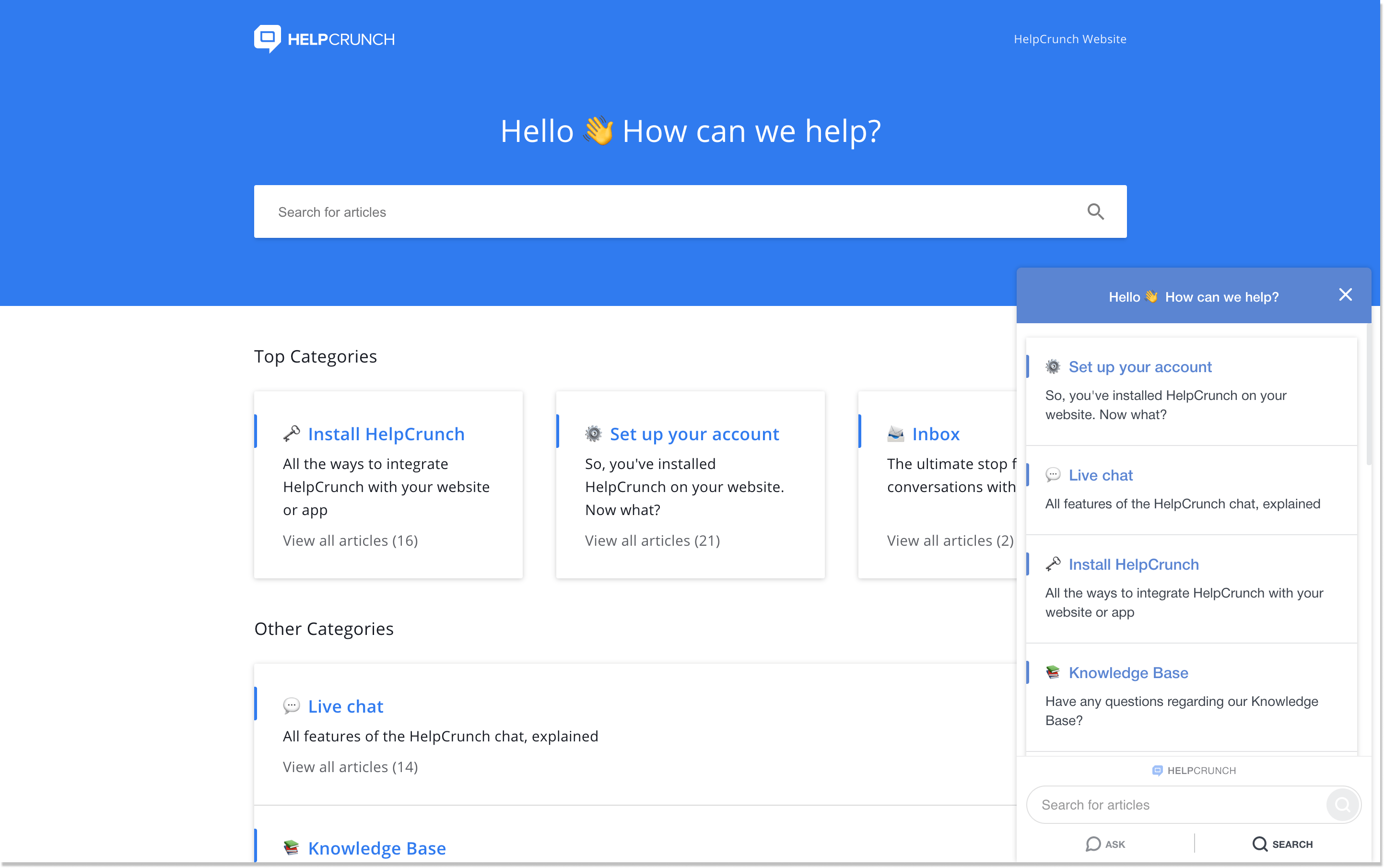 The main objectives of building a helpful knowledge base should be its site-wide visibility and informational hierarchy. No matter what page a visitor is on, put there an easy-to-see widget that would point to your online library.
Place a CTA saying 'I need help' anywhere you think it would be useful for a client. This button can take a client exactly to an article explaining this very problem. By triggering the right prompts on your website, you can save a tremendous amount of time for both visitors and support reps.
Remember to put first things first. Group the most common questions on your knowledge base page into clearly defined categories. And don't forget about visual content: explainer videos, images, compelling guides, etc. This trick will help you keep customers engaged and meet their needs faster.
Tip #2: Integrate your knowledge base
Now that you've created a well-laid-out resource center, make avail of it in your customer support chat interface. By doing so, service agents can quickly search for articles needed and send them to customers without leaving a chat.
Moreover, you can always integrate a knowledge base into a chat's widget if your customer support tool allows. It will be much easier for clients to find quick answers right in a chat. They don't even need to reach out to a support rep (that is what HelpCrunch has rolled out recently).
Plus, you can take your automated customer service to the next level by installing an answer bot. This hi-tech tool is able to analyze and process customers' requests in a chat on-the-fly, offering some relevant knowledge base articles that match their needs.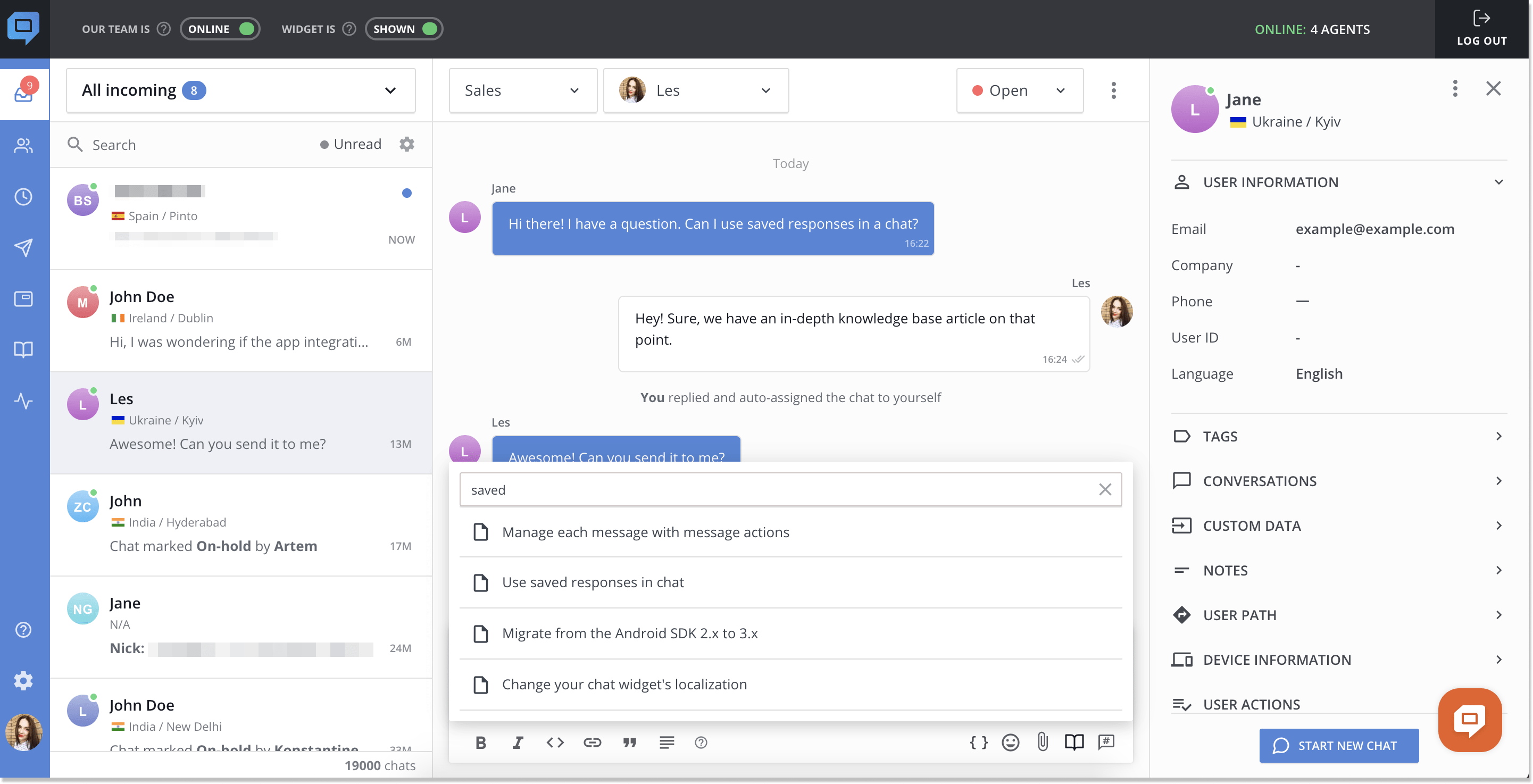 Tip #3: Build automated ticket routing
To dive into automated customer service deeper, it's important to mention ticket routing. This is a process of assigning a client's query to an appropriate agent or department. By adopting such an approach, your customer service will be exceptional and complete.
Once a client comes up with a certain question, your customer service software can automatically transfer it to a department that specializes in it best. For instance, route product- or service-related issues to a support squad and sales requests to a marketing or sales team. As a result, you get hand-in-glove work and happy customers.
Instead of handling a pile of requests manually, it's possible to set up ticket routing rules, such as topic, language, country, and other filters. Such automation helps decide whether an issue should be rejected, routed to another employee with the necessary knowledge, and what ticket details should be especially taken into account.
Even though this activity happens behind the scenes, it has still a massive impact on the customer experience. There is nothing more irritating than endless on-hold minutes, being passed around from agent to agent with no solution to a problem. To avoid unnecessary complaints, let automation do its work.
Speaking of ticket routing software, you'll be spoilt for choice. Helpshift, Jira, HappyFox, ManageEngine, and more options are available now. Everything that's left to do is to opt for one of them, train it, and let your customers enjoy impeccable and fast service.
Tip #4: Integrate canned responses
Live chat is a game-changing tool for a thriving business. You can handle several conversations with it but still hardly typing anything. Therefore, there's a perfect solution: canned responses. Such messages serve as quick replies, save much time, and prevent support reps from being repetitive. Besides, they reduce typos and disperse customer support rep's stress. However, bear in mind that there's still a chance to sound like a robot. So, use saved responses without going too far.
Canned responses can be short, long, include links, etc. It's you who decides how to tweak them. In the HelpCrunch account, for instance, you can check the Settings section to paste a saved response in a chat. Type # with a certain response tag and you're good to go.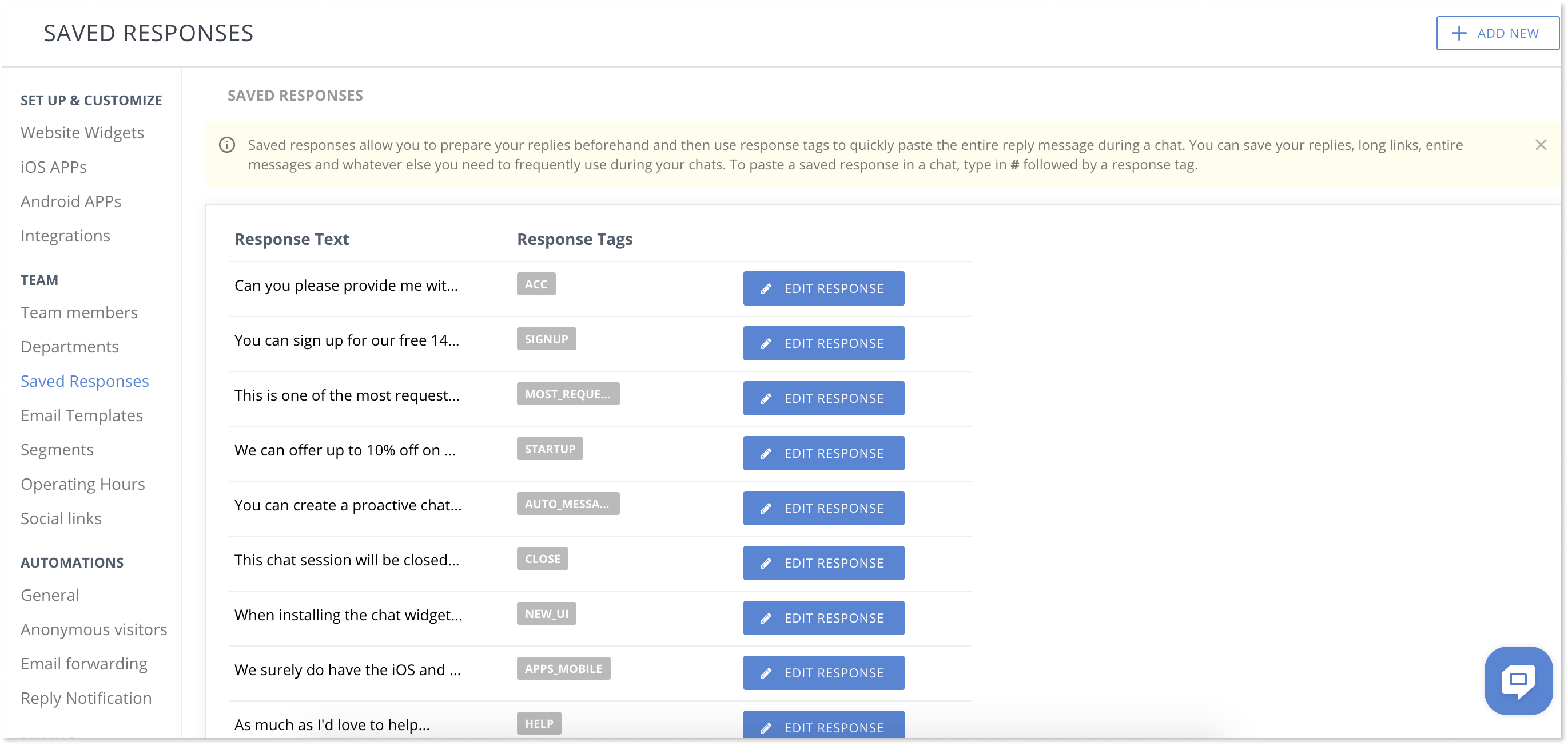 When it comes to situations when canned responses make sense, the list boils down to:
Greetings
Ending the chat
Asking for further details
Clarifying your understanding of a question
Admitting a mistake
Transferring to another live chat agent
Talking about features
To put it bluntly, such quick replies can be used in many ways. You can always take a look at canned response examples from HelpCrunch for inspiration.
Tip #5: Follow up on autopilot
If a customer didn't read a message in a chat, you can send a follow-up message, using the 'Resend if unseen' feature. By setting the timing, you save yourself much time as the system will send a follow-up message automatically.
It's impossible to ignore clients' thoughts as it's directly connected to customer satisfaction. You can gather feedback without manual intervention by a variety of methods:
Chat rating surveys. To know if a client is pleased with a talk, choose between short slider polls that pop up on a site or longer, conventional surveys. And remember to write open-ended and thoughtful questions or create rating scales.
Email and contact forms. To gather candid feedback, email is what you need. You can even use each interaction to do that. Follow some best practices, such as setting clear expectations or sending personalized responses.
Social media. This one can be a win-win tool for any business. For instance, create a survey with a built-in poll tool in your Instagram account and see how it goes.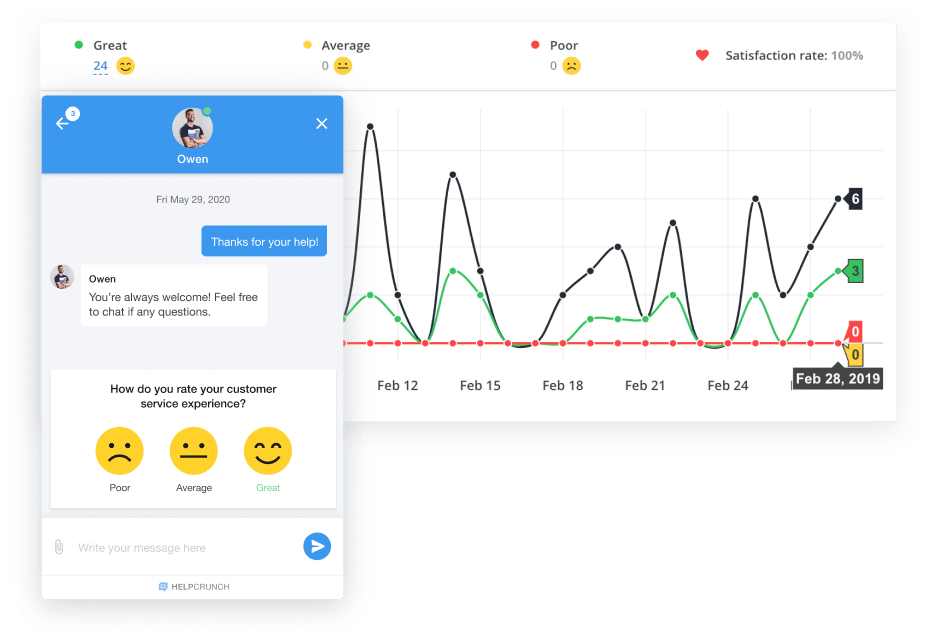 Tip #6: Install a chatbot into your website
Moving with the times is what every business needs to do today. And automated customer support with the help of chatbots may be for the benefit. They make it easier for clients to get answers on-the-fly, so they don't have to raise issues on social media, sit through an automated phone system, or communicate via emails. Look through some tasks that chatbots can perform with ease:
Engage visitors proactively: a chatbot studies visitor's behavior, finds out what pages were seen, or the overall time spent on a website. It uses its well-structured scenarios to ask questions, initiate a dialogue, and awake inactive prospects. Chatbots usually have such tools in their disposal as push notifications or personalized proposals to generate more leads.
Gather user data: before a visitor starts a conversation with a customer support agent, a chatbot can ask for an email, a phone number, occupation, and goals.
Pre-qualify requests: a chatbot studies an issue and routes it to an appropriate team.
There are also AI-powered chatbots that analyze conversations between customer support agents and clients. Based on this information, chatbots learn how to imitate service reps and try to field the same questions.
Bottom Line
All these massive benefits of customer support automation may lure you into automating everything. However, there's still a fine balance between what you can automate and what you can't. Anything that nudges you to avoid conversations with clients should be ignored. Needless to say that people appreciate talking to a real support rep and that is what keeps them coming back.
So, if you're looking for a perfect way to improve your customer service, automation will come in handy. Firstly, decide how you want the workflow in your company to be organized: if there's a point in brushing up your content base, automating email campaigns, and installing a chatbot. Then, do some research and choose customer support automation software that suits your business best. You can create an account with HelpCrunch to test all these solutions in practice.
HelpCrunch articles delivered straight to your inbox 🚀
All the latests posts. One email per month
No strings attached
Read Also
Support
Read the article to learn more about the main types of chatbots out there and how to choose the best one for your business today. Examples included!
Support
Have you ever used live chat for lead generation? If not, you have to change the situation right here, right now. Check out some tips on how to take advantage of this tool and drive lead gen efforts.
Support
No secret that an online help center has its perks. In this post, we're featuring 7 clear-cut knowledge base benefits you can't miss out on. Check them out and build a structured resource hub to your best advantage!