How to Create a Knowledge Base in 10 Simple Steps
Creating a knowledge base usually takes quite some time. In this article we explain how to build a knowledge base that's helpful for your customers, step-by-step.

One of the greatest things about a good knowledge base is that it places you in a very proactive position.
You do not wait for the customer to call you, write an email, or raise a support ticket. With a knowledge base, you provide an answer even before the customer has asked the question. Isn't that a miracle?
For the miracle to happen, however, you need to do some hard work. Creating a knowledge base that is user-friendly and informative is a serious task, but the result is definitely worth the effort.
Let's see how to build a knowledge base that is intuitive, searchable, helpful, customer-friendly – in other words, a knowledge base that works. Trust me, a properly organized self-service can sometimes resolve up to 90% of your customer issues, and with no human interaction, too.
What is a knowledge base and why do you need one?
A knowledge base is a centralized self-service collection where the information about a product, service, specific topics, or the company as a whole is stored, organized, and shared.
Come to think of it, "knowledge" is a powerful word. But it does reflect the purpose of the whole construction quite well. While building a knowledge base, your main goal is to provide all the most essential information in a condensed and digestible format. Put the entire wisdom you've accumulated into one small knowledge base section, and your customers will thank you for that.
At this point you're probably wondering, "What do these 'thanks' mean exactly?"
Well, the knowledge base benefits are multiple – they relieve your service agents, provide answers to the most frequently asked questions, and raise engagement and satisfaction (while catering to the introverts among us ?).
24/7 customer support availability
Increased customer satisfaction
Higher customer engagement and retention
Increased sales and conversions
Reduced customer support spendings
These are just some of the most apparent advantages of creating and maintaining a thorough knowledge base. Numerous studies have confirmed that, too.
According to the Microsoft state of customer service report, 77% of customers say they have used a self-service portal at least once. Aspect reports that 3 out of 4 consumers prefer to solve their customer service issues on their own. And apparently, 90% of consumers expect an organization to offer a self-service customer support portal.
I can go on and on here, but the stats are rather self-evident. Customers want self-service that is well-structured, detailed, and helpful. It's as simple as that. Are you ready to create your own knowledge base now? Cause this 10-step guide is all you need to do just that.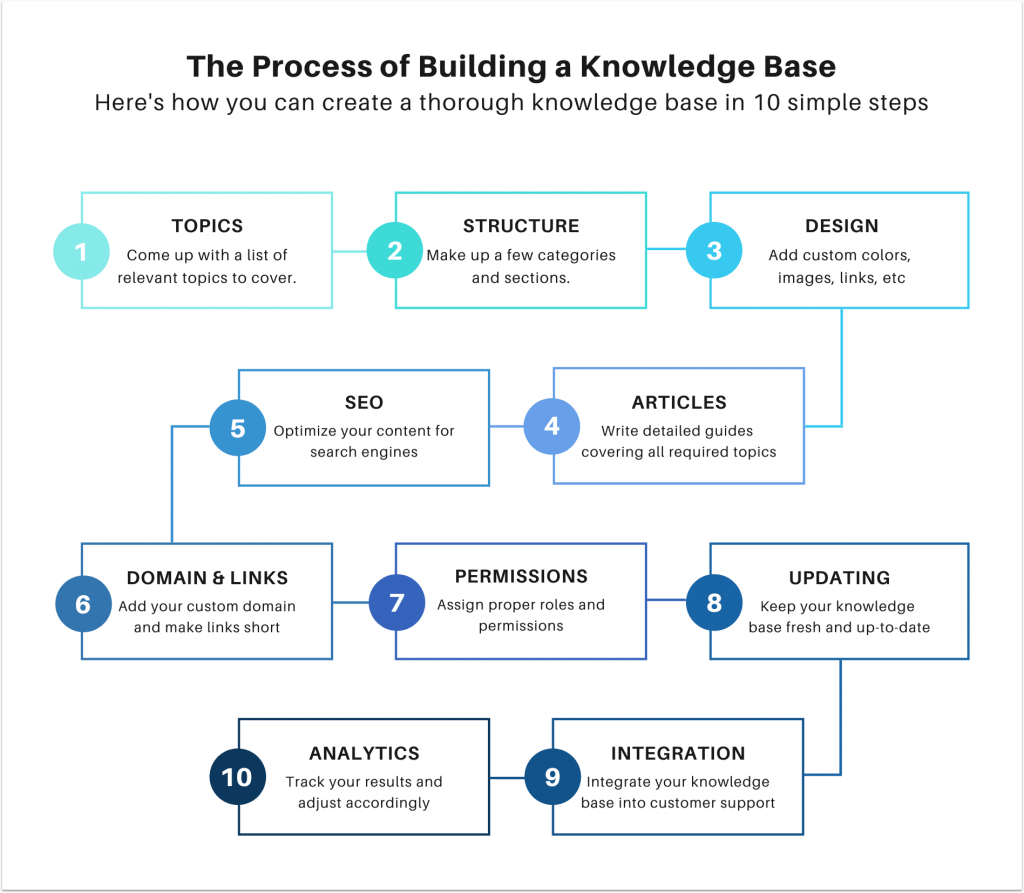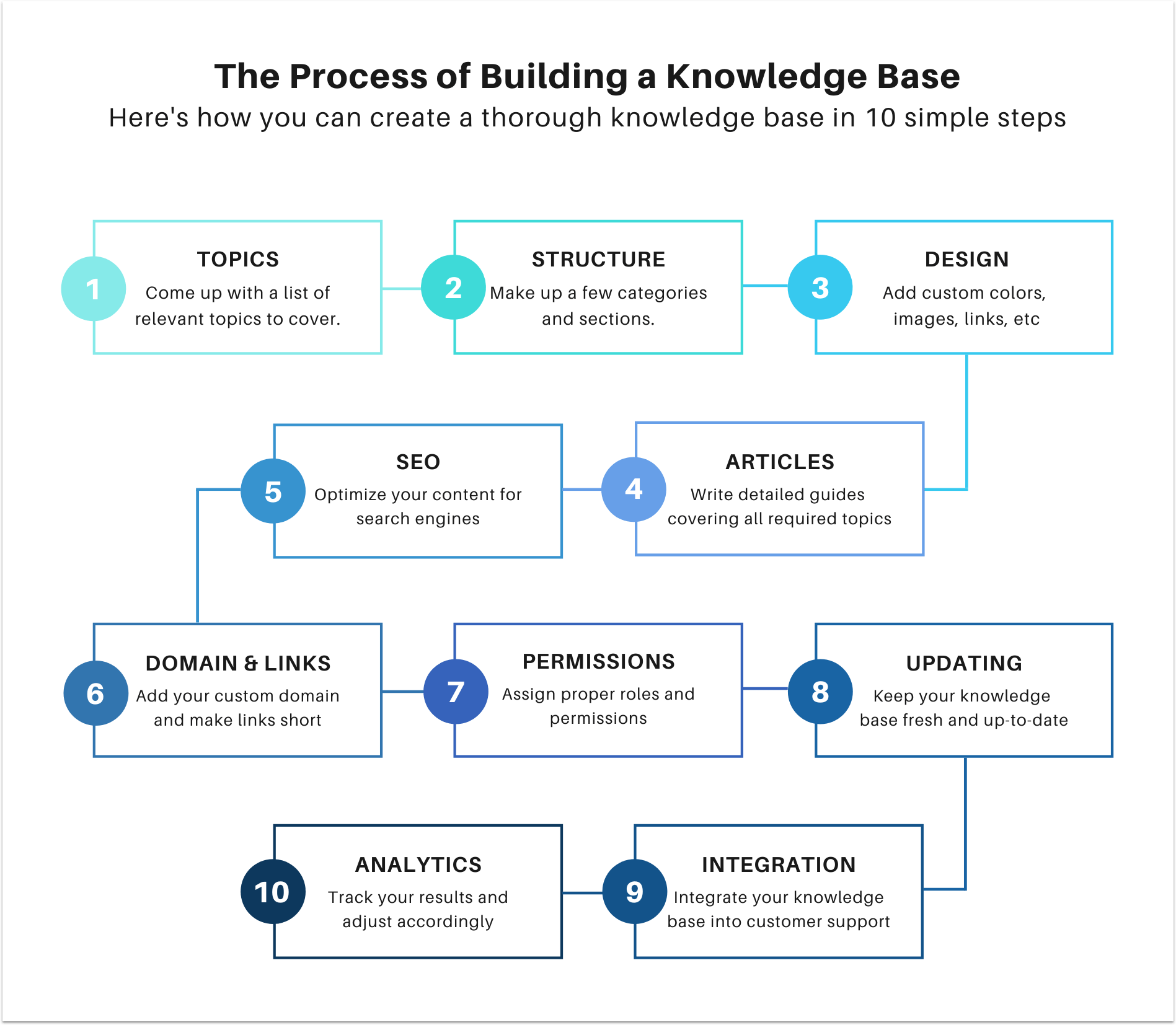 How to create a knowledge base from scratch
At this point, you don't have any knowledge base whatsoever. But by the end of this guide, all the needed information and recommendations will be at your fingertips — just reach and grab.
By the way, if you feel like watching stuff, we already explained the whole process in this detailed video guide on our YouTube channel. Don't hesitate to check it out! 👇🏻👇🏻👇🏻
1. Come up with the topics to write about
As any project – and building a knowledge base is definitely a project – it requires planning and designing. Spend some time defining what you want to have in your knowledge base and how you want it to function.
Now, the most burning question when approaching a knowledge base is "what do I write about?"
Finding the right topics and tailoring your content to customers' needs is not an easy task. What are the most common pitfalls they face when using your services? Maybe, it's billing issues. Maybe, it's something about your checkout or the installation process. That is a good place to start with. Scan through your customer support requests — emails, chat, social media mentions, or even your business reviews — and make a compilation of all the common complaints.
Quora and Reddit are classic places where people come to discuss all kinds of stuff. They have designated communities for various topics, and one of them may be relevant to your niche. Furthermore, you can use niche websites where your target audience usually hangs out and pick up a few relevant topics there.
Don't forget about your competitors, too. If they already have knowledge bases, don't hesitate to borrow a few ideas from them.
At the end of the research process, you should have a comprehensive list of all possible topics you can cover in your knowledge base. So, it's time to tinker and polish it a little bit.
2. Map out your knowledge base structure
The most optimal knowledge base structure is category-section-article with category being the most general level and article – the most detailed. It is universal and can fit the requirements of any business.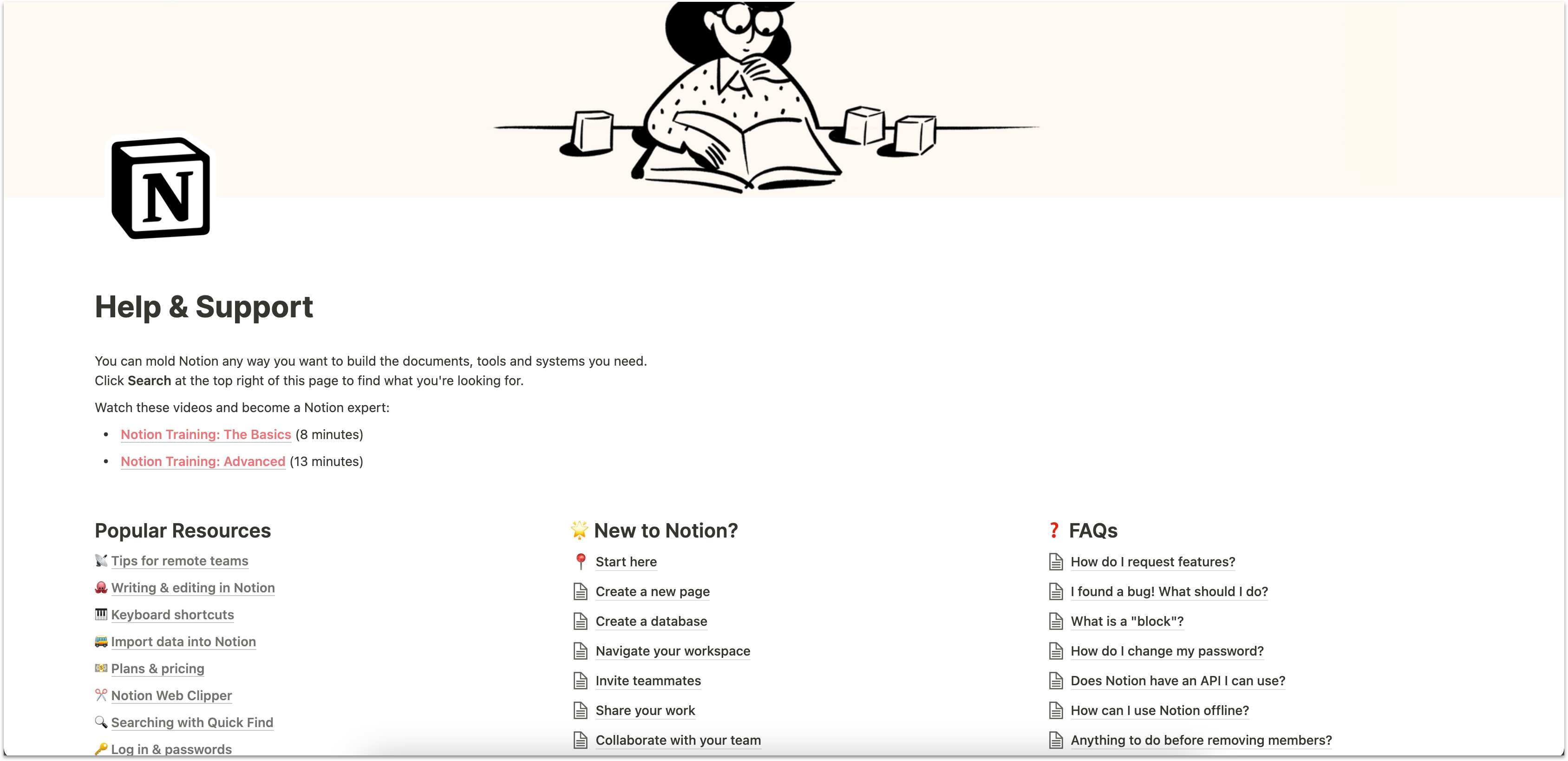 While we recommend that you stick to the category-section-article structure, it is totally up to you to organize content within each of these structural levels. There is, however, one rule that fits all – think like your customer. Step into your customer's shoes and try to imagine how they would want your help center to be organized.
The choice is yours, the main thing is to make the structure intuitive and clear for the user. When they first navigate to your knowledge base site, they should see immediately what they need to click next to get an answer to their question.
Start with defining the categories and sections. Set up the categories that will be the top level units of your knowledge base and represent the logical subdivision of the entire content. Categories should lead the user to the content they are searching for and clearly indicate what's inside. For example, you can have such categories as "Getting started", "My account", "Troubleshooting".
Once you are done with the categories, add sections. Sections group your knowledge base content into logical chunks within a category. For example, under the "Getting started" category, your user will expect such sections as "Pricing plans" or "Install the app".
With your sections in place, you can start filling your knowledge base with actual content in the form of articles.
NOTE!
To make it even more skimmable, your knowledge base must have a search feature. Depending on the complexity of your knowledge base, you can choose different search functions:
Full-text search allowing to search for strings
Autosuggestion completing the search strings as you type
Advanced search where you can select the category or section to search in, define your search string as a complete word only, search by date or relevance
3. Decide on its design
There's no one-size-fits-all example of how a well-designed knowledge base site should look like. However, it is always a good practice to have all company resources maintaining a uniform company style. The knowledge base should follow the general style guidelines, too. Use the customization options to design it similar to the rest of your website.
Usually, the knowledge base building tools offer customization as one of the features. The most popular options include:
Color scheme that is present throughout an entire knowledge base section
Custom images for a header
Company logo in a header
Header and footer links leading up to your website and its key pages
Add your logo, design the knowledge base in your brand colors, and make it immediately recognizable for the customers. Moreover, you can always step it up a notch by adding your custom CSS or JavaScript code.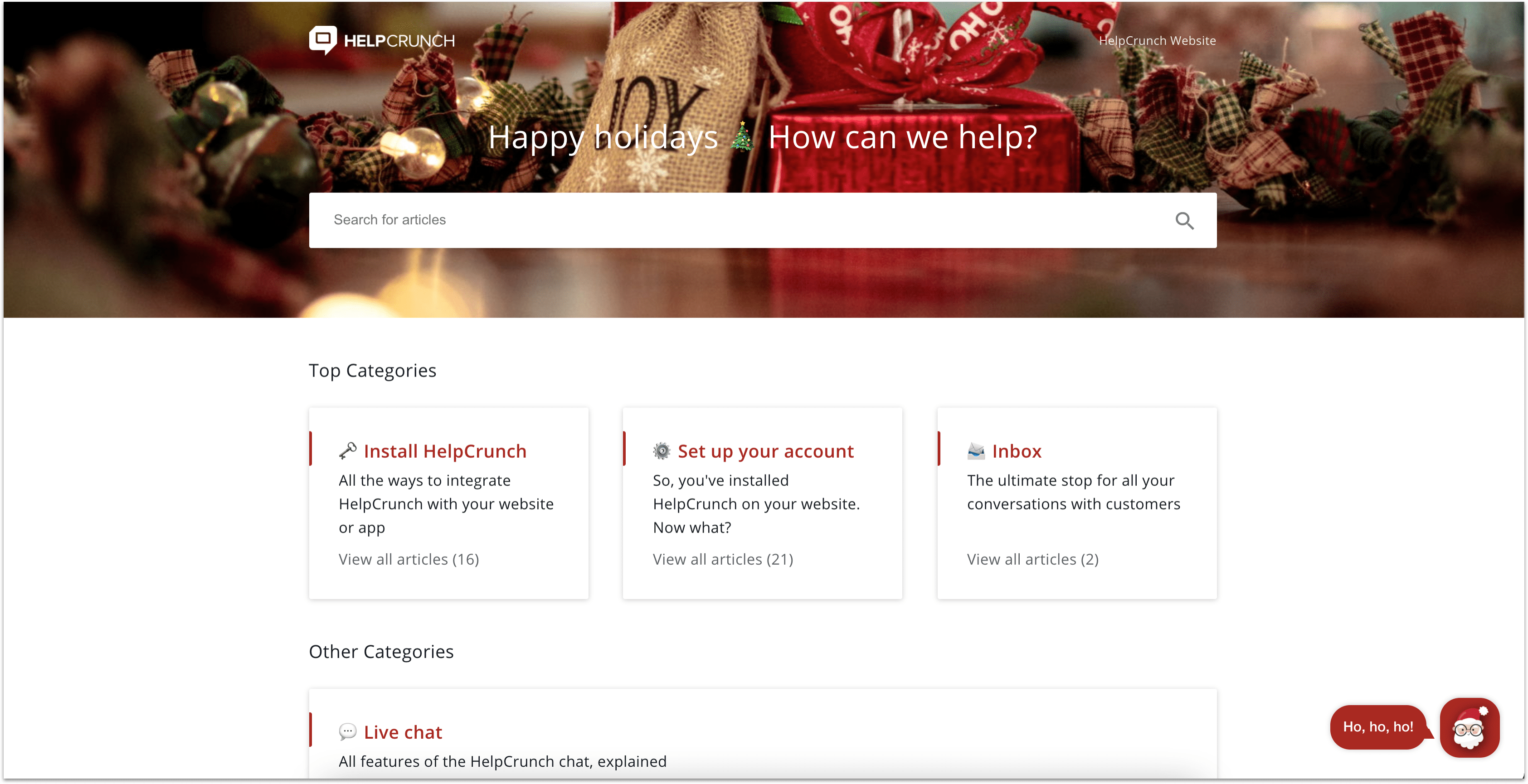 4. Write knowledge base articles
Ideally, an article should represent a single use case explaining how to achieve a particular goal. If you are working on the "Getting started" category and the "Install the app" section, you might consider adding such articles as "Install on Windows", "Install on Mac", etc.
Make your content as complete and explicit as possible. A good practice is to add screenshots or videos when explaining a sequence of actions required to achieve the user's goal. Developer content might require code samples. Most editing tools allow adding various types of content, from multimedia to code samples.
It's also useful to highlight particularly important parts of your text as warnings or special info boxes. By doing so, you take all the guesswork out and stress what really matters.
If you use HelpCrunch for building your knowledge base, writing an article is as easy as it could possibly get. It has a WYSIWYG editor where you just type and format your text as you want it to appear, insert images and videos and immediately see the result.
You can keep your new articles as drafts for the time being. It would make more sense to upload and configure at least a dozen of them before going live. But more on that later as we have more work to do here.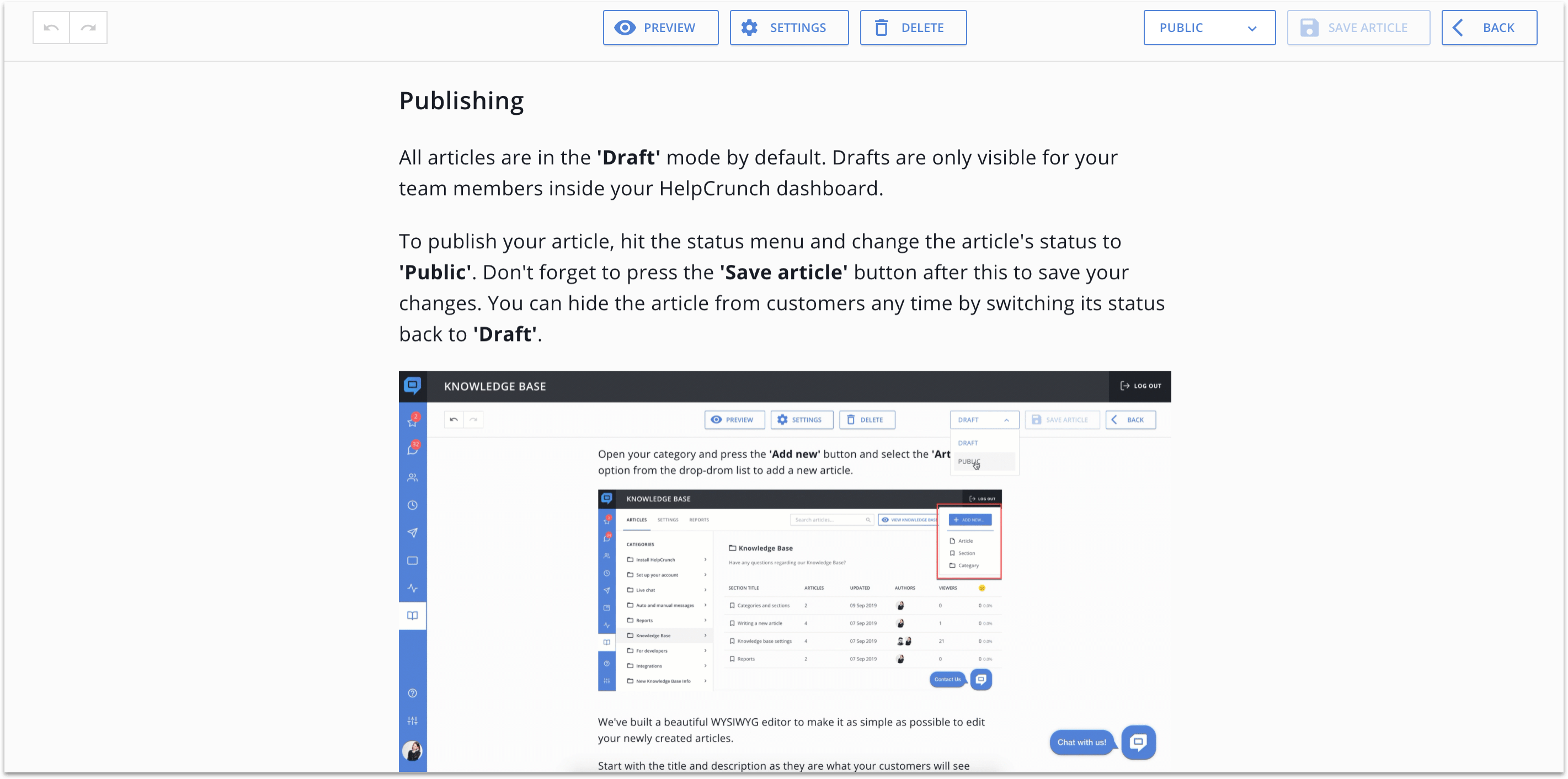 5. Take care of SEO
Now, we've talked about how to make a knowledge base well-structured with the help of categories and sections. But a perfect help center should be searchable not only from the "inside" but also from the "outside".
In other words, your help articles should be available to users browsing the internet for information on their issues that your product may help to resolve. Many people don't even use your built-in search capabilities most of the time. They go straight to Google and search for the information there. It's just how things work these days.
By making your knowledge base indexable by search engines you can even get new customers. Of course, your knowledge base should make the first impression urging users to know more about your product.
For that purpose, adjust the SEO settings of your knowledge base to make it visible in browsers. Some KB building tools such as HelpCrunch have SEO settings as one of the configuration options, so use them. They're 100% customizable, so all you need to do is to fill out the meta description field and specify your target keywords for each article.
Some knowledge base tools allow adding SEO parameters to your knowledge base categories to make them indexable. If your tool offers such an option, don't forget to configure the SEO settings for the best discoverability. To get a bird-eye-view on the topic, just head over here and check out the best practices.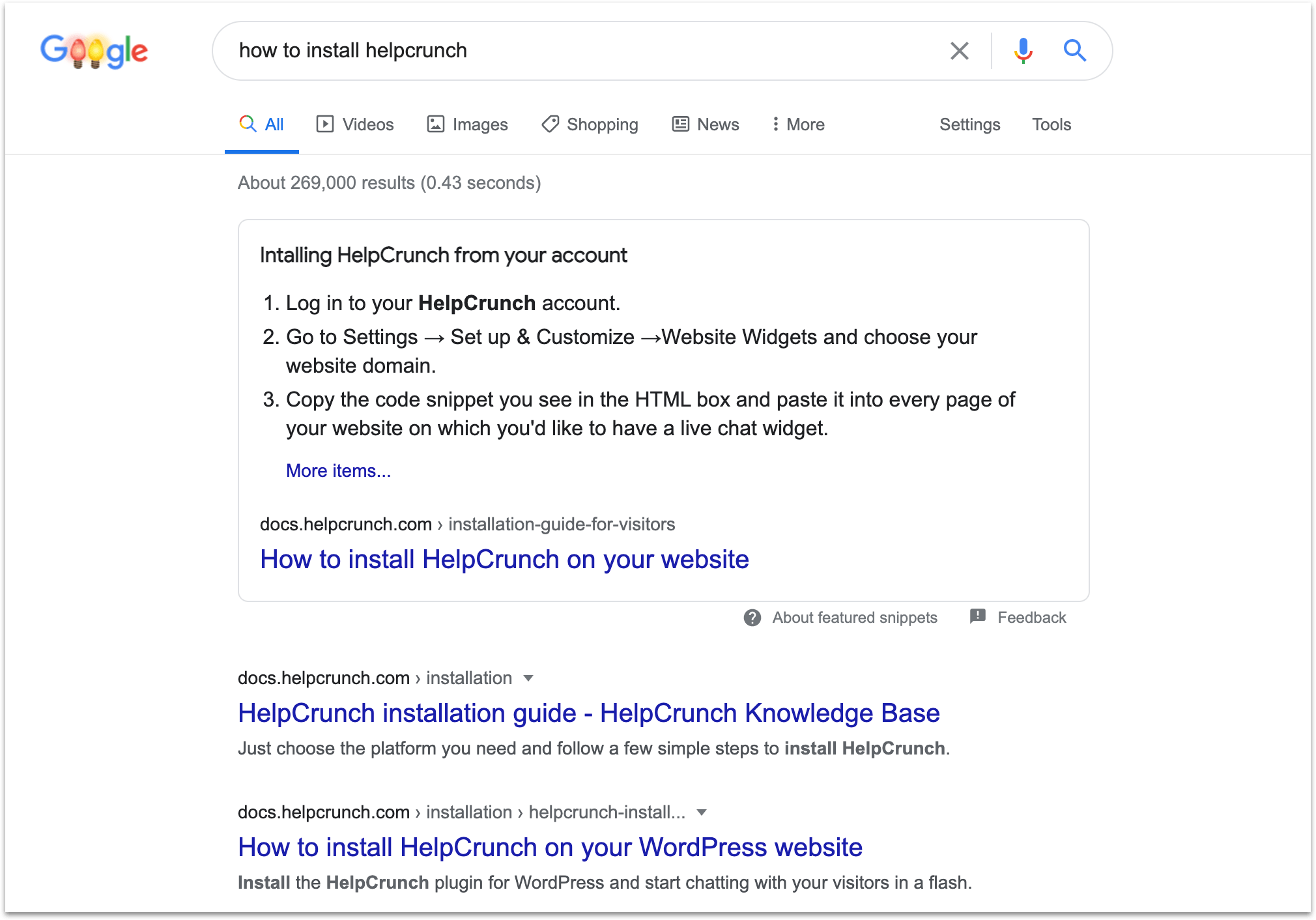 6. Create your custom domain and shorten the URLs
Another important aspect of the knowledge base building craft is its domain address. Most of the knowledge base tools provide a default domain name for their new clients. However, you can change it whenever you want and get yourself a custom one. This way, it won't even look like you're using some third-party solution as your help center will be located in your website's subfolder:
Furthermore, once you start creating new knowledge base articles, their URLs will be generated automatically. It's just good manners to shorten them so that they reflect the topics in 3-4 words.
When all articles are written, decorated, and properly optimized, there's no point to wait any longer. Hit the "Publish" button — and those guides will become available for your customers in a blink of an eye.
7. Define roles, permissions, and access control
As any service accessible by different users, your knowledge base needs a system of roles and permissions. They will determine the actions users can perform with the content. This way, the knowledge base will be protected from unauthorized edits and will always be a consistent and reliable resource.
Each permission system has the role of an administrator who assigns all other roles and permissions. Other levels may have, for example, editing rights but no deleting rights, still others – read-only rights, and so on. Choose the system that works best for you.
Moreover, you can take control over who can access your knowledge base by setting various restrictions like whitelisted IPs or a password. It's useful if you want to keep your knowledge base private.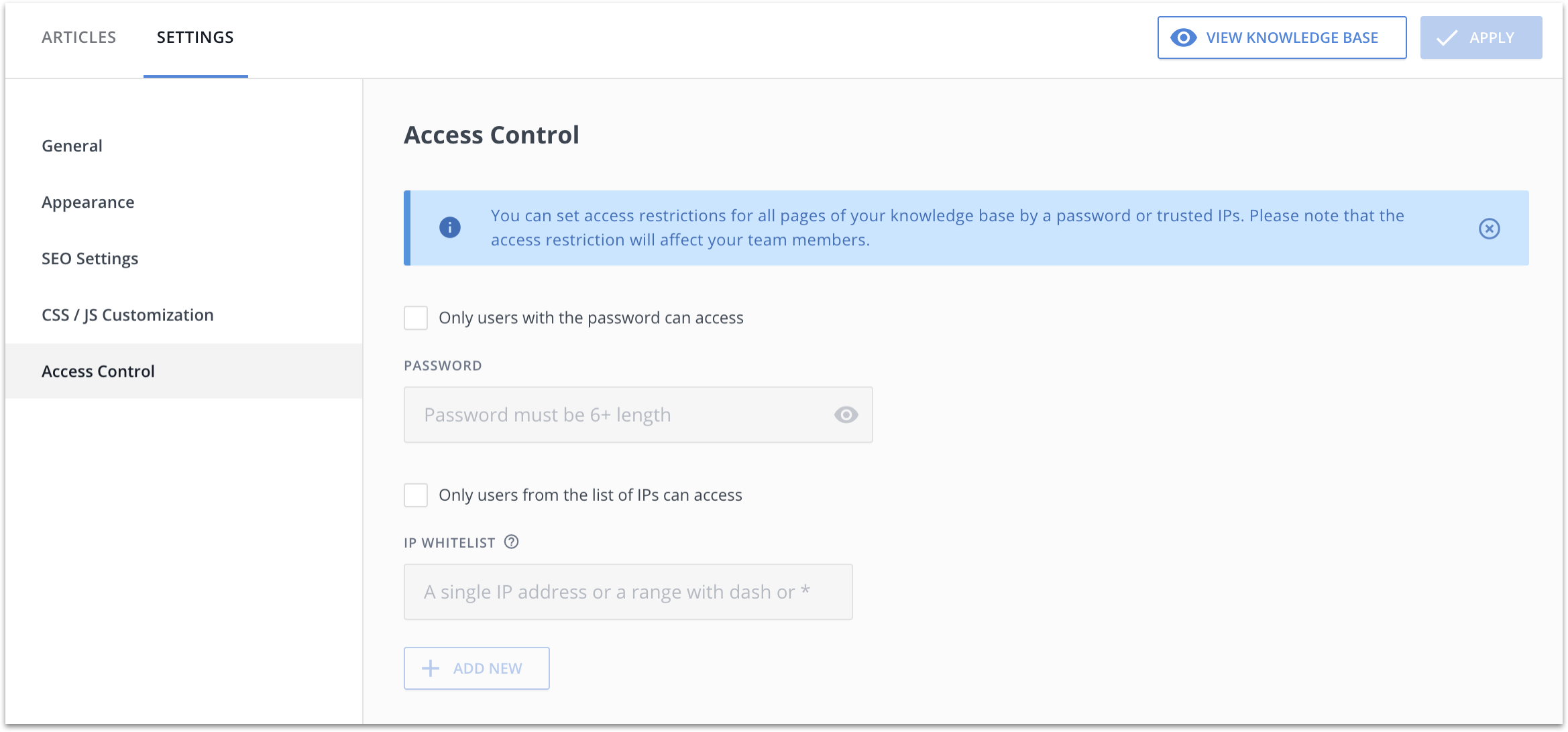 8. Keep your knowledge base up to date
As your product improves, the knowledge base should develop, too. Include knowledge base revision into the scope of each release, so that a new product version comes accompanied by an updated knowledge base.
For example, if you are changing the authentication method, make sure you update the corresponding KB article. If any product component is added or removed, the knowledge base should reflect the change, too.
9. Integrate it into your customer support processes
If you integrate the knowledge base with the help desk software (and some tools, like HelpCrunch, include both and allow setting up integrations between the knowledge base and the customer support environment, you might notice some reduction in support tickets.
The reason is quite simple – when the customer turns to support but manages to resolve their issue on their own, they no longer need to create a ticket.
An optimal practice is to provide links to your knowledge base right from the Support or Contact Us page. This way, you are giving your customer the option to search the KB before contacting the support.
If you implemented live chat as one of the channels, it is even a better idea to integrate it with your knowledge base, too. This way, the customer opening a new chat will be offered a choice of articles related to their inquiry.
Again, such an integration will reduce the number of support tickets and, consequently, the load on your service agents. Moreover, since customers do tend to prefer self-service over contacting a person, the level of satisfaction may also increase.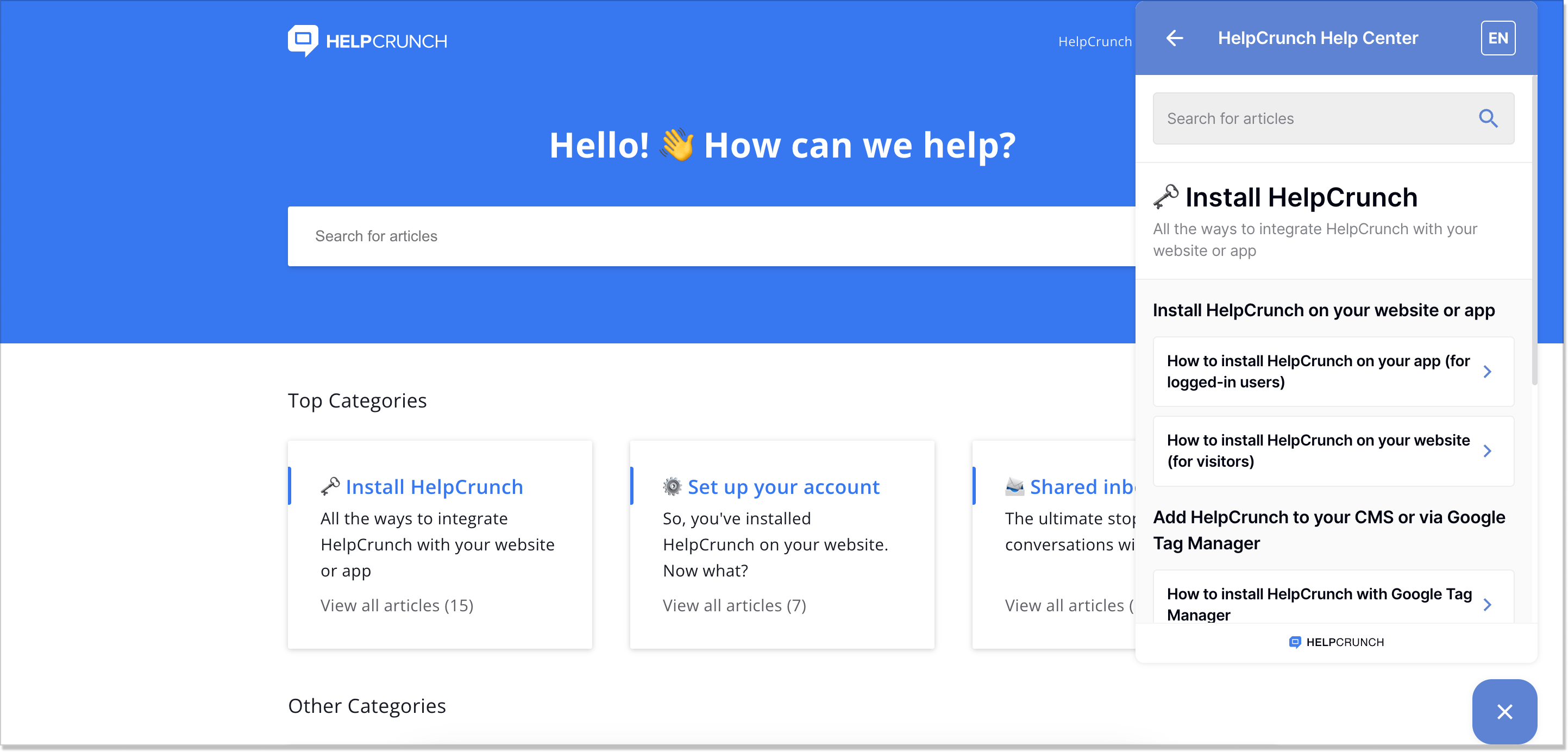 10. Track and optimize article performance with reports
If you want to know how well your knowledge base is doing (and you do want to know that, don't you?), include the reporting feature. It will show which articles received positive customer ratings and which – negative, how many times the articles were viewed, whether they helped to resolve customer requests, etc.
Of course, for the reports to work, make sure you add the review or feedback feature to your KB for the customers to be able to rate the article and state whether it helped them or not. This data is then processed and returned in a report.
Atlassian, the famous producer of such project management tools as Jira and Confluence, has this build-in feedback forms in each article. If some article isn't really helpful, people can write it out in detail: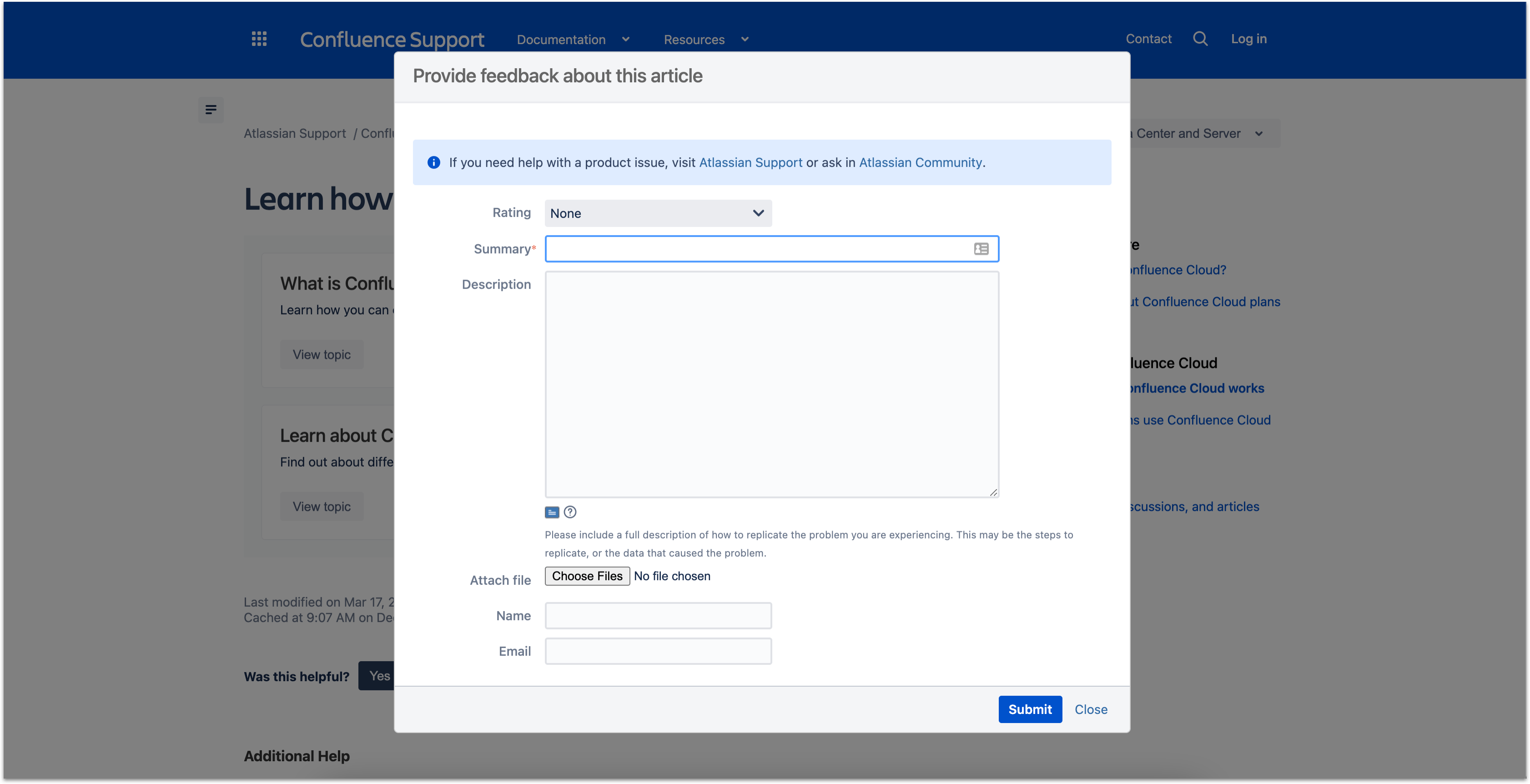 Use the reporting feature of your knowledge base software to the maximum. Invest some time in analysing the reports for each article and on the performance of your knowledge base in general. From the reports, you can get multiple insights:
The articles that got the most positive reactions
The articles that got the most negative reactions
The queries that customers typed in to search for information in the knowledge base, and didn't find any relevant articles
The keywords that led to your KB content through search on the global search engines
Depending on the knowledge base software you are using and the features it offers, you can also track lots of other metrics – how many times an article was shared, how many times it was commented by users, which articles were the most/least popular over a certain period of time.
You may want to back up your knowledge base from time to time or regularly to prevent loss of data. It's also highly recommended that you back-up or use data recovery software for your knowledge base before upgrading to a different version, or you just may lose your data in case something goes wrong.
However, the main thing is not only to gather the metrics but to use their results to improve and optimize the knowledge base performance. Here's what you can do to make your KB more effective:
Revise the articles that received too many negative ratings
Add new articles based on the keywords your customers use
Remove or rewrite articles that are hardly ever viewed
Adjust the SEO settings for better indexing
12. Promote your knowledge base content
It's time to make your knowledge base available to your customers and promote its use. There is more than one way to do it:
If you have a practice of issuing release notes for your product, mention the knowledge base there, too.
Post a banner on your website containing the link to the knowledge base
If relevant, include the links to the knowledge base in your product
If you have implemented integration between your knowledge base and the help desk tool or live chat, start showing links to the knowledge base in the chat or support tickets.
Use all possible ways to promote your knowledge base. The more actively customers use it, the more effective your customer self-service will be.
Bottom line
You can, of course, build your knowledge base using a common content management tool, such as WordPress. However, there are dedicated knowledge base software tools that are focused specifically on the KB content requirements.
We recommend that you consider the tools that belong to the category of all-in-one solutions. This way, you are getting customer support functionality, content management, analytics, and even some project management features in a single package. The main advantage is seamless integration between the components allowing you to insert knowledge base into your live chat or help desk in an easy, organic way. Check, for example, HelpCrunch offering all customer support and knowledge base management functions as a complete toolset.
I can go on and on about how to create a knowledge base. But here's the gist of it. When done right, the time and resource investment is going to pay back in spades – by an increase in customer satisfaction, an improvement of your support department effectiveness, better customer reviews, a higher number of referrals.
If you want to know more about building a knowledge base, check the HelpCrunch knowledge base feature. Create a knowledge base for your product, and the effect won't be long in coming.