12 Inspirational Knowledge Base Examples Worth Following
If you're looking for inspiration to shape an insightful help center, you're going to draw it from here. Check out the compilation of 12 excellent knowledge base examples and build the most powerful resource hub.

Gone are the times when we were sitting in the libraries flicking through tons of books in search of information. Thank God, the world is spinning round and technology is making progress continually.
Today, the process of looking for info is streamlined. Customers are tech-savvy and self-sufficient. They know how to do the searching and they do it fast. In fact, 70% prefer to use a company's website to get to the bottom of their questions instead of using phone or email.
Another statistic says that 45% of brands that offer mobile or web self-service options noticed an increase in traffic and a reduction in phone calls. And what is the online self-service attribute? You guessed it right, a thought-through knowledge base.
Get inspired by 12 creative knowledge base examples we've prepared for you today. Go ahead, study, and emulate them to shape your own five-star online resource hub.
What is a knowledge base?
A knowledge base is a self-service online help center where the information about a specific product, service, or topic is organized and stored. It is supposed to assist customers with discovering answers and achieving success in the long run.
Based on their functionalities, there are internal and external knowledge bases. An internal help center is intended for employees' use and involves everything from onboarding materials and guidelines to special policies and corporate rules. Update them regularly so that new hires can get up to speed faster.
As for an external knowledge base, it is public and helps customers gain insight into your product or service. When building yours, make sure it includes release notes, FAQs, or instructions on how this or that feature should work, troubleshooting procedures, billing info, and anything you think is valuable for clients.
Consistent self-service, boosted revenue, fine-tuned team's productivity: these aren't the only knowledge base benefits to enjoy. So, without further ado, here are resource hub samples worth your attention.
12 best knowledge base examples to put into practice
How does a great knowledge portal look like? It should be well-built, structured, and organized from the ground up. Plus, it should take your breath away at first glance ? Make your content relevant and helpful. All burning customers' questions should be covered to the best extent. Anyway, let's cut to the chase. These knowledge base designs hit the mark: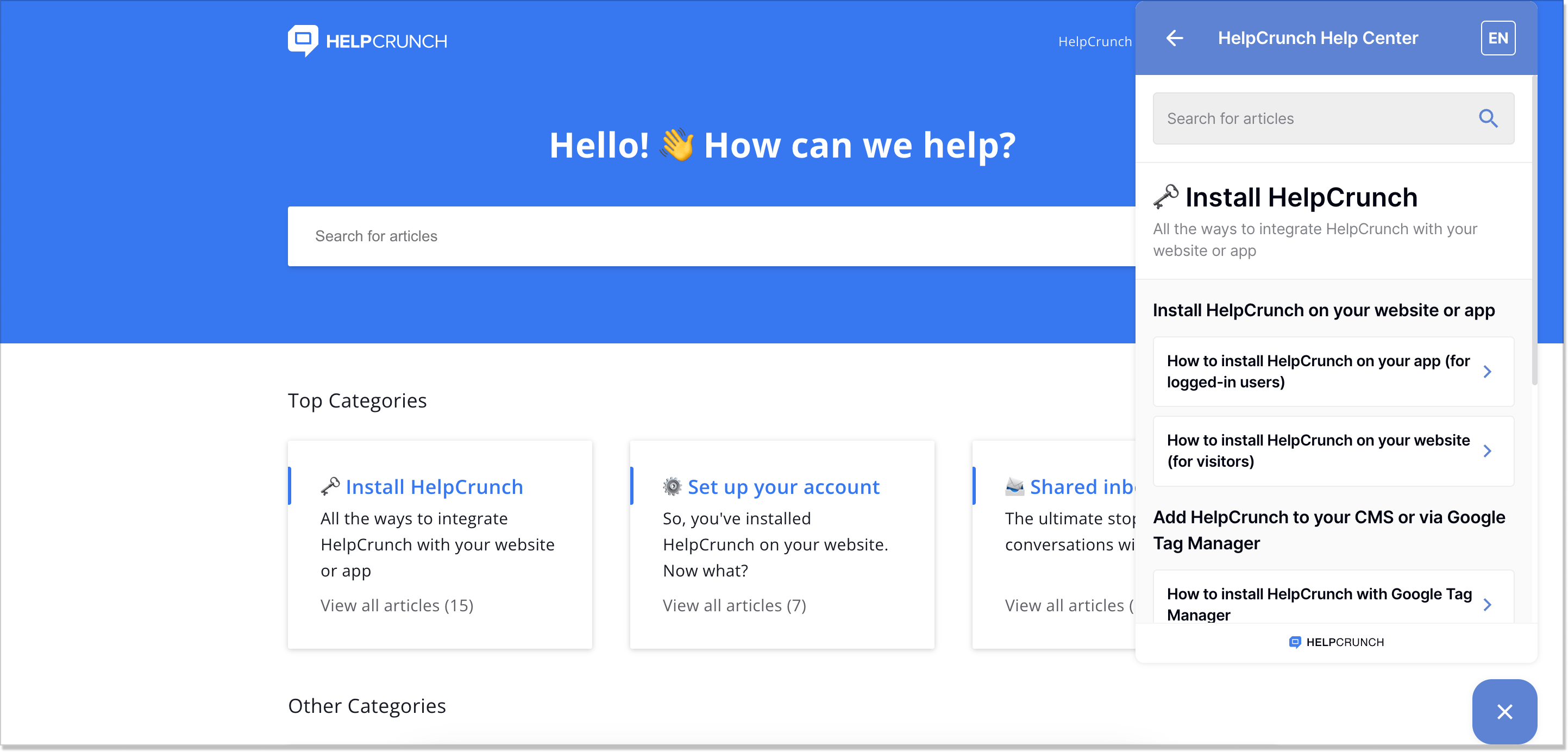 Yeah, we know that modesty is the best policy. Seriously though…could you imagine this list without THE ultimate solution? ? Being an all-in-one customer communication platform, HelpCrunch gathered every bit of valuable information about the product in its though-out resource center. This knowledge base example is all about consistent design and a user-friendly interface.
Users usually rack their brains over cluttered FAQ pages where information is not wisely stocked. Luckily, this is not our case. Thanks to an easy-to-see search box, you can type in just a keyword of your query and all the relevant articles will be shown.
This self-service portal is a good knowledge base sample as it has an intuitive content hierarchy. Every piece is neatly distributed into categories with brief descriptions. Plus, you can see the total number of articles for each category. Do I need to mention that we update our help center on a regular basis so that you always stay in the loop? ?
HelpCrunch took it a step further and got the knowledge base integrated into the chat widget. So, when customers crave a fast solution, there's no need to wait for a support agent to answer. They can look for the answers right from the widget and save yourself plenty of time.
Do you want to create such a well-shaped resource hub on your website? We explained everything in complete detail in our post on how to build a helpful knowledge base. Feel free to check it out!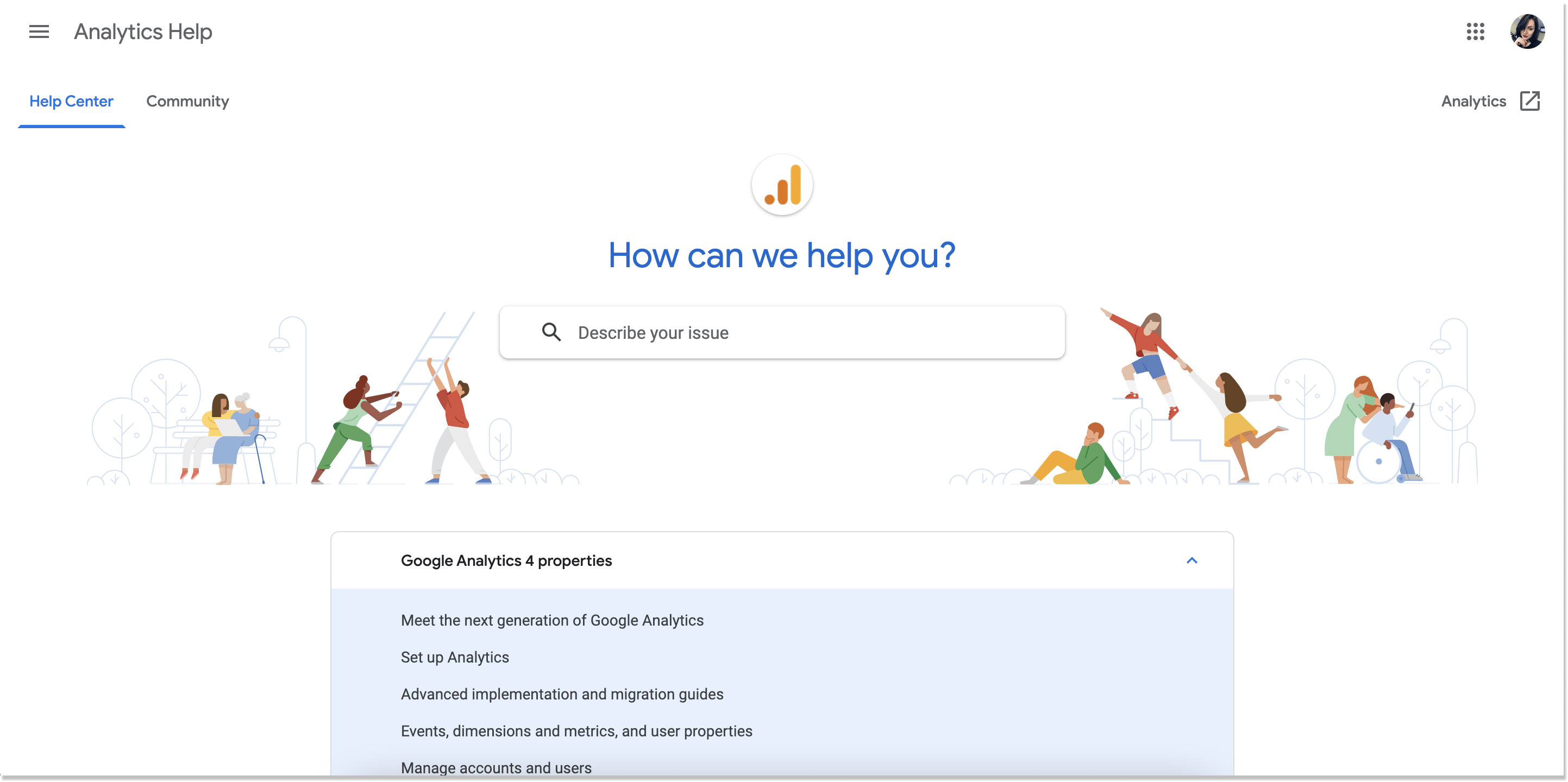 Once I came across this knowledge base example from Google Analytics, the graphics caught my attention right away. The characters are intrinsic to the whole Google stylistics which makes this resource center eye-catching.
The first thing you see is a highly-functional search bar. It helps customers navigate through the database without hassle. All it takes is just type a keyword (or even one letter) and the drop-down menu with related articles will pop up. Besides, there are three categories with the main questions a user may have: Google Analytics four properties, Universal Analytics properties, and Policies. So, if you have some time left, cast around them instead of using the search box.
Failed to get all the answers? Post your question and let other users reply. Google calls this service "Ask the Help Community". Such a concept is widely spread across the web and is worth imbibing.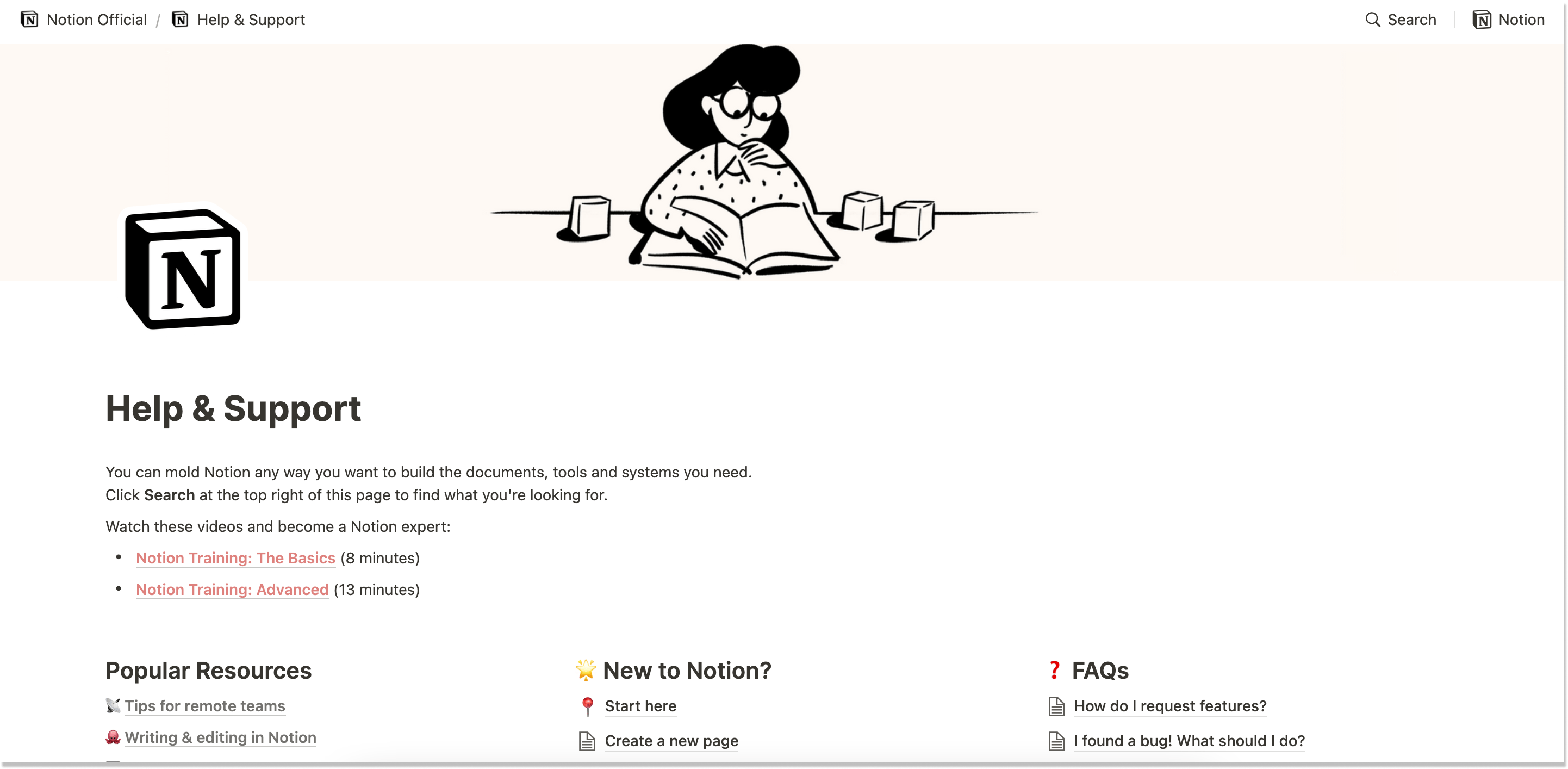 Used by many thriving companies, Notion demonstrates a substantial knowledge base example.
What I really enjoy about this online workspace app's help center, at first sight, is its emojis. This spiffs up the whole picture and makes the knowledge base less formal (which is a good thing).
When you open the platform's help center, there is online training for different levels: the Basics and Advanced. Not to throw yourself into a wall of text right off, you can get a handle on Notion by watching insightful videos.
By showing these two items before everything else, Notion makes sure that a user finds out all the nuts and bolts of the product in a more practical way. Learn from this example and break down the process so that your customers start with your product as easily as possible.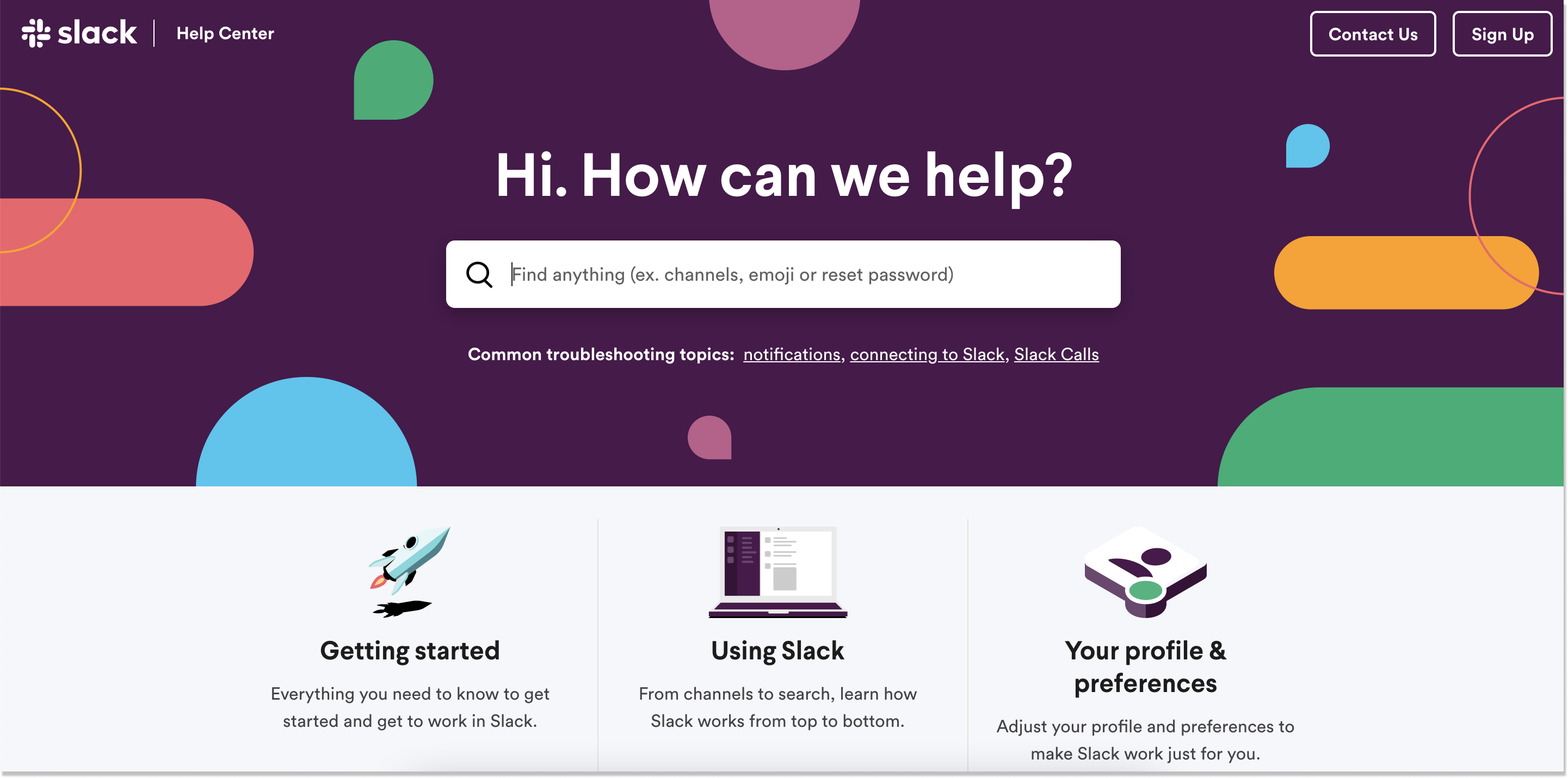 "Find anything" is a phrase that hits the eye once you land on Slack's help center. And you can do that literally as the resource hub is perfectly structured. This knowledge base example shows how you can kick the goal with just a few details: adding common troubleshooting topics to a search bar area and including as few categories as possible. Such a well-thought-out information hierarchy helps users quickly find what they are looking for without wasting precious time.
The minimalistic design and intuitive navigation are some of the main things to focus on here. Adopt Slack's practices and write subheadings to the categories. This way, you can briefly explain to customers what they are going to find in this or that group.
What Slack also does great is sharing quick tips on how to use the product at the bottom of the page. So, you don't have to sift through dozens of articles: everything is vividly shown.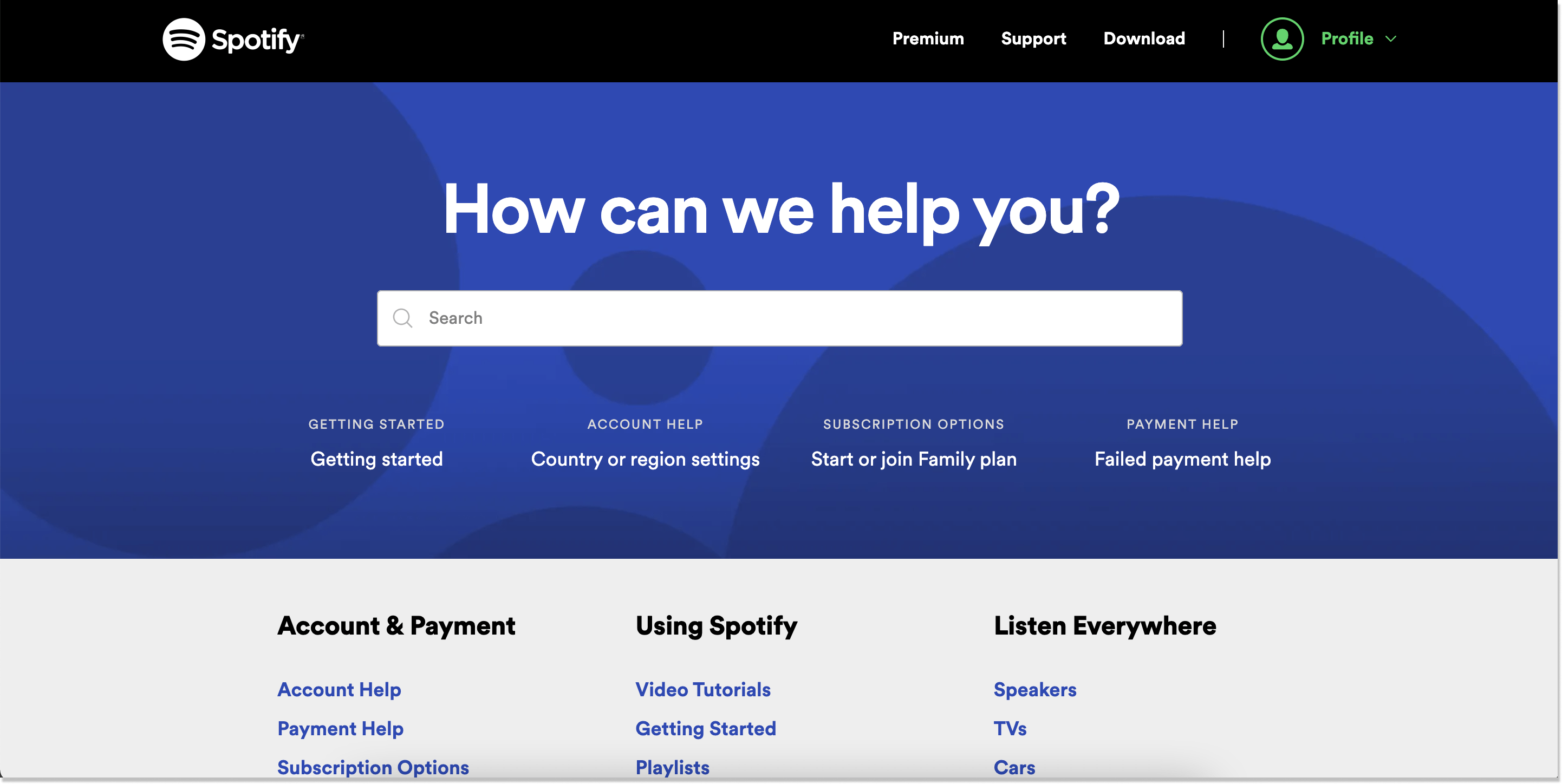 Being one of the most popular online music platforms, Spotify takes its user-friendly and well-laid-out interface to its help center. Of all knowledge base examples we discuss here, this one comes with fewer visuals. However, there is a specific category which is "Using Spotify" where you can find short video tutorials to get to the bottom of the product.
Speaking of the design, the company has the information uncluttered. The articles here are kept as short as possible. This way, Spotify avoids intimidating the user with lengthy texts and shapes a pleasant and organic reading experience. What to learn from here? Condense the information in your knowledge base so that it can be digested easier.
If there are no answers for you, get them by looking through the Community section. There you can find additional information about Subscription, Troubleshooting, or your Account. The articles are written by real Spotify contributors.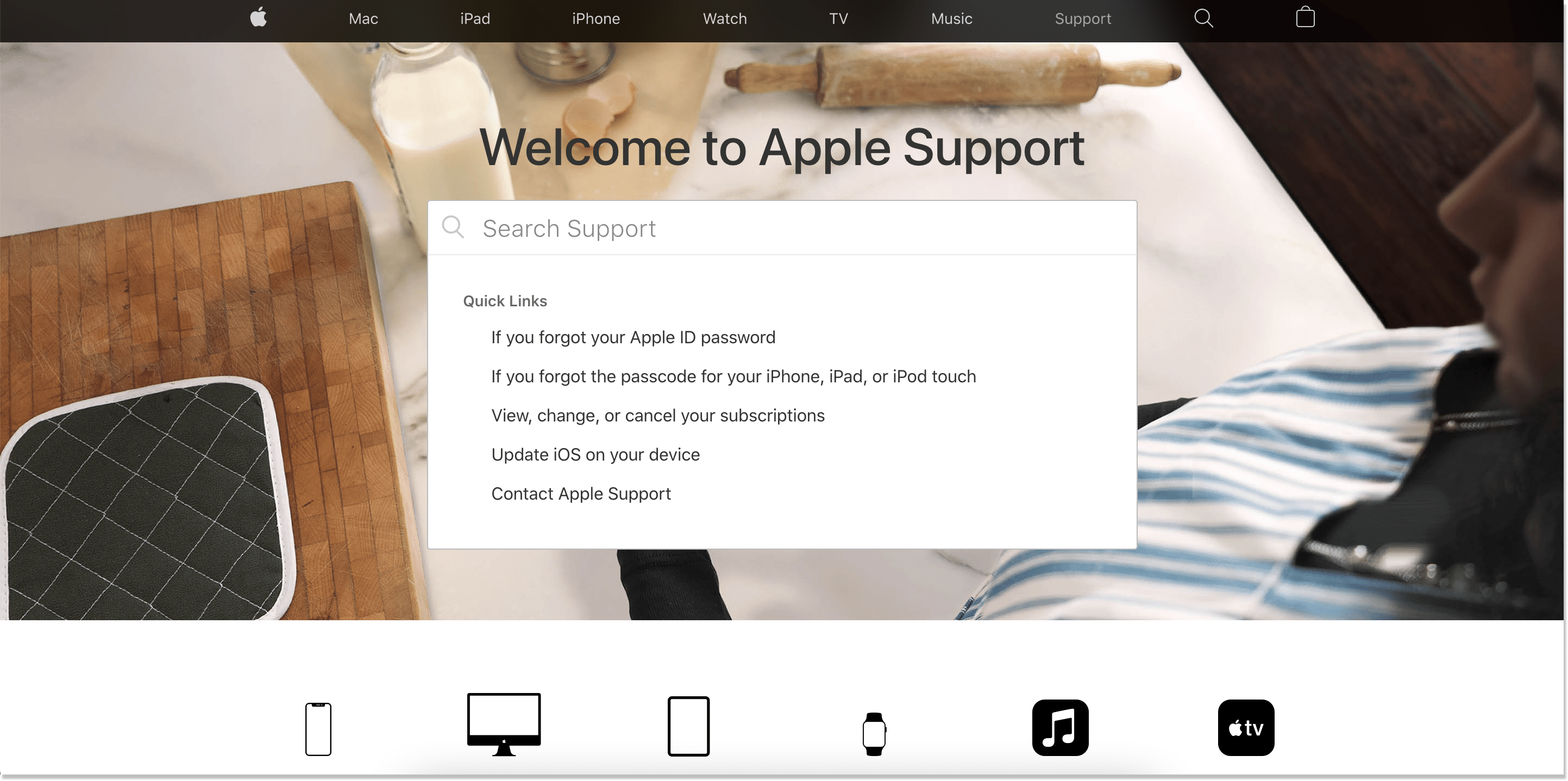 Everyone knows Apple and its one-of-a-kind approach to making things. The same goes for its help center.
The knowledge base design from this multinational technology company is visually attractive. A large, full-screen width photo occupies the featured image space. Other attention-grabbing elements such as icons break up the page, signpost categories, and add instructions that reflect the written information. But except for all the aesthetics, how does Apple stand out from the crowd?
Support on YouTube: the company posts weekly videos to its Apple YouTube channel that provide how-to help, tips and tricks, and answers to FAQs. Apple promotes its YouTube channel on its knowledge base to foster users to view this extra support.
Footer section: unlike any other good examples of a knowledge base, this one from Apple depicts all support categories in the footer of the page.
Contact Apple Support: at the end of each article, a link to the Apple Support department is provided, which lets the users find extra help if needed.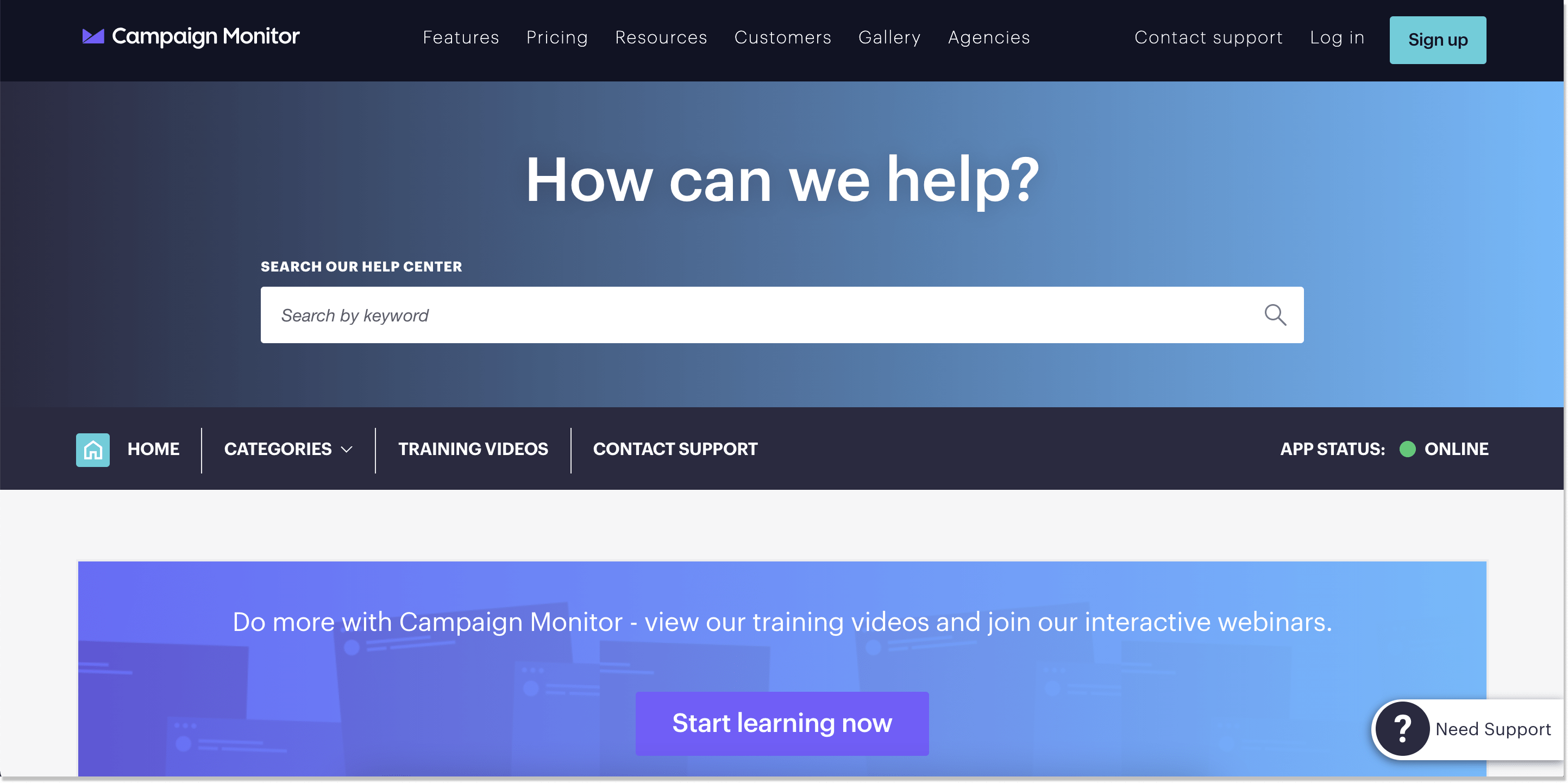 Email marketing software company Campaign Monitor places a premium on the CTAs on their knowledge base website. There are two call-to-action buttons on the page which is fine by me. However, other customers may find it a little obtrusive.
Anyways, let's look at the common help center blocks. The search bar tells you that you can look up a question using a keyword. The categories are available both in the drop-down menu or while you scroll the page. Everything is structured, loud and clear. The articles involve bulleted lists and screenshots which prevent your eyes from becoming weary.
Another curious element about this knowledge repository example is that there is an app status indicator. This is a very clever way to inform a user whether your product operates properly or not. Campaign Monitor even offers you to subscribe to updates about possible glitches, black-outs, etc. Isn't it a smart move?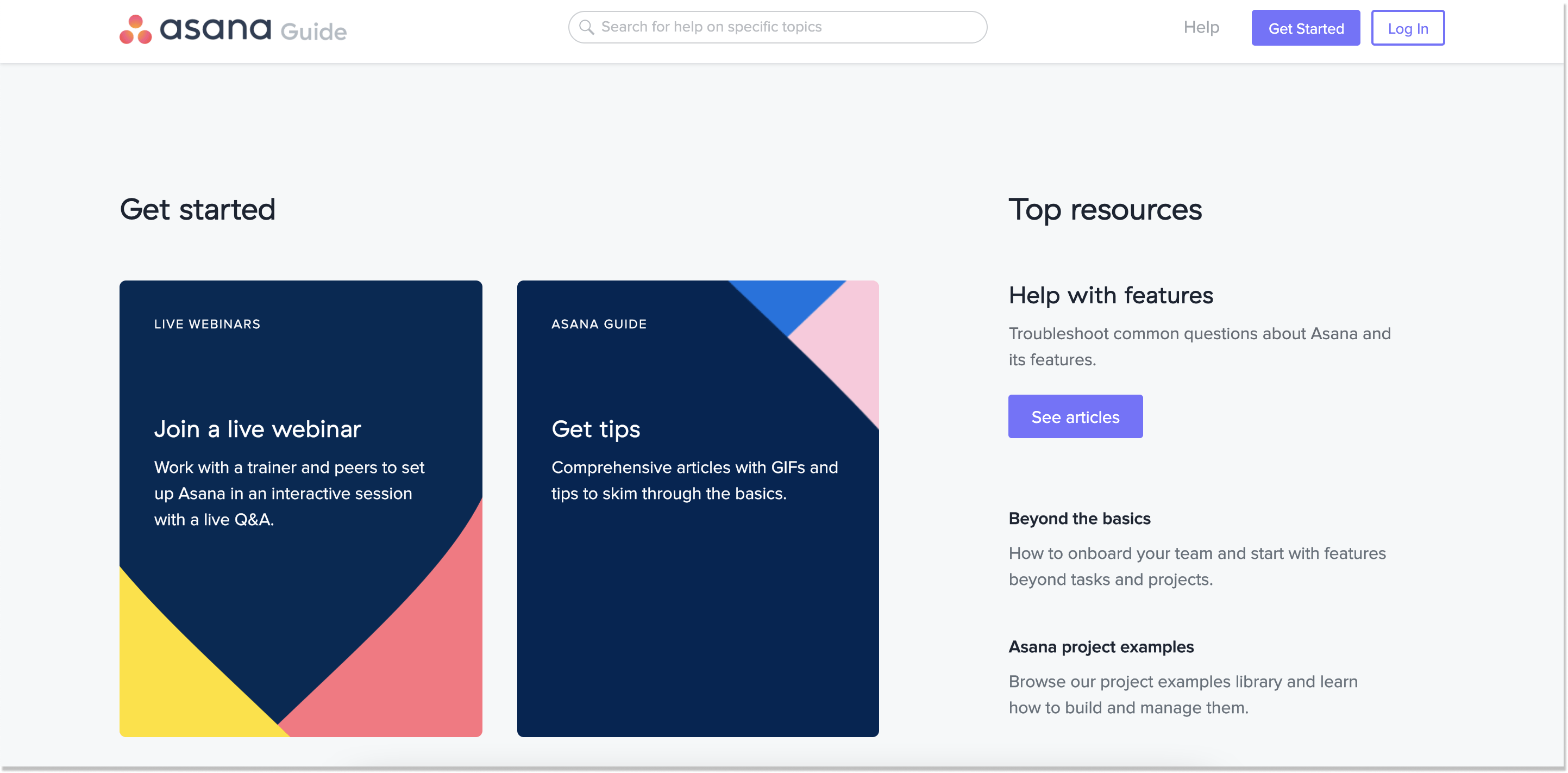 Asana is a project management software that helps teams organize, manage, and track their performance. I would say that the knowledge base design Asana introduces is unconventional. The name of the resource center, Guide, speaks for itself. Instead of longreads and conventional articles, you see four perfectly built categories:
Live webinars: you can register for an online event to ask all the burning questions.
Asana Guide: skim through the product's basics and check out useful gifs, screenshots, and tables.
YouTube: just like Apple, Asana suggests you watch tutorials on their YouTube channel (the content updates regularly).
Asana Academy Courses: sign up for one of the guiding courses to get profound knowledge about the product.
The approach with lots of video walkthroughs is offbeat and encourages users to dive deeper into ins and outs of any matter. Thanks to a seamless production, this help center sample wins over by its originality. You'd better check if the knowledge base software you pick has an advanced editor or other features alike so you can manage visual elements as shown here.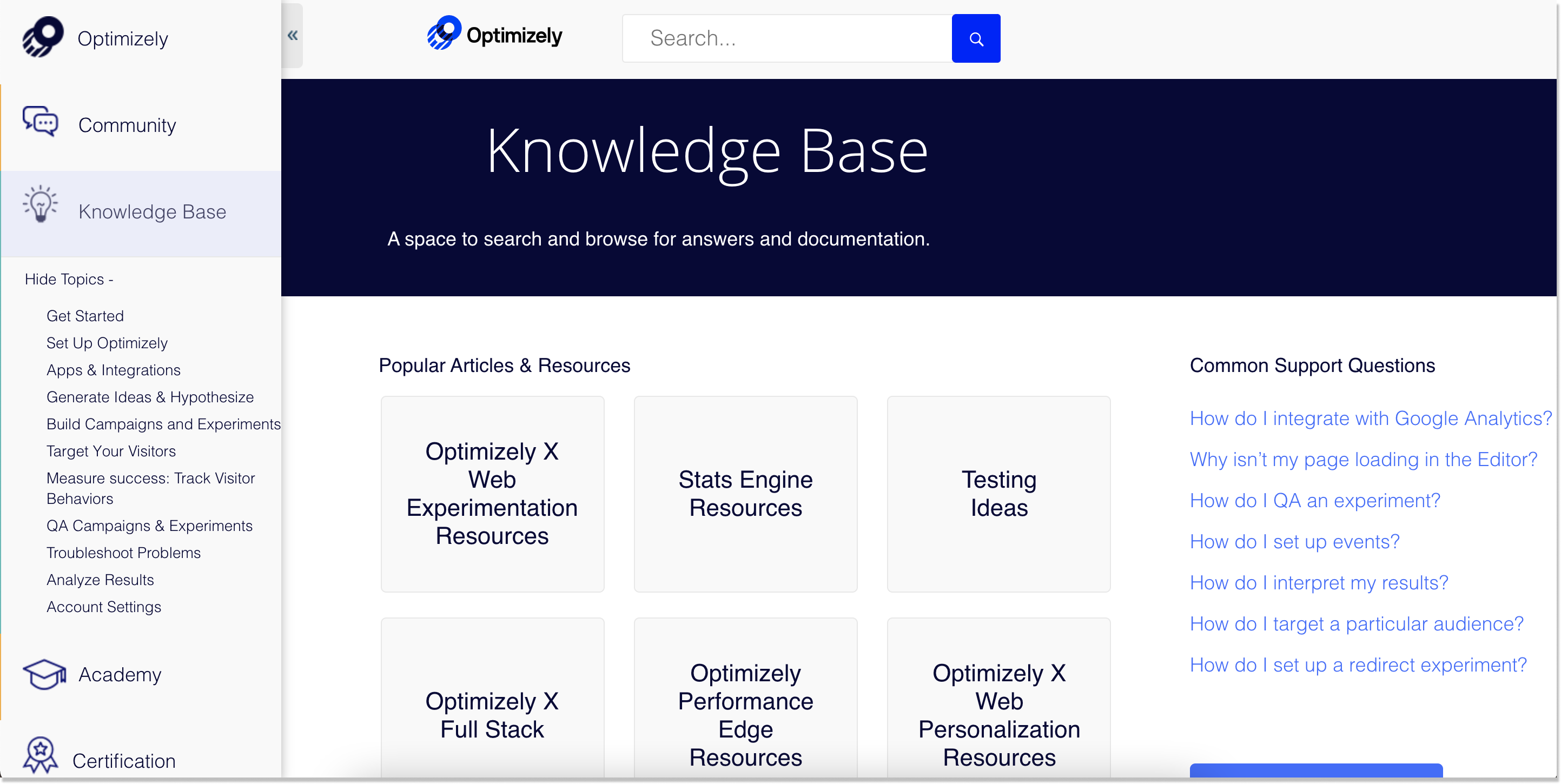 What's the biggest knowledge base on the list? Well, this one is. Optimizely is a progressive delivery and experimentation company with a huge help center in its arsenal. It contains a community forum, a usual resource hub, developer documentation, certification programs, and a link to regular customer support.
This knowledge base design can be hardly called simplistic. Here, you can see a mixture of the side menu, search functionality, and common support questions. However, this is just the tip of the iceberg.
When you scroll down, there's a breadth of topics Optimizely covers. Click on any, and you'll be wowed by the depth of the content. Images and videos are there as well. Besides, you can notice the interlinking between the articles which is helpful for new customers. So, if you like to outline the information in abundance, this example can be your choice.
Since Canva is a graphic design platform, its help center is eye-catching. It reflects the branding flair and dedication to flawless aesthetics. The dominating color is blue which is soothing and I think it is used here for a reason. Try to shape your knowledge database the same way choosing a calming color scheme. As if you say to your customers: "Keep calm, the answers are out in the open, you'll find here anything".
The other peculiar thing about Canva's resource hub is specific keywords located next to the search box. You can see the necessary word and proceed to the relevant articles all at once.
Much as you would like to see some visual elements inside each topic, you won't as they are rare in this case. Plus, the majority of articles are written in plain English, have numbered lists, and short sentences. But what else is a knowledge database for?
There are other features I like about this example:
The search box appears on each article page
The "People also viewed" section at the end of each article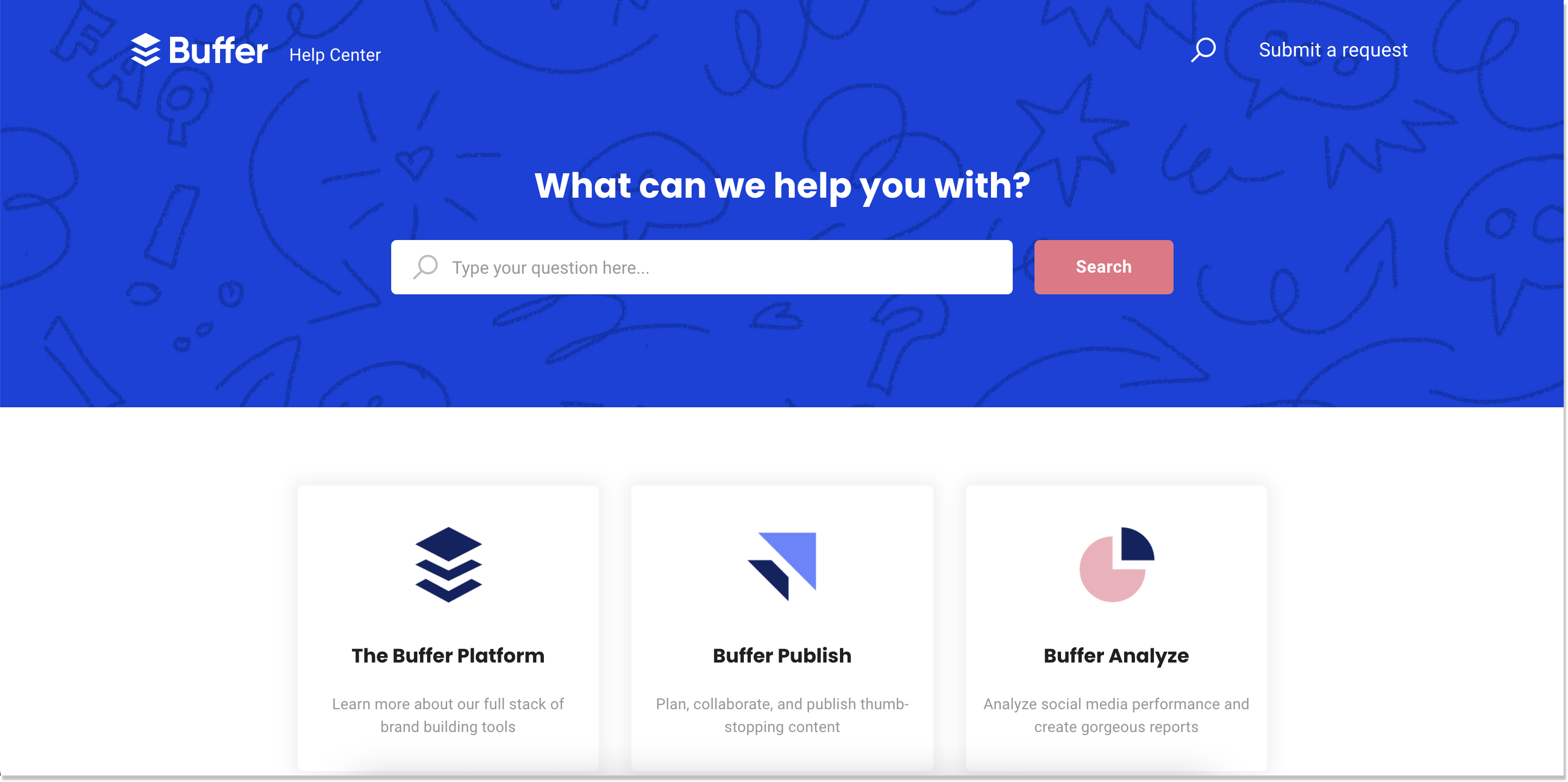 The knowledge base sample from Buffer doesn't seem much when you first open it. However, this social media tool managed to do more with less.
Buffer has the search bar contrasting with this deep blue color. So, it's hard not to catch it. The company gains the upper hand by writing articles in a simple and easy-to-search manner. Each topic is covered from A to Z and contains video tutorials, additional tips, and a satisfaction survey at the end.
The three core categories (the Buffer Platform, Buffer Publish, and Buffer Analyze) streamline the content. You won't have a mishmash in your head from the get-go.
So, what is the building line here? The usage of gifs and video libraries. And as you know, an image is worth a thousand words. Guide your users through topics by actually showing them how to do this and that like Buffer does, and make their experience easier.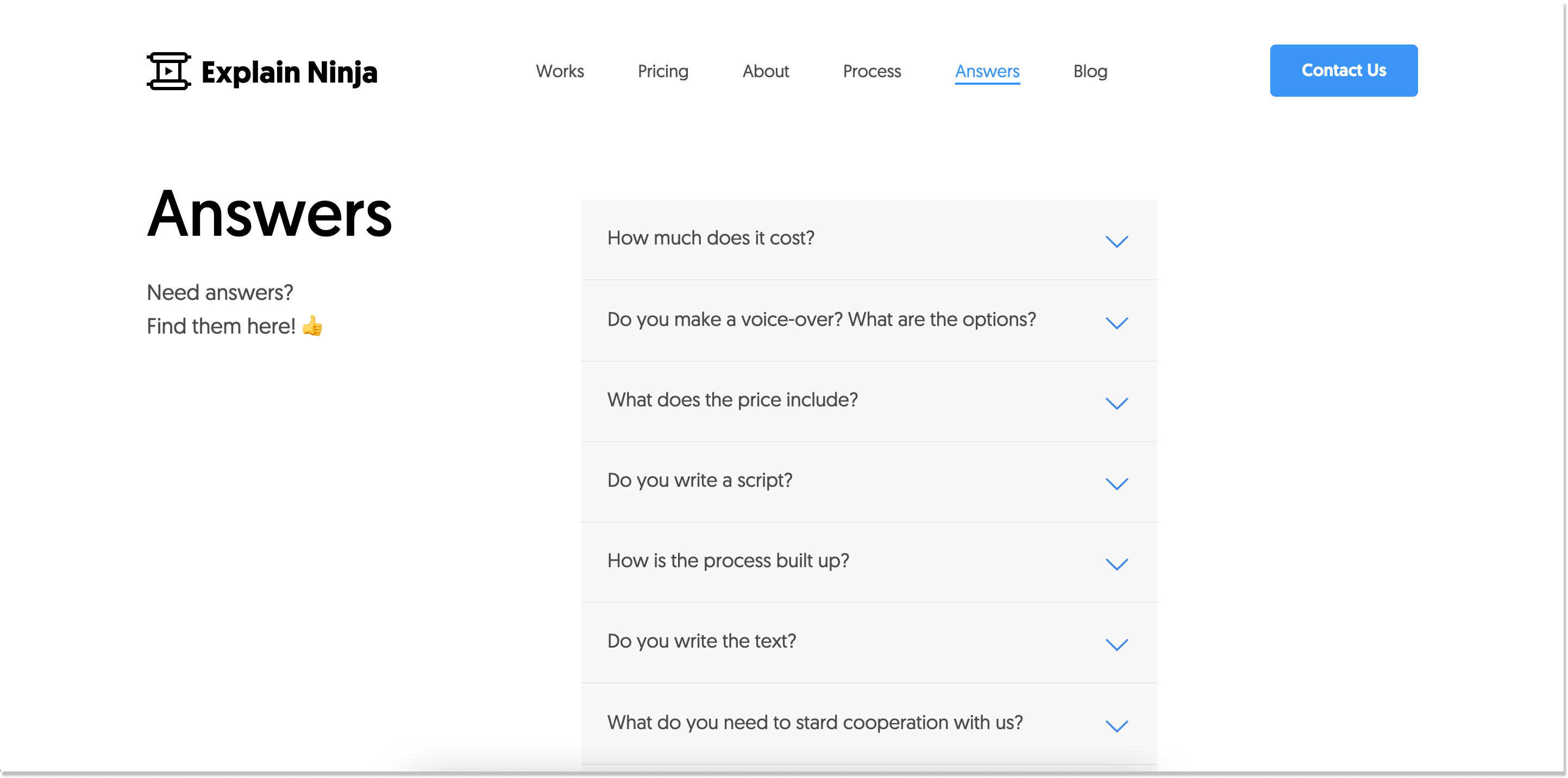 Let's round out the list with the knowledge base example from Explain Ninja. This is what I call less is more.
This animated explainer video production company is distinguished by its help center's plain structure. They call it "Answers". An inspirational phrase "Need answers? Find them here!" fits ideally into the neat concept.
No images, no video, just Q&A with short paragraphs. Maybe, this is for the better. I would say that this option could come in handy for small companies and startups who are just at the dawn of their online presence.
Final words
If you want to improve customer satisfaction and retention, make your resource center well-structured, insightful, skimmable, and rich. Educate your clients on multiple issues at their own pace encouraging self-service.
Even though all the designs we covered here are different, they have something in common: categorization, easy-to-see search bars, and the lack of cumbersome texts. Just create an accessible place where your clients can find the solution 24/7.
Speaking of, HelpCrunch can help you with creating a resource hub of your clients' dreams. Create a free account and build your stellar knowledge base making use of the examples we discussed here.