7 Kick-Ass Benefits of a Knowledge Base to Consider
No secret that an online help center has its perks. In this post, we're featuring 7 clear-cut knowledge base benefits you can't miss out on. Check them out and build a structured resource hub to your best advantage!

We're in the year 2022. If you run an online business and let customers leave your website with no answers, your brand risks staying behind the curve. The thing is people want their problems to be solved ASAP even if there's one customer support agent on the other end. The best way to meet your clients' needs and let them find solutions by themselves is by building a knowledge base.
By the end of this post, you'll find out the main advantages of an online database. Why is a knowledge base important? The answer is around the corner.
What is a knowledge base?
The knowledge base is an organized library of easily retrievable information about a product or service. It usually includes answers to frequently asked questions, guides, and how-to instructions. It's built to help users find the necessary information and solve problems without external assistance.
Why is a knowledge base important?
Let's crack the importance of a knowledge base for both customers and employees. When used internally (by your staff), a resource hub can store onboarding materials, training instructions, or key-note guidelines for their needs. It enables teams to collaborate and distribute knowledge among other coworkers.
Speaking of an external knowledge base, it assists customers with troubleshooting, ordering, billing, company history, and other related details.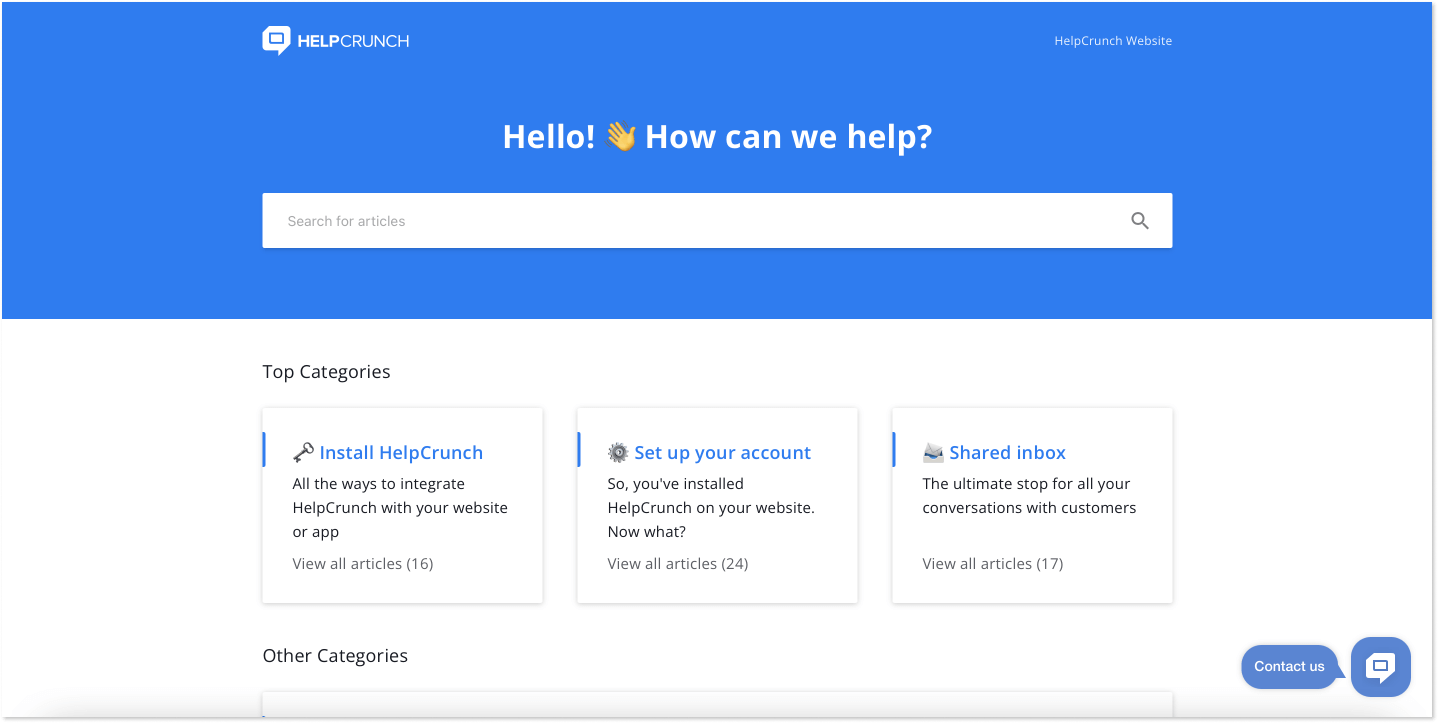 An online help center is a part of a knowledge management solution. It means that a user creates a powerful knowledge base with all the valuable documentation and expertise existing across an organization. After that, customers can share these files and media, scan the help center for information, and ask questions if need be.
Are you still second-guessing about creating an online resource hub? We've assembled 7 knowledge base benefits you can't miss out on.
7 Strong Benefits of a Knowledge Base Center
Customers always want easy access to information. As the record shows, 85% of users don't want to deal with a customer support rep. The answers should be fast and helpful. That's when the benefits of having a knowledge base crop up:
1. Quick 24/7 support
The core benefit of a customer knowledge base is that it operates 24/7, so you can make information accessible and available from any place, any device. If your client base is scattered across the globe, you can deliver consistent help at any time of day or night. With a modern yet advanced solution, succeeding in this endeavor is a piece of cake.
The tool ensures quick support as it takes seconds for a user to provide a keyword in the search bar and get a helpful article on the issue right in front of them. Interesting fact, 90% of customers consider an 'immediate' response a crucial indicator when they have a customer service question.
Let's take HelpCrunch and its integrated knowledge base. The website visitors are able to find anything they're interested in right from the chat widget. No long waiting times, no frustrated customers.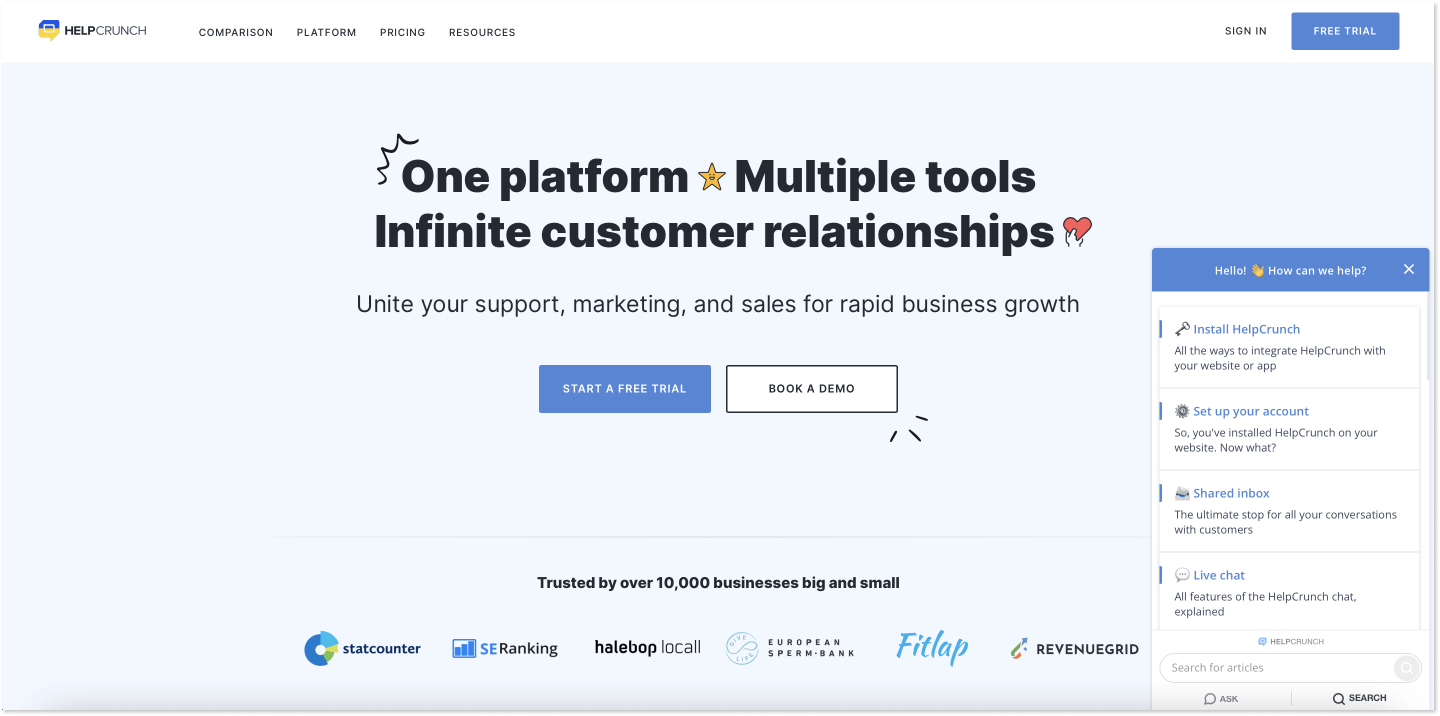 2. Higher productivity level
One of the fundamental benefits of a knowledge base is that it can improve your customer support team productivity. By centralizing the all-important info in one knowledge hub, you let your agents find any answer they need quickly and efficiently and share it with a customer. In turn, users get prompt responses with actionable guides on how to solve their queries. This approach leads to a positive service experience with your business.
We can only imagine how much time customer support representatives spend searching for the right answer or waiting for a response from a busy coworker. The Workplace Knowledge and Productivity study, depicting the responses of over 1000 American employees, shows that people are much less productive than they could be when knowledge isn't shared properly.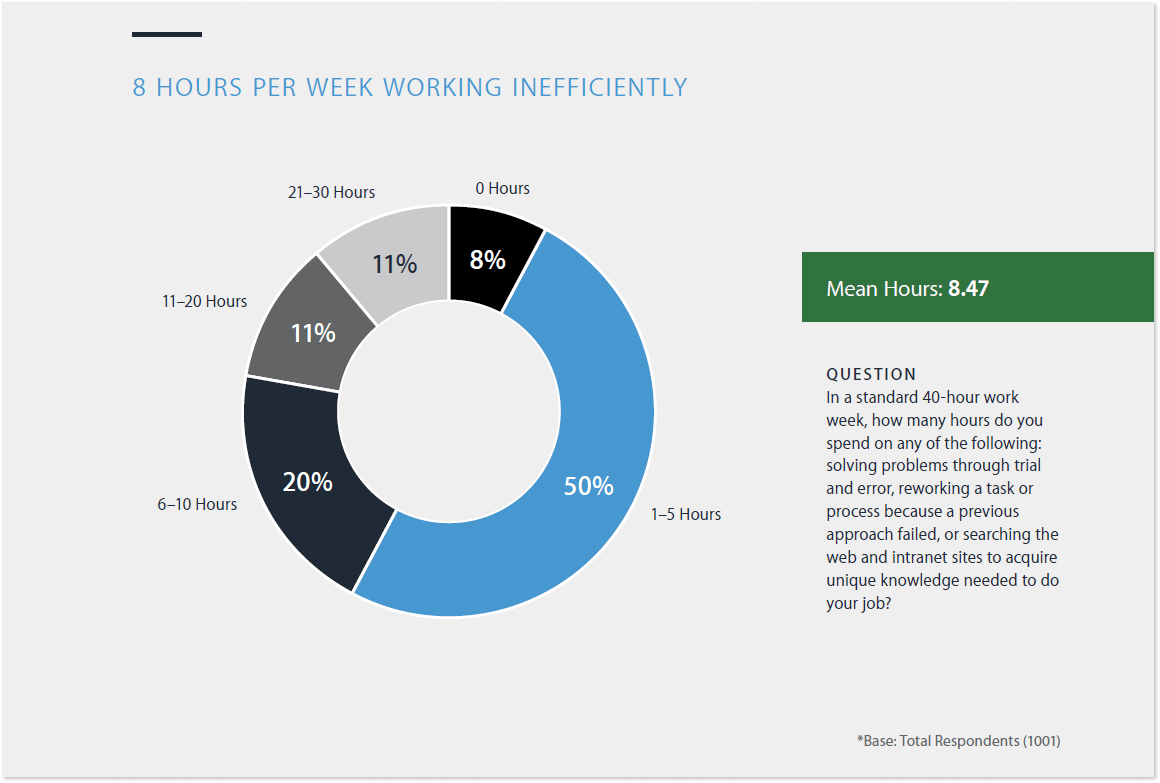 Now, all this can be solved with just one comprehensive knowledge base that covers the most important aspects of the product or service. This way, your employees no longer have to waste time scrolling through training materials or waiting for meeting calls to get a response. When issues are resolved fast, the team can focus its energy on higher-impact activities and increase the organization's productivity.
3. Improved customer retention
If you make customers happy, retention rates rise, which leads to loyal clients, higher revenue, and business growth. There are a few ways to make your customers satisfied, and a well-oiled knowledge base is one of them. Broadly speaking, a comprehensive repository can help you top up your customer retention plan with two aspects:
Immediacy: as clients want information "yesterday", a user-friendly knowledge base allows them to dig into details on their own and at their own pace. Less time searching equals higher customer satisfaction and retention.
Immersion: a well-thought-out online library means customers can get more use of it than if they had to wait for the solutions.
These two aspects can greatly improve your customer service in general, hence the level of customer retention. Because honestly, all users want is access to fast, up-to-date information around the clock. And you can give it to them with the knowledge base!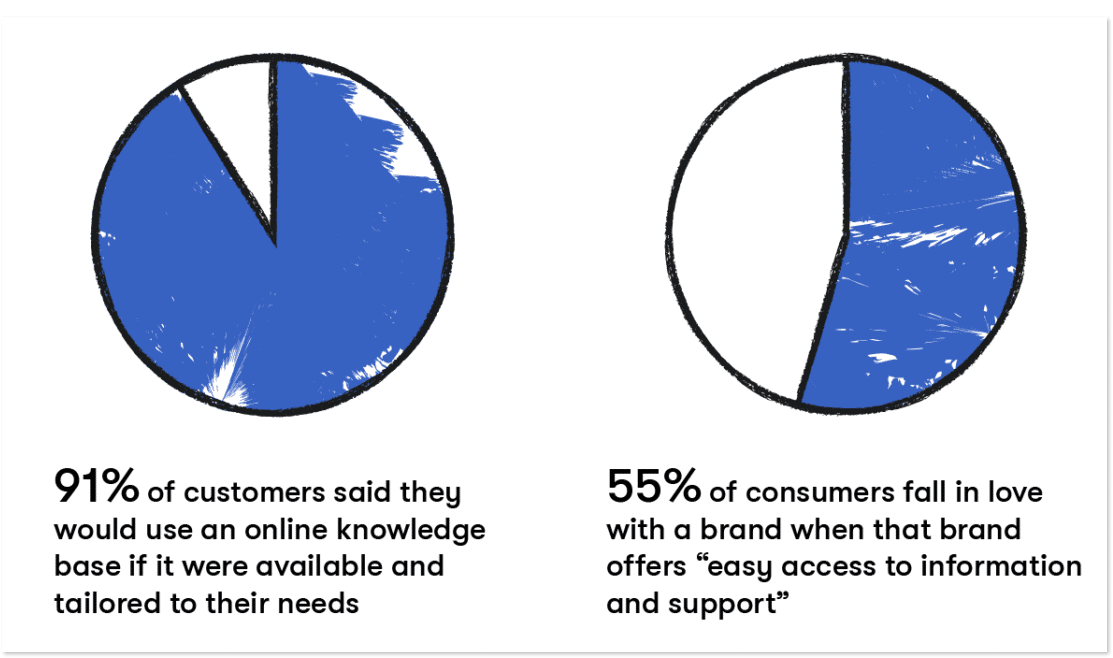 4. Lower costs for customer support
Having a knowledge base can help your business reduce costs. By implementing a unified repository of information, you will see an increase in agent productivity, a reduction in phone calls, and a shorter training time. Each of these parameters involves spending money that can be dedicated to other business initiatives like product development or promotion, for instance.
About 57% of customers who call to get support have already visited the company's website first. Thus, in most cases, a comprehensive knowledge base can help you to reduce the number of incoming calls. It's enough to find some time to structure the helpful materials properly and increase the usability of the knowledge base, and you will see how the calls' volume drops.
A well-documented knowledge base ensures new hires have access to the latest information and consistent guidance. That translates to better productivity and lower costs for training. Moreover, by implementing a unified knowledge hub, you can make your company look smarter and more professional. Users will appreciate your standardized and cover-it-all answers from agents.
5. Better search engine optimization
Knowledge base articles can show up in search results and help you boost SEO. Not a secret, search engine optimization is magic, and companies invest a lot to rank better on Google. Good news, helpful materials, and documents you post to support customers can help you reach that goal too.
Approximately 89% of millennials use search engines to find answers to their questions before reaching out to a brand. This is the moment when they can 'accidentally' come across your knowledge base article and choose your product to solve their issues. As a result, with a well-structured repository, you can not only help existing users but also have a chance to acquire new ones.
Of course, the described events can happen only if your content is of good quality and people are engaging with it. It's also important to choose the right knowledge base software to optimize content for SEO. I've already mentioned the HelpCrunch knowledge base tool, and it's indeed a great solution on the market today. You can easily install, build, and optimize it the way you want.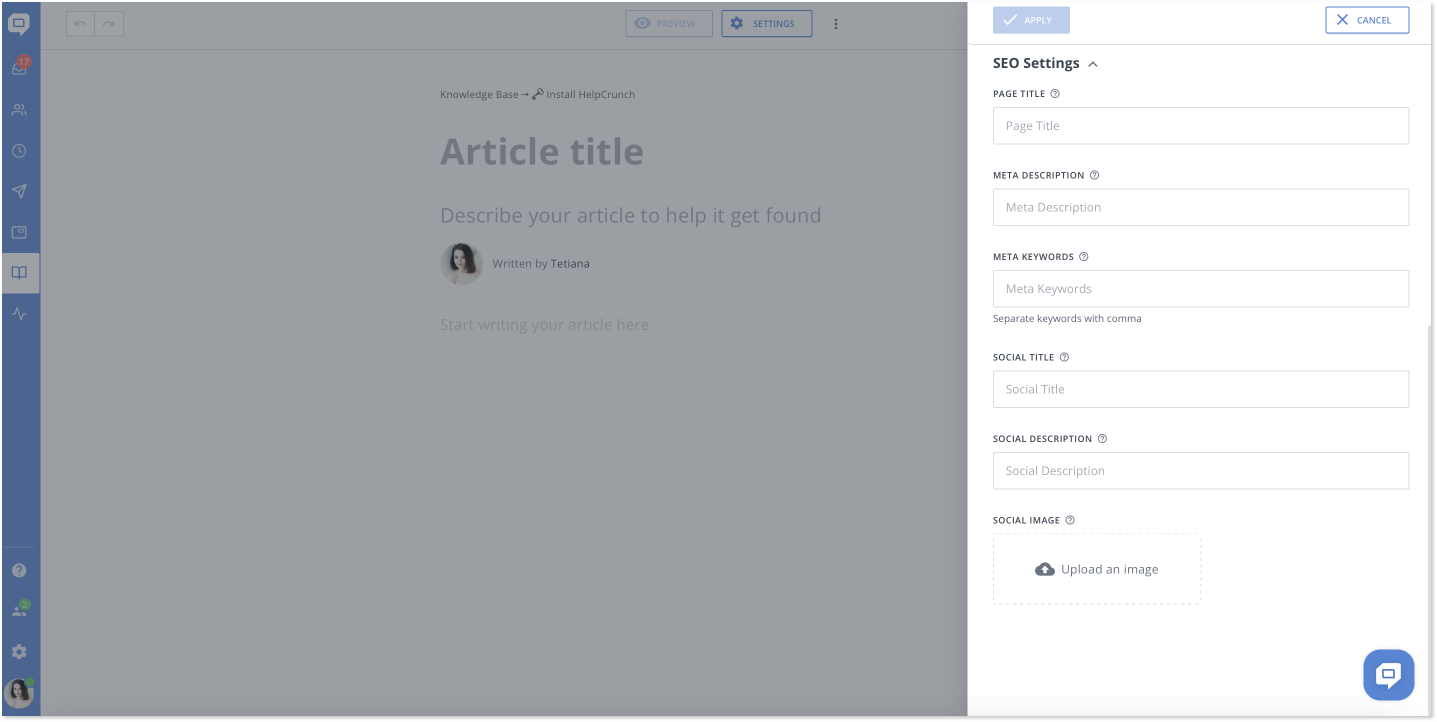 6. Analysis to see where customers often struggle
It's one of many other benefits of a knowledge base. While you can share helpful materials in any other format as well, it won't let you capture the insights you can get by implementing a knowledge base software. Some help center tools provide crucial user analysis so that you can track your content performance.
Apart from good and bad articles, the metrics can also show where users often struggle. In turn, this insight can help you improve your product and increase customer satisfaction.
With the knowledge base, you can get useful insights like:
What information do users search for the most?
Is there any redundant information?
What articles have the highest satisfaction rate?
What do knowledge base materials fail to solve the user's problem?
If, for instance, many users are reading a guide to help them install your tool or change the settings, this may indicate that the process is too complex. You may improve customer experience by simplifying things further.
7. Unified knowledge storage
It happens that the best coworkers leave a company due to various reasons such as another lucrative offer, maternity/paternity leave, or just a vacation. Most probably, they are the ones who obtain profound knowledge your company needs in its customer communications. That's why one of the benefits of having a knowledge base is that it can store the content even after an employee changes the job.
A help center encourages your staff to document every little step in their workflow. This is where the importance of a knowledge base kicks in. Make it a priority for your customer support and success teams to create related articles when they tackle a new issue or complete a project. I'd say that it's a double-sided help, meaning that clients are able to get the solutions and staff to improve their knowledge about the company's processes.
3 knowledge base examples for inspiration
Tired of the theory? We thought it would be interesting to come up with brands that made their knowledge bases advantageous. Check them out:
1. Canva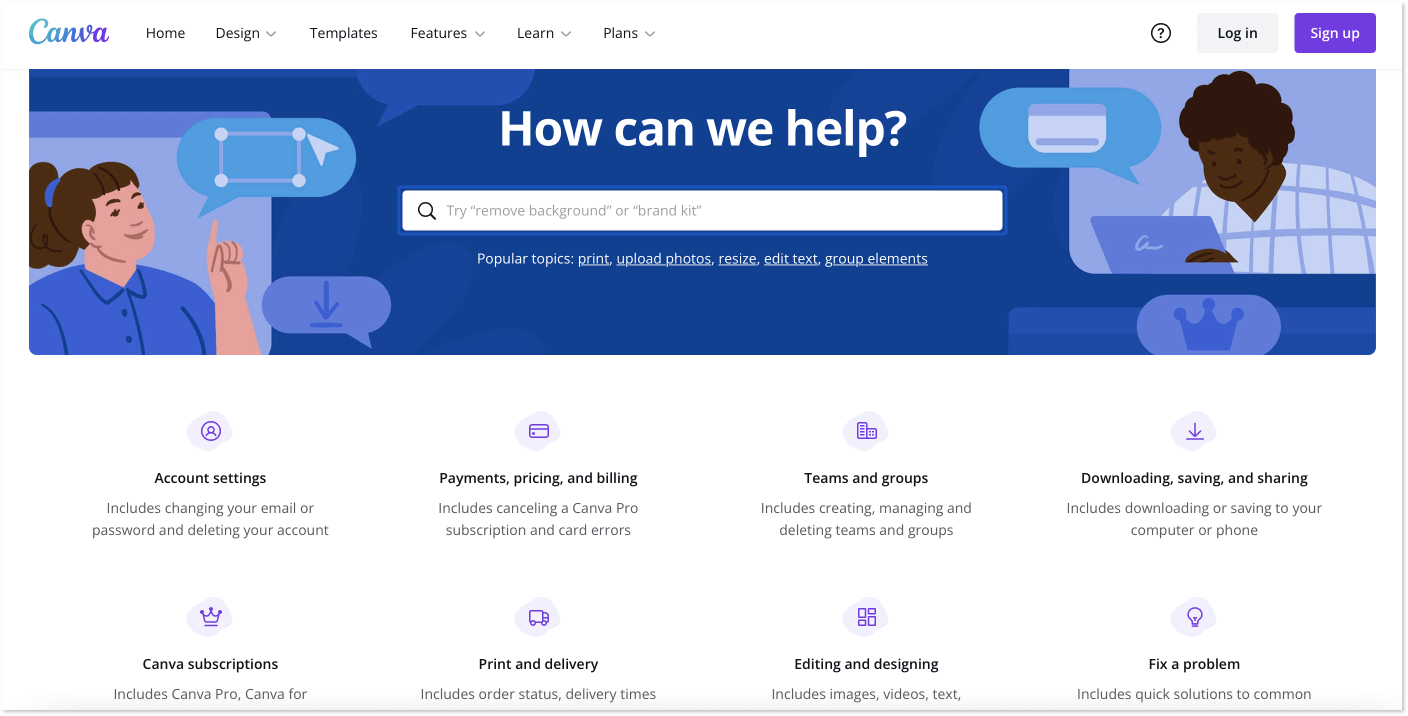 As expected from a graphic design company, Canva's knowledge base is aesthetically pleasing, with minimalistic tabs to guide users through various categories of the help center. What's important, the platform allows creators to access it right from the design page. So if users struggle with anything, they can easily find their way to the help center and solve the problem.
2. Dropbox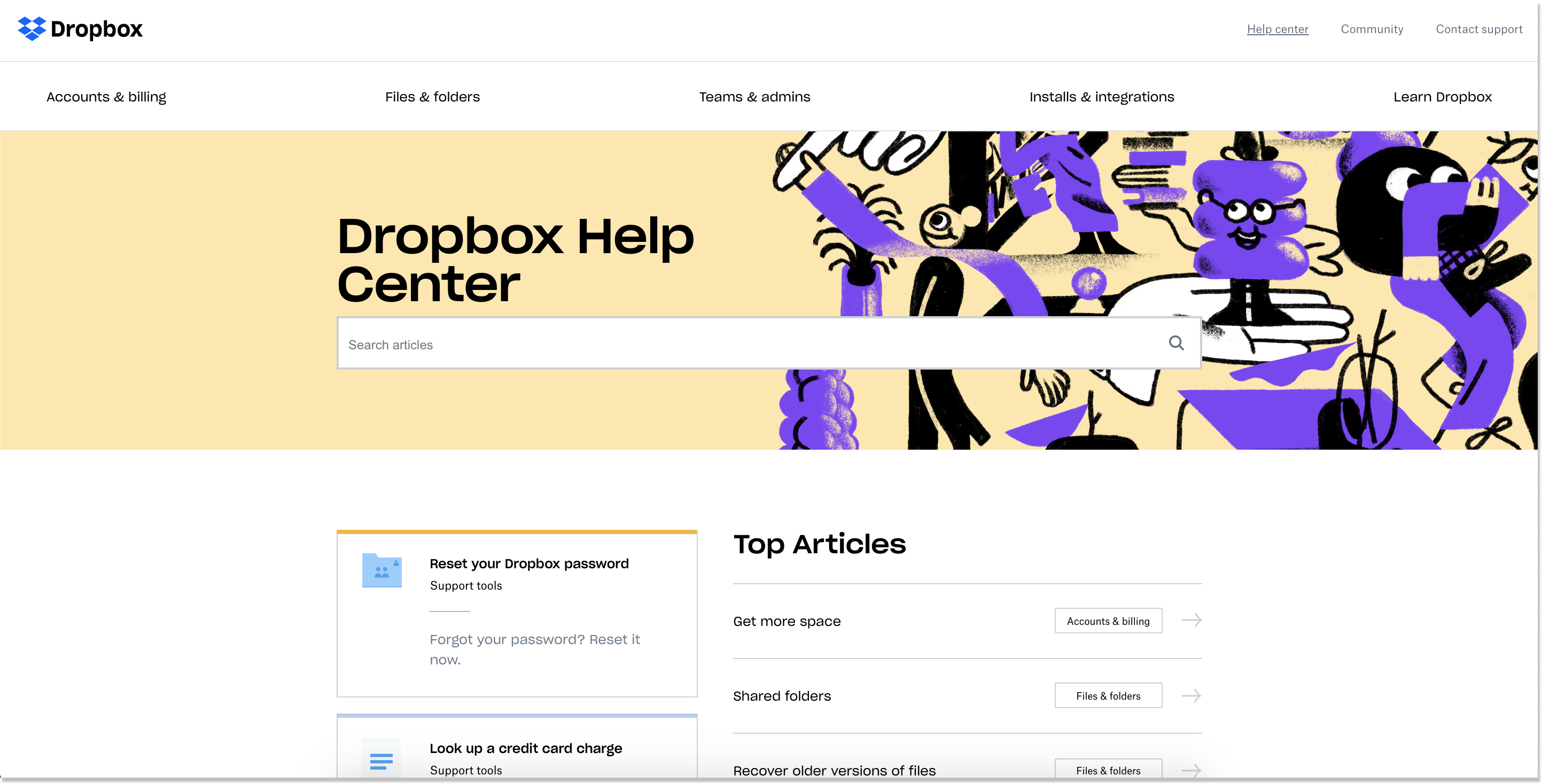 Dropbox's help center hits the mark with funny cartoon characters and a personalized touch. Its categories have subheadings as if they're intended especially for me: "Forgot your password? Reset it now" or "Seeing a charge but not sure which Dropbox account it's for? Look up charges now". Among other knowledge base benefits, there're top community posts and categories in the website's header.
3. Wix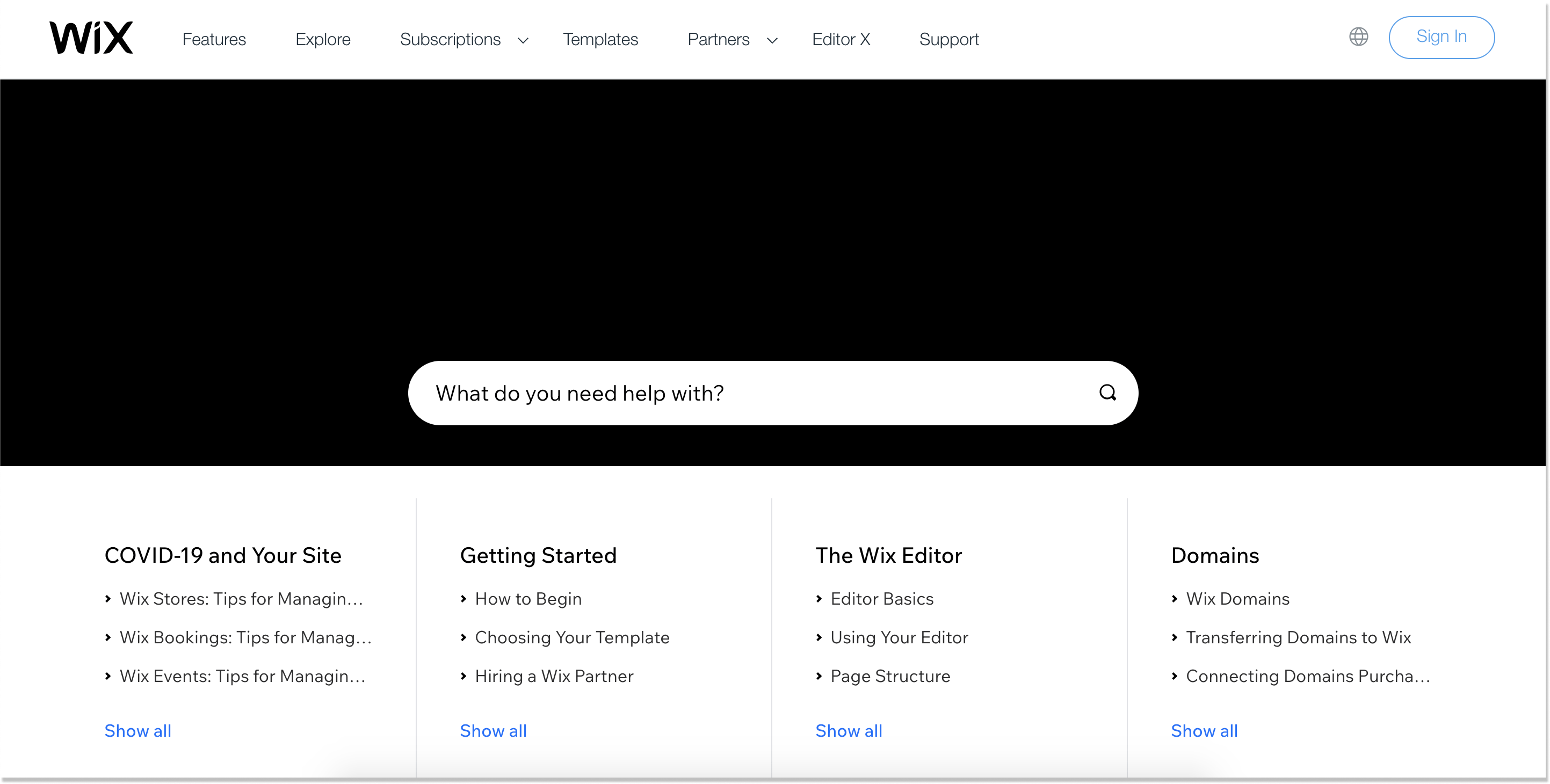 One of the benefits the knowledge base from Wix obtains is its multilanguage feature. Plus, this resource hub is uncluttered, up-to-the-point, and updated. Articles are organized into categories which makes it faster to find the exact piece. What also struck my attention is the trending topics section: you can quickly jump to any article without scanning the blog.
Final thoughts
Building a knowledge base can be time-consuming. Though, it can be beneficial, too. Improved team productivity, engaged customers, and the information stocked under the same roof say a lot. Hopefully, you see now that the game is worth the candles.
Ready to take the first step towards impeccable customer experience? Create an account with HelpCrunch to set up a knowledge base of your own at the click of a button and help clients get to the bottom of their questions faster.