Some of you might have preconceived notions when it comes to self-service. I'd say that it's for nothing. These numbers speak for themselves: 77% of customers say they have used a self-service portal at least once and 92% would use an online resource center to help gain insight into a product or service.
Besides, 70% of clients claim they would use a company's website to get to the bottom of an issue rather than phone or email. The rule of thumb is that customers prefer self-service over other channels no matter how you slice it.
We're in the year 2021. If you run an online business and let customers leave your website with no answers, your brand risks to stay behind the curve. The thing is people want their problems to be solved ASAP even if there's one customer support agent on the other end. The best way to meet your clients' needs and let them find solutions by themselves is by building a knowledge base.
By the end of this post, you'll find out the main advantages of an online database. Why is a knowledge base important? The answer is around the corner.
What is a knowledge base?
The knowledge base definition breaks down to an organized library of easily retrievable information about a product or service. Usually, resource centers involve everything a customer or employees have to know about a product or service.
Let's crack the importance of a knowledge base for both customers and employees. When used internally (by your staff), a resource hub can store onboarding materials, training instructions, or key-note guidelines for their needs. It enables teams to collaborate and distribute knowledge among other coworkers.
Speaking of an external knowledge base, it assists customers with troubleshooting, ordering, billing, company history, and other related details.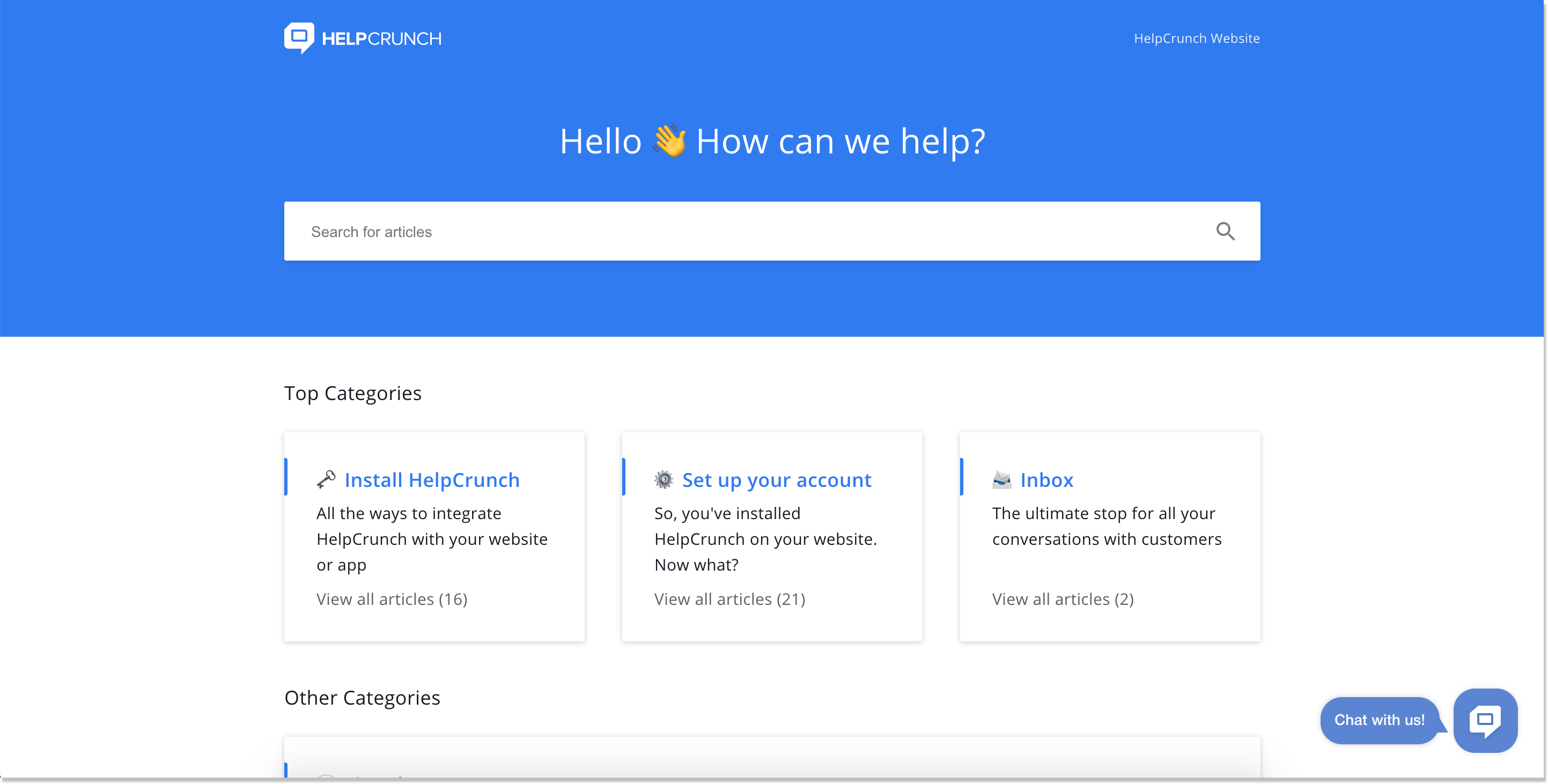 An online help center is a part of a knowledge management solution. It means that a user creates a powerful knowledge base with all the valuable documentation and expertise existing across an organization. After that, customers can share these files and media, scan the help center for information, and ask questions if need be.
Are you still second-guessing about creating an online resource hub? We've assembled 7 benefits of a customer knowledge base you can't miss out on.
7 Strong Benefits of a Knowledge Base Center
Customers always want easy access to information. As the record shows, 85% of users don't prefer dealing with a customer support rep. The answers should be fast and helpful. That's when the benefits of having a knowledge base crop up:
1. Consistent customer self-service
The core benefit of a customer knowledge base is that it operates 24/7, so you can make information accessible and available from any place, any device. If your client base is scattered across the globe, you can deliver consistent help at any time of day or night. With a modern yet advanced solution, succeeding in this endeavor is a piece of cake.
Let's take HelpCrunch and its integrated knowledge base. The website visitors are able to find anything they're interested in right from the chat widget. No long waiting times, no frustrated customers.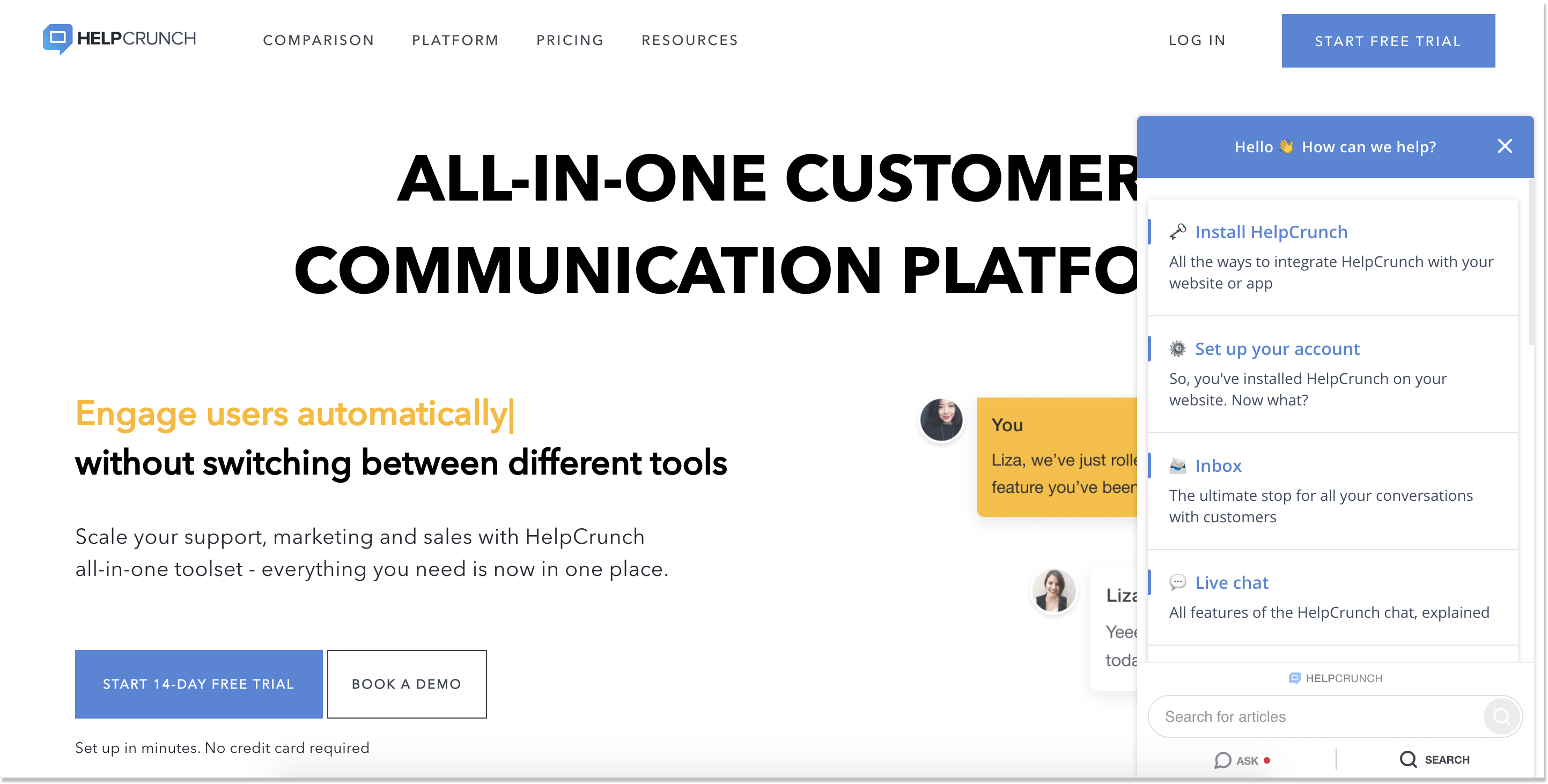 What's more, it's your perfect chance to provide proactive customer service. Why? Because by staying reactive, you can't earn loyalty and positive reviews. Anticipate your clients' demands, describe them in a written form, and address them before they pop up.
Besides, you should give value to your customers and teach them how to use your product or service. A solid knowledge base that walks users through the product processes is a great way to bring more value to the table. Stuff your resource hub with videos, how-tos, infographics, and step-by-step guides. Your clients will thank you for that.
2. Easy installation
The fair share of knowledge base software provides user-friendly installation. You can set up a helpful online repository in a few clicks. Do you want to write a new article? No problem. Feel like adding an extra category or a section? It's a no-brainer. Or maybe you wish your knowledge base to be SEO optimized? Hit a few buttons and everything's ready.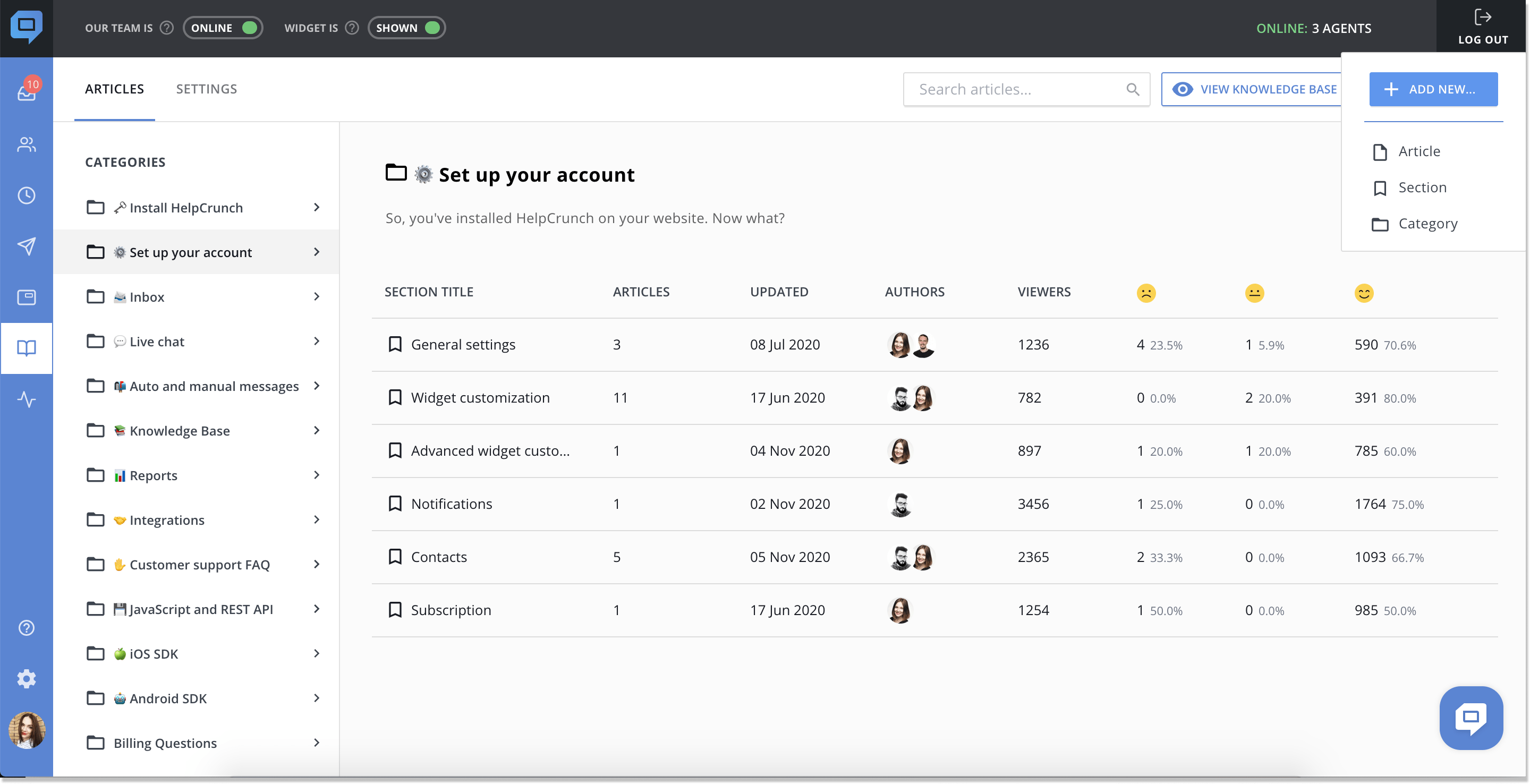 3. Increased sales
Bounce rates are nothing but a thorn in your side. They are challenging for a sales team, so keep them to a minimum. You can win over one sale, but in order to gain the upper hand and drive more profit, you should wipe out those bounce rates.
This is when the importance of a knowledge base enters the play. With its help, customers can move on to reach the right buying decisions. Imagine that a potential client navigates your website but fails to see the info about Google Analytics integration. Without a help center, the odds are this customer goes away at once. Add a related article to make it easier for clients to find what they're looking for. In this case, the chances are this client will knock at your door and ask for a pricing plan.
4. Enhanced employee engagement
Have you ever thought about why employee engagement matters? The reasons are different, from increased customer satisfaction to refined company culture. Giving your staff access to a knowledge base is a surefire way to keep them engaged. They are likely to be more interested in the company's success this way. You know what they say: "happy employees mean happy customers". If your staff is inspired, has every resource for a good job, and receives enough information to share with clients, be ready to enjoy positive feedback.
When employees aren't sure about something or need to give more details to a customer, they can ask a coworker where to find them in a knowledge base. Having them on the same page is imperative, no matter the department. Modern help centers also have collaboration features to work on the content together. So, no customer will leave without an answer.
5. Improved customer retention
If you make customers happy, retention rates rise, which leads to long-term relationships, higher revenue, and business growth. Broadly speaking, a comprehensive repository can help you top up your customer retention plan with two aspects:
Immediacy: as clients want information "yesterday", a user-friendly knowledge base allows them to dig into details on their own and at their own pace. Less time searching equals higher customer satisfaction and retention.
Immersion: a well-thought-out online library means customers can get more use of it than they would if they'd have to wait for the solutions.
These are the major benefits of a knowledge base center you can reap by simply improving your customer retention. If done right, a resource hub makes it possible to keep track of everything your clients are up to. Owing to its reports feature, you can gauge customer behavior, see if some articles need to be updated, or what pieces are read the most. Leverage this data to change your content from time to time.
6. Boosted team's productivity
How much time do your customer support or success teams spend seeking a solution when a client comes in? If it's even more than 5 minutes, do the math to see how their productivity goes down day by day. The absolute benefit of having a knowledge base at your fingertips is its centralized and intuitive system.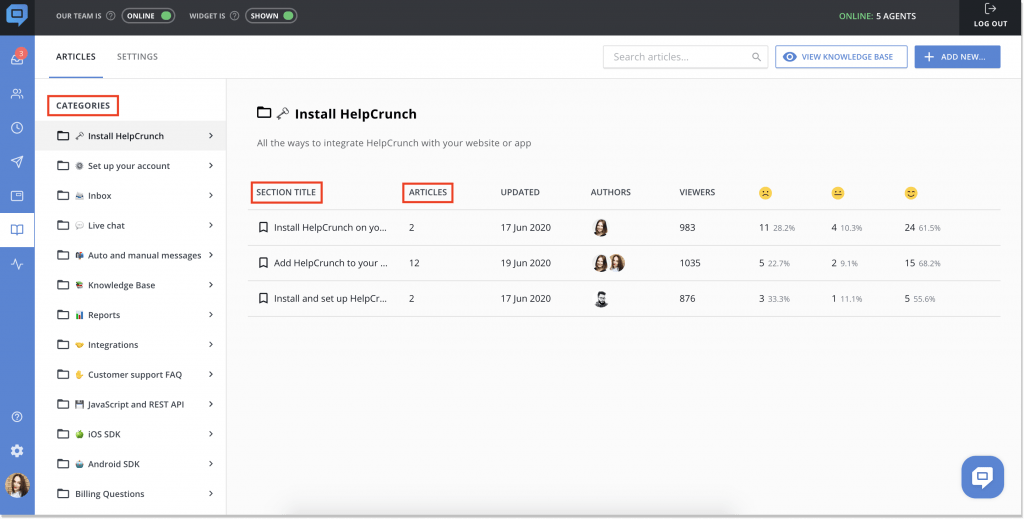 You can forget about endless scrolling through messengers, merging thousands of emails for sending a single file, or chasing your coworker to hammer out details before it's too late (and the waiting customer bursts with outrage). A well-thought-out knowledge base can reclaim up to a full workday and help you spend less time on meaningless tasks.
7. Unified knowledge storage
It happens that the best coworkers leave a company due to various reasons such as another lucrative offer, maternity/paternity leave, or just a vacation. Most probably, they are the ones who obtain profound knowledge your company needs in its customer communications. That's why one of the benefits of having a knowledge base is that it can store the content even after an employee changes the job.
A help center encourages your staff to document every little step in their workflow. This is where the importance of a knowledge base kicks in. Make it a priority for your customer support and success teams to create related articles when they tackle a new issue or complete a project. I'd say that it's a double-sided help meaning that clients are able to get the solutions and staff to improve their knowledge about the company's processes.
3 Knowledge Base Examples for Inspiration
Tired of the theory? We thought it would be interesting to come up with brands that made their knowledge bases advantageous. Check them out:
1. Squarespace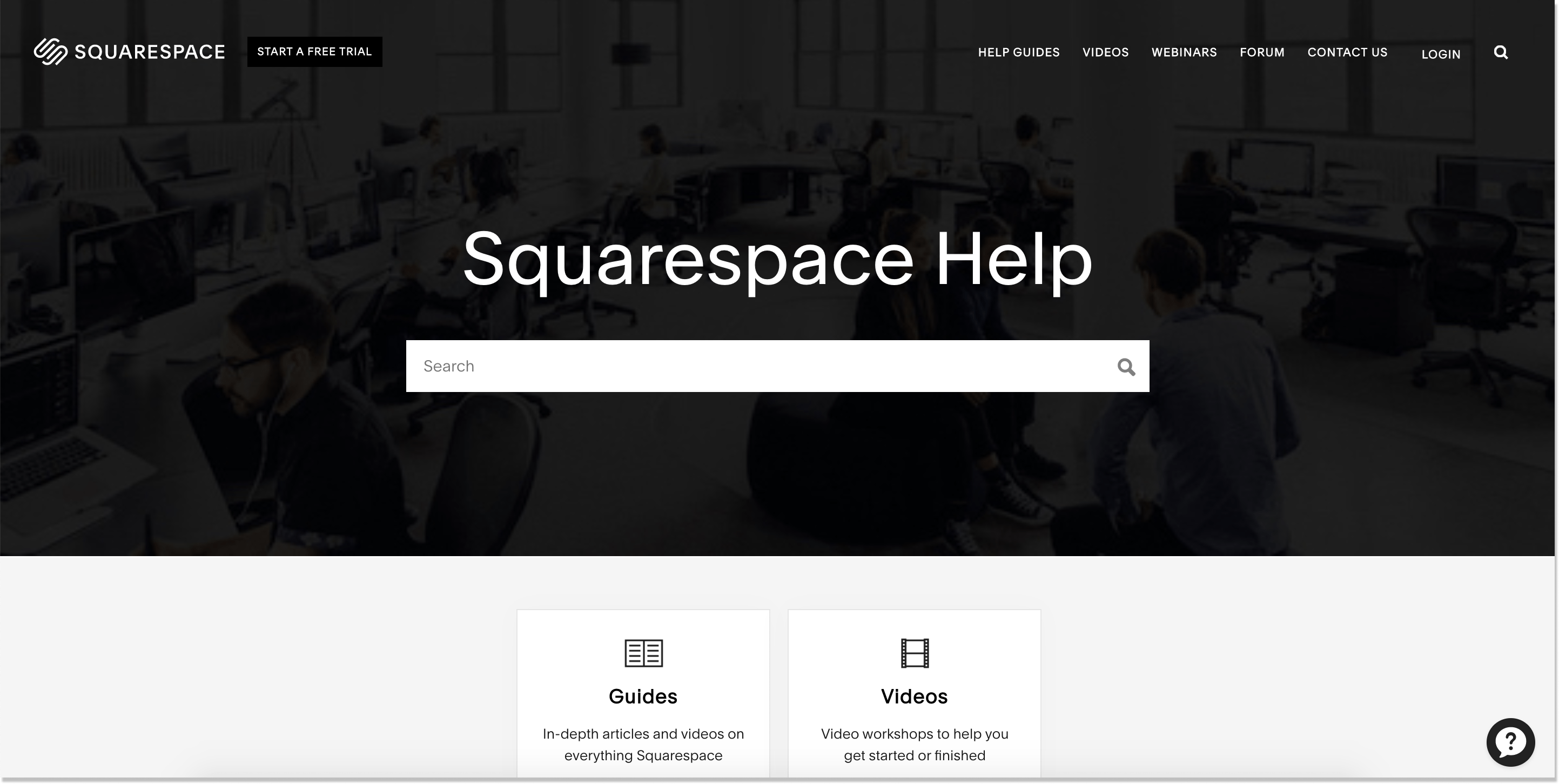 The Squarespace help center is attention-grabbing yet simple. That search box can be easily noticed on a dark background and certain categories are perfectly placed. However, the CTA could be more visible (in my humble opinion). Such a layout signposts where and how users can have all the answers.
2. Dropbox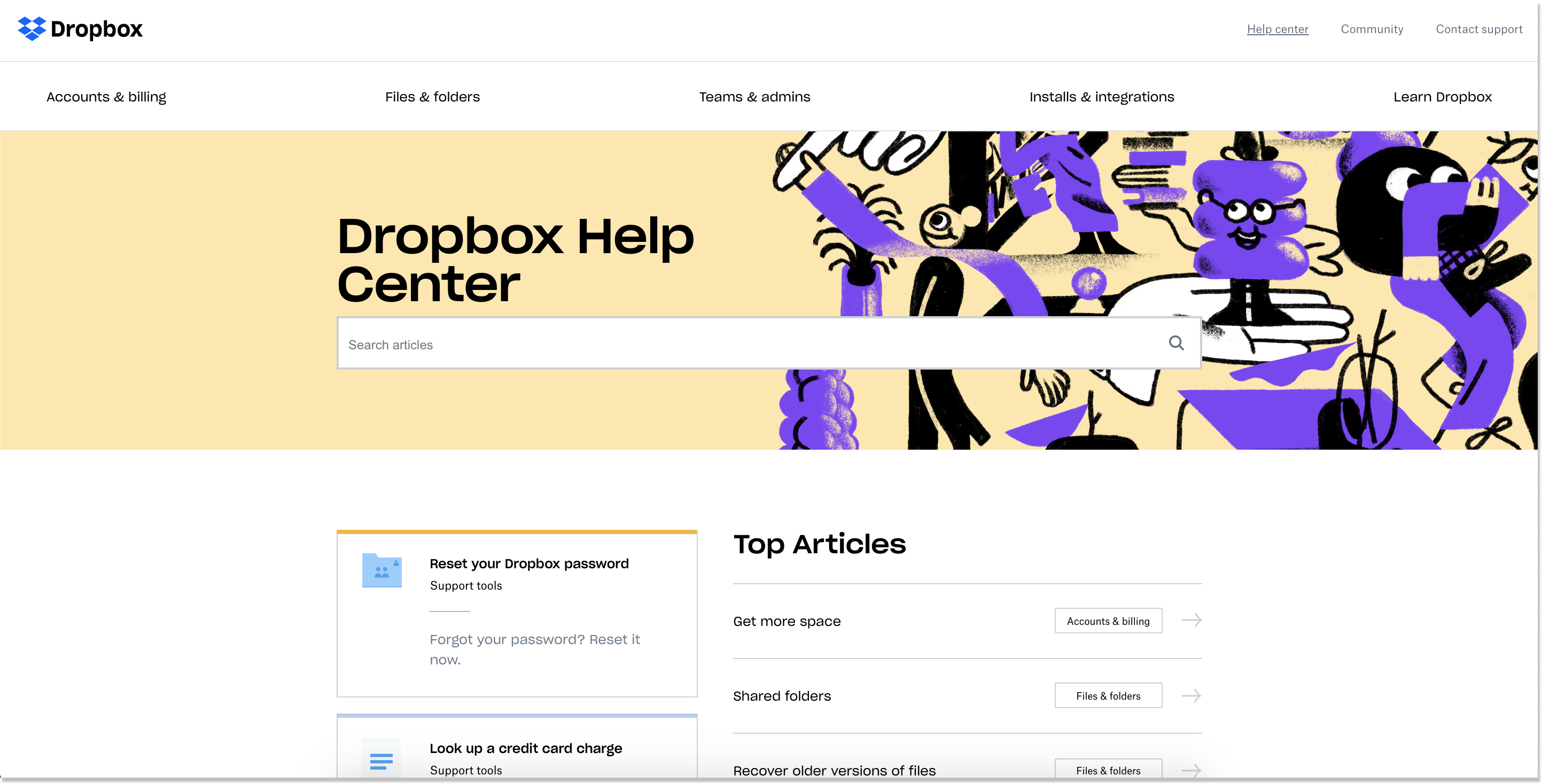 Dropbox's help center hits the mark with funny cartoon characters and a personalized touch. Its categories have subheadings as if they're intended especially for me: "Forgot your password? Reset it now" or "Seeing a charge but not sure which Dropbox account it's for? Look up charges now". Among other knowledge base benefits, there're top community posts and categories in the website's header.
3. Wix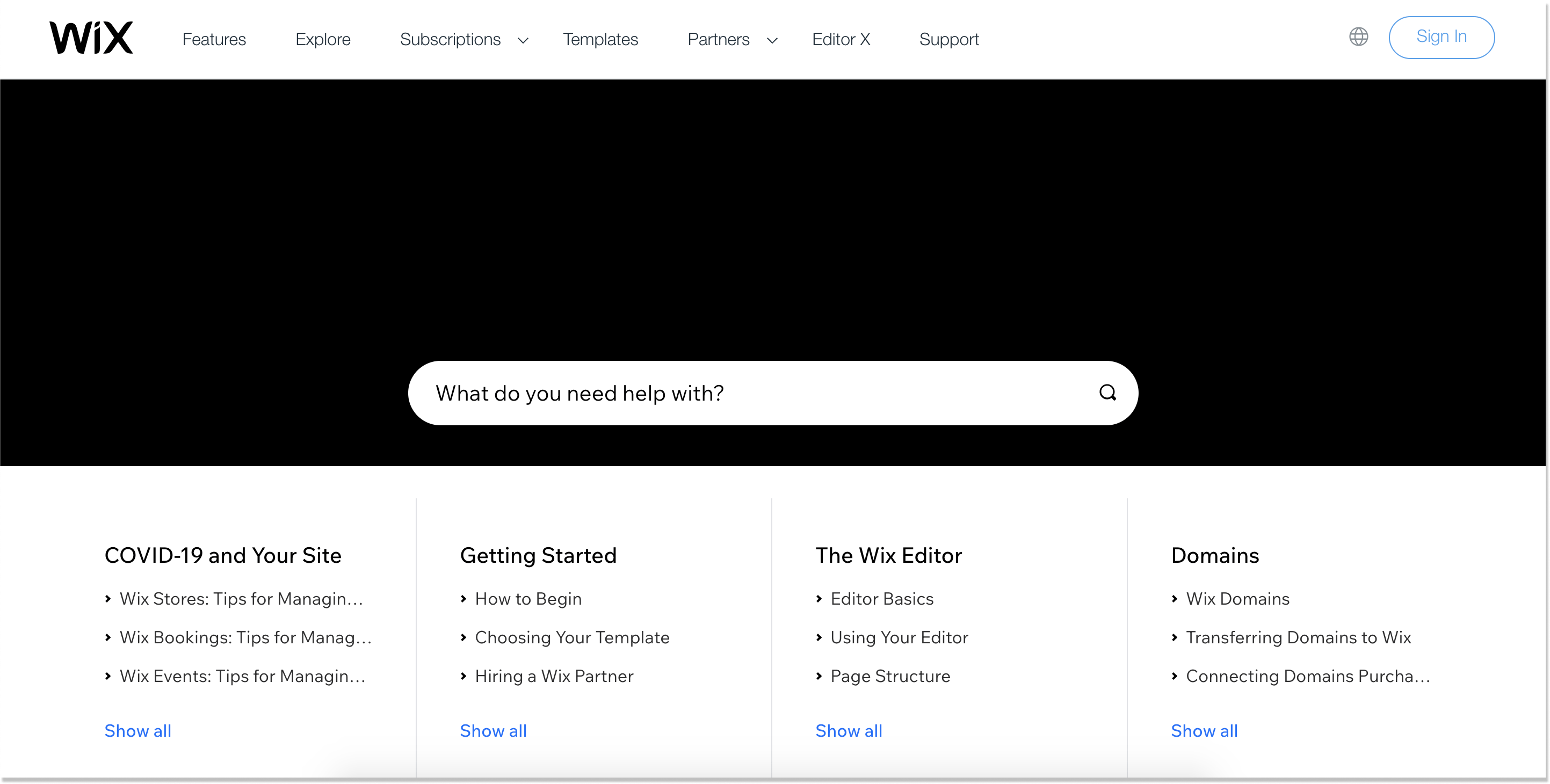 One of the benefits the knowledge base from Wix obtains is its multilanguage feature. Plus, this resource hub is uncluttered, up-to-the-point, and updated. Articles are organized into categories which makes it faster to find the exact piece. What also struck my attention is the trending topics section: you can quickly jump to any article without scanning the blog.
Final Thoughts
Building a knowledge base can be time-consuming. Though, it can be beneficial, too. Improved team's productivity, engaged customers, and the information stocked under the same roof say a lot. Hopefully, you see now that the game is worth the candles.
Ready to take the first step towards impeccable customer experience? Create an account with HelpCrunch to set up a knowledge base of your own at the click of a button and help clients get to the bottom of their questions faster.
HelpCrunch articles delivered straight to your inbox 🚀
All the latests posts. One email per month.
No strings attached.
Read also
Support
Everyone has rejected a customer at least once. But how to say "NO" to a client sounding positive? There are 8 most helpful ways to do just that (the experts' recommendations are included, too!)
Support
So how to write that brilliant knowledge base article eventually? We are ready to reveal to you 8 easy steps that will leave your customers questionless.
Support
Have you tried everything, but still have no idea how to deal with rude customers? You're in the right place. We know 7 foolproof strategies that can help you handle them and catch your zen.