9 Best Live Chat Apps to Boost Customer Support in 2023
There are too many live chat apps on the market today, and choosing the right fit can be exhausting. To save your time, we collected the best tools and put them in a simple list for your convenience.

It's a competitive world where the number of websites globally exceeds 1.7 billion. New product or service offers are added online every second.
So, the agony of choice is our normal state when looking for a perfect massage therapist, book, or, let's say, a live chat app. But no worries, I can help you with the latter.
How then to choose a perfect application?
First, accept the fact that you cannot do without independent research on your own. It implies visiting those apps' landing pages, exploring features, watching YouTube videos, and, maybe, even contacting sales representatives.
Second, understand that there is no such thing as a perfect live chat app. You just need to decide which app meets your needs at this precise moment. As your business grows, you might have to switch to another tool. And it's perfectly fine.
If you want to have a brief look at the best live chat apps out there and decide which one to explore in-depth, this is the right place.
Why do you need a live chat app for customer support?
For the same reason we prefer Messenger or WhatsApp over post pigeons. It's speedy, convenient, and much more efficient.
As per the Econsultancy report, 79% of consumers choose live chat support as it almost guarantees instant responses. Another reason for interacting through this tool is the ability to multitask while chatting with sales agents – 51% of respondents select this benefit.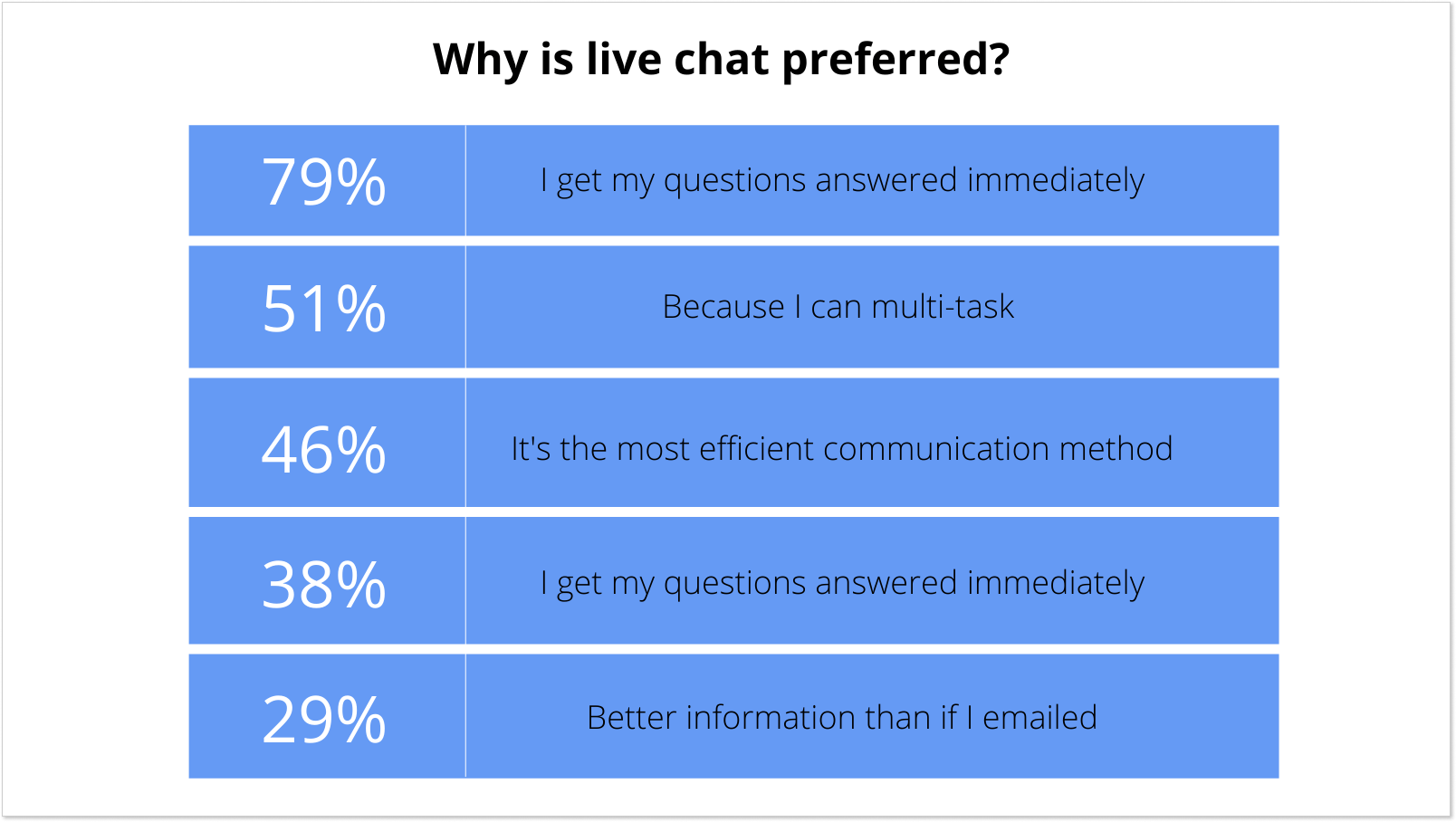 Surely, there are other live chat benefits. And if you don't mind, let's move quickly through some of them.
Generate more leads
This is the main reason to utilize live chat. When visitors surf through your website wondering if you are the right fit, it's time to act. Convert website users into leads by setting up welcome words and automated messages. If your reps are skilled enough to win over the person, then you will definitely be able to convert more visitors into leads.
Increase customer satisfaction rate
It's important to keep your customers satisfied. But what makes them happy? A bunch of things. Definitely, it's not the long waiting time. About 60% of consumers report that long holds and wait times are the most irritating parts of a service experience.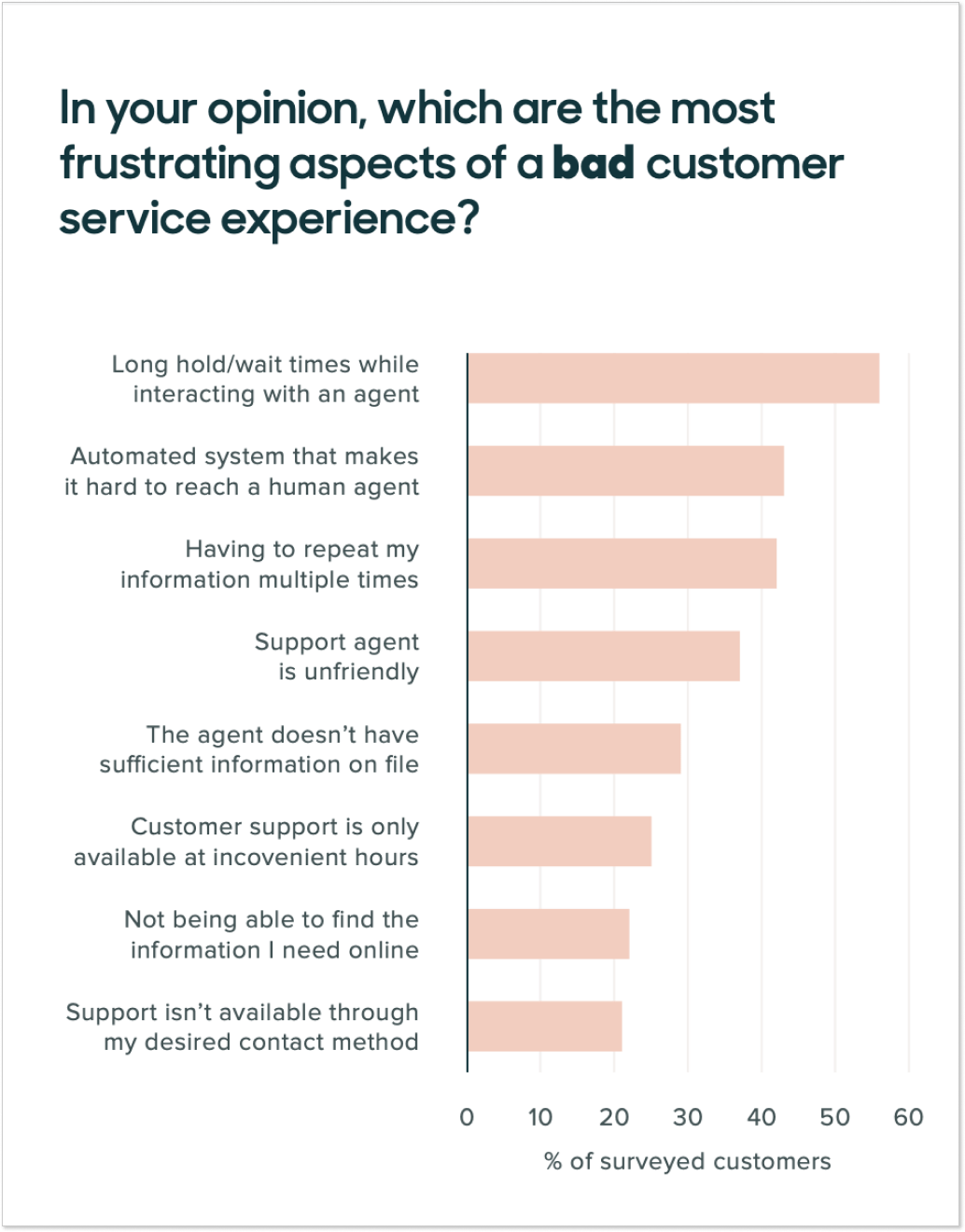 By using such a live chat tool as HelpCrunch, you can keep track of customer satisfaction rates on the go. Moreover, within the reports feature, you will also get access to first response time and average resolution time data.
Reduce customer churn
Approximately 66% of surveyed consumers bounce from a business due to a poor service experience. No wonder. Why should one stay with a brand that can't provide quality assistance? Especially when the market offers so many alternatives.
Improve email marketing performance
Live chat is a great tool for collecting email addresses via chat form and a bot. You can use those emails for further follow-ups and email marketing activities in general.
Provide 24/7 support with a knowledge base
As customers, we prefer to get assistance on our own terms – whenever and wherever we want. Binding all clients to just a live chat option is probably a bad decision. It turns out that 91% of respondents would use an online knowledge base if it were available and tailored to their needs. 
What makes the best live chat apps?
As I mentioned before, the best live chat apps are those that satisfy all your specific needs at the specific moment of your business development. Even though there is no plain answer to this question, I have something to tell you.
Here is the list of certain criteria that are always relevant when looking for perfect live chat apps.
Affordable. The tool you are using to grow your business has to be cost-effective. No need to pay $100 per agent monthly if you can get the same set of features for $15.
Easy to set up. The best option is when you can set up the tool in minutes and start using its benefits immediately. If it is easy to start, there is a great chance that you won't have any problems with the usage either.
Fluent and intuitive app management. Since you are going to spend at least 8 hours per day chatting with clients, make sure UI is easy, understandable, and pleasant to use.
Full customization. This feature allows you to make the widget and knowledge base look like an inseparable part of your website. You can customize the appearance with your brand colors, logo, header images, links, domain, and more.
Reports feature. It's important to monitor customer reports so that you can act on them immediately. In addition, thanks to accurate reports inside live chat apps you can analyze the effects of your marketing campaigns.
Advanced customer support options. If you are looking for something more than just a chat, pay attention to this aspect. Some apps offer integration with Facebook, WhatsApp, Slack, and whatnot. A chatbot is also a quite popular feature. But if you can do without the above, the knowledge base is definitely a must-have.
Best live chat apps to boost your customer service
To save your time and nerves, we prepared a comprehensive list of the best live chat apps on the market today.
1. HelpCrunch live chat
HelpCrunch app is a one-stop platform for effective customer communication with live chat software being its flagship feature. You can use the live chat alone or integrate it with a knowledge base solution to deliver 24/7 support.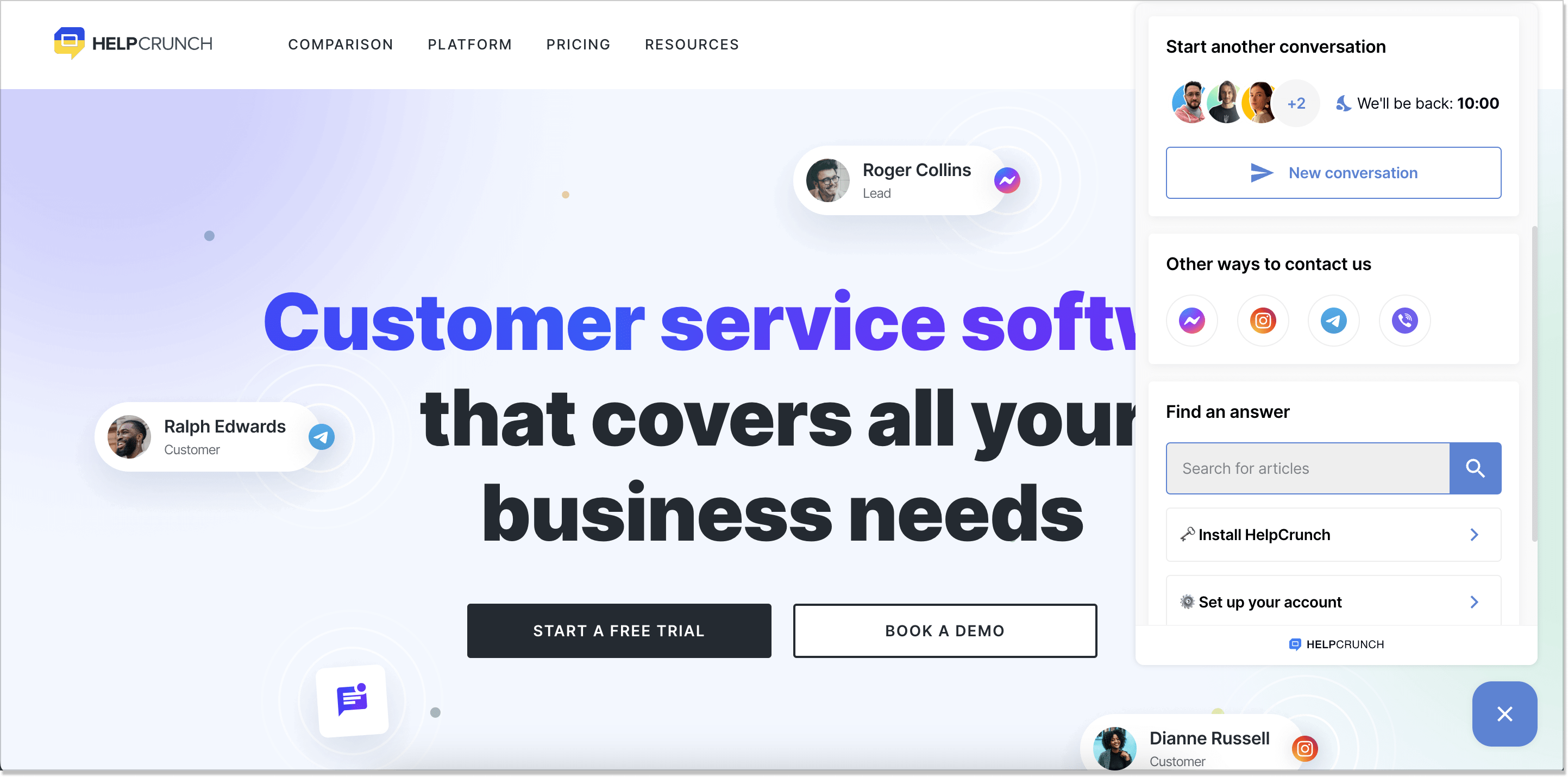 The chatbox is fully customizable and can look like an integral part of your brand. It's simple to change widget color, size, or chat wallpaper. If it's not enough, custom CSS styling is also available. Not for nothing, HelpCrunch is known as the most customizable live chat on the market.
Among other important functionalities, you can find proactive messages, saved responses, and reports to analyze how your agents perform. Also, there is an automated follow-up feature. It implies that every chat message that stays unseen is resent to a customer via email.
In addition, the tool allows you to sneak peek at what your visitors are typing in a chat window before they click 'Send'. It can help you to speed up your customer support. While users are typing, agents can already prepare the answer.
Besides, the company offers a bunch of integration opportunities with Instagram, Facebook Messenger Telegram, WhatsApp, Slack, Shopify, WordPress, and so forth.
The live chat has a native iOS and Android application which makes it really easy for agents to keep in touch with clients on the go. What's more, if you have your own mobile application, you can integrate chat into it utilizing the HelpCrunch SDKs.
Besides, the platform offers a chatbot feature that allows you to automate your customer support. Companies can use a visual no-code builder to create or edit bot scenarios and launch them immediately. HelpBot is reactive at the moment but it can already help you with repetitive questions, lead qualification, contact details collection, and much more.
So far, if you are looking for a smooth and effective live chat tool, HelpCrunch is the best choice.
Price
Starts from $12/mo per agent if billed annually.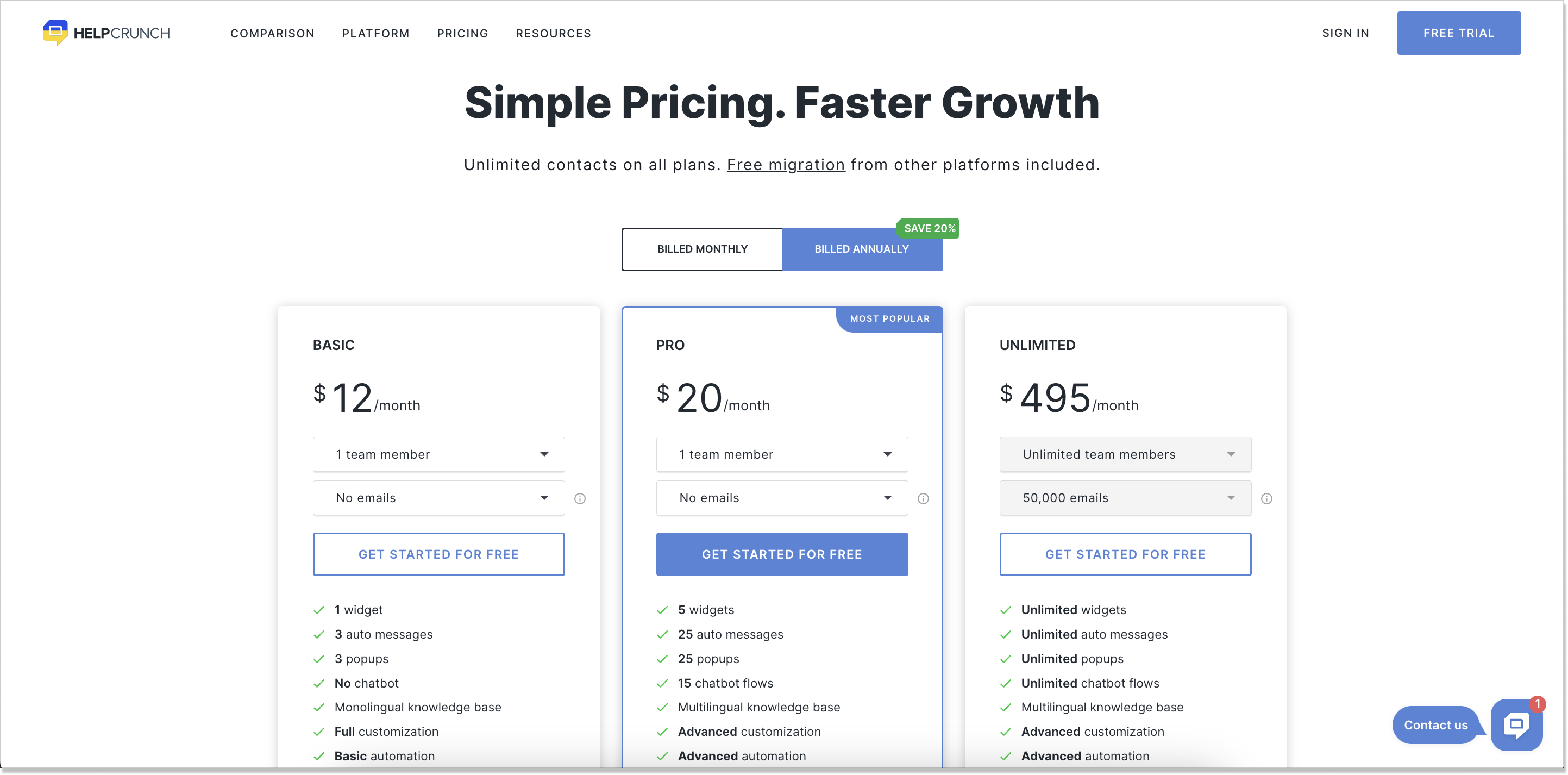 2. LiveChat
LiveChat is a chatting app with a ticketing feature and analytics capabilities. In addition, the company offers a separate but integratable knowledge base and chatbot.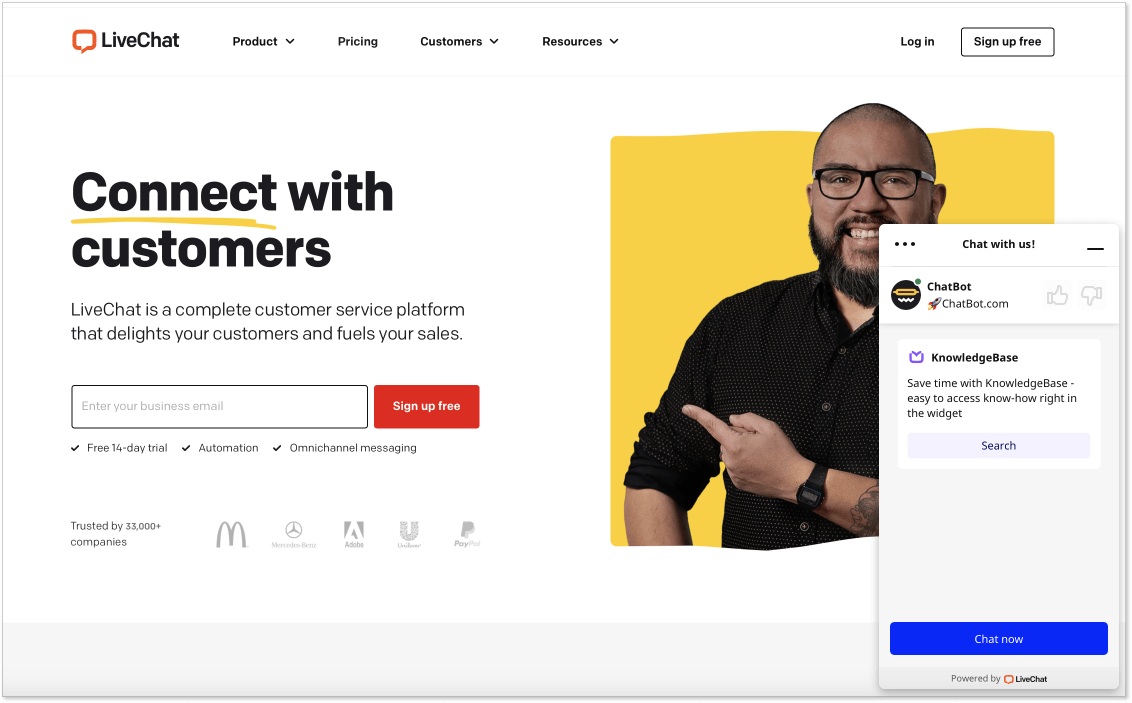 Message sneak-peek allows customer support agents to provide faster assistance. Similarly, canned responses – answers to common questions that you can reuse – are also here to save reps time. Together with widget customization, chat tags, and rich integration opportunities, basically, the tool gives all the essential functions for effective chatting support.
To boost your sales, LiveChat offers one more core feature – a Traffic section. It's a real-time list of your current visitors with some useful data about them (name, e-mail, location, time spent on your website, and whatnot). You can spot prospective customers from the list and reach out to them immediately.
However, if you want to deliver a self-service feature for your users, you will need to pay additional fees for the knowledge base since it's a separate tool. Also, you should be ready that a starter pack contains almost none of the fundamental functionalities. Reporting, data security, unlimited chat history, work scheduler are not on the list. So you would have to get a "Team" or "Business" plan to operate properly.
Despite generally positive reviews, some LiveChat clients criticize the tool for its price. Indeed, the pricing seems to be on the premium side and there is no freemium plan either. Of course, it's not necessarily a problem if you're not on a tight budget. But what if you are? Then you might want to consider other alternatives on the market.
Price
Starts from $19/mo per agent if billed monthly.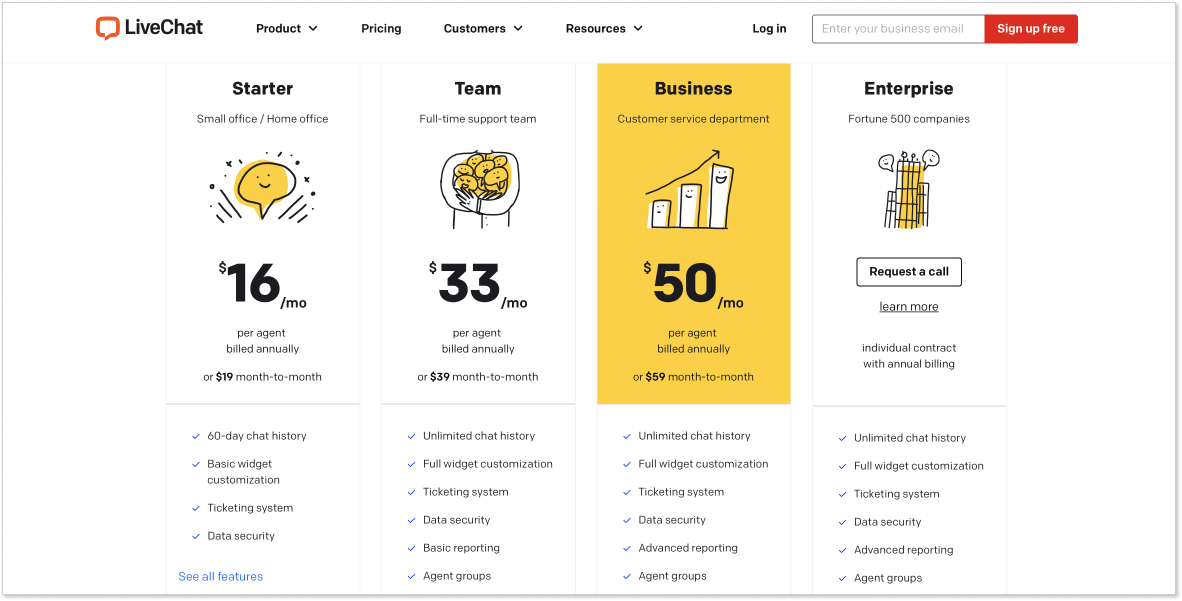 3. Zendesk Service
Zendesk service suite has a bunch of features for proper live chat support. It includes messaging across different channels, help center, and AI-powered automated responding.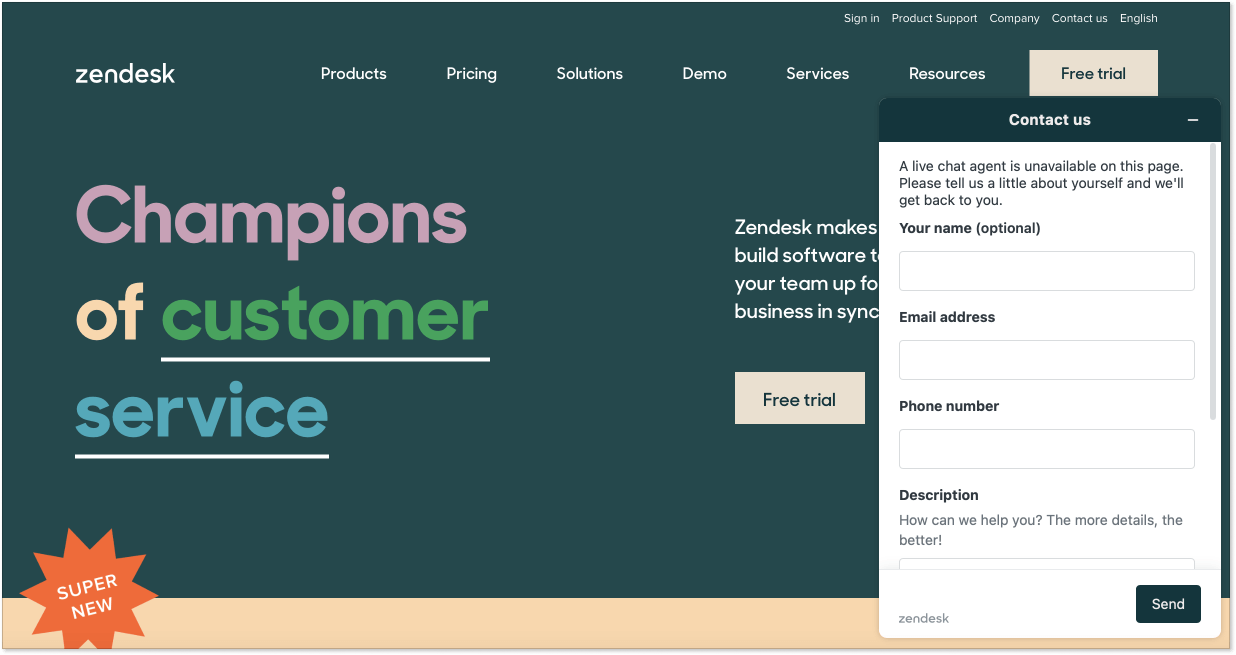 The equally important functionality is reporting and analytics. It helps brands to see real-time CX data like the number of inquiries per channel, resolved/unresolved issues, and suchlike.
But Zendesk app is especially famous for its ticketing system. It enables a centralized customer support dashboard. So, no matter what channel your client use to report an issue, agents will receive all questions within the same queue.
All in all, the company has some negative points. There are customers who report its old-fashioned bulky interface which makes it a struggle to master. Others complain that the firm delivers poor customer support. And, of course, there are those who criticize the price which is objectively high compare to Zendesk alternatives.
Price
Starts from $59/mo per agent if billed monthly.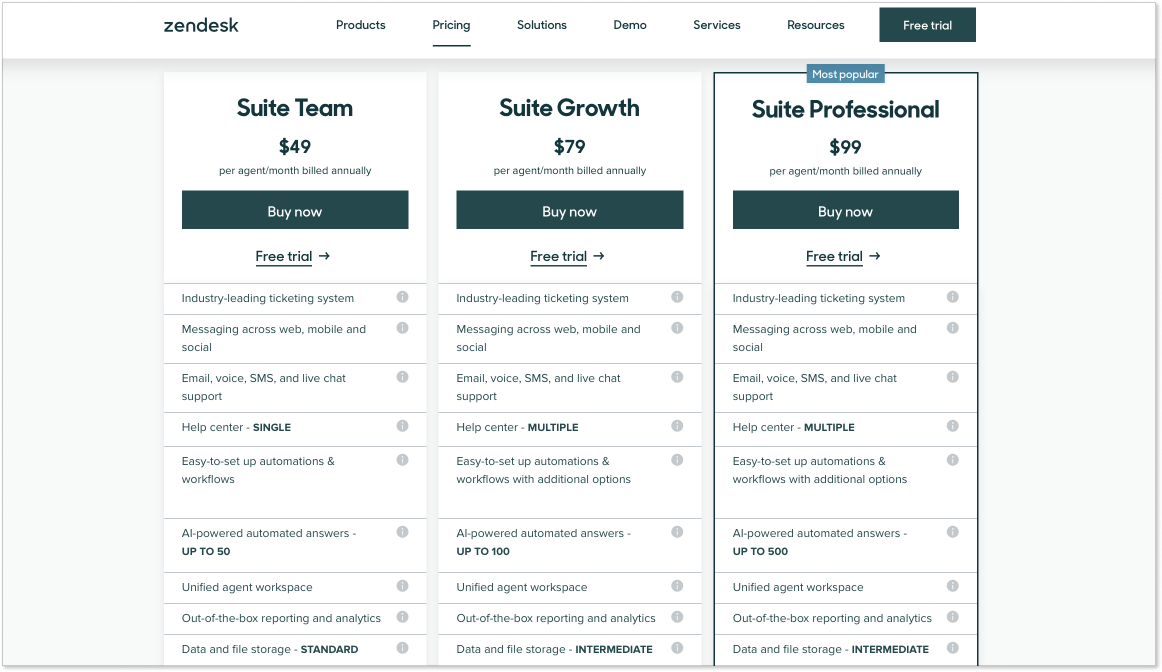 4. Freshdesk
Freshdesk offers a messaging solution along with other customer engagement features. It's a product of Freshworks.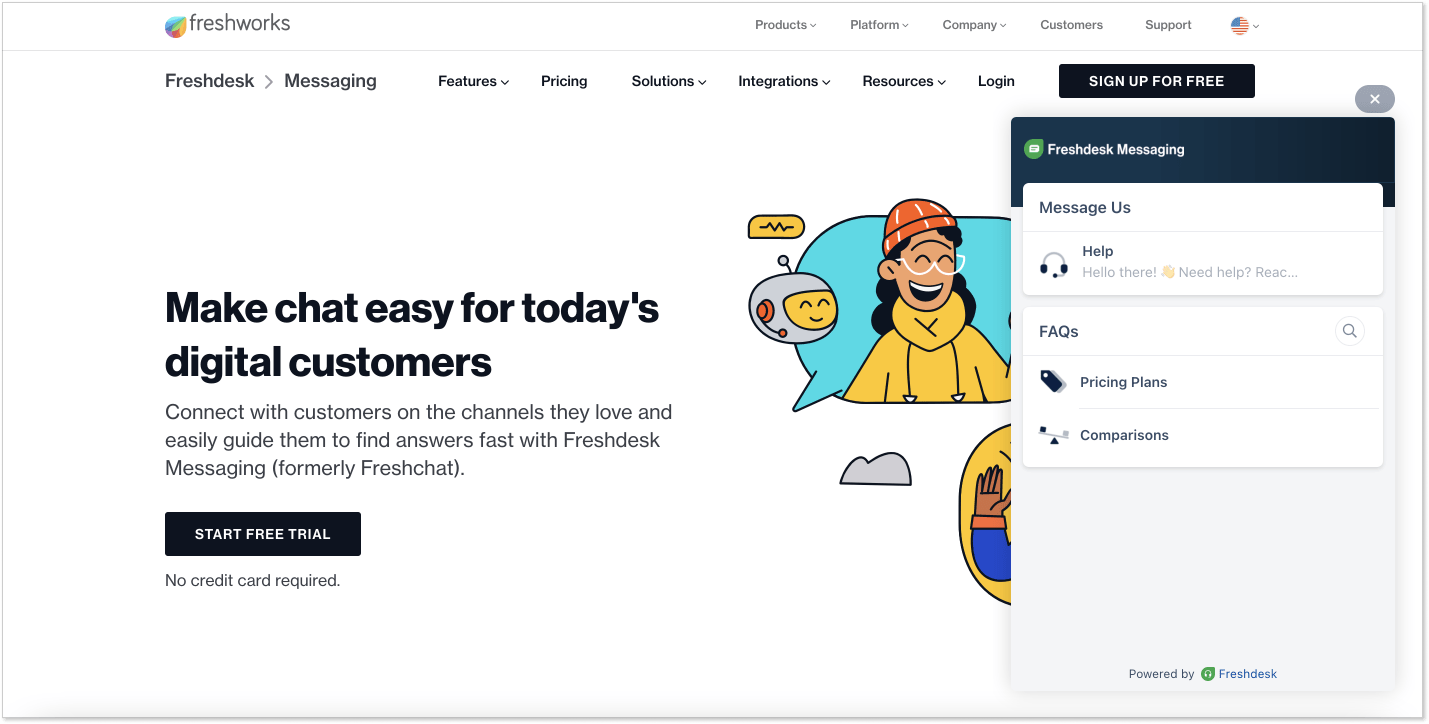 The app provides omnichannel support which means that you can chat with clients across different channels like WhatsApp, Facebook, Apple Business Chat, and so on. Also, the company delivers a chatbot option that helps you to assist users around the clock.
The 'Campaigns' feature is named number one of the top Freshdesk solutions. Basically, it allows sending targeted messages and emails enriched with images, videos, GIFs. In addition, it enables key metrics measuring from the last or ongoing campaigns which helps with performance optimization.
The majority of the users say it's a fair decision for its price. However, some customers still report problems with initial setup, notification issues, and the limited functionality of the chatbot. One of the users noted on G2: "Some features and apps such as emailing a chat transcript to a customer are only available in the highest tiers of service."
Price
Freemium plan
Paid plans start from $19 per agent/mo if billed monthly.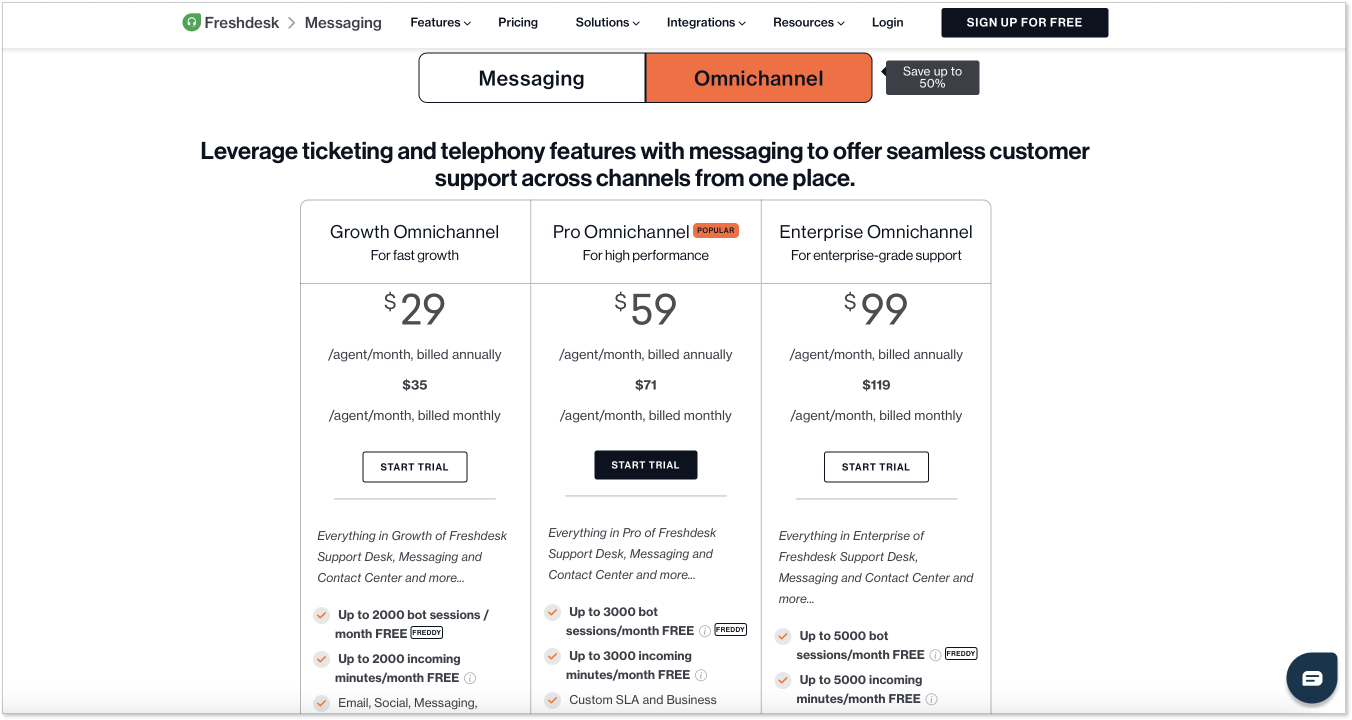 5. HubSpot
HubSpot's live chat tool is an integral part of a forever-free CRM. It comprises a set of useful features like conversational bots, email scheduling, canned snippets, messenger integration, and so on.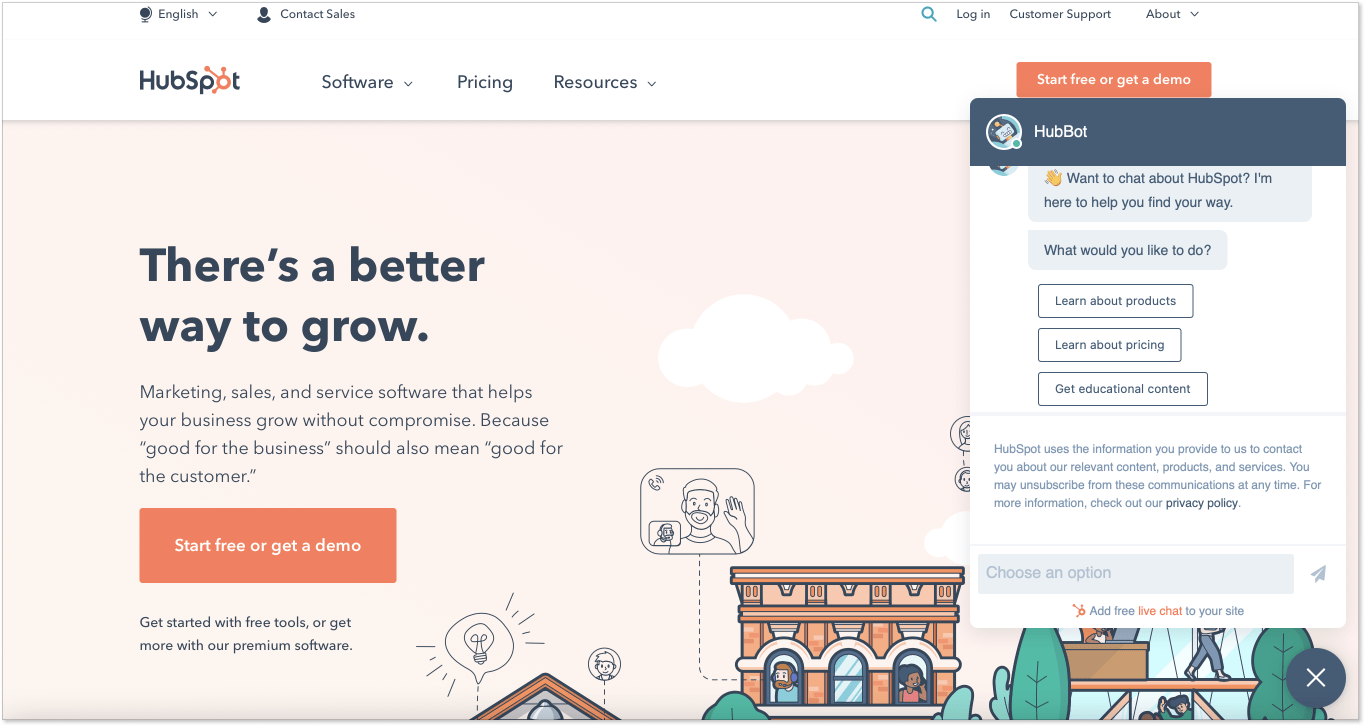 You can create a chat widget or a chatbot. Also, you can create a bot that based on how somebody engages with it can turn into a live chat. And automatically route the conversation to a live agent.
Also, the company offers its users to answer inquiries on the go via Slack, for example. Get chat notifications and respond directly via Slack, or carry out conversations using the HubSpot mobile app.
Despite the fact that live chat is a free tool when you become a part of the Hubspot ecosystem the integration with their other paid products such as Marketing Hub, Sales Hub, Service Hub, CMS Hub, and Operations Hub becomes almost inevitable. As your business grows you need more features to boost your performance.
All in all, it's not without criticism. The negative feedback relates mostly to a poor ticketing system, limited reporting, and customization options.
Price
Free tool
Advanced CRM plans start from $50/mo per agent if billed monthly.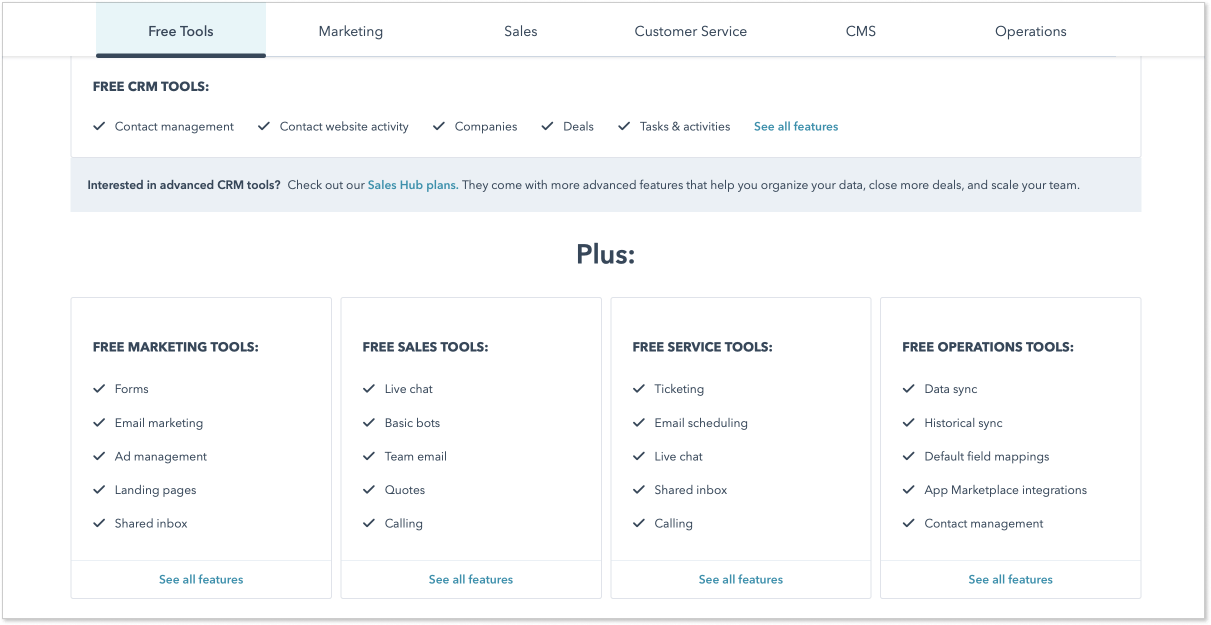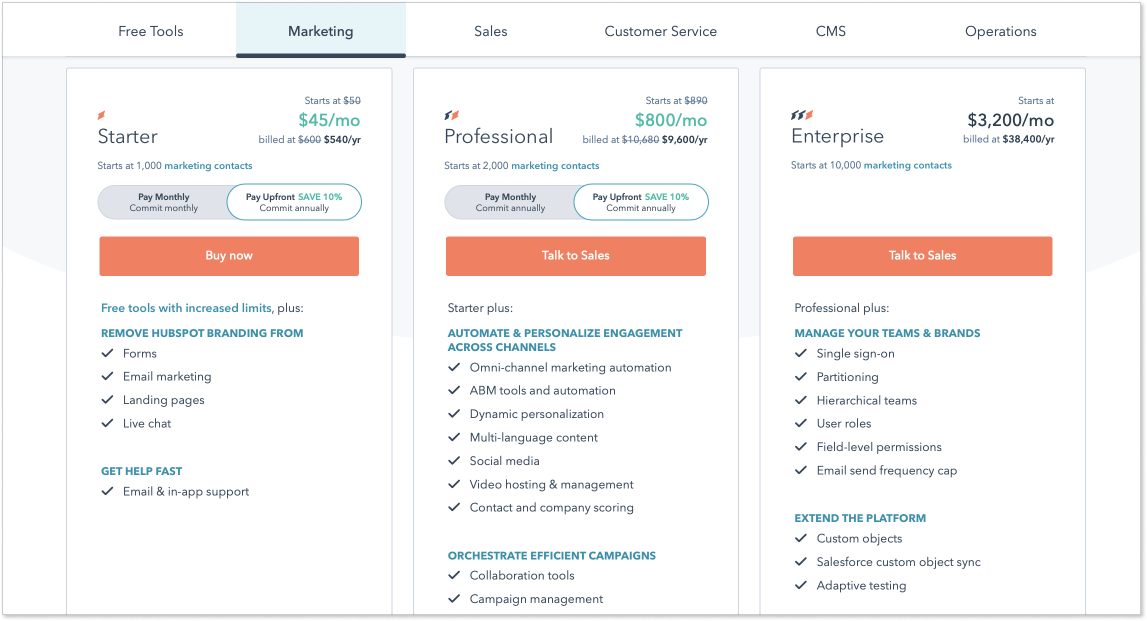 6. Help Scout
The Help Scout app offers a live chat and a knowledge base. You can choose to integrate them both to your widget or utilize chat as a separate decision.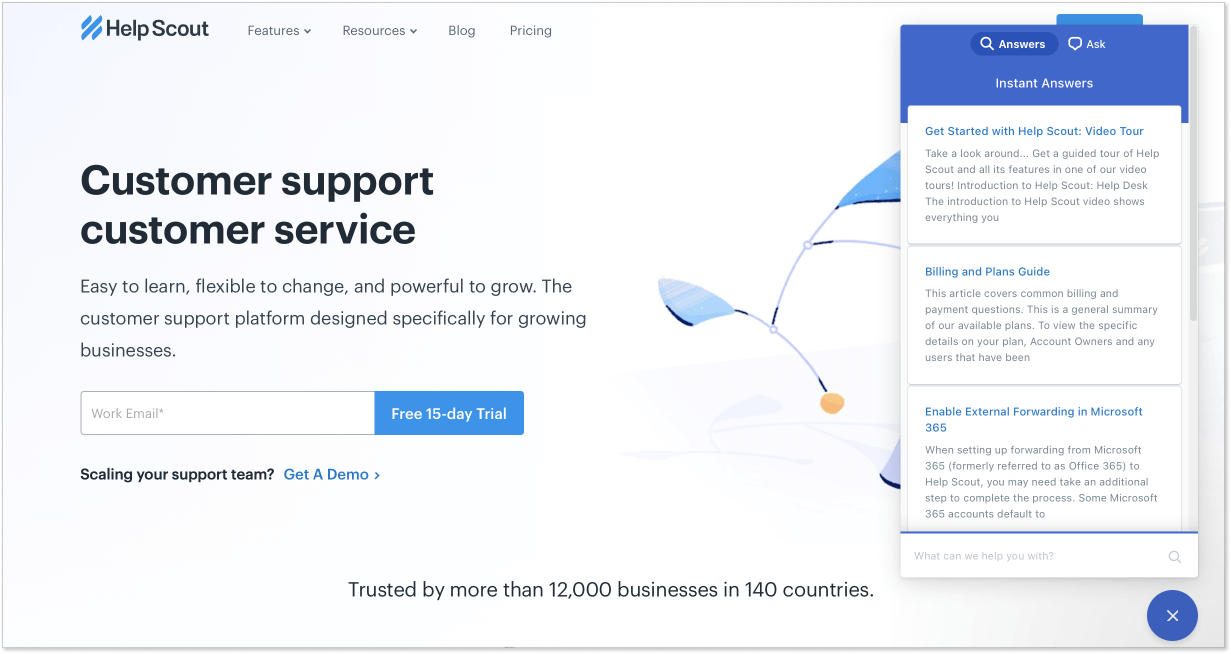 What's interesting, you can allow users who click on a chat widget icon to choose where to follow-up – email or live chat. It's a nice feature that gives more power to clients. (Which they certainly appreciate).
Thanks to mobile SDKs, you can add Beacon to your native Android or iOS app and let customers reach out to you through a mobile application.
Besides, the tool delivers other essential features like a shared inbox, customer management, and reporting options. Help Scout users especially appreciate the 75+ keyboard shortcuts. How cool it is to be able to use the app almost entirely without a mouse. It can definitely speed up agents' performance right after they learn the shortcuts by heart.
In the reviews, Help Scout customers point out: "This is not a typical customer support ticket management application, and some of the functionality when it comes to escalating a ticket is very limited." Others criticize the limitations in advanced customization features.
Generally, people agree that the app is a good decision for small businesses. But as your company grows, you can face some roadblocks. As a result, entrepreneurs switch to other more advanced tools.
Price
Starts from $25/mo per agent if billed monthly.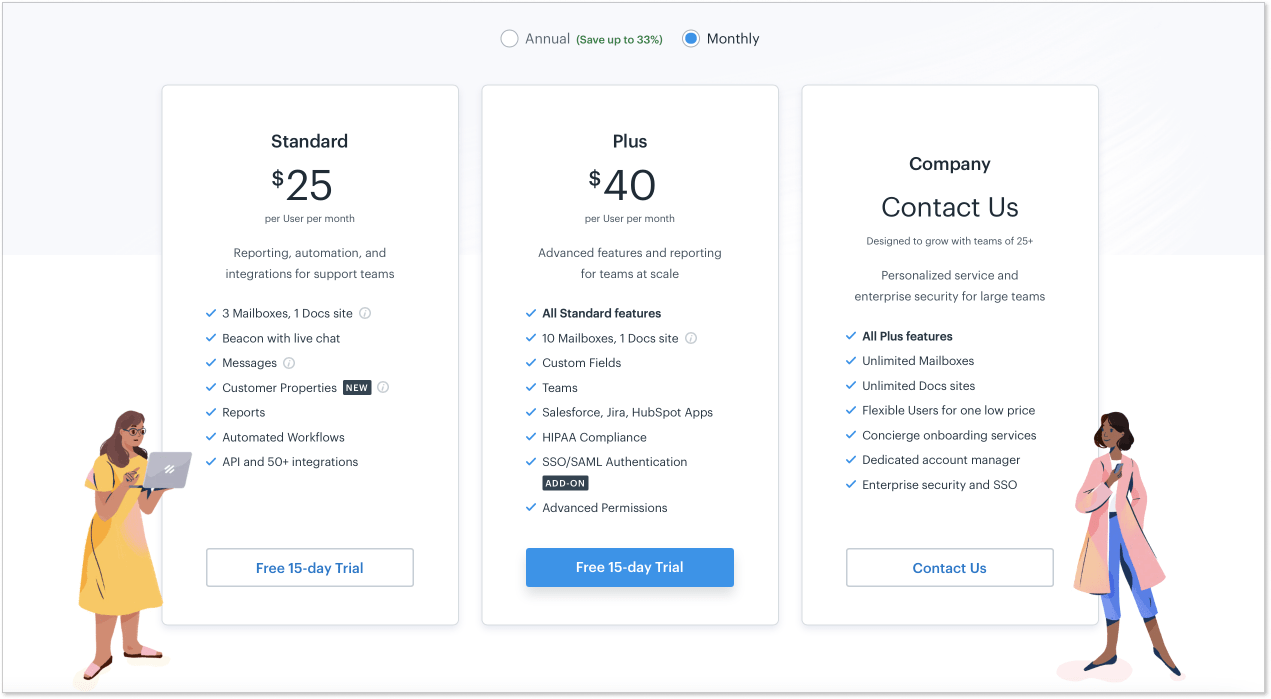 7. Olark
The Olark app has simple and functional live chat features to help you grow your business.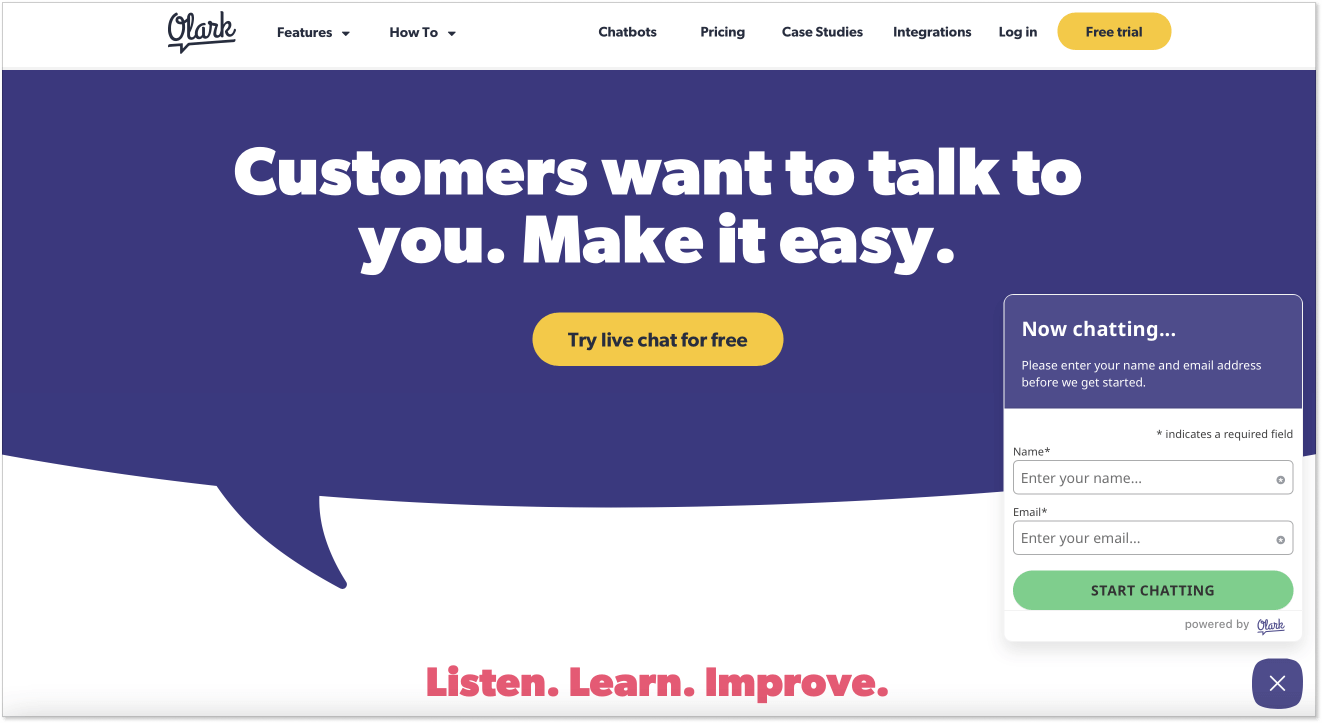 Apart from usual functions like chatbox customization, automated messages, and reporting, Olark provides some powerups paid additionally. For example, a visitor co-browsing feature allows customers to share their screens while chatting with agents. This way reps can provide high-touch guidance through the installation and payment processes, or other technical questions.
Visitor insights is another powerup feature. It gives you access to more visitor data collected from public social media profiles and company websites. Among others, the data includes interests summary, job title, social profile links, and whatnot.
What makes this app special, the chat is adapted for people with disabilities. So if needed your website visitors can utilize the chat with screen readers for blind people. Also, the chatbox supports large text.
What about the downsides? People complain about limited customization options, the lack of stickers, and not-so-pleasant design. Also, some customers consider the price for add-on features to be too high.
Price
Starts from $19/mo per agent.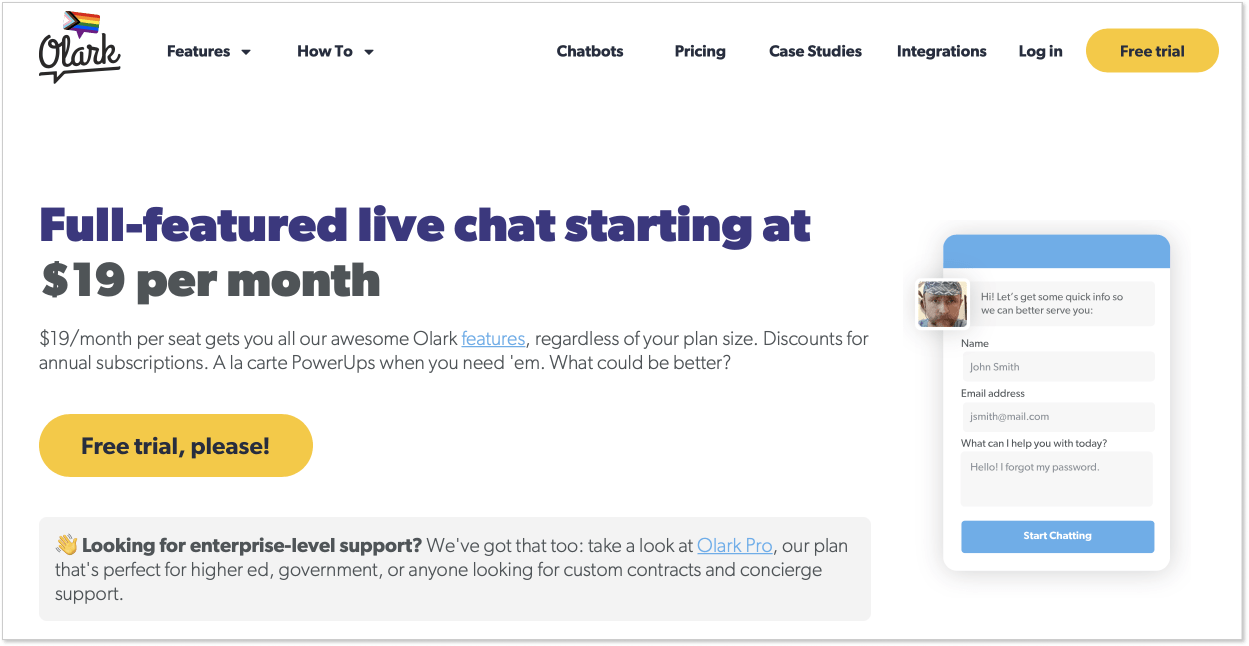 8. Pure Chat
The Pure Chat offers unlimited chats, a customizable widget, canned responses, and real-time analytics. It's a simple tool that delivers the essential features for chatting with visitors. However, it definitely lacks a knowledge base option.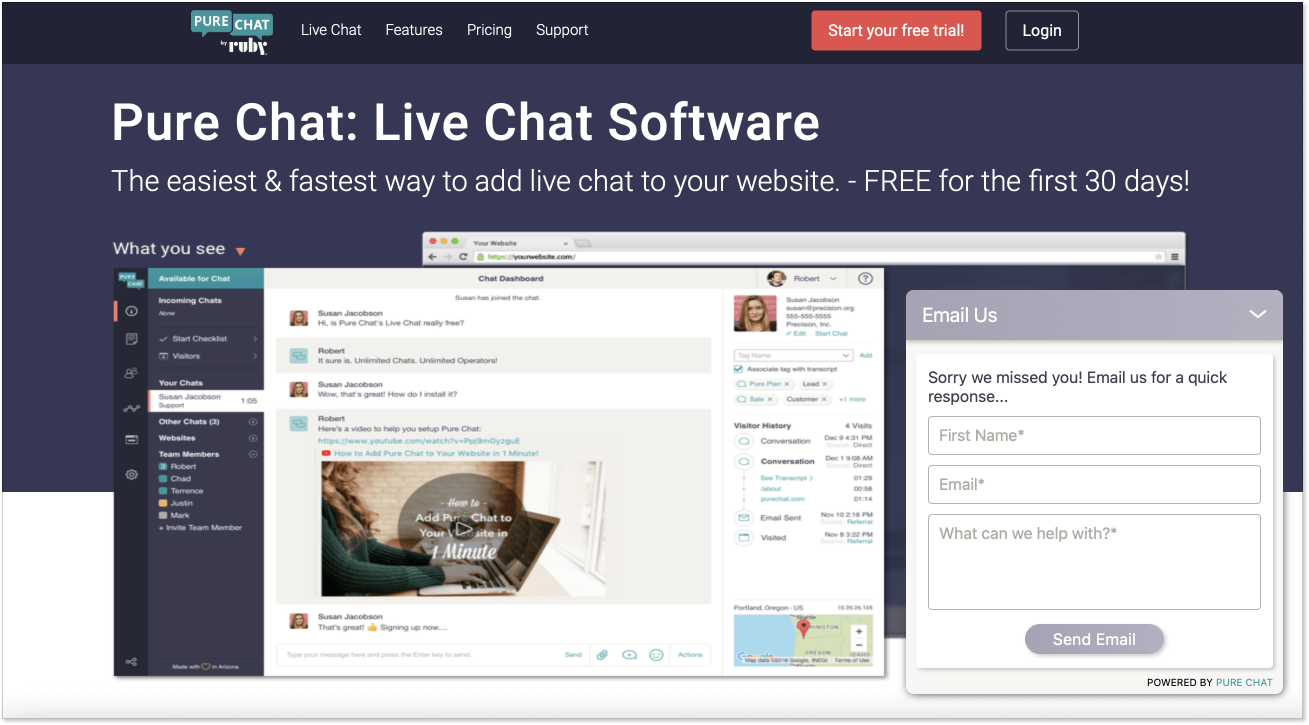 Thanks to Pure Chat native Android and iOS apps, it's easy to assist visitors via mobile applications.
By collecting data about users, the tool allows agents to see what pages visitors scroll and if it is their first time or a repeat visit.
In addition, the app offers some data integration opportunities. For example, you can improve sales by connecting your Pure Chat data with HubSpot, Salesforce, Slack, and so on.
It always amazes me how a customer support app can't provide proper support to its clients themselves. Is Pure Chat any different? On G2, people report issues with getting assistance from the company representatives and limited functionality.
Price
Starts from $49/mo per agent if billed monthly.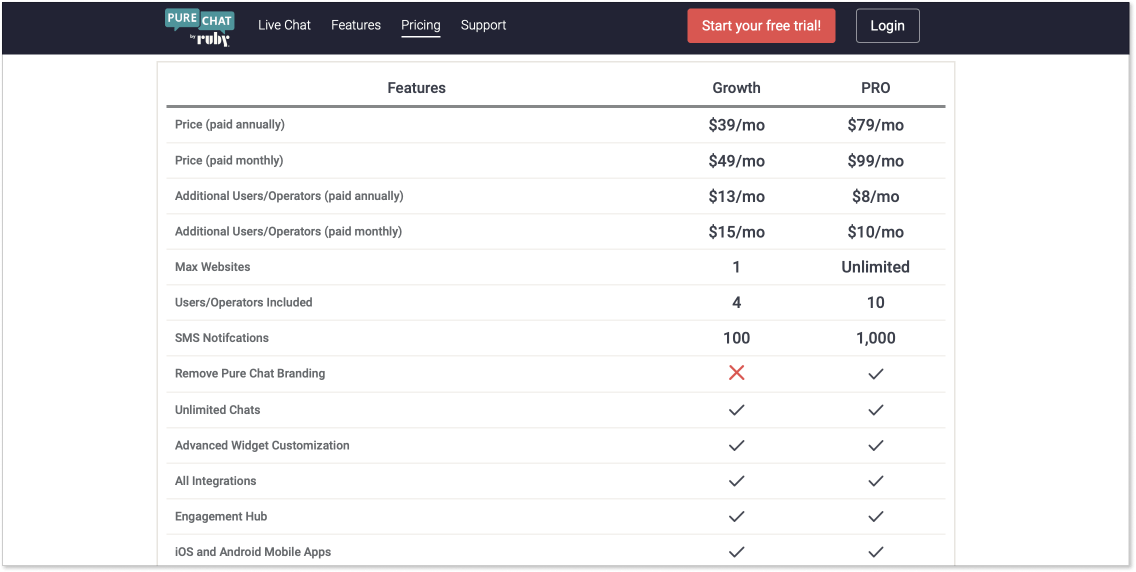 9. tawk.to
tawk.to is a free live chat tool that delivers a chat and a knowledge base.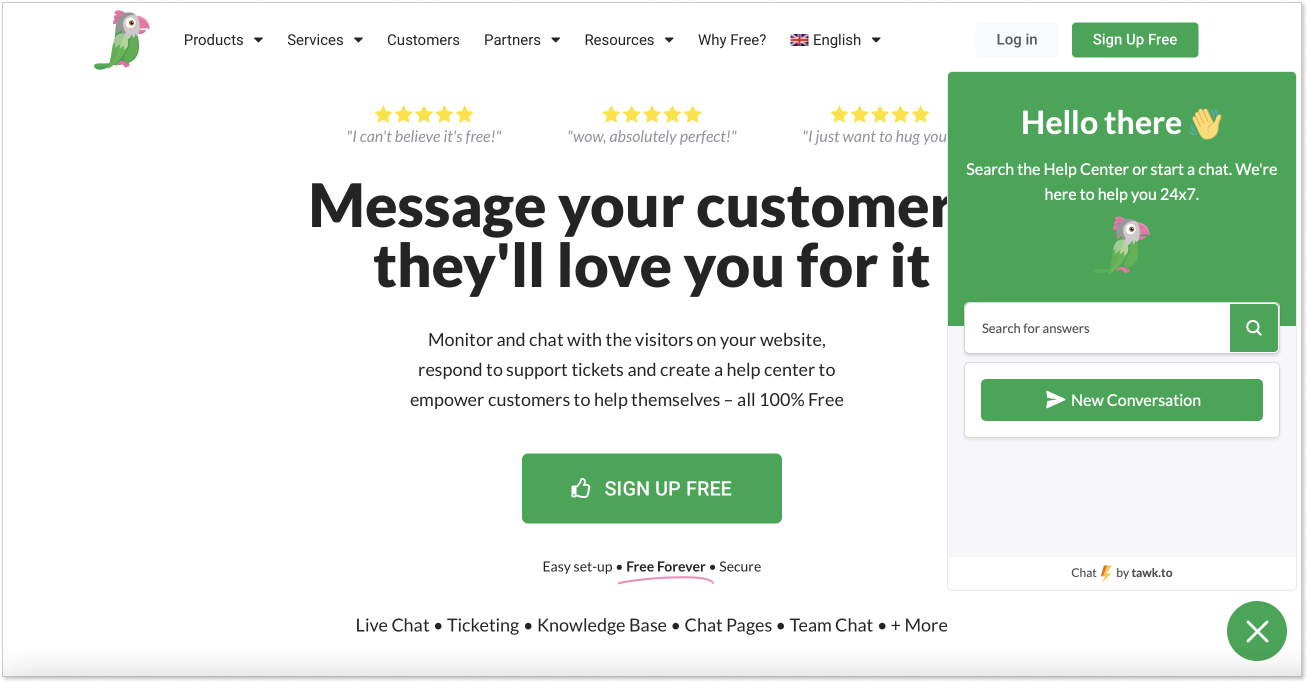 I won't be able to surprise you with outstanding live chat features here. The app offers almost the same set of functionality like other tools do – canned responses, localization, reporting, and etc.
It also allows monitoring visitors' behavior in real-time. Like with some other apps, here you can also see which website pages users are visiting, and how often they stop by. In short, you are able to view their entire customer journey.
The company offers iOS and Android apps so reps can receive notifications of incoming messages from clients on their devices.
Maybe, there is nothing special about the app, except for the fact that it is forever free. Yes, including the knowledge base which 100% free at the moment.
They say 'Don't look a gift horse in the mouth'. But still, there are some complaints about agents not receiving notifications every time a new message lands in the inbox. It can be quite frustrating and make you miss important chats.
Price
Free
Conclusion
The market is full of great live chat apps. Most of them offer a similar set of features to enable effective communication. And the major difference is the price. So, if several of those apps can meet your needs for live chat support, why should you pay more?
While entirely free tools raise some doubts due to the limited functionality, HelpCrunch is a perfect solution with the best combination of price/features. Feel free to start your 14-day trial now. No strings attached.