5 Benefits of Live Chat for Your Business (Infographic)
Live chat has a plethora of advantages worth attention. But we've compiled TOP 5 for you to look through. Maybe this is a chance to decide on such a powerful communication tool as live chat eventually!

When was the last time you texted someone on WhatsApp or Facebook Messenger? I bet you keep at least three WhatsApp conversations going now while reading this article.
These days, we can't imagine our lives without messaging. It allows us to have real-time conversations with friends, family, and develop our ability to multitask at the same time. Which brings us to messengers as business tools.
Let's face it: having various communication channels may turn out to be challenging for a business. Nowadays, the most popular are social media, emails, phone, and in-person communication. Especially if you have to interact with lots of clients day by day. Here is when live chat can save the day.
It's been said a lot about live chat benefits over the years. Customers prefer it over all the other customer service channels, it increases loyalty and conversions. But is live chat really that awesome? The short answer is yes. Live chat is really THAT awesome. Let's cut to the case here and break down the benefits of live chat by numbers.
What are the benefits of live chat software?
A lot of smart businesses have already discovered advantages to live chat support. Such a tool covers not only customer service but also marketing and sales within a company. By adding a live chat widget to your website, you can provide timely customer support, boost brand awareness, and grow revenue. But these live chat software benefits are just the tip of the iceberg.
We've pored over some recent studies and collected TOP 5 live chat benefits that a business can get. You can check them out in our infographic below. Every word in it is backed by data and common sense: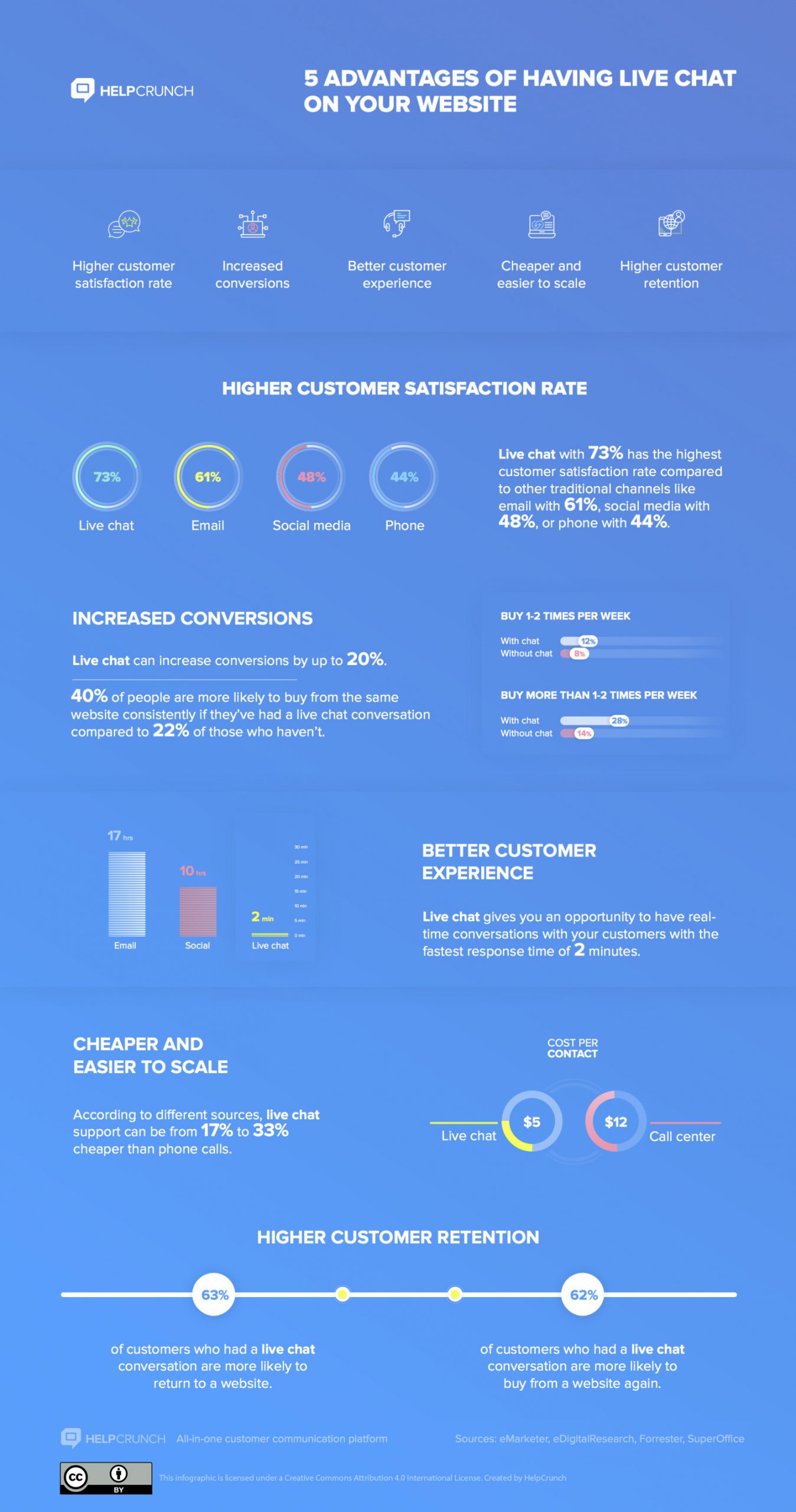 Embed code to share this image on your site
1. The higher customer satisfaction rate
The benefits of live chat for business start with one of the most important criteria: customer satisfaction. What a brand can stand to gain if it isn't for its clients?
No wonder that live chat sets the records here. It shows the highest customer satisfaction rate of 73% if compared to other customer service channels. For instance, only 61% of email support users and 48% of social media support customers were satisfied with the service they received via corresponding channels. And call centers scored the lowest satisfaction rate of 44%.
2. Boosted conversions
It's generally agreed that live chat can increase conversions. For instance, according to the widely quoted research by the American Marketing Association, B2B companies that use live chat experience a 20% increase in conversions.
What are the chances that customers will buy more from you if you install a live chat on your website? 40% of clients would purchase from the same website repeatedly if they had a live chat conversation there as compared to 22% of those who didn't.
To be even more precise, 12% of customers are ready to buy stuff once or twice per week interacting with a customer service rep via live chat. Though, 28% of clients are likely to fill their carts more than twice a week if they are assisted by a live chat agent.
3. Better customer experience
To fine-tune customer experience, you have to meet clients' expectations when communicating with them. With such a customer communication tool as live chat, exceptional customer experience is around the corner.
As seen on the infographic, live chat shows the fastest first response time with the overwhelming result of 2 minutes and 40 seconds. This is almost as fast as phone calls. On the other hand, social media and emails demonstrate other statistics. With 10 and 17 hours of response time respectively, these communication channels take a backseat. This is another evidence that live chat has absolute benefits for a business to thrive.
4. Cheaper and easier to scale
One of the advantages of live chat is that its maintenance and scaling is much cheaper than any other communication channel. Thus, the cost per contact for live chat support is only $5, while the price of call centers' contacts is $12 each.
In fact, live chat maintenance stats may vary. Some claim that it's only 17% cheaper than customer service via phone while others are convinced of 33%.
Given that one support rep can handle several conversations and help different clients simultaneously, live chat is now the most cost-efficient customer service tool you might want to try.
5. Increased retention
Customer retention is a top-of-mind priority for many businesses since it takes a lot of effort to win new clients. With live chat, a business is available round-the-clock, can collect customer feedback, and react to it to improve products or services to prevent client churn.
Our infographic depicts striking numbers. 63% of customers are more likely to return to a website if they previously used live chat there. Whereas 62% of them don't mind purchasing something on a website with live chat support.
Bottom Line
Now that we've dived deeper into live chat support benefits, it's no surprise that this tool is an effective way of communicating with customers. They don't want to wait on hold anymore and they don't have to as their issues can be resolved fast and efficiently. Plus, the advantages of live chat support for business say it all: the new era of customer communications is upon us.
As a matter of fact, getting a live chat for your website or mobile app is easier than ever. You just need to choose a live chat tool, copy and paste a few lines of a code snippet and you'll see a live chat button on your website right away. Try HelpCrunch for a free 14-day trial to see if it fits the bill.