13 Live Chat Tips to Streamline Your Customer Service
A set of well-tried live chat tips won't hurt even if you are a seasoned customer service expert. We list 13 of them here. Maybe you have something to add?

Come to think of it, James Bond and live chat have a lot in common. It's perfectly normal to use live chat as just another way to communicate with your customers (as one of the most convenient and satisfying at that).
You can just add a live chat to your website and call it a day. It will probably work as it is. Clients will see a chat bubble and use it occasionally when questions pop up, while your support team will answer them.
But here's the thing. Mr. Bond is a pretty great secret agent even without all the fancy gadgets. He still uses his gorgeous Aston Martin, magnetic Rolex, and a plethora of other unbelievable devices.
Just like these gadgets help James Bond a lot, you can enhance your customer service by applying a couple of advanced live chat tips to it. Let's dive right in!
Tip #1: Stay proactive
If it were up to me, I would ask the following questions when hiring new customer service agents: what does proactive mean to you? How can you show a client that you'll be always there for them? Half of the candidates would probably bounce right off after such an interview.
No wonder I put proactivity first on the list because starting a conversation with a client can actually pay off. You see, customers might seek assistance but won't initiate the chat for several reasons:
They don't see the chat window
They don't believe there's a real person on the other end
They are too humble to do that
But after you lend a willing hand, clients see you care about their issues and anticipate them, let alone you provide them with actionable solutions. Set up proactive messages to every page of your website you think fit. And don't forget to put a real-life avatar: this only adds up to the credibility.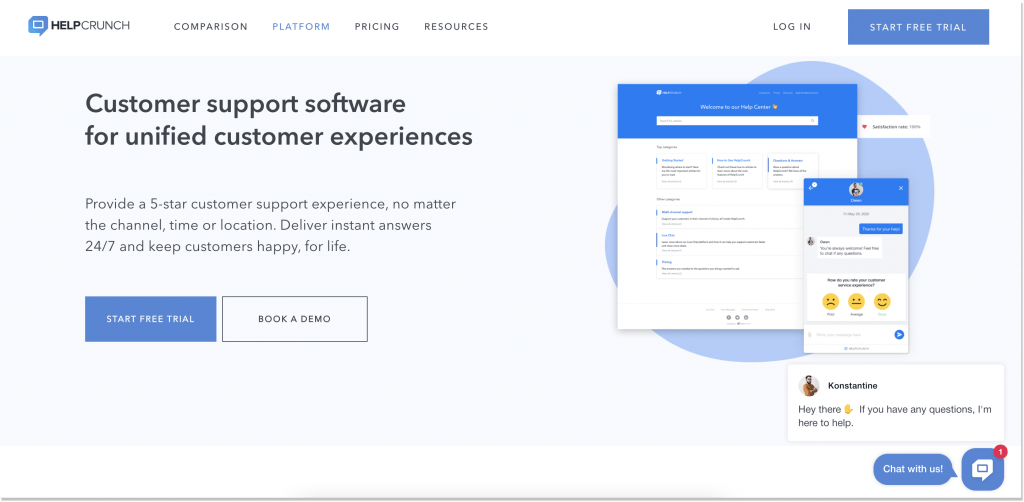 Bruce Hogan, CEO of SoftwarePundit, tells that one of the most important tips for online customer service chat is to engage visitors proactively on high-value pages. Not all web pages are created equal!
It's key that the customer support team understands which page the person they're speaking with is on, and focuses their time on the most important pages. This will help maximize the business impact of live chat customer support, and help customers where they need it most.
Tip #2: Adopt self-service
The next piece in our customer support tips for live chat roundup is self-service. The numbers say that 67% of customers prefer it over speaking to a support team representative. No wonder, people become tech-savvier than ever. Even elderly people grapple with modern know-how, not to mention younger generations. The main point is how to encourage customers to search sought-after solutions on their own?
A well-oiled knowledge base might be just the thing. Such a resource hub stuffed with useful materials can help your customer support agents both handle tickets in a jiffy and show clients how to look for information.
Many platforms like HelpCrunch make a smart move and integrate a knowledge base into their chat widget. Not without a reason: it's convenient, fast, and easy-to-implement. Time to give your clients liberty of choice.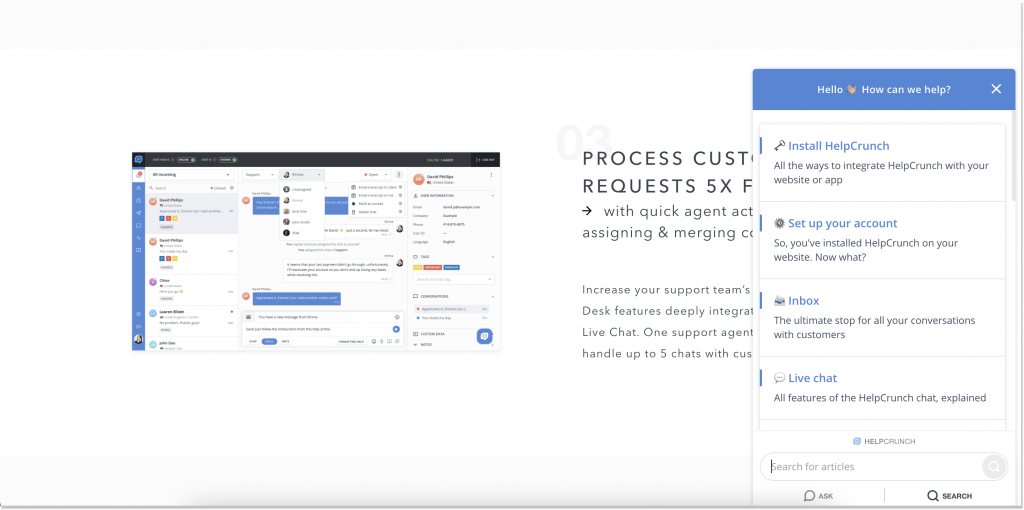 Tip #3: Use canned responses
Clients are all about asking similar questions over and over again. How to streamline your customer service and not be snowed under incoming chats day by day? I have a great suggestion.
One of the most important live chat tips is to create a system of canned responses to your most common questions and utilize them whenever possible. These are pre-made messages you can write beforehand and use if need be to save lots of time and effort. And I'm not the only one who thinks saved responses are life-saving.
Levi Olmstead, SEO and Community Manager at G2 Crowd, claims canned responses are a great time-saving hack for customer support and sales teams. Most live chat tools let teams see patterns for questions that are frequently asked. They also allow for teams to add in canned responses – default replies that a customer service rep can send in a click of a button instead of writing it out every time it's asked.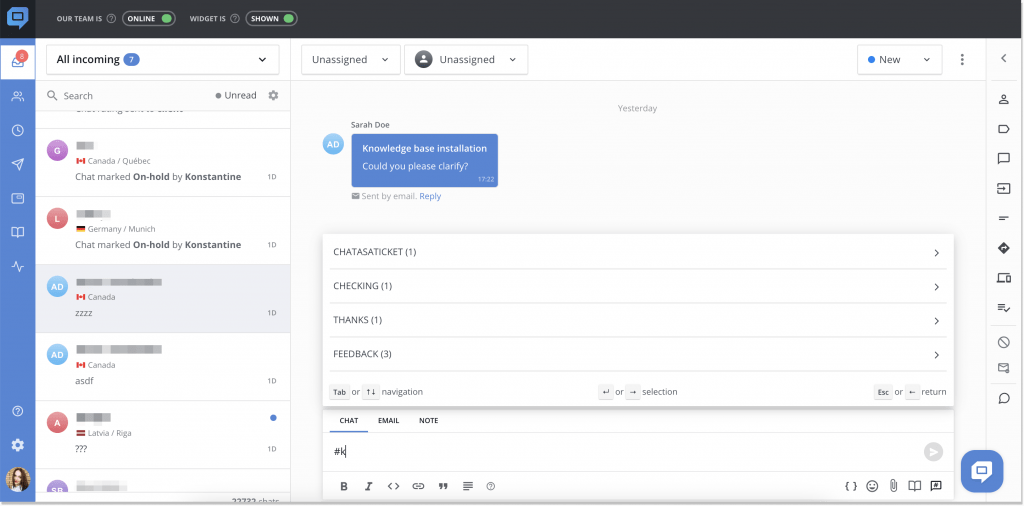 Tip #4: Keep chat history
The more information your team has at their fingertips, the more efficient they get. One of the most important customer support tips for live chat is to make sure you're giving all the context the staff might need.
There are customer service tools that allow you to store different bits of information: the number of conversations a user had with support reps, what device they use, or what actions they took while navigating your website.
For instance, HelpCrunch lets you do all of the above plus add tags, leave chat notes or private messages, forward custom data about users to your live chat platform, to name just a few. Imagine how your workflow would look with that kind of software.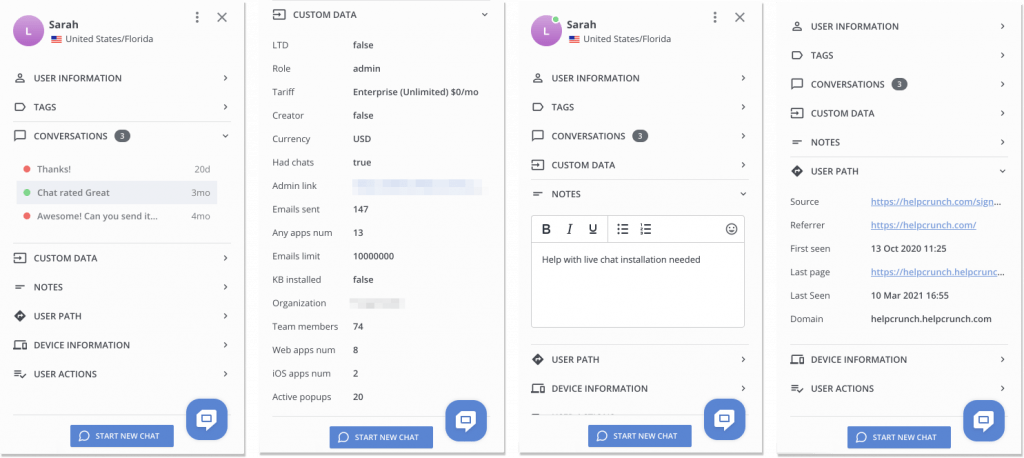 Tip #5: Add a personal touch
If you surf the Internet to see some other customer support chat tips, most of the articles will mention different automation and chatbots. Sure, these enhancements can help with many routine tasks.
However, the whole AI-powered technology lacks one key thing: it's not a human and has no feelings. Talking to chatbots makes customers feel more frustrated than satisfied. So, they still appreciate it when a real person listens to them and solves their problems fast and efficiently.
Dave Nilsson, Founder and Director in ConvertedClick shared his thoughts with us on this point. He believes that it's vital to use the customer's name in the chat. It makes them feel valued and adds a genuine touch to your messaging.
Plus, introduce yourself by name. This instills the customers with a sense that they're talking to a real person. Adding a personal touch is important because it helps you connect with customers at a deeper level and evolve as a brand that cares.
Tip #6: Practice flawless grammar and spelling
Try as you might, but typos and misspelling are the cases in live chat interactions. And yes, they are quite difficult to avoid. Unless you're a master of writing and can type with your eyes closed 🙈
But not all is lost yet. There are countless options to test both your speed of typing and the use of language even online. Remember that the main ingredient in this chat tips recipe is training religiously. Trust me, improvements will be round the corner.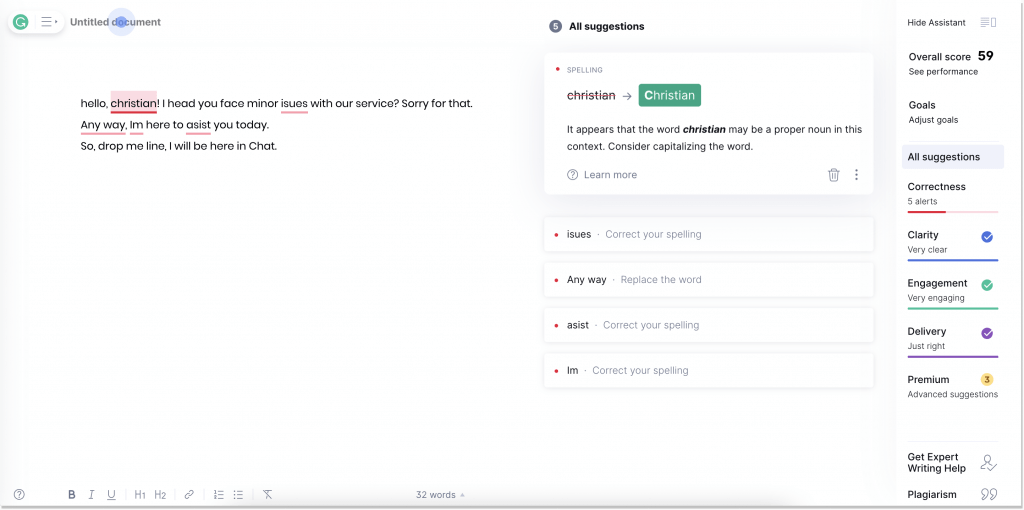 Tip #7: Mind the context
If you're willing to go that extra mile for a customer, they will definitely notice it. And you can be sure they'll appreciate your effort, too.
It doesn't need to be something complicated. Even looking at a page, where a question from a customer emerged, you can give somewhat of extraordinary customer support.
As Chris Yoko, CEO at YokoCo, reckons, one often-overlooked live chat benefit we see again and again is disregarding the page the user asking the questions is on.
If this is in a customer service capacity, see this as a training opportunity. Tell the user what to do on the page they're navigating. This also helps them learn how to find information on their own and lowers repeat customer service inquiries and the overall cost of customer service via chat.
Tip #8: Monitor your performance
Sometimes (if not always) it's not enough to install a live chat and look to your laurels. To better realize when and how exactly you need to improve, check on customer service KPIs and metrics.
First response time, the number of messages per ticket, time to close, for one thing – these are key performance metrics you can track to see if you're doing OK. Once you start monitoring, you get the whole picture from different perspectives.
Besides, utilize reports many solutions on the market provide in their packages. Choose a time period and the report of interest: performance, satisfaction, or maybe knowledge base articles to review. Trust me, you want to know how your team handles all the queries and why this piece of your resource hub is in bad odor.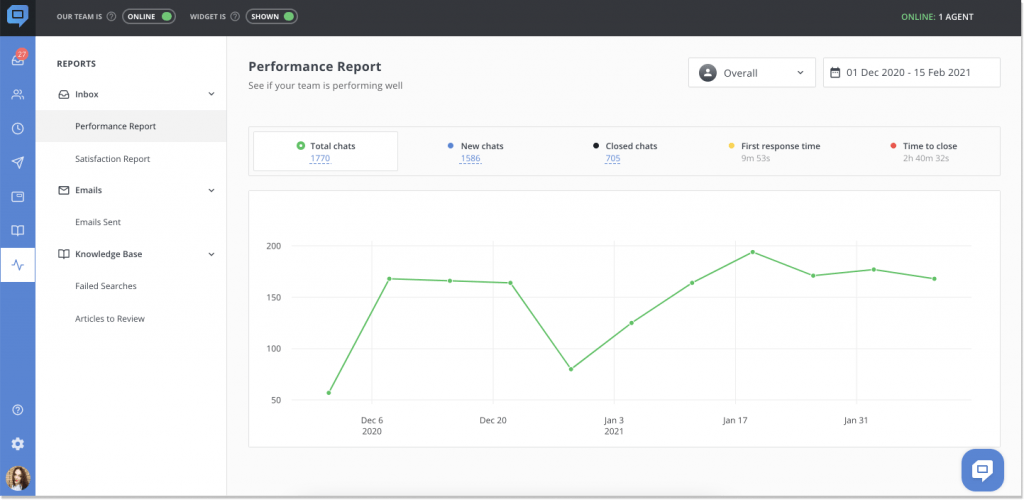 Tip #9: Invest in the team
Live chat tips are great. But you know what's even better? A happy empowered support team ready to show their empathy and help customers right away.
Above anything else, your customer support is about the right people, so invest in them. HelpCrunch CEO Pavel Pavlenko is wedded to the idea that customer support agents are brand ambassadors, your business' contact with the outside world.
It is your team's behavior and professionalism that people will identify your business with. Don't hesitate to invest in training support, sales, account, or customer success managers – those who are at the frontier of your live chat.
Tip #10: Connect live chat to your CRM tool
It's true that you can do customer support at your company via outdated ticketing systems and store your customers' info in Google Spreadsheet. But why would you if you can find a tool for virtually any job these days?
Some providers like HelpCrunch offer an easy-to-use CRM or help desk on top of the live chat tool. Often, this functionality is more than enough to efficiently manage all your contacts in one place, especially if you're a small or mid-sized business. Here is how you can use such an integration and the benefits you can get:
Save time. Manage chats, use canned responses, view and edit essential data in one dashboard. All of the changes are available for other support agents, so it doesn't take more than a minute to look through them.
Know customers better. Should I tell you that having a detailed picture of a client is important? With a help desk, you can easily gather information and keep it in one place. So, once a support rep returns to a chat, a client shouldn't introduce themselves once again. The rep recognizes them.
More selling opportunities. Every website visitor who talks to you in a chat is a potential sales lead. So, let your team use it to their best advantage. They can have access to all the data in the CRM system, such as social profiles, preferences, or previous purchases. Plus, the sales team can send emails without switching to another channel.
Tip #11: Close the conversation smartly
"The issue is fixed. Have a good one!" is not the best chat ending. If you want your service to be rated Great, you might need to think through how to say goodbye to a customer. Here is a quick list of how you can finalize the conversation (enliven it and don't just follow a script):
Check if there are any questions left: "If there is anything else I can help you with?"
Provide a client with clear instructions: "I'll be waiting for the details in chat…" etc.
Thank a customer courteously: "Thank you for your feedback and being our loyal customer. Nice chatting with you!"
Set an endpoint: "In case you need anything, let me know. I am always here to help"
No, this isn't just common sense or courtesies. This is appropriate chat etiquette as it is. If you aim to stand out from the crowd with how you say farewell to customers, you'd better brush up on it fast.
Tip #12: Apologize like you mean it
Bummer! A customer faced some issue with your product or service and is disappointed. Well, life isn't a bed of roses, so you should be prepared for such a situation.
Anyway, it's not the time to give up and simply stick your head in the sand. It is time to own your mistakes and say "sorry for the inconvenience".
But wait, you didn't think those mediocre words were enough for an unsatisfied client, did you? I will explain how to apologize wisely and pacify a customer. So, here are some phrases to use (you can find the whole list in the article I mentioned above):
We deeply regret the incident..
Please accept my sincerest apologies..
Huge apologies for the mistake
My bad! Hope you will be glad to receive..
Tip #13: Utilize chat rating
You can read hundreds of articles with the most insightful chat customer service tips out there, apply all of them, and optimize your support as much as possible. But nothing will make much sense unless you collect customer feedback to discover what's really working for your business.
Want to know how satisfying your customer service is? Just send your customers a chat rating. It's a matter of seconds for them but can become a great source of insights for your business.
Such a feature comes in a variety of shapes. It's your imagination (and, of course, tools you use). We at HelpCrunch take advantage of Poor, Average, and Great scale along with the corresponding emoji to rate customer service experience.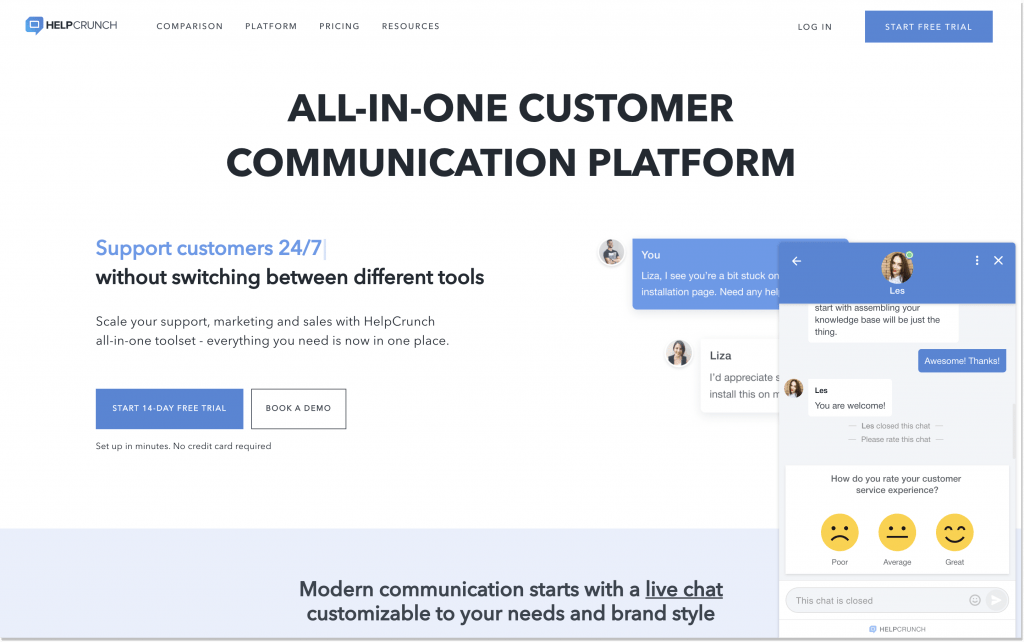 Bottom line
Live chat can become your website's high-end destination where customers come when they need something, when they're miserable and when they're happy. It's a great place to gather insights and establish good customer relations.
However, many businesses use it just for direct communication with customers and don't try to enhance or optimize their work. Sign up for HelpCrunch, test it for 14 days for free, and apply the live chat tips we discussed today to see customer support performance go through the roof.