Choosing live chat software for customer support, sales, and marketing can be a remarkable strategy for your business. If you add a chat to your website, it can help you increase brand's efficiency, generate more quality leads, and provide your customer support reps with a chance to assist people using a powerful toolkit in real time.
This data speaks for itself. 38% of consumers are more likely to purchase from a company that provides live chat support. In addition, 63% of satisfied clients say they would return to a website if a real person handles their issues. Speaking of live chat satisfaction, its rate is 92%, which is the highest among other customer communication tools.
As you can see, a live chat widget can jump-start your business if installed right. This is what we're going to talk about in this blog post. But watch the video on how to add chat to your website first and find out how to speak to your customers via a powerful message center!
Why you should add a live chat to your website
Let's discuss why adding a chat to a website can be so beneficial. It gives your company a competitive advantage in the following ways:
1. Improved communication
The ability to see customers surfing your website right now and what preferences they have gives you a chance to deliver proactive customer service. Showing your initiative especially when a customer doesn't really expect it is always a nice bit.
This way, you can express your willingness to meet clients' demands at any time. So, make sure your clients are satisfied with your support every step of their buyer's journey by dropping them a line at the right time.
2. Enhanced response times
By adding a chat to your website, you can improve response times significantly. Live chat is thought to be quicker and more convenient than other customer communication channels. As seen in the infographic, the average response time live chat has is 2 minutes. Compare this to 10 hours for social media and 17 hours for emails.

Embedding a live chat to your website can remove the poor experience altogether. Owing to a shared inbox most live chat solutions provide, one customer service agent can deal with several chats simultaneously (which impacts wait times positively).
3. Cultivated long-term relationships
Statistically, pleased clients are more likely to stay with a brand. They are even less price-sensitive when it comes to money things. 63% of customers who have already used live chat would come back rather than the ones who haven't. Plus, loyal clients are more likely to buy often because of their familiarity with a brand.
When clients feel like they can trust your business and if you put them first, customer intimacy can be reached in a short span of time.
How to choose a live chat for your website
Luckily, there are plenty of worthwhile solutions today, so you can be spoilt for choice. The majority of brands offer a multifaceted approach to speak to customers online, just like HelpCrunch. But before you embed a chat widget in your website, you should determine a preferred feature set:
Saved replies: create short (or long) reusable canned responses to save yourself a lot of time to answer frequently asked questions.
Multichannel messaging: handle all your conversations from one place without switching between the channels.
Chat triggers: rule-based chat triggers are activated based on customer's behavior, user data, number of website visits, visitor's exit intent, etc. So you can use them to engage with different customers the right way.
Unique design: your live chat widget should be fully customizable and include your company's logo, and colors.
Archived chat history: not to lose valuable information when a customer comes in with a question again and to understand all the context, have archived chat history at hand.
Reporting: keep track of your team's productivity and monitor customer satisfaction and retention.
How to add a live chat to your website
That's when the most interesting part begins. Adding a chat to a website should be a cakewalk in most cases. Commonly, the live chat software you decide on provides you with a code snippet so that you can copy-paste it to the front-end of your website.
There are lots of step-by-step installation guides companies present. If you watched the video above but want to read all the described instructions as well, here is what this is all about.
First, decide how you want to integrate a chat into your website: either use our Installation Wizard or install a chat widget from your account a bit later (spoiler alert: if you have a WordPress-powered website, you can embed a chat to it, too).
1. Adding live chat using Installation Wizard
Step 1. Choose the goals you want to reach with your live chat (customer support, sales, marketing, or all-in-one solution);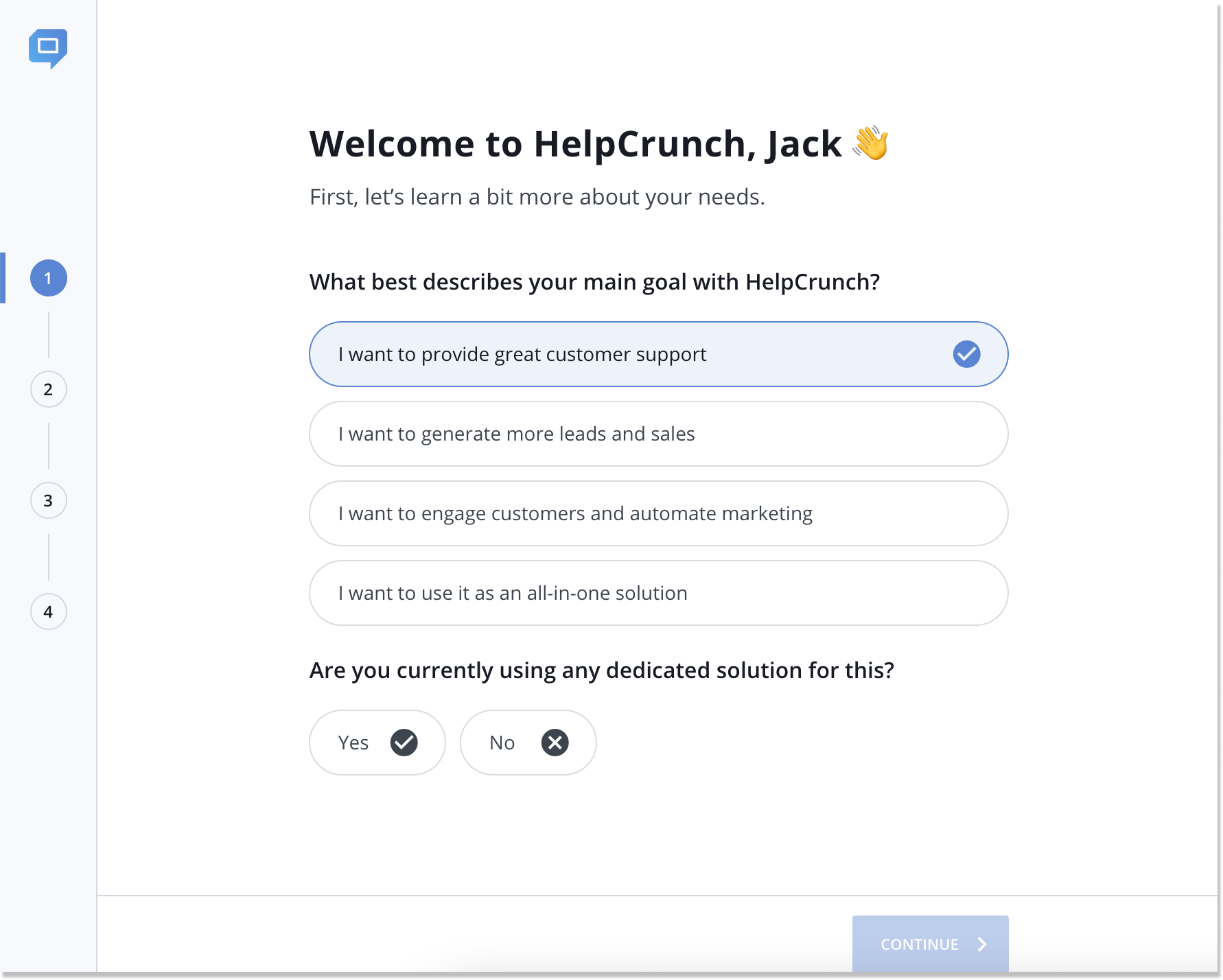 Step 2. Customize your chat widget: play around with button types, icon styles, and change what's written on your widget. Just let your creativity take over;
Step 3. Decide how to add a chat on your website: with a JavaScript code or via a third-party platform (Google Tag Manager, Magento, WordPress, Shopify, Prestashop, 3DCart, Tumblr, Jimdo, Squarespace, SpaceCraft, Big Cartel, iOS Swift, iOS Objective-C);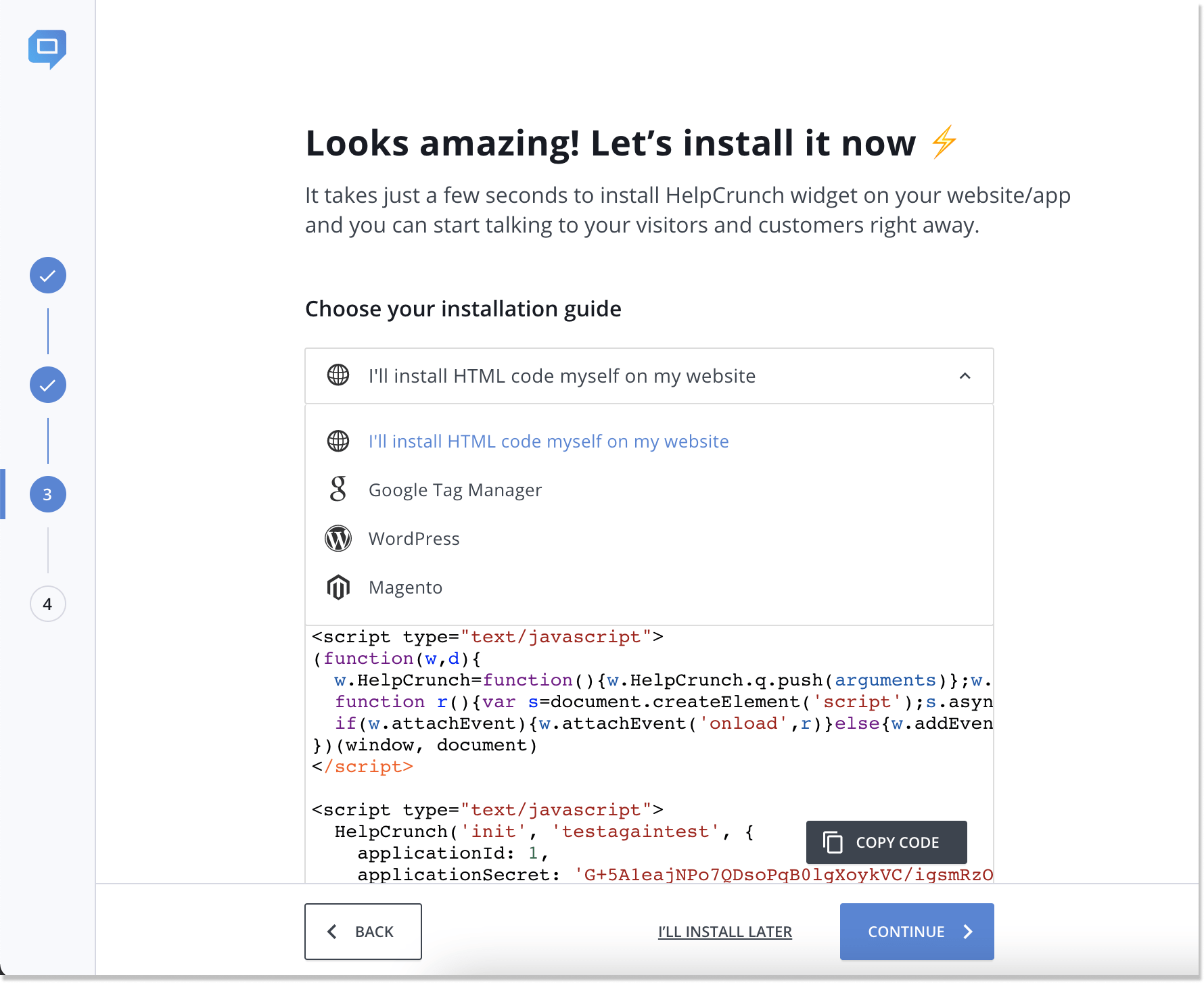 Step 4. Paste the code snippet (if you chose it) into any page of your website and start chatting with your visitors right away.
2. Adding live chat from your HelpCrunch account
Step 1. Log in to your HelpCrunch account;
Step 2. In the Settings section, find the Set Up & Customize subsection, and click your website domain;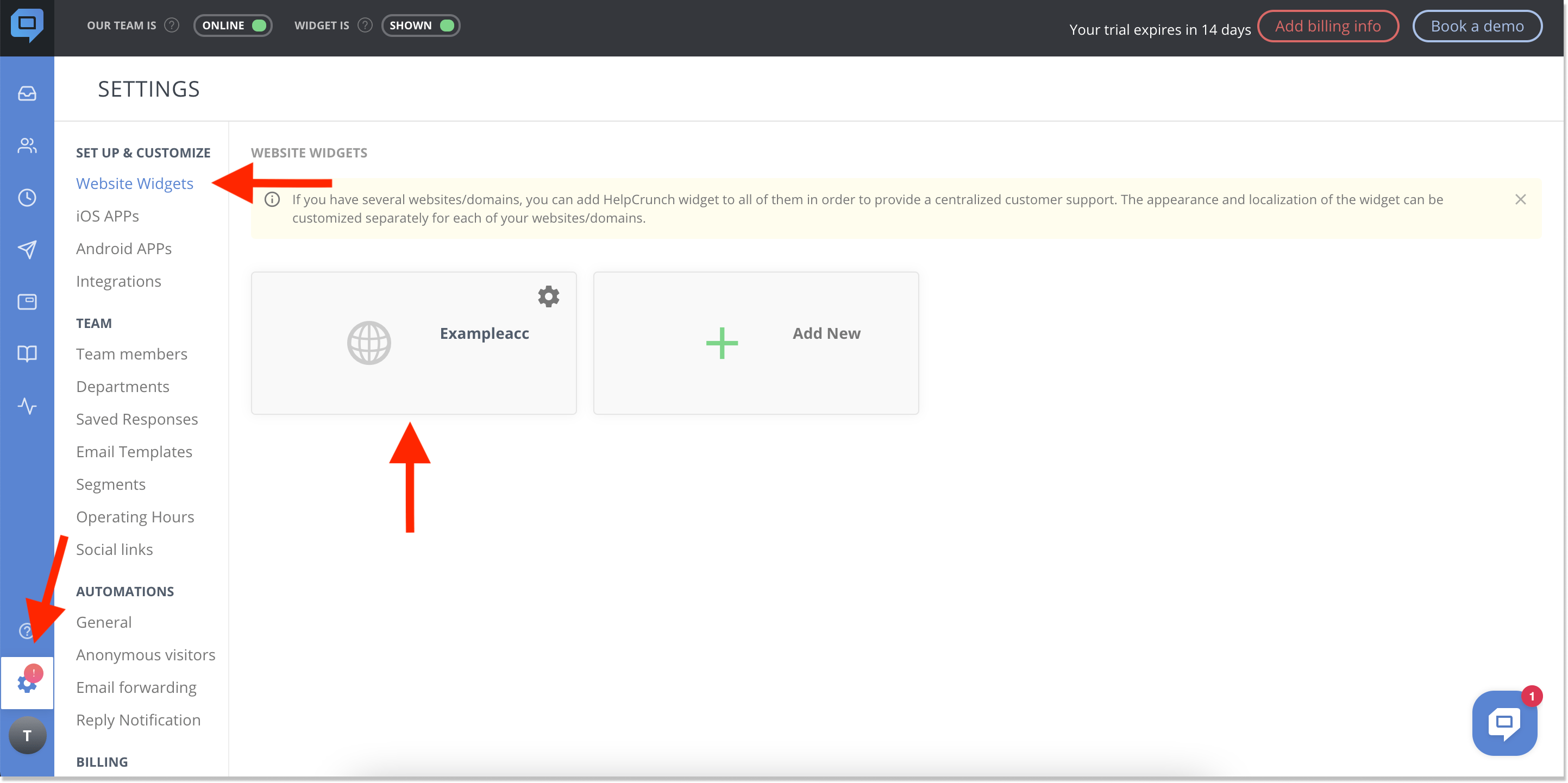 Step 3. Copy the JavaScript code and paste it on every relevant page of your website after opening a source code console;
Step 4. Interact with your customers via live chat!
3. Adding live chat to a WordPress website
Step 1. Log into your WordPress account;
Step 2. Find the Plugins section and press "Add new";
Step 3. In the Search box, type in "HelpCrunch";
Step 4. Hit "Install" and "Activate";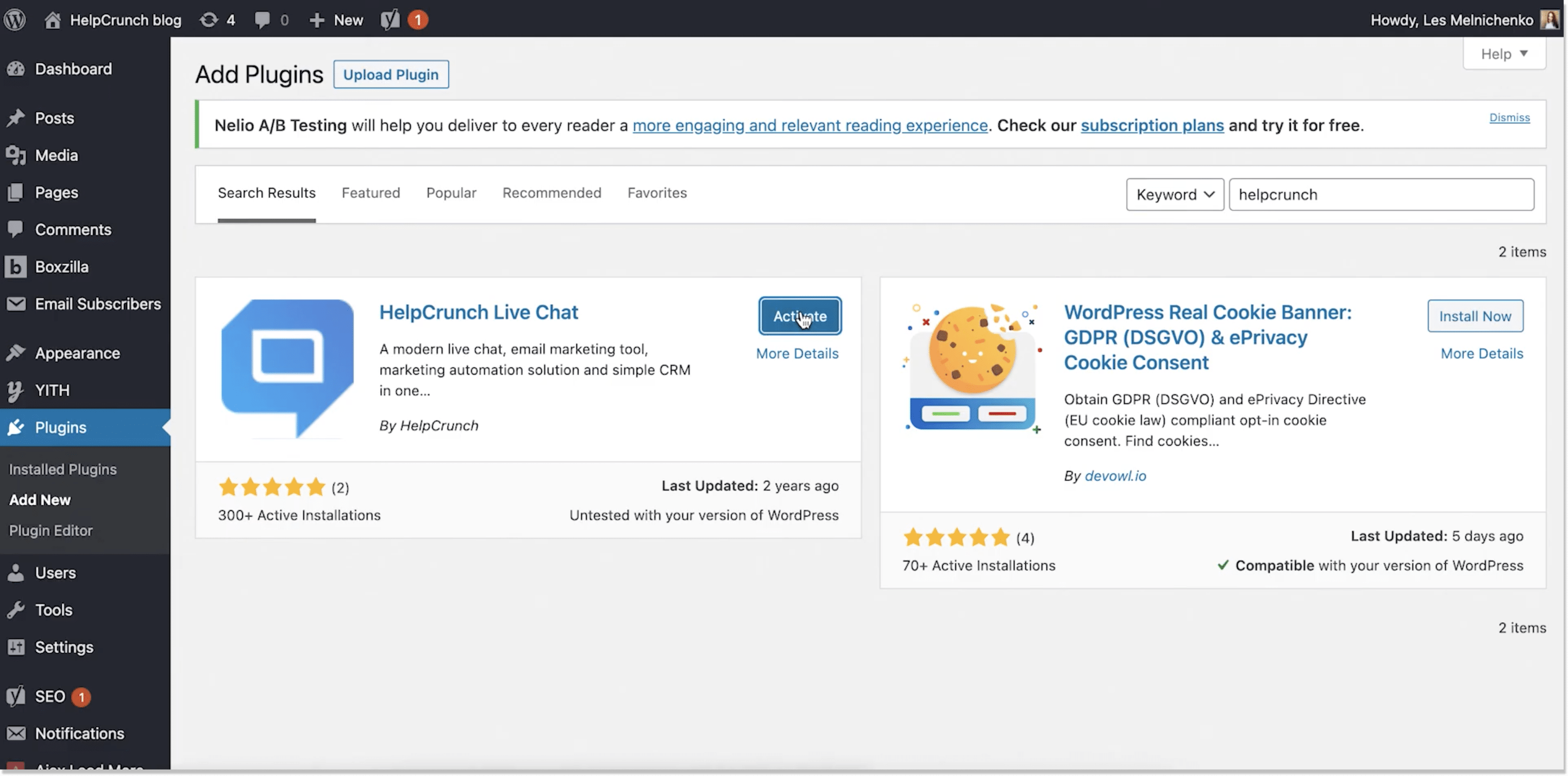 Step 5. Copy the CMS code from the settings section in your HelpCrunch account
Step 6. Find the HelpCrunch live chat widget under installed plugins in your WordPress account
Step 7. Paste the CMS code in the Settings and save changes
Voilà! The live chat widget appears on your website!
How to fine-tune a live chat on your website
1. Place the chat widget on the right website pages
Now that you're aware of how to add live chat to your website, it's time to speak more about what pages are strategically crucial for it. Do you want the chat widget to be placed on your blog? Or maybe you need it every time a prospect navigates your pricing page? Here's not a wild guess: a live chat widget will hold up well on both.
With well-designed custom messages, you can interact with the right audience to meet their specific needs. For instance, when there's a new visitor on the HelpCrunch website, this pre-made proactive chat message pops up: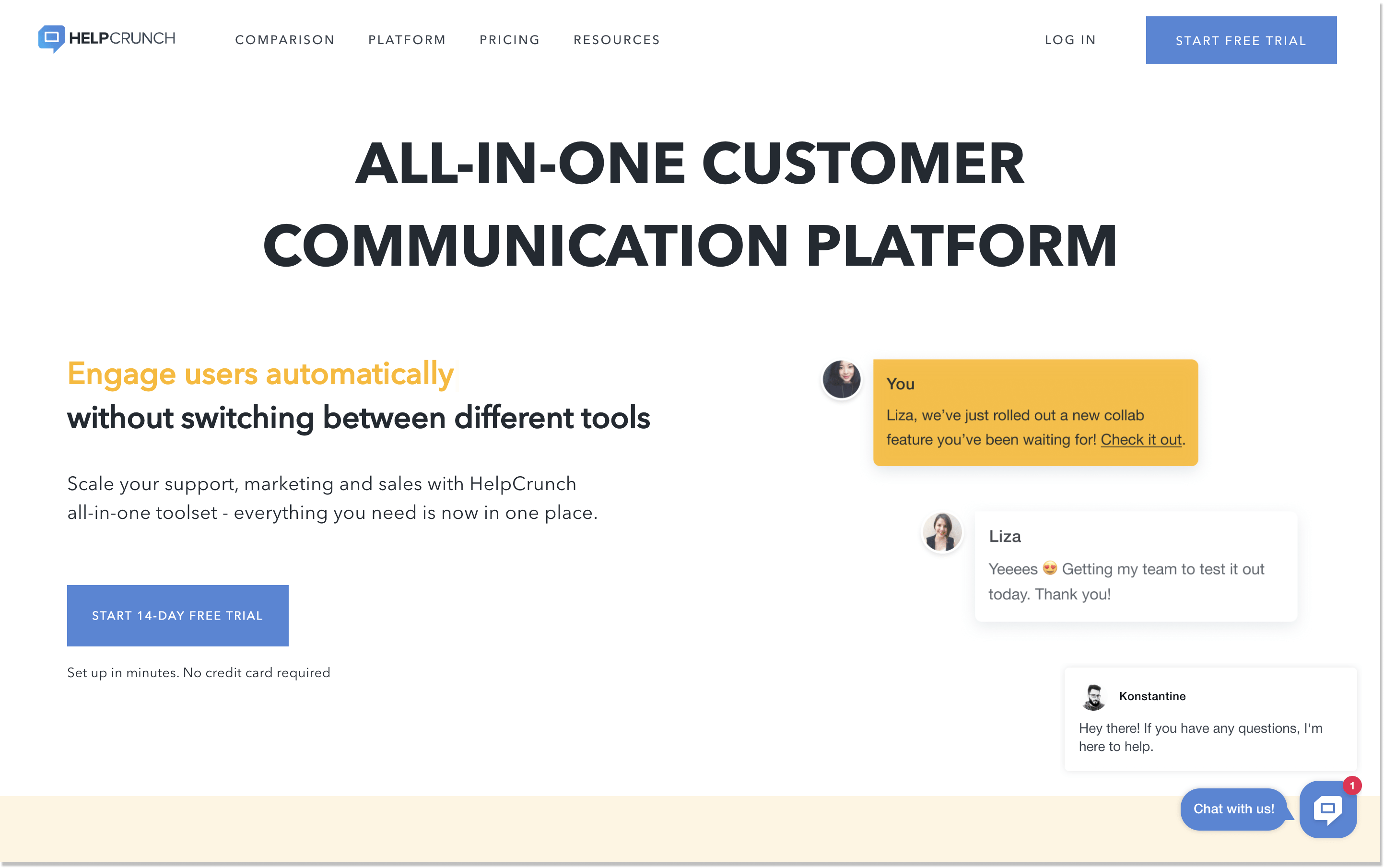 If you want to greet a returning customer, create a message saying something like 'Hello there, nice to see you again! Want to get more details on [your product]?', or set up a chat trigger so that a message shows up automatically when a visitor is on a page for at least 10 sec.
2. Add sales representatives to the chat
Live chat isn't only a customer support team's prerequisite. Your sales department should also be involved in customer conversations. It can actually become a secret weapon here.
Once you bring sales experts aboard, teach them everything about your product or service, show your knowledge base where they can get all the valuable materials to share with customers or even encourage them to attend specific workshops to hone their skills.
3. Map out your sales conversation workflow
When you add a live chat to your website, try to get the most of its features. Many companies within the industry, like HelpCrunch, make it possible for customers to choose a department before starting a new chat. Such a feature is convenient for both your teams and clients. Here's when a sales department may play a key role.
Cross-selling and upselling, following-up with a customer to enhance their shopping experience, and just influencing a prospect at the moment that matters most are only a few activities a sales expert can perform via live chat. By the way, when you have a real person talking to your customers, you can increase sales conversion rates and generate more quality leads.
3. Gather and process customer feedback
So, your customers are already using the live chat widget you added to your website. But it doesn't mean you have to stop at this point. Send them a chat satisfaction survey even after your initial conversation. Or use in-app surveys to get better results. This can help you realize whether you get it right and what product-related aspects need to be improved.
Besides, send customers follow-up messages, and find out whether they enjoy live chat features, have worthwhile improvement proposals, and how your solution has helped them. If your chat satisfaction rate is around 95% and higher, it's one more step towards making customers happy.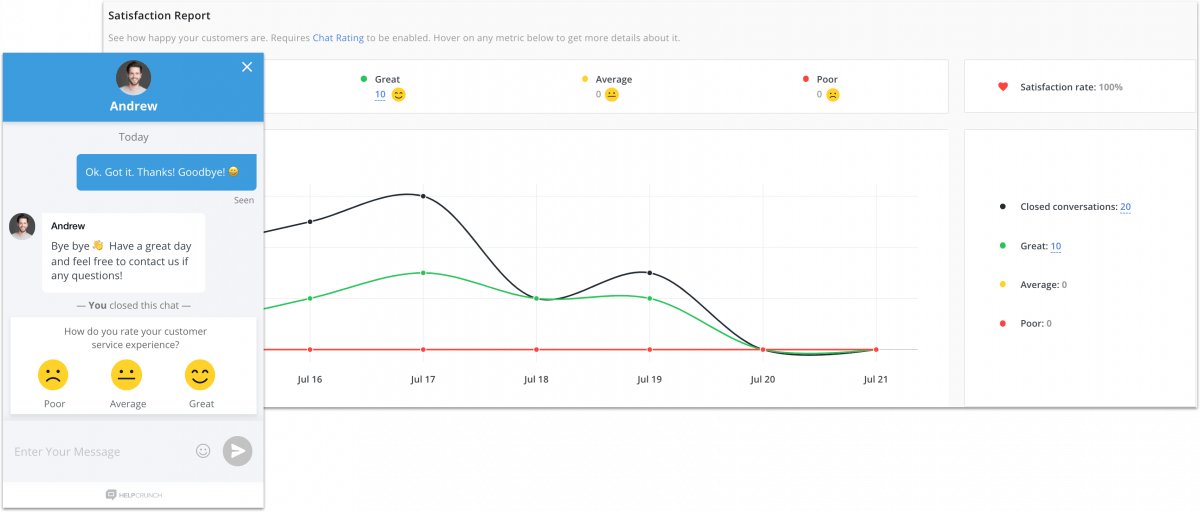 Final Thoughts
As you can see, adding live chat to your website takes no more than 10 minutes. No matter how you do that, from your account or using the Installation guide, the perks stay the same: enhanced lead generation, revenue growth, and improved customer experience.
So, it's time to get down to practice. Arm with our insightful video on how to add a chat to your website and sign up for HelpCrunch to start chatting with your customers.
HelpCrunch articles delivered straight to your inbox 🚀
All the latests posts. One email per month.
No strings attached.
Read also
Tools
Intercom pricing is super confusing with its high prices, additional fees, and unpredictable invoices. We decided to figure it out once and for all.
Tools
Even if your business is just on its way to success, it still needs a helpful tool to be the best. Check out 15 low-budget customer service software for a small business and choose something that fits the bill.
Tools
Do all these holiday season discounts make you feel dizzy? We've got you covered. This roundup features 27 massive Black Friday and Cyber Monday deals you don't want to miss. Be ready to apply your promo code!