What is Live Chat?
Customer communication is a complex multi-faceted process, and live chat has become its crucial component. So, what is live chat? And why is it so popular among businesses and customers? We've unfolded all mysteries in our short explainer.

I can recall exactly the first time I've been introduced to the world of instant messaging. Our classmates and I used ICQ to discuss home assignments and how annoying our teachers could be.
Today, I can't imagine a day without WhatsApp, Facebook Messenger, and Slack. And those are just the messengers I use only all the time.
Real-time chats became the new norm in our everyday lives, and businesses are no exception. Clients all over the world want to have a quick and convenient way to communicate with companies. And live chat software is a perfect supply to this need.
In this piece, we are going to answer some of the burning questions: What is a live chat? Why is it so popular? And how can you get a live chat for your website?
Live chat definition
Live chat is a messaging app that allows customers to communicate with businesses online in real time.
Put simply, the definition of a live chat comes down to two key concepts: "online" and "real-time".
But you have a general idea already. I'm sure you've used live chat support before — to clarify some delivery issue, ask for a refund, or report a bug. It's become a great alternative to annoying call centers and slow emails.
However, to limit their use cases to just customer service would mean missing some great opportunities. A modern live chat is a powerful and comprehensive tool that allows you to engage customers proactively, suggest relevant self-service articles, generate leads, and much more.
Now that the basic live chat definition became somewhat clear, let's proceed to the part where we talk about its installation and use cases.
Live chat use cases
As you can see, the technicalities of the matter are not complicated, so there's only one question left. What's a live chat from a business perspective?
Even though chats have become popular due to their undeniable convenience for customer support, companies quickly saw that the possibilities went far beyond just that.
Here are 5 most popular use cases for a live chat:
💁 Live chat for customer support
Providing customers with a convenient way to get in touch with you is the number one reason to acquire a live chat. With all the modern advanced technology, you can install it on your website or integrate it into your web application. Mobile in-app support is becoming more and more commonly used, too.
All in all, customer support via live chat presents numerous advantages (but more on this later) while keeping your costs low.
🛒 Live chat for lead generation
By enhancing your live chat widget with proactive chat messages, pre-chat forms, and a chatbot, you can put your inbound lead generation on autopilot.
Here's how it works. When someone lands on your website, they'll see a live chat option there. Warm leads will probably contact you right away, and a pre-chat form or a chatbot will collect their contact information for further nurturing. But if they're still hesitating, a few proactive invitations should do the trick.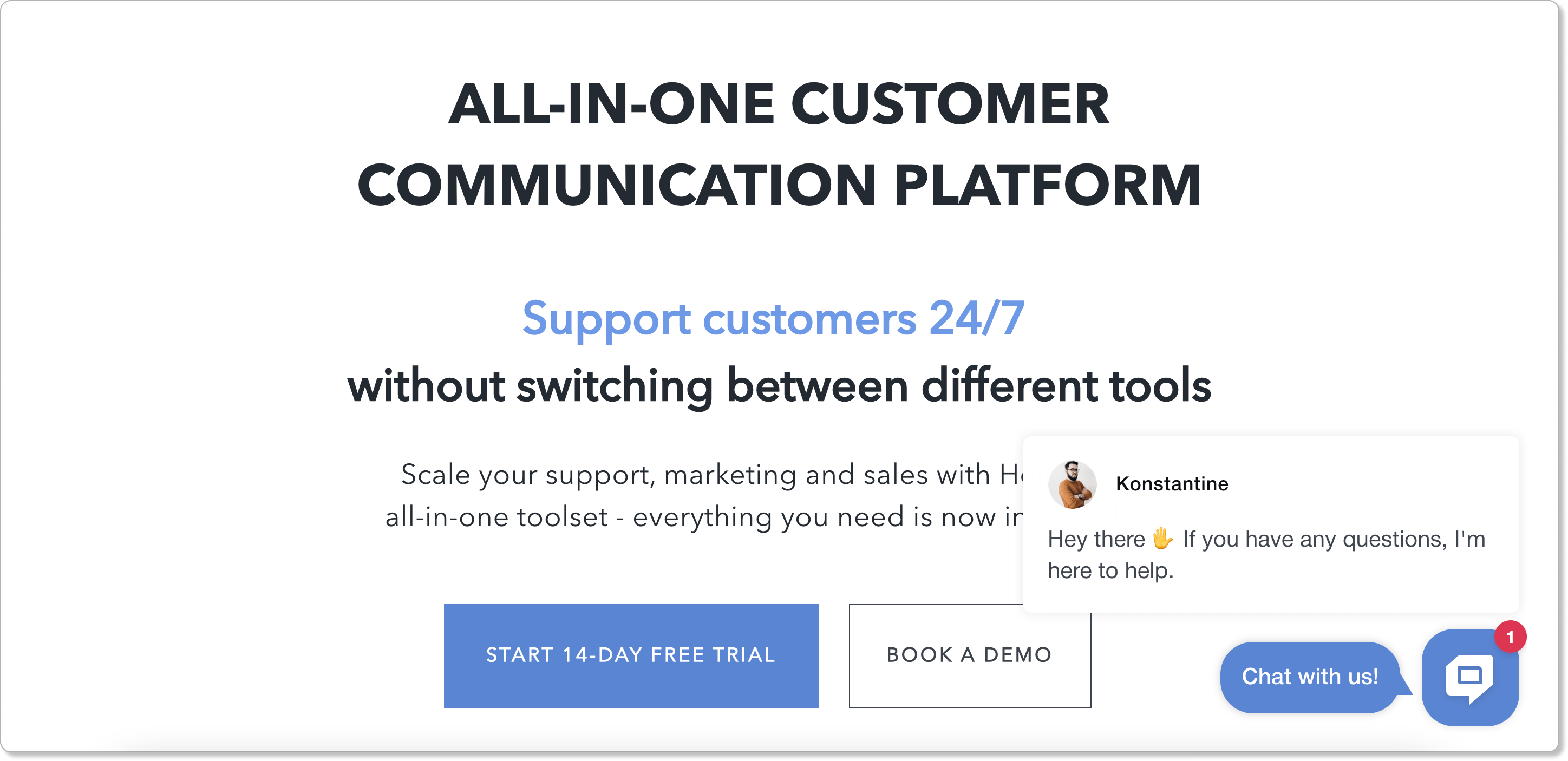 🤔 Live chat for customer engagement
Customer churn and a decrease in customer engagement are inevitable for any business. It doesn't mean you should just sit by and watch your clients leaving your business. A live chat is a perfect channel for re-engaging people who lose interest in your business or fail to see its true value. You can also use the chat API service and install it in your app.
You can use it to send manual in-app messages or set up a few automated nudges that will offer something relevant at the right time.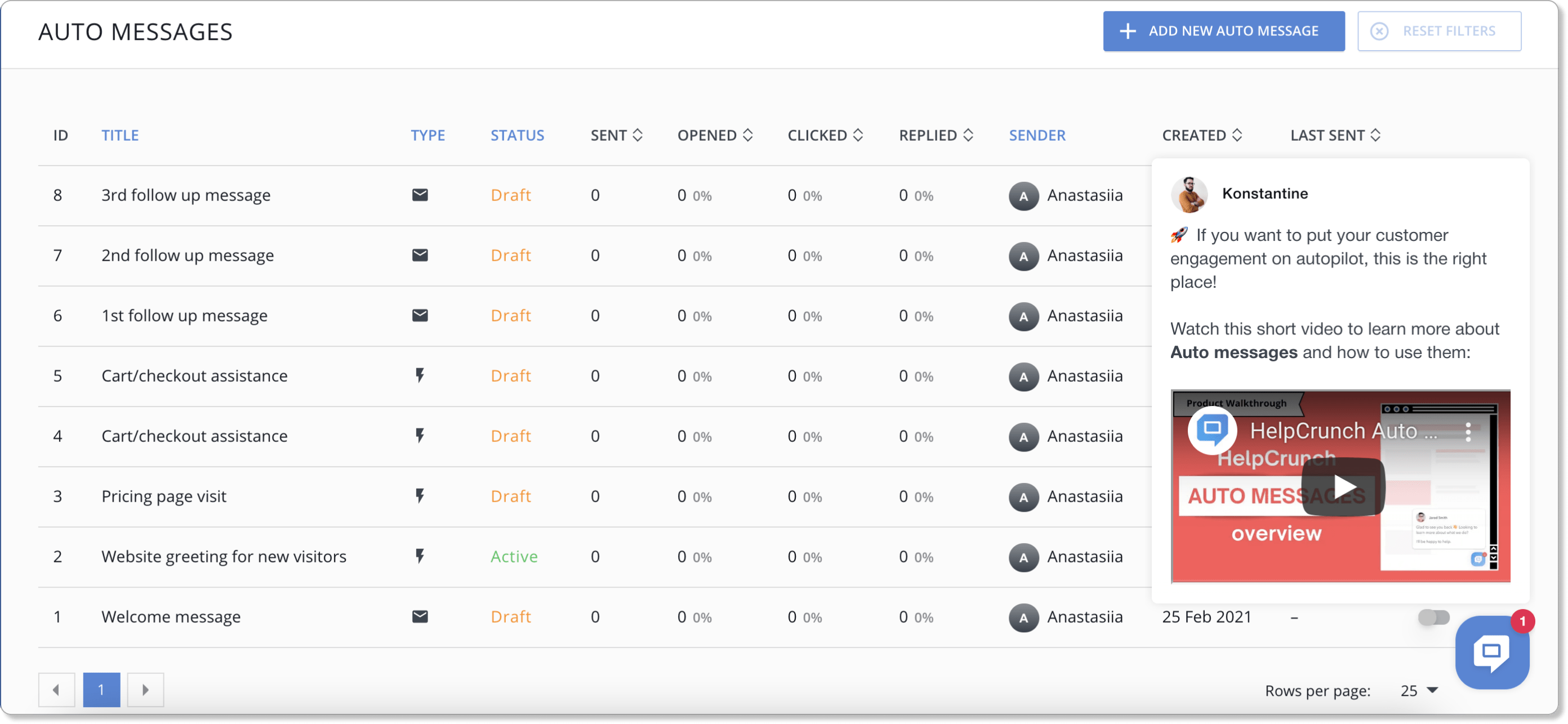 💰 Live chat for sales
Adding your sales team to the live chat will allow hot leads to get in touch with it right away instead of waiting for an email response.
Using live chat for sales pitches is a win-win situation for both sides. People who are already on the consideration or decision stage of their journey will be quickly connected to a sales representative who can answer their questions on the go.
Why live chat?
Such factors as ease of use, convenience, and the ability to communicate in real time and multitask contribute to the overall success of live chats among customers.
Businesses can also profit from this channel dramatically. Online chat support allows agents to maintain several conversations simultaneously and enforce their performance with various helpful features.
And these are not just mere words. Each factor is a small brick that can directly bring undeniable benefits to any business:
How to acquire and utilize live chat
From a technical point, a live chat is a few lines of JavaScript code. To add a chat widget to your website, you need to copy this snippet from a software provider and paste it into your website or app's source code. If you're running a WordPress site, it's even easier to install a plugin from your dashboard.
A small live chat button will appear on your website, usually somewhere in its bottom right corner. While it might seem like a tiny thing, it is actually the launch button for your communication shuttle 🚀
Once people land on your website or log into the app, they'll be able to open a chat window by simply clicking on this button and leave their message there. Chat agents, in their turn, will see those messages in their inbox.
What's also important is that a live chat is a different thing for end-users and agents. Clients will see a small widget where they can exchange messages with customer service or a chatbot. Agents, on the other hand, will have access to a powerful helpdesk with canned responses, user data, knowledge base integration, private notes, and various automations.
After chat installation, you can go nuts with its customization — change icons, colors, wallpapers, etc. Your widget can look like an integral part of your branding style while catering to a plethora of use cases and needs.
So, what does live chat mean?
All in all, live chat technology has revolutionized almost every aspect of the business world – from customer service to sales to retention. And all this power is locked in a small widget that can be installed on your website in a few clicks.
Eager to put this might into action? Just sign up for HelpCrunch, and the installation wizard will guide you through the installation process. It takes only a minute to get started.