15 Best Live Chat Software for Your Business, Reviewed and Compared
Choosing the best live chat software for your business is as crucial as ever. Discover which factors to weigh in and compare these 15 options.

At the dawn of customer service, live chats were just simple windows where you could exchange messages with your customers and assist them with their issues.
Nowadays, they've become a powerful online communication channel for attracting more leads, converting them into paying customers, onboarding, upselling, and measuring customer satisfaction.
More and more businesses pay particular attention to choosing the most powerful and feature-rich chat software for their websites. So, let's cover the basics: how to choose the right live chat software for your website or app?
How to choose live chat software
So, how exactly can one choose the best live chat? What features should you pay attention to? And how to not overspend? Here are some aspects to consider:
Types of live chat solutions
Basically, there are two types of live chat providers — stand-alone tools and all-in-one customer service software. The former offer all the features you need to communicate with clients, but you won't be able to answer emails from your customers or create a knowledge base in the same dashboard.
All-in-one chat vendors usually cover other important channels and tools like a knowledge base, ticketing, social media integration, etc. By choosing this type of live chat software you can be sure that you won't need any third-party integrations in the future.
Main features
Apart from being able to just communicate with your clients online and exchange emojis, there are several must-have features that help businesses achieve greater productivity and results.
So, what are the most important features that every live chat tool should have?
Canned responses. The ability to pre-save common answers is a must.
Chat forms or chatbots. Features like pre-chat and offline forms will help you collect visitors' contact information (which is basically inbound lead generation right there).
Post-conversation rating. Ask visitors to evaluate their experience and track your performance on the go.
Trigger-based messages. If you want to provide proactive support, automated chat messages based on visitors' behavior are the answer.
Manual messages. One-off widget broadcasts are useful for announcing news / new features to active users and maintaining high engagement.
Knowledge base integration. Offer a knowledge base inside your widget – and you won't even need to talk to people most of the time.
Shared inbox. Manage conversations with statuses, tags, private notes, user profiles and resolve them more efficiently.
Widget customization is yet another important aspect when choosing live chat support software. You'd probably want it to look like an integral part of your website with all the matching colors, buttons, and wallpapers.
Now, let's proceed to choosing the best live chat software among hundreds of similar software available on the market today.
Best live chat software comparison
Tool
Key features
Prices from
Free trial
G2 rating
HelpCrunch
Live chat
Chatbot
Knowledge base
Email marketing
Shared inbox
Popups
$15/mo/team member
14 days
4.7 / 5
⭐⭐⭐⭐⭐
Olark
Live chat
Chatbot
$19/mo/agent
14 days
4.3 / 5
⭐⭐⭐⭐
HubSpot
Live chat
Shared inbox
Knowledge base
Calls and video messages
free
–
4.4 / 5
⭐⭐⭐⭐
LiveChat
Live chat
$19/mo/agent
14 days
4.5 / 5
⭐⭐⭐⭐⭐
Intercom
Live chat
Knowledge base
Chatbot
Email marketing
Product tours
$59/mo (1 seat)
14 days
4.4 / 5
⭐⭐⭐⭐
Zendesk
Live chat
Knowledge base
Help desk
$59/mo/agent
14 days
4.2 / 5
⭐⭐⭐⭐
Tawk
Live chat
Knowledge base
free
–
4.6 / 5
⭐⭐⭐⭐⭐
Drift
Live chat
Chatbots
Landing pages
Account-based marketing
free
–
4.4 / 5
⭐⭐⭐⭐
Pure Chat
Live chat
$49/mo (4 seats)
30 days
4.4 / 5
⭐⭐⭐⭐
Tidio
Live chat
Chatbot
free
–
4.6 / 5
⭐⭐⭐⭐⭐
Help Scout
Live chat
Knowledge base
Shared inbox
$25/mo/user
15 days
4.3 / 5
⭐⭐⭐⭐
Crisp
Live chat
Knowledge base
Shared inbox
Chatbot
Status page
free
14 days
4.4 / 5
⭐⭐⭐⭐
Kayako
Live chat
Knowledge base
Shared inbox
$15/mo/agent
(billed annually)
14 days
4.1 / 5
⭐⭐⭐⭐
Customerly
Live chat
Knowledge base
Shared inbox
Email marketing
free
–
4.5 / 5
⭐⭐⭐⭐⭐
Comm100
Live chat
Knowledge base
Shared inbox
Audio & video calls
Chatbot
free
–
4.3 / 5
⭐⭐⭐⭐
15 best live chat software for your website
Based on their market size, popularity, and our own subjective opinion, we've selected the top 15 live chat tools for any business.
In this list, you'll find tools both basic and advanced, expensive and free, stand-alone and all-in-one. So, brace yourself as it would be a tough choice!
1. HelpCrunch — affordable all-in-one live chat software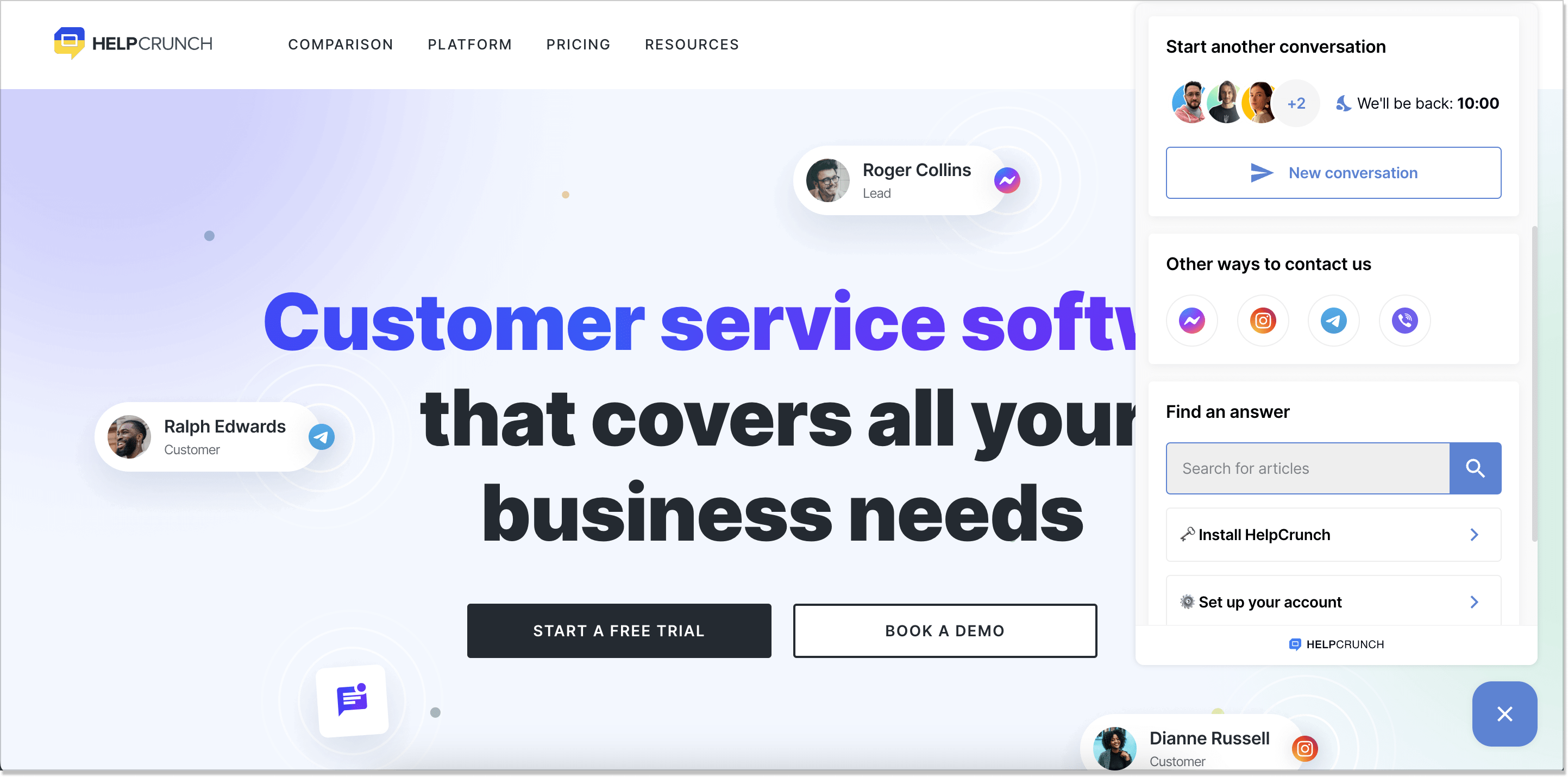 Broadly speaking, HelpCrunch has a wide range of support features like a chatbot, email automation, popups, and a knowledge base, but live chat is its core product. It can be installed on a website or an app.
You can customize everything in the HelpCrunch widget — from colors and sizes to wallpapers and custom CSS. All messaging features are available, too:
canned responses and file sharing
auto/manual messages
chatbot automation
customer satisfaction rating
pre-chat and offline forms
knowledge base integration
There are also some noticeable peculiarities. For instance, the typing insight shows you a sneak peek at what customers are typing before they send the message. And if your message stays unread, it will be automatically resent to a visitor via email.
On top of the standard features, knowledge base functionality is included in all subscription plans and can be integrated into the widget in a few clicks.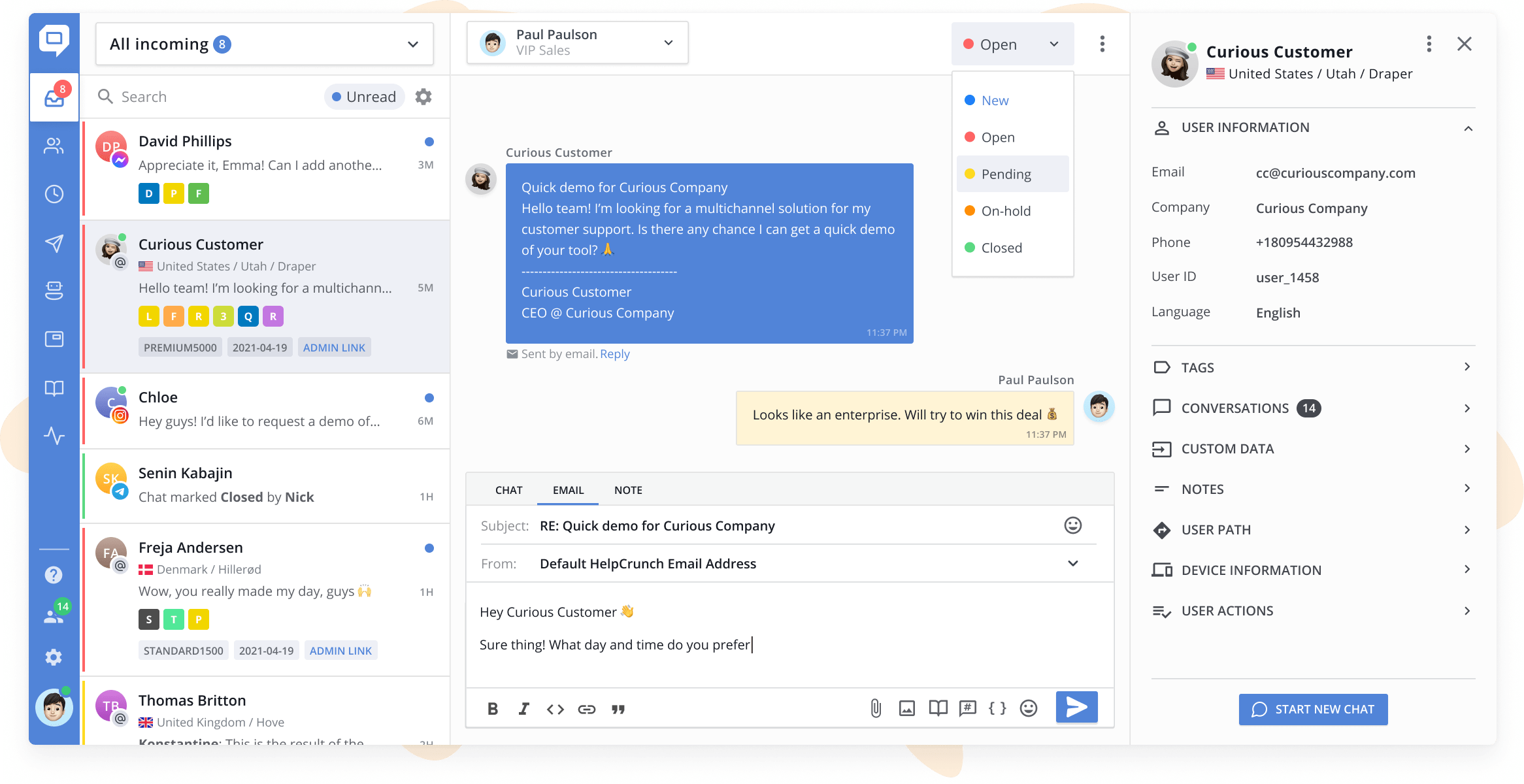 HelpCrunch chat reviews
We like the easy-to-use interface, the features that allow us to efficiently handle all customer interaction (chat & email) as well as proactive chats and emails for our onboarding process. 


- Adina M on G2
The product really has a good user experience for the end-user. Fantastic that you can have the same customer support on both website and in the app, which all are linked up together. 
- Anonymous Reviewer on GetApp
While we were only looking for a chat solution, and had two bad experiences with competitors who had "automated solutions". Helpcrunch, on the other hand, was reactive from day 1. We were pretty quick to install it on our system (both website & SaaS).


- Thomas B. on Capterra
Pricing
HelpCrunch has two pricing tiers — 'Basic' and 'Pro'. The Standard plan costs only $15/mo per each team member and includes unlimited chat manual messages, three popups, and knowledge base.
If you're interested in adding chatbot functionality, HelpCrunch's 'Pro' subscriptions start at $25/mo/team member. You can also buy emails as an additional feature to launch newsletters and boost your email marketing performance.
Verdict
HelpCrunch is the best live chat software for small and mid-sized businesses that will allow them to consolidate all customer communication in one simple dashboard. Numerous customization options, mobile SDKs together with its affordable pricing make HelpCrunch a great choice.
2. Olark — simple and reliable live chat software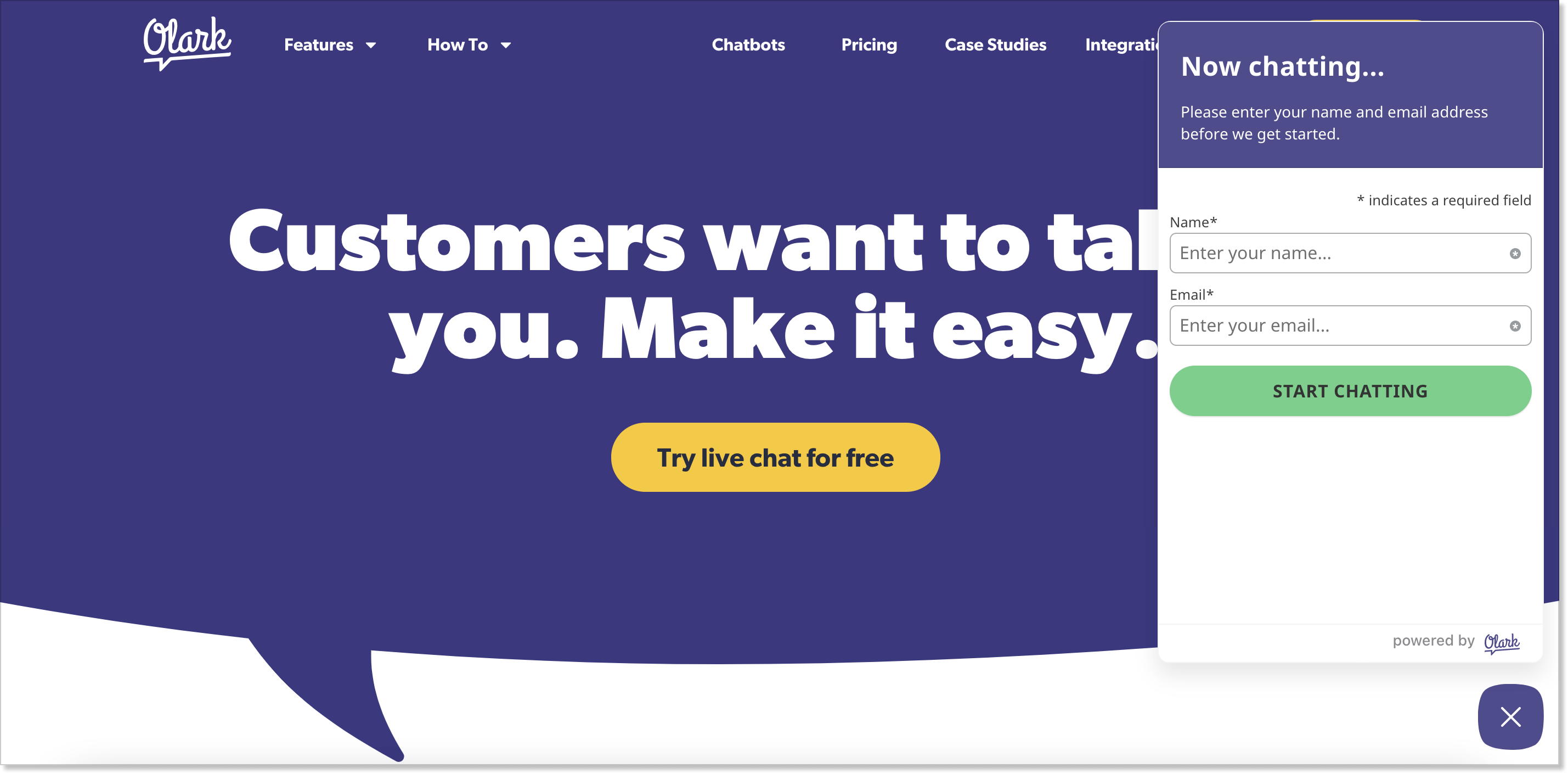 Olark is a mono-software offering only live chat functionality. On the plus side, it offers reliable and mature services that have been perfected over the years. No additional perks, though.
Olark's chat features include:
saved responses
custom chat forms
auto/manual chat messages
chatbot (beta)
Customization settings for the chat widget are rather limited, but you can enhance it with so-called attention grabbers — additional images above your messenger button that attract website visitors' attention.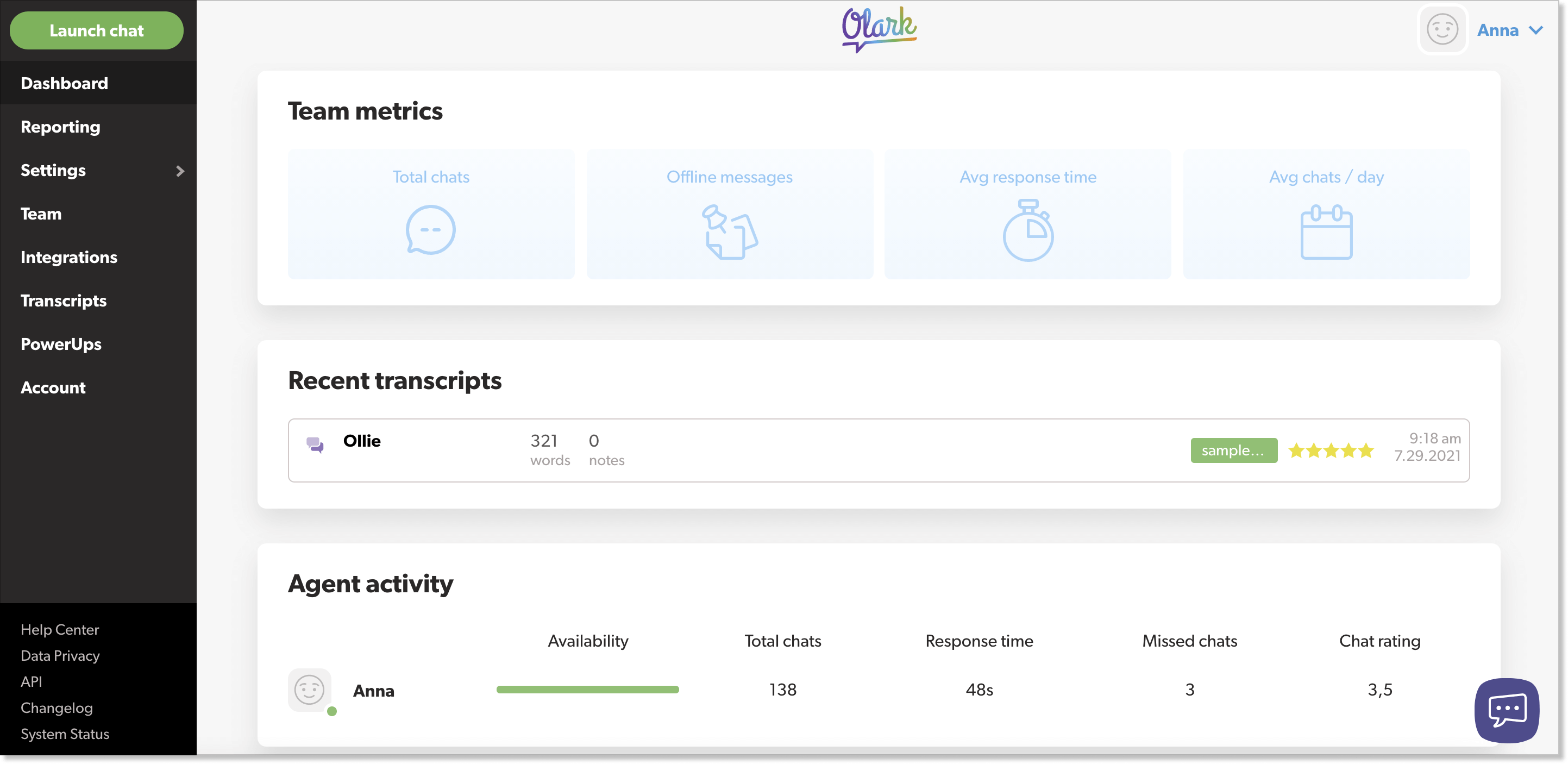 Olark chat reviews
Easy to set up, works pretty well. Not expensive versus some chat solutions. 


- Thomas A on G2
I love that with OLARK I see the different metrics showing me how many chats I had and the ratings and so on.


- John S on G2
Useful for online chatting... Need to add some more functionality like stickers and file sharing options with security 
- Chitvan G on G2
Pricing
Olark's straightforward pricing offers three equal plans with the same set of features:
Monthly subscription for $19/agent/mo
Yearly subscription for $15/agent/mo
2-year subscription for $12/agent/mo
You can purchase some add-ons like the co-browsing feature for $99/mo or chat widget localizations for $29/mo. Removing the Olark's branding will cost $59/mo.
Verdict
All in all, Olark is very simple to get a solid grasp of. An elegant dashboard and rich real-time reports will allow you to easily manage incoming conversations or even initiate them on your own. However, Olark lacks some important widget customization options, especially since the unbranding will cost you as much as $59/mo.
3. HubSpot — free live chat software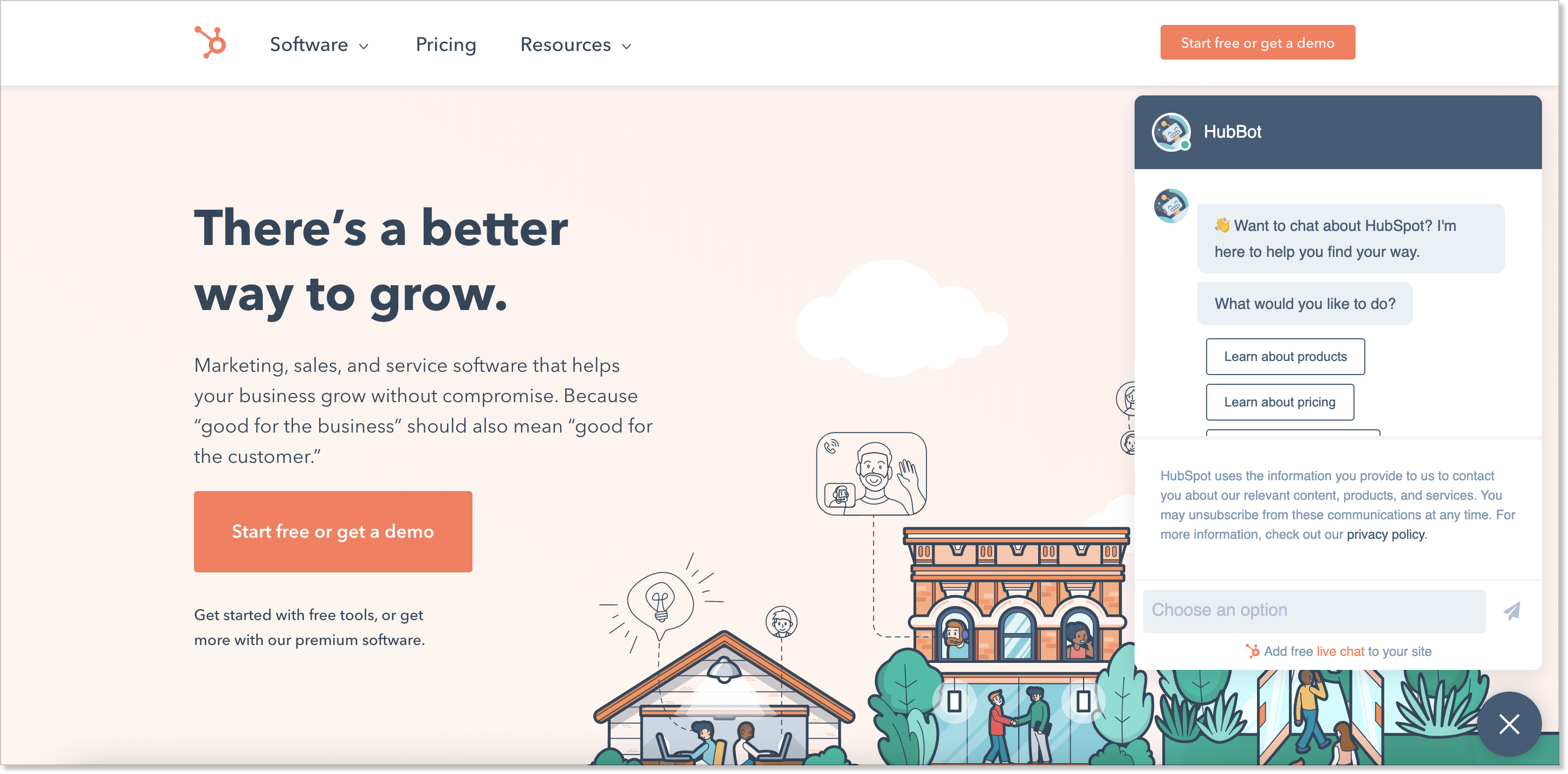 HubSpot Live Chat is a free product offered as part of HubSpot's free forever CRM. All your chat conversations are automatically stored in a universal inbox enriched with data from HubSpot's free CRM, giving everyone on your team the context they need to craft the perfect response.
It is fully integrated with a chatbot builder that you can use to easily create bots that help you qualify leads, book meetings, provide answers to common customer support questions, and more.
With HubSpot Live Chat, you can easily customize your widget to match the look and feel of your brand. You can also create targeted welcome messages for different web pages or segments of your audience.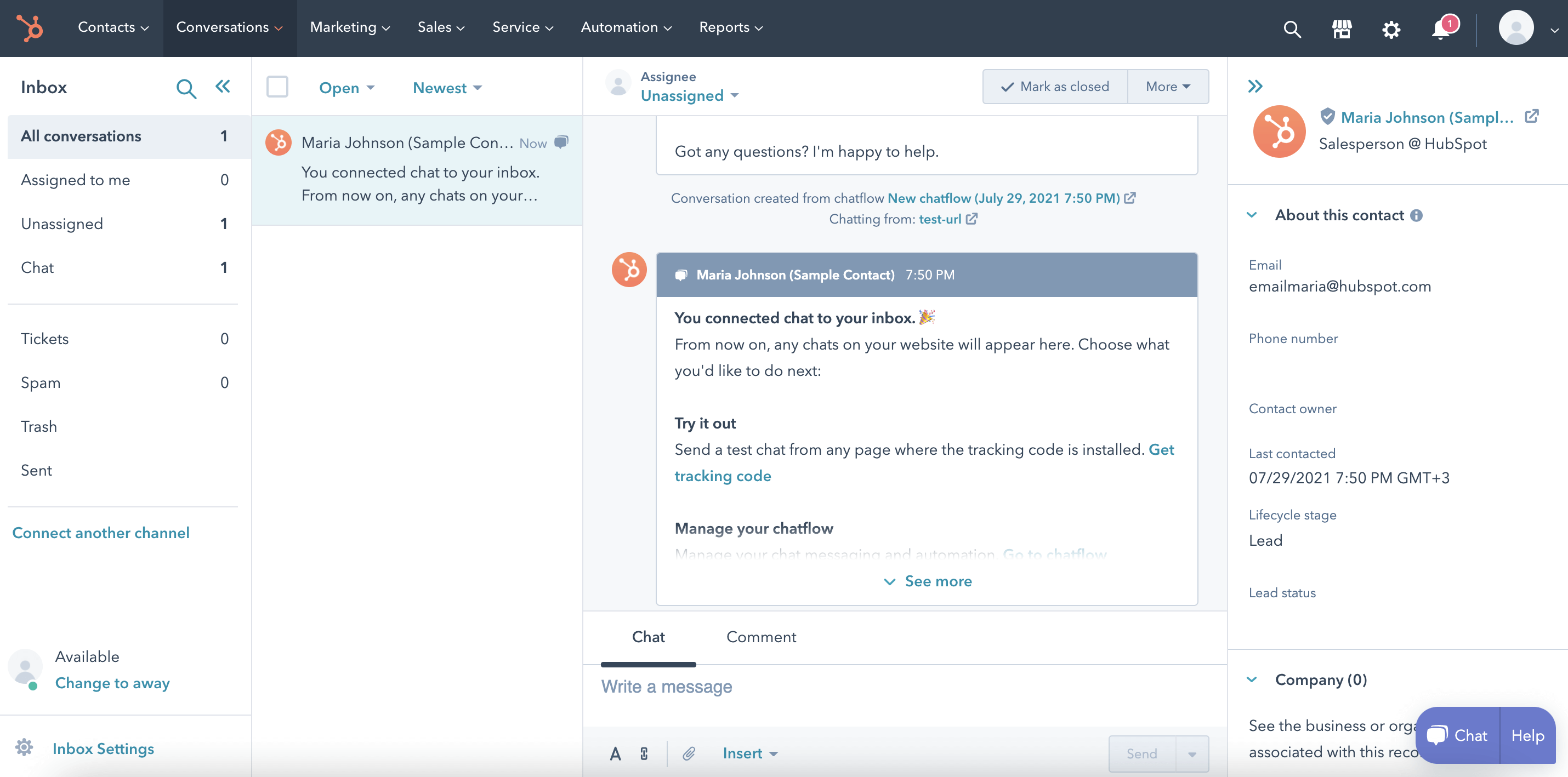 Hubspot chat reviews
I enjoy the ease of plugging in templates for quickly responding to simple and common requests. I also enjoy that HubSpot keeps a record of your stats as a representative.


- Jacob S. on G2
We were already using the CRM features of Hubspot and liked the idea of combining with our service desk. We automatically create tickets from chats, which makes dropping the ball on tickets harder to do. The knowledge base is flexible, and the layout templates allowed us to get on-brand. 


-  Josh A. on GetApp
Not a great ticketing system, but it brings service to the same CRM as sales & marketing. 


- Robby C. on G2
Pricing
HubSpot is available for free as per their free subscription plan. Paid subscription plans start from $50/month for Starter Plan. The Professional plan costs $400/month, while you'll have to pay $1,200/month for the Enterprise Plan.
Verdict
If your business needs a platform to manage all of your online conversations with prospects, clients, and other website visitors, HubSpot can be a great choice. Because it's natively integrated with a CRM and other sales, marketing, and service tools, the tool allows you to manage all of your conversations and track partnerships in one place.
4. LiveChat — robust live chat software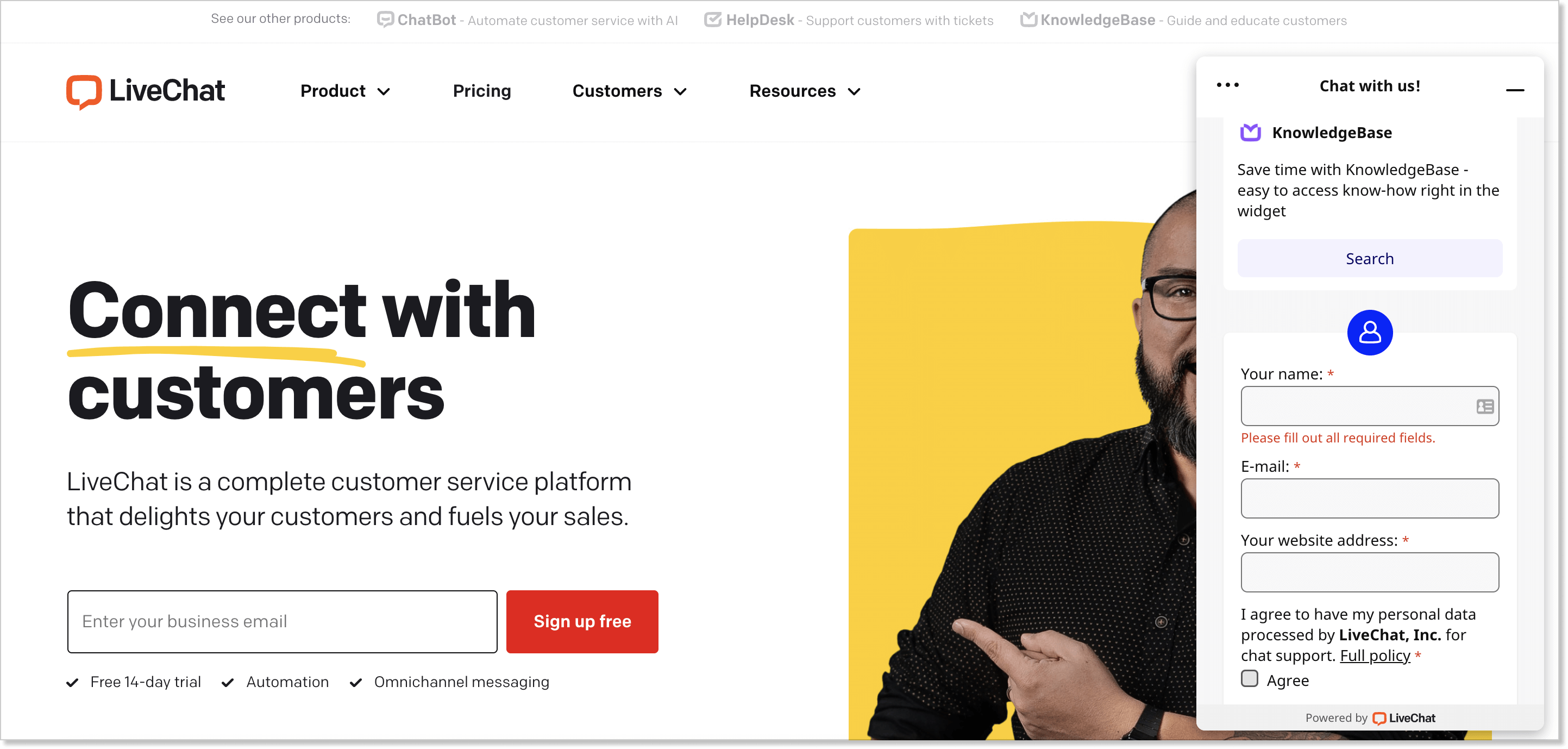 LiveChat is yet another mono-software offering just live chat functionality. And it's one of the oldest tools in this field that was first launched back in 2002.
Basic customization options for the widget are complemented by graphic eye-catchers (e.g. animations) that appear above your widget and draw additional attention to it. In terms of functionality, LiveChat offers an amazing set of features:
saved responses
auto messages
chat surveys
message sneak peek
cards with images and buttons
170+ integrations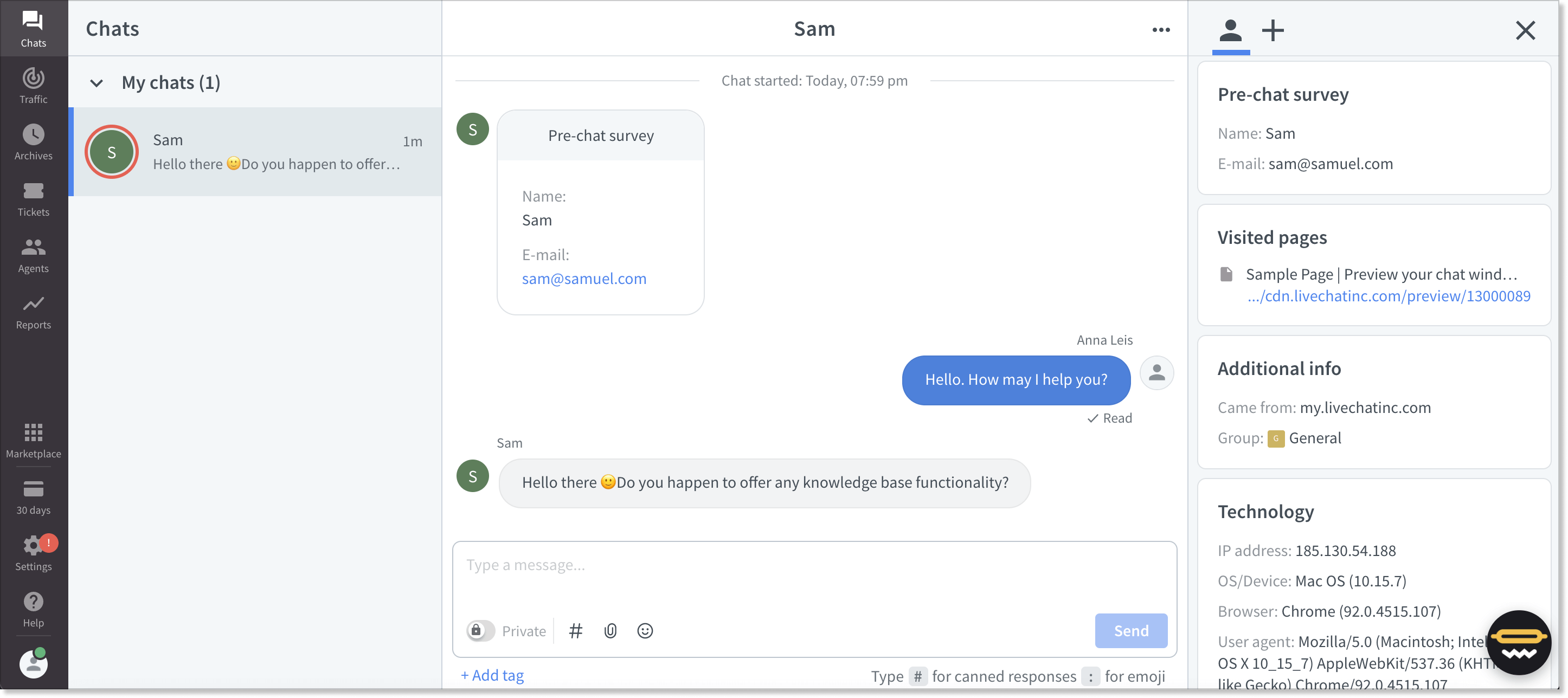 LiveChat reviews
It does what it needs to. LiveChat is a simple app that does exactly what it's supposed to. 
- Jacob S. on G2
I like LiveChat's customer sneak-peek functionality the most. This feature allows me to see what the customers are typing before their messages are sent. This has allowed me extra seconds and minutes to prepare my responses to a customer's question. 


- Hadas S. on G2
Pricing
The basic 'Starter' plan costs $19/mo per seat and doesn't allow you to share files in chat or set your team's working hours. The $39/mo plan offers full widget customization and basic reports, while the 'Business' plan for $59/mo gives access to all the features without any limits.
Verdict
If you're looking for simple yet complete live chat software without any complications, LiveChat can be a great choice. I'd say that the only downside to this software is that it's still just a live chat. At the very least, it's really difficult to imagine customer service without a decent knowledge base these days.
5. Intercom — expensive feature-rich live chat software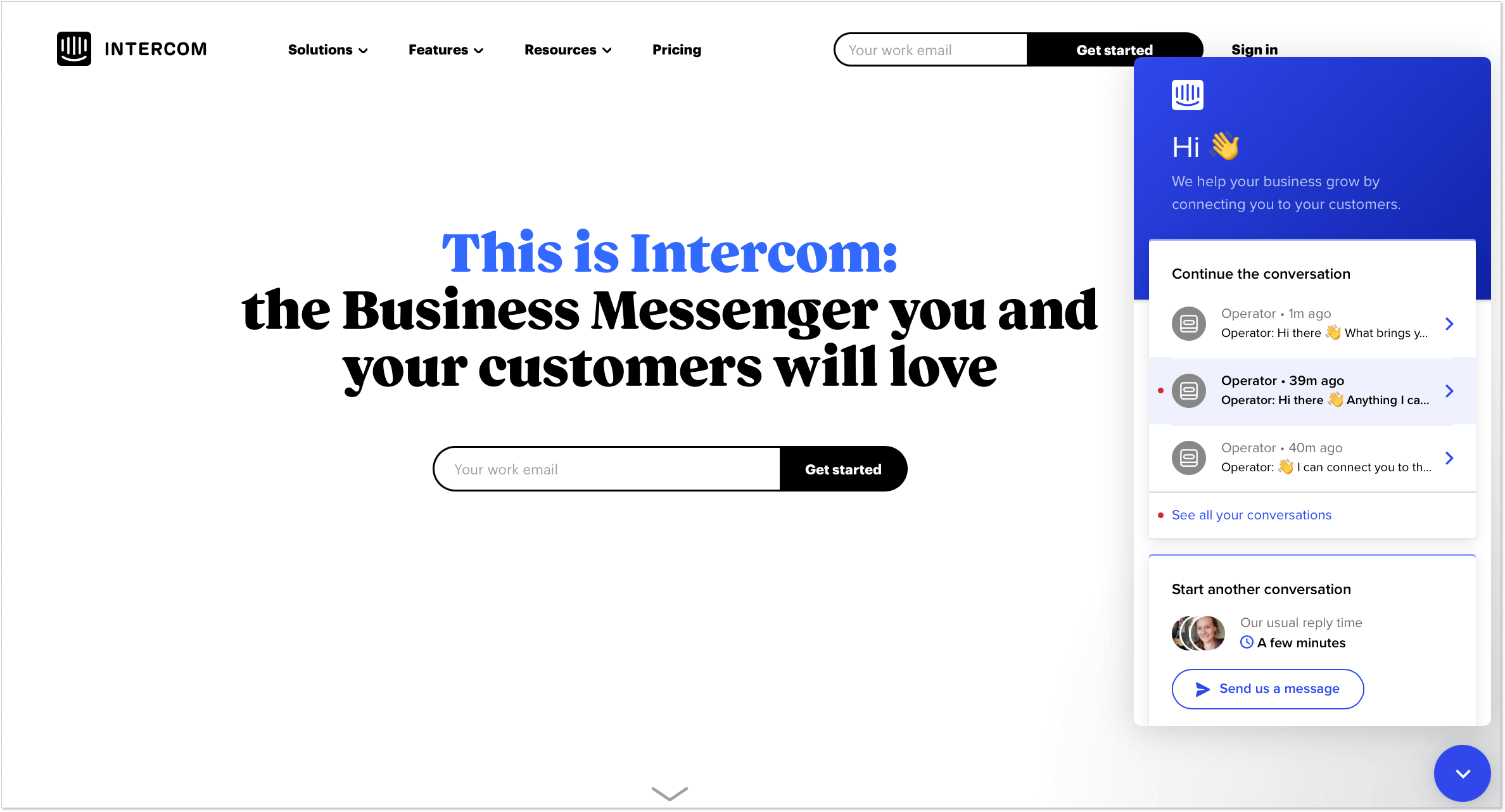 Intercom is an all-in-one customer support solution. Its messenger functionality is powerful, rich with features, and… quite expensive.
The Intercom messenger can be a full-fledged resource for customer support. Customers appreciate its integrations with a knowledge base, news portal, chatbots, and whatnot. But I can't stress this enough: all these things cost extra money. Moreover, even some basic chat features like canned responses and chat ratings are available with more expensive subscription plans.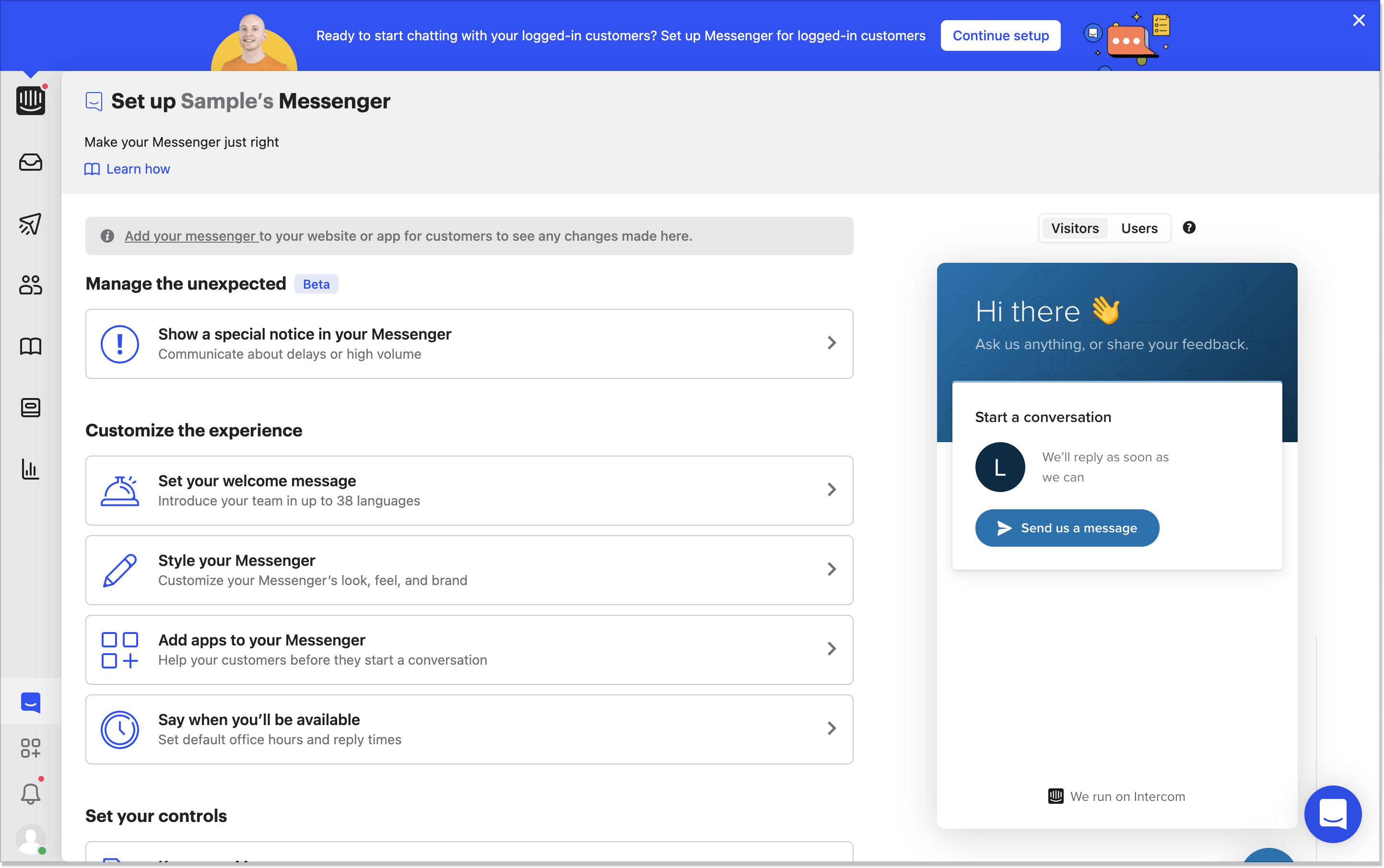 Intercom chat reviews
The knowledge center and live chat features were the most used features, and automations within Intercom helped serve clients efficiently. 


- Brandon G. on Capterra
The product really has a good user experience for the end-user. Fantastic that you can have the same customer support on both website and in the app, which all are linked up together. 


- Anonymous Reviewer on GetApp
I dislike not being able to customize the messenger widget as much as we want. 


- Max B on G2
Pricing
Intercom pricing is extremely complicated and unpredictable. On top of standard charges, Intercom's customers are paying additional fees for the contacts you reach in a month. So, there's no way to say how much you'll end up paying. The cheapest subscription plan with basic functionality costs at least $59/mo and includes only 1 seat.
Verdict
There's nothing more to say about Intercom except that it's a very good yet complicated software that costs a lot. If you're a huge enterprise, then why not. But a small business won't need one-half of the features and won't be able to pay for the other half.
6. Zendesk — live chat software for big enterprises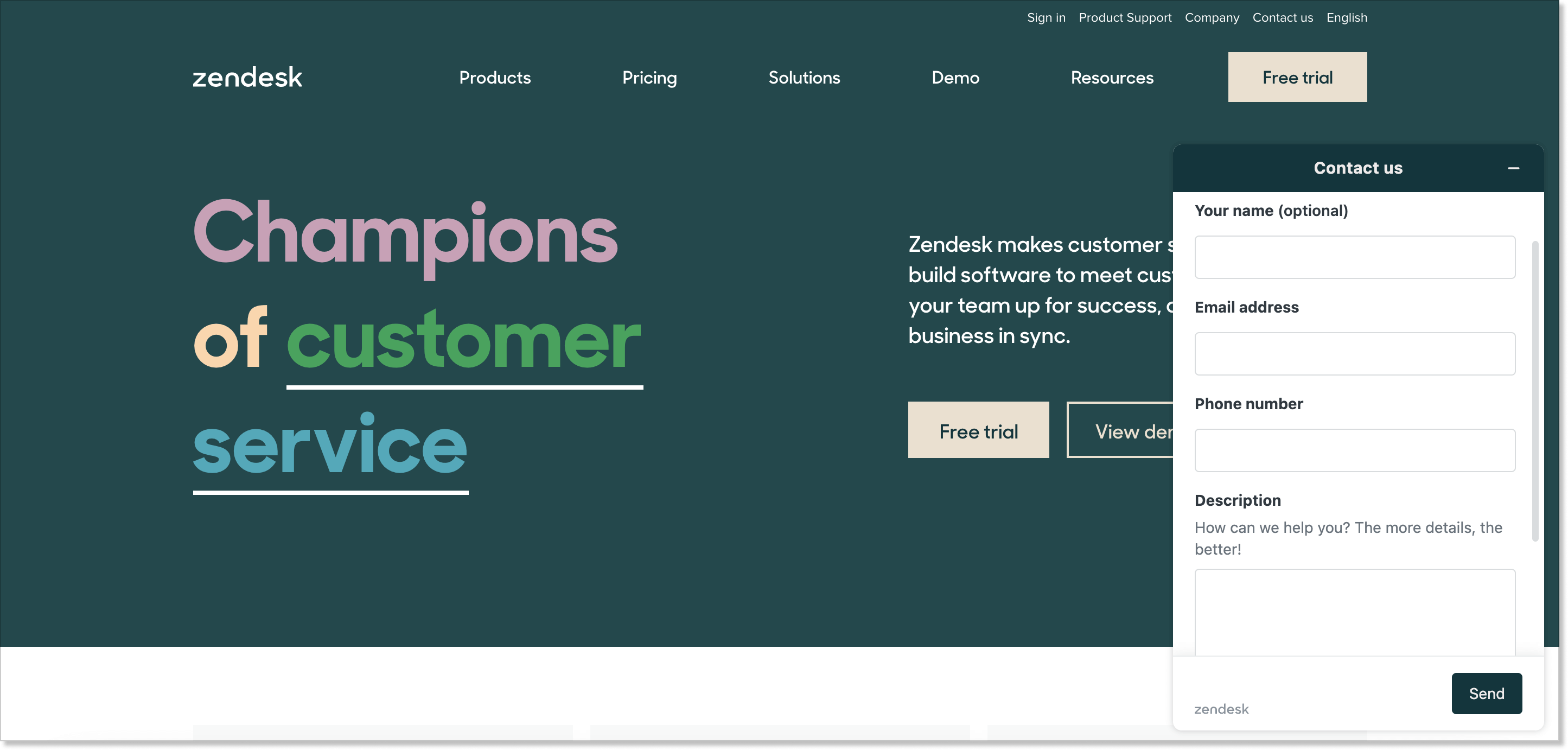 Zendesk started off as a help desk for customer service back in 2007 and it's still their main focus and point of pride. The chat feature was added much later when they purchased the Zopim software and tried to integrate it with their software. That's why Zendesk can seem rather limited.
That being said, Zendesk does offer all the necessary chat features and the best help desk functionality: chat routing, tags, user profiles, saved responses, chat forms as well as trigger-based auto messages.
There's one notable feature that lots of businesses will appreciate, and that is a real-time list of visitors. You can see all visitors that are browsing your website at the moment along with their country, browser, referrer, etc.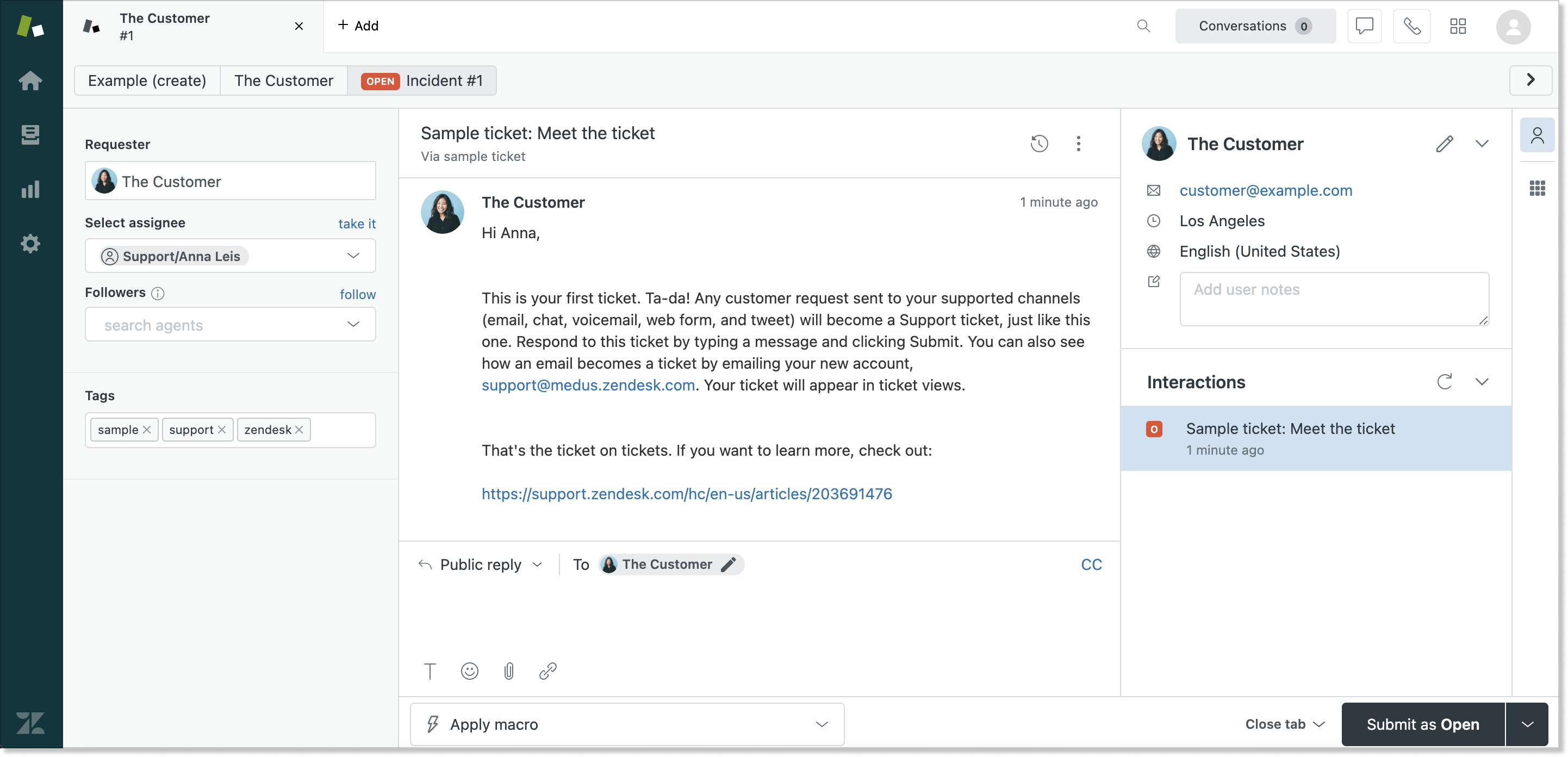 Zendesk chat reviews
Zendesk Suite has helped streamline our customer service by offering customer and sales support products which include chat, call center solutions, and knowledge base modules which help agents track and prioritize support tickets, solve problems efficiently and centralize customer interactions. It has a built-in intelligent routine that ensures appropriate customer-to-agent fit and automates ticketing queues to reduce resolution time. 


- Tony G. on G2
I like being able to automate processes and speed up customer support. The design could be a little better. 


- Jacob P. on G2
Pricing
If you want to use Zendesk for client support, you'll need to sign up for its all-in-one Suite package which costs from $59/mo per agent. There are more affordable subscriptions available but they don't include live chat functionality. For this price, you don't have operating hours and widget unbranding features. More advanced subscriptions vary from $99 to $199 per agent per month.
Verdict
To sum things up, limited widget customization on top of outdated design are two main Zendesk's downsides. Live chat is just the weakest part of the otherwise powerful customer service software crafted for big enterprises.
7. Tawk — free live chat software
Tawk has captured a great share of the market by simply offering their live chat for free. Their revenue comes from offering outsourced support agents.
So there you have it — completely free chat software for websites with all necessary features but rather limited customization:
triggered auto messages
canned responses
message sneak peek
visitor tracking
help desk features like tags, departments, or visitor info.
A simple pre-chat form won't only gather customer information, but can also ask a few preliminary questions helping you pre-qualify leads and understand their needs better before starting a conversation.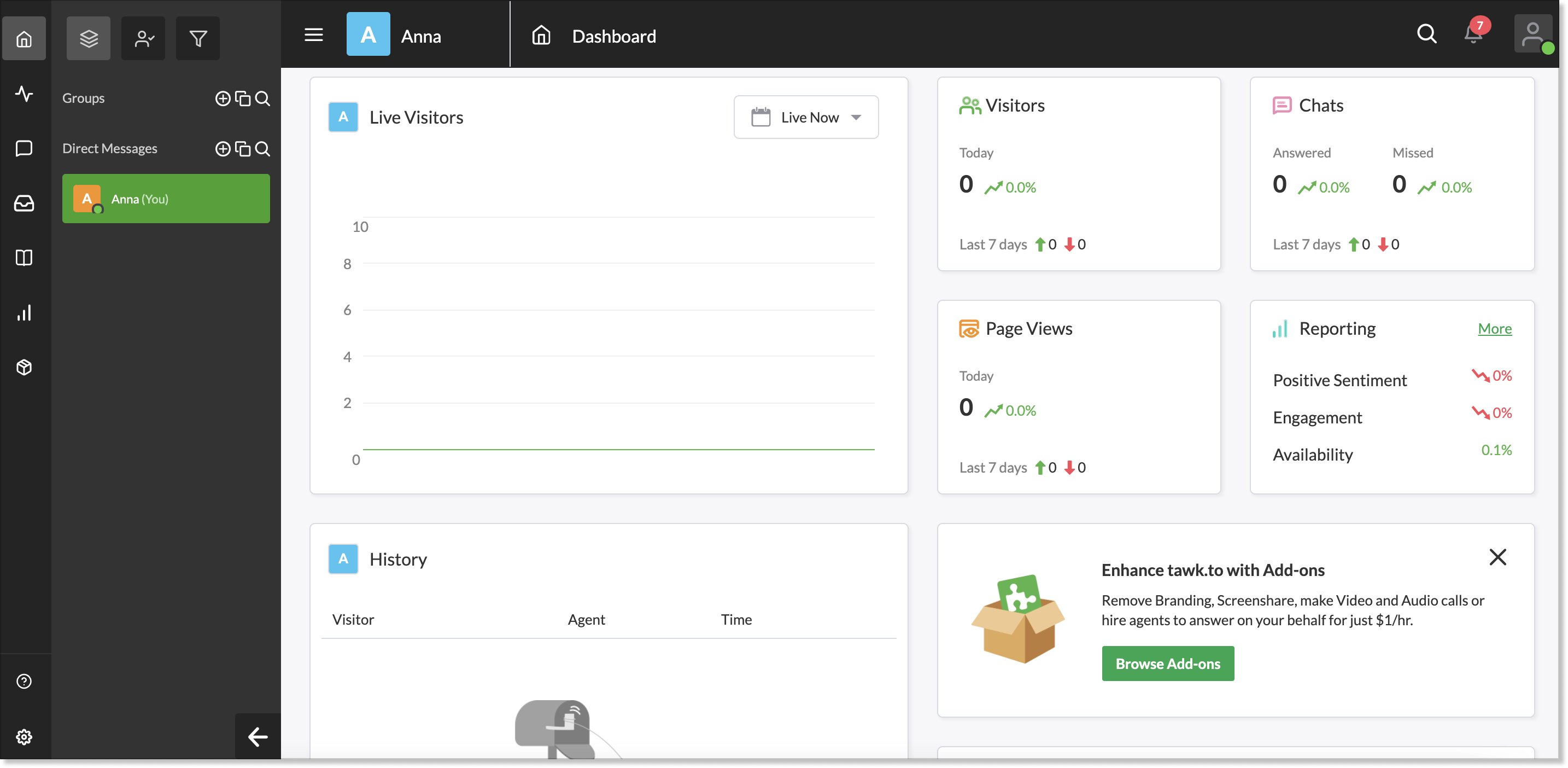 Tawk chat reviews
Whether you have a small or medium business, Tawk is helpful. Best part of this software is it is completely free. 


- Rajkishore M. on G2
They don't allow much branding and customizing stuff. 


- Shaunak P. on Capterra
Tawk.to helped us to serve our customers online. Moreover, it helped us to track the number of visitors and their location. 


- Qalina M. on Capterra
Pricing
Tawk is 100% free, and all features and agent seats are available with no limitations on them.
Verdict
It goes without saying that the greatest advantage of Tawk compared to other competitors is its price. However, most of the features are rather basic and far from being in line with other modern tools on the market. And limited customization options won't allow you to adjust your chat widget so that it will match your website and brand.
8. Drift — expensive live chat software for sales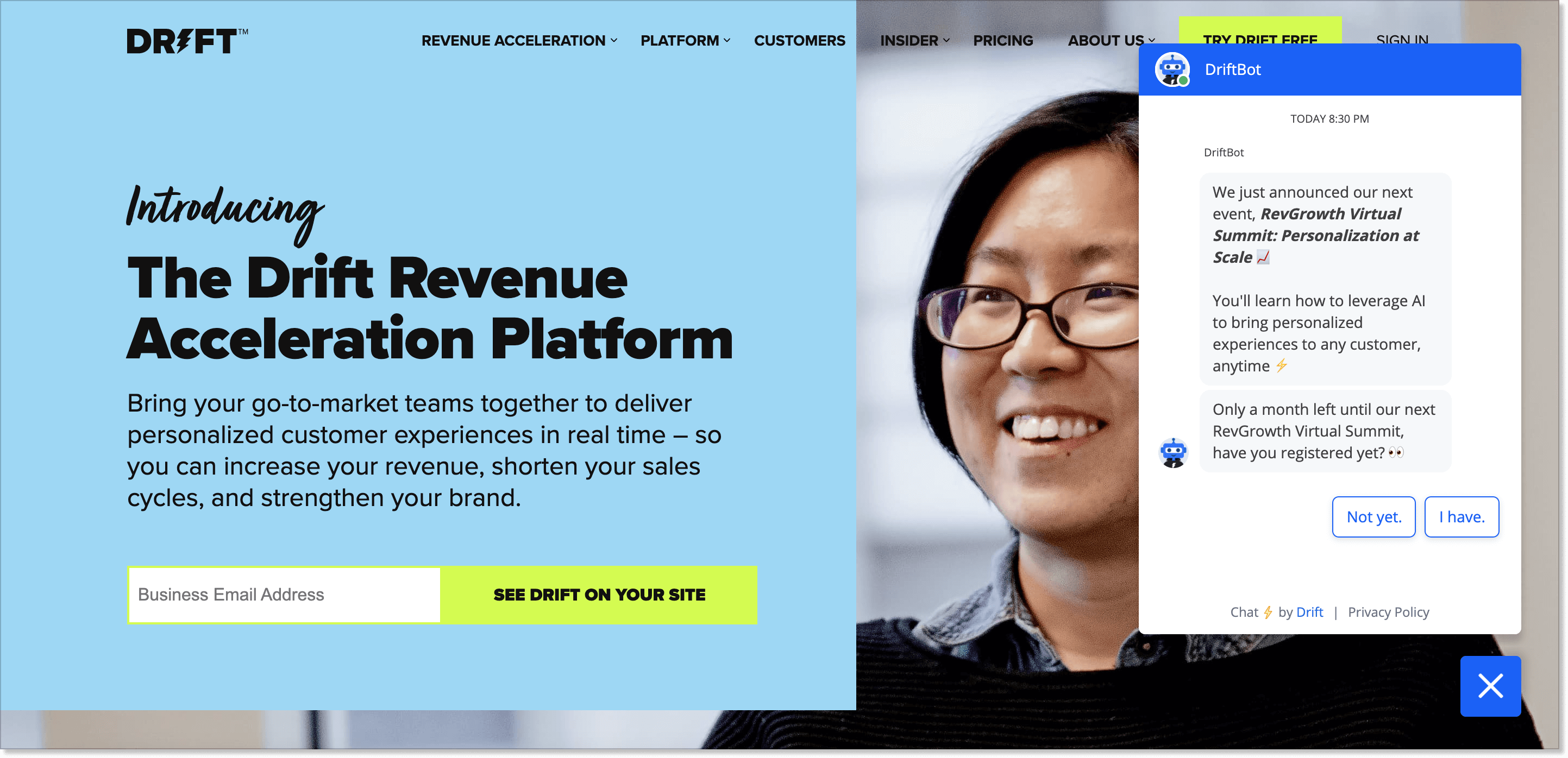 Drift is somewhat similar to Intercom in terms of how well developed and advanced their software is. They're focusing on different bots and sales automation, and succeeding in this field more than any other competitor. However, great technologies are also the most expensive ones.
The simplest subscription plan by Drift is actually available for free and includes very basic live chat functionality with 1 seat. The next subscription plan with live customer views, proactive messages, and custom bots (supposedly) costs from $400/mo, so you do the math.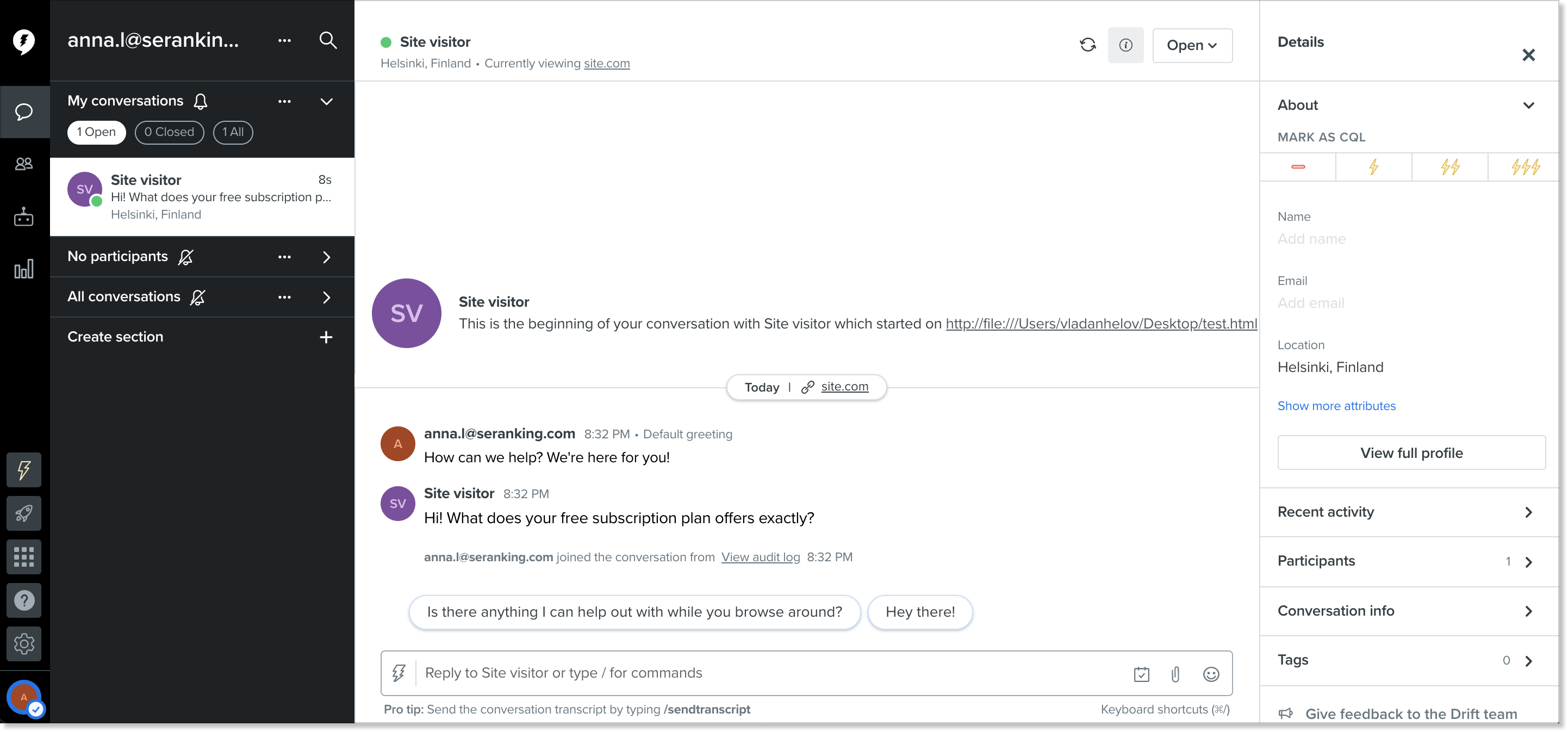 Drift chat reviews
Easy to use, 24/7 support, continuous enhancement and a lot of features to use, provides live performance reports and the AI capabilities. Conversation analysis/search conversation feature is a bit lag.


- Anonymous Reviewer on G2
With Drift, you can create customized chat experiences for users based on all sorts of criteria - the page they're on, the number of times they've visited, the channel they used to get to your site - and to target specific businesses with targeted messaging.


- Rob C. on GetApp
We use Drift as an in-app messaging platform and it's decent at that. Even as an in-app messaging platform for support, there's room for improvement.


- Anonymous Reviewer on GetApp
Pricing
As of recently, the team behind Drift has hidden all prices from their website altogether and only reveals it after you talk to their sales reps. As far as I know, their free subscription is still available, although it's very limited in features and the number of contacts.
Verdict
Drift is focusing on huge enterprises. Small or even mid-sized businesses won't find it suitable unless they're ready to subscribe for the whole year right away and pay a few thousands dollars right away. But if you're a huge corporation, you'll undoubtedly enjoy Drift's advanced bots, email playbooks, and various automations.
9. Pure Chat — basic chat feature for websites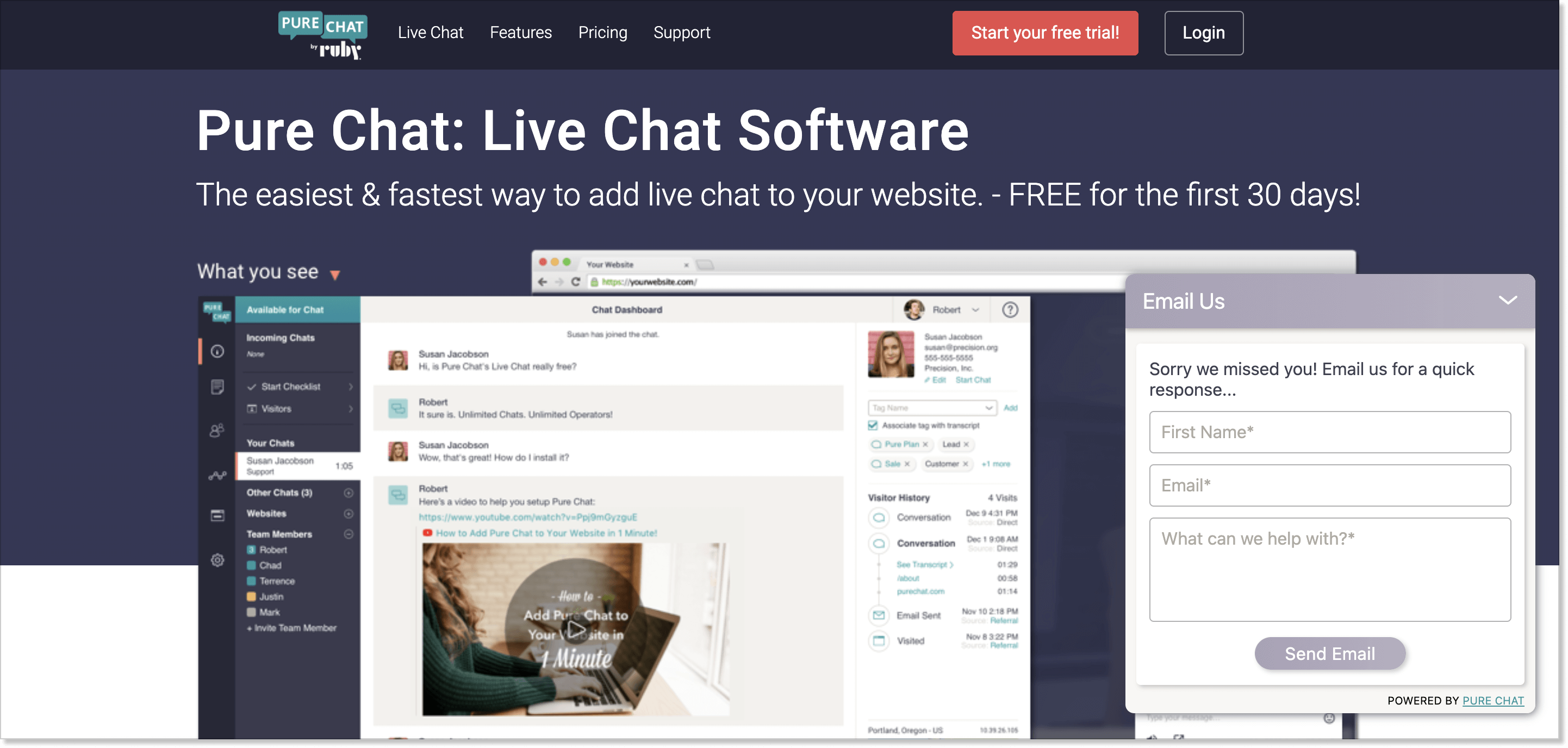 Pure Chat is very standard and straightforward live chat software for websites. It offers all standard features (most of them for free) and basic widget customization.
Chat support agents will enjoy canned responses, unlimited chat history, pre-chat and offline forms. They can see visitor information and location detailed in a chat window at all times. Such important features as trigger-based chat together, detailed reports, or visitor tracking are available in paid subscription plans.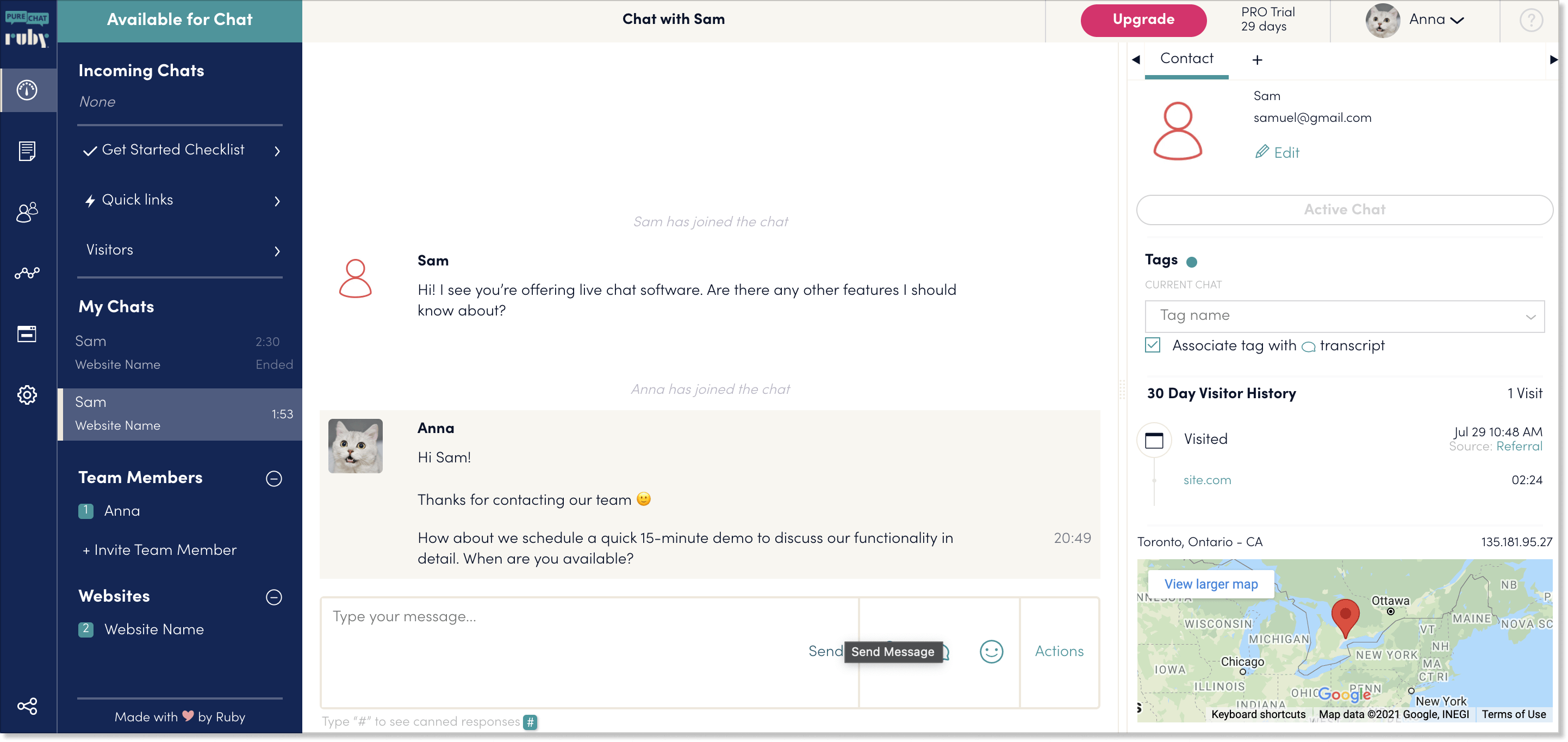 Pure Chat reviews
We liked how easy it is to keep in constant interaction with our visitors and customers during their journey on our page, providing advice and attention in real time to improve their experience.


- Miriam C. on G2
Pure chat is a software which allows you to easily add a live chat feature to your website.


- Sander V. on Capterra
Pricing
You can use PureChat for free if you only need 3 seats. Paid plans cost from $49/mo to $99/mo if billed monthly and include more advanced real-time analytics, live visitor tracking, and SMS notifications.
Verdict
PureChat is very basic chat support software for businesses that only want to chat with customers and that's it. This is a perfect platform for providing real-time customer support if you don't want to overspend. You won't be able to enjoy any advanced sales or marketing functionality, because there aren't any.
10. Tidio — free live chat software with chatbots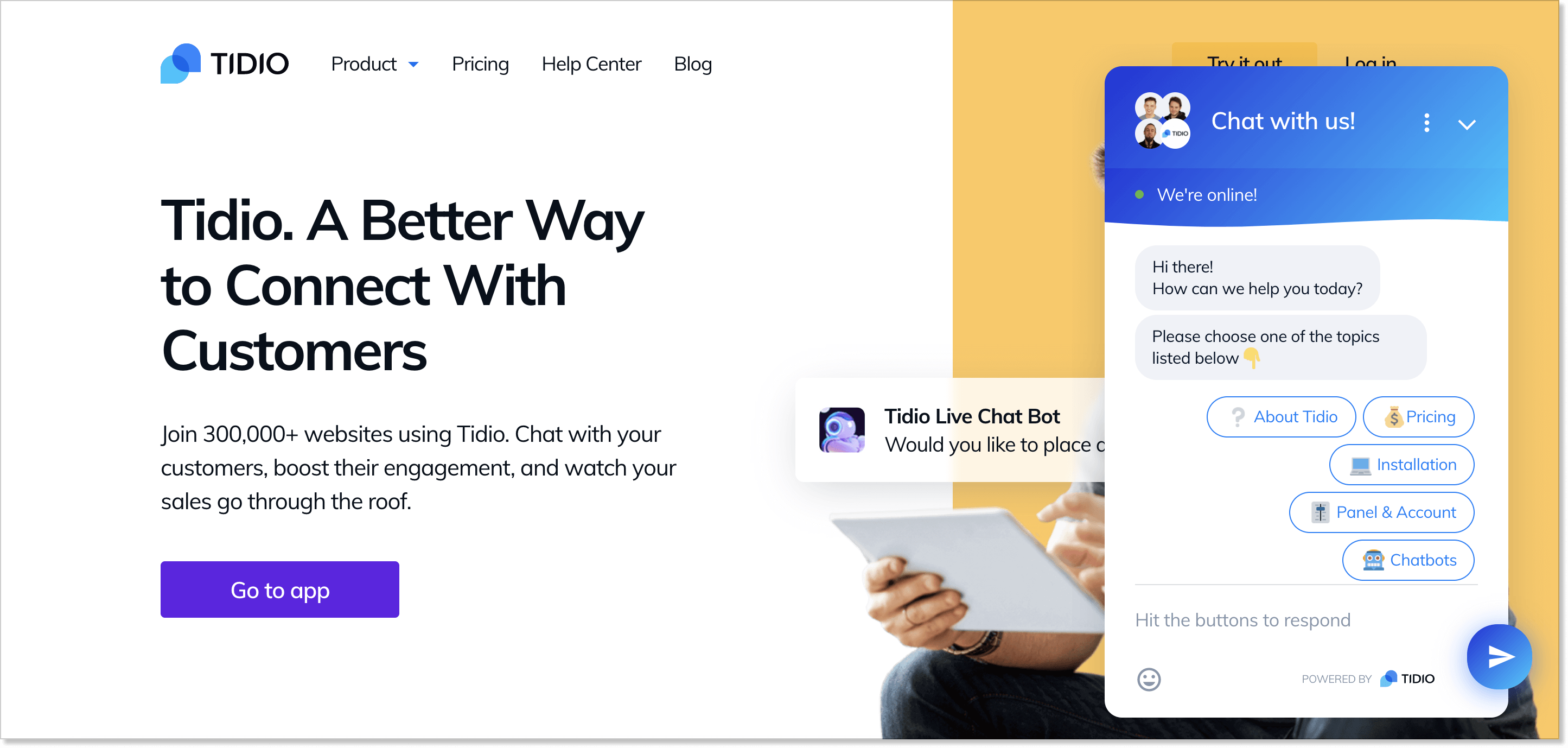 Tidio is available for free and includes email and Facebook Messenger integrations with 3 operators. It doesn't have all the important features, but it does have canned responses, email forwarding, and customer profiles.
Even though Tidio includes some basic chatbot functionality in their free plan, such crucial features as typing insight or visitors' behavior tracking are only available as per paid subscriptions. Businesses will enjoy other perks like live visitor tracking and new visitor notifications that will allow support operators to react promptly upon each new lead.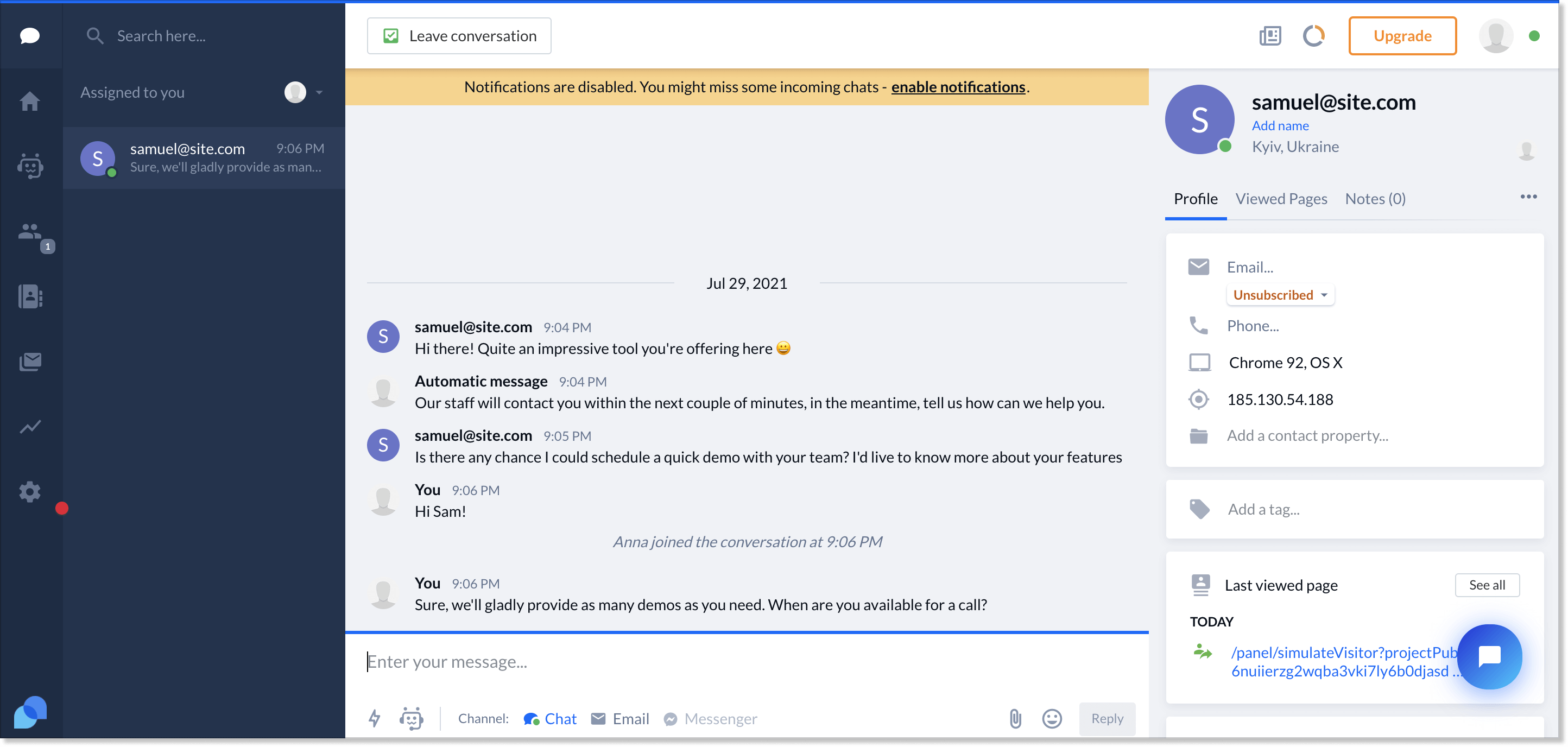 Tidio chat reviews
Tidio offers intuitive, accessible technology for our team to use from the desktop, browser, and phone. The technology is fresh and modern and easy to customize.


- Nathan C. W. on G2
Fast customer support appears to deal easily with complaints and is easy to install and use. Pricing is also appropriate in contrast to other applications. We are selective for the design of the chat widget, and thanks to Tidio because it offers highly customizable chat widgets.


- Iryna P on G2
Pricing
A huge part of Tidio's live chat features is available for free including some basic chatbot scenarios. It offers 3 chat operator seats and 100 unique visitors reachable by chatbots. There are also three paid options depending on your primary goals: the 'Chatbots' and 'Communicator' for $18/mo or 'Mailing' for $10/mo.
Verdict
Tidio offers great and simple live chat services for small businesses that want to enjoy some basic chatbot functionality for pre-qualifying leads. Widget's design is nice and pleasant while support operators will have enough features to manage incoming conversations effectively.
11. Help Scout — wholesome live chat software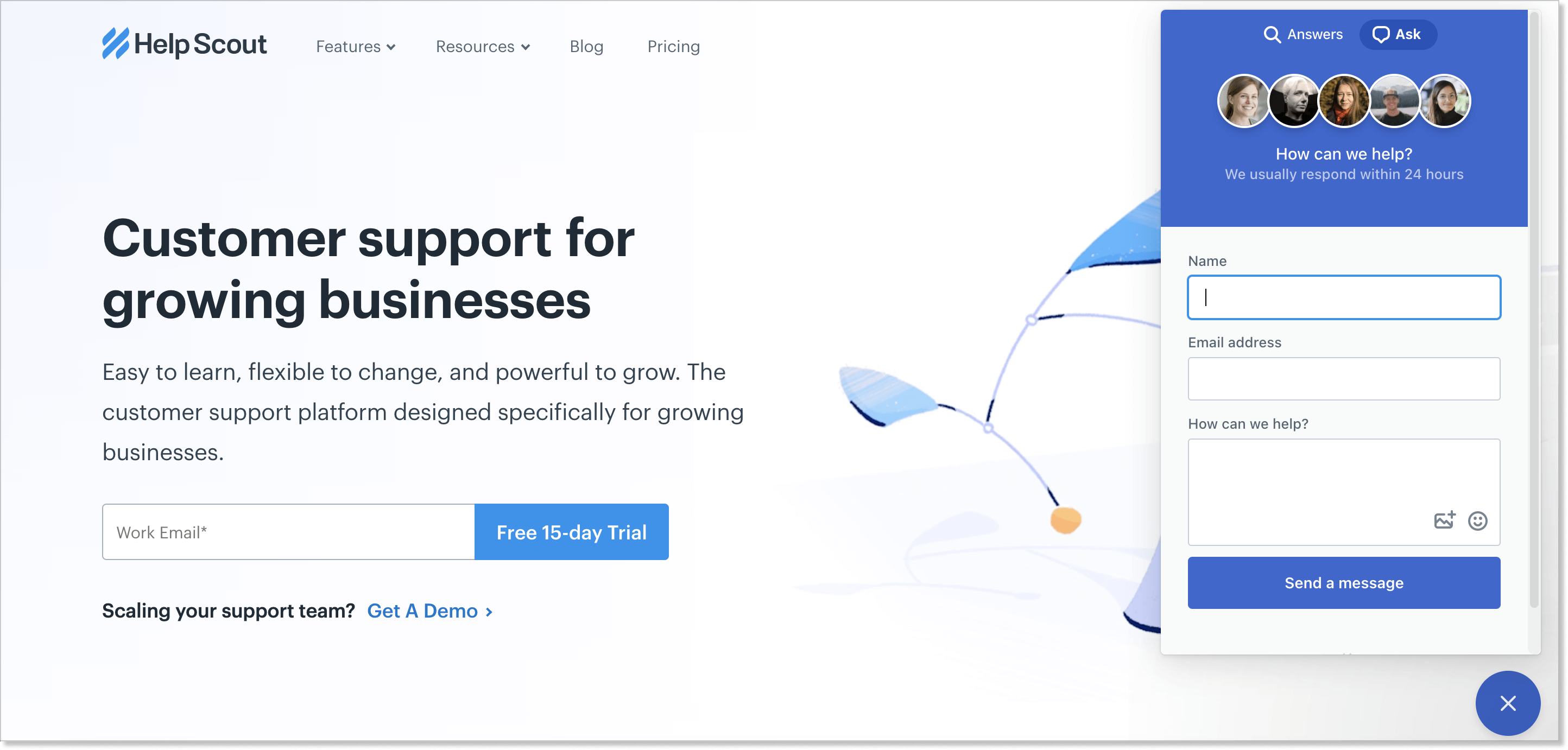 Help Scout is yet another all-in-one solution with pleasant prices and nice packages of features for every business. Just like in HelpCrunch, their basic subscription plans include not only live chat, but also knowledge base and ticketing functionality.
All the core features are included in all subscription plans:
saved responses
tags and private notes
manual chat campaigns
knowledge base integration
chatbot.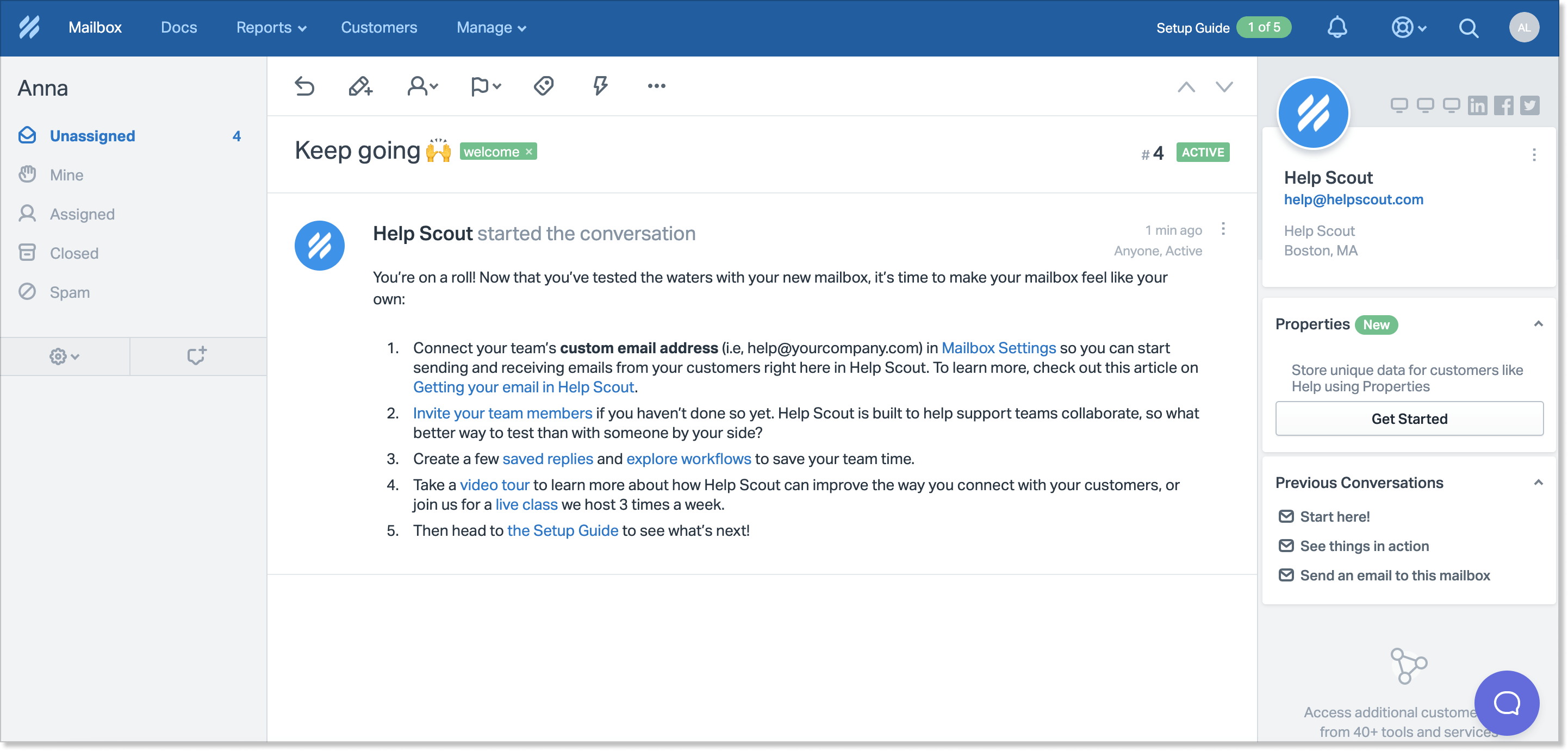 Help Scout chat reviews
It is straightforward to set up and use. The UX is excellent, with helpful keyboard shortcuts and workflows to make our team more efficient.


- Pierre-Luc S. on G2
Speed, lightweight feel, keyboard shortcuts, responsive UX, everything necessary is right at hand and not cluttered with extraneous stuff, very friendly and knowledgeable customer service, competitive price. I dislike the lack of a "unified inbox" to see cases assigned to multiple teams across multiple mailboxes.


- Chris L. on G2
Pricing
Help Scout offers three subscription plans. The 'Basic' plan for $15/mo/user includes the Beacon with chatting functionality and 1 knowledge base site. With the $25/mo/user subscription, you get 3 mailboxes and full reports.
Verdict
My personal impression was that Help Scout is a very decent all-in-one platform that keeps up with the latest customer service trends and offers a modern live chat widget. All the features are in place, and the knowledge base integration is one of the best I saw.
12. Crisp – affordable live chat software for SMB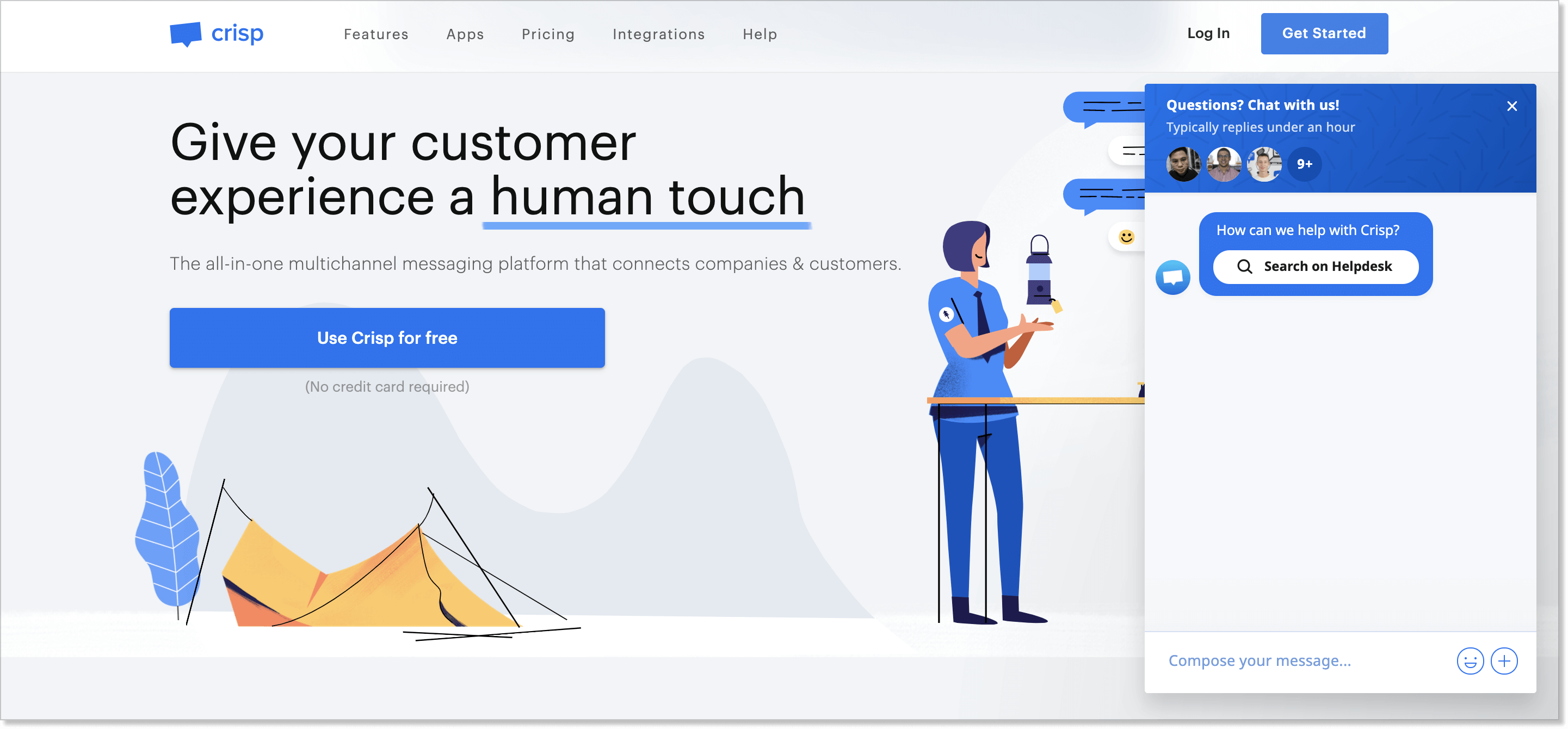 Crisp is a rich all-in-one instrument offering nice chatting and chatbot features for websites and apps. Even though its toolset reached far beyond just a live chat tool, their chat is worth a particular mention. Depending on the subscription plan, you'll enjoy the following features:
canned responses and private notes
automated messages
audio messages
video calls
knowledge base integration
However, there are some outstanding features that no other competitors can boast of. Magic Browse allows you to see a customer's screen, while Live Translate will translate your conversations in as many languages as you need on the go. And while clients are awaiting an answer from your team, they can play a fun little game called CrispyBird right inside the widget.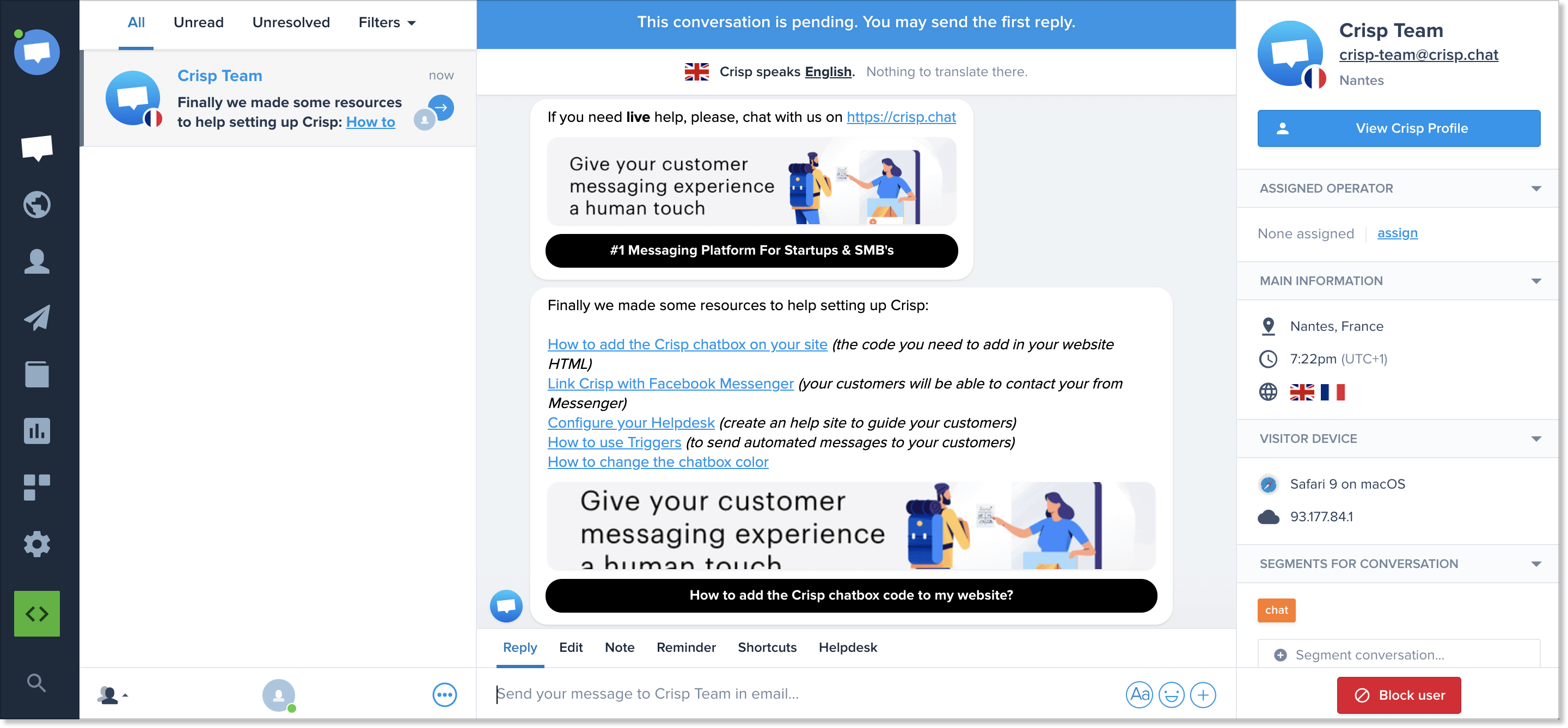 Crisp chat reviews
Attention to detail to the UI, it is smooth, responsive and the team seems to really care about the product. Something I can appreciate.


- Carlos A. V. on G2
What do you like best?
   - Generous free plan and accessible paid plans
   - Killer features like customer live view, knowledge base, and automated campaigns
   - Reactive & helpful support from them, always available 


- Lucas P. on G2
Pricing
The "Basic" subscription for live chat and shared inbox is available for free. It includes 2 seats. The paid package with more advanced features and integrations start from $25/mo (4 seats included). Knowledge base, chatbot, and automated email campaigns are only available for $95/mo.
Verdict
Crisp is a great live chat system for small and mid-sized businesses. Its rich and unconventional features will help them deliver top-notch support not only via live chat but across various channels.
13. Kayako – help desk software with live chat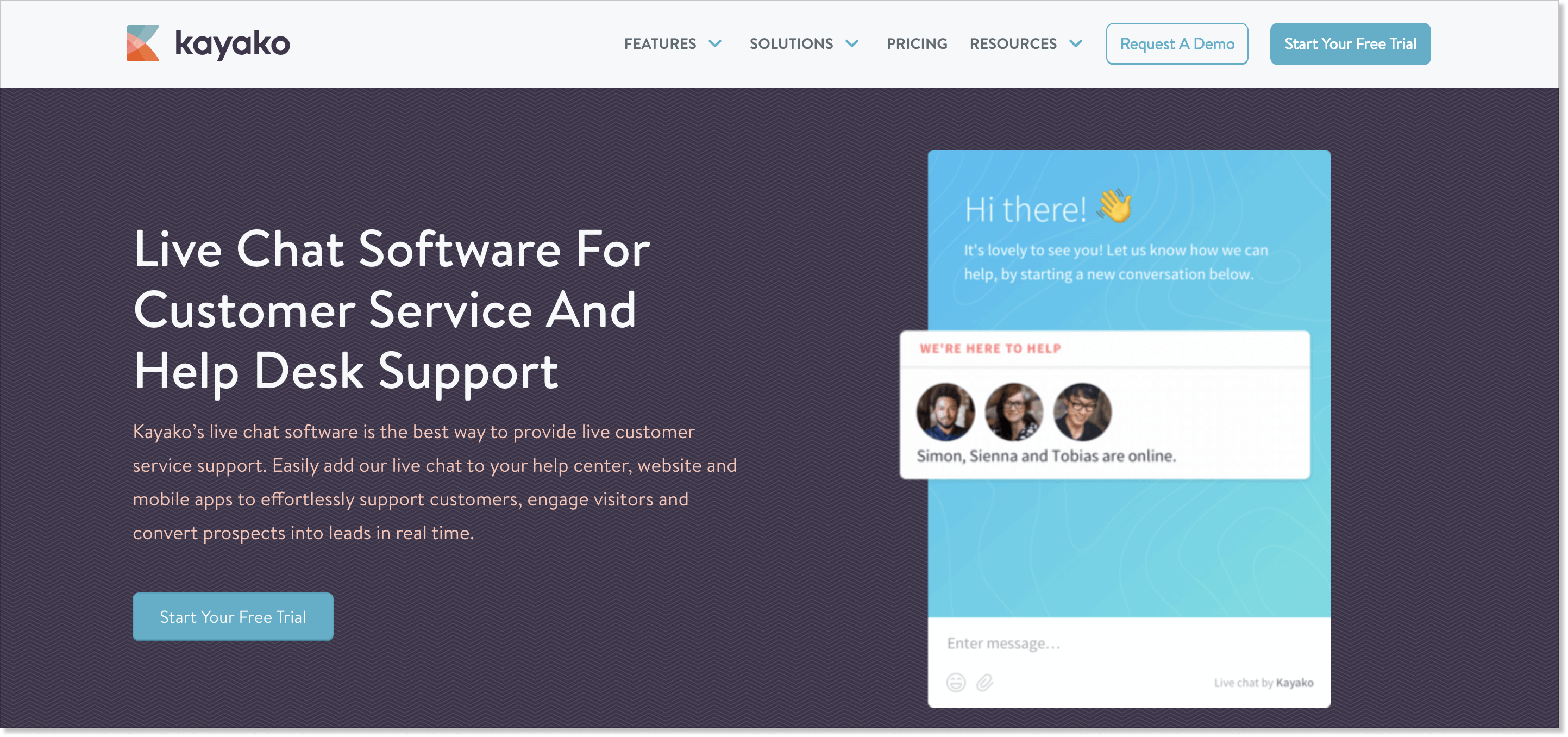 Founded back in 2001 as a help desk for customer service, Kayako has grown into all-encompassing software for live chat, social media, and knowledge base functionality. Live chat, email, and social media are included in all subscription plans, with the most prominent features being:
detailed user profiles and real-time user activity
automated chat messages
automated email follow-ups
knowledge base integration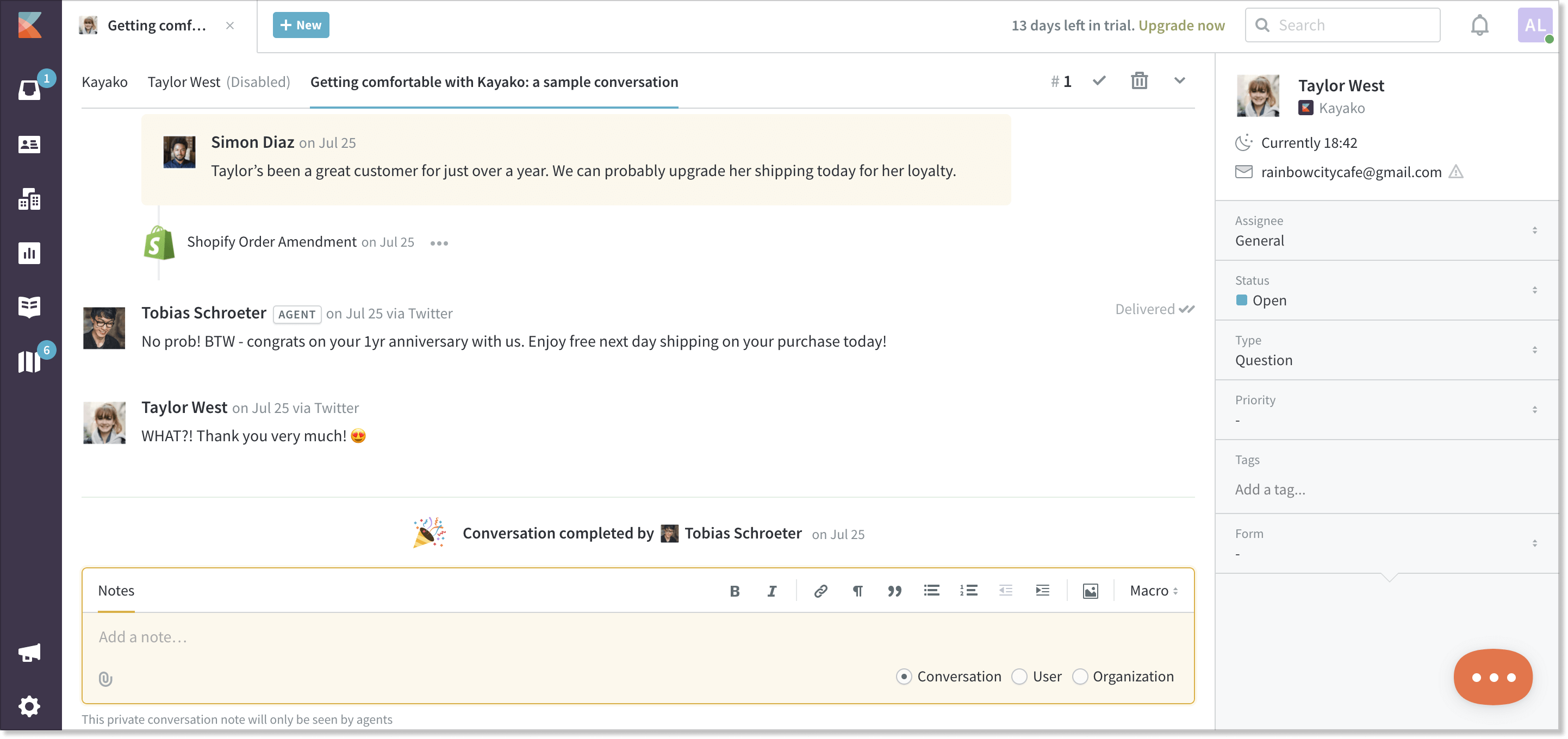 Kayako chat reviews
Kayako is an extremely helpful helpdesk solution that allows our company to provide great levels of service while all staying connected at the same time. I wish there were more opportunities for customization, but that doesn't hold us back from using this platform at all.


-  Anonymous reviewer on G2 
Kayako is a great communication tool, provides an excellent app navigator through its functions and live chat is pretty reliable.


- Anonymous reviewer on G2 
Chat window is very responsive, it has a great design and though it lacks customization features for widget placement it still looks great. Automated responses make it very easy to provide answers for commonly asked questions.


- Jesus V. on G2
Pricing
The Inbox subscription plan starts from $15/mo per agent and includes live chat, knowledge base, and social media integrations. Workflow automation and macro responses are available in the Growth subscription for $30/mo per agent.
Verdict
All in all, Kayako doesn't really offer anything revolutionary for a modern business. Their software can be a decent choice for companies looking for a complex help desk at an affordable price. All features and integrations are in order.
14. Customerly – software with in-chat surveys and contact limits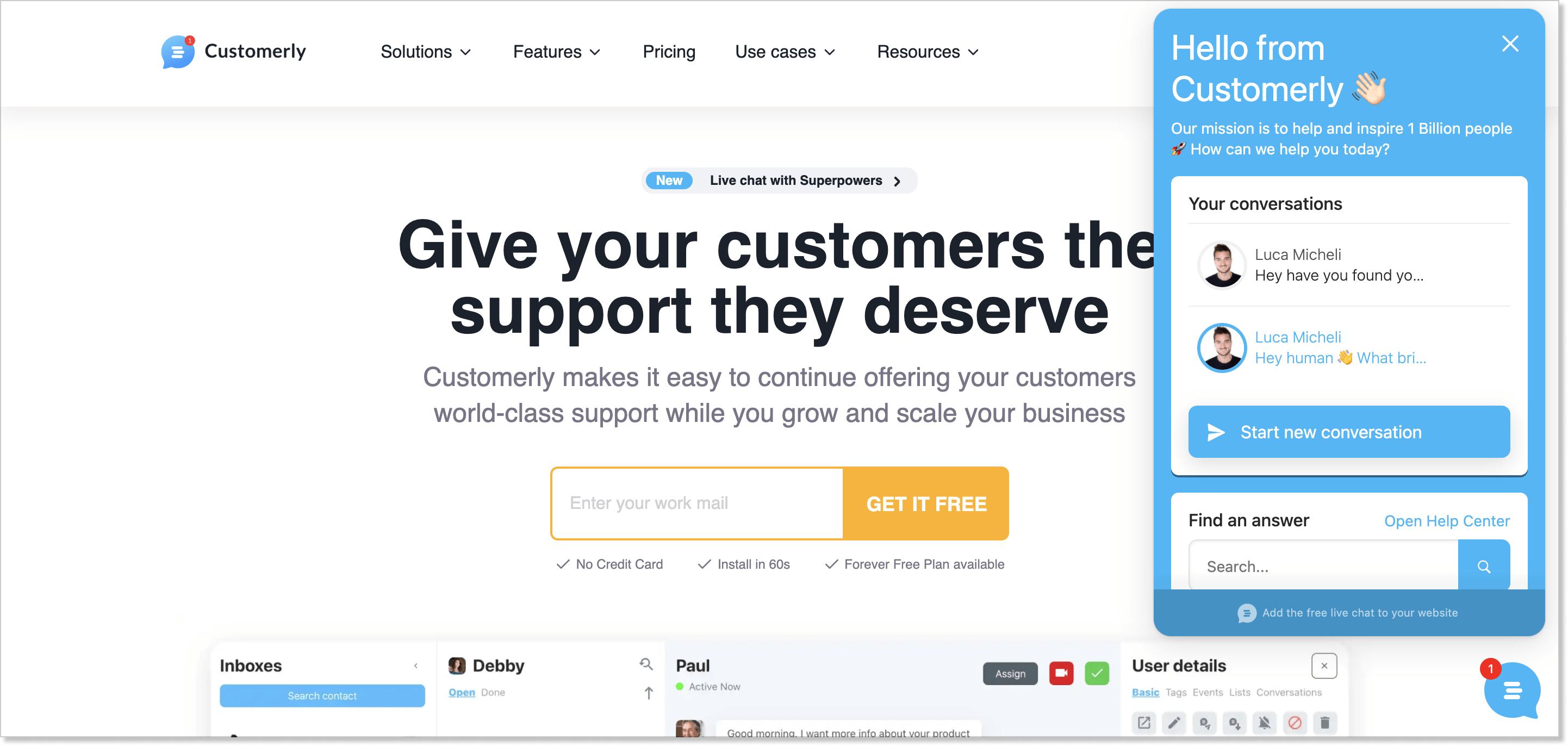 Live chat is one of the many customer support and marketing features offered by Customerly. The tool includes email automation, knowledge base, and video calls.
Customerly is packed with all the features a business needs to effective support:
operating hours
pre-chat forms
knowledge base integration
typing sneak peek
in-chat surveys
video calls
However, the last two features are only available in the Pro subscription plan available for $87/mo. It's also worth noting that Customerly puts different limitations on the number of contacts you get to keep in your account.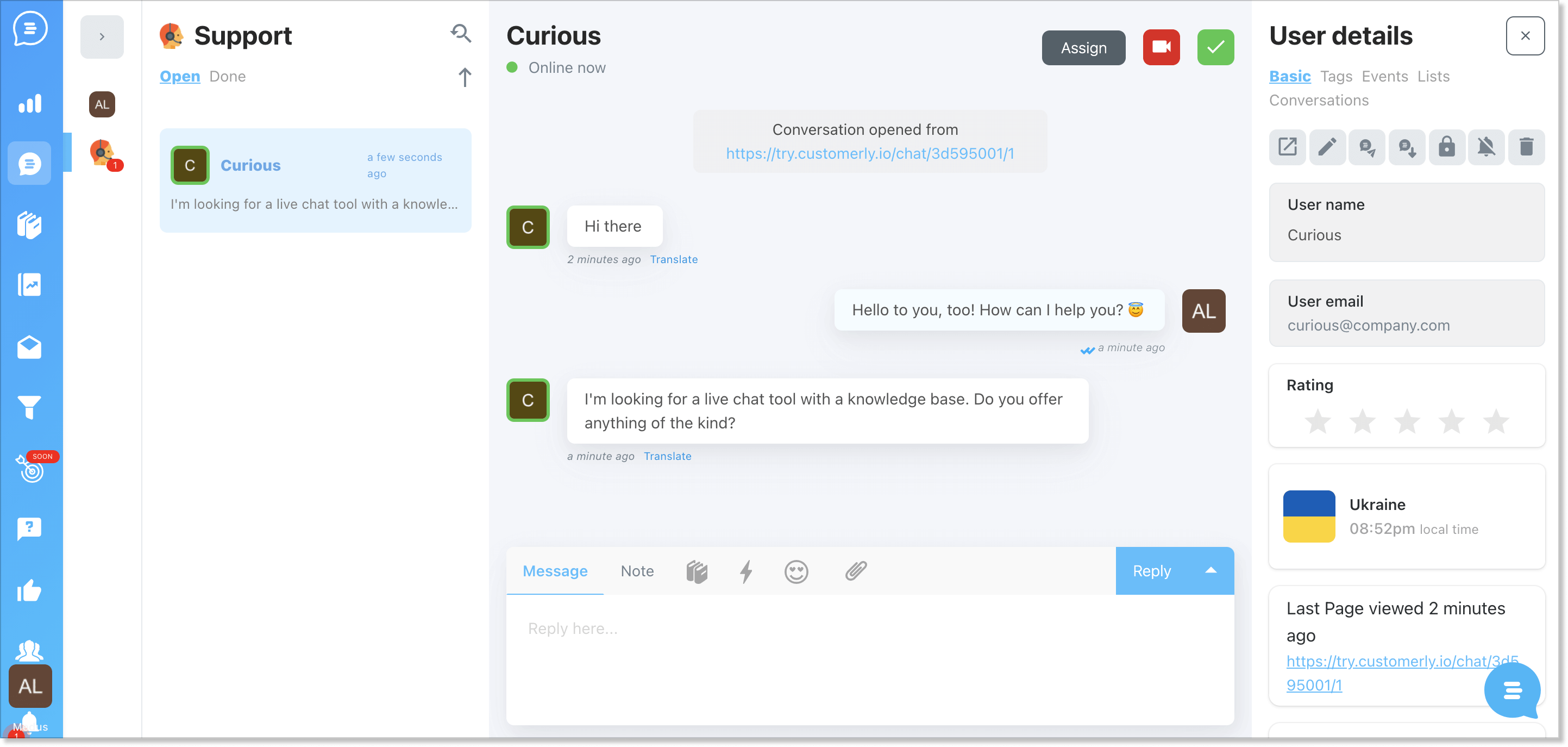 Customerly chat reviews
I like the way Customerly integrates the web chat, email campaigns and surveys into one tool. Installation was easy and painless - both for setting up the web chat and importing the contacts list.


- Chuck A. on G2
Pricing
You can use Customerly live chat and knowledge base features for free. The free package has unlimited contacts, a 30-day conversation history, and 2 agent seats. Paid subscription plans vary from $29 to $159 per month and include all kinds of fancy automations for marketing, video calls, and assignment rules.
Verdict
If you're not planning on spending a fortune on your live chat tool, Customerly's free subscription has everything you may possible need, including unlimited contacts. However, the Startup and Pro packages with their limitations of 2-5K contacts may sound confusing if you plan on storing your contact database there.
15. Comm100 – live chat with the richest free subscription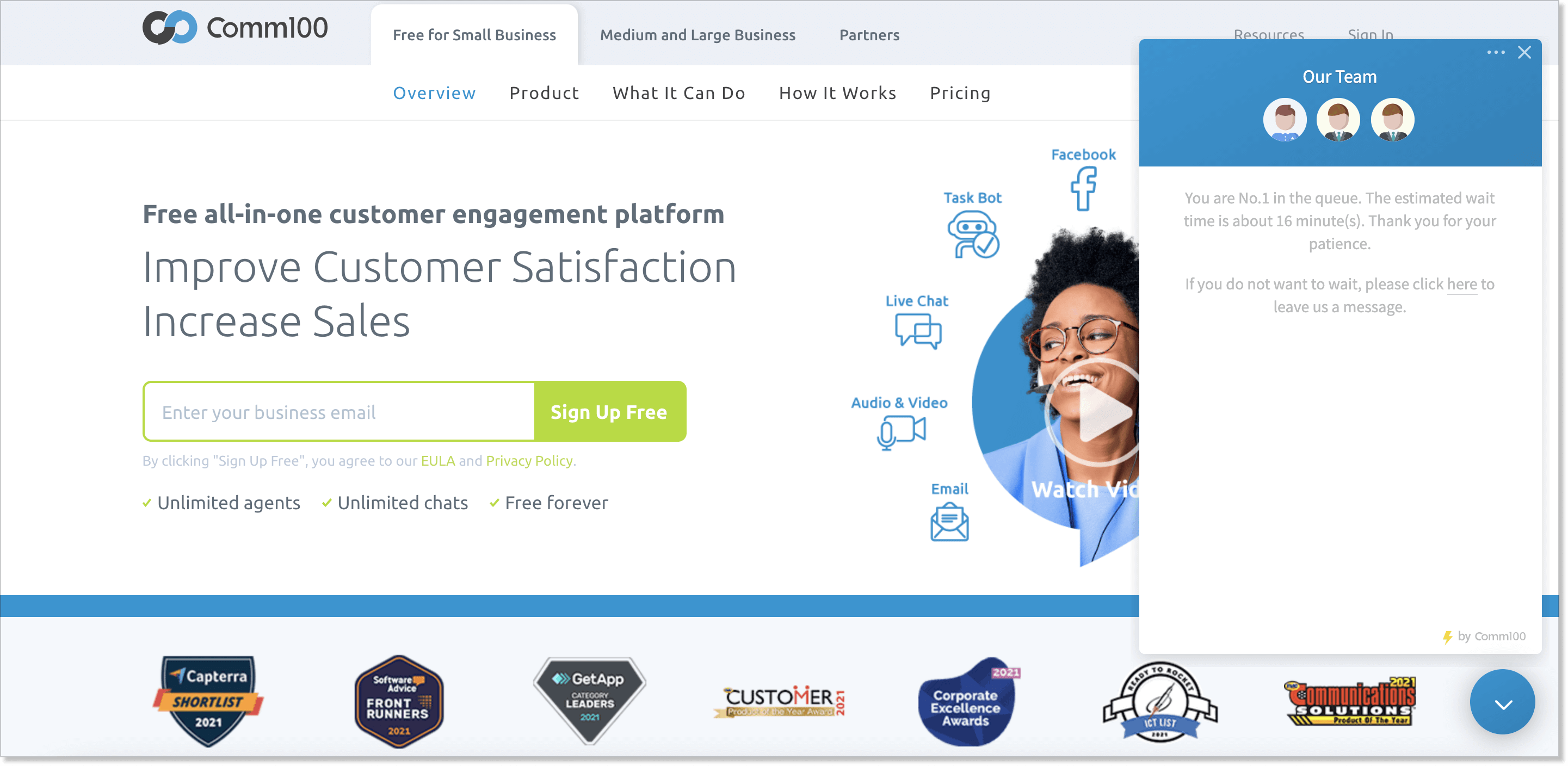 Comm100 is a feature-rich yet outdated live chat tool. Your support agents will enjoy chatbot and knowledge base functionality for effective customer communication. More importantly, the platform offers all the necessary features for effective communication with customers (and even makes some of them available for free):
visitor monitoring
pre-chat forms
canned responses
automated chat campaigns
audio/video
However, the tool feels outdated and counterintuitive half the time, and the learning curve may be quite steep.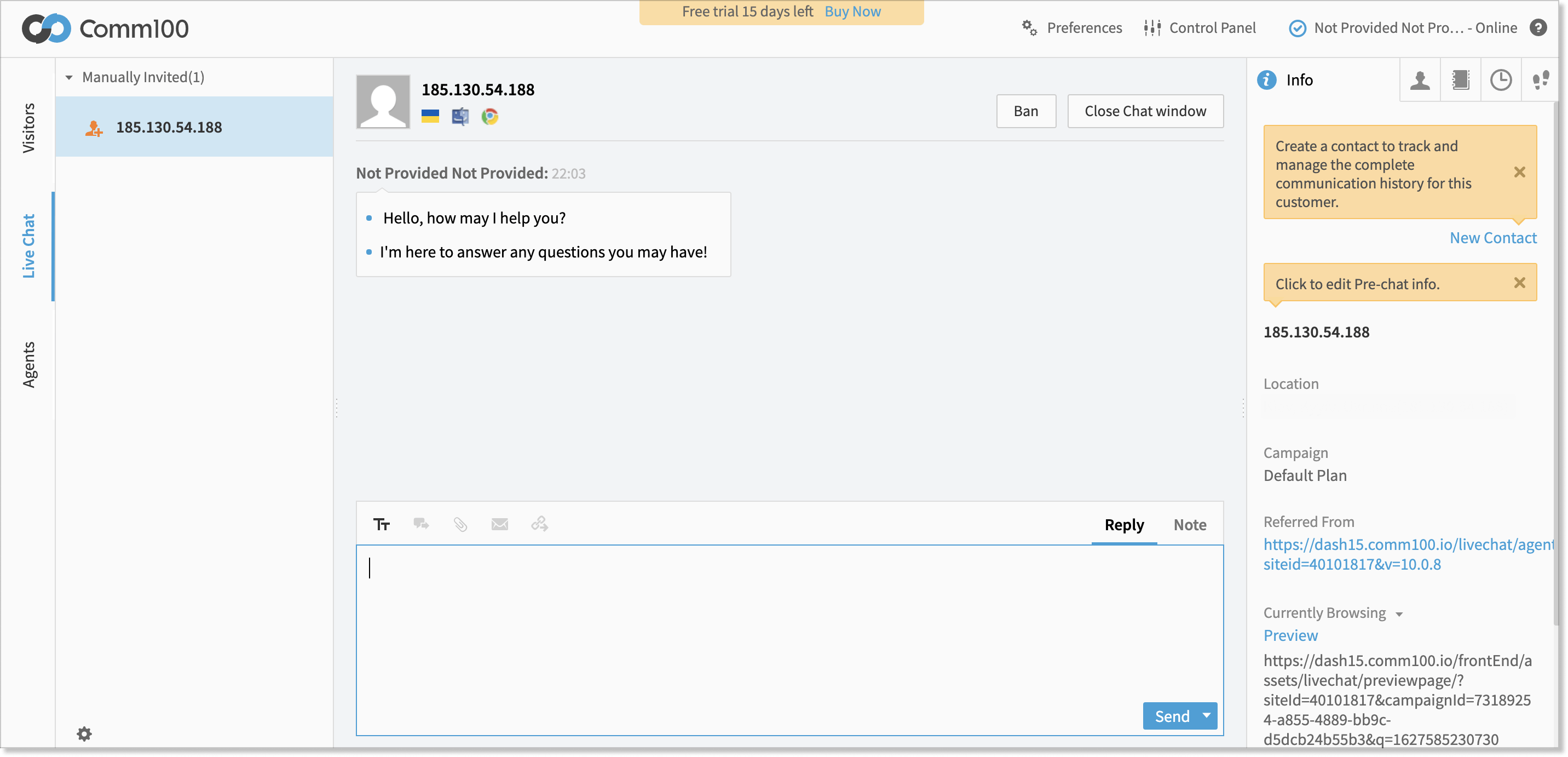 Comm100 chat reviews
I like the ease of installation on our web pages and the ability to have custom buttons.


- Anonymous reviewer on G2
Comm100 has excellent features, a good range of tools and is well-priced compared to some competitors. It's not as cheap as some alternatives but you really do get what you pay for with Comm100.


- Chris D. on Capterra
Pricing
Small businesses will appreciate Comm100's free subscription plan since it offers one of the richest chat, knowledge base, email, and social media toolset at no cost. There are also no limitations on the number of agents. Paid subscription plans with chatbots and Twitter vary from $29 to $89 per agent per month.
Verdict
Comm100 with its free version can be a great choice for small and mid-sized businesses looking to save some money. They do offer a lot of features for effective live chat support and don't overcharge even for the paid packages. However, you should be prepared for some quite challenging design and functionality decisions.
So, is there the best live chat software?
There are several standard features that you absolutely should pay attention to. Things like saved responses, file attachments, typing insight, and rich widget customization is a must. But this is just the tip of it.
In order to be the best live chat solution, it should have such features as auto messages for capturing more leads and manual messages for better communication with existing users.
Also, you can't really imagine five-star customer support without a decent knowledge base site. So it would be nice to have it included into your live chat tool as well.
All in all, choose software that feels complete to you so that you won't have to pile up third-party integrations later on.