At the dawn of customer service, live chats were just simple windows where you could exchange messages with your customers and assist them with their issues.
Now, they have become a powerful channel for attracting more leads, converting them into paying customers, onboarding, upselling, measuring customer satisfaction, and virtually consolidating all your customer communication in one tool.
That is why more and more businesses pay particular attention to choosing the most powerful and feature-rich chat software for their websites. It's not a question of can or can't anymore. Website chat services are just something you do, it's a must-have.
However, it's not like you just install chat software, and your sales immediately go through the roof. A live chat is just another customer communication channel if you don't know what features to look for and how to use them. And God knows there's a lot to know.
So, let's start from the basics: what is a live chat and why do you need live chat software in the first place?
Live chat benefits
Live chat is one of, if not the, most cost and time effective customer communication channels. It allows support agents to handle multiple conversations at the same time, and customers can multitask while resolving their issues and getting help. Now, compare this to good old call centers where both sides should stay on the line until the issue is resolved.
Unlike emails, all live chat conversations are happening in real time meaning that everyone gets timely help. According to eConsultancy, 79% of live chat users appreciated how fast their questions were answered there. So here you have it — the fastest way to get in touch with businesses, so there's no wonder that live chat can bring numerous benefits including:
How to choose the best live chat software
So, how exactly can one choose the best live chat software? What features should you pay attention to? And how to not overspend? Let's answer these questions one by one starting from the basics.
Types of live chat software
Basically, there are two types of live chat providers — stand-alone solutions and those bundled with all-in-one customer service tools. The first type provides you exactly with live chat and nothing more. It'll have all the features you need to chat with clients (more on them is a moment), but you won't be able to answer emails from your customers or create a knowledge base in the same dashboard.
The second type usually offers not only live chat functionality, but also covers other important customer service channels and tools like a knowledge base, ticketing, social media integration, etc. By choosing this type of live chat software you can be sure that you won't need any third-party integrations in the future. Moreover, customers appreciate omni-channel support these days because they want to use different communication channels simultaneously.
Main features of live chat software
Apart from being able to just chat with your clients in real time and send each other emojis, there are several must-have chat features that can make the lives of your support agents easier and help them achieve greater productivity and results.
Moreover, it would be a huge mistake to use live chat software solely for answering people's questions. You can anticipate their needs and engage them proactively via a live chat widget.
So, what are the most important features that all best live chat software platforms should have?
Auto messages. If you want to provide proactive support, it's of paramount importance to send automated messages based on visitors' behavior.
Manual messages. Live chat software can also become one of the most engaging channels for communication with your existing customers and sending them one-time chat broadcasts. They're useful for announcing news / new features to active users.
Canned responses. The ability to pre-save common questions and answers to them is an obvious feature for any live chat software.
Chat forms. Features like pre-chat and offline forms will help you collect visitors' contact information before starting a conversation.
Chat rating. The chat rating feature will ask visitors to evaluate their experience, and you will be able to track your live chat performance.
Typing insight. The "typing insight" feature shows when a chat agent or a customer is typing a message.
Additional help desk features like statuses, tags, private notes, user profiles will help you keep all conversations in a convenient order and resolve them more efficiently. And email follow-ups will allow you to follow up on those visitors who left the chat before you could answer them.
Chat widget customization is yet another important aspect when choosing the best live chat software for your website. You'd probably want it to look like an integral part of your website with all the matching colors, buttons, and wallpapers.
Finally, using live chat software for a website is one thing but what about SaaS products? The ability to integrate a chat tool with your app and send in-app notifications with its help is also an important aspect of choosing a chat solution.
Now, let's proceed to choosing the best live chat software among hundreds of similar solutions available on the market today.
Live chat software comparison
11 best live chat software for your website
Based on their market size, popularity with customers, and our own subjective opinion, we've selected the top 11 live chat software for any business.
In this list, you'll find both basic and advanced live chat solutions, expensive and free services, tools that only offer live chat functionality and those with AI-powered chatbots. So, brace yourself as it would be a tough choice!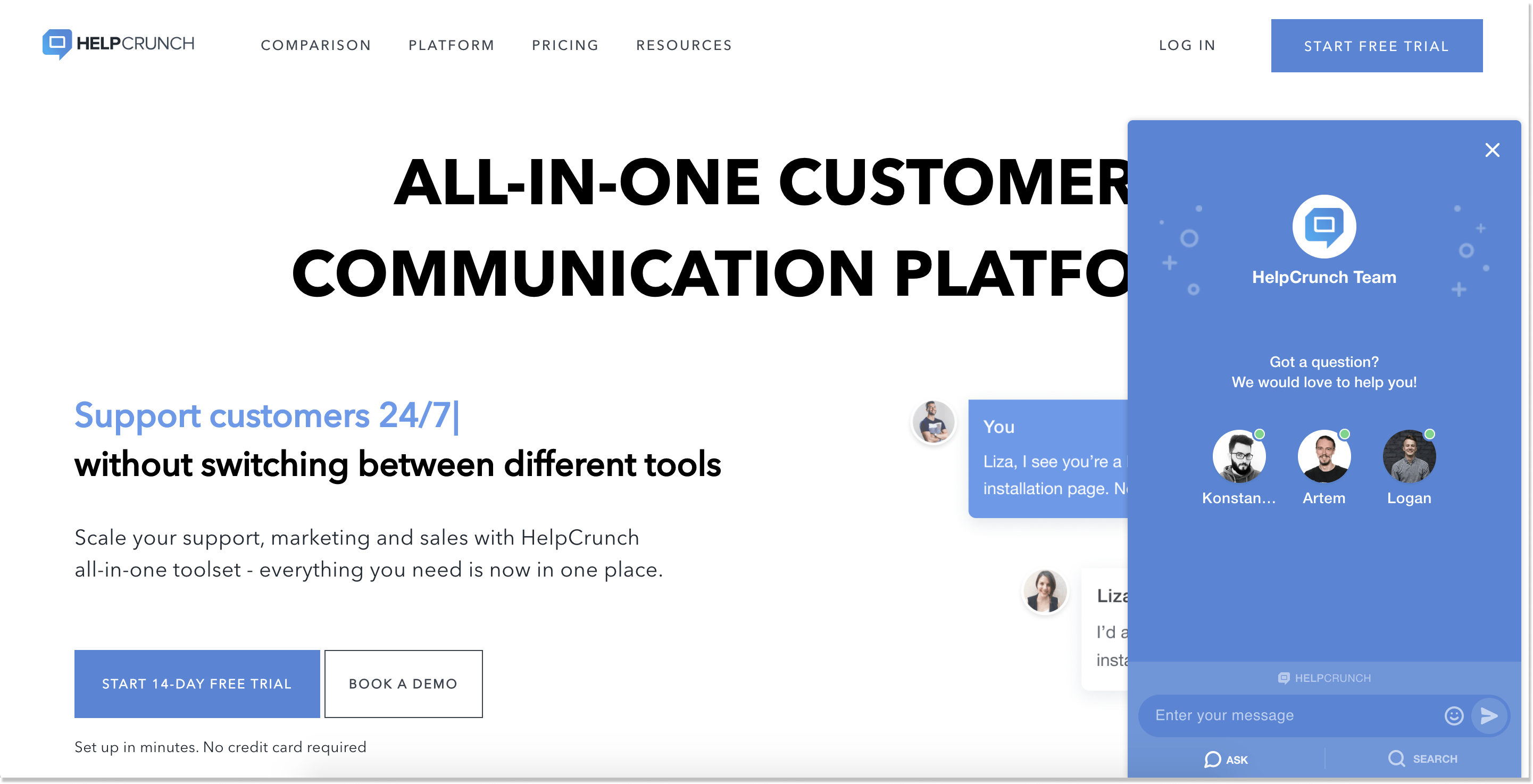 Affordable live chat software for your business
Broadly speaking, HelpCrunch is an all-in-one customer service tool, which offers live chat functionality as part of its toolset. Even though it has this wide range of customer service tools like email automation, popups, knowledge base, live chat is at the core of this software.
You can customize everything in the HelpCrunch chat widget — from colors and sizes to wallpapers and custom CSS. All standard live chat features are available, too: canned responses, auto/manual messages, chat rating, pre-chat and offline forms, file sharing.
There are also some noticeable peculiarities. For instance, the typing insight shows you a sneak peek at what customers are typing before they send their message. And if your chat message stays unread, it will be automatically resent to a visitor via email.
On top of the standard live chat features, knowledge base functionality is included in all subscription plans. Support agents can answer questions with the help of canned responses as well as knowledge base guides right in a chat window.

Now that the knowledge base is integrated into the chat widget, customers can easily find information without waiting for a support rep to reply.
Another nice bonus offered by HelpCrunch is their mobile apps. You can download it on your mobile phone and support clients on the go from any place you want.
Pricing
HelpCrunch has two tiers of their pricing — 'Live Chat' and 'Live Chat + Emails'. The Standard 'Live Chat' plan costs only $15/mo per each team member and includes unlimited chat manual messages and 3 concurrent auto messages. Additional perks include a full-fledged knowledge base and the ability to set up website popups.
If you're interested in adding email functionality to your live chat, HelpCrunch's 'Live chat + Emails' subscriptions start at $29/mo/team member.
Verdict
HelpCrunch is the best live chat software for small and mid-size businesses looking for a live chat software solution that will allow them to consolidate all customer communication in one simple dashboard. Numerous customization options, mobile SDKs together with its affordable pricing make HelpCrunch a great choice.
Not only does it offer one of the richest live chat functionalities out there, but it also allows companies to capture more leads, nurture them and convert faster into paying customers with all the advanced features.
PROS
Knowledge base integration
Ticketing features
Rich widget customization
Affordable pricing
Mobile apps
CONS
No chatbot
Limited third-party integrations
Looking for all-in-one customer
communication tool?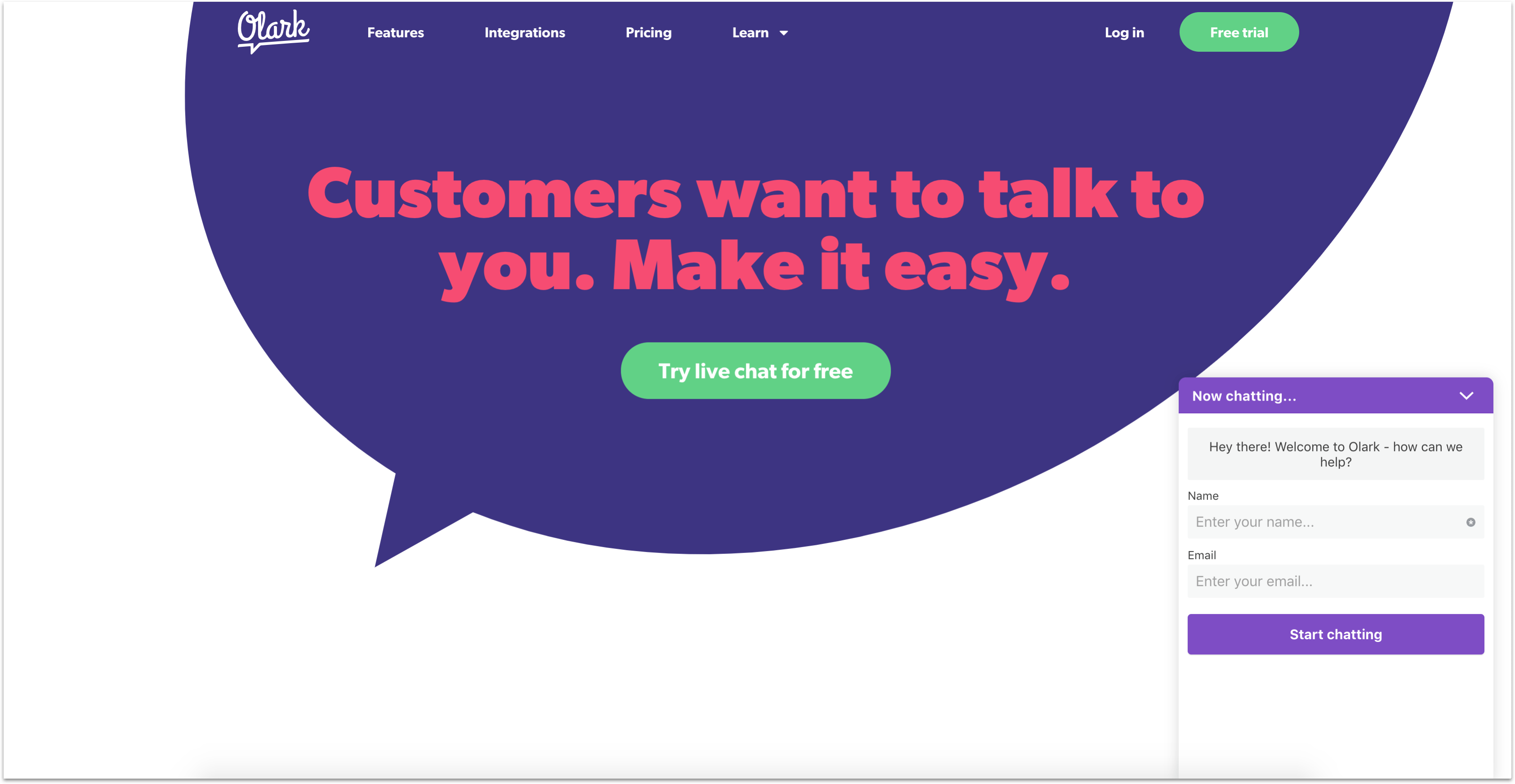 Simple and reliable live chat software
Olark is a mono-solution offering only live chat functionality. On the plus side, it's a reliable and mature tool that has perfected its live chat software. No additional perks, though.
Olark's features include saved responses, custom chat forms, and auto messages. There's no option to send manual chat campaigns. However, the real-time visitor list shows you every visitor that is browsing your website at the moment so that you can use your chat widget to reach out to every one of them manually.
Customization settings for the chat widget are rather limited, but you can enhance it with so-called attention grabbers — additional images above your chat box that attract visitors' attention. And chat reports on customer satisfaction, team's overall performance, agents' activity, busiest hours update in real time.
Pricing
Olark's straightforward pricing system offers three equal options with the same set of features:
Monthly subscription for $19/agent/mo
Yearly subscription for $15/agent/mo
2-year subscription for $12/agent/mo
You can purchase some add-ons like the co-browsing feature for $99/mo or chat widget localizations for $29/mo. Removing the Olark's branding will cost $59/mo.
Verdict
All in all, Olark is very simple to get a solid grasp of. An elegant dashboard with an informative yet powerful dashboard will allow you to easily manage incoming chats or even initiate them on your own.
Rich live chat reports are probably one of the best things about this live chat software. Especially the whole real-time thing. However, Olark lacks some important widget customization options, especially since the unbranding will cost you as much as $59/mo.
PROS
Affordable pricing
Real-time visitor tracking
CONS
Too basic
No manual chat messages
Limited widget customization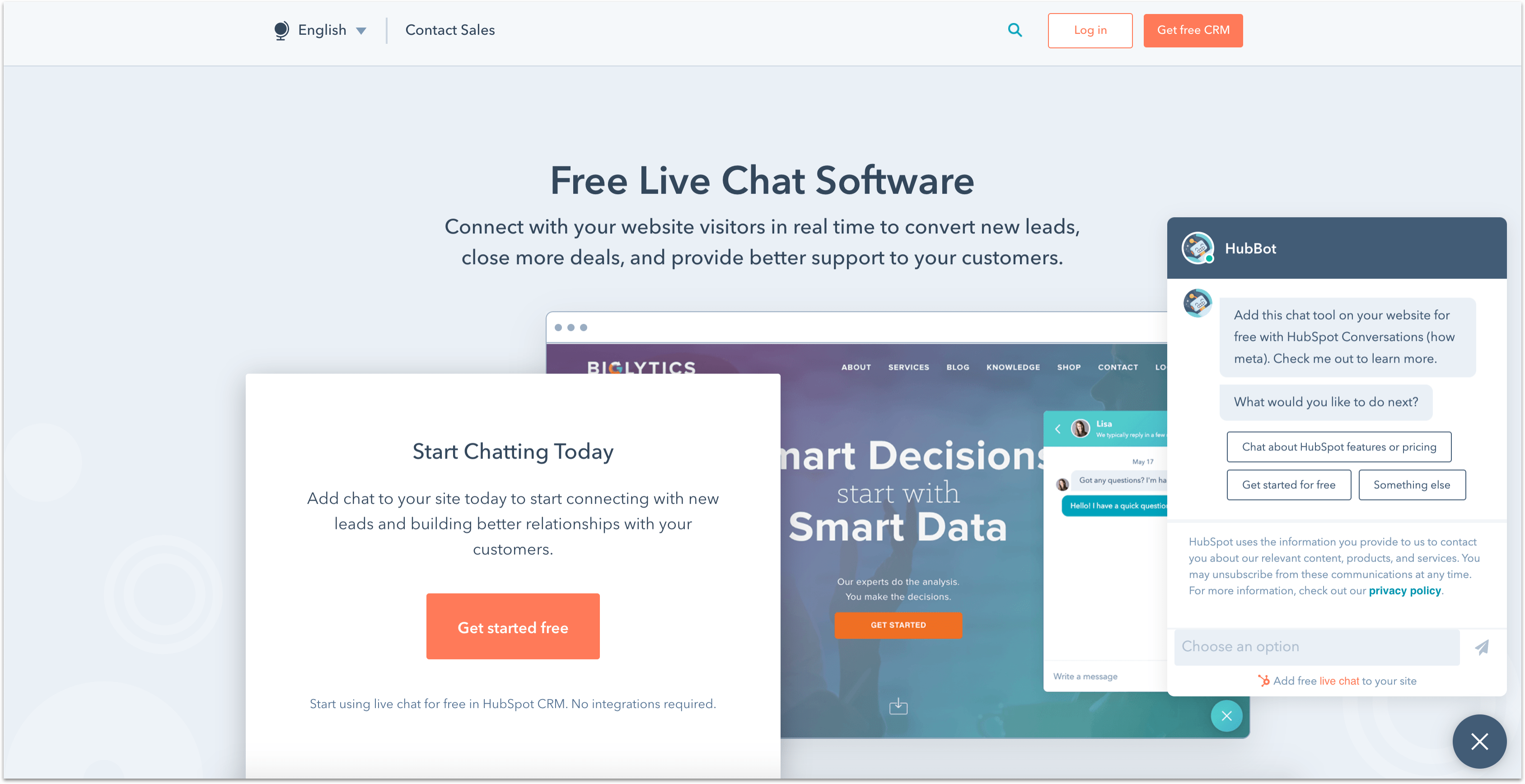 Free live chat software
HubSpot Live Chat is a free tool, part of HubSpot's free forever CRM.
HubSpot's Live Chat tool is fully integrated with a chatbot builder that you can use to easily create bots that help you qualify leads, book meetings, provide answers to common customer support questions, and more.
Because HubSpot Live Chat is seamlessly integrated with HubSpot's free CRM, your bots can deliver friendlier, more personalized messages based on the information you already know about a contact. Also, all your chat conversations are automatically stored in a universal inbox enriched with data from HubSpot's free CRM, giving everyone on your team the context they need to craft the perfect response.
With HubSpot Live Chat, you can easily customize your chat widget to match the look and feel of your brand. You can also create targeted welcome messages for different web pages or segments of your audience so you can connect with the site visitors who matter — right when they're most engaged.
Pricing
HubSpot is available for free as per their free subscription plan. Paid subscription plans start from $50/month for Starter Plan. The Professional plan costs $800/month, while you'll have to pay $3200/month for the Enterprise Plan.
Verdict
If you're looking for a platform where you can manage all of your conversations with prospects, clients, and other website visitors, then HubSpot Live Chat can be a great option. Because it's natively integrated with a CRM and other sales, marketing, and service tools, it allows you to manage all of your conversations and track partnerships in one place.

PROS
Free subscription plan
Natively Integrated with HubSpot CRM (free as well)
Built-in chatbot builder
Email automation functionality
Easily customized
CONS
No unbranding allowed in the freemium plan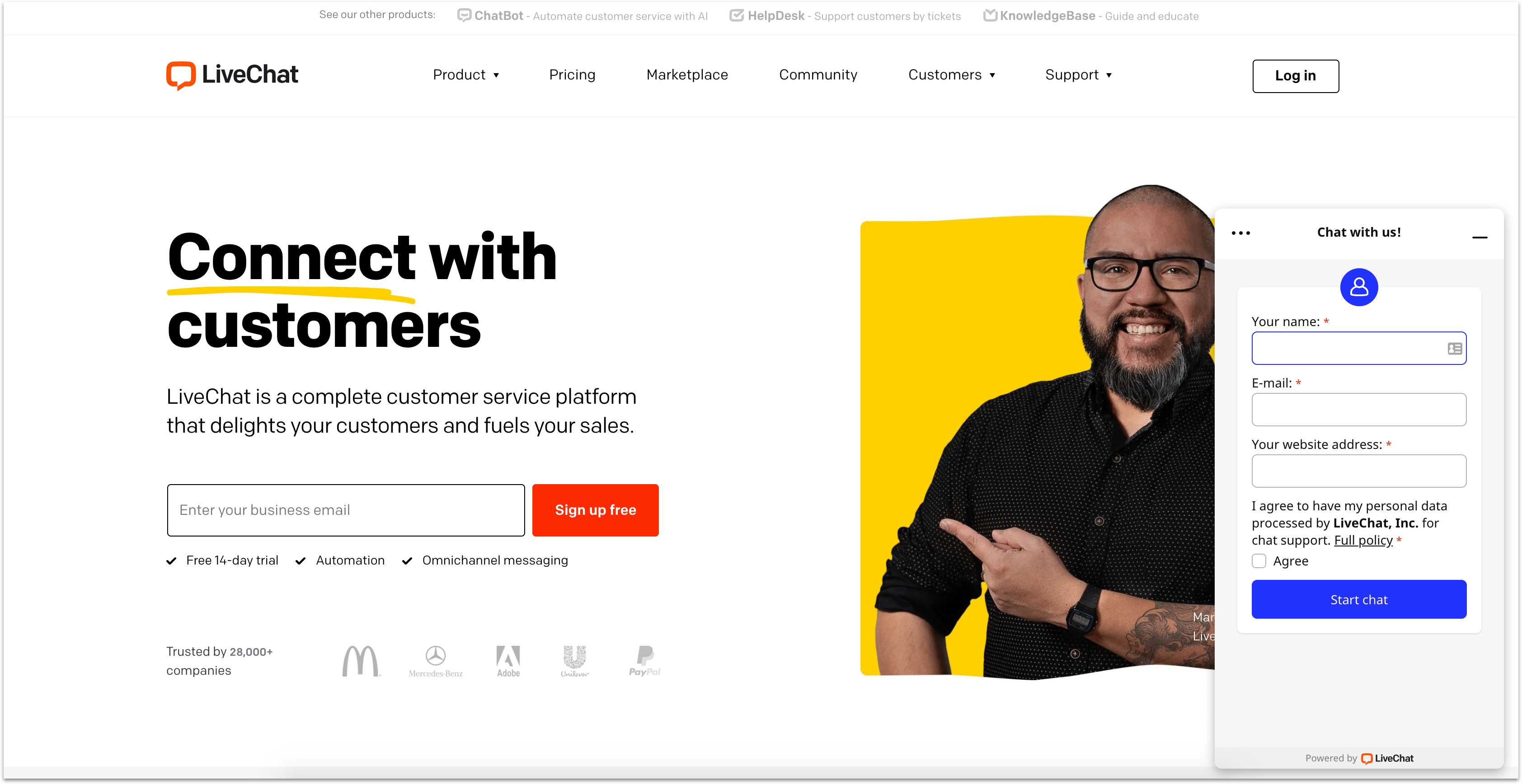 Robust live chat software
LiveChat Inc is yet another mono-solution offering just live chat functionality. And it's one of the oldest solutions in this field that was first launched back in 2002.
You can see how big and well developed this chat software is by just looking at the amazing set of features it offers. On top of standard ones like saved responses, user profiles, auto messages, and chat surveys, you can send additional kinds of chat messages with LiveChat – e.g. cards with images and buttons or carousels of cards. They're great if you want to share some items from your store with a quick preview in chat.
Basic customization options for the widget are complemented by graphic eye-catchers (e.g. animations) that can appear above your chat widget and draw additional attention to it.
What is more, LiveChat offers rich reports on customer satisfaction and team performance including average chat duration, response time, agents' activity, etc. And the list of 170+ integrations will leave no one cold-blooded.
Pricing
LiveChat offers three pricing plans if we don't count in the 'Enterprise' one which is only available by request. The basic 'Starter' plan costs $19/mo per seat and doesn't allow you to share files in chat or set your team's working hours in case you want to automate switching between the online and offline modes. You won't get access to those rich reports, too.
The $39/mo plan offers full widget customization and basic reports, while the 'Business' plan for $59/mo gives access to all the features without any limits.
Verdict
If you're looking for simple yet complete live chat software without any complications, LiveChat can be a great choice. Their friendly pricing plans and reliability add to the overall nice impression.
I'd say that the only downside to this software is that it's still just a live chat. For one thing, it's really difficult to imagine customer service without a decent knowledge base these days. And with LiveChat, you'll have to look for some other integrations, which is not always the best idea.
PROS
Rich live chat functionality
Ticketing features
Detailed reports
CONS
Full functionality can get expensive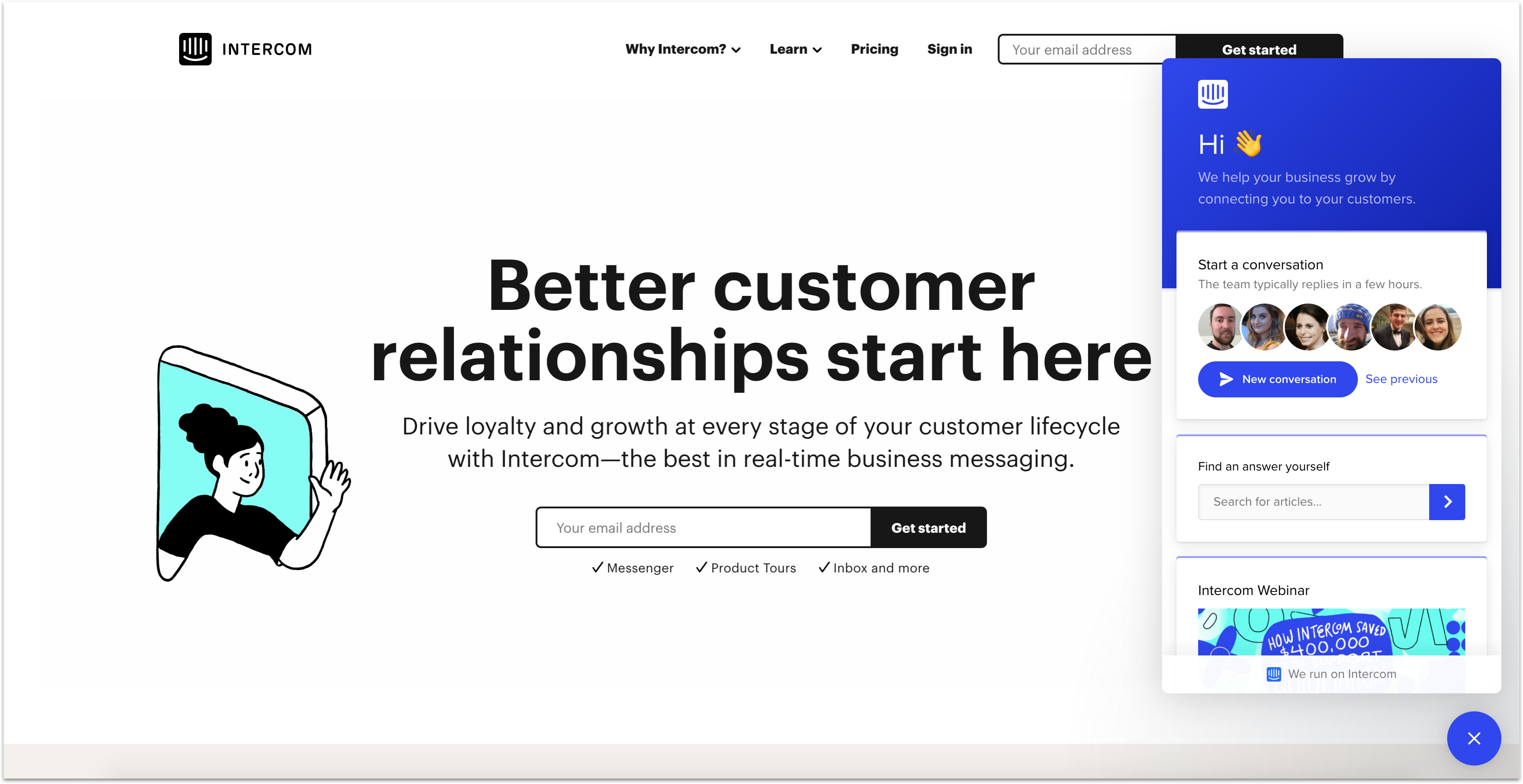 Feature-rich yet expensive live chat software
Intercom is an 'all-in-one' customer service solution. Its live chat functionality is powerful, rich with features, and… quite expensive, which makes it almost unaffordable for small businesses. But if money is not an issue for you, then let's talk.
The Intercom live chat widget can be a full-fledged resource for customer support. It has integrations with a knowledge base, news portal, chatbots, and whatnot. But I can't stress this enough: all these things cost extra money. Moreover, even some basic live chat features like canned responses and chat rating are available with more advanced subscription plans starting from $99/mo.
On the other hand, those advanced plans include some outstanding features like lead qualification bots or article smart suggestions. So, it's definitely something you should think through carefully.
Pricing
Intercom's pricing is extremely complicated and unpredictable. On top of standard charges, Intercom's customers are paying additional fees for their active users. If someone left you at least one message during the past 90 days, they're considered your active contacts. If you have more than 2,000 of such active contacts in your Intercom dashboard, you'll have to pay +$50/mo for every 1,000 additional people.
So, there's no way to say how much you'll end up paying. As to the prices for the platform itself, there are several options that include live chat, the cheapest one with basic live chat functionality costs at least $38/mo and includes only 1 seat. More advanced subscription plans will cost you up to $153/mo. And that's without their add-ons.
Verdict
There's nothing more to say about Intercom except that it's a very good yet complicated software that costs way too much. If you're a huge enterprise, then why not. But if you're a small business, you won't need one-half of the features and won't be able to pay for the other half.
PROS
Advanced email automation functionality
Chatbot add-on
Knowledge base integration
Product tours
CONS
Too expensive
Complicated pricing model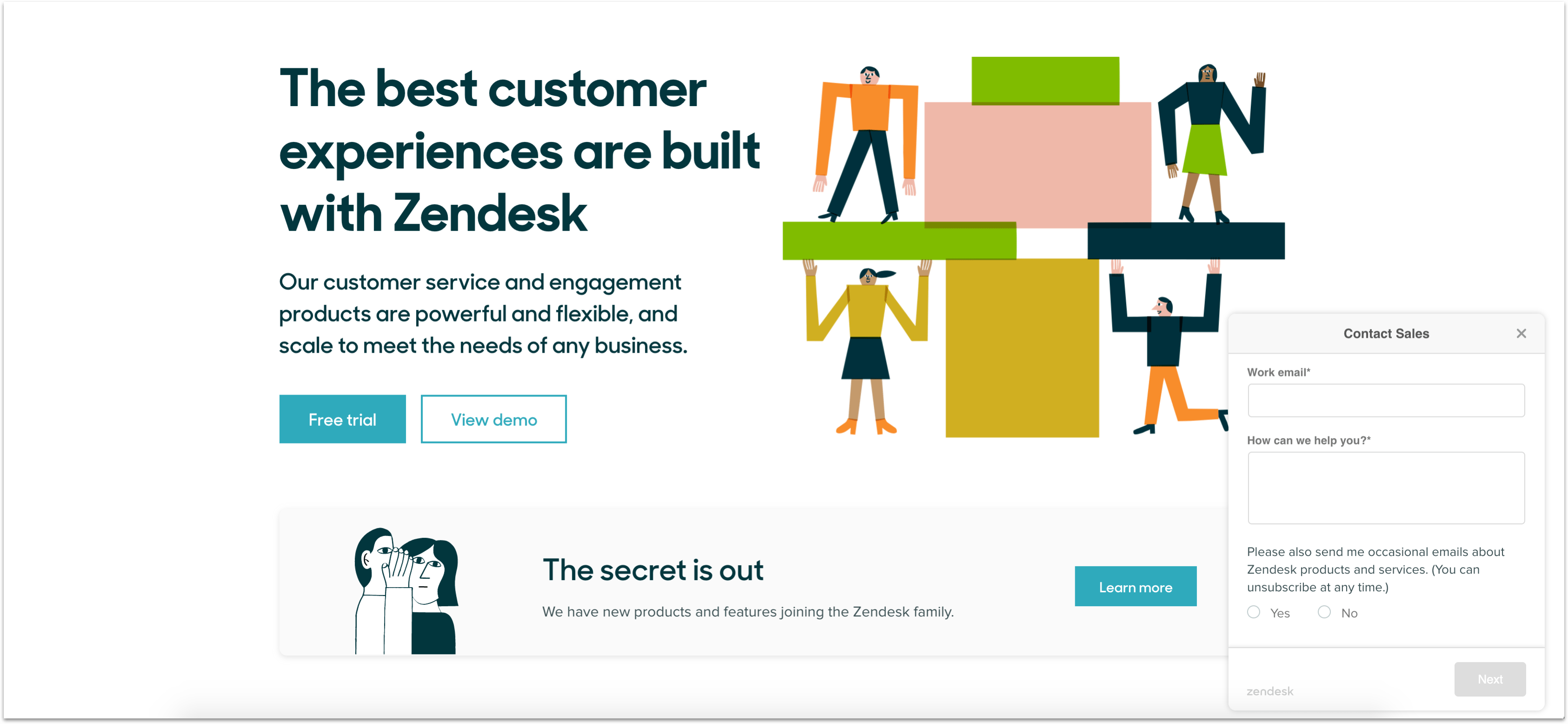 Live chat software with rich reports
Zendesk started off as a ticketing system back in 2007 and it's still their main focus and point of pride. The chat feature was added much later when they purchased the Zopim software and tried to integrate the third-party solution with their system. That's why, as live chat software, Zendesk can seem rather limited.
That being said, Zendesk does offer all the necessary chat features and a few great help desk ones: chat routing, tags, user profiles, saved responses, chat forms as well as trigger-based auto messages. Be aware that not all subscription plans include triggers.
There's one notable feature that lots of support agents will appreciate and that is a real-time list of visitors. You can see all visitors that are browsing your website at the moment along with their country, browser, operating system, and referrer.
The greatest advantage of the tool is that it offers a wide variety of reports on customer satisfaction, agent performance, and site analytics. On the 'Enterprise' subscription, you can track them in real time.
Pricing
The basic limited version of the Zendesk Chat is available for free. It's crafted for 1 agent seat and allows you to manage 1 concurrent chat at a time. If your support is a one-person job, this free version can be a great way to save yourself some money.
The paid subscriptions' prices vary from $19/mo/agent to $70/mo/agent. As rich as those chat and agent reports are, they're only available starting from the 'Professional' plan that costs $35/mo/agent.
Verdict
To sum things up, I wouldn't say that the Zendesk Chat is the best live chat software you can get. For one thing, limited widget customization options on top of outdated default design are already bad enough. But there are also those reports that aren't available on half of the subscription plans – as well as such fundamental features as operating hours and widget unbranding.
My perception was that the Zendesk Chat is just the weakest part of the otherwise powerful customer service software.
PROS
Real-time visitor tracking
Rich reports
Numerous native and third-party integrations
Free subscription plan
CONS
Outdated interface
Outdated chat widget design
Limited customization options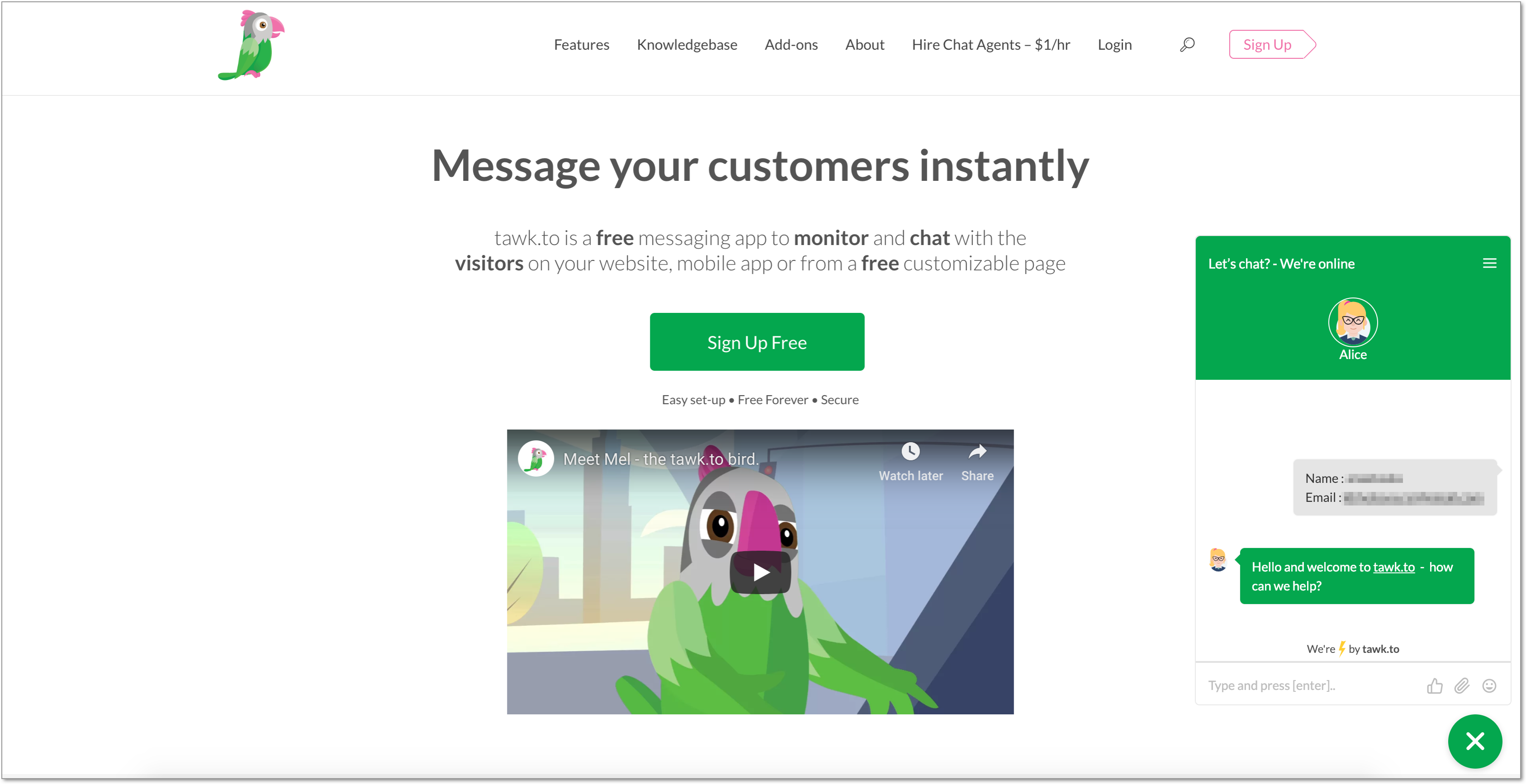 Free live chat software
Tawk has captured a great share of the live chat market by simply offering their live chat software for free. They generate revenue for offering outsourced chat agents — in case you were wondering.
So there you have it — completely free live chat software for websites with all necessary features. This includes triggered auto messages, canned responses, and message sneak peek. Live visitor tracking is also available. You can see who's browsing your website and reach out to them via live chat whenever you want. Help desk features like tags, departments, or visitor info will help you all chats organized and easy to manage.
A simple pre-chat form won't only gather customer information, but can also ask a few preliminary questions helping you pre-qualify leads and understand their needs better before starting a conversation.
The great thing about Tawk is that, even though it's free, it has no limitations on the number of agent seats or chat history. Customization options are very limited. Basically, you can only change widget's colors, positions, or add an attention grabber above the chat button.
Pricing
Tawk is 100% free live chat software. You will never have to pay a cent for it. All features and agent seats are available with no limitations on them.
Verdict
It goes without saying that the greatest advantage of Tawk compared to other website chat software is that it's free. Small businesses and startups will appreciate and enjoy this more than anything else.
However, it's inevitable that free live chat software won't be as well developed and supported as those you pay for. Most of the features are rather basic and far from being in line with other modern solutions on the market. And limited customization options won't allow you to adjust your chat widget so that it will match your website and brand.
CONS
No advanced live chat features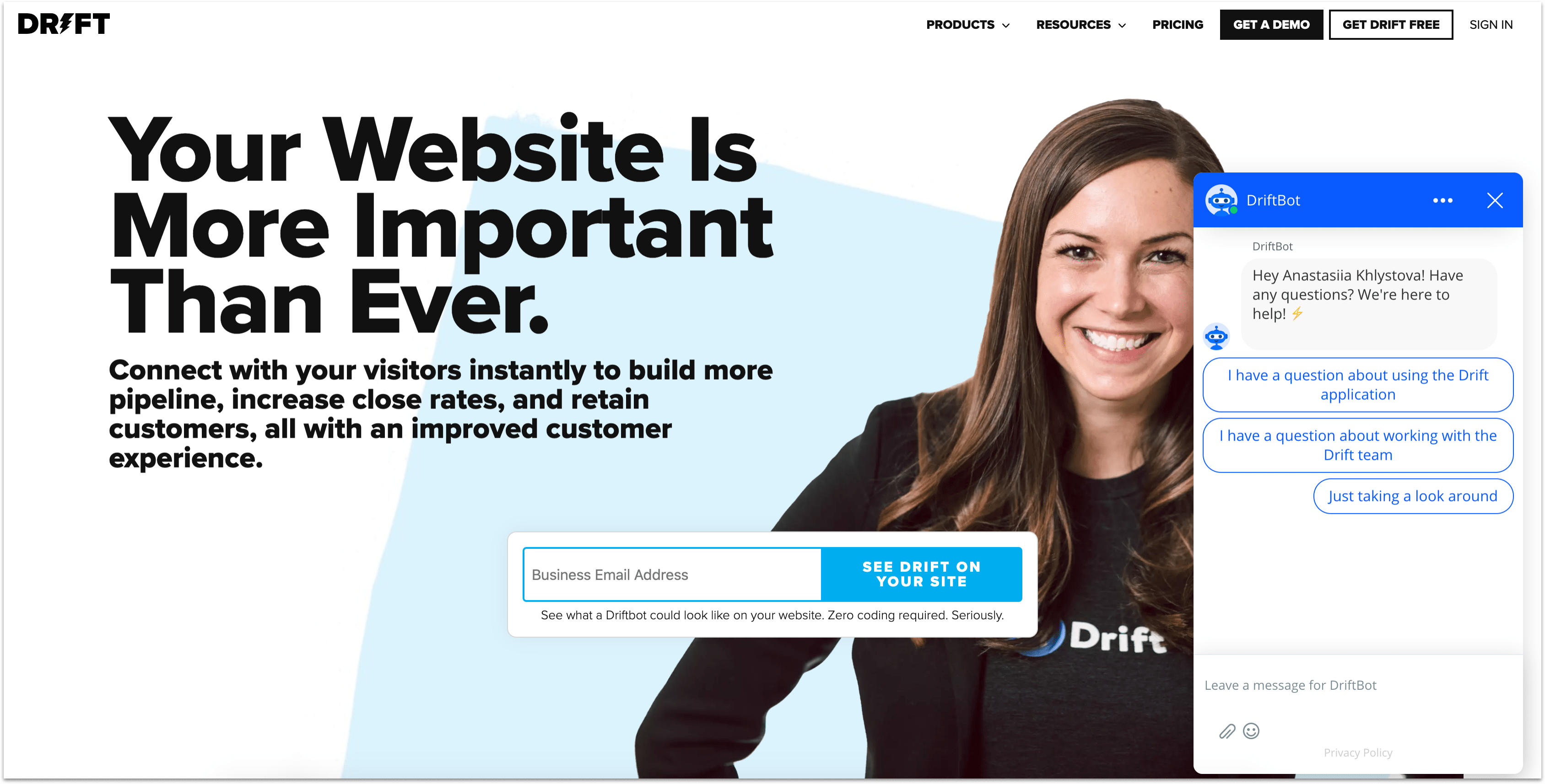 Expensive live chat software for sales reps
Drift is somewhat similar to Intercom in terms of how well developed and advanced their software is. They're focusing heavily on different bots and sales automation, and succeeding in this field more than any other competitor. However, great technologies are also the most expensive ones.
The simplest subscription plan by Drift is actually available for free and includes very basic live chat functionality with 1 seat. The next option in their pricing system costs $400/mo, so you do the math.
The free plan allows you to store only 100 contacts in your database and send email welcome messages to your customers. That's basically it. No saved replies, no chat auto messages – nothing that will help your agents work with a live chat more efficiently.
The $400/mo plan custom lead routing that you can base on any rules your want. Other notable features include live customer views, proactive messages, and even custom bots. You can integrate the Drift Calendar into the chat and book meetings and demos with your leads on the go.
Pricing
I wouldn't call Drift the most affordable live chat software. Its free subscription is very limited in features and the number of contacts. Other live chat plans cost from $400/mo to $1,500 per month.
Verdict
By looking at its pricing model, one can instantly tell that Drift is focusing on huge enterprises. Small or even mid-size businesses won't find any suitable solution there unless they're ready to subscribe for the whole year right away and pay at least $400/mo.
But if you're a huge corporation, you'll undoubtedly enjoy Drift's advanced bots, email playbooks, calls and various automations.
PROS
Custom bots
Advanced email automation functionality
Free subscription plan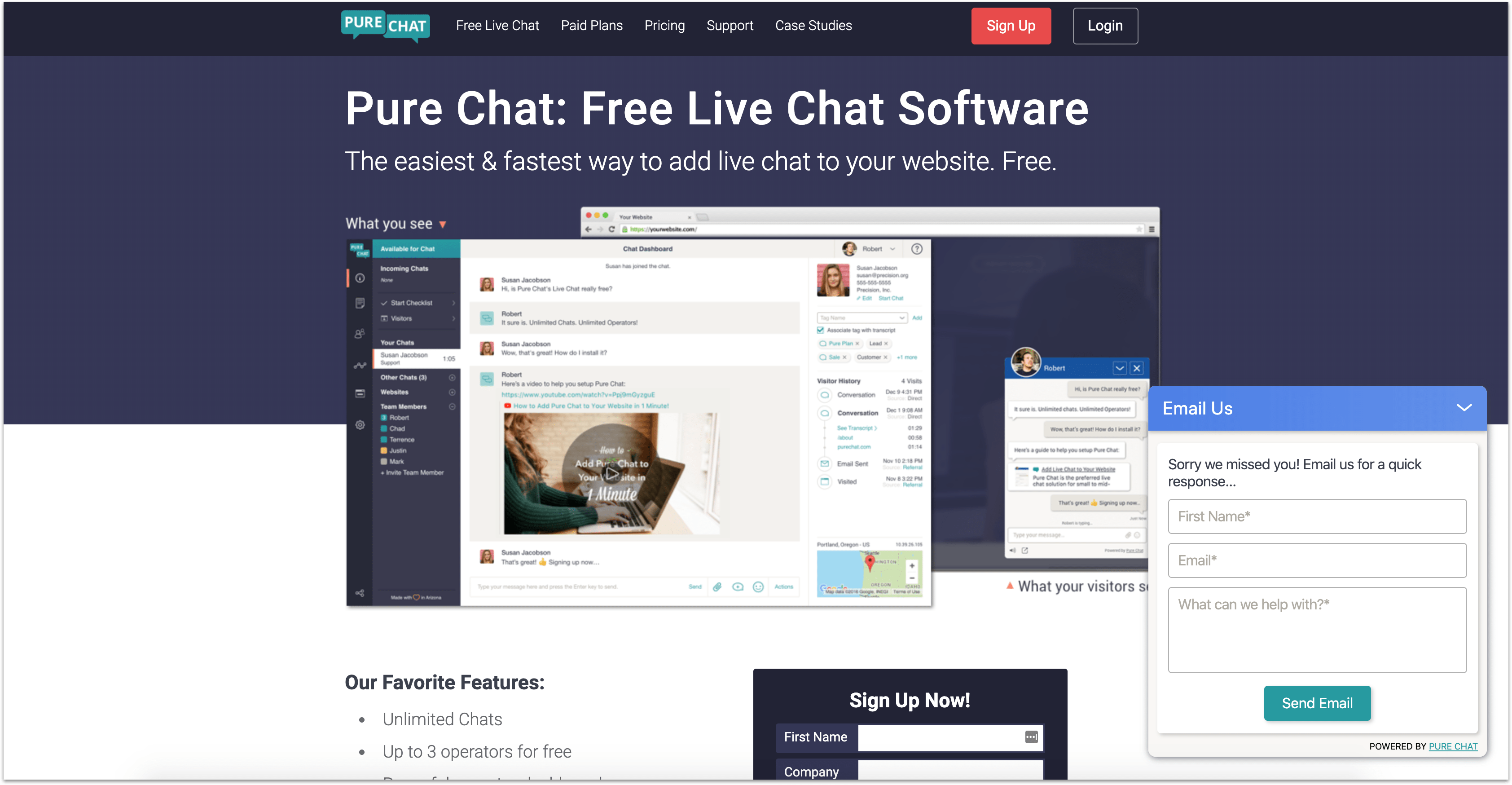 Basic live chat software
PureChat is very standard and straightforward live chat software for websites. It offers all standard features (most of them for free) and basic chat widget customization.
Support agents will enjoy canned responses, unlimited chat history, pre-chat and offline forms. They can see visitor information and location detailed in a chat window at all times. Such important live chat features as trigger-based chat together, detailed reports, or visitor tracking are available in paid subscription plans.
Other than SMS notifications, you won't find any unusual chat features in PureChat.
Pricing
You can use PureChat for free if you only need 3 seats. Paid plans cost from $49/mo to $99/mo if billed monthly and include more advanced real-time analytics, live visitor tracking, and SMS notifications.
Verdict
PureChat is very basic live chat software for businesses that only want to chat with customers and that's it. This is a perfect tool for providing real-time customer support if you don't want to overspend. You won't be able to enjoy any advanced sales or marketing functionality, because there aren't any.
CONS
Too basic
No native integrations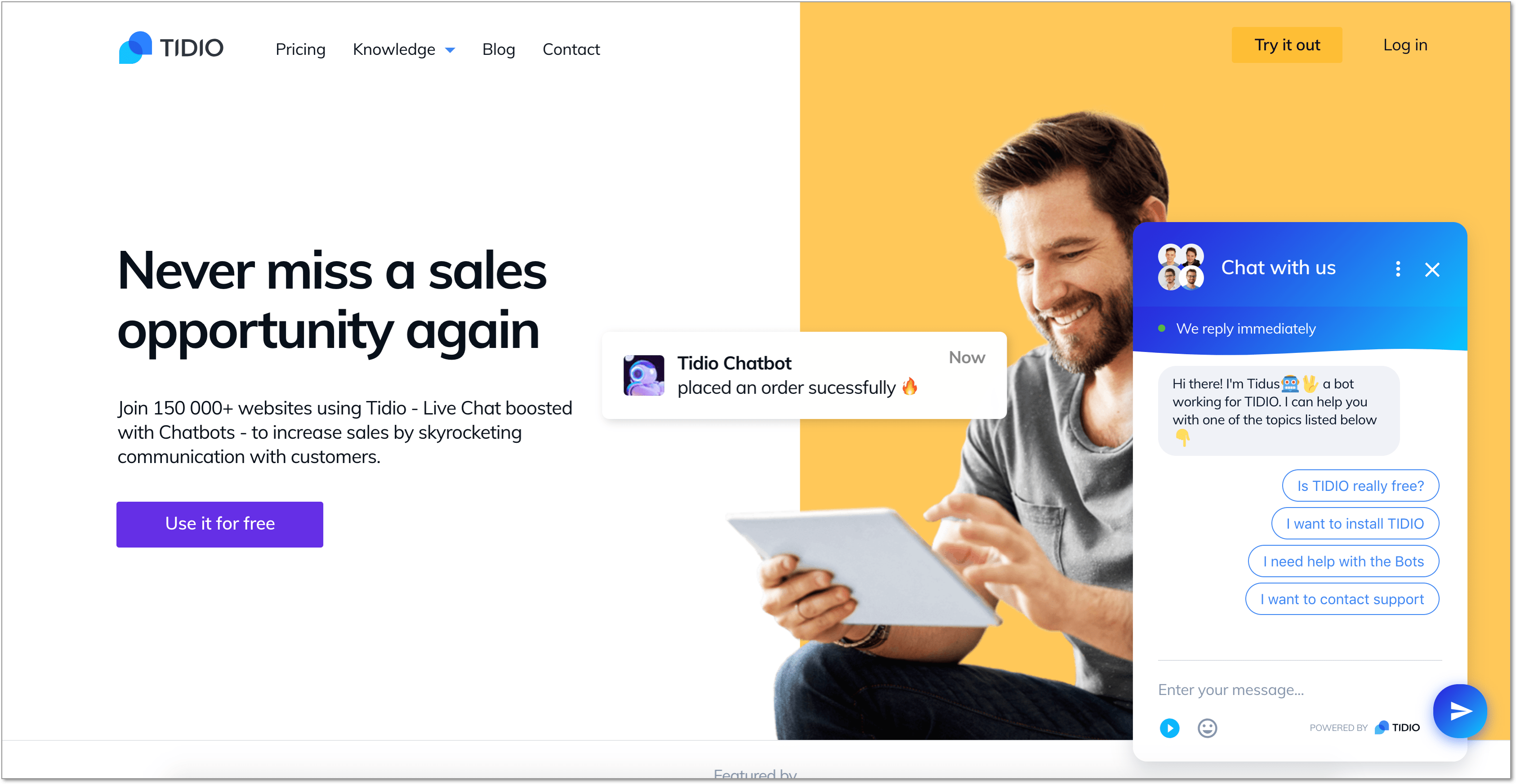 Free live chat software with chatbots
Live chat software by Tidio is available for free. It includes email and Facebook Messenger integrations and allows you to add up to 3 chat operators to your dashboard. Tidio doesn't have all the important chat features, but it does have canned responses, email forwarding, and customer profiles. Moreover, it's possible to integrate Tidio with your Facebook Page and Messenger.
The free plan also has some basic trigger-based scenarios for chatbots which will help you engage more website visitors proactively and pre-qualify them on the go. It's only that it will reach no more than 100 unique visitors per month. That's the limitation they set for their free version.
Even though Tidio includes some basic chatbot functionality in their free plan, such crucial chat features as typing insight or visitors' behavior tracking are only available as per paid subscriptions.
Other perks offered by Tidio include live visitor tracking and new visitor notifications that will allow your chat operators to react promptly upon each new lead that lands on your website.
Pricing
A huge part of Tidio's live chat features is available for free including some basic chatbot scenarios. It offers 3 chat operator seats and 100 unique visitors reachable by chatbots.
There are also two paid options depending on your primary goals. The 'Chatbots' subscription costs from $18/mo and has wider chatbot features. The 'Communicator' plan extends your visitor tracking possibilities.
Verdict
Tidio is a great and simple live chat software for small businesses that want to enjoy some basic chatbot functionality. That technology is not nearly as advanced as custom bots by Drift or Intercom, but it will be enough for pre-qualifying leads and helping them with simple issues. The chat widget's design is nice and simple while chat operators will have enough features to manage incoming chats effectively.
PROS
Free subscription plans
Basic chatbots
Facebook integration
Real-time visitor tracking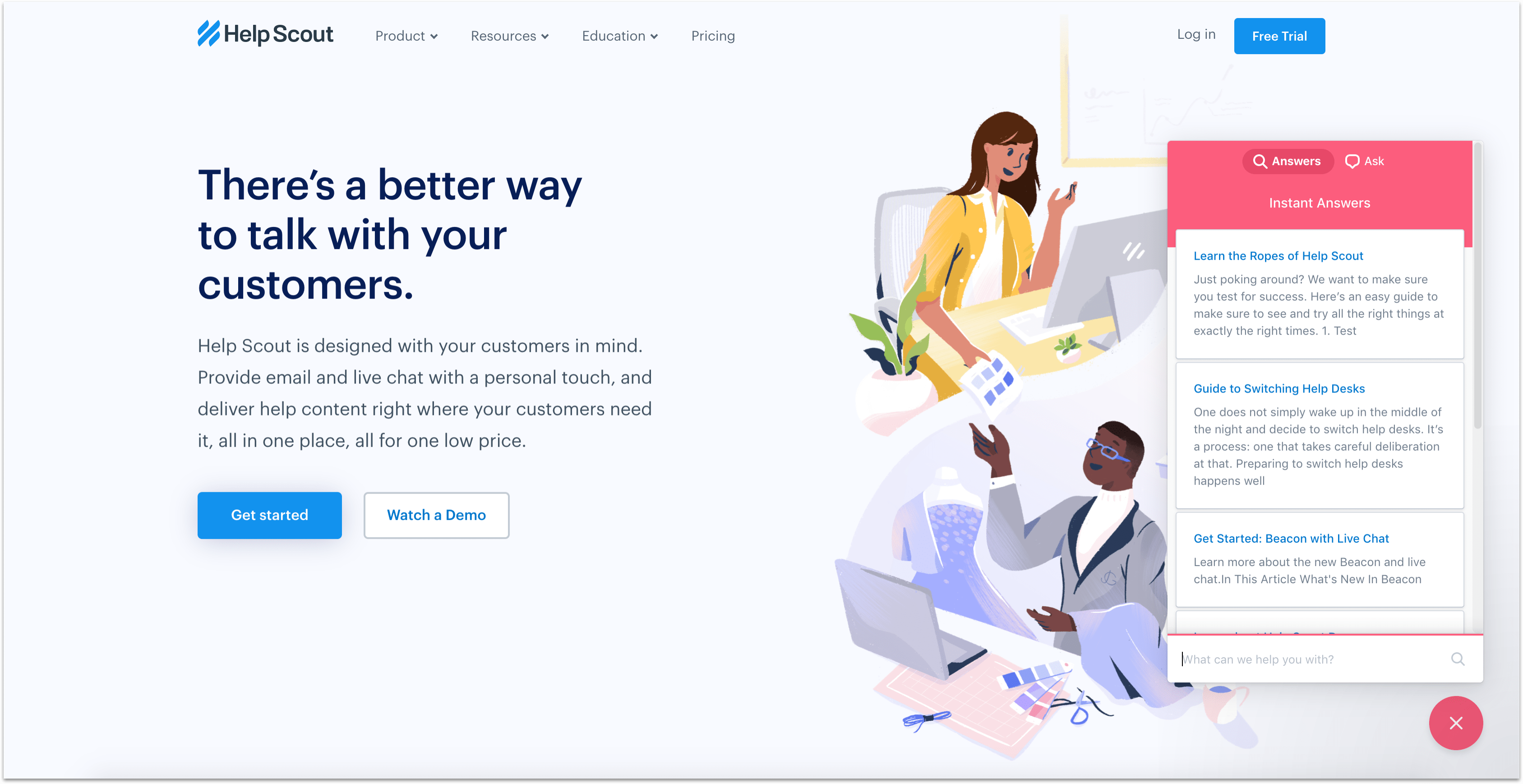 Wholesome live chat software
Help Scout is yet another all-in-one solution with pleasant prices and nice packages of features. Just like in HelpCrunch, their basic subscription plans include not only live chat, but also knowledge base and ticketing functionality.
All the core live chat features like saved responses, tags, private notes are included in all subscription plans. Instead of the usual chat forms, Help Scout offers the Help Bot that collects emails. What's also important (and quite rare) you can use the chat widget for sending targeted chat campaigns to your customers based on their data.

The Help Scout knowledge base is well integrated into both Help Scout's agent chat interface and their chat widget. Support reps can easily share knowledge base articles via chat, while customers can switch between the 'Ask' (live chat) and 'Answer' (knowledge base) tabs right in a chat window.
Pricing
Help Scout offers three subscription plans. The 'Basic' plan for $15/mo/user includes the Beacon with live chat functionality, 1 email address that you forward emails from, and 1 knowledge base site. With the $25/mo/user subscription, you get 5 email addresses instead of one and full reports.

If you choose the 'Plus' subscription for $40/mo, you will get more docs and email addresses, but also some additional security options like HIPAA compliance and integrations with SalesForce, Jira, and HubSpot.
Verdict
My personal impression was that Help Scout is a very decent all-in-one solution that keeps up with the latest customer service trends and offers a live chat widget that looks and feels like a modern solution it is. All the features are in place, and the whole knowledge base integration is one of the best I saw. Customers can find everything they need right in a chat window, which makes customer support faster and more effective.
PROS
Knowledge base integration
Modern live chat widget
Ticketing features
Basic chatbot
How to install live chat software on your website
In a few minutes, we'll describe, analyze, and compare 11 best live chat software for any business. But before we do, let's pause for a moment to talk about the specifics of chat software installation.
So, how does one install a chat widget on a website?
The process is quite simple and straightforward. Once you sign up for a solution from this list, you'll be offered a unique snippet of code. It will contain just a few lines of code, nothing complicated.
What you need to do is to copy this snippet and paste it into your website's source code (or, every single page of your website where you want to have a chat widget). Place it right before the closing </body> tag.
That's it, that's the whole installation process. And it's the same for any live chat software.
So, is there the best live chat software?
There are several standard live chat features that you absolutely should pay attention to. Things like saved responses, file attachments, typing insight and rich widget customization options are a must. But this is just the tip of it.
In order to be the best live chat solution, it should have such features as auto messages for capturing more leads and chat manual messages for better communication with existing users.
Also, even though it's not really a live chat feature, you can't really imagine five-star customer support without a decent knowledge base site. Which means it would be nice to have it included into your live chat software as well.
All in all, choose live chat software that feels complete to you so that you won't have to pile up third-party integrations later on.

HelpCrunch articles delivered straight to your inbox 🚀
All the latests posts. One email per month.
No strings attached.
Read also
Tools
Feature-packed FAQ software can ease your customer service workflow by all odds. To save you the trouble of searching, we've listed 8 best solutions. Have a look at them.
Tools
Trying to find the best help desk software for your small business? We've compiled 7 best-in-class solutions that will definitely suit your needs. Check them out!
Tools
Do you want to build your own well-orchestrated messaging hub? This list of the best chat APIs and SDKs available on the market is what you need to do just that without much hassle.