Intercom Pricing, Explained After All
Intercom pricing is super confusing, so we show it in all its glory 😏

Intercom pricing doesn't make sense.
Sorry, but this is true. Intercom prices are complicated, unpredictable, and, frankly, way too high for an average user.
Of course, no one will argue that Intercom is a robust tool offering much value for its rather high prices. So, enterprises with large customer support teams could benefit greatly from all those features. But at what cost? And what are the main problems with the Intercom pricing?
Confusing pricing plans to the point where it is unclear which plan will suit your needs.
Unpredictable billing based on your monthly amount of users, company size, and demands.
The starting prices are just too high.
At the same time, other similar tools don't have such problems at all. For instance, HelpCrunch – pretty easy yet robust customer service software – suggests pricing plans that start from only $15/mo per team member for a chat widget and a multilingual knowledge base. Plus, you get our no-code chatbot for just $25/mo per team member. More on the subscription opportunities this Intercom competitor provides in a moment.
Are you ready to crack that murky secret called Intercom pricing?
Understanding your support tool's pricing shouldn't be a turmoil. HelpCrunch is a powerful tool that has a simple and transparent subscription system based on the number of seats. Live chat, knowledge base, in-app messaging, and whatnot come in Basic and Pro. Our codeless chatbot is available starting from the Pro package. Unlimited contacts are included in the Unlimited plan. Just sign up for a free 14-day trial to test these in full scale.
Intercom features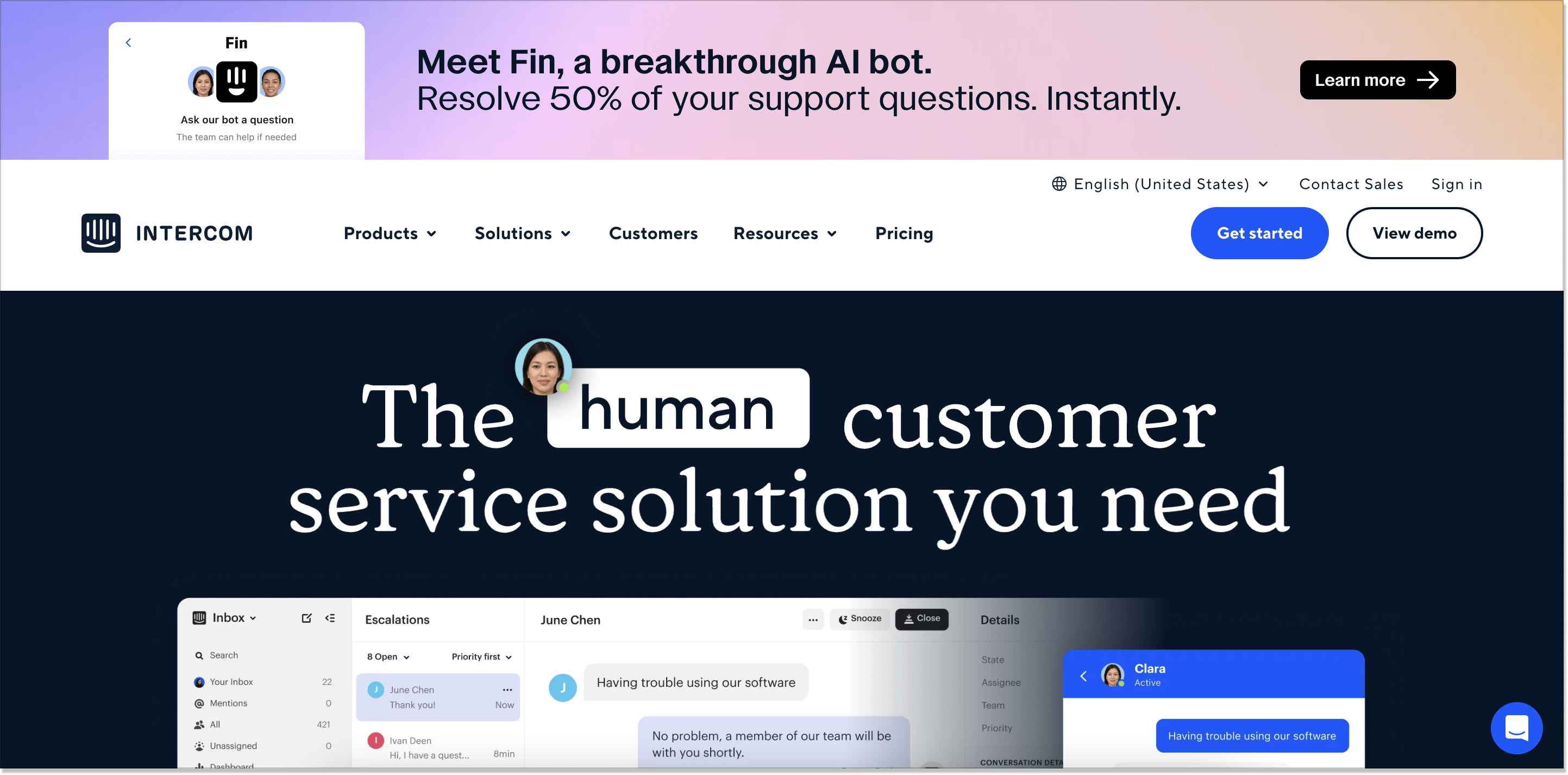 Gone are the days when, perhaps, the most famous and highly demanded Intercom feature was their Business Messenger, or as we, mere mortals, call it — live chat. Sure thing, the company still offers this feature, saying you can customize it how you see fit: enhance it with different chatbots, apps, knowledge base articles, etc.
Besides, you can quite simply integrate it with your SaaS product, send targeted messages there, and shoot automated chats to your clients and visitors.
Though in-product messaging is their core functionality, Intercom offers a great number of other features as well:
Help desk software (Team Inbox)
Basic CRM
Email marketing (Outbound Messaging combined with multi-channel Campaigns)
Knowledge base (Help Center Articles)
Product tours
Bots
Banners…
But all of it seems like relics of the past.
Just a few weeks ago, Intercom presented their "breakthrough" AI chatbot – Fin. It is supposed to help businesses automate customer service, sales, and marketing processes, reducing support volumes.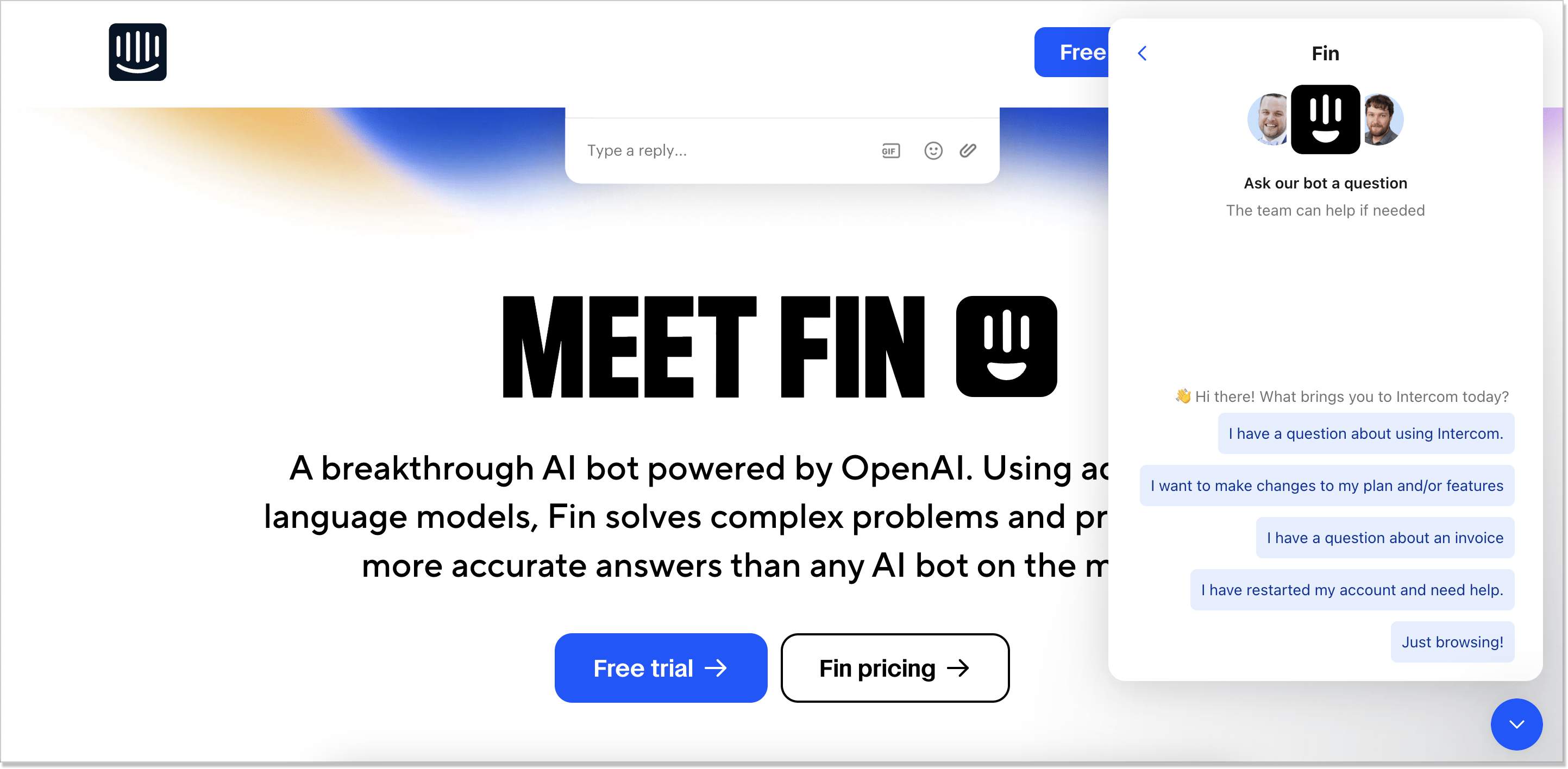 Among Fin's "super powers", there are:
Natural language conversations;
Perfect human handoff;
Ability to clarify questions from the get-go;
Fin Conversations (a separate Inbox for your comfort);
Custom answers are prioritized over AI ones.
… and tons of advanced enhancements and workflows that can accelerate your support and sales tasks dramatically. There is only one concern: some of Fin's functionalities are coming soon. Well, let's wait and break down the Intercom prices in the meantime…
Intercom prices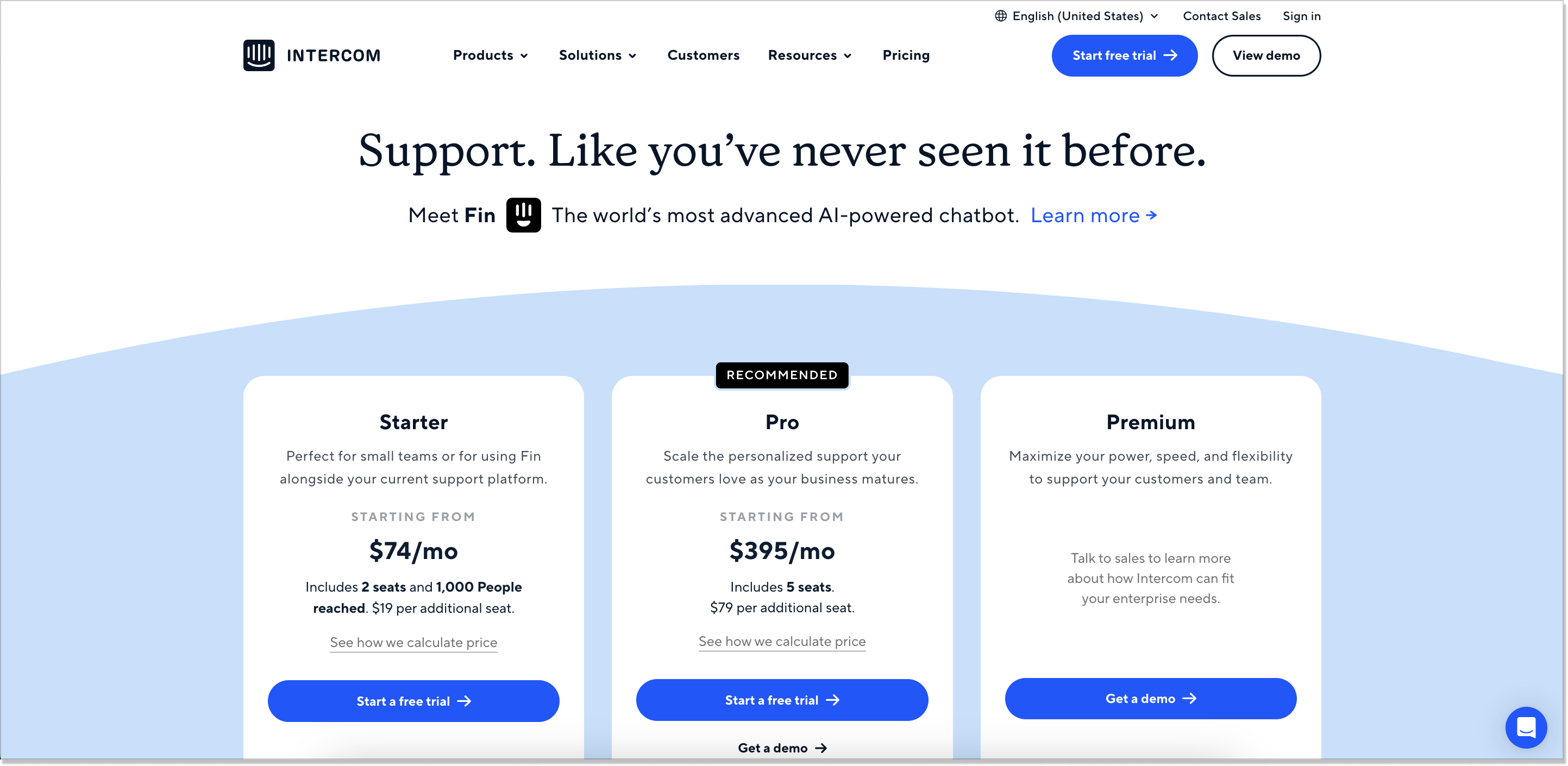 Support. Like you've never seen it before. — this phrase literally blindfolds us when we land on the company's pricing page. But is THE support the best bang for your buck?
Before we plunge deeper into the numbers, let's hear what the users say. Lack of user-friendliness, a steep learning curve, and the overload with add-ons – here comes the dissatisfaction with the Intercom's pricing model. It actually runs like a golden thread through each and every review:


The last time we checked, Intercom had four plans (well, at the bare minimum…). As of now, Intercom offers three main pricing packages: Starter – $74/month (annual subscription, 2 seats, but if you choose to pay monthly – it's $89/month), Pro – $395/mo (5 seats), and Premium with extremely custom pricing (few surprises here). We'll get to that later. 
QUICK NOTE
Not so long ago, the Intercom pricing system was way more complicated. They offered subscription plans based on specific business needs — lead generation, engagement, or customer support. If you wanted it all at once, you could go with the fourth 'all-in-one' option. Each package was additionally divided into Essential, Pro, and Premium subscription plans. Which left us with as many as 12 options right there.
They did simplify their pricing policy significantly. However, it still needs clarification (or a Ph.D. in Nuclear science to puzzle that out).
All in all, Intercom prices vary. You must be cautious since these are not the final numbers you'll see in your invoices. 
So, why exactly is Intercom pricing so complicated and unpredictable? Well, you can't just choose a subscription plan with all the features you need and pay for it.
You will always have to remember that Intercom charges additional fees not only for agent seats but also for active contacts and the number of Fin's Resolutions (the queries Fin resolves). This is what makes their pricing so complicated — you can't predict your business growth and definitely shouldn't be "punished" for it. And! If you compare Intercom and Drift, the situation won't be any different.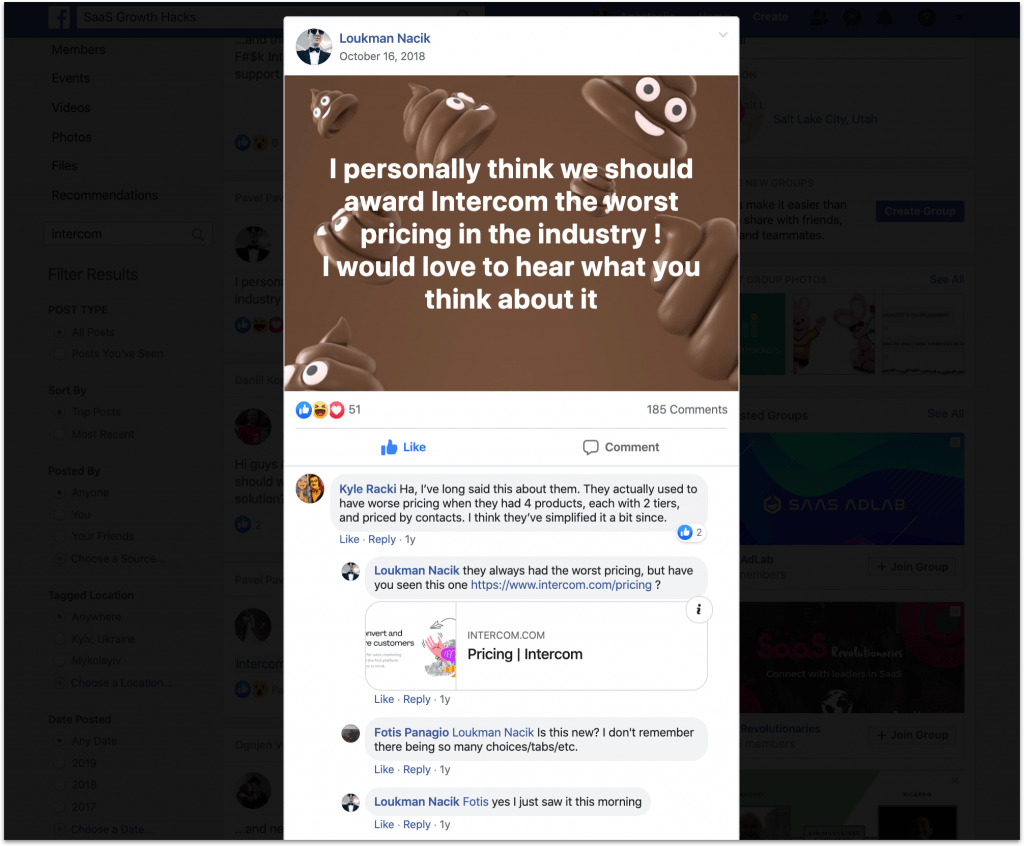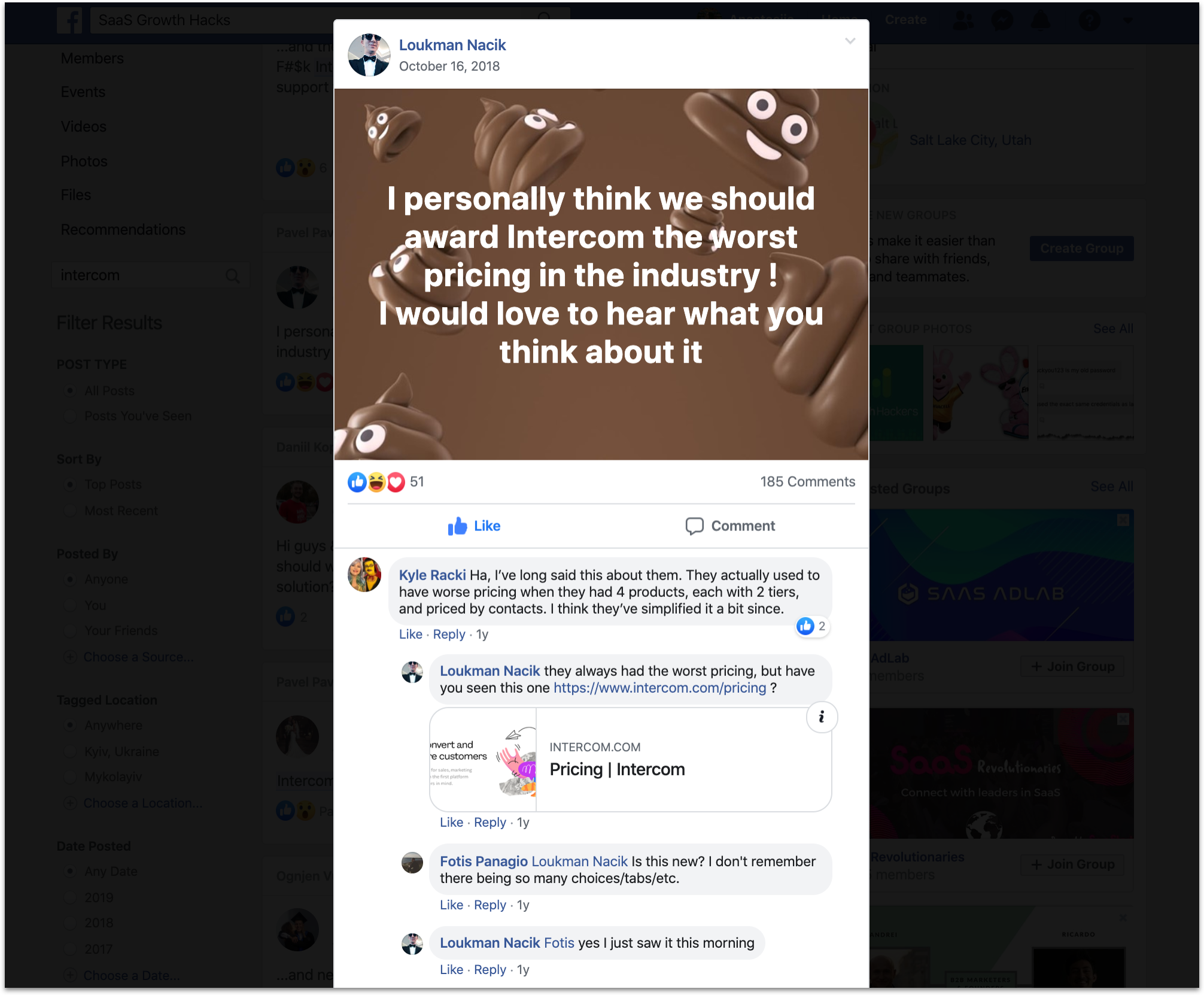 This is how Intercom pricing works
Once you decide to connect your work life to Intercom, you'd better see how they calculate the prices. There are three main principles:
Resolutions – you pay 99 cents for a resolution from Fin the chatbot a month (if you have it installed);
People Reached – includes 1000 people reached who received at least one Outbound message from you;
Seats – the calculation starts with 2 seats minimum and at least $15 per additional seat for a Starter plan.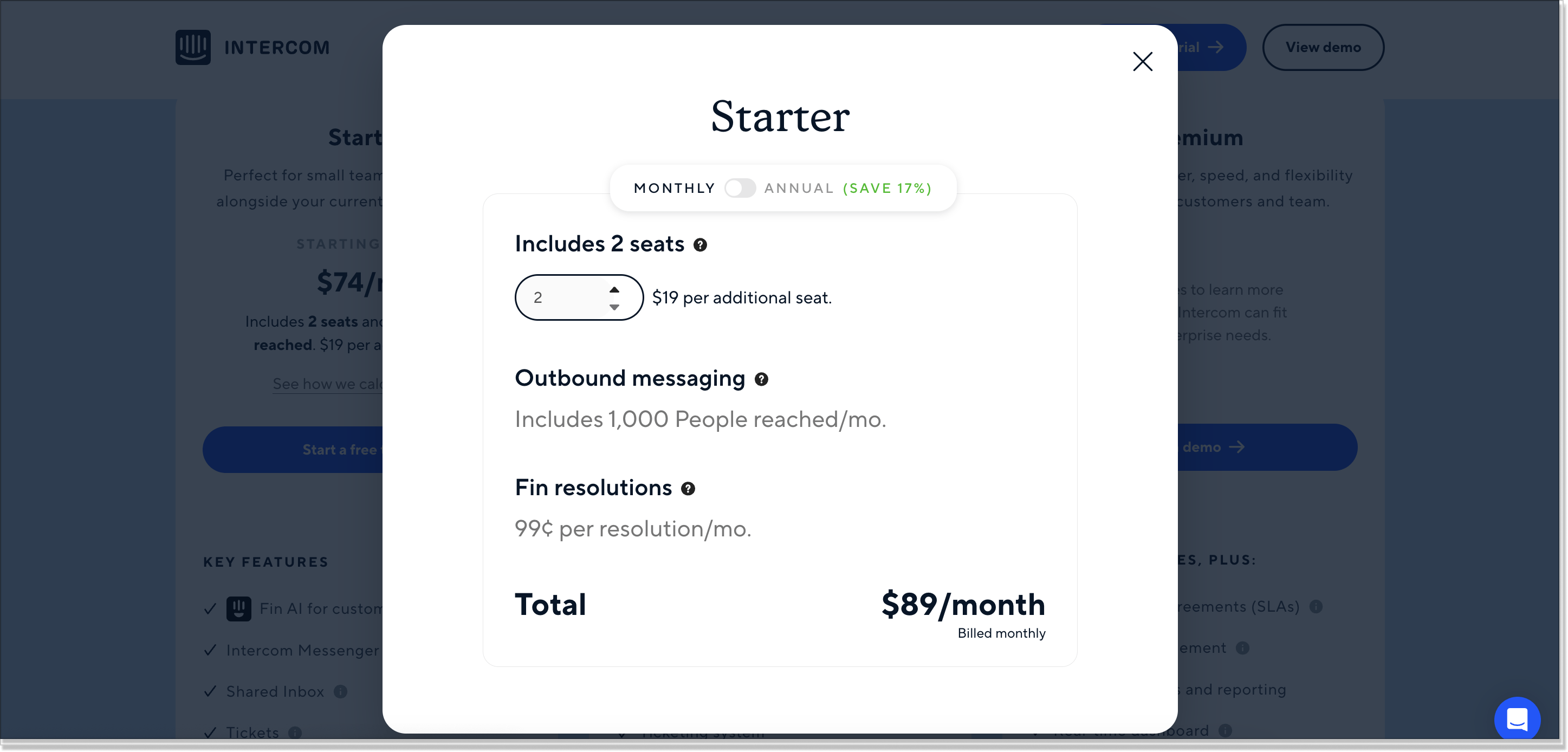 And now, let's dive a little deeper.
Subscription. You pay for a subscription plan you choose on a monthly or yearly basis. The Starter pricing plan – perfect for small teams and ideal for using Fin – includes a minimum of 2 seats for $89/mo (billed monthly). If you want a yearly subscription, it will cost you $74/month. Furthermore, you can't leverage your account to the fullest unless you provide your credit card details and upgrade for more 🙄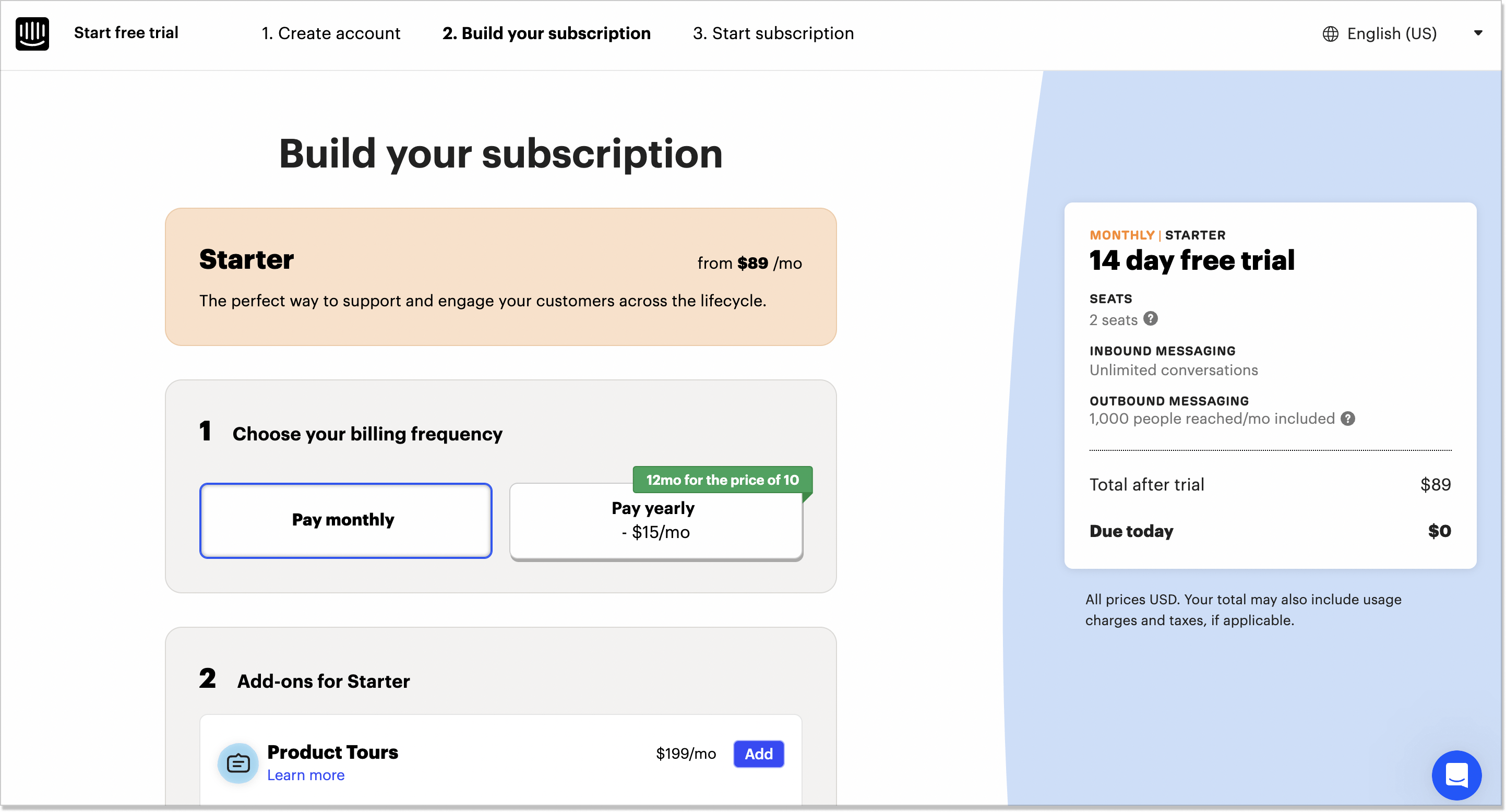 Fin pricing. Free for the first 14 days, Fin will then cost you $0.99 for each Resolution. That is, you are charged any time when Fin resolves a customer's query.
Additional seats. You will have to pay for every additional agent seat. The price depends on your subscription plan and fluctuates way too much. On the Starter plan, each additional seat may be added for $19/month (max. 25 seats). And if, supposedly, I have a Support Pro plan, each additional seat will cost me $79/mo. For Resolution Bot (which is an add-on), I will have to pay $49/mo. Now, you do the math 🤷‍♀
People Reached. The most irritating thing about Intercom billing is that you have to pay for the people you reach. Thus, your monthly price may change depending on the number of unique users who received an Outbound message or engaged with Outbound Custom Bots. For instance, for the Starter plan, this number is 1,000 minimum.

Add-ons. If you want to use Intercom to its fullest, you will have to pay for such add-ons as Product Tours, WhatsApp, and Surveys separately. The Product Tours tool will cost at least $199/mo, while other advanced features are $9/mo per seat and $49/mo, respectively. The prices are specified if billed monthly.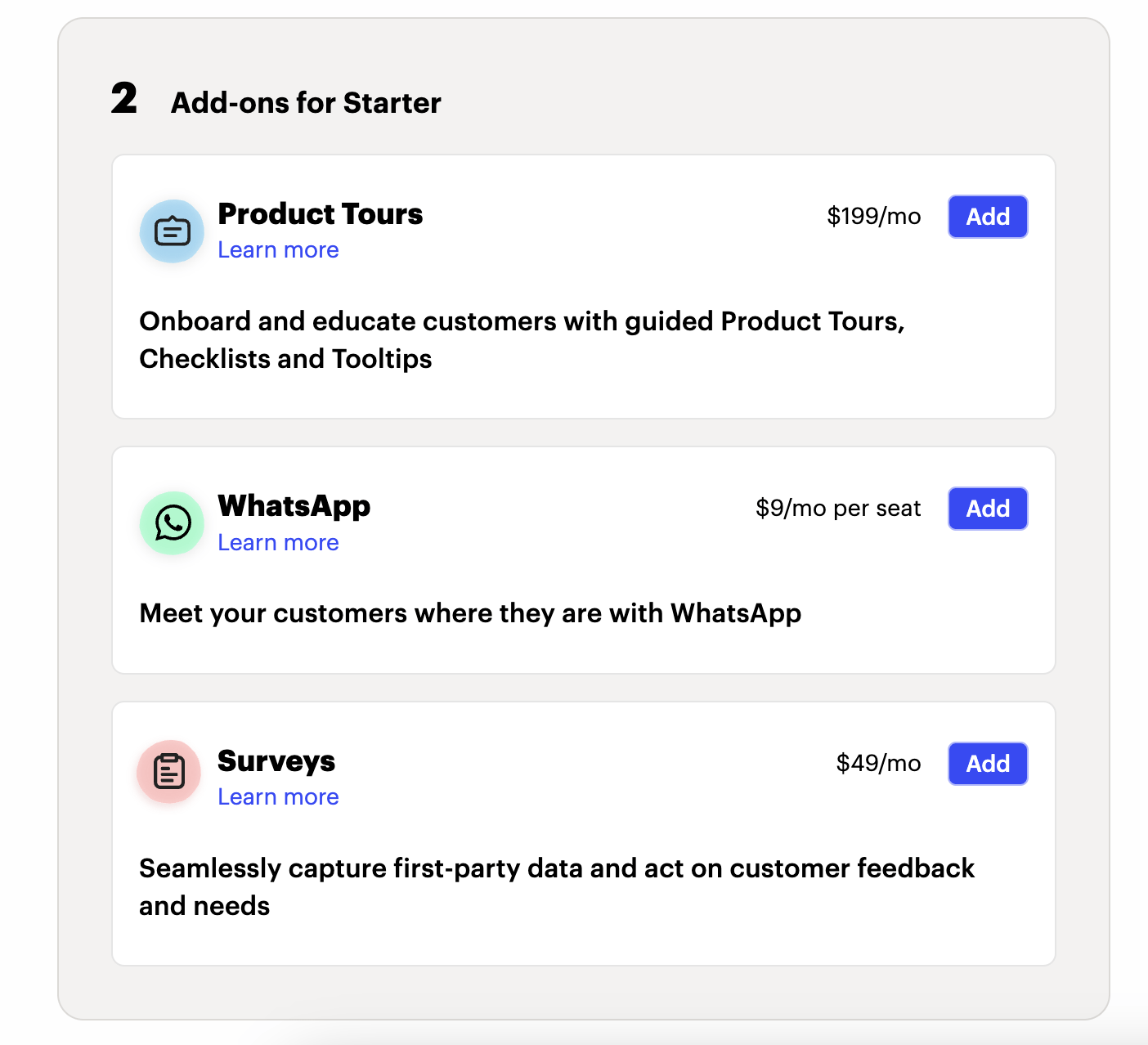 Intercom 'Early stage' subscription. If you're building an early-stage startup, there's a sixth option tailored just for you. It comes with a 95% discount and includes Support & Engage Pro and Product Tours. But it's not as great as it seems at first glance. Intercom's Early stage subscription plan has stringent requirements that not every startup will be subject to. Moreover, even if you do qualify, the happiness will last for only one year, after which you will immediately be transferred to one of Intercom's expensive plans.

So, how do you feel after everything that you've just read? I dare you to try and calculate that monthly invoice for Intercom. Quite a task!
Intercom pricing examples
With Intercom, the price range can go over $1000. The Pro and Premium versions come with a set of prices for the subscription, agent seats, and add-ons. These prices can vary according to one's requirements. It is common to find people paying anywhere between $500 to $1000 for Intercom's incredible features. — Brian Hardesty with On Display Signs
Before we plunge deeper into the mazelike pricing plans, there is one thing that needs to be established for a kickoff. Intercom shapes its prices based on four major factors, so they will be tailored to each individual company:
The size of your company
The number of employees (active people you have in your account)
Desired features
The scale of your business operations
I think it will be easier to understand Intercom prices for their Starter, Pro, and Premium plans if we break them down into the following three simple examples.
NOTE! *The data gathered is based on our recent survey and involves experiences from various businesses/entrepreneurs*
Starter for small businesses & startups
Setup:
Here is a likely case. A small business with at least 2 support agents and 1,000 active contacts every month. Looking for a simple customer support tool with Intercom Messenger, a basic single shared inbox, and a public help center.
Intercom chat pricing starts with the Starter subscription for outbound messages and all basic shared inbox features. Canned responses and chat ratings are also available for this plan.
Since the package includes 2 seats at the minimum, you'll have to pay $19/mo/seat on top of its core price to add any additional seat. The final bill will be at least $89/mo with no additional charges for contacts (if billed monthly). And this is for simple live chat software that will allow your users to shoot you their questions and you to answer them, that's it.
BUT! If you want a multilingual knowledge base portal on your website (which you absolutely should), the Pro plan will be more suitable. It does offer a lot of practical features like Fin the chatbot, ticketing, assignment rules, etc.
2. Pro for mid-sized and large companies
Setup:
From here, there are a whole lot of differences because every company has its own demands and goals, so it's next to impossible to predict one common price. However, let's settle down for the following options just to have a clearer picture.
Suppose you have a middle-sized company with 5 seats (support agents) and 5,000 people reached per month. Looking for a solid solution with live chat where they can also engage visitors proactively, target your audience, leverage automated messaging features, and rather basic customer support functionalities.
Your go-to use cases would be Engage and Convert. With them on your Pro plan, your rate may start at $199/month if billed annually. But if you would like to choose Support while on the Pro version, you'll be charged $395/mo (5 seats included).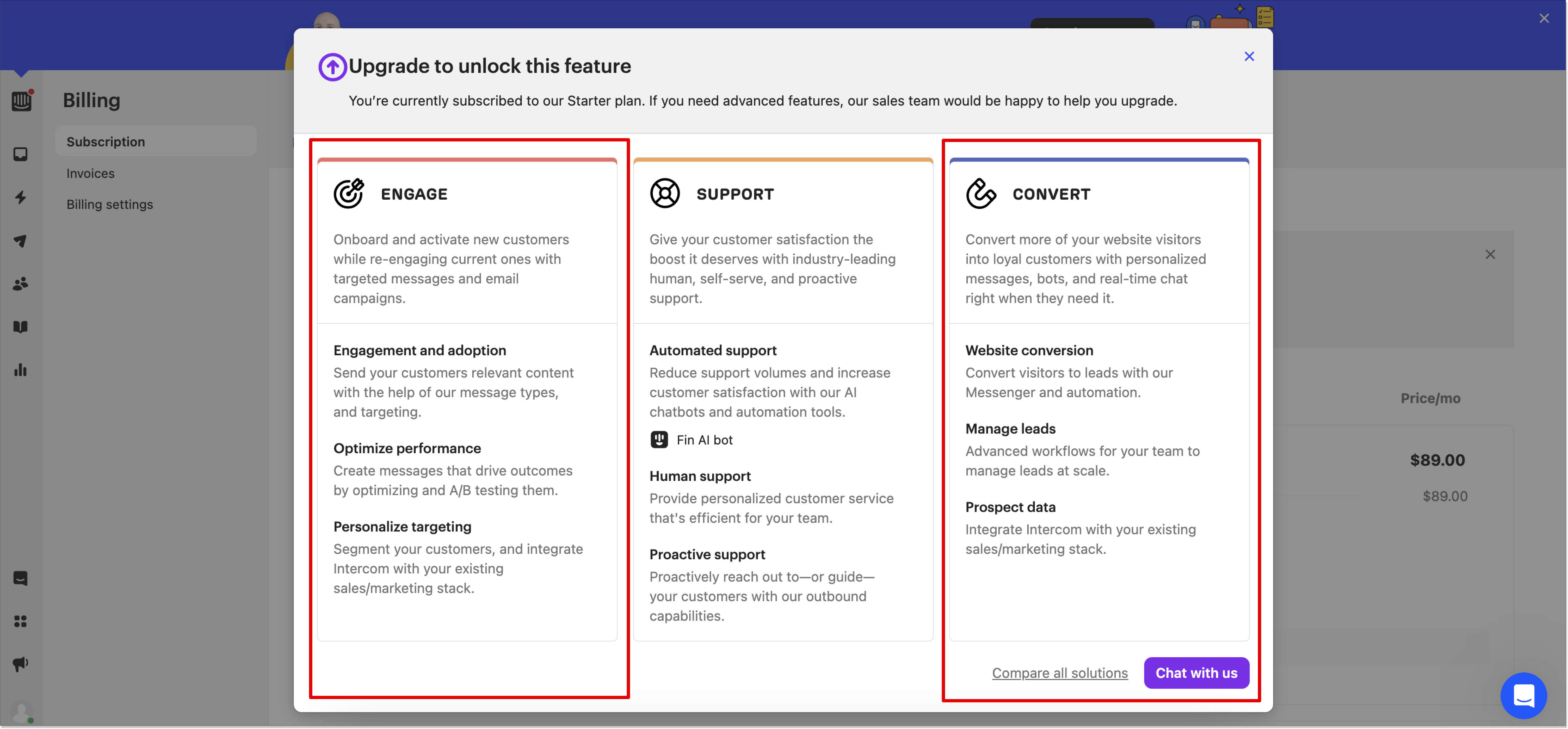 Here is another option. For up to 500 contacts on the Pro plan, you may also be charged at least $50/mo with $25/mo per team member. So, as Intercom is no stranger to hidden costs, you may want to keep your eyes pilled.
As for the features the Pro version usually includes, there are (remember, if you would like to get an add-on, be ready to fork out some extra dollars):
The AI chatbot
Assignment rules
Smart article suggestions
Intercom Messenger
Multiple inboxes
Product tours (as an add-on)
Premium for organizations with advanced needs
Setup:
Frankly, the first two Intercom pricing examples could be the case for big companies, too. However, one should take the following fact into account: sooner or later, all parts of customer conversations need to be consolidated and managed from a single dashboard. That is why profound functionalities may enter the picture.
Imagine a scenario. A big enterprise with 10 team members (seats) and 10,000 people reached every month. Looking for a packed, all-in-one solution with chat features, shared inbox, multiple chatbots, and integration with other business tools. Something that will allow them to manage ALL customer communication in one place. For that, you may need to upgrade for those three use cases (Engage, Support, and Convert) for your Premium.
Intercom solution: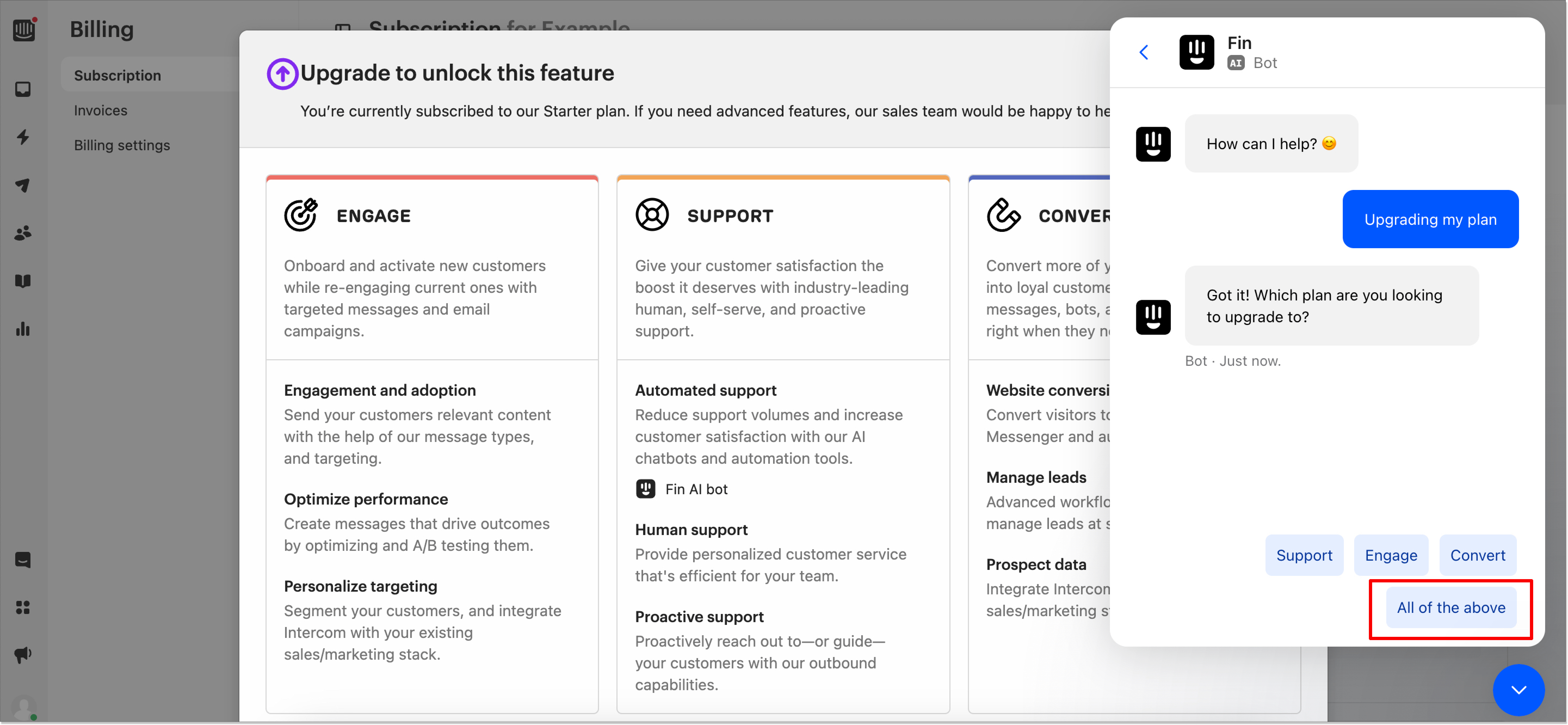 With 10 seats and 10k people reached per month on the Premium plan, you must pay $399/mo if billed annually. However, this is not the limit at all. Some business owners also claim that the pricing for Premium might fluctuate from $499/mo if billed annually to $599/mo if billed monthly. Again, it all hinges on your business needs and the size of your organization.
Intercom alternatives
Just by looking at Intercom pricing, it's pretty obvious that Intercom can be somewhat too expensive for many companies and startups.
Luckily, Intercom alternatives are not in scarce supply as hundreds of tools provide live chat, ticketing, knowledge base, and even chatbots — either separately or all in one package.
HelpCrunch — customer service software for your wildest business goals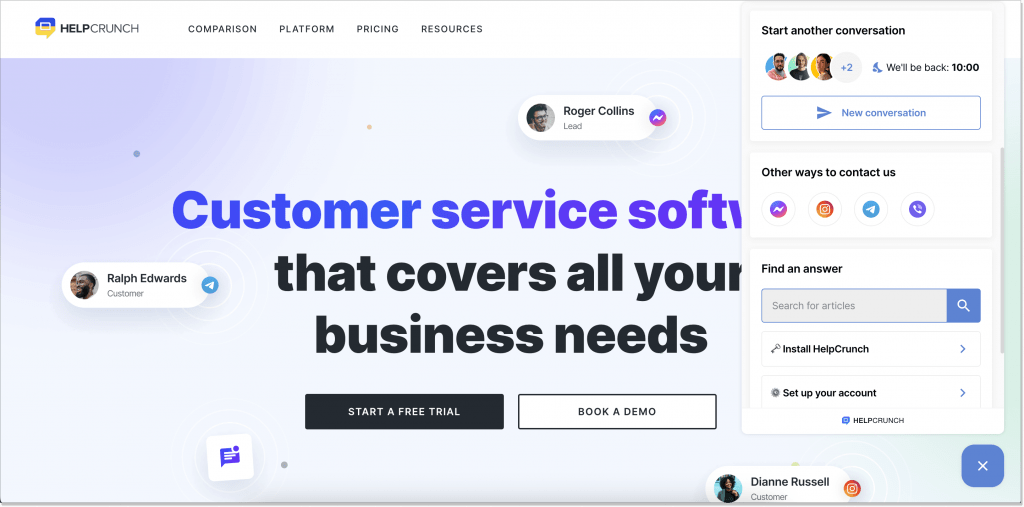 HelpCrunch is the closest when it comes to an Intercom alternative. It offers similar tools and features that Intercom does, including the codeless chatbot tool:
Live chat with the ability to send automated and targeted chat messages.
AI-powered shared inbox with custom inboxes, real-time customer data, team collaboration features, etc.
Chatbot with a no-code visual editor and bot templates that you can launch immediately.
Integrated knowledge base with built-in SEO features, which is included in ALL pricing plans.
Email marketing tools for automated trigger-based and manual campaigns.
Pop-ups for capturing more leads on your website.
There are three pricing plans that HelpCrunch offers, and NONE of them include charges per new contact because why would they?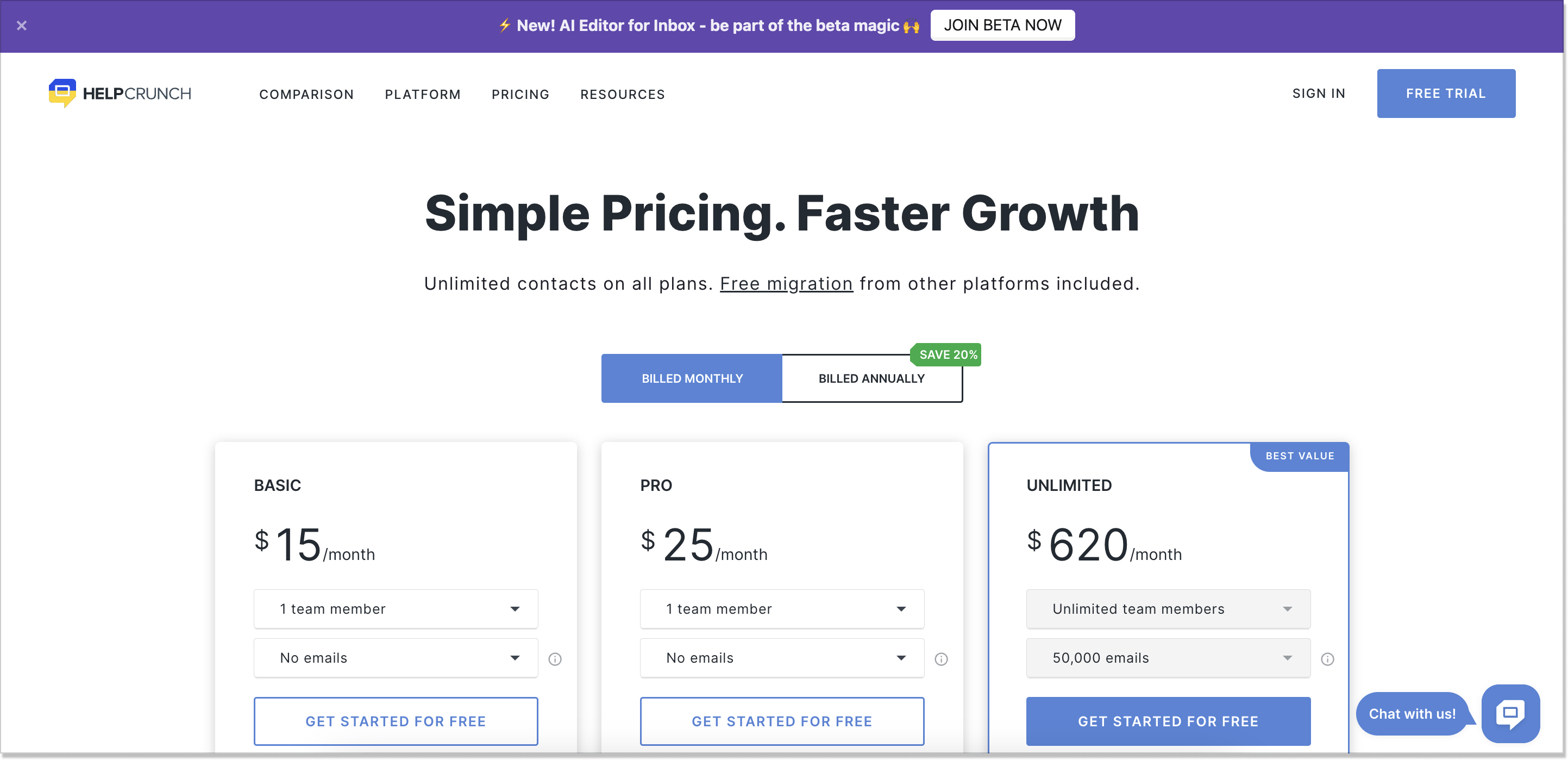 The Basic plan is just $15/mo/team member if billed monthly. For this price, you'll get a live chat, a multilingual knowledge base, and a shared inbox. 
If you're looking for a premium all-in-one solution for your marketing, support, and sales team, it's better to go with the Pro subscription, which costs $25/mo/team member if billed monthly. Those 10 team members will cost only $250/mo in total. Now, the Intercom vs HelpCrunch fight gets even more vivid: compare the prices to those $999/mo (to eternity) for the former.
The Unlimited pricing plan costs $620/month (if billed monthly), and with it, you get the whole nine yards – unlimited auto messages, popups, and chatbot flows, to name a few. Contact us via chat to get your custom plan!
Bottom line
Despite its complicated, unpredictable, and often impracticable prices, Intercom can significantly help your business. But so can other similar tools like HelpCrunch.
The only difference is that with HelpCrunch, you can be sure you will pay exactly what's stated on their pricing, not a cent more. That is why, before rushing into anything with Intercom, just sign up for a free 14-day trial and give it a try.