Intercom pricing just doesn't make sense.
Sorry, but this is true. Intercom prices are complex, unpredictable and, frankly, way too high for an average user.
Of course, no one will argue that Intercom itself is a great robust tool offering much value so that enterprises with large customer service teams could benefit a lot from all those features. But at what cost? What are the main problems with the Intercom pricing?
Confusing pricing plans to the point where it is unclear which plan will suit your needs.
Unpredictable billing based on your monthly amount of users.
The starting prices are just too high.
At the same time, other similar tools don't have such problems at all. For instance, HelpCrunch pricing plans start from only $15/mo/team member for live chat, knowledge base, and, most importantly, unlimited contacts.
So, if you're the kind of a business owner who knows the value of money and wants to know exactly what they're paying for, then you're in the right place here.
In this article, we'll try to crack that murky secret called Intercom pricing.
(Because it seems like Intercom isn't particularly interested in helping us here.)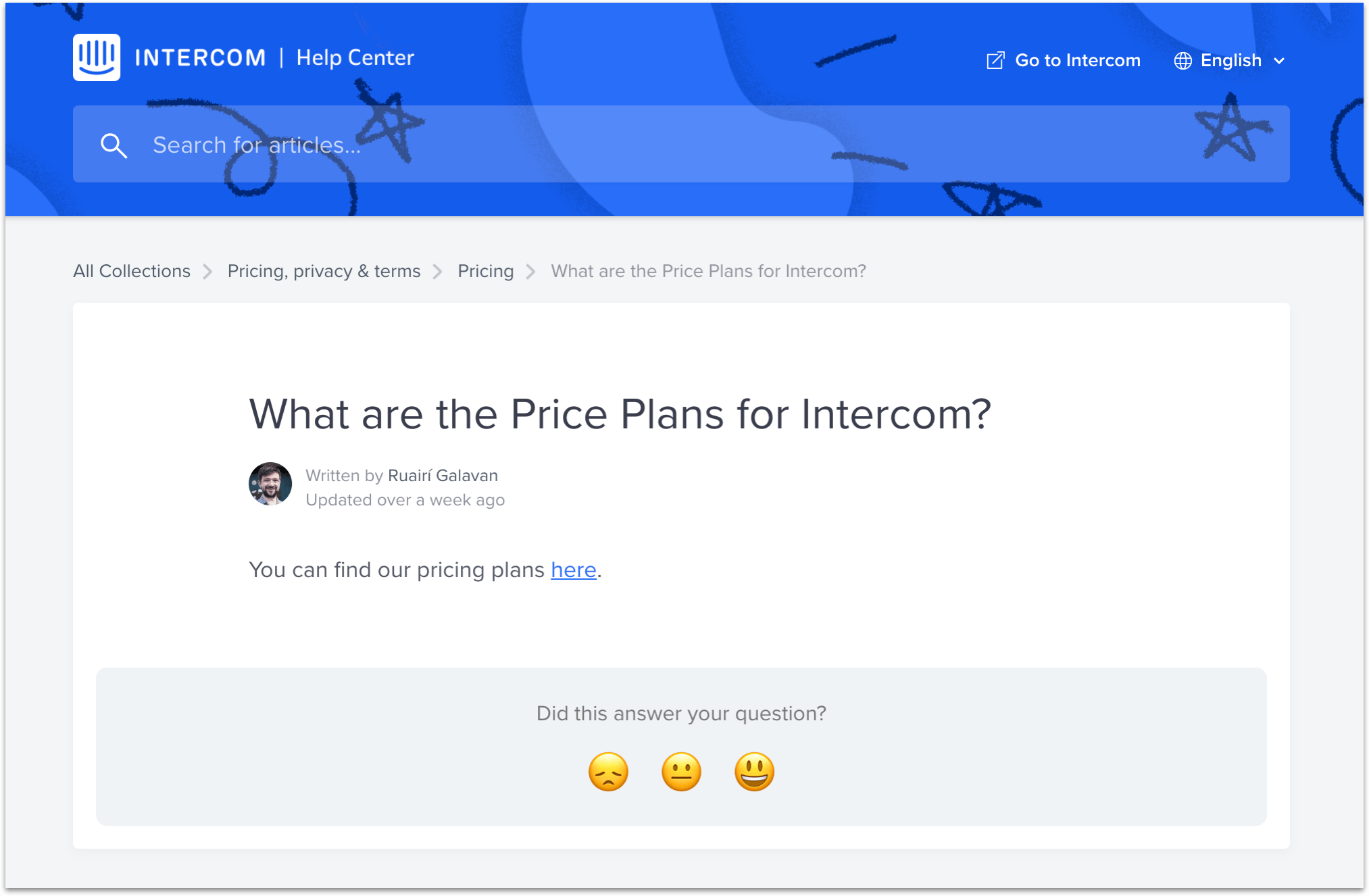 Intercom features
Perhaps, the most famous and highly demanded Intercom's feature is their Business Messengers, or as we mere mortals call it — live chat.
You can enhance Intercom's live chat with different chatbots, apps, knowledge base articles, etc. You can also integrate it with your SaaS product and send targeted messages there as well as shoot automated chats to your customers and visitors.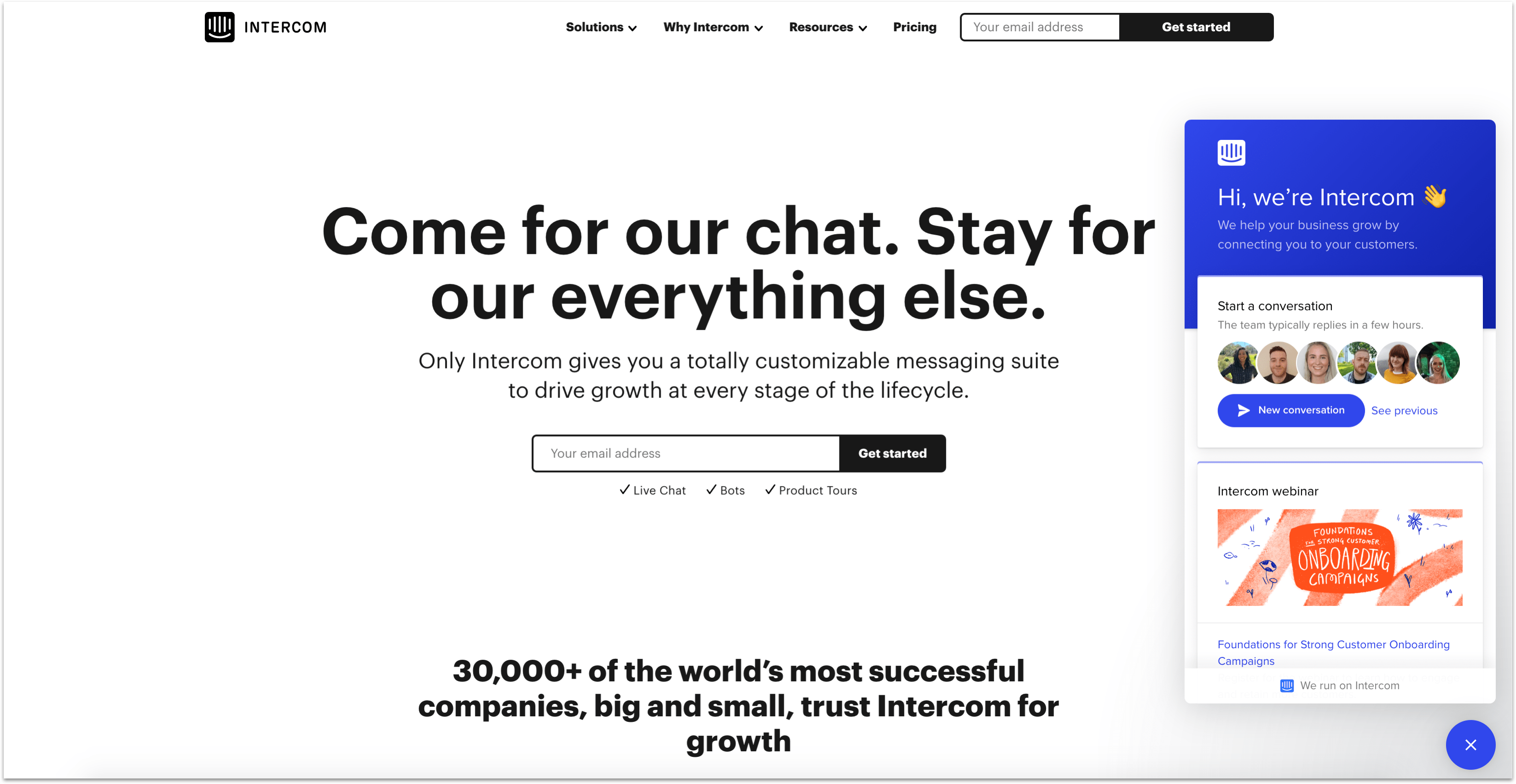 Though live chat is their core functionality, Intercom offers a great number of other features as well:
Help desk (Team Inbox)
Basic CRM
Email marketing (Outbound Messages combined with Campaigns)
Knowledge base (Help Center Articles)
Product tours
Bots
Depending on the pricing plan, you can combine these features and tools in your Intercom dashboard — anything for your money.
Intercom pricing
In a nutshell, Intercom offers three different packages of tools based on specific business needs — lead generation, customer engagement, or customer support. If you want all at once, you can go with the fourth 'all-in-one' option. These packages are additionally divided into Essential, Pro, and Premium subscription plans. Which leaves us with as many as 12 options right there. Not bad at all.
Intercom's initial prices will vary from $38/mo to $153/mo, but be aware that these are not end prices that you'll see in your invoices. More on this in a moment.
So, why exactly is Intercom pricing so complicated and unpredictable? Well, because you can't just choose a subscription plan with all the features you need and pay for it.
You will always have to keep in mind that Intercom charges additional fees not only for agent seats, but also for your active contacts. This is what makes their pricing so complicated — you can't predict your business growth and definitely shouldn't be "punished" for it.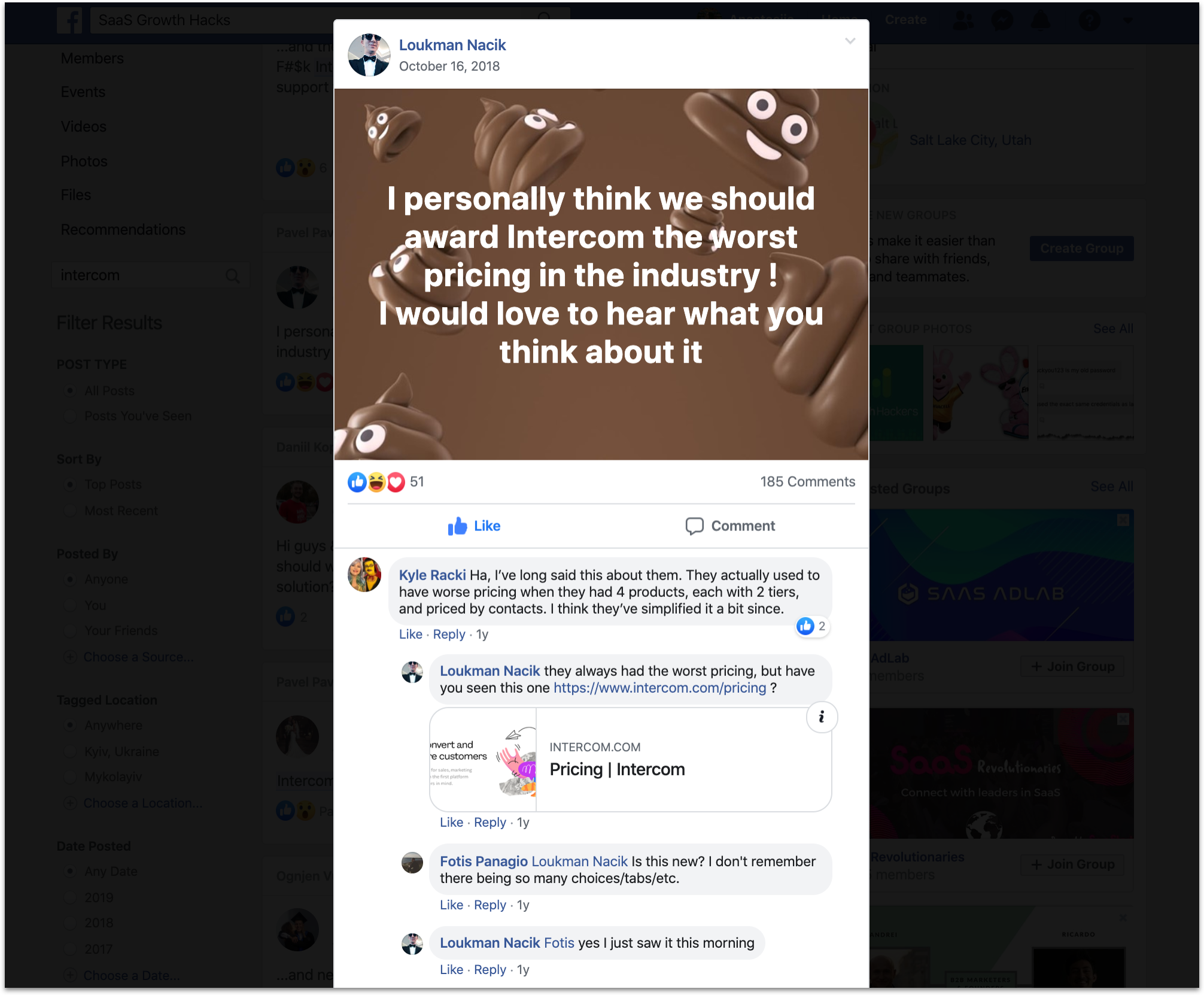 This is how Intercom pricing works:
1. Subscription. You pay for a subscription plan you choose on a monthly or yearly basis. It will include 2 agent seats.
2. Additional seats. You will have to pay for every additional agent seat. The price will be either $19/mo/agent for any Essential subscription or $39/mo/agent for any Pro plan.
3. Active contacts. You will have to pay for your active users. Basically, you get to keep 200 contacts for free and then pay additional fees that will depend on how many active contacts you have in your database. Prices vary from $15/mo to $50/mo.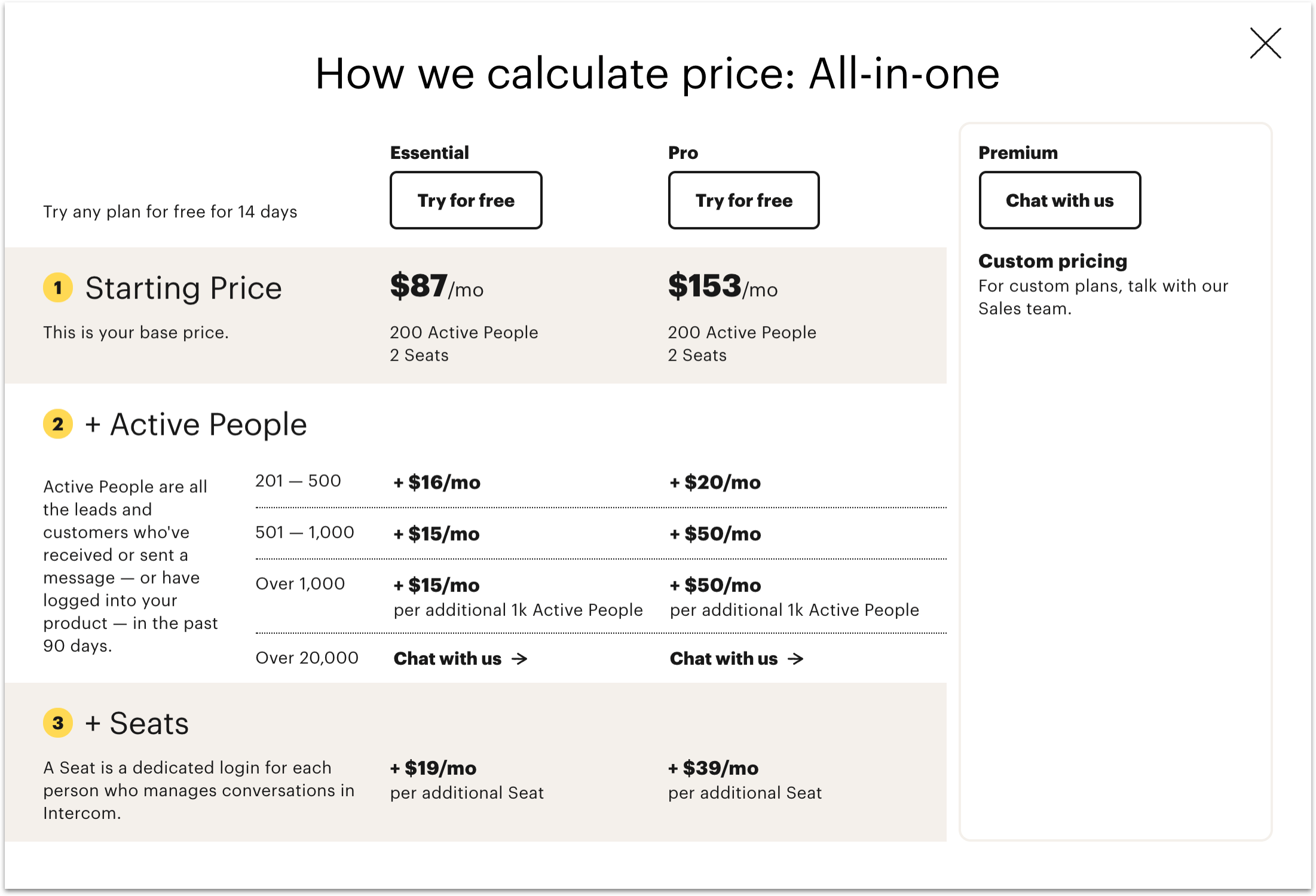 4. Add-ons. If you want to use Intercom to its fullest, you will have to pay for such add-ons as help center, chatbot, knowledge base bot and product tours separately. The help center tool will cost at least $49/mo, while other tools' prices start from $99/mo.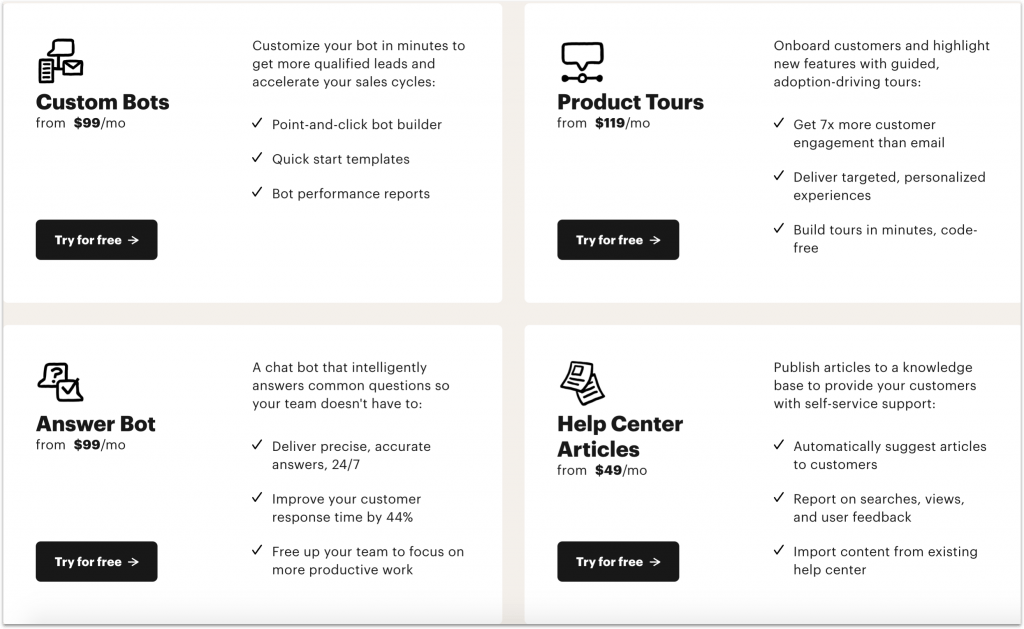 Intercom 'Early stage' subscription
If you're building an early-stage startup, your can apply for the 13th option tailored just for you. It costs $49/mo and includes live chat with targeted in-app messages and product tours, but has this appalling limitation of only 500 contacts.
But it's not that great as it seems at first glance. Intercom's 'Early stage' subscription plan has very strict requirements that not every startup will be subject to. Moreover, even if you do qualify, the happiness will last for only one year, after which you will immediately be transferred to one of the Intercom's regular expensive subscription plans.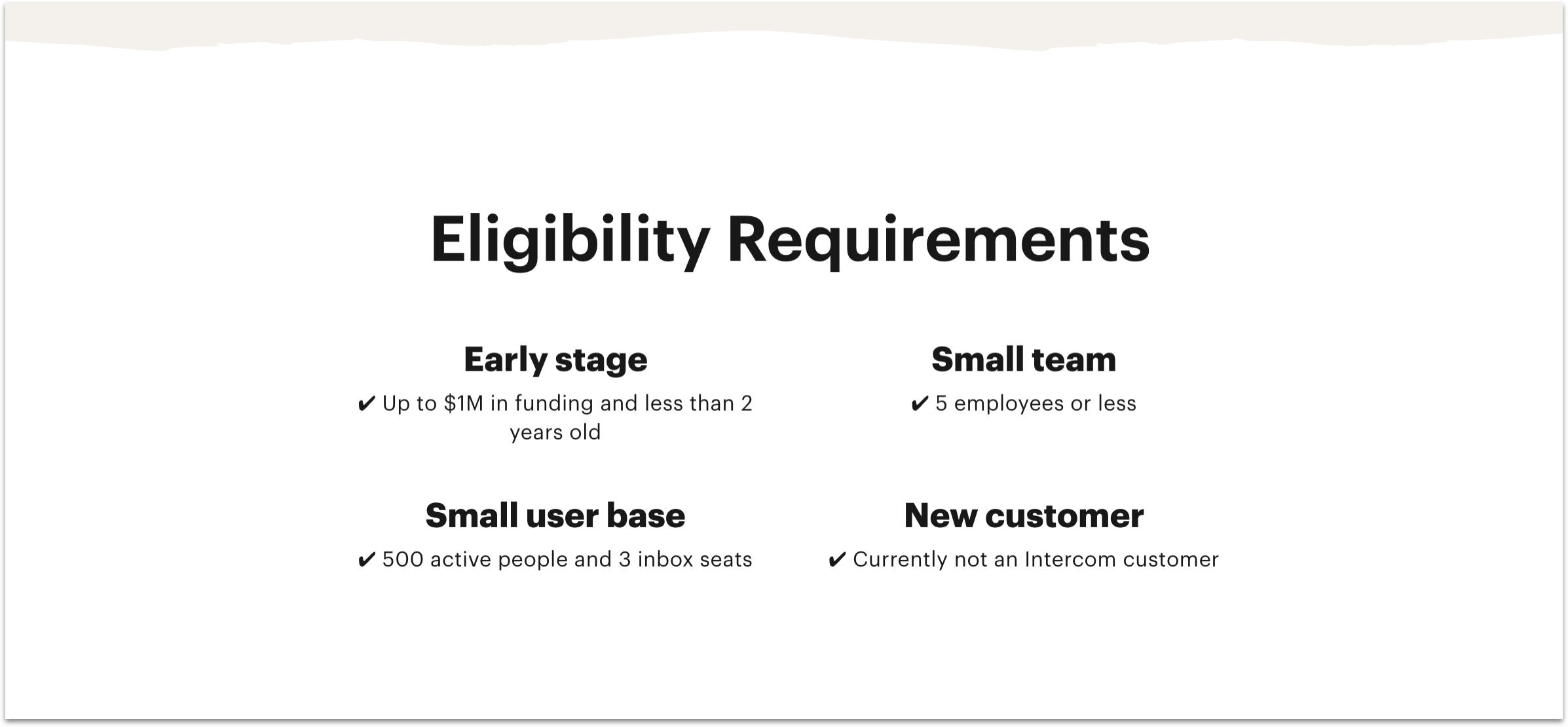 ---
Now, I dare you to try and calculate that monthly invoice for Intercom. Quite a task, isn't it?
One of Intercom's former users has agreed to share this screenshot of their monthly Intercom invoices. In May, they were billed $49 — not good, not bad. But the following month, they were forced to pay $656 all of a sudden.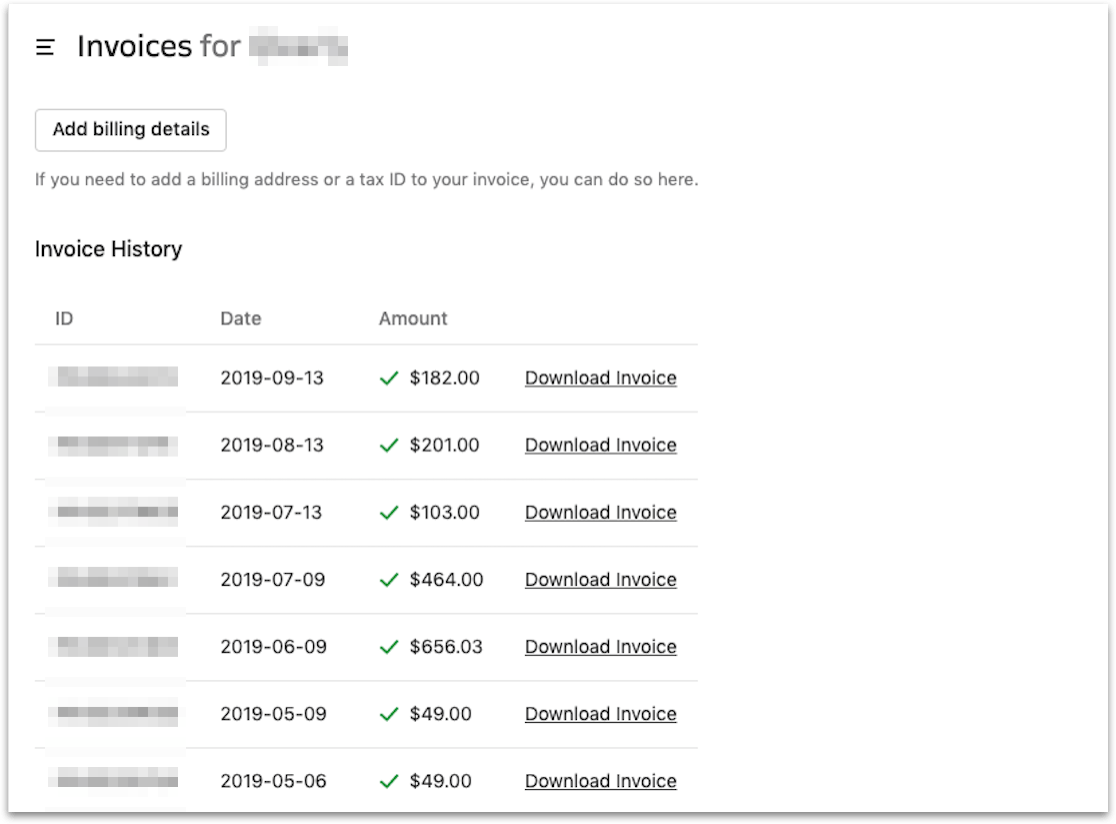 This is a terrible pricing policy for businesses that try to plan their expenses in advance. No wonder they decided to switch to the HelpCrunch Standard 'Live chat' plan. Now, they pay $15/mo for the same live chat, help desk and knowledge base features.
Intercom pricing examples
I think it will be easier to understand Intercom pricing if we break it down to three simple examples:
1. Basic customer support solution
Setup:
A small business with 2 customer support agents and 800 active contacts every month. Looking for a simple customer support tool which will include live chat, basic help desk, automated chat messages and knowledge base for customer self-service.
Intercom solution: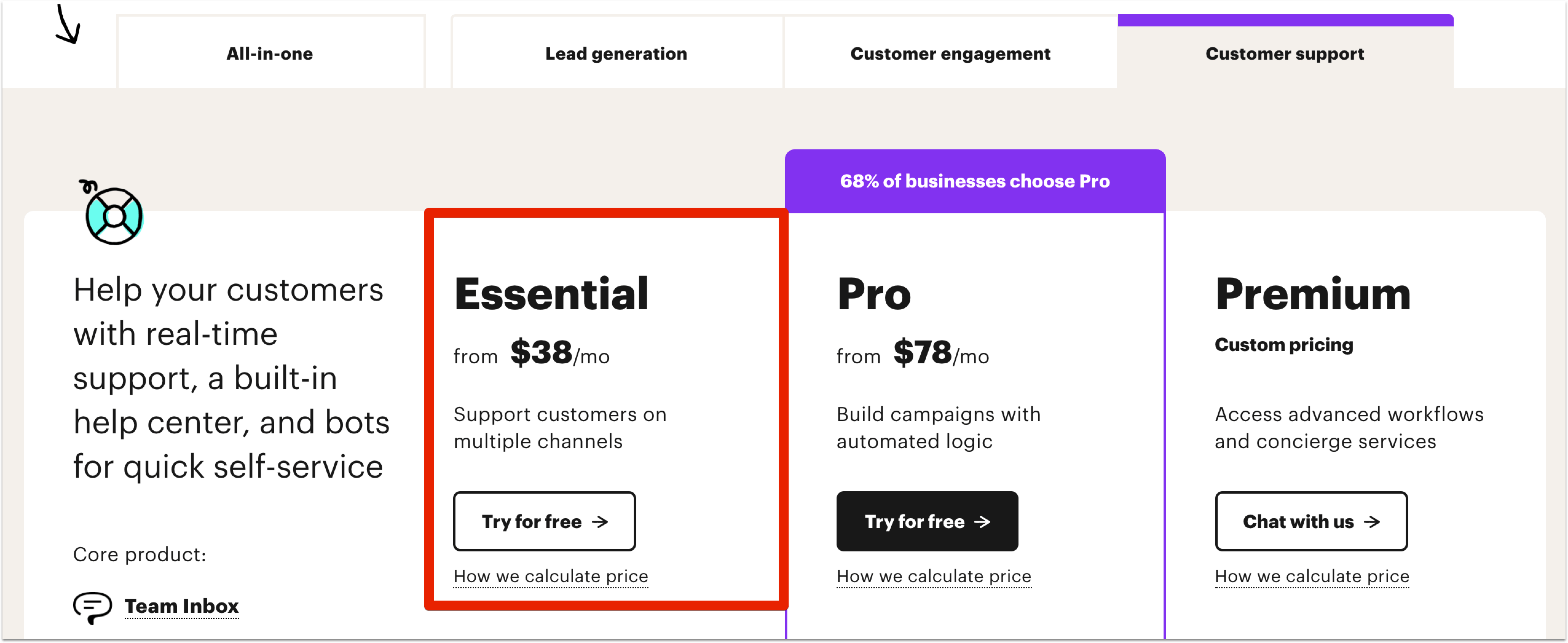 You can go with the Essential subscription from the 'Customer support' package. It will include live chat and all basic help desk features you might need like shared inbox, customer data and team collaboration features.
Since it already includes 2 seats, you won't have to pay for additional ones and it will cost you exactly $38/mo.
BUT! If you want to have a knowledge base portal on your website (which you absolutely should), it will cost you additional $49/mo.
Also, note that you won't be able to send proactive or targeted chat messages to your customers. You will get just a simple live chat tool which will allow your customers to shoot you their questions and you to answer them, that's it.
End price:
$38/mo for live chat
$87/mo for live chat and knowledge base
2. Basic solution for support and sales
Setup:
A middle-size business with 4 customer support and sales agents and 3,000+ active contacts every month. Looking for a solid solution with live chat where they can also engage visitors proactively, collect leads' data and qualify them.
Intercom solutions:

You could probably go with either the Essential subscription from the 'Lead generation' package or the Essential 'All-in-one' subscription.
They are kind of similar in terms of functionality and include live chat and basic help desk for your support team. They also allow your sales reps to send auto and manual messages via chat and email.
If we say that you don't need such pro features as lead qualifying or role permissions for your team, then the Essential one will do. It will cost $87/mo to sign up and add 2 agents to your account. Since you have 4 agents, each additional seat will cost $19/mo.
Now, you will have to pay $15/mo for every additional 1K of them. This means that you'll see additional $45 for those 3000+ contacts in your monthly invoice.
Want to throw a knowledge base add-on there? Pay $49/mo.
End price:
$170/mo for live chat
$219/mo for live chat and knowledge base
3. Premium all-in-one solution for marketing, support, and sales
Setup:
An enterprise with 10 team members and 10,000 active contacts every month. Looking for a consolidated all-in-one solution with live chat, help desk, email marketing, knowledge base features. Something that will allow to manage ALL customer communication in one place.
Intercom solution: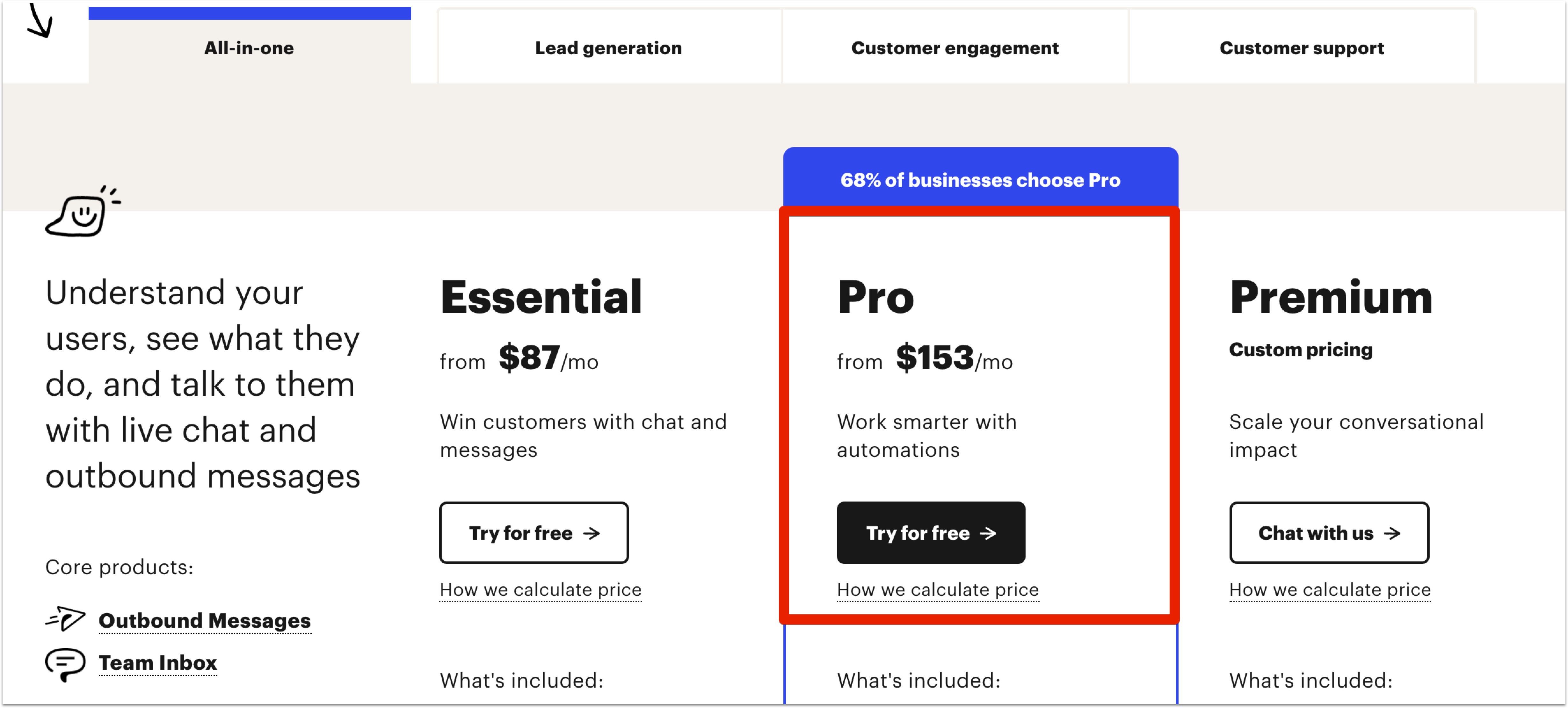 Frankly, the two options from the above are kind of lame. First of all, they're just too basic. Secondly, no one keeps their marketing, support, and sales separately these days. These are all parts of customer communication that should be consolidated and managed from a single dashboard.
Intercom is actually one of the first companies that tried to do that. But something went terribly wrong with their prices along the way.
So, if you go with Intercom's Pro subscription of the 'All-in-one' package, you will be able to achieve this effect. The only thing is that its price starts at $153/mo for the account and 2 seats.
Other 8 seats will cost $39/mo each, which will make additional $312/mo. Contacts are even more expensive if you use the Pro subscription. 10000 contacts will cost $500/mo ($50/mo for each 1k).
End price:
$965/mo for all-in-one customer communication solution
$1,014/mo for all-in-one customer communication solution with knowledge base
at least $1,113/mo for all-in-one customer communication solution with knowledge base and custom bots.
Intercom alternatives
Just by looking at Intercom pricing, it's quite obvious that Intercom can be somewhat too expensive for many companies and startups.
Luckily, Intercom alternatives are not in scarce supply as there are hundreds of tools that provide live chat, ticketing, knowledge base and even chatbots — either separately or all in one package.
HelpCrunch — all-in-one customer communication tool
HelpCrunch is the closest it comes to the Intercom alternative.
It offers all the same tools and features that Intercom does, except for a chatbot (which is in development and will be released soon, too):
Live chat with the ability to send automated and targeted chat messages.
Help desk with a shared inbox, real-time customer data, team collaboration features, etc.
Knowledge base with built-in SEO features which is included in ALL pricing plans. No additional fees.
Email marketing tools for automated trigger-based and manual campaigns.
Pop-ups for capturing more leads on your website.
There are only four pricing plans that HelpCrunch offers and NONE of them includes charges per active contacts, because why would they. Moreover, you get unlimited contacts on all subscription plans.
The Standard 'Live chat' pricing plan is just $15/mo/team member. For this price, you'll get live chat, knowledge base, help desk and unlimited contacts.
If you're looking for a premium all-in-one solution for marketing, support, and sales, you should go with the Premium 'Live chat + Emails' subscription, which costs $49/mo/team member.
Those 10 team members will cost only $490/mo in total. Now, compare the price to those $1,014/mo for Intercom.
Looking for an all-in-one
customer communication tool?
Bottom line
Despite its complicated and even impracticable prices, Intercom can help your business a lot. But so can other similar tools like HelpCrunch.
The only difference is that with HelpCrunch, you can be sure that you will pay exactly what's stated on their pricing, not a cent more. That is why before rushing into anything with Intercom, just sign up for a free 14-day trial and give it a try.

HelpCrunch articles delivered straight to your inbox 🚀
All the latests posts. One email per month.
No strings attached.
Read also
Comparison
Which of the two most popular help desk tools is better for you? We've compared their features, prices and more to make the choice easier on you.
Comparison
Zendesk is one of the most widely known help desk tools out there. But it has its flaws, too. Check these 5 Zendesk alternatives that will help you improve your customer support, sales, and marketing.
Comparison
The best customer service software must be affordable and offer much for its price. We've collected 5 equally great options that meet these two simple requirements.