Drift vs Intercom: Which Tool is Better?
Check this ultimate Intercom vs Drift comparison to choose the best messaging platform for your customer support, marketing, and sales.

If you're evaluating Intercom vs Drift for your company, chances are you're working in marketing or sales. These tools are great for customer support but thanks to the features like demo booking, custom bots, and newsletters they are also famous for their sales and marketing capabilities.
Even though Intercom and Drift are leaders in their niche today, you must think twice before rushing into anything with either of the two. Both of them are very expensive options with all those advanced features costing even more.
Do you really need custom chatbots that cost hundreds of dollars? Are you going to use built-in calendars for booking demos? Or maybe you would be better off with a more cost-effective solution like HelpCrunch that offers live chat, chatbot, knowledge base, and email automation features? That is something to think about as well.
Intercom vs Drift: a comparison table
Intercom is a great and well-balanced all-in-one tool that covers support, marketing, and sales tasks while Drift is way more sales-oriented. Both tools are famous for their highly developed bots and for being quite expensive and enterprise-oriented.
Intercom
Drift
HelpCrunch
Main features
Live chat
Knowledge base
Email marketing
Customizable branding
Shared inbox
Meeting scheduler
Chatbots
Product tours
Live chat
Knowledge base
Email management software
Customizable branding
Shared inbox
Offline forms
Meeting scheduler
Chatbots
Video messaging
Chat software
Codeless chatbot
Knowledge base
Email marketing
Customizable branding
Shared inbox
Offline forms
Free trial
Available for 14 days, requires credit card details
Free account with limited functionality
Available for 14 days, no credit card required
Prices start at
$74/mo per seat
$2500/mo
$15/mo per seat
All-in-one 'Premium' subscription starts at
Quotation based (it used to be $999/mo)
Quotation based (it used to be $1,500/mo)
$620/mo/unlimited seats
G2 rating
4.5 / 5 ⭐⭐⭐⭐⭐
4.4 / 5 ⭐⭐⭐⭐
4.7 / 5 ⭐⭐⭐⭐⭐
Capterra rating
4.5 / 5 ⭐⭐⭐⭐⭐
4.5 / 5 ⭐⭐⭐⭐⭐
4.8 / 5 ⭐⭐⭐⭐⭐
If you are a small or medium company that prefers a rational approach, then take a closer look at HelpCrunch. The software, compared to Intercom, offers all the essential functionality for fluid support, sales, and marketing purposes but at a more attractive price.
Intercom vs Drift: introduction
Intercom was founded in California in 2011 by four designers and engineers as a business messenger. The main idea was to create a new customer communication platform for businesses that want to talk with their clients faster and more efficiently.
You can talk to a client when they're in the product – much like when you're in a shop, someone will come up directly to you and talk to you there rather than send you an email or send you a letter in the mail.

Eoghan McCabe, Intercom's CEO & Co-founder.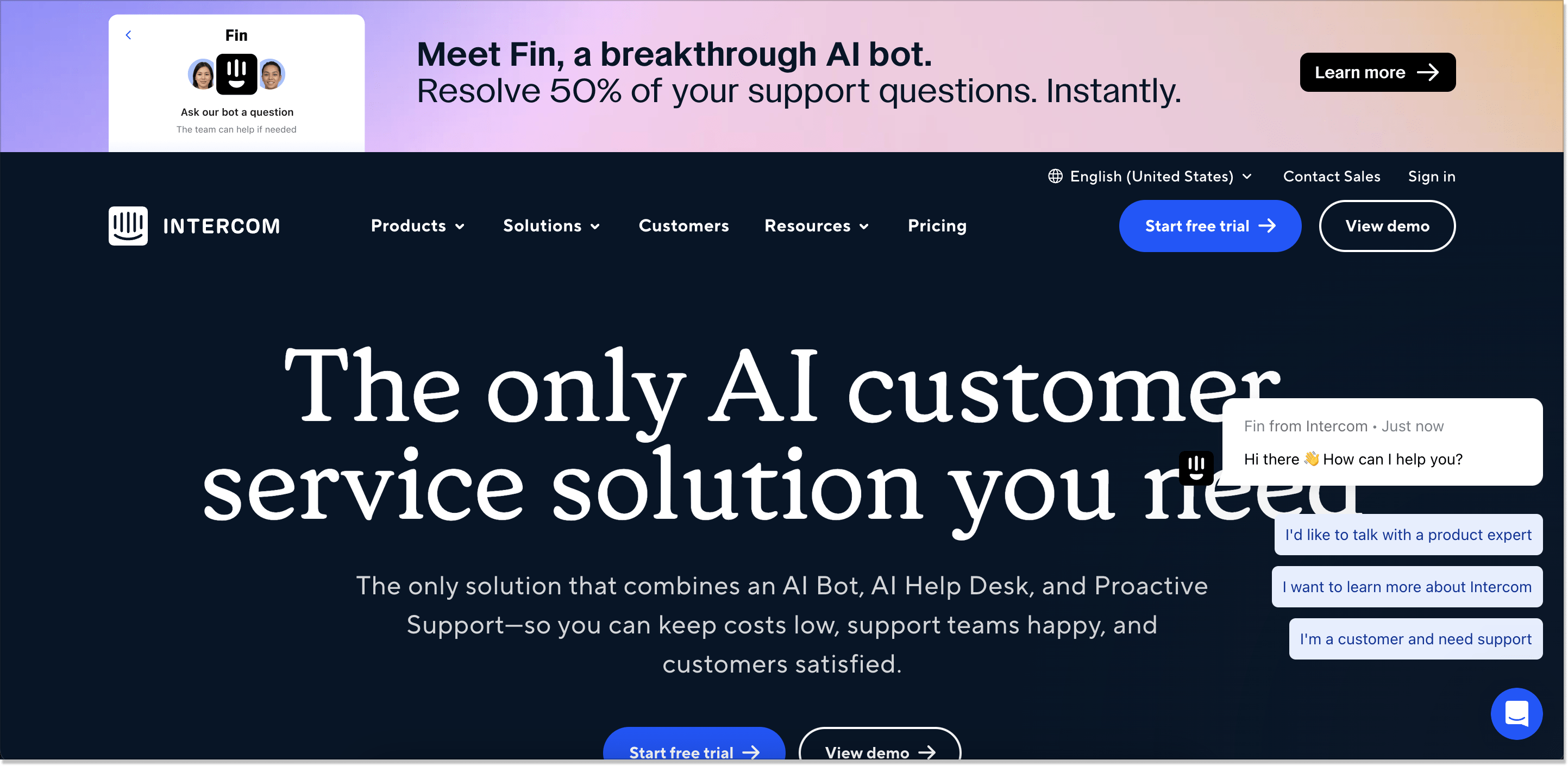 Basically, it's not that Intercom has invented live chat for websites and apps, it's just that they made it so much more than just live chat. Thanks to them, companies now use a chat feature not just for answering user requests, but also for attracting new leads, increasing conversions, onboarding, retention, and engaging with them at different stages of the funnel.

That is why it's no surprise that other companies saw the potential value of business messengers and tried to duplicate the success. This was the beginning of a new era in customer communications.
What about Drift?
Somewhere around this time, another business messenger's enthusiast David Cancel had started his job as Chief Product Officer at HubSpot. Fast forward four years, he raised a $15 million Series A for his own startup called Drift.
Drift is also a business messenger for real-time communication between businesses and clients or, as they call themselves, a 'revenue acceleration platform'. After all those years at Hubspot, it was hardly surprising that the project was completely dedicated to a wide range of sales and marketing tasks right from the beginning.

Everyone has been using messaging for support, and no one has used it for sales and marketing. We thought that if everyone's default is now to use messaging in their personal lives, that would be the way we'd buy online.

David Cancel, Drift's CEO & Founder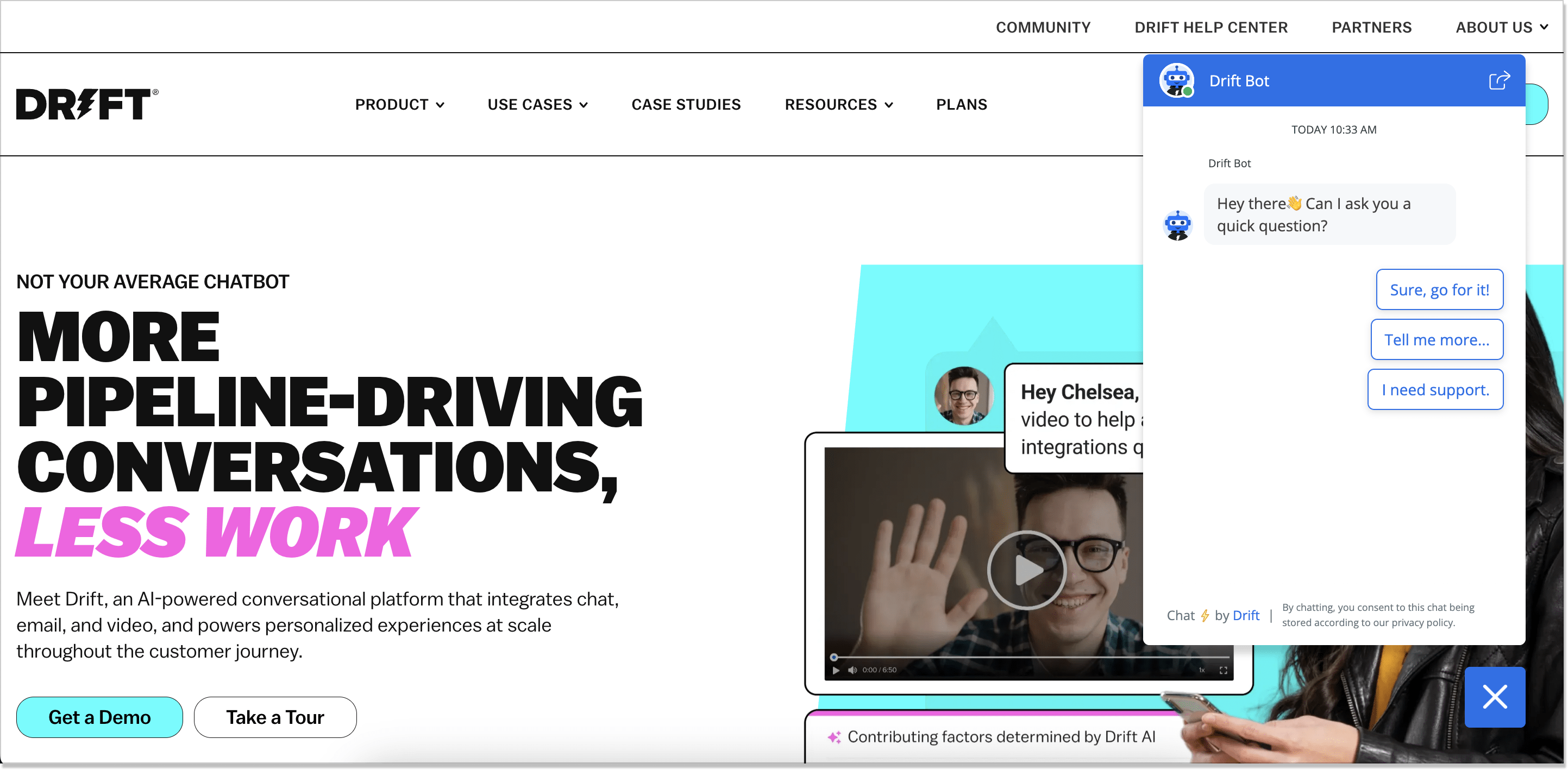 Summarizing the above, Intercom vs Drift are virtually business messengers (aka live chat tools) with numerous out-of-the-box features aiming to help marketing teams and sales experts with their daily tasks in boosting customer experience.
And how's it going today?
Intercom vs Drift: features
While both tools are titans of the customer support market nowadays, their features aren't the same.
Intercom features
The company distinguishes three main use cases for its software — conversational support, conversational engagement, and conversational marketing. These packages include different combinations of Intercom's standard products:
Live Chat for real-time communication with your leads and clients on your website or inside your product.
Team Inbox, which is basically a unified help desk for managing multichannel support in a single window.
Outbound Messages for sending drip campaigns and manual one-time blasts via messenger, email, or push notifications (by the way, you can install the Google Analytics app and track the messenger's impact on your visitor behavior).
Help Center for providing 24/7 self-service (which will, by the way, increase customer satisfaction a hundredfold).
Custom Bots for engaging website visitors and pre-qualifying leads.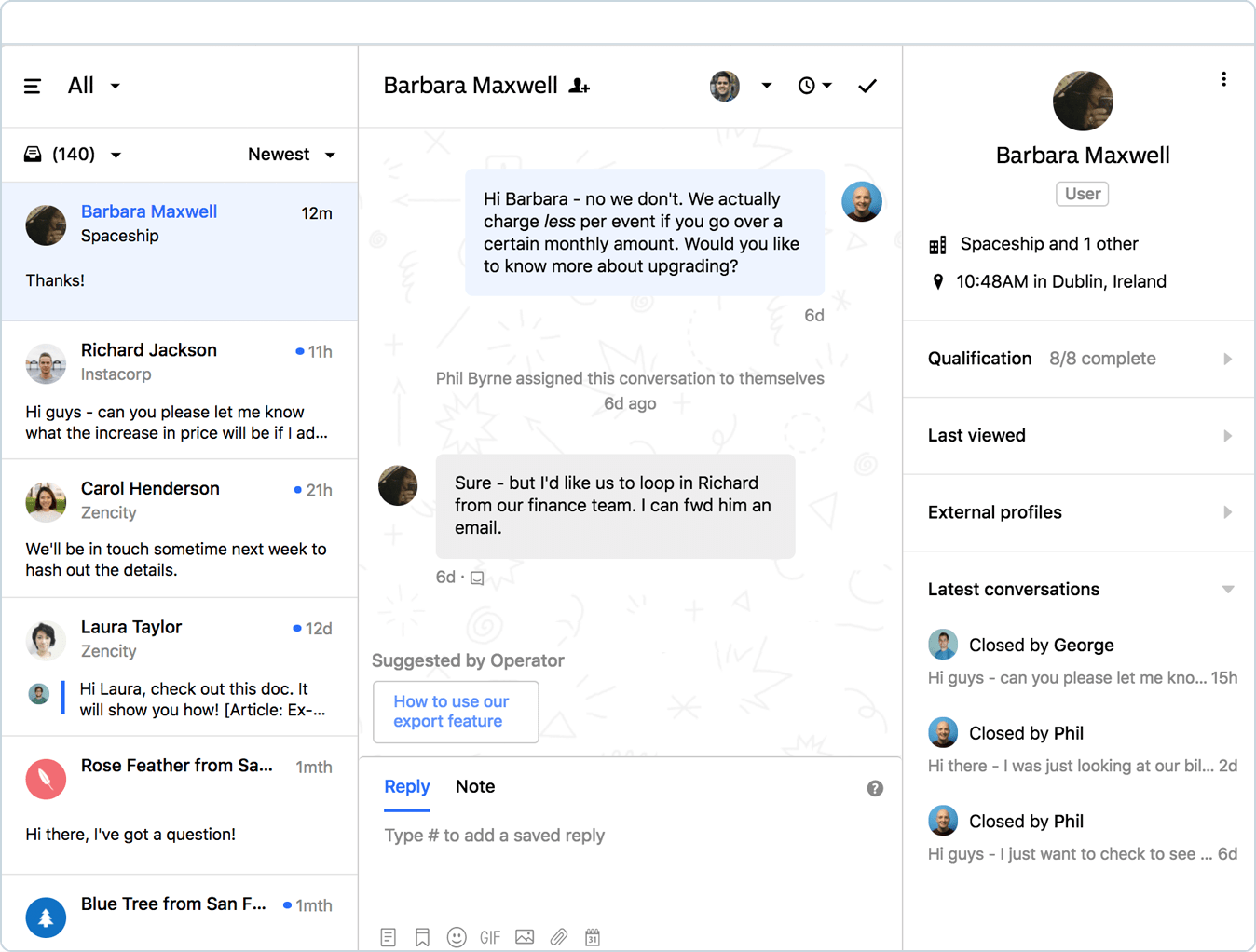 The Product Tours feature for onboarding new clients with the help of proactive contextual messages is also available for additional fees.
Intercom's bots are especially interesting as they're one of the best customer support automation available on the market these days (which shows in those bots' pricing, too). They can ease your team's workload dramatically by automating routine tasks like assigning questions to the right departments or auto-suggesting help center articles based on users' questions.
The only tool that can compete with Intercom in this department is — you guessed it right — Drift. So, let's talk about its features for a change.
Drift features
At first glance, it seems like this alternative to Intercom isn't even trying to be a customer service solution. Its homepage talks about leads, pipelines, and sales right up front while its feature list includes such mysterious things as 'account-based marketing', 'conversational emails', and bots.
Don't worry, though. As any other all-in-one customer communication tool, Drift offers standard features like live chat, knowledge base, and email automation. It's just that they either call them differently or don't market them as aggressively as sales-dedicated features.
Here are Drift's core features:
Live Chat for real-time communication with clients
Drift Help for creating a self-help knowledge base for your website or app
Drift Video chat for recording and sharing sales/demo clips 
Drift Email for sales email automation
Meetings for booking demos or any other calls right in a chat window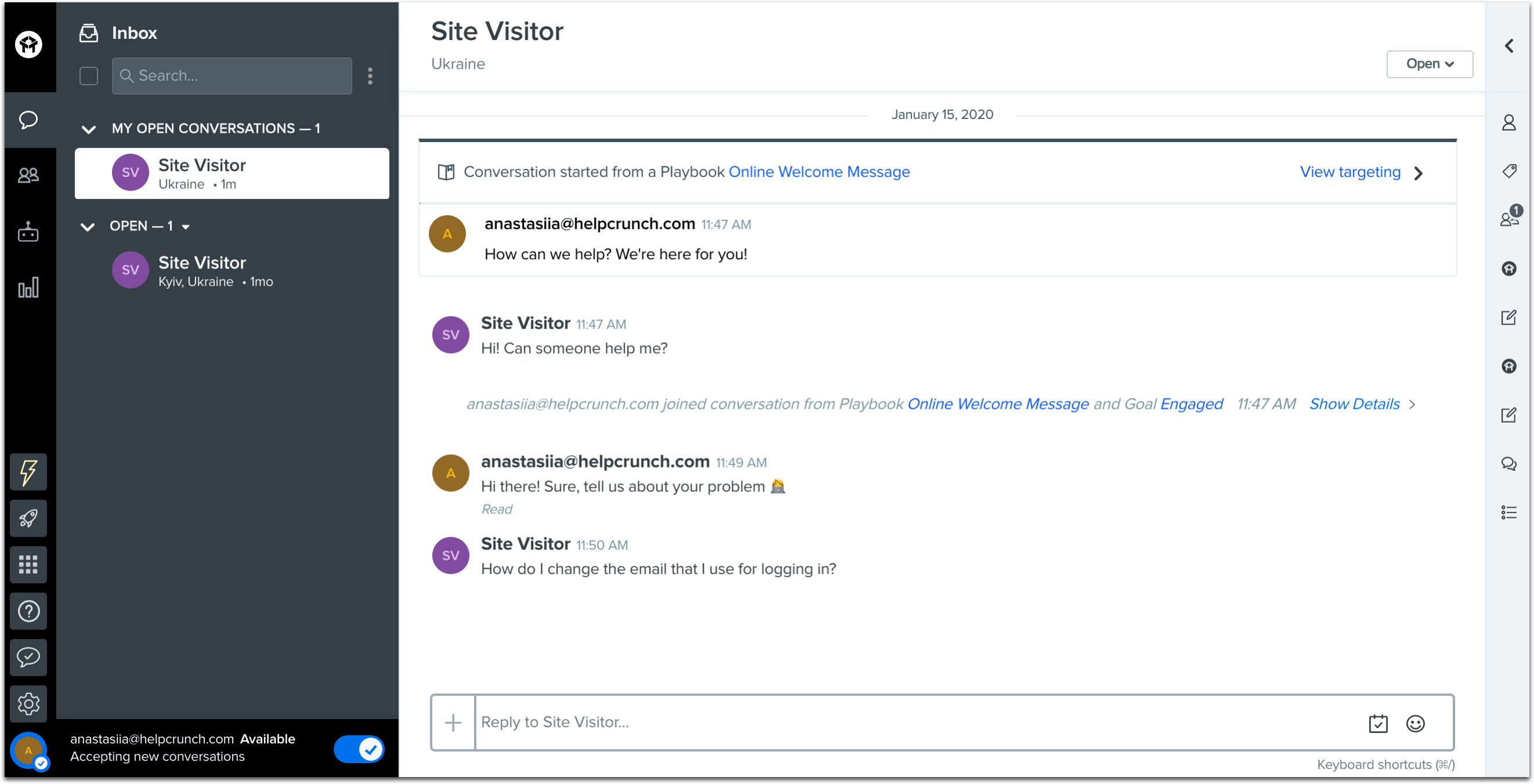 Basically, Drift offers so many sales and marketing features that you probably haven't even known you need them before you see them on their website. But that is just the tip of the iceberg.
Drift offers this separate peculiar feature called Virtual Selling Assistants, which is more sales than marketing in its essence. Basically, thanks to patented AI, it engages potential website visitors through human-like conversations and identifies which visitor is ready to meet with sales representatives. Live agents can then follow up and continue with the selling process. 
However, Drift software gets the most exciting when it comes to bots. Because in all honesty, none of the above-mentioned features will work quite as you expect them to without automation. But in a bundle, they can do wonders.
Drift does offer numerous automation to choose from — chatbots, email bots, and even custom AI-powered bots for creating workflows and playbooks based on your previous conversations. They can help you to pre-qualify leads, route new conversations to corresponding departments, book meetings — and do all this 24/7 so that your leads don't ever feel unattended.
Drift vs Intercom: features showdown
Both Intercom and Drift share some must-have features like live chat, knowledge base, and email automation, even though Drift positions all their features from a sales and marketing angle.
However, their chat widgets look completely different. Intercom's Messenger combines different apps in one window where you can choose to start a conversation, find an answer in the knowledge base, or read the company's news. Drift's Chat, on the other hand, looks basic and clean — it's a simple window where you can chat with support and engage with a chatbot.
Intercom offers one unique feature that Drift doesn't have in its package. It's product tours for user onboarding. Basically, you won't need any third-party solutions to integrate contextual tips right into your product.
On the other hand, Drift has all those meetings, videos, and, of course, account-based marketing. The latter is a very unique feature that has no rivals whatsoever.
Drift's bots are also more evolved and diverse (they even offer email bots). However, Intercom has been working on its AI automation quite actively for the last few years and has made a huge breakthrough in this department.
Intercom vs Drift: prices
Users of both Drift and Intercom complain about high prices. Their starter plans, which are more or less affordable, offer extremely limited functionality. For example, Drift's free plan provides just live chat and basic reporting which is obviously not enough to meet even startups' needs.
All in all, let's try to figure out the pricing policy of those tools.
Intercom's pricing
I'll put the cards on the table and say this right away — people usually hate Intercom's prices.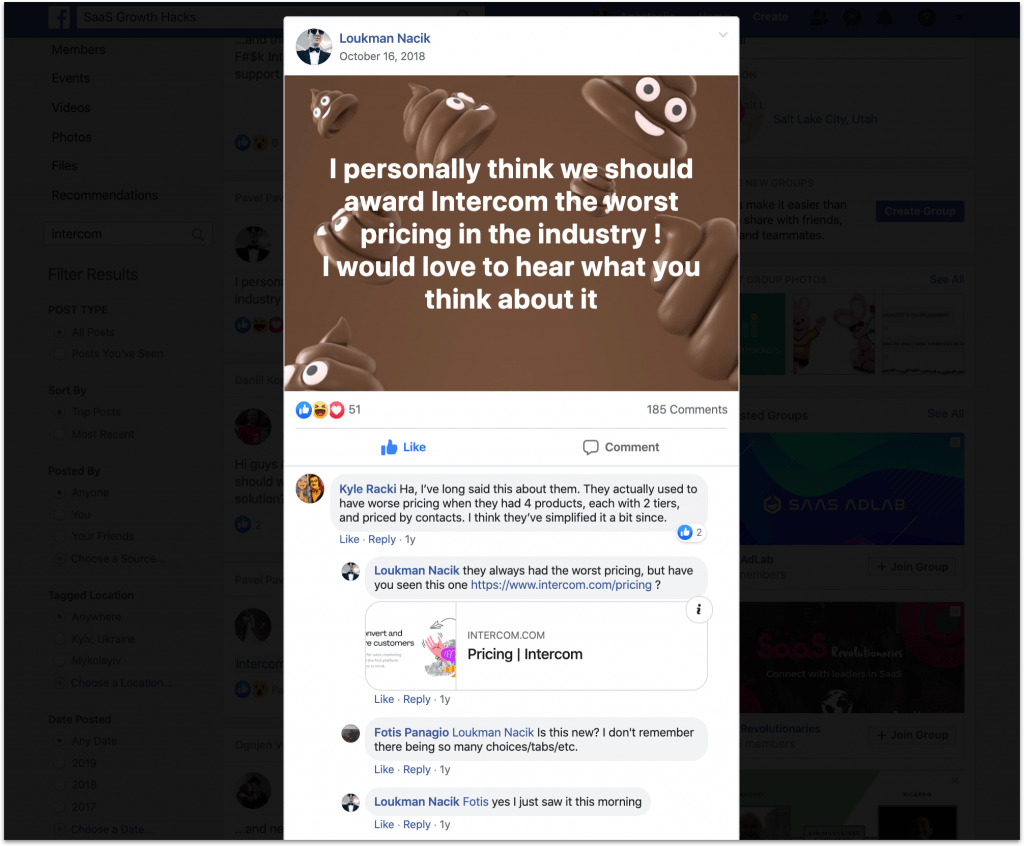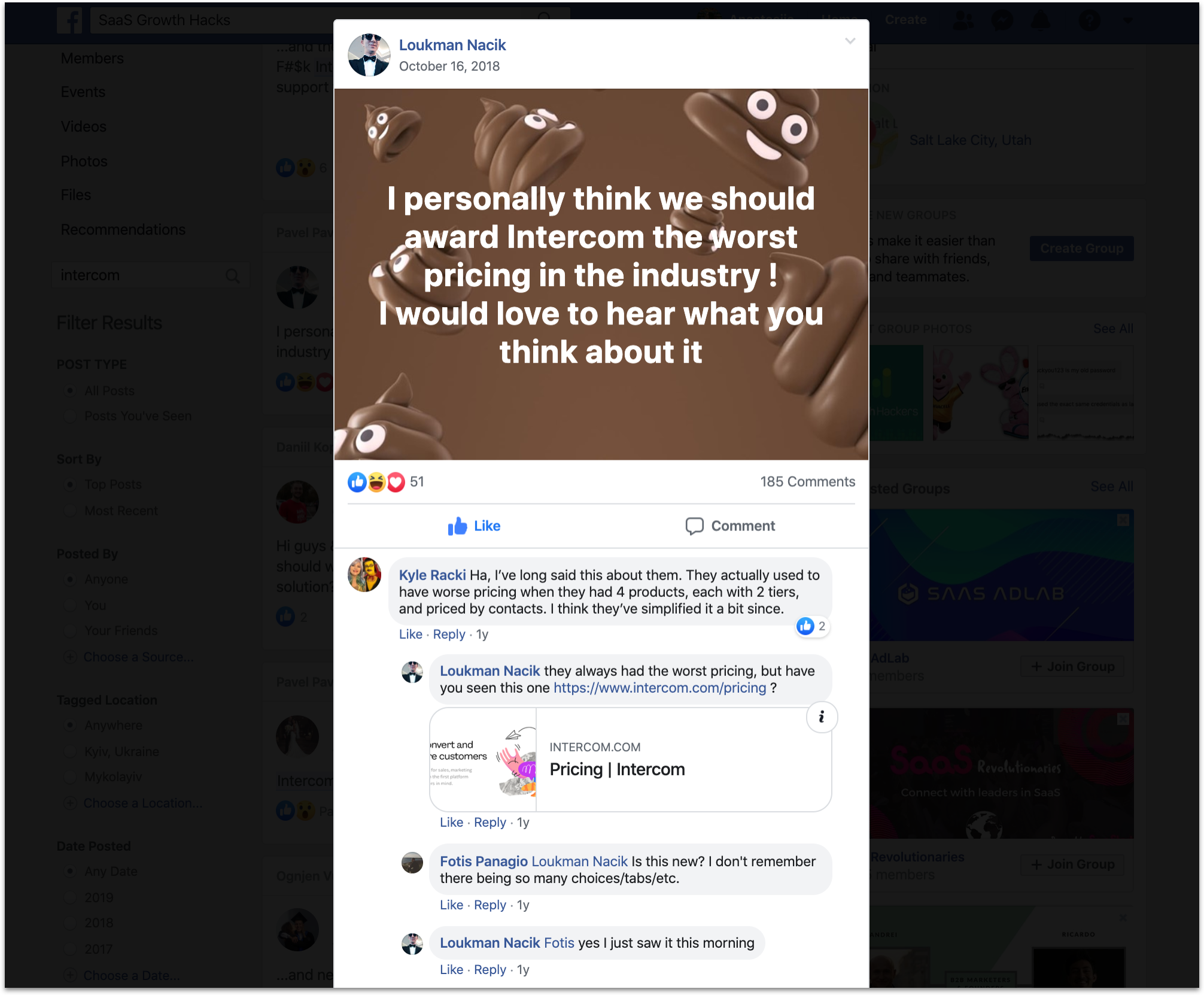 It's not that Drift is more affordable, it's just that you can never tell how much you'll end up paying for Intercom at the end of each month. The thing is, not only does Intercom charge for subscription and additional agent seats, but it also takes extra fees for people you reach with its help.
There are five tiers of Intercom pricing. Start and Grow – for very small businesses. 
The other three tiers are 'for most businesses': Marketing, Customer engagement, and Support. The prices are available only after demo sessions.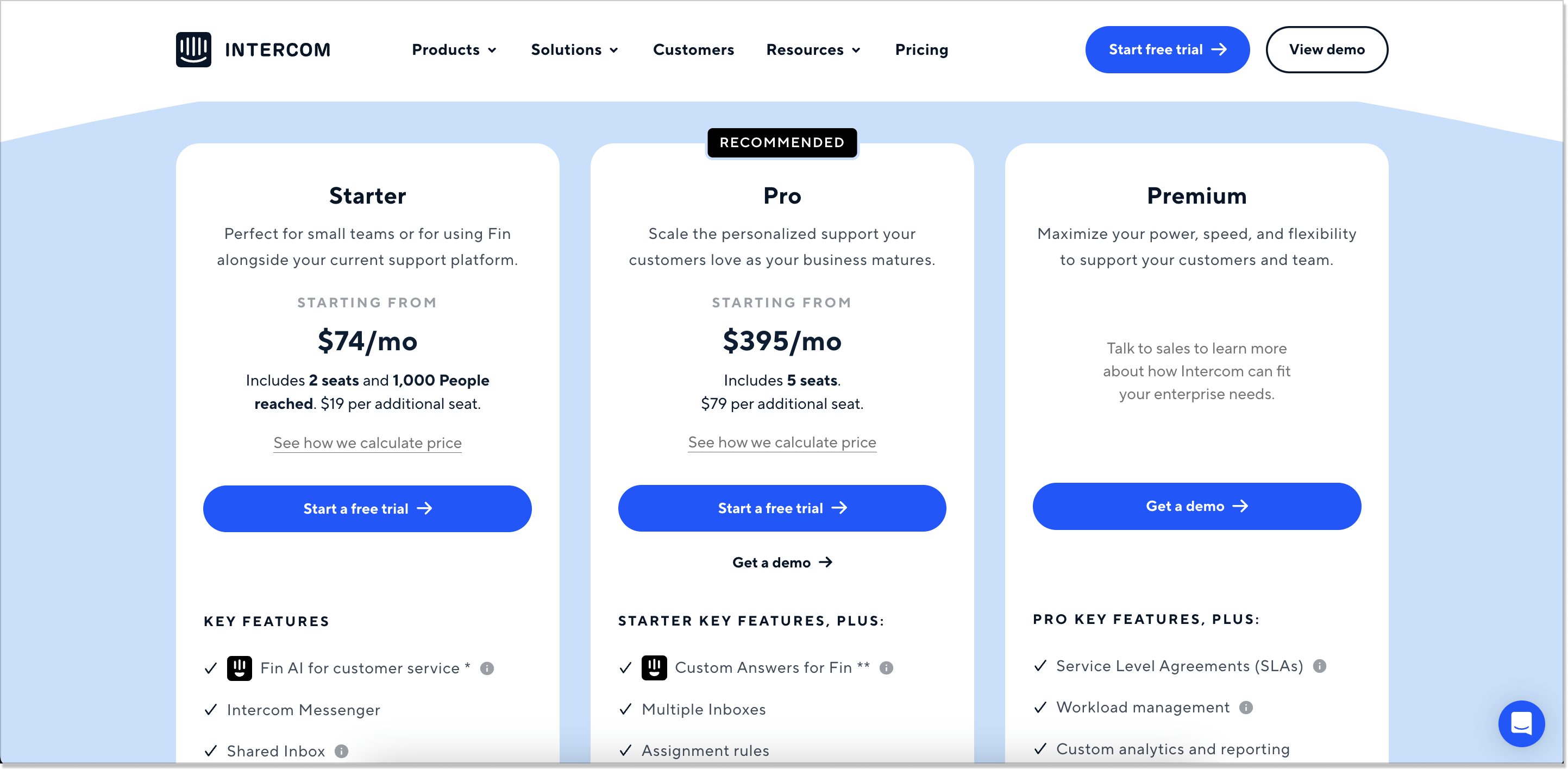 The cheapest Intercom subscription is called "Start" and costs $59/mo. It includes 1 agent seat and basic live chat functionality that you need to provide real-time support to your users.
The 'Grow' subscription starts from $119/mo and includes 5 seats, with each additional agent seat costing $19/mo. Sure, you'll be able to use it for live chat, email automation, targeted messages, and help center. However, it doesn't include custom bots, product tours, or account-based marketing functionality. Those are to be purchased separately.
Drift's pricing
On the flip side, Drift has fewer pricing models: Free, Premium, Advanced, and Enterprise. The prices are available after personal one-on-one communication with an agent.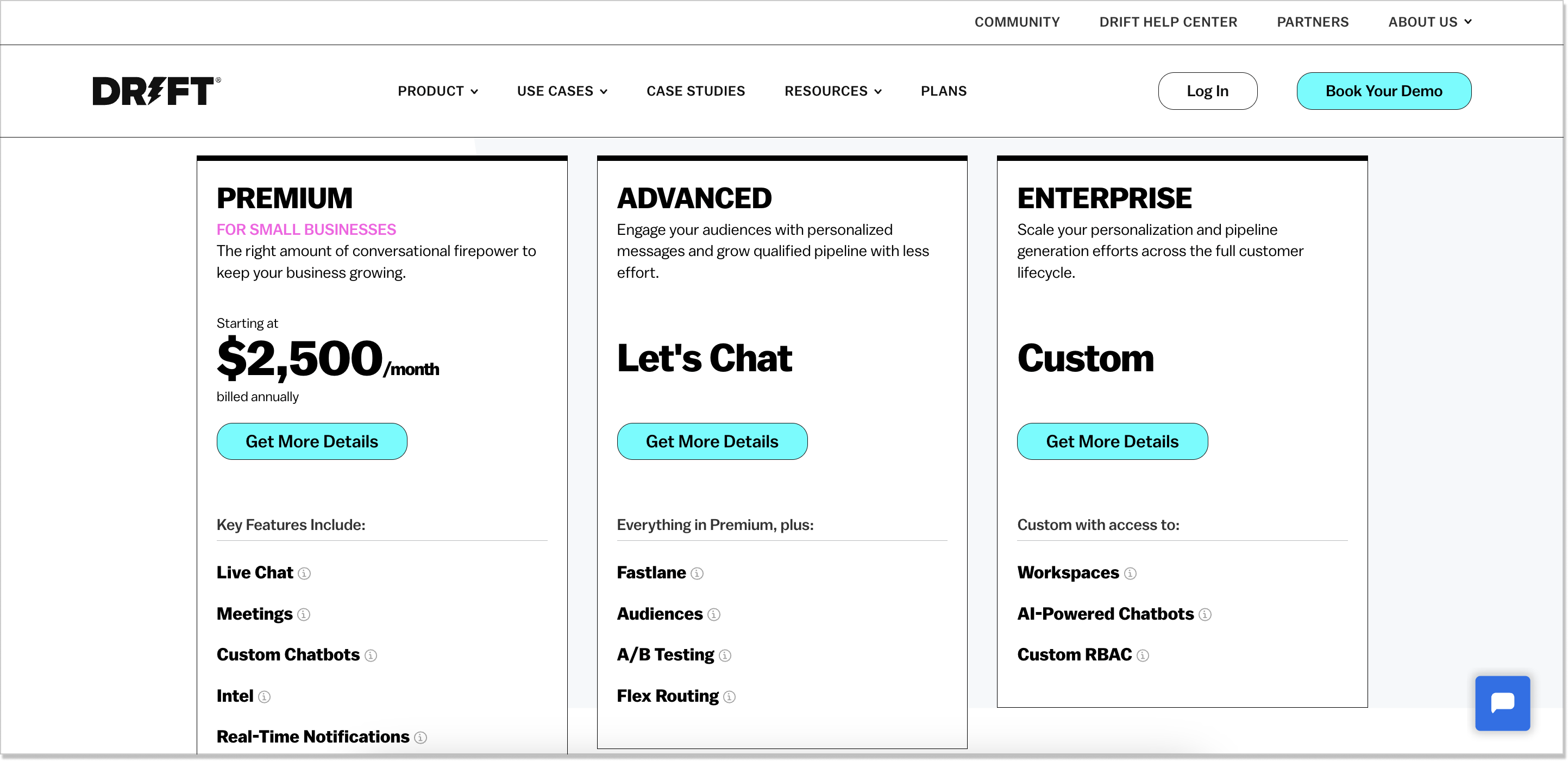 I feel you, it can irritate a user who just wants to compare the prices and see if they fit their budget. But we did some research and based on what we found out the price ranges from $0 to $1,500 per month.
One Drift's user shares that the Premium plan costs $1,500 per month. For an additional chat seat, you'd have to pay an extra $80 per month. And for an additional calendar-only seat – $20 per month.
Speaking of the Drift free model, it includes live chat for real-time communication, 1 agent seat, and calendar integration for booking meetings and demos. You'll be able to store unlimited contacts in your dashboard and use the basic reporting functionality.
The Premium plan comprises more features like chatbots, proactive app messages, canned responses, revenue reports, and so forth.
However, it still misses a role-based access control feature, A/B testing functionality, and chatbots in multiple languages and for multiple brands. To get that, you will have to upgrade your plan to an Advanced or even Enterprise plan.
Intercom vs Drift: pricing showdown
At first glance, it might seem that Intercom offers some more affordable subscription plans compared to Drift. But that's until you remember that it charges for your active contacts. And that bots and product tours are also separate products with separate invoices.
So, basically, the Grow subscription for 10 agent seats with 10,000 contacts which includes a live chat, knowledge base, and chatbot, will cost you at least $614/mo. Or, $813/mo is the price for a growth solution with product tours.
The thing is Intercom charges for additional contacts. So, the more you grow, the more money you have to pay. In other words, 2,000 contacts are included in the Grow package but for every 1,000 additional people reached you must give another $50 per month.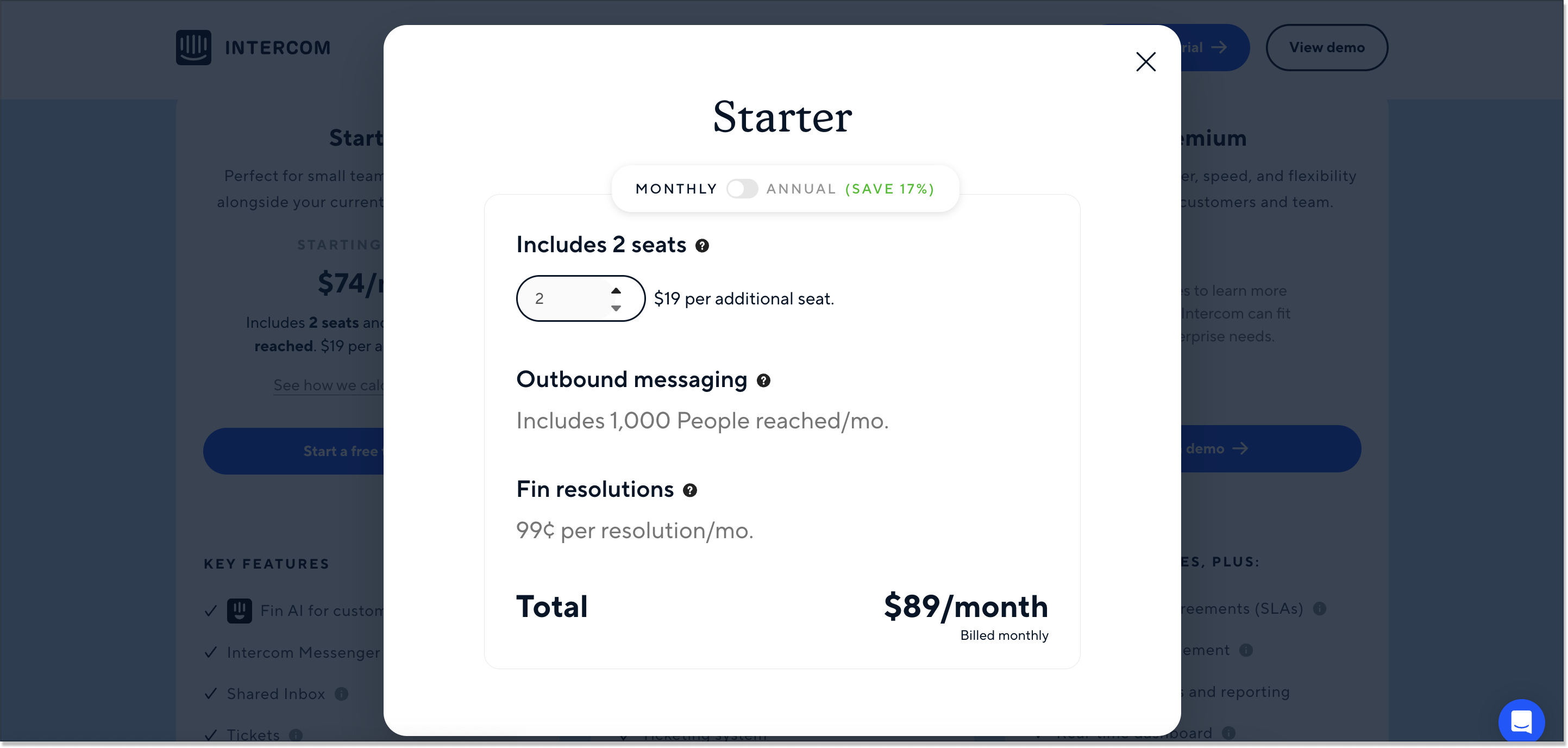 Drift's pricing, on the other hand, makes much more sense with their pay-per-seat system. There are four subscription plans to choose from, including the free one.
The cheapest plan includes knowledge base functionality and they have unlimited contacts on all subscriptions! However, the exact prices are only disclosed by request.
Intercom vs Drift: user reviews
In general, users rate Drift and Intercom similarly. According to G2, Drift scored 4.4 out of 5 stars based on 1,020 reviews, while Intercom's rating is 4.5 stars based on 2,840 reviews. 
Intercom users are especially fond of the platform's robust functionality for any need and goal, great UI & UX, and numerous integration options:
Feels like Intercom has thought of everything, whenever I need to do something with it, it's like there's already a dedicated feature waiting for me.
However, there's one complaint that appears in many of Intercom's reviews and that is their pricing — their unpredictable and complicated pricing that people don't seem to understand and definitely don't like.
Pros of Intercom:
Easy to install
Rich integration capabilities
Great for scaling
Automated messages
Fully customizable
User-friendly
Cons of Intercom:
Too expensive
Confusing pricing model
Poor support
Too much focus on automation features rather than human support.
The overwhelming number of Drift's reviews on G2 mention their amazing customizable playbooks that allow automating many routine tasks as well as their nontypical features like calendar integration and account-based marketing.
Drift has been the missing piece of our marketing efforts to capture more leads and convert them faster. Sometimes, people hesitate to reach out to a salesperson directly but feel confident to "play" around with a bot which helps them find the information they need faster and lets them be in control of the process.
While it's difficult to find negative words about Drift, the last one-star review was written in January 2021.
Support is horrible. I am writing this review to see if this will finally help me get someone on the phone to walk through my issue. I just need to know how to send emails to download content via chatbot and then capture that information on Hubspot. If any users out there know how to do this, please send me your notes since the team at Drift doesn't seem to know how to do this.
Also, some users complain about Drift's high prices and their glitchy mobile app.
Pros of Drift:
Detailed analysis
Video messaging
User-friendly
Chatbot
Cons of Drift:
Little customization opportunities
High pricing
Missing multilingual support.
Intercom vs Drift: conclusion
To sum everything up, both Intercom and Drift are strikingly advanced all-in-one tools for support, marketing, and a sales cycle. Probably, the most advanced in this niche.
In addition to standard live chat and knowledge base features, Drift has all those amazing sales things like calendar integration, conversational landing pages, and account-based marketing. On the other hand, Intercom offers product tours, which are also something both unique and extremely useful for SaaS businesses.
Most importantly, both Intercom and Drift have the best bots on the market. Even though the whole technology isn't developed to the point where chatbots can replace human help, you can automate so much stuff with their help already.
The main drawback to both Intercom and Drift is their pricing. If you want to use those advanced features, be prepared to pay a couple of thousands of dollars every month. So, maybe try a more affordable tool like HelpCrunch before rushing into anything with super expensive tools like Drift or Intercom? It definitely won't hurt to test all options and receive marvelous customer feedback.