10 Not-So-Obvious Tips to Improve Customer Communication
Customer communication, when mastered, can turn to your advantage. But what are the secrets and how to interact with clients like a pro? These 10 insightful tips are at your disposal if you want to improve customer communication.

Communication happens today on multiple levels: from ads and emails to social media of all kinds. You can express your emotions there the way you want it. But customer communication is a completely different story.
No matter what issue clients are struggling with, a support rep should think of the right words in order to appease them and provide a solution. It doesn't necessarily mean that an agent should sound too formal and robotic while communicating with customers. Though being too informal may backfire interactions. Keeping that fine balance is what a customer support team should strive for.
Building a full-fledged customer communication strategy should be at the core of any business that wants to be at its best. For that, you should be aware of effective customer communication best practices as they are just as important as using the right software. Let's flesh out the essence of interactions with clients and insightful tips on how to improve customer communication.
What is customer communication?
The definition of customer communication isn't something that can be summed up to one sentence. It has expanded manifolds and involves everything from what channels you choose to establish contact with clients to rules and objectives you follow in your interactions.
It's impossible to interact with clients without framing a powerful customer communication strategy. It helps provide clients with additional value and realize how to communicate with them in a way that will make them love the company's products or services. You can define the target audience and uncover its pain points with it.
If you think that it's only a support department that should be well-versed in how to communicate with customers, you're wrong. This process should be a common concern for marketing and sales teams as well. While marketing experts are working at boosting brand awareness, sales reps find potential clients and sell (and sometimes cross-sell) a product or service.
Speaking of customer communication types, phone, email, live chat, social media, and in-person communication can also identify them. So, phone, email, live chat, social media, and in-person communication can be also thought of as customer communication types.
Regardless of the medium through which support reps talk to clients, the bottom line stays put: it should be done to the company's best advantage. Time to bounce over to actionable ways on how to improve customer communication.
How to improve communication with customers?
Tip #1: Arm with the right tools
Nowadays, people are more tech-oriented and always like to reach out to customer support using multiple channels. Social media, emails, and chats will always be of their first choice. A proper set of tools can help customer service teams be more productive and efficient in solving customers' issues. Such a solution like an omnichannel customer communication platform will come in handy.
With a multichannel approach, customer service reps are more flexible in problem-solving and can reduce wait times. An omnichannel communication strategy provides better insights about a customer journey, which helps engage them across all touchpoints. Customer service reps can answer clients' inquiries using live chat in real time, send them follow-ups, and team up with their colleagues to create helpful knowledge base articles. When combined, these activities are only for the benefit of customers.
Tip #2: Promote proactive communications
Have you ever called or written to customer support and received a response several days later? So, you probably know what it takes to wait for a service rep to answer for hours on end. Not to lose clients over long waiting times, consider proactive customer service and lend people a helping hand in real time first. By reaching out to clients proactively, you increase customer loyalty, retention, and satisfaction.
If you initiate a conversation with customers, use a proactive live chat feature for that purpose. In fact, 79% of users prefer live chat over email or phone today as it's fast and convenient. Set up special triggers like 'Time on page', 'Time before exit intent', or 'Current page URL' to know the time when to start a conversation and prevent a customer from leaving your website.
Proactive customer communication contributes to engagement, faster data collecting, and enhanced brand reputation. As a result, clients are free from frustration and support experts have more customer service tools (for instance, live chat, help desk, knowledge base and social media customer service tools) to perform their work efficiently.
You shouldn't also forget to answer as quickly as possible as speed also matters a lot. The average response time in a live chat should be at least 2 minutes. But that's just statistics. For instance, HelpCrunch tries to get back to a person fast as real-time support implies it. Quick replies will only benefit your business and happy customers will prevail in your customer base.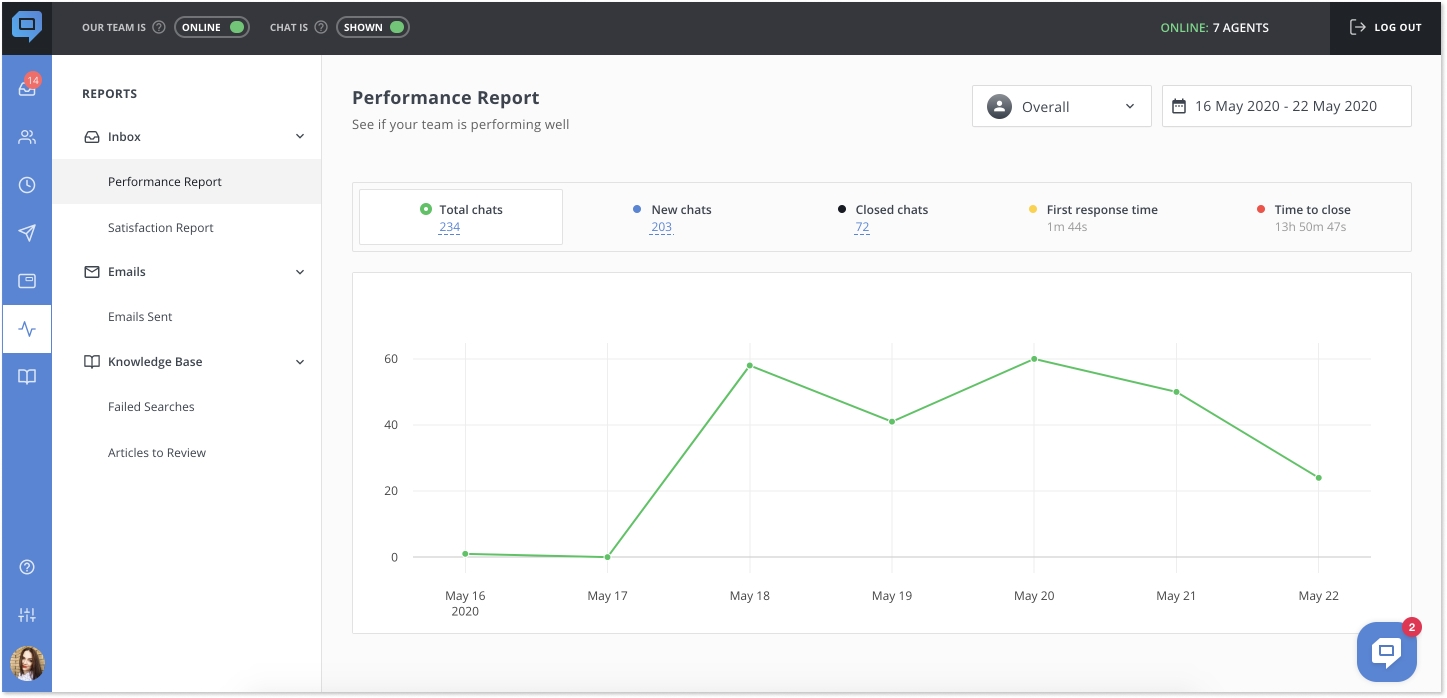 Tip #3: Take advantage of in-app messages
If a SaaS business sends emails to inform customers about some outages, glitches, or updates, it's OK, but they may end up in a spam folder. To tell a client about your company's current events send in-app messages.
In-app messages can be triggered based on user interactions or sent manually any time. You can tweak them the way you want by choosing when to send them and who the recipient is. An ideal moment to get in-app messages going is when your users are online.
Remember that they should look like a natural part of an app, and not just a marketing ploy. Avail of in-app notifications in such cases as new user onboarding processes, free trial conversion, and long-term engagement.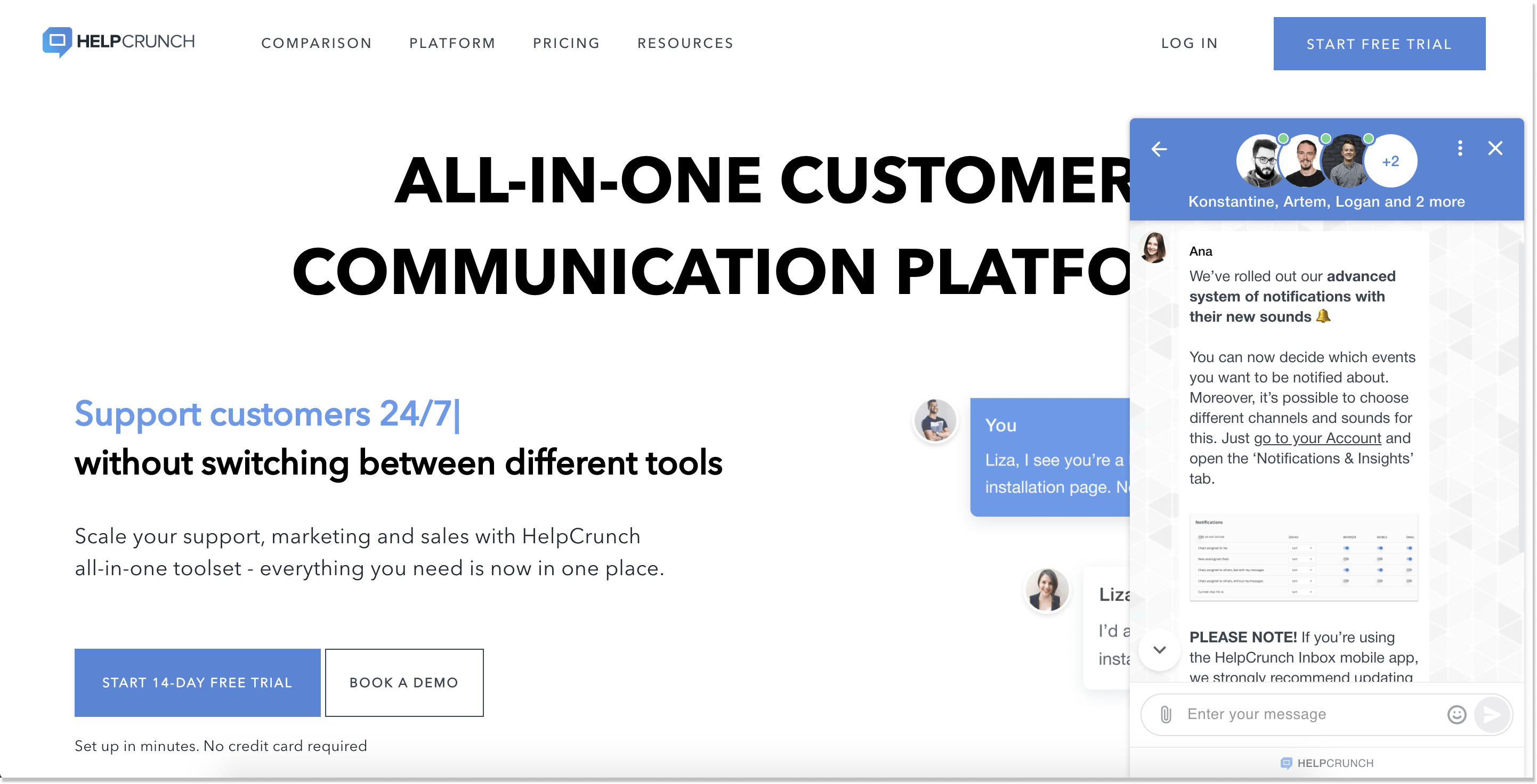 Tip #4: Follow up like a pro
Customer communication is all about having constant connection with people even after a conversation has come to an end. To increase customer retention, generate referrals, and boost sales, send follow-up emails.
The cases when you can follow up your client are:
Find out if everything is OK a week or two after a sale. Is a customer satisfied? Are there any questions? But don't overdo as it can scare a client away.
React on a negative feedback and ask for details: what you can do to change the situation for the better.
Thank a customer for a positive review and ask for referrals.
Inform about a rolled-out feature a client has asked for.
Note certain milestones and anniversaries of your customers and contact them to celebrate.
To improve customer communication, don't get too excited when sending your first follow-up email. Think about some hacks needed to create a follow-up email and remember about the timing, form, and content. This email should bring actual value.
Tip #5: Automate your customer service
One of the ways to communicate with customers effectively and give them convenience is to implement automated customer service. Clients find their sought-after solution faster when on your website and support experts have more time to fix complex issues. For that, create a helpful knowledge base, use canned responses in a live chat, or install an AI-powered chatbot into your website.
For instance, integrate a knowledge base into a live chat with HelpCrunch. If a user asks a certain question, a support agent can send a knowledge base article with relevant information right in the chat.
This will help you save time and enable better decision making for your support agents and sales teams, boosting productivity. Time saved can then be spent on other value add activities.
However, know when to automate. Everything that makes you avoid customer communication should be ignored. It's a personal touch that keeps your clients coming back.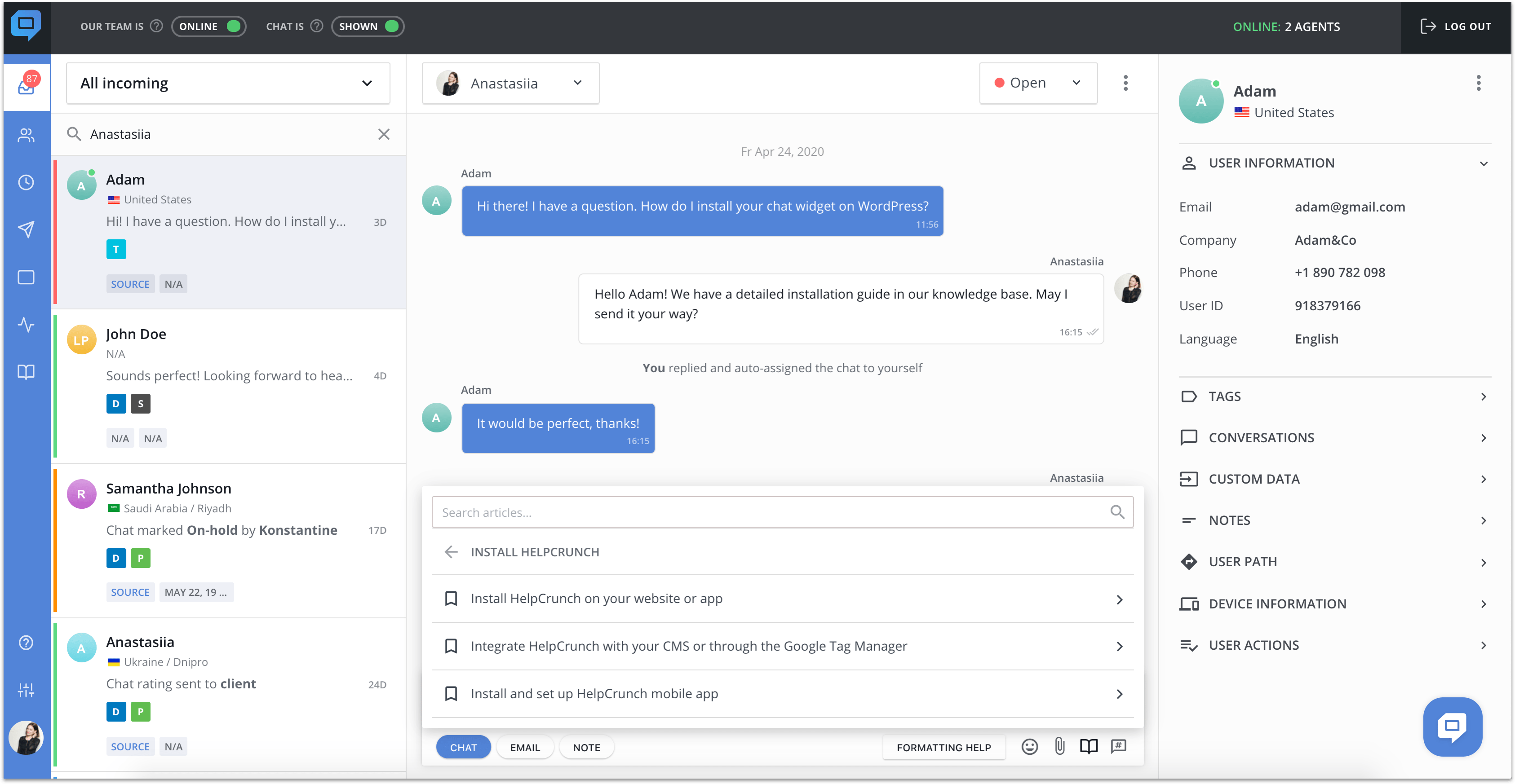 Tip #6: Provide personalized communications
A support rep should make clients feel they talk to a real human being who is ready to cater to their needs any time. To foster the atmosphere of respect in customer communications, a service rep should use a client's name and his or her own, too. Plus, showing a real customer support agent's profile picture in a live chat won't go amiss. It will go a long way and make a client trust your brand even more.
Now that customers have a lot of choices, personalized communication will set your business apart from competitors. Consider rewarding returning customers by giving them a small discount. It will show that you recognize and value them. You can also encourage your clients to give sincere feedback on both the good and bad sides of your business. This way, you can improve internal procedures so that clients get the best service.
Tip #7: Use positive language
When addressing customers' complaints, talking in positive language helps remove the stress from the situation. Words have a power and they can create trusting relationships. For instance, instead of saying 'Don't hit the red button', a customer service expert can say 'The green button is what you need'. By the way, such killer words and phrases as 'You don't understand', 'Calm down', or 'Yes, but..' are no-gos in the world of customer service.
Some simple phrases will make a difference in your interactions with clients:
Definitely! Absolutely!
We will do our best
How may I help you?
I'll consult my team on your question
Could you please clarify?
To improve customer communication, a service rep should say yes to easy-to-understand terms when it comes to explaining technical sides of a product or service. Just a friendly attitude will do. Being professional doesn't mean treating clients like total strangers.
Besides, a support expert should also be aware of certain etiquette rules to improve communication with customers:
Don't interrupt
Ask direct questions to get direct answers
Don't talk too much and don't overshadow
Don't ask another question before the first one has been answered
Be a good listener
Do not try to argue
Tip #8: Brush up your content
Content isn't the last thing when it comes to engaging customers and improving communication with them. 91% of B2B marketers make the most of their content marketing strategy. It's an approach that is focused on creating and distributing valuable and relevant content. If your company aims to attract and retain clients, fine-tuning a company's blog or social media profile is what you need.
Useful, informative, and action-oriented copy is what customers appreciate the most. Be creative in what you do and people will love to read everything about it. Use some interactive materials, add unique pictures to your blog, ask customers what they think of topics you share, and gather feedback. It's also important to update your article base at a steady pace so that it keeps customers interested.
Tip #9: Collect customer feedback
Clients are the heart of your business. So, if you want to be convinced that your customer communication strategy is working properly or there's room for improvement, let people say it. Even if you think that you do your best, gathering feedback won't hurt.
Feedback shows how customers feel about your brand, opens a conversation with clients, and helps build long-term relationships. There are many ways to collect customer reviews and insights. For instance, send users a large-scale survey via email, track your social media mentions, pay attention to feature requests and process them, add a built-in customer feedback widget to your website – the choice is yours.
If you're with HelpCrunch, it's possible to show a chat satisfaction survey right after a conversation is over. It's a quick and easy way to find out a customer's opinion and think through possible upgrade options.
By the way, don't ignore such metrics as customer satisfaction, average response time, first response time, and resolution time. They can give you an in-depth analysis of the overall communication and help you see how chat agents perform.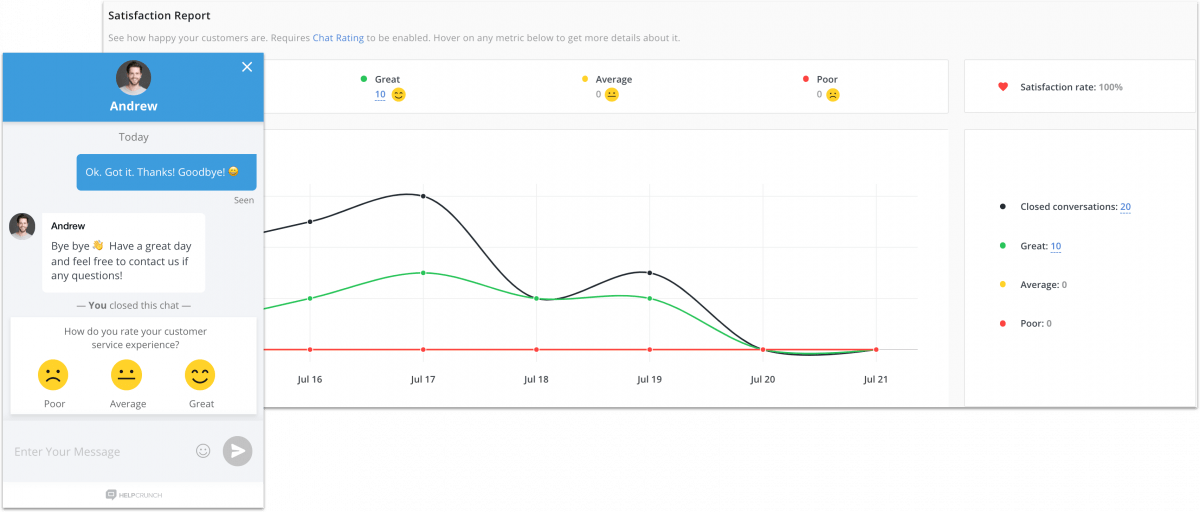 Tip #10: Promote communication inside a team
How to improve customer communication without interacting with each other in a team? It's impossible. An effective interaction with clients starts with mutual communication between customer service reps and their colleagues.
When a technical question arises, the help of a developer team is inevitable. Let customer support discuss it with developers. Make sure that the atmosphere in a group is friendly and unstressed. Moreover, everyone should know who is responsible for what in order to exchange information fast. This way, it will be much easier to reach a decision together and make a customer satisfied.
If your colleagues use emails in their work, consider switching to another means of communication. All productive teams have already made the best use of modern tools such as Slack, Chanty, or numerous Slack alternatives. Plus, with the right customer support software, performing regular tasks with client chats will be a snap.
Final Thoughts
Hopefully, you're all set to put these tips into action. Bear in mind that in your endeavors to improve customer communication, every little detail matters. Everything from the software you use to how you shape conversations makes much difference.
Analyze customers' desires, try to diminish their pain points, collect feedback, and provide solutions that engage your clients. Sign up for HelpCrunch and build effective communications with customers using helpful tools.