What is Proactive Customer Service and How to Implement It
Proactive customer service, as opposed to reactive, means anticipating challenges clients might face before they even know it. It can be advantageous if properly implemented. We've gathered here everything you should know about how to be proactive and deliver the greatest service ever.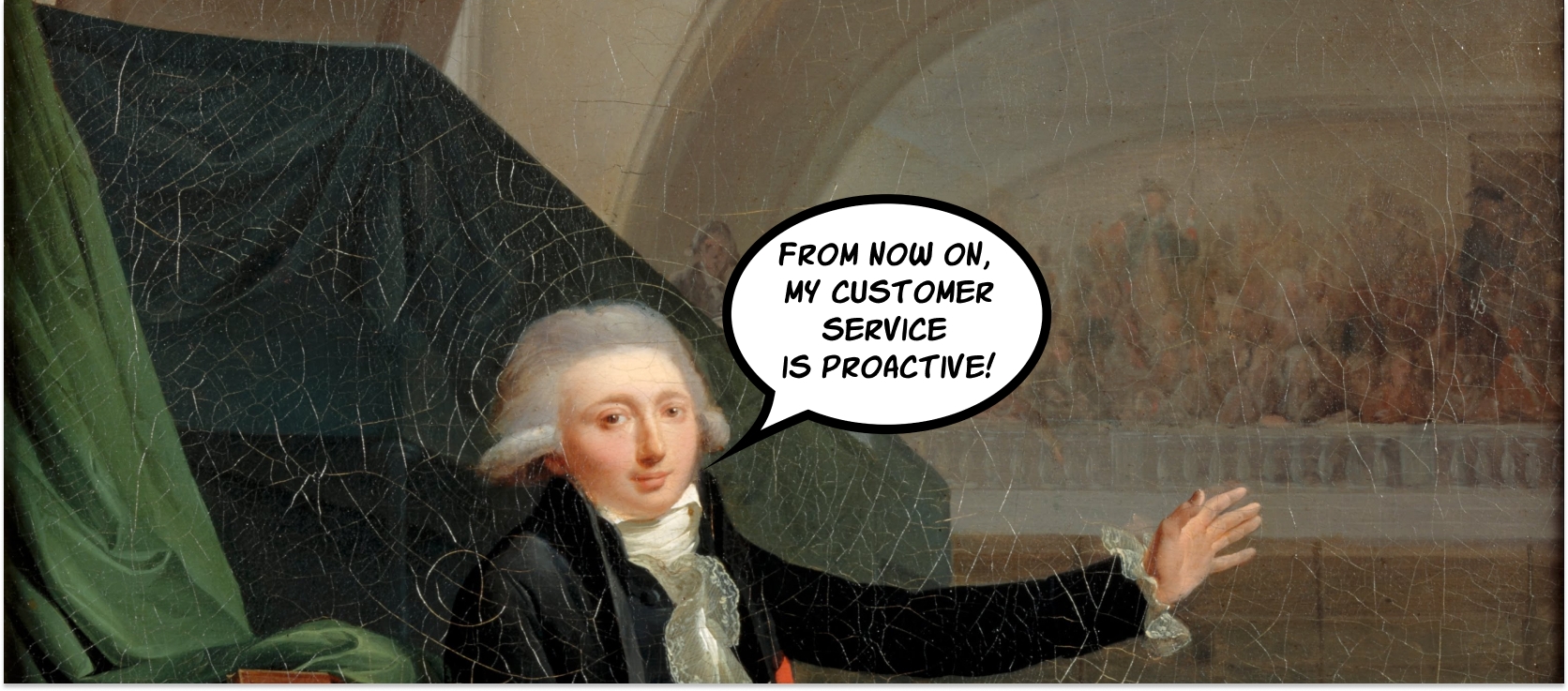 Today customers expect more from companies than ever before. They decide between brands that invest in their needs and are committed to delivering the best service possible. Customers can afford to have the highest expectations because if their needs aren't met by one company, they can switch to another that will step up their efforts.
If you just sit straight and wait for customers to come to you asking for help, you perform reactive customer service. In fact, there's nothing wrong with being the second who makes the first step. But think about the fear of missing out.
If you take another perspective, which is showing initiative first, you'll notice absolute benefits: enhanced customer loyalty, increased sales, and controlled communication. Such a concept is called proactive customer service. So, let's dwell upon its definition, pros and cons, and some points why you should implement it.
What is proactive customer service?
Proactive customer support is all about making the first move towards the customers before they reach out to a brand with their problem. It's one of the ways for a brand to go the extra mile for its customers and bring a smile to their faces.

The Role of Proactive Customer Support to Change Brand Perspective
By being proactive, you can show your willingness to help before an issue even occurs. As a result, you can rise in your customers' esteem as a go-to brand no matter what options you offer. 70% of customers are carried away by brands who take the initiative and offer assistance. This is an additional confirmation of proactive support's efficiency.
Decide which approach, reactive or proactive, you want to take to meet customers' expectations. And the best way to do that is to ask yourself: who will be the first in your interactions?
As it was mentioned before, offering help only when a customer asks for it is simply OK. But you won't find anything game-changing by doing so. Do you want to go a step further in your service? Then proactive customer care is just the thing.
Why should you implement proactive customer service?
We're living in a customer-centric world. Brands that focus on their clients usually achieve great results. This ensures customers feel special and shows what value businesses can bring to them. Here are a few pros that can motivate you to switch to proactive customer support (if you haven't done it yet, you're missing out a lot):
When users land on a website for the first time, they crave for information. In this case, it's a customer support agent who takes the lead and initiates meaningful proactive messaging. This is a perfect opportunity to connect with customers, get to know their issues and preferences better, and provide them with valuable product details. Plus, engaging your clients via proactive conversation helps retain them and prevent them from switching to your competitor.
Timely customer problem detection
You have a perfect chance to catch and react to whatever a client struggles with before it grows into something bigger. Besides, being proactive also means identifying and overcoming customer pain points. Now, you don't have to wait for complaints to add up and see annoyed customers. A proactive approach saves them much time that would be spent on discovering a solution.
Enhanced customer satisfaction
Making customers happy is among the top priorities for any online business. You should identify their needs to be able to come up with effective solutions. Proactive support allows you to gather customer feedback and offer them improved service in the future based on their requirements. And with a proactive customer service tool, such as live chat, operating round-the-clock, increased customer satisfaction is around the corner.
Increased conversion rate
Take advantage of proactive assistance to spark interest in your product and services. Let customer service agents inform prospects about your latest improvements, offers, and deals. Though be ready to answer a set of questions after that. In such situations, a customer care rep can field it and give exemplary experience. Such a trick may increase the chances of a successful sale.
By offering help proactively, you attend to customers' needs without any delay. This contributes to reducing bounce rate and decreasing cart abandonment. Besides, a customer support rep can walk clients through the whole sales process to eliminate any challenges they may be facing.
Proactive customer service helps build trust owing to a personalized touch. Imagine a client who has a bunch of queries or concerns regarding your business. If you don't address them proactively, there's a risk of losing them. In such scenarios, providing a solution and offering a piece of advice with their interests in mind, enables you to earn their trust.
Valuable feedback collection
All the tools you use to track customer behavior provide an insightful source of feedback. And it's an integral part of a business that wants to evolve. Take those reviews to your best advantage and use them to improve your products or services.
If you think everything is trouble-free with being proactive, you're wrong. As the saying goes, 'Every medal has two sides'. So does proactive customer service.
In fact, drawbacks are outnumbered. When stepping up in your support, remember that it requires active efforts. Customer service agents need to realize all the importance of being proactive. That is, they shouldn't go over the top with sending dozens of emails or chat messages. Plus, a customer service rep needs to сultivate an appropriate mindset. Moreover, take into account that some people are just ill-humored and don't want to talk. That's why even if you offer a discount, things might go wrong. Besides, a customer support rep can bother a client at the wrong time. If those two last points combined, consider it bad luck.
How can proactive assistance be performed?
When you consider moving from reactive customer service to proactive, remember that you can leverage multiple communication channels:
Proactive customer service via chat: live chat is a helpful tool to reach customers proactively. When utilized properly, live chat can boost sales, promote customer happiness, and free up a customer support team. With such an effective solution, you can engage leads, upsell to your existing customers, encourage self-service, and gather valuable feedback to fine-tune your service.
Proactive customer service via email: emails can help you reach customers proactively in different ways. For instance, if a customer adds an item to a cart and leaves it, you can follow up with a personalized email to show that you do your best to deliver a seamless shopping experience. You can also send an onboarding email when there's a new sign-up. Its main purposes are to get acquainted with users and show them the value you bring to the table. Make your onboarding email friendly, include educational resources or how-to videos to demonstrate how your product can make their lives better.
Proactive customer service via phone: while phone support is now less popular, it can still be useful. For instance, you can follow up with low customer satisfaction survey scores. First, remember to apologize sincerely and then offer a solution. Another situation when proactive customer care via phone can be appropriate is reaching out to a customer who leaves great feedback. This is a chance to boost sales by providing an additional discount or something else. By taking the initiative to deliver better service, you can show customers they're appreciated.
Proactive customer service with a knowledge base: Such a database usually stores information about a company, FAQs, and other related topics. 40% of customers prefer self-service now, so building a knowledge base may be a good choice. With its help, customers can find valuable information 24/7 without waiting for a service agent to answer.
There are dozens of brands that have switched from reactive customer support to proactive and nailed it. Netflix tries to calm customers whenever video-related issues pop up. They don't hide their mistakes, apologize for them, and sometimes give credits on users' accounts to make amends for the lost time.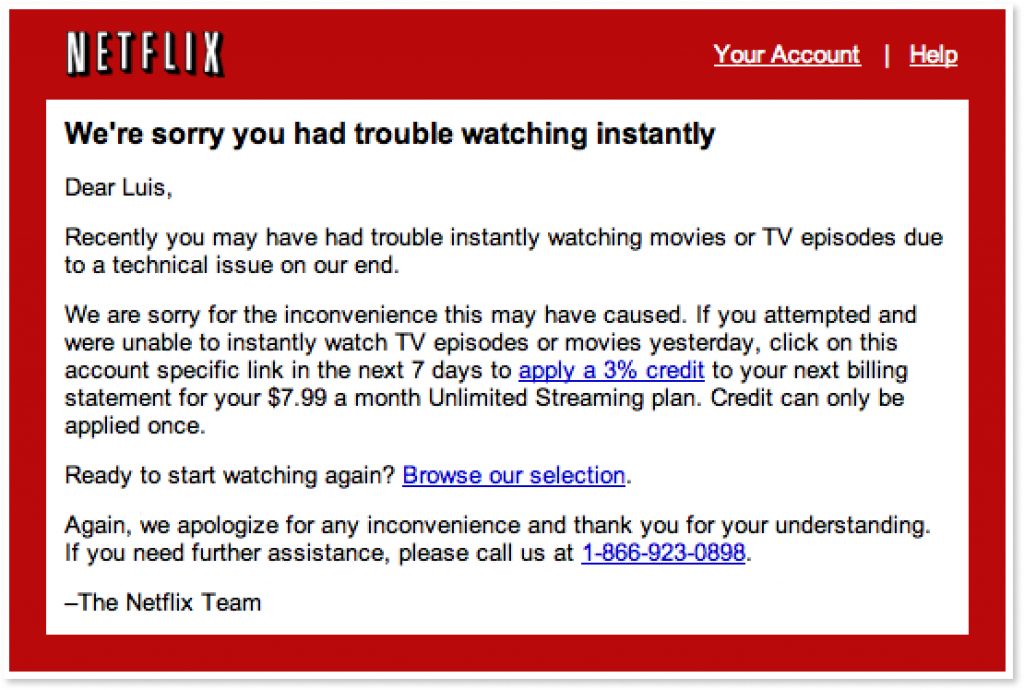 Another vivid example is Amazon that usually informs customers about any possible shipping delays in advance. Such an approach works for the benefit as everyone is warned and, therefore, no need to file a complaint.
Now that you gained insight into proactive customer service essence, time to look through some effective strategies that you can implement to deliver the best support ever.
Proactive Customer Service Winning Strategies
The biggest challenge you need to overcome when going for proactive assistance is finding out what makes your customers ask questions. And two best ways to do that is gathering feedback and tracking their activity.
You can collect customers' ideas and reviews with surveys, emails, chats, or even phone calls. For instance, create basic surveys with Google Forms and send them via email or chat. By the way, for companies using a live chat feature, a post-chat poll can be a great option, too. Therefore, you can ask for sincere feedback right after a conversation.
Once you're all set, put proactive customer service solutions into practice. There are a few options to consider:
#1 Send proactive chat messages
A proactive chat feature is so popular now as it increases customer satisfaction and meets customers' expectations. You can tweak it the way you like by setting up special triggers. For instance, to send an invitation to a hesitant shopper if you're using HelpCrunch, choose such triggers as current URL, time on page, or shopping cart value. And if you want to welcome a returning visitor, such metrics as visit times, chat history, time on the website won't go amiss. Sending such messages is an opportunity to educate customers on new products or services, influence their decision-making, reconcile a poor customer experience, and retain customers.
#2 Create a well-structured knowledge base
91% of users prefer using self-service resources to find answers much faster. Build a helpful knowledge base or an FAQ page to help your clients tackle their issues on their own. Such resources are a common way to mitigate burning problems customers might have. They can read or watch something without the need to wait for a support agent's response.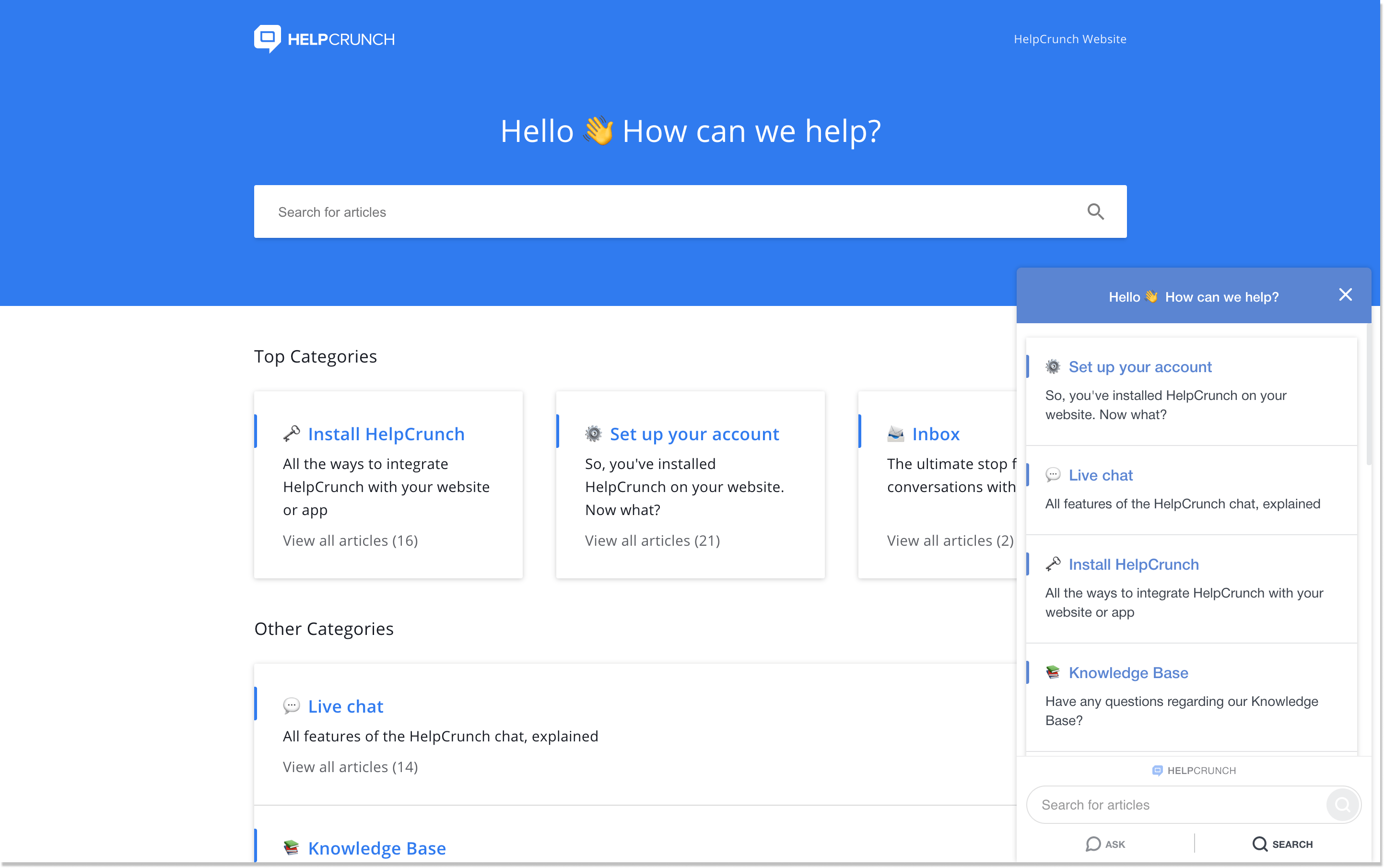 #3 Track your brand mentions
Monitoring brand mentions can result in honest feedback, reputation management opportunities, objective insight, and a real understanding of how people interact with your business. Besides, it's a perfect chance to turn both happy and unhappy clients into brand advocates. Today there's a pile of ways to track mentions. For instance, use Google Alerts or Awario via email inbox. Plus, consider Twitter as a helpful tool for real-time monitoring. Include these results into your regular reports and discuss them together with product development, content, and web development teams to identify problems and fix them.
#4 Use in-app notifications
If you are searching for a better way to communicate, engage, and sell to customers, in-app messaging may be what you need. Every time a user deals with your app, make a notification pop up. The best cases to put it into action are client onboarding, announcements, new feature roll-out, special promotions, or when a purchase is confirmed. Remember to keep these notifications brief and informative, and don't spam a user with them.
#5 Collect feedback
Gathering customer feedback is a valuable practice. First and foremost, it helps improve products and services. You can learn their advantages, flaws, and what should be done to make customer experience better. Secondly, feedback contributes to measuring customer satisfaction and loyalty. Find out if you meet expectations by creating rating-based questions or surveys. Another key point here is to show clients that you value their opinions. By involving them into shaping your brand, they will be more attached and spread the positive word of mouth.
#6 Offer loyalty programs
What can be more pleasing than a tempting discount? You can provide your customers with small offers from time to time.
For instance, we at HelpCrunch are flexible if a 14-day trial ends but a customer didn't manage to test out some features. It can be extended to a week or two so that a client avails of our product features to the full extent. This approach contributes to better customer retention, word of mouth, and cost-efficiency.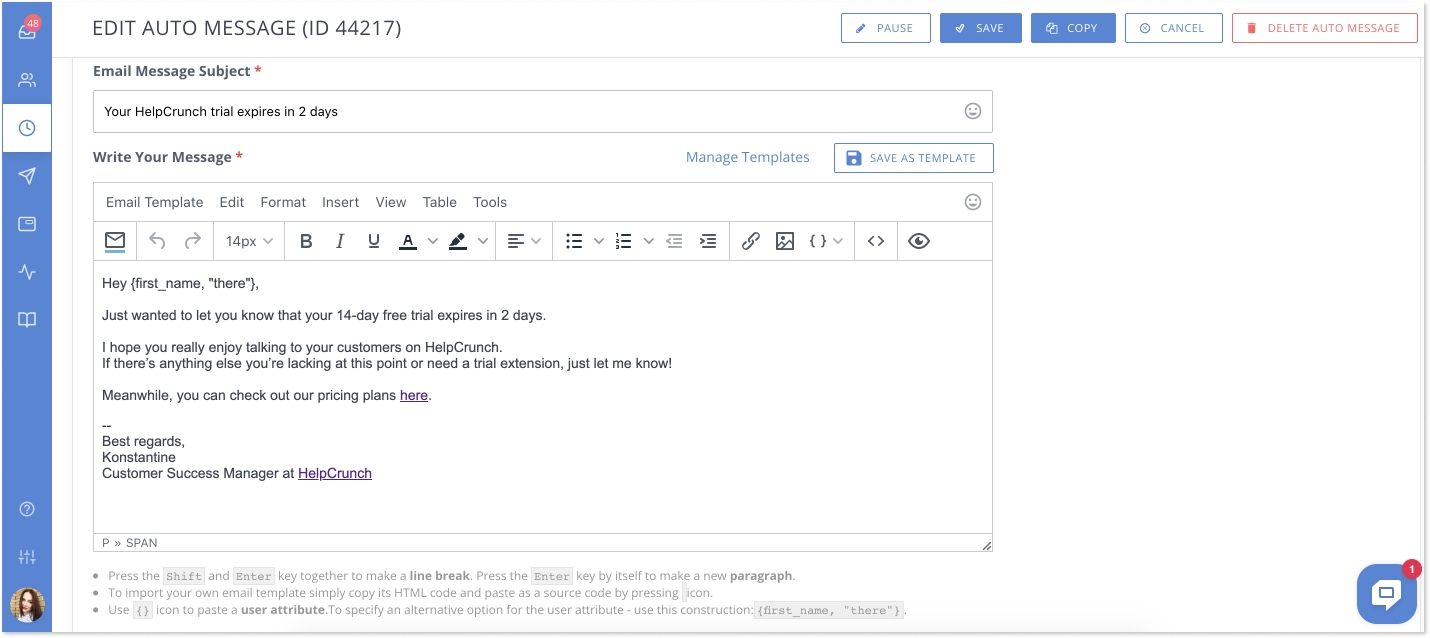 Wrap it up
Proactive customer service is actually a big improvement compared to simply handling cases reactively. Going the extra mile for customers and solving many problems before they even occur make them come for more.
Remember that being proactive means that it is you who should reach out to customers first. Consider constant service agent training, create helpful content, gather customer feedback, and use advanced software to succeed in your efforts. Create an account with HelpCrunch to deliver proactive customer service using a wide range of top-notch features.