9 Ways to Grow a Customer Service Mindset in a Team
Cultivating a customer service mindset should be a top-of-mind priority for a productive team. Explore 9 tried-and-true ways on how to adopt it, then connect the dots and put them into action.

A long-lasting impression has a great impact on the customer experience. And who is in the frontline when a customer comes in to form that impression? You guessed it right — customer service representatives.
Given that customer support is no easy job to do, irritation and complaints are indispensable parts of the day. A daily routine of a service agent is all about interacting with people of various profiles, backgrounds, and demands. Therefore, keeping that positive energy no matter the issue gets even trickier.
However, working in customer service can be gratifying if managed right. In order to stay calm, perform to the best of abilities, and not to go nuts, staff needs to develop a healthy customer service mindset. Today we're going to drill through its definition and some effective ways on how to adopt it.
What is a customer service mindset?
A customer support mindset shows that an employee is committed to providing A-one service to all clients and doing whatever is needed to reach their satisfaction. Though, good problem-solving abilities aren't enough for developing a proper customer service mentality. It goes deeper and means creating a delightful customer experience and loyalty, which often leads to higher retention rates.
Employees who cultivate a customer service attitude usually strive for creating added value for clients. Their top-of-mind priority is helping customers handle any issue customers face: puzzling out a complex problem or simply providing friendly service. All of that comes down to achieving customer success.
Providing good customer service when dealing with simple situations is only half the battle. The real challenge for support agents is facing more demanding customers. Doing the right customer service training may be beneficial. Check out 9 ways on how to cultivate a customer service mindset in your team when it's needed most.
9 ways to reach a customer service mindset
#1 Demonstrate what good customer service means
Every business owner should set the tone and encourage employees to work better. The same as your staff replies to customers' complaints and questions, so should a great team leader do for employees. Listen to their ideas and just be responsive. Besides, arrange regular meet-ups to polish service agents' soft-skills as they're critical for any customer-focused position.
When you strive for catering to your clients' needs and maintaining a positive attitude of customer service reps, provide them with an efficient customer communication platform and you'll see that it will help a lot.
With an all-in-one solution, you can take advantage of a live chat feature, an email marketing tool, or help desk software. Show customer support experts that they can engage clients proactively and build personalized, friendly service with such options.
#2 Promote autonomy
It's no secret that micromanagement can make or break any team. Even if your workflow is based on some basic procedures, customer service experts should be given autonomy to deal with them on their own. This way, they can feel freedom and the choice to train essential customer service skills: critical thinking, adaptability, self-control, patience, and taking responsibility. As a result, their overall performance will be enhanced.
Another key point here is recognizing all the teams' efforts. Who doesn't want to be appreciated for contributing to a common goal? The sense of responsibility for making decisions drives involvement, brings about innovation, and surely increases job satisfaction. Keeping an ideal balance between individual autonomy and a manager's guidance is a formula for maximizing customer service rep's potential and performance.
#3 Emphasize the value of customer feedback
While no one enjoys listening to the client's frustration and complaints about a product, make sure customer service reps know that there's another side to the story. By taking even negative feedback into account, they have a chance to make things right.
A customer service mentality can't be formed without valuable clients' reviews. Support reps should take advantage of both positive and negative feedback and provide empathy and commitment. Collect customers' ideas and reviews and analyze them together with customer support reps. They should have an opportunity to know what clients think about their service in order to develop a behavioral model. If they're instructed properly, the chances are that they will be prepared for what comes their way.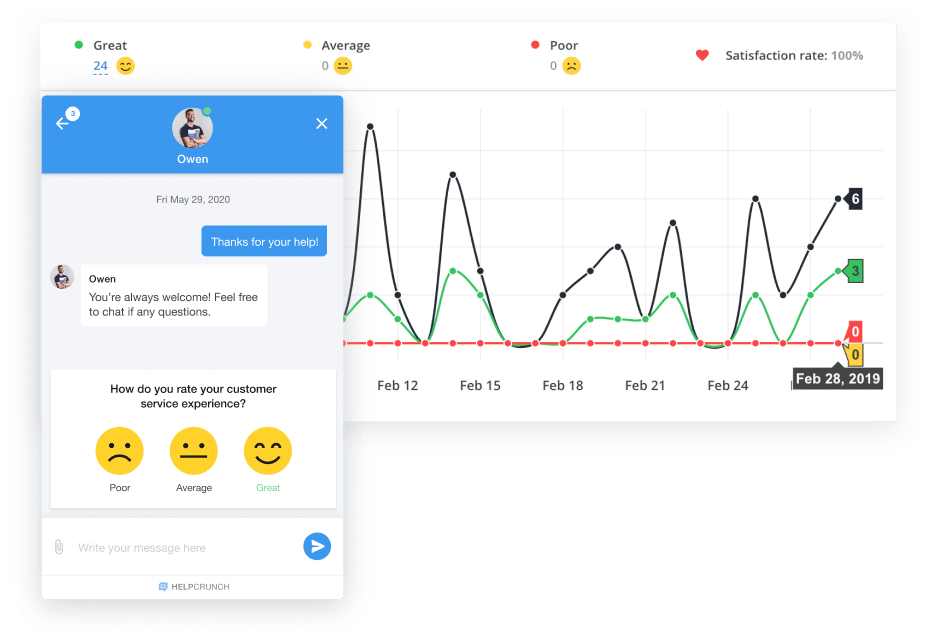 #4 Set an example
For a customer service agent to be effective, it's important to be empathetic. And if you want to adopt a customer service mindset, it should become a part of the team's ethics. For starters, your staff should be trained on how to listen to what a client is about to say carefully without interrupting to gain a full understanding of an issue. Though it may seem rather difficult to do when using platforms such as live chats, email, or social media, it's still doable.
Leading the way for service agents is a key point here. For that, doing team-building exercises in which customer support experts can act out various scenarios to learn from won't go amiss. Customer service reps should always make an effort to treat clients the way they would want to be treated themselves. And if they see that management has both their and customers' interests at heart, they will be encouraged to take the same approach.
#5 Promote customer support training
Education is always a good idea. That's why incorporating customer service training can help form that sought-after mindset. For instance, include a set of exercises and how-tos on shaping an ideal buyer persona or discuss some tricky case. With these hacks, customer service agents will realize why clients face challenges and how to overcome them without beating up.
A healthy customer service mindset can't be imagined without self-development, too. That's why using educational material will also be beneficial for personal growth. Besides, mutual training helps realize that everyone is a whole unit pursuing the same goal. This makes it so much easier for any employee to feel confident in delivering great customer service.
#6 Cultivate long-term customer relationship
Service reps should be able to solve customers' problems as quickly as possible. But what they also need to do is build a strong rapport with clients. And it doesn't mean that answering their questions and complaints is the only way to do that.
Customer service agents should take part in other activities and develop certain skills. That is, they should be proficient in a client onboarding process, getting feedback, and know how to upsell, cross-sell, and perform contextual sales.
Besides, one of the tasks of a support expert should be analyzing the overall customer satisfaction. When combined, all these points contribute to nurturing strong relationships with clients. Therefore, the better connection you develop with customers, the smoother the interactions are going to be in the future.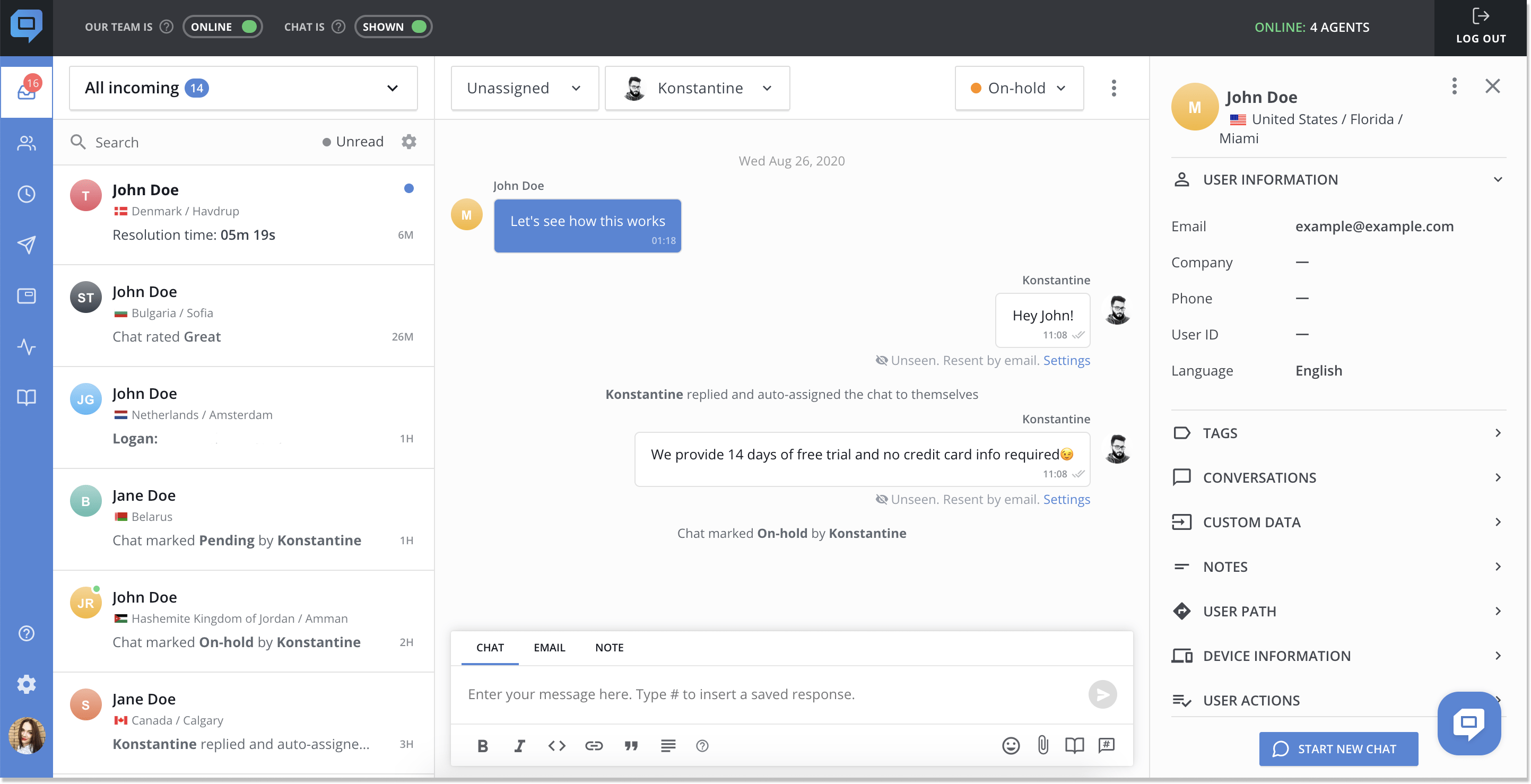 #7 Practice not customer-facing activities
Solving customers' issues over and over again can be annoying and employees may feel tedious. It also happens that customer support agents experience burnout once they've mastered the basics of their role. They just don't feel challenged anymore. Such a state of mind can result in a loss of focus and repetitive mistakes during routine service cases.
To keep experienced reps engaged, provide them with projects and opportunities that don't involve interactions with clients. For instance, customer service representatives can team up with an IT department and help design new product features. A minor change of pace contributes to focusing on other activities and is refreshing. Who knows, maybe they will showcase their unrevealed career skills.
#8 Celebrate team and individual success
Everyone wants to be appreciated for working hard. A person won't get an incentive to do that without even the smallest acknowledgments. And that, in turn, will nudge them to perform the bare minimum. While such an approach may be helpful for dealing with negative interactions, it won't give you any loyalty.
You can change the situation for the better by integrating a rewarding system for both team and individual success. By doing so, everyone will feel valued and motivated to do their best. For instance, arrange special meetings where you can thank everyone for yet another achieved milestone or give credit to a customer support rep with the best chat performance this month.
#9 Promote a good company culture
The culture we work in has a direct impact on the overall performance, no matter who we are or what skills we have. If you want your staff to adopt the right customer service mindset, then everything that's left to do is form a company culture. This article can help you find out why your company's culture might become your strongest weapon.
A friendly working environment where everyone is united in their efforts to reach a common goal will go much further than any costly psychology workshop. This will get customer service agents into that long-awaited frame of mind faster.
In the best-case scenario, employees should:
Have access to any self-development material
Have a chance to further their career with your company
Be allowed to set goals and take part in healthy competition
Have the right to solve a customer complaint on the spot
Leverage any modern tools for effective work
Feel valued by team leaders and coworkers
So, if you're a company that strives for flourishing, ongoing training and development should always be central. Shaping a healthy company culture where staff can learn will help retain and drive top talent.
Bottom Line
As you can see, a customer service mindset definition is deeper than you might think. This is a mixture of behaviors that impacts employees' performance, which in turn impacts customer interactions and loyalty.
So, the essential ingredients you might need to reach a positive customer service attitude are patience, commitment, trust, encouragement, energy, and practice.
When you add them to your business strategy and combine with the right customer service software, be ready to achieve an appropriate mindset. Sign up for HelpCrunch if you want to try some advanced tools and make the lives of both support agents and clients much easier.