Customer Service Management: 7 Key Steps to Nailing It
Check these 7 elements of topnotch customer service management to make sure you're nailing it.

Customer service management is a term that refers to practices, strategies, and technologies companies use to manage and analyze customer interactions and data throughout the customer lifecycle. The intent of the process is to improve business relationships with customers, assist in customer retention, and drive sales growth.
But what exactly do customer service managers do? Is their job strictly administrative, executive, or both?
As a customer service manager, you would have to hire and, well, run your support team, train it, track its performance, come up with ideas on how to improve customer service, and, of course, motivate. 
All in all, you'll be held responsible for every single thing happening with your team. And that's okay, but you should feel prepared for everything that's coming your way.
To help you there, here are 10 customer service management tips that will help you make both your team and clients happy (and do I need to highlight that customer loyalty will skyrocket as well?):
1. Hire your people (like, YOUR people)
Effective customer service management starts with hiring people for a business. And let me put it off my chest right away — soft skills play a crucial role in this endeavor.
Sure, there are things like the speed of typing for live chat agents or experience with coding. And other things being equal, such hard technical skills can be a huge advantage. But what will you do with an experienced developer with no empathy and communication skills whatsoever?
That's why you should be looking for some very specific set of soft skills in your future customer service representative:
Empathy
Active listening
Positive attitude
Attentiveness to details
Conflict resolution
Patience
Proactivity
But how do you even test something like this?
A good old job interview with the right questions is probably one of the most failure-proof ways to measure candidates' soft skills. However, there are additional tests you can run to make sure that a person's got what it takes.
For instance, you can offer a role-play scenario requiring a specific solution to customer inquiries and see how job candidates handle it. Or even go play ping pong with them. Such unexpected circumstances might be perfect for testing soft skills in a more friendly setting.
We at HelpCrunch have these bar-raising meetings as a "final trial". At these meetings, our whole team comes to speak with candidates who have passed their test assignments and job interviews successfully. We do this to make sure that everybody will get along well. But for customer service representatives, it's even more important to make a good impression on everybody as it will literally be their job.
2. Define customer service responsibilities
Now, depending on the size of a business, customer service can include anything from answering email requests to proactive onboarding to even upselling and cross-selling. That's why it is a customer service management job to define all the tasks that your team will be responsible for early on.
Obviously, it will include handling all customer requests and questions coming from live chat, email, social media, and phone. This should be your team's top priority at any moment. But what else can they do once they reach inbox zero?
Customer service is usually responsible for the following additional tasks (which often intersect with the sales and marketing agenda):
Reaching out to customers and offering help proactively
Creating and maintaining a self-help knowledge base portal for users
Keeping track of all common requests and feedback from clients
Escalating difficult issues to corresponding departments and creating bug reports
Following up on clients who reported bugs, requested features or goods, or left reviews
Up-selling or cross-selling stuff when it's appropriate
Doing product demos
Helping with onboarding for better customer experiences
Tracking customer satisfaction and reporting on it to managers
Sure, it might seem that some of these tasks belong to sales or marketing departments, but that's the thing about a five-star customer service management strategy. It's your job to establish continuous communication not only with customers but with other departments, too. Clients shouldn't even feel there's anything other than good customer service from your side.
3. Organize training programs
Usually, customer service training comes hand in hand with hiring staff. A manager finds a person for the job, onboards them, and then calls it a day. However, new trends and technologies emerge every day, and it's your job to keep up with them yourself and to train your team as well.
Malte Scholz, CEO and Co-Founder of Airfocus, thinks that any customer service training should start at other departments. That's why they make customer support agents spend some time in the sales and marketing teams before starting with their main role:
Our onboarding process takes two weeks, and before they start working in customer support, each new hire has to spend a week in sales and one week in marketing. The goal is to understand the processes in each team so that they can better transfer messages to the customers. For example, marketing has a certain messaging, and the customer support team needs to be aware of that because the customers will react to your landing pages or social media ads. At the same time, customer support can learn the art of persuasion from the sales team.
You can also organize quarterly or yearly in-house customer service training. One form of it might be role-playing scenarios with some questionable or crises, where your team needs to find the perfect solution.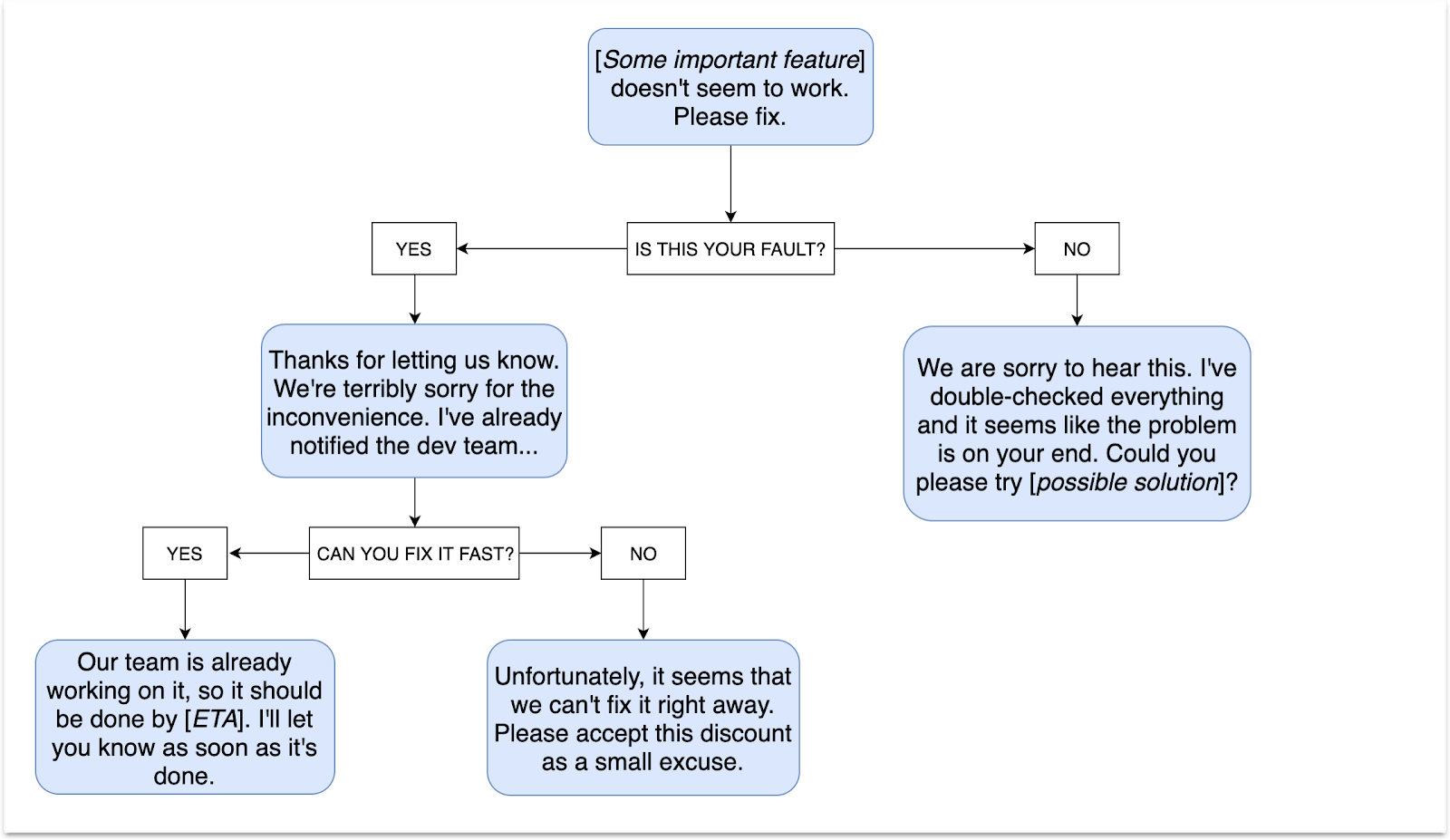 There are also numerous customer service conferences happening all over the world every year. As part of customer service management, you'll probably be going to lots of those not just to be well-informed about the industry but to network, too. So, it might be a good idea to help your team visit such business conferences as well. People exchange a lot of experience and inspiration at such events to get insights into modern customer expectations.
4. Establish continuous communication with other departments
While there are some problems that can be solved by a professional customer service team and a good detailed knowledge base, it's not always the case. Sometimes, support requires help from developers or needs to transfer a customer issue to sales.
Samantha Odo, COO at Precondo.ca, thinks that a good customer service manager will make every executive/department involved in customer service:
The best thing you could do is to make every department involved in the customer service department. No, I am not saying that it takes its final responsibility in a lot of hands. But involve every executive in it. CEO, accounts department, sales department, and every other major department's executives must have a link with customer service.
Its benefit would be that you could come up with more good policies. For example, a sales team can help you in dealing with customers, and the budgeting team will allocate a proper budget to this department. By doing so, you would combine all departments to achieve one goal.
So, how do you achieve this synergy? Well, you need tools. You need the best and most efficient tools you can find for keeping all the issues in order, communicating with the team, and, of course, providing stellar customer support.
5. Choose the right technology stack
Customer service operations can't happen without the right tools and their proper implementation. Kat Kalmykov, Head of Customer Success at Thankful.ai, says that there is always a lot of pressure from above for customer service managers to implement tech in their processes. However, it's critical to evaluate whether (and which) tech is the right solution for your brand.
Tech can enable some brands to deliver an incredible customer service experience, but for other brands, it can actually lead to a less-than-stellar outcome because the tech isn't able to do what you thought or hoped it would. Make sure you know your strengths, weaknesses, and opportunities before deciding on implementing any new processes, tech or non-tech.
Choosing the right tools can only come from your own experience and expertise. Here are some tools that will help you manage your customer service team more efficiently:
HelpCrunch is a multichannel customer service tool for managing live chat, chatbot, email, and knowledge base support. Basically, you can answer customer requests in a live chat, let a chatbot do its job, follow up on them via email, and create self-help knowledge base articles in one tool.


An effective project management tool is a must. For instance, tools like Notion, Fibery, or Evernote are great for managing your to-do lists, tasks, and projects in one place. There are also tools like Jira that developers like to use for tracking issues, tasks, and bug reports.
Any team collaboration tool that your company chooses – Slack, Chanty, Microsoft Teams, etc. However, as a customer service manager, you'd want to make sure that the customer support tool of your choice is well integrated with your team communication tool. For instance, you can integrate HelpCrunch with Slack and receive all clients' messages there, forward them, and tag teammates.
Calendly for booking demos and video call software like Zoom (paid) or Google Hangouts (free) for doing those demos.
Tools for screenshots and screen video recordings like Monosnap or Snagit.
CRM (customer relationship management) tool for keeping all prospects and leads with their contact info in one unified database. Although HelpCrunch offers basic CRM functionality, your sales team would probably want to go with something advanced like HubSpot, Zoho, or PipeDrive.
These tools are just a bare minimum that every customer service team should have. Also, you can actively utilize not a technology but a kind of trick – a "thank you for your order" template and similar that will significantly speed up the process.
There are also things like chatbots that are gaining their momentum right now. However, opinions differ on this technology. Some say that it's the best way to help customers 24/7 and ease your team's workload, while others think that this technology isn't developed enough to be any helpful at this point.
Dmytro Okunyev, Founder of Chanty, says that chatbots are only good if you have a range of 4-5 questions that your customers keep asking:
We get a range of different questions about our pricing plans, how we stack up against our competitors, what features we have, what is in our product roadmap, etc. Moreover, we have customers ranging from small teams of 5 to enterprise businesses with 500 seats. In other words, the target audience is just too diverse to cover with a single chatbot. This is why we ditched the chatbot and started hiring customer support agents to have coverage for at least 12 hours per day. The cost is greater but so is the ROI.
6. Set realistic customer service KPIs
Once you've hired the right people, outlined their responsibilities, and given them the most powerful tools, your main responsibility is to track their performance. That's why setting realistic yet precise customer service KPIs (key performance indicators) is a must.
In my personal experience, KPIs usually sound rather intimidating to employees. That is why it's important to base such requirements on your own experience to make them achievable. Also, a good customer service manager remembers that KPIs exist to reward and motivate frontrunners, too. Don't forget to endorse.
So, here are some of the most common customer service KPIs that you might want to track at your company:
Customer satisfaction rate
Average first response time
Average issue resolution time
Customer service agent's workload
The number of knowledge base articles written
Demos and their conversion rate
Additional upsells and cross-sells
Most of these metrics are easily tracked in any customer service software. For instance, HelpCrunch counts the number of conversations, first response time, and time to close. You can also check your customer satisfaction rate based on chat ratings that customers leave after you resolve their issues.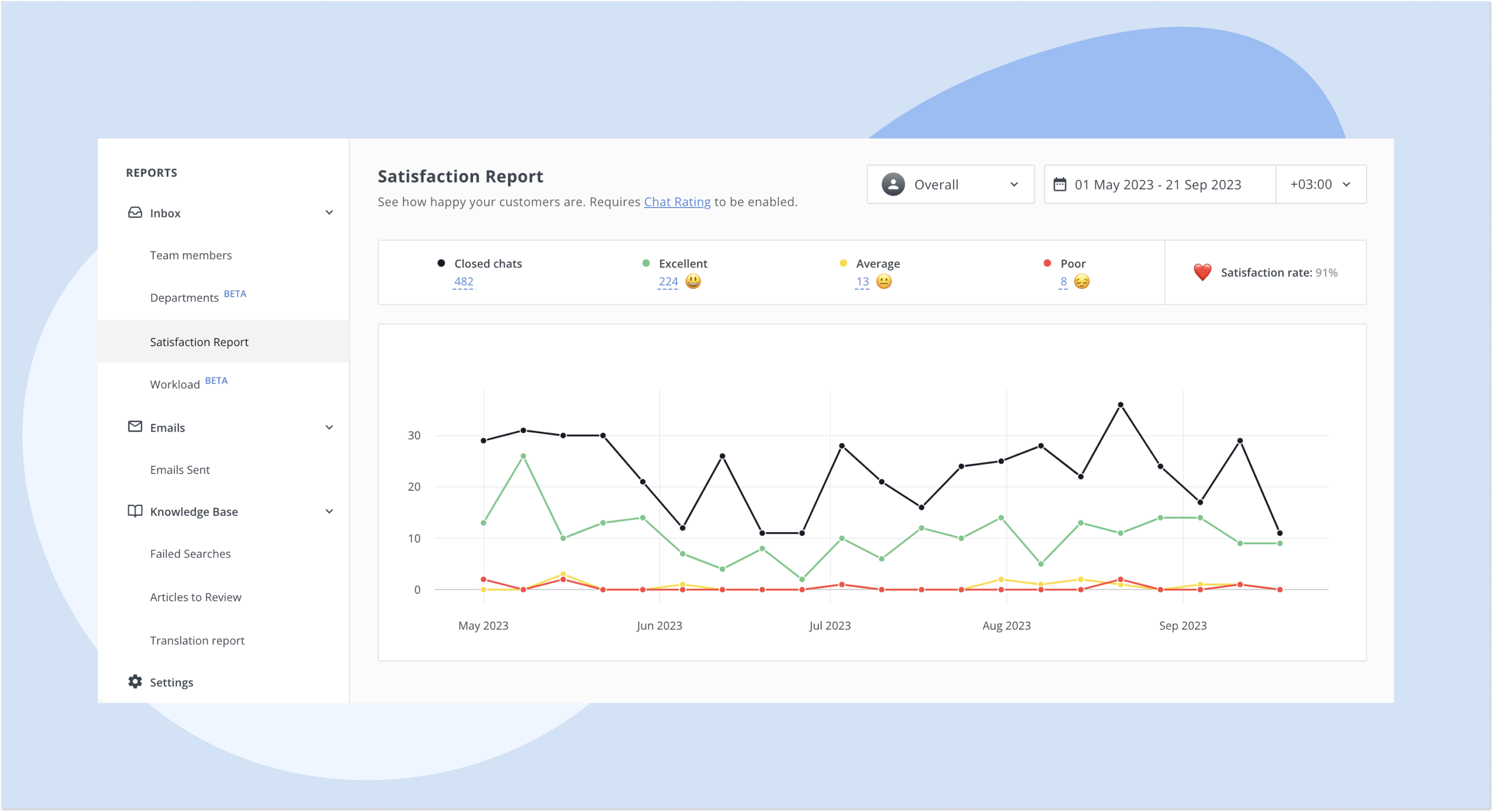 7. Create a customer service philosophy
A customer service philosophy is a set of values that you, as a manager, share with your employees and encourage them to share with customers.
I know it sounds somewhat cheesy and unnecessary. Everybody knows that you need to treat customers with respect and try your best to help them. But do they, really? Has it ever happened that your rep was rude or was called on their bluff?
Having a simple, structured customer service philosophy will help you make sure that everybody's on the same page about how you should do customer service at your company. I like how Shauna Geraghty from TalkDesk summed it up in her article. It consists of 6 simple yet crucial elements:
The future of the company is behind every customer
Reputation is everything
The faster, the better
If you mess up, say you're sorry
Be as reachable as possible
Hang onto your customers – they're all you've got
I know all of these statements might seem rather obvious and intuitive. But why, most of the time, does customer service seem impersonal and inattentive? Companies rarely care about how they're perceived, concentrating on obvious tasks – receive a question, quickly answer it, and close the case.
But there's so much more to customer service than that. Giving customers the best experience possible is what really makes a difference. And your philosophy is one way to show what kind of experience you want to translate.
Conclusion
You know what? I could talk all I want about customer service philosophies, values, and other pretentious stuff. But at the end of the day, good customer service management means listening to your team (and customer feedback, too!). If they say that your KPIs are unachievable, they probably are. And if they tell you that your support software got morally old and can't do the job, chances are, it is.
So yeah, do follow these 7 simple steps, but don't forget to hear your employees. They should have the final say in every customer service management decision you ever make.