Your customer service philosophy is how you approach supporting your customers. And it's what helps you shape specific actions.


HeroThemes
What is a customer service philosophy?
It's really difficult to even start defying what a customer service philosophy is. It's your special way of thinking, it's how you work with people and it's how you want your business to be perceived by them. Well, among many other things…

To me personally, customer service philosophy means values – values that you as a business owner or a manager share with your employees and encourage them to share with customers.

But what about empowerment? What does it have to do with all the philosophy stuff?

Your customer service values, as great and perfect as they are, mean nothing if your team doesn't believe and practice them in their work. You can scream from the rooftops about how your company is super open and human-oriented, but they won't believe it if those are just words without actions.

An empowering philosophy should give your customer service reps all the necessary means and tools to make a final call. You should create a creativity-friendly environment, where new ideas are always welcome and encouraged and never ridiculed, where people don't hesitate to act immediately.

Your employees should feel that if they make a decision, they won't be punished for it.

Heard about Amazon? This giant e-commerce company (among many other things) that will soon replace everything? All you have to know about their customer service philosophy is that Jeff Bezos has this requirement that every single manager is trained in Amazon's call-centers before anything else. He thinks it's the most effective way to understand the needs of real customers.

Amazon also prides itself in its five-star return policy. If your package is lost in the mail, no worries, you'll get a replacement. And I don't think that Amazon's reps consult with Jeff Bezos on each of these replacements – they're empowered to meet their customers halfway and help them with anything they need.

5 tips to create a customer service philosophy that will empower your team
For one thing, you should know. If you want your team to feel empowered, you should learn to trust them. As tempting as it is to control everything and be on top of everything that's going on if your company, this is a dead-end road.

Learn to trust. But also…

1. Give your customer service reps all the right and powerful tools
People and their tools are two cornerstones of any customer service. Your customer service reps won't feel empowered unless they have all the right tools to act fast and vigorously.

I'd say an empowering customer service tool lies somewhere on the intersection of effective communication with customers and within your team.

The end goal here is to be faster and more helpful and for this customer service reps should be able to escalate any issue to responsible departments as fast as possible, get back to customers via any channel they prefer and resolve issues on the fly.

So let's talk about tools on the example of HelpCrunch, an all-in-one tool for customer service. On the user end, HelpCrunch is just a live chat window integrated with a website. They can leave their messages there and communicate with a support team in real time.

On the customer service reps end, HelpCrunch can be truly empowering in terms of functionality and user experience:

Modern messenger. You know how empowering it feels to use modern and straightforward tools instead of old school overloaded software. Would you rather use WhatsApp or chat rooms from the 2000's to talk to your friends? That's what I'm talking about. A modern and comfortable live chat tool is half the battle.
Real-time customer data. HelpCrunch collects and tracks all necessary customer data and shows it in an agent chat. Your customer service reps can see what language a customer speaks, where they are from, what pages they've just visited, what subscription they have, etc. This eliminates tons of redundant questions and helps your team resolve issues faster.
Private notes. You can leave private chat notes right in a chat window. If there's a need to pass an issue to other teammates or departments, all your notes together with the full chat history will stay untouched.
Customer satisfaction tracking. The most empowering thing in the world is feeling that your work and efforts are truly appreciated and bring results. HelpCrunch helps customer service team track your customer satisfaction rate and see how your end users feel about their experience with your company.
Integrated knowledge base. Service agents can send articles to answers customers' questions right from the chat. Besides, clients can easily find what they are looking for without waiting for a customer support rep to reply: the knowledge base is integrated into the chat widget.
Overall intuitive dashboard. HelpCrunch dashboard is not overloaded with redundant stuff. It's straightforward and easy to just start using right away.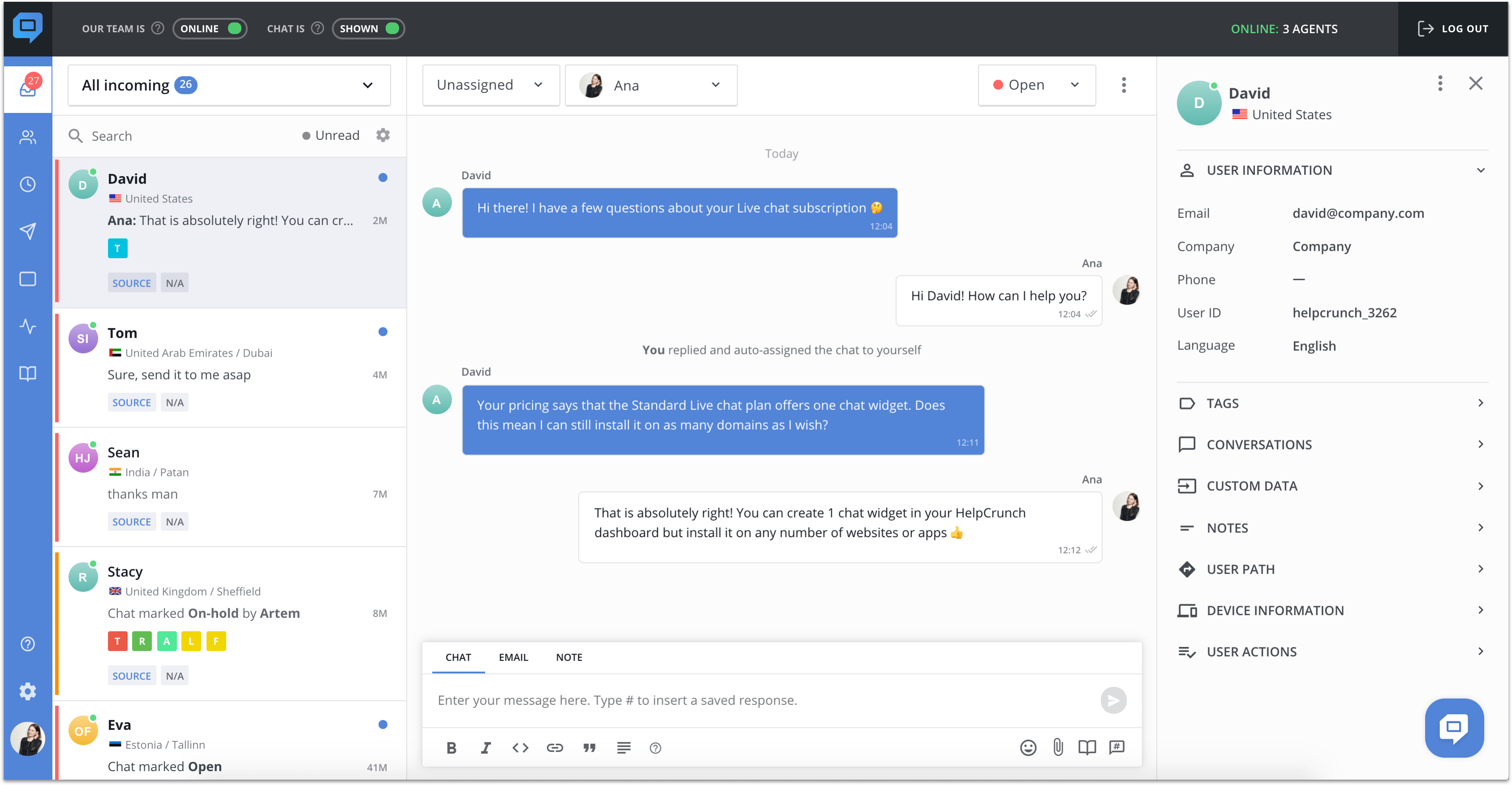 2. Provide your customer service team with an effective training
Having powerful tools comes with the responsibility of training your customer service agents how to use these tools to their best potential.

Every time you acquire a new piece of software or technology for your team, you have to make sure they know how to use it. It's not enough to just have it.

I can recall too many cases when I've been using some tool and discovered some of its core features only after a few months of usage. Imagine how much time I wasted. That's why a small demo and regular repeating trainings are necessary to empower your customer service reps as much as possible.

But tools and demos are only the tip of the iceberg. People feel their most confident only when they are well trained in all aspects of their work.
Don't be afraid to offer your employees all kinds of other professional and personal training programs. If they have an opportunity to grow and evolve within their own company, they'll never have to leave.

---
At AmeriCorps, they have this 80/20 rule requiring their employees to spend 20% of their time on personal and professional development. And the company is trying to deliver on the promise and give people all the necessary means and programs for this.

Well, in more real life, you don't have to create something huge and epic, but aiding your customer service warriors with professional conferences and meetups can be a great start to empower them.

3. Inform customer service reps about all the news and updates
There's nothing more disempowering than being in the dark about what's going on in your company. Sure, it can be difficult to keep every single member informed about every single event – especially for bigger teams and companies. But this is a must.

For your customer service reps it's even more important to be abreast and keep their finger on the pulse because they are the ones reporting to your users.

If you add some updates to your product or change something in your company's policy, you can be sure your customers will immediately notice. And they'll go to your customer support team with their questions and concerns.

Now imagine your team is not aware of any changes you do. Think of how helpless they will feel. That's why it's crucial to keep your support team informed about every tiny detail.

There are various ways to keep your team enlightened, like:
Regular internal company newsletters
Real-time channel in your communication tool
Daily standups
For instance, we at HelpCrunch have this channel in Slack called '#features' where our tech team informs everybody about all the new updates after each release. This way every member of our team stays enlightened about every little change. We also have daily meetings where everyone tells the rest of the team about the work we've done in the past day. We know what's going on.

---
When the business world was shaken with this huge stock market chaos, Starbucks' CEO Howard Schultz immediately sent an internal memo to all of their 19,000 workers saying:

Our customers are likely to experience an increased level of anxiety and concern. Please recognize this and – as you always have – remember that our success is not an entitlement, but something we need to earn, every day. Let's be very sensitive to the pressures our customers may be feeling, and do everything we can to individually and collectively exceed their expectations.

Say what you will, but when the CEO of a huge company takes his time to talk openly to his employees, it makes a difference. I'm pretty sure we can do this, too.
4. Stay flexible for customers and let your team make a final call
What would you do if someone bought a one-year subscription to your product but asked for a refund a week later? Would you give them a refund or would you argue with them?

If you give a refund, you'll lose money but keep some kind of gratitude and loyalty. If you refuse, you'll keep your money. But in exchange, you'll receive tons of negative reviews and can be sure this particular client will never come back.

So which one will it be?

In my honest opinion, staying open and flexible is one of the main characteristics of high quality customer support. You should be open to criticism and negative remarks, because they can even be a positive thing for your company.

If you're a software product company, you should pay particular attention to feature requests. Your end users are the best people to ask when it comes to product improvement. They know all ends and all the pitfalls of your product, so it's important to stay open to their requests.

Overall, don't be afraid to be flexible. Stubbornness is never good as much in business as in private life.

But to be flexible, you need to give your customer service reps an autonomy to make a final call. If every issue needs to be passed from one department to another in order to make a decision, this only means your customer reps are stripped of powers. And this will inevitably influence how your customers perceive your customer service.

---
For instance, Buffer is quite famous for the whole customer support system they've developed at their company. First of all, they call themselves a Happiness team, which is divided into three departments: happiness heroes, weekend warriors and community champion.

Community champions are Buffer's most autonomous members. Their main objective is to find proactive ways to work with clients. How cool is that, really? The company's having this whole department looking for new ways to pleasantly surprise people who contact their customer support.

5. Let your customer service representative do them
The best customer service is the one that has some personality in it. I strongly believe that no one likes robotic and impersonal customer support. So, until artificial intelligence replaces us all, we can use the benefits of human customer service to its fullest.

Each member of your team can bring some part of their personality to the table. Don't be afraid to let people be themselves and depart from set rules from time to time.
We at HelpCrunch pride ourselves in our friendly relationships with all of our clients. One of our clients confirmed that our live chat agent and his personality were one of the determining factors in HelpCrunch favor.
All in all, we strongly believe in the power of customer service. If I had to put our own philosophy in just one word, I'd say it's 'togetherness'. Working for a customer service software leaves its stamp on all of us – from marketing to devs.
If a customer faces an issue, our customer success hero Konstantine immediately raises it in a corresponding Slack channel, where every available member of the team immediately tries to help in a way. We always try to meet the wishes of our customers as fast as possible.
Bottom line:
The main thing about customer service philosophy is staying consistent at all times. Your core ideas and values should be clearly rendered and implemented from top to bottom. Your employees should know exactly what they're doing and why. Only with a sense of significance they can feel truly empowered.

HelpCrunch articles delivered straight to your inbox 🚀
All the latests posts. One email per month.
No strings attached.
Read also
Support
Yes, there's a difference between customer service and customer support (a slight one, but still). Click to find out all the details and decide what team you are on.
Support
Follow this customer service checklist template to build a flawless clock-work process. Not a single detail will slip out of sight!
Support
Customer service standards exist so that you can check if you meet the bar on the market. Find out what standards are there and how to measure them to be sure you make everything right.