Live Chat Support 101: How to Provide It Like a Pro
Live chat support is a fast and effective way to speak to your customers directly and build strong relationships. Learn why you may want to consider it and how to do everything right.

Customer support has gained a somewhat controversial reputation over the years. While being the single most important way to resolve any issue with virtually any service or company, no one's ever eager to call a support rep.
In fact, people really hate it. There are full-blown articles dedicated solely to the most irritating things about dealing with customer service. (Automated telephone systems, being transferred from one department to another, and rude stuff are just rocking at the top of them). But don't fret just yet. There's a communication channel that won't make your customers cringe.
Live chat support can be a perfect answer to all concerns: it's fast, efficient, and personalized as hell. No waiting on hold, no "please press one if you want to smash something against the wall because it's your fifth call and we still can't help you" autoresponders – just condensed helpfulness.
What is live chat support?
Live chat support is the type of customer support provided in a chat widget, which allows customers to have real-time online conversations with businesses on their websites.
A live chat widget can be installed on your website or app so that customers can just click the chat button and open a small dialogue window. It's where anyone can leave their questions or concerns and get immediate assistance.
Live chat widgets also differ. Some look like a simple space for exchanging messages back and forth, while others contain numerous integrations, automations, and design tweaks.
What's even cooler is that the live chat's mission reaches far beyond just support. With a few enhancements, it becomes a powerful tool for inbound lead generation, sales, and marketing. Basically, live chat as a channel is a swiss army knife in the world of customer communications.
Once you sign up for a live chat software provider, you'll get access to its admin panel for managing incoming conversations. It will also generate a small snippet of code that you need to install on your website. After this, customers will be able to leave their messages in live chat, while support agents will have a rich toolset for managing them effectively.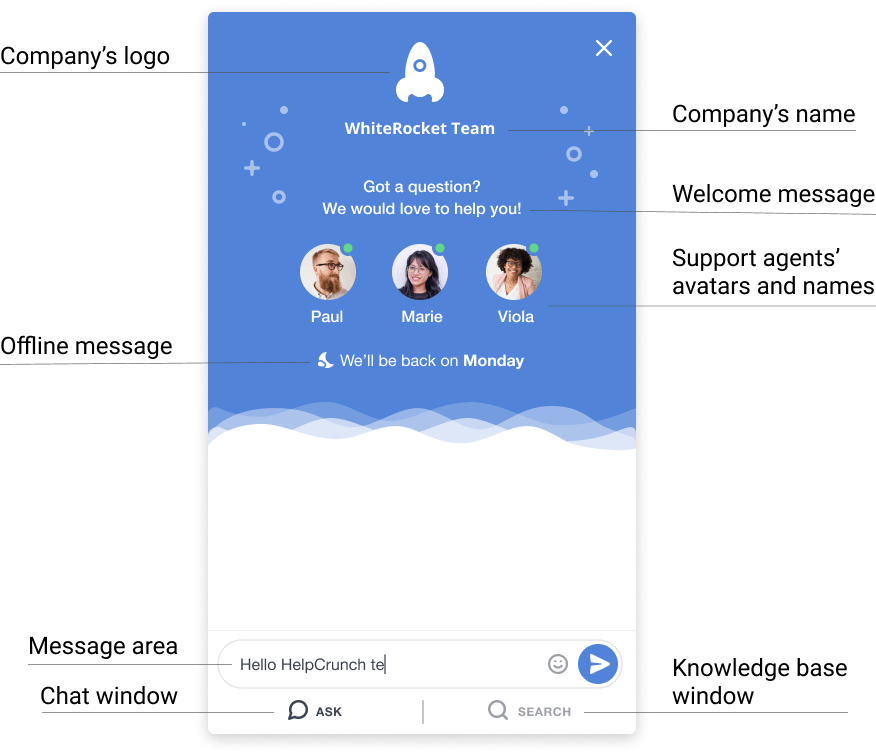 What are the benefits of live chat support?
At the risk of sounding like a crazy groupie obsessed with live chat support, I have to tell you more about why it's so important. So, why should you offer it? And how is it better than any other support channel? Let's find out.
There are 7 most important benefits you should consider before deciding on live chat for good:
1. Live chat support is fast and efficient
Chat support is impossible to imagine without the "live" part in it. It does imply that help should be provided in real-time without any delays. The whole experience is almost like a phone call but without the awkwardness of voice interaction.
Customers do expect to get the first response in chat in under 3 minutes. And it's not like the bar is too high. Modern live chat solutions, like HelpCrunch, provide support reps with numerous tools for accelerating their workflow: canned responses, help center integration, automated follow-ups, etc. There's no excuse for being slow anymore.
2. Live chat support is always timely and contextual
Since a live chat widget can be embedded into anything from a website to a mobile app to WordPress or any other CMS, the conversation is always happening at the right time. The moment someone faces a problem or has a question, they can open a chat with support and convey them right away. There's no need to leave an app and go searching for a Contact us page.
Online chat support teams, in turn, can instantly access any data they need to provide top-notch help. Users' recent actions, current URL, device information, and tons of custom attributes are always at their disposal.
3. Live chat keeps the conversation light and brisk
We're all familiar with messengers. In fact, we're actually quite fond of them (two billion WhatsApp users can't be wrong).
This is what makes chat support so perfect. The conversation just happens at a natural flow. Visitors can unfold their questions step by step, and support reps can always ask additional questions on the go. Emojis, gifs, and images help both parties keep it casual, too.
4. Live chat allows multitasking
The most obvious advantage from a business's point of view is that live chat allows agents to handle several conversations simultaneously. In fact, some studies claim it's possible to manage 6 concurrent chats.
Apparently, customers also appreciate live chat support for this multitasking ability. It's not like everyone is just sitting at their desk, waiting for an answer from your team. People are living their lives, keeping a dozen tabs open at the same time, and getting distracted all the time. And live chat conversation can be dropped and picked up at any point, without interrupting the flow.
5. Live chat support is cost-effective
If your support agents can handle up to 6 concurrent chats, and there are no additional costs, the economics of the whole thing is rather simple. Live chat support is super affordable.
The only two major spendings associated with the customer support live chat are agents' salaries and software maintenance. You don't even need an on-premise office like with call centers, since your team can literally answer chats using their phones from wherever they are.
6. Live chat can be backed by useful add-ons
However, it would be a huge underestimation to think that live chat is just a simple technology for exchanging messages. This small widget is packed with tons of enhancements and add-ons that can make live chat support a breeze.
For instance, you can create a knowledge base with answers to all common questions and integrate it into your live chat widget. This way, visitors will be able to resolve most of their questions without even contacting you. Chatbots and various chat forms will help with lead generation and requests prioritization a lot.
At the same time, your support team will enjoy such features as detailed user profiles, message sneak-peek, tags and statuses as well as custom inboxes for better organization.
7. Having live chat is a good customer experience
The term "сustomer experience" has been so overused that it sounds almost like a buzzword. What is a customer experience anyway? The notion encompasses every single factor that contributes to how people perceive your business in general. And customer service is a vital part of it.
Live chat support is one of the most flexible and effective ways to be in contact with your users. The widget you install on your website is super customizable, so it usually looks like a natural element of your website or app. However, the level of support you provide via live chat can be a source of endless customer satisfaction and a positive experience. If you make it swift, personalized, and accurate, nothing can stop you.
Live chat support tips and best practices
When implemented right, live chat support can be a great source of business growth. Helpful answers inevitably lead to high customer satisfaction. Satisfied clients tend to be more loyal, which results in high retention rates and more returning customers for e-commerce.
Sounds like a win-win situation for all parties involved!
If you're dead set on adding live chat support to your workflow, do consider the following 8 tips and best practices. They will help you achieve higher productivity and greater results.

1. Work on your speed
I never get tired of emphasizing the importance of speed for live chat support. Clients expect to receive the first response from you in under 3 minutes. And that should be your ultimate goal.
The skill of fast typing is a good place to start. Obviously, if you can't use your keyboard effectively, there's not much you can do about the speed of your answers. Still, some features can dramatically improve the quality of your work:
Create canned responses. Customers' questions tend to repeat all the time. Why type answers from scratch each time if you can just pre-save them in your software?
Integrate knowledge base articles into your routine. Not only can visitors use your knowledge base for self-service, but support agents can also utilize FAQ articles and share them on the go.
Use customer info for more context. If your team has instant access to detailed user profiles, this alone can eliminate tons of general questions. They can see all the recent actions along with personal information and proceed straight to resolving the issue.
Snooze chat to get back to them later. While the first response time is important, some requests take longer to resolve. Convey every detail to a customer and set up a reminder for yourself to follow up on the progress later.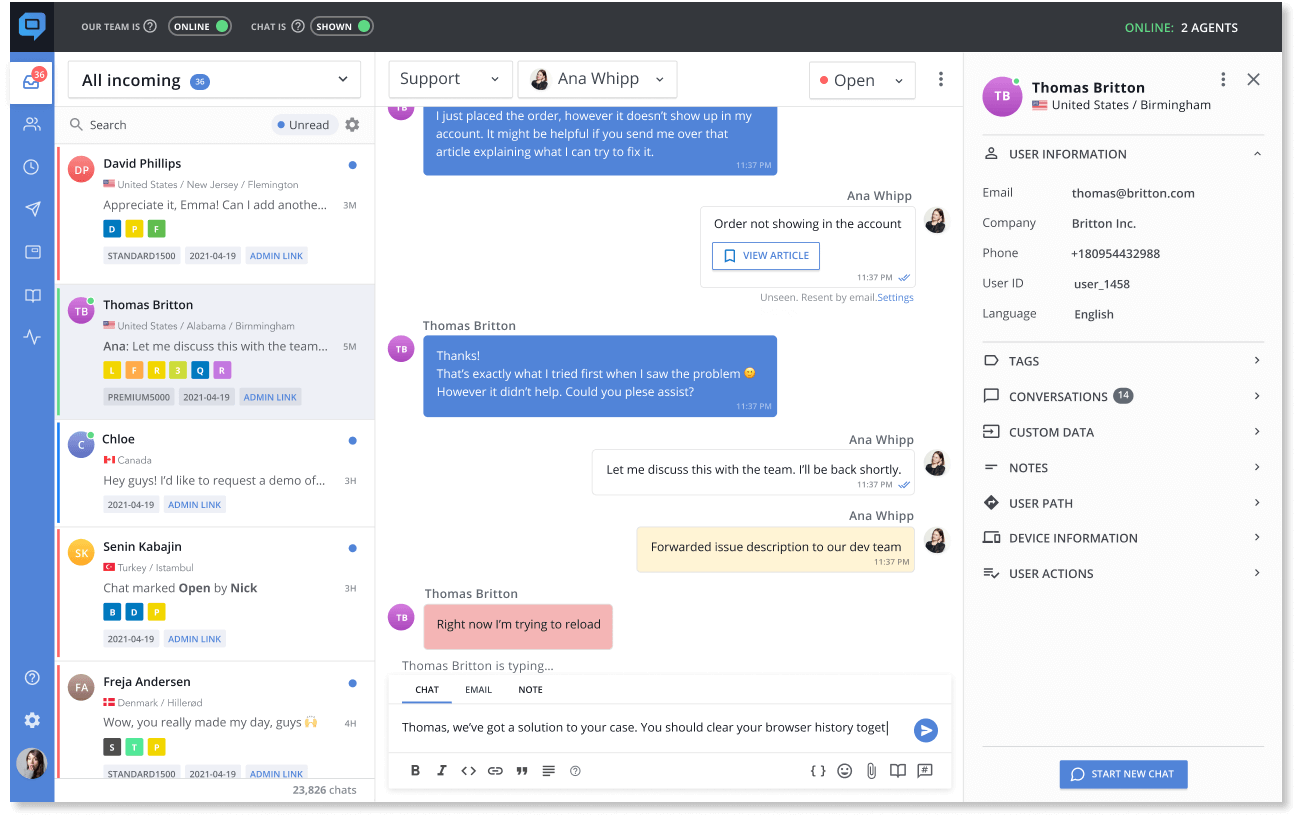 2. Don't neglect small talk
People can hate small talk all they want, but its importance is undeniable. It "serves to establish bonds of personal union", which is really important when you deal with customers and their ever-changing moods. You see, client relationships are not that different from personal ones.
Live chat support is perfect for practicing purposeful small talk with your customers without going overboard. When appropriate, support reps can begin and end a conversation with general questions. Who knows, they can even give you more information regarding a customer's problem,
For instance, if you're talking about some location or syncing time zones while scheduling a call, it won't be a bad idea to ask more about a customer's native town. Maybe you've always wanted to visit it or have heard some interesting facts about it. That's a bonding experience right there.
I'm a strong believer that such conversations are almost always appropriate (except for the situations when you deal with extremely frustrated customers).
3. Practice active listening
As counterintuitive as it may sound, words only convey about 7% of what you're trying to say. Facial expressions and the voice tone are responsible for the other 93% of what you're trying to say. But when it comes to live chat, we can only rely on words (and occasional emojis and gifs).
That's why when listening to customers' complaints, you need to LISTEN. Thinking about closing that conversation and proceeding to the next one like it's a conveyor belt won't earn you any popularity points among customers.
If you want to genuinely help, you need to grasp every piece of information, ask open-ended questions, and demonstrate your engagement by reflecting on the conversation. Until you get to the bottom of it, you can't really resolve anything.
That's the beauty of a live chat conversation. Unlike emails, it's happening in real time. So you can ask all kinds of questions for however long you need. But unlike phone support, there's no awkwardness when trying to grope for words fast enough. Take your time and show interest.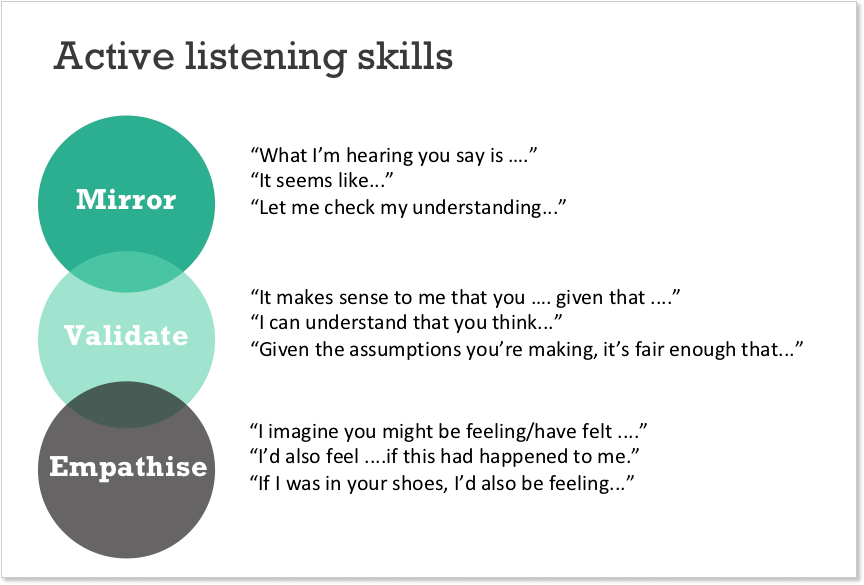 4. Don't be afraid to go off-script
When dealing with different people, support conversations tend to go haywire. Chatting scripts can be extremely helpful for handling difficult or otherwise typical situations with grace. They provide you with a structured plan of action and save a lot of time along the way.
But the best live chat support examples happen when agents decide to improvise and take initiative. For example, there was this one time when a Netflix support operator responded by introducing himself as "Captain Mike of the good ship Netflix". It developed into the most amazing customer support experience ever. And it wouldn't be possible if the employee just followed the protocol blindly.
Empower your support team to act on instinct: offer small discounts or bonuses to make up for some shortcomings, come up with special deals for VIP customers, etc. This way, agents will be able to put out the fire in critical situations and create unforgettable experiences for clients.
5. Consider your audience
Emojis, gifs, and situational jokes are great. But you should always be aware of who you're speaking to. Some people, especially in the B2B sector, won't appreciate insubordination and a light tone (can't imagine how sad their lives must be, but that's the reality of the world).
No matter the situation, you can't be wrong by falling back on live chat etiquette rules. This includes good grammar and spelling, proper introductions, and staying away from complicated expressions and professional vocabulary.
Ending chat properly is also an art. You must always thank a customer for whatever feedback or insights they've provided you with and make sure the issue is resolved.
6. Set up chat operating hours
As tempting as it is to provide 24/7 live chat support, the dream is almost unreachable. By specifying your work schedule in a live chat widget, you can manage client expectations effectively.
Inform people when your team is going to be back and gather email addresses in the meantime to send follow-ups. It doesn't mean visitors should stay in the dark during this time:
Why is knowledge base important? That's why. Offer a knowledge base in your widget and display it first outside your working hours. Customers will be able to find all the answers by themselves without even contacting your team.
Set up proactive chat messages that will provide contextual help. You can analyze your most problematic pages that bring in more questions than others and offer proactive help. These messages can be automated by triggers like current page URLs and time spent on them.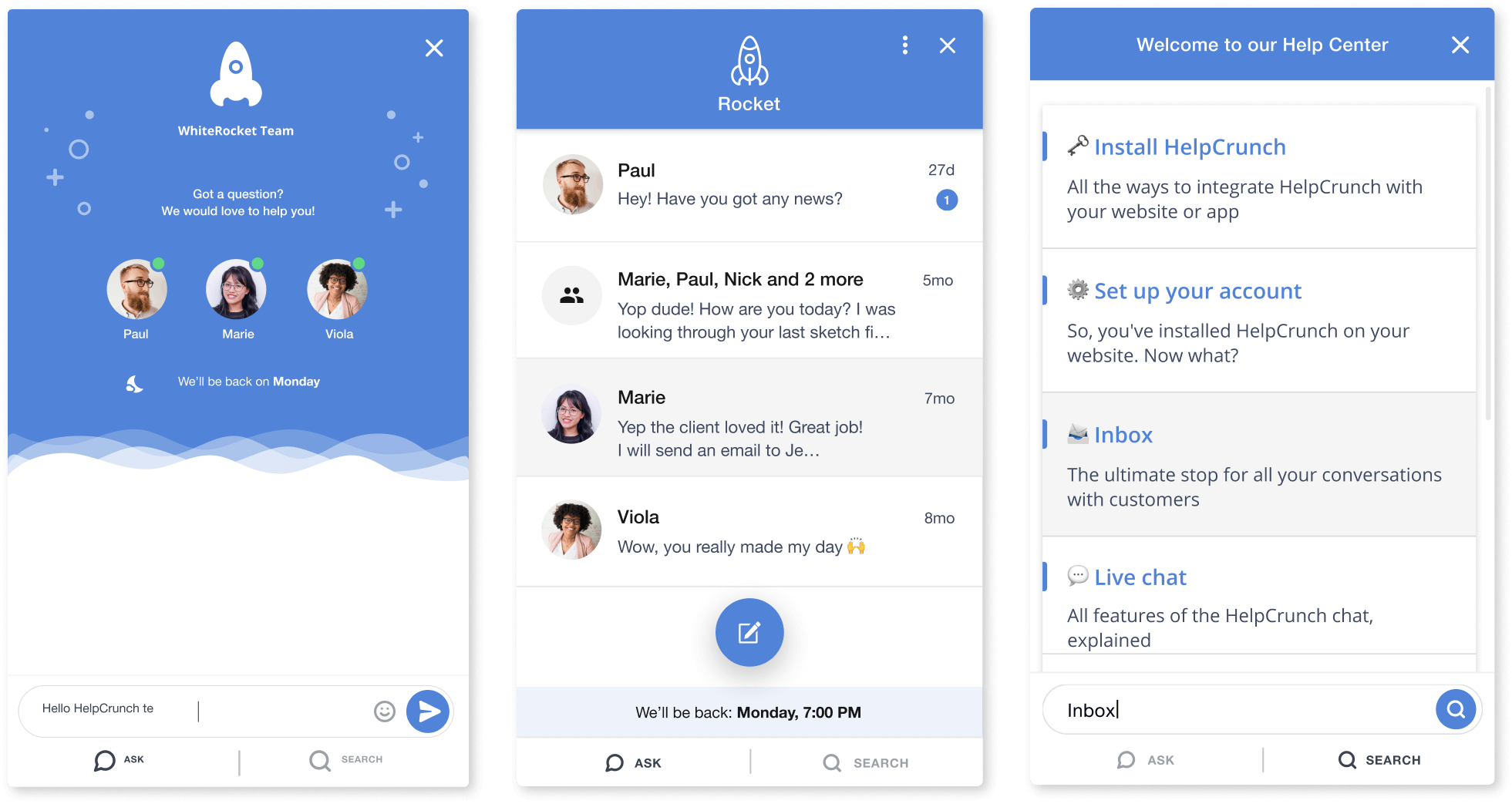 7. Always follow up
Did you resolve the issue for the customer successfully? Were they satisfied with the provided solution? Are they content with your business in general? The answers to these questions can only be obtained through effective follow-ups.
Make it a part of your routine to send post-conversation messages after the most intricate cases. Live chat support is only getting stronger when backed up by other communication channels like emails or even phone calls.
Set up reminders in Google Calendar or use the chat snoozing setting to revisit older cases and check how customers are doing. Such an approach will show your proactivity and willingness to go the extra mile.
So, how do you implement live chat support?
If you ask me, I'd say that support via live chat is almost too good to be true. But is it the best choice for every business? Not necessarily. Before deciding on implementing live chat, review your current situation closely:
How many agents do you need to manage your current traffic?
Do you want to provide 24/7 support? It usually requires twice as many people and resources, but the payback may be worth it.
Are there any aspects that you can automate?
Where do you want to provide online chat support? The website is a good source of leads, but in-app support or exclusive assistance for VIP clients are better if you want to test the waters.
Only when you set your priorities straight, proceed to add live chat to your website or product. All it takes is to copy a few lines of code from your software provider and paste them into your website.
Still not sure which provider to choose? HelpCrunch offers a great set of live chat and knowledge base features at an affordable price. Just sign up for a free 14-day trial and try them in action, no credit card required.