11 Best WordPress Live Chat Plugins to Use in 2023
This fresh article features an in-depth roundup of 10 powerful WordPress live chat plugins you might want to install. Check them out and choose the one that fits your business needs best.

When you're building a website, adding some catchy content might not be enough. Think about the most important asset your business has: customers. Every time they land on your website, they'll have questions to ask. To put it another way, customers always seek real-time and professional support.
Clients are now more demanding than ever and they want their needs to be catered to right away. To create a better connection with your clients and provide them with a communication tool to get in touch with you, a WordPress live chat plugin can be just the ticket.
The modern industry market is brimming with live chat WordPress plugins of all sorts. And today I'm about to cover the TOP 11 of them. Your task is to choose which one suits your needs best. But first things first: what perks can you get by installing a WP chat plugin? Time to find out.
The benefits of having a WordPress live chat plugin
With WP live chat support, you can deliver instant help to clients, drive more conversions, eliminate customer churn, and provide a reassuring human presence while people make their buying decision.
As the stats suggest, 38% of customers will likely buy from a brand if it offers a live chat solution. A customer satisfaction rate is 92% if a brand uses a live chat. What's more, this feature increases customer retention rates by 5% and business profits by 25%.
There are a number of reasons why a WordPress live chat plugin is worth gold when it comes to both improving customer relations and fine-tuning other business operations:
Personalization: personalized care is essential for people with high spending power. To get a better understanding of customer behavior and meet their needs, you can take advantage of a WordPress live chat plugin and peek behind the curtain (e.g., to check a visitor's history on a website).
Increased sales: as there's someone to talk through their requests and concerns, people are more likely to convert.
Lead generation: you can collect the visitor's information 24/7 and generate real-time leads.
Top 11 worthwhile WordPress live chat plugins to install
To gear up with the right WP chat plugin for your website, you need to be aware of all the possible ins and outs of it. This in-depth roundup covers 11 best WordPress chat plugins that you can use to grow your business. Enjoy!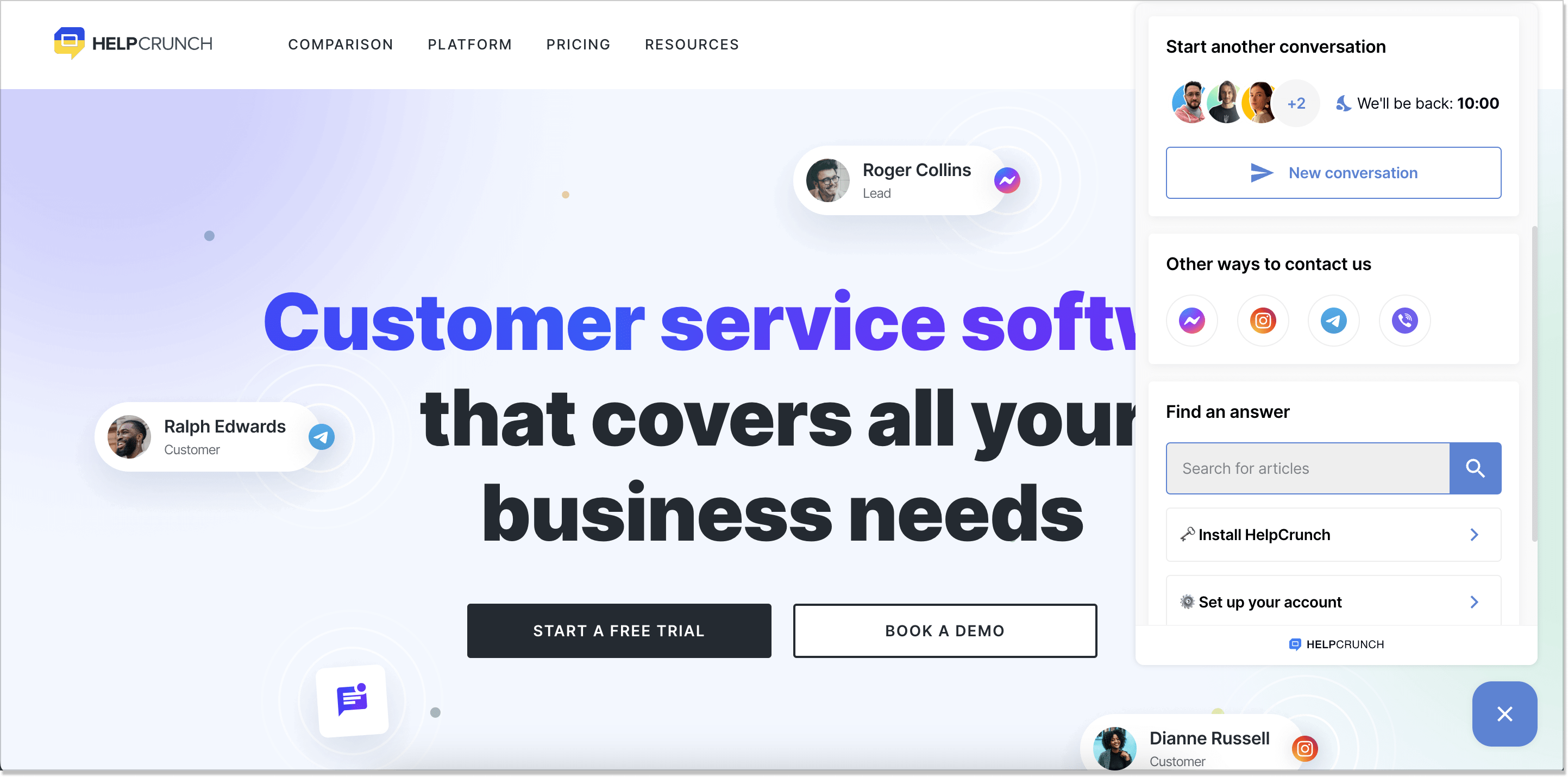 HelpCrunch represents not only a powerful WP live chat plugin but also auto messaging, chatbot, knowledge base, and email automation that help deliver exceptional customer support under the same cover.
Such an all-in-one customer communication platform is a win-win solution for customer support, marketing, and sales. The advanced toolset also involves unified help desk software for customer service agents' improved performance and a well-thought-out knowledge base so that you can encourage clients for better self-service (you can share articles right from the chat!).
By installing a WordPress chat plugin from HelpCrunch, you can keep track of your clients' info, capture more leads with pre-chat or offline forms, and communicate with your users inside your app.
HelpCrunch allows you to deliver proactive customer service 24/7 on the web and mobile. You can also customize your WP live chat widget so that it matches your brand's identity.
The chatbot from HelpCrunch is a great feature that can help you automate your customer support by handling FAQs, qualifying leads, collecting contact details, and whatnot. Thanks to the visual bot editor you can easily build chatbot scenarios or adjust pre-written templates to your business needs.
Another perk you get with a WP chat plugin from HelpCrunch is special chat triggers you can set up to draw a user journey. For instance, think of the pages new visitors will visit, monitor their browser language, or combine various rules for more in-depth scenarios.
Pricing:
At HelpCrunch, you can pick an optimal pricing plan starting from $15 a month. It'll be $25 a month for a premium plan (which is the most popular, by the way). You can always get yourself a custom plan by specifying your special needs. But it's not always about the money: take a 14-day free trial (no strings attached) and see if HelpCrunch is the right thing for you.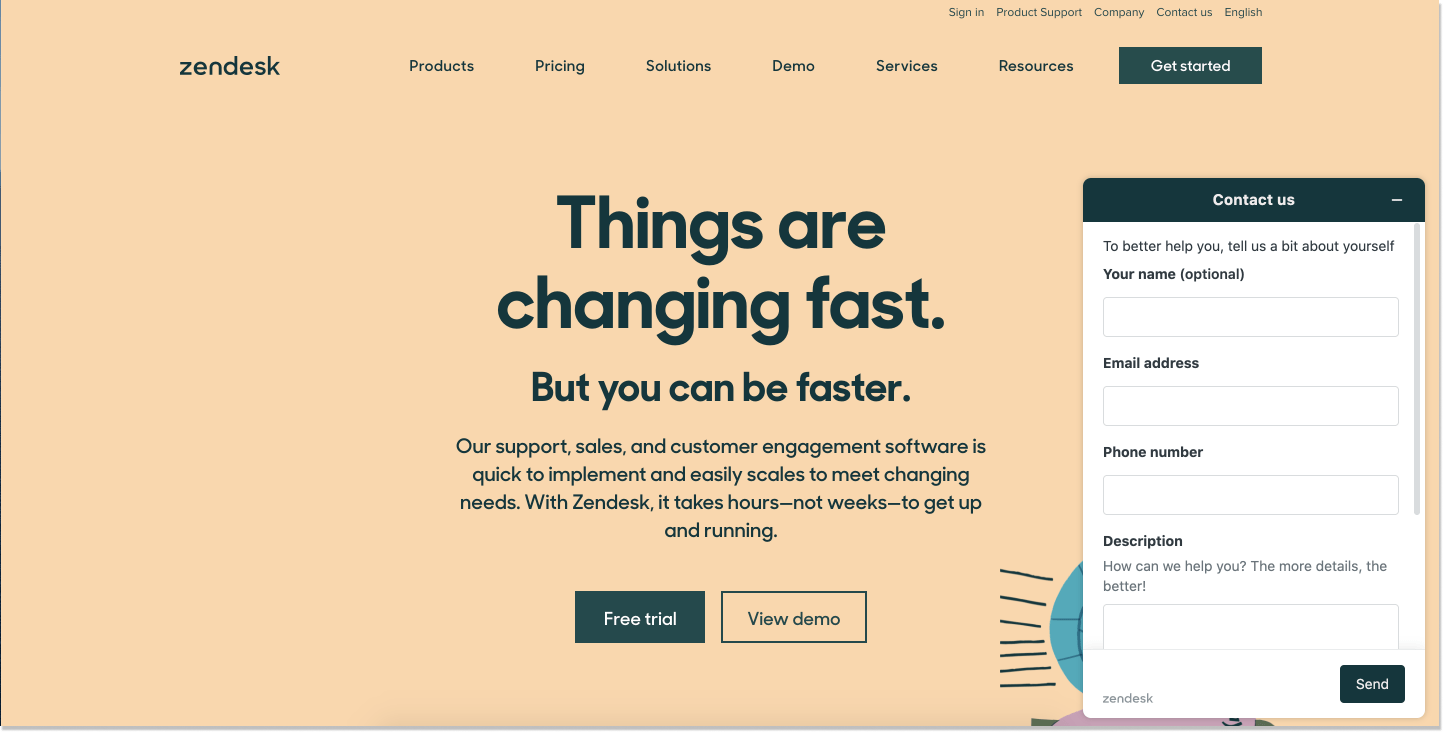 Zendesk Chat is easy to navigate, sleek, and modern. Being one of the groundbreakers in the world of customer service software, Zendesk offers live chat functionality mixed with flexibility. The dashboard is crammed with a range of metrics you can track, such as customer satisfaction, team performance, problem resolution progress, as well as other info.
The feature list of Zendesk's WP live chat plugin is comprehensive. Let's take a look at the most striking ones:
Single Sign-On
Ticketing system
Feedback tab
File sending
Visitor monitoring
Chatbot
Multilingual experience
Pricing:
If you're ready to install a WordPress live chat from Zendesk, have a look at its pricing. There's a free Lite plan you can test for 14 days, which is an absolute pro. But it goes with only 1 current chat. Team, Professional, and Enterprise plans start from $19, $35, and $70 a month per agent respectively.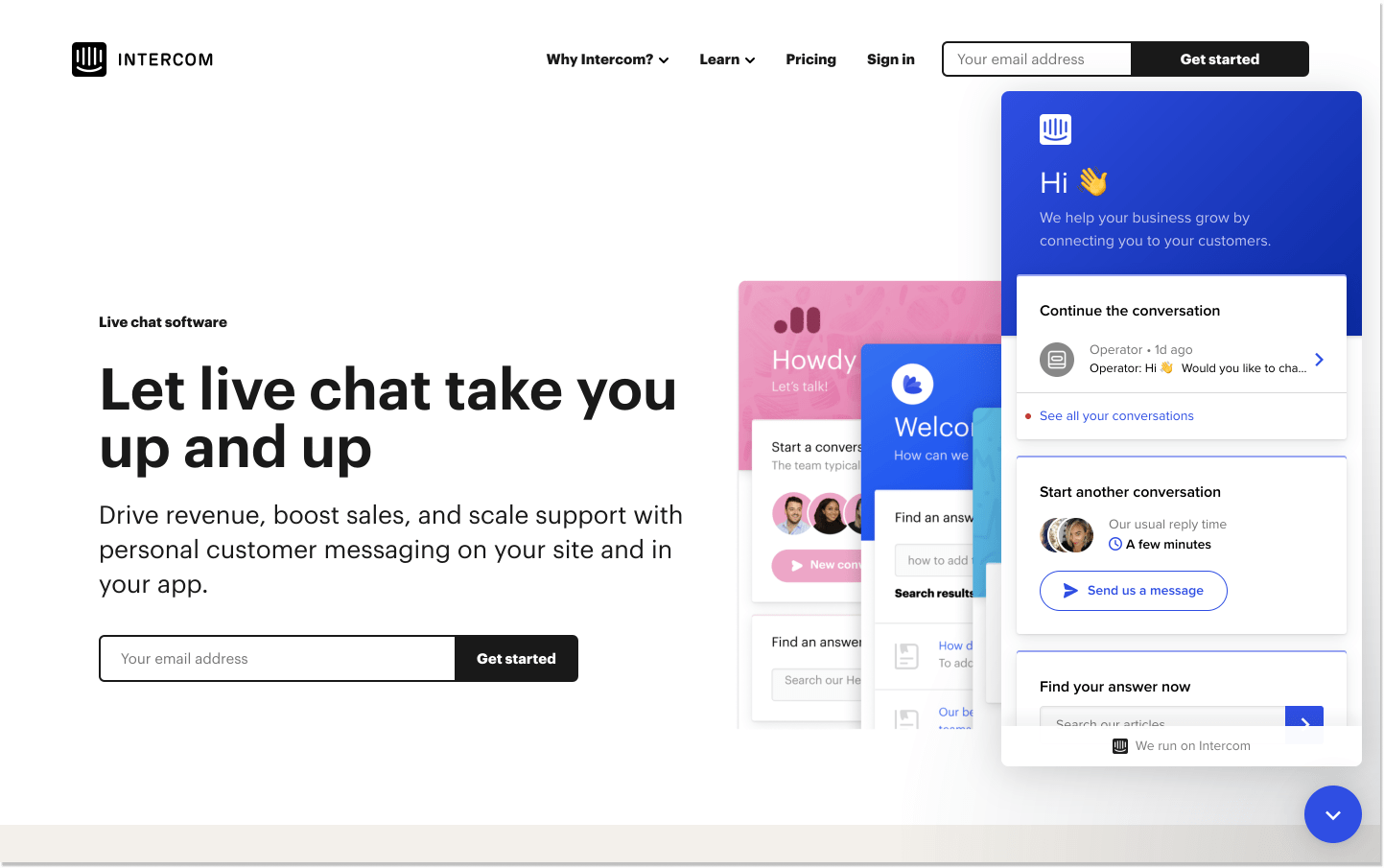 Intercom is an all-in-one platform for sales, support, and marketing. It offers a good-looking and feature-packed WordPress chat plugin. With its help, you can deliver customer support in real time, engage your users, and acquire more clients.
Once you add live chat to a WordPress website, you can share your screen, route conversations to the right teams, use collaborative inbox, and keep track of customer profiles. These specs are intertwined in just one product.
Pricing:
When it comes to pricing, Intercom's one of the big-ticket software. You'll have to pay $38 a month for a Conversation Support — Essential plan and $78 for a Pro account. The sales team can also help you get a Premium custom plan.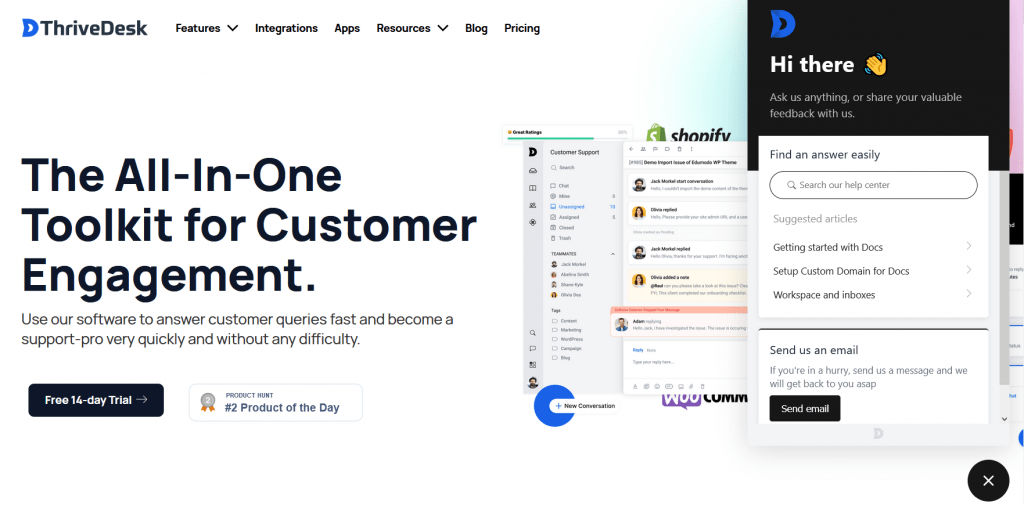 ThriveDesk is a lightweight live chat assistant designed specifically for eCommerce companies. It has a wide range of built-in capabilities, such as rapid reply, file sharing, appropriate emoticons, positive surveys, and reporting.
For WooCommerce merchants ThriveDesk live chat provides complete order details with which you can cancel/refund orders and manage your eCommerce without interruption.
In ThriveDesk's agent interface, you can customize colors, select notification sounds, add your company logo and welcome message, and it also allows your eCommerce customers to search for the answer in the knowledge base.
Pricing:
ThriveDesk pricing plan starts with a free plan. The basic pricing starts from $6.67 per month per user, including 2 mailboxes and 2 live chat assistants. The PRO plan offers unlimited mailboxes with 1 community forum, No ThriveDesk branding, and many more, all within $12 per user per month.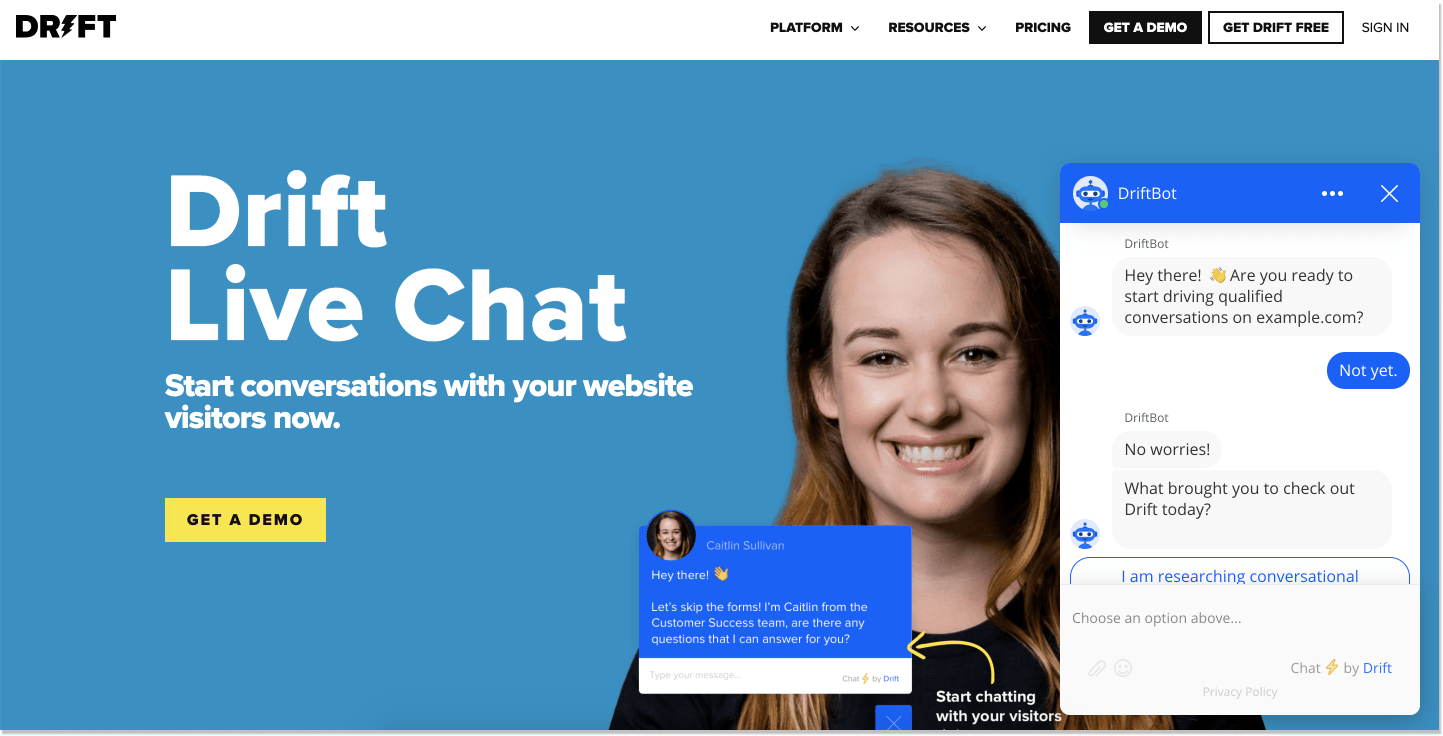 Drift identifies itself as a 'revenue acceleration platform' jumping upon its goal: to help you generate more sales rather than just offering customer support. That's why Drift offers a live chat for WordPress plugin to install.
Install this WP chat plugin, and you're good to go:
Targeting for better customer experience
Drift Playbook for automatically converting your website visitors
Routing for passing the right conversation to the right sales rep
Sure thing, this feature set doesn't end here. If you add Drift's WP live chat plugin to your system, you can create multiple inboxes to manage various conversations, take advantage of canned responses and save yourself much time, and use chat satisfaction surveys to know the customer feedback. Besides, your team will be able to share internal notes with each other to streamline the workflow.
Pricing:
Drift has three pricing plans available: Free, Premium, and Enterprise. With a Free plan, you get a live chat feature with 100 contacts, whereas Premium and Enterprise go with an unlimited number of contacts in your database.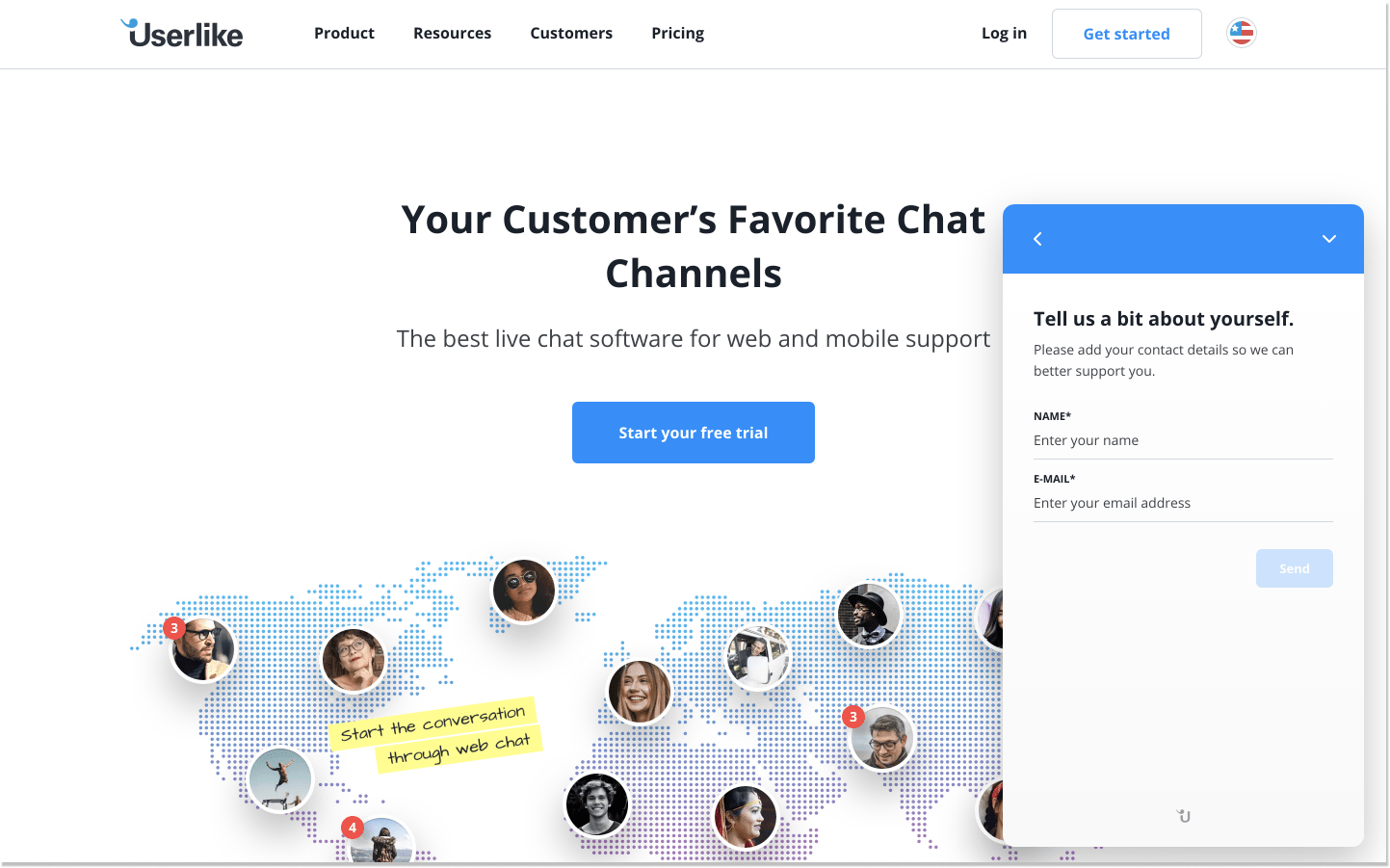 Userlike does some pretty good stuff when it comes to live chat software. As with other solutions alike, you can chat with your customers in real time. With this WordPress chat plugin, you can also communicate with clients via Facebook Messenger or Telegram.
This WP live chat plugin is perfect for those who want the customized design to match a unique brand style, purchase additional add-ons like Slack, Trello, Dropbox, or need chat rules. Plus, there's an opportunity to add a chatbot to your website.
If you install this WordPress chat plugin, a Chat Panel with all the meaningful data (like browser history, location, or email), a Sticky Chat feature, an intelligent chatbot, as well as other cool features are at your disposal.
Pricing:
Userlike has a variety of pricing plans at your fingertips. For starters, you can give a two-week trial a shot (no billing info needed) and then automatically switch to a Free plan. Besides, for a two-year subscription, you'll get a 20% discount on any product besides Userlike Flex. You'll get 10% discount for a one-year subscription.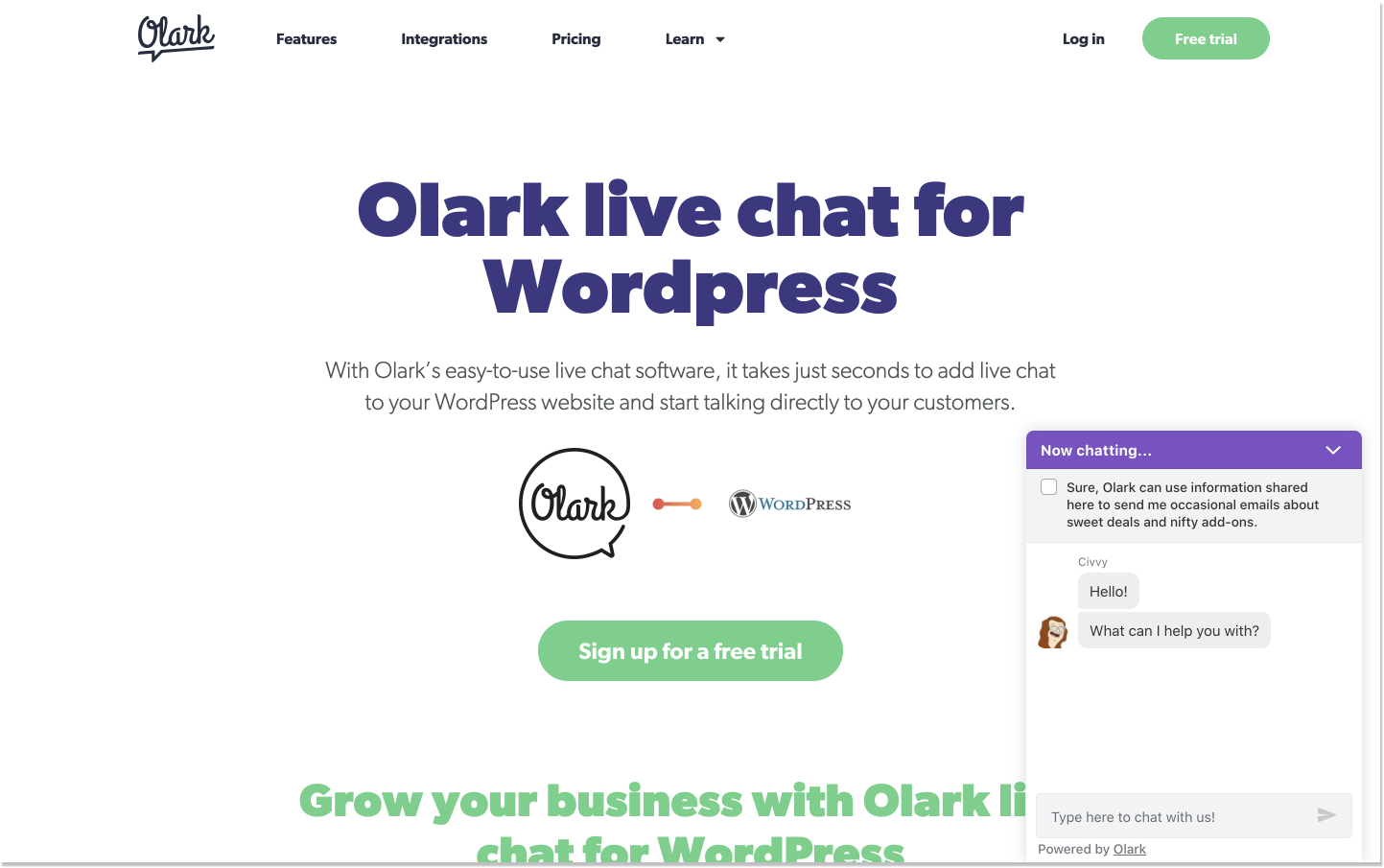 Olark is a strong contender for adding a live chat plugin to a WordPress website. It offers a classic set of customer service tools. For instance, agent activity, chat frequency measuring, customer satisfaction reports, email reports, and the whole lot more. For your easy management, there's a chat assigning option for your team, which is ideal if you don't want a mess in your inbox.
It's also possible to create automated chat messages and set on conditions they will show to make your website's visitors trigger their behavior. These are based on geolocation, preferred URL, or browsing behavior.
As you can see, even a non-tech-savvy person is able to install a WordPress live chat plugin to talk to visitors. Olark's solution is not an exception. To set up an Olark WP live chat on your website, you just need to hit the 'Install' and 'Activate' buttons on your WordPress dashboard. It's that easy!
Pricing:
The pricing plans at Olark start from $19 a month per agent. Like the majority of other brands, Olark makes it possible to try its WP live chat plugin for 2 weeks completely free.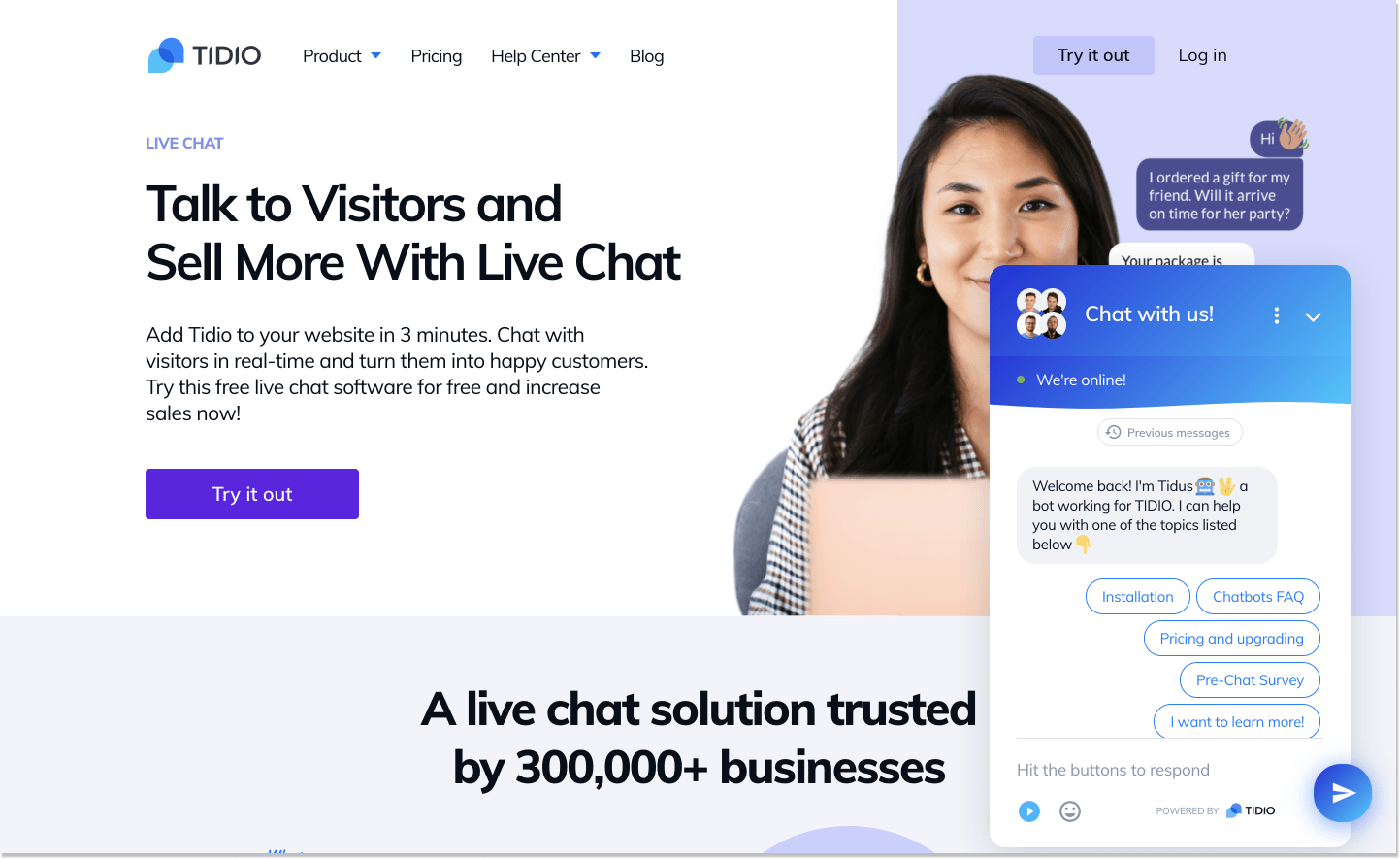 Tidio is another popular WP chat plugin that runs on iOS, Android, Windows, and OS X. Except for monitoring your live chat conversations, it allows you to process emails and Facebook Message notifications in the same interface.
With Tidio, you can keep an eye on your team's productivity using automatic messages and chatbots. What's more, this WordPress live chat plugin supports many languages: you don't have to waste precious time translating a client's question.
Similar to other WP chat plugins mentioned here, Tidio is fully customizable and easy to set up. Just type 'Tidio' in a search bar on your WordPress account and press 'Install'. Tidio is also not an exception when it comes to framing a brand's personality. You can easily change a color scheme and choose a design that suits your business.
Pricing:
The key live chat feature set goes with a forever-free plan here. It involves up to three chat operators, unlimited chats, and mailing features to name just a few. When you're ready for some advanced specs, you're supposed to pay $18 per month for a Chatbots plan, $18 a month to get a Communicator account, and $10 a month for an Email Marketing plan.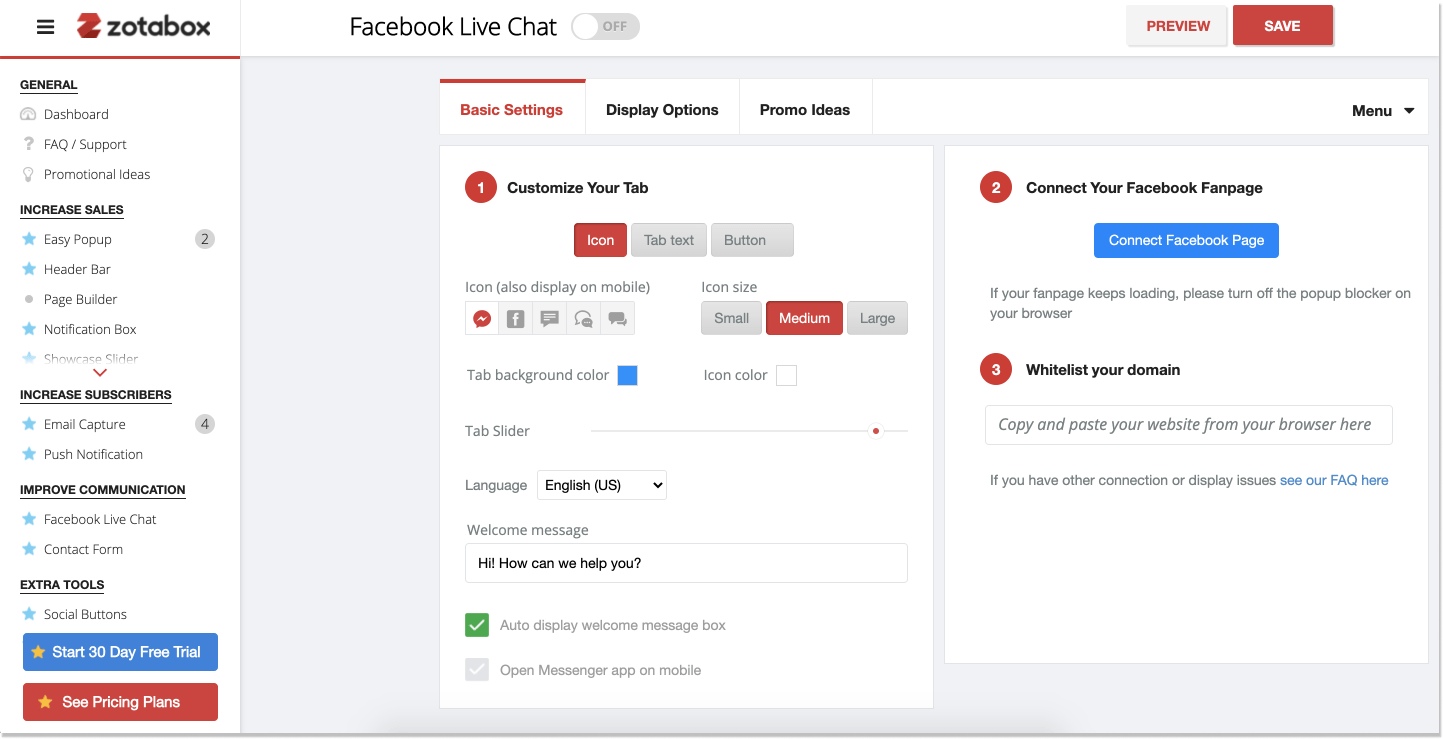 The vast majority of businesses use their accounts as a major marketing element. So, if your website is highly reliant on social media, consider adding a Facebook WP chat plugin to it.
Owing to such a handy live chat option by Zotabox, you can talk to your visitors in real time and view their profiles. Facebook Messenger Live Chat has a promo bar, social mobile tools, notification box, and a whole lot more.
This plugin is actually a JavaScript code snippet that helps create a chat bubble in the lower right corner. You can add a Facebook Live Chat plugin for WP to your website in several clicks. But first of all, you need to have a personal Facebook page or a business account. Don't want your chat bubble to be blue? Choose any color you want to match your brand identity.
Pricing:
This plugin is free but you're limited to whatever specs Facebook provides you with. But if you want to upgrade, there's a Starter version for $6.49 a month, Express for $14.99 a month, and Platinum for $39.99 a month.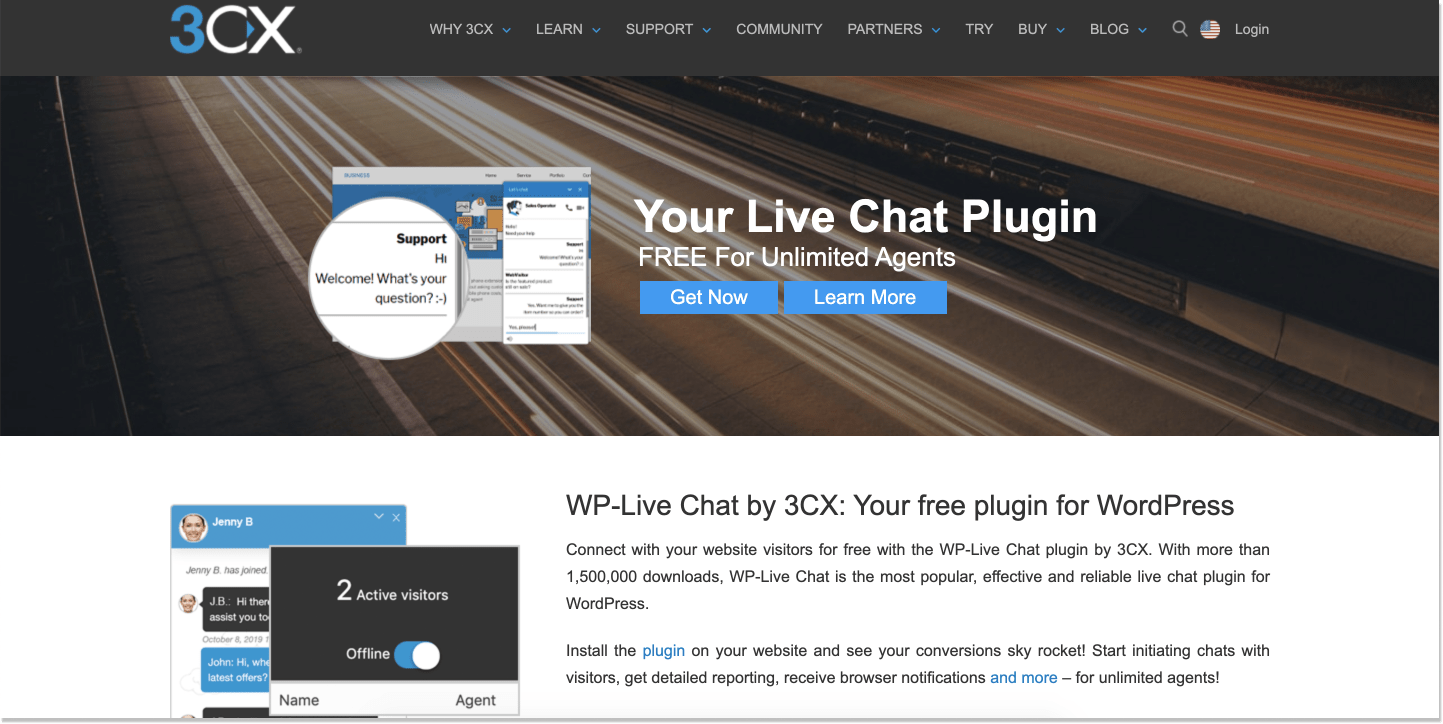 WP-Live Chat plugin becomes more and more popular. It goes with unlimited free chats, user targeting, surveys, and polls to collect customer feedback right after a chat. And that's a pretty valuable feature which allows you to see if a person is satisfied with the customer service and what aspects of your business should be improved.
Among other features this live chat WP plugin has, there are:
Chat transfer
Custom fields
Desktop notifications
Quick responses
Data triggers
…and a whole lot more
Once you install and activate this WordPress live chat plugin, you'll see the 'Live Chat' link on the left side of your WordPress Admin dashboard. Click it and follow the screen instructions.
Pricing:
The WP-Live Chat plugin is free.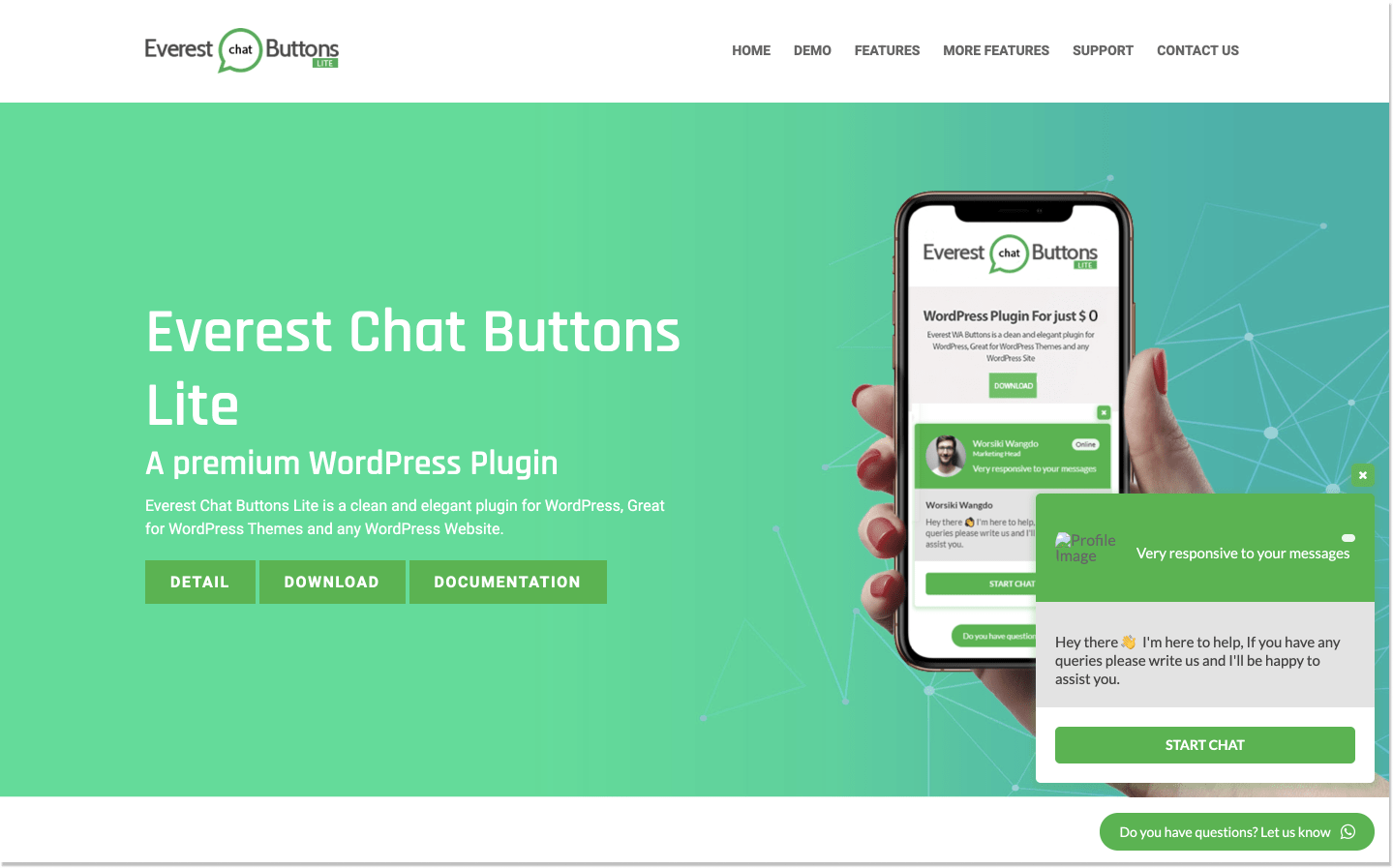 Everest Chat Buttons Lite is a free WordPress chat plugin that allows you to add a WhatsApp button to your website and interact with your customers using the WhatsApp Messenger.
With this WP chat plugin, you get an unlimited amount of shortcodes and place them wherever you want: posts, pages, and other places on your website. Pre-designed templates, single- and multi-user floating menu, account additions, WooCommerce integration, as well as other great stuff is available at Everest Chat Buttons Lite. You can also customize the color scheme so that your customers don't lose you.
There's no need to be a computer ninja to install this live chat plugin for WordPress. But first, you need to get yourself a WhatsApp account. Just follow the steps in the installation guide and you're good to go.
Pricing:
As it's been said above, Everest Chat Buttons Lite is a free solution.
Bottom Line
There you have it! All of these WP live chat plugins have something to offer, but it's you who makes the final decision. To be honest, there's no all-encompassing WordPress chat plugin solution. Everything comes down to your special needs and budget.
But if you need to contact your clients proactively, build better relationships with them using powerful tools, and just be there for your customers no matter what, create an account with HelpCrunch to take its live chat WP plugin for a spin.