Last year, the Price Intelligently software surveyed over 1,000 current and prospective customers of the Envoy software in an attempt to calculate how much they're willing to pay for this solution. The research showed that small companies of 25 to 50 employees can spend not more than $85/mo on a visitor management tool like Envoy.
Obviously, this study is far from being universally illustrative for all kinds of businesses and software solutions. But it does get the point, doesn't it? At the beginning of their journey, even $100 for a piece of software can sound like a lot of money. Especially, if you're not sure about its return on investment.
Moreover, small business customer service solutions have their own nuances. In 2020, you can't just answer customer requests from your Gmail account and call it a day. Numerous studies show that live chats and emails are the most popular customer service channels among customers, but 67% of them would still prefer to use self-service portals before contacting a company representative.
So, there's no surprise that an overwhelming 94% of users prefer omni-channel support. So, you can either go with 3-4 disconnected customer service solutions for a small business or choose an all-in-one tool.
How to choose the best customer service software for a small business
To sum things up, the best customer support software for a small business lies somewhere on the intersection of a low price and rich omni-channel functionality. That's why to qualify for this list, customer service software should meet two simple requirements:
Must be the most affordable solution in their class
Should cover email support, live chat, and knowledge base features (additional features = extra points)
In other words, we've taken the most affordable all-in-one customer service solutions on the market that manage to stay up to a high standard. In addition to the above-mentioned qualities, this support software for a small business should be flexible, responsive, and easy to scale. So, who are our lucky choices?
1. HelpCrunch and its Standard 'Live chat + Emails' subscription
HelpCrunch is one of the most affordable and wholesome customer service software for a small business. The tool has two pricing tiers: 'Live chat' for live chat and knowledge base, and 'Live chat + Emails' for additional email automation functionality. This combination of must-have features makes it nearly perfect customer service software for a small business.
If you want to answer customers' emails and send them automated or targeted email campaigns, then go with the Standard 'Live chat + Emails' subscription. It costs $29/mo per team member. For this price, you get a fully-functional live chat, an external knowledge base with an unlimited number of pages, and email automation.
Live chat & Email features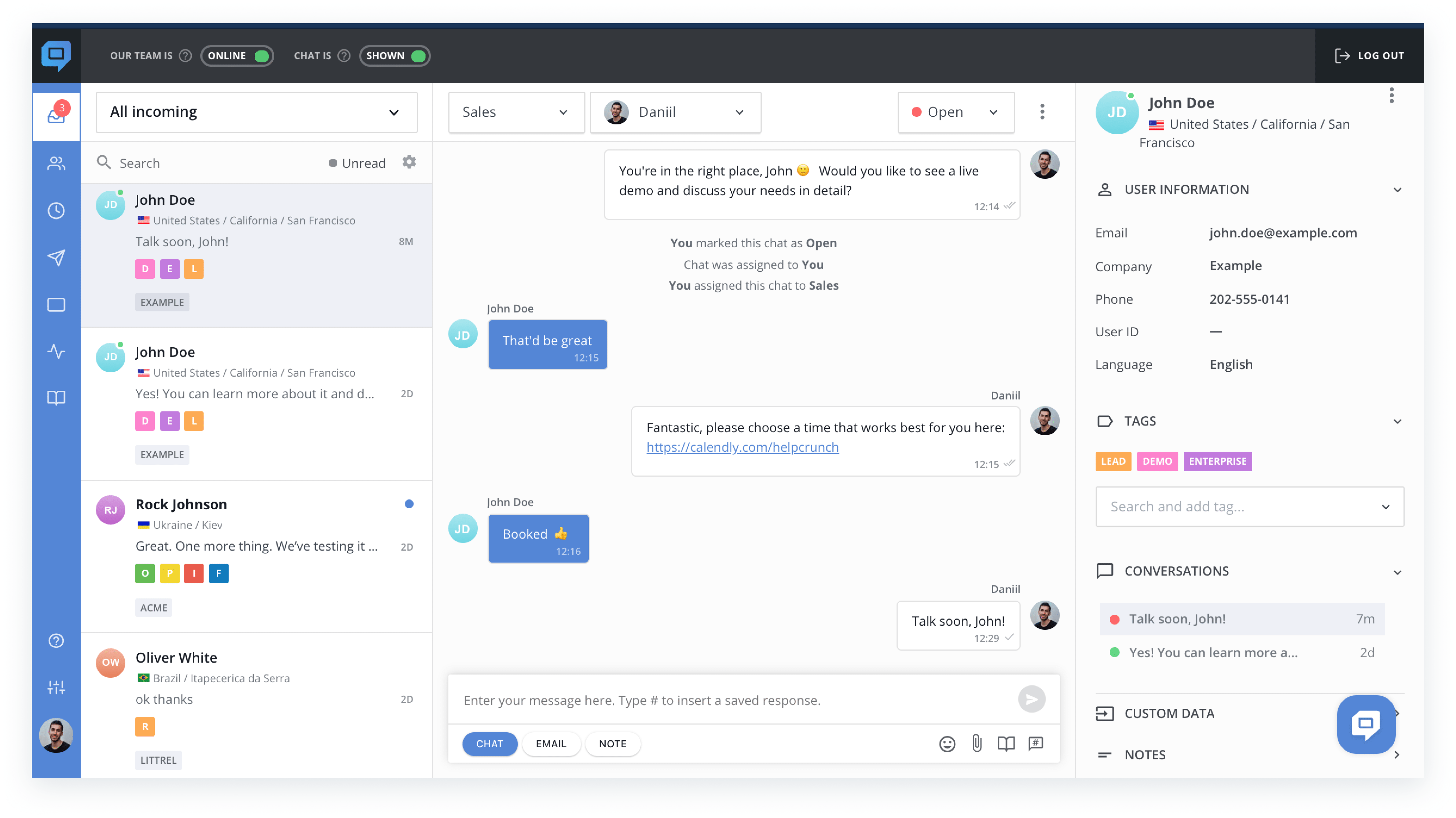 If someone leaves you a message in chat on your website or via email, every request lands in a shared team inbox. You can assign each conversation to yourself or other team members, leave private notes, and change its status from 'Open' to 'Pending', 'On-hold', or 'Resolved'. Support agents have access to customer data like emails, locations, user paths, actions, etc right in the chat sidebar.
It's easy to switch between chats and emails in the same window. And each message that was sent via chat but wasn't read by a user there, can be resent to them via email.
In addition to answering customers' requests in real time, HelpCrunch allows sending auto and manual messages to customers via chat or email. You set specific criteria or choose the right customer data – and a message will be sent based on them. This basically means that HelpCrunch can also substitute a separate email marketing tool for your business and save you a couple of dollars.
The HelpCrunch live chat can be installed on your website or app in a few simple steps, and afterward, it's possible to customize the widget in any way you want. The same goes for their knowledge base.
Knowledge base features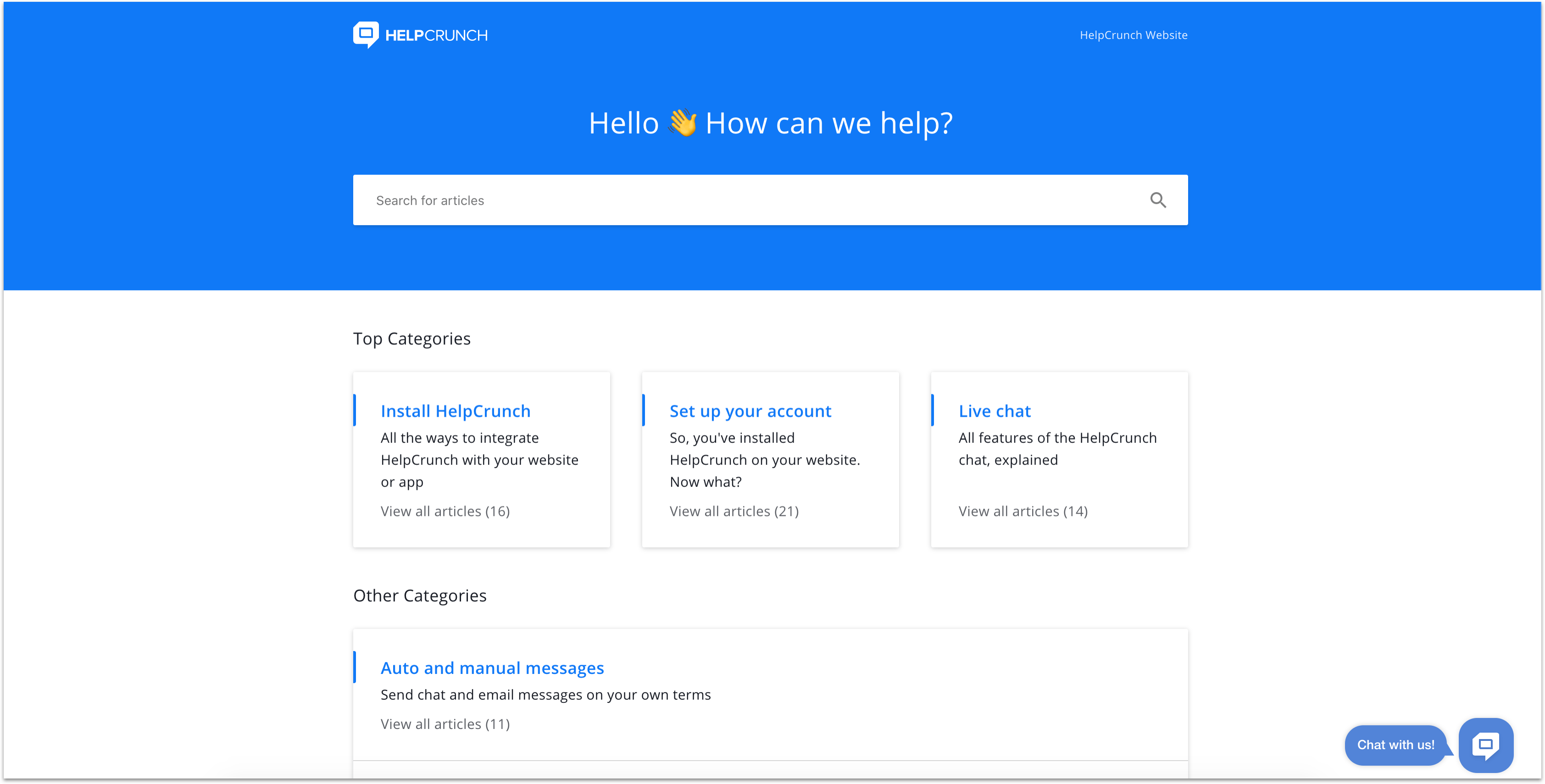 Once you sign up for HelpCrunch, you can specify a custom domain for your knowledge base and start writing help articles right away.
The knowledge base by HelpCrunch has a rich WYSIWYG editor, detailed reports and SEO metadata that you can specify manually for each article. Each article can have images, videos, tables and all those special blocks like warnings, notes, tips.
The whole look is customizable with your brand colors, logo, header images and even custom CSS and JavaScript.
Additional features
It's also possible to use HelpCrunch for setting targeted popups on your website. The tool offers a bunch of standard templates for popups while users can choose their colors, positions and, obviously, texts.
Popups' targeting is similar to auto messages where you set criteria that serve as triggers (current URL, time on page, etc).
2. Crisp and its 'Unlimited' subscription
There are three pricing plans available for Crisp, including the free one with basic live chat functionality. But if you want to build yourself a knowledge base, there's no other way but to buy the Unlimited subscription that costs $95/mo per website.
Luckily, this subscription offers lots of goodies on top of live chat, knowledge base and help desk features — starting from unlimited seats.
Live chat & Email features
Crisp offers the unified Team Inbox, where you can manage all support requests from chat, email, Facebook Messenger, Twitter or SMS. And what's also great, customers can easily switch between these channels right in your chat widget by simply pressing corresponding buttons.
Just like any other small business customer service software in this list, the tool offers standard things like saved responses, private notes, user ratings, etc. But live chat is not the only option with Crisp as it has built-in features for audio and video calls. Additionally, it's possible to record audio messages and send them to customers right away (that's if anyone likes these things).
You can set automated trigger-based chat messages and enhance your live chat with some simple chatbot scenarios (it's not really some artificial intelligence technology, but it's a nice addition nevertheless). Except for a chatbot, Crisp offers a couple of other cool things that make working with this software much easier and faster.
The first peculiar feature is called Magic Browse, which allows you to see your customers' screen in real time.
The MagicMap feature shows you a real-time view of all your visitors so that you can initiate a conversation with them in some way.
Chat reminders can be another useful feature. People usually keep their future meetings and plans in Google Calendar, but Crisp can remind you about important customer service tasks without additional software.
Although chat customization options are a bit limited, you can still change your widget's colors and positions. On the plus side, your knowledge base will be integrated into the chat widget right from the beginning.
Knowledge base features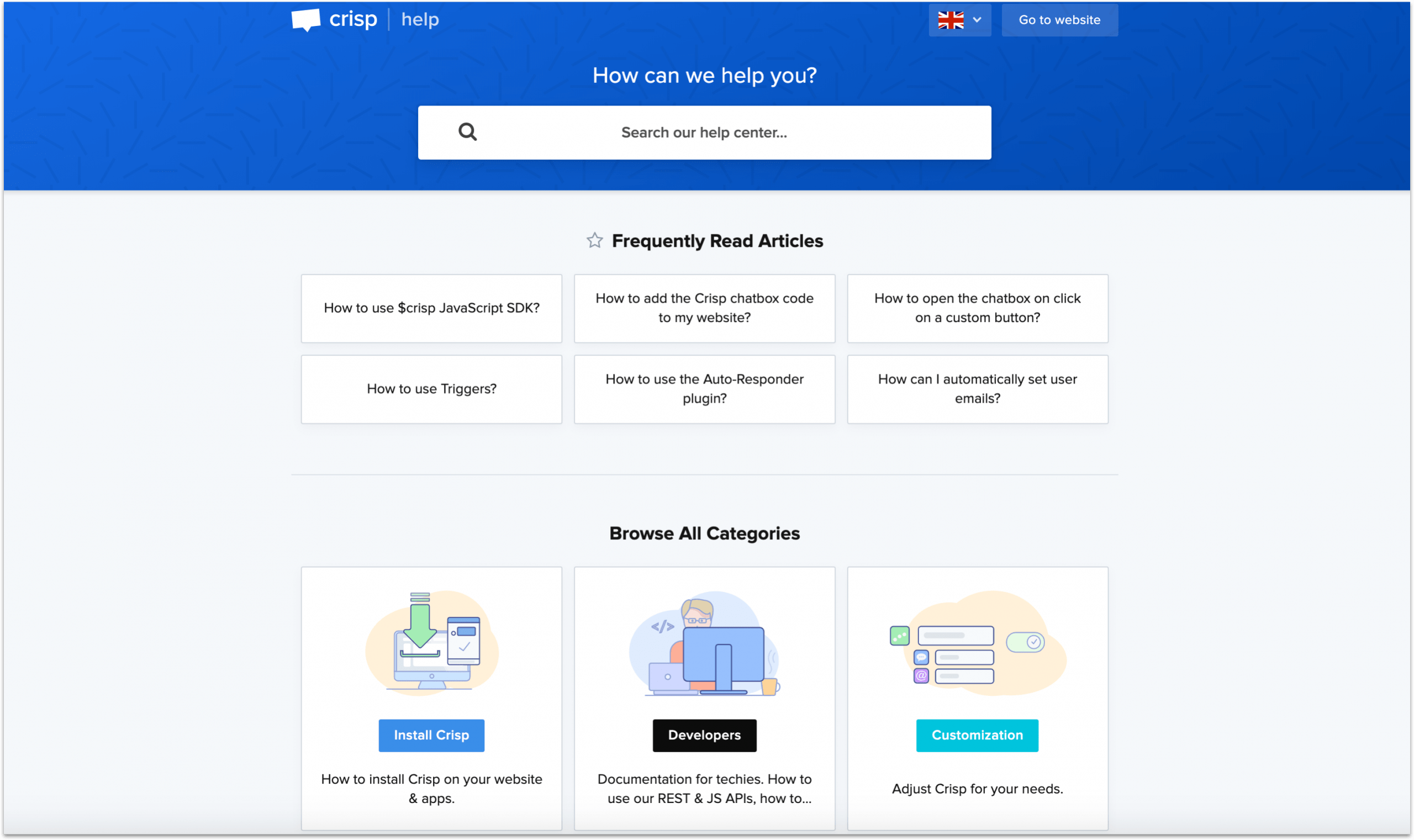 As I said, Crisp's knowledge base is already integrated into their chat. So, once a customer opens a chat widget, they can search for answers right in it and take some workload off your customer support team.
You can customize your help center with a custom domain and colors as well as use different icons for categories. The text editor allows adding images, videos, code snippets, special warnings — and all this can be done in different languages since the Crisp knowledge base is multilingual.
Additional features
There's a nice addition to the Crisp toolset and it's the 'Status page' feature. Basically, Crisp can monitor your uptime and downtime and post a timely notification on a designated page when something goes wrong. It will notify you, too.
This way, customers can check your status page and find all the information they need instead of contacting your customer support every time.
3. Help Scout and its 'Standard' subscription
Help Scout is one of the most well-balanced customer service tools for a small business. There are two subscription plans offered by Help Scout (which makes it pretty easy to choose): Standard and Plus. The main difference between them is in integrations and the amount of mailboxes you can set up in your account.
If you don't need those, you'll be just great with the Standard subscription for $20/mo per user. For this price, you'll get 3 separate mailboxes, 1 knowledge base site, and live chat.
Live chat & Email features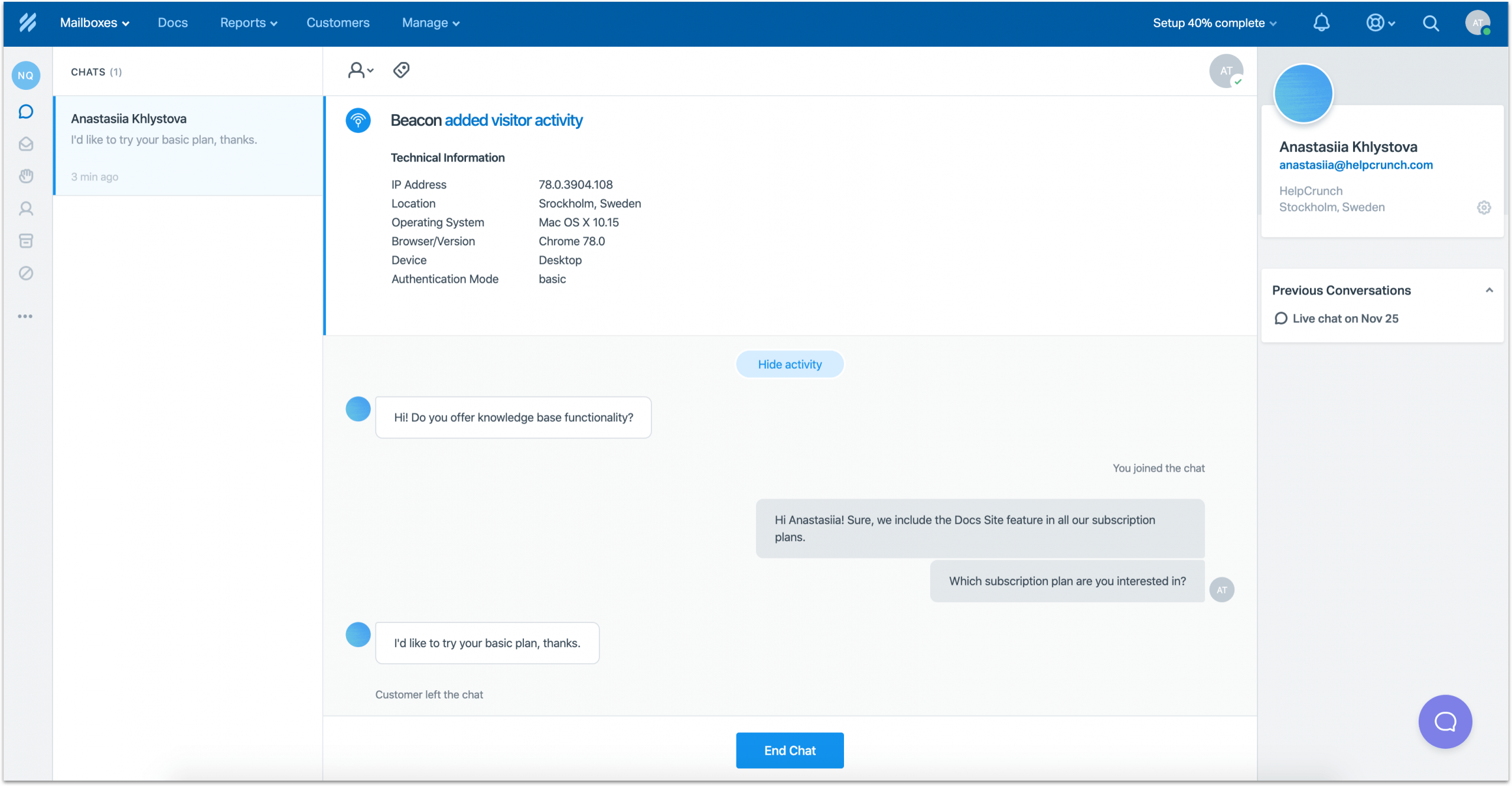 Help Scout lets you start with setting up your first mailbox. It helps you forward email requests to your Help Scout dashboard and manage all support requests effectively. However, I find it inconvenient that Help Scout separates chats from other channels.
The Help Scout inbox is divided into several folders — chats, assigned/unassigned, mine, drafts, closed and spam. In addition to them, you can add your custom folders. Once a request lands into the inbox, support agents have all the necessary features to collaborate on it: mentions, private notes, saved replies and customer data in a sidebar.
With the help of 'Workflows', it's easier to automate some customer service routine tasks. Just set the 'if…then' rules to tell the system what you want to achieve — automatically route a conversation to a corresponding department, send a follow-up, send a notification to support agents, etc.
You can send targeted messages to up to 10,000 customers via chat, which will be triggered by any conditions you set. However, there's no email marketing solution in addition to chat campaigns.
Knowledge base features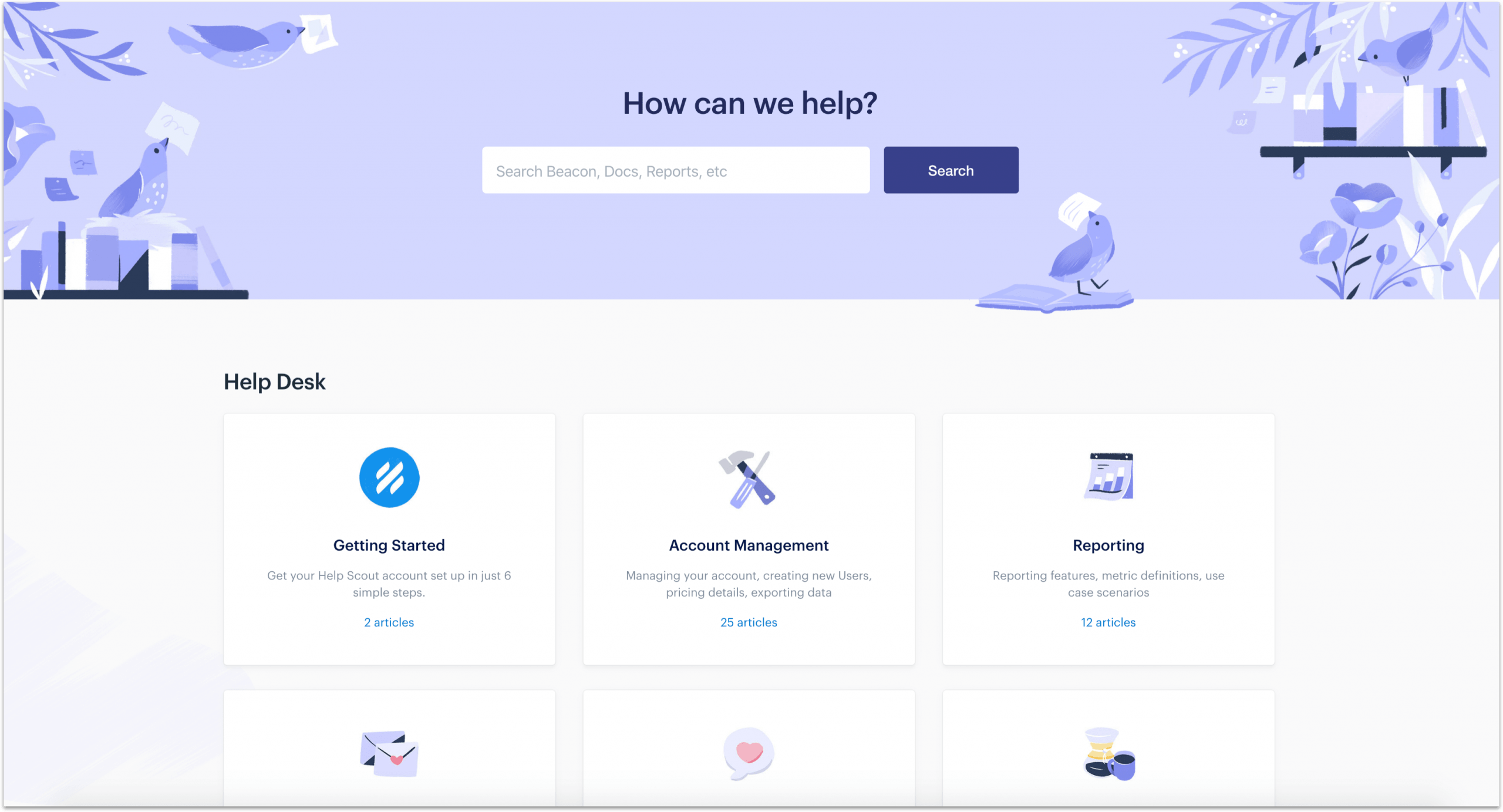 The Help Scout chat widget has two tabs in it – Ask (chat) and Answers (knowledge base), which make it easier for customers to find answers and resolve their issues. However, you can choose other displaying options for your own knowledge base and show it as a sidebar or a popover.
When creating a knowledge base article, you can also customize related articles and SEO details for it. As to the overall look, there are several standard formatting settings while it's also possible to add custom CSS.
And once everything is organized and published, the Help Scout report will help you track what visitors are searching for and what percentage of them still reach out to your support team.
Additional features
Help Scout doesn't really offer anything other than live chat, knowledge base, and basic help desk for customer support. However, they're really great at what they do offer.
Moreover, they offer this huge list of integrations that you can always use to enhance your customer service software – from HubSpot and Salesforce to Mailchimp and FullStory. So, yeah, it will cost you some extra money but it will get the job done, too.
4. LiveAgent and its 'Ticket + Chat' subscription
Having been established in 2004, LiveAgent is one of the oldest customer service software for a small business on this list (other solutions were founded well in the 2010's). And you can see that the tool is older in some of their UX/UI choices – like, chat widget's design. On the other hand, the fact that they managed to stay afloat all this time can only mean that it's a solid reliable tool that you can trust.
So, LiveAgent has a pretty transparent pricing model with three subscription plans – Ticket, Ticket + Chat, and All-inclusive. The last one costs $39/agent/mo and offers cloud call center software and social media tracking, which are not that crucial for small businesses. That's why the 'Ticket + Chat' subscription for $29/agent/mo should do. So, what does it include?
Live chat & Email features
Given that ticketing is their main focus, LiveAgent offers quite basic live chat functionality. It does have proactive auto messages via chat and chat satisfaction tracking. But yeah, its functionality is cut-down while appearance customization is pretty basic.
It's also quite inconvenient that they separate chats and tickets into different folders. A support team of one or two people will have to constantly switch between the two tabs.
Small businesses with less traffic will enjoy the 'Online visitors' feature that shows who's browsing your website in real time. You just need to paste a corresponding tracking code into your website. And there's another peculiar thing that not many other customer service software solutions have: you can see what visitors are typing in a chat widget in real time before they send a message.
Users will probably enjoy ticketing functionality more. There are two default folders for incoming tickets — All and Assigned to me. However, support agents can create as many custom folders as they want. They will serve as filters and can be based on a ticket's status, source, or tags.
Once a ticket lands into the inbox, there are numerous actions that can be performed with it — transfer and assign it to other team members, merge with other tickets, add private notes, etc. Customers' personal details are available in the sidebar at all times.
Knowledge base features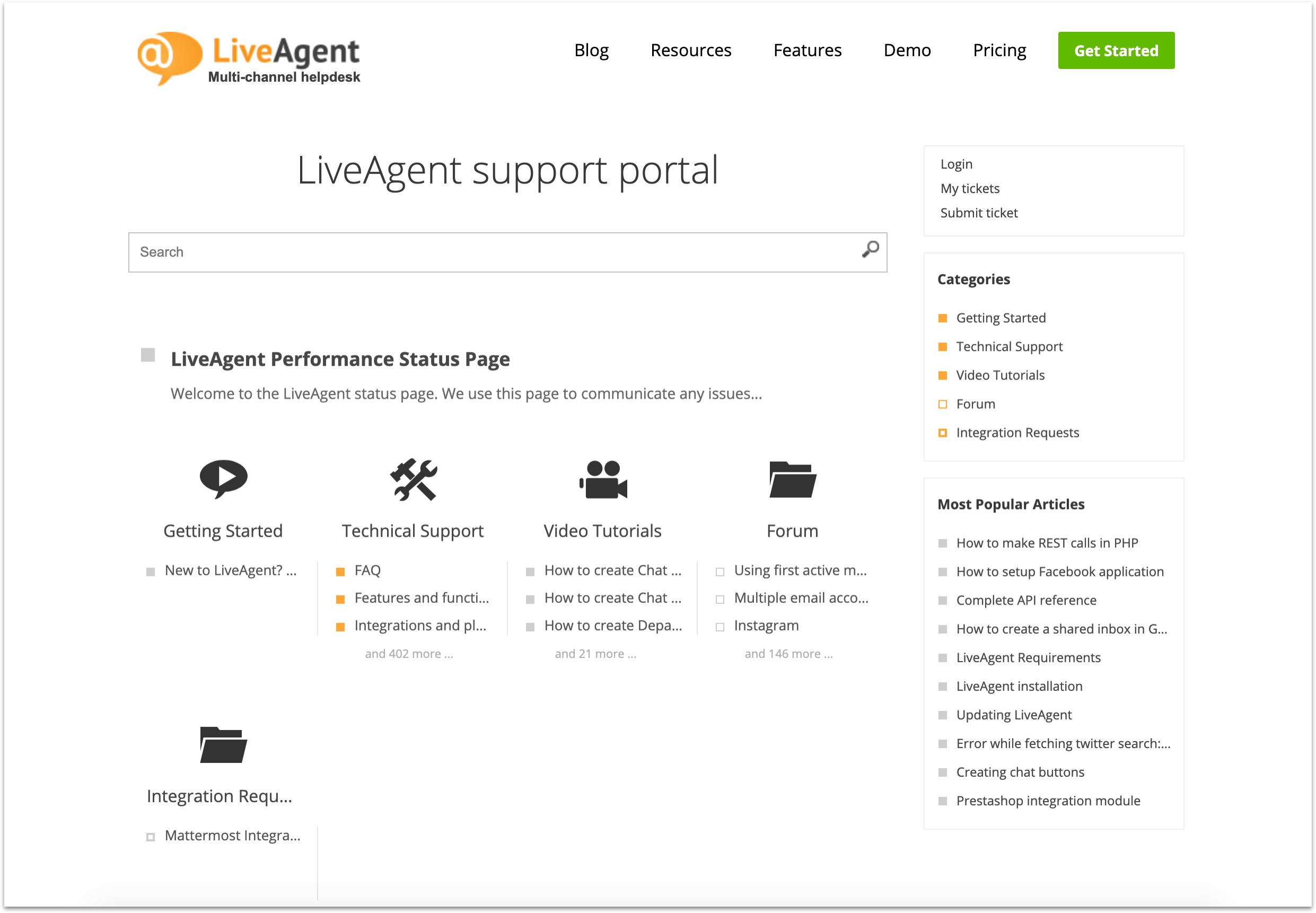 If you want to customize your knowledge base's look, you can choose between default themes, change colors, and add custom HTML and CSS.
On top of a usual knowledge base site, it's also possible to create community forums for your customers to discuss their issues with each other. Once a customer asks a question or replies to one, the system creates a corresponding ticket and notifies you about it.
The text editor is pretty standard with all the necessary formatting features. You can also translate your articles into different languages as LiveAgent supports multilingual knowledge bases.
LiveAgent gives you the opportunity to create unlimited knowledge bases if you need separate portals for different services or products of yours.
Additional features
There are several additional features offered by LiveAgent including call center and social media support functionality. But as I said, they're only available in the 'All-inclusive' subscription for $39/agent/mo, which can seem a little bit costly for small businesses.
5. Freshdesk and its 'Blossom' subscription powered by Freshchat
Strictly speaking, Freshdesk is a help desk (aka ticketing) tool with knowledge base functionality. And yes, it doesn't include a live chat. However, the tool belongs to the Freshworks family which offers all kinds of customer service software – Freshchat for live chat, Freshsales for CRM, Freshcaller for call center and many more.
So, you can build your perfect support software for a small business by combining them in any way you want. It makes even more sense since all of their products are available in free versions.
If you choose the 'Blossom' subscription plan of Freshdesk and then enhance it with Freshchat for free, the whole thing should cost you only $19/mo per agent.
Live chat & Email features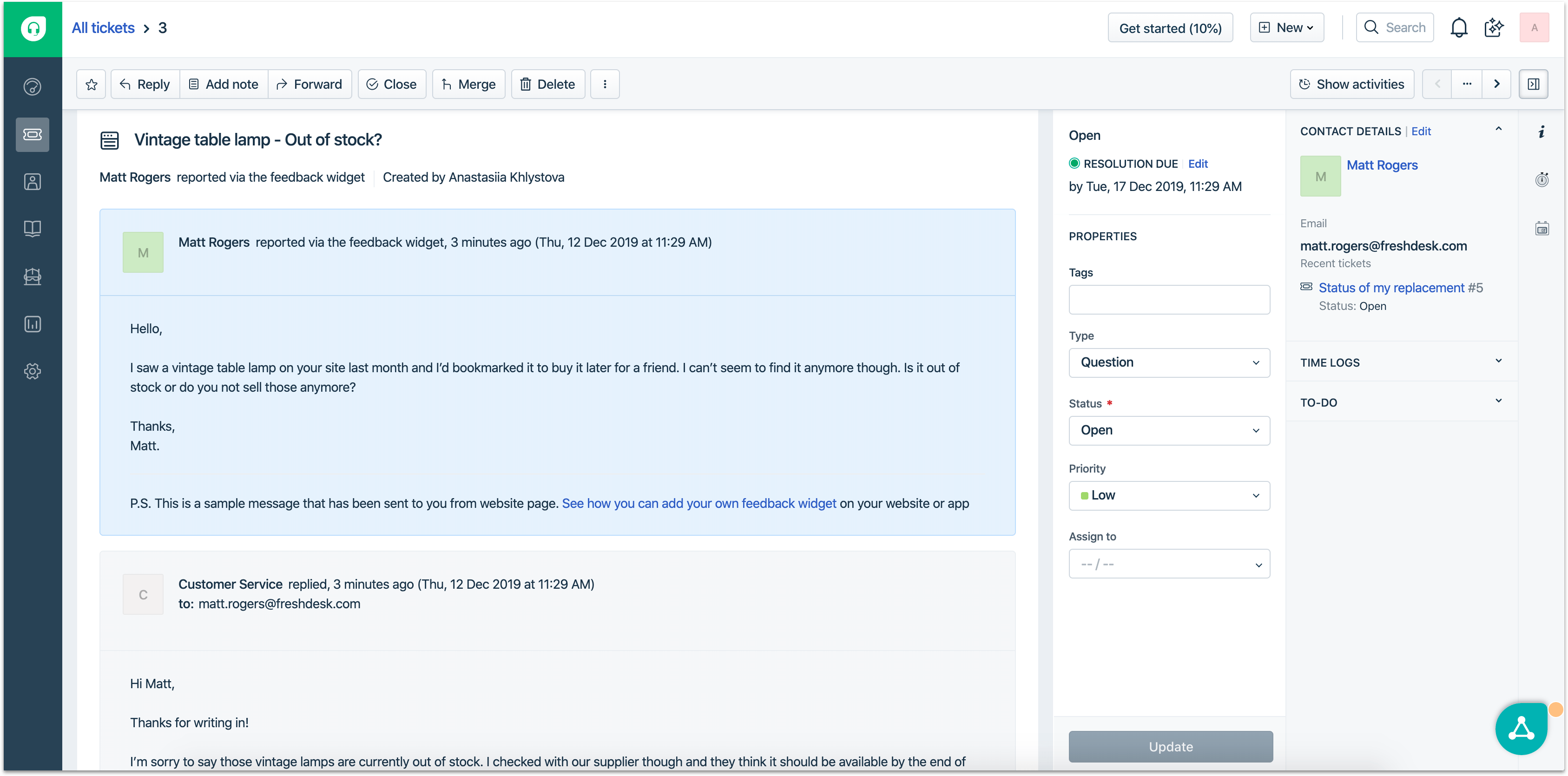 So, let's talk about Freshchat first. What does its free version include?
First of all, it has 10 agent seats and unlimited contacts, which is great news right there. However, it's quite limited in terms of functionality. Basically, all you can do with the Freshdesk live chat is answer customers' requests in real time. You can't send file attachments, you can't reach out to customers proactively, and you won't be able to track any live chat reports.
So, if it falls within your budget, you can upgrade to Freshchat's 'Blossom' subscription. It costs $19/mo per team member and includes triggered messages, assignments rules, reports and, thank God, file attachments.
That's why it's much more pleasant to talk about Freshdesk and its ticketing functionality. There are all kinds of managing and collaborating features available for support tickets: collision detection, automatic assigning based on keywords, merging/splitting, and even unsending some tickets when needed.
You can route your Twitter and Facebook requests to the Freshdesk dashboard and manage them as tickets as well.
There are time- and event-based triggers available for workflow automations. By using them, you can put many routine tasks like follow-ups or ticket closing on autopilot.
Freshdesk reports will show you the number of created, resolved or reopened tickets as well as the help desk average response time, and resolution time.
Knowledge base features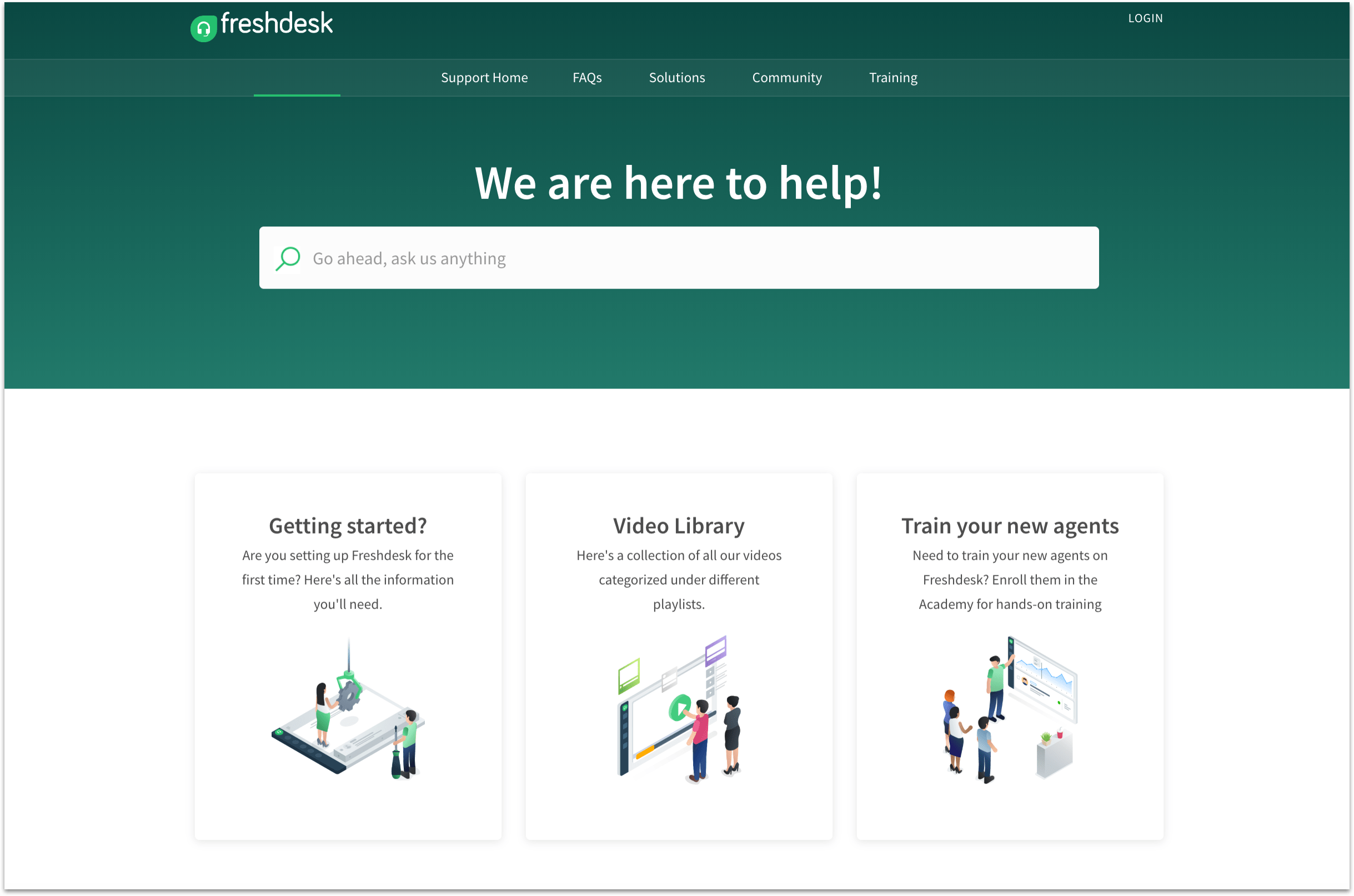 Knowledge base functionality is included in the Freshdesk 'Blossom' subscription. The text editor has all basic formatting tools and looks simple and intuitive. It's easy to add images and videos as well as specify articles' SEO properties. Unfortunately, the multilingual feature is only available on the more expensive subscription plans.
The Freshdesk knowledge base works great in bundles with their ticketing. It's easy to convert agents' answers into knowledge base articles right from a ticket window while the tool can auto suggest relevant articles in response to customers' questions.
Additional features
As I've mentioned, there are many additional features that Freshdesk can offer to a business of any size. And their starting price is usually not that high and overwhelming. So, it will be easy to add different functionality one by one as your business starts to grow.
They include:
Freshsales for CRM software (from $12/mo per user)
Freshcaller for cloud call center software (from $25/mo per agent)
Freshconnect for team collaboration software
…and much more. But yeah, every tool will cost you another $20-30.
Conclusion
If you're running a small business, the price is always a difference maker, but you also can't afford to spend even a few dollars on glitchy and sloppy software. And if this software is your main tool for communication with your customers, the stakes are even higher.
That's why it's so crucial to choose the best customer service software for a small business that will cover all your communication channels and give you necessary tools for managing them effectively. Choose an all-in-one customer service tool like HelpCrunch and you'll see immediate return on your investment.
HelpCrunch articles delivered straight to your inbox 🚀
All the latests posts. One email per month.
No strings attached.
Read also
Comparison
Which of the two most popular help desk tools is better for you? We've compared their features, prices and more to make the choice easier on you.
Comparison
Zendesk is one of the most widely known help desk tools out there. But it has its flaws, too. Check these 5 Zendesk alternatives that will help you improve your customer support, sales, and marketing.
Comparison
Check this ultimate Intercom vs Drift comparison to choose the best messaging platform for your customer support, marketing, and sales.