15 Budget-Friendly Customer Service Software for a Small Business
Even if your business is just on its way to success, it still needs a helpful tool to be the best. Check out 15 low-budget customer service software for a small business and choose something that fits the bill.

When it comes to running a small business, even a little detail shouldn't slip through the cracks. Make sure everything from how you organize your workflow to how skilled your staff is taken into account. Do I need to mention your customer service should be within your eyeshot first off?
If your thoughts are "Why do I have to bother about helping my clients? I'm a small brand, everything is cut and dried", kick them out. The rule of thumb is that 90% of consumers use good customer service as a factor in deciding whether or not to deal with a business. Compare that to 49% of clients who switch their service provider due to poor support.
Where's the catch? The key is arming with the right tools to scale up your brands' online success. In this post, we lay out 15 affordable customer service software for a small business you'll want to consider. It's categorized into specific groups for your smoother experience. So, let's walk the walk.
Why You Need Customer Service Software for a Small Business
Even if you're a newbie in your niche, customer service software can become a game-changer. You can do without it, but do the math and imagine the processes that will fall on your shoulders.
As a business owner, you would have to be a manager, a support rep, a developer…and I can go on and on. This is when cutting-edge technology enters the picture.
Customer service software for small businesses transforms your experience right off the bat:
Consistent support: almost every software option we're going to elaborate on in this article comes with such helpful features as canned responses, knowledge base integration, tagging, and others for you to fight customers' issues effectively.
Customer insights: organize and collect both positive and negative feedback your clients share as it's a weapon you have to keep for future product or service improvements.
Team collaboration: when a team works as a whole unit, it's easier to keep track of tickets, decrease duplicated work, and update your answers so that clients get the real value.
Analyze and report: dedicated customer service software usually provides a great reporting feature that lets you easily see the support volume, monitor the team's performance, and make changes if need be.
All-in-one customer service software
As the name suggests, all-in-one customer service software features everything you need to deliver the greatest support. This involves live chat, email marketing, knowledge base, and help desk. However, it all depends on your goals: be it helping clients via a simple chat, driving their attention to your product or service, generating more revenue, or educating customers with self-service. Anyway, this section has something to choose from.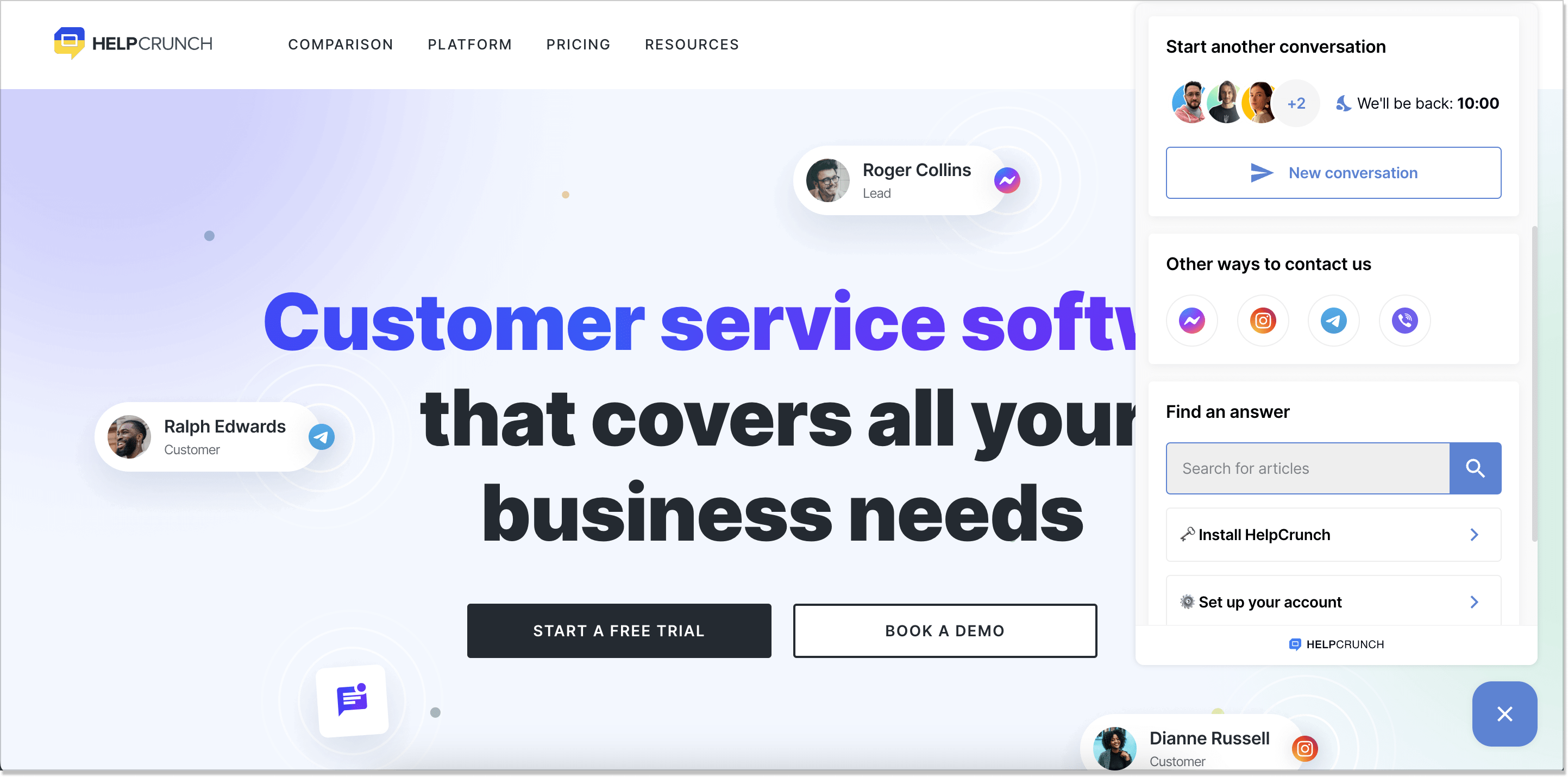 HelpCrunch is an all-in-one customer communication platform that is perfect for a small business. Get more leads, boost sales, improve customer satisfaction and retention, you name it: this low-budget omnichannel tool provides you with anything needed to satisfy your business goals. Check out the flagship features HelpCrunch delivers:
Live chat: provide proactive customer service in real time and engage with clients by setting up targeted messages via live chat. And don't bother about installation and customization processes as they are as easy as ABC.
Knowledge base: introduce your customers to self-service with a thought-through knowledge base. Enrich your articles with illustrations, videos, tables, and other special blocks with a rich WYSIWYG editor. Now that the knowledge base is integrated into the chat widget, it's easier for customers to look up their burning questions.
Email marketing automation: send well-structured newsletters, automate your campaigns, follow up with clients immediately, create customer segments to reach out to specific users, and do much more with this small business customer service software.
Chatbot: automate your customer support and sales with the HelpBot. Leverage it to qualify leads on your website, answer repetitive questions, collect visitors' contact details, and tag or assign chats. The platform offers a visual no-code editor to create the bot scenarios from scratch or edit the templates.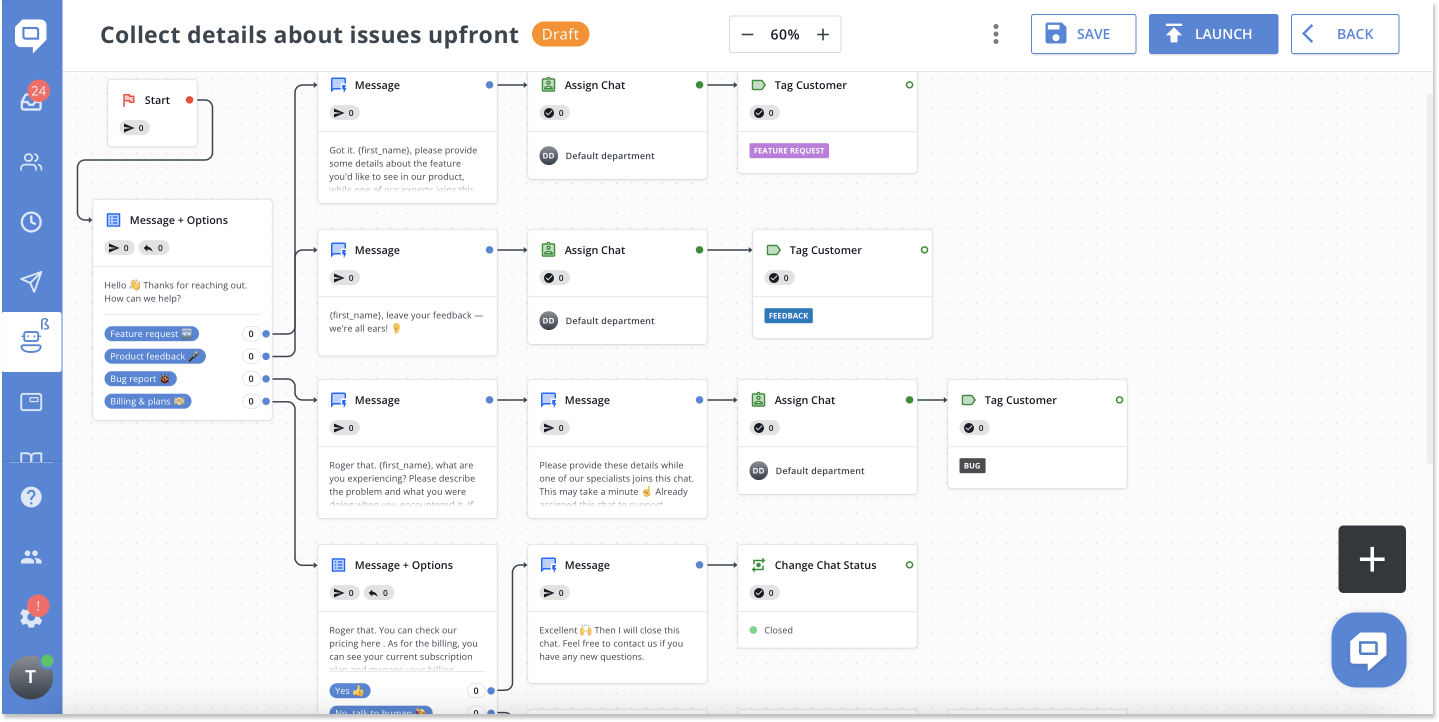 A popup builder: HelpCrunch lets you customize popups to attract more clients and make your content more visible. Keep track of your popup performance with a helpful report feature. Moreover, use popups' targeting where you set criteria that serve as triggers (current URL, time on page, etc).
Help desk: Provide omnichannel and professional customer support with a unified help desk. All communication is happening under the same dashboard, so your service team can tag, assign, and merge chats to increase its productivity. Canned responses, conversation rating, custom data, and more perks are at your fingertips.
Shared inbox: all messages land in the same place, so it's easier to resolve customers' issues together, without switching between the channels and clarifying the details. Collaborate with your team and manage customer service requests at a fast clip: tag, merge, assign, or delete them in one interface.
Developer tools and patterns: arm your dev staff with the right tools. HelpCrunch released the new Rest API and Webhooks.
Speaking of the pricing plans, there are "Basic" and "Pro" options (starting with $12/a month per team member and $23/a month per team member respectively if billed annually). With the first one, you get live chat support, a well-built knowledge base, 3 auto messages, and other benefits. The second comes with 5 chat widgets, a chatbot, unlimited auto messages, unlimited popups, high priority live chat support. Choose whatever fits the bill.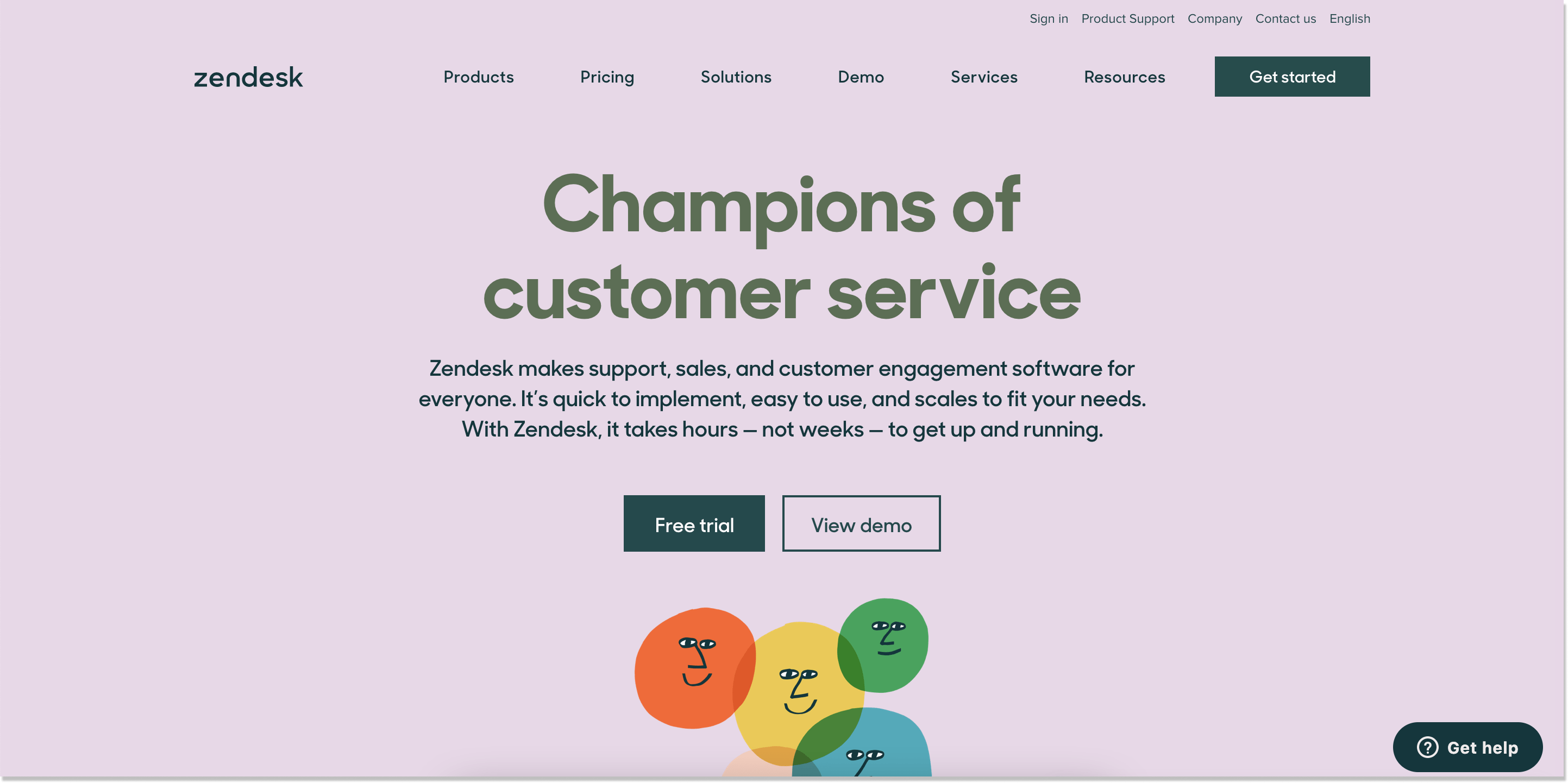 Zendesk is a complete customer service solution for a small business that comprises support, sales, and marketplace options. If you don't know how to get up and running in the community, this comprehensive set of features will clear the air:
Live chat and messaging: assist your customers in real time as they navigate your website or take advantage of third-party integrations to streamline the process. Build long-term customer relations by anticipating your clients' questions, raise sales with proactive engagement, and measure your success with useful metrics in a one-stop customer service software for a small business.
Ticketing system: your emails, voice messages, and chats are gathered in one place. You can track, prioritize, and handle customer tickets without spending too much time and effort. Isn't it a handy feature?
Integrated voice software: Zendesk Talk allows a customer service rep to pick up a conversation from any channel and help users on the double. You can even connect your own call center to this customer service digital tool for a small business using its special toolkit.
Help center: make self-service great for both your customers and support agents with a sleek knowledge base. Customize the way you want it, add as many articles as you need, draft them on the fly, or set up an answer bot. Everything is aimed at timely support.
A CRM platform: all customer data is connected and stored in a user-friendly CRM platform which is native to AWS (Amazon Web Services). You're able now to identify and understand your users' needs wherever the information exists.
There are 5 options available at Zendesk customer service software plans:
Essential (from $5 per agent a month) – email and social media, chat history, web widget and mobile SDK, and many more.
Team (from $19 per agent a month) – custom business rules, public apps, and many more.
Professional (from $49 per agent a month) – multilingual content, dashboards, reporting, and many more.
Enterprise (from $99 per agent a month) – multibrand support, skills-based routing, multiple ticket forms and many more.
Elite (from $199 per agent a month) – unlimited agents, advanced security, data center location, and many more.
To test this affordable customer service software for a small business, sign up for a 30-day free trial.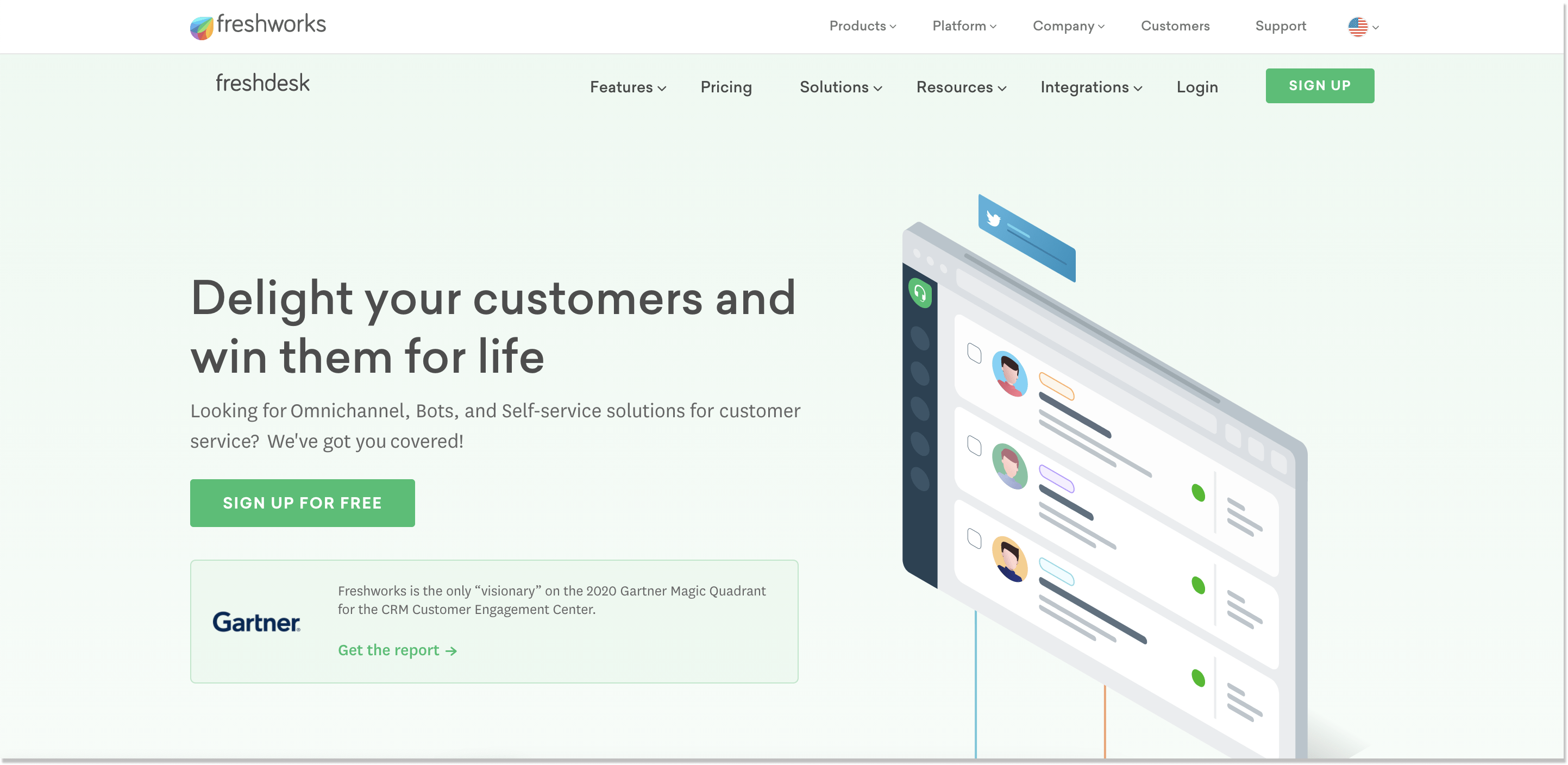 Freshdesk is customer service software for small businesses you can definitely benefit from. The tool belongs to the Freshworks family which offers all kinds of customer support software – Freshchat for live chat, Freshsales for CRM, Freshcaller for call center and many more. Try a 21-day trial, combine these options, and wow your customers in a snap.
Automate your workflow, streamline conversations, and collaborate with your service team. As you can see, the features this tool pitches are comprehensive, but I narrowed them down to the most important ones:
Omnichannel support: create a modern messaging experience via chat, have all your emails organized and turn them into tickets, get the most from AI-powered social media mentions, and change the meaning of phone customer support. Meet the clients' needs the way they want to.
Ticketing: this feature is handy for teams of any sizes. It allows you to prioritize the tickets based on a keyword, send canned replies, get updated through smart notifications, or merge tickets to avoid a cluttered dashboard.
Self-service: from the chatbot to forums and a knowledge base – this customer service software for a small business won't leave your customers with unanswered questions. Plus, it's getting easier to show customers the right solutions wherever they are (website, in an app, or chat) with a special help widget.
Customization: customize everything you think is important. This can be agent roles, URLs, customer segments, and counting. On top of that, CSS customization, ticket forms, custom apps, and other options are available here.
As for the pricing plans Freshdesk offers, you can start with Sprout for free (with email and social ticketing, knowledge base, ticket dispatch). Then the prices start with $15 per agent a month (Blossom with automation, collision detection, helpdesk report, and many more), $35 per agent a month (Garden with time tracking, CSAT Surveys, custom apps, and other stuff), $49 per agent a month (Estate with round-robin routing, custom roles, customer segments, and many more), and $99 per agent a month (Forest with sandbox, email bot, agent shifts, audit log, etc.) if billed annually.
Live chat tools
The majority of customer support teams enjoy this powerful tool for a reason. It lets you provide timely help, reduces the workload, and it's not rocket science. This live chat customer service tool roundup covers worthwhile options for small business owners. Dive in!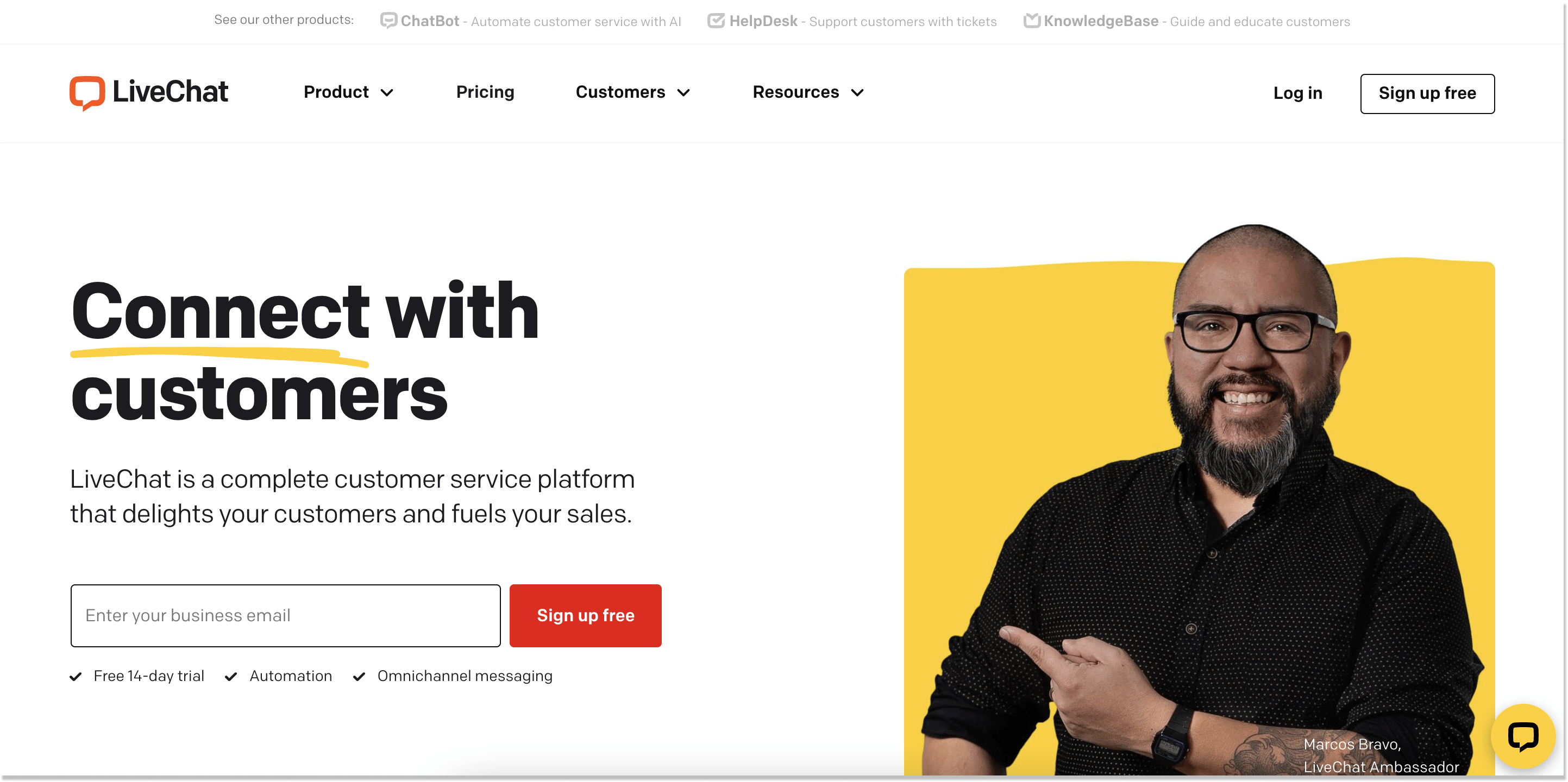 LiveChat is a simple and handy tool that can meet your chatting demands. This customer service software for small businesses has two options: a desktop version and a mobile app. So, if you're just starting to engage with your clients and don't know where to begin, this can be a perfect start.
Along with a basic live chat functionality with tags, file sharing, chat archives, and whatnot, LiveChat can boast about some other lucrative features:
Eye-catchers: the so-called "eye-catchers" stroke me the most. These are ready-to-use images (or animations) for driving your customer's attention and making the chat widget stand out from the crowd. Plus, LiveChat offers targeted messages, chat routing, chat history, and a messaging mode along the way.
Customization: add agent pictures to their profiles so that clients have a more human touch or use chat boosters to let customers finish actions that don't involve talking to a support rep. LiveChat has also instant translation in 45 languages, which helps build bridges with clients across the globe.
Reporting: everything from chat data, and ticket reports, to e-commerce reports to dashboard information is represented here. This way, you can get an in-depth overview of your team's performance and possible pain points to handle.
Starter (60-day chat history, ticketing system, data security), Team (unlimited chat history, widget customization, basic reporting), Business, and Enterprise (agent groups, multiple brandings, work scheduler) subscription plans are here at stake. See the prices for them: $16 per agent a month, $33 per agent a month, and $50 per agent a month respectively if billed annually. The Enterprise plan comes with individual annual billing. A 14-day trial can help you decide whether or not this small business customer service software is the best bang for your buck.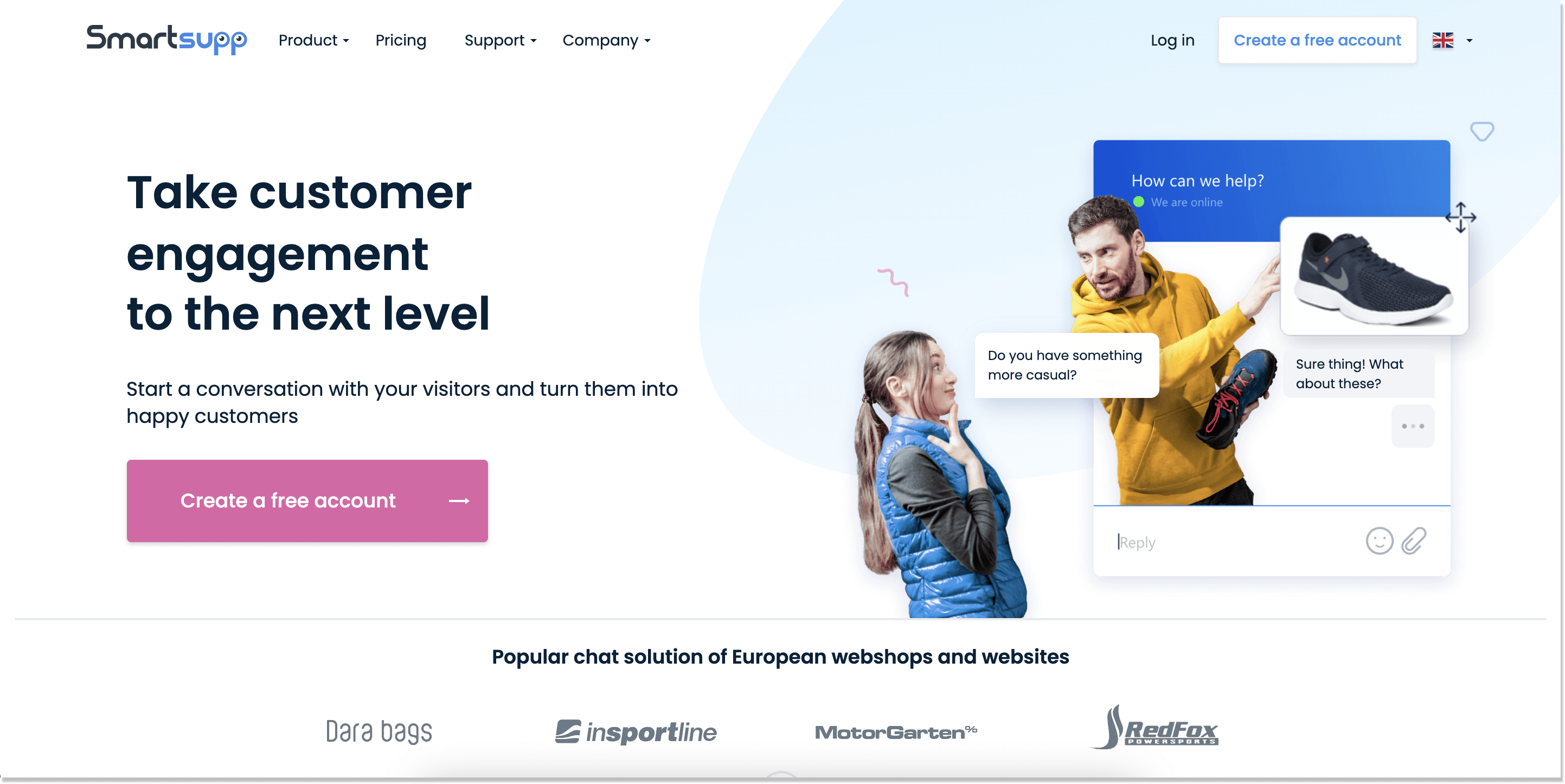 Smartsupp is a customer messaging platform where live chat takes the lead. However, you can also meet an email inbox option and Facebook Messenger here. Let's discuss Smartsupps' features in detail.
Multi-channel: more perks are near at hand. With this feature, you can choose a channel to address your clients' queries. Got a message in a chat? Reply with an email to solve the issue faster. They don't want to wait for an answer endlessly.
Chatbot automation: believe it or not, AI technology captivates the world. Any client will be unnoticed once you adopt this excellent spec. By setting it right, you can boost customer engagement significantly.
Statistics: there's always room for improvement. Check your customer satisfaction, keep track of user rating, average response time, and improve your product or service to make clients happy like never before.
Visitor overview: customers are the basis of your small business. And while it's growing, get to know your customers better, understand their buying patterns, and cater to their needs like a pro. Who knows, maybe this tactic spurs positive word of mouth.
Video recording: home page, shopping cart, product page…or where this client was first? Have a bird-eye-view on your customer behavior and discover where they get lost with this popular feature.
Do you want to get customer service software for a small business for free? Then creating an account with Smartsupp can be a great idea. But consider upgrading when you're ready to take your conversations to the next level. It'll cost you $10 a month per agent (Standard) or $19 a month per agent (Pro) if billed annually.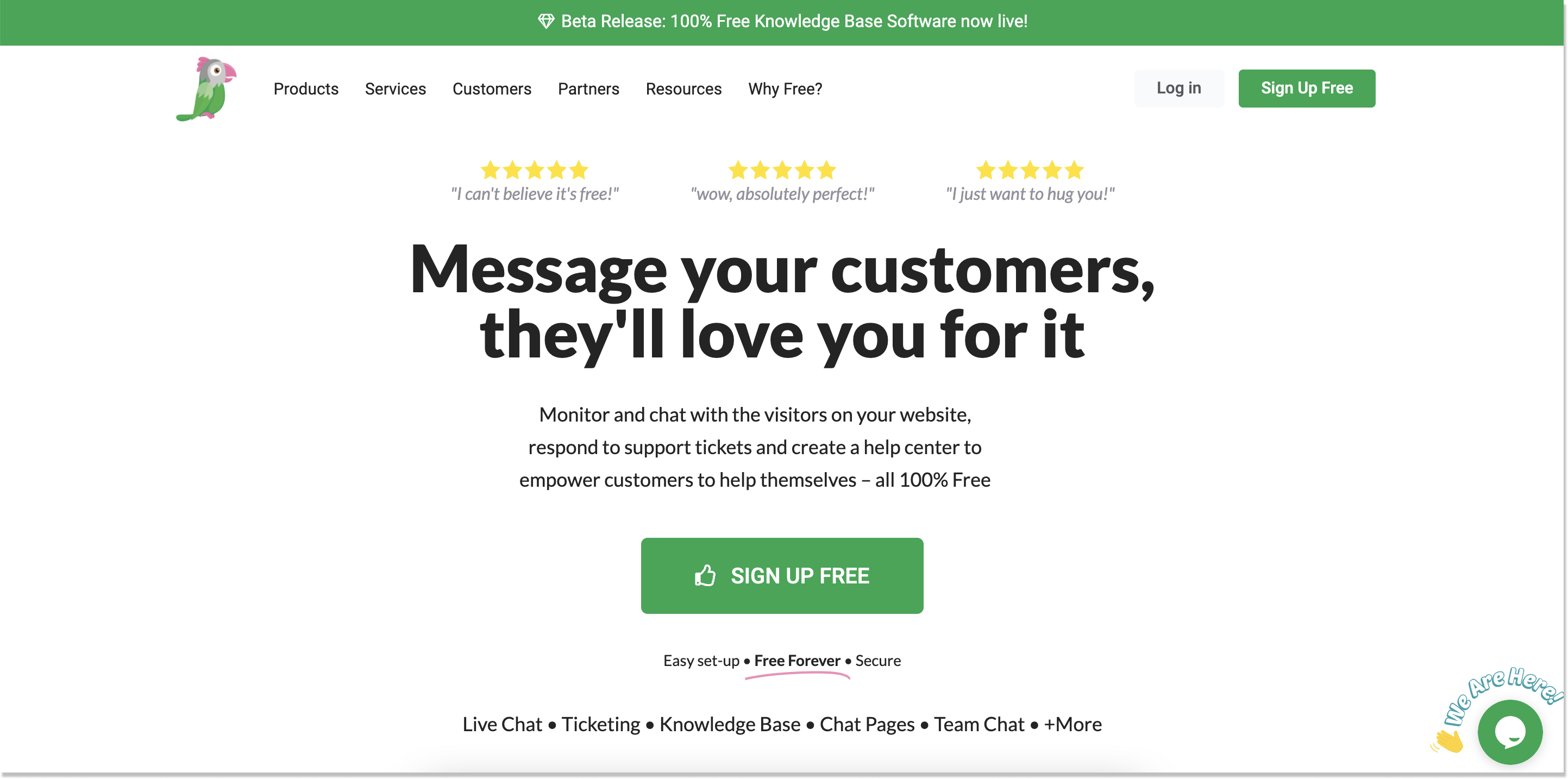 As a startup business, you might not have piles of money for the greatest online presence at the outset. But Tawk might be just the thing for you.
With this completely free customer service software for small businesses, you can talk with your website visitors and stay up to date with their actions, create a help center to encourage self-service, and resolve tickets fast enough. Look through what you can afford with Tawk without raiding a piggy bank:
Real-time monitoring: see what pages your clients navigate and have a broader picture of their journey. It's ideal for working up a quick reaction and reaching out to them before they come up with a question.
Message localization: do you have no clue what this client is talking about and why they are mad? Talk internationally with Tawk. It can translate the messages into 27 languages. Gone are the days of Google Translate!
Mobile-friendly app: You won't miss a chat as Tawk is available on both Android and iOS so that you can get notifications on the go.
Knowledge base: use a well-structured help center and send shortcuts (aka canned responses) to lend a helping hand to your clients at any time.
Help desk software
I am more than convinced you don't want to have all your communications scattered across different channels. For that matter, I recommend you to look through this selection of affordable help desk software for small businesses. It helps you gather communications in one dashboard where it's possible to process them efficiently. Each tool here is feature-packed, so you're spoiled for choice.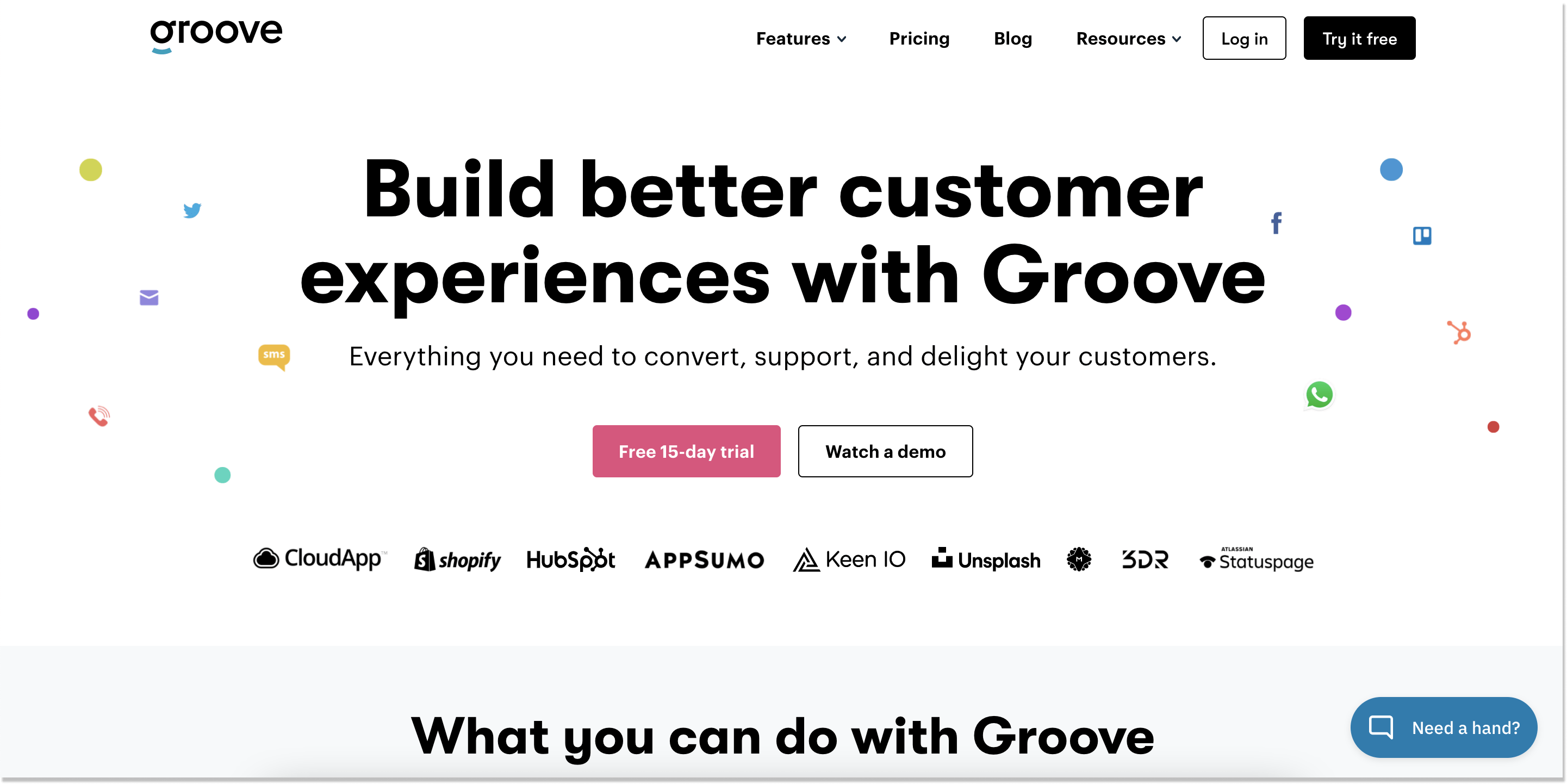 Among the best customer support software for small businesses, there's also Groove. This ultimate help desk and ticket management solution is perfect for growing brands that want to achieve maximum results.
Even though Groove doesn't have a live chat feature yet (you should install Olark's solution first and then add it to Groove's Support Widget), it's possible to assist your clients professionally. Check out what specs they bring to the table:
Shared inbox: an intuitive dashboard helps you keep track of any interaction, be it via email, social media, or phone. Collaborate with your team, assign conversations to your coworkers, and leave them private notes. Moreover, set automation to load off your support team by tagging, using saved responses, and creating special rules. Is there anything else you crave for?
Knowledge base: the best customer service software for small businesses usually provides a helpful online database to foster customers to self-service. So does Groove. Its knowledge base is fully responsive, customizable, mobile-friendly, and controllable. Check your resource center performance and see where you can fine-tune the content.
Reporting: Grove offers a reporting option so that you monitor the most valuable customer service KPIs and take timely actions. The metrics to track are resolutions per day, first reply resolution rate, average resolution time, and counting.
Integrations: numerous integrations are available right after you go with Groove. Facebook, Twitter, Github, Zapier, Shopify, and dozens of others. Just help your staff do more with an extensive toolkit.
Groove's pricing plans are rich (the prices are shown if billed annually):
Starter for $9 per user a month with 1 mailbox, knowledge base, web widget, and assignments
Plus for $19 per user a month with all Starter features and reports, rules, API access
Pro for $29 per user a month with all Plus features and Salesforce, HubSpot, Jira integrations
Enterprise with unlimited mailboxes, dedicated success manager, and other perks
If you're intrigued, Groove has a 15-day free trial for you to see if this customer service software for a small business suits your needs.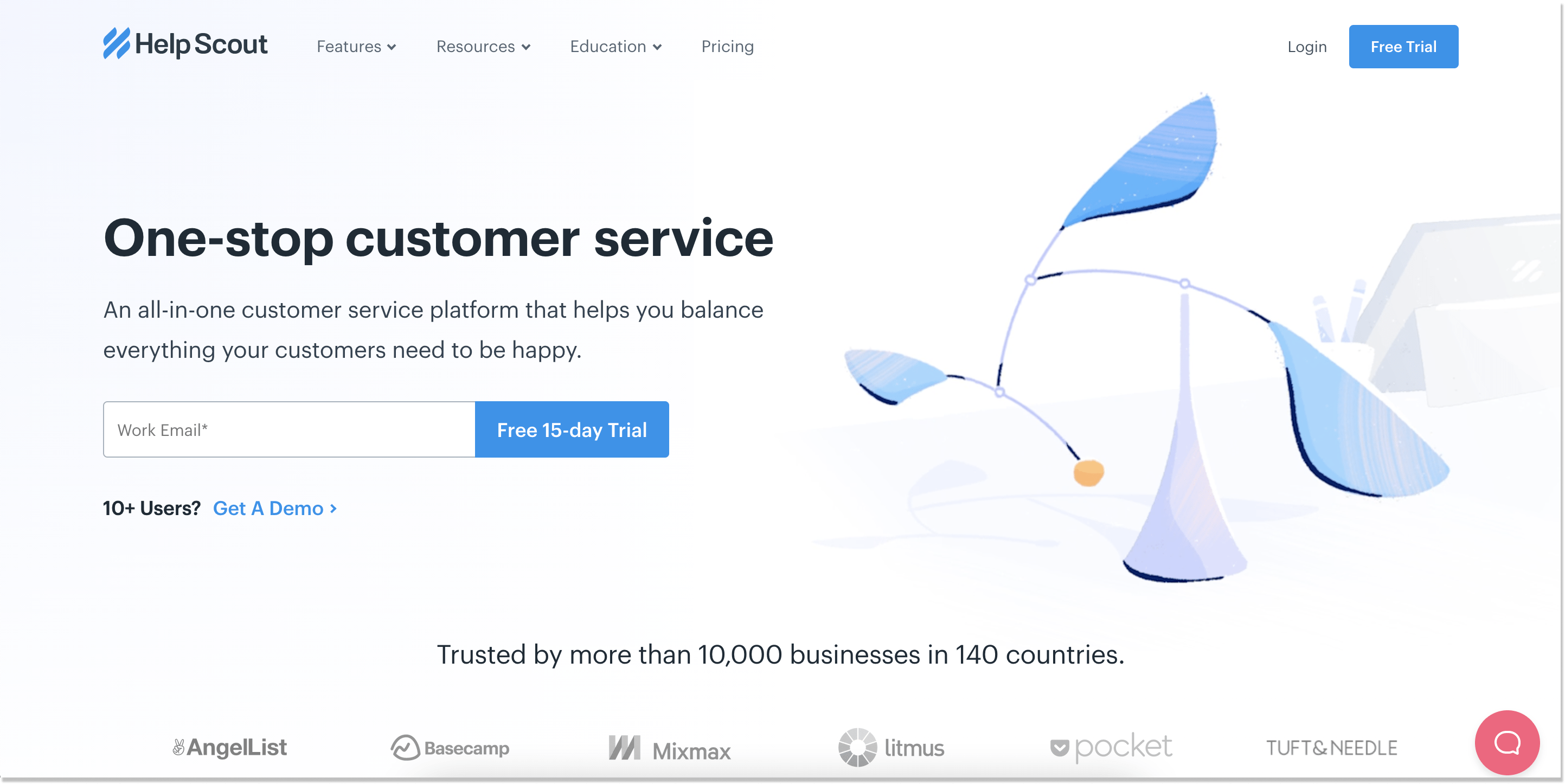 Help Scout is among those customer service tools for a small business that can boast about practicality. Basically, the help desk is its primary functionality. However, live chat, knowledge base, and a range of integrations are also available.
Teams of any sizes can be kept on the same page thanks to clutter-free features this customer service platform offers:
Shared inbox: manage all your requests from one place and deliver awesome support without switching between millions of tabs. Leave private notes, send canned replies, avoid duplication, and tag conversations to automate your workflow.
Advanced search: tired of endless scrolling and looking for the right piece of info? Find whatever you need with special filters, quick views, and bulk actions faster with advanced search. The feature any team would want.
Customer self-service: to power up self-service and let clients help themselves, build a knowledge base, and answer common questions within seconds. You can even link the articles into your message when you're solving a client's issue.
Help Scout offers three pricing plans for you to choose from. If billed annually, you can opt for:
Standard for $20 per user a month with reports, 3 mailboxes, API, and dozens of integrations
Plus for $35 per user a month with all standard features and 10 mailboxes, custom fields, Salesforce, or Jira apps
Company with all Plus features, concierge services, an account manager, and custom prices
A bunch of other perks come in one box from Help Scout. Try this customer service software for a small business for 15 days to see everything for yourself.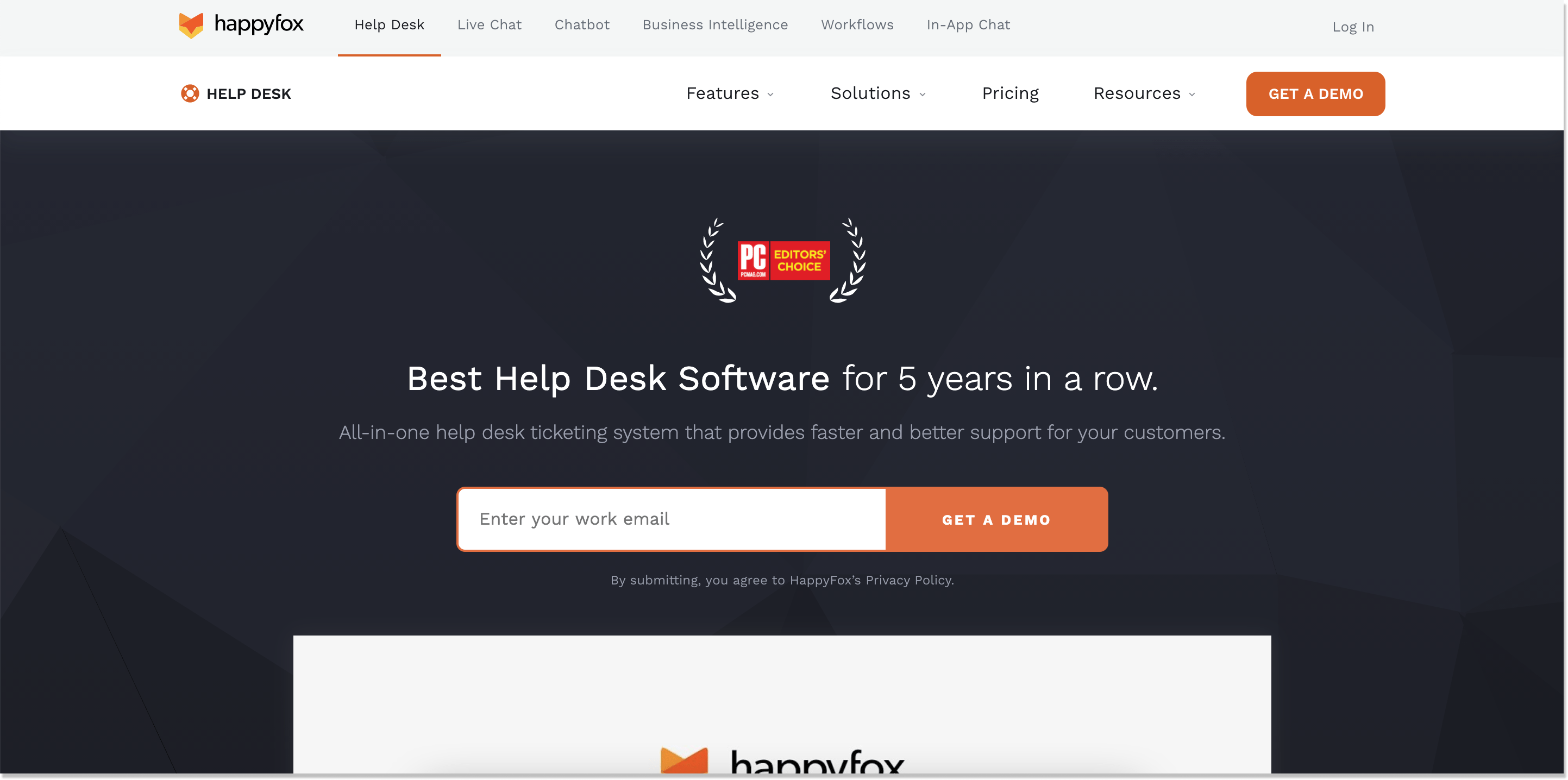 HappyFox is a practical help desk software that offers multi-channel support for customer inquiries coming from email, web, social media, and phone. Its robust ticket system allows you to keep everything together, always be well-versed in what's going on, and handle requests fast.
Organize your conversations by Queues, Status, Categories, Assigning, or Priority to avoid a mishmash in your inbox.
Take advantage of Ticket Preview to think fast about your customers' problems. Besides, you can always leave a Private Note to your team member so that you can discuss tricky cases together.
Contextual Custom Data will come in handy in times when you need clarification on the client contact info.
Search & Filter the tickets based on a keyword and use Bulk Editing to organize everything in your inbox.
So, if you're in IT, HR, marketing, or any other related industry, get a demo with HappyFox to request the prices for Mighty, Fantastic, Enterprise, or Enterprise Plus agent-based plans. All of them come with unlimited mailboxes, work schedules, custom roles, and other classy stuff. Ask about Starter, Growth, Scale, or Scale Plus plans if you want to go with an unlimited agent plan.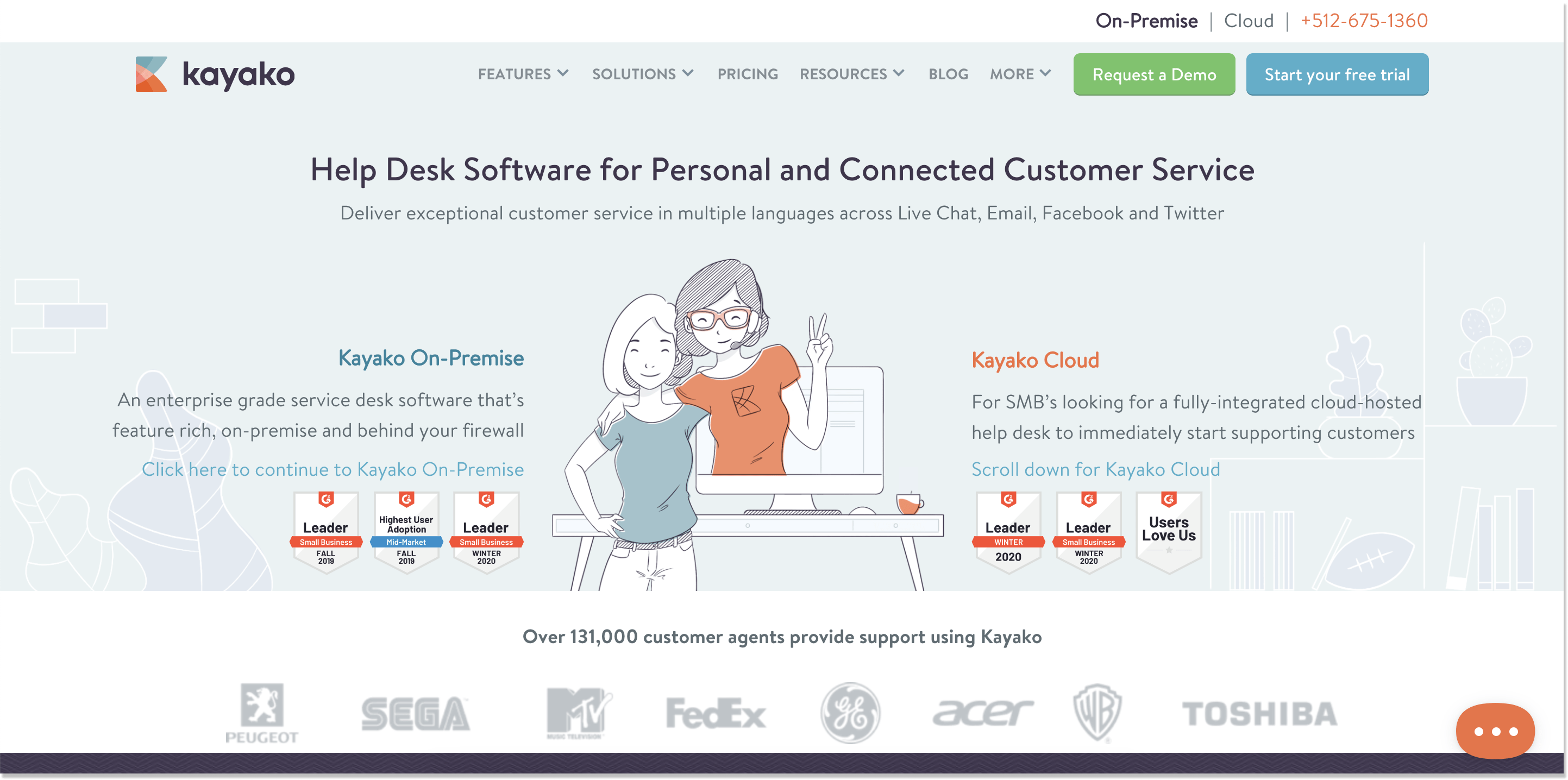 If I were to pick small business customer service solutions where live chat, social media, and email exist under the same roof, I would give Kayako a chance. It's a complete help desk platform making it possible to build customer loyalty and trust while staying personal.
Like any other tool we discussed above, Kayako has everything your team would want to operate seamlessly. Together with out-of-the-box help desk with sharing, duplicate reduction, and collaboration options, you also get live chat software for engaging customer experience.
No ticket will be thrown away thanks to a shared inbox. Your support staff can easily manage conversations by tagging and assigning them to the right team member.
Kayako also gives a full overview of your customer's journey so that you know all the valuable data: where a client comes from, what actions they took before reaching out to you, what they prefer, etc. It's your ideal opportunity to be proactive and anticipate their needs.
The pricing plans Kayako offers are (if billed annually):
Inbox for $15 per agent a month (live chat, email, help center, mobile SDK, collision prevention, and more)
Growth for $30 per agent a month (all from Inbox, plus automation rules, custom reporting, multi-language, etc)
Scale for $60 per agent a month (all from Growth, plus internal help center, shared organizations, Salesforce integration, and more).
Get a 14-day trial period to see if that's your small business needs.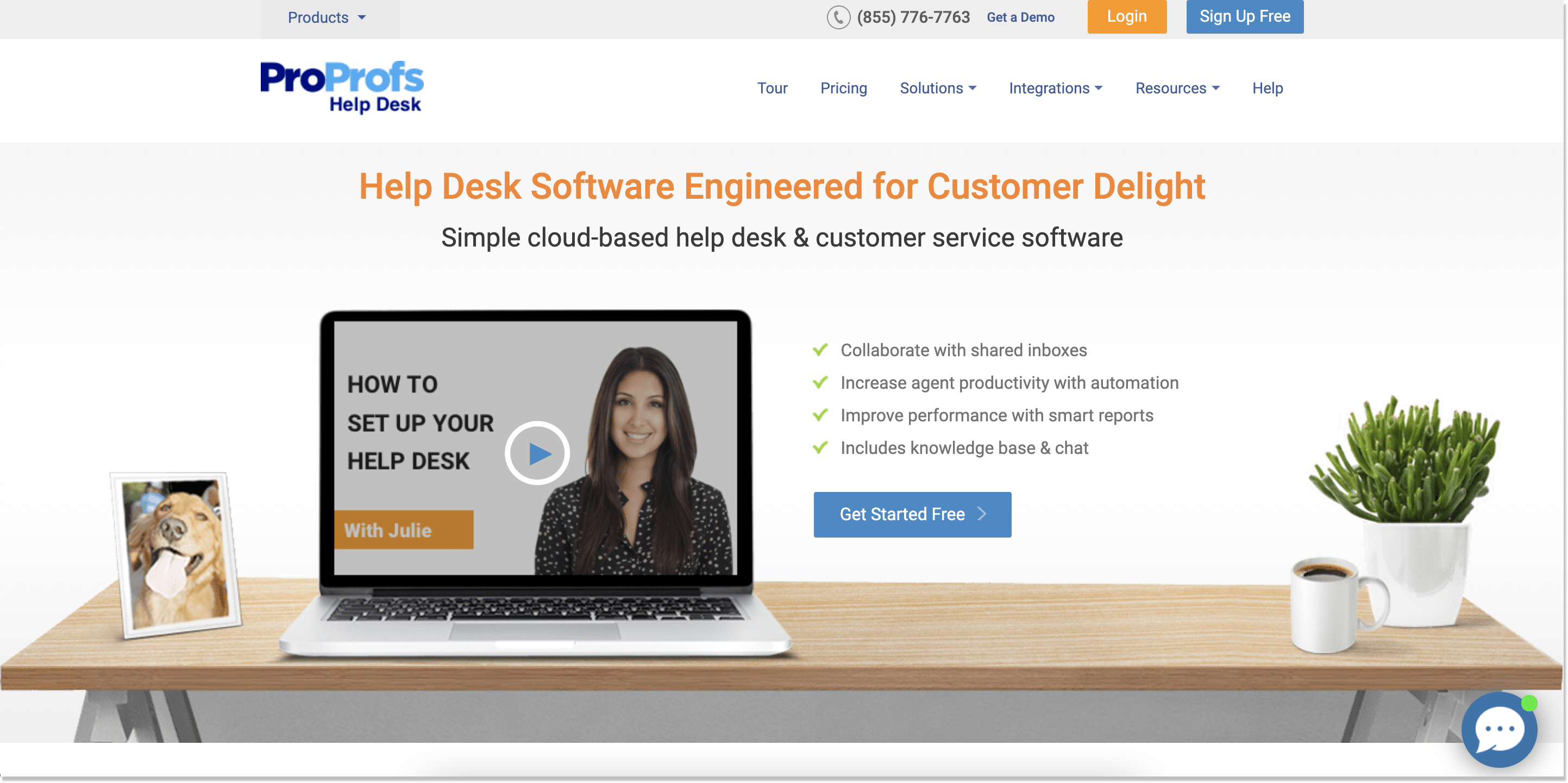 ProProfs Help Desk is a cloud-based tool that gains traction owing to its maximum availability and collaborative efficiency. Of all budget-friendly small business customer service solutions on the market, this one wins over with its intuitive interface.
This modern customer support tool comes packed with a variety of features you might find really useful at first blush:
Fast and effective ticket resolution: ProProfs Help Desk is all about fast and effective ticket resolution, as tickets are assigned to certain professionals and teams. They get solved in the blink of an eye thanks to ticket prioritization, internal commenting, and canned responses.
Shared inbox: the help desk ticketing system here enables you to manage customer-facing inboxes such as contact, help, support, and sales.
Canned responses: these messages help support agents automatically communicate with their clients and maintain brand consistency. Your users don't have to wait for an answer as for the sun to shine.
Issue tracking: tracking customer issues, requests, and bugs is a primary feature of the ProProfs Help Desk system. You won't miss or have unresolved tickets using this customer support tool for small businesses.
Reporting & Analytics: ProProfs Help Desk integrates with a survey tool that enables you to capture customer feedback in real-time through customer and NPS (Net Promoter Score) surveys.
You can get unlimited tickets, ticket history, ticket ratings, routing, and more perks if you pay $10 per user a month (Essentials) or $15 per user a month (Premium) if billed annually. Or sign up for free to get started with ProProfs.
Knowledge base software
Sharing information both with your colleagues and customers also requires specific tools. I gathered here several knowledge base software for small businesses for you to take advantage of. Just easy-to-use editors, SEO-optimized articles, self-service support, and other essentials you would want to implement in your team.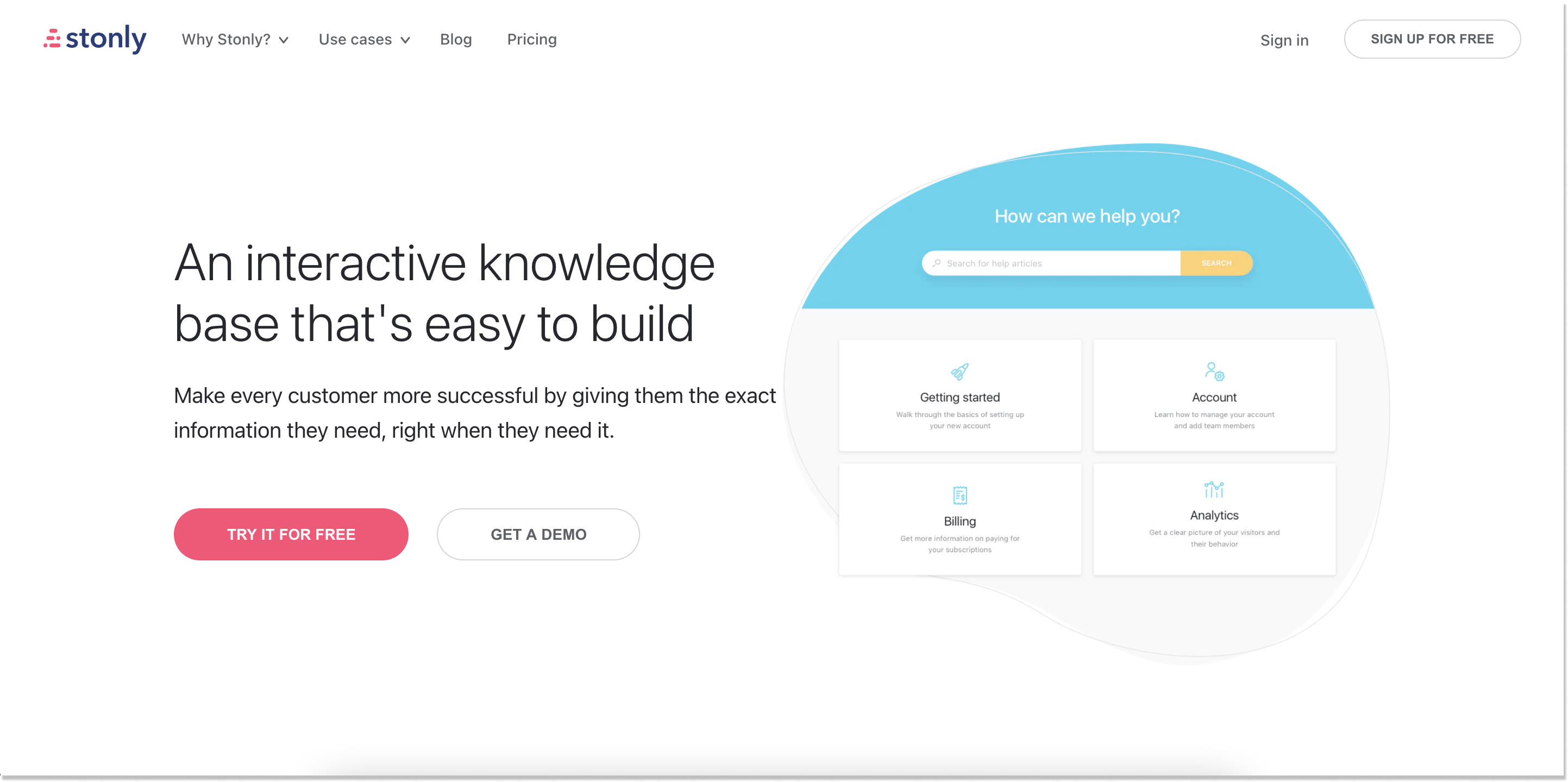 If you're looking for an ultimate solution for both your team and customers, pay attention to Stonly. This knowledge base tool lends help to support staff so that they can share helpful guides and forms with users. Check out its core features:
Self-service support: an interactive knowledge base makes it easier to find the information you search, reduce the number of tickets with in-app guides, and resolve customers' problems in a few clicks.
Onboarding and product tours: with no code needed, you can build useful step-by-step interactive instructions and ease the onboarding. Walk the users through the process by showing them how everything works, tailor the content to their specific needs, and deliver unlike experiences.
Agent performance: help your customer support reps the answers by guiding them to the right resources, training to onboard new hires, automating the whole routine with tagging, updating screens in real time, and improving ticket resolution with the exact data.
Chatbot solution: owing to a chatbot that will never seem impersonal, you can guide customers to the right decisions. Contextual help, tailored experiences for segmented users, the ability to add a knowledge base to a website or an app, and ticket routing are available.
Sign up for a free trial that lasts 14 days, or upgrade starting from $49 (Starter) and $99(Business) a month if billed annually. With Starter, you get 30 guides, 1 knowledge base, 3 triggers, no ads, and a range of other perks. The Business plan is aimed at unlimited guides, 3 knowledge bases, full versioning, analytics, etc.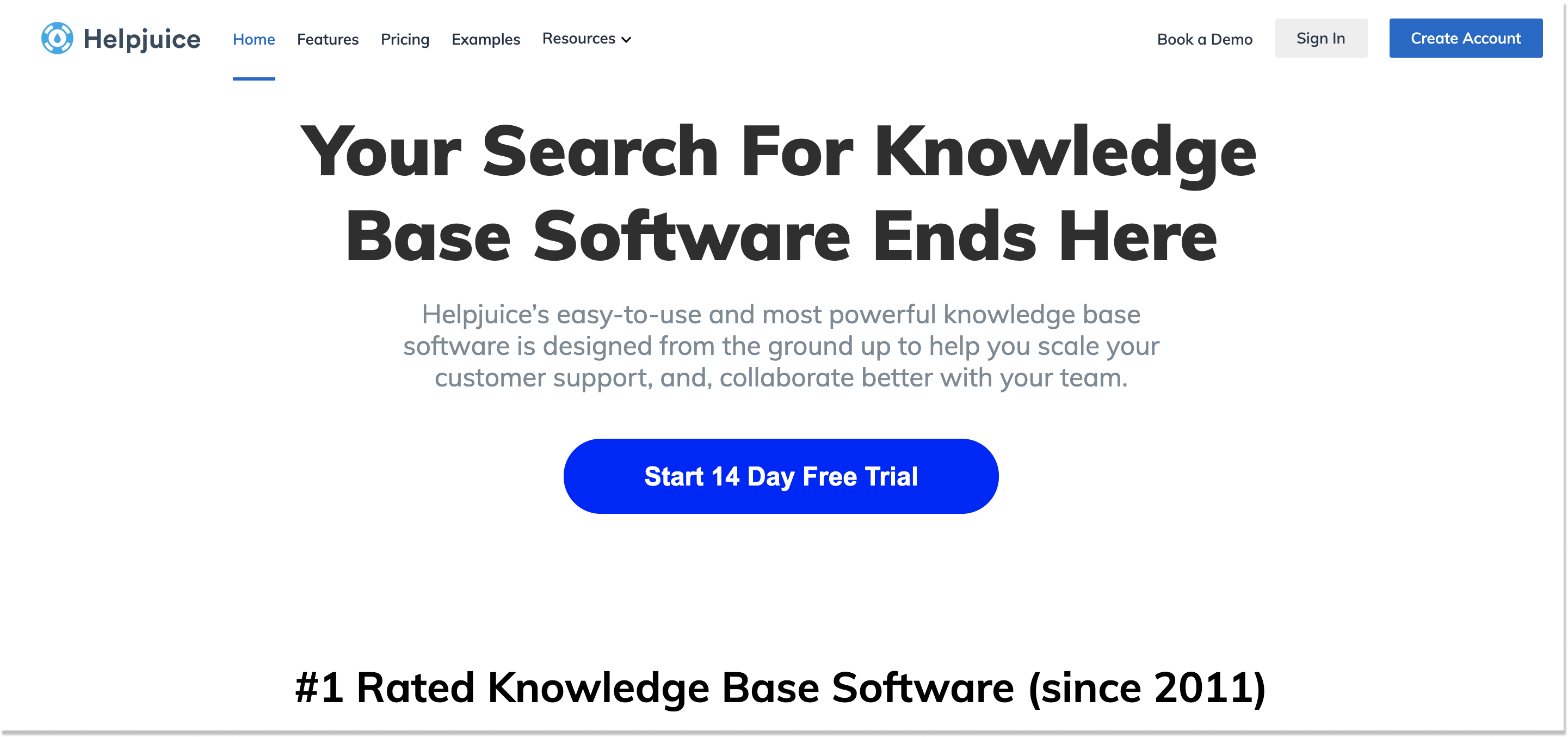 Helpjuice is credited as one of the most helpful knowledge base customer service tools out there. Build an intuitive and feature-packed online resource center that your clients will definitely like. Let's delve deeper into a set of specs this software suggests:
Simple formatting: forget about clumsy walls of texts and unreadable content. Helpjuice has an easy-to-use editor that allows you to add images, videos, tables, and whatnot to your articles. On top of that, you can publish different versions and toggle between them to perfect your style. Analytics preview, collaboration, article history, and other essentials are at your disposal.
Analytics: see what topics your customers read the most, check the content that should be brought up to date, and understand the ways to upgrade your users' or groups' performance. Such a detailed approach makes this customer service software for small business best-in-class.
Rich customization: infuse a bit of your personal style and create a knowledge database eye-catching. With an array of designs and themes, your work will totally stand out of the crowd. In case some questions pop up during the installation, you'll be fully assisted which helps make the process painless and fast.
Google-like search: the user experience is topped here by the ability to search content within images and to-the-point advanced search. Plus, this knowledge base tool supports PDFs.
Integrations: Salesforce for boosting your teams' performance, Google Chrome for better troubleshooting, Zapier for other integration options, Olark for using a live chat feature, Slack for sharing articles with coworkers, and Zendesk Support for putting the pieces right in the customers' requests – everything even the most demanding user would wish for is available in one place.
Time to talk money. Though Helpjuice is rather expensive, unlimited features coming with every plan may win you over:
Starter for $120 monthly (up to 4 users)
Run-Up for $200 monthly (up to 16 users)
Premium Limited for $289 monthly (up to 60 users)
Premium Unlimited for $999 (unlimited users)
You can always get a 14-day trial to decide whether or not this customer service software for a small business suits your knowledge base needs.
Call center customer service software
Even though contact centers are biting the dust now (only 32% of customers prefer phone support compared to 41% of those who contact a service rep via live chat), I came up with some handy customer service software for a small business that you might want to check. The tools and their functionality may not be robust here, but they can be still of benefit to you. Let's have a closer look at: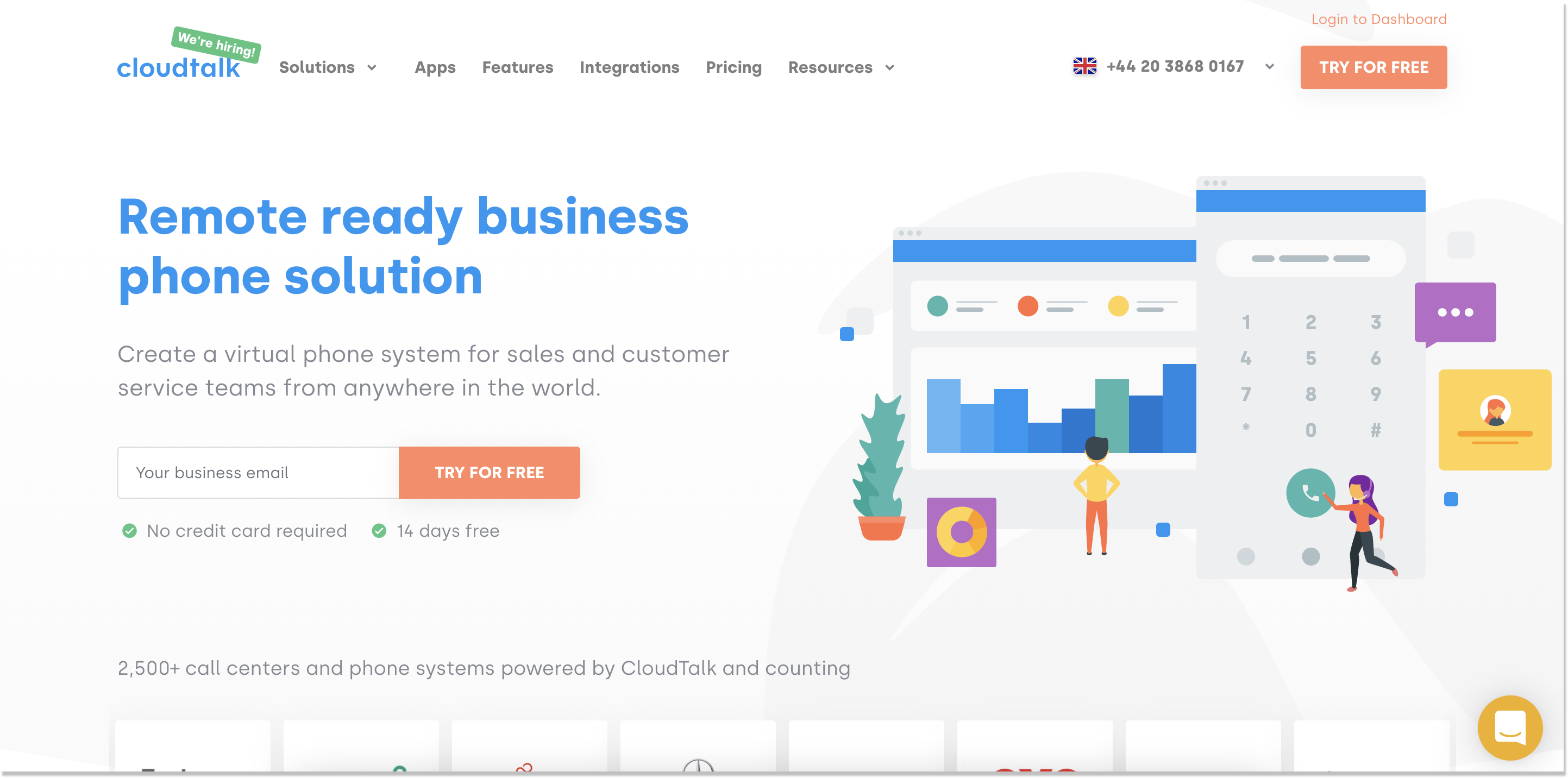 CloudTalk is cloud-based phone customer service software for small businesses primarily created for support and sales teams. With an international phone number, you can work from wherever you like and have as many phone agents as you need.
The features CloudTalk involves are comprehensive, and among them there are:
Call queuing: certain pre-made rules create call lines and transfer them to the right agent. You don't have to worry about the chaos of an ordinary contact center
Call recording: thanks to the feature that automatically makes recordings, no customer request will go west. You can listen to the call directly from your browser right after you finish the talk, so it's impossible to lose any detail.
Skills-based routing: the system can easily route the call to a certain agent when a client is on the line. Just assign your support reps skill levels.
Call notes: add notes during or after a call so that the customers' issue is resolved fast and you don't have to recall to clarify it.
Real-time dashboard: keep track of your activities in real time, monitor your agent's productivity, and always stay in the loop.
There are a dozen of other beneficial features CloudTalk suggests, so you can try it for free for 14 days. However, if you want to upgrade, here are the subscription plans available (the prices shown are if billed annually):
Starter for $15 per user a month (click to call, mobile app, unlimited inbound calls, etc.)
Essential for $20 per user a month (all Starter features plus advanced analytics, real-time dashboard, open API, etc.)
Expert for $35 per user a month (all Essential features plus Salesforce integration, wallboards, speech to text, etc.)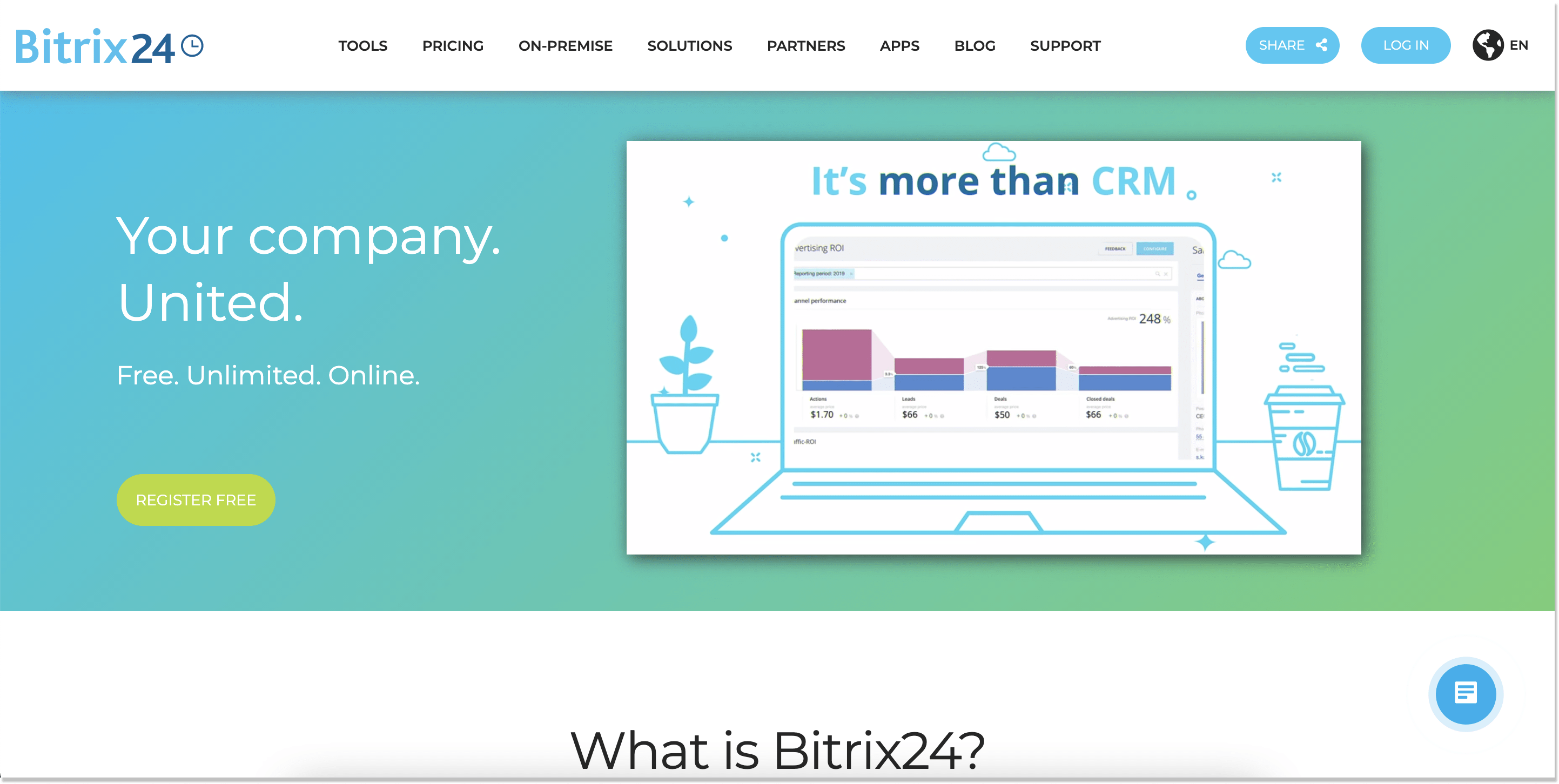 If you don't know any contact center apps and tools available on the market, Bitrix24 is the right choice. It is free phone customer service software for small businesses uniting all your communications. Bitrix24 is also a well-built CRM for client management, tasks, and support. There's a quick overview of its features:
Chat and video: talk with clients in real time to boost ticket resolution, your efficiency, and take out the guesswork of any issue.
Document management: store all your files online and get the quick wherever you need without wasting much time.
Task templates: not lose even bits of valuable information, every task is automatically documented.
Email marketing: being a user-friendly CRM, this customer service software for a small business lets you use email marketing, create triggered emails, and templates for free.
5GB of storage, a basic CRM, chats and video calls can be yours just as a starting point in your business. But there are also upgrading options available:
Start+ for $17 a month (timeline, Google Map in CRM, built-in telephone, etc.)
CRM+ for $34.50 a month (CRM access rights, tunnels, triggers in leads and deals, etc)
Project+ for $34.50 a month (automated replies, voicemail and greetings, CRM analytics, etc)
Standard for $49.50 a month (Kanban view, convert quotes to deal and invoice, Sales generator, etc)
Professional for $99.00 a month (Keyword analysis in Sales Intelligence, canned replies, project templates, etc.)
Final Words
No matter what business you are in charge of, the price is always a difference-maker. However, you also can't afford to spend even a few dollars on a glitchy hi-tech solution.
From this perspective exactly, we gathered these low-budget customer service tools for a small business in one place so you can choose the right fit. Read, think, and make up your mind.
I would recommend acting wisely and don't toggle between the dozens of options. To remove all the hassle, just create a free account with HelpCrunch, set it up in minutes, and start helping your customers like a pro.