Would I startle you if I mention that people are willing to spend 17% more on companies with great customer service? How about 93% of customers who are likely to make repeat purchases if they had a positive experience with your service reps?
No, I don't think I will.
If you're reading this article, you probably already know that customer service is almost as important as your product. The only question left is how to achieve that excellency.
The right help desk software will be the foundation of your customer service success. On the other hand, picking a platform that doesn't fit your goals or budget will translate into real issues for your team soon enough.
But what does 'right' mean? Well, let's find out.
What is help desk software?
A help desk allows the IT department to respond to unexpected issues within IT infrastructure or the services they provide. A help desk is reactionary, and is used to manage problems when they arise, allowing for them to be logged, tracked and (hopefully) finally resolved. Help desks will focus on facilitating communication between support staff and end users to help solve problems, and its purpose is to keep things running on a day to day basis.
Help desk software allows you to manage customer requests as effectively as possible. Ideally, it's a place where your team stores everything related to customer service. Tickets, tasks, logs, reports — and more.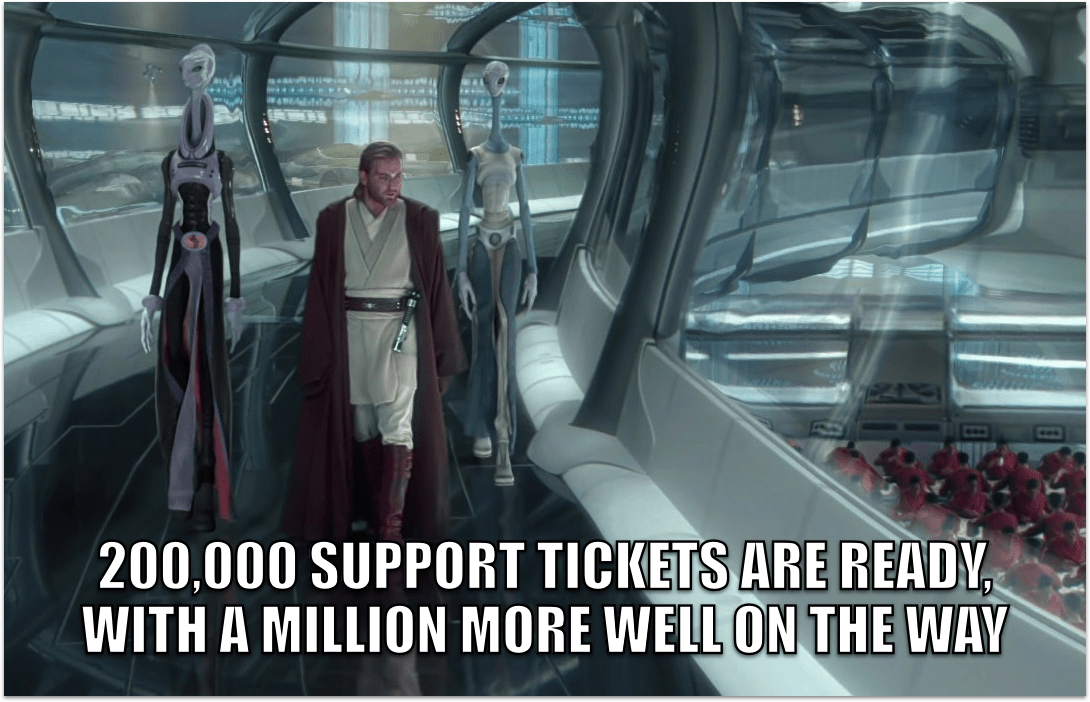 Here's what you should look for in a help desk platform:
Omni-channel support (email, live chat, social media, phone calls)
Team collaboration features like private notes, collision detection, etc
The ability to assign, merge, and escalate incoming requests
Productivity features like tags, statuses, or saved responses
Automation features like reminders, ticket routing, etc
Real-time customer profiles
Detailed customer service reports
Basically, when you choose a help desk software, it becomes your single source of truth. You can see why picking a platform would be an important decision — migrate your team to a wrong solution, and you'll lose weeks, if not months, in productivity in the long-term.
Thankfully, there are more than enough excellent tools. Here's the ones we recommend:
1) HelpCrunch — all-in-one help desk software for live chat and email support
HelpCrunch is a great example of an all-in-one help desk solution. Each of its features plays an equally important role in the overall experience bringing your entire customer service efforts under one dashboard.
Customers will enjoy the ability to communicate with your reps via live chat or emails, or troubleshoot on their own by taking advantage of the newly-launched knowledge base functionality. But the real help desk magic is happening inside:
Your HelpCrunch dashboard is the destination point of all the chats and emails that customers are sending. Incoming requests will be displayed on the dashboard as separate conversations (aka tickets) where they pile up in chronological order.
There are a lot of ways to arrange and interact with those tickets in a way that makes the most sense for your team's workflow. As your customer service reps start solving issues, they can:
Assign a ticket to themselves or to any of their teammates;
Reply to customers with a knowledge base article right from the chat or with a saved response;
Forward individual chat messages via email manually or automatically after a certain period of time;
Leave private notes to their teammates, which will appear in the chat thread but won't be visible to customers;
Assign custom tags based on a ticket's content (e.g 'feature request', 'bug', 'PPC campaign', 'Christmas sale');
Keep track of tasks by changing a ticket's status from new to open, pending, on hold or closed.
HelpCrunch displays user's data next to the chat window at all times, so your service reps always have the information they need to provide the top-notch support. By default, the platform will include user path, recent activity, full chat history, and browser information, but you can pass your custom data about customers, too.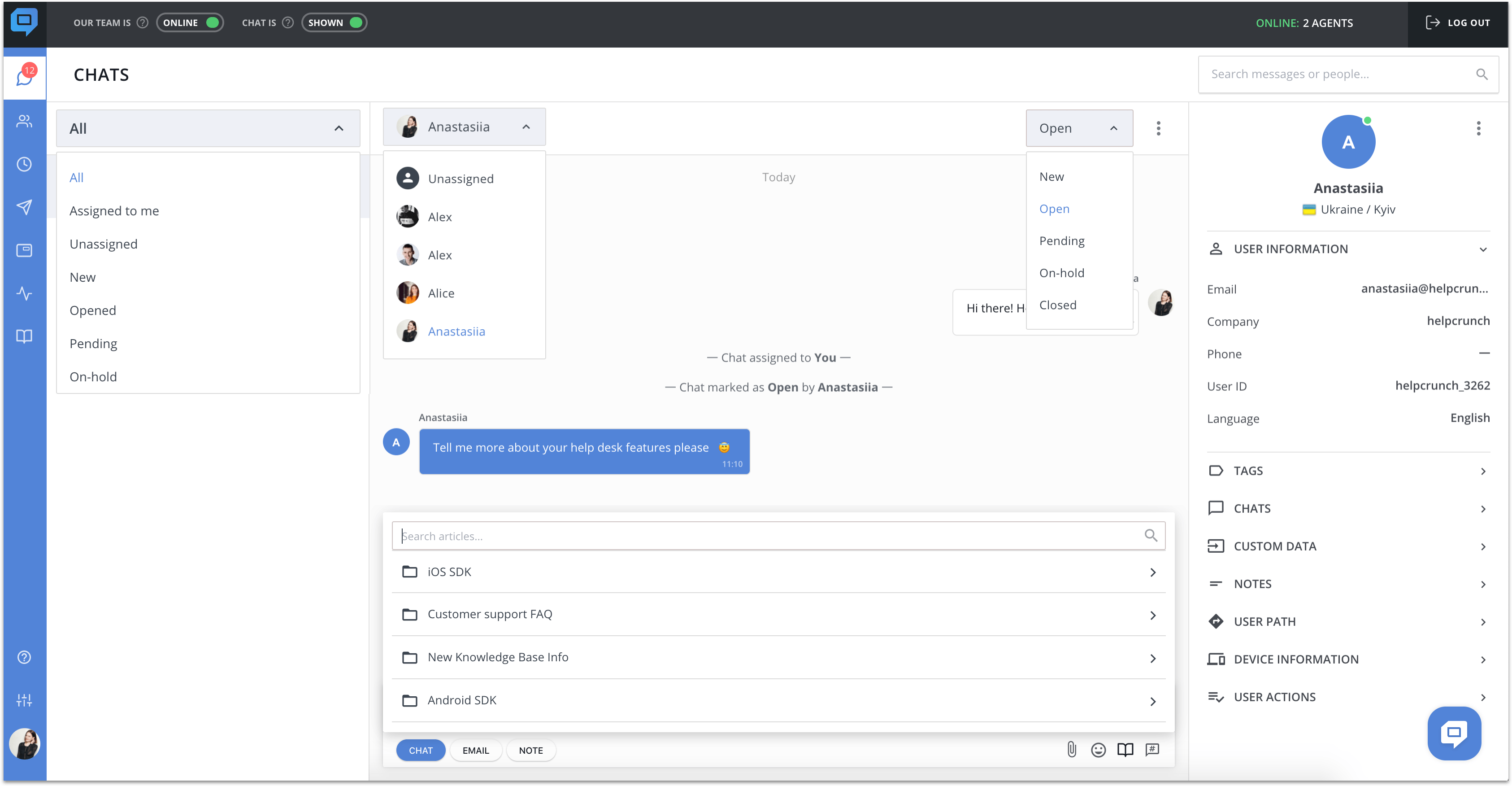 To prioritize incoming tickets, your team is able to filter them by their status — new, open, pending, or resolved. Individual members can also access tickets assigned to them in a single click.
Once the ticket is closed, the customer will be asked to rate their experience. This provides a simple way for you to monitor customer satisfaction levels, as well as track performance of individual service reps.
You can also gauge key performance metrics — ticket resolution time, first response rate, busy hours, and the overall number of resolved tickets. Each report can be broken down by a particular period, giving you a bird's eye view of all your customer service activities.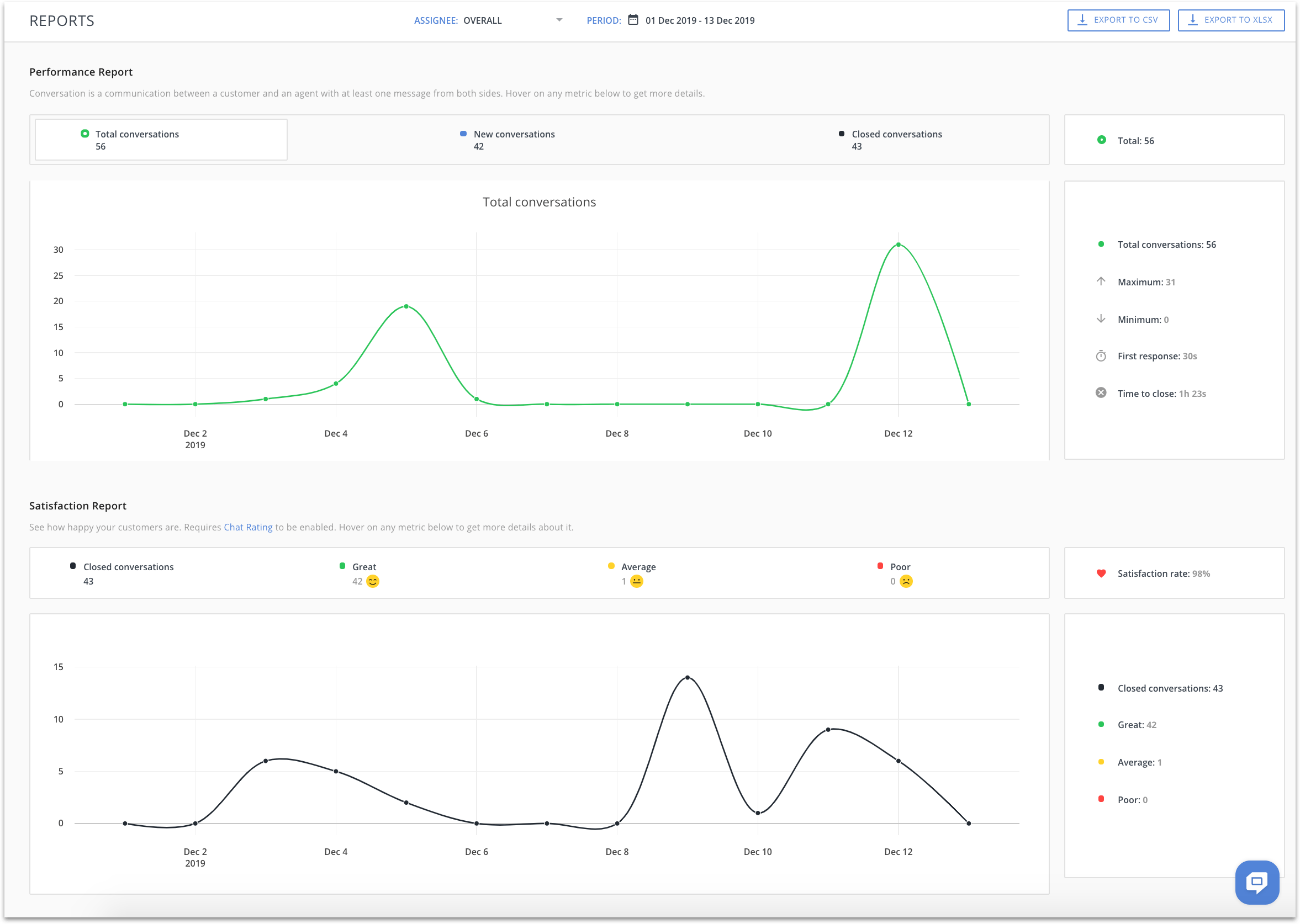 Price
The 'Standard' subscription plan costs $15/mo per team member, and includes knowledge base, in-app pop-ups and all help desk features mentioned above (except emails functionality).
If email is an important channel for you work, it's probably better to go with the 'Standard Live Chat + Emails' which will allow you not only answer customers' requests via email, but also send automated email campaigns to welcome or onboard new customers. This plan will set you back $25/mo per team member.
Verdict
HelpCrunch is the perfect choice if you're looking for something simple and affordable. Its help desk platform will streamline your team's customer service workflow, and it doesn't clutter your dashboard with redundant features (hello, legacy software).
Power users might find HelpCrunch lacking some enterprise-level help desk features like workflow automations or custom tickets' queue. However, if you're running a small business you should probably think twice if you ever needed those in the first place — if the answer is no, then why complicate your customer service workflow and overspend?
2) Zendesk — the ultimate help desk software
When someone says 'help desk', Zendesk is probably the first tool that comes to people's mind.
That's not a coincidence. Zendesk started off as one of the first ticketing systems way back in 2007 and they've been perfecting every feature ever since. Plus, they literally have the word 'desk' in their brand.
As of today, Zendesk is a powerhouse of customer service tools, providing live chat, email support, knowledge base, cloud call center and whatnot in addition to the help desk platform.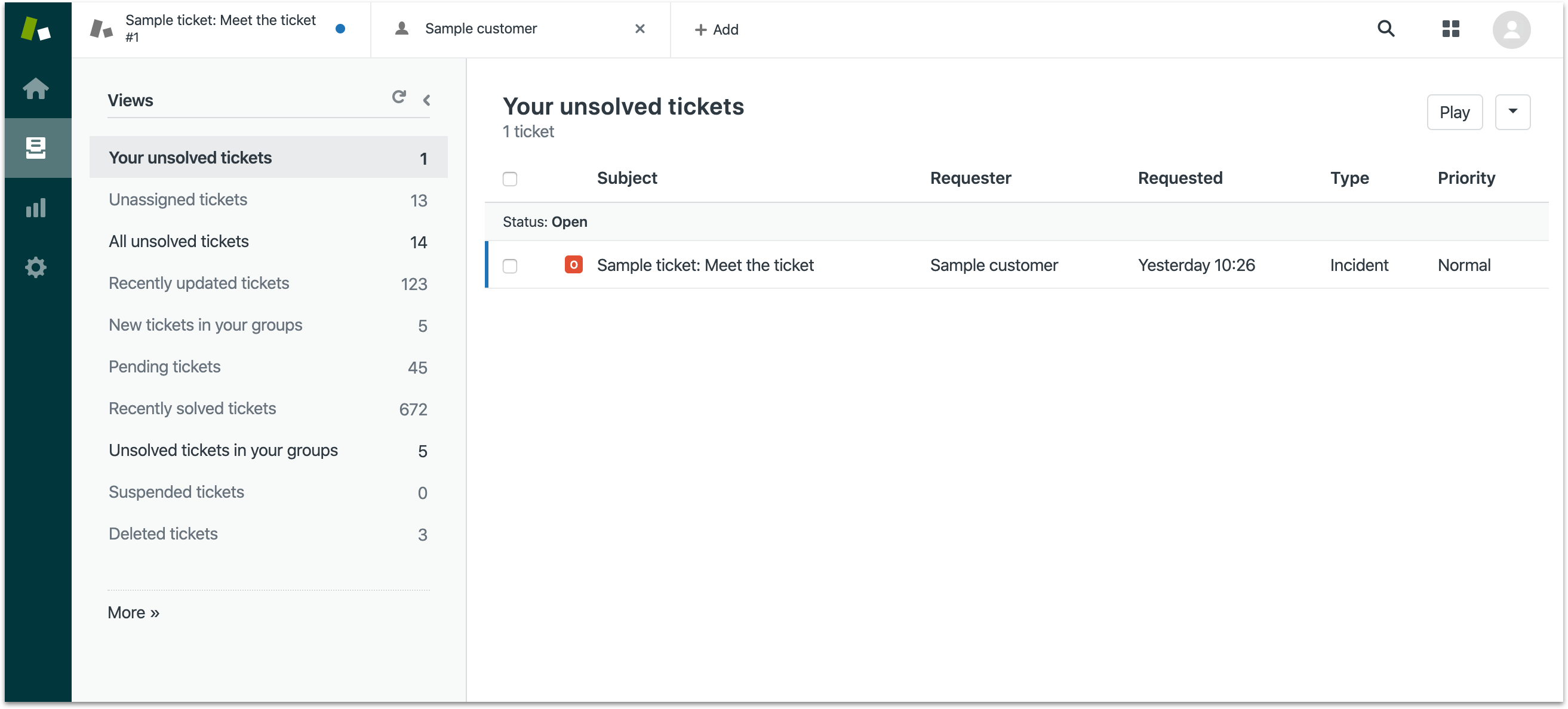 The help desk allows your team to manage customer requests in any way they see fit. Your service reps will be able to organize the queue based on ticket status, assignee, customer group and other conditions. Plus, there's this quirky button at the top right corner called 'Play', which basically guides a support agent from one ticket to another until all of them are resolved.
Once your team member opens a ticket, they have a variety of ways to interact with it:
Assign a ticket to a corresponding person or department;
Use saved responses (aka 'macros') to resolve common issues faster;
Leave private notes for other teammates;
Specify the ticket's priority and type (e.g. incident, question, task);
Link similar tickets or related tasks;
Add supervisors that will monitor ticket's progress;
Change its status from open to pending or closed.
As with HelpCrunch, user data including recent activity, path, location and more is displayed when an agent takes over a ticket.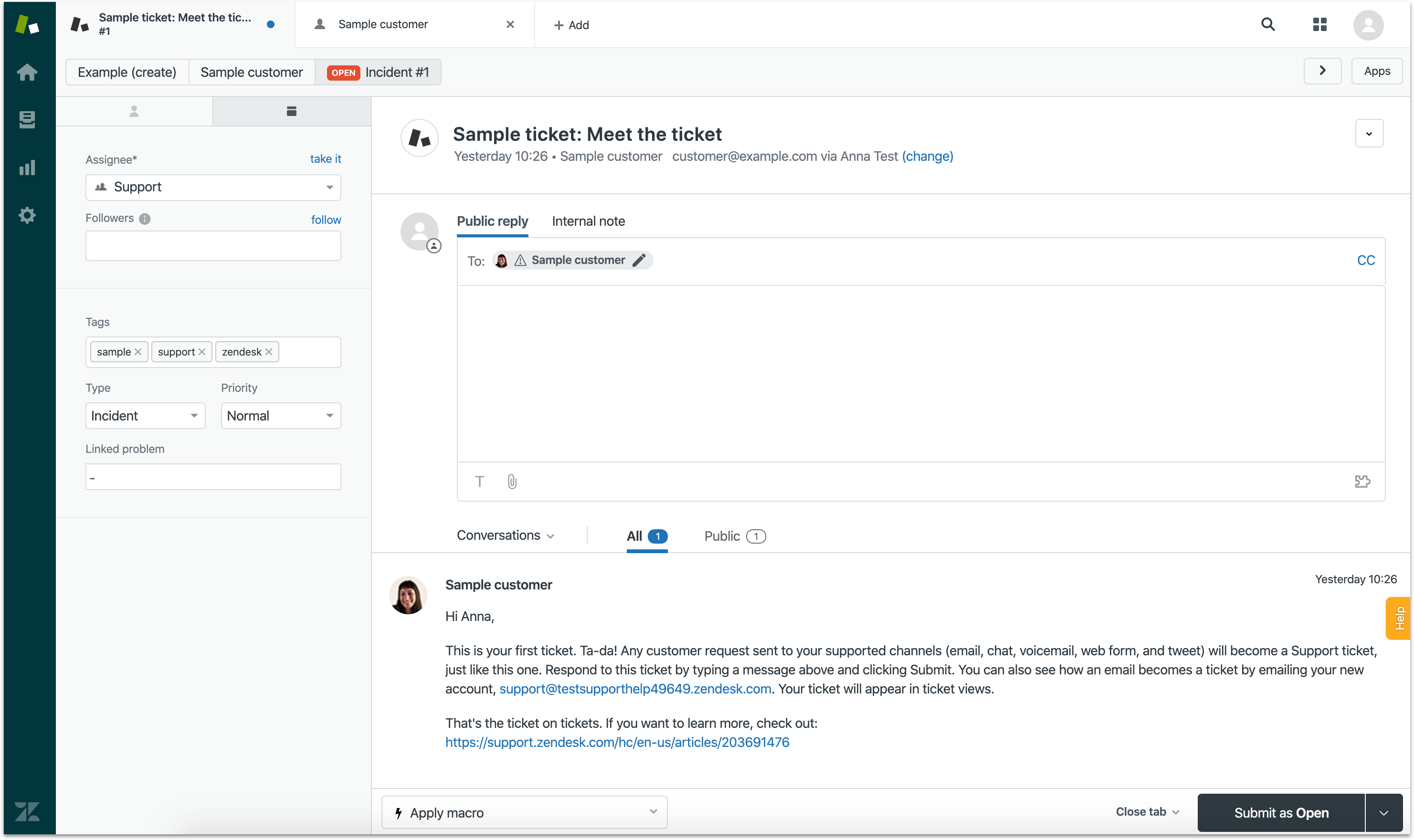 There's even more going on in the Settings section of your account. That's where you can set up trigger-based notifications that will inform your team about any change inside a ticket (like a new reply, a reopen, etc). These notifications will be based on certain conditions that you choose. You can also create custom roles and assign them specific permissions inside the Zendesk dashboard.
As an enterprise-level solution, Zendesk allows you to take advantage of customer service automation. For example, you can create a rule that the ticket will be closed four days after its status is set to 'solved'. If you're running a large team, these workflows can save a lot of time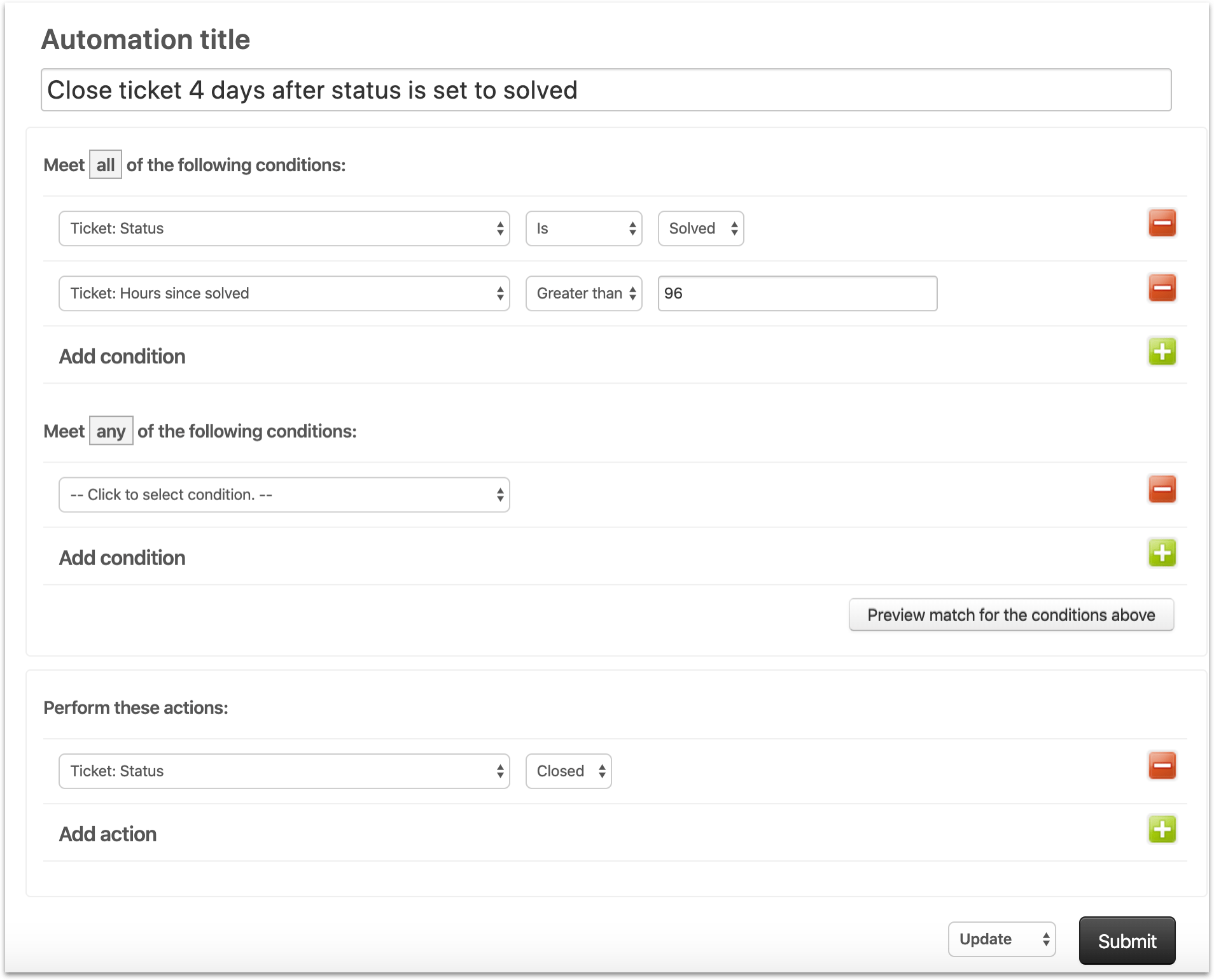 Zendesk also provides rich reporting and analytics tools. You can track every aspect of your customer service experience, and get a ton of insights into the performance of your team and customer satisfaction levels.
Price
The good news is that Zendesk offers free versions of all their products. All of them — except for the help desk.
If you need a help desk, you have to go with the 'Support' subscription. The base plan will cost you $9/mo per agent, but if you want to enjoy all those advanced automations, full reports, and 99.9% uptime SLA, the price can be as high as $199/mo.
Verdict
Zendesk is a great platform, but I wouldn't necessarily say it's the best help desk software for a small business. Ironically, it has too many features to be one.
In-depth collaboration, automated notifications, various custom views and permissions won't make any sense if your customer support is a one-person job. They are great for a huge company but will simply slow you down if you plan on staying lean.
3) Freshdesk — Zendesk's main competitor
Freshdesk is the help desk platform by a company called Freshworks, which also offers live chat (Freshchat), call center (Freshcaller), conversion optimization (Freshmarketer, you see the pattern), and much more. As such, it's a bit less of a complete package by design — if you want to run your business on Freshworks, you'll have to construct your stack like a LEGO set.
But their help desk platform is fully-featured, and is generally considered to be one of the top top Zendesk competitors. Sure, there are other tools that were building their help desk solutions for years, but pretty much all of them feel dated.
For both Zendesk and Freshdesk, that's not the case.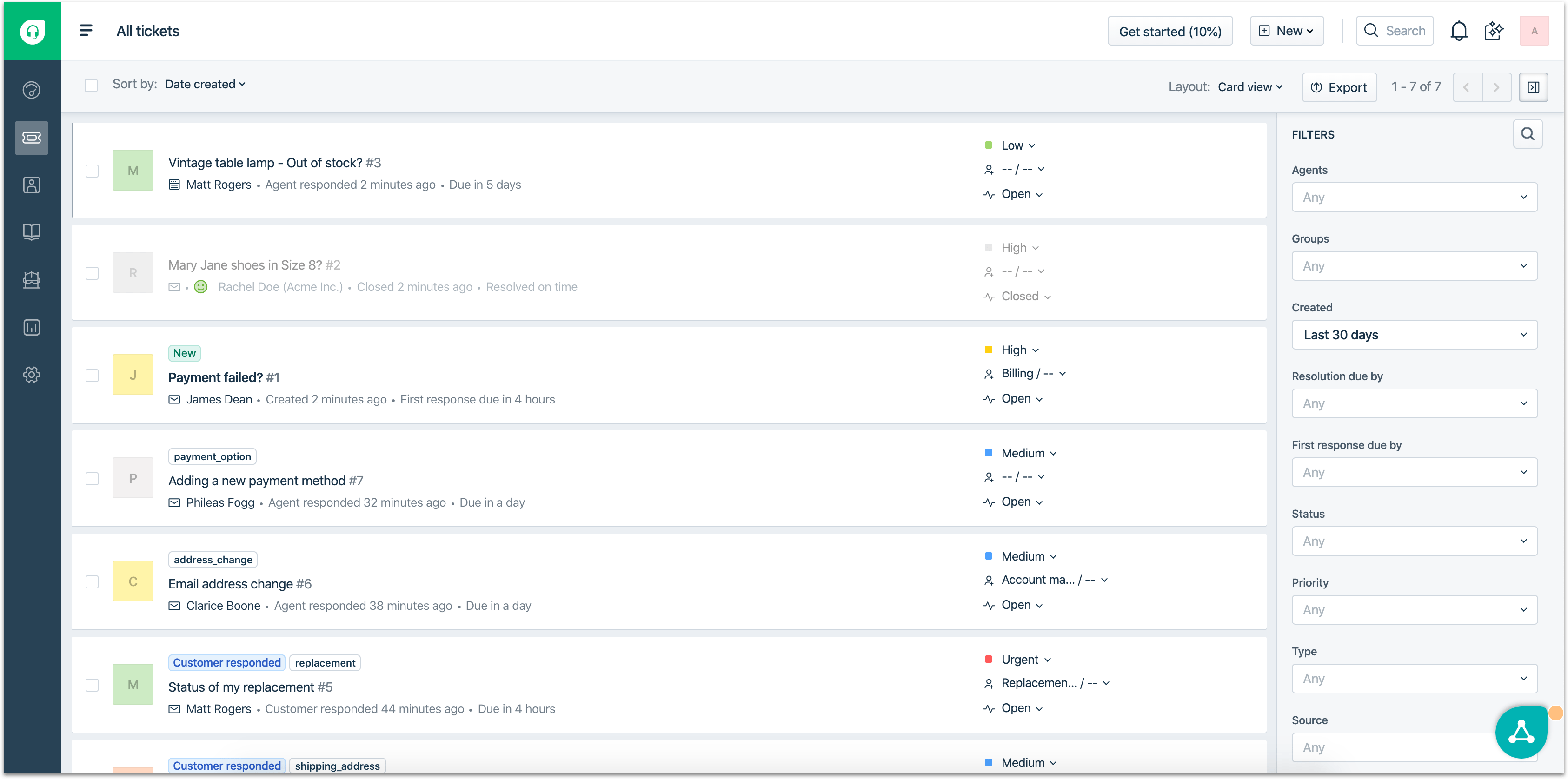 Just like with HelpCrunch or Zendesk, your team is able to interact with tickets to keep track of their progress. You can:
Assign tickets to a specific agent and group
Send canned responses
Filter tickets based on specific properties
Merge similar tickets
Set up custom views to organize tickets' queue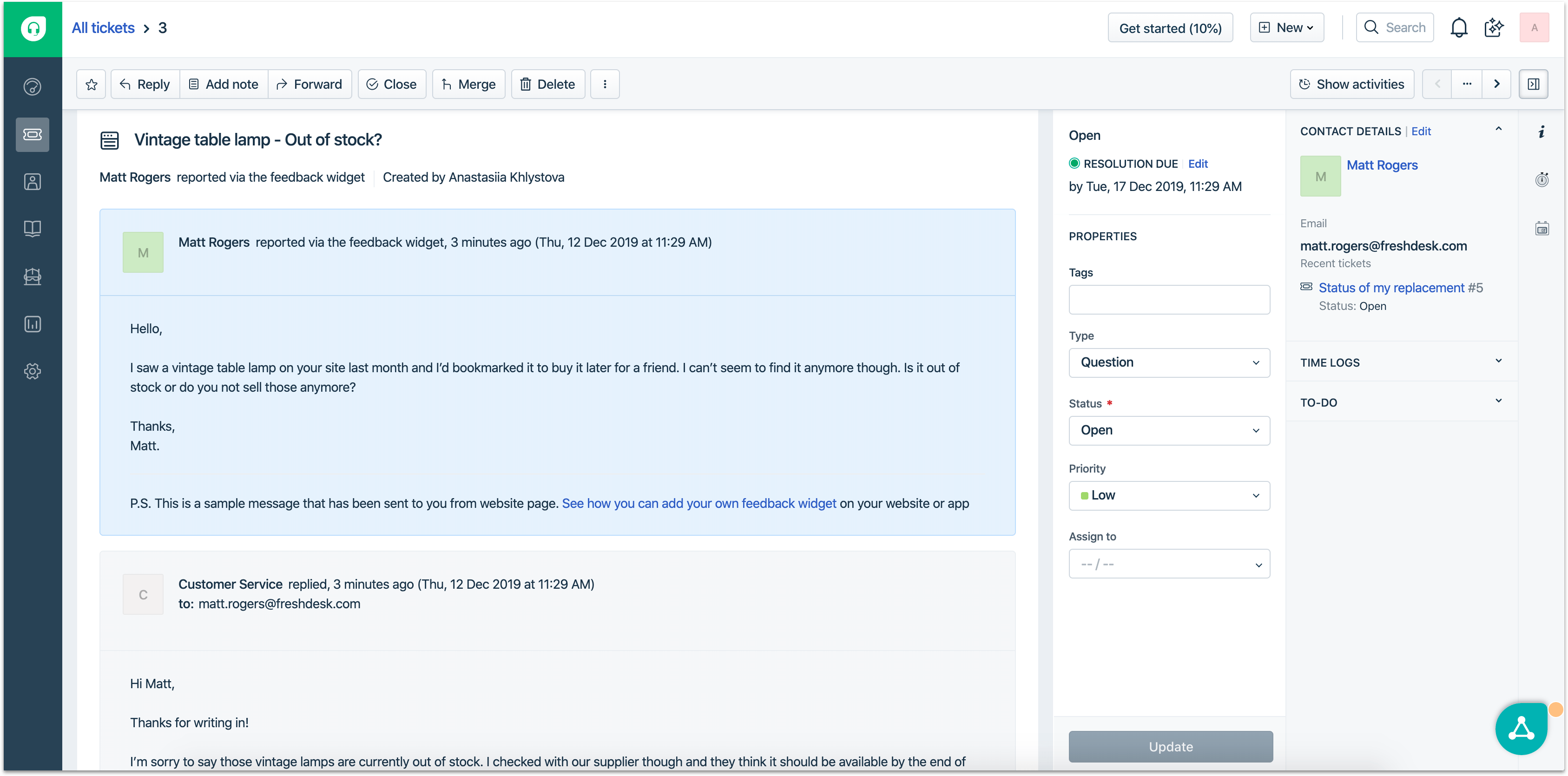 There are also some powerful collaboration features like collision detection or activity log. Freshdesk also offers an internal chat for coworkers where they can discuss issues and collaborate when working on a ticket.
As with Zendesk, Freshdesk is pretty big on automations, allowing you to perform certain routine actions on autopilot. For instance, the system can automatically assign tickets to corresponding departments or set the priority based on certain keywords they contain. Reporting and metrics features are also included in the package.
Price
One of the best things about Freshdesk is that they offer a free version of their software. You can get a pretty decent ticketing system for $0 — if you don't want to take advantage of reporting and automation systems.
The basic 'Blossom' subscription with time- and event-based automations, reporting, and SLA management will set you back $19/mo per agent. More advanced plans will cost you somewhere between $35 and $125 per agent per month.
Note that other Freshworks' products are also available in free versions, so that's something to think about.
Verdict
Since Freshdesk has five different subscription options, it can become a great help desk for any business. Want simple email ticketing? Go with the free account.
Need a powerful help desk machine for a big team with custom roles, full portal customization and rich reports? You're covered (for a price). Picking the right subscription can be a hassle, but Freshdesk is worth the trouble if you're running a mid-size business and don't want to spend money on Zendesk.
LiveAgent is a very diverse customer service tool that covers almost every channel including live chat, calls, knowledge base, social media and more.
As a result, LiveAgent's dashboard can feel a bit cluttered at first sight. For instance, you have to switch between separate tabs to handle emails, chats, and phone calls, which can be challenging at times.
LiveAgent tries to simplify in other areas, like ticket statuses. When you start working with this platform, incoming tickets will fall into one of two buckets ('All' or 'Assigned to me'). If you wish to better organize your shared inbox, you'll have to do it yourself.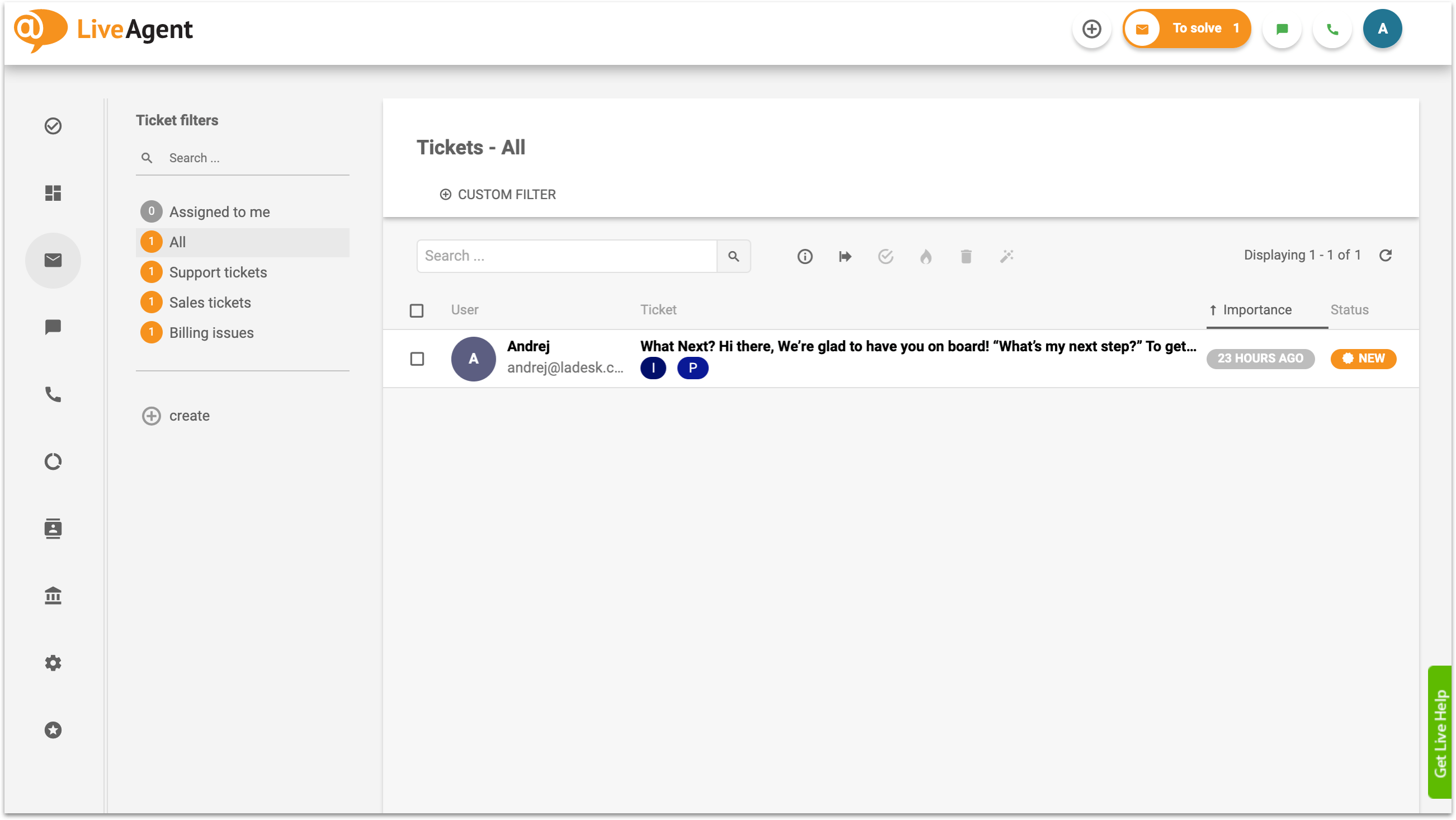 With individual tickets, customer service agents are able to:
Add custom tags;
View and edit user data if necessary;
View the full ticket history with previous conversations;
Send saved responses or predefined answers.
If you're accustomed to running your customer support conversations in a live chat, LiveAgent can be a bit of a shock. The ticket window looks less like WhatsApp and more like Gmail. Who knew email can be such a design inspiration in 2019:
LiveAgent also helps you automate parts of your workflow based on time- and action-based rules. For example, you can automatically close or tag tickets if they're not solved for a week. There are even specific rules that automatically assign SLA levels to your tickets.
As a bit of simple fun, LiveAgent includes a 'gamification' feature that allows your team members to gain badges and level-up based on their performance. Will it increase your productivity? Who knows — but it's certainly a great way to make the hours go by.
Price
LiveAgent conveniently offers just three subscription plans — 'Ticket', 'Ticket + Chat', and 'All-inclusive', so you won't spend hours comparing different plans (hi Freshdesk).
The basic 'Ticket' subscription plan costs $15/mo per agent and includes email ticketing, knowledge base, and contact forms. What's pretty awesome, LiveAgent doesn't lock workflow automations under a more expensive plan, so you'll be able to take full advantage of them even if you don't upgrade.
However, you will need to upgrade if you need a live chat ($29/mo) or call center features. The latter plan called 'All-inclusive' will set you back $39/mo per agent, and you'll have access to the full platform's functionality including things like advanced reports.
Verdict
LiveAgent is probably the best option for people who are used to email customer support. As a dedicated solution it's not as engrossing as Zendesk or Freshdesk, and it doesn't look as modern as HelpCrunch — but if you're living in your email inbox, LiveAgent's dashboard will look like home.
What's more important, their pricing policy is SMB-friendly. Even the most basic subscription plans include live chat and automations, which is rather rare for help desk software.

5) Kayako — fully-featured but simple help desk software
Kayako is one of the oldest help desk softwares out there. It was founded way, way back in 2001 and stays popular up to date.
(Just imagine, many businesses evaluating Kayako for their team employ people who were not even alive when it launched.)
Considering this, it's a pretty great achievement that Kayako managed to keep their platform pretty straightforward and not bloat it with non-essential features and dated UI:

As a help desk tool, Kayako allows customer support reps to perform pretty much the same actions as other solutions on the list:
Access user data including customer journey and recent activity;
Assign types and priorities to your tickets;
Change statuses from open to pending and completed;
Send saved responses (aka macros) to customers;
Leave private notes for your teammates.
Agents can also see who else is viewing their ticket in real-time, and Kayako allows you to add up to 5 collaborators for free. Collaborators are able to discuss tickets with other agents, but can't talk to customers directly. What's pretty cool, Kayako allows you to keep the conversation in one thread, even if the customer is switching channels (starting with live chat and switching to email, and so on).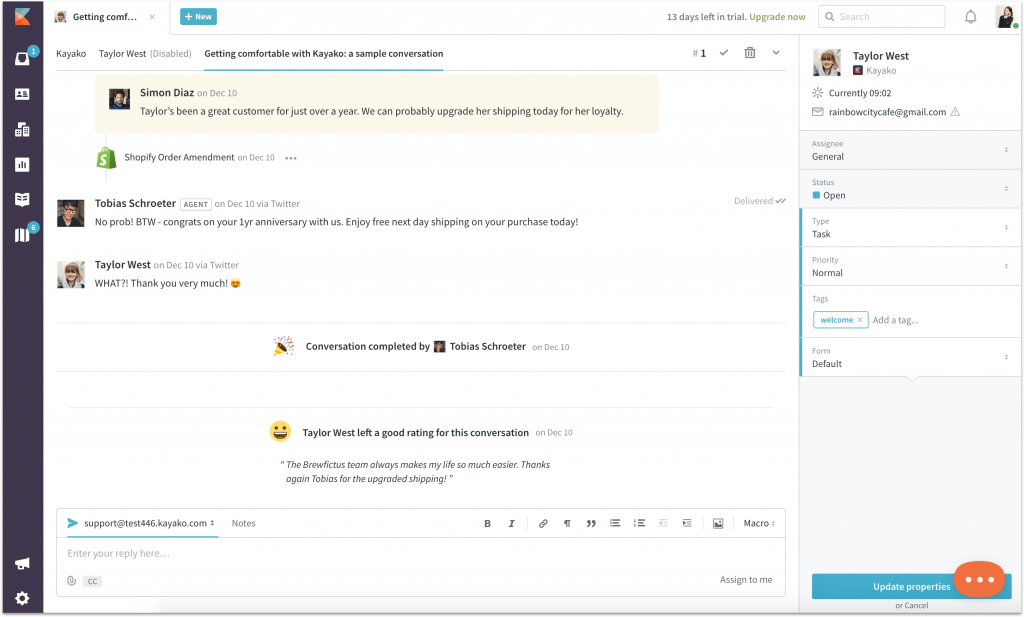 Kayako's also pretty big on automation, offering trigger-based workflows for routine tasks, automatic reminders and notifications for agents, and more. And as with any other platform on this list, you'll get access to SLA reporting and various customer success insights.
Price
The basic 'Inbox' plan costs $15/mo per agent. It includes email, live chat, and social media functionality right away, making it a good value for a small- to mid-size business.
However, event- and time-based automations, as well as custom conversation views are only available in the 'Growth' subscription ($30/mo per agent). And if your business depends on Salesforce, you'll be stuck with the 'Scale' plan that sets you back $60/mo per agent.
Verdict
Kayako is a bit less exciting than the other tools on this list, and it doesn't include fun features like gamification or chat-like interface. But it's robust and comes with an intuitive and customizable help desk interface. I mean it's a help desk to its core.
If the pricing makes sense to you, it's a great option.
Final words
As you can see from this list, there's no shortage of help desk platforms. Twelve years after Zendesk's launch, there's a whole world of powerful (and affordable) solutions that will make your customer service team more productive and your customers happier.
Startups often fall into the trap of skipping on help desk products, considering them to be too enterprise-y and non-essential to their operations — after all, couldn't your one support agent track everything from their Gmail inbox?
Maybe they could. But if you plan to grow (who doesn't?), investing in a help desk platform is one of the best ways to make sure your business is successful a year, five years or a decade from now.
Remember the stats from the first paragraph of this article. Excellent customer service directly translates into more revenue, so just pick help desk software and start building your all-star customer service this minute.
HelpCrunch articles delivered straight to your inbox 🚀
All the latests posts. One email per month.
No strings attached.
Read also
Tools
Do you want to build your own well-orchestrated messaging hub? This list of the best chat APIs and SDKs available on the market is what you need to do just that without much hassle.
Tools
Do you need a helpful tool to communicate with your customers 24/7 and provide five-star support? We've got your back. Everything you should know on how to add live chat on your website is covered in this post (with an insightful video guide inside!).
Tools
Intercom pricing is super confusing with its high prices, additional fees, and unpredictable invoices. We decided to figure it out once and for all.