SaaS Knowledge Base: The Actual Meaning and Best Examples
Here are the top 9 examples of SaaS knowledge bases from the industry. May the inspiration be with you!

What would you instead do if you faced an issue and your Internet provider, a movie streaming service, or *insert your option* had no communication channel? Or the ones that they provide, like, a live chat or email, are, nicely put, not the case?
I prefer scouring their SaaS knowledge base (Software as a Service). Why? It's time-consuming but convenient, and there's no need to talk to a person. If you support my idea, congrats: we're among 91% of people who would do exactly the same! 👏 What's an effective knowledge base in a SaaS language? What should it look like? These questions might not have been on your mind, but if you are on this post, you definitely seek answers. And we're here to provide you with them. Read on!
What is a SaaS knowledge base?
A SaaS knowledge base is a well-packed company resource center that can encourage both visitors' self-service and expand employee expertise. It means there are two types of knowledge bases – an internal knowledge base and an external one. It contains specific information about a product/service, its technical specifications, educational content, and solution approaches.
What materials can you add to this help center? Guide or anything you may find useful to your audience and staff:
Basic product documentation – here, you can include the list of its key features, press releases, and general docs.
Usage tips – everything from pointers, common tricks, and product manuals. In a nutshell, they could make life easier for your customer support team.
Video tutorials – this is my favorite section, as it's better to show how everything works rather than throwing thousands of incomprehensible words at a consumer.
Updates – many SaaS businesses have a stand-alone page, release notes, or a website section called What's new or alike, informing people about recent developments and improvements.
What should be included in a knowledge base?
Having a user-friendly external knowledge base is crucial for SaaS companies. It's like a hub with self-service resources, answering customer inquiries and guiding people on using the product effectively. Here's what you should include to make it actually valuable:
FAQs: Organize a section with common questions, from setup to troubleshooting.
Tutorials and guides: Provide step-by-step instructions to help people make the most of your product.
Troubleshooting: Offer quick fixes for common issues.
Best practices: Share tips to optimize the user experience.
Updates: Keep users informed about new features and enhancements.
Videos: Use them and visuals to explain complex topics.
Search feature: Add a powerful search bar for easy navigation.

So, make sure to invest in a top-notch knowledge base software that will set your SaaS company apart. And we'll show you some examples later. 😉
Why do SaaS companies need a knowledge base?
A comprehensive external knowledge base is not just a luxury but a strategic necessity. A knowledge base serves as a treasure trove of information, empowering users and your customer support team.
Empowering clients: Self-help resources give people instant access to answers, guides, and tutorials. They can find solutions at their convenience, boosting satisfaction and saving time.
Scaling support efforts: A knowledge base lets your team handle common questions efficiently, freeing time for more complex concerns.
Building trust and credibility: A well-structured help center instills confidence in your brand. People trust your expertise and view you as a reliable source in your industry which helps to boost customer acquisition.
Streamlining onboarding: A smooth onboarding process is crucial for retention. With a knowledge base, you can create guides to help new users get started quickly, ensuring a positive experience.
Reducing support costs: By empowering people to find answers on their own, you can lower support costs and use resources more efficiently.
To sum up, a knowledge base makes people happier and keeps them coming back. Plus, it shows you know your stuff. Also, consider creating a top-notch internal knowledge base to enhance your support team and shine among competitors.
Key attributes of a stunning SaaS knowledge base
SaaS knowledge base solution gives more than just self-service opportunities. It walks a visitor through the product's behind-the-scenes. At the end of the day, everything comes down to how quickly people can find your library, how you store info, and if the UI/UX is smooth, even in mobile apps. Let me dive deeper into the major attributes a badass knowledge base for SaaS should possess:
Just like the customer support team is the "face" of a company, a knowledge base is the "window" to your brand's identity. And I mean all customization options – its color scheme, motto, fonts, and copy style – everything that would tell a consumer, "This is it! This knowledge base is definitely part of the X company!".
You must keep people from getting lost in broad daylight. Your help center should be easy to see on your website, mobile apps, or anywhere else. For instance, we at HelpCrunch – a full-house customer communication platform worth your attention – provide a knowledge base option not only as an independent website page but also as a chat widget seamless integration (more on that coming later on 😏).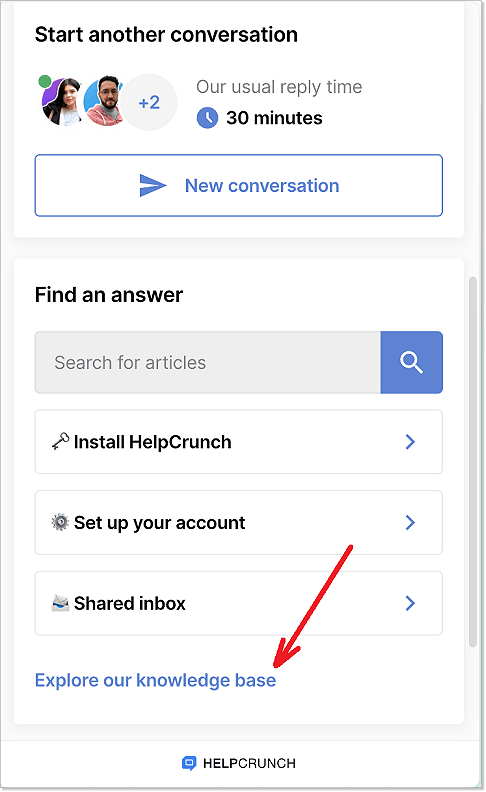 I doubt you could surf a SaaS knowledge base without a clear and simple navigation system (unless you would want to find yourself in a maze). For that, consider a strict division of categories/subcategories and sections/subsections, and name articles properly so that your visitors won't rack their brains once they land on the page. No clue how to architect them? Wait for our SaaS knowledge base examples – you'll love them!
From where I stand, an online knowledge base's search function is usually underrated. Business owners tend to ignore it, relying solely on consumers and their magical skills to comb through stuff. To make your resource hub a success, provide a noticeable search box and set up SERP-like mechanisms for customer satisfaction, at the very least.
A SaaS company can say goodbye to the clientele if its knowledge base info is stale and outdated. Analyze and review it regularly and make it a "windmill process": new bits of information arrive, you check them out, write an article draft, and post it. This is the only way to preserve credibility in the people's eyes.
9 top SaaS knowledge base examples to pick up
Finally, we're approaching the funniest (and most important) part of the story: SaaS knowledge base examples. We split nine great software-as-a-service companies into two broad categories – the first could assist you in creating a knowledge base, and the second is arousing your inspiration and creativity. Multiple variations of assembling a help center – you should see them! 👀
Tools to create a killer knowledge base toolHelpCrunch
1. HelpCrunch
Who else would top the list of the greatest SaaS knowledge base examples? 😇 I don't mean to brag, but let me share nuanced details on HelpCrunch.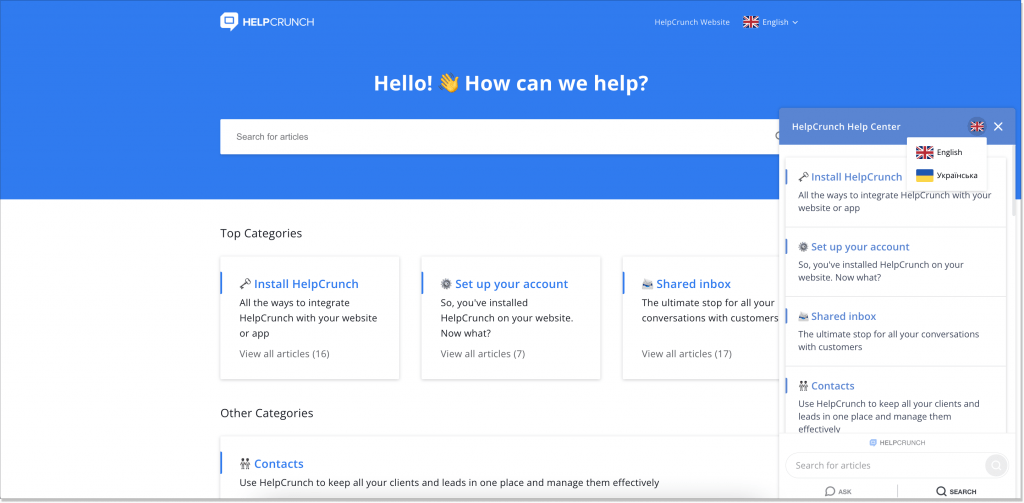 Apart from a multilingual knowledge base (which is already a huge pro point for a SaaS business nowadays), we work hard to deliver a live chat, a code-free chatbot, a shared inbox, a popup builder, and email marketing specs. All you need to build a strong customer success strategy.
I know: you would want me to tell you everything about them. However, we're here to break down the help center.
HelpCrunch's knowledge base software is about convenience and a smart approach to storing and processing data. Key takeaways are:
Convenient text editor where you can monitor the article versioning;
Easy-to-digest information tree with sections, categories, and subcategories for a proper knowledge management system;
Multilingual articles for content localization and building bridges with different audiences across the globe;
Search Engine Optimization (SEO), knowledge base SEO activities can help you rank high in SERP;
Live chat widget integration provides extra convenience for clients looking for information on your website (you can also localize your knowledge base option in the widget!).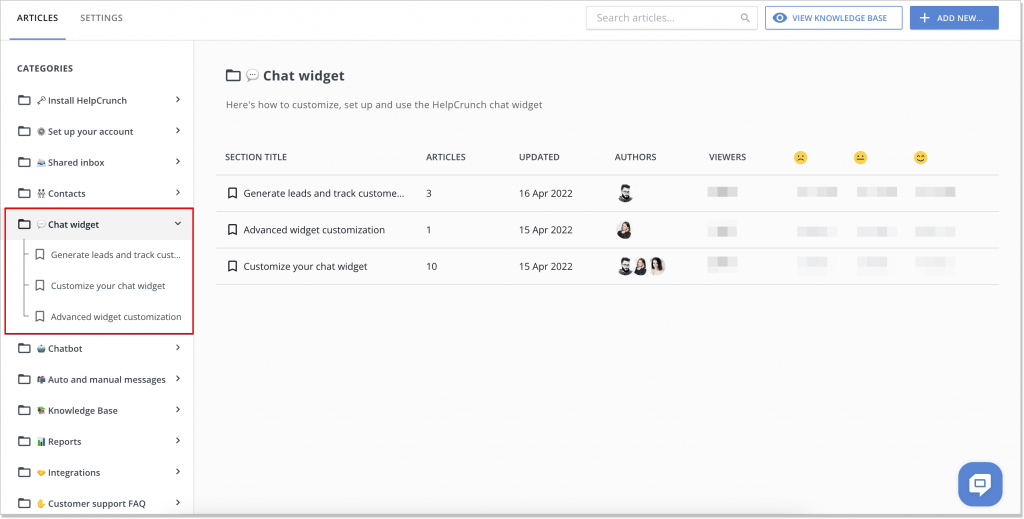 If you're wondering, the HelpCrunch knowledge base for SaaS will cost you $12/month for the Basic package. Take my word for it: this pricing is as transparent as anything could ever be. Sure thing, you get a chat, including an app widget, auto messages, and a shared inbox for your correspondence, to name a few. And with the premium plan, you get much more. How about signing up for a free 14-day trial and seeing everything yourself? 😉
2. Confluence by Atlassian
Next up in our knowledge base examples list is Confluence by Atlassian. By the way, this giant has always had a brilliantly developed knowledge base SaaS environment. When in the main Atlassian resource center, frustrated customers can search for info product-by-product. For instance, if you have troubles with Trello, there is a specially made Trello board, if it's Jira that puzzles you, go ahead and check out the Jira knowledge base.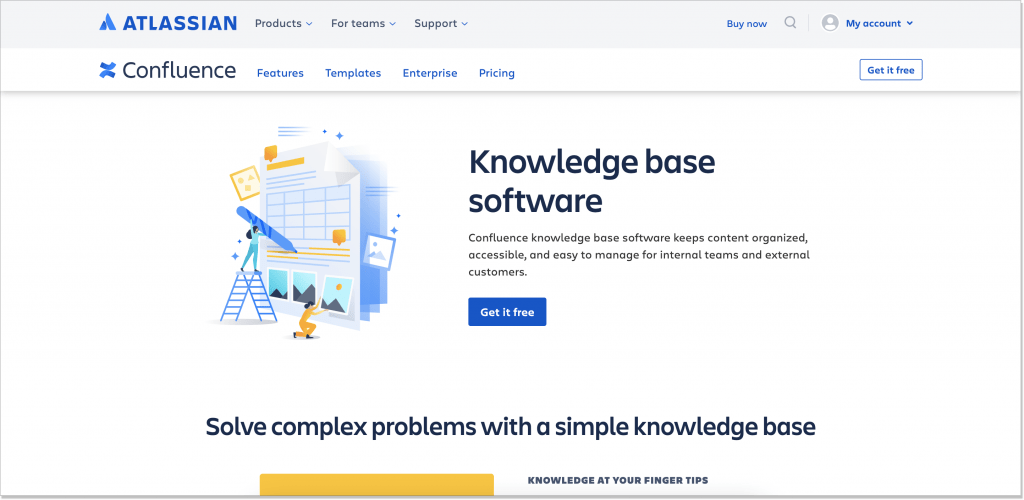 If we glimpse at the features in the Confluence SaaS knowledge base, there are four major points:
Knowledge management – you can harness your company's knowledge by creating an information hierarchy of your dreams;
Collaboration – Confluence lets you team up with your crew and work together on projects with private notes, roadmaps, etc.;
Social network – here, you can actually communicate with your fellow employees by mentioning them in the docs, get instant feedback, and nurture the company's culture;
Templates – Confluence makes it possible to use ready-made article patterns for time-saving's sake.
The key takeaways are that when you land on the Confluence knowledge base, they show only recently created and updated articles, but you can use their search bar for more.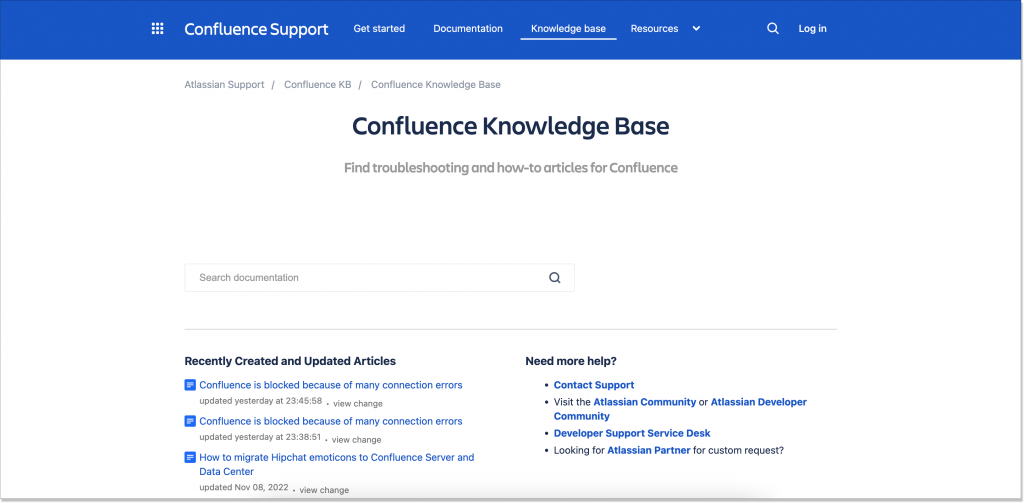 3. Wix
Being a free website builder, Wix is a SaaS company providing a knowledge base option with simplicity and elegance in mind. This black-and-white color range feels rich enough, and the contrasting navigation bar encourages you to start searching.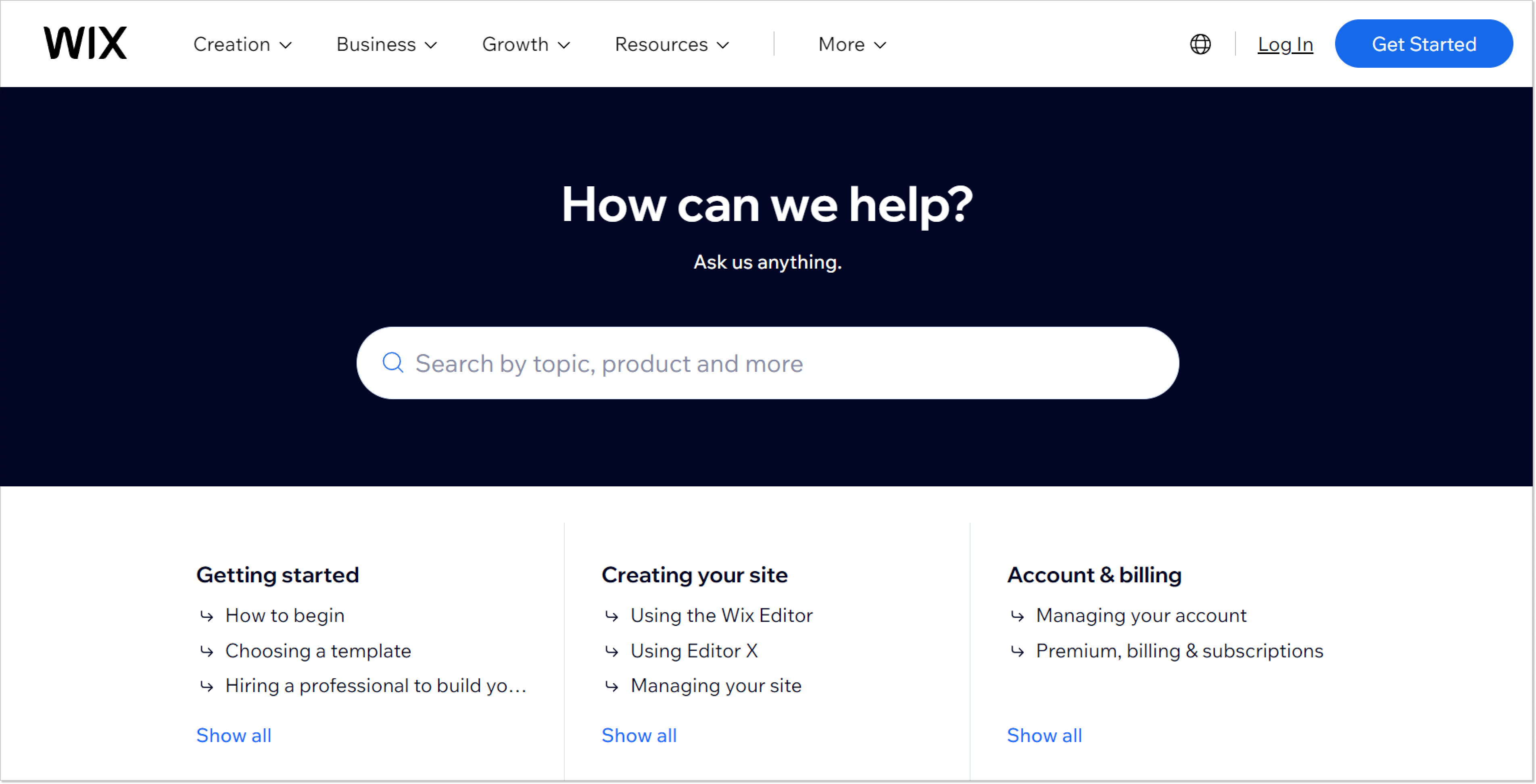 I like Wix's modesty the most: no images on the page, just a grid layout where the info is vividly shown. When we take a peek inside, there's In This Article section jumping out at you. It's a little trick not only for a SaaS knowledge base but for everyone else: to display a dynamic table of contents.
Besides, Wix made a shrewd move by inserting the blog-inspired Related module so users can see other topics. Take good notice as this way, you can create a comprehensive experience for clients. So, the key takeaways: minimalism, dynamic lists, and a module with additional information on the topic.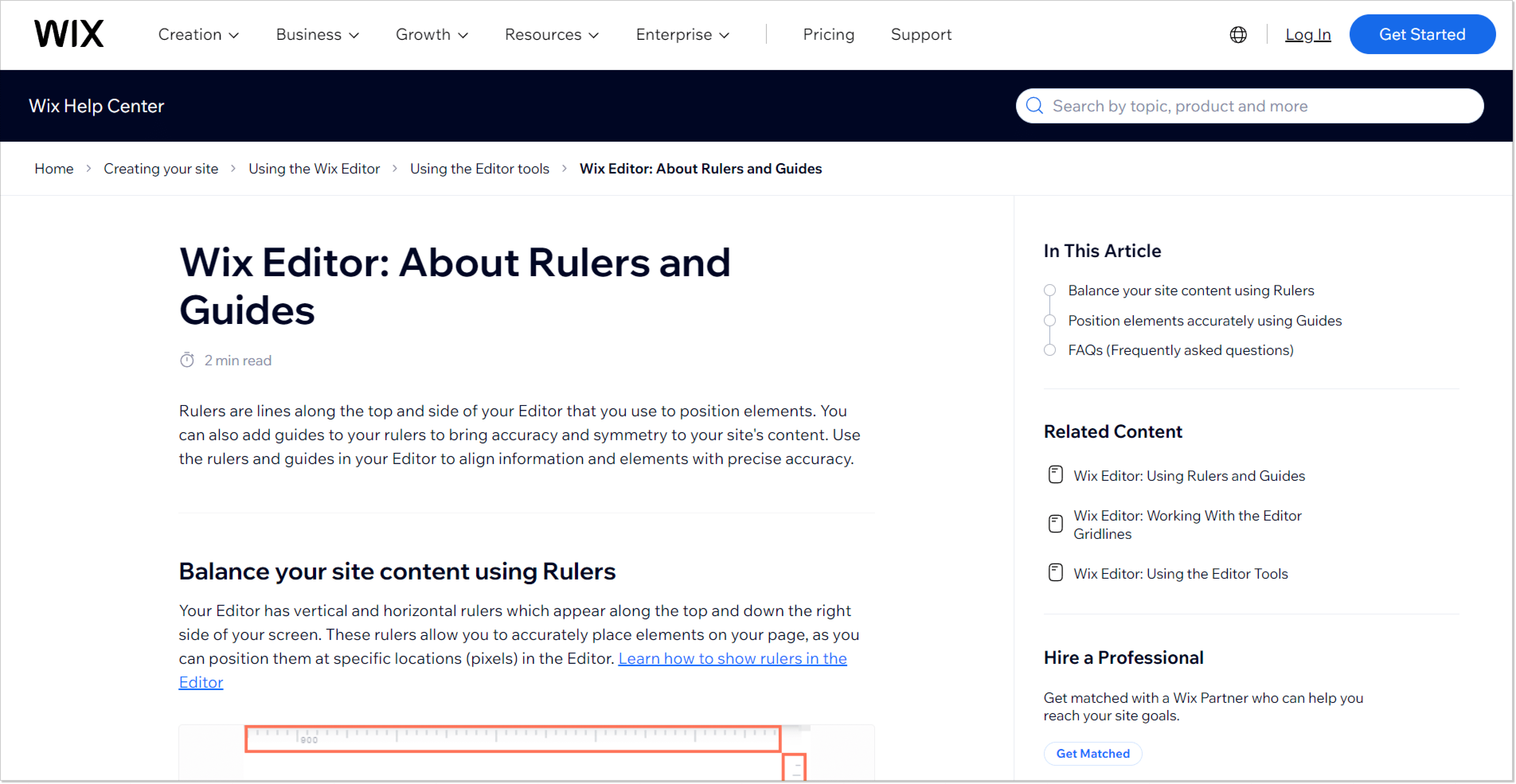 4. loomfire
I don't know about you, but Christmas was around the corner when I first ran into this help center.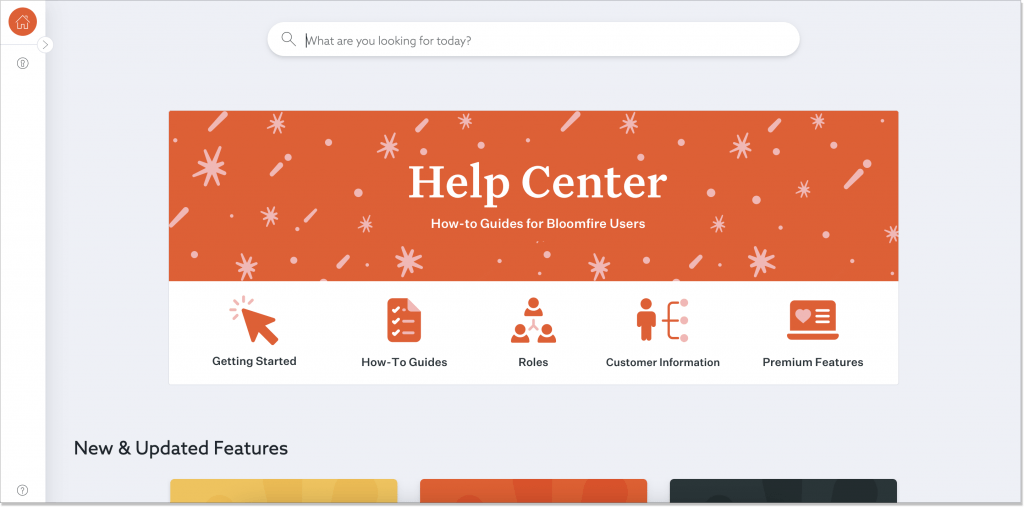 Bloomfire is a SaaS knowledge management brand that created its resource hub according to all the canons: an easy-to-find search bar, the key components situated right in front of you, and a well-defined structure both outside and inside the knowledge base. And it's perfect for the customer success strategy.
What struck me the most was their Community forum being part of the main ecosystem. Here, you can filter relevant articles by publication or updated date and different types of content. All of it is posted by the Bloomfire Ambassador, which adds to this knowledge base brand's image and helps with customer acquisition.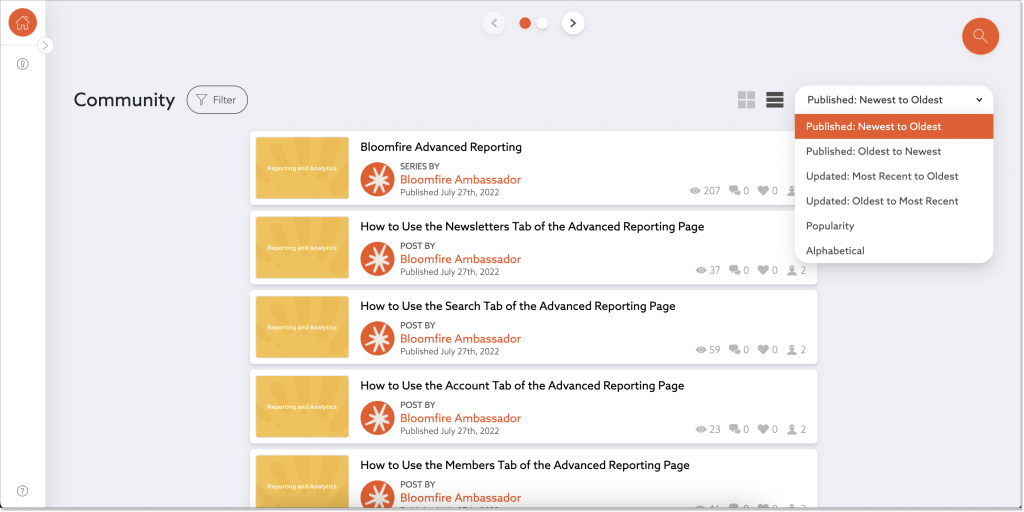 5. Stonly
Stonly proved itself as a valuable player among the SaaS knowledge base teams. On the face of things, their help center is the same as numerous others we've discussed here.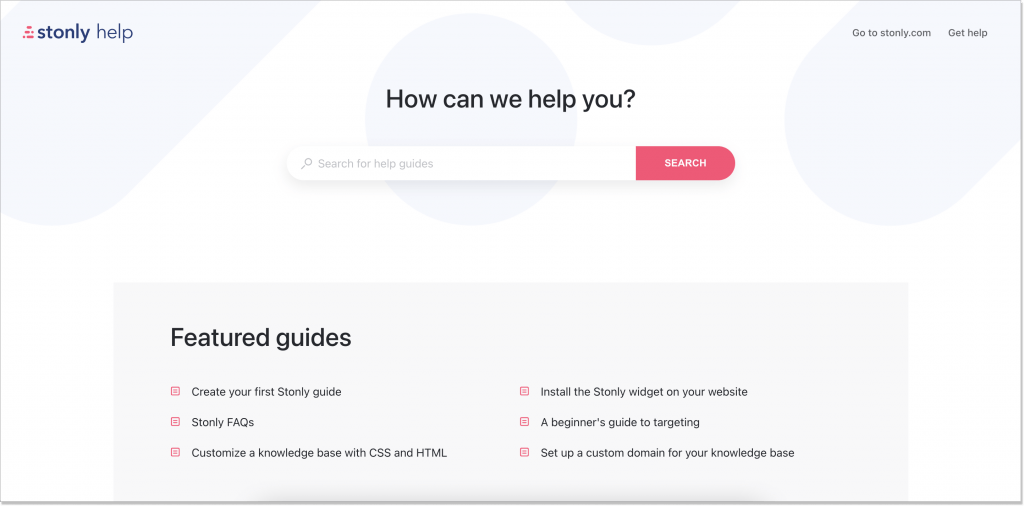 If we peek under the hood, there are such functionalities as:
Interactive guides for better engagement and customer happiness with all kinds of visuals;
Powerful search so that people can find info in a few clicks;
Visioning and modular design for keeping the information updated;
Knowledge base analytics prevents consumers from dropping in time (also, you can use Google Analytics as an additional tool).
Remember the four pillars of a stunning knowledge base? One of them is visibility (read accessibility), that is, the ability for visitors to get to you as fast as possible. Stonly interprets it quite well.
At the bottom of their knowledge base website, there's the GET HELP CTA in case there's nothing you looked for. Once you click it, you see interactive guidance with possible issues. Should you get no help here, you'll be offered to create a support ticket for further investigation.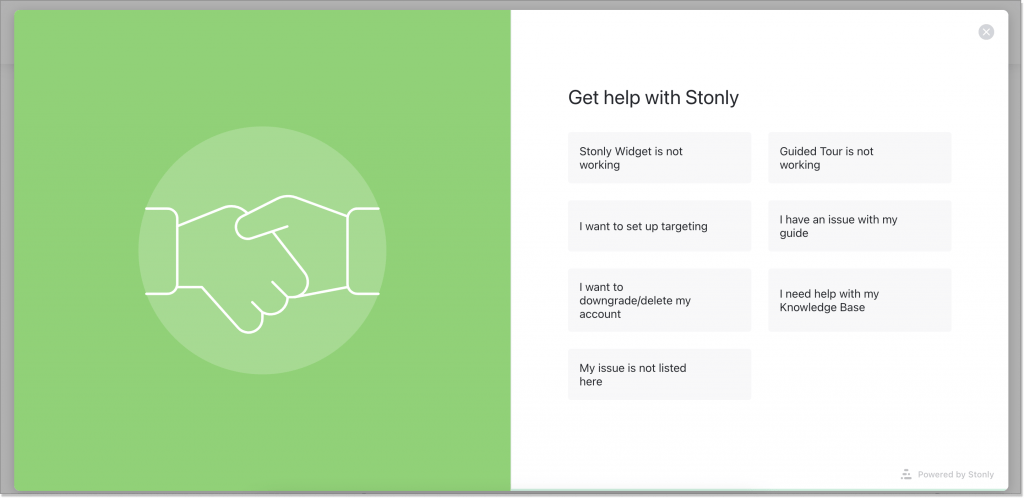 Tools to draw inspiration from while designing a SaaS help center
6. Figma
Figma's SaaS knowledge base option is a true masterpiece. Of course, it all comes from the company's occupation – Figma is a collaborative design tool. Their help center pleased my eyes from the very beginning: how the team chose the color shades, the way the structure is composed, the hard-to-miss search bar, and assembled brand illustrations. In my personal list, Figma comes second after the HelpCrunch knowledge base software😅
Together with their exclusive fonts and stuff, these guys made a smart move and added the Figma for Beginners tutorial section under the Get started popup window. Furthermore, it's divided into four parts including hands-on prototyping lessons. If I were a designer trainee, I would definitely get bogged down into these.
Key takeaways: your creativity and unique company look must match to achieve the best results.

7. Mailchimp
Mailchimp, an email marketing company, has one of the most thrilling SaaS knowledge bases. Should I even mention tailored images and their brand mascot popping up across all the resource centers? This is what I call an awesome appearance.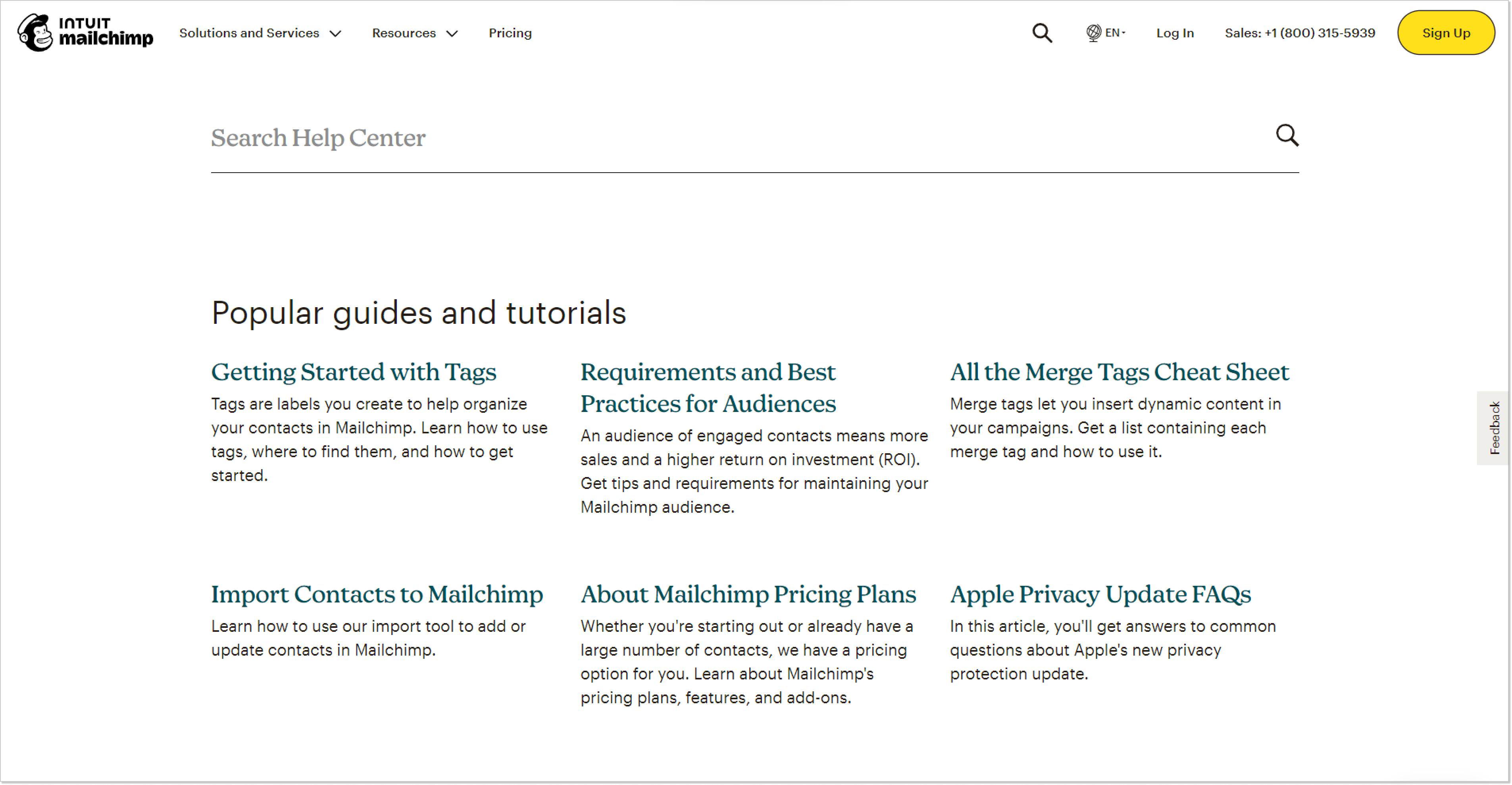 So, their knowledge base is divided into two major building blocks – Popular guides and tutorials for step-by-step guides and Help by topic. You can also watch a tutorial where Mailchimp's functionalities are described in all their glory.
Let's take a look inside a knowledge base article example. The key takeaways are that it is nicely written and easy to digest, and there is an open question at the end of each piece (and a special technical issue field on your left). This way, the guys gather people's opinions and candid feedback, which will help them take action, arrange improvements, and make changes to the knowledge base. So, here's yet another way to bond with people.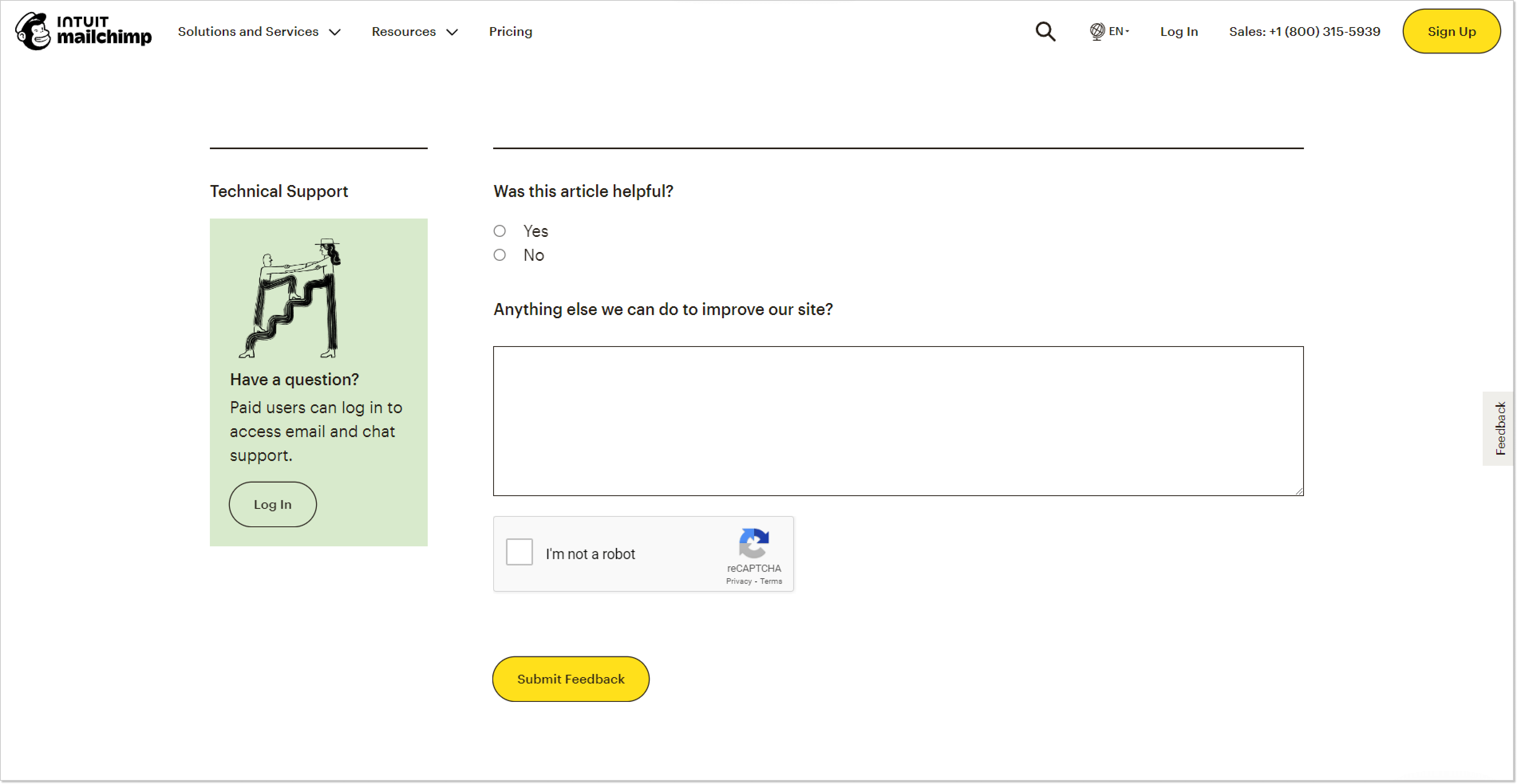 8. ProofHub
ProofHub is an all-in-1 project planning software with a well-organized knowledge base – ProofHub+. Their SaaS knowledge base is designed in keeping with the best practices. Once you land on it, there are four top-level categories you can look through and a prominent search bar.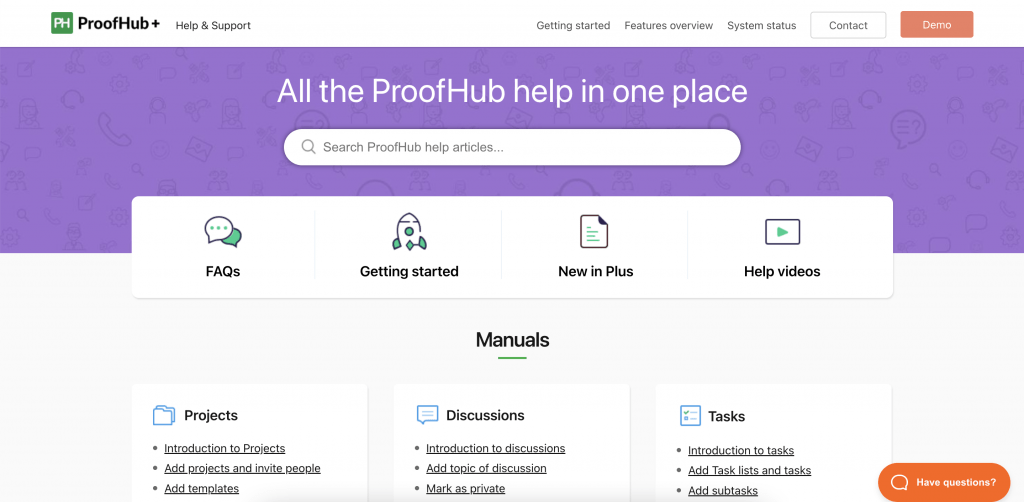 If you scrutinize it closer, ProoHub+ sticks with a low-profile style. Their articles usually contain minimum texts, numbered lists, and images to illustrate the features. Moreover, they include ways to contact their customer support team and the blog link for additional context (in addition to the chat widget).
But there is one more thing this SaaS business has done with flying colors. It's their Features Overview section as part of the knowledge base. Here, you can read in-depth explanations and get product updates and pro tips on how to use it. How smart is that?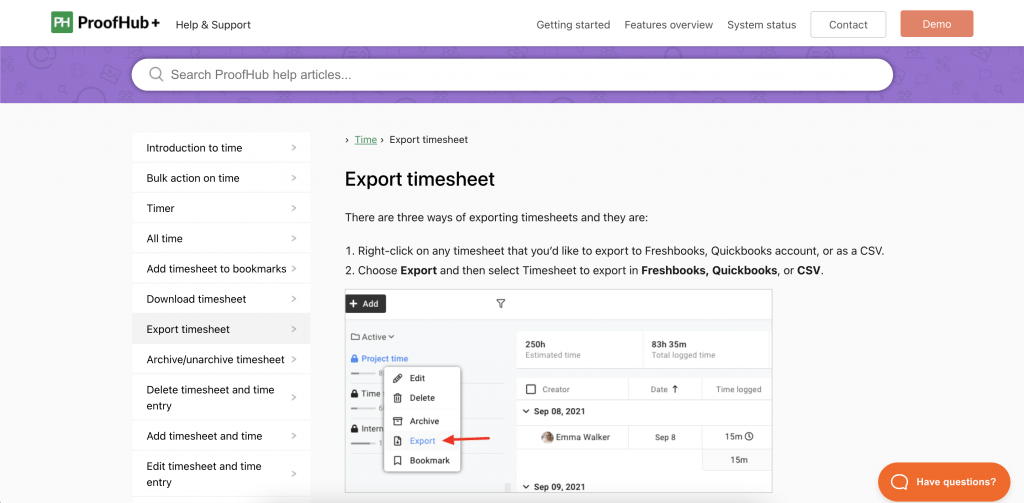 9. Reelevant
Lastly, here's Reelevant and its humble, at first glance, SaaS knowledge base. When I first saw it, this thought came to my mind: "These guys are frugal with their words." And I was correct.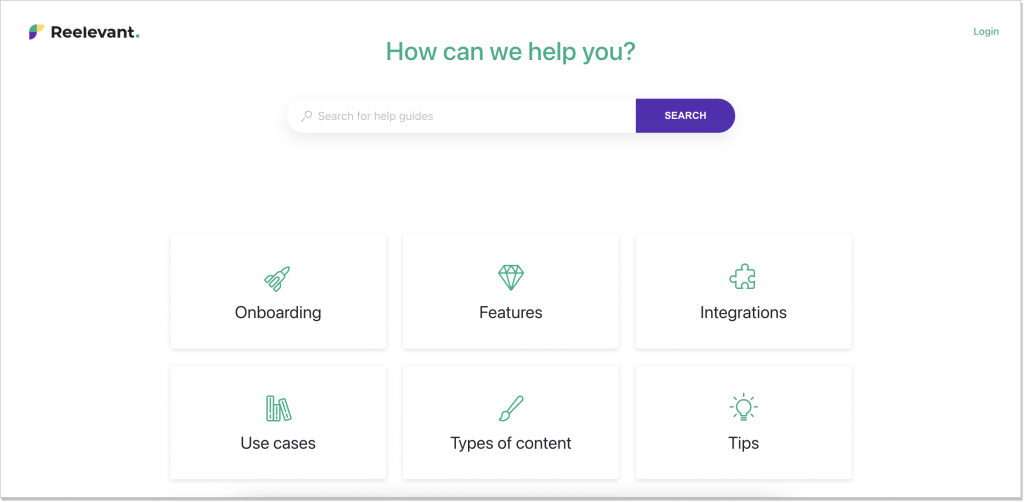 Like the others in our list today, Reelevant places a premium on convenience, structure, and even pragmatism. There is one distinctive feature, though – their interactive guides. The team behind Reelevant forgot about mundane knowledge base articles and added progress bars to most of them. If you do this trick, the chances are, you encourage people to read your helpful content even more and make the whole process not so dull.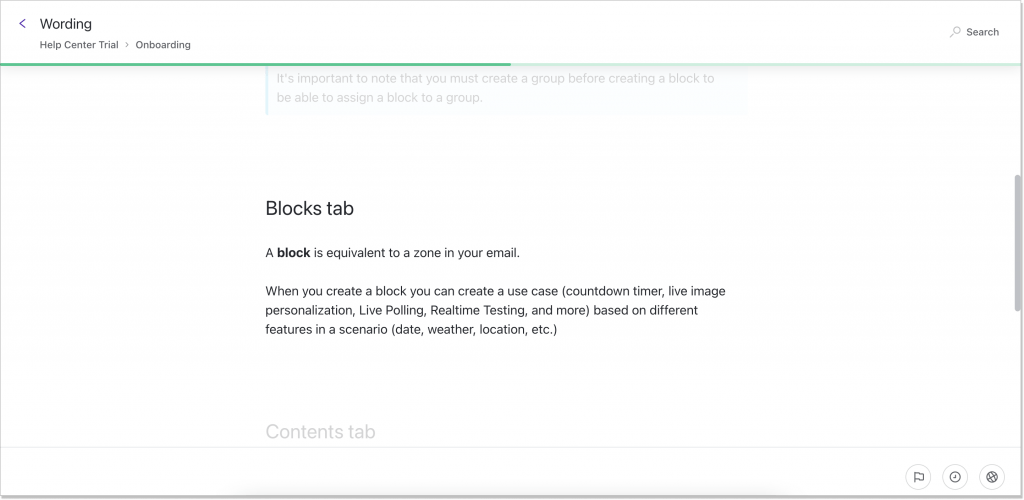 Go for your SaaS knowledge base software
Hand-holding customers isn't a bed of roses. Not only should you know the ropes of proactive communication, but you should also provide them with decent self-service options. After all, the learning curve theory demonstrates that the more they learn on their own, the better they will interact with your product or service in the future.
These SaaS knowledge base samples will undoubtedly inspire you to build one of your own. And just as a quick inkling – you already have the powerful tool to do just that 😉