What is SaaS Customer Support: Explained in Minute Details
Delivering unrivaled SaaS support can be really challenging. But not after you read this piece! See how you can provide it to your best extent and practice.

Customer satisfaction and retention are becoming the name of the game now and so is delivering impeccable support where clients need it and at the right time.
Fortunately, as the technology evolves, you can meet your customers' expectations to the best extent. With all-new channels, tools, and management systems around, companies are able to lend a helping hand to people more efficiently.
Still, providing customer service that wows clients requires more than just investing in an advanced toolset. Instead, you have to bear SaaS customer support best practices in mind to make your approach be up to par.
In this post, we've explained what SaaS support really is as well as shared some good-to-know tips on how to assist your customers. Plus, we explain where customer success stands ​​in this equation. Let's get going!
What is SaaS support?
Software as a service, which is the full name of SaaS, stands for a cloud computing offering that provides users with access to a vendor's cloud-based software (Top 5 Advantages of Software as a Service). In plain language, SaaS customer support is a ready-made solution for a business that wants to assist its customers.
The modern idea of web-clouding dates back to the 1990s when Applications Service Providers (ASPs) gained their ground and the rise of the World Wide Web began. At first, SaaS wasn't taken seriously. But during the past decade, it has shown rapid growth together with the adoption of new technologies: Platform- (PaaS), Infrastructure as a service (IaaS), and SaaS Application Suits.
In a traditional business model, you sell a product, a customer buys it, and nothing happens next. The product doesn't change but does its job. In customer support for SaaS, clients often pay repeatedly (usually on a subscription basis), and take advantage of a product every day. Plus, the product is evolving and growing.
When a client comes in with a question, a company should be able to help at any time. An unpredictable part here is that software may often have bugs and snags that can lead to tough customer conversations. For complex issues, you should have experts with technical expertise to fix customer pain points ASAP. For a tricky product, you need people who are well-versed in it.
How does SaaS customer support correlate with customer success?
You may be thinking: "My customer support team is already doing its best to meet every client's need. Why should I aim at something else?". The main difference between these two notions is that the first one (customer support) is usually reactive and the second one (customer success) is proactive. But there's more to it.
Everything is less than simple: if a client has troubles with a product or service, they contact a customer support rep asking for help. A customer success team, on the other hand, anticipates any issue and reaches out with fast solutions first.
Besides, customer support usually ends contact with a client once a problem is solved. A CSM (customer success manager) has no ending point: as long as a client stays a client, a CSM is in touch.
Speaking of money matters, customer success is revenue-generating. CSMs encourage the company's growth by upselling and cross-selling techniques, which reduces churn. A customer support team is usually thought of as a cost-center that is focused on operational efficiency.
At the end of the day, a qualified customer support team is only half the battle. If one client succeeds, it's a win-win for the whole business.
When can SaaS customer support be your best choice?
Most of you might have a traditional idea of how SaaS technical support can help customers. Users navigate a website, see a "Contact Us" button or link, and that's how it works. However, it is now breaking new grounds.
You can provide SaaS customer support inside your app. For instance, HelpCrunch can be easily integrated into your SaaS product. As a result, you have a sleek in-app chat widget with an integrated knowledge base that helps you assist clients faster.
This way, customers can communicate with you being right inside your app. Let's say, a new product release is out now and your client notices minor bugs, or there's an issue with setting up an account.
With your in-app customer support, they can contact you and report a problem in real time by clicking a chat widget. Now that the knowledge base is also available from a chat widget, customers can switch over to it and find the much-needed answers right away.
It is getting even better. You can use a live chat widget as an in-app messenger to send targeted and proactive chat messages to various customer segments to:
Inform clients about company news and new features
Onboard trial users
Provide product training via chat
Re-engage less active users
Announce special deals
Increase overall customer engagement
SaaS customer support best practices: do you follow all of them?
Being into SaaS customer service is more than just setting up an email campaign or having a rep who answers the phone. If you're to build a productive SaaS customer support team and assist clients to your best extent, be ready to go through a thoughtful process with a bunch of details.
1. Go for proactive customer retention every step of the way
It's sad to lose a customer who has already subscribed, isn't it? Holding as many people as possible once they come to you is important for a SaaS company. Have a look at the numbers: acquiring new clients costs 5 times as much as retaining existing ones.
Think of how much money you spend on acquiring new clients or launching marketing campaigns. You want the customer lifetime value to be higher than the cost of customer acquisition. The greater the LTV in this proportion is, the better finances your brand has. Now you do the math.
Proactive customer service can help you with retention and offload the support team inside your app. Imagine the situation: your customer's credit card payment is canceled due to insufficient funds or for unknown reasons. Some companies would leave this situation up to a chance. However, that isn't the way out.
Consider integrating your system with any team communication tool. Speaking of, HelpCrunch has a Slack integration. If a client is experiencing payment mishaps of all sorts, our customer success and support team get corresponding Slack notifications. This way, they can send a follow-up message to a customer and give a proper piece of advice on how to fix a problem.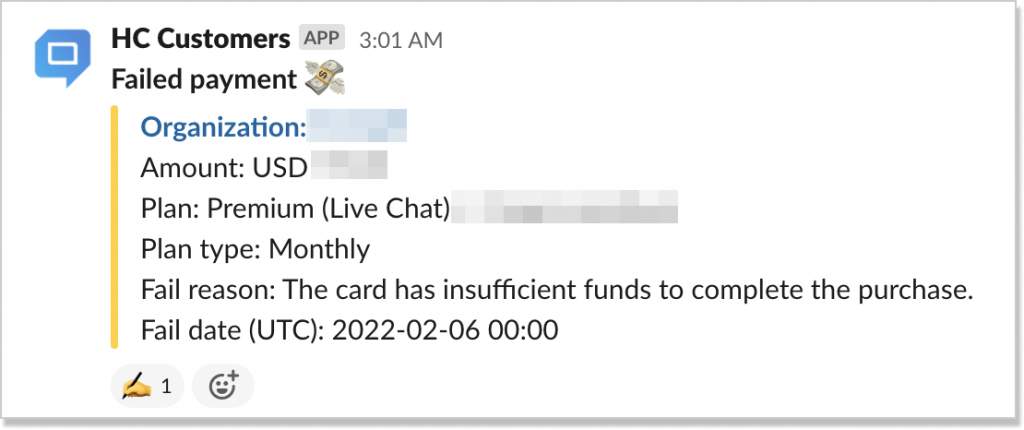 Onboarding new clients, teaching them how to use your services and products, and meeting their every need at the beginning of their journey (and showing your initiative, of course) can have a positive impact.
2. Provide impeccable client onboarding
Clients can abandon a product in the initial stage of their customer lifecycle just because they're lost, get stuck, and don't see the product's value. 55% of clients claim they stopped at the very beginning as they didn't understand the way the cookie crumbles.
The most important point here is not just to answer the customer's questions but to set clear examples. So, to narrow down the churn rate and show customers all in good time, smart brands focus on a client onboarding process.
You can build your onboarding flow using various options:
Setting expectations: by showing clients exactly where they are in the process, you make it easier for them to get started with your product. For instance, display a progress bar to say what your users should expect, and what step is the next.
Breaking things down: don't ask customers to do too much from the outset. Just make every step of the process easy and simple.
Calling attention to important elements: point your users in the right direction so that they see where to click this or that button.
Making onboarding skippable: what if a user doesn't want to set up an account right away? Don't make them go through an installation process if they don't want or need to. Include a "Skip" button so that they get back to it later.
Embedding visual materials: what can simplify the onboarding process even more? That's right, an engaging video. Put it right from the start or add it as a summary: your users will only thank you for that.
If you use HelpCrunch, you'll have a mixture of the hacks mentioned. For instance, when a user deals with our Installation Wizard, a proactive chat message pops up. This way, a support manager can answer all the questions and streamline the process.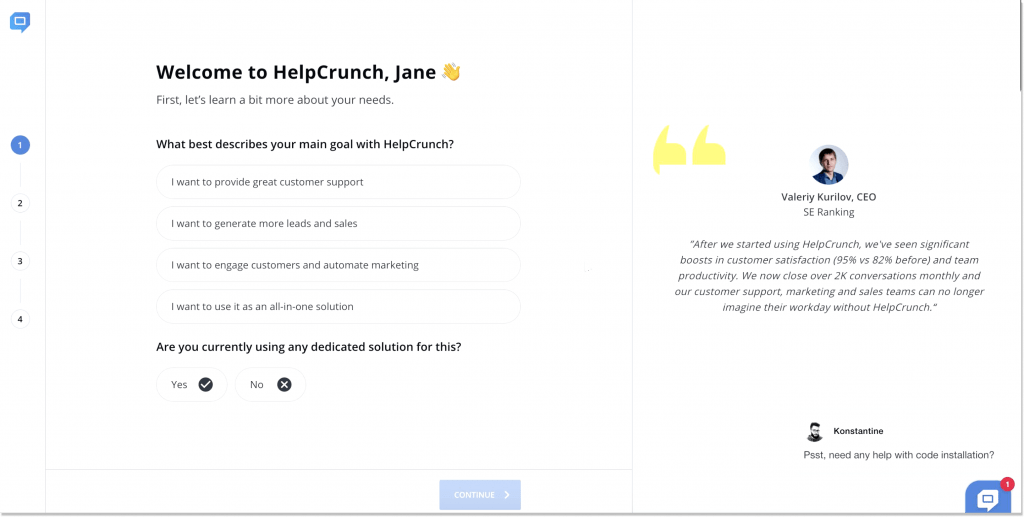 3. Make your support team easy to find
How many times were you searching for a Contact section on a website or inside an app? When I fail to find that button, it usually gets on my nerves. Not to make your customers search for a support link for years, make it easy to see.
Here you have several options. Number one is to place "Contact Us", "Support", or any other relevant button either at the header or at the bottom of a page. Number two is to add a self-intuitive icon in your app, meaning that a user can ask all the questions if they click it. HelpCrunch takes the second option.

Once you are logged into your account, there's a question mark sign on the left. You can check the knowledge base center here, drop a line to our support team, or even look through the developer's documentation.
My advice is to choose either of these options. If customers don't see how to contact you, it may be the first "frustration mode" trigger. And this is NOT the kind of mistake you want to make in your SaaS customer support.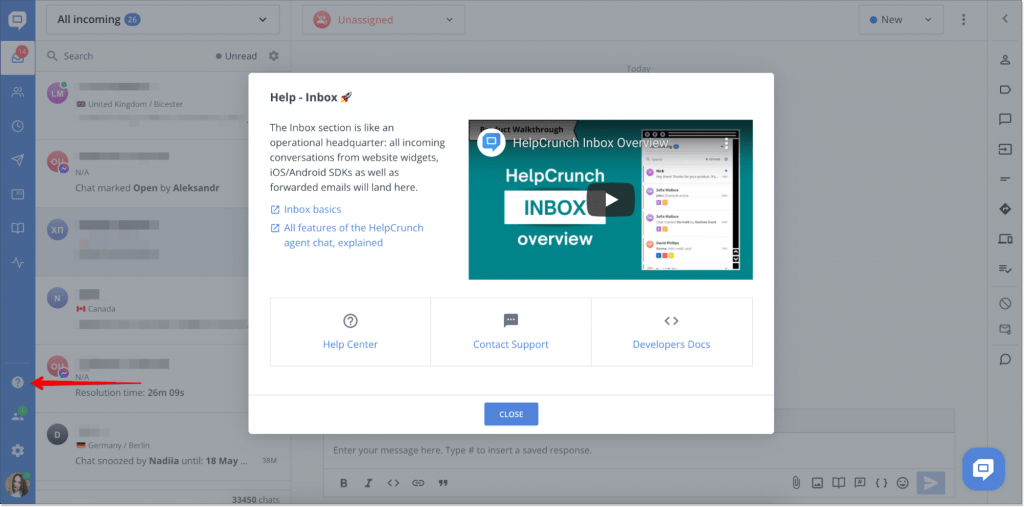 4. Adopt an omnichannel approach
If you think about expanding your support channels list, an omnichannel customer communication strategy is what you need. Thanks to it, you can connect all channels to interact with clients the way they want. You might say "how is it different from a multi-channel concept?". Let me make it loud and simple.
For instance, if a customer contacts you via live chat and then wants to follow up via email, a company with a multi-channel might ask them to re-explain the issue once again. A business with an omnichannel strategy, on the other hand, has the previously discussed info at its fingertips and on all channels. So, a customer support agent reading the email can quickly get the hang of things.
Let's take a shared inbox HelpCrunch has as an example. It can store all the support queries under the same roof. Besides, such a feature is both convenient and time-saving as each of our customer success managers has access to the information and is able to deliver as timely SaaS customer support as possible.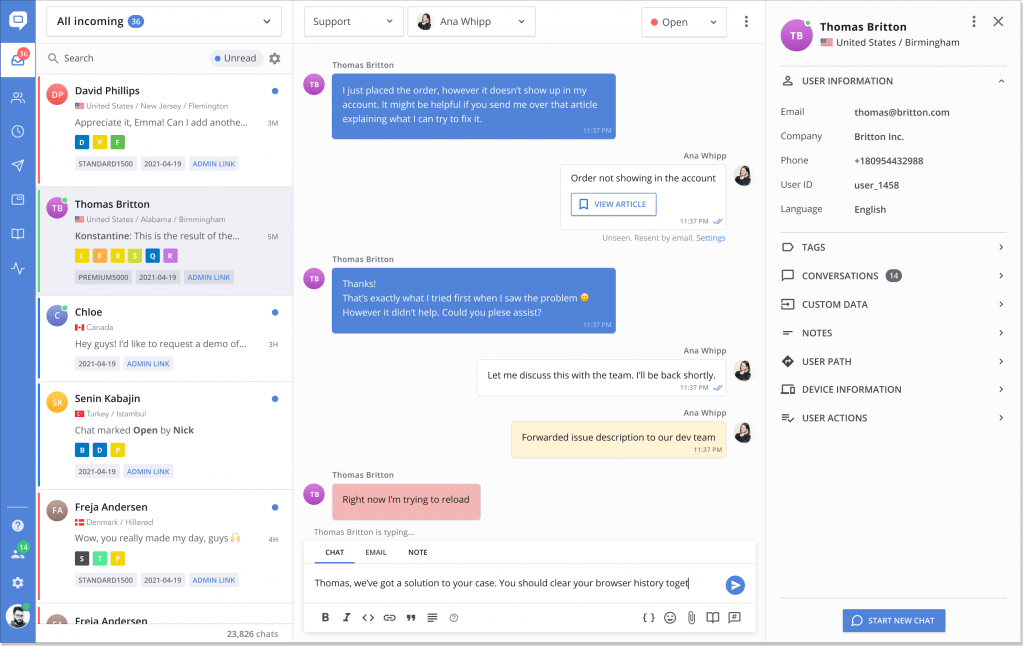 5. Be as transparent as you can
A lot of customers are remaining skeptical about subscription-based business models. Why is that? Many reasons. Some might think they are too costly, others claim they are hard to use, and lack security. And so that when downtime happens, clients may be infuriated. Anyway, telling nothing but the truth is the least you can do. Here's when transparency comes in handy.
For instance, when your company faces glitches all of a sudden, inform your users and appease them as soon as possible. If you know there's a great product release coming and your system may go south, email your client base in advance. By doing so, you can omit unnecessary angry messages from unsatisfied customers.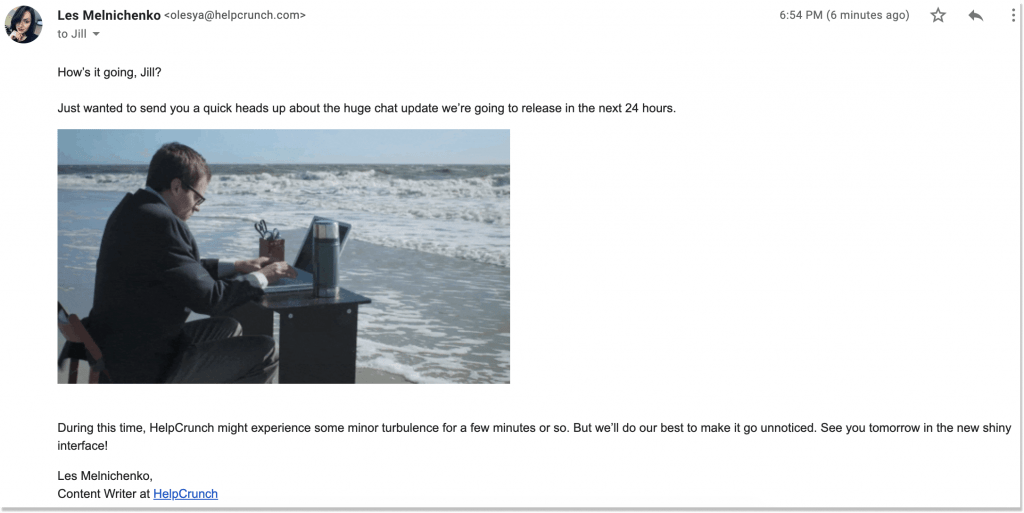 6. Create helpful self-service resources
Self-service is one of the main things they expect to get from your SaaS customer support in the first place. As it is gaining traction 40% of clients say they prefer searching for the answers online on their own rather than speaking to a human customer support expert. 
To give you a better idea, all the answers Amazon customers have are directed to relevant help center articles or website pages before a client contacts a customer service agent.
Thanks to such an automated approach, Amazon can take as many customer inquiries as they like and still deliver an optimal experience.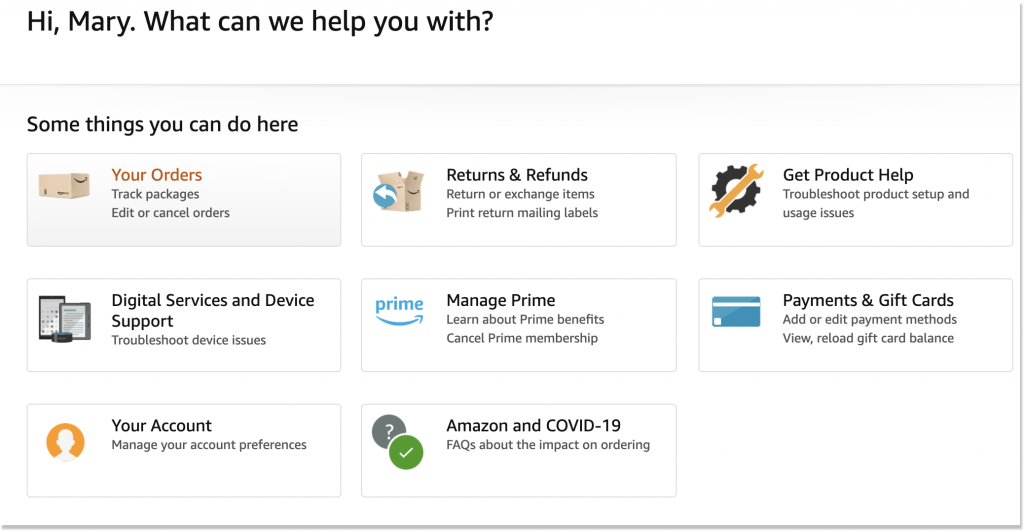 So, why don't you let clients troubleshoot their issues by themselves? Build a thought-through knowledge base and encourage your customers to self-service. Identify the keywords users type in a search box to offer clients more specific info.
Don't rely on just writing stuff: include video tutorials or how-to guides. This way, you can reduce the number of incoming tickets, boost conversions, and improve client onboarding.
7. Create the right customer success team
"Are customer support and customer success teams not the same?" you might ask. Actually, they both share the same goal but have different approaches when it comes to interacting with clients. Your support team works to solve users' problems when they occur. A customer success squad, on the other hand, contacts clients to reach their goals.
"Customer success is where 90% of the revenue is" (Jason Lemkin, Gainsight Pulse conference). Well, this is true, as it's a customer success agent who can:
Make it easy for new clients to set up their accounts
Communicate the value of service upfront
Gain concrete and honest customer feedback and use it to guide your brand's strategy
Check software reviews on dedicated platforms about your company and see if there are any gaps  
Convert trial users into paying customers
Get clients to embrace what you offer so that they become brand ambassadors
Increase revenue and reduce churn
Create long-term customer relations 
To recap, customer success is all about creating the most value for a client at any given time and in any scenario. So, to provide awesome SaaS customer support, you should incorporate support and success concepts in your business. 
8. Form a decent company culture
It all starts with a company. If you wish your brand to be a pro in customer success, make sure the staff is involved in everything that's up. I'm talking here about a company's culture.
A healthy internal culture means that all teams are willing to work as a whole unit and achieve the standards you set. Evaluate your co-workers and ensure they have a proper toolset to assist your customers to the best of their abilities.
To foster your corporate culture, arrange training activities, discuss tricky customer cases, or attend online workshops. To put it simply, grow your customer service mindset and drive success together. A great example of corporate culture can be Zappos with its core values. They aim at being open-minded, wow customers with their service, and build a family spirit.
9. Cultivate a collaborative environment
Your SaaS support team should not only realize all the importance and responsibility of helping clients but also be ready to work as a whole unit with the rest of the colleagues. Arrange team-wide workshops, webinars, and meet-ups. It's a fair opportunity to share ideas and experiences in a casual atmosphere.
Besides, identify the leaders in your team. Those who will guide the rest of the squad and tell them you're dealing with constantly changing customers' behavior, demands, and even moods. To succeed in this endeavor, every support rep should answer these questions:
Who is the customer? What do they need, how old are they, etc?
What is the current customer experience across the product or service?
What customer communication tools does the customer enjoy?
How does the business engage with customers?
By the way, without knowing who your clients are, it's next to impossible to put yourself in their shoes and have a better idea of how to deliver unrivaled success. Real-life customer service scenarios, online training, and numerous industry-specific workshops may come in handy for teaching your staff how to address clients' inquiries.
10. Establish proper customer support KPIs
Metrics come in a variety of shapes and sizes in the SaaS customer support world, but we'll try to crack down on the most important ones.
Let's break SaaS customer service KPIs into three groups to set things right:
Support agents level
These metrics usually help look at your team's performance and detect pain points as soon as possible. Consider these:
Average ticket resolution times
Number of chats closed
Feedback score
Average handle time
Team level
Team-based metrics are used to measure the activity of the whole unit. They evaluate the quality of service delivered and give a better idea of the challenges within each team. Arm with these criteria:
Average response time
Highest wait time
Average customer satisfaction score
Management level
By keeping track of the following metrics, management teams can get a view of ROI and new opportunities:
Customer satisfaction score year to date
Number of customer engagements year to date
Average answer speed year to date
Customer lifetime value
Final thoughts
SaaS customer support should be the top priority for a business that wants pleased users in its client base. Without proper assistance, they may struggle with product features. And that often leads to negative emotions and impressions. You need just positive word of mouth, don't you?
Include the tips above in your arsenal to spruce up your endeavors. Don't forget to have your customer support and customer success teams on the same page, too. Two heads are better than one, as they say.
Deliver outstanding customer service and provide effective solutions so that users get a delightful experience. Create an account with HelpCrunch (it's free for 14 days) to let your customers reach out to you using their favorite channels.