B2B Customer Service: Definition & Best Practices
Assisting business clients means keeping abreast of all their needs and goals. We want to make this task easier for you, so here is a list of 7 best practices in B2B customer service.

Imagine, you are a soap seller with thousands of customers. If one of them switches to a competitor, you barely feel the difference. Oppositely, if you are offering an issue-tracking SaaS solution to 50 business customers, losing one will hurt quite a lot.
It's a simple explanation of why B2B customer service is important and what impact it might have on the company compared with B2C. It also requires more effort from the customer support team. For one thing, clients in a business-to-business model buy products and services not out of their personal desires and emotions but for business needs. It means you have to discover those needs and then satisfy them as fully as possible to win just one loyal client.
In this article, we will talk about customer service in B2B and discuss the best practices on how to keep it on a high level.
What is B2B customer service?
​​B2B stands for "business-to-business," and means that the company provides its service or products to another company instead of regular consumers. So, talking about customer service in B2B, we talk about the support you offer your clients — before and after the purchase — to make their experience with your brand easy and enjoyable.
Another peculiarity of customer service in business-to-business communication is that your customer is usually not the end-user. Business owners or other decision-makers choose the product and pay for it whereas it's their employees who use it later. This little fact means that B2B customer support goes far beyond usual assistance. It embraces the personal connection and trust that you build with clients.
To make it simpler to understand, here are some examples of B2B companies:
HelpCrunch, a one-stop customer communication platform that helps businesses to convert visitors into clients more effectively and build connections with customers.
Atlassian, a software company that makes tools like Jira and Trello to help companies organize their processes and keep track of the tasks.
SE Ranking, a SEO software suite that offers tools for keyword research, rank tracking, and link building.
Slack, a business communication platform developed to make the interaction with the team easier and better-organized through chat rooms, private groups, and direct messaging.
Another thing that distinguishes B2B customer service is that the agents have extra pressure when it comes to first response and problem-solving time. The issues that pop up in business-to-business companies can massively affect their clients' productivity.
Imagine, Slack goes out of order. You won't be able to communicate with your team unless you have a backup tool.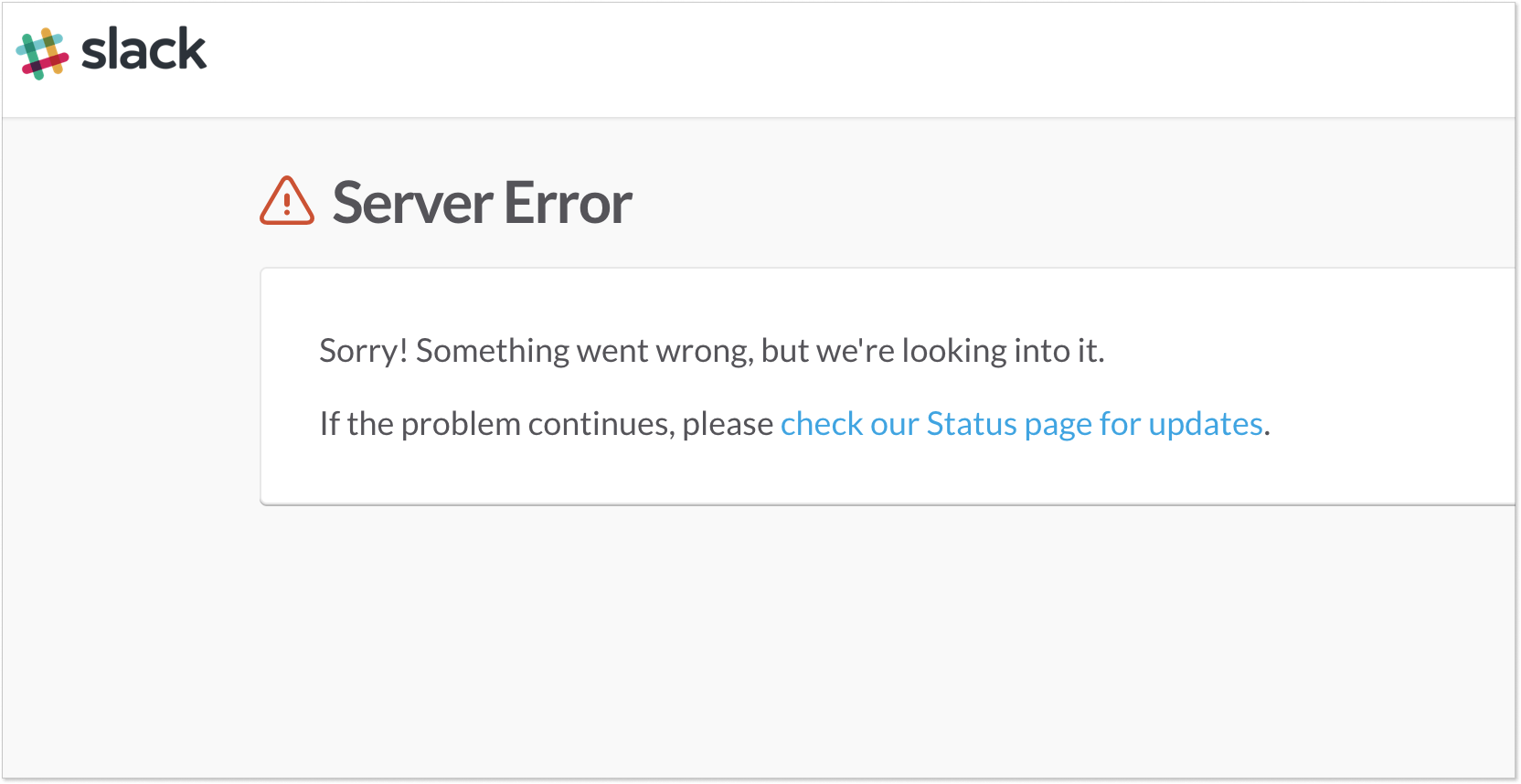 B2B vs B2C customer service
It's time to learn all about customer service. While B2B is short for "business-to-business", B2C stands for "business-to-consumer", meaning that the company offers a product or service directly to customers, namely, end-users. Such companies as Netflix, Walmart, or Starbucks can be referred to as B2C brands.
Customer service in B2B and B2C generally have a lot in common, since they both imply the act of serving customers in a way to make them happy with the product.
On the other hand, there are quite many things that differentiate B2B from B2C in terms of implementation. Here is a quick pic to illustrate them.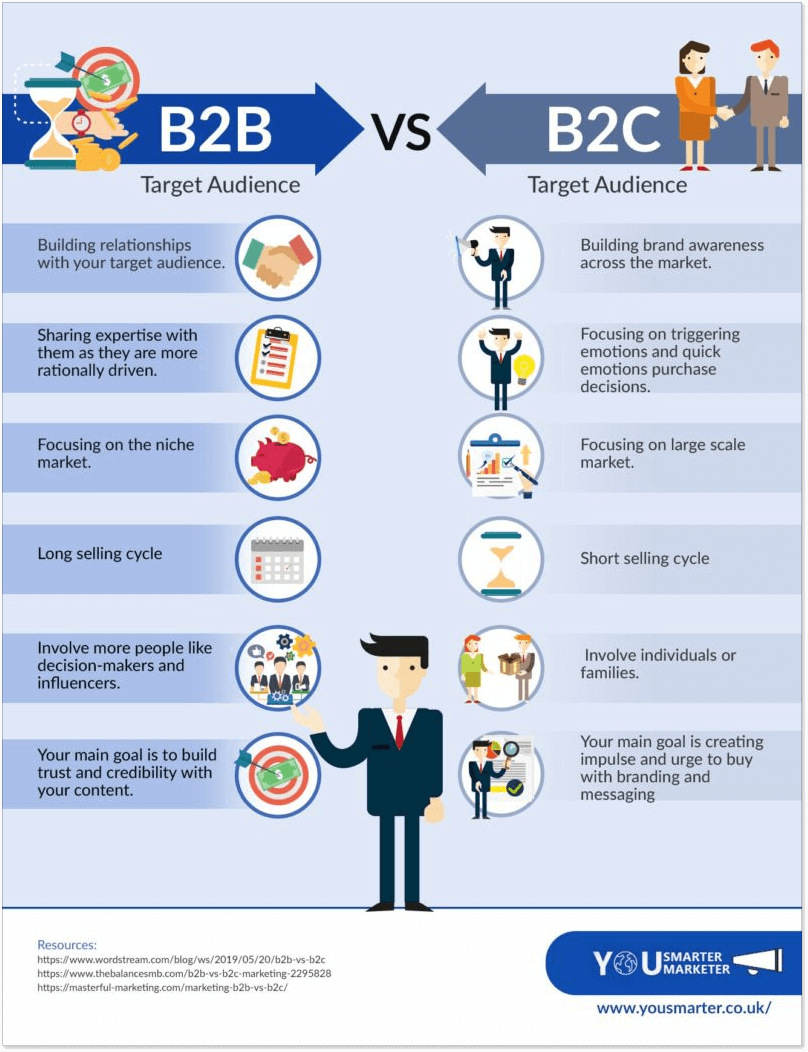 Let me elaborate on a few dissimilarities from the pic above.
Customer relationships
B2B customer service prioritizes strong customer relations. It aims to build a personal connection with a business client, discover inner motives and issues they are facing. In fact, for some companies, it's common practice when customer success managers reach out to particular potential clients proactively. And the ultimate goal of this communication is to discover if you are a good match for each other and if the product can satisfy client business needs.
B2C customer support in turn focuses on the fact of customers buying from a company rather than personal connection and in-depth communication. This means selling high-quality products to as many consumers as possible on a wide scale. To reach that goal marketers often reach for discounts and special offers to attract consumers.
Customer motivation
While both groups of customers in B2B and B2C want to satisfy their needs with your offer, they have different things that drive them to do so.
In a nutshell, B2B customers are driven by business needs, while B2C users – by personal needs and emotions. This is what determines the company's marketing strategy.
Customer success managers in B2B try to speak to clients' inner motives: why do they buy the tool? To achieve what? Reps explore the obstacles that prevent buyers from bringing off better results and how the product can help to overcome those road bumps. These activities are generally part of the company's customer success strategy.
In B2C, things are a little bit more straightforward. For example, you sell coffee. So you open a coffee shop in the area, place an ad for everyone to notice, and serve the best drinks you can make. Your buyer persona is the end-user. And the inner motivation seems obvious – to get a boost of energy or enjoy the moment. There is no need to do in-depth research here.
Communication with customers
In B2B, agents try to be as honest as possible. They avoid aggressive selling tricks. After all, customer success reps are talking to a company, so most probably they are aware of techniques of the trade and won't tolerate it. Manipulation won't help either. Ok, maybe they will buy it. But they might demand a refund as soon as they realize the product can't solve their business goals.
So, the best practice is to keep things open. When interacting with a customer, agents show off that they understand the client's challenges and highlight the benefits they get after closing the deal. If the tool can help the customer – great. If not – CSM should let it go and move forward.
In B2C, the communication approach is simplified. No long interactions and explanations. Consumers just want to get what they need and fast. The customer journey doesn't take as much time. So usually company representatives keep it short and mention just a few points why the product is the best choice for a customer. Here some bargain or motivating hooks (sales, free items, discounts) are appropriate.
B2B customer service best practices
1. Invest in your staff training
Let's see this straight. In B2B customer service, staff usually communicate with high-level decision-makers. To build a productive dialogue, the reps must be able to speak business language, relate to the clients' pain points, and show how the company can benefit from your tool in the long run (higher revenue, more leads, saving money, etc.). That's why it's extremely important to ensure your success managers are trained enough for both soft and hard skills.
Training programs must focus on industry insights, company vision, values, and product knowledge. Also, think about providing workshops on behavioral skills, problem-solving, and time management. A customer support agent should be equipped with all the relevant skills and information about the product to assist clients properly.
Gallup found companies that strategically invest in employee development see 11% greater profitability. In fact, there's a $3 return for every $1 a company spends on a better customer experience.
2. Deliver proactive support
Nobody likes to waste time on solving problems, especially business clients. After all, every minute of downtime is a loss of efficiency and, as a result, money.
So, it might be a good moment to switch from reactive to proactive support. A proactive approach embraces heading off problems before they appear, as opposed to an approach of solely reacting to clients' questions and issues. Proactive customer support is a good way to stand out from your competitors and win loyal customers.
What does a proactive approach mean in practice?
Don't assume your clients will know about the change you've implemented in your tool recently. Instead, craft a personalized email with detailed information about the upgrade.
If you are using a one-stop customer communication tool like HelpCrunch, you can also set up proactive messages or popups on your website. This way you can be sure that your customers are able to learn more about the change.
In addition to sending an email and launching proactive messages to alert clients, post a notice about the update on social media.
When resolving an issue, keep customers posted on the progress. You can do it through email or live chat. Do everything possible to avoid the situation when the client is forced to ask the support: "When are you going to solve my problem?"
Provide a knowledge base to help your clients find the answers by themselves. Create your own database with helpful articles about your product. It empowers customers to quickly find solutions and take the effort away from CSM.
To be truly proactive, try using all the types of customer service – email, social media, live chat, self-service – that are relevant to your target audience.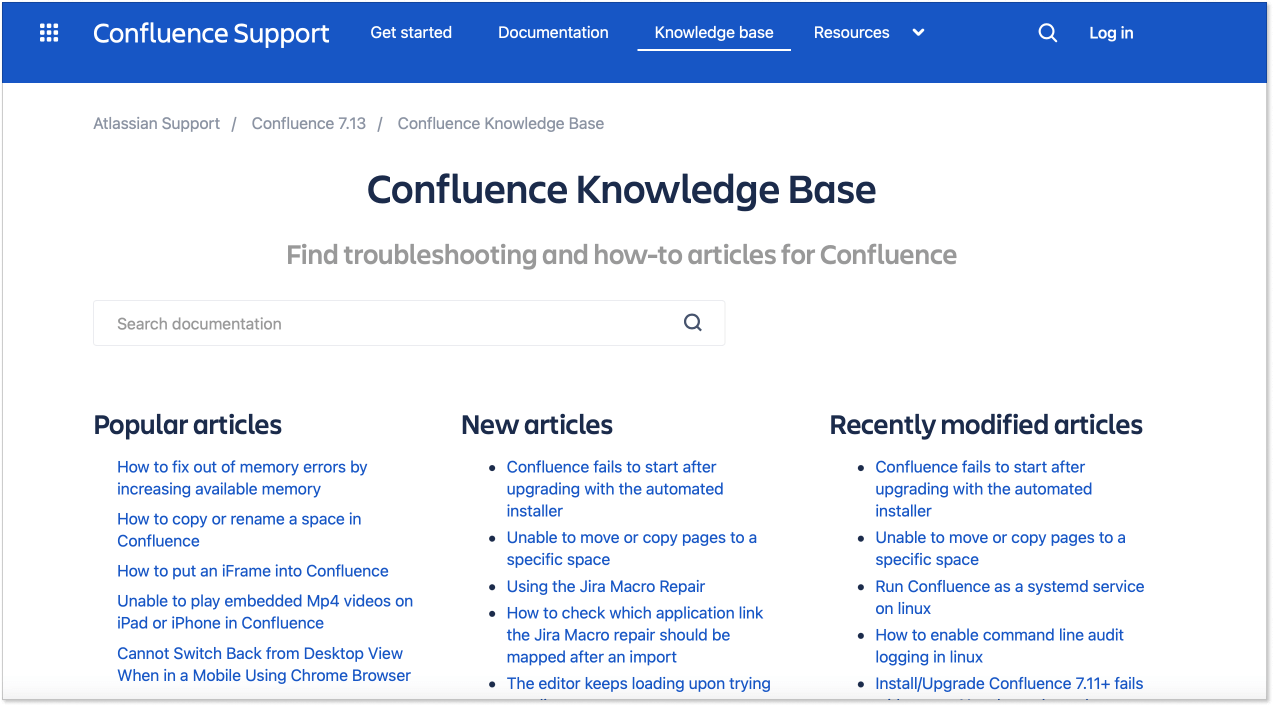 3. Educate your customers
It frequently happens in B2B customer service that a product is quite complex. If it's software, clients need to know how to install, set up, customize and leverage it. And explaining all the features from scratch in live chat or over the phone will take too much time for your busy B2B customer (your agents won't thank you for it as well). Therefore, it is good practice to educate your clients through other channels.
You can do so by publishing helpful articles on your knowledge base. But it's just one of the ways to assist your customers in learning about the product.
As part of your content marketing strategy, share profound educational blog posts on your website. It works especially well when the content covers all the stages of the customer journey – from awareness to advocacy. In addition to the training purpose, such texts also help with positioning in search engines. This way you increase your chances of being discovered by potential clients.
You can also create ebooks for customers to ensure they know how to achieve their business goals by using your product or service. Clients do appreciate it when you share valuable information with them for free.
Video production is a slightly more expensive way of educating customers. However, with over 2 billion monthly active users on Youtube, sharing training materials there can bring lots of benefits. Consider the fact that some people find it more comfortable to perceive information in video format.
4. Onboard customers under the guidance of CSM
In B2B customer service, client onboarding is important for helping new users get started and stay engaged with the product. Usually, it implies a series of steps that make the incorporation of the tool into the user's routine as easy as possible.
A good onboarding generally embraces:
a roadmap and process for new clients
regular reminders and motivators
communication that is based on user goals or cohorts
tutorials that adapt to changing business goals over time
assigned customer success manager.
One of the things clients hate the most is explaining their problem over again to another staff member. So the best practice is to assign a particular CSM to one customer at least for the onboarding period. Especially, if we are talking about enterprise clients who demand more attention.
How long does onboarding last? To be honest, it should last until the 'aha' moment when the user realizes the full value of your product for their business. So basically, as long as it takes.
To give some time frames for SaaS businesses, focus your planning within the bounds of the free trial. These first few weeks are the most crucial ones in making a decision about your product. While you want to cover all the features your tool is offering, don't overwhelm the user. Relevance is more powerful than quantity in this case.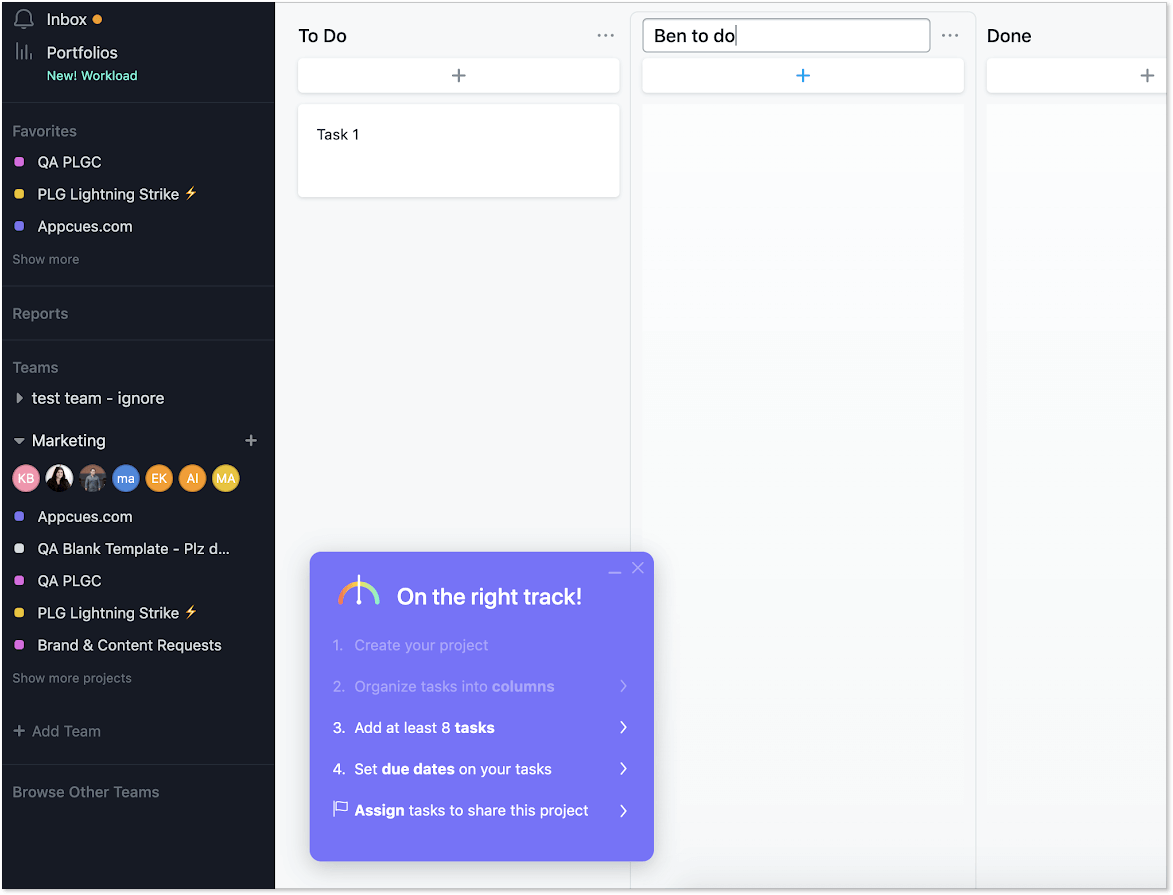 5. Gather feedback
In B2B customer service, it's critical to collect client feedback data for maintaining strong relationships and increasing customer satisfaction rates.
To keep abreast with what users think about the product, adopt a bespoke approach for each customer. Decide how, where and who you'll ask for feedback. It works best when you personalize communication while gathering client opinions.
Here are a few tips on how you can collect feedback:
Use shorter but very targeted surveys instead of large and generic ones.
Send surveys regularly but don't spam your customers – one per 6 months might be just enough.
If you get bad feedback, reach out to those particular clients to ask for details.
Don't be shy to contact the users who shared great feedback, ask them about the things they particularly enjoy.
In the survey invitation message, highlight the value of the research to customer experience.
Do not worry if less than half of your customers reply. Generally, a good response rate is around 33%.
6. Analyze user behavior data
Truly understanding customers and their issues is the most important role of each team in B2B customer service. After releasing a new feature, you should ask yourself a question: "Are people using it and how?" The answer will help you align your product functionality to the client's needs and expectations.
User behavior data encompasses all the actions visitors take on a website: what they click, where they stumble, how they scroll down a page, and where they eventually leave it. As a result, this data gives you an inside look at how people interact with your tool and what obstacles they experience while using the product.
User behavior analytics (UBA) allows you to get:
session recordings of real user engagement that happens on your website including clicks, scrolling, and whatnot.
heat maps that show you where on the page customers spend the most time and where less time.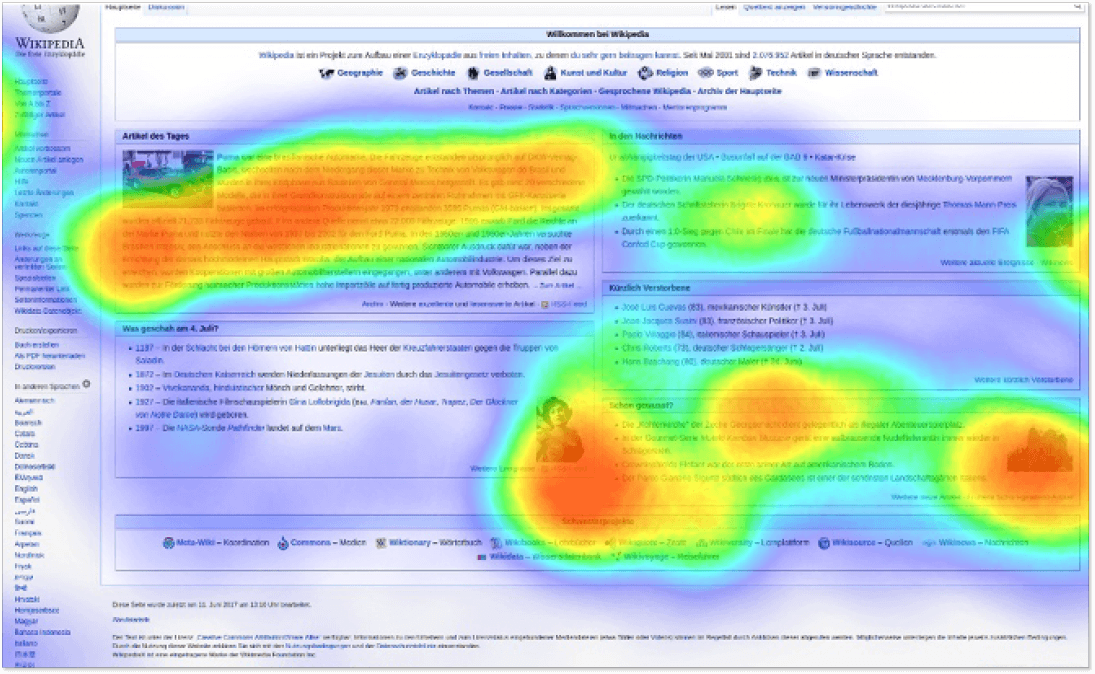 Then comes the analyzing stage. In a nutshell, your task is to understand three key things about your website users:
Drivers. What drives users to come to your page?
Barriers. What makes the users lose interest and leave the page?
Hooks. What CTAs and buttons work best in persuading visitors to convert?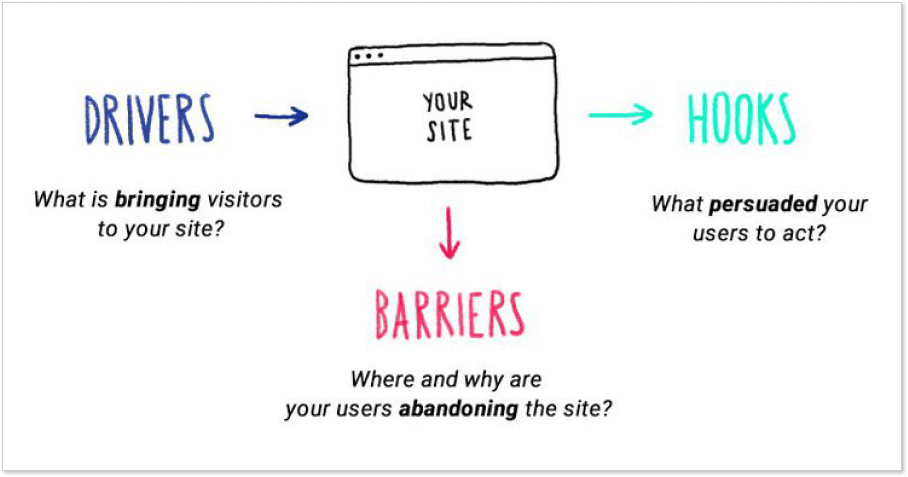 7. Use the right tools
This paragraph is covering all the best practices mentioned above. Because none of them would be possible without a great performing tool. In B2B customer service, they help you handle the complexity of the working process.
Customer communication platform. It all starts with how you reach out to customers and how they can get in touch with you. The easier the better. Find the most reliable tool that allows you to place a live chat widget at your website for quick contact with customer service. Besides, the software encompasses a shared inbox feature. This way company reps can manage all user conversations across different channels (social media, email, etc.) in one place. To provide support even better, agents have access to full user information and some add-ons like saved responses and sneak peek right in the tool.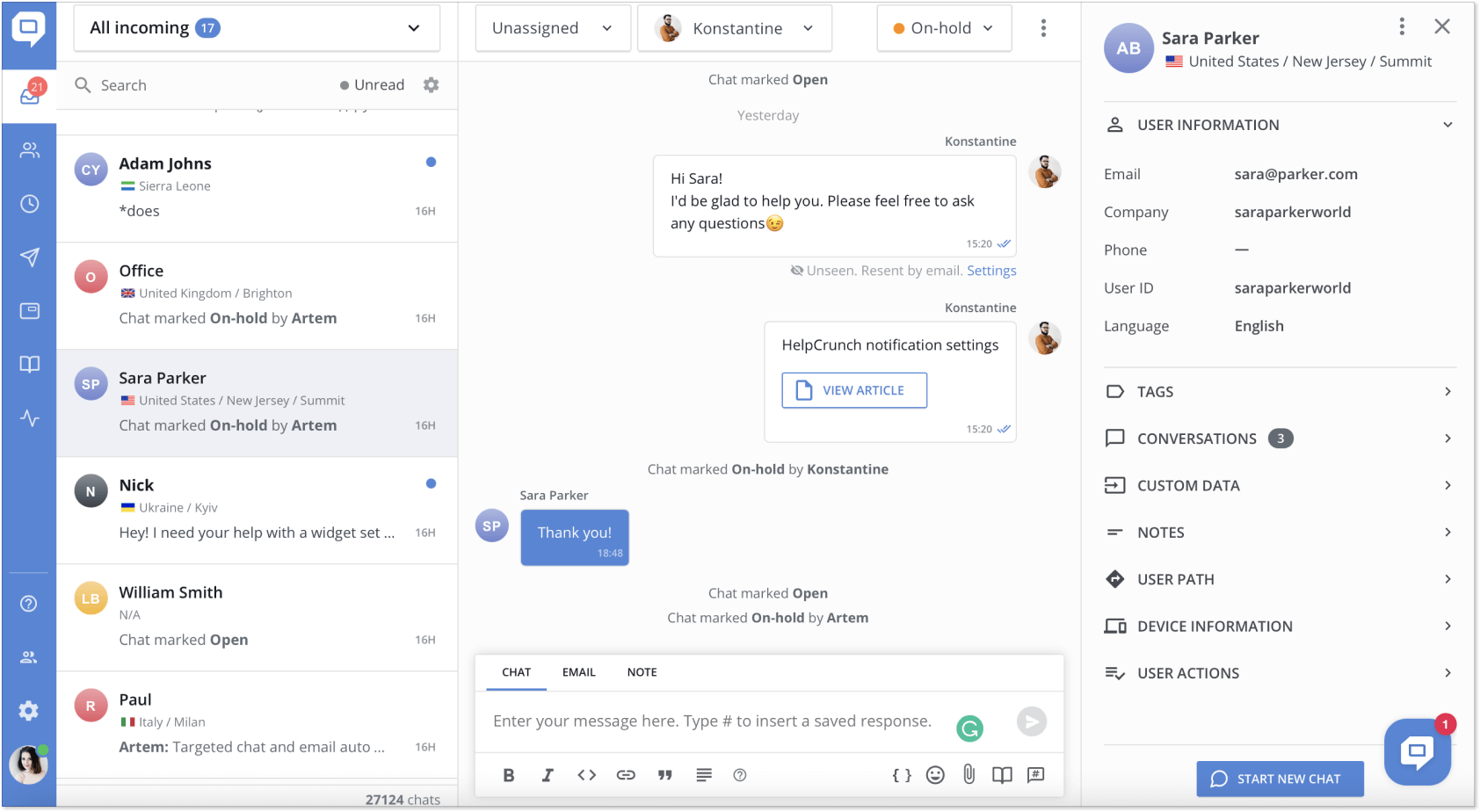 Customer relationship management (CRM) software. When a company is growing it becomes a challenge to deal with multiple people at the same time. Agents can't remember all the conversations or the issues previously discussed. That's one of the reasons you need a CRM tool to keep everything organized and up to date. In short, the software allows you to store user and prospect contact information, spot sales opportunities, record any issues that pop up, and manage marketing campaigns effectively.
Issue tracking system (ITS). Issues that happen in B2B often require delegating the task to other teams or individuals in the company. Without an issue tracking system in place, there may be confusion about the status of a ticket and who is handling it. ITS provides a ticketing system to record and follow the progress of every issue reported by a user until it is resolved. An issue can be anything from a system bug to customer general questions to development requests.
These are the most common tools in B2B customer service, however, you might want to consider some other options. However, a reliable customer support solution is key to success. All in all, make sure the tools meet your current business needs with no overpaying.
Final word
B2B customer service requires much more effort from the team than in a business-to-customer model. To achieve success, you need to apply not just one of the above practices, but several (preferably all at once) of them. It is important that the client feels you understand their inner motivation and business pain. Show that you sincerely want to help the customer achieve their goals. And your product is just a great tool that can bring them closer to it.
An important point is the use of a reliable tool for communication with clients. It has to ensure a simple way of interacting with users and give some more valuable features if possible. HelpCrunch is an all-in-one customer communication platform that encompasses the features you need for support, marketing, and sales. The best part is the price that starts at $15/user/month. Sign up for a 14-day free trial and see for yourself.