Customer support is usually at the forefront when it comes to business growth. It's an essential component of customer interaction that every professional should take into account. So, improving customer communication by all means is the first thing to do.
A company will always prosper if clients are satisfied with the way they're treated. Such things as a quick response, effective problem solving, and expertise in a company's product shape high-quality customer support.
There are different types of customer service and deciding which one works for your business best may be a tough nut to crack. Look through the following 6 most common types of customer support and choose the one that may suit your goals:
#1 Live chat customer service
When landing on a page, customers usually have urgent questions. They want to know more about a buying process, ask about certain product features, inquire about shipping costs, or how to sign up. Your customer support team can perfectly deal with these issues promptly using feature-packed live chat software.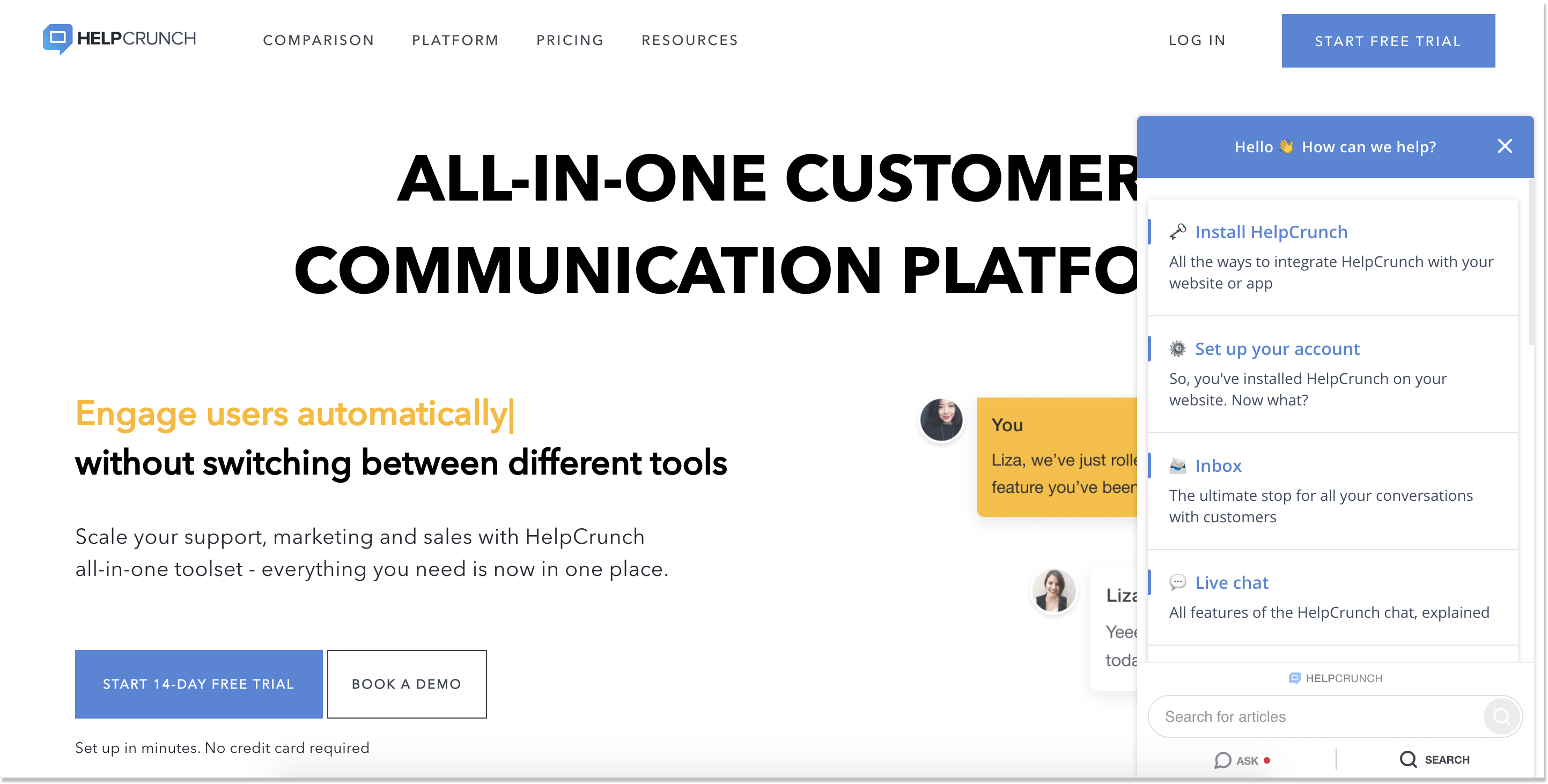 Live chat is a must-have online business tool that can do wonders when applied rightly. It can help you streamline your workflow and convert more leads. There's a set of features that many customer communication software companies, such as HelpCrunch, have to offer. For instance, pre-made messages, real-time communication, online status indication, customer data collection, and others.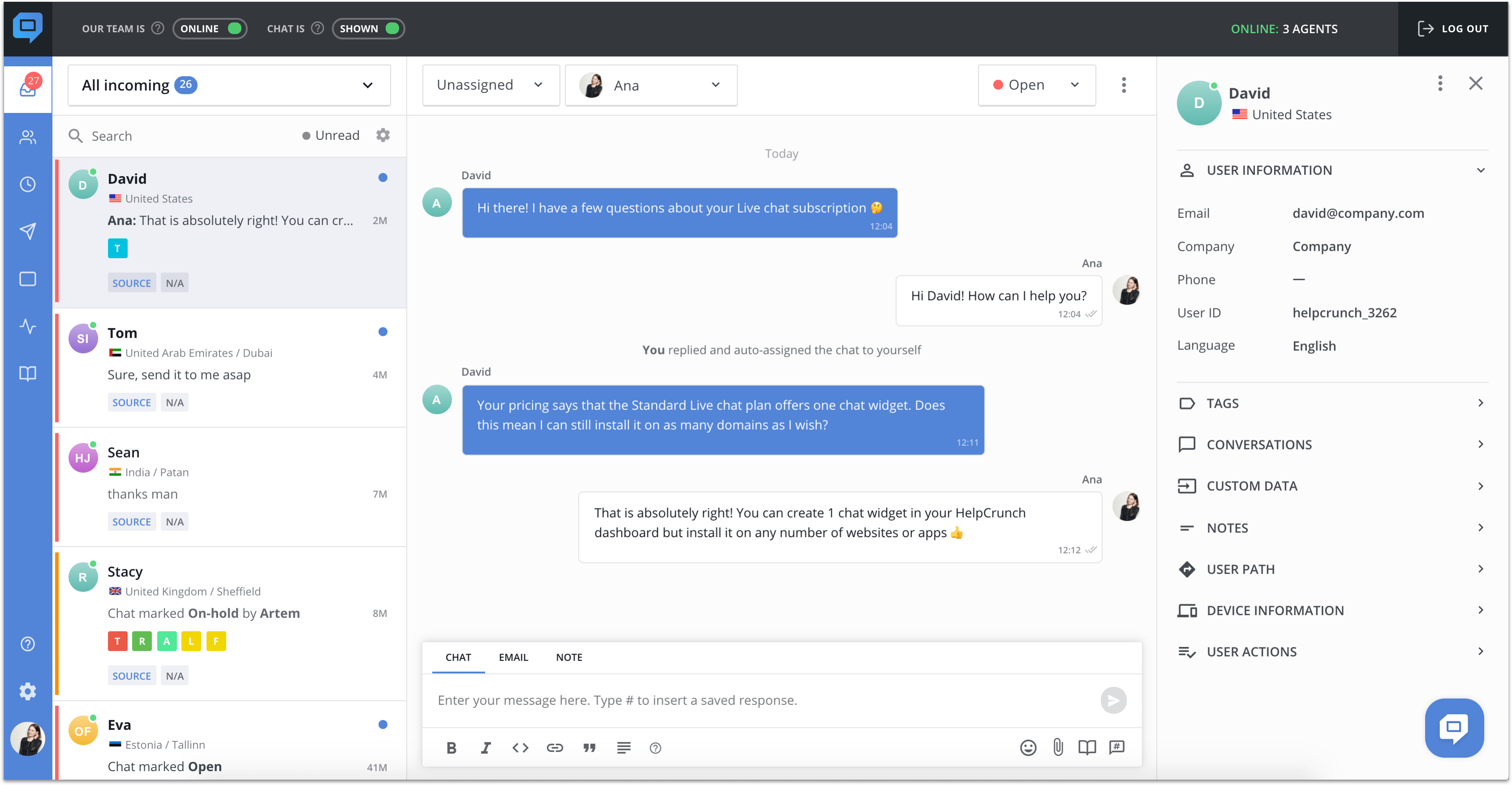 To provide customers with high-quality and proactive support, your live agents should have excellent written communication skills to handle issues as fast as possible. Train them hard and make sure they are able to cope with various inquiries during high-volume periods.
With a myriad of customer service types, it's live chat that can boost client satisfaction and improve retention significantly. In fact, more than 60% of customers are likely to come back to a website if it includes live chat. Let's see what you can do if you implement a live chat widget on your website:
Deliver convenient, accessible, and timely support
Boost conversions
Increase customers' loyalty
Save money
Collect useful data about clients
Gather instant feedback about your business
Live chat can not only make a huge difference to your income and reduce customer support costs but also ensure higher satisfaction rates. As a result, you can grow your business with this cost-effective solution and meet the competition.
#2 Email customer service
People send 269 billion emails day by day. No wonder that among all customer service channels, this one requires minimum efforts. Its advantages can outweigh drawbacks hands down. Here are some perks of using email customer service:
Clients can ask you whatever bothers them any time, even beyond your working hours;
Each email conversation history can be archived for further actions;
Frequent queries can be automated with canned answers.
A customer support team can also attach valuable information about products or services, links to your website, or documents that help clients solve their problems faster. Consider getting a ticketing tool to organize, moderate, or prioritize emails your customer support team sends. 
Moreover, it's vital that you don't make a customer wait for your answer for hours. Get back to a person within 24 hours of the first contact. You don't want to join the ranks of that 62% of companies that just neglect to deal with customer support duties.
Emails affect everything from customer lifetime value to purchase rates. That's why a perfectly written email can bring you absolute benefits. As a matter of fact, they are game-changing for any company that experiences big customer traffic. Therefore, support agents are able to handle dozens of inquiries at a time. There are still people who prefer writing an email for interacting with a brand. However, if email communication prevails in your company, don't ignore clients' messages for days, personalize your emails, and don't overuse automated replies.
#3 Social media customer service
It's the 21st century, so the vast majority of customers can't imagine their lives without social media. And this is just for the benefit of companies. That's why such social networks as Facebook or Twitter are a perfect match for a customer-centric brand. There's a chance to reach clients where they are and quickly react to their questions. 90% of customers prefer contacting a company via social media even though there are different types of support available.
Modern social media platforms have evolved into places where companies can perform in all kinds of ways: promote their products and interact with customers. Social customer service is actually not a new concept. It's an opportunity to provide omnichannel customer service and create a seamless experience.
Speed is one of the most important aspects of any type of customer support. So, social media isn't an exception. As seen below, some clients usually wait for the quickest possible answer within 5 minutes. And the biggest number of users don't mind hearing back within several days.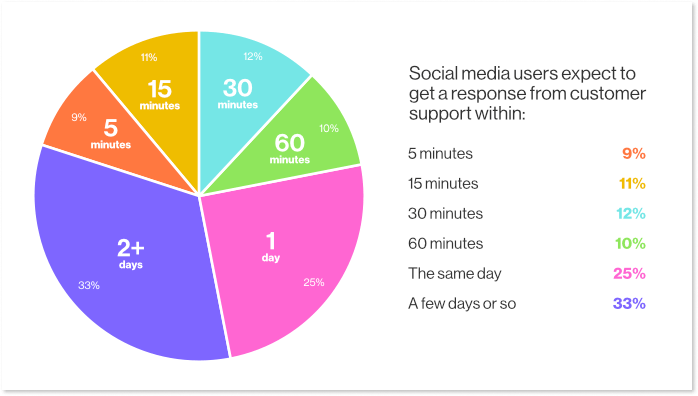 Simply registering your company on Facebook, Twitter, or LinkedIn is not enough today. Monitor social media mentions but don't stare at your newsfeed days on end. Use special tools for that, like Mention or Buffer. They'll alert you every time your brand is tagged so that you can respond to customers.
Moreover, you can take advantage of different social media management tools for post publishing, competitor analysis, creating events and tasks with your team on one single platform. For that purpose, you can try such tools as Sendible, Agora Plus, or Sprout Social.
By building effective customer service on social media platforms, you can cultivate stronger relationships with clients, boost brand awareness, and make your customers loyal.
#4 Phone customer service
With all this buzz around high-tech solutions, this type of customer service still holds its ground. To provide this kind of help, a company should make sure that clients can reach support agents by the given number whenever they want. Besides, putting the number on all available platforms such as a company's Facebook page or an official website won't go amiss.
To automate and standardize the business processes in your company, make use of call center software. This way, sales and customer support teams are able to track, manage, and process calls faster. Integrate it with your CRM or SMS systems for even greater results.
If you want to show your brand in a good light, train your customer support department well. For starters, they have to be well-versed in your products or services to be always helpful for a client. Plus, explain the importance of speaking both a local and English language to handle different customers' issues. In order to speak the local languages correctly, you can use the sites for the selection of language teachers, such as preply.com, for example. Such a simple approach will give you access to a cross-border market and attract an international audience.
This customer service channel has a set of big pros:
A telephone allows catching customers' emotions better
It's a faster way of presenting a problem as compared to a written form
A complicated issue is better explained during a live talk
Older generations are more familiar with telephones than computers. That's why they will feel more comfortable and secure with making a phone call rather than writing an inquiry
Given that customer service trends change at lightspeed, the younger generation has already switched to texting. So, they won't fall back on old-school phone calls. Besides, you should take on poor network coverage and be ready to address complaints when people fail to get in touch with your support reps. On top of it, a client may be put on hold due to the customer support expert's workload. Do you want to face irritation every step of the way?
#5 On-site customer service
This type of customer support is carried out at a client's place (be it home or workplace). It can be a lifesaver for many industries, like healthcare, education, marketing, IT, or beauty. Unlike other types of customer service, on-site support has only one significant drawback: it may be time-consuming and may pose a challenge to reach a client at the fixed time. But as for a customer's part, everything boils down to absolute advantages.
For starters, on-site customer service is an extremely convenient solution as it's delivered to the door. Plus, it offers a great chance to get to know your business better in natural face-to-face interaction.
And last but not least, by performing on-site support, you can strengthen the brand quality through the display of your specific knowledge.
#6 Customer self-service
It happens that users want to deal with their problems by themselves before contacting a service agent. These people don't need a lot of hand-holding. There's a plethora of companies that come up with an array of training materials, including webinars, instructional videos, demos, infographics, how-to guides, tutorials, and other relevant documentation. This content is aimed at making both customers' and agents' lives easier and can be referred to as a knowledge base.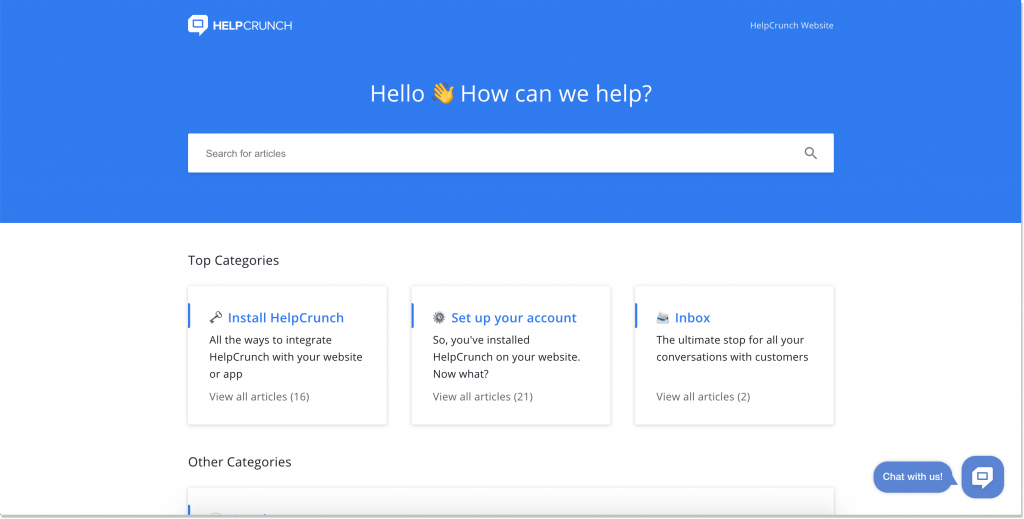 But good content is only half the battle. A well-thought-out knowledge base is searchable, intuitive, customer-friendly, and trustworthy. If you want to shape a help center that works, always remember about these features. For instance, HelpCrunch hits the spot by adding a search box and a detailed filter bar coupled with a modern look and helpful content. Besides, it's now integrated into the chat widget. So, customers can find their sought-after solutions right off the bat.
Adding a knowledge base to your website can go a long way. Firstly, it stays on your site 24/7, which makes it approachable any time when a customer needs it. Your email box won't burst with messages, and repetitive phone calls are kept to a minimum. As a knowledge base can keep multiple sources of information (audios and visuals), clients with special needs are able to find valuable information in an accessible format. And if you make an effort and create this page in different languages, foreign customers are able to get a better understanding of your products and services.
By taking all of that into account, you'll win at self-service. You're about to meet all clients' needs if the information you give is up-to-date, written in plain language, and well-structured.
Final words
Sure thing, there are multiple types of customer service and more than one can fit your bill. Everything from the nature of your business and audience can be game-changing. But the simple truth is that clients' expectations grow and you have to come up to them. Take care of their anxieties, preferences, and special needs. Omnichannel customer service may be a way out as it's a combination of all the types mentioned above.
By going omnichannel, you can view numerous touch points between service agents, prospects, and customers. The promise of being omnichannel is to listen to your customers on channels they prefer best and take their ideas into consideration. That's what makes this type of customer service a hit. Initiate talks with new visitors, lend a helping hand to existing clients, and communicate with returning customers.
Everything that's left to do now is to make the right choice. HelpCrunch lets you combine several types and channels of customer service: live chat, email, and self-service. Find out more about it here and try HelpCrunch for free to achieve your customer support goals.
HelpCrunch articles delivered straight to your inbox 🚀
All the latests posts. One email per month.
No strings attached.
Read also
Support
Everyone has rejected a customer at least once. But how to say "NO" to a client sounding positive? There are 8 most helpful ways to do just that (the experts' recommendations are included, too!)
Support
So how to write that brilliant knowledge base article eventually? We are ready to reveal to you 8 easy steps that will leave your customers questionless.
Support
Have you tried everything, but still have no idea how to deal with rude customers? You're in the right place. We know 7 foolproof strategies that can help you handle them and catch your zen.