Customer communication seems like nothing complicated, right? It's just like regular communication, but with customers.
Moreover, common sense tells us that customer communication should not be that different from conversations with friends and family in terms of HOW you should approach it. Sure, you shouldn't go too informal using jargon and swearing, but a friendly tone and nice manners are just what the doctor ordered.
But is it everything there is to customer communication? Just be nice and friendly — and that should do the trick? Or are there other tips that can help you improve your customer communication strategy and make it more effective? Let's see.
What is customer communication?
Customer communication is a complex process of establishing effective contacts with customers and helping them with their objectives and problems.
It means providing fast and effective ways for customers to get in touch with your business and vice versa.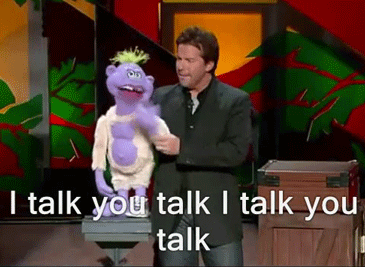 Customer communication strategy is a set of objectives, rules, and channels you choose for establishing effective communication with your customers. Basically, customer communication is a way businesses communicate with customers and yeah, it's not rocket science.
There can be three departments involved in customer communication in one way or another — support, marketing, and sales.
Marketing is responsible for raising brand awareness and driving new leads for sales, while sales reps usually try to find out customers' objectives and pain points proactively and sell them a product or service.
They do communicate with customers, sure. But in this article, we'll concentrate on customer support though, because they are the only ones having a two-way dialogue with users and visitors. People come to them with questions and requests and get straight answers, which is the purest form of customer communication.
Now, the definition of customer communication is self-explanatory. It gets a little bit more complicated when it comes to specifics like types or channels, or an actual customer communication plan. So, let's start with those types and then it will be easier to talk about everything else.
Usually, customer communication types are distinguished based on channels that are used for this communication:
Phone
Email
Live chat
Social media
Messengers
SMS
In-person communication
The important thing to keep in mind though is that you can't just choose one customer communication channel and concentrate all your efforts on it. Customers are the ones that get to choose how they want to contact you, so your main objective should be to cover all these channels. That is if you want to build a great customer communication strategy for your business.
How to improve your communication with customers:
No matter which channels you use for customer service, there are 13 very simple yet actionable ways to improve your communication with customers.
1. Choose the right tools
There's no accident I started this article with customer communication channels. Your whole strategy depends on channels and tools you'll choose for getting in touch with your customers — or rather a combination of them.
According to several studies, live chat, email, and social media are the cornerstones of great customer communication with live chat being preferred by 79% of consumers and showing the highest customer satisfaction rate of 92%.
As to call centers, they are still valid but not as much as they used to. Millennials don't really like phone calls, and this trend is only growing. Moreover, call centers are way more difficult to handle and scale, especially for a small business.
The important question is, how can someone manage all these numerous channels without getting overwhelmed? Especially if it's a small business or startup of three people. This is exactly the problem that modern customer communication tools like HelpCrunch are trying to solve.
HelpCrunch unifies live chat and email conversations under one roof and gives you all the necessary tools to work with them effectively. After you install the HelpCrunch live chat on your website, you'll be able to communicate with customers in real time. Moreover, all support emails will fall into the same dashboard so that you can answer them immediately.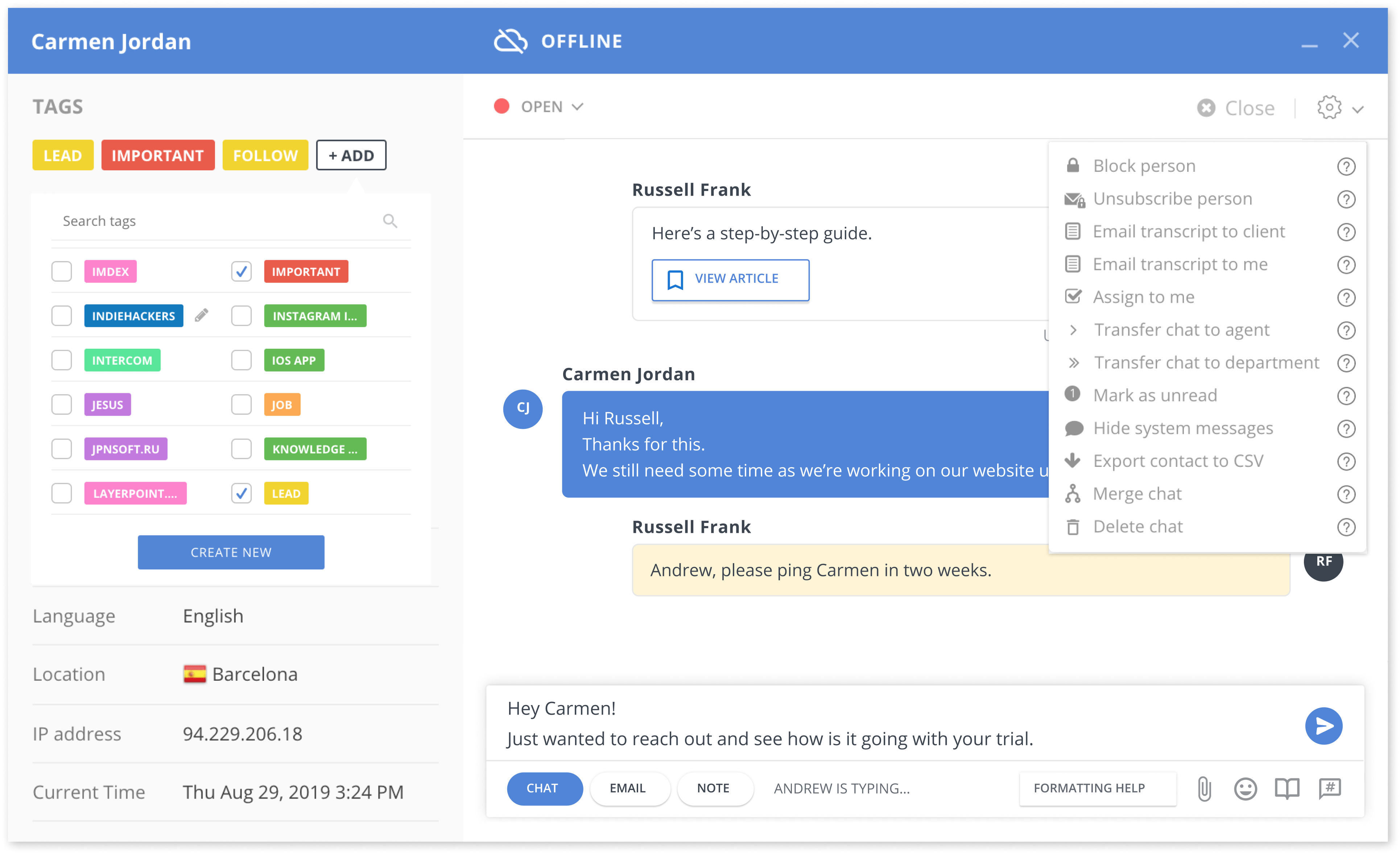 2. Make it ridiculously easy to contact you
Now, when you decided on channels and tools, it's also important to help your customers to contact you.
You might not even notice this, but sometimes your chats, emails and social media buttons are hidden from first-time visitors which makes it virtually impossible for them to leave a message.
Or you might only have a call center while people are usually not that eager to call and would prefer to chat. Or you might give a company phone number on a website but never answer your calls. The point is, you can't make contacting you a quest for survival.
Also, don't overload your contact or chat forms with too many fields as that will be the major drawback for customers when they try to get in touch with you.
3. Speed is just as important as quality
The pace of life increases as we speak. With all the modern messengers like WhatsApp and WeChat, people got used on immediate answers from friends and colleagues — and they expect nothing less from businesses, too.
According to the SuperOffice's study, the live chat average response time should be 2 minutes. But that is in fact the longest time you can afford. You should aim to answer in seconds as live chat implies real-time communication — and that's what people would expect from you. We at HelpCrunch are aiming to keep it 1 minute or less.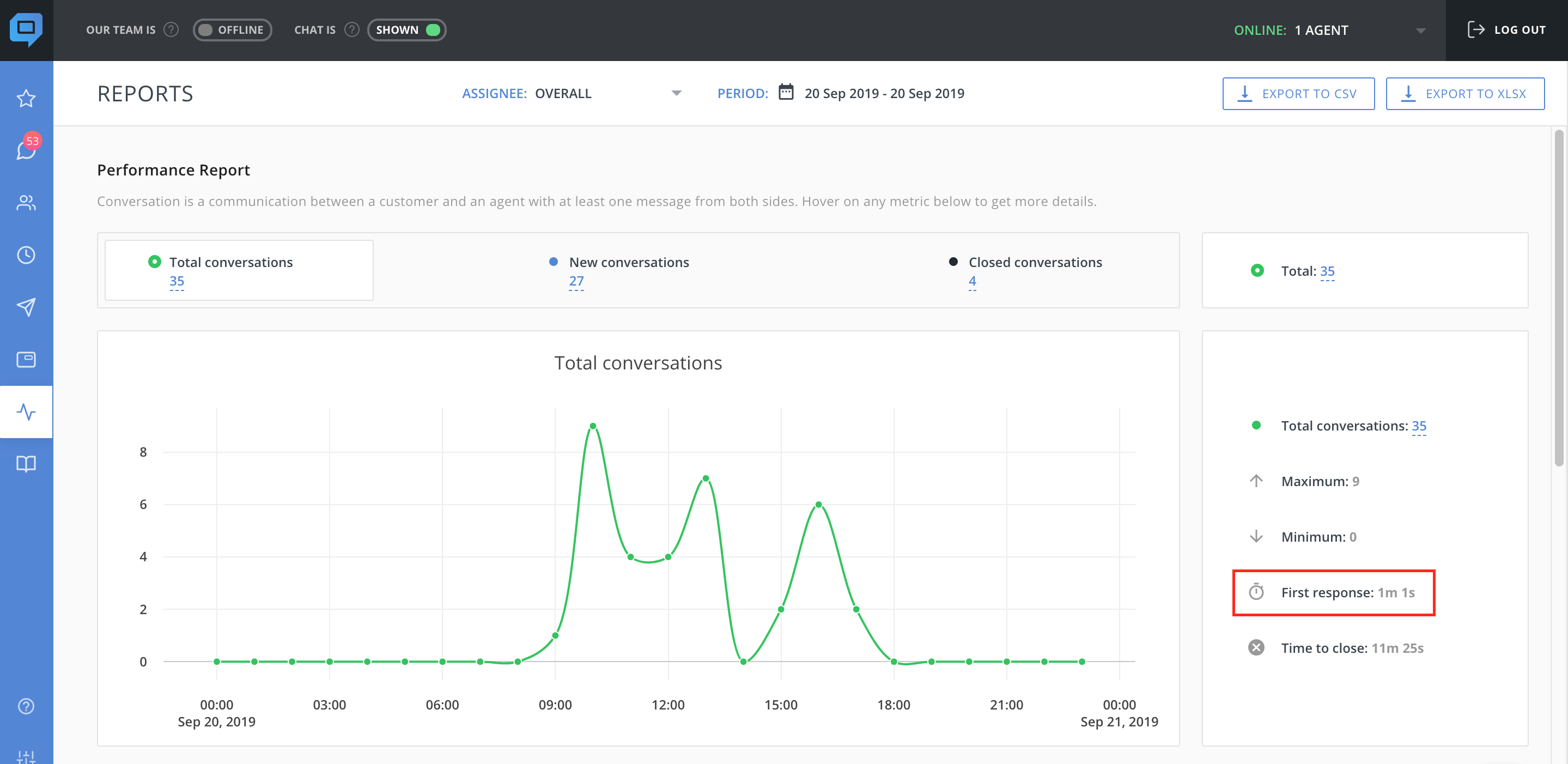 Social media and emails give you more room for a hold-off as customers won't mind waiting for an hour or two there. In fact, the same study showed that the average company takes 12 hours and to respond to an email and 10 hours to get back on social media. At the same time, Convince&Convert reports that people expect to get an answer on Facebook or Twitter within 30-60 minutes.
Basically, faster responses will only benefit your business, because those days when people would be ready to wait on hold for days are long gone. The faster you answer, the more satisfied customers you have.
4. Make your first response count
— Hi! I have a problem and I really need it to be fixed it immediately.
— Hi! We received your request and will get back to you soon *stays silent for the next 24 hours*
Imagine if this conversation happened in real life. I guess that would be the most frustrating and depressing communication ever, so why treat customer communication differently? Why do we keep setting up these cold impersonal auto-replies and think it's okay?
Email communication is suffering from this illness the most. And it's not that it's too hard to make those auto-relies nicer and more useful. Here's just a couple of recommendations:
Personalize your email with a name, company or other variables you can get your hands on.
Greet and explain why you can't answer right away and ensure that you'll answer as soon as you're back.
Define when exactly a person should expect a word from you (and be honest about it).
Provide links to your knowledge base, blog, or any other resources so that people could find answers on their own while you're away.
When it comes to live chat, it's actually way easier to set up a nice first response. If your team is offline, you can turn on an offline form where you'll inform customers about answer delays, tell them when you'll be back and ask for an email address so that you can contact them later.
In HelpCrunch, the offline form looks like this, but you can customize its look and text in any way you want.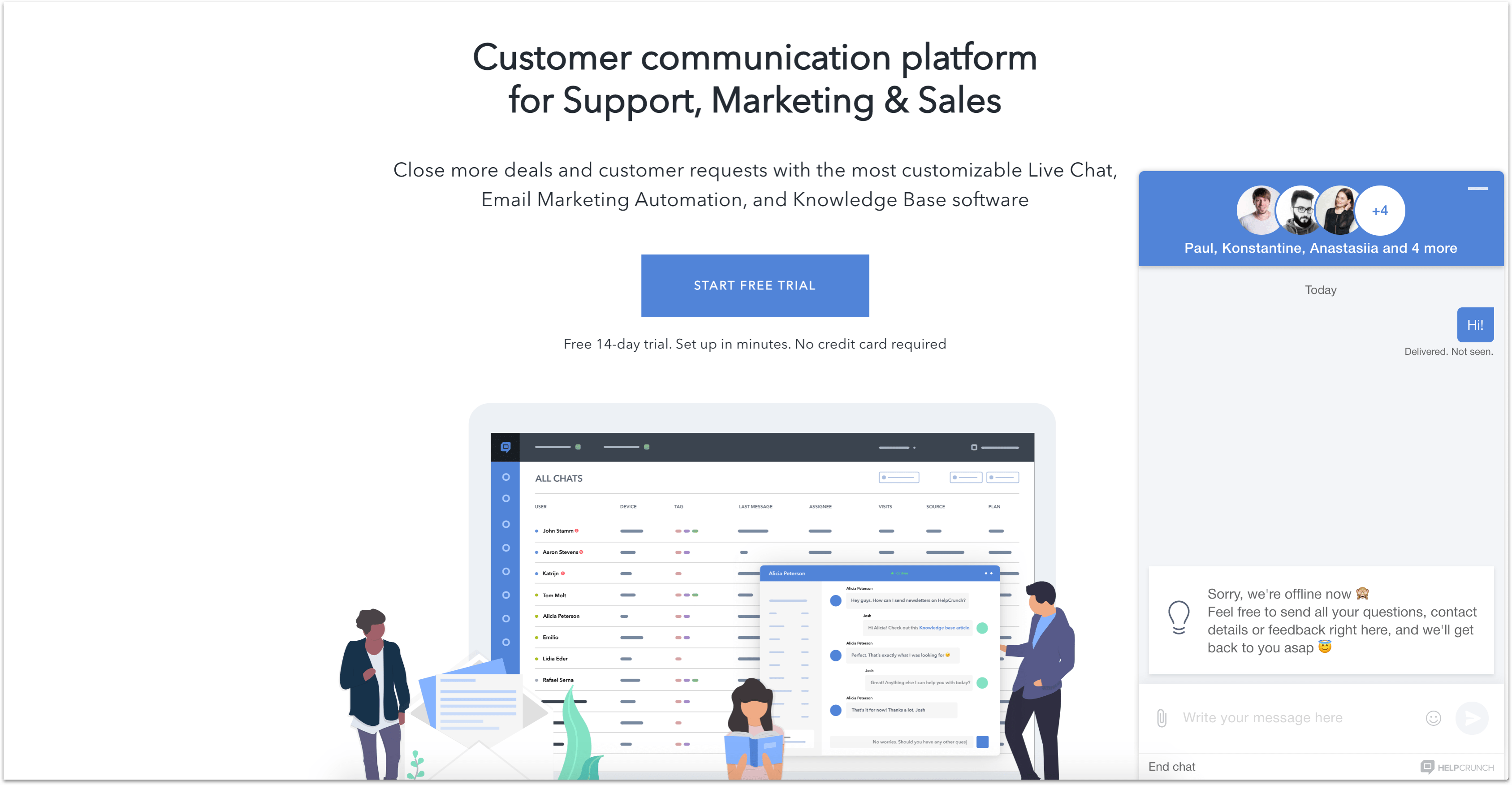 5. Use positive language
Positive language is a special way of phrasing things to showcase the best side of a situation or to soften your message.
For instance, "come to the restaurant on time" and "do not come to the restaurant late" both deliver similar messages; however, the connotation behind the former is much less negative.

MULTILINGUAL
Basically, it's that good old 'glass is half full' mindset but expressed in communication. I'd even say communicating positively is a great skill not just for customer service but for life in general, but that's not the point of this article, is it?
In general, you should stay away from negative phrases like can't, won't, don't, stop, leave, never, bad, terrible, awful, can't be done, don't know etc.
Here's just a few examples of positive language phrases you can use in your everyday customer communication:
Why not? → Sounds good
Can't do this! → I'll consult with the team and we'll try to figure something out.
Ok → Definitely / Absolutely / Certainly
What seems to be the problem? → How can I help you?
I'm sorry, I don't understand → Could you please clarify this? / Could you elaborate a little bit? I want to make sure I got everything right.
We will try → We will do.
Basically, you should always go with words and phrases that will reassure your customers and calm them down. They should leave the conversation feeling heard and 100% sure that their problem is taken seriously and will be resolved shortly.
6. Follow general conversation etiquette
If we dig deep enough into general conversation etiquette, we'll find quite a few really useful recommendations for effective customer communication there as well — from Dale Carnegie's well-known tip to use people's names in conversations more often to the art of persuasion.
Please be aware that by etiquette, I don't mean some outdated rules from the Victorian era that don't apply these days. Absolutely not. I'm talking about practical tips that will make any conversation more pleasant while also applying to our times.
So, what are these etiquette rules that can be used in customer communication?
Don't interrupt
Ask direct questions to get direct answers
Don't talk too much and don't overshadow
Don't ask another question before the first one has been answered
Be a good listener
Do not try to argue.
7. Less automation, more human interactions
The thing about customer communication in general and customer service in particular is that people just want to be heard. Sure, they are frustrated with some drawbacks and need a solution to their problem. But first and foremost, they want to be heard. And no AI-powered, well-scripted customer service tool can hear. Only humans can.
According to recent research, 55% of customers prefer live chat over a chatbot. Moreover, "46% said they would prefer interacting with a human even if a chatbot saved them 10 minutes."

And the main reason for this mistrust is that customers are sure that chatbots and automated solutions can't be helpful when dealing with complex problems. Which only means one thing: people prefer quick help and don't enjoy overly automated customer service at all.

Sure, you can automate a bunch of stuff like collecting emails or sending post-conversation transcripts, but the real communication is the work of customer service representatives.

8. Ensure effective communication inside your team
Now, customer communication starts with how you handle communication within your team.
Customer service reps can do as much as listening to a complaint and assisting with typical issues. But when problems are more technical and require some complex fixing from another designated departments, the most important thing is to make sure that your employees or department can exchange information as fast and effectively as possible.
If you're a business owner or a team lead, you should make sure that the atmosphere inside your team is friendly and everybody knows who's responsible for what. Also, don't forget about the tools you use to communicate with your team. Exchanging emails is no longer a sufficient way.
You can go with one of the modern team communication tools like Slack or Chanty. And with the right customer service tool like HelpCrunch, you can re-assign chats and tickets from one department to another and assign them to particular employees.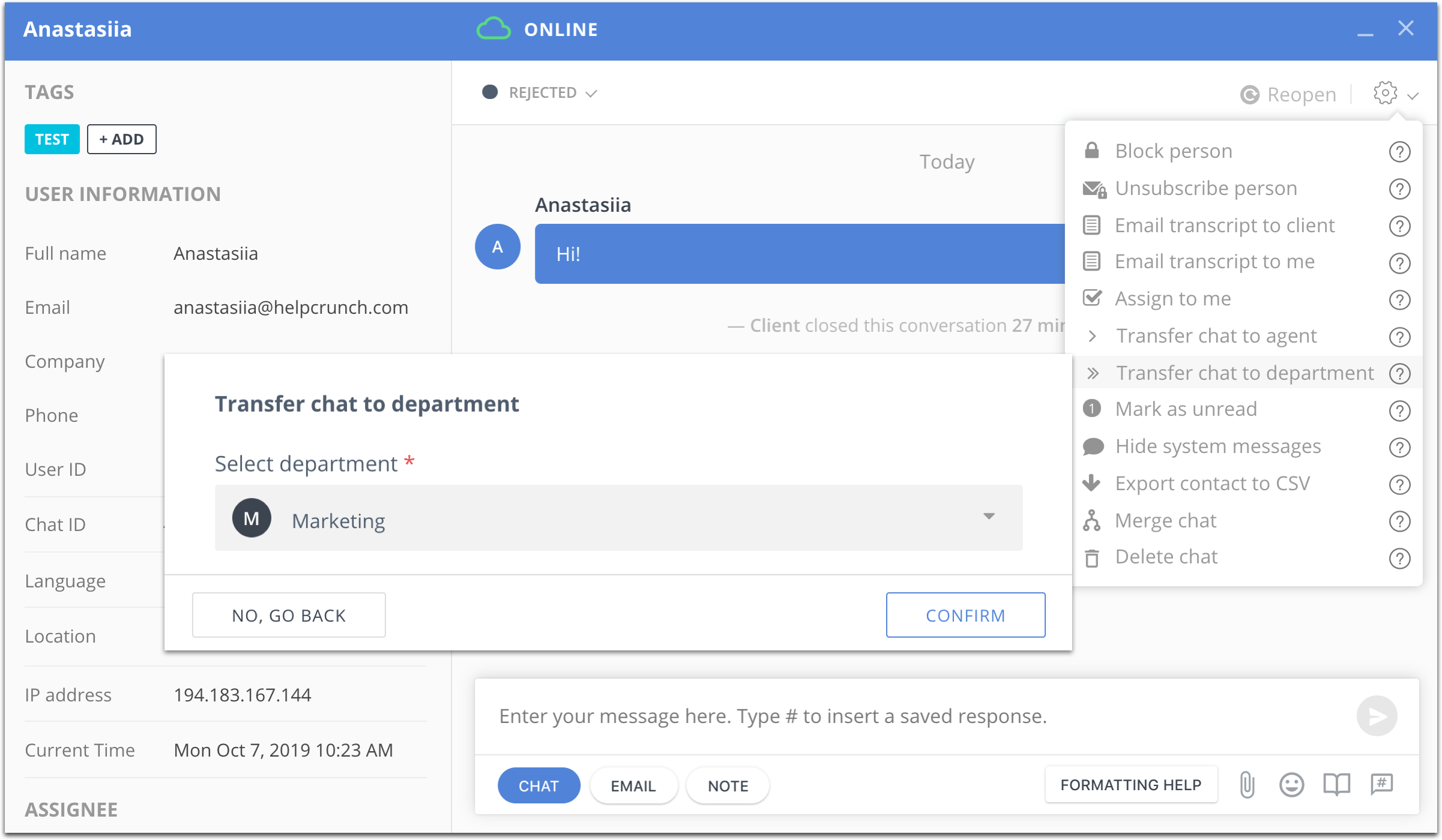 9. Don't just wait there — be proactive
Quite often, customers who have questions about your product or service, won't write to you and leave immediately. They may not like call centers or be too doubtful, or be afraid of poor treatment from customer support, but that is how it is. But it's in your power to reach out first.
Live chat is the best place for offer your help or inviting to a conversation proactively. You can set an automated chat message that will pop up after certain actions done by a customer on your website. Those actions are called triggers, and those messages are called proactive chats.
For instance, in HelpCrunch you can set proactive chats based on rules like 'current page', 'time spent on page', 'time before exit intent', etc. For instance, if someone has spent 15 seconds on your landing page and it's their second or third visit on your website, you can shoot them a proactive message offering help with this feature. This will encourage customers to talk to your customer service representatives.

10. Don't miss on the opportunity to upsell but don't be too salesy
Even though upselling and cross-selling are the things that usually sales departments do and I wanted to concentrate on customer service only, I believe it's important to mention them here, too.
In any customer communication, there are always opportunities for upselling and cross-selling. And why not take those opportunities even if you work in customer service and it's not your job.
Customer service reps are the best people to know customers' obstacles and pain points, that's why they are the best people to offer additional goods or higher subscriptions if they might genuinely help.
Just don't be too pushy, though. These things should come naturally and genuinely. If customers feel like you're just trying to sell stuff instead of helping, you will lose their trust forever. So only pitch if you believe it will really help.
11. Process of collecting customer feedback
If you want to know just exactly how effective your customer communication strategy has been, you need to gather as much customer feedback as possible. This way, you can be sure you're doing everything right. Or be aware if things are not that great.
Quote:

By asking your clients for feedback you communicate that their opinion is important to you. You involve them in shaping your business so they feel more attached to your company. Listening to their voice helps you create stronger relations with them.

7 Reasons Why Customer Feedback Is Important To Your Business
Moreover, customer feedback is crucial for growing your business and choosing in which direction to move. So, how can one collect as much honest feedback as possible?
Ask people if the conversation was fruitful at the end of it: 'Did this help? Can I help you with anything else?'
Ask customers to leave reviews of your business on relevant websites.
Carefully collect ALL feature requests in a separate database and consistently maintain it to be aware of what people expect from your product.
Send quick surveys at the end of each conversation asking to rate it.
12. Analyze customer communication metrics
BTW, speaking of those surveys.
Comprehensive feedback is valuable, but customer communication can be measured in numbers, too. Metrics like customer satisfaction, average response time, first response time, resolution time are great ways to see if you're moving in the right direction.
In HelpCrunch you can turn on the 'chat rating' option which will send quick survey at the end of a chat conversation to your customers. They will have to choose one of the three options – but you'll have an insight into your customer communication success (or failure).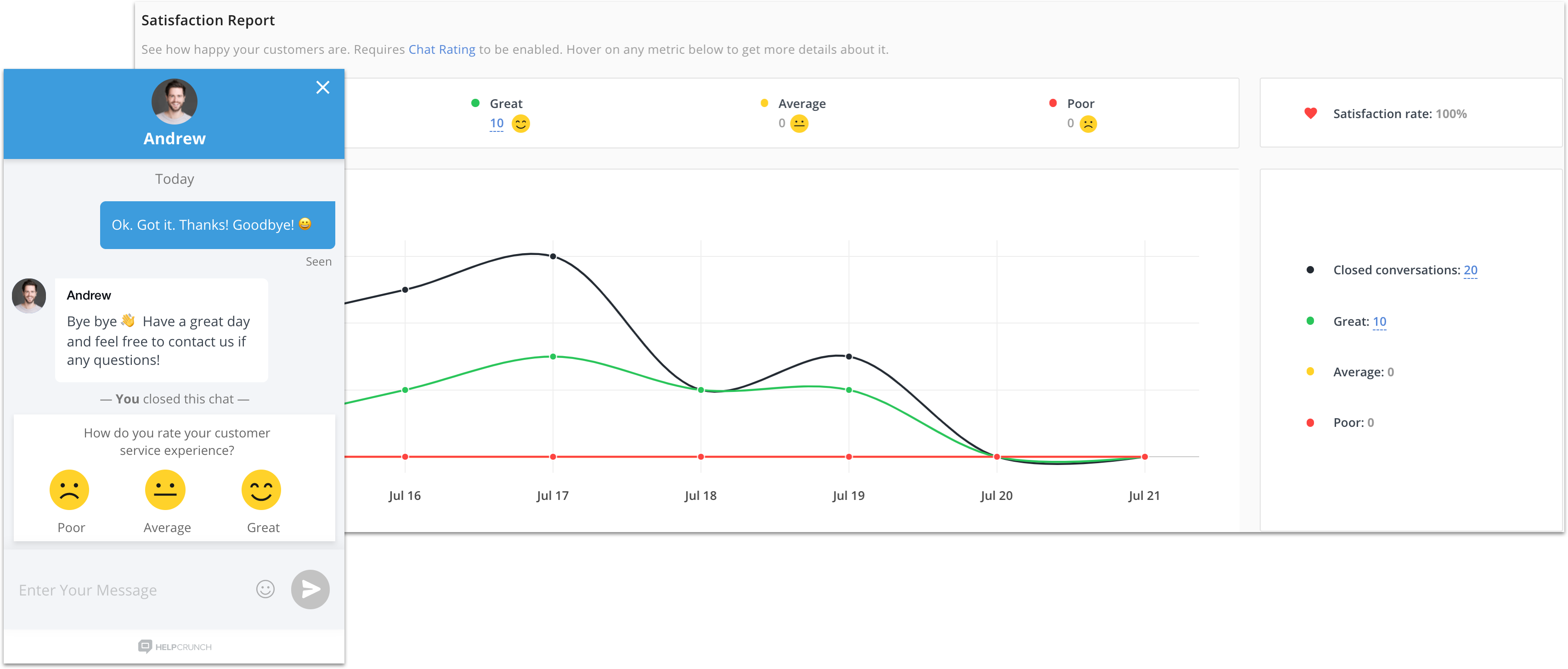 Moreover, you can see how each of your chat agent and the entire team perform in terms of speed and workload. HelpCrunch tracks such customer communication metrics as a total number of conversation for a certain period, first response time, and resolution time.
This way, you'll always know if it's time to make some changes and improve customer communication at your company.
13. Follow up
Customer communication is a continuous process that doesn't stop the moment you closed a chat or hanged a phone. There's always room for more.
You should always send follow-ups to your customers:
Follow up on negative feedback and reviews to ask for details — what exactly went wrong, how you can fix the situation and make things better.
Follow up of positive reviews to thank.
Follow up on complicated cases to ask if everything is fine.
Follow up on people who requested a particular feature from you when the feature is delivered.
You can always find a reason to show your genuine appreciation and attention, and customers will see your noble intentions. Just do overdo it.
Bottom line
The funny thing about customer communication is that we all are some other company's customers. And we know exactly how we want to be treated by those companies. So why not just take this vision and use it for your customer communication strategy? Treat you customers as you want to be treated yourself and HelpCrunch will help you with the right tools 😉

Read also
Sales & Marketing
Even the world's best email is worthless if it never gets opened. Check these 8 evergreen subject ideas for your abandoned cart emails and increase your open rates instantly.
Sales & Marketing
High-quality inbound leads might be one of the best things for any business. Learn how to attract inbound leads that are just doomed to convert.
Sales & Marketing
Learn why your emails may end up in the spam folder and how to avoid such a disappointing turn of events.