Mind Your Manners! 21 Genial Welcome Messages to Salute Customers Onboard
Welcome messages help your business to onboard new customers the right way. Learn from these 21 best examples on how to create the most effective welcome messages.

What are welcome messages anyway? Are they so important that somebody would put together a whole blog post on them? Well, they are. And when used smartly, welcome messages become a truly powerful marketing tool.
After the user has finally converted – subscribed or created an account with you – it seems that your job is done. You've got yourself a new customer, so why bother sending a welcome greeting message?
Wrong. A welcome message can seal the bond. It's the same as a "Can I help you?" that you hear when you enter a shop. Even if there's no help needed, you are being attended to and feel important.
If you are still not convinced with all this sentiment, we've got some hard facts and statistics. Welcome emails are known to generate 320% more revenue. For such effectiveness, welcome messages take their rightful place in most email marketing campaigns.
If you're not sure how to set up an engaging welcome message, just start with a proper customer communication tool. Consider HelpCrunch for setting up targeted chat and email auto messages — it's available for a free 14-day spin.
What is a welcome message?
A welcome message is a message you send to customers once they land on your website or create an account with your service to greet and tell them more about your business.
At the same time, greeting the new customer is neither the only nor the primary thing a website welcome message can do. There are many other great goals that you can achieve with a wisely crafted welcome message. In fact, the format, content, style, and design should pursue a definite goal that starts the user's journey across your website.
Often, welcome messages are delivered as email broadcasts, however, you can also use live chat, in-app messaging, or even a third-party messenger, such as Facebook or Slack to send them.
Of course, the channel counts, too, but the most valuable is what your welcome message contains.
In general, welcome messages are built along the same lines as the rest of your customer communication – the style, design, level of formality should be easily identifiable and similar for all types of communication with your audience.
Browse our collection of the best website welcome message examples that can inspire you to make a unique invitation for your customers to start on a long journey with you. Each message in our list is designed to achieve a certain goal, and you are going to see how they do it.
21 best welcome message examples to onboard customers with a bang
#1 Assure the customer that their subscription is successful
The first thing your welcome message does is confirm to the customer that they have done everything right. They filled in the subscription form, the algorithm behind digested their input and the business got back to them.
The main purpose of such messages is to establish rapport with the new customer. It's a virtual handshake with a promise of future benefits. Choose the style and design of your welcome message for customers that matches the general style of your business and the rest of your marketing campaign.
The website welcome message example from Find Me a Gift, a company that helps people with gift ideas, immediately shows how happy they are with your joining. Nothing else, just a warm welcome, but that's what matters, right?
#2 Establish the main communication channel
Usually, when the user is filling in the registration form, they provide their email and agree to receive newsletters from you (there is that little checkbox that you need to tick). Still, it might be smart to remind users about choosing their preferred communication channel in your welcome message.
Check the image below – that's the message new subscribers of MarketingSherpa get. The company lists the newsletters it is going to send and offers to subscribe or unsubscribe from any of them.
The company's email address is also there for whitelisting. And, if you are a social network resident, there is a whole selection of icons at the bottom – choose any to connect to the company in your favorite social network.
With such a business welcome message, you show the user all possible ways you can communicate with them giving them the freedom to choose the best ones.
#3 Onboard the customer with a website welcome message
A welcome message is a great chance to tell your user a couple of things about who you are, what you do, and why your user will benefit from dealing with your business.
Some businesses, like InVision, set up a whole onboarding flow demonstrating various options and possibilities. Upon sign-up, InVision offers as many as four welcome videos to showcase the platform features.
However, you can go a simpler way and just briefly outline what your user can expect with your product or service. This is how Medium greets new users – just three short statements, brief and to the point, but the user immediately gets that no-nonsense attitude that Medium promotes.
#4 Make a limited-time welcome offer
The first contact with a new customer is a perfect time to engage them even more by offering a gift or a special price.
On one hand, the customer will feel rewarded for their effort and build a more positive attitude towards you. On the other hand, an offer will urge them to start shopping or, at least, browsing immediately. And if the offer is time-limited, that's an additional motivation to shop while the offer lasts.
Ralph Lauren, a fashion company, welcomes new customers with a promise that they will be the first to know about the latest news from the Ralph Lauren universe and a 10% discount for the next purchase.
#5 Make your welcome messages personal
Dale Carnegie once said his famous phrase: "Remember that a person's name is to that person the sweetest and most important sound in any language". There are whole marketing strategies built around calling your user by their name, and welcome greeting messages are no exception.
Your customer is, anyway, providing their name in your subscription form, so use it!
Start with calling them by their name right away. And not only that, you can use other data that your customer so helpfully provided, too. For example, use their address to point them to the nearest locations of your business if you are operating offline, too.
Adjust your marketing campaign on the basis of the language they speak. The opportunities are multiple.
Grammarly, a spelling and grammar checking tool, greets the user by name in the very first message that it sends. Nothing special, but it's nice to see, isn't it?
BTW, this technique works both for B2C and B2B customers. There are real living people behind corporate accounts, so calling them by name may be a good idea.
#6 Demostrate the benefits
There's one marketing tale as old as time goes: you should sell benefits, not features. Customers won't feel any emotional connection listing to all the glorious functionality your product has to offer. But if you tell them how those features can help them achieve their goals, the results won't be long in coming.
That's what Trello, a popular team collaboration platform, does in their brilliant welcome message for customers. Look at the first paragraph here:
We're so happy you're here! The concept is simple: Trello helps you get organized, get motivated, and get more done (with your team or on your own).
Better motivation and more productivity? Who doesn't want those things? I'm sold!
#7 Encourage users to explore
You want them to continue browsing, don't you? Then prompt them to browse right from your welcome message. Place a CTA right in the middle of your email or chat message that would lead the user to the wealth of your website or app.
Asos, an online clothing store, welcomes its new users with "Oh, hey girl!", and we immediately feel the light and carefree attitude that the business creates. A casual welcome message for customers, a brief outline of what you are going to get as a subscriber, and a simple invitation to explore further – that's all you need.
#8 Encourage other actions with a welcome letter
Speaking of CTAs, you can include all sorts of calls-to-action in your onboarding welcome message. "Shop now", "Explore", "Download", "Get started" – these are, probably, the most boring words you can place on that button.
Depending on the focus of your business, you can get as creative as you wish. Pinterest, for example, invites new users to "Poke around some Pins", Virgin America – to "Grab a Seat", Lyft – to "Take a Ride".
#9 Add the Unsubscribe option
It happens to the best of us – some users just do not want to receive your emails. That does not make them less valuable to your business, but you should respect their wishes. Besides, users who do subscribe will appreciate knowing that they can always opt out.
If we look at the welcome message of Camelbak, a tourist and travel equipment manufacturer, we will find both the link to the company's website and the Unsubscribe link at the very bottom. A clear Unsubscribe option helps to build trust with the customers, and Camelbak is a great example here.
#10 Welcome customers back when they return
This technique works best if you have a live chat on your website. Set up a "welcome to our website" message to pop up when a customer whom you have not seen for a while visits your website again.
You already have all their details, so recognizing a familiar "face" will be a piece of cake. And don't forget to call them by name!
Of course, many customers will dismiss the chat if they have no immediate question to your support team but seeing a friendly "Hey David, long time no see!" will set them up in a positive way from the very beginning.
#11 Thank your customers for joining
This technique may seem obvious but is often overlooked. A simple "thank you" email may be that little thing that makes your customers remember you.
Think of it this way – today, whenever you open a website or browse a web store, you are invited to sign up, subscribe, provide your details, or otherwise engage with the business.
Sometimes you accept these invitations, most often you ignore them, but they are everywhere! If among this mass of emails and subscription invitations, you find one that thanks you for your effort, that might mean a lot.
Puma, a global sports footwear manufacturer, goes even further. It sends a "Thank you" even before you have completed your registration. The confirmation email will follow soon, but for the moment the company simply shows appreciation for the customer's attention to it.
#12 Amaze your customer with a unique welcome message
Get your graphic designer and do something really creative and content-rich. Here, the sky's the limit, as today you can include images, photos, videos, animations, and effects in your welcome messages. You can choose some great content that goes well with your business or just be funny and friendly.
Check the welcome message that you get from Brooklinen, a bedding retailer. Just a simple "You're In!" and nice animation – and you are, definitely, in!
#13 Mix and match
You can set up your welcome messages to hit multiple targets.
Add a CTA to your registration confirmation email, combine a "Thank you" with a special offer, throw in the social network buttons together with your basic onboarding info. This is your welcome text to your customer, so make it suit your purposes.
IKEA sends a welcome message that engages the customer in more than one way. It contains an invitation to join a loyalty program, a prompt to complete the profile, an option to select the preferred communication channel, links to social networks, and even a link to the IKEA blog – all in the same welcome text.
#14 Show the real people behind your business
It should be quite obvious that welcome messages should feel heartwarming and sincere. Why bother sending them if you're going to sound all robotic?
However, many businesses fail in this department miserably. They show all kinds of CTAs, social media badges, promo codes, and relevant links. But nothing feels genuine unless you show that there are real people behind those words.
Look at this sample welcome message by MailerLite, an email marketing tool. Not only does it tell you everything you need to know to start using the platform right away, but it also features a rather nice team picture. You immediately feel almost like you know and trust those people. And should anything happen, they got your back.
And the part about Netflix recommendations at the end of the welcome message… Isn't it the sweetest thing ever?

And yeah, use this technique when you send an apology email – it won't hurt.
#15 Build trust by introducing your senior managers
This welcome message example is closely related to the previous one. There's no better way to show your business' credibility than by showing who runs it.
Send welcome messages from your top-level manager or co-founder. It's a common practice between B2B businesses. Clients get all contact details of someone they can turn to in case any problems arise or they're not satisfied with the level of service from other departments.
We at HelpCrunch send the initial welcome message from our CEO and co-founder Pavel. The main goal here is to make every newcomer feel like a VIP client.
We deliberately went with plain emails that feel like a regular message from a friend or a colleague. Flashy complicated emails are everywhere and can feel overwhelming, so why not take a break and just read a simple greeting note?
#16 Go crazy with your welcome messages
While there are definitely some best practices you want to follow, creative welcome messages are the ones that stuck in your head. You know the type. When you read a message and just can't help but smile.
Hustle is one of the most prominent examples of creative and unorthodox email marketing. The welcome message they send to every newsletter subscriber is something else. You can find everything here: a brilliant sense of humor, a little introduction from their team, and writing that leaves you in awe.
When they say they hope their content will "inspire you to live a more epic life", you already know it will.
#17 Add a visual element to your welcoming message
It's believed that visual information is perceived a lot better than just a wall of mundane text. So, if you want to greet your new customers with dignity and not bore them from day one, make your welcome message easy to scan and engaging.
Let's see how Customer.io nailed their short welcome message for customers. Once you sign up for the product, this clearly written message lands in your inbox. Here, you see:
2-paragraph copy with nothing but essential information
Mock-up infographic showing the onboarding step-by-step and setting expectations
Demo video where the company's co-founder explains the behind-the-scenes of Customer.io in detail
#18 Show a customer reasons why from the get-go
Exactly! Illustrate some compelling reasons why people choose your brand persuading your newly registered client they made a smart choice as well.
Miro, a visual collaboration tool, does just that in their professionally designed greeting message for customers. They just enlist three reasons why users all across the globe stay with them and back them up with a CTA to start working with a whiteboard.
#19 Nudge people into completing their onboarding
Customer onboarding and retention are the cornerstones of any successful business. It's also one of the most challenging. That's why it's important to set the mood early on with your welcome greeting message.
Canva offers a simple onboarding process where you're offered a few design tasks. They show how easy it is to create new designs with the tool even if you don't have any skills or experience. Their short welcome message is all about making you perform those tasks.
#20 Place a premium on simplicity
The following example might not have a burst of creativity. But its layout is winning.
Whereby, a video conferencing tool, doesn't use any visuals in their greeting message for customers (one might wonder, though…). Instead, the company leverages a clear, structured text, two CTAs, and links to valuable resources a user might need at first blush.
Besides, they provide tips to get started – a nice move, especially if a user is new to the business. Just like that, Whereby makes it all right with elegance (look at the colors!) and a straightforward text.
#21 P.S.: don't neglect the P.S.
Here comes Buffer – software for managing accounts in social media. This example comprises personalization, a little humor, transparency and links to the company's helpful material.
However, there's one more peculiar thing – a P.S. at the bottom of the greeting message for customers. This is a way to tell a user alternative information about your brand. In this case, Joel goes big and leaves his Twitter link. The chances are a user would definitely check it out and connect if need be (or at least network).
Bottom line: people tend to notice the P.S. in letters, so include some relevant info there to get them to read it.
Customer welcome message samples up for grabs
Take our sincerest welcome hugs! 🤗 We love you choose us, you will never regret that. And while you surf our website, please enjoy our newest read…
Welcome to the [company]! 🤗 You are one step closer to a better shopping experience.
We are so happy you joined the [company] family! 😌 May the best discounts and the finest selection be with you!
Warmest welcome to the club! Here, you'll enjoy everything from a seamless customer service to the most awesome product in the niche!
Congratulations! You've just become a member of the friendliest brand ever. And we couldn't be more joyous about that 🥳
Setting up your welcome message with ease
Now that we have dissected various types of welcome messages, let's quickly refresh what it may contain to serve its purpose:
Company logo and/or motto
Personalization (e.g. customer's name)
Explanation of what the customer has subscribed to
"Thank you" message
Special offer
CTA
Social network buttons
Unsubscribe link
That's about it, now build your welcome message. Here's how you can create a welcome auto message using HelpCrunch – a one-stop tool for building customer relations. It allows you to set and test welcome auto messages in a couple of clicks.
The configuration options are quite numerous – you can set a delay, create your own subject line and, of course, compose your unique welcome message for clients. Add custom attributes like personal names and company information and segment your audience based on any personal data and actions.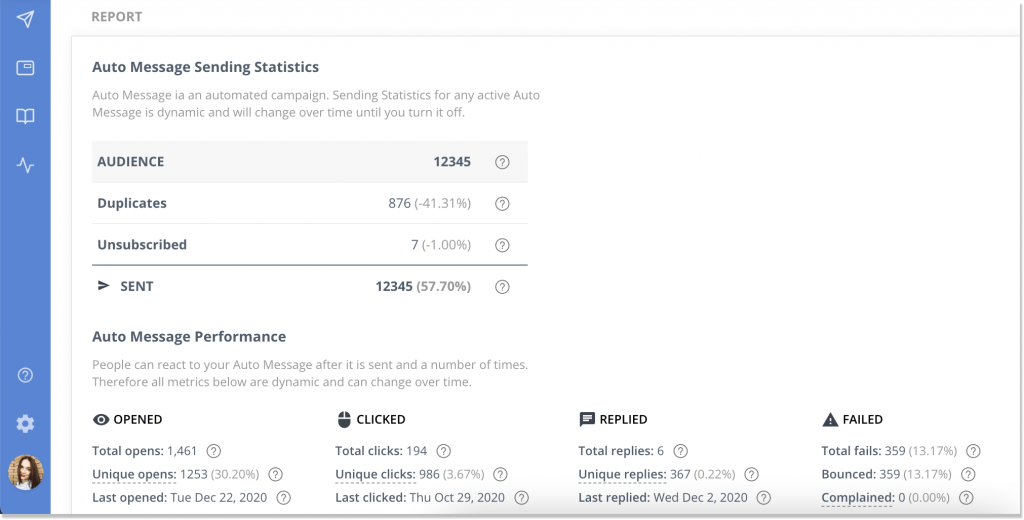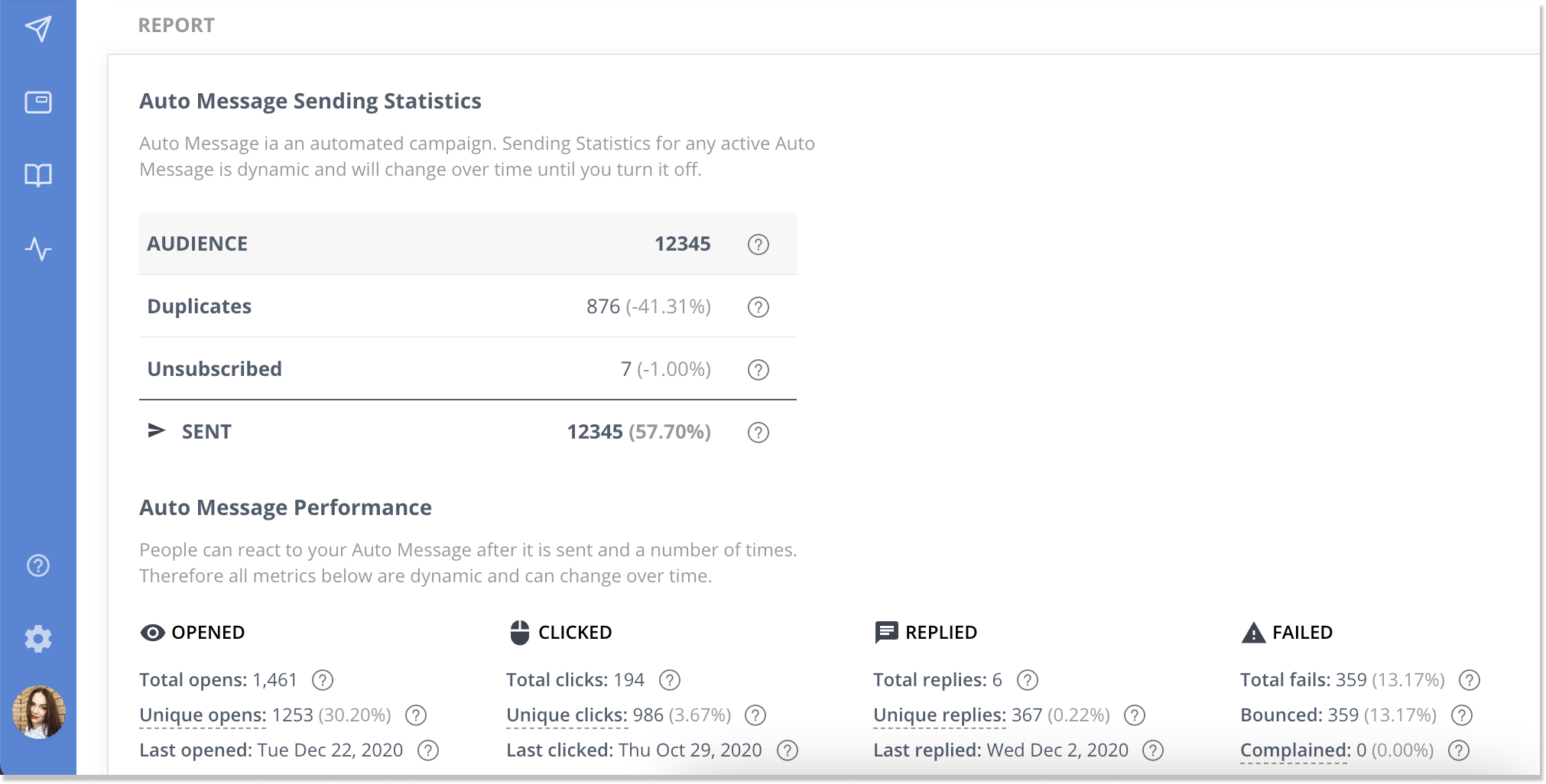 Now, you can make your welcome emails more effective if you target them. With proper targeting, your emails have better chances of reaching the audience they are meant for.
The HelpCrunch auto message tool has an excellent targeting feature where you can filter your user audience by multiple criteria, from the date they first contacted your website to their browser language. For more information on email targeting and how to use customer data, read our blog.
Bingo, you are all set. Enter a couple of valid email addresses (no real customers, please) and test and fine-tune your welcome message to your satisfaction.
Bonus: well-wishing welcome messages for new employees
Congrats on your new role! Are you ready to depart on an exciting journey with [company]? Cause we definitely are! Buck up and off we go 🚀
A heartfelt welcome and the best of luck on becoming the part of our team 🤗 We know for sure you'll be a huge asset to our company and are looking forward to producing the great product together.
Accept our big welcome! Starting today, you're an indispensable part of the [company] daring team. P.S.: Where do you stand on pizza days, regular casual meet-ups, and board game Thursday? 😁
We adore forming a team with enthusiastic, vigorous, and creative people. You fit the bill brilliantly! Warmest welcome!
It's great you joined our team! Forget your past working atmosphere, cause here you'll experience something way different 😎 Congratulations on your first day!
Welcome aboard! This ship named [company's name] is ready to bound outward with a perfect newcomer. Let's make awesome things together!
The whole office welcomes you today and is happy you joined! Can't wait to cooperate on our mutual things and have fun together!
And our heartiest welcome goes to…you! Congratulations on becoming a member of the coolest team! Tune in to our 20-minute online Zoom party, we have a lot to tell 🤩
Can we be more thrilled to welcome such a nice person into our team? We know for sure that your expertise, talent, and character will be invaluable to us!
Congratulations and welcome onboard! Make yourself at home as [company] is all about calm, cozy, and caring atmosphere. But we do have some here, though 😁
Friendly greetings, [colleague's name]! Enjoy your starter kit and we'll show you the ropes. We're fun-filled to have you in our team 😇
Final words
Welcome messages work. They do, seriously. Be it the very first welcome message for a new customer, a welcome back message for a customer who has fallen out of touch with you, a thank you message – they all work. Try to set up one for your business, and you will see the difference.