You know the most peculiar thing about choosing business tools in 2019 (or in the past few years, for that matter)?

Back in the 00's you were lucky to find a tool that could do what you needed. And if you were lucky enough to find one, they were stuffy and difficult to use. In most cases, you ended up doing your job manually. Ough!

Look at us now, though. If you need a tool to do even the simplest task for you, there's always not one, not two, but a dozen of very similar options.

I guess what I'm trying to say is that this list is far from being the most comprehensive. There are so many SaaS tools that can help your business with different aspects of marketing, SEO and team management that it's virtually impossible to mention them all.

What I do in this article instead is listing only those tools that we at HelpCrunch personally tested while also finding much inspiration in this thread from SaaS Growth Hacks group.

G Suite as a standalone giant in the world of SaaS tools
For obvious reasons (like, nearly perfected tools, excellent integration between them, one of the Big Four companies, you name it), everybody's using G suite tools.
If you ask any business owner about their favorite SaaS tools, G suite will be in all of the answers. Hands down, their toolset doesn't have any alternative. I mean I can't imagine my life without my dear Google Docs and Google Calendar, and what would I even do without Gmail.
That being said, let's move to less obvious SaaS tools for your business.
Customer service SaaS tools
Customer service is too wide a notion to cover it with a couple of tools. It's not just about answering your customers' emails and fixing their difficulties from time to time.

Customer service houses everything from capturing leads to onboarding newcomers to collecting their feedback. And way more.
That's why it's a very mashed up category.

1. HelpCrunch — customer communication tool for support, marketing, and sales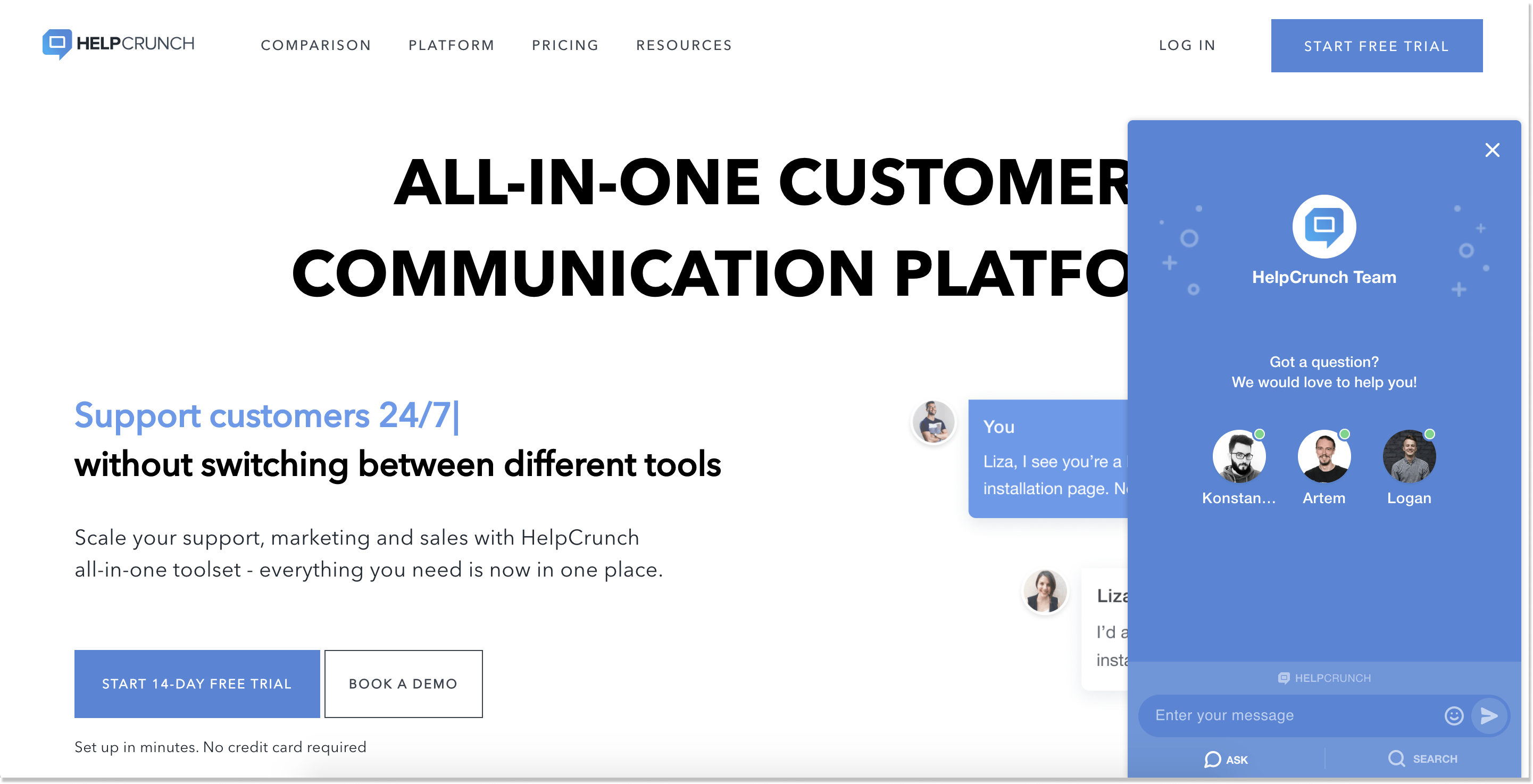 There are just so many things to the HelpCrunch customer communication toolset. Striving to be a high-end destination for all customer communications, HelpCrunch provides live chat and email marketing tools (for both manual and automated campaigns), pop-up builder, and in-app messenger. It also includes all basic help desk features to manage your customer support more effectively.
Basically, you won't need any other SaaS tool for communicating with your customers if you go with HelpCrunch.
Here's how you can use HelpCrunch for your business:
First of all, you need to install the HelpCrunch live chat widget into your website or an app (a matter of a few clicks). You can then change everything in that widget to fit your website's design seamlessly. Now, people have a direct and fast way to get in touch with you.
Then you can set up email forwarding so that all your support emails will land into the HelpCrunch dashboard as well.
Don't forget to turn on a couple of behavior-based proactive chats for engaging website visitors and a few auto email campaigns to welcome and onboard newcomers automatically.
You can then use HelpCrunch to answer all inquiries from one place, send your customers one-time email campaigns and in-app chat messages.
To take customer self-service to the next level, introduce an integrated knowledge base to your customers, so that they find solutions right from the chat widget.
That was the short version 🙂
2. Feedier — customer feedback SaaS tool
Want to know how your customer service is doing there? I bet you do.

Knowing exactly what your customers think about your product is easier than it seems. You just ask them.

There are various ways to collect customer feedback, but the rule of thumb is to not ask for much and stay short and to the point.

Feedier helps you do just that. It's a modern customer feedback solution for collecting your customer feedback via email, SMS or in-app. Feedier currently supports short text, NPS score, slider, select and long text question types (also known as all the most popular types of feedback surveys).

With its help you get all the necessary data and insights into what your customer thinks of your company and what can be improved.

What's cool about Feedier is their gamification feature which gives you a way to reward those willing to share their thoughts. You can set up money, voucher and coupon rewards, send users some custom messages or an exclusive file in exchange for their feedback.
3. UserPilot — user onboarding SaaS tool
In my opinion, high customer retention rates start with an effective onboarding campaign. If you don't get it right from the beginning, almost nothing can change it later. People don't stay with products they don't understand, so your task is to explain everything as clear as possible.

There are various ways to increase product adoption – from emails to built-in text tooltips, but you also have to make them eye-catching. You can't let your customers skip through your help. For this purpose, you can use third-party integrations that will help your create such engaging onboarding experiences.

So, UserPilot helps you set up contextual tooltips that will be triggered by user behavior. It's important for such tooltips-slash-pop-ups to be real-time as they should appear exactly when someone performs a certain action. UserPilot took care of it, too.

Here's what you get with UserPilot's contextual tooltips:

Pleasant customizable design;
No code needed for installation;
Behavior-based triggers;
Custom attributes for personalization;
Milestones and rewards after completing certain actions;
4. User.com — all-in-one customer service SaaS tool
Basically, User.com is a full-stack customer service, marketing, and sales software offering live chat, call center, email marketing, knowledge base, calendar and many other tools
It allows you to gather information about your prospects, communicate with them via live chat, chatbots, gather contact information by using popups, send automated emails and SMS and much more.
The tool makes it easy to create automated paths where you can pinpoint the moments your leads receive messages. It will save your time and make sure your communication is consistent.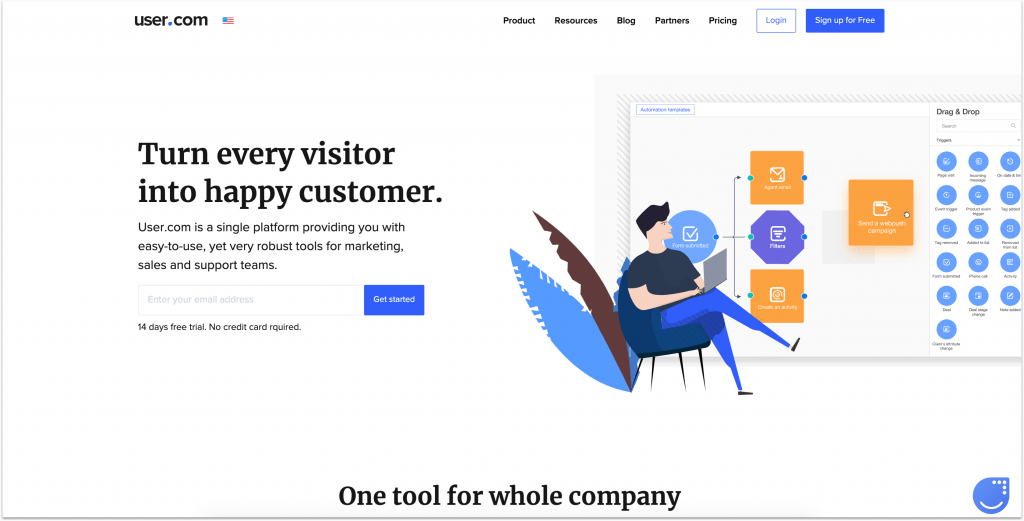 5. Custify – customer success SaaS tool
What's great about Custify is that it's a customer success software solution that's oriented specifically towards SaaS businesses. That means that they help companies that have a subscription-based revenue model reduce churn, find up-sell and cross-sell opportunities.
Basically, companies get the most out of their own product while proactively engaging customers, addressing potential customer issues before they happen.
To do this, they spent time with actual Customer Success Managers, learning about their challenges and figuring out ways of making their work more efficient. Then they took that feedback and created a Customer Success solution that works.
With automation features that increase efficiency and automate daily workflow, Custify lets CSMs spend time with clients rather than organizing data, clicking through tons of menus and using features that they never asked for.
If you're a Customer Success, this tool allows you to gather information, creating a better experience for your customers and fewer headaches for your team.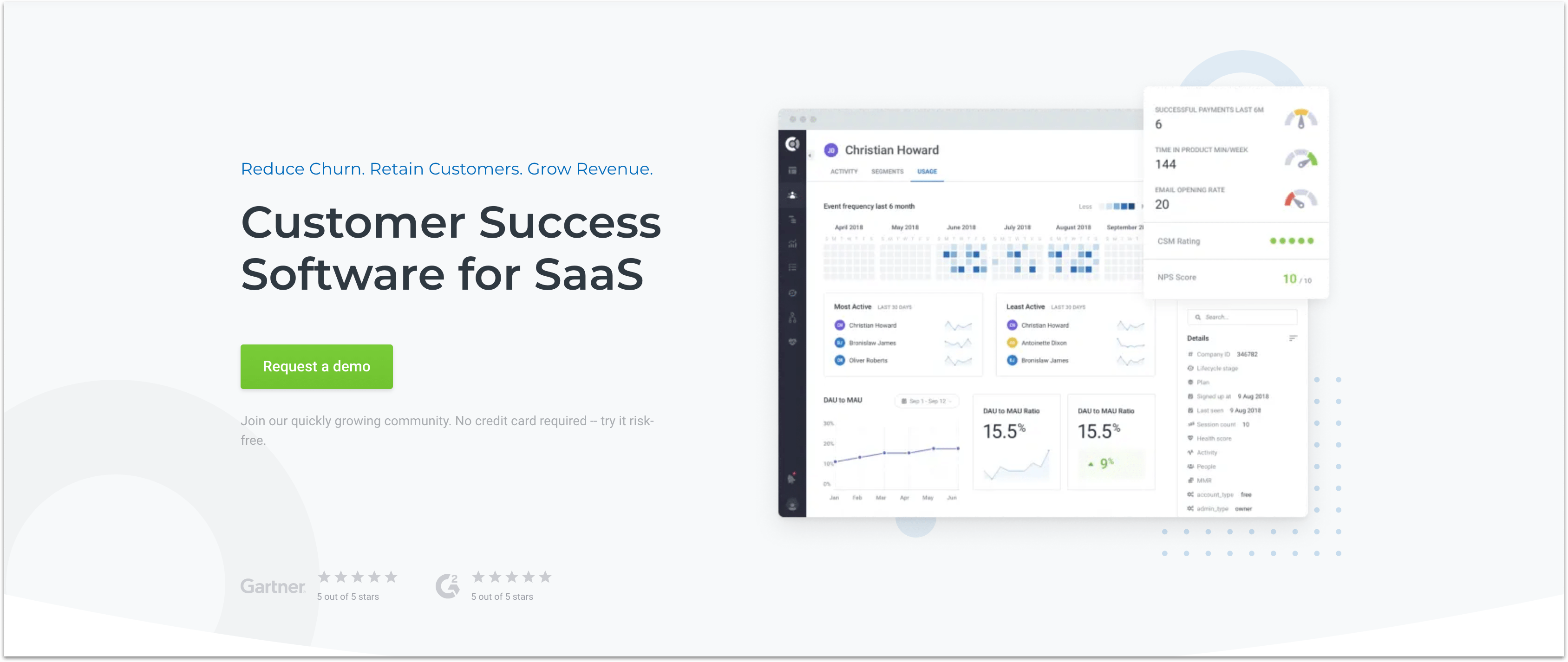 6. Crystal — personality prediction tool
Each of your customers (and potential customers) has a unique personality and communication style. That's why it's so hard to ensure a great customer experience﹣what resonates with one persona may completely bomb with another. However, by tailoring your messaging to specific personality types, you can learn to communicate and write site content in a style that reaches your audience.
Crystal uses AI to predict anyone's personality from their online footprint, which can help you learn more about your audience and appeal to a wider demographic in a more personalized way. Communicate effectively, improve customer experience, and offer better support with Personality AI﹣your coach for helping customers.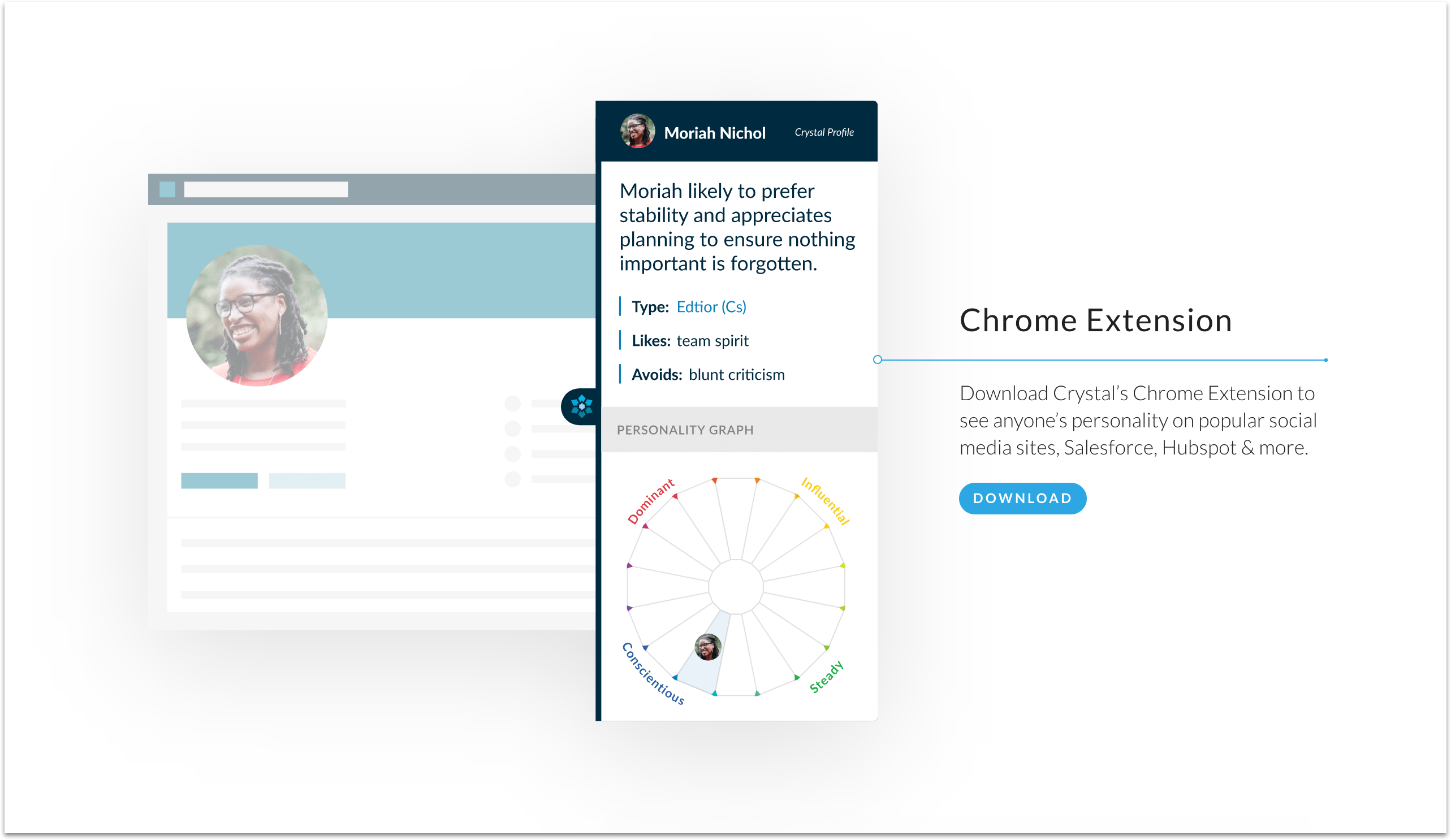 Email marketing SaaS tools
By email marketing tools I mean tools whose major focus is on sending your customers manual or automated email campaigns. These include welcome emails, onboarding tips, special deals, etc.
7. MailChimp — email marketing SaaS tool
In the world of email marketing tools, MailChimp holds a very special place. Everyone has heard of them, tried them at least once in their business. And likes their website design a lot (or is it just me?).

MailChimp is a great tool for creating well designed and carefully targeted email marketing campaigns. You can craft any email layout you wish with their drag-and-drop email builder and built-in image editor.

What makes MailChimp stand out is their features for ecommerce projects. You can connect your store with it to automatically send product recommendations based on visitors' preferences.

BTW, if you thought of MailChimp as of email tool, you're in for a treat. It also has features for setting up Facebook and Instagram ads as well as Google remarketing ads, creating landing pages and pop-up forms, and even designing postcards. Does everything but launching spaceships to Mars.
8. eSputnik — email marketing SaaS tool as well
eSputnik is yet another email marketing automation tool. But before we jump right into what eSputnik has to offer in this area, it's worth mentioning they offer SMS campaigns together with web and mobile push notifications.

Email marketing is their core functionality, though. Here's what they have to offer in this area:

Drag-and-drop email editor;
Audience segmentation;
Various event- and trigger-based scenarios.
Important to note that eSputnik's scenarios are also drag-and-drop, which allows you to create as complex a scheme as possible.

9. Stripo — email templates builder
Whatever email marketing tool you choose, you can always accelerate your choice with the help of Stripo's drag-and-drop email builder. Stripo's email creator is rather intuitive and can save you a lot of time and comes with 300+ ready-to-use templates.

Stripo's teamplates are always responsive on every device;
HTML and CSS editor mode;
Built-in integration with Pixie Image Editor, banner generator, free collection of stock images;
Compatible with MailChimp, GetResponse, Campaign Monitor, UniSender, eSputnik and Gmail.
10. NewOldStamp — email signature SaaS tool
Here's the thing. Email signatures are complicated in many email marketing tools. Usually, you need to create an HTML version of it and add it through HTML editor.

With NewOldStamp you can create an email signature that will be perfectly in line with your brand and business identity. The tool will offer you a variety of ready-made templates to jumpstart your creative thinking, and you can customize any of them further. All you need to do after that is to copy and paste a signature into your email.

Not just are their templates cross-platform and mobile-friendly, but you can also add all kinds of stuff like banners and social media icons to them. Who would think that email signatures can also be a new marketing channel.

You can create a common department layout for bigger teams. This way you'll be able to manage everybody's signatures and update them all together by making changing to the default ones.
SEO SaaS tools
SEO tools are always about either keywords or backlinks. There are variations to this formula, but really, these two aspects are the cornerstones of search engine optimization.

So what you need are tools to track keywords and backlinks of your website as well as your competitors.

These days, most of SEO tools can do both and some extra stuff.
11. SE Ranking — all-inclusive SEO tool
SE Rankins is rather a huge toolset encapsulating more than 30 tools on one platform. Accurate keyword positions, competitors' content, backlink and PPC analysis – everything is united under one dashboard.

SE Ranking even helps content managers with finding the hottest topics for articles and keywords to optimize those articles for.

It's also a good place to perform your website's full audit and uncover its weaker spots that stand in your way to that sacred Top 10.

There's a bunch of other peculiar tools included into SE Ranking:
Social media auto-posting;
Keyword grouper;
On-page audit to check how a particular page is optimized for certain keywords;
Separate ranking checkers for Yahoo and Bing search engines.
Outreach SaaS tools
Here's an important note before we proceed to outreach tools. There are outreach tools and there are sales tools. But these two fandoms intersect quite often, because it's all about sending emails to strangers, which makes everything complicated.

Unlike email marketing or customer service tools, you won't be able to manage all your outreach with only one SaaS tool. The thing is, outreach tools are divided into those for sending emails and those for finding email addresses.

Sometimes, these two opposing sides integrate with each other, but as a rule of thumb, you need 3-4 of outreach tools to make it really effective.
12. BuzzStream — link building and PR SaaS tool
BuzzStream is my personal favorite in this list – all because of their amazing Chrome extension. With its help you can send outreach emails while you're still on your target websites.

You can also add a template that you've previously saved in your BuzzStream dashboard and edit everything in it right in the same extension window. Additionally, you will instantly see if other members of your team tried to contact someone from this website and track their progress.

Overall, BuzzStream is made for establishing meaningful personal connections with influencers of your niche. It serves as a centralized database for all your contacts and all your conversations with them.

Overall, BuzzStream is quite intuitive and easy to use even though it's packed with tons of outreach features.
13. Lemlist — cold outreach SaaS tool
Lemlist is a nice little tool that can be of use for both cold outreach and sales. If BuzzStream is great for emailing your prospects one by one with extremely personalized messages, Lemlist is your bro when it comes to mass emailing.

You create a campaign, upload your list of prospects into it, add a couple of follow-ups and choose the time zone. After this, Lemlist will shoot your emails one by one with a necessary time interval of 2-6 minutes. I guess it's important to do mass outreach this way so that it doesn't end up in your prospects' spam folder.

Lemlist also allows A/B testing any of your emails or follow-ups as well as automatically adding different engaging elements to your templates – like screenshots of your target websites, avatars and customer variables.

14. Docsify — email tracker
Docsify is a handy little email tracker for Gmail. After you install their software, it'll start tracking all your Gmail messages' performance by default.

You'll instantly see who and when opens your emails, who clicks and how many times they click any links in them, etc. Docsify will send you real-time push or email notifications for every action a recipient performs with your email. Same stats will also be displayed right in your Gmail account.

15. Snovio — lead generation SaaS tool for cold outreach
If one thing is certain in this world, it's that there are way too many email finders on the market these days. On the other hand, every time I need to do some cold outreach job, I use at least four or five of such tools. People just don't disclose their email addresses that easily, so you always need to double-check everything with several tools.

Spoiler alert: I'll mention not one, but three of such tools here. So, let's start with Snovio.

Snovio is not just another email finder as it encapsulates an impressive set of tools for different aspects of cold outreach:

Domain email search – scans domains for emails one by one or in bulk;
Email verifier – verifies your lists of emails for invalid ones;
Email drip campaigns – for sending trigger-based email campaigns;
Chrome extension for real time notifications – sends push notifications every time someone reads your email or clicks a link in it;
Chrome extension for finding emails – scans domains and LinkedIn for emails addresses.
16. FindThat.email — SaaS tool for scanning social media profiles for email addresses
FindThat is a very accurate email finder for social media. Just install their Chrome extension and it'll scan your prospects' profiles on LinkedIn, Facebook, or Twitter for email addresses.
I must say, they do an excellent job.
They also have a bulk email finders for scanning domains, but I rarely use the tool for this purpose.
As many other similar tools, FindThat offers their own email verifier to filter out your lists of prospects and clean them from invalid addresses and duplicates.
17. Aeroleads – SaaS tool for finding emails from LinkedIn, Angelist, Xing
Aeroleads is a SaaS tool which helps you to find business emails and prospects from various platforms. It enables you to build an email list in real-time for marketing and sales purpose. This software comes with a free trial version of 10 credits to search for your potential prospects. With Aeroleads, you can:
Find business emails and contacts from LinkedIn, Angelist, Xing, etc.
Get 15 various data points (full name, job title, location, working company details, business contact numbers, etc.)
Export data to Hubspot CRM, Zapier, Zoho CRM, Salesforce, etc.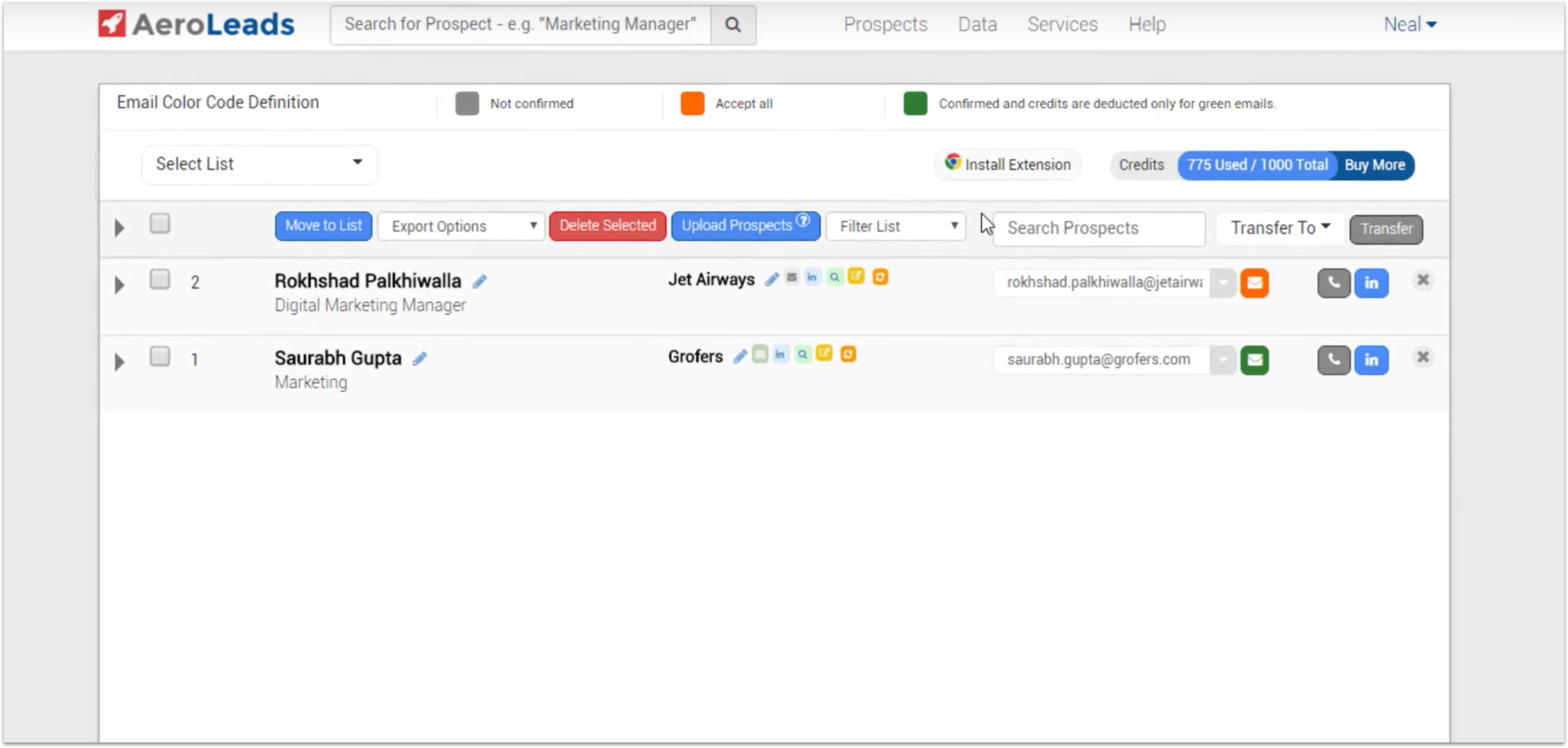 Create amazing content, capture leads through this lead generation tool, and preserve them through rebound email marketing campaign. You can use unlimited free accounts but it comes with some limitations on usage and results. You can install AeroLeads through a chrome plugin and start using it for free.

18. Hunter — SaaS tool for scanning domains for email addresses
If I need to scan domains for available email addresses, I always go with Hunter and their Chrome extension (though they have a decent web version as well if that's your thing).
After you install their extension, just open it on a target website and the tool will show you all the emails it could find for this domain. Sometimes, it'll even go as far as showing people's phone numbers and positions at their companies.
Though the tool is known for its amazing Chrome extension, Hunter is an outreach tool with a wide varieties of features:
Domain Search and Email Verification;
Email Finder to find emails for specific professionals from full names + company names;
Bulk functionalities to find and verify emails in bulk;
Chrome and Firefox Extension to find emails while surfing the web;
Google Sheets Add-on to find emails directly in your spreadsheets;
Outreach functionality to send emails to new leads from Hunter and create email campaigns at no cost;
MailTracker extension to track sent emails;
Techlookup to find the websites using certain technologies.
What's also so distinctive about Hunter is that they do not rely on third-party databases and only disclose emails that are already available publicly. Overall, the tool is extremely accurate and works wonders in a team with BuzzStream. Back in the days, these two were my go-to outreach tools.
19. Right inbox — email tracking SaaS tool
Right Inbox email tracker allows you to find out who reads and clicks your emails, how many times, and when. As soon as a recipient reads your email or clicks a link in your email, you'll be able to see it straight from your own Gmail inbox. All the information you need to act effectively is only a mouse-hover away.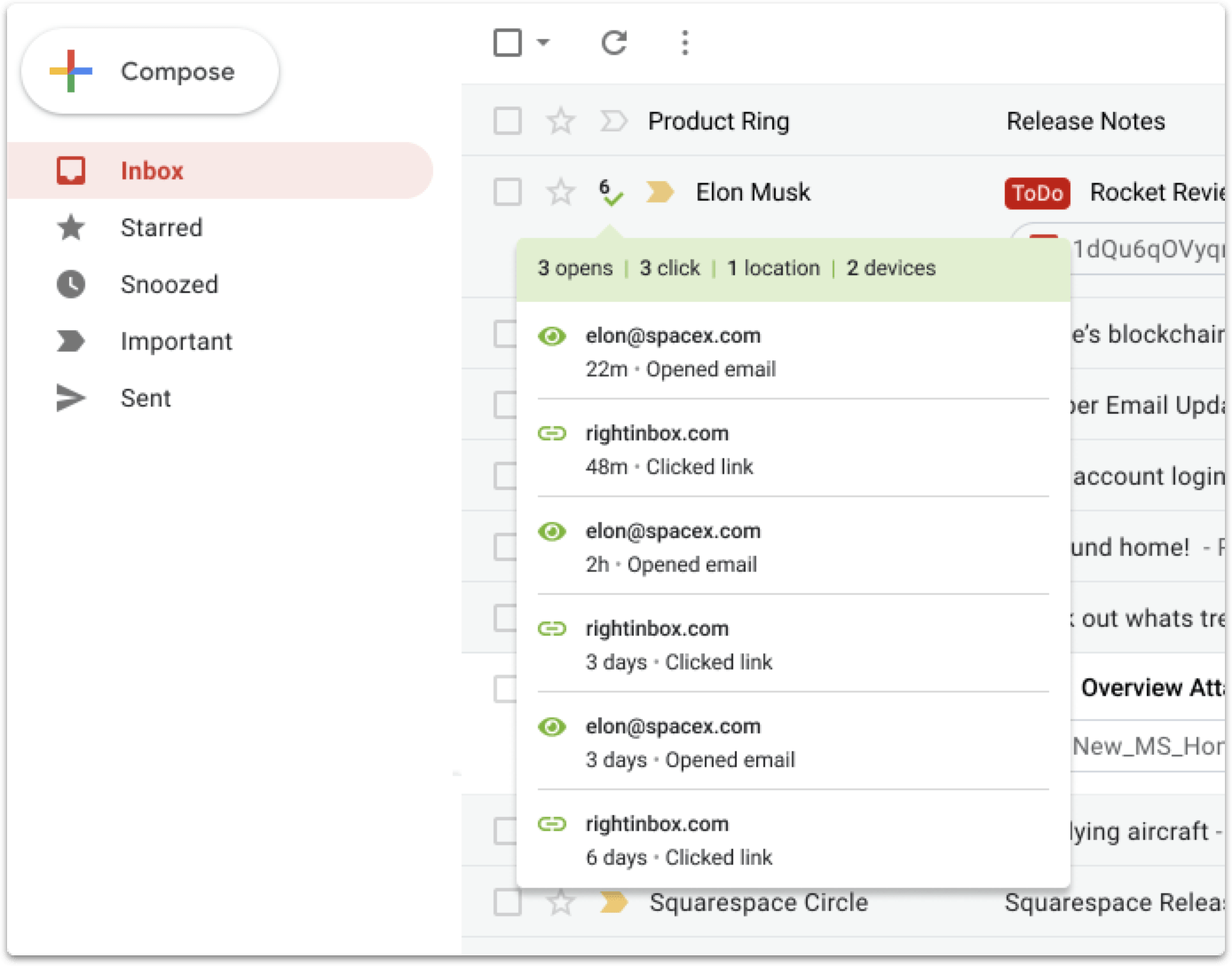 20. SignalHire – SaaS tool for finding contact info (emails & phone numbers)
SignalHire is a talent acquisition platform that helps SaaS businesses find and hire employees, do cold outreach and sales. It allows people to find contact details like email, phone number, and social media profiles with ease. Whether you want to use the tool or its browse extension, you can find verified contact information in a few clicks.
The tool has a variety of features:
Valid email and phone number finder: Whether you need to search for one person or check out up to 100 people at a time, SingalHire allows you to find 100% valid email and phone numbers fast.
Team account membership: Team up with other SaaS employees to search for emails and phone numbers and share this contact information in real-time.
Companies directory: If you want to get in touch with potential partners, check out its companies directory and search for contact information by name, job position, or location.
Free Chrome extension: Browse contact info while surfing the internet and get 10 free contact credits/mo for business accounts.
Social network search: Get personal social media profiles from LinkedIn, Facebook, Github, Twitter.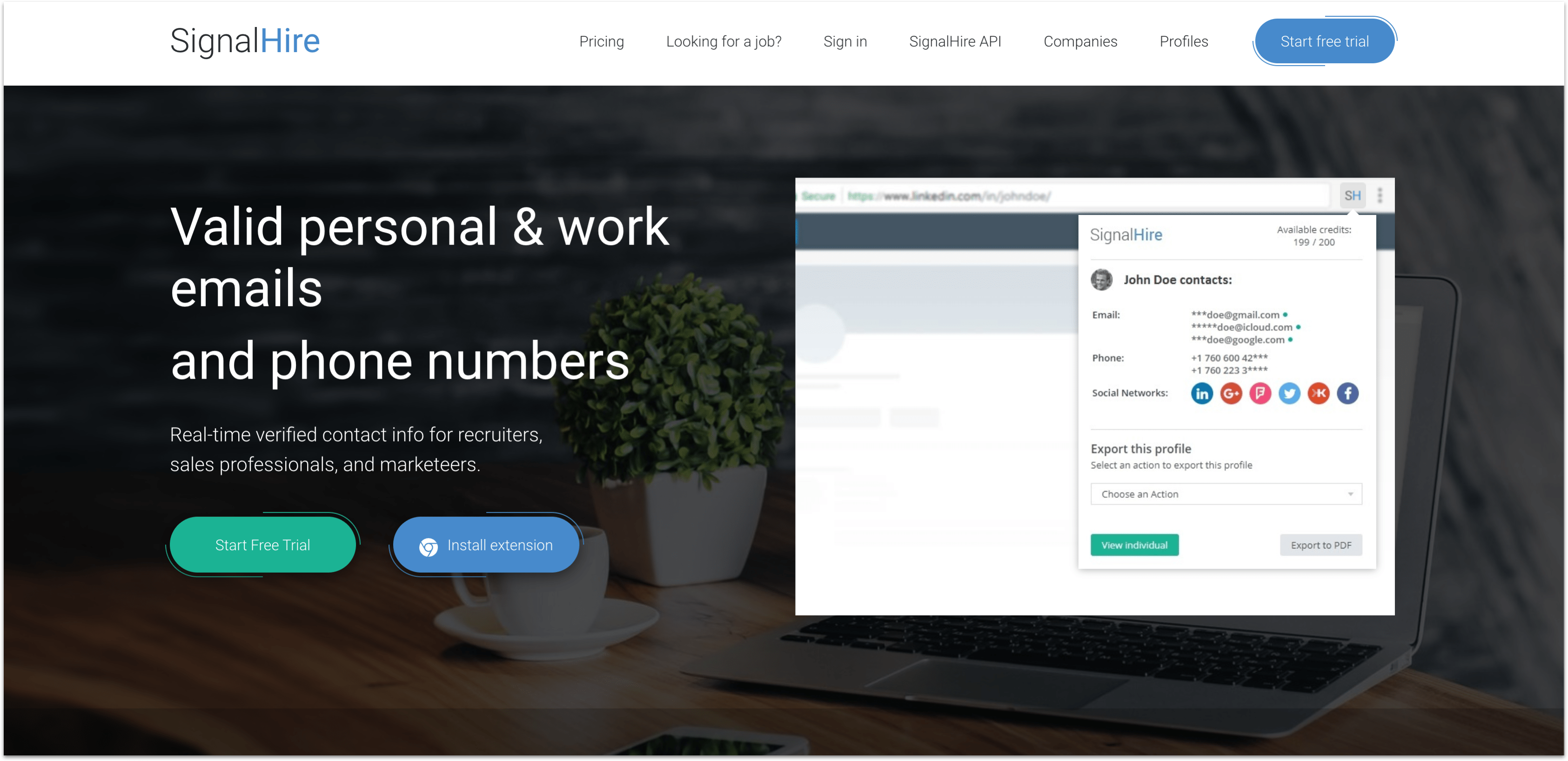 Sales SaaS tools
Just like outreach tools, sales tools can be divided into those for messaging and those for prospecting.
That's an oversimplified version, though. In a manner, customer service tools like HelpCrunch, Intercom or Drift are also sales tools as they are used by SDRs for capturing new leads, qualifying, and nurturing them.
So to be more specific, this category is about SaaS sales and tools for cold emailing.

21. Reply — outbound and inbound sales engagement tool
Reply is crafted for making your sales prospecting a bit easier. It's an outreach automation tool in the first place, but they also offer a few nice additions to it.
The tool is kind of similar to Lemlist, but more sales-orient (though Lemlist can also be used this way. Nevermind, it's just too complicated). Basically, here's how you use Reply for sales engagement:
Upload your list of prospects into the tool and segment them by different parameters. You can also use their extension to search for prospects on LinkedIn in bulk or one by one as well.
Build a multichannel sequence using emails, calls, LinkedIn, SMS or WhatsApp touchpoints as well as manual tasks.
Choose specific days and time frames to schedule your sequence.
In addition to automated sequences, Reply has some useful AI features, a built-in email verifier, and team collaboration capabilities.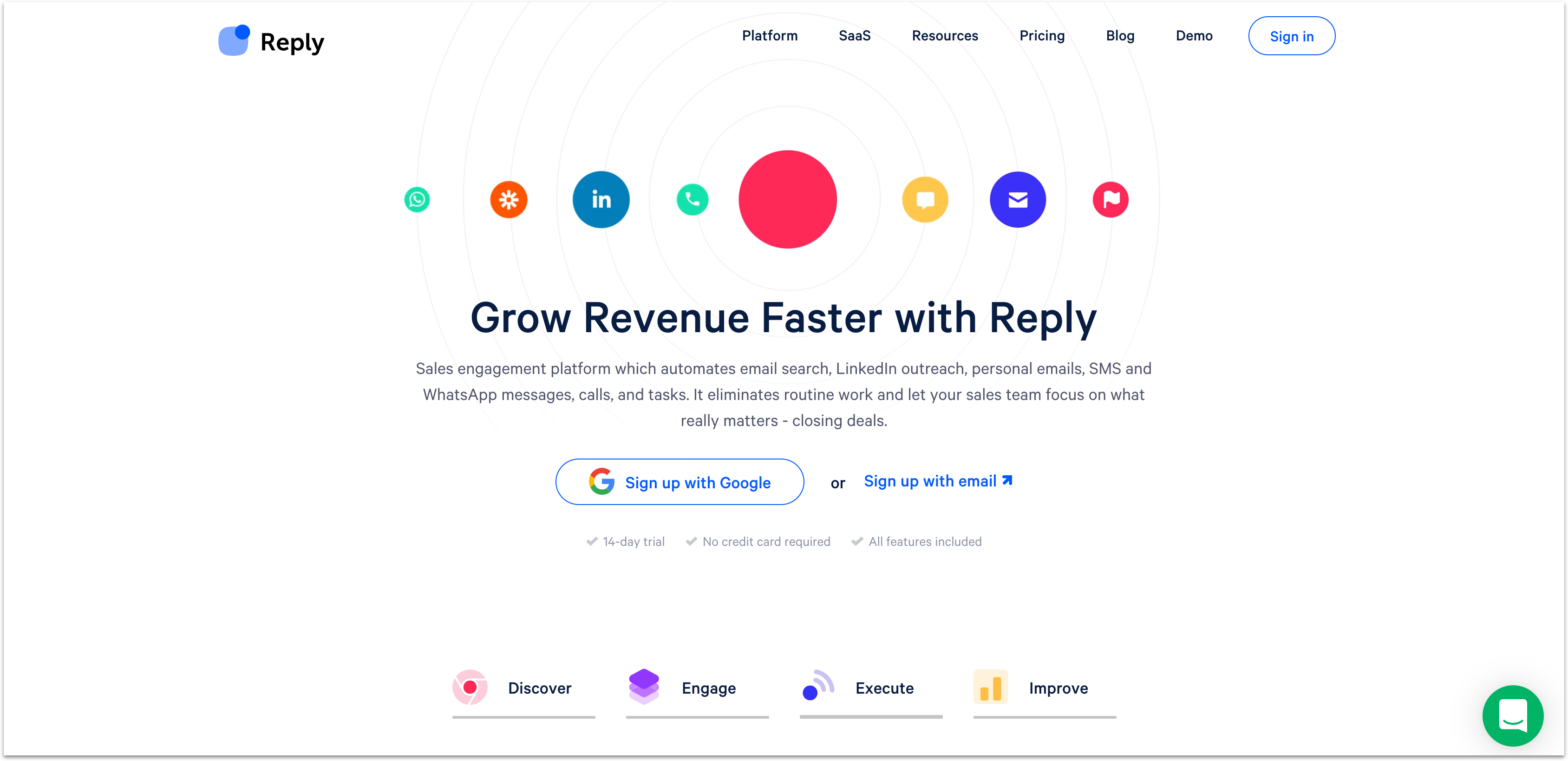 22. Gong — better sales email copy SaaS tool
First of all, I would like to appreciate Gong's amazing texts throughout their website. They're witty and funny, and I always trust tools with great content way better. (Well, I'm a content manager, what else would you expect?)
Secondly, I haven't used Gong myself yest, but I've stumbled upon a few favorable mentions of it in the Facebook thread I referred to earlier. So here we are.
Gong claims they help companies compose better sales emails based on data. Apparently, Gong captures and analyzes every customer call, web conference, and email to produce valuable insights out of them. They then show you which talks perform best and you decide how to use this information.

23. FindThatLead — email finder for cold sales
FindThatLead is a great tool for lead generation and prospecting, especially if you need to do the job in bulk.

If you upload a list of names and domains into FindThatLead, the tool will generate you a pretty accurate list of email addresses. They scan the whole domain and offer you what they find.

If you don't have names, you can upload just a list of domains or links into the tool. This way it'll show you all the emails found for this domain. Naturally, you can do the same uploading domains one by one.

Other tools offered by FindThatLead include:
Social URL search;
Business card reader;
Email sender;
Email verifier;
Chrome extension for scanning domains.
24. LeadGibbon — email finder for LinkedIn Sales Navigator
With more than 500 million users, LinkedIn is an amazing source of customers. But it might get tricky to reach them — especially if you want to do it over email.
LeadGibbon is an email finder that plugs into Sales Navigator. Its Chrome extension can generate a business email address for anyone on LinkedIn.
What's even better, LeadGibbon can sync your lead data to a spreadsheet on Google Drive. You can use it to create a single place for all your LinkedIn leads. Helpful if you want to import your contacts to a different tool (like HelpCrunch)
25. Mailshake — sales engagement platform
Mailshake is a sales engagement platform that helps salespeople create highly personalized outreach cadences using email (via your personal email account), social, and phone. With Mailshake, you can upload a list of prospects with personalization fields like name, links to social profiles, phone numbers, and even fully personalized sentences and paragraphs.
Once you publish the cadence, the messages are sent automatically according to your campaign settings, and can be paused automatically if a recipient replies or clicks a link. When a lead engages with your outreach, you can reply to them directly from Mailshake, or through your own email. You can also track your campaign's performance in real time, and see which messages in your cadence have the best sales engagement.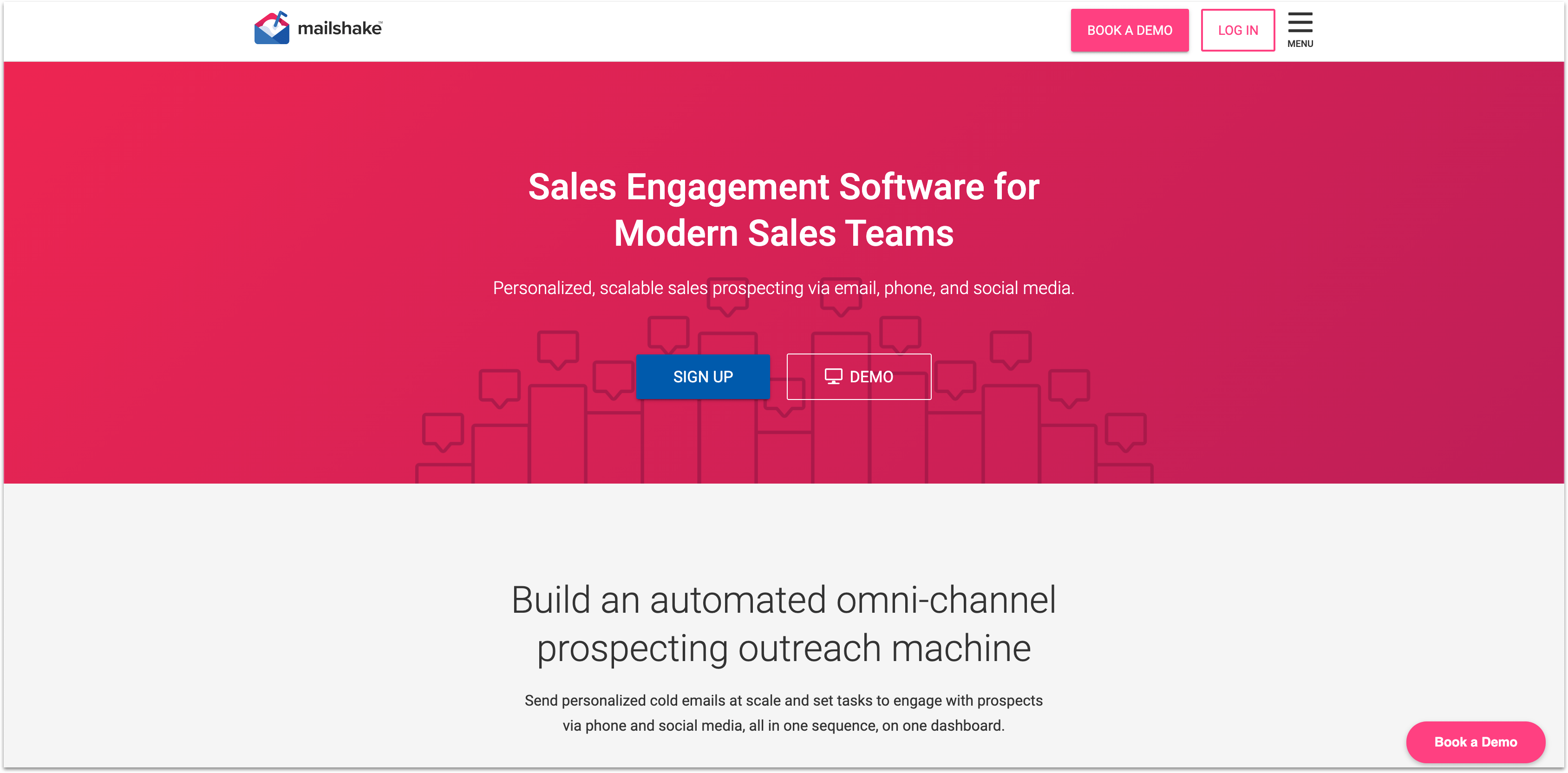 Social media management SaaS tools
Social media marketing is often underestimated. Many companies limit themselves to creating a Facebook or LinkedIn page and posting some rare stuff on Twitter. The best of their efforts is to turn to an advertising agency for getting leads. The truth is, social media are still important and effective is you find your own way to stand out.
26. Buffer — social media management SaaS tool
Buffer is a handy tool to manage all your company's social accounts in one dashboard. Above all, it's convenient for scheduling social media posts. Just set the schedule you need and Buffer will publish everything automatically.

Buffer also tracks your social media posts' performance and provides you with insightful stats.

There's no need to monitor all your social media accounts separately for new comments and messages. They all land into one dashboard and can be easily managed from there.

27. SocialBee — social media automation SaaS tool
SocialBee also auto-posts in your social media accounts. But they do it not only based on a set schedule, but also on categories. They claim that it's important to mix different types of content in your social media accounts so that people won't get bored.
28. Lempod — LinkedIn engagement SaaS tool
Lempod is a simple tool for LinkedIn that helps "generate leads, get traffic and increase your company's awareness" there.

You find LinkedIn Engagement Pods on lempod with the same target audience (for example Pod for Marketers, or Pod for SaaS). Then you add your LinkedIn post that you've already published to that pod and everyone who is in this pod will automatically like and comment on your post. As a result, a lot of relevant people engage with your content and you get 3x-10x more LinkedIn views.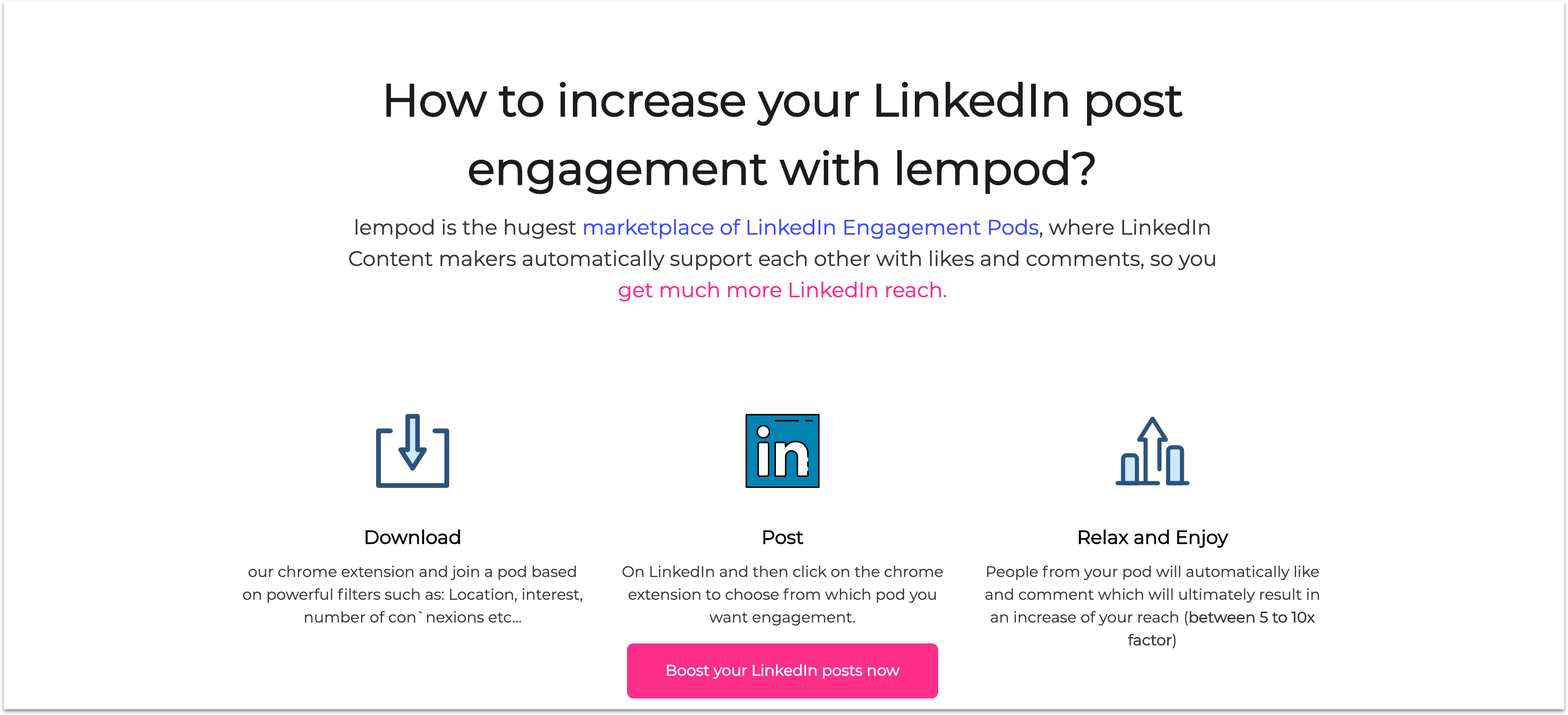 29. Rebrandly — link management tool
Use Rebrandly to brand, track, and share short URLs using a custom domain name for the links that you create and share on social media. Branded links can increase your click-through rate by up to 39% and increase trust and brand awareness. This tool also provides a handy analytics feature which allows you to track your links and see what kind of content your audience prefer on any channel.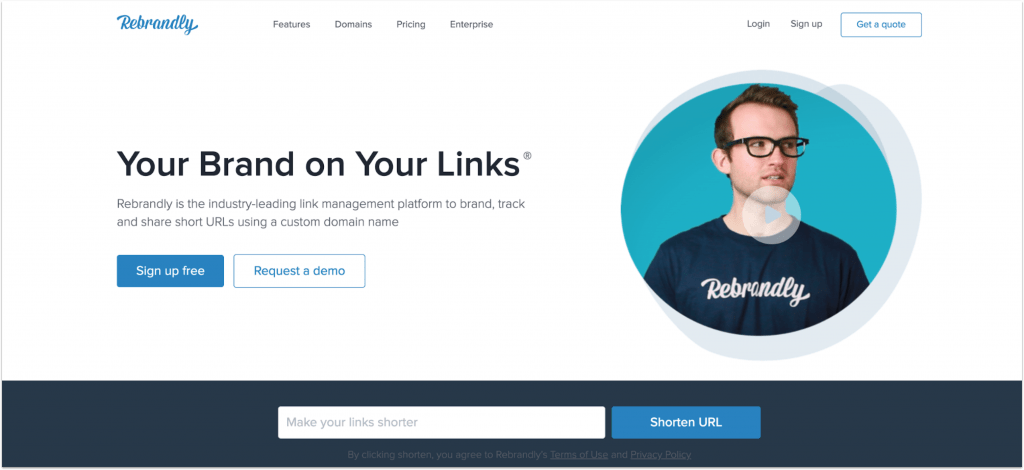 Content marketing SaaS tools
Honey, I'm home.
Or so I thought…
I thought I would feel most comfortable talking about content marketing tools. I mean, I am a content marketer for god sake.
Turns out I only use Google Docs and my writing aspiration when it comes to creating content.
Well, I sure read a lot of newsletters in search of inspiration, I also spend quite some time at Giphy in search of god knows what. But this way even my iTunes can be counted as a content marketing tool as it kept me sane during deadlines too many times.
Come to think of it, there's only one more tool that I can't imagine my content marketing life without. The tool is Grammarly.

30. Grammarly — spelling checker
Grammarly is an excellent tool for content marketers who like double-checking their writing. They also have a handy Chrome extension, but I like the web version better.
All you need to do is to paste your text into Grammarly text editor and choose a few options like intent or style for better checking
The tool will then highlight your spelling and punctuation mistakes – if you have any. You don't even need to correct them manually as it gives you an option to do it in one click together with an explanation of your errors (if you're open to criticism).
Now, excuse me, but I need to go throw these 4K+ words into Grammarly and correct some embarrassing mistakes.
31. Feedly — content aggregator
Feedly is a great source for content inspiration and overall, keeping up with what's going on in the world. Even though I use Pocket and their daily newsletters to fish for ideas more often, Feedly is a great resort for when you want more.
It compiles news feeds from different online sources and shows them to users based on their tastes and preferences. You can then organize relevant articles into boards or share them on social media. And yes, you can submit your own content there as well.
In addition, Feedly has a keyword alert tool, which will notify you every time someone mentions your company or other relevant topics.
32. BuzzSumo — content discovery SaaS tool
BuzzSumo is quite popular in its niche. Many content marketers know about their free version, which helps us understand what topics perform best at a particular moment. Just enter a keyword into their search bar and the tool will show you a list of pages on a given topic that got most social shares. This way you can find some content ideas based on what interest people at the moment.
Naturally, there's much more to what BuzzSumo can do:
Brand monitoring;
Content curation;
Competitor research;
Question analyzer for Amazon, Reddit, Quora and Q&A sites.
33. Storychief — content curation SaaS tool
I must say I like Storychief's text editor. It's somewhat similar Medium, and Medium's text editor is the most convenient thing content marketers have in this world.
So yeah, you start with publishing your articles on Storychief and after this you can create your content campaigns. To use StoryChief most effectively, you have to connect your social media accounts, content management systems (aka WordPress and stuff), email marketing tools and other channels with your Storychief account – and put all the content sharing on autopilot.
Website management SaaS tools
This is rather a wide category of everything connected with building and maintaining your business website.
I could, of course, start with WordPress, but it didn't make much sense since it's too obvious a choice. So yeah, there's WordPress. And there are some other tools worth your attention. Let's talk about those.
34. Weblium — website builder
Basically, Weblium is an easy and intuitive website builder. You can add or remove different elements and blocks, manage fonts, button styles, color schemes – your final result will always stay nice-looking, responsive and perfectly adjusted.
Their library has more than 200 ready-made blocks in it, which are filled sample content to give you a general idea of how everything will ultimately look. And you'll be able to edit everything instantly on your website – add texts, images and videos and change what you need to change in one click.
BTW, you can always use their ready-made templates as well.
35. Figma — collaborative design SaaS tool
Figma is a very convenient web-based tool for designing and prototyping web pages. It's crafted so that multiple people could work on one design at a time and all the changes will get updated in real time.
For instance, our marketing manager Daniil constantly uses Figma for designing our landing pages, while my favorite thing about Figma is their commenting feature. You can leave your deprecating comments all over the page and collaborate with your teammates even more productively.
Obviously, comments are not all to Figma as it offers tools for the following use cases:
Graphic design tool for creating logos, graphics, presentations;
Prototyping tool;
UI/UX design tools;
Wireframe tool.
Figma also provides a set of ready-made templates for Facebook ads, charts, wireframes and so on.
36. Fullstory — user journey tracker
Fullstory is a tool that captures and records all the interactions your customers have with your website or app. It'll show you which pages they visited, what they clicked, where they went after that and so on. Basically, you'll be able to track the whole user journey in all kinds of forms – from conversion funnels to heat maps.
As they claim themselves on their website:
'One small snippet of code captures everything on your site — every page, every click, every mouse movement, and every dynamic state change.'
37. LambdaTest — cross browser testing tool
LambdaTest is a cloud-based cross-browser testing platform. It helps with both manual and automated browser compatibility testing. Users can perform live interactive testing of their website or web app on a combination of 2000+ different browsers and operating systems right from their own browser. The platform allows the users to run Selenium Automation Tests, Screenshot Tests, Responsive Tests, and Smart tests of their public or locally hosted websites and web apps on the cloud.
LambdaTest also offers a unique developer-friendly desktop application called LT Browser. It helps to compare and debug your website on 45+ mobile, tablet, and desktop viewports in one click. In addition, the LambdaTest platform also has single-click integration with popular project management and enterprise tools like Jira, Asana, Trello, Github, Gitlab, BitBucket, Slack, etc.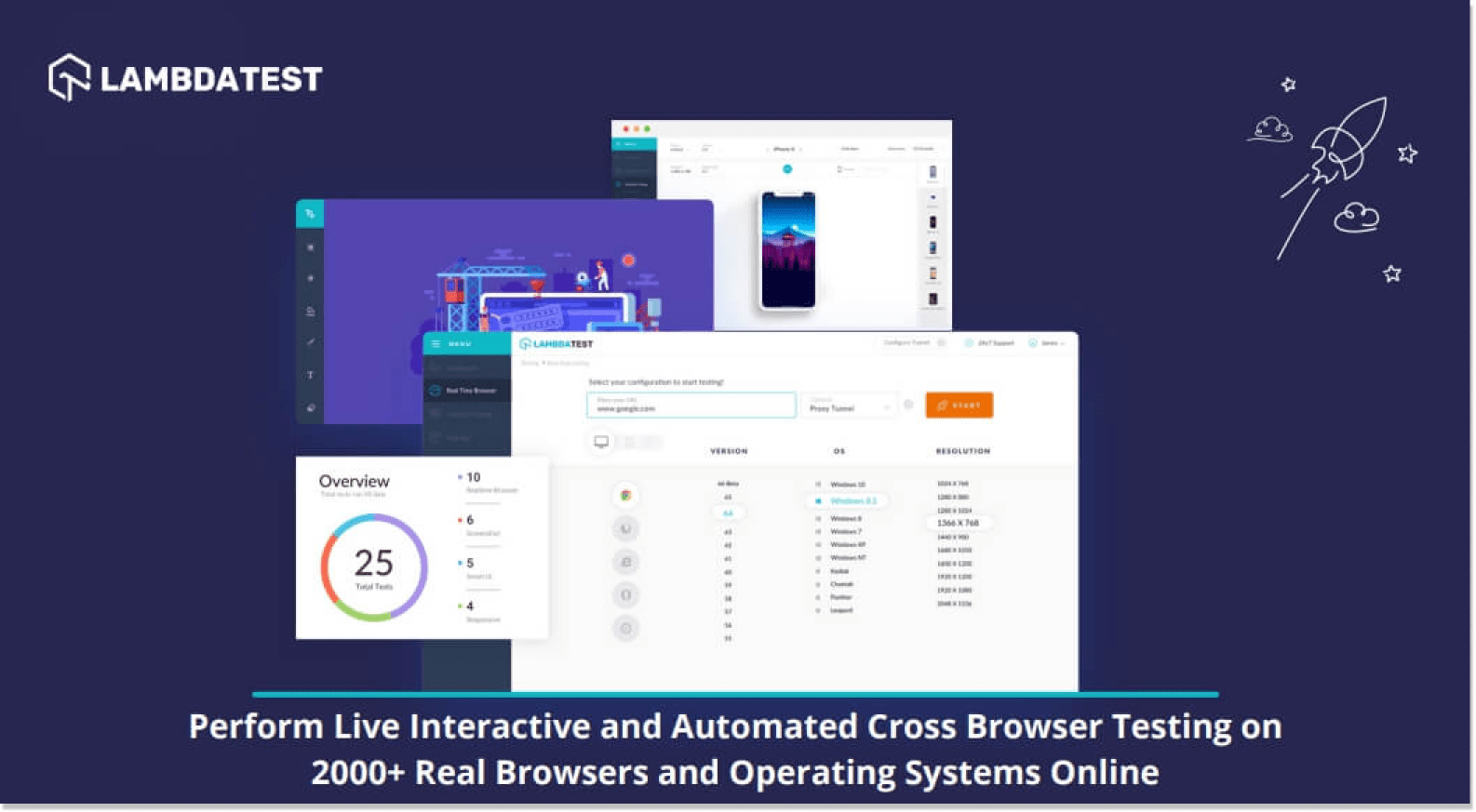 38. Hotjar — heatmaps and visitor recording SaaS tool
Hotjar is basically a very similar alternative to Fullstory (or other way around). It's a go-to tool when it comes to analyzing and mapping your user journey.
Just like Fullstory, they record everything a user does on your website or within your app and show it to you in heatmaps, recordings of visitor actions and tons of stats.
Payment processing SaaS tools
Here's an obvious thing. You need money to run a business. Unless you have generous investors who are ready to pay you asking for nothing in return, you need to charge customers for your services.
And for this you need a reliable secure tool that will process your payments.
39. Stripe — payment processing tool
Stripe provides three basic solutions that cover all possible payment issues you can have as a business owner:

Payments. If you want to charge your customers on a regular basis or for a one-time subscription, you take Stripe's Payment tool and integrate with your product.
Billing. This is the tool for crafting and building a billing model. This feature is created in such way so that you could integrate, change, or scale your billing system easily any time you want to.
Connect. Connect is the tool for marketplaces that acts as an intermediate between them and their third-party sellers.
Team collaboration tools
From communicating with your teammates to tracking their work progress – every business needs efficient tools to manage its employees. In my opinion, the following three are the most essential SaaS tools when it comes to team management.
40. Troop Messenger — team collaboration and workplace communication platform
Troop Messenger is a tool that helps office teams to communicate over a feature-rich chat interface. All the work conversations and their follow-ups are tracked in real-time within its Groups. Easy to conclude the discussions on all work items with the help of calling features, screen share, and online meetings with video conferencing.
You can create unlimited groups by adding unlimited members to each group. Also, it has the concept of Airtime groups with unique specialties where only the group admin/moderators can send messages to the users.
It allows users of all plans to access unlimited message history.
Unique features
It has a myriad of features such as Burnout (incognito chat), Advanced filters, Forkout (send a message to multiple people at a time), Recall, Audio messaging, Flag (mark important messages), etc.
Besides, Troop Messenger has many special features in it to have a faster team and work collaboration.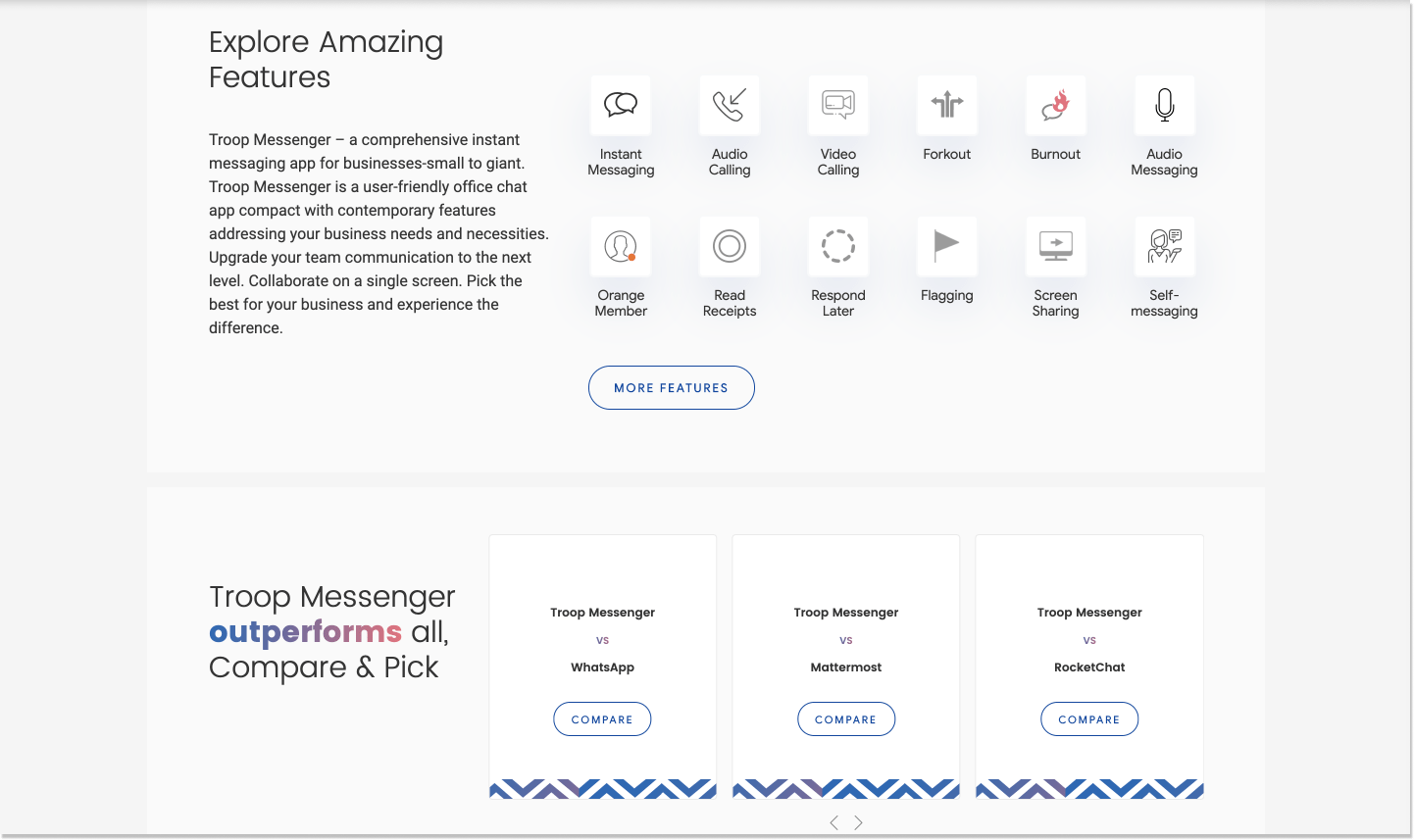 41. Chanty — team chat
You must have heard about Slack, the tool that disrupted the world of team communications and brought it to the whole new level. Well, the truth is, as good as Slack is, it's not perfect and causes a lot of frustration. It will just suffice to mention their chat history limit of 10K messages on a free version.
Chanty with its clean and easy-to-understand design and unlimited message search on a free subscription is a great alternative to Slack.
The tool has all the necessary features for effective team communications:
Consists of two panels next to each other – one for your contacts and one for conversations.
Video and audio calls;
Built-in task manager, where you can turn any message into a task;
Lots of third-party integrations like Google Drive, MailChimp, Trello, GitHub, etc.
Chanty's paid plans are also more affordable, which makes them a great choice for small and midsize businesses.
42. Trello — collaborative task manager
If you're running a team of developers (and like things more complicated), you would probably go with Jira to organize and manage tasks. But my heart belongs to Trello for their nice and simple boards and cards.
The workflow is very simple. You add a task to the 'To do' list and then move it from board to board as the work progresses. Add comments and attachments if you need to and enjoy the simplicity of the tool.
I use Trello + Google Sheets combination to analyze the performance of my team. So, I establish Trello to Google Sheets integration and build a custom dashboard based on my Trello data. I set up my dashboard to automatically update on a schedule, thus I don't waste my time on manual copy-pasting
43. Timely — time tracking SaaS tool
If you work with freelancers on an hourly basis, you need a nice tracker for them to keep a record of their work and for you to check on them from time to time.
When you turn the tool on, it starts counting the time you spent working and keeps all its records in a handy timeline. Timely's AI tracker can them group your tasks together automatically showing you time logs.
With the tools for project managers, they will have a full picture into how many hours every member of the team spent on each particular task.

44. ProofHub — project management SaaS tool
ProofHub is a project management software that intends to bring all the tool you and your team needs to operate successfully within a workplace, as well as remotely.
This platform comes equipped with features to improve the way planning, collaboration, monitoring, reporting, proofing, and other critical project management processes are done. With ProofHub, you, as a project manager and as a team member, get ultimate control over the work you do.
It helps you commit to your role, plan your work (tasks, subtasks, and milestones), manage your work within a workflow, keep everyone in loop via quick chats and discussions, visualize work as it progresses in a timeline view, get files stored/organized/reviewed/proofed in a streamlined manner, and stay connected to work even on the go, using one work management system.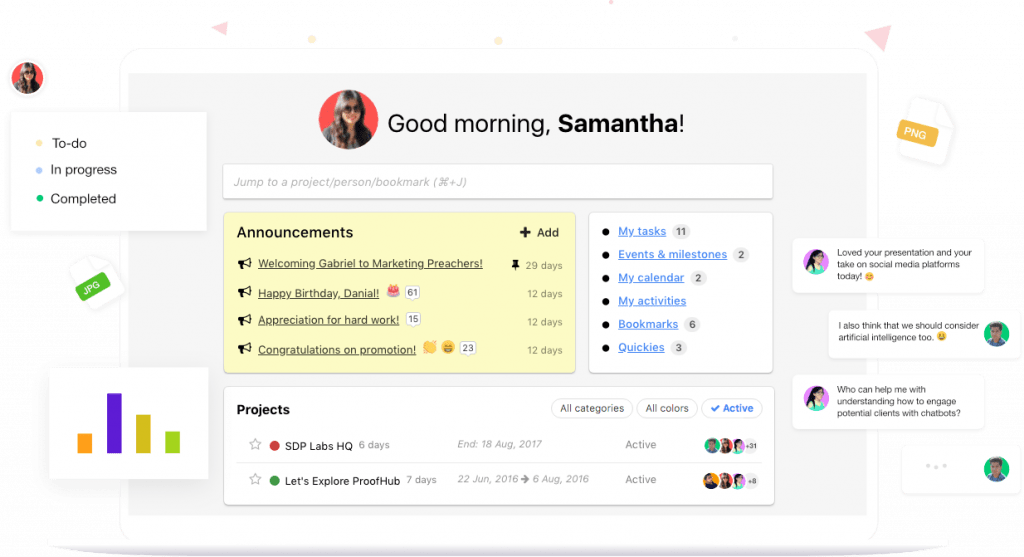 45. Toggl Plan – team management & work planning SaaS tool
Toggl Plan provides simple, drag & drop tools to help with planning tasks, teams, and projects. The color-coded timeline & kanban board gives an overview of what everyone is working on, when important deadlines & milestones are, and more.
Plus, shareable timelines help keep everyone (including clients and other stakeholders) in the loop about what is happening and when, plus who is responsible for what.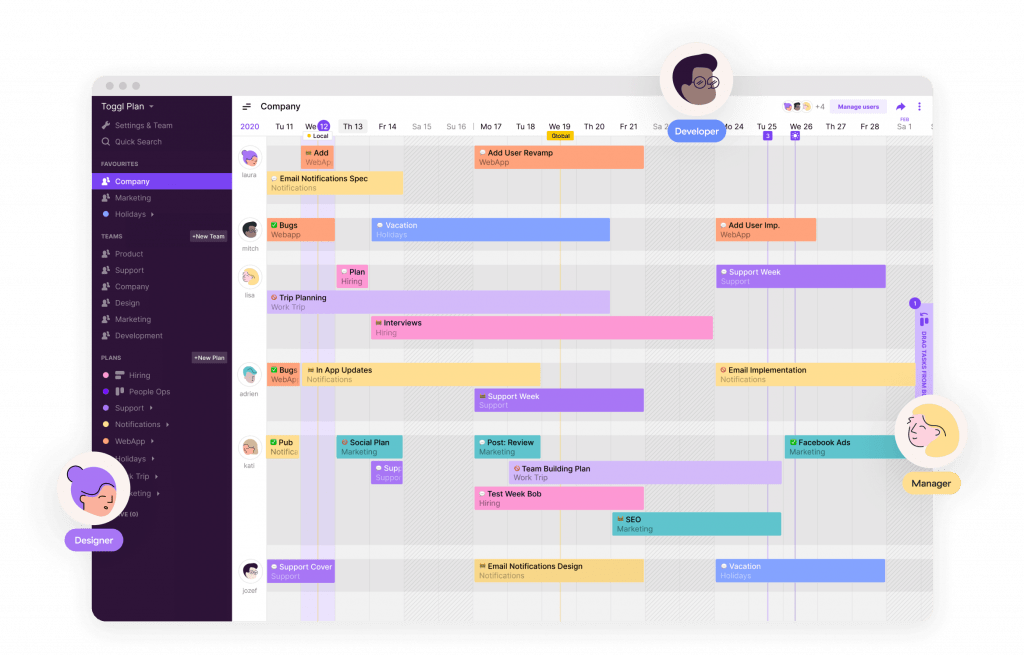 46. Xtensio – collaboration platform
If you're looking for the easiest way for teams to share and create living documents, check out Xtensio. It's a communication and collaboration platform designed to help out small businesses, start ups, consultancies, agencies, freelancers, or any teams that want to stay connected even while working remotely.
With Xtensio, you can create presentations, pitches, reports, proposals or any online documents you need. It also allows real-time exchange of ideas among team members. Its easy-to-navigate features give its users the freedom to strategize and communicate at ease. Teams can automatically save and sync edits across all devices and they can even share links among collaborators so they are always up-to-date.
One great feature of Xtensio is that it ensures brand consistency. Teams can work under their own-designed dashboard and can set their style guide so their folios are always on brand. The tool is also a great aid for teams to organize and manage their documents. They can tag and categorize their documents or folios, for instance, based on their client, project or department. They can also control levels of access for all users which adds protection and privacy of their documents.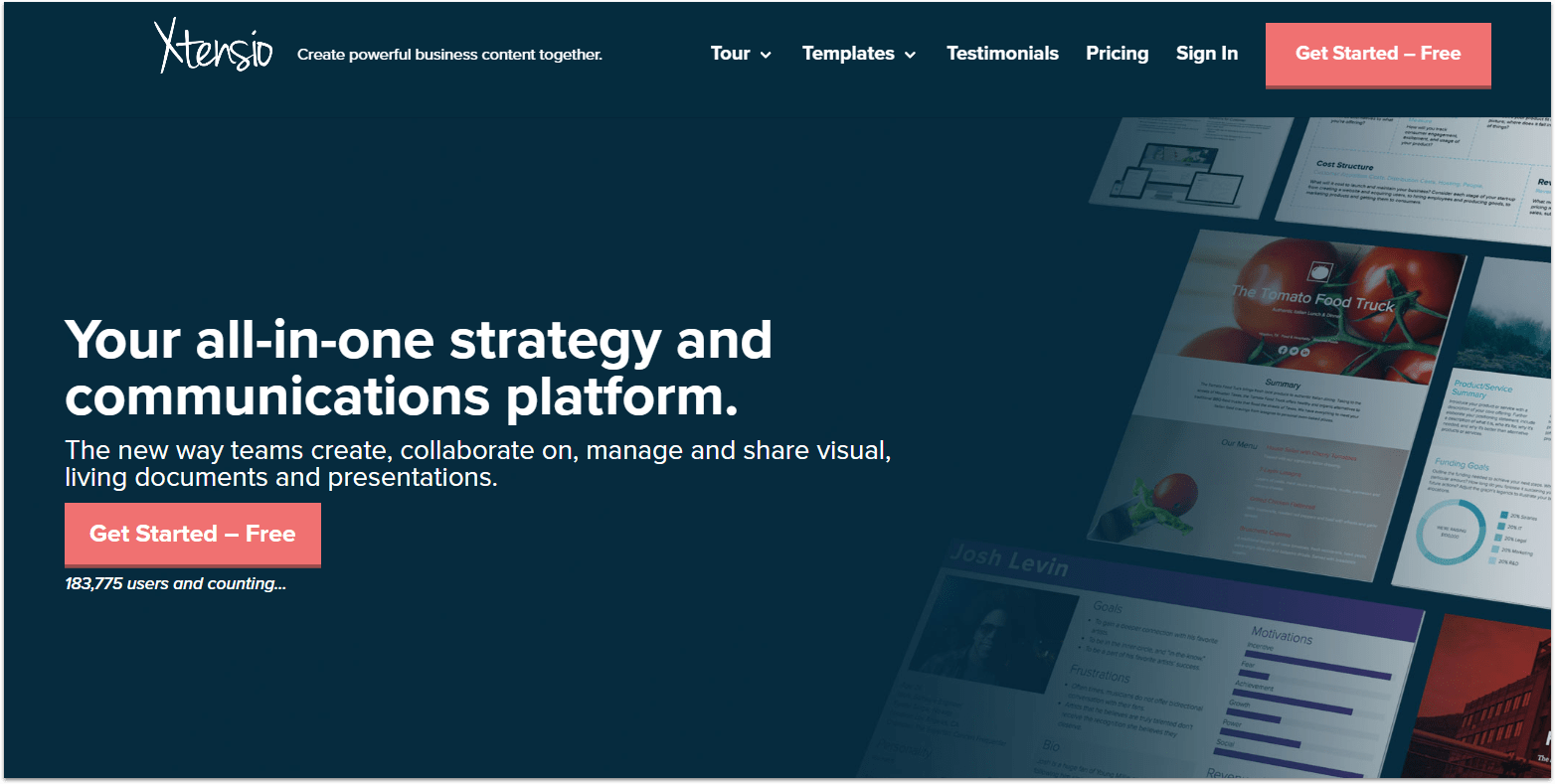 47. Time Doctor – time tracking & employee monitoring SaaS tool
Time Doctor is a time tracking and productivity app to make sure that you are productive and help to eliminate distractions. It is a great tool built for remote teams but can also be used by individuals and freelancers. It enables you to track exactly where time was spent each day, analyze which websites were visited and applications were used on your computer.
For teams, it helps by automated timesheets, productivity reports, activity summary, time spent on various projects and tasks and much more. Time Doctor does not monitor anything on a person's computer when they are on a break or when they are not working. So your team can be comfortable knowing that they are not being monitored during their own time.
It is available to use on Windows, Mac OS X, Linux, Chromebook, IOS & Android. It also offers Chrome extension and integrations with more than 32 best apps.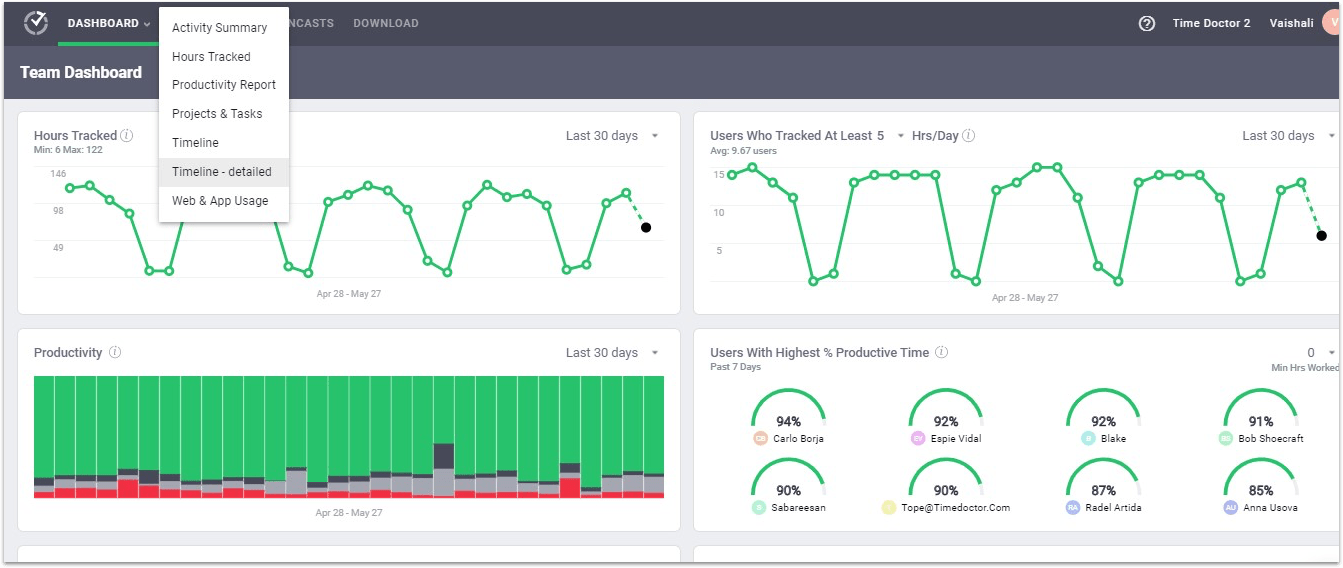 48. Oneteam — team collaboration tool
Oneteam is a team communication app is an all-in-one tool designated to facilitate communication between remote teams, frontline workers and crisis communication. Since Oneteam can be accessed only via an invitation from the corporate IT admin, it ensures that the communication is corporate-only.
Instant messaging is the core offering of Oneteam, along with VoIP calling, group messaging and file transfer.
Employees can communicate with business contacts over VoIP calls
Users can attach images, files, documents and voice notes
Users can forward messages and flag important messages for future use
IT admins can create group chats and configure group chat settings
Oneteam app is available for Android and iOS devices. IT admins can create business contact lists and channels using a web-based dashboard.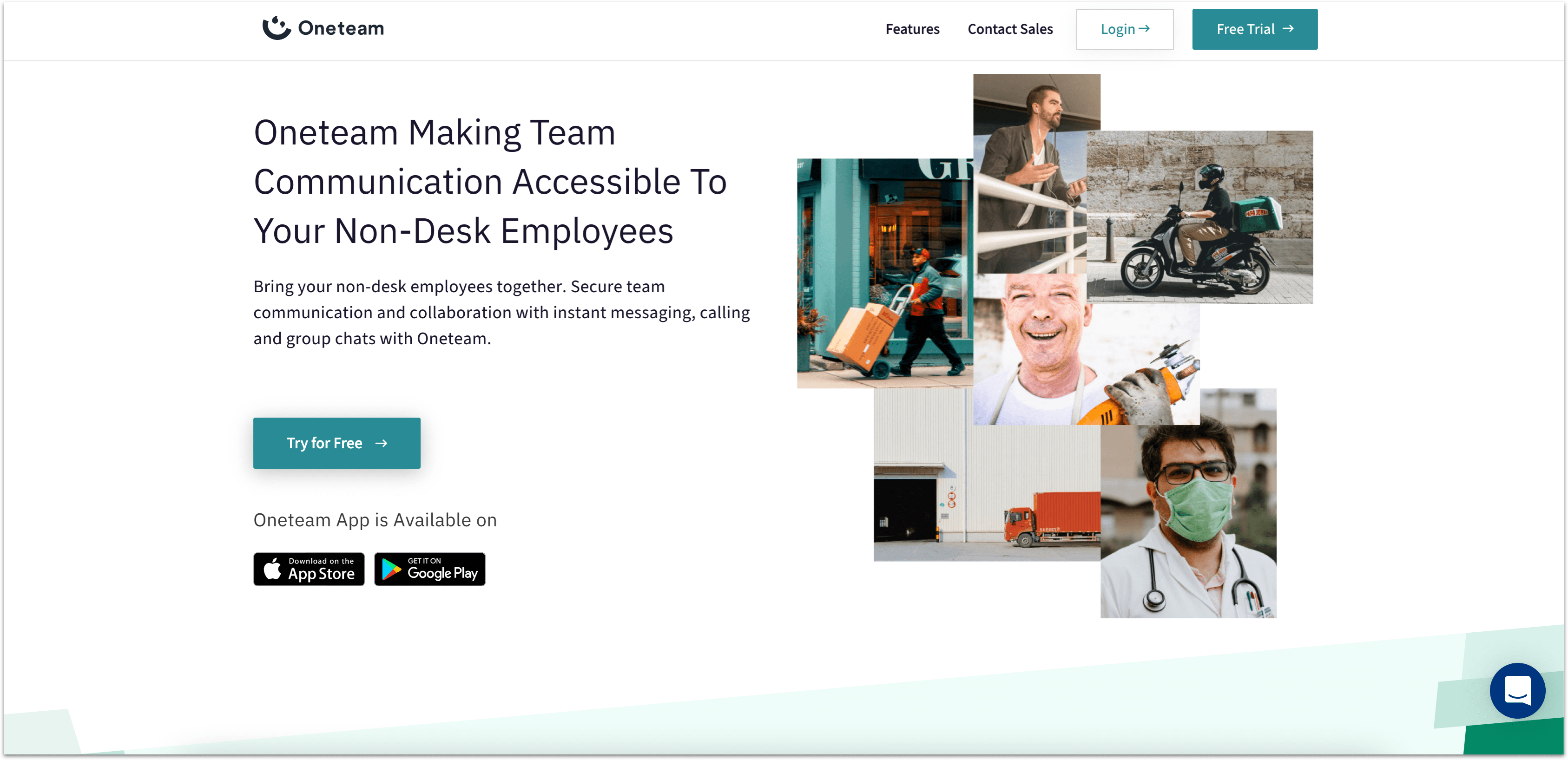 49. ContactMonkey — internal communication and employee engagement software
ContactMonkey is an internal communications tool that allows you to create stunning, responsive emails from your Outlook and Gmail inbox using a drag-and-drop template builder. Collaborate with your team using Revision Comments to share feedback on templates with your team.
You can also easily gather anonymous feedback from your employees using pulse surveys, emoji reactions, eNPS, comments, and star ratings.
With ContactMonkey's powerful analytics dashboard, you can see how your employees are interacting with your internal emails. Measure unique metrics such as what device your email was opened on, employee feedback summary, read time, and most engaged recipients. You can also see segmented email statistics based on what department, title, and office location is opening and clicking your emails the most.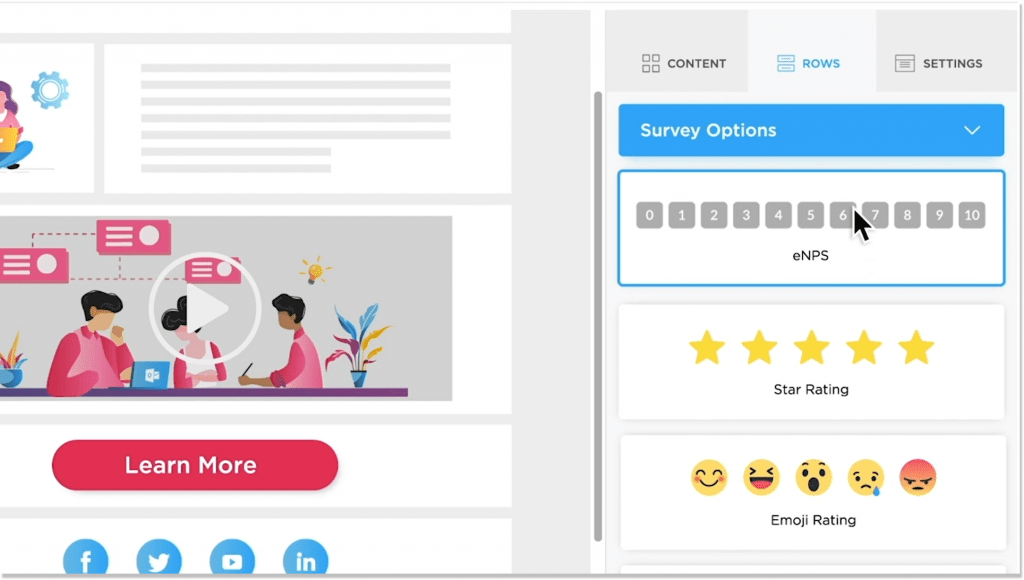 SaaS tools for random stuff
50. Calendly — scheduling SaaS tool
We at HelpCrunch use Calendly for booking demos and, in all honesty, I don't know any other tool that would be as convenient for scheduling meetings as Calendly.
If someone wants to book a talk with you, you just send them a link to your personal Calendly page and they'll be able to see all the available spots. After this, they just pick a time – and the meeting is scheduled.
51. Aimtell — push notifications SaaS tool
Push notifications are great when it comes to capturing more leads for further retargeting them. It's an elegant way to be visible and engaging, but not too irritating.
Aimtell is a great tool for crafting and sending targeted web push notifications to your website visitors. You can personalize them with custom attributes like first or last name, location, etc, while also basing them on both default and custom events.

52. Airtable — 'spreadsheet meets database' SaaS tool
I know, you're already using Google Sheets and don't see why exactly you need something else. But I just can't help but mention Airtable here as they make working with spreadsheets way easier.

Airtable helps you organize anything from clutches of data to tasks to ideas. Now, imagine every idea, task or event is presented in a spreadsheet and can be managed in a corresponding way. You can add all kinds of elements to your spreadsheet like checkboxes, links to records in other tables, barcodes and arrange them in any way you need.
Basically, Airtable is a database for everything.
Clever ecommerce is an assisting tools for your Google Adwords. It helps create custom-made ad campaigns across Search, Display, Remarketing and Shopping categories. The only thing is, their main focus is on ecommerce projects (the hint is in the name) as they only have integrations with BigCommerce, Shopify, and PrestaShop.
According to the reviews on their website, Clever ecommerce makes the whole process of setting up, automating, and optimizing ad campaigns way easier than if you did it on your own. If you're only starting your PPC journey, the tool can help you a lot.
54. Prisync – price tracking SaaS tool
Prisync is a price tracking and dynamic pricing SaaS for any size and type of e-commerce company to keep up with all the price changes in your market. Although I can check each price of my competitor manually when I have less than 10 products with 1-2 competitors it becomes dull and costly when I have more than that.
It automatically tracks your competitors' product prices once you enter them into the dashboard. Then you can dynamically price your products to rulesets that you determine to keep having competitive prices all the time. You will not only save a lot of time compared to manual tracking but also improve sales growth and profit margins by making better pricing decisions.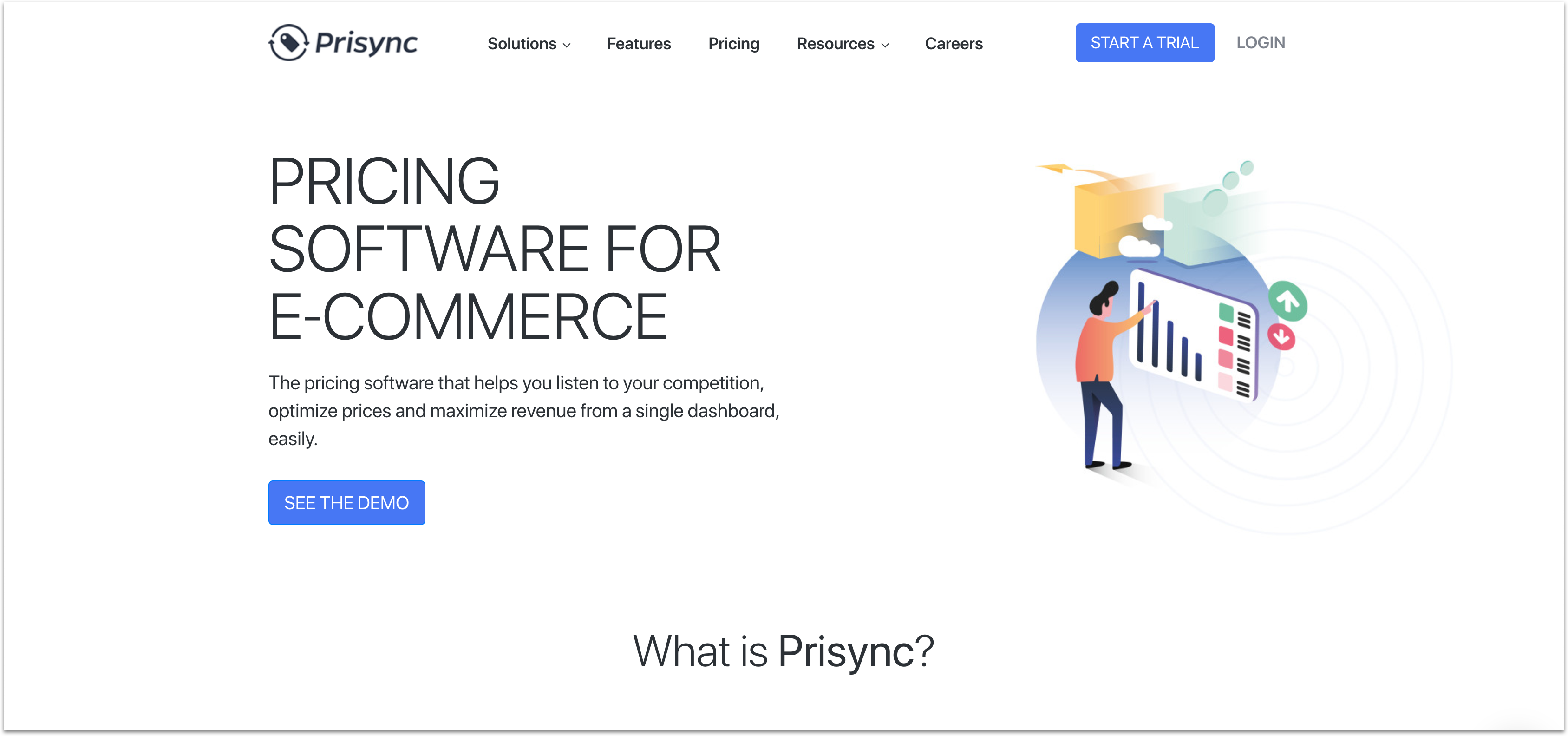 Bottom line
When I finished my research for this article I had around 100 tools on my list and wanted to mention them all. In the course of writing, I had to cut off many of them while adding some new findings.
There are so many great and helpful tools on the market these days that I'm pretty sure I missed some great ones. So, if you feel like sharing your personal favorite SaaS tools, I'd be more than happy to hear all about them.
HelpCrunch articles delivered straight to your inbox 🚀
All the latests posts. One email per month
No strings attached
Read Also
Tools
Doubting that JivoChat is the best solution to date? Then probably you are right. Take a look at the list of top alternatives and pick the best one for you.
Tools
There are many Tidio alternatives on the market today. But how do you choose the best one? Think about your current business needs and then dive right into the article. We've conducted deep research to help you make the right choice!
Tools
Do all these holiday season discounts make you feel dizzy? We've got you covered. This roundup features 23 massive Black Friday and Cyber Monday deals you don't want to miss. Be ready to apply your promo code!