To sign up or not to sign up? That's a good question. With Black Friday and Cyber Monday just around the corner, the answer is out in the open (positive, of course).
Hunting for the most lucrative discounts, especially if you want to invest in top-notch software without breaking the bank might be really exhausting. And now that the hi-tech niche is on its rise, you might even feel a little dizzy because of the pool of offers. Here's when this roundup enters the game.
We cover here 27 best Black Friday software deals you can't resist. Buckle up and have your best pick of discounts hot off the skillet.
Customer service tools
HelpCrunch – up to 50% off

HelpCrunch offers a wide range of features for quality customer support, sales, and marketing. The toolset includes live chat, knowledge base, popups as well as manual and automated email marketing.
After you install a live chat widget on your website in a few clicks, all messages from customers will be sent to a shared inbox. For efficient customer self-service, you can create a knowledge base as a separate section within your site as well as integrate it into your chat widget.
In addition, all contacts are stored in the basic CRM in your account so that you can follow up on them at all times. For example, you can send occasional one-time email blasts or set up special triggers to automatically send emails based on customer behavior.
Black Friday software deal
From November 1 to November 26, you can purchase the entire HelpCrunch toolset with a 30% discount on the first payment. Sign up for a free trial with the promo code BFCM2021💰
The offer sums up with our usual annual discounts. Therefore, if you sign up for a whole year, you save 50%.
Email marketing tools
Newoldstamp – 30% off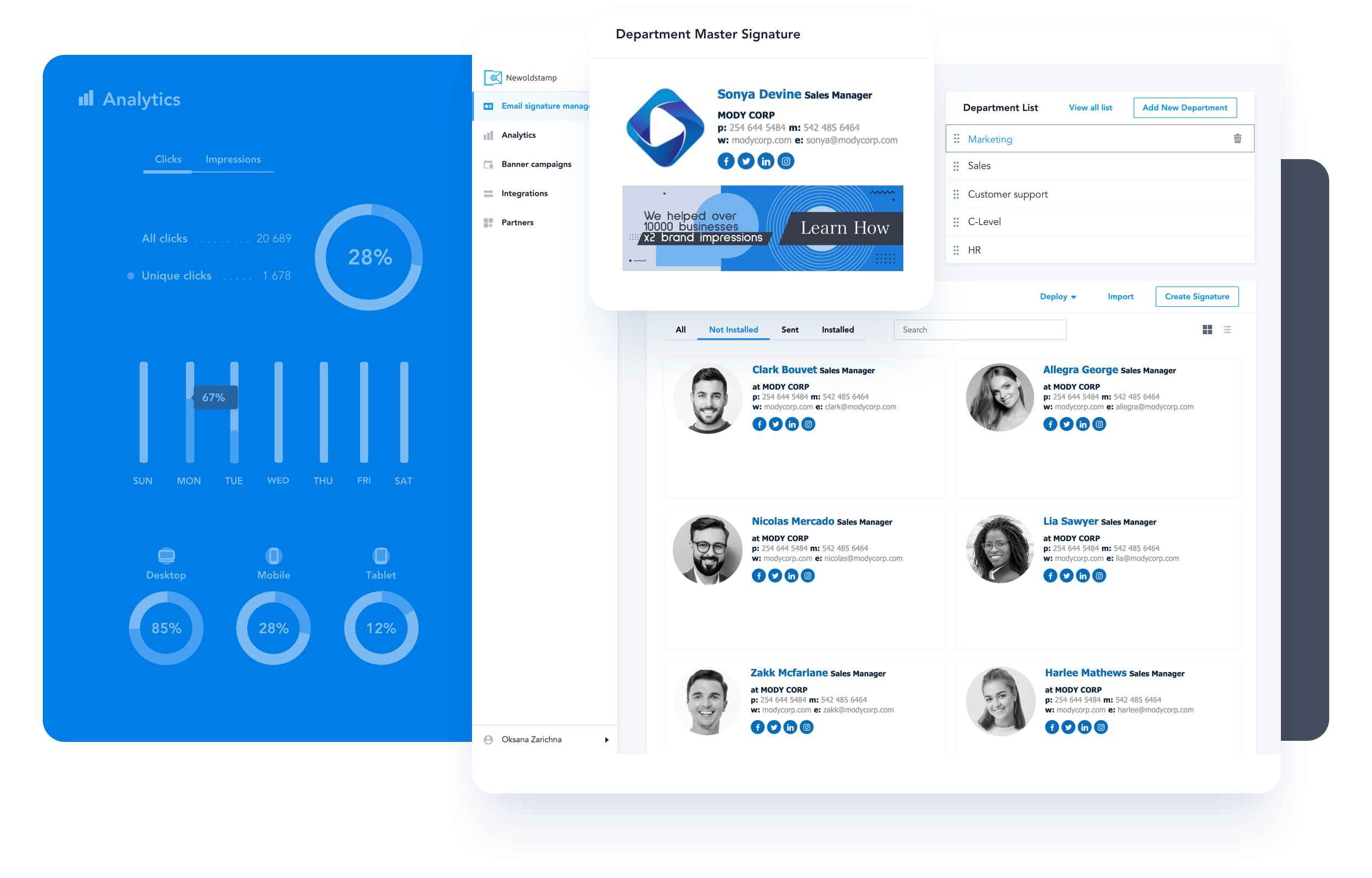 Newoldstamp is a top-notch email signature generator that lets you seamlessly create, manage, and distribute email signatures across your whole company.
Black Friday software deal
Use the promo code BF2021NOS and get 30% OFF on up to 25-Signatures Package (recurring discount for all next payments).
eSputnik – free month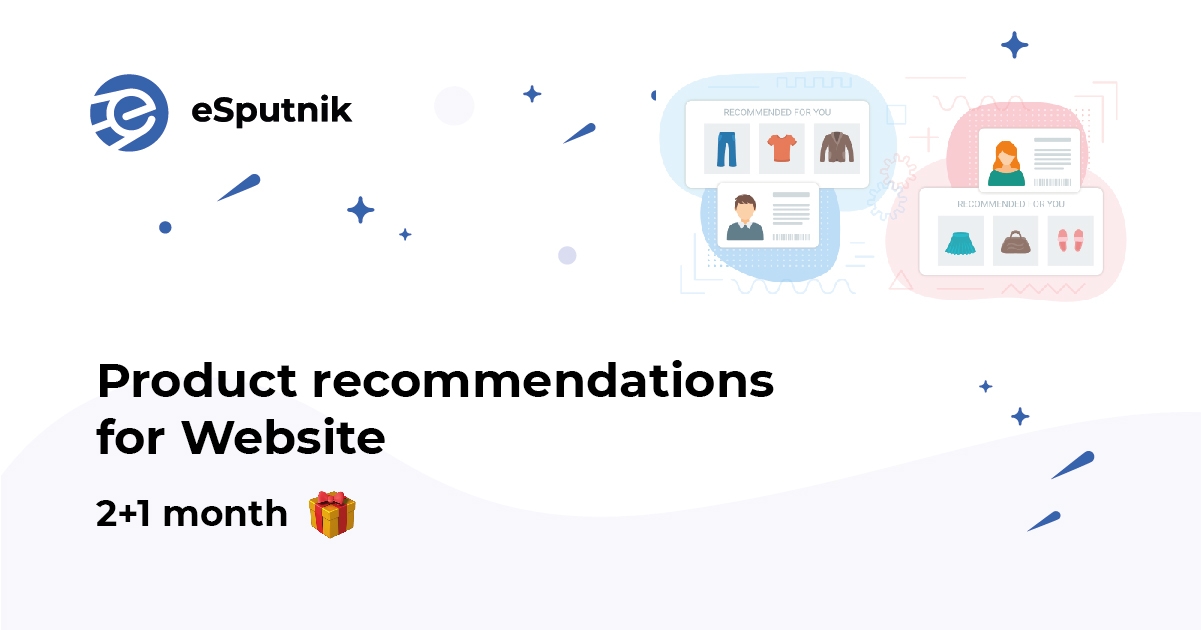 Personalized product recommendations are an essential selling tool in ecommerce. Recommendations allow you to increase conversion to purchase by 5-10%, sales of related products by 16%, site turnover by 15%.
Omnichannel CDP eSputnik has collected the most productive algorithms for generating product recommendations and placed them in a convenient system. You can customize recommendations on your own without involving programmers.
If you want to predict the future actions of buyers, taking into account the specifics of your particular business, our data scientists can develop custom algorithms for you. Together with eSputnik, you can integrate personalized product recommendations in 1-2 months and get immediate results.
Black Friday software deal
Black Friday offer: pay for 2 months of using the "Product Recommendations" functionality and get 1 more month for free! To take advantage of the offer, please provide the "eSputnik friday" promo code to the online support.
It's a limited offer available only on November 10-December 12.
Sender – 30% off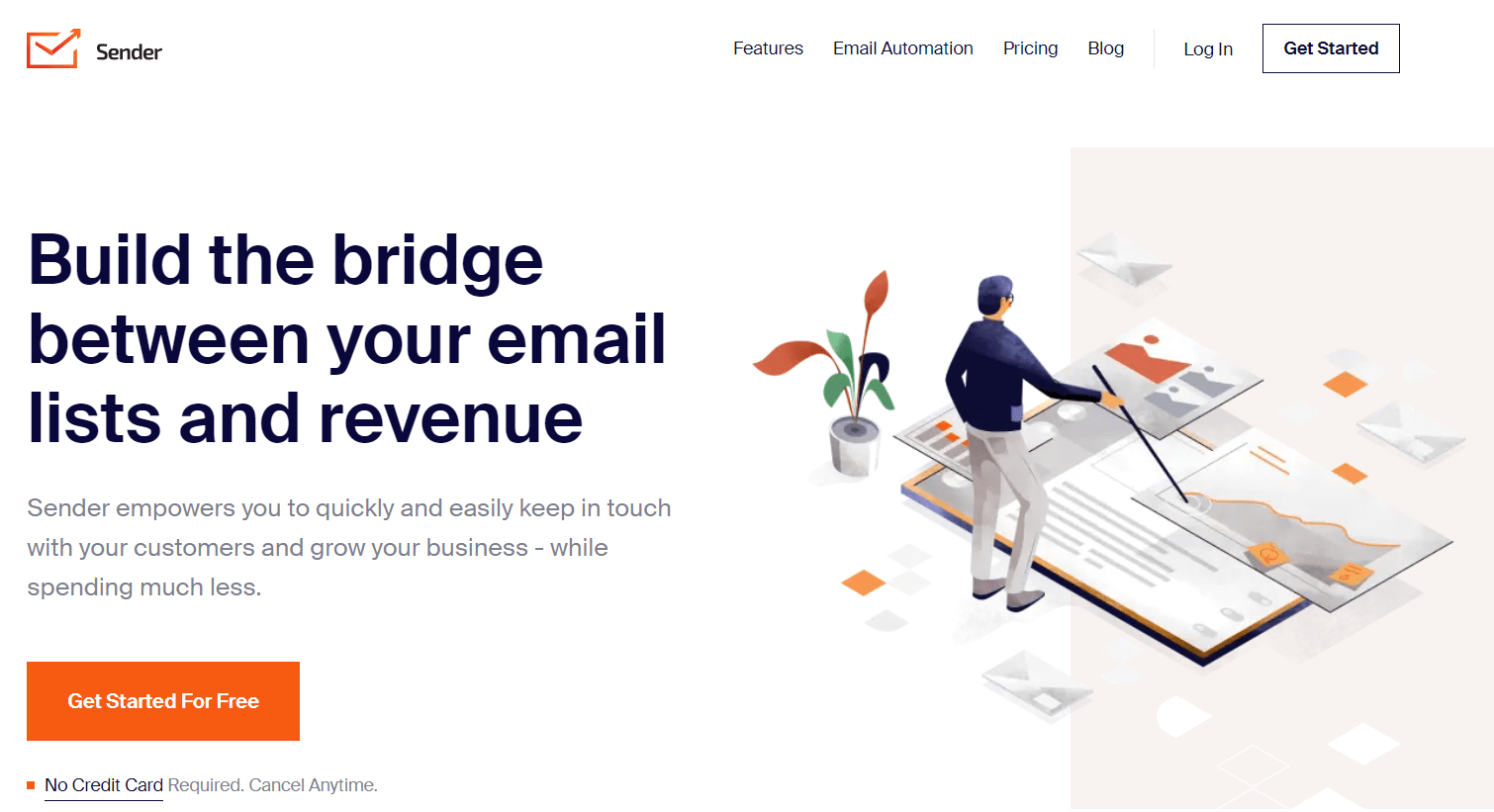 Sender is a rising star in the email and SMS marketing market. This platform lets you send email & SMS campaigns in one place. You don't need to use a few tools to manage your subscribers and automate your email or SMS marketing workflows.
Faster contacts segmentation. Advanced reporting. Easy to use email design-builder and free high-converting email templates for the best results.
Black Friday software deal
This Black Friday is special for Sender. This tool provides x4 better pricing than such popular solutions like Mailchimp or Klaviyo. Using our -30% Black Friday discount code BLACKOUT, you can save even more + additionally 2 months free by buying an annual plan.
MySignature – 50% off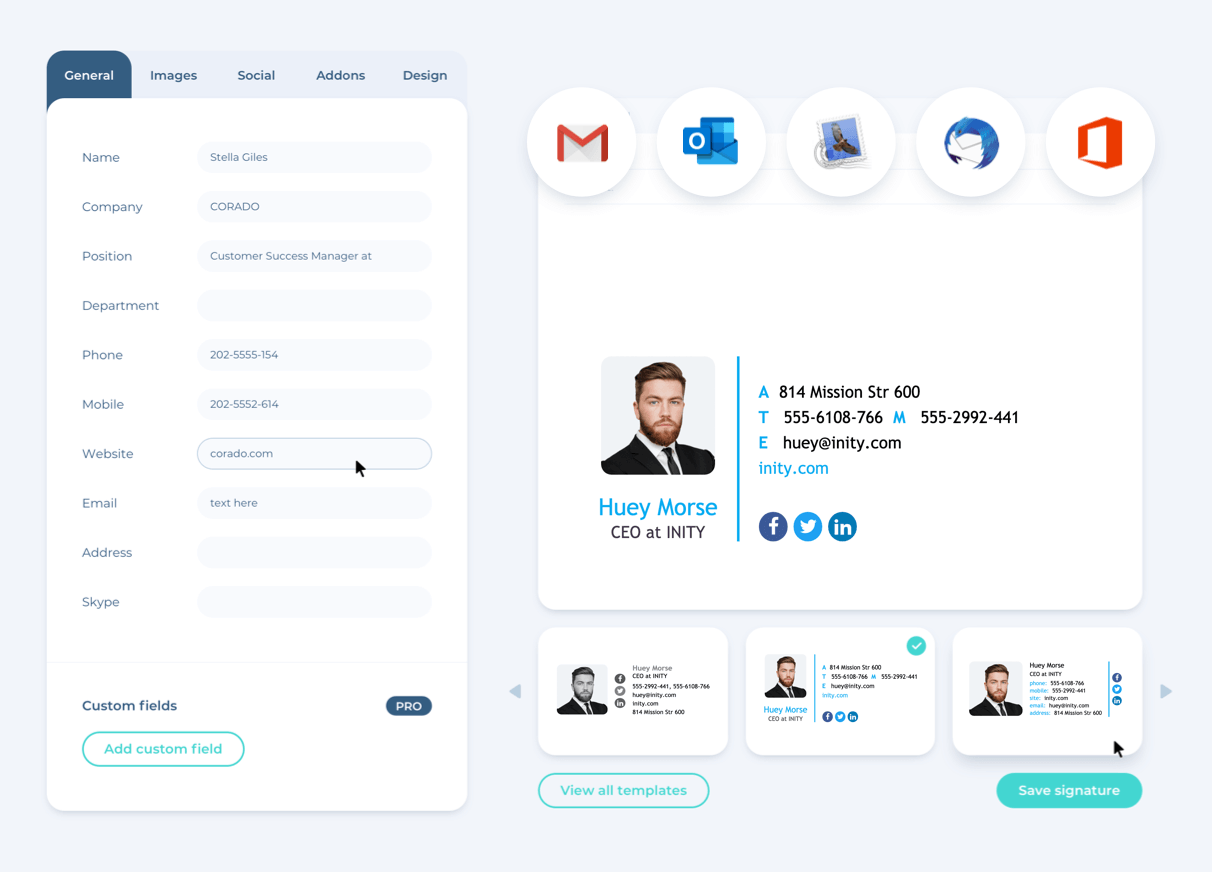 MySignature is a simple and advanced online email signature generator. It allows you to easily create branded email signatures and make your business emails look even more professional.
Black Friday software deal
Get 50% off recurring for the yearly plans with the coupon SigFriday2021.
SendX – 40% off

SendX is an Intuitive and affordable email marketing software for marketers & business owners with the pricing starting at $7.49/month.
SendX prides itself on enabling marketers with one of the simplest UIs in the industry. It provides unlimited email sends with every plan, powerful automation capabilities, 24×7 live support, best of breed email deliverability. 3000+ companies worldwide trust the company for their email marketing.
Black Friday software deal
From 26th to 29th November 2021, you can get 40% off any annual subscription plan. Read more about the deal here.
ZeroBounce – free credits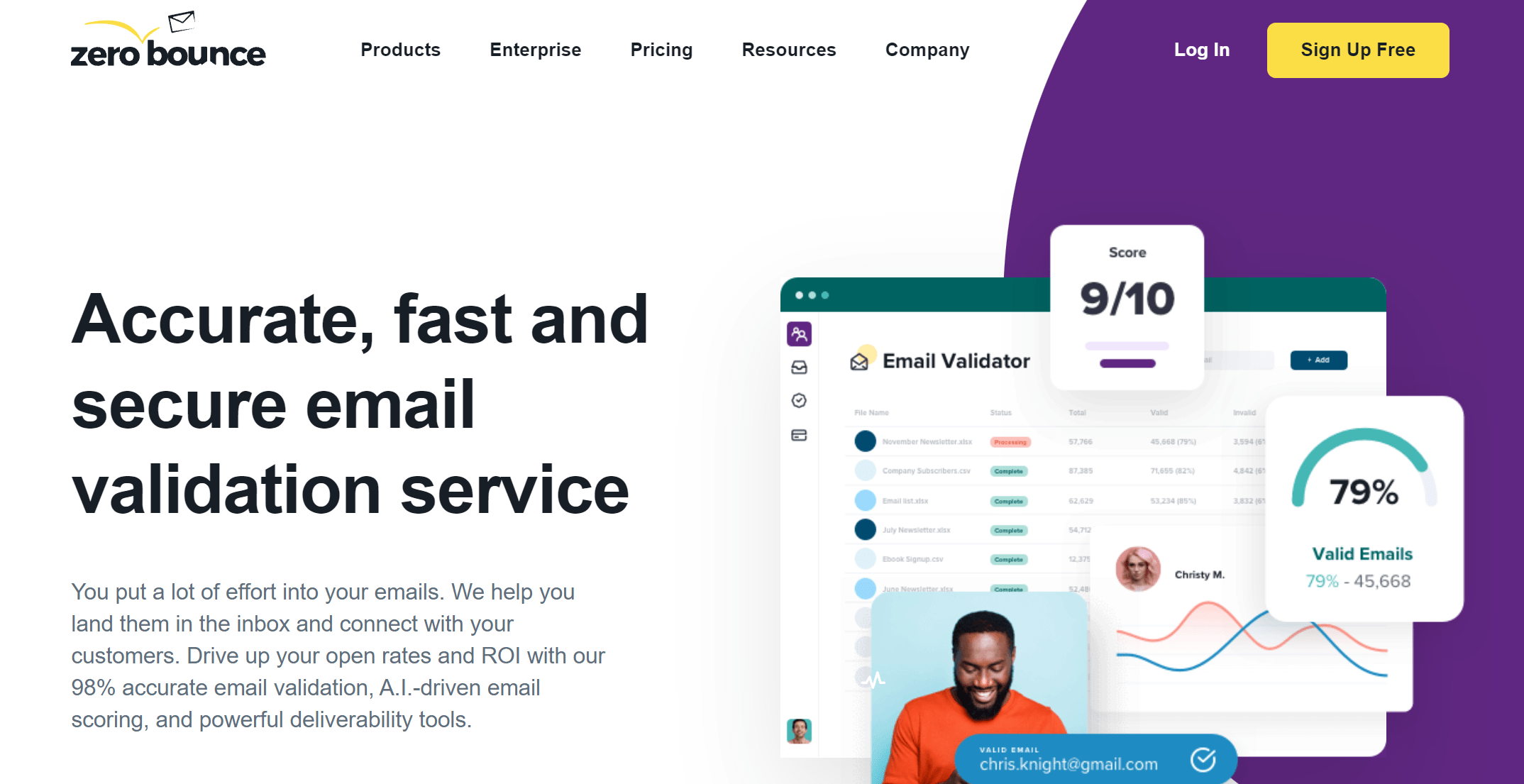 ZeroBounce is an email validation and deliverability platform helping more than 150,000 businesses land more emails in the inbox. With its 98% accurate email verifier and its suite of email optimization tools, ZeroBounce is the go-to email platform for companies like LinkedIn and Airbnb. Send with confidence, connect with your customers and prospects, and make more sales. Round-the-clock support from industry experts.
Black Friday software deal
Buy any number of credits at ZeroBounce – and get 40% more, for free. Credits allow you to validate, score and add subscriber activity for your contacts. One credit/email address.
The offer is valid from November 15 till November 30.
Social media tools
SocialPilot – 25% off annual plans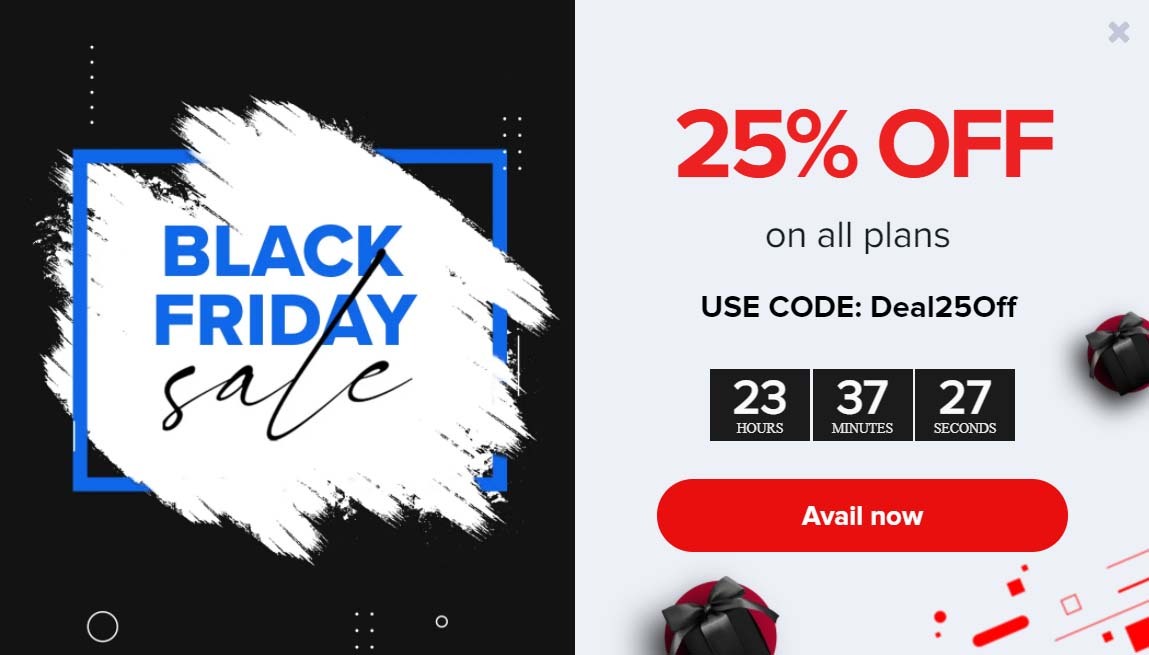 SocialPilot is the one-stop solution for all your social media marketing endeavors. Schedule posts at the best times, get white-label reports and track multiple social media profiles from a single dashboard. Enjoy these and much more with the leading scheduler at a really affordable price!
Black Friday software deal
This season, SocialPilot gets even more affordable with a flat 25% off all of its annual plans. Use the coupon code Deal25Off and add this tool to your suite right away.
Sotrender – 50% off

Sotrender is a tool necessary to analyze social media performance – both paid and organic.
By providing users with up-to-date, comprehensive, and informative reports, they can better understand their target audience, improve social media presence and outperform competitors. What's more, reports can be auto-generated for their ease.
By using Sotrender, marketers can now also analyze, and report, their ad campaigns from Facebook and Instagram. All the metrics, such as CPM, CPC or reach, are automatically visualized in real-time, which makes it easy to track ongoing campaigns. Generating a summarizing report takes literally one minute.
In Sotrender users can also track competitors' performance and the content they publish on their social media channels.
Black Friday software deal
Get 50% off any plan at Sotrender for the first 6 months. The offer is valid from November 27th to November 29th for all new users. To redeem contact the team via chat or email.
NapoleonCat – 50% off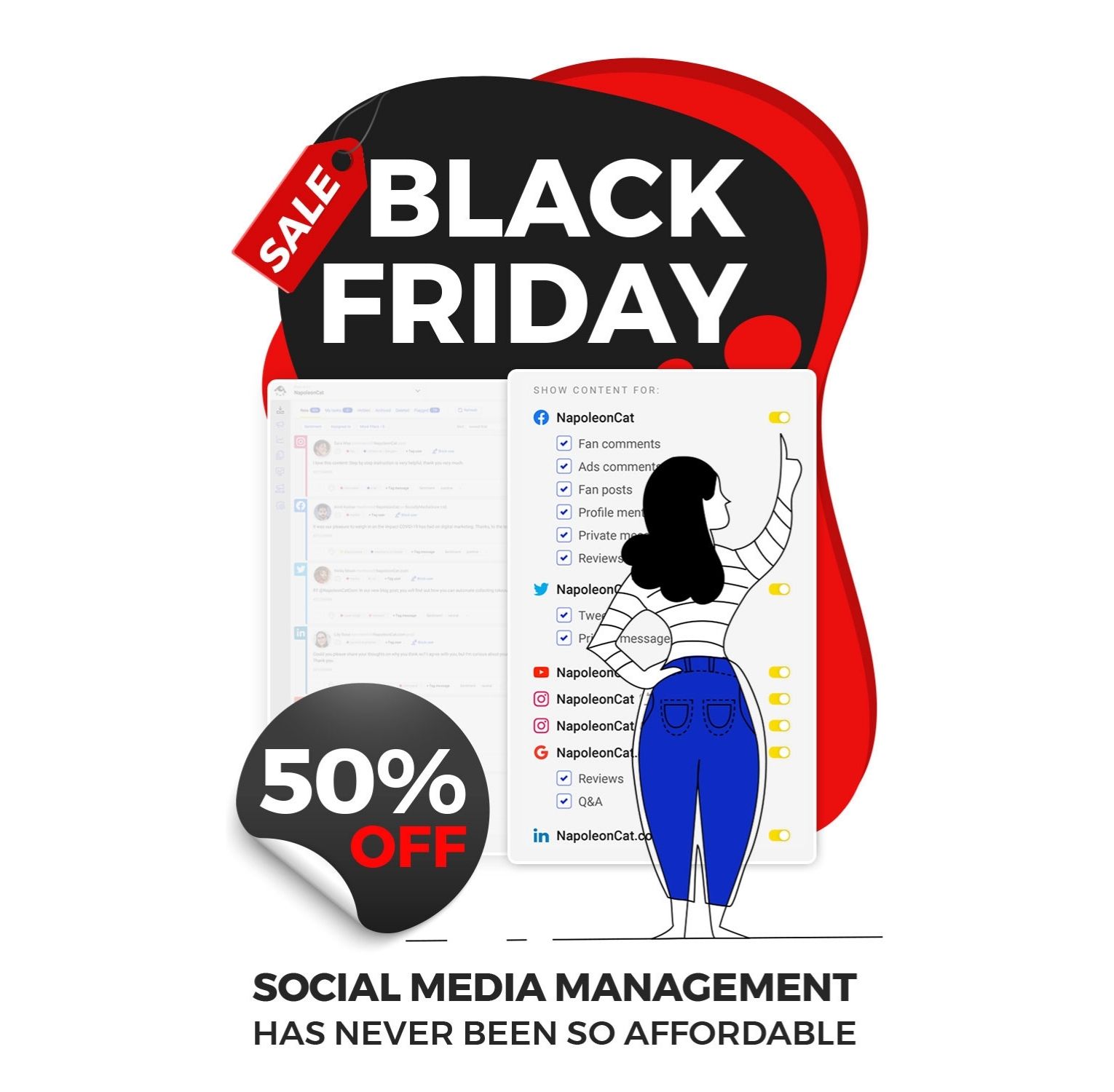 NapoleonCat is one of the leading social media management tools available on the market. It's flagship product, the Social Inbox, allows you to manage different social media interactions from all major social media platforms: Facebook, Messenger, Instagram, Twitter, LinkedIn, YouTube, and Google My Business.
The tool's other functionalities include Auto-moderation, a feature that helps you filter out and automatically handle generic, repetitive comments and messages on social media, Publishing and Scheduling, advanced Analytics, and Reporting.
Black Friday software deal
This Black Friday, you can get 50% off NapoleonCat's annual plan. No coupon needed, just register via the dedicated link between the 17th and 30th of November.
Brand24 – 50% off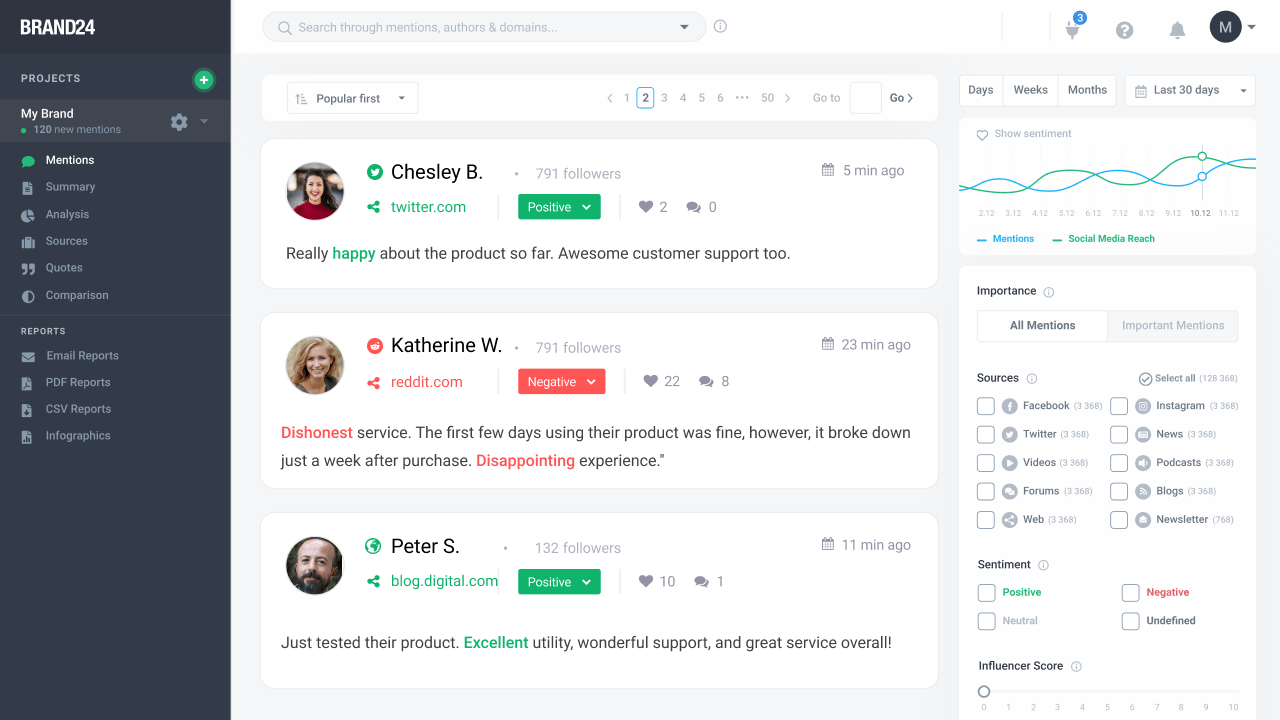 Brand24 tracks any publicly available mentions of your organization, product, or service in real-time. Social media platforms, blogs, forums, podcasts, newsletters, and review sites are just a few of the sources covered by Brand24. This reliable and reasonably priced social listening tool will assist you in monitoring and managing your online reputation, track and evaluating marketing efforts and competitors, gathering customer feedback, social selling, and more.
This application gives you a lot of helpful information that you can quickly evaluate using a data-rich report.
Black Friday software deal
Get 50% off of any plan for 3 months. To enjoy the discount just enter the pricing page, choose your plan, and the price will be automatically reduced.
The offer is available from November 26 – November 29.
SmarterQueue – up to 30% off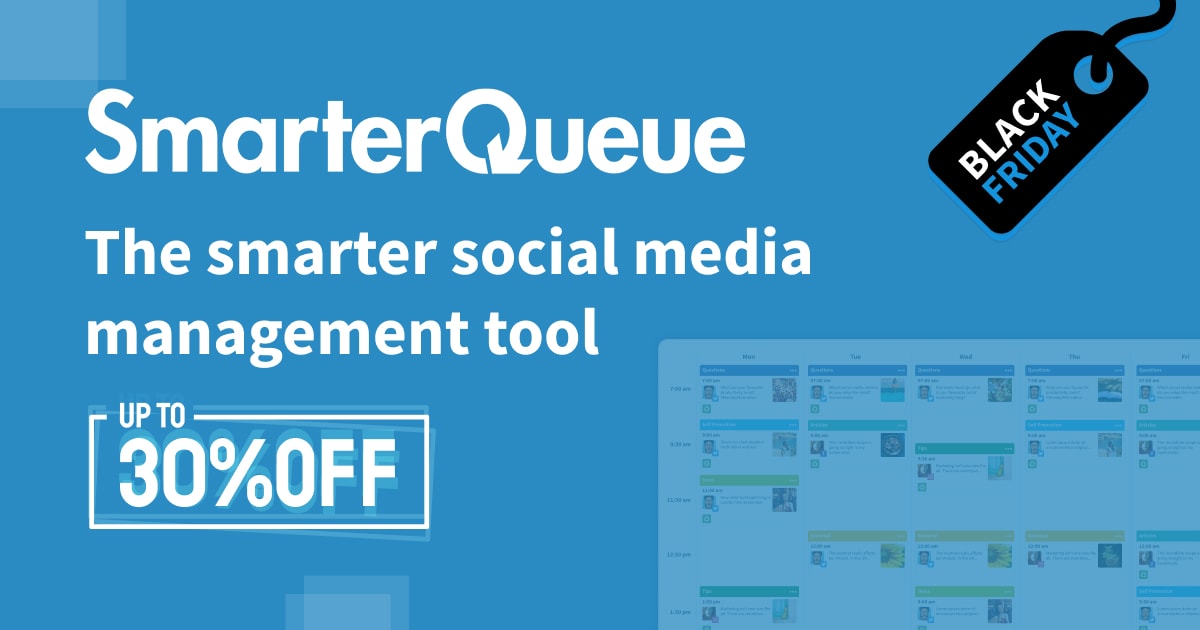 SmarterQueue is the most powerful and user-friendly social media scheduling tool. With content discovery, smart scheduling, recycling, and analytics, you can grow your business and brand faster and more easily than ever before.
Black Friday software deal
New customers can enjoy either of the two discounts:
30% off your first year (paid annually)
20% off your first year (paid monthly).
If you start a free trial between Friday, November 26th and Monday, November 29th, you can take advantage of the Black Friday offer before your free trial expires. The offer is automatically applied to all trial signups.
SocialBee – 30% off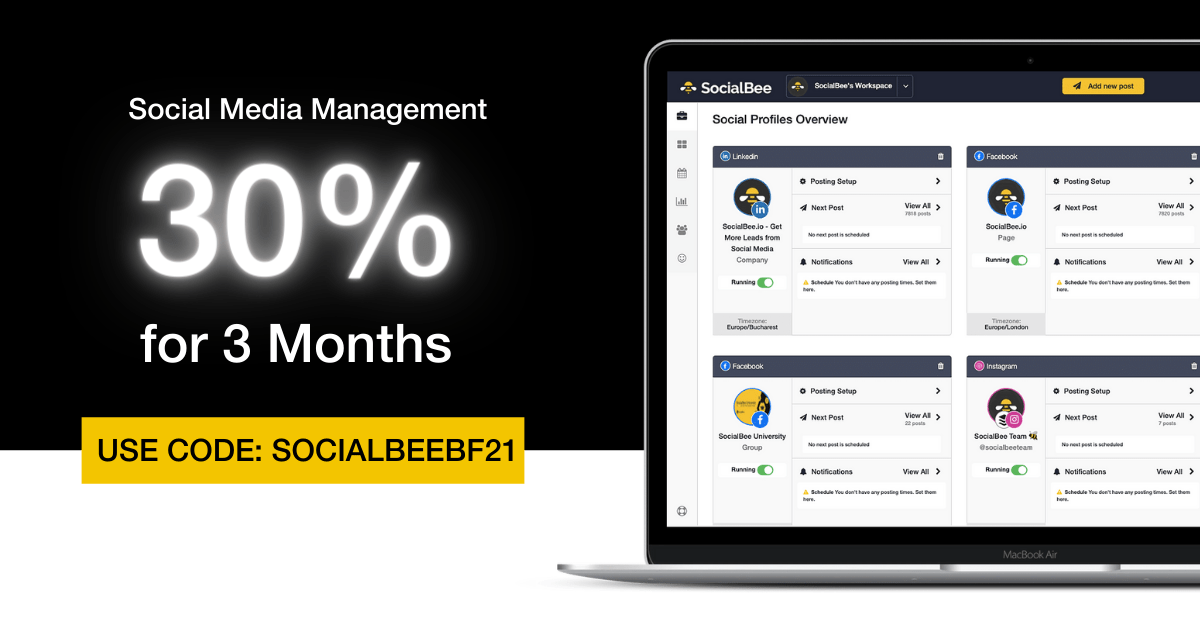 SocialBee is a social media management tool that empowers its customers to share content across multiple social networks from one place: Facebook, LinkedIn, Twitter, Instagram, Pinterest, Google My Business.
Using such a tool, you're able to set a posting schedule, have content shared as planned, and then analyze the performance of your accounts.
Black Friday software deal
Get a 30% discount on any SocialBee plan for 3 months. Just apply the promo code SOCIALBEEBF21.
You can find more information about the deal here (just note that it starts on November 22).
Website tools
TemplateMonster – up to 50% off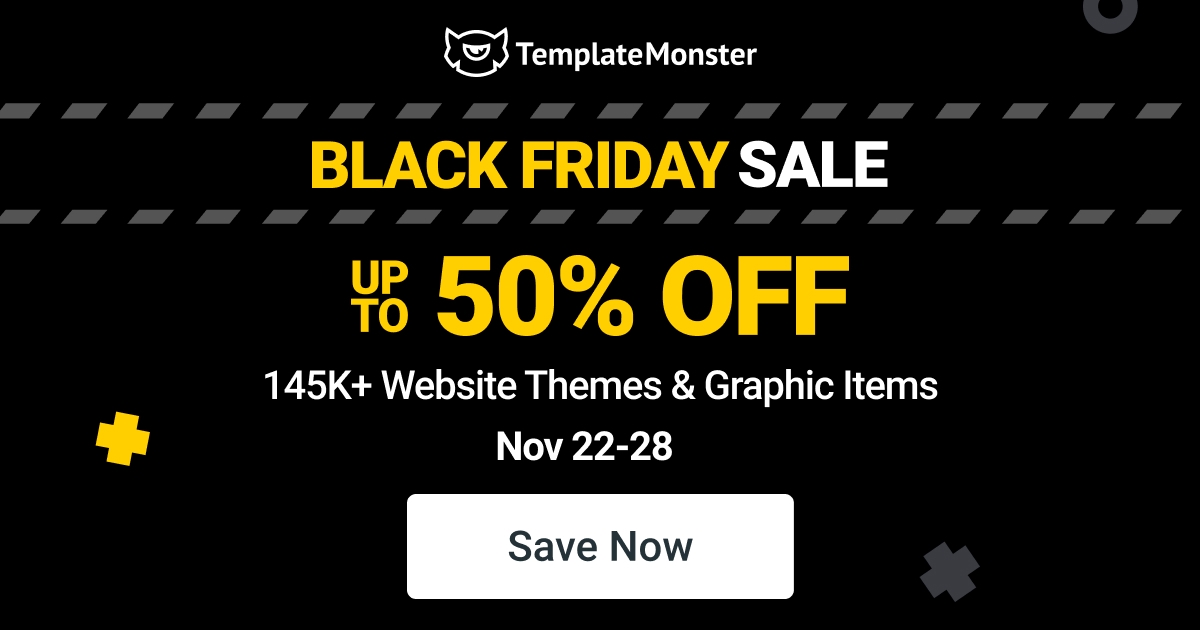 TemplateMonster offers web design products developed by professionals from all over the world. The biggest collection of HTML templates, WordPress and ecommerce themes, web graphics and elements online is at your fingertips.
Black Friday software deal
TemplateMonster's Black Friday & Cyber Monday sale will be live between November 19 and December 1. Save up to 50% on any template and up to 15% on any MonsterOne plan. Get a discount on the services and an extra 5% when buying products.
Score the hottest savings (up to 50% off) on the company's bestsellers as well.
Weblium – 25% off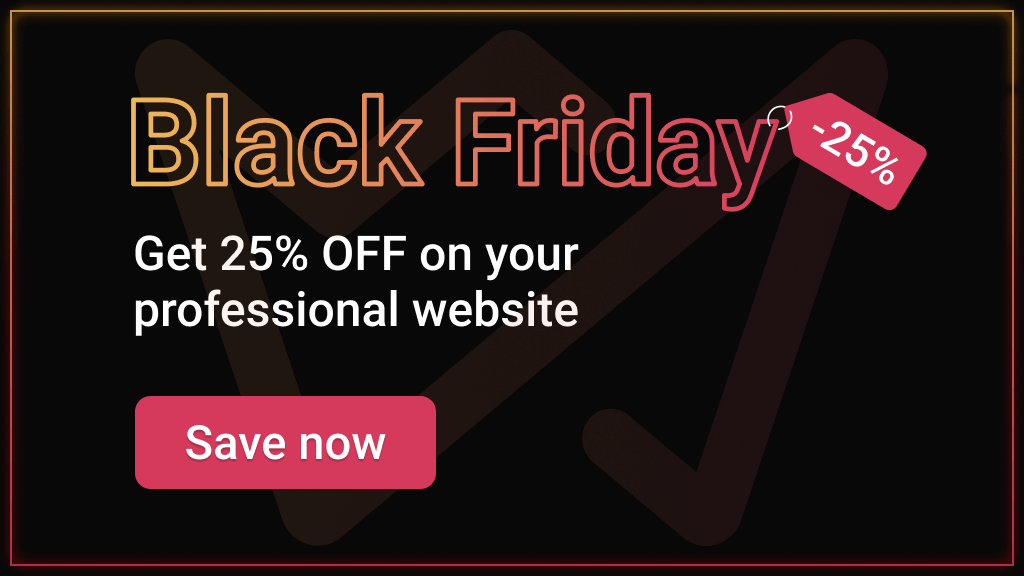 Weblium is an effortless website builder that helps create a landing page, a personal website or an online store without any help from designers or programmers.
More than 300 free website templates from professional designers with options for personal customization
A flexible page editor with 200+ pre-made blocks
A perfect pop-up constructor at no extra cost with an option for precise individual adjustments: elements, triggers, UTM etc.
A possibility to open an internet store with online payments and notifications to Telegram & Viber
Contact forms for lead collection with popular integrations — Mailchimp, Zapier, Bitrix24 and others
24/7/365 support from qualified specialists
Unlimited page and image number
High working speed and advanced SEO settings
Your perfect website is already here — you'll see the result in a few minutes. All you need is your creativity and Weblium's tools.
Black Friday software deal
By applying the promocode WBF25OFF you get a 25% discount to a monthly or yearly Pro plan. The discount is valid until November 30, 2021. A great chance to enter a new year with a new website!
Wpmet – 50% off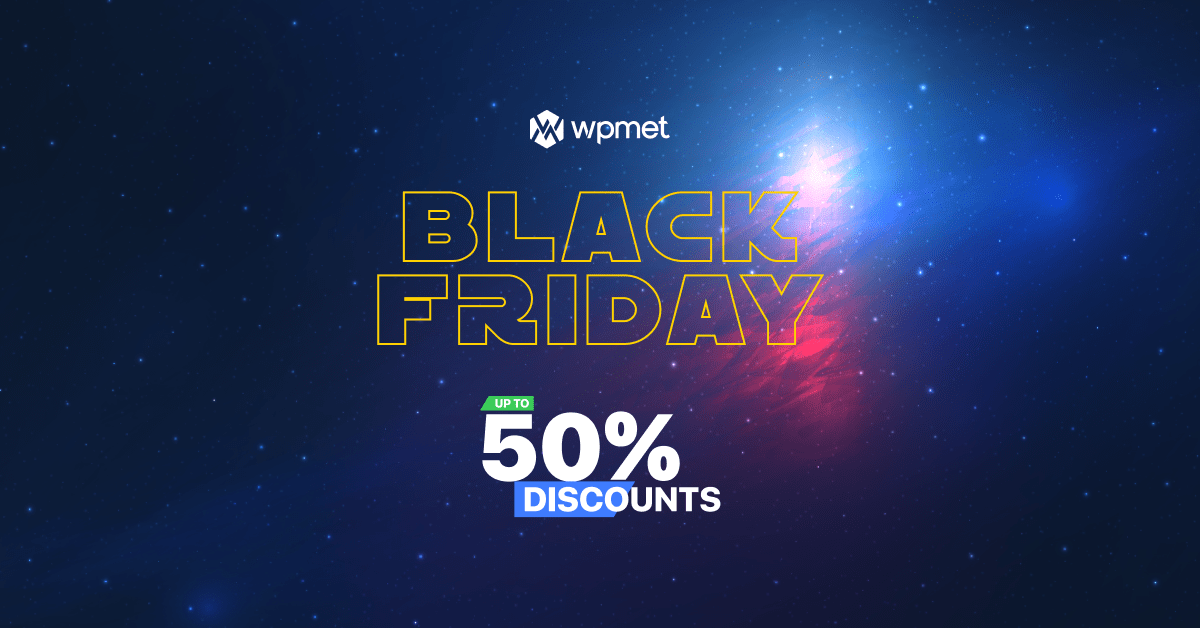 With WordPress-based plugins and themes empowering millions of websites and more than 700k users across the globe, WPMet thrives on going above and beyond in contributing to the evergrowing WordPress community and making web design/development flexible as well as groundbreaking for anyone and everyone.
Black Friday software deal
ElementsKit, ShopEngine, MetForm and WPSocial — enjoy massive Black Friday discounts of up to 50% on all premium plugins from Wpmet. No coupons, no hassle — get full PRO features by paying half with the best deal of the year!
The deal is valid from November 15 till December 2.
Namecheap – up to 97% off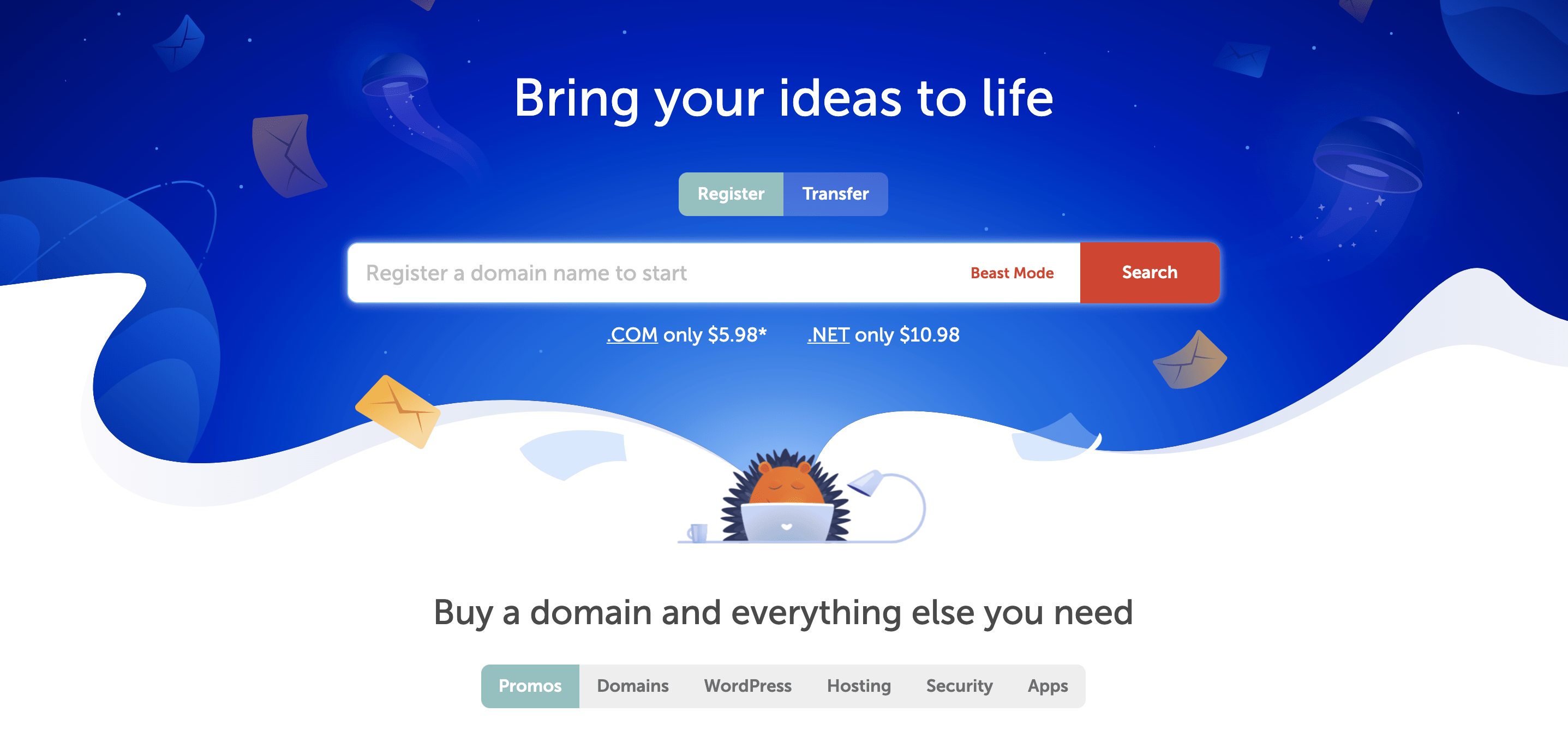 Namecheap offers domain names, web hosting, VPN, professional email, SSL certificates and more digital products for creating your online presence. Some prominent tools include RelateSocial, new social media management tool and Site Maker for people without design and coding skills. Logo Maker is free forever. FastVPN can help you secure your online activity and protect from hackers and data leaks.
Black Friday software deal
Domains – up to 97% off. Find the illusive domain that will change your web presence forever.
Hosting & email – up to 71% off.
Email – save 70% on a safe, simple and fast way to make sure your messages get through when and where it matters.
Web security – up to 78% off.
SEO tools
SE Ranking – 25% off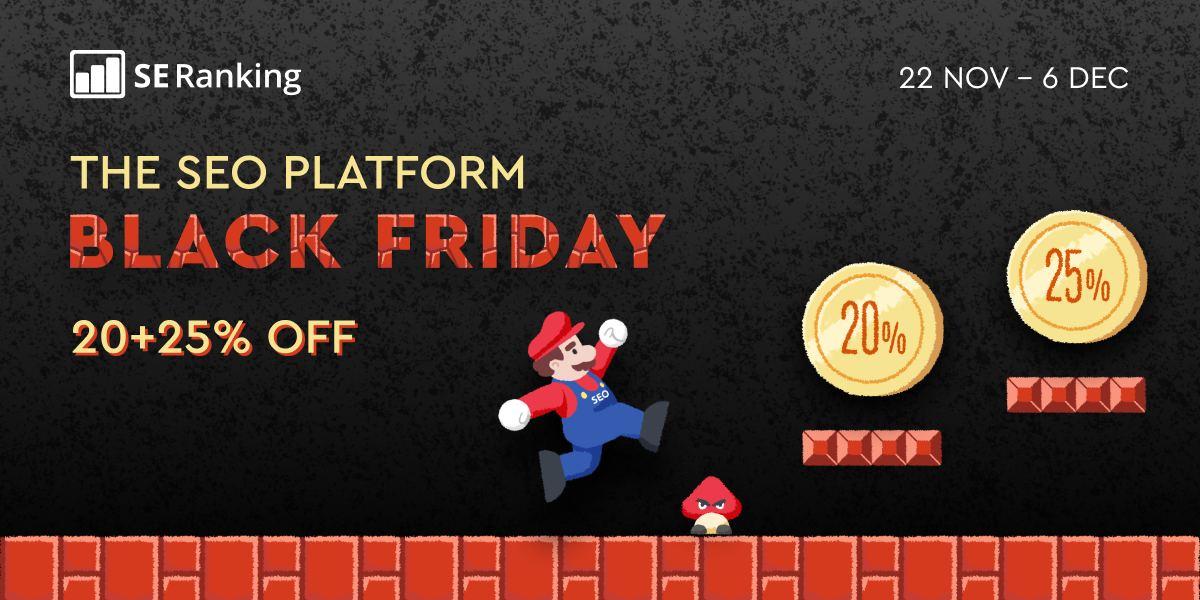 SE Ranking is an all-in-one SEO and digital marketing platform designed for business owners, SEOs, and digital agencies.
The platform excels at keyword rank tracking, but it also offers a complete toolset that helps businesses of all sizes spy on and analyze competitors, run an in-depth on and off-page website audit, find and cluster keywords, keep tabs on backlinks, receive SEO reports on autopilot, and perform a number of other tasks related to SEO and digital marketing.
Black Friday software deal
This Black Friday, SE Ranking is offering their best deal of the year with 25% off all annual subscription plans. Just use the promo code BLACKFRIDAY2021 at checkout from November 22 to December 6.
Plerdy – 30% off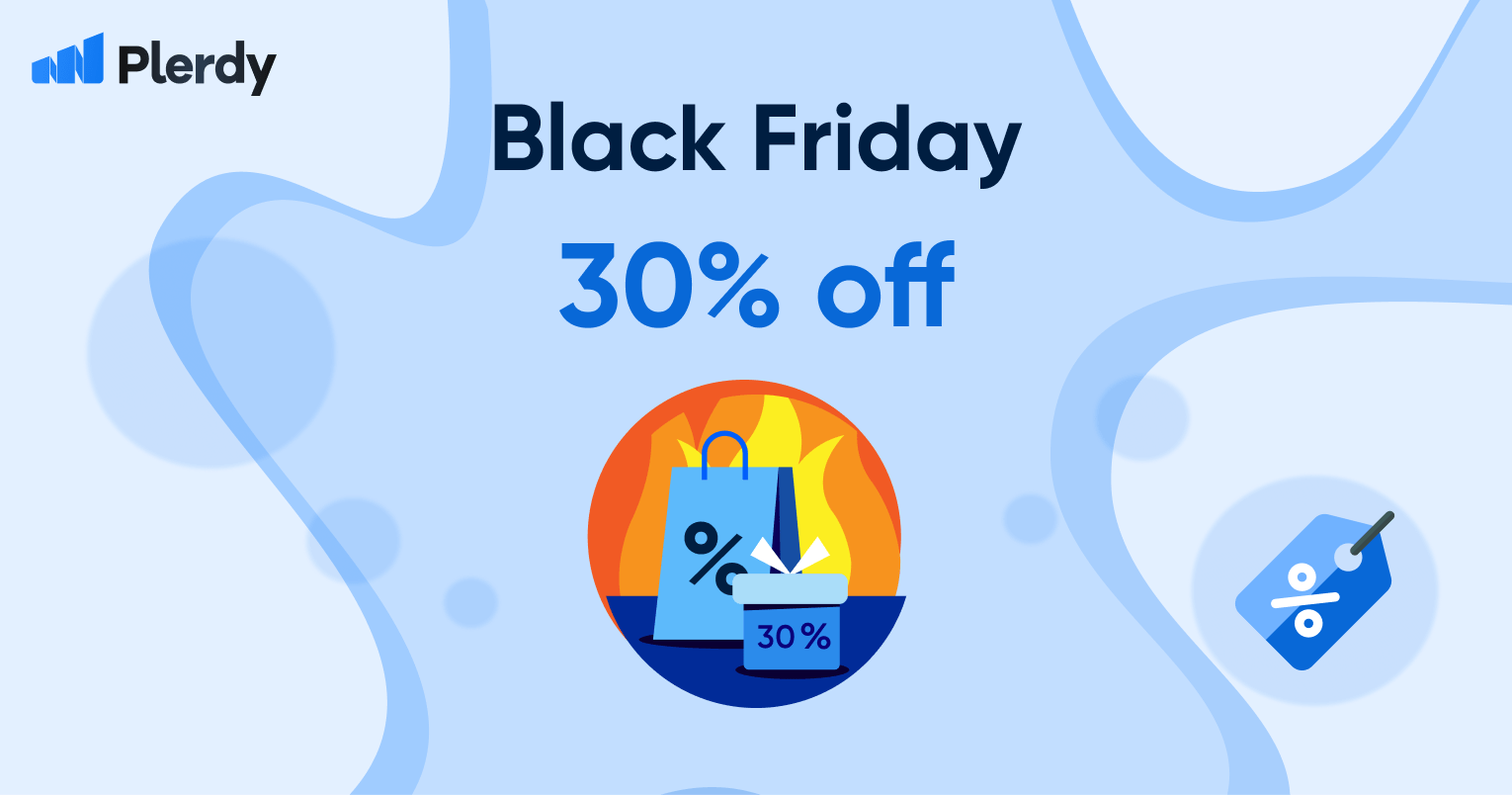 Plerdy is a conversion rate optimization and SEO platform for marketers, SEO specialists, UX experts, and website owners. With Plerdy, it's easy to track, analyze, and convert visitors into buyers.
Tools: Heatmap, PopUP Forms, SEO checker, Session Replay, Event Tracking, Sales Performance, Conversion Funnel.
These tools help you identify bottlenecks and improve your conversion to a website.
Plerdy has more than 100 features and reports for internet marketers and business.
Black Friday software deal
With the promo code BlackFriday-2021, you can get a 30% discount for using Plerdy tools. The offer is valid subject to payment for the year.
Sales tools
Salesflare – up to 50% off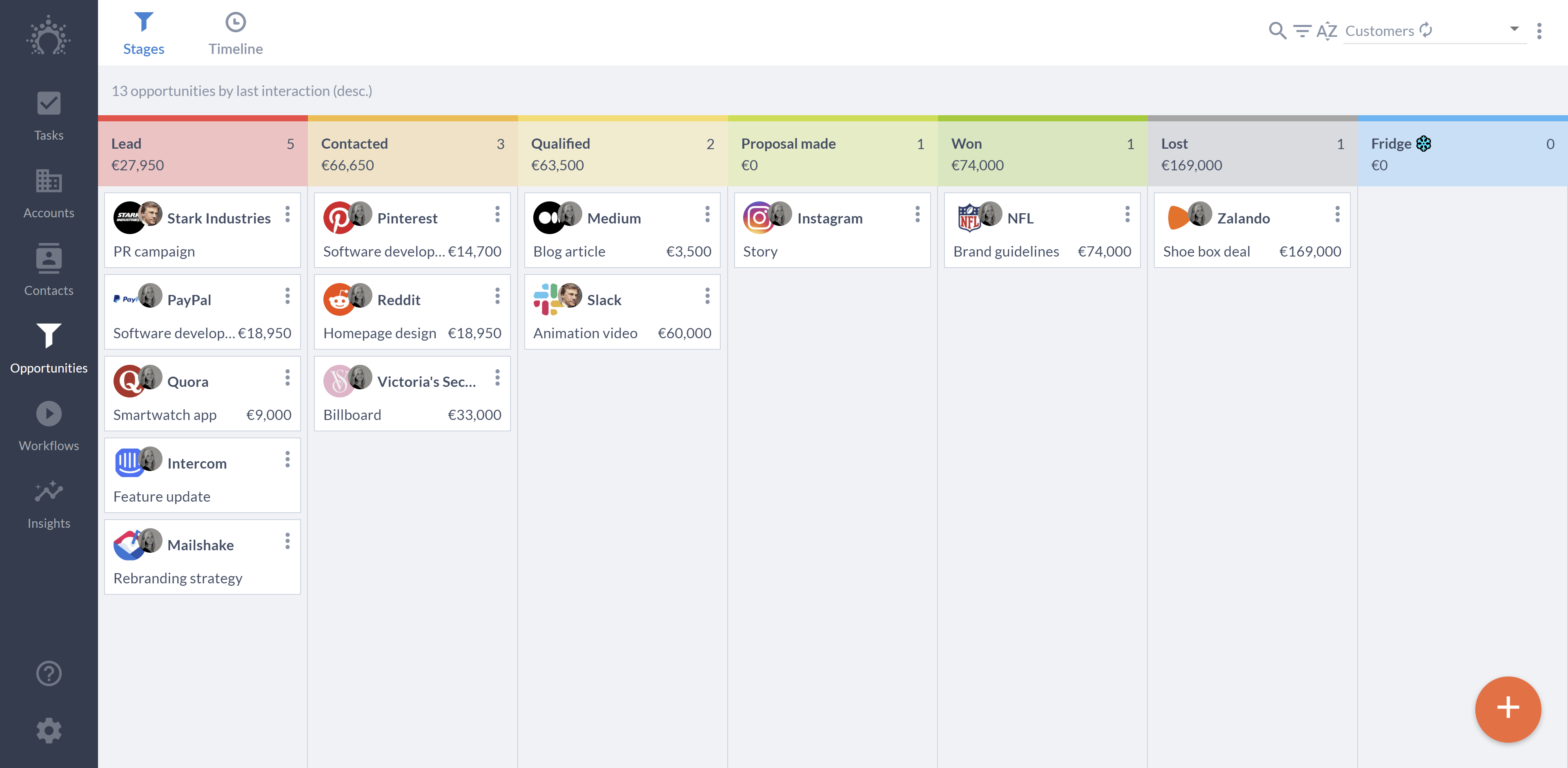 Salesflare is the perfect CRM for any small or medium sized B2B business that wants to make more sales with less work. The CRM fills out itself, by synchronizing with your email, calendar, phone, social media, … and organizes all this data for you.
Its email integration is unrivaled. It's instant, imports email signatures, tracks your emails on opens and clicks (with linked website integration), and brings your CRM right in your inbox.
Start making sales simpler. Use Salesflare's automation features and enjoy its simplicity. Setting it up only takes minutes.
Black Friday software deal
You can get up to 50% off for 6 months after free trial. The discount will be applied automatically.
Replug – 70% off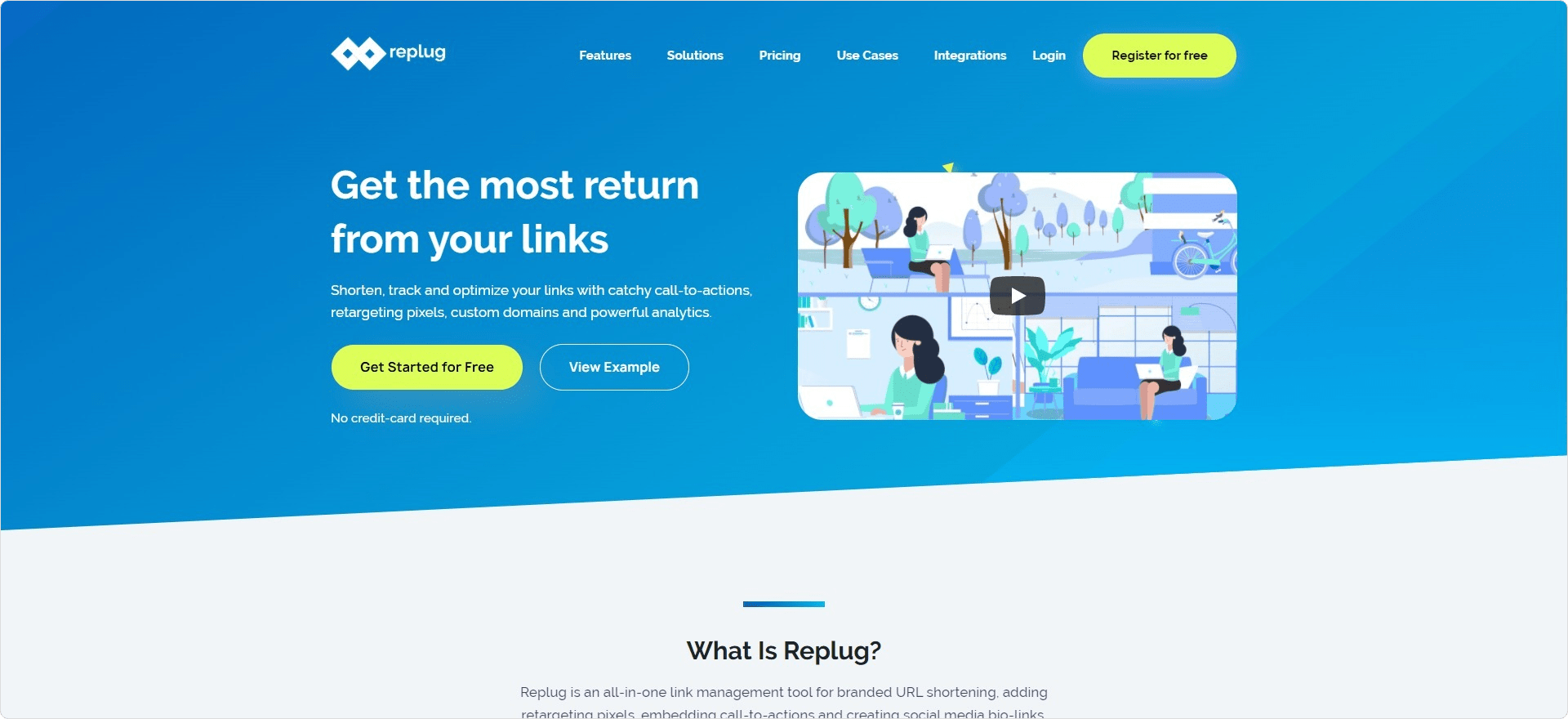 Replug increases brand awareness through its branded shortened links and returns you the most from your short link.
It is a custom link shortener and a link tracking platform that allows you to get the most return from your links through retargeting pixels and branded call-to actions.
Black Friday software deal
You can get 70% off any annual subscription plan by choosing it on this page.
Mailshake – 91% off

Mailshake is an email engagement platform that helps people create highly personalized outreach cadences using email (via your personal email account), social, and phone. With Mailshake, you can upload a list of prospects with personalization fields like name, social profiles, phone #s, and personalized sentences and paragraphs.
Once published, messages are sent automatically according to campaign settings, and can be paused automatically if a recipient replies or clicks a link. Campaign performance is tracked in real-time, and see which messages in your cadence have the best engagement.
Black Friday software deal
With Mailshake's Black Friday deal, you can take advantage of our email platform and hit the ground running, whether you're a beginner or expert. You'll get access to the platform plus templates and frameworks to use to get more leads, more conversations, and more responses from your emails.
sixads – 20% off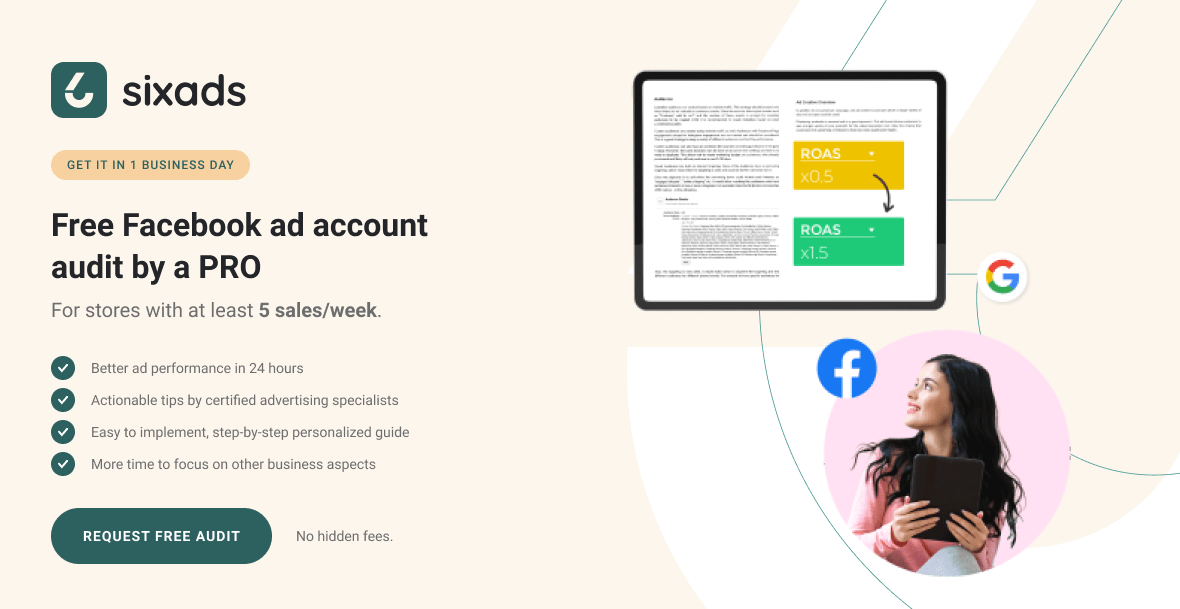 sixads is a Shopify ad automation platform that helps entrepreneurs with little or no digital advertising experience run ads on Facebook, Google, and Instagram. Now, sixads also offers ad account audit and PPC Management services to those who want to take their paid marketing efforts to the next level.
Black Friday software deal
You can get a FREE ad account audit until 2022-01-01.
Productivity tools
Chanty – up to 50% off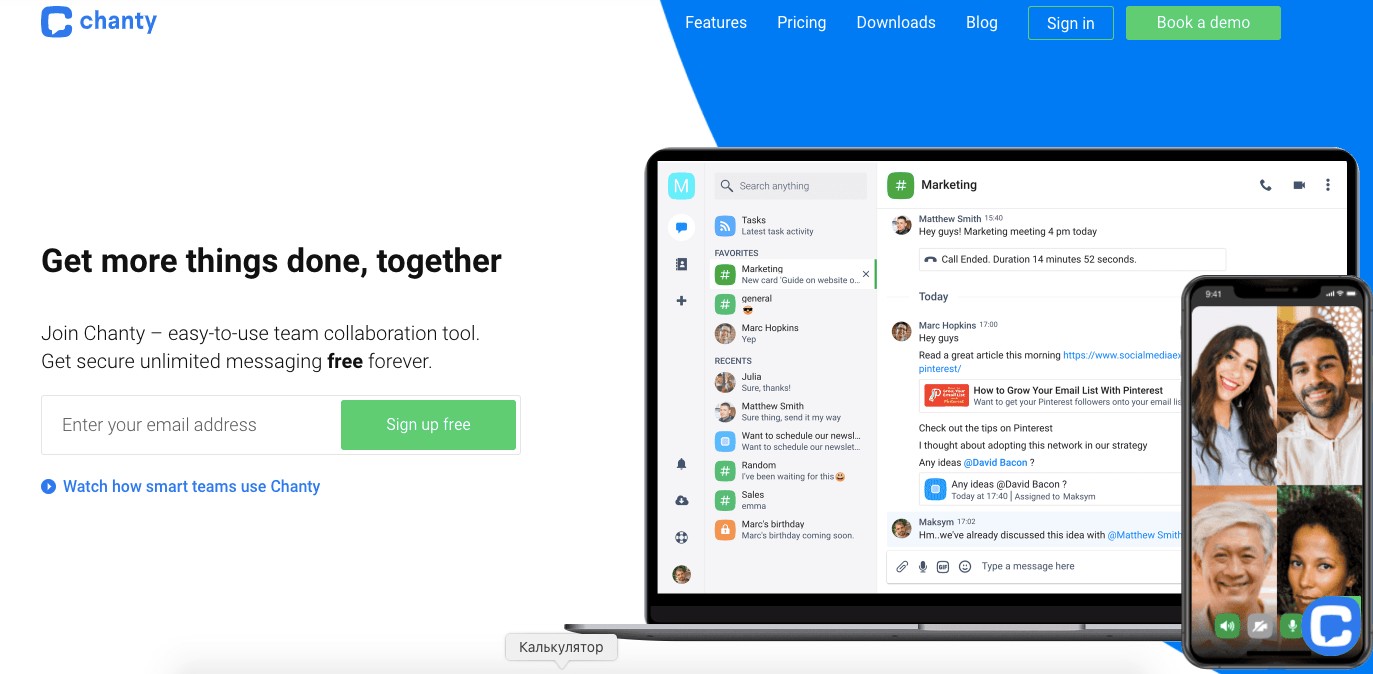 Chanty is a team collaboration tool that offers unlimited searchable messaging, audio and video conferencing and a project management system with the Kanban board. The tool integrates with third-party apps including Trello, Asana, Zapier, Google Drive, Dropbox, Onedrive, Github, Gitlab, Bitbucket, Mailchimp, Giphy and others.
Chanty is available on Web, Desktop, macOS, Windows, Linux, and mobile for iOS and Android.
Black Friday software deal
Chanty offers 3 deals for Black Friday 2021:
15% off on a monthly plan (for 1 year)
50% off on an annual business plan
1 month free + 50% discount on non-profits, educational and government institutions
GanttPRO – 30% off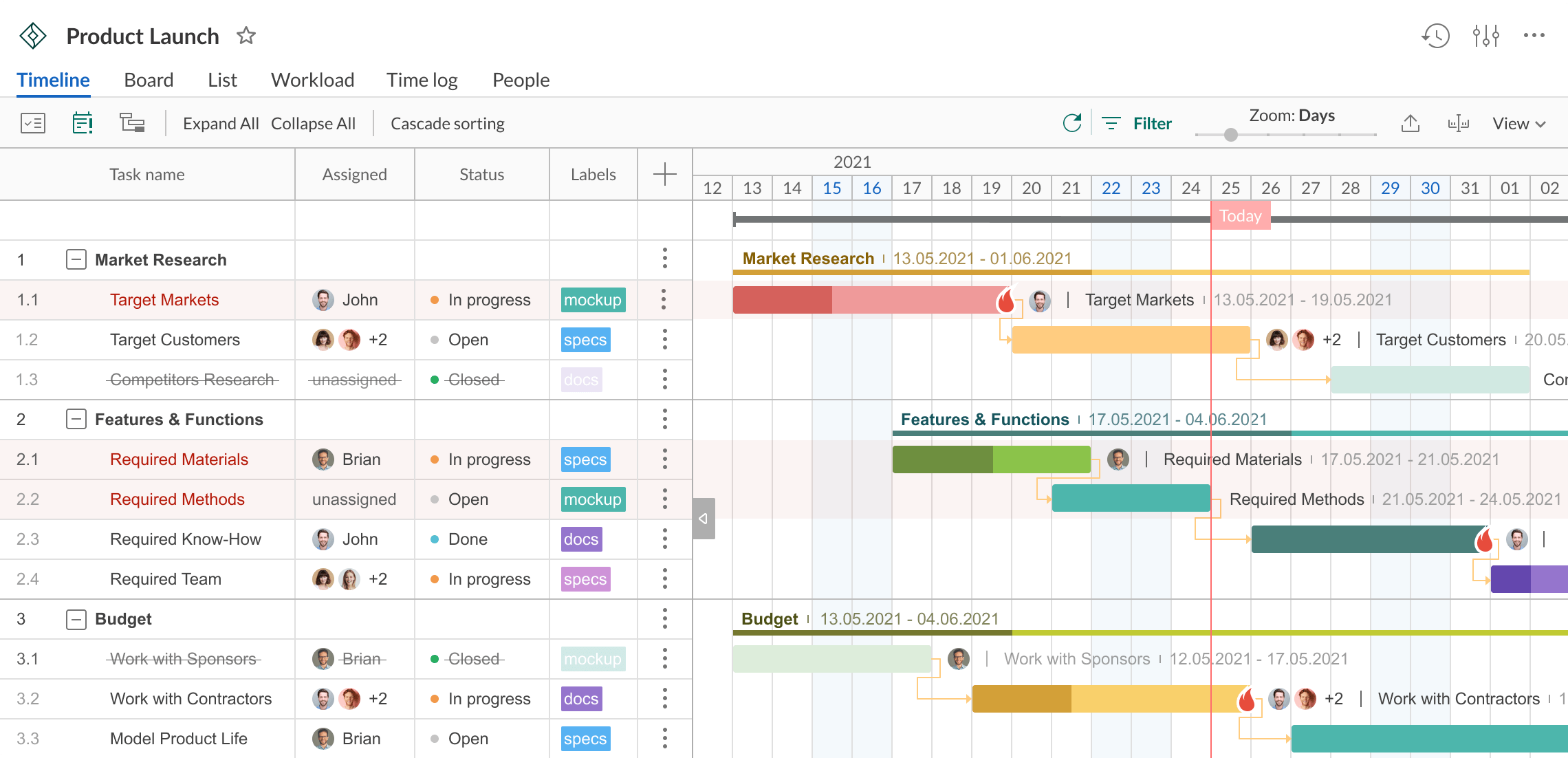 GanttPRO is an online Gantt chart software for project managers and teams. The tool helps overcome daily project management challenges: smart deadline management, timely communication, efficient team and resource management, collaboration, time logging, and many more.
Black Friday software deal
You can get 30% off GanttPro's annual plans. The deal is available within two days: November 29-30.
Business management tools
Vcita – 30% off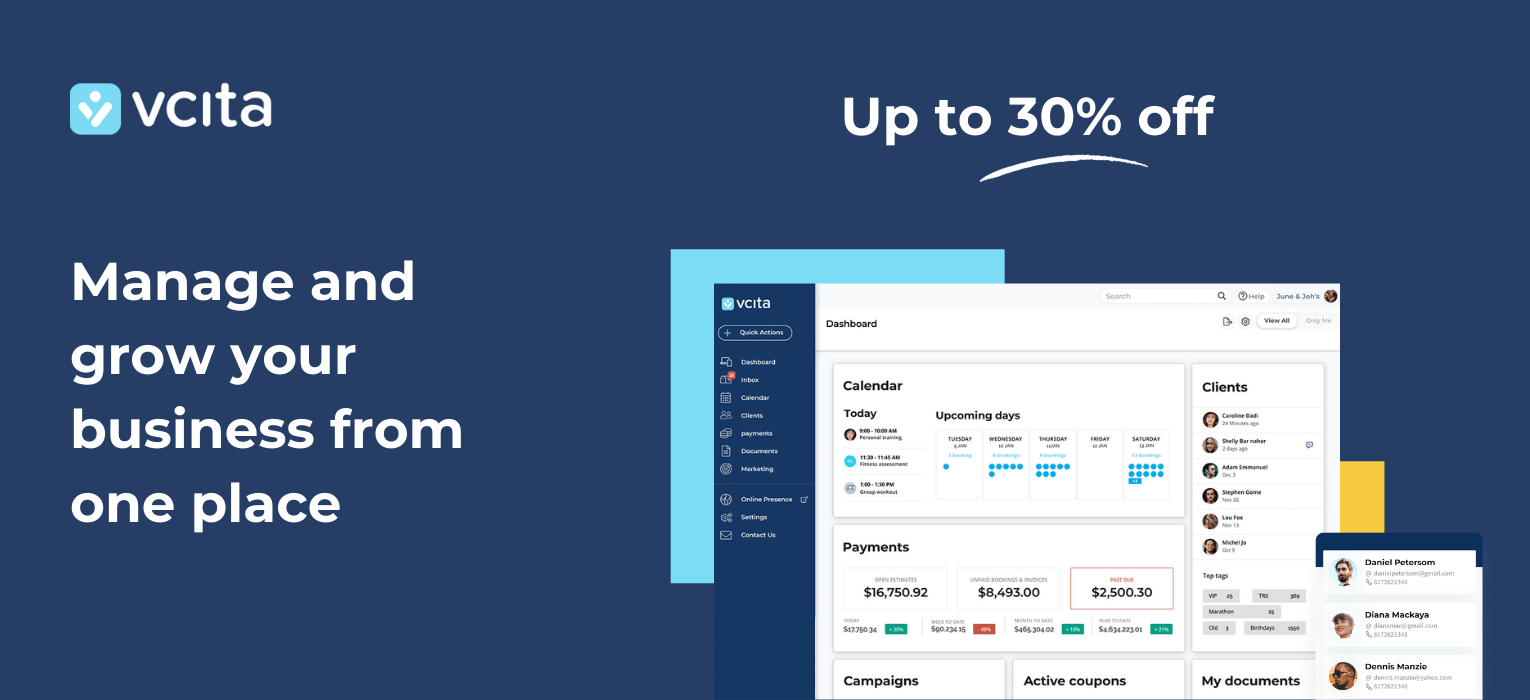 vcita helps small business owners and entrepreneurs build and manage a business they're proud of. Our complete business management platform addresses all day-to-day needs of SMEs, allowing them to remain competitive and helping them succeed in a digital-first environment.
vcita's digital tools help busy solopreneurs and small teams automate time-consuming admin tasks like scheduling, payment collection, and marketing campaigns, so they can focus on creating great client experiences. Millions of businesses around the world use vcita to manage their time, money, clients and grow their business.
Black Friday software deal
Get up to 30% off vcita's annual Business and Platinum plans.
Limited time offer: November 25 – November 30!
Thinkific – $396 USD for the bundle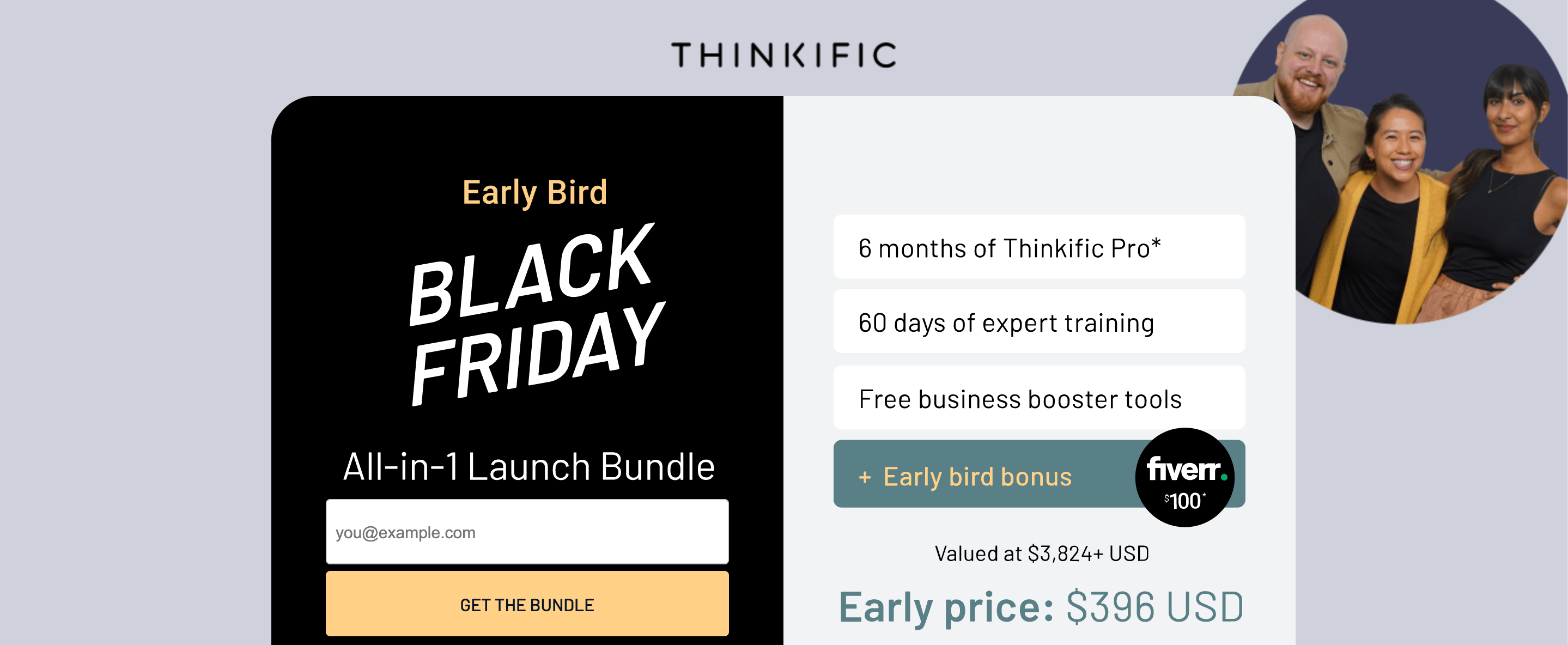 The Thinkific platform enables entrepreneurs and established businesses of all sizes to create, market, and sell online learning products.
Black Friday software deal
The Thinkific Black Friday bundle includes everything you need to turn your expertise into a Get training, tools and a powerful, user-friendly platform to create, market and sell your digital learning products. The offer includes:
6 months of Thinkific Pro
60 days of expert training
Free business booster tools
Early bird bonus: $100 fiverr credit
Early bird price: $396 USD (valued at $3,863+ USD).
Pick the best Black Friday and Cyber Monday deal
Finally! The best Black Friday software deals for business in 2021 are up for grabs. Feel free to catch whatever discount you see fit before it expires. Happy holiday season, everyone!
HelpCrunch articles delivered straight to your inbox 🚀
All the latests posts. One email per month
No strings attached
Read Also
Tools
Doubting that JivoChat is the best solution to date? Then probably you are right. Take a look at the list of top alternatives and pick the best one for you.
Tools
There are many Tidio alternatives on the market today. But how do you choose the best one? Think about your current business needs and then dive right into the article. We've conducted deep research to help you make the right choice!
Tools
Looking for the best Help Scout alternative? We've got your back. Here is a comprehensive overview of 5 customer communication software that might be of interest to you.