30 Lucrative Black Friday Software Deals for Your Business in 2022
This roundup features 30 massive Black Friday and Cyber Monday deals to leverage.

To sign up or not to sign up? That's a good question. With Black Friday and Cyber Monday just around the corner, the answer is out in the open (positive, of course).
Hunting for the most lucrative discounts, especially if you want to invest in top-notch software without breaking the bank might be really exhausting. And now that the hi-tech niche is on its rise, you might even feel a little dizzy because of the pool of offers. Here's when this roundup enters the game.
We cover here 28 best Black Friday software deals you can't resist in 2022. Buckle up and have your best pick of discounts hot off the skillet.
Customer support tools
HelpCrunch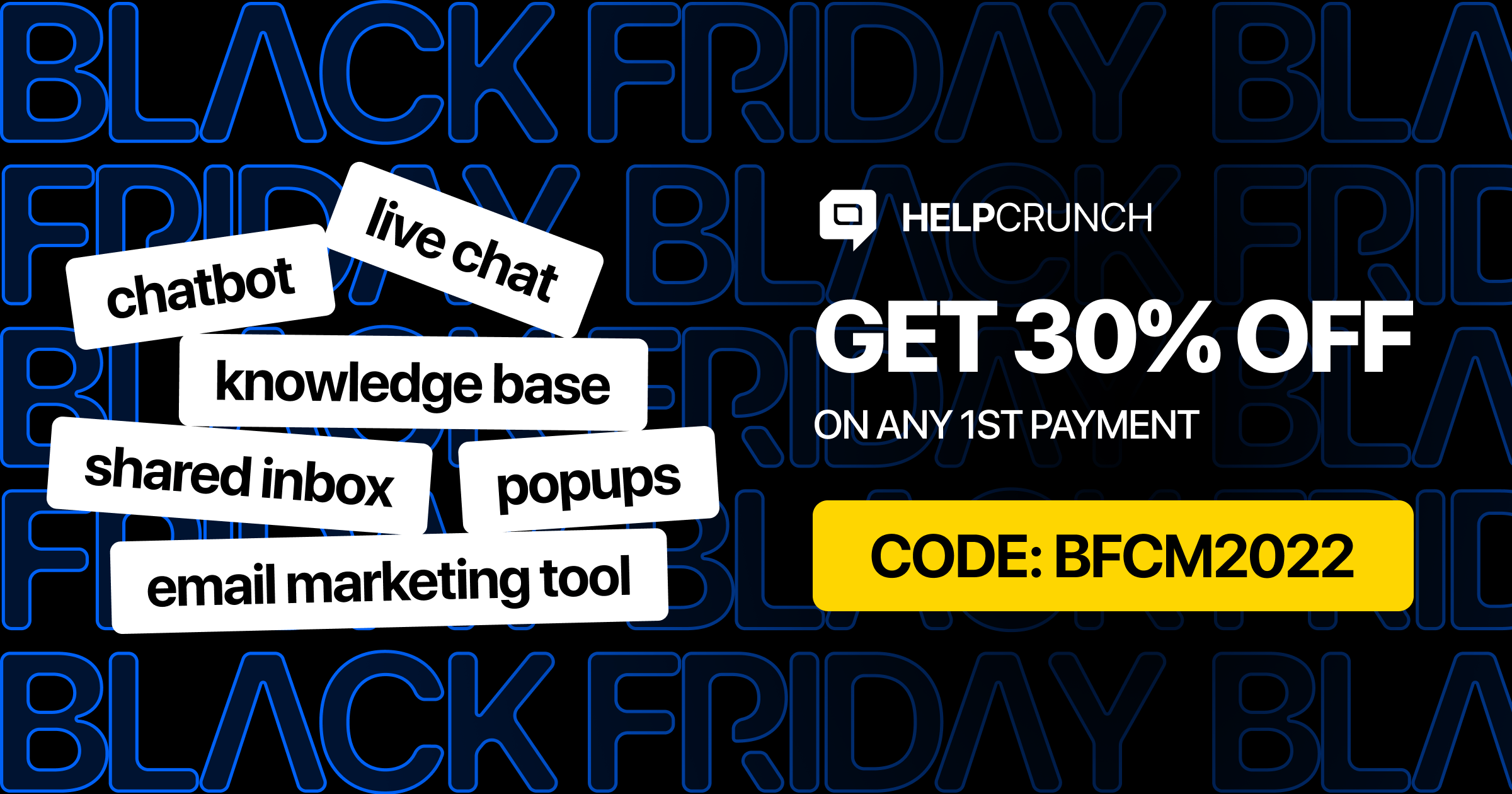 HelpCrunch is a multifunctional platform offering a plethora of tools for customer support, marketing, and sales:
Modern live chat with a built-in multifunctional knowledge base for fast and quality customer support.
Code-free chatbot builder for automating routine tasks (e.g. chat assignment) and creating FAQ scenarios for all common questions.
Shared inbox for managing emails, chats, social media, and messengers in one place and better collaboration inside the team.
Popups for generating more leads on a website and collecting their contact info.
Email marketing tools for engaging with your leads and customers on every stage of the funnel.
Black Friday software deal from HelpCrunch
Sign up with the promo code BFCM2022 to get 30% off your first payment. Annual subscriptions can reach up to 50% off.
Email marketing tools
Snov.io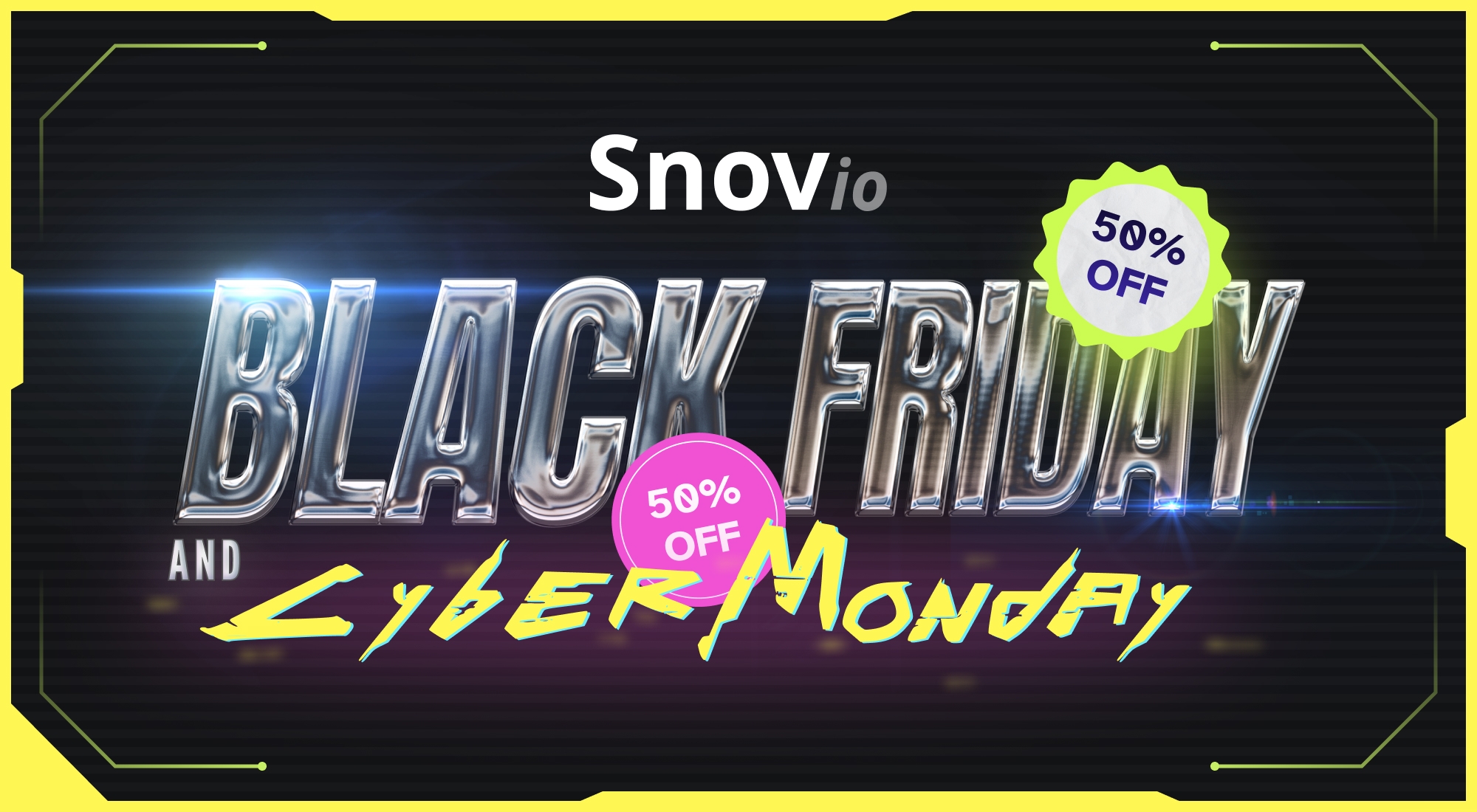 Snov.io is a multifunctional software for sales automation that offers a set of different tools such as email finder, email verifier, email drip campaigns, email warmup, email tracker, and a sales CRM which comes as an absolutely free addition to any Snov.io plan you choose. With Snov.io tools available under the same roof, you can run your sales campaigns from the moment you start prospecting till the closing stage.
Black Friday software deal from Snov.io
Get your 50% off any annual plan with promo code BLACKFRIDAY22.
Sender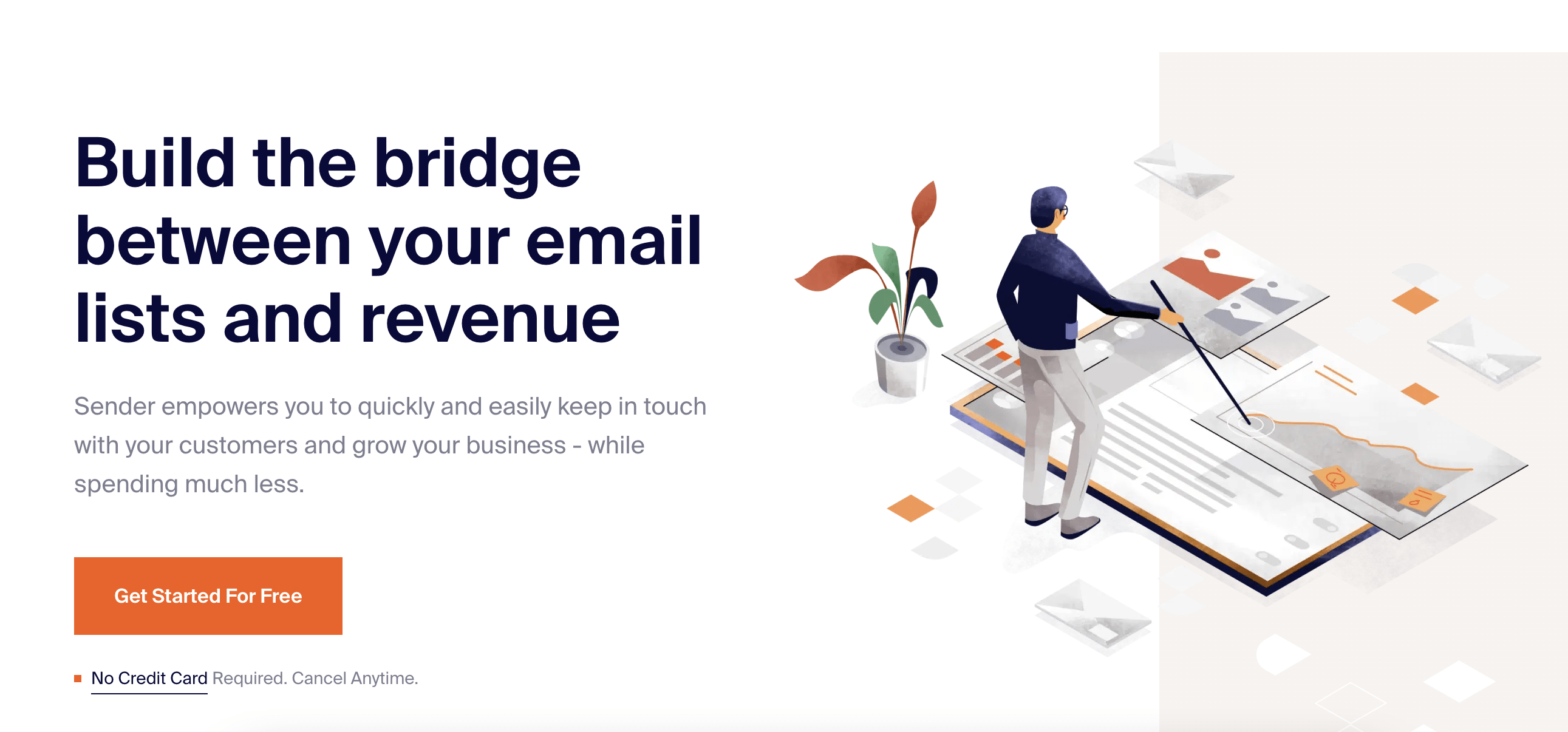 If the one-click product import feature that helps you write high-converting promotional emails faster doesn't woo you, our easy-access, drag-and-drop email editor definitely will.
Easily design high-converting popups and forms to convert casual visitors to fans and grow your list. Set up automated flows or manual email & SMS broadcast campaigns to communicate the right message with your audience at near-perfect times.
Use segmentation to keep your messaging relevant to different buyer journeys and personalization to add your personal touch to every subscriber's life while still doing it all at scale.
Attract better, convert more and grow faster with Sender, the first-choice marketing automation platform for growing ecommerce businesses.
Black Friday software deal from Sender
Get 20% off all plans with the code FRIDAY. The offer is valid until December 1.
+ when buying an annual plan – 2 months free
+ when buying a PRO plan – free SMS credits (values from 35 dollars)
MySignature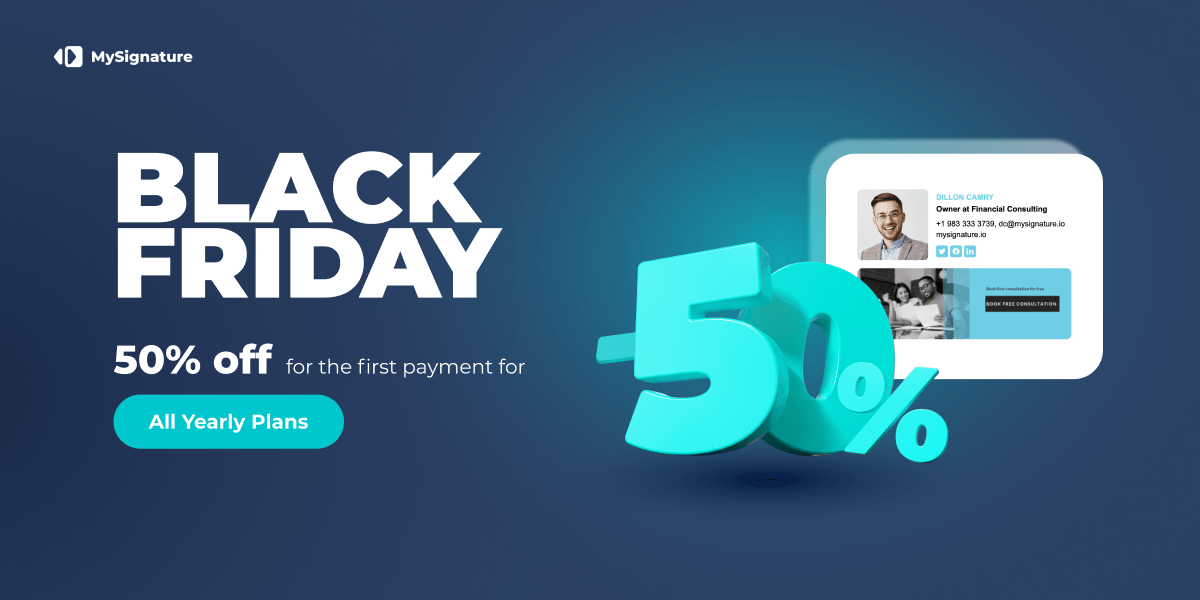 MySignature is an all-in-one email signature and email tracking platform. It allows you to easily create professional email signatures and make your business emails stand out from the crowd.
With MySignature you can build brand recognition by turning yourself and your team into brand ambassadors. Embedding a unique email signature will help you advertise the products or services in a more efficient way.
Increase brand awareness, create trust, and boost credibility by creating personalized email signatures with your logo/photo, banner, contact information, links to social profiles, and calls-to-action.
Black Friday software deal from MySignature
Get 50% off for the first payment for all yearly plans with the coupon code: SigFriday2022. Duration: November 25, 2022 – November 30, 2022.
Newoldstamp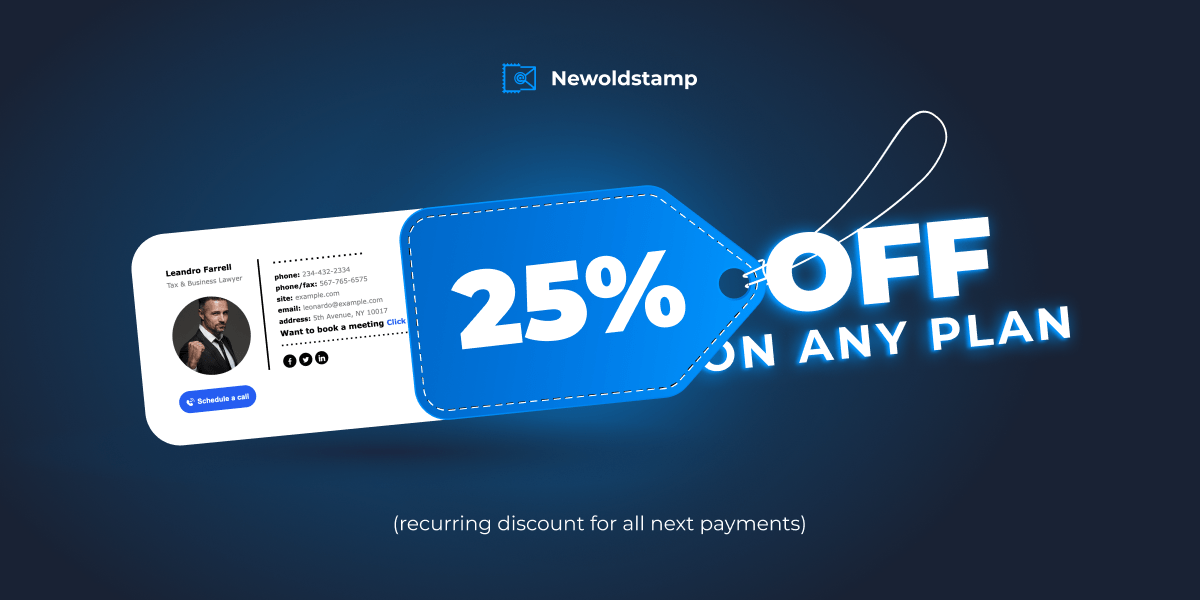 Newoldstamp is the leading email signature management platform that enables businesses to create, customize and deploy brand-consistent signatures across the entire company.
A well-crafted standardized email signature can help you promote your products or services to the right audience and create thousands of sales opportunities every day.
Newoldstamp turns emails into a powerful marketing tool. It allows you to drive traffic to your website, generate leads, upsell products, and announce online and offline events by adding clickable links, beautiful banners with CTAs, and interactive buttons to your email signature.
Black Friday software deal from Newoldstamp
Get 25% off on any plan (recurring discount for all next payments) with the coupon code: BF2022NOS. Duration: November 25, 2022 – November 30, 2022
SendPost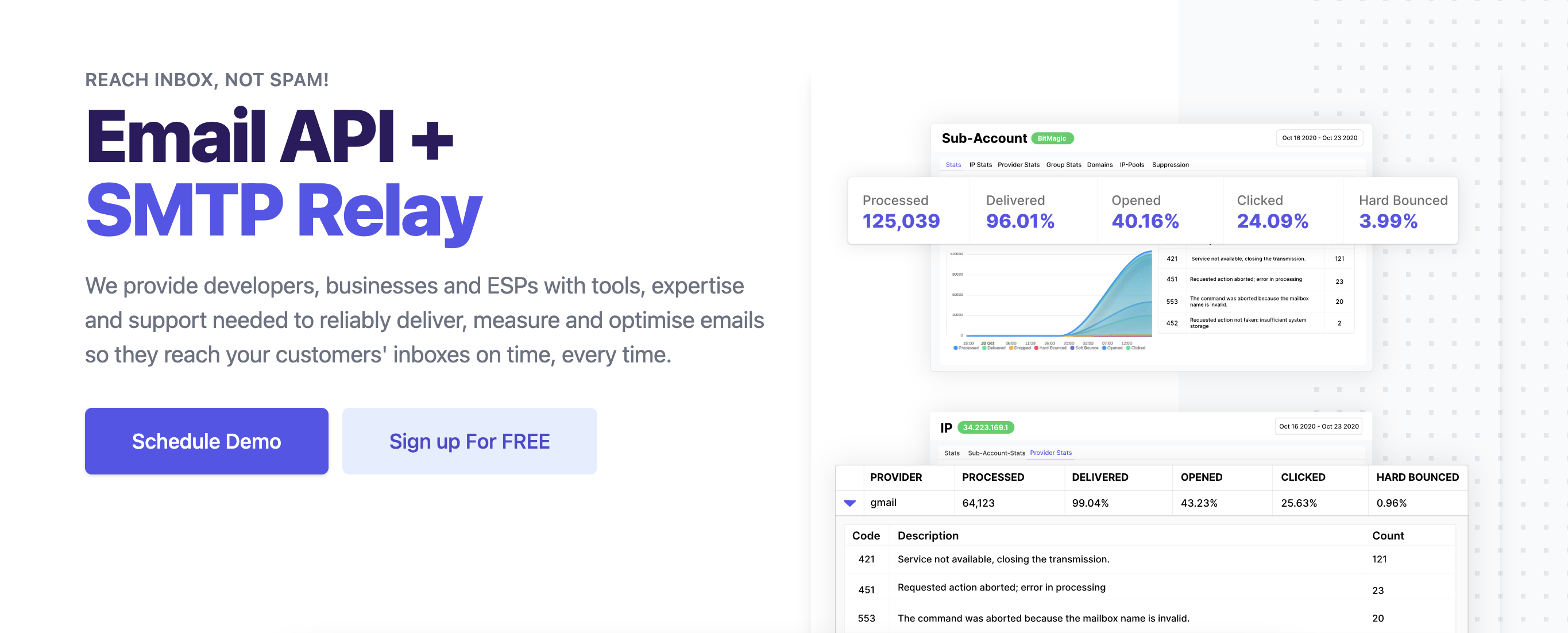 SendPost is an email delivery service. It provides developers, businesses, and ESPs with a solution to reliably deliver, measure, and optimize emails. They have API SDKs in 14+ programming languages. You can use their API to send and validate emails, measure stats and manage domains/IPs. You can get detailed deliverability stats to keep an eye on your deliverability and fix it before it dips down. Over 413+ million emails are sent via SendPost per month, and their average deliverability is 99.23%
Black Friday software deal from SendPost
This Black Friday you can get credits to send a million emails for free.
Woodpecker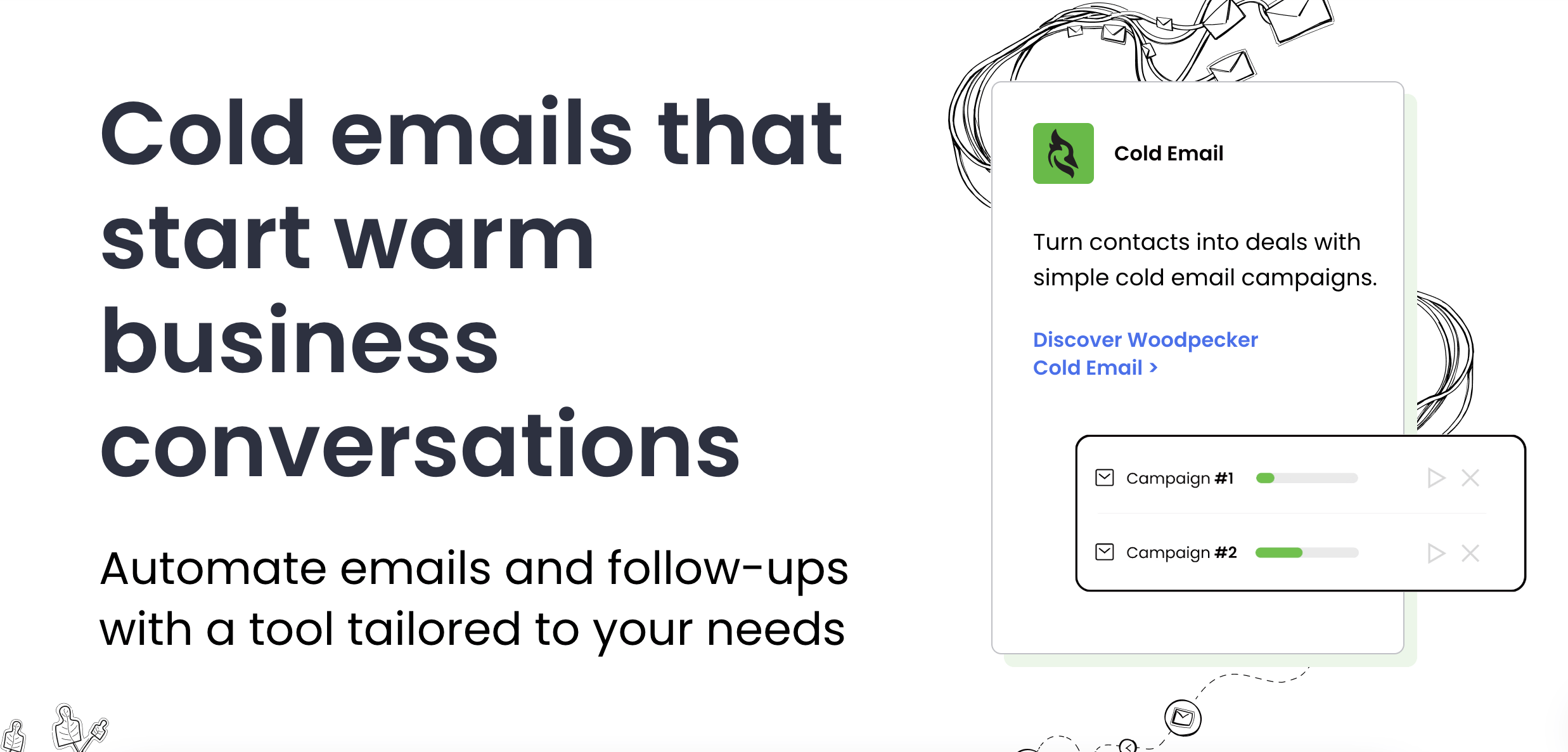 Woodpecker is an intuitive cold email tool for lead generation, sales & recruitment professionals. Automate emails and follow-ups with a tool tailored to your needs.
Black Friday software deal from Woodpecker
Get a 30% discount for a premium account for 3 months and 30 days of free trial. The offer is available only for new clients. Just sign up here from 18 November to 16 December 2022 and the discount will be applied automatically on the first payment.
SalesBlink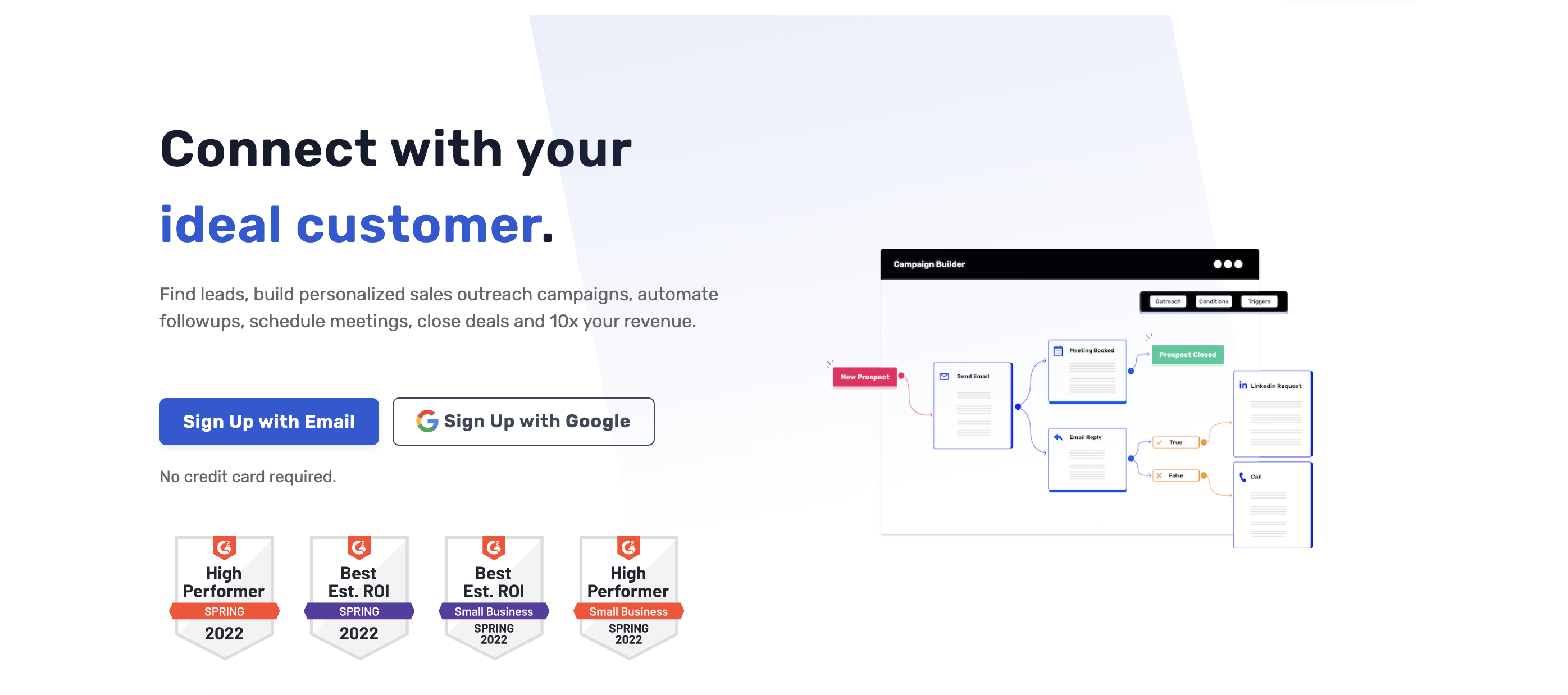 SalesBlink is a sales outreach automation suite using which you can search for prospects, put your cold outreach sequences on autopilot, maintain and manage pipelines and prospects.
It is a full-stack cold outreach platform that can take you through prospecting to outreach to closing on full throttle. It is a fully-loaded package for automation of multi-channel cold outreach clubbed with generating leads and managing them.
Black Friday software deal from Salesblink
This Black Friday season, you can get Salesblink's Lifetime Deal for just $149.
Mailmodo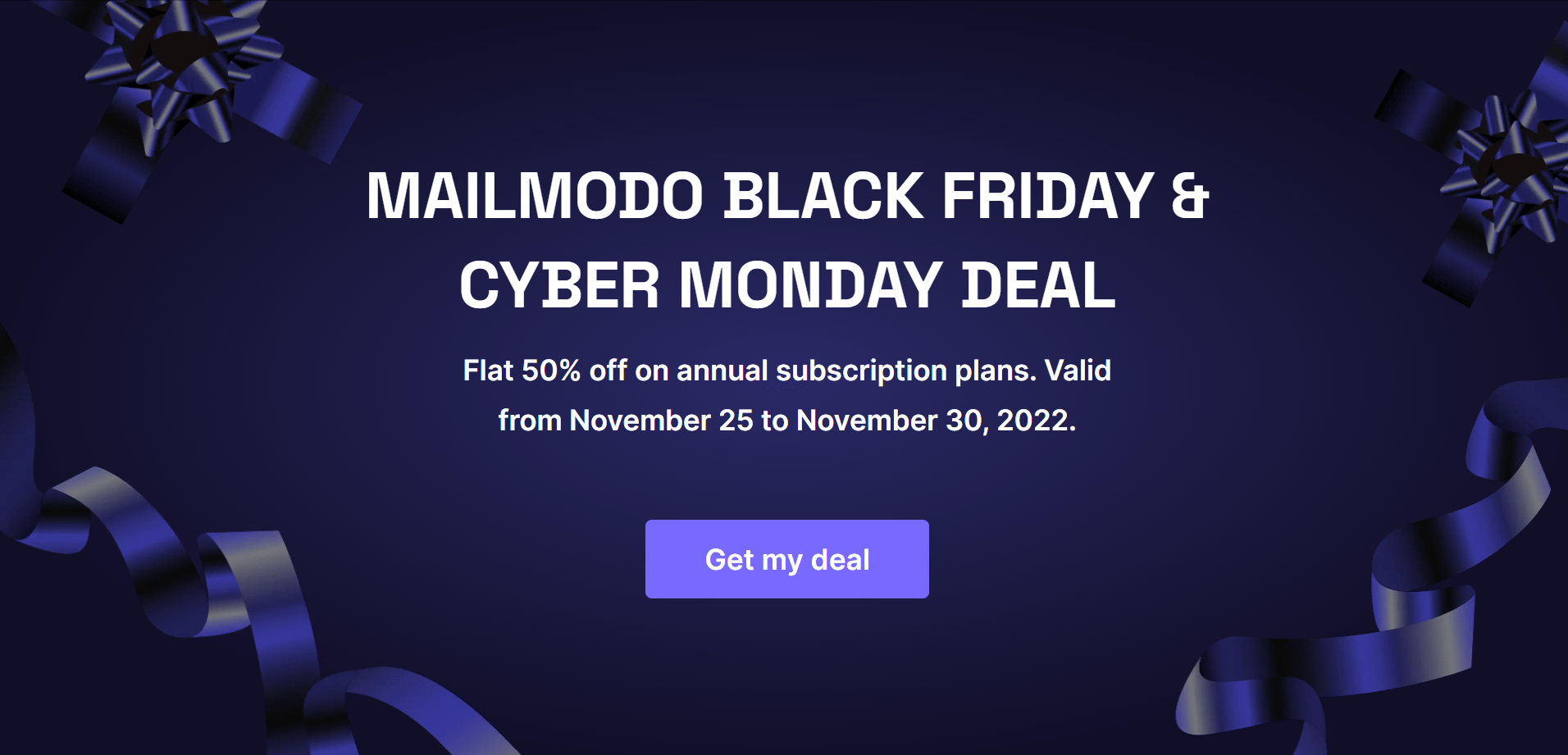 Mailmodo helps you boost email engagement and ROI by leveraging interactive emails and focusing on email marketing best practices like deliverability and segmentation. With Mailmodo in your stack, you'll be able to bring all your email marketing activities to a single place, including email automation, list segmentation, performance measurement, and email design.
Black Friday software deal from Mailmodo
Get 50% off our annual plans between November 25 and 30, 2022.
Bouncer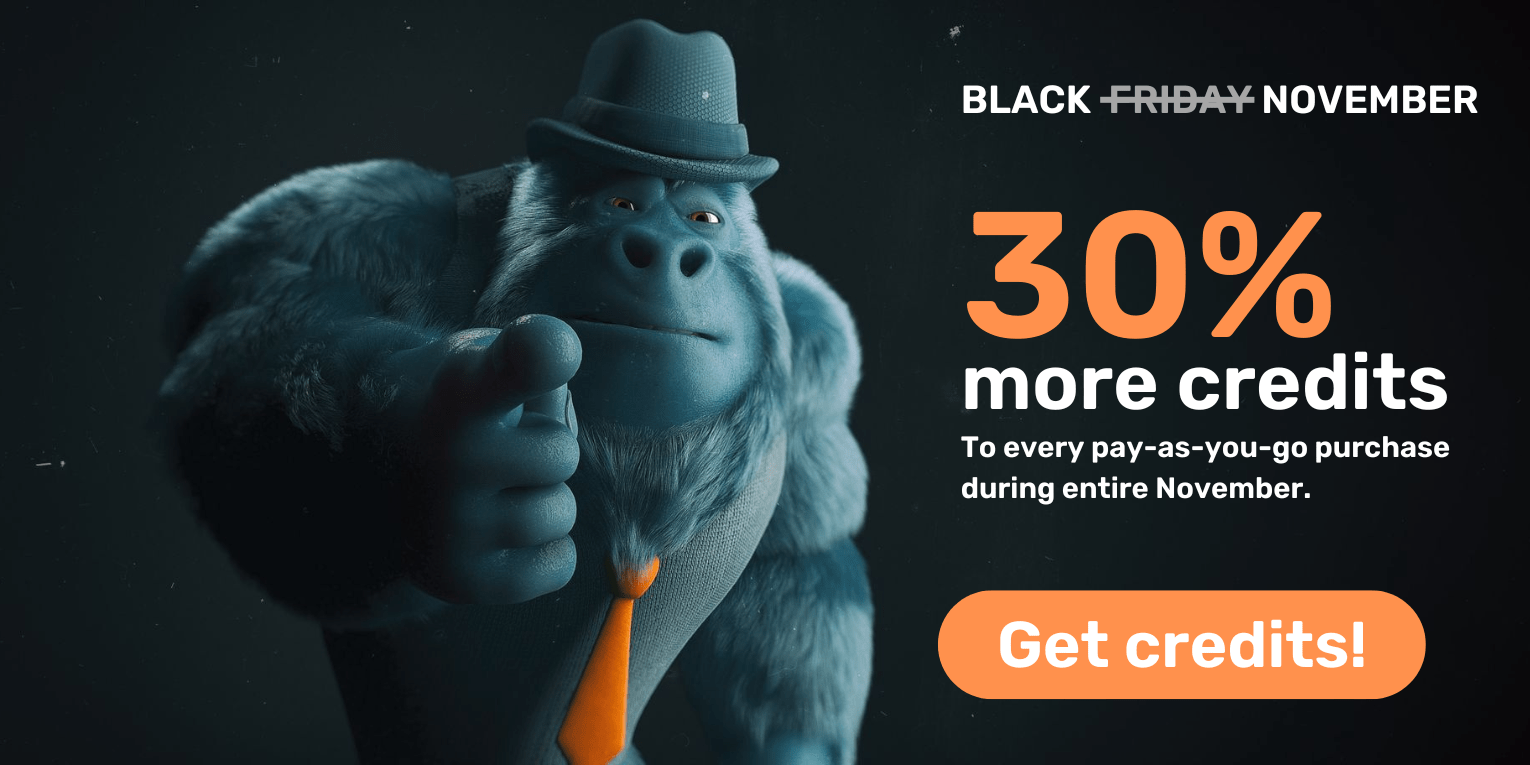 Bouncer is a technological leader in the email validation market. Email validation and deliverability service, trusted by 5000 companies from 6 continents, rated 4.8 on Capterra and G2Crowd with over 280 reviews.
The product has the best coverage and high performance (up to 200 000 verified emails per hour per customer). To be a more complex solution for both Enterprise and SMB segments, the product has additional features like e-mail Toxicity Check and Deliverability Kit, so users can take care of and improve their Deliverability.
Black Friday software deal from Bouncer
Bouncer's Black November (11.01 – 11.30): get 30% extra credits to every purchase. Just choose the quantity you need, finalize the purchase and you will automatically get an extra 30% credits for free.
👉Promotion applies to any quantity
👉Credits never expires
👉No promo code needed
Yespo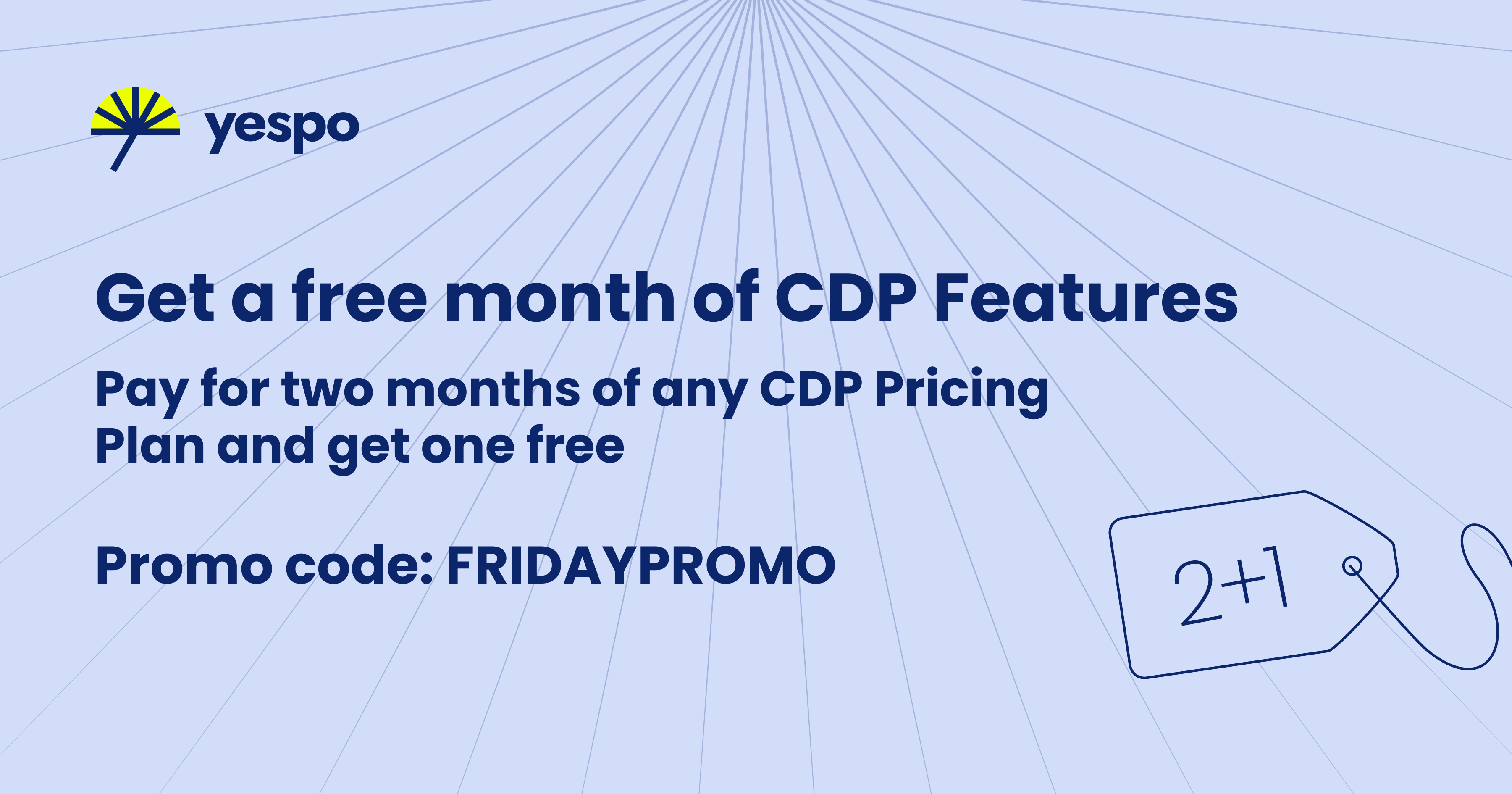 Yespo is an omnichannel platform that offers ready-made tools and campaigns for medium-sized ecommerces. It allows you to instantly receive additional income from existing customers.
Using Yespo, marketers can effortlessly integrate product feeds, choose suitable campaigns from ready-made ones, or set up custom segments and workflows.
Yespo also supports external data sources for customer profile enrichment to deliver accurate product recommendations by AI.
Black Friday software deal from Yespo
Yespo offers a free month of CDP functionality. Pay for two months of any CDP Features Pricing Plans and get 1 extra month for free with FRIDAYPROMO code. The deal ends on December 10, 2022.
Mailtrap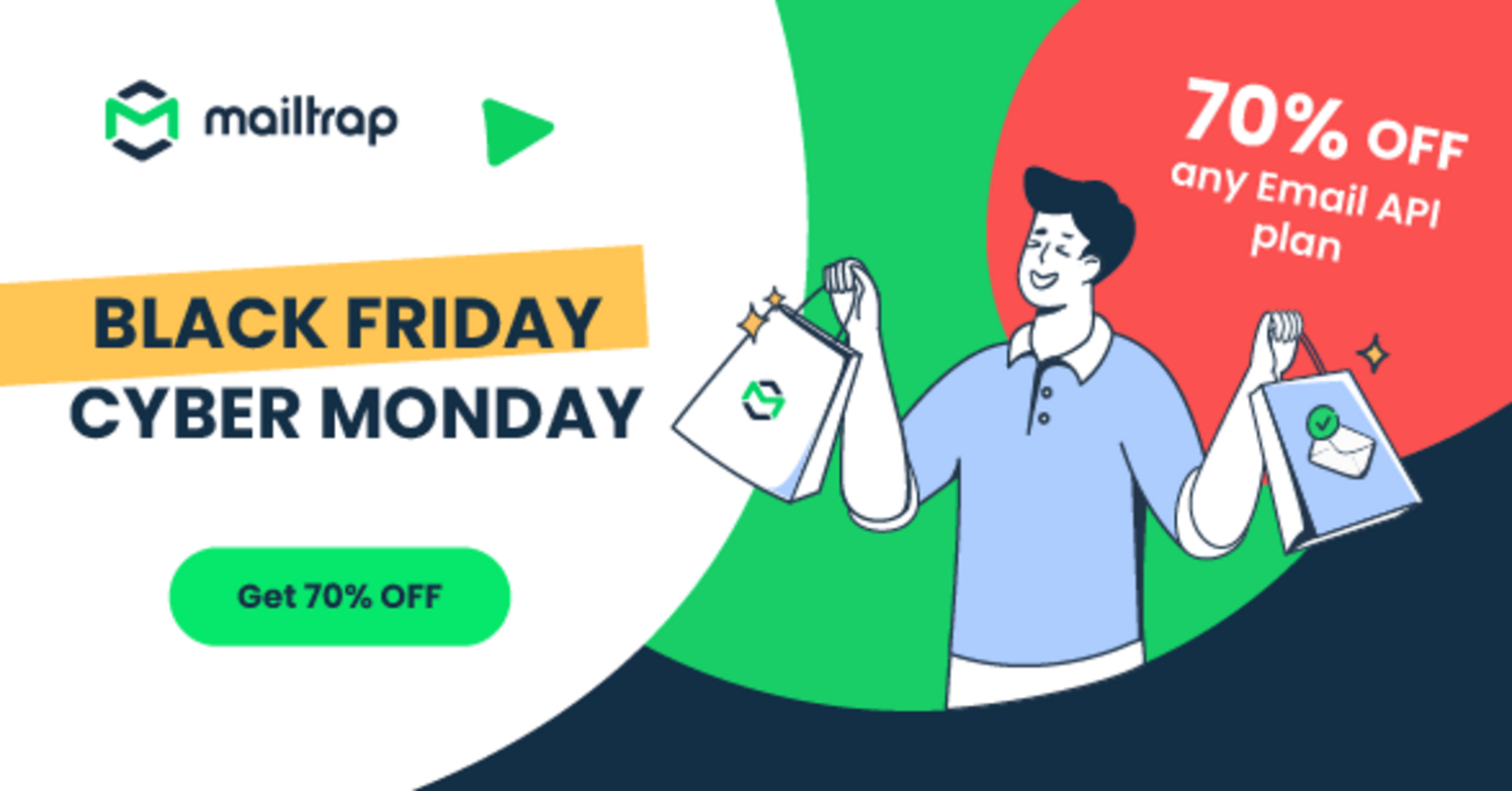 Mailtrap, an email delivery platform, comprises an Email API and Email Sandbox that allows you to keep your app's email infrastructure in one place.
With Email API/SMTP Service, you can achieve greater control over your domain authority, get timely email deliverability alerts, store up to 60 days of email logs for better troubleshooting and so much more.
Using Email API, you can get all the ins and outs of your deliverability performance via critical in-app stats and weekly reports filled with rich data.
Black Friday software deal from Mailtrap
Mailtrap's Black Friday promo code BFCM22 offers 70% OFF for Email API for all pricing plans. The offer is valid for 2 weeks (Nov 25th – Dec 9th).
Sales & CRM tools
NetHunt CRM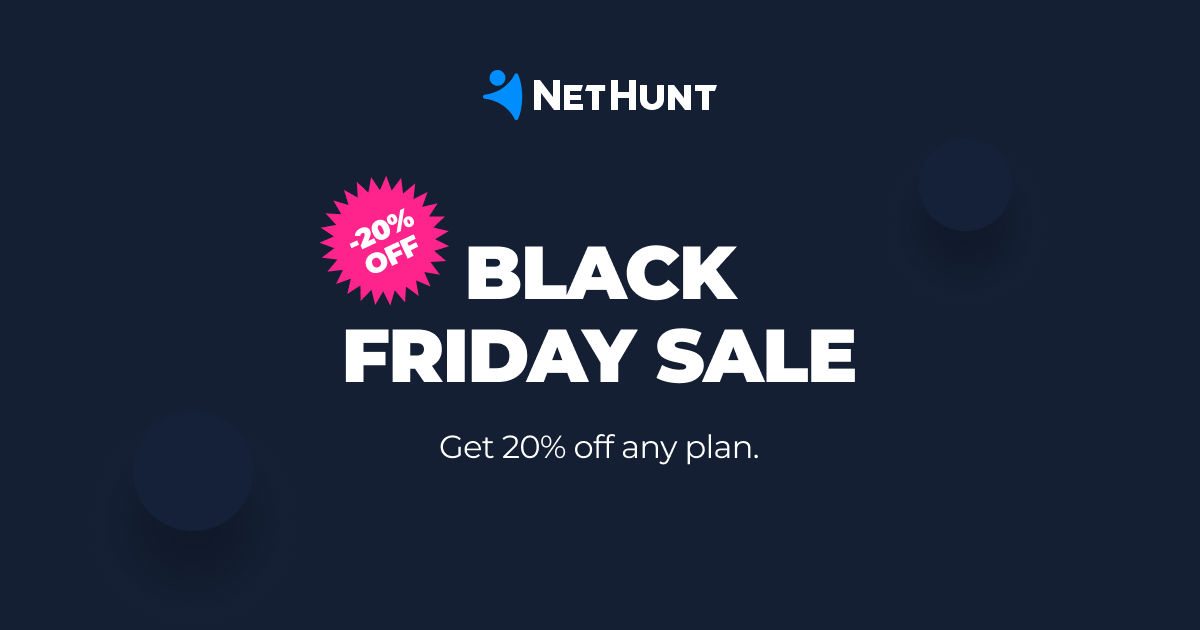 NetHunt CRM is a sales automation tool for sales and marketing teams. It's natively integrated with Gmail and LinkedIn. With NetHunt CRM, you can organize the customer base, segment it for personalized communication, build a pipeline to see where the deals are stuck.
It also automates your entire sales pipeline, from lead capture to nurturing sequences to tasks and reminders.
Create reports to see how your business progresses, how the team is performing, and what processes can be improved. Build forecasts you can trust.
Black Friday software deal from NetHunt CRM
NetHunt CRM offers 20% off any plan for 12 months for new users with the promo code NH_BF_2022.
Salesflare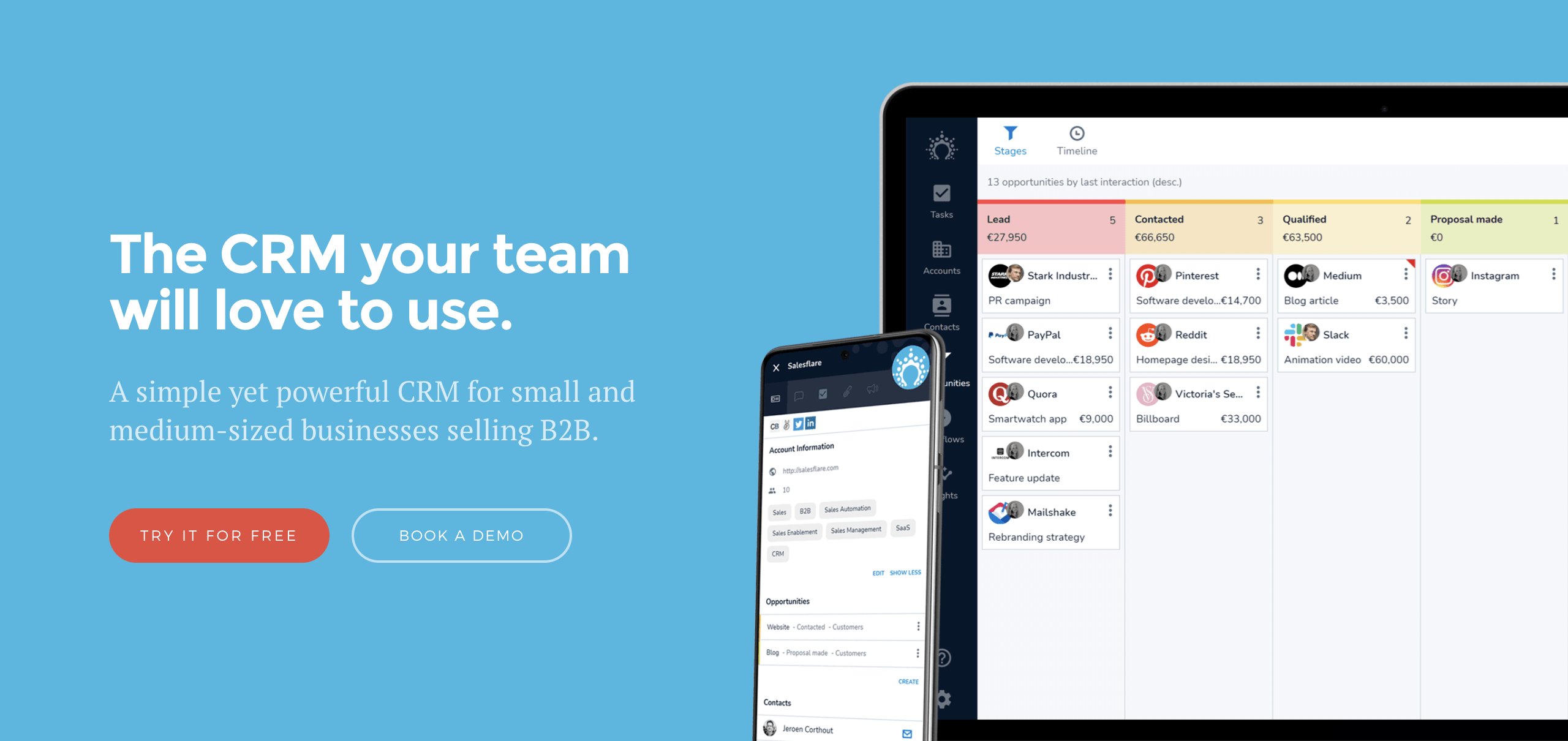 Salesflare is an intelligent sales CRM for small and medium-sized businesses selling B2B. It's super easy to use, plus it automatically tracks all about your customers through its deep integrations with Gmail, Outlook, LinkedIn, … and automatically enriches your customer data with email signatures and publicly available information. On the Pro plan, Salesflare additionally allows you to send email sequences, find 500 email addresses per month (including from its LinkedIn sidebar), build custom dashboards, and set team permissions.
Black Friday software deal from Salesflare
Get 20% off for 6 months on the Pro plan. Just apply the discount code BF22 after your free trial.
Reply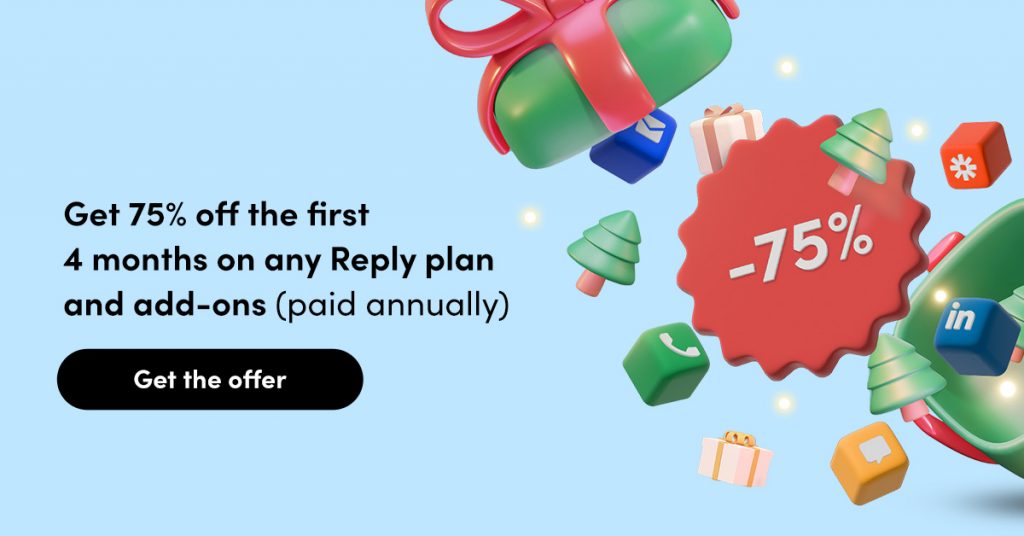 Reply is a full-cycle sales engagement platform that allows you to connect with prospective customers across multiple channels at scale while keeping every touchpoint personal.
From email search and validation to AI-powered assistant and powerful deliverability suite, there are tools to streamline every aspect of the process. This helps your team stay focused on revenue-generating tasks and eliminate administrative work.
Black Friday software deal from Reply
As a special Holiday Deal, you can use the promo code HOLIDAYOFFER2022 and get 75% off the first 4 months on any Reply plan (including Agency subscriptions) or add-on. The offer is valid until December, 31.
Website tools
Weblium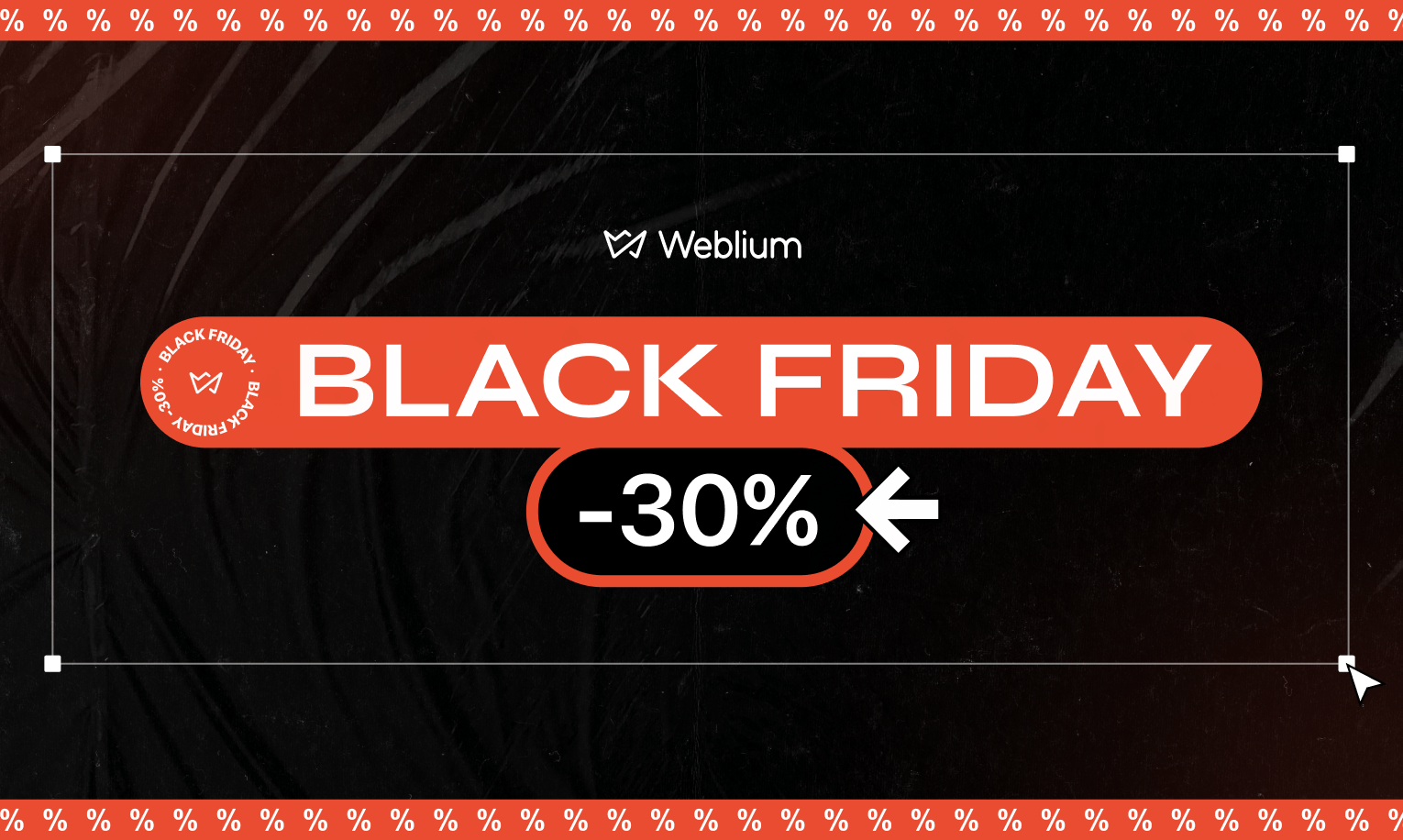 Weblium is an effortless website builder that allows you to create a landing page, personal website, or online store without the help of designers and programmers. Create a stylish, high-quality site that fully meets your goals and requirements.
You can use one of our 300+ design templates and customize it as you see fit. Try Weblium for free now — it's easy! No restrictions on traffic and usage time. No limitations on templates and basic blocks — create and use as many as you need.
Black Friday software deal from Weblium
This Black Friday season you can get 30% off the annual Pro plan. No coupon code required.
Pixpa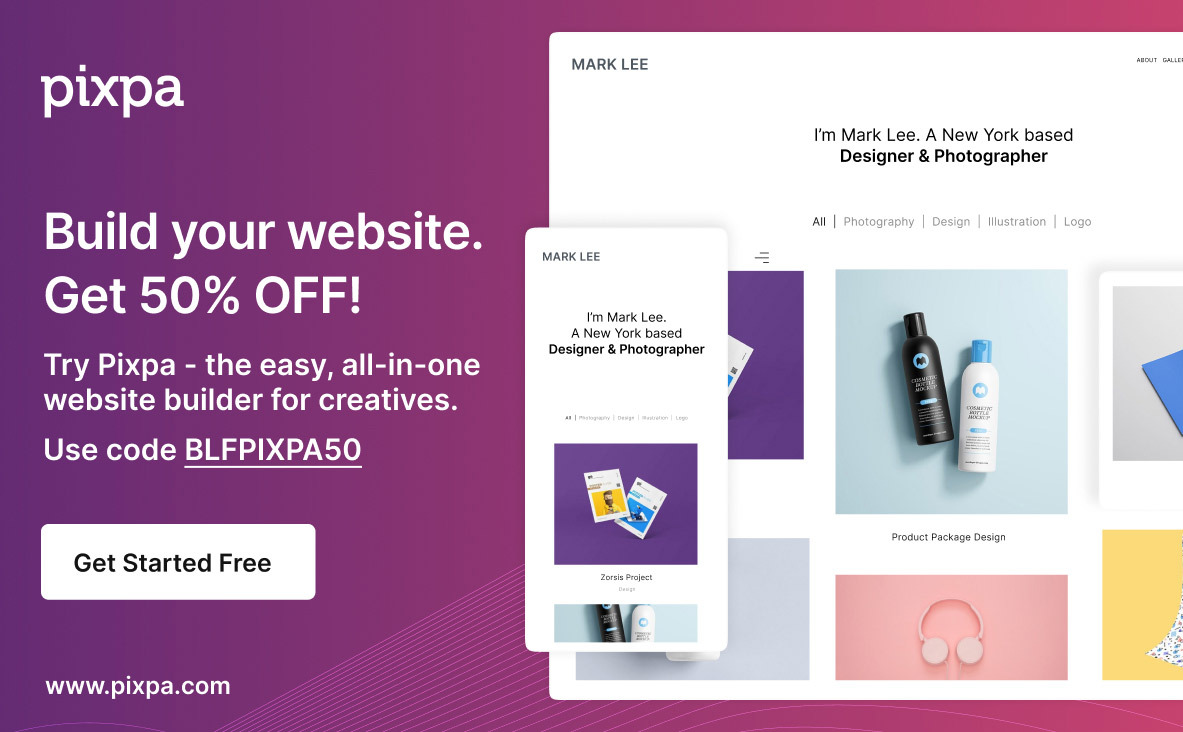 Pixpa is an all-in-one no-code platform for creators and small businesses to create beautiful, professional websites complete with built-in online store, blog, and client galleries. Pixpa's versatile platform has everything you need to showcase your work, share ideas and sell your stuff online, without any coding knowledge.
Black Friday software deal from Pixpa
From Nov 24 till Dec 31 use the promo code BLFPIXPA50 to avail a 50% discount on annual plans.
Mockplus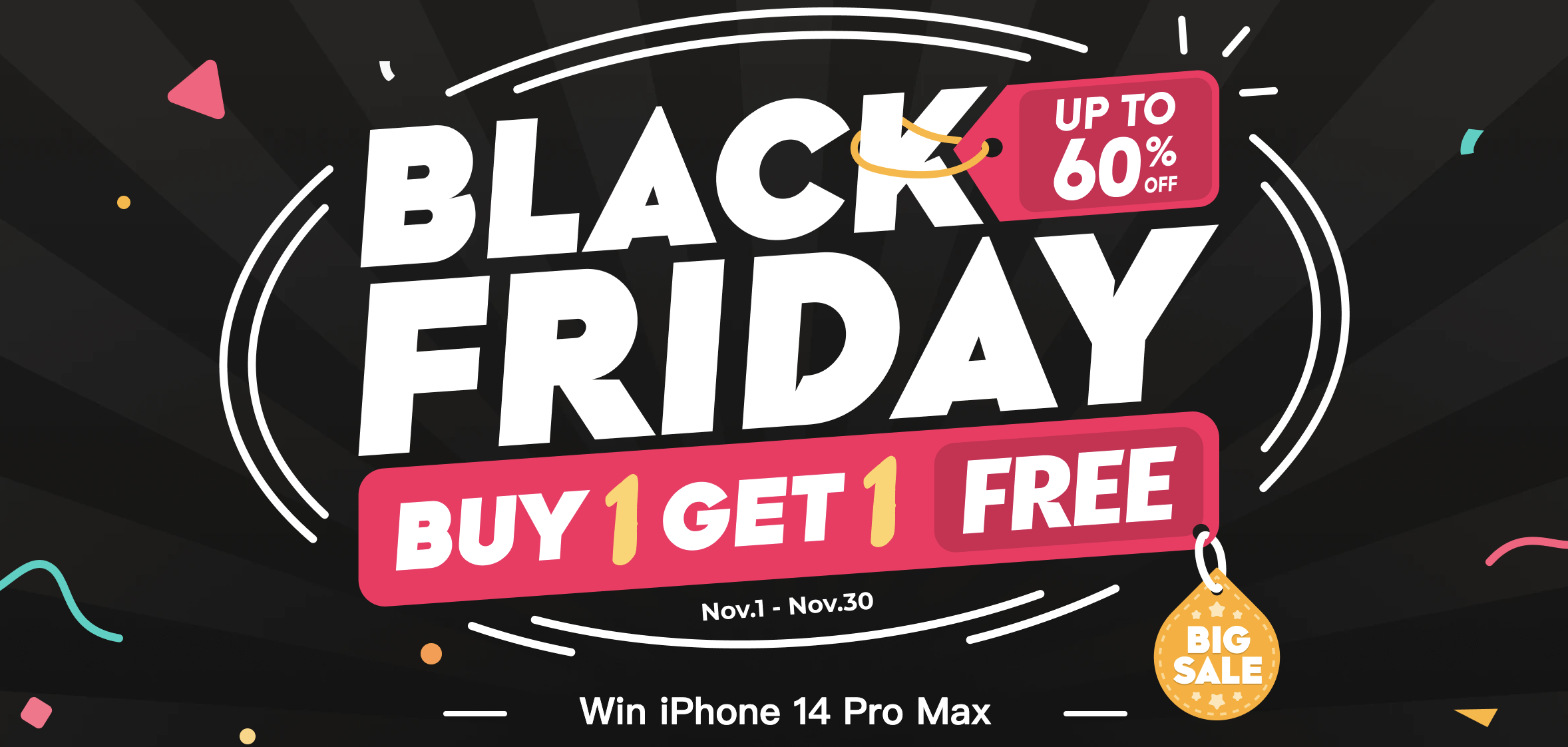 Mockplus is a web-based platform for design teams to prototype, design, collaborate and handoff. All in one place. Whether you are individual designers or creative teams, Mockplus can be the platform you cannot afford to miss out on.
Black Friday software deal from Mockplus
Mockplus offers the best value offer for this Black Friday — up to 60% off all plans.
Plerdy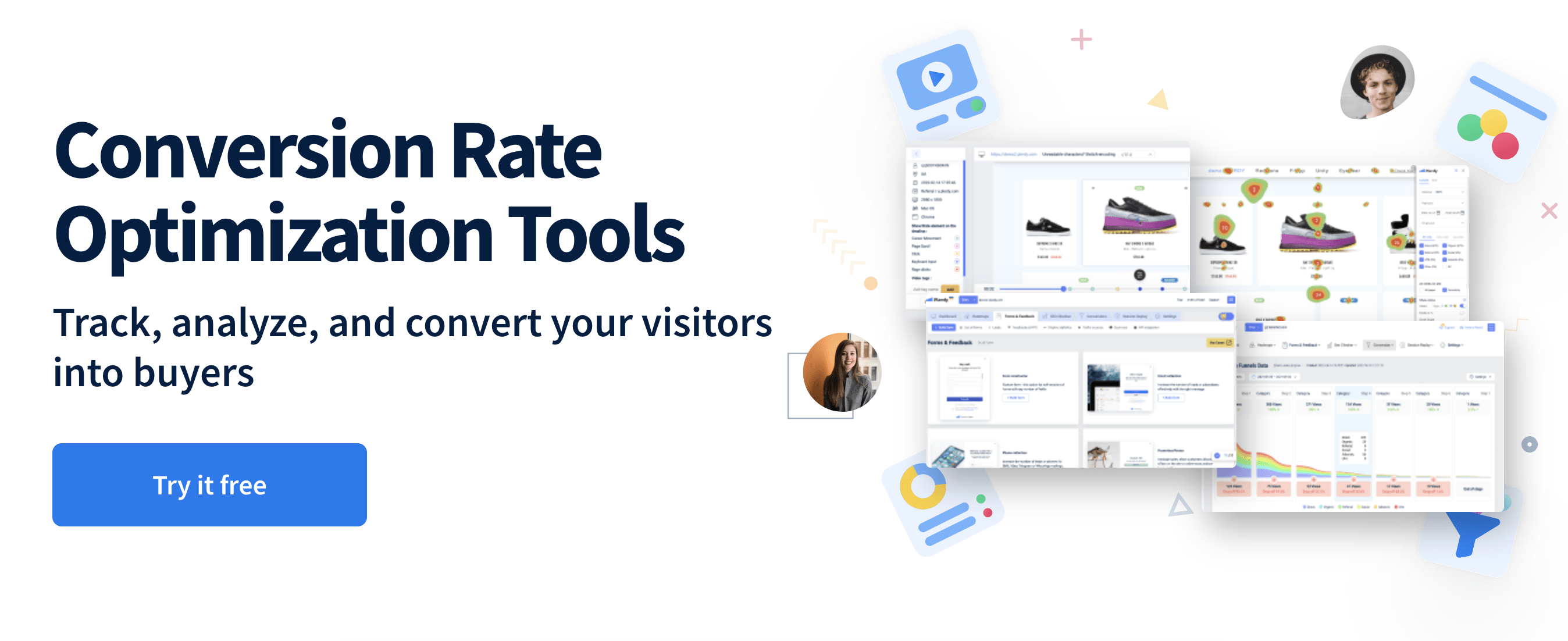 Plerdy is an all-in-one multifunctional CRO, SEO & UX tool that helps to understand the customer experience and convert more site visitors into buying clients. These tools help you identify bottlenecks and improve your conversion.
Black Friday software deal from Plerdy
Get 40% OFF all annual plans with the promo code plerdyBF2022.
Wpmet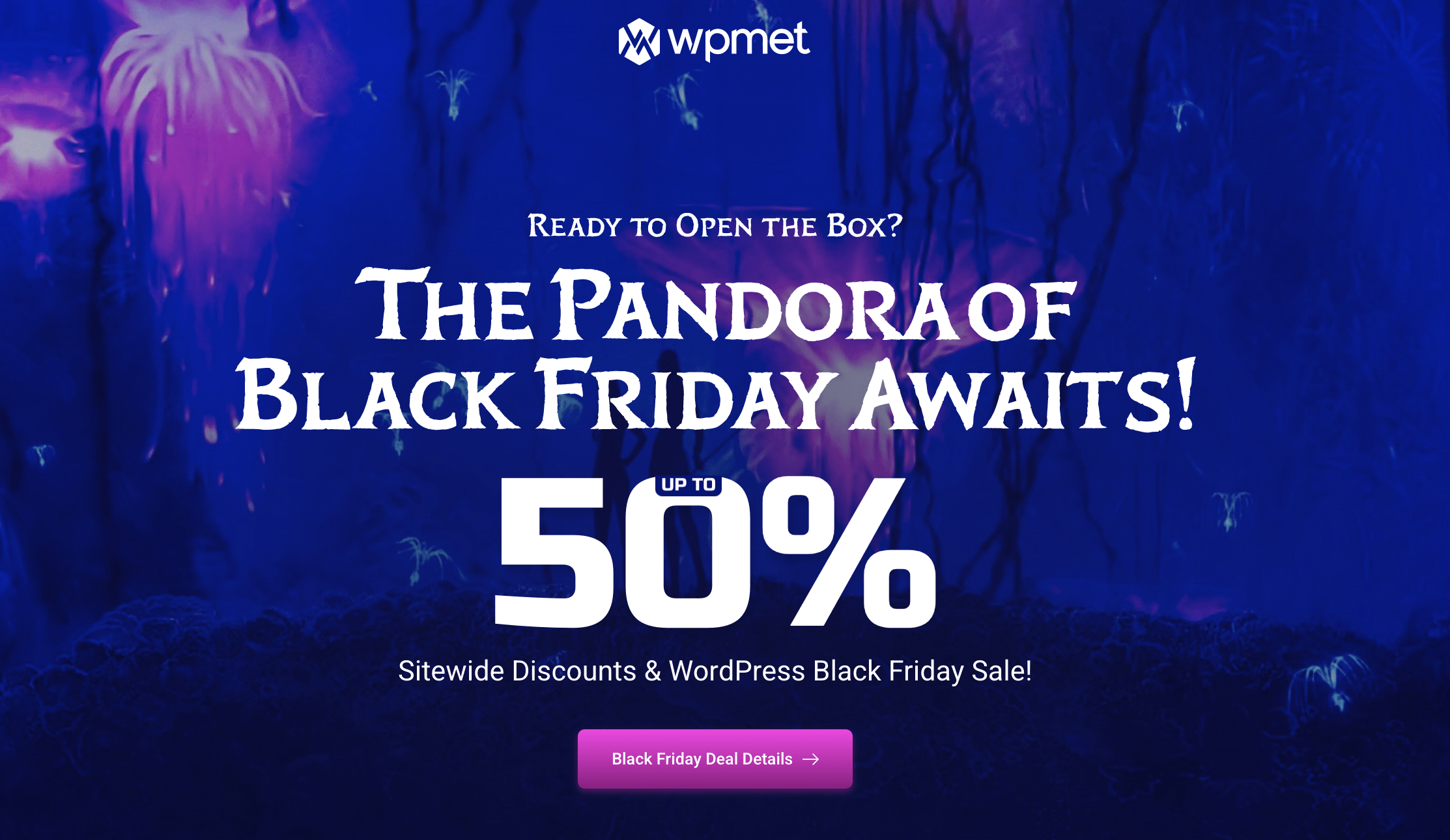 ElementsKit. Serving over 800,000 satisfied users, ElementsKit is the all-in-one Elementor add-on for flexible & handy page-building features.
ShopEngine. It's an all-in-all, feature-heavy WooCommerce builder with 20+ modules, 70+ widgets, 15+ templates & more features to empower your capabilities to customize your WooCommerce website. With this plugin, you can fully revamp your shop page, cart page, checkout page, my account page, and more.
MetForm. Create contact forms, feedback forms, subscription forms, and a bunch of many other forms for your WordPress site in minutes with MetForm! With 100,000+ active installations, this elegant form builder packs premium features and templates, letting you build any type of form you want.
Black Friday software deal from Wpmet
This Black Friday and Cyber Monday, enjoy up to 50% discount on ElementsKit and avail of 85+ powerful widgets and extensions, 14+ exclusive modules, 79+ Premade Homepages, 500+ Premade Section Layouts & more! Get all these PRO features before the offer runs out!
Get all the PRO features and enjoy up to 50% discount on ShopEngine Pro and up to 50% by capitalizing on the amazing form-building functionalities of MetForm. Hurry up and grab the offer before it runs out!
GetGenie AI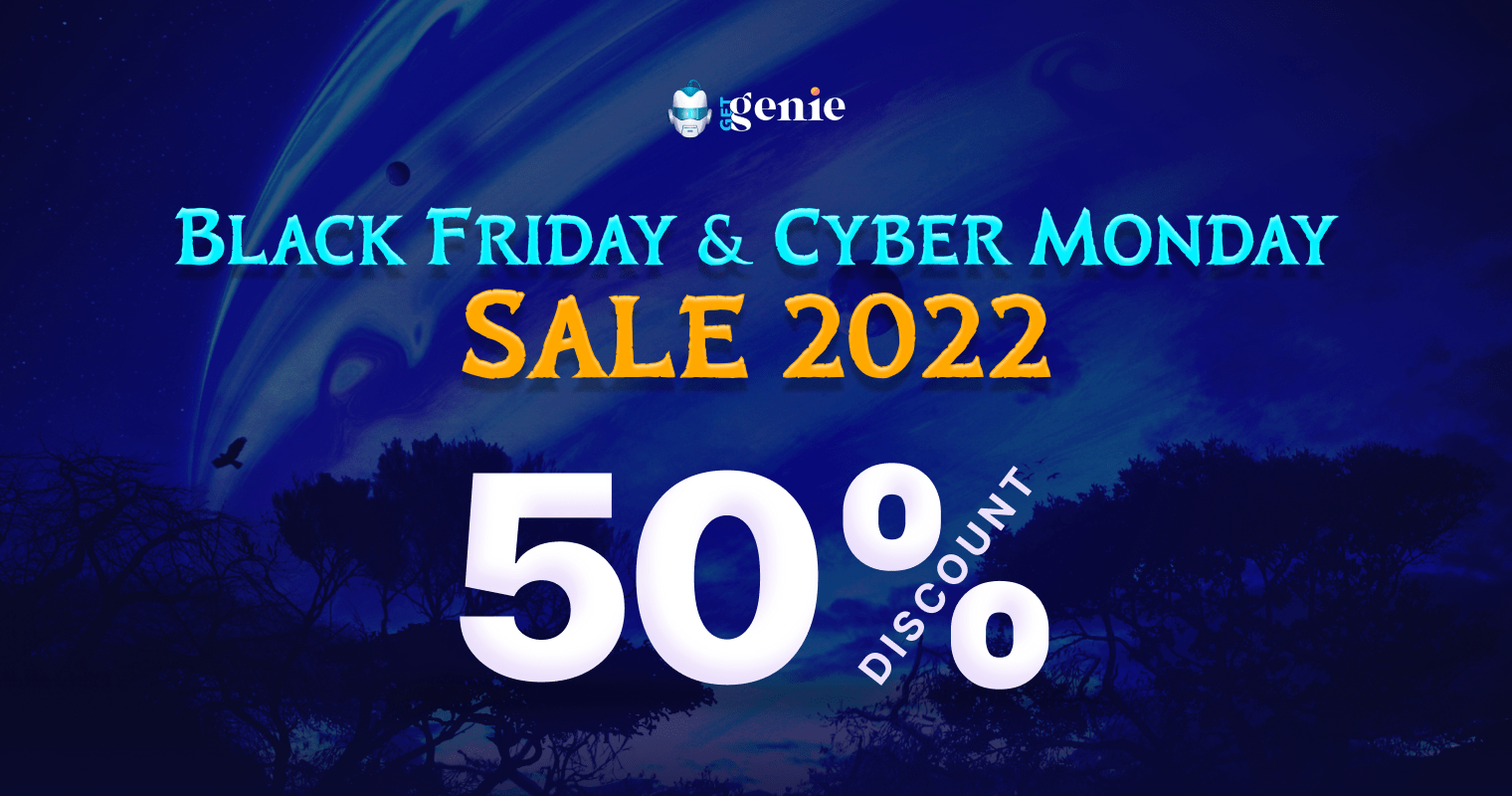 GetGenie AI — the most advanced WordPress AI tool for SEO-optimised content & copywriting. It has 30+ ready-made templates and amazing use cases like SEO Keyword Analysis, SERP Competitor Analysis, On Page Optimization, Meta Description, Content Scoring, Blog Outline Creator, Blog Title Writer, Blog Article Assistant, Product Descriptions, Sales Copywriter, and many more.
Black Friday software deal from GetGenie AI
Enjoy up to 50% discount on GetGenie AI this Black Friday + Cyber Monday and increase your efficiency in writing content on your WordPress website. Black Friday won't last forever, get your license before the offer runs out!
Paperform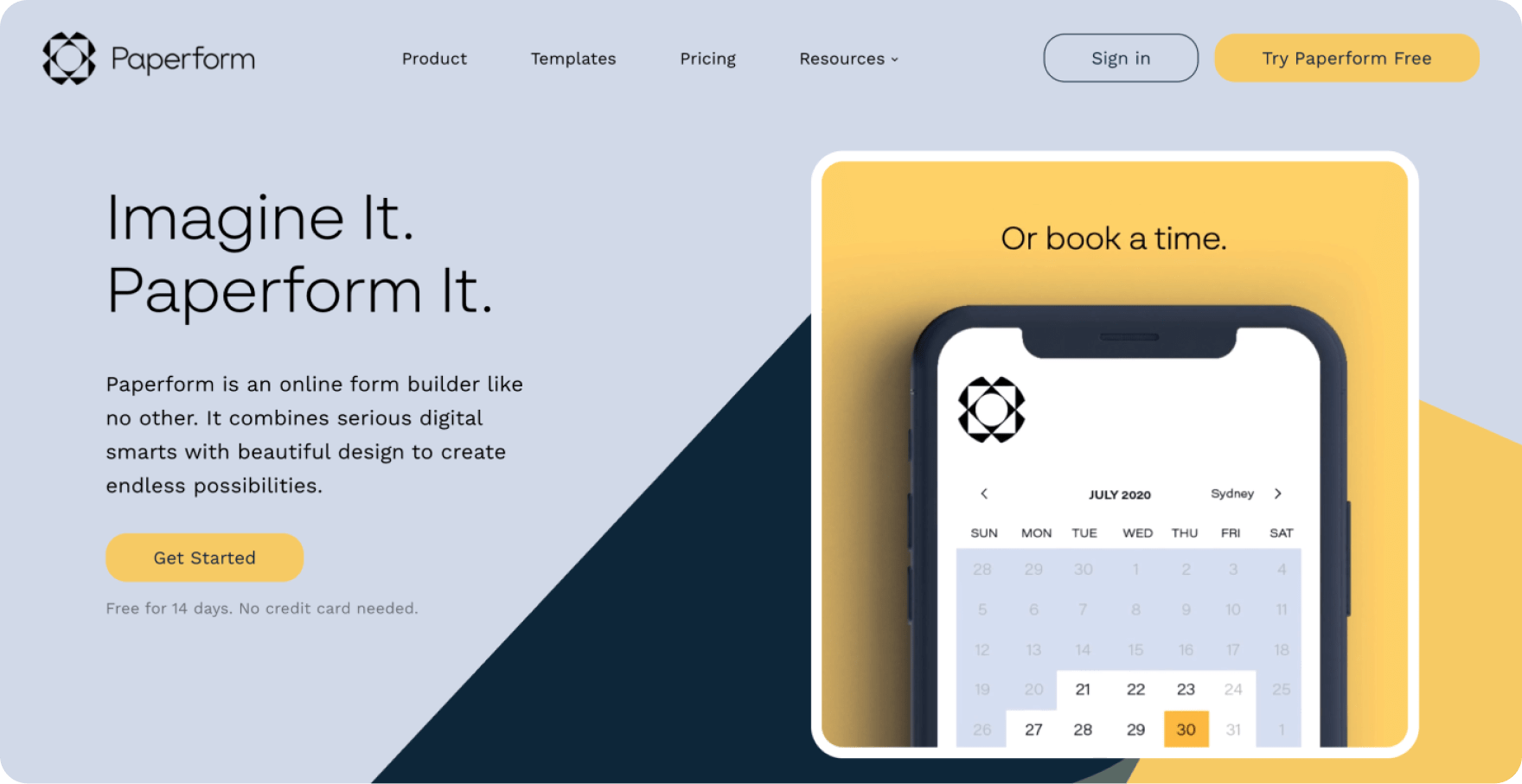 Paperform is a flexible SaaS platform that helps small businesses and teams simplify work and get more done.Take payments, manage bookings, collect information, or run an entire company. You can build the solutions you need, just the way you need them. You can harness the power of Paperform's beautiful, versatile forms to automate your workflows. With smart features and over 3,000 integrations, Paperform is the perfect addition to your tech stack.
Black Friday software deal from Paperform
The Paperform Black Friday deal is a 50% discount on the Paperform Pro and Agency plans for the period of 12 months from the date of purchase. The deal is only for annual plans – monthly plans are not included.
The discounted prices are:
$240 USD for one year of Paperform Pro
$810 USD for one year of Paperform Agency
TemplateMonster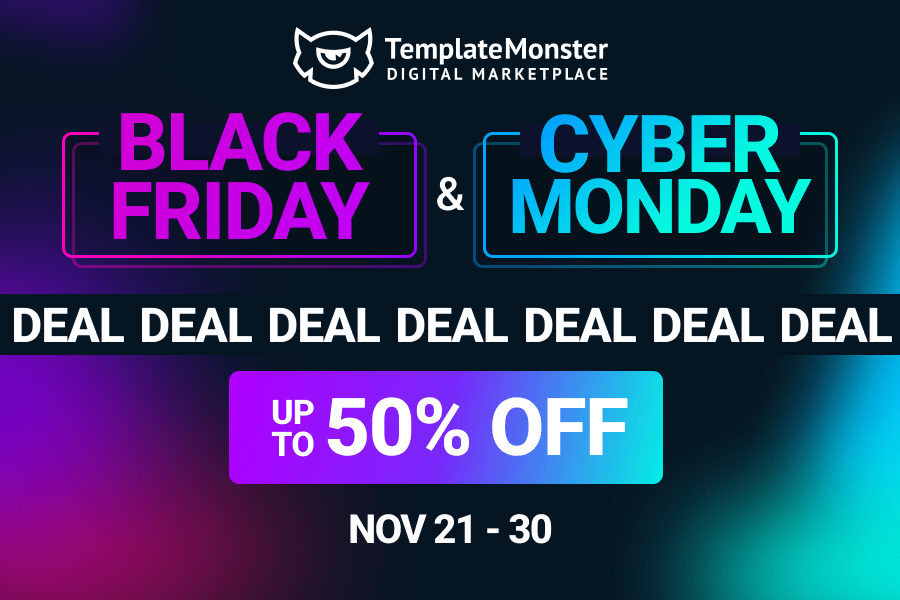 TemplateMonster is a digital marketplace for website templates, plugins, and graphics. Best place to buy and sell digital products.
Black Friday software deal from TemplateMonster
Up to 50% off on all TemplateMonster and MonsterOne products and services as well as $5-$50 coupon codes and the drawing of $300 gift certificates to get any TemplateMonster and/or MonsterOne product and service.
Productivity tools
Scribe

Scribe is the fastest, easiest, and most effective way to share how to do any process. Scribe automatically creates visual, step-by-step guides with text and screenshots by capturing your browser or desktop workflow. Hour-long walkthroughs and customer trainings are a thing of the past. Scribes are ready to share, link or embed instantly. It's time to get your time back!
Black Friday software deal from Scribe
Get one free month of our Pro plan ($29 value).
Chisel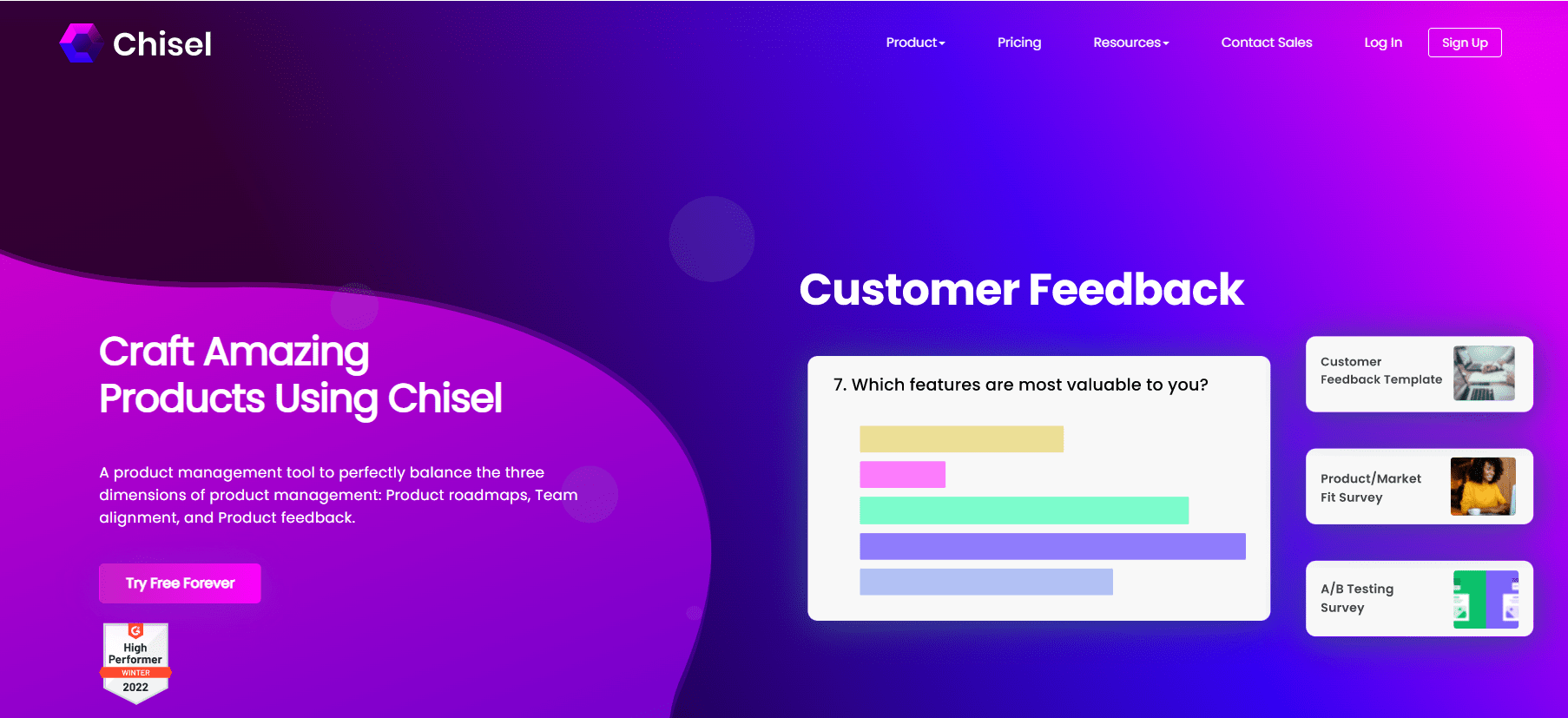 Chisel is the #1 agile product management tool for a reason. It's the first tool ever made specifically designed to take input from real product managers. And it offers three main segments that are essential for product success: product roadmap management, team alignment, and user feedback management.
Chisel is the most comprehensive agile platform on the market. It empowers product teams to communicate and collaborate more effectively, stay aligned on their product vision, and get the feedback they need to make the right decisions.
Black Friday software deal from Chisel
Chisel is offering 20% off on the premium plan. All you have to do is enter the coupon code: RoadmapHeroes in the billing section.
Breadnbeyond

Breadnbeyond is an award-winning explainer video company specializing in producing animated explainer videos. We create engaging animated explainer videos that help you introduce your brand, product, or service to the world – all from scratch, no template.
Black Friday software deal from Breadnbeyond
Get up to 40% OFF for an ultimate explainer video!
Playstory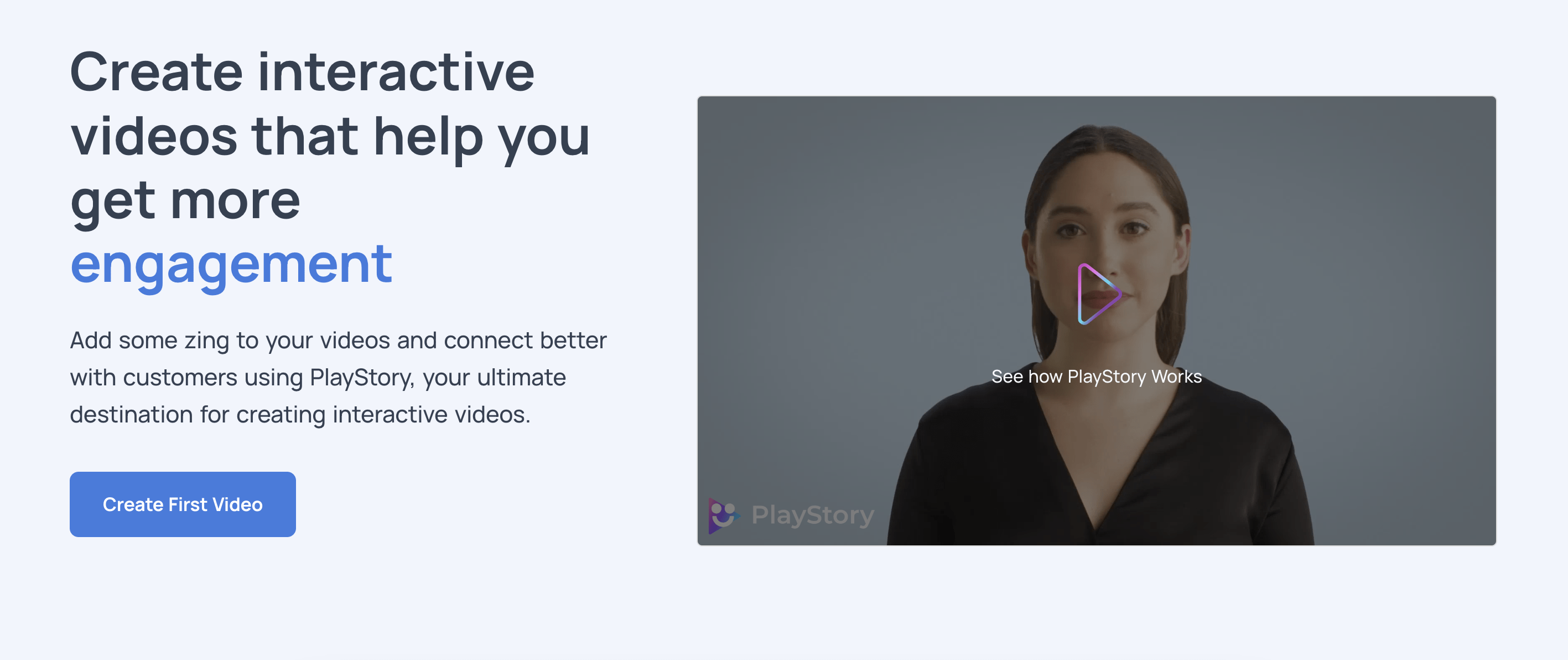 PlayStory is a fully-loaded interactive video creation tool that helps increase viewer engagement. The tool is the best for marketers looking to create highly-converting videos.
You can upload videos or record them using the tool, and add interactive elements such as questions, meeting links, etc. It is possible to create multiple pathways for your videos and let the viewer actively control them, giving them a personalized experience. Sharing the video on social media and embedding it on your website or landing pages is possible with a few clicks.
Black Friday software deal from Playstory
You can get a Lifetime Deal at just $19. The offer is valid from 1st Nov until 31 Dec 2022.
Project management tools
ClickUp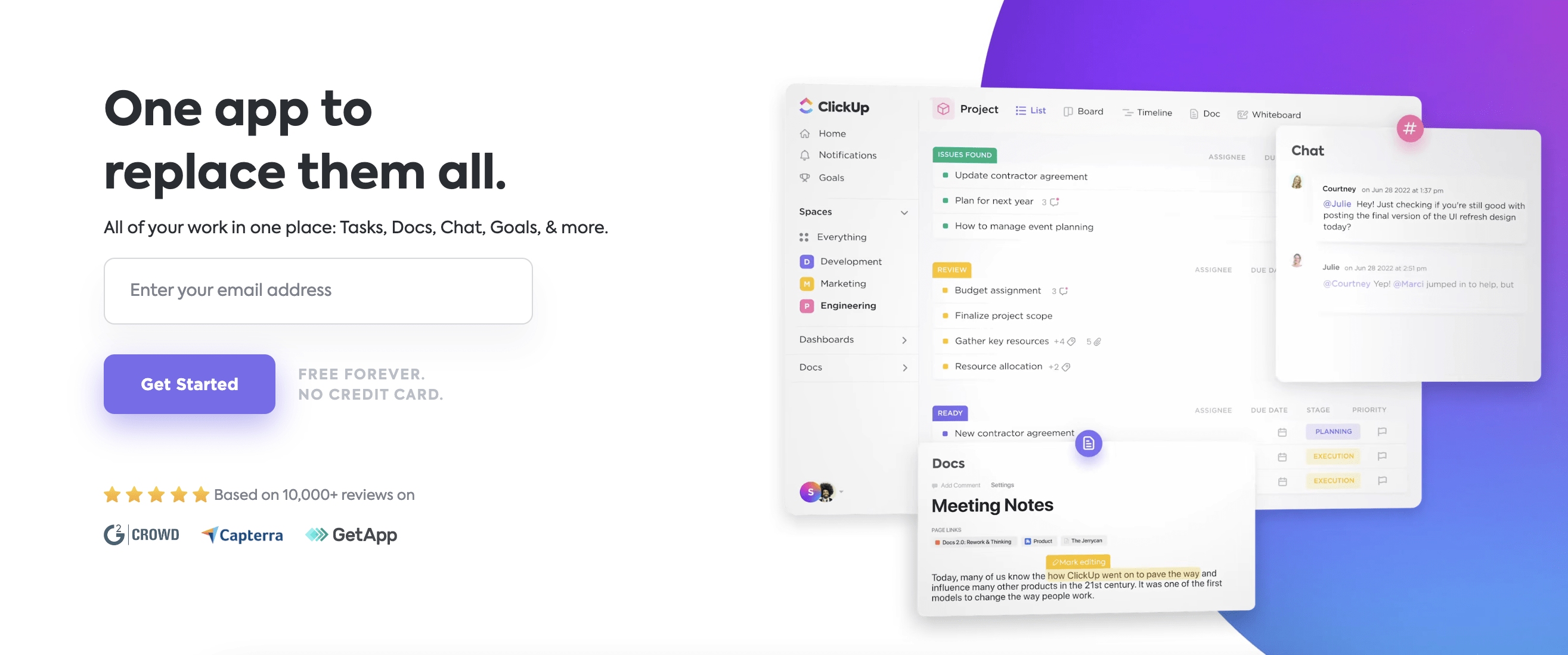 ClickUp is an all-in-one project management and productivity tool that offers a fully customizable platform to help teams simplify work and get more done.
Black Friday software deal from ClickUp
Get a 20% discount on the Unlimited and Business plans with the promo code CYBERUP. Deal expiration date: 12/2/2022.
ProofHub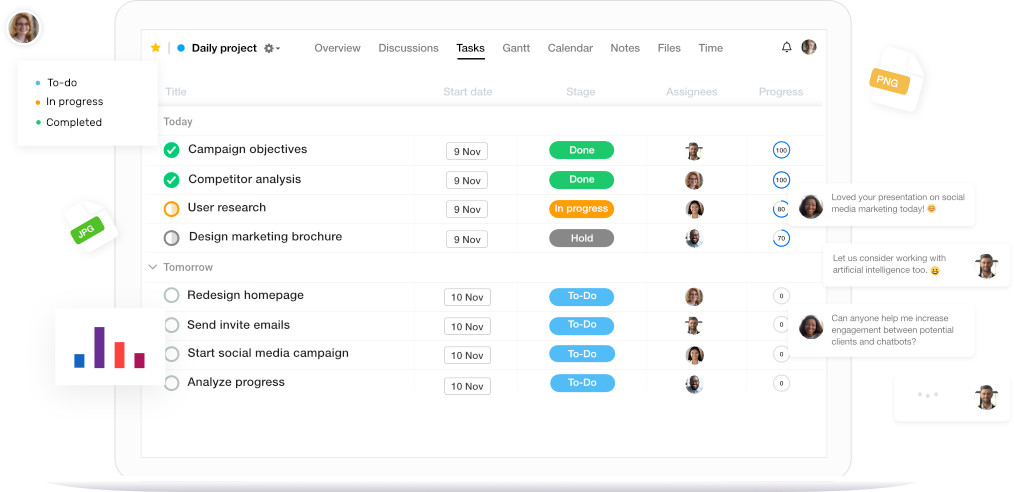 ProofHub is an all-in-one project management and team collaboration tool that helps organize and prioritize your work schedule. It helps you to plan, execute, collaborate, organize and deliver projects on time. This simple, intuitive tool is used by project teams of every size and industry.
This tool offers a suite of work management and team collaboration features that help users to have great control over various aspects like task management, time management, instant chat, file management, online file proofing, reports, discussions, real-time updates, and more.
Black Friday software deal from ProofHub
ProofHub Black Friday Cyber Monday deal for 2022 offers you a Flat $89 per month (for 6 months only) when billed annually and $99 per month when billed monthly, on the Ultimate Control plan that is otherwise priced at $150 per month on monthly billing and $135 per month on annual billing. Unlimited users are allowed on both pricing plans. Click here to grab the offer.
ActiveCollab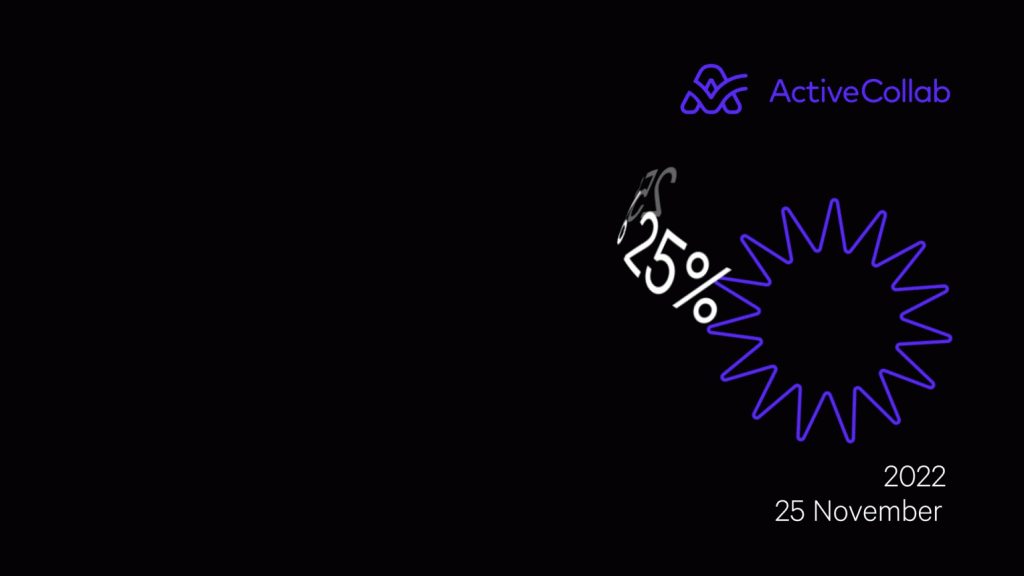 ActiveCollab is an all-in-one app for project management, time and budget tracking, chatting, and workload overview that allows you to run your projects smoothly within budget and deadline. Leave email chains in the past where they should be! Your team and clients can communicate through tasks and discussions. Tracking time has never been so easy: press play and let the integrated Stopwatch count the hours for you. What about chat apps? ActiveCollab has that too! The in-app Chat lets you communicate with the team wherever you are.
Black Friday software deal from ActiveCollab
This Black Friday, ActiveCollab offers awesome discounts. From November 25th till November 28th, new users will get 25% off their first purchase, and existing users will get a 25% discount on all plan upgrades!
Pick the best Black Friday and Cyber Monday deal
Finally! The best Black Friday software deals for business in 2022 are up for grabs. Feel free to catch whatever discount you see fit before it expires. Happy holiday season, everyone!