16-Step SaaS Onboarding Checklist for Your Product
A detailed client onboarding checklist can help you remember all the important nuances and save you from many mistakes. Download our ready-made checklist and don't worry about a thing anymore!

If you've been in the SaaS business for at least a couple of months, you should already have a pretty good grasp of how your customer journey looks like. Every touchpoint and every interaction from the first Google ad to yet another account upgrade is a small brick that keeps the whole construction together.
And client onboarding holds a very special place in this product adoption process. While marketers are trying to attract the right kind of people and sales reps are trying to sell your product on top of their ability, lots of customers will still be churning during the onboarding stage.
People won't stick to the product if they don't know how to use it. And honestly, it's more disappointing to lose clients who already clicked the 'sign up' button. So, how do you build an effective SaaS onboarding checklist that takes all minor details into account? Let's elaborate on this further.
What is SaaS onboarding?
SaaS onboarding is the process of showcasing all the benefits and features of your product to clients on a step-by-step basis. Basically, you move from the simplest features of your SaaS product to more advanced ones and help customers adopt your product gradually.
The first step of the SaaS customer onboarding is the most important one. You must clearly understand the single most important action that clients need to perform in order to get things started. For instance, HelpCrunch users are required to install our chat widget on their website. Once done, they'll be able to see the true value of what we have to offer. Otherwise, customers won't be able to enjoy other functionality to its fullest potential. 
All the further steps will have to lead a client towards that desired 'aha moment' after which customers will no longer want to ever abandon your product.
Why do you need a SaaS onboarding process?
I guess the answer to this question is pretty self-explanatory. Unless clients complete the onboarding process, they won't be able to experience the full power of your product and will most likely drop it sooner than you think.
In addition to obvious stuff, there are numerous benefits that you get with a smooth SaaS onboarding process:
Improving the overall customer retention rate
Helping customers adopt more complicated features
Ensuring their better understanding of the product
Giving you a better understanding of your clients' goals and needs
Providing you with valuable customer data and insights into their behavior
Building stronger customer relationships
Improving your LTV.
No one will argue that a loyal customer is the best thing that can happen to any business. They bring constant revenue, leave positive feedback and recommend you to other people. And such a fruitful relationship starts the moment they log in to your product and see the first onboarding tip there.
So, what does effective SaaS onboarding look like?
SaaS customer onboarding checklist
Every SaaS onboarding checklist consists of two parts: preparative work and direct communication with clients. It's also important to note that some onboarding tasks can and should be automated, while other things should be done manually by designated members of your team.
A robust SaaS onboarding template for new customers consists of all these elements elaborately mixed with each other in a well-balanced way. First, you send an automated welcome email, then you follow up with a corresponding client onboarding questionnaire, after which your personal onboarding assistants can get in touch with each customer separately — all while customers are navigating through your product with the help of product tours.
Based on the industry best practices as well as on our own experience, we at HelpCrunch have worked out our 16-step SaaS onboarding checklist:
Stage 1. Onboarding materials
Create a detailed help center describing your functionality and answer all common questions
Write a few case studies about your clients and their successes
Shoot a short introduction video that you can later repurpose on different stages of your onboarding process
Stage 2. Email sequence
Collect basic client information during the registration process like an email address, name, company.
Set up an automated welcome email that gets sent after a client signs up for your product. Can include a short introduction video.
Send an email follow-up for clients that haven't completed the first key product adoption step.
Fine-tune a short email sequence encouraging customers to use more advanced functionality and offering corresponding educational materials.
Send an email report celebrating important milestones performed by a client.
Stage 3. In-app tooltips
Create a first welcome window that will greet new customers once they sign up for your product and shortly tell them what's what. Can include a short introduction video.
Create modal windows or feature callouts that pop up automatically and walk a new client through the first product adoption steps.
Set up an in-app checklist that will show customers their onboarding progress.
Stage 4. Personal onboarding call
Track clients' progress in completing previous onboarding steps.
Schedule an onboarding call between a new client and your customer success team.
Gather detailed client information like their goals, objectives, use cases.
Give personalized recommendations regarding your product.
Send an email follow-up after the onboarding call with the necessary materials.
How to run a successful SaaS onboarding process
At first, this all may look a little frightening and intimidating. 16 steps of writing articles, setting up automated emails, and personal calls, for God's sake! But in fact, taking care of all these steps is a matter of several weeks. Let's take a detailed look at the peculiarities of the SaaS user onboarding stage by stage:
Prepare the necessary onboarding materials
Before we even get to talk about any onboarding process at all, you should do a great bulk of preparative work. Even the most detailed checklist won't cover every question and every pitfall. And some customers just want to explore things at their own pace.
Moreover, when you get to sending all those emails and stuff, you actually have to send SOMETHING, don't you? That's why it's important to prepare detailed educational materials that you will later use throughout the onboarding process.
Detailed help center articles that will explain every single feature and answer all common questions.
Small video introduction that will explain your product in the simplest terms and show all ins and outs in a more compelling and comprehensible way.
Use cases about your existing customers and their highlights.
Blog posts with more detailed recommendations describing how to use your product to its fullest potential.
Videos are my favorite educational materials. For one thing, you can repurpose them many times on different stages — send them via email, demonstrate it somewhere inside your product, etc. And customers will enjoy visual content, too.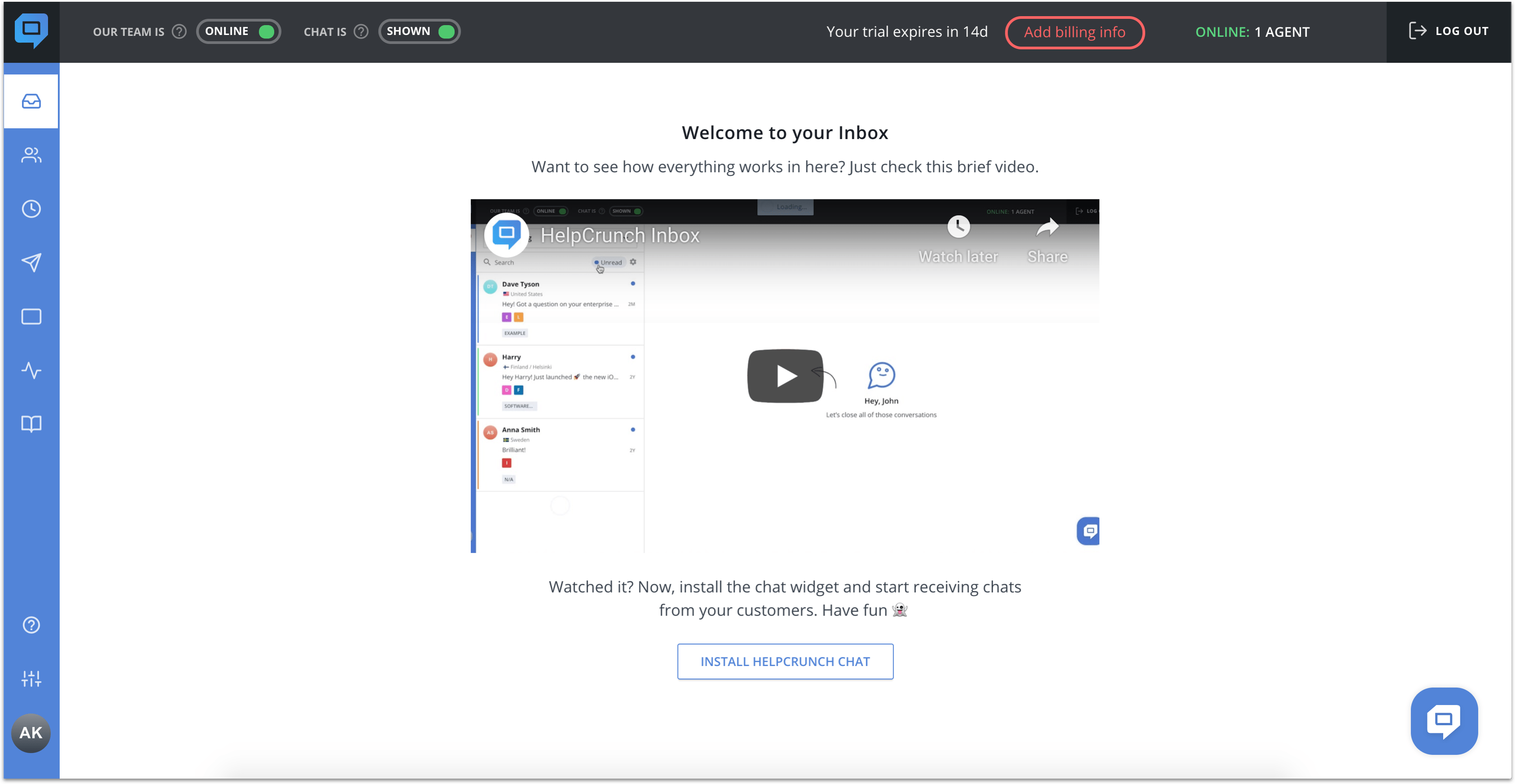 Set up an automated email sequence
Having an onboarding email sequence in place is a must for any SaaS customer onboarding process. It's the most effective way to reach your clients any time even if they've left the product already.
At the very least, you should create a sequence of automated emails that will be sent to customers based on their behavior and overall time. Let's say you want to reach those customers that have adopted a particular feature three days after they did it. You can easily do that by using these parameters as email triggers with the help of any email marketing tool of your choice — e.g. HelpCrunch, Mailchimp, Drip, Unisender.
There are several essential emails that you should definitely include in your client onboarding process:
Welcome email. Say hi to everyone who's just signed up for your product, introduce yourself and the product in general terms.
Customer hasn't completed the key adoption step. Send this email to everyone who hasn't finished your installation wizard or hasn't passed the very first step of your onboarding process.
Success milestones. Once clients complete basic onboarding steps, you can send advanced features tips and tell them more about further milestones. You can split this one into several emails depending on how much information you want to provide.
Productivity report. Optionally, you can send productivity reports to those customers who have successfully completed important milestones. This will give them more motivation to go on.
A common mistake is to tell a reader about the features such as fees, duration of service, logistics, etc. That's needed info, but the selling points for the consumer are the benefits. To uncover the benefits from your customers' point of view, find out what they hope to achieve (the big dream) and articulate how your product helps them reach that goal.

7-Step Sequence for Onboarding Emails
While talking about features and benefits, don't forget to remind your clients that their trial ends soon. This doesn't exactly fall under the category of the SaaS client onboarding process, but it's an important email nonetheless. Create some sense of the urgency for your clients and try to hurry them up into the purchase.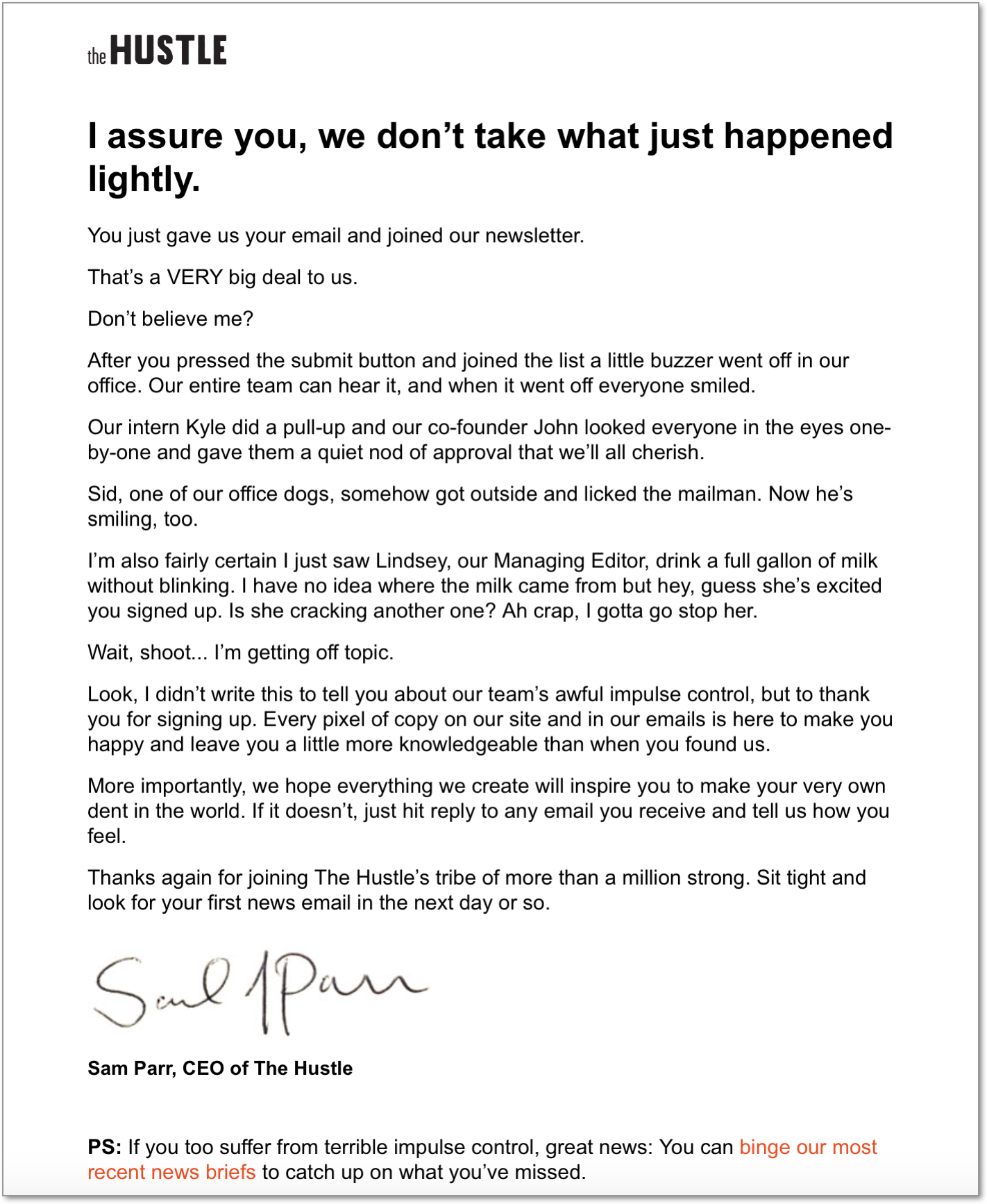 Set up in-app tips
If sending automated onboarding emails to your new clients is kind of like a guerrilla operation happening behind the lines, then the battle royal is going on right inside your product.
Your strategic onboarding task is to grab every client's attention the moment they hit the sign up button and never let go. They should stay in your product — the longer the better. A simple installation wizard and easy-to-understand UX/UI are all important parts of this journey, there are also in-app messages that help clients better understand your product along the way.
There are several ways you can send such in-app tips to your customers while they're starting to discover the product:
Small modal windows that open automatically over your product's UI
Automated tooltips that open automatically in a set order and walk a customer through every step of the onboarding process
Built-in tooltips that open when clicked on or hovered over
Automated chat messages sent via live chat
In-app checklists that guide customers from one onboarding step to the next
Each of these options performs different roles in a product and can even work pretty well in bundles.
In-app checklists can push clients to complete onboarding tasks by showing their progress in a compelling and more interactive way.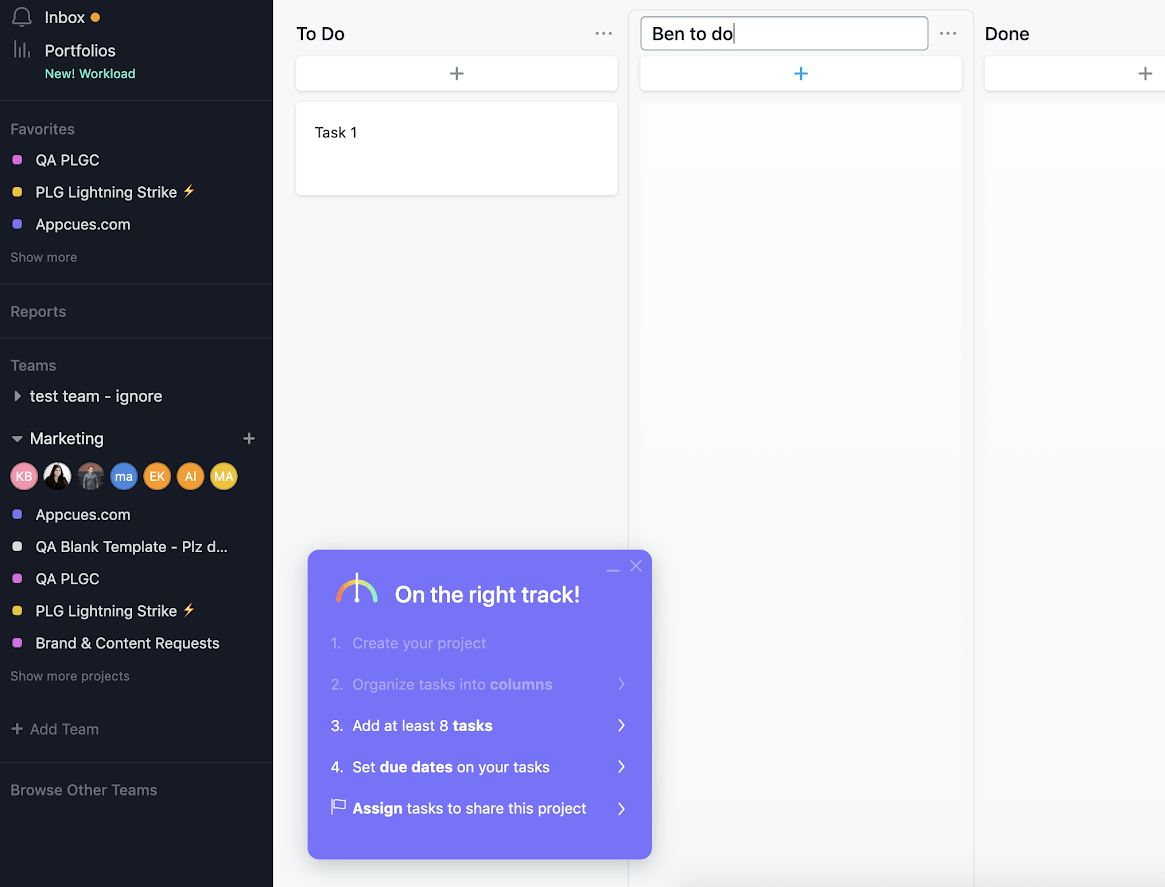 Modal pop-up windows and product tours are great for introducing the first necessary step that leads to that coveted aha moment. For instance, we at HelpCrunch use them for our chat widget installation wizard.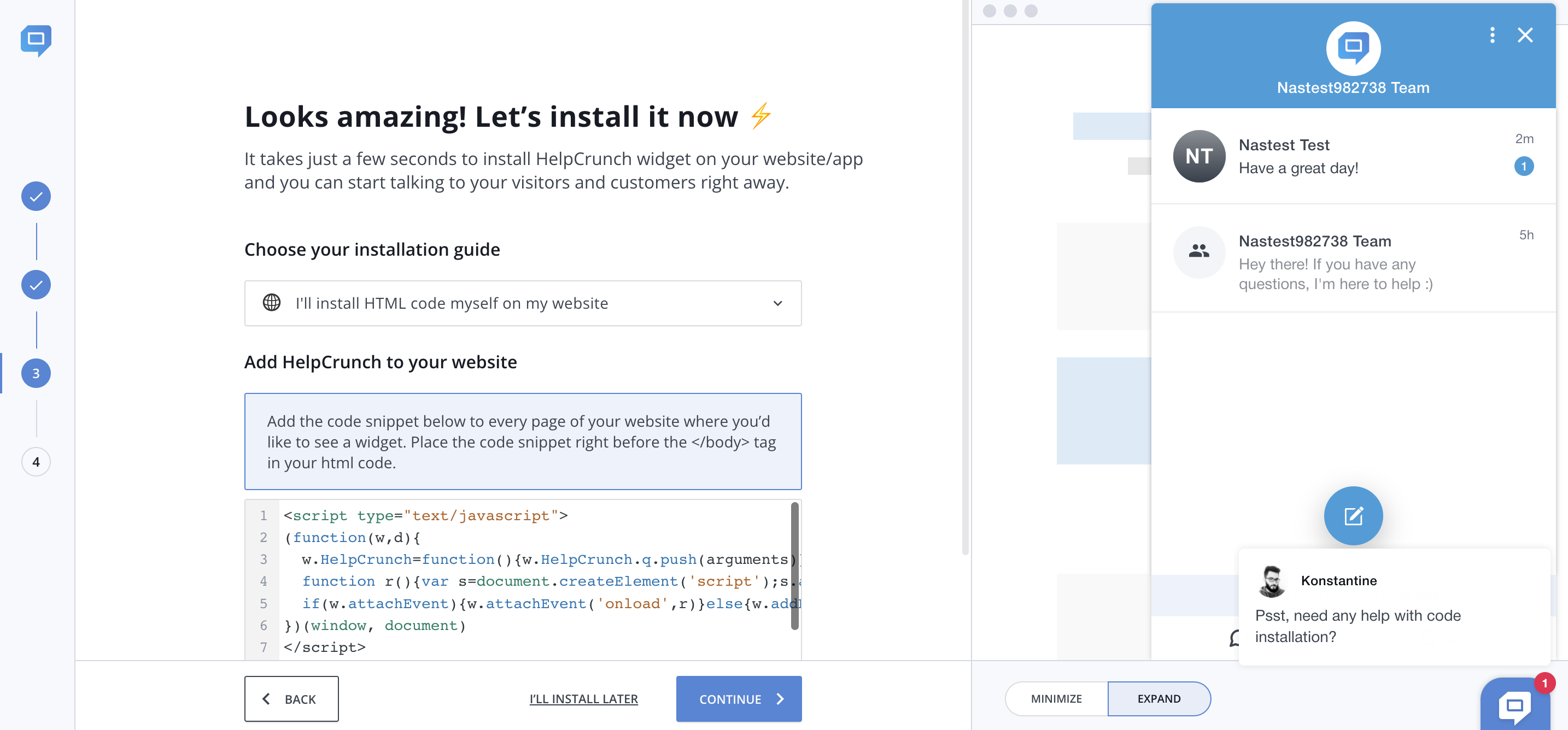 Built-in tooltips can help you explain every single feature if your product is more complicated and less intuitive. Customers will click those tooltips when they want to and discover necessary information on their own.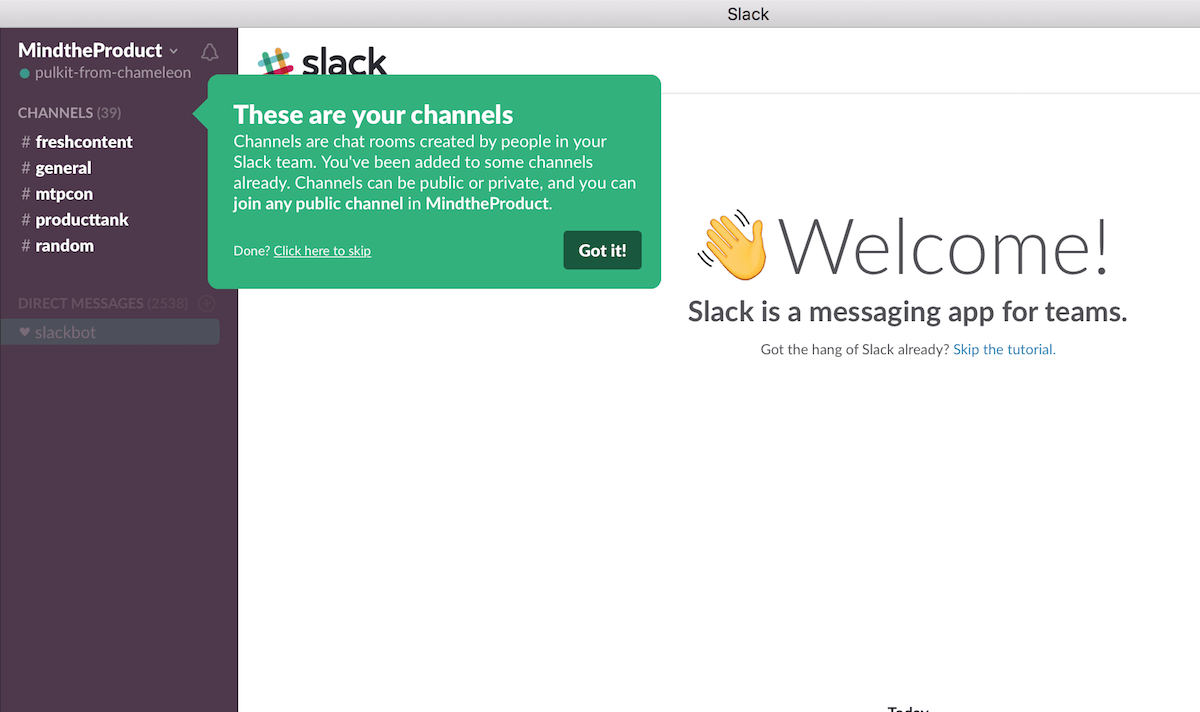 And live chat messages are great for greeting new customers in a more personal way and letting them know that you're available to chat at all times.
Schedule an onboarding call
Email sequences and in-app tooltips are usually the main components of any SaaS onboarding process. However, there's another (or rather, additional) way to lead customers through all these steps, and it's more effective than anything.
Many businesses offer personal onboarding assistants who are responsible for providing very personalized support to every new client. This creates an unprecedented level of personalization and particular attention.
That's why it should be a part of the onboarding in SaaS to schedule calls with every new customer a few days after their registration. Send them an email offering a short demo call or reach them directly inside your product via live chat — just make sure you get them hooked. Also, make sure you offer a few options regarding communication channels. Some will gladly jump on a phone call with you, but others will prefer messengers.
During such onboarding calls, your sales or support team should accomplish a few important tasks:
Gather as much customer information as possible: define clients' expectations, goals, primary use cases as well as previous experience with similar products.
Give personalized onboarding recommendations regarding your product.
Answer any questions that clients might already have regarding your product.
The more information you get to collect, the better your onboarding experience can become in the future. It will give you a better understanding of what your clients are looking for in your product, so you will be able to concentrate on these things more.
Final words
When done right, the client onboarding process is everything you really need to boost your customer retention and strengthen customer relationships. People will see the clear value of what you're offering them and will be able to achieve their goals. So, I guess when it comes to such important things, 16 steps no longer seem like such a big job.