Top 7 Mobile Popup Best Practices to Engage Users in 2023 (+Examples)
How to create an appealing mobile popup? We provide you with some great examples.

A mobile user experience differs from a desktop one, it's a well-known fact 💁‍♀️. So when creating a mobile popup, it's crucial to take its compatibility with these devices into account so that you can convert users and not irritate them.
The main dissimilarity between a desktop popup and a mobile one is that the latter has much less space. In other words, you need to fit all you want to say into a small square and at the same time encourage a user to take an action. The rule here is simple, less is more.
Nailing your design in this context will result in a boosted mailing list and make Google happy with your mobile-friendly website (yes, the search engine pays huge attention to mobile UX).
From this article, you can learn about the importance of popups for portable devices and the best practices on how to use them for marketers. Follow these simple tips to improve your conversion rate and have a chance to get to the top of the Google search.
Why use mobile popups?
Have you heard the news? There are 6.6 billion mobile visitors around the world and this number is growing irreversibly. Probably, every time you go to a restaurant or ride a bus, you see people fixed on their phones, scrolling their favorite websites – Facebook, Instagram, TikTok — or looking for just the perfect product to buy. There is no better device to consume it all on rather than our phones.
It means that mobile popup campaigns have huge potential to help you reach your target audience.
The rule of thumb is that on average people spend over 3 hours on their phones per day. I don't know about you, but for me, it's even more than 5 hours of daily screen time (guilty 🙈). That means marketers focus a lot on producing mobile-friendly content for their users. My guess is that's exactly what brought you here.
7 mobile best popup practices to learn from
Alright, time for some practical tips! In this section, we are going to do so many things! First, bust the myths about all-screen-only windows that interfere with the rest of the page's content. Second, discuss their ideal positioning, displaying rules, and UX writing. And third, explain the fields needed for your popup to slay!
Instead, opt for a simple design with high contrast, and let the product images on your website speak for themselves. Here's how you can solve that problem by adding a picture to the desktop version and hiding it for mobile devices: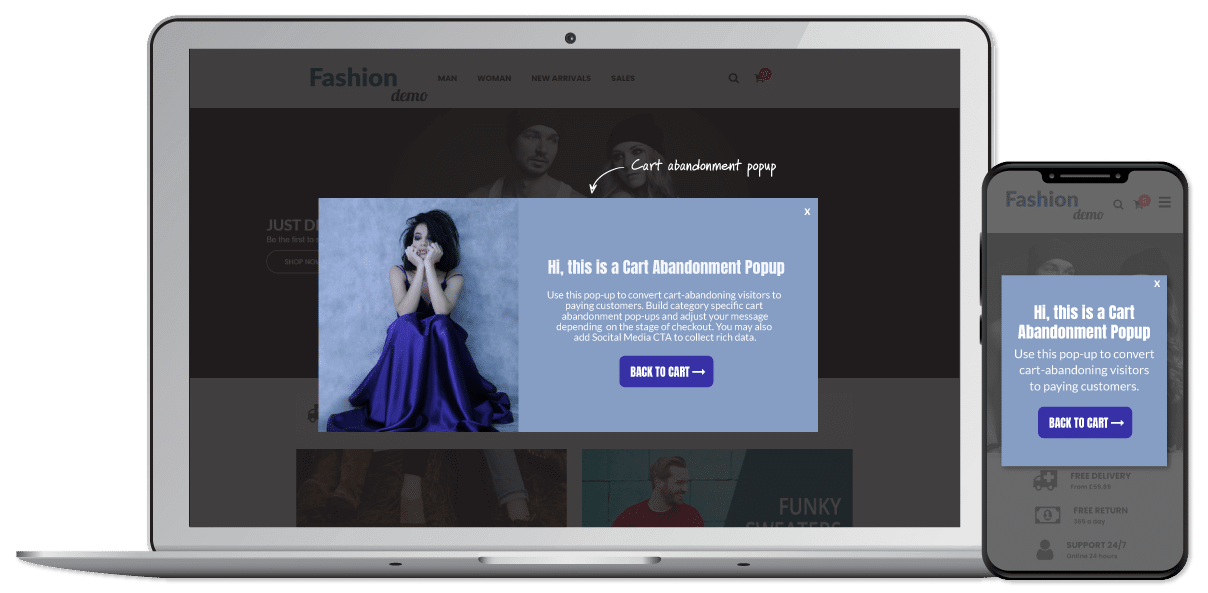 Add fewer form fields

I will never stop repeating that with popups on mobile gadgets, the main issue is limited space. Some brands ignore that fact and create long-form questionnaires asking users to share a full name, email, phone number, job title, age, gender, and ethnicity. Too many input fields!

If you ask me straight from the shoulder, I don't know a single person who would provide all this data, apart from my grandmother, probably. She would assume that it's an obligatory action, and you can't skip it. (Yep, my granny is just learning how to use a smartphone. She still believes that she won a million dollars every time a lousy scam banner pops up.)

Of course, all this information from a user can come in handy for your next marketing campaign and more granular targeting. We suggest you focus on the most important question: the email address. In the end, popups are a great email lead-generation tool, so use it to your advantage.

Have a look at this mobile popup from Magic Spoon. Nice catchy design, a non-intrusive image, and just one form to fill in. Quickly weighing all the pros and cons as a user, I will most likely agree with this proposal. I feel okay to share my email to get the product for free.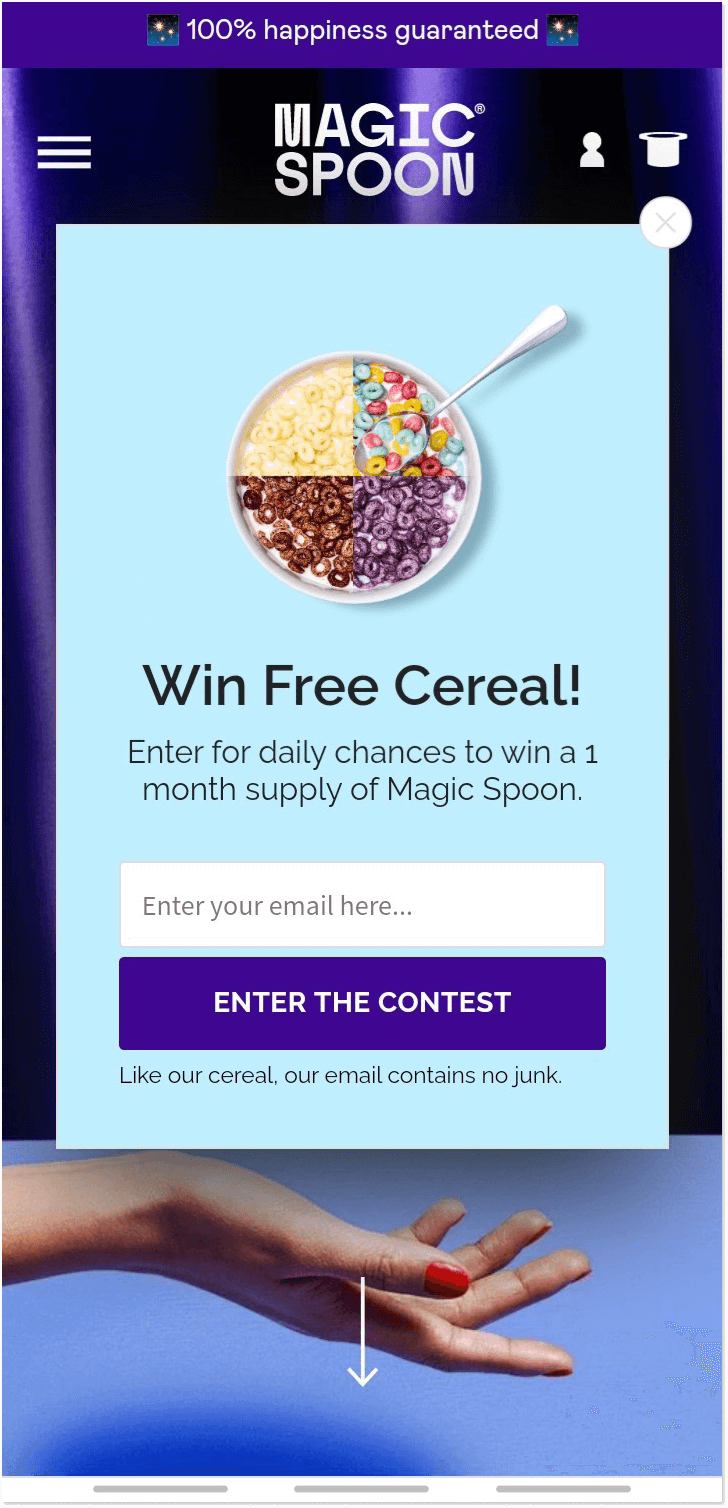 Allow users to close the window easily

I know. I know. We've mentioned it a few times already, but many brands still play hide-and-seek when it comes to a closing button. In particular, when we talk about the mobile device experience, it can drive anyone off their head.

To be fair, it happens by accident when a team just forgets to add an X button to their mobile campaign (which will never happen if you use the HelpCrunch platform 😁). Also, it may happen that a visitor's screen size just cuts the button off. How to avoid it? Well, by proper testing on different mobile devices or adding a closing text instead of a button.

See how the Saint and Sofia brand solves the case. They adding a "No, Thanks" option just under the CTA button.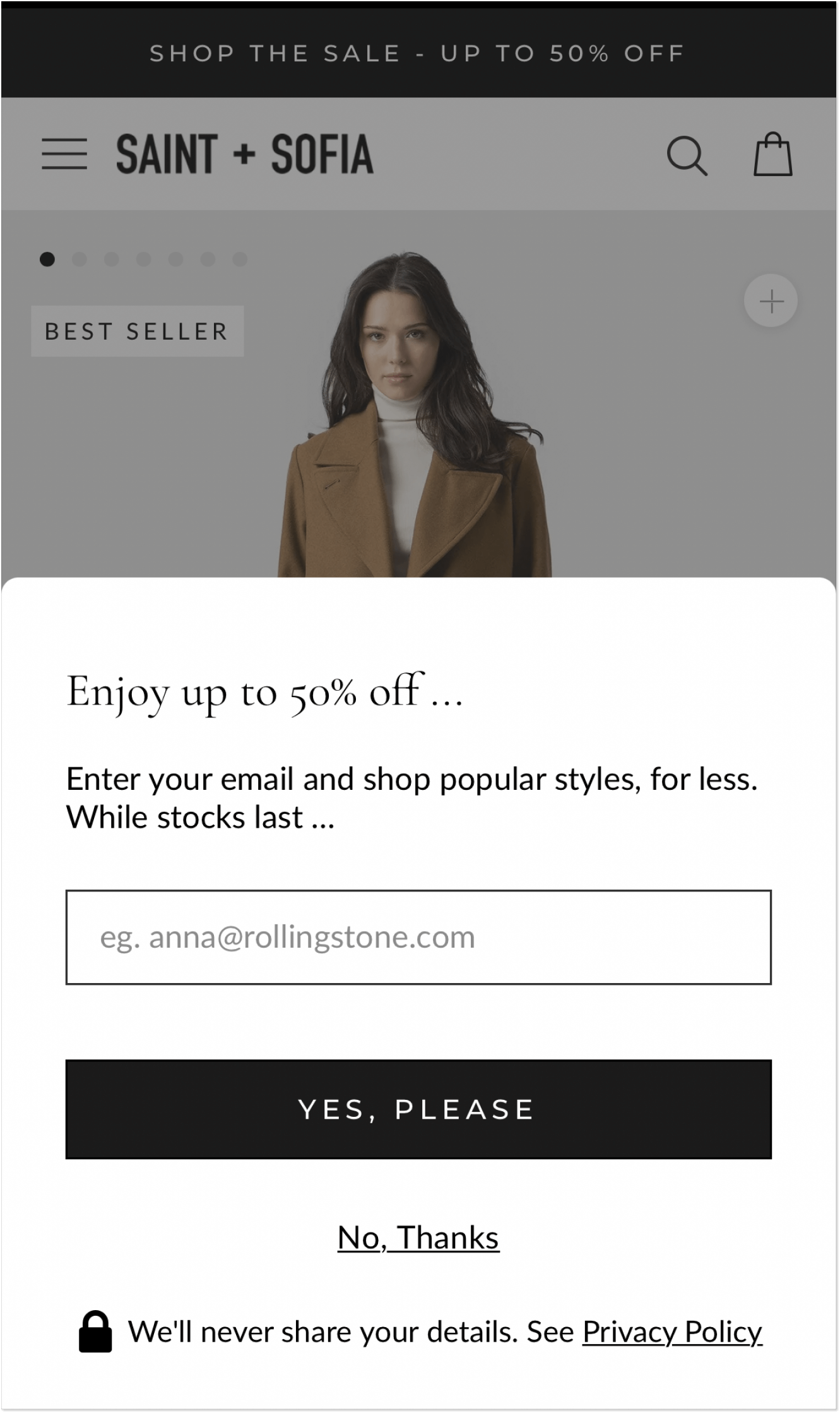 Finally, test across various mobile devices

The peculiarities of displaying a mobile popup are tricky. There are all different kinds of gadgets and a piece that looks just perfect on iOS may look wrong on an Android device. That's why we encourage you to check it out after the launch.

How can you do this? For instance, in our team, we just drop a message on a marketing chat asking everyone to go to a particular page and take an entire screen screenshot on their smartphones.

Another way is to reach out to your QA team and ask them to check. To be honest, we've never encountered any displaying issues. But as they say, better safe than sorry, as a ruined customer experience may cost a lot.
Keynote
I want to take this opportunity to remind everyone one more time: a mobile popup is not a place for interviewing users or flaunting another eye-catching photo of your product. Instead, it's a perfect tool to guide visitors in the direction that leads to more benefits for them.
More valuable information, beneficial offers, and opportunities to succeed with your product.
But it can't be created out of thin air. What you need is a reliable platform that provides you with an easy-to-use builder, a bunch of templates, and possibilities for a unique design, like HelpCrunch, for instance (yeah, an obvious prompt, I know 😉).
But no popup can be created out of thin air. What you need is a reliable platform that provides you with an easy-to-use popup builder, a bunch of templates, and possibilities for a unique design, like HelpCrunch, for instance 😉.