In-App Notifications vs. Push Notifications: Can You Tell the Difference?
In-app messaging vs. push notifications – what do they have in common? Or are they like apples and oranges? This is the conundrum we'll puzzle out. Step right in!

How to get through to a mobile user? Sadly, you can't take a megaphone to convey a message to them 📢 What about emails? They could save the day for a change. However, you have to know the ropes of email marketing techniques at least, analyze your audience, hit those letters on the right day, and things like that.
I see a better and faster way: in-app communication 📲
Everybody heard about the push vs in-app notifications fight. There are several notions about them. The first one is that those two aspects are like two peas in a pod. Tomahto, tomato, right. The second one, though, is what we will talk about today – their difference.
The definitions, types, and major use cases – everything you need to know before starting your mobile communication adventure is here. Step in!
Push notifications vs in-app messaging: comparison chart
If you're the have-it-all immediately kind of reader, we've got you covered. Here is a quick comparison table where you can glance through the key in-app notifications vs push notifications discrepancies. Which one would you leverage in your mobile communications? 📲
| | In-app notifications | Push notifications |
| --- | --- | --- |
| Target audience | Users who are active in an application | Users who are not currently engaged in the app |
| Key goal | Educate users, point them in the right direction | Reengage with a user, have them come back after their absence |
| Main working principle | Pop up when a user is in the app | Pop up when a user doesn't have the app open (mainly on the lock screen) |
| Disabling possibilities | Can not be switched off | Can be switched off if need be |
In-app messaging vs. push notifications: covering the main differences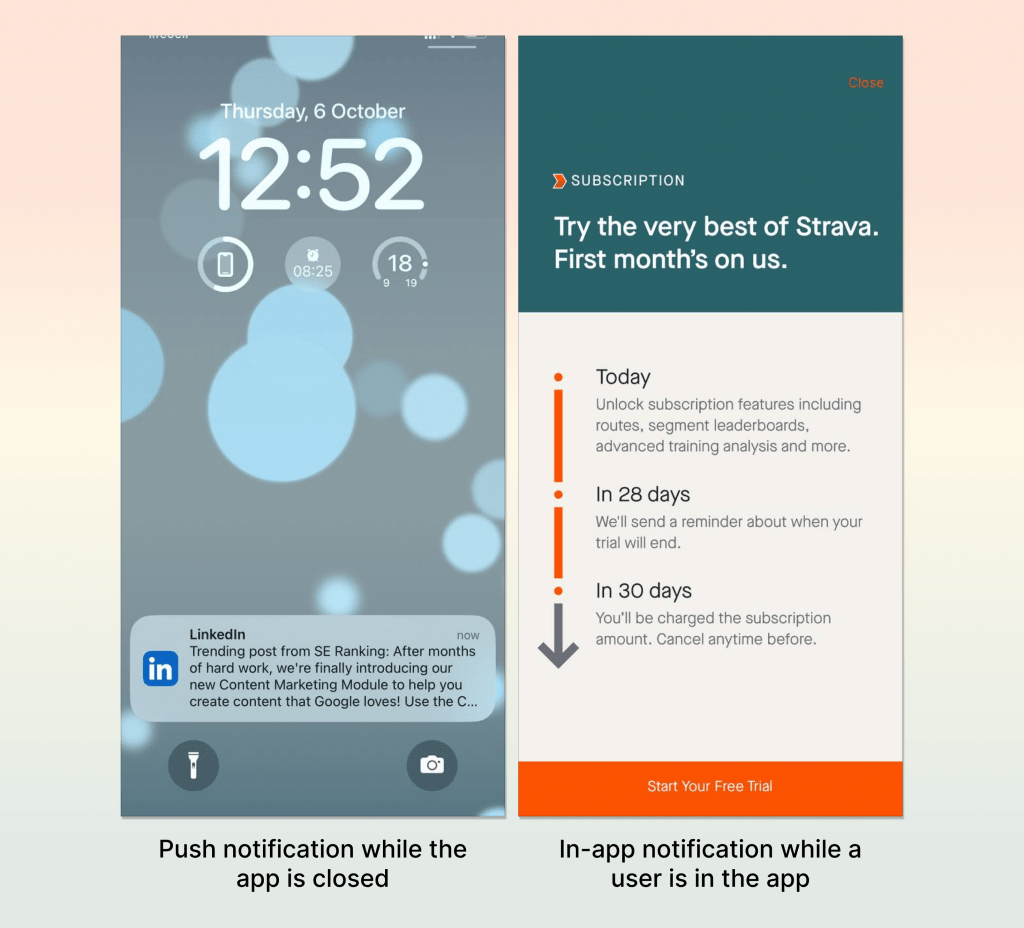 As the name implies, in-app messaging (or hyper-targeted notifications, if you will) show up when a person is currently active in an application. Their nature is to guide them across the app and help them stay within the context – user onboarding, feature adoption, etc.
In short, messages inside the app encourage a customer to take action (click the notification at the very least). It all boils down to its text. Compare these two options (spoiler alert: the 2nd one wins):
Here is a Premium feature. Go check it
You've just unlocked the Premium feature! Now, you can do so much more with the app. Care to discover the details?
Push notifications, in contrast, are designed to meet the eye of those who put an app on the back burner. They are mainly short (e.g. tooltips) and not only aim at immediate actions but also provide a customer with relevant and specific information – a new message, feature launch, app announcement, account activity, etc.
When to send them? Frankly speaking, it depends. Given that push and in-app notifications are usually conceived as one strong unit, the time could be the same, too. According to this industry breakdown, if you're a news vendor, shoot your notification either at 10-12 or 15 pm. But for those who deal with traveling, the best time to do that would be 9 pm.
And one more side note! Both a push notification and an in-app message can take place on a website and mobile.
Note! What types of in-app messages do you know? Off the top of my head, there are tooltips, chatbots, slideouts, product tours, modals (aka popups). Clearly, you won't be empty-handed at HelpCrunch – a full-house customer communication platform. It can provide you with auto messages and popup builder. Both are highly customizable. Just sign up for a free 14-day trial and test those in-app messages.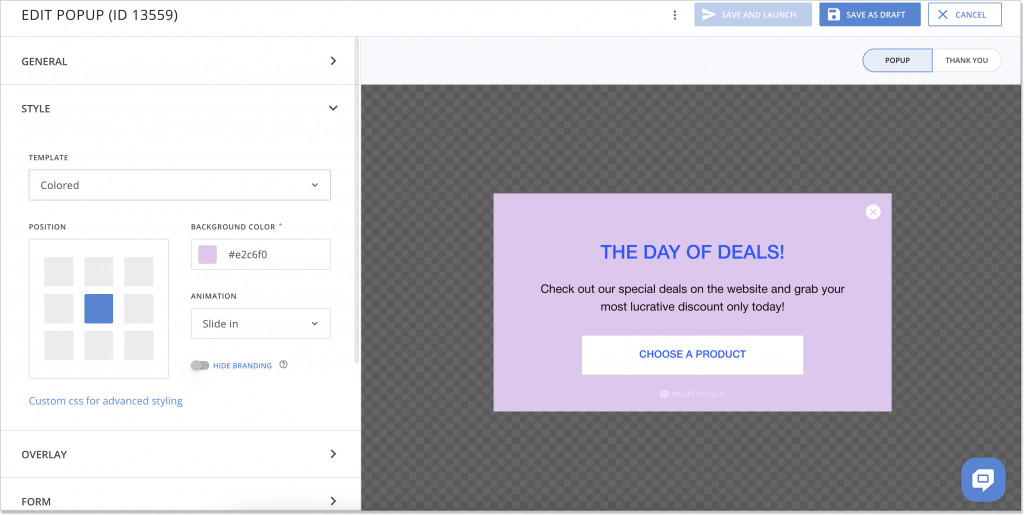 In-app notifications vs push notifications use cases
Before you set off on your mobile communication journey, you'd better figure out the best scenario to send an in-app or push notification to users. With that in mind, we've highlighted the use cases for each of them.
First up – in-app messages 👇🏻
1. Product tours during onboarding
What's the greatest way to educate a newcomer about your product or service? That's right: showing them elegant messages or pointers every step of the way. With that, you have to worry about neither excessive customer requests nor chaos in your inbox – users will be able to travel this path on their own, no questions asked. With your help, sure thing.
Here is a perfect example. There is a product walkthrough that includes not only text but also a real person picture, which only adds to the authenticity. Such in-app notifications appear during the whole product adoption process, making the learning curve not so steep:
Remember one simple rule when creating an in-app message for user onboarding: walls of text are hard to digest, so you might want to keep those notifications up to the point.
2. Contextual updates
If you ask me, I would say that providing a user with context is equally possible in the in-app messaging vs. push notifications clash. The question is which one would be best suited for this task? From my perspective, the former IS our candidate.
What's so special about contextual announcements? I think the name suggests it: they should be as relevant as possible for a user. Here is how Skyscanner reaches out to a user at the right moment while they are looking for an affordable flight price: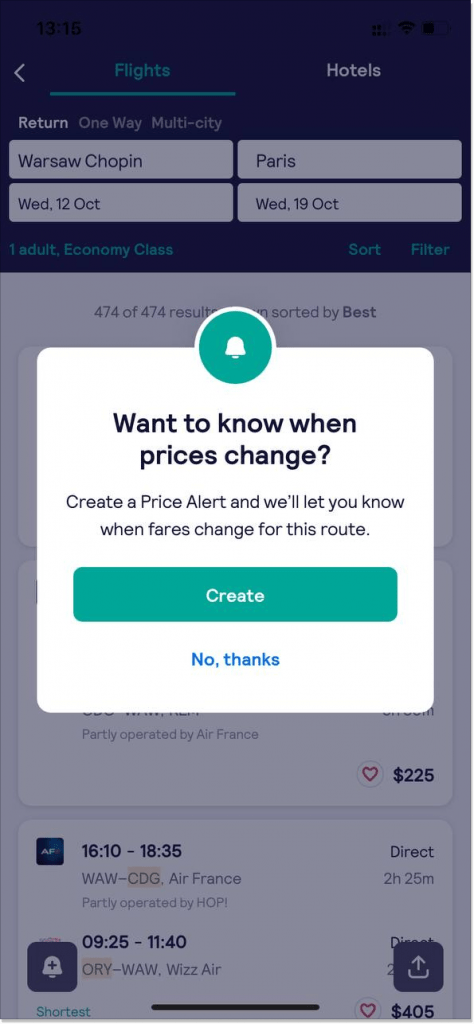 3. Product updates
When your product or service has just undergone a little facelift, you have to scream about it from the rooftops. An excellent way to do just that is, of course, announcing that strictly in your app. However, I am not shrugging off push notifications: they could be an asset as well (but maybe a not-so-obvious one).
So this is how Apple has introduced changes in their Reminders app after the iOS 16 drop-in. No fluff, only major improvements, and quick texts so that a user gets an idea: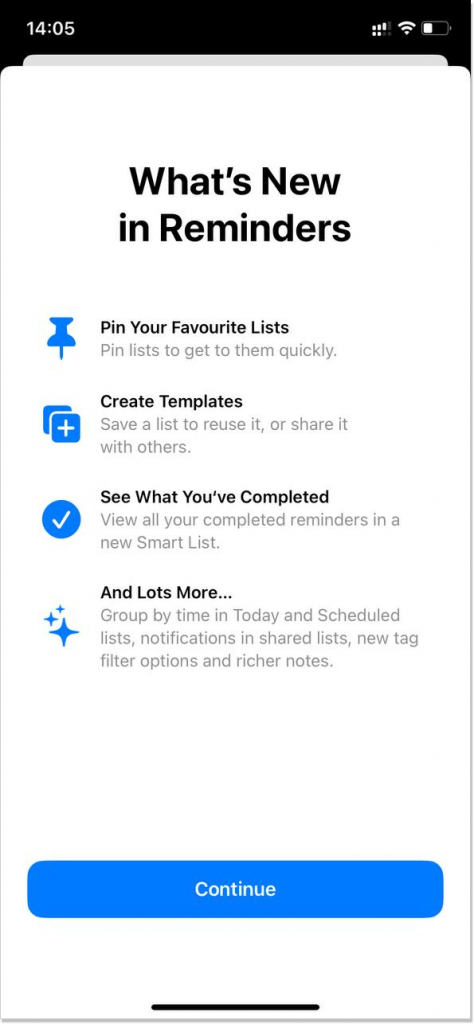 4. Special achievements
Many games, sports, education, and apps leverage this case. In order to retain users and give them a little nudge to move forward with your product, you can set up an in-app notification recognizing their milestones.
Have they passed an extra level, created the 5th playlist in your music app in a row, or added 10 friends to the game? Congratulate them on that!
5. Feedback request
If you use email to ask a customer for feedback, the chances are your message will be unseen or sent straight to the Spam folder. But an in-app message could turn the ship around. When set up right, it could get a user to take action and actually FILL IN that feedback survey.
Such feedback requests can be represented in many forms. An NPS (Net Promoter Score) poll, shake-to-rate, or a one-question survey, etc. – literally, you can use as many as you like. This one, for instance, asks a user to rate the user's app experience with stars:
Alright, it's push notifications' turn now! 👇🏻
6. Time-sensitive content
Have you already realized what top-of-mind ability a push notification has? It's getting into the users' ears (or, in our case, the eyes) while they're outside the app. With just the right settings, you can reach out to your audience to inform them about scheduled appointments, special events, or even a price drop-off for that matter.
And this is when the good old Google Suite enters the play. While I was literally writing this article, I got THE push notification I needed. It reminded me of an upcoming daily meeting with the HelpCrunch team. So I thought, "Well, why not infuse this example into my article?" What a funny coincidence, isn't it? 😏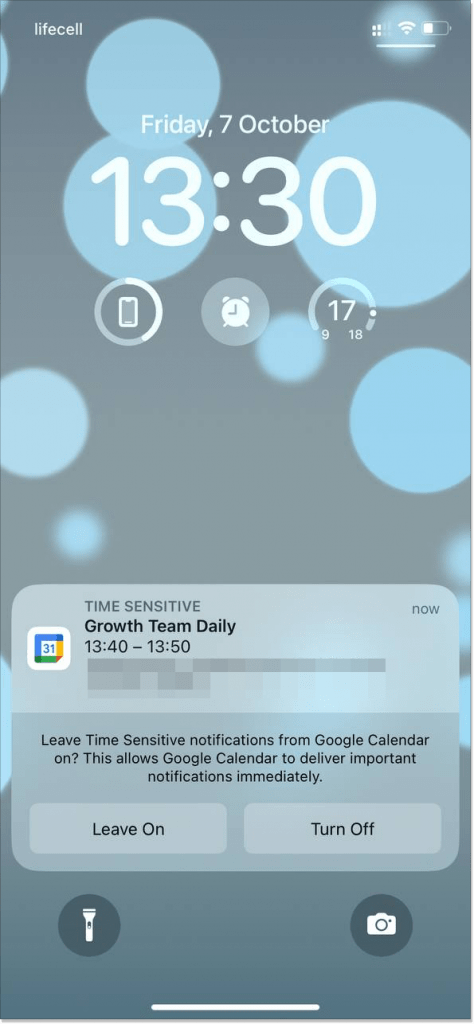 7. Re-engagement
When you shape a marketing strategy for your brand, don't forget to squeeze re-engagement in. How would you deal with those who forgot about you? Not by phoning them in despair (but I wouldn't dump this option either). In the push and in-app notifications conundrum, the former usually shows its worth in bringing lapsed users back.
Take advantage of pushes as a friendly pat on the back. Write heartfelt copy saying you're waiting for a user to return, add some incentives to the message special trial conditions or product news, for instance, and it'll work out.
This is how Netflix invites its users back into the app. I would say, the guys played two tricks here: 1) they segmented their audience based on the psychographic data (this push wouldn't touch the hearts of, let's say, the Desperate Housewives fans), and 2) they sent it to those who have already watched the series:
8. App alerts and reminders
Push notifications would be a blessing for those who tend to disregard medicine, especially when it should be taken on a regular basis. Thanks to the era of technology, patients can relax now and set up everything in seconds.
As custom has it, Apple is at the helm here, too. At the touch of a few buttons, you can insert all the information about your prescribed medications, log in their take or skip time, and automatically receive reminders about them. Easy as that!
9. Time-limited offers
When we're walking about a push notification vs an in-app notification fight, both could reel in on a screen with special offers and updates. Push messages, for one, are ideal for promotional marketing, and here are a couple of reasons why:
Better outreach – you can get the attention of those who have already used your app before, irrespectively of their presence;
Higher ROI – the stats say that push notifications can boost the ROI by up to whooping 3500% and retention rates up to 95%;
Higher engagement – basically, pushes are call-to-actions by nature, so you can kill the birds with one stone by using those: drive more traffic and skyrocket engagement significantly.
Secret Flying, for instance, sends push notifications once a lucrative flight deal is on. I don't know about you, but I would head for a vacation should such a message meets my eye:
10. Shopping cart abandonment
The average cart abandonment across all industries is nearly 70%. And we all know that this is one hell of a bummer for retailers and ecommerce guys.
What are the reasons for users leaving their carts? Well, it could be some serious dissatisfaction with a product/service or a mere distraction. Anyway, there is a recipe to turn things around.
As shown in the example provided by Amazon, the push notification is carefully reminding a user of an unfinished purchase. The only thing to remember is that you shouldn't sound too pushy or sales-y. Instead of saying, "What the heck? Your item is waiting for you in the cart, go pay for that", you'd better use something like "Oops! You might have forgotten about your X item in the cart. It'll wait for you there!"
The choice is yours
I hope we managed to tell the difference between these two awfully similar concepts. How to make the final choice? Well, it all rides on your goals: do you want to attract inactive users' attention? Or is it about dealing with already existing customers?
Both in-app and push notifications are great at what they do: enhancing the customer journey. So, good luck choosing the best option for your company!