The Power of Mobile Customer Engagement: How to Better It in 7 Ways
Mobile customer engagement works only if done smartly. How to do that and not make a mistake? Learn 7 ways of how to enhance it and be the king.

Analyze your usual offline shopping spree. How do shops garner your attention?
I mean, it mainly revolves around bright windows and signs. What I am saying is what makes you actually step into a store and buy something from there. If it's a brick-and-mortar shop, you might be easily lured by a leaflet hand-out or billboard ads. Now, let's think about mobile experience.
No doubt, you have those mobile apps where you can buy everything from food to clothes and home decor. What catches your eye there and makes you go for it? At a rough guess, brands leverage mobile push notifications with special offers, in-app popups, or even in-built videos – things that invite you to a deal with a company.
However, it's not that simple. It's only going to work if those mobile notifications, popups, or videos are sent at the right time. That's what mobile customer engagement has to do with.
In this article, we will sort out what this thing is, why it is of paramount importance to a business, and how to take it up a notch. Here we go!
What is mobile customer engagement?
Mobile customer engagement is the interaction between a brand and a mobile user to foster their relationships on mobile devices. It's everything from how a user reacts to your messages inside a mobile app to the ways you measure it. Whether you like it or not, engagement on mobile is now more fierce than ever as every brand wants to be in the spotlight and attract the best audiences.
Besides, great mobile customer engagement is how a business uses its creativity and experience to catch a user's attention while they navigate a company's mobile app. Basically, it all comes down to how you as a business owner personalize the customer journey on mobile devices to acquire and retain a loyal client base.
The true importance of mobile customer engagement
How many people can't go without their smartphones? According to Statista, this number has reached 6.5 million worldwide, with China, India, and the USA having the highest number of smartphone users.
We wake up, we work, and we say goodbye to the day with this gadget. And it actually equips us with really convenient stuff such as quick access to information, social proof, the convenience of purchase, and an abundant product or service choice.
Have you ever become disengaged with an app/product/service? Why was that? Let me guess: an app/product/service was mundane, with no refreshments, no personal involvement, and poor technical basis. Well, that's pretty much the cornerstone of the issue.
Customer engagement and mobile go hand in hand for one simple reason: people won't be interested in dealing with you if you don't step up your game. They just put your product on the back burner. This brings in lost opportunities, money loss, and the ability to communicate what you have to the users.
7 kick-ass ways to spruce up mobile customer engagement
We've talked the talk, time we walked the walk. When it comes to actually doing something about mobile customer engagement, there is an ultimate recipe for that. Without further ado, we present you 7 ways to catch your users' attention on mobile:
1. Understand who your users are
Data collection, just like communication, can be easily mastered if done right. To understand your users better, you just have to follow the 5W's and 1H's framework (actually, this technique is widely used by detectives, storytellers, and journalists, too):
Who? Here you understand who your target audience is, their gender, sex, religion, occupation, interests, etc.
Why? Decide on the reason why you need to gather all that analytics – this will help you act more strategically in your endeavors.
What? This is when you realize your user's desires and demands. Investigate most searched keywords, top content, and products to get an idea. After that, do your best to offer better.
Where? Here you identify the places where you can gather the data – review sections on the app store, comment section, other important in-app screens, whatever.
When? You should always know the best time for collecting and processing data. Try to see when and how long users are engaged with your app.
How? Choose the strategies for extracting data and channels you want to do that with. Only after you chalk it out, you will have the broad picture.
2. Provide A+ customer support
When a user is active on a mobile app, they may still have demands and questions. To put up a good show when keeping your customer engaged, consider also in-app support as an inextricable part of the plan.
The first (and truth be told, the ONLY) thing you should remember is that you need to be easy to contact. The surefire way to implement it is, no doubt, live chat. Just look at the numbers: 75% of customers prefer live chat to other communication tools. Actually, you can get it for your mobile app with our HelpCrunch SDKs for iOS and Android!

Having the HelpCrunch live chat SDK installed on a mobile app, you can set up push notifications with ease. They are virtually the only way to keep your audience engaged, remember?
Look at how we made it work with our HelpCrunch app. There is a Chat with us button, a user clicks it, and starts a conversation with us. Besides, thanks to a knowledge base integration, a person can search for articles in our resource hub without waiting for a customer service squad to answer.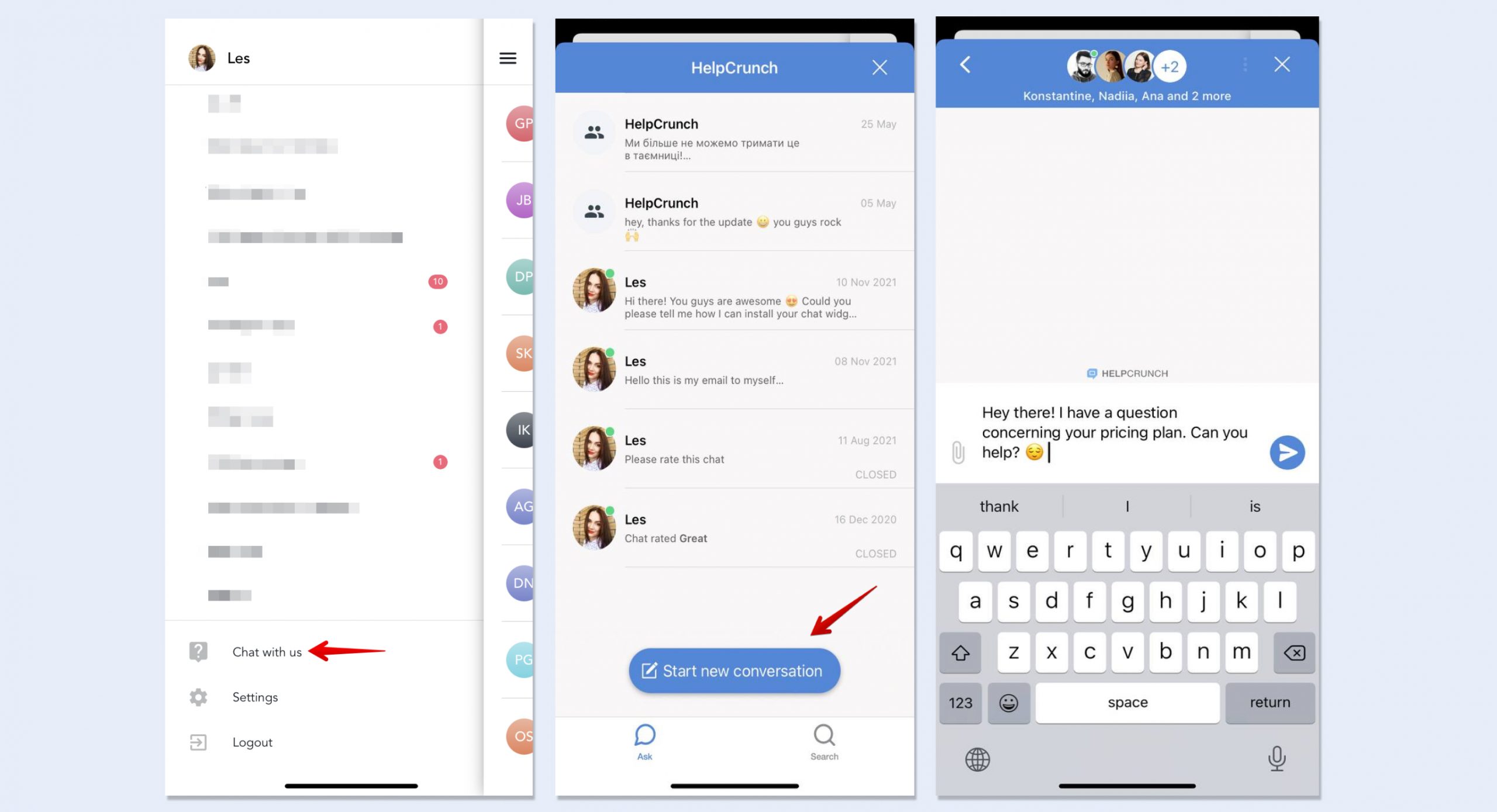 I would also like to mention omnichannel support and engagement in this context. The stats show that companies that offer multiple communication channels retain on average 89% of users. And users, in their turn, want to take advantage of their favorite messengers to communicate with businesses as if they're friends. So, why not go omnichannel for the sake of your customers?
3. Make mobile onboarding a snap
Mobile user onboarding is the first chance to create a good impression. This is basically the process of introducing your app to people. So the more frictionless it is, the more users are likely to go on with your product.
First and foremost, you need to decide on a clear onboarding goal. For instance: I want 60% of all users to complete their onboarding. For that, create special "events" or conditions, if you will (a user finishes the first step, the user finishes the second step, etc.) and track them to see how successful you are.
Then, please, make the onboarding uncluttered! 86% of people say they'd be more likely to stay loyal to a business that invests in onboarding content that welcomes and educates them after they've made a purchase. What I am saying is that the process should check at least one of these boxes:
Easy-to-accomplish tasks
Clear copy, no jargon or too techie vocab
The option to skip the onboarding process and get back to it later (make the button visible)
Showcasing product features from the start so that a user realizes what to expect
Relevant instructions on how to use your product backed by context
Automatic onboarding welcome emails that are sent spot-on
4. Think about mobile UX design
Where's that checkout button? Why is this heading so huge? I don't see the rest of the screen.
These are the phrases an irritated customer drops every time they face a poor mobile experience. To protect yourself from mobile UX design mistakes, you'd better keep it smooth. These are simple ways to do just that:
Don't mix fonts, or at least make sure they fit together. It may be troublesome for a user to read one line in 56 and the other in 12.
Keep visual elements small so that load time is quick. Otherwise, a customer will close your app and delete it.
Make simplicity the name of the game. Keep your pages clean and tidy, without excessive links/folders/subfolders/popups/plugins. The less is more, as they say.
But this is only half the battle. It's in your best interest to test your app and website on a regular basis. This way, you can see what needs to be improved. Another hack here would be to utilize your product as if you were an actual user: is everything OK? Are there any disturbing elements?
5. Whet users' appetite with gamification
Let's face it: mobile customer engagement is a challenge. Whether you like it or not, you have to compete in order to stay on top and be a hit among users. To make it a reality, gamification enters the play.
Briefly speaking, gamification is the craft of applying a game-like mechanism into a non-game environment to encourage the target audience to carry out certain behaviors and motivate them. Plus, it fuels consistent use of your app. Here is when the ball is on your court.
The world knows many cool examples of mobile app gamification. However, let me highlight the one from Nike Run Club. The company leverages such elements as progress bars, rewards, and streaks to promote user engagement, retention, and motivation: they provide GPS tracking, guided workouts, custom coaching plans, and the opportunity to compete with friends.
By the way, the latter is an awesome retention hook – a built-in feature that gives users a reason to send notifications to other users, which brings them back to the app.
So, why is this great mobile customer engagement?
Time-limited challenges let Nike ignite that competitive spirit;
Regularly user achievements celebration improves motivation;
Retention hacks allow returning inactive users back to the app.
6. Go beyond the mere in-store shopping experience
We all got used to mere browsing with our phones. As we sit here in 2022, the real truth is that this mankind's invention is now becoming essential: 52% of all worldwide website traffic is on mobile devices.
Besides, emerging technologies are due to no small part in all this: enterprises continue to demonstrate a strong interest in AI, with 48% of CIOs responding that they have already deployed or plan to deploy AI and machine learning technologies within the next 12 months.
Let me give you a few "for instances" here.
In 2017, IKEA launched a free AI-fueled app IKEA Place that lets a person actually see how this or that room would be like, or whether this or that color matches before even setting foot in the store. You virtually "place" furnishings in your room, see if it makes your heart skip a beat, and go to IKEA to buy all of it.
Walmart has seen a huge success in sales after combining in-store experiences with mobile. The company's new improvement was about the pick-up services for customers who prefer to shop online but pick up their purchases from any of Walmart's brick-and-mortar retail locations.
Later on, Walmart introduced its new Store Assistant App, allowing users to create 'smart shopping lists', and have access to features like the barcode scanner, product search bar, customer reviews, and Walmart Pay. All that without even leaving the house. That's what I call killer mobile customer engagement.
7. Measure your success on a regular basis
Executing a mobile customer engagement strategy is only half the battle. The other thing you should do is gauge your success. Otherwise, it's impossible to know how much progress a business is making.
To do that, there are certain mobile customer engagement metrics:
In-app feedback requires personal interaction with users. This will help you act accordingly and fine-tune the strategy if need be.
Reviews and ratings in the app store are an additional boon for developers and of course a business owner. They let you fix all the problems on the fly and communicate the solution to customers.
Session tracking is used to see for how long a user is active on an app. If it is short, well, congrats: you have some bottlenecks in mobile experience. To track that metric, look at average session length, frequency of sessions, the bounce rate of various pages, and activity per session.
Customer demographics refer to the user's location, age, nationality, and gender. Through this data, you can easily monitor different groups and see how well each of them is engaged.
Wrap it up
If you read this far, I am flattered! To recapitulate, mobile customer engagement is the concept everyone should seriously consider. When this is not the case, a business will really trail behind having no active users, not even potential ones.
So take heed here: no matter the size of your company, the key is to always target the right users at the right moment and at the right place. Show up where they want to communicate and offer those things they prefer. You do this – you are the king among your customers.