Mobile App Customer Support: 12 Steps to Make It Shine
Providing effective mobile app support is crucial for retaining users and nurturing their loyalty. Learn how to handle it in 12 simple yet actionable steps.

Mobile developers usually think about mobile app support only when they start receiving negative feedback and smashing user reviews. That's when they realize that their users actually do have problems with the app and would like them to be addressed and resolved promptly.
By then, it's usually too late, though. You've already lost valuable clients and spoiled your internet image.
As Henry Ford so rightfully put it, you can't build a reputation on what you are going to do. Providing your users with remarkable mobile app customer support is what DOING IT actually means. Meet your clients halfway through with your timely assistance, proactive approach, and impeccable attitude.
Wondering how to handle in-app customer service? Let's talk about it in detail.
So, what is mobile app support?
Mobile app support is a way to aid users exactly while they're using your app. Emails, messengers, and social media are all great channels to communicate with users. But they're happening outside your product.
So, there's one important quality for providing in-app support. It should actually be in-app.
This can include everything from live chat to the 'contact us' button to the knowledge base. Once you integrate them into your mobile app, users will be able to get assistance on the go without interrupting their experience.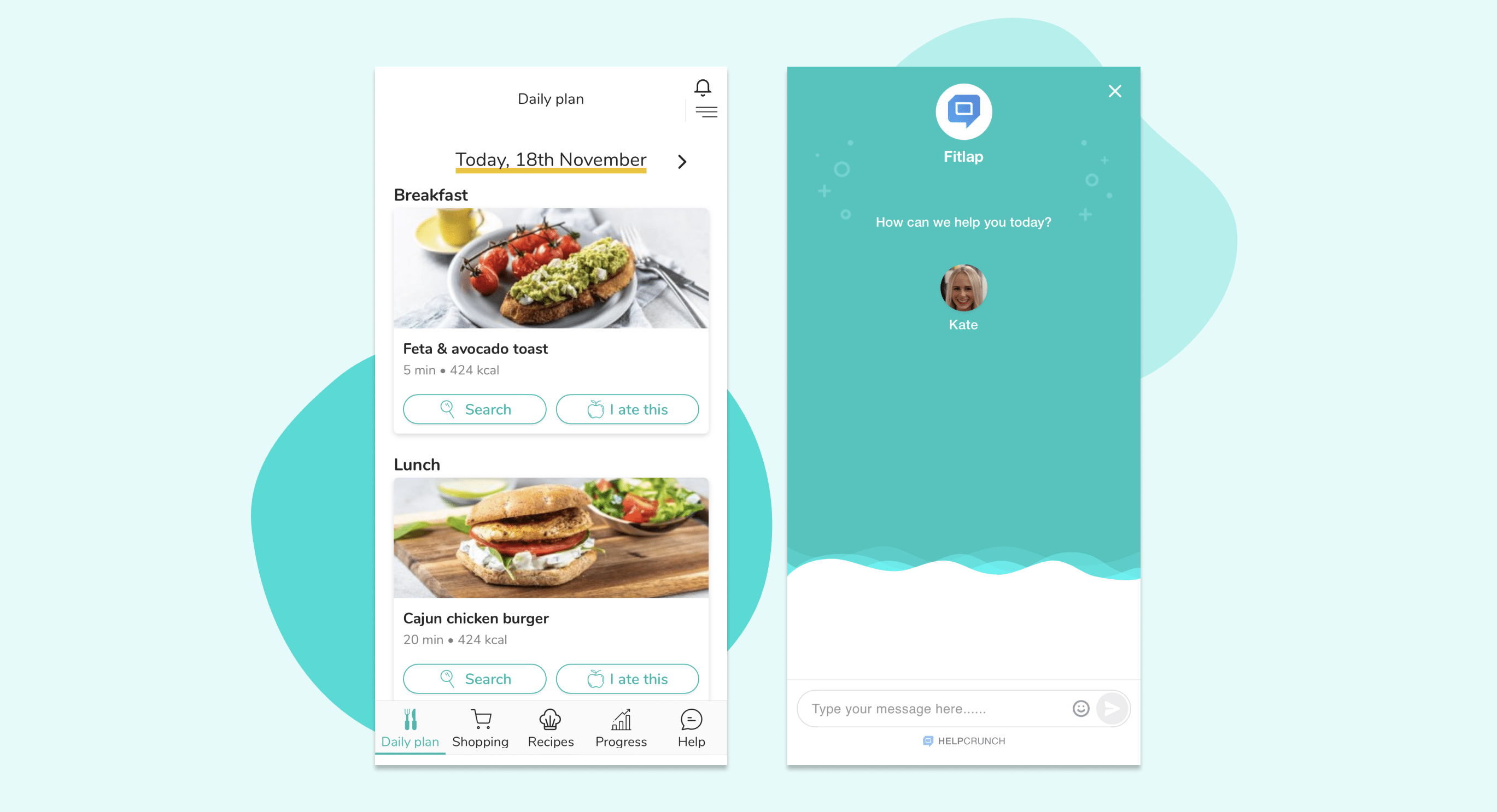 Why provide mobile app customer support?
With more than 3.5 million mobile apps available in the Google Play Store and 4.4 million in the App Store, the competition can be fierce. There's a mobile app for every need – for keeping track of your spendings, ordering food, studying, playing, and playing while studying. Name a goal, and there are probably a dozen apps for it.
So it's all the more surprising that very few apps offer customer service with their product. There are two main concerns app owners have about the necessity of mobile app support:
Inability to manage high volumes of requests
Not every customer service team can handle crowds of clients at a time. Especially when the main stuff happens in-app. In fact, there is more than one reason for that…
Not user-friendly UI, only one pool where the user requests pile up, and high waiting times – these and other aspects might seem daunting. And I wouldn't throw you for a loop if I tell you that they may drastically affect the app rating, brand image, and the whole customer journey.
Failure to integrate support tools into their mobile apps seamlessly
Unfortunately, tools that allow support integration into mobile applications are stretched thin. On top of it, business owners may face the following problems: improper feature sets or even unqualified tech specialists. However, both of them can be (and will be in the course of this article) dismissed once we look at some definite advantages that come with quality in-app support:
Increased user engagement
Better user retention
Higher lifetime value (LTV)
More positive reviews
Condensed client feedback
Mobile app support tools and their prices
Before we proceed to discuss the actual workflow of providing in-app support, we must weigh in on the technical side of it. So, how do you integrate a support tool into your mobile app?
You need a customer service tool that offers mobile SDK (software development kit).
In simple terms, it's a full-suite software module and a critical component that includes everything developers need to create and develop applications. Only in this case, you're not going to build an app. You will be adding some chat SDK to your existing one.
HelpCrunch offers detailed iOS and Android SDKs with comprehensive customer support features. The pricing for the tool starts from $15/mo per team member for the Basic plan. It includes unlimited contacts, a knowledge base, and the ability to add your widget to as many apps as you wish.
Zendesk may look a little bit outdated if compared to other live chat solutions, but it has affordable prices. The costs may vary from $9/mo to $199/mo.
Intercom has rather premium prices that depend on the number of your monthly active users. The initial charges can range from $74/mo to $395/mo and more. And if your user base exceeds 2,000 monthly contacts, you'll have to pay additional fees. In this case, you have to contact them for pricing details.
You see, there's no need to spend a fortune on a mobile app support tool (unless you want to).
Just find a solution with detailed documentation and follow the guides.
Now, with the right provider, the following 12 steps will be a piece of cake.
How to handle in-app customer service: 12 actionable steps
Provide mobile app chat support

Live chat is one of the most beloved communication channels. It presents some undeniable benefits to its users and has been steadily gaining traction for the last decade. Due to its speed and the ability to multitask, businesses providing live chat support have experienced high satisfaction rates, increased conversions and sales, and improved retention.

So, why not utilize its power with your mobile solution? An in-app live chat allows users to contact you in real-time and get immediate aid. The moment they face some issue, they can access mobile app chat support by pressing the corresponding button. Just make sure to put it in plain view.
Customize your support portal according to your app styling

Once you start providing your users with mobile app chat support, they'll be able to contact you momentarily. However, it's important to make sure that your widget doesn't stick out as some alien third-party solution. You want to provide an excellent customer experience to a mobile consumer, don't you?

Customize your chat with your brand colors, themes, button styles, and whatnot. Basically, any element should be changed so that it looks like an integral part of your app.

Moreover, displaying real avatars of your support agents next to their names will humanize the entire experience. Users will feel that there are real people behind those images and buttons.



Integrate a knowledge base into your mobile app

There's no mobile app customer support without a detailed and extensive knowledge base. In fact, 67% of consumers prefer reading a knowledge base article rather than contacting a support team. This is why something as simple as a built-in FAQ section can make a huge difference.

Add a visible and accessible self-service button to your mobile app or integrate it into your widget. Whenever people face any issues, they can quickly find ready-made answers on the go.

Moreover, you can make your life easier by referring your users to relevant knowledge base articles when they do contact you (or consider community forums, they are a lifesaver, too). A shared inbox tool like HelpCrunch with an integrated help center can save you a lot of time. Just press a few buttons and a proper article will be sent to a person in need.



Prepare a few saved response templates

While knowledge base articles can answer at least half of typical support questions, you may need more personalization. Saved responses serve this purpose perfectly.

Collect all the most common questions and pitfalls that users face with your app. They can include billing questions, advanced functionality, problems with setup and onboarding, etc.

Once you have a list, it takes no longer than a day to write the most detailed responses. 

Customer support apps may not allow you to pre-save them as templates. However, the dedicated tools do! Just keep all the answers to quickly refer to them on the go. Add a few variables like personal names or follow-up questions, and you're all set.


Set up a shared inbox for all requests

Your users will quickly put their finger on how to ask questions via in-app support service. However, it just so happens that people nowadays want to communicate via many channels simultaneously. By using a mobile tool, you'll be able to accommodate everyone's needs and provide an omnichannel experience. 

A shared inbox is the ultimate platform for all clients' requests, no matter the channel. All conversations from your app, emails sent to your support address, and messages from the contact form will land in one queue. You can then segment them by departments, and custom inboxes, and filter by any criteria you need. Throw a screen-sharing option on top of that, and you'll be amazed by the results!

The ultimate goal is to store all external communications and client information in one place. It will allow you to keep in touch with your audience at all times.



Collect and track user data

Speaking of customer information… Modern mobile app support tools offer businesses much more than just a simple messenger for exchanging information. You can collect, store, and track any data about your users that you need.

For starters, you can enable the pre-chat form for collecting basic facts like names, email addresses, and phone numbers. It's also possible to transfer custom attributes that will automatically appear in your support tool's dashboard.

Service reps will be able to access them in a single click while helping users with their issues. Why is it helpful? You don't have to ask clients all the same boring questions over and over again. Instead, their recent actions in your app, subscription status, or account balance will be right at your fingertips. So, all that's left to do is to proceed straight to help.


Activate push notifications

Your mobile app support can benefit from push notifications. Once you set them up, users can receive messages from you in real-time. No way they'll miss your response even when not using the app.

Moreover, you can use these push notifications to send targeted or automated chat campaigns to certain people. Inform them about the company's updates, wish them a happy birthday, or announce special offers — anything to raise user engagement.

Just make sure to not overdo it. People may find your short memos irritating if you abuse this channel with insignificant nonsense.

The bottom line is: If you aren't communicating vital or interesting information, don't text or ping your user at all. – Fastcompany


Send email follow-ups

Wait, didn't you just say that mobile app customer support should only happen inside an app?

Well, yes and no. Real-time help is a basis for happy customers. However, different things can happen during a chat session. People get distracted, so it's absolutely necessary to keep the conversation going in other channels.

With emails being one of the most popular channels, email follow-ups will allow you to keep in touch with your clients even after they leave your live chat. With HelpCrunch, it's even possible to resend chat messages via email automatically if they stay unseen for a certain period of time.


Track support metrics

Mobile app support is not that different from classic service in terms of metrics. If you want to know how your support team is handling requests, there are some must-have metrics that you need to track: 
Total volume. This metric shows how many support requests you get over a certain period of time
First response time. It depicts how long it takes for your team to address questions from users. (The faster, the better. Otherwise, it's just bad customer service.)
Average resolution time. While the first response is crucial for keeping users engaged, you must aim at resolving issues as fast as possible.
Satisfaction rate. This metric helps you track how helpful your support is in general
Workload reports. You can clearly see your team's performance in a day/week/month, assess the times when requests are the highest, and if there is too much workload (or vice versa, when it's not enough).



10. Collect feedback and positive reviews

Mobile app owners have been using in-app surveys and review prompts for collecting client feedback for years now. They've proven to be quite effective for this purpose. However, there's always the question of the right timing with such popups. How do you engage with your users without interrupting their in-app experience?

Five-star mobile support is the answer. There's no better time or place to collect feedback than during a practical conversation. Support agents are the best people to provide your business with invaluable insights into your users' behavior, their success, and mishaps.

Besides, fruitful interactions with support often result in positive reviews and loyal customers. Not only do user reviews affect how your app will appear in the search results, but it's also a major factor influencing people's buying decisions. In fact, around 90% of consumers say that positive reviews influence their buying decisions.

So, there's no harm in occasionally asking users to write a few nice words on AppStore or Google Store after you've provided excellent support. That's a sure-fire way to spread the word about your mobile app.

11. Address negative reviews

You can offer the best app out there. Still, no one has escaped negative reviews. Luckily, in-app support can help not only with collecting positive reviews but also with retracting complaints or common issues.

Make sure you work with every grievance just as carefully as you do with your most loyal clients. For one thing, it's important to comment on negative reviews with an apology and explanation of why the problem has occurred in the first place.

If a person is open to dialogue, think of following up on them further and offering compensation for the inconvenience. It can be something like an account upgrade, access to advanced functionality, or cutting off all in-app ads. You'd be surprised, but such a proactive approach can turn your most malicious critics into loyal fans.

12. Set up workflow automation

Still doubting whether you can handle in-app support? Well, if canned responses, knowledge base integrations, and other technical enhancements didn't persuade you, there's one last reason left.

There's always some way to provide excellent mobile app customer service without spreading yourself too thin. For instance, your support team can prioritize support tickets more efficiently by utilizing the following techniques:
Assignment automation like round-robin or specific rules
Different departments and custom inboxes for each
Offline mode with a waiting message
Bottom line
Engaged users, retained customers, and an unstoppable flow of positive reviews only sounds too good to be true. When in fact, all these perks are closer than you think. While providing in-app support hasn't become mainstream, there's still a chance to jump on the bandwagon and beat your competitors to the ground.
Especially since mobile app support is relatively easy if you choose the right tools to manage it. Create a free account with HelpCrunch (it's free for 14 days), integrate it with your mobile app in a few simple steps, and boost customer relationships!