Categories: Health
1380%
Return on Investment
(ROI)
98%
Customer
Satisfaction Rate
30%
Average
Email Open Rate
---
Fitlap is an app that provides meal plans based on body types and personal preferences. Basically, you sign up for Fitlap, specify a few things about your health goals, and get a ton of personalized healthy recipes.
You can track your progress, create shopping lists and receive personal consultations from nutritionists right from your Fitlap account.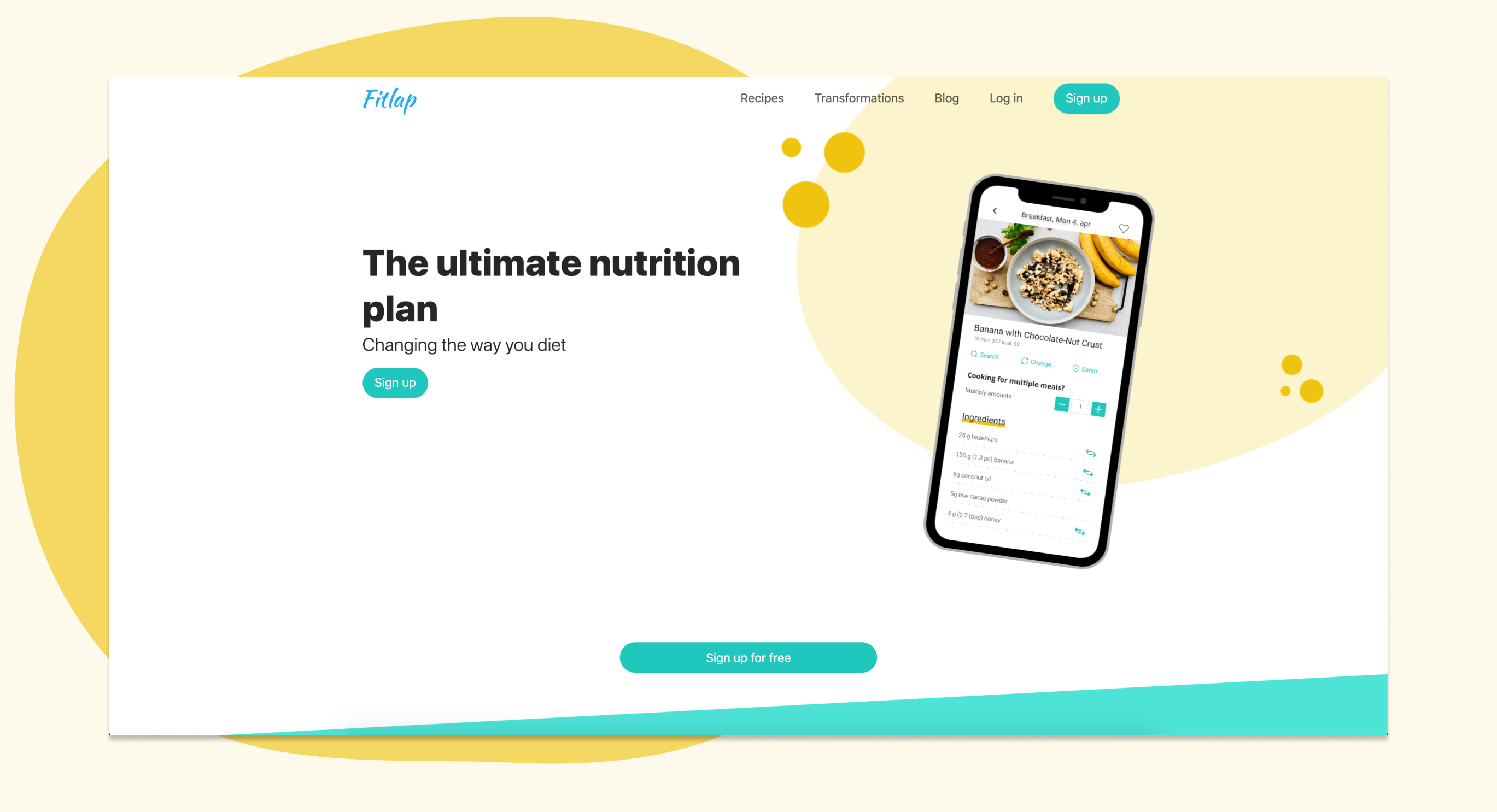 The Challenge
Fitlap's most important selling point is the personal attention they give to each user. Nutrition plans are everywhere, but personal touch is a rare thing. It was important for Fitlap that their customer support would provide the same kind of experience — with a customer success team distributed among six different countries.
Internal discussions inside Fitlap company showed that there are two core problems they needed to resolve in order to provide the best possible experience:
CHALLENGE #1:
The team was looking for ways to be closer to their customers and reply to every request as fast as possible. And their small, distributed team meant that they needed a live chat tool that had all the necessary collaboration features and more.
CHALLENGE #2:
The fitness industry suffers from a high churn rate, as people tend to lose their motivation. Fitlap was looking for a solution that allows them to keep the conversation going even if their customers stopped using the app. That's why they needed a tool with an ability to set up all kinds of auto messages. Those are chat or email messages that are sent automatically based on a certain criteria, like country, registration date, recent activity or trial status.
Because of such needs, Fitlap team started to look into different customer service tools, and specifically into live chats. At first, they tried Intercom, which turned out to be too expensive. By the way, how much does Intercom cost? This is the case for a discussion.
HelpCrunch was the first tool Fitlap decided to integrate into their workflow. And they got their money's worth.
The Solution
There were three core reasons why Fitlap chose HelpCrunch for their customer support needs over other tools:
Modern live chat widget
HelpCrunch offers a state-of-the-art live chat widget that looks nice and is easily customizable according to the brand guidelines. Making it look like an integral part of Fitlap's website made it easy to maintain brand consistency and promote the company.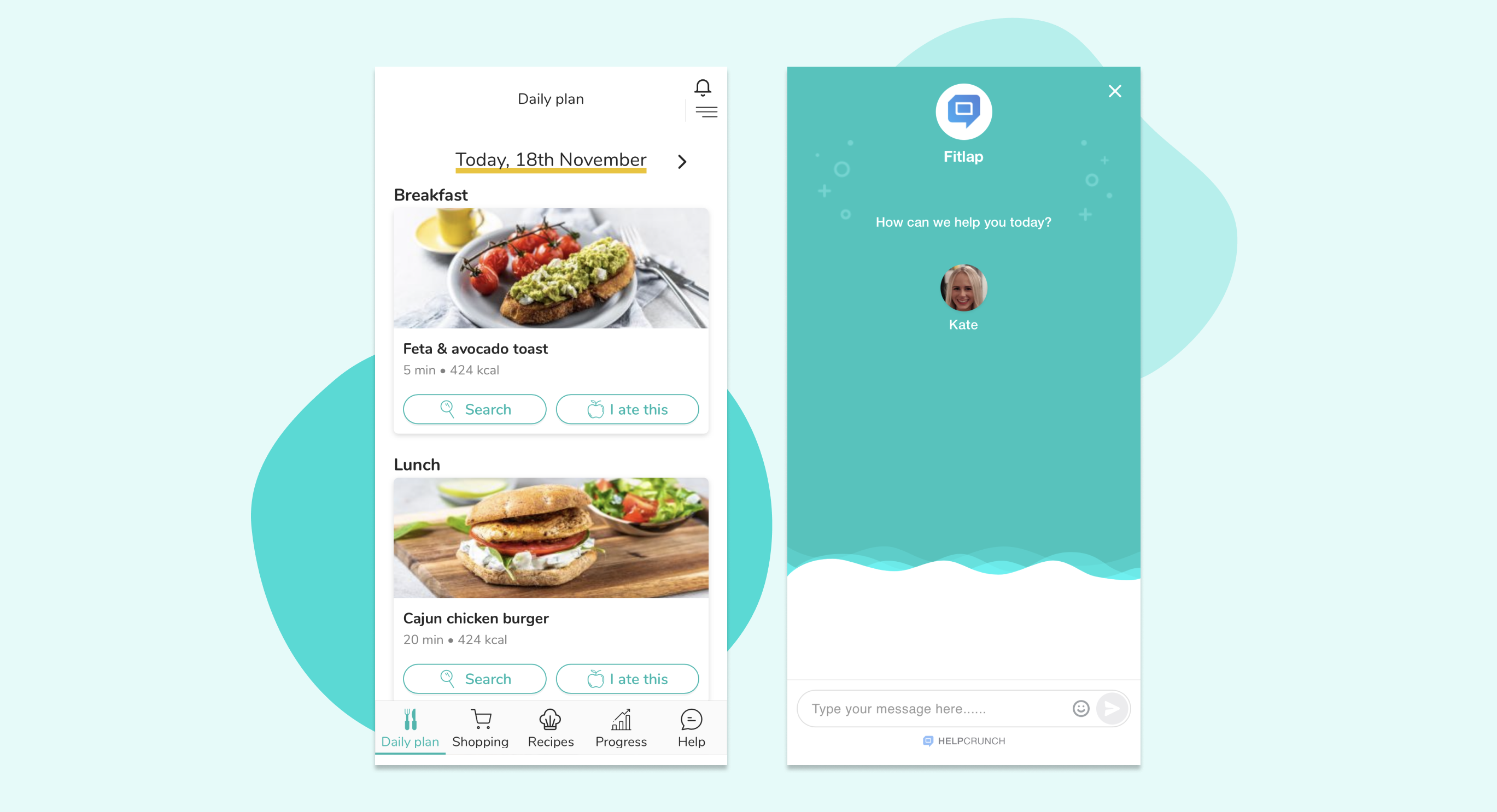 Perfect platform for team collaboration
Fitlap appreciated the ability to fine-tune how HelpCrunch works for them according to their team's workflow. Such collaboration features as leaving private notes for the team members inside the conversation, assigning tags and status updates to keep everyone on the same page, or having a detailed customer profile was a great help for their distributed team.
Robust automation tools
HelpCrunch offers wide choice of criteria for auto messages. This includes custom criteria from Fitlap, which could be easily transferred to their HelpCrunch account.
According to their own statistics, messages that showed the best results in terms of conversions and sales are:
Campaigns about special offers and discounts;
'Don't leave us' messages for people who registered and left;
Birthday congratulations worked great, too.
All of these campaigns are easily set up in HelpCrunch and show great results in terms of sales and conversions, which is proved by the Fitlap team.
If we take Fitlap's results and compare them to official benchmarks in the Health&Fitness industry provided by MailChimp, we'll see that their open rate is 7% higher than average. What's more impressive is that they get 11,5% more unique clicks than the industry standard.
Close relationship with HelpCrunch
Finally, it's important to mention our own customer support. Fitlap distinguished our team for being extremely responsive and fast. If anything was lacking, confusing or unclear, we strived to be super helpful and flexible about every last issue or request.
The Result
Once the Fitlap team started to use HelpCrunch, they instantly noticed an increase in positive feedback. Consistent and fast service meant that their users were enjoying using the Fitlap app and weren't dropping the program they subscribed for.
If a user had a question about their diet, a particular recipe or their training regimen, they got a response in minutes — all thanks to HelpCrunch.

Thank you for such a quick response, I didn't even expect to get an answer so quickly. It is incredible that you work so late in the evening. I can now start the program of proper nutrition instead of waiting for an email response.


One of Fitlap's customers
And yeah, they receive messages like this one all the time. Efficient support workflow meant significantly shorter first response times, which lead to higher customer satisfaction.
But as important as it is, an excellent live chat performance wasn't the only thing Fitlap achieved. Being able to send auto messages helped the team retain more customers and increase conversions.
Fitlap has been tracking how their performance improved since they started to use HelpCrunch, and here's what they got:

'Once we started using HelpCrunch software, we were able to return €14.8 euros on each €1 paid for HelpCrunch.'

What's more, this number is solely based on the direct conversions that they tracked. It's virtually impossible to measure how much they are earning additionally because of pleasant and fast customer service and proactive help.
Bottom line
The new Fitlap support experience is highly appreciated by their clients. This means higher conversion rates, way more purchases and stronger brand loyalty. And it's all happening thanks to HelpCrunch.

HelpCrunch isn't just a live chat service — although it does provide a stellar live chat experience. It's an all-in-one customer service tool that can help you increase revenue and build a seamless customer support experience.

As you can see from this article, even a successful tool like Fitlap can achieve significant improvements to their performance by integrating a customer service tool into their workflow. Subscribe to HelpCrunch today to see it in action for yourself.

Fitlap is a weight management app providing meal plans based on body types and personal preferences. Users can specify their personal info and a few things about their health goals, and get personalized healthy recipes for each day of the week.
Industry
Health & Fitness
Use case
Support, Engagement, Retention
Key features used
Live chat Chat auto messages Email auto messages Shared inbox Mobile SDK