21 Live Chat Greetings to Strike Up a Dazzling Conversation
Want to find the best pick-up line for customers? We are at your service. Pick any greeting message you like and get more meaningful conversations with customers.

"You had me at "Hello", a Dorothy character in the Jerry Maguire movie says. And I am not gonna argue with it. The statement is true for both personal and professional contexts that a simple "hi" can change your life.
Do you want to have your customers at "Hello"? In this article, we will learn how to strike up a dazzling conversation with live chat greetings. But let me tell you my main point from the start – experiment! Don't be shy to look weird in your welcome message for live chat. Weirdos attract more attention and are stuck in our heads for longer.
So, let's go get it, pal!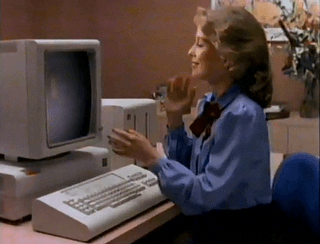 What is a live chat greeting message?
A live chat greeting is the first form of contact with your audience used to welcome visitors to your website or app. It can embrace various information including a simple greeting, a help offer, or a call for specific actions: registration, subscription, ebook download.
While their main purpose may differ, live chat greetings are vital to your customers. The first words you use to welcome visitors set the tone for your future communication and can engage users to chat with you or push them away.
Live chat greeting messages are of two types: reactive and proactive. We advise you to pay special attention to proactive messages, which pop up in the live chat widget almost immediately after the visitor enters the site. The study shows that 87% of adults in the US want to be contacted proactively by companies. Why not meet their expectations? With a well-chosen proactive message, you can increase the response rate, hence, sales.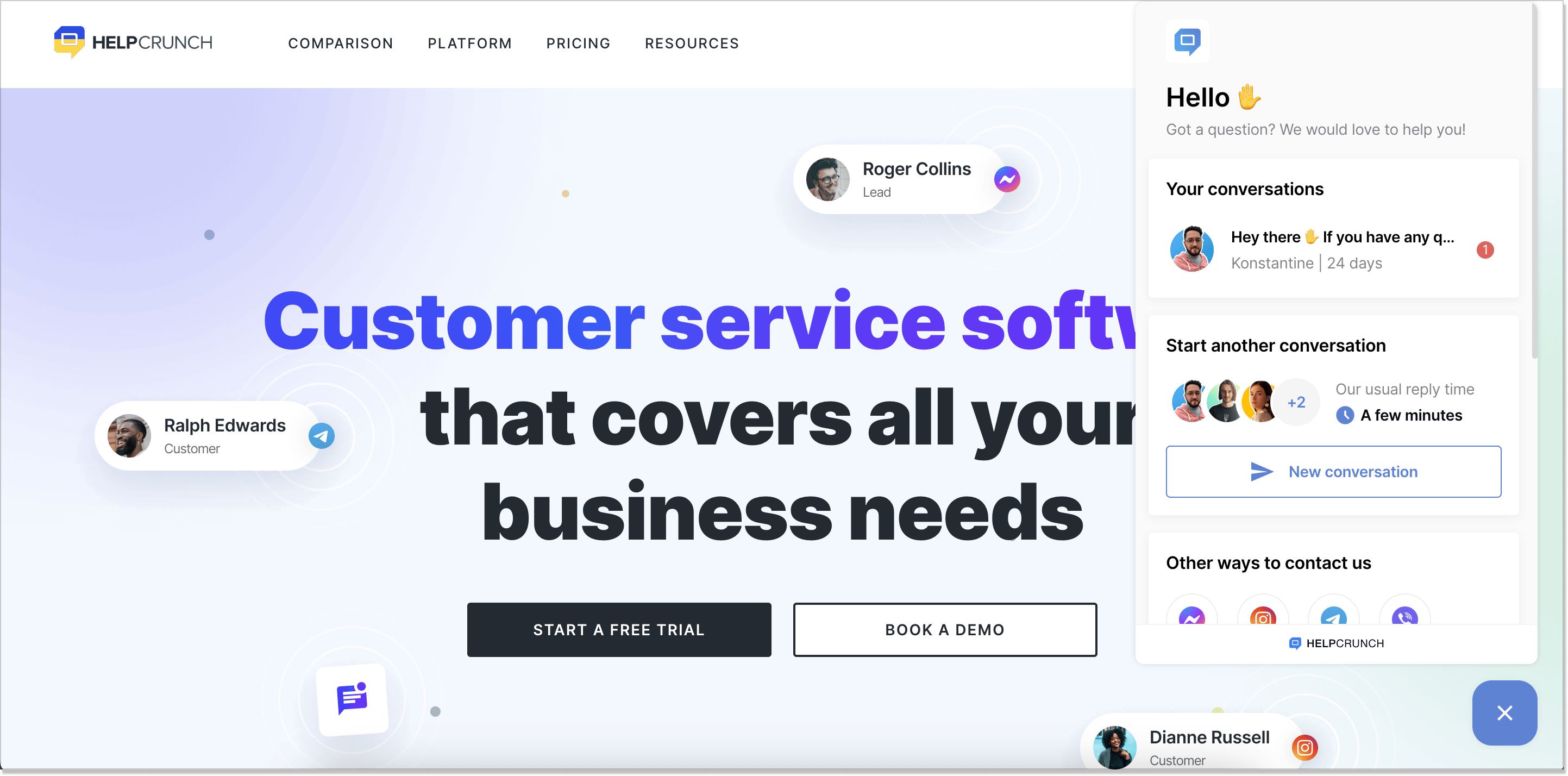 Why is a greeting message important?
During the first seven seconds, visitors get an impression of what your business is and if they want to deal with you. So make the most out of this moment with a well-oiled website and a catchy greeting message.
And if you manage to successfully complete this task, then a new window of opportunities will open in front of you. The right wording that speaks to your audience in the greeting message can move the staircase in the right direction. Let's get you a sense of the perks live chat greeting bring in:
Enhanced engagement rate
More leads and sales
Higher retention rate
Improved customer satisfaction
Better customer experience
Live chat welcome message can serve many purposes for your business rather than just welcoming your customers.
The best part, it will take just minutes to create an automated greeting message for live chat with the right tool. For instance, HelpCrunch is a great platform to do that. Set up any greeting text in a couple of steps and enjoy the result. Besides, the platform allows you to create a knowledge base, leverage a chatbot, and send email newsletters.
The greeting message checklist
Before we move on to specific examples, let's start off with the top three things that you should keep in mind while writing your live chat greetings.
✅ Make it brief and clear
Since it's a greeting message for live chat, it should be just as simple as people saluting each other on messengers. To give you a hint, check out the last "hello" message you got from a friend. Mine says: "Hi! How are you doing?" It can also be:
Welcome to our website! How can we assist you today?
We are so excited to have you here! Maybe there is something we can help you with?
Hope you are having a great day! I am here in case you need any help 😊
No need to prepare a wall of text embracing the whole set of product features and installing instructions. A welcome message in the chat aims to show that you appreciate the users' interest in your platform and be happy to assist with anything. IF a user needs any.
And don't be sad if they don't need it. Remember 67% of respondents prefer self-service over speaking to a company support agent and it's OK.
✅ Evoke emotions
It's been proven already that emotions help us remember things. Hence, if you want a customer to remember you, then get creative and come up with a catchy line. It can include a funny joke or address a user's pain point. Something like:
A day without a customer is like, you know, diminishing MRR.
Buy our product! Support us and the bank that issued us a loan for business 😄
Tired of senseless search? We are here to help!
Make sure that the tone of your message perfectly aligns with the company culture. If you represent a startup-like business where coworkers constantly exchange jokes and share memos, then maybe include a memo or an emoji in your greeting text. For other companies, I suggest not overplaying and keeping the intro line simple.
✅ Include a call-to-action
"Ask", "drop us a line", or "get more tips" – all these simple phrases make a visitor at least think about reaching out to you. It turns out that the average CTR for all CTAs across every industry is 4.23%. Yeah, not a tremendous result but why not use it if you have a chance?
Let's discover all the perks in it for you.
Tired of the routine? Discover your escape today.
Interested in our offer? See what's next…
As you can see, something nice and tidy can be enough to spur users to action. Another positive side of CTA lines in your live chat greetings is an opportunity to do A/B testing and spot what works best for your customers.
Best live chat greetings to set up today
Users come and users go, and only with the best live chat greetings, you can convert them into leads. If I am being completely honest (don't tell my manager), there is no such thing as the badass intro line that can guarantee customer engagement. However, there are welcome messages for live chat that can light you up. We've split up the live chat greetings into a few categories for your convenience. Enjoy!
Live chat greeting in general situations
These live chat greetings you can place on your homepage to welcome visitors immediately as they get to your website. It's a nice way to humanize their experience and make it more "live" like in an offline store. Demonstrate that you are here for them in case they have a question.
Hi! Welcome to [company name]. Ask me anything anytime. I'm here for you!
Hello! Can I do something for you today? The buzz is low now so I promise to be quick with a response 🚀
Ciao! 👋 How have you been? I am here to solve any of your problems! (well, not any… but at least some of them) 😃
Live chat greeting for onboarding
When users join your brand community and subscribe to your product, it's crucial to launch a short welcome message for customers and guide them through the installation process. Make sure, users know how to set up your tool because their success is your success. Never neglect that fact. And I am happy to say that you can easily lead your customers through the process with a live chat welcome message. 
4. Hearty welcome to the club! We are happy to have you onboard and want to assure you know what the next step is. Here are some quick tips.
5. What a day! It's the beginning of a new era with a decillion of fresh opportunities for your business. Have a look at our installation guide to make the engine run 🏍️
6. Accept our warmest welcome! 🤗 While you are figuring out how to get the most out of our platform, please read these helpful articles to have a quick start with the tool.
Live chat greeting for customer support
Let's learn some live chat welcome message examples that your customer support team can use. You can place it on your homepage or any other web page that users spend the most time on. Usually, these live chat greetings aim to facilitate the agents' work by inviting visitors to chat or visit the help center. It can also save your team when the amount of work is extremely high and the support representatives need some extra time to deal with the query.
7. Hello! Thank you for your message. Our customer success team will get back to you as soon as possible. For now, please visit our knowledge base with all the necessary information you might need for effective work.
8. Hi! We appreciate your interest in our company. Have you had a chance to check out our help center yet? No? You will be stunned by the amount of useful information there. I promise 😃
9. Good morning fellas 🤠 Happy to see you here! If you need any help, just drop us a message. For introverts, we suggest using a knowledge hub to find all the answers you need 📚
Live chat greeting for lead generation
You can display these live chat greetings on the pricing landing page or product description page. When a user is scrolling through the benefits of your offer or exploring the pricing policy, it might be the best time to reach out. A simple message where you offer more details on the topic or ask for an email address can help you generate more leads.
4. Hi! Thanks for your interest in our offer. Actually, we have even more on the table 🤫. Drop us a message to learn the whole set of opportunities.
5. Gotcha! I see you are looking at our prices 👀. Send us a message, if you'd like our support angels to help you find the best subscription plan for your business.
6. Hey! Looking to improve your marketing performance? We have a one-stop guidebook for marketing professionals. Type in your email address, so we can send it to you free of charge.
Live chat greeting for special offer
Special offers can be timed to different occasions: the client's birthday, Christmas, and Black Friday. You can also leverage Valentine's Day marketing quotes on the most romantic season of the year and carry out other seasonal activities. It's a great moment to reach out to users and offer discounts, ebooks, or gifts. You know, a sales season can bring you lots of new customers, don't lose on this opportunity.
10. Have yourself a merry little Christmas 🎅 And… we hope to make your day brighter with our special gift of a 40% discount on all products. Buy something unforgettable for yourself and your loved ones today 🎄
11. Hello, darling ❤️ This is the day to remember that love for yourself is the most important love of all. So, don't you dare to settle for fine. We have the best offer for you: sign up today and get 3 months for free. XO
12. John, a little bird whispered that today is your birthday 🎁 ​​We can't stand aside on such an important day, so we are giving you a discount coupon JOHNBDAY30. Happy birthday!
Live chat greeting for repeat visitors
Users who return to your website might be good leads with amazing selling perspectives. All you need to do is to encourage them to contact you by sending the right greeting message. It can include a simple offer to help or a tempting proposal that will quickly persuade visitors to buy your product or service.
13. Welcome back! If you need any assistance to make the right decision, I am here to help as always.
14. Was it stars that brought you here again ✨? Whatever it was, I couldn't be happier to help you choose the best product that perfectly suits your needs.
15. Glad to see you back! Looking for anything specific?
Live chat greeting for out-of-office hours
I bet you know that 82% of respondents expect to get an immediate reply to their questions on marketing and sales topics. That's why it is better not to annoy your customers and respond to their requests quickly at any time of the day. It's where the live chat welcome message takes the stage.
19. Thanks for reaching out! We will look into your query during the next 24 hours. In the meantime, please feel free to check out our knowledge base.
20. Hi! We won't be able to check our inbox until 9 AM. But please leave your query below and we will get back to you soon.
21. We've got your message! It won't take longer than 24 hours for us to reply. Feel free to keep an eye on our FAQ page. Warm regards, [company] team.
Wrap up
Setting up live chat greetings can automate a big part of your job. No need to send a manual "hello" to every website visitor or a Christmas card to every lead. Now, you can just place proactive messages and focus on more important things while the live chat generates more customers for you.
If that's exactly what you want, then consider the HelpCrunch tool. It's designed to automate, facilitate and enhance your customer communication performers. The platform is simple to install and use. Click sign up and get a 14-day free trial to see if the game is worth the candle.