Types of Emails Customers Would LOVE to Get from You
There are dozens of different types of emails around the internet. But we don't want you to get confused. Read the article and concentrate on the main netmails customers eagerly await from you. No time to waste!

Are you killing it with your email marketing campaigns? Does your conversion rate from email activities skyrocket? To be honest, there is hardly anyone who can answer 'yes' to this question. Because the average email open rate is hovering around 16.97% which is frankly not much.
Of course, the metric depends on the industry.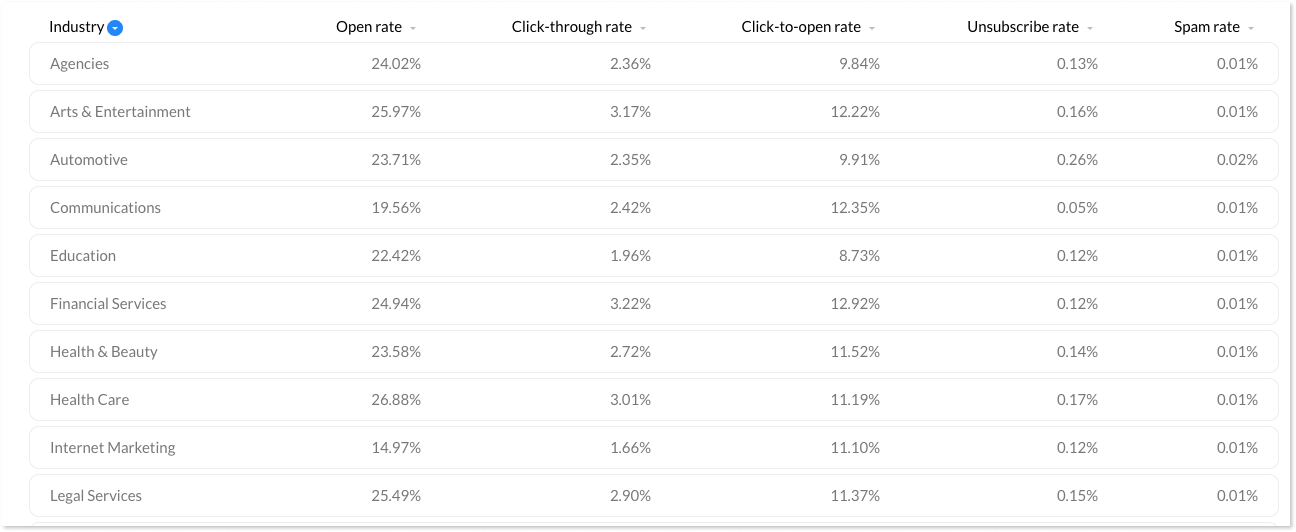 And even on the part of the world, you are sending your emails to.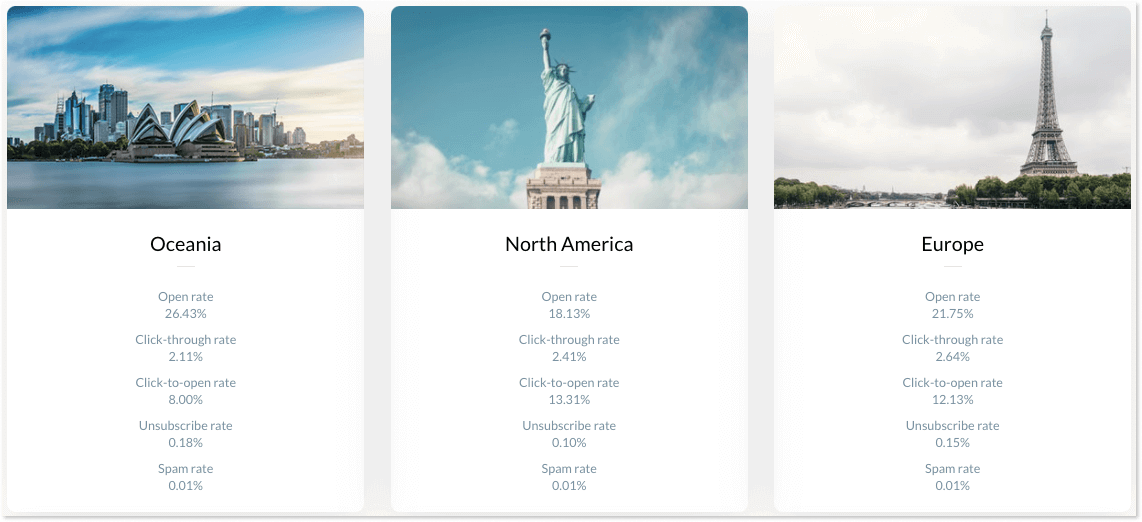 And yet, customers want the companies they buy from, to send them emails, offer special deals, share updates. Over 60% of subscribers would like to receive promotional emails once per week.
So even if you are sad to see a low open rate, keep exploring different types of emails! They might not read it but it's the way to stay in sight and in the mind of your customer. Don't waste this opportunity.
I'm a team member of HelpCrunch, a platform to build customer relations. Once, I was talking to our user and he mentioned how much he liked the fact that we are constantly growing and introducing new features. I asked how he learned about the recent update. "From your email. I haven't had the chance to open it yet but I've seen the subject line." The fact of sending emails alone can contribute positively to the image of your company.
Considering the above, it doesn't mean you can send anything to your users' inboxes which are probably full of spam. Focus on the most effective types of emails customers will find relevant and useful. I am writing this article to tell you exactly about them.
Different types of emails in marketing
Below are seven all-important types of marketing emails you should be incorporating into your email strategy and why they're beneficial for both you and your subscribers.
1. Welcome email
You can send a welcome email or you can go home. I mean it, you can skip many types of emails but this one. It's like inviting someone to your house and never saying "hi" or showing around. Most probably, the person would feel lost and leave soon, assuming that they are simply not welcome here.
Yet a beautiful friendship with a client always starts with a neatly crafted greeting message for customers. This is where you welcome your new subscriber and provide further steps. 
The task here is to make a nice first impression and answer the popular questions a user might have right after subscription. However, it doesn't mean that you should go over and above in your first email and put as much information as you can. Because if you do this, a customer may never read through all of it. Instead, focus on the most important stuff and mention these three aspects:
We are happy to have you onboard
Here is how our tool/service can help you
Down with talking, follow these X steps to start enjoying the benefits of a subscription today.
You can also add a link to an e-book with tutorials about your product and how to get the most out of it.
But it's just the tip of the iceberg. You might decide to use another tactic. Learn more about how to prepare an excellent welcome message you users will love.
Have a look at this example from Virgin America. You will find every essential aspect of the welcome email included. A customer gets all their basic questions answered which is exactly what this letter is intended to do.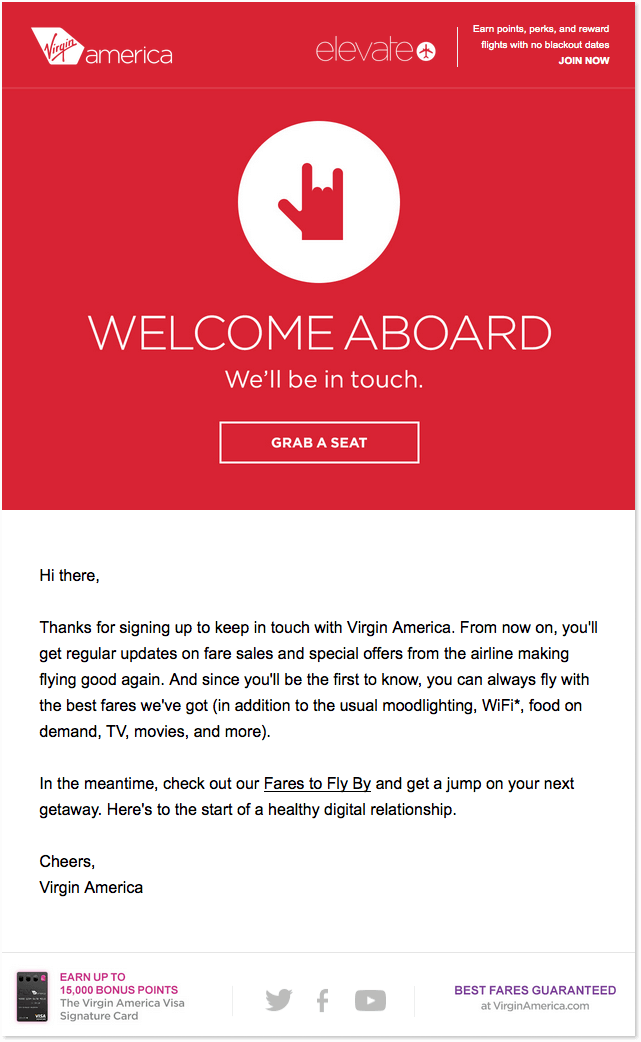 2. Newsletters
Never have I ever sent a newsletter with valuable content that helped me to acquire more customers.
I have!
Reportedly, 81% of small and medium-sized businesses still rely on email marketing as an important customer acquisition channel, and 80% for retention. Indeed, a well-done newsletter will bring more traffic to your website, grow the community, and, eventually, increase sales. Not bad at all for what some consider to be a very basic form of email marketing.
Before we continue, let me put this straight, there are different types of newsletters and absolutely no limit to the creativity you can use to craft one. Actually, the more authentic, the better.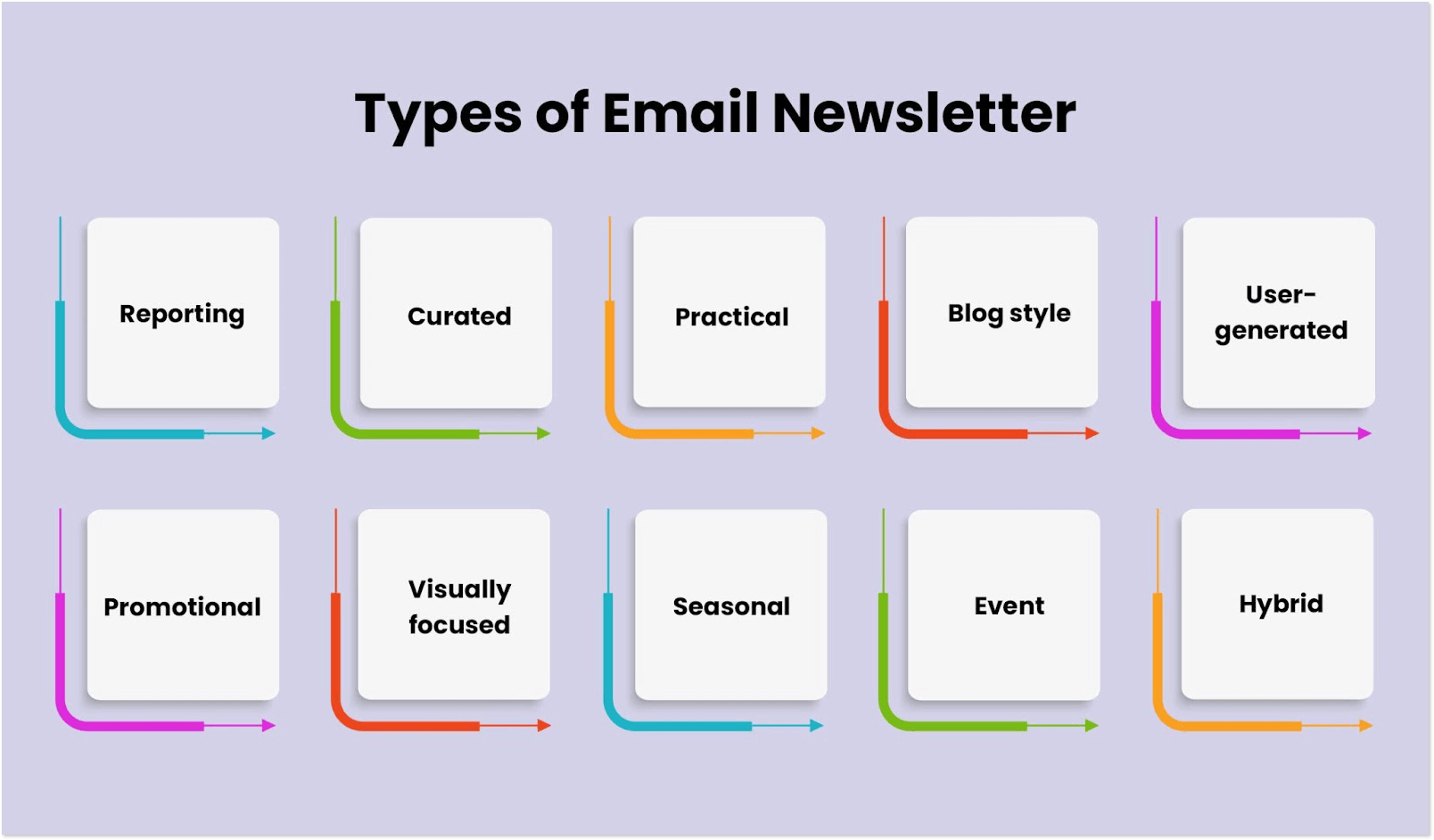 Reporting — real and valuable reports collected by your company in a single newsletter.
Curated — the collection of articles, links, and suggestions from multiple sources to offer some value to subscribers.
Practical — actionable, helpful, and easy tips on how to benefit from your product or service.
Blog style — a collection of informational blog articles.
User-generated — reviews, testimonials, or case studies of your users.
Promotional — sale offers, discounts, or new special deals.
Seasonal — dedicated to holidays and includes tips to celebrate the holiday with recipe suggestions, decorative ideas, gifts, and so on.
Event — invitation newsletters to the events that your company hosts. They usually include the date, timings, locations, along with attractive images.
Hybrid — consists of a mixture of different types of email newsletters to offer additional value to the users.
Personally, I would add one more email newsletter type to this list — product newsletter. It's an email type strictly focused on your product or service peculiarities and updates.
Here is an example of a blog-style newsletter we shared at HelpCrunch with our subscribers: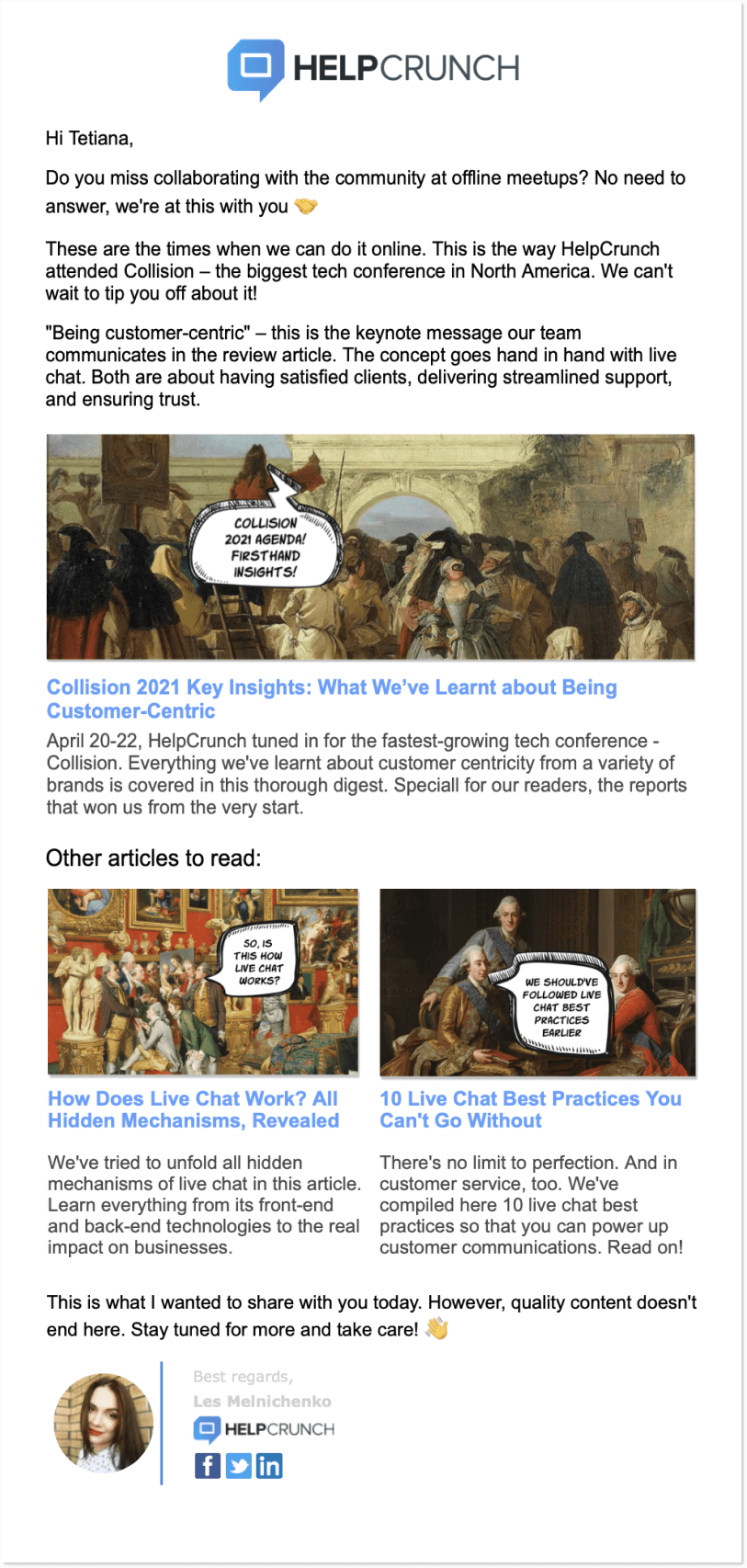 Despite the differences, there are two things that all types of newsletters have in common. It's unique, valuable information and regularity. On average, the best frequency for newsletters is no more than twice a week and at least once a month.
3. Milestone email
This is one of the email types that you send to celebrate a customer's birthday or achievement like a 6-month membership mark, a 1-year anniversary, or their outstanding success result.
Why should you do this? It's not for nothing we call our relationship with customers a relationship. Usually, it means that we are doing business to help our clients while they help us in return by paying money and bringing attention to the weak points that allow us to become better.
Relationships also imply celebrating your clients' milestone events, or achievements. When something goes well, like when a client accomplishes one of their goals or reaches an anniversary, it's a beautiful opportunity to strengthen your relationship further with an email.
As you can probably guess, this type of email is highly personalized. You can't greet a user with "Hi there" or skip mentioning an achievement that this specific customer is celebrating right now.
Usually, it's a warm email crafted in a friendly way with no overwhelming ads, CTA buttons, or promotions. What you can include, it's a special discount to congratulate your customer. Subscribers love it. Moreover, milestone emails drastically boost conversion rates, generating up to 13% clicks that result in a purchase.
Milestone emails can also celebrate your brand's achievements or anniversaries. Have you raised remarkable funding? Has your user base hit 1,000 contacts? Has your company marked 1 year? It's definitely worth sharing in an email with your subscribers!
Have a look at a customer milestone email from Intuit Mint, a personal financial management service. Love it!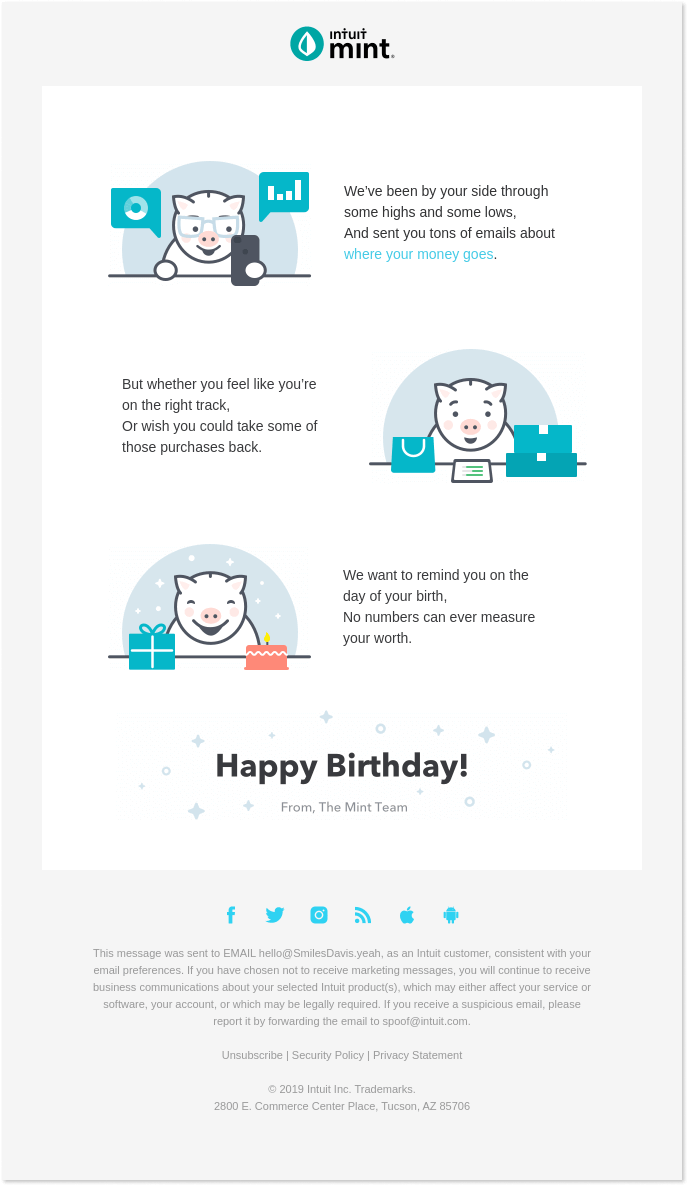 4. Lead nurturing email
It's an email that marketers usually send to move leads from the consideration stage to the decision stage of the funnel. Professionals include details about a product or service, highlight its best features, add users' testimonials to dispel buyers' doubts, and help to make a purchase.
There are a few reasons to use this kind of email in your lead nurturing strategy. For starters, to increase sales. Reports suggest that nurtured leads bring 50% more sales than non-nurtured ones. Another reason is that it's a cost-effective way that brings up to $40 in revenue for each dollar spent 🤑.
Lead nurturing emails are incredibly useful when it comes to staying top of mind with your prospects. They help you effectively follow up and ensure that the content your writers put a lot of work into (videos, e-books, blog posts, guides, infographics, etc.) ends up in front of its target audience.
Okay then, but how to write an effective lead nurturing email to actually pursue users to buy from us?
We would recommend segmenting prospects by stage of the buyer's journey, so you have a personalized touch. Depending on the stage, leads have different questions, doubts, and needs, it would be a great practice to approach each segment separately for the best result possible.
Make sure to include a CTA button. It will simplify your users' life by showing right away, what do you want them to do as a result of reading your email? Know what you want your email to accomplish, and then ask customers to do it.
Remember to experiment with the categories of content. Today you are sharing a brief summary of your product's benefits, tomorrow — inviting to read an e-book, the day after tomorrow — sharing a video tutorial, and then maybe announcing a webinar. No one wants to read email after email saying the same thing — how great your company is.
Have a look at the lead nurturing letter from Grammarly:

5. Review request email
Reviews. What's more effective than word-of-mouth? I'd say nothing.
Even if you are the best company in your niche, it might be a challenge to get a solid number of positive reviews. People just don't feel like commenting on good stuff compared to shitty service.
Just answer yourself, how many positive reviews have you left for Apple, Netflix, or Adidas? Me — zero! However, I am extremely happy with their products.
You must remember this. There is no shame in asking a customer to write a review. It doesn't mean you are not a good enough company, it means people need a reminder or an extra motivation to do some additional job…
I won't even start with listing all the benefits of positive reviews for a company. One number can tell you all, 94% of consumers have avoided a company due to a bad review. Imagine losing almost all of your customers if bad reviews prevail. It would be such a shame.
Don't waste an opportunity, if you see a satisfied client, ask them to write feedback and post on G2, Capterra, Yelp, Google Reviews, social media, or elsewhere.
And, of course, there is nothing bad in dangling a little bait to make reviewing rewarding if it doesn't go against the review website policy. Those reviews MUST be HONEST because false-positive feedback just doesn't work in the long run.
Try to offer an incentive for customers who complete and submit their true opinions. For example, offer a special discount or a gift card as a special "thank you" for the time they spent writing a review. Giving these kinds of benefits also encourages repeat purchases – why would you say no to that?
Look at a review request email from the Sun of a Beach company to get in a creative mood 🙂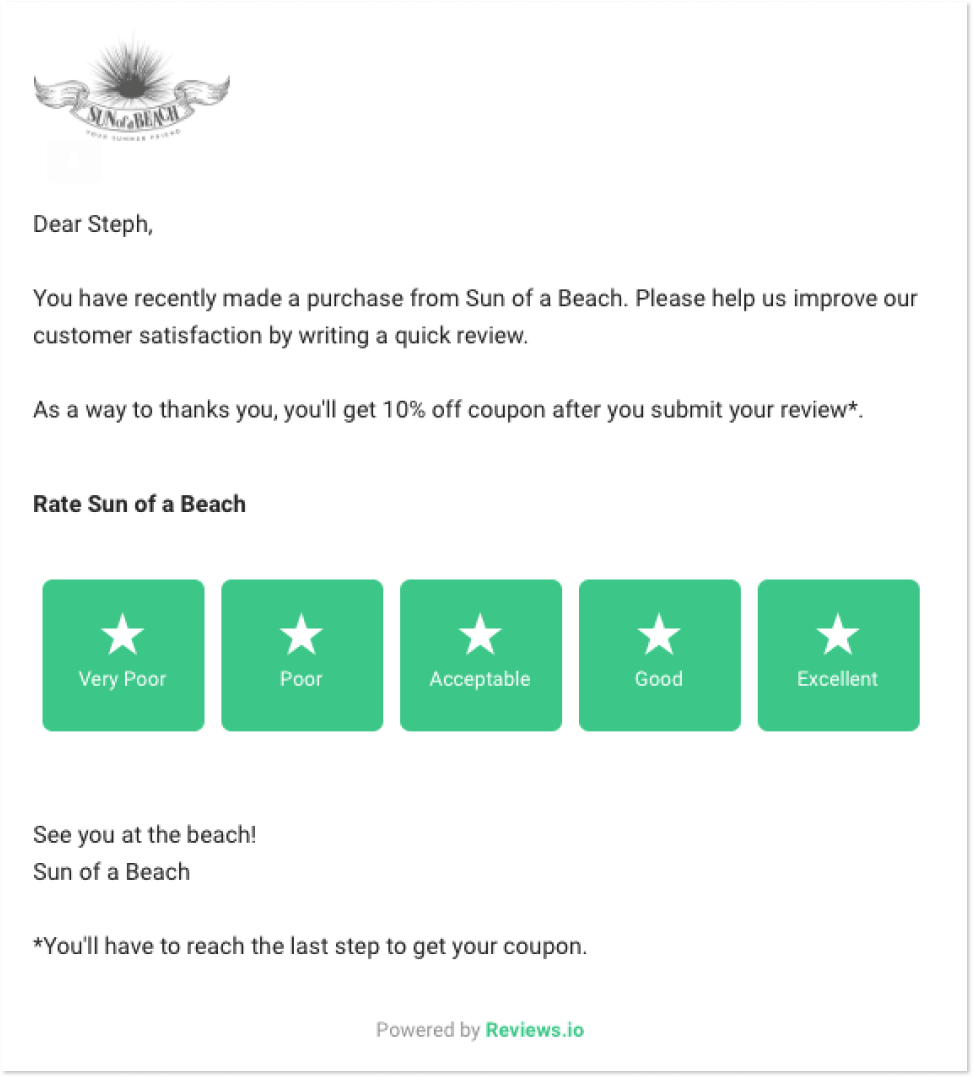 6. Abandoned cart emails
If you are an online store owner or marketer, you are very well aware that over 75% of people abandon their shopping carts online. That's the bad news. BUT you can return about 10% of them or even more with your abandoned cart email.
And if a customer abandoned the cart for technical reasons on your side, sharing a 'sorry for the inconvenience' message might save the situation in the blink of an eye.
While the average e-commerce email open rate is around 15%, abandoned cart emails are killing the game with the 45% open rate. They work as a gentle nudge. It's important to not scare off a customer who has been 'this close' to making a purchase but encourage them to complete the sale.
Okay then, how do I do this? Here are a few tips to help you with that.
Create a sense of urgency by saying something like "before your items sell out", "just one item left", "the products will disappear from the cart in 24 hours", and whatnot.
Offer an additional discount.
Add a call-to-action button that leads directly to the cart.
Provide a list of additional products that a customer might have overlooked.
Include the link to the product reviews. (Sometimes people just have to be convinced that your product is the best).
Klaviyo found that each abandoned cart email earns $5.81 in revenue. So you have nothing to lose! Send an email and you just might gain a new satisfied customer and more sales. It's definitely worth a try.
There is no right way to write an email but that's how Brooklinen is doing it.

7. Transactional emails
Marketing shouldn't stop at the point of sale. Thus, transactional emails (also called confirmation emails) play an important part in customer communication. After the purchase is made, send a digital receipt, shipping confirmation, or personalized post-sale product recommendation.
It will keep consumers calm and confident that the transaction went smoothly. Also, by sending a timely acknowledgment of the operation, you build trust with your customer which is the most crucial thing in any relationship.
At the same time, it boosts credibility for your service and improves the retention rate by ensuring a good customer experience. Needless to say, happy clients are long-term clients.
You will be more than satisfied with the result as transactional emails can boast a 44.9% open rate. So, about half of the recipients will see your confirmation message. Any email marketing manager can only dream of this tremendous opportunity to communicate with subscribers. I'd definitely recommend adding a list of extra products a user might be interested in. Use the chance to upsell!
If something goes wrong and the transaction wasn't successful make sure to send an apology email.
It's worth noting that transactional emails are not just about payments. They can confirm basically any action that has been performed by a user:
Subscription to a newsletter
Making a change to the shipment details
Requesting a password change, etc.
When writing such an email, try to keep things simple. It's not a newsletter with a bunch of blog articles or product updates. Instead, it should be a clear confirmation that the action has been completed successfully (or not).
After reading this letter, a customer should know how to:
Review their payment
Get fast support (via live chat, preferably)
Make a change to the order
Act further.
It's time for a simple yet juicy example from Spotify: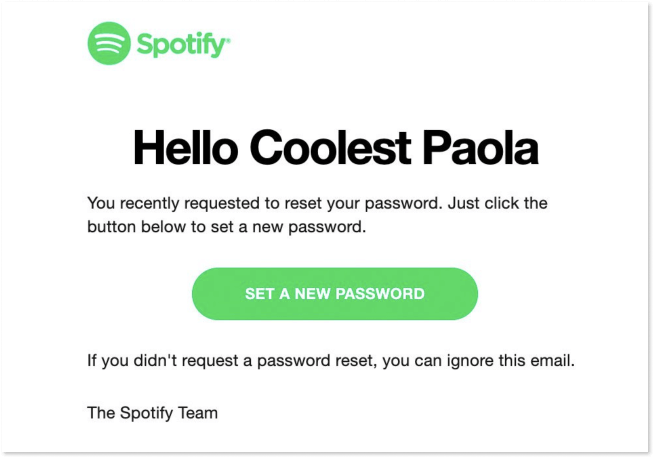 What's the next step?
Given all the different types of emails, perhaps you are now thinking: "How on earth should I send all these letters? It will take a century or even more". I have one word to answer: automation.
Just create templates of all types of emails you want to adopt with your company, add them to the email marketing tool, and send them on autopilot. Initiate triggers like 'when a user subscribes to a newsletter, a subscription confirmation email is sent', 'when a user marks one year with the platform, an anniversary email is sent', and so on.
Surely, here you need smoothly functioning software to rely on. For instance, something like HelpCrunch can help you with that. This customer communication platform encompasses everything you need from live chat to popups builder and email marketing to build strong relationships with clients. The pricing plan that includes 1,000 emails starts from $29/mo per user. Give it a try during a 14-day free trial period.