We all want to feel valued, and your customers are no exception to this rule. In fact, nearly 60% of clients will stop dealing with a brand if it seems to be indifferent to them. Always remember that you're running a business for them and you wouldn't have anything to run without them.
That's why follow your customers up right after they made a purchase on your website to leave a long-lasting positive impression. And what's the best way to do that? With a perfectly made 'thank you for your order' email.
Send you customers thank you notes via email with HelpCrunch. You can set up timely automated emails based on your customers' data and behaviour. Just create an account with HelpCrunch — it's free for a 14-day spin.
Sending an appreciation email is a proven online marketing tactic. It gives a golden chance to engage a customer to come to your website for more stuff. If you work out a 'thank you for shopping with us' email concept thoroughly, you can establish your brand's credibility and trust. Such messages are actually great multitaskers: they act as compliments, show gratitude, contribute to building more human-like relationships, and serve as an apology for some lapses if need be. Plus, it's a great way to keep further conversations with customers going.
Unlike buying something in a brick-and-mortar store, customers don't gain tangible experience with your business. Fine-tuned, automated 'thank you for purchasing with us' emails give clients reassurance from the time they click that 'Order' button till the moment they hold a package in their hands.
Want to know how to thank customers with an email? Let's jump into TOP 6 'thank you for your purchase' email examples and ways to approach them using the right techniques.
6 'thank you for your order' templates for inspiration
#1 Mind the power of three W's
Hitting that coveted 'Place Your Order' button fills with enthusiasm. However, some people may experience excitement right after a purchase, but others may feel uneasy. The good news is that you can handle both of these emotions in your 'thank you for your order' email and turn them to your best advantage. Just give your customers 'the three W's' of their order: where, when, and what. Tell them what the package consists of, where it is, and what time it will be available for a pick-up.
It's an open secret that providing in-depth information makes the impression of credibility. This is a cool way to set clients' minds at ease. Check out this well-structured example from Chipotle: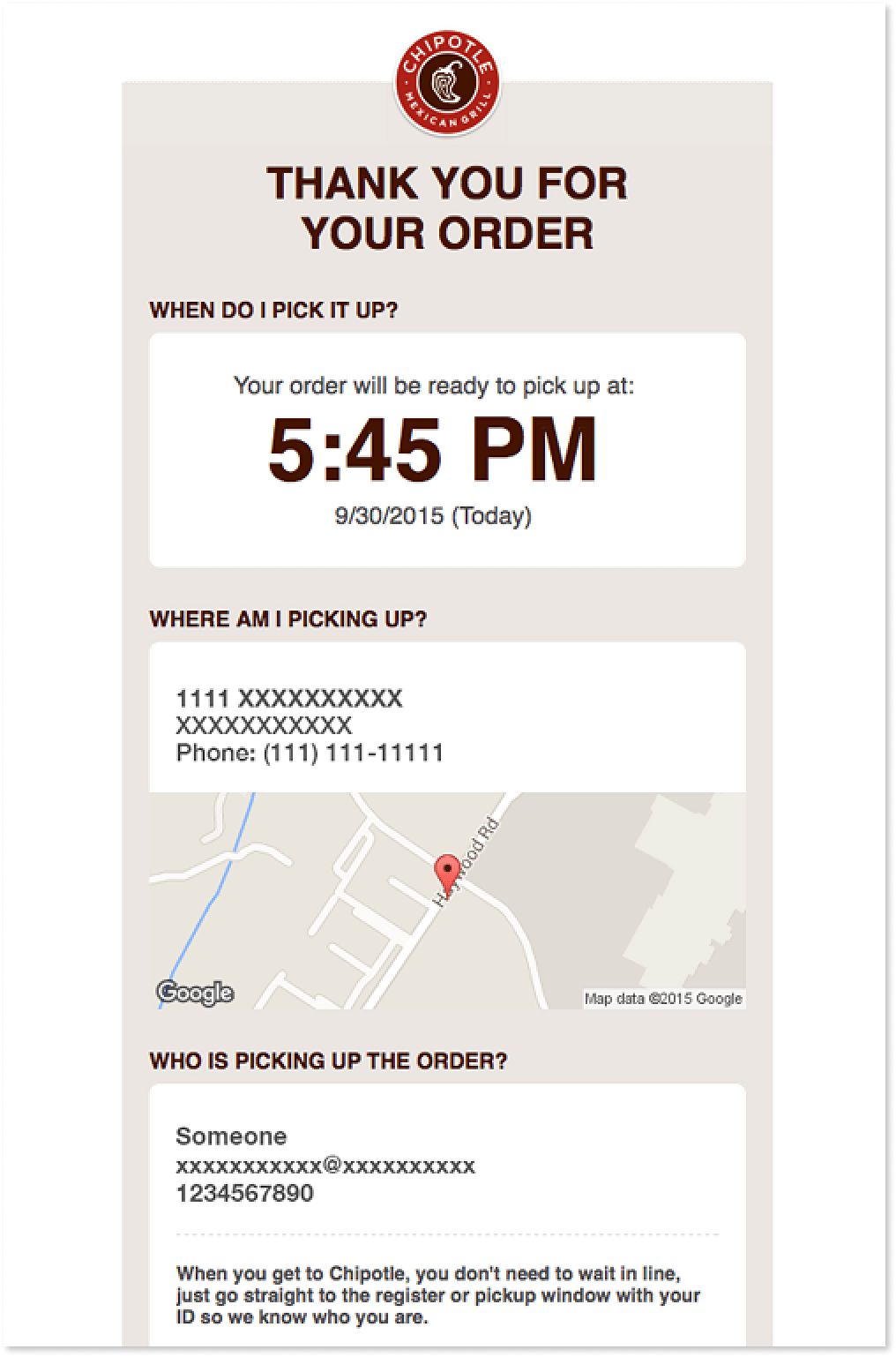 This Mexican food delivery service implements 'the three W's' concept completely. Everything a customer needs to know is in this email, from when to pick up food to who does that. You also get a brief summary of what the yummies are made of. And what if a client is new to the place? Chipotle has taken care of that, too. They provide a detailed map so that clients don't get lost and pick the order on time. These points will make your customers happy, which results in higher satisfaction levels.
At the bottom of this email, Chipotle encourages a customer to visit their website, join their social media networks, find a location, and contact them in case of any questions. Besides, they provoke interest by offering their catering service and gift cards. So, demonstrate self-promotion right after you give all of the order-related information.
#2 Set expectations
A 'thank you for shopping with us' message can be not just a receipt for payment. It also may be sent for another purpose.
By letting a customer know about the next steps, you set further expectations. With this method, a client won't remain unconscious. Here's an insightful 'thank you for your order' email by Denmark clothing company Bestseller: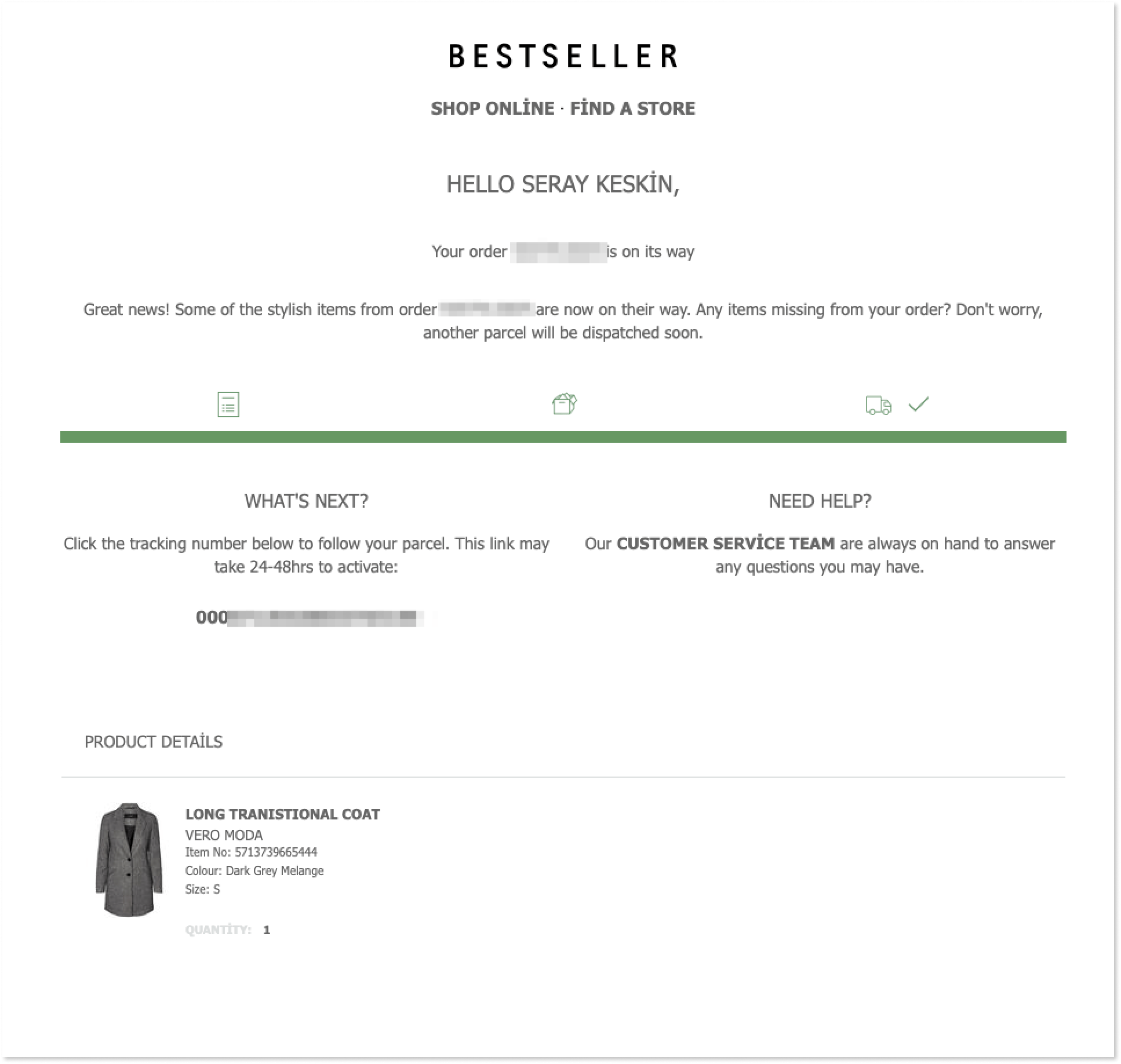 Once this email is opened, a progress bar with three icons appears on top. Owing to the visual aid and the phrase 'What's Next?', a customer knows what to expect about the order over the next several days.
Moreover, the 'Need Help?' section is a perfect option for those who want to clarify some details and handle issues with the package. It's vital to make it easier for customers to reach out to you at any stage of the order process. Otherwise, you risk facing complaints or losing clients to your competitor.
After giving quick info about stuff bought, Bestseller leaves a call-to-action to sign up for their newsletter. Why not? Clients have already chosen them, so a small favor won't hurt.
#3 Recommend complementary products
Now, you have several scenarios to go for:
Let your customers close a 'thank you for buying' email
Engage them with your brand and propose added alternatives
Imagine that you opt for the second option. Thus, you can guide your customers in the right direction by using simple hacks as shown in the following 'thank you for your purchase' template:
Jo Malone, an English perfume company, knows its way around. When a customer buys perfumes from them, Jo Malone follows the best practices and asks if their service is satisfying. In case something goes wrong, a client can contact their customer support team.
After offering a client a helping hand, Jo Malone suggests to check out some other items that may be of interest. Besides, it's a worthwhile cross-selling hack that will back up your marketing efforts. Jo Malone provides other perks, such as free delivery, a perfume sample, and a personalized gift box. This effective technique can increase customer retention and add some loyal clients to your client base.
#4 Confirm the buyer's choice
Impulse buys happen from time to time. Have you ever experienced them and regretted them right away? If you're positive about this one, you'll understand what I mean here. When a new pair of jeans brings pleasure, it feels great when someone pays a compliment. After all, we want to know that our buying decision is right.
A 'thank you for your order' email is a nice way to reaffirm customers that they made the purchase of a lifetime at your store and not your competitors'. Take a look at this example by Kickstarter, a crowdfunding American platform: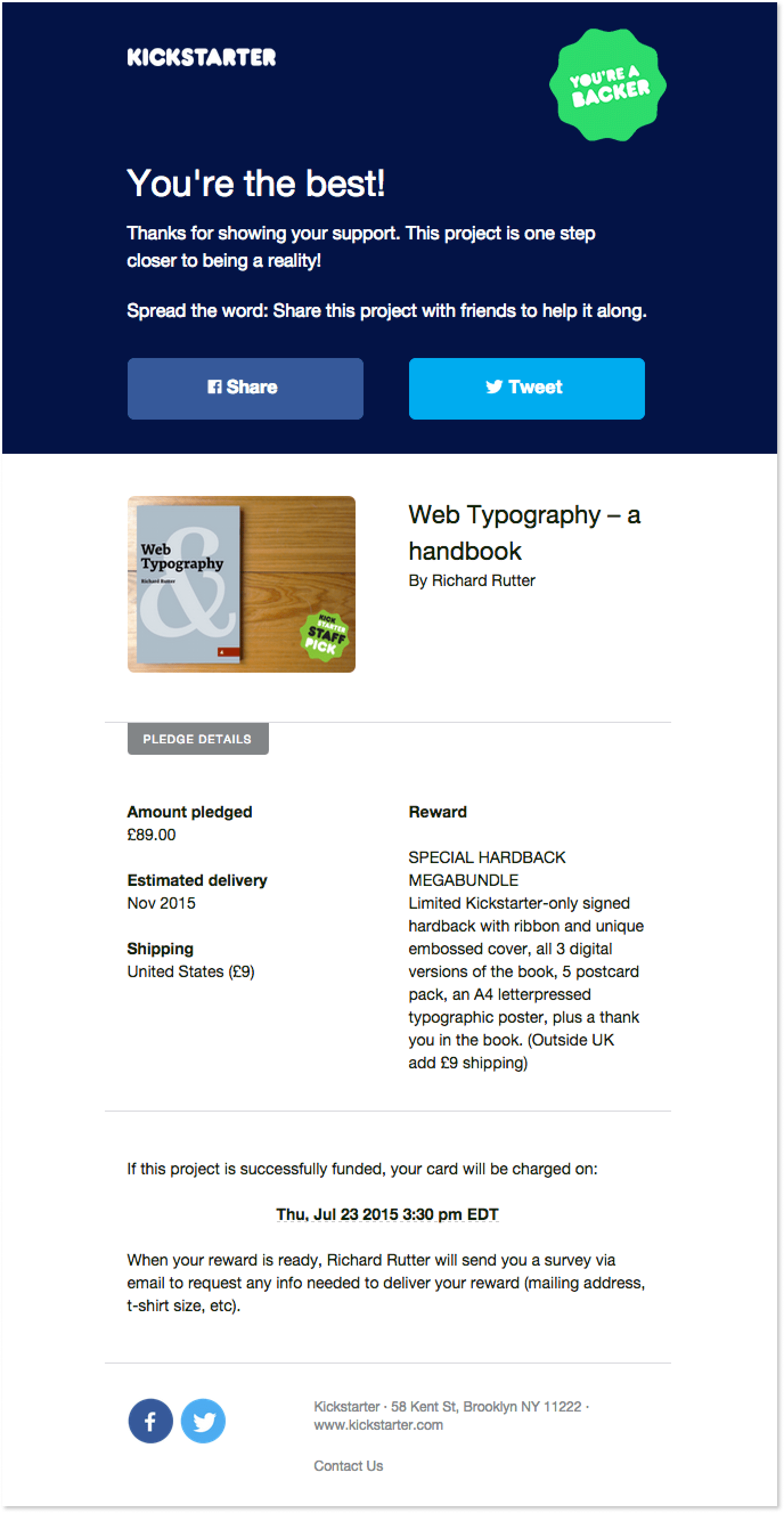 The first headline of this appreciation email is really eye-catching. A customer's contribution to a project means a lot, so Kickstarter thinks it's a clever move to say big words. Moreover, they seize the moment and include social media buttons so that customers can share their experience with others, which promotes word-of-mouth marketing. A detailed reward summary also shows a serious approach as a client can actually see what the money's been paid for.
It's always worth thinking over a value proposition, the reasons why your products or services can change lives, and what problems you can solve. Come up with rational or emotional benefits of what you sell and give your clients a pat on the back for making the right buyer's decision.
#5 Promote your loyalty program
A 'thank you for your purchase' email is the backbone of your order follow-up activities. And if your company has a tempting loyalty program, bring it into play right after a customer places an order. But bear in mind that doing so being intrusive is not the best-case scenario.
For instance, a well-known French perfume and cosmetics house Lancôme hits the mark. Its loyalty program is actually no rocket science: you buy stuff and get some points that you can redeem for whatever you want. Look how gently Lancôme does that: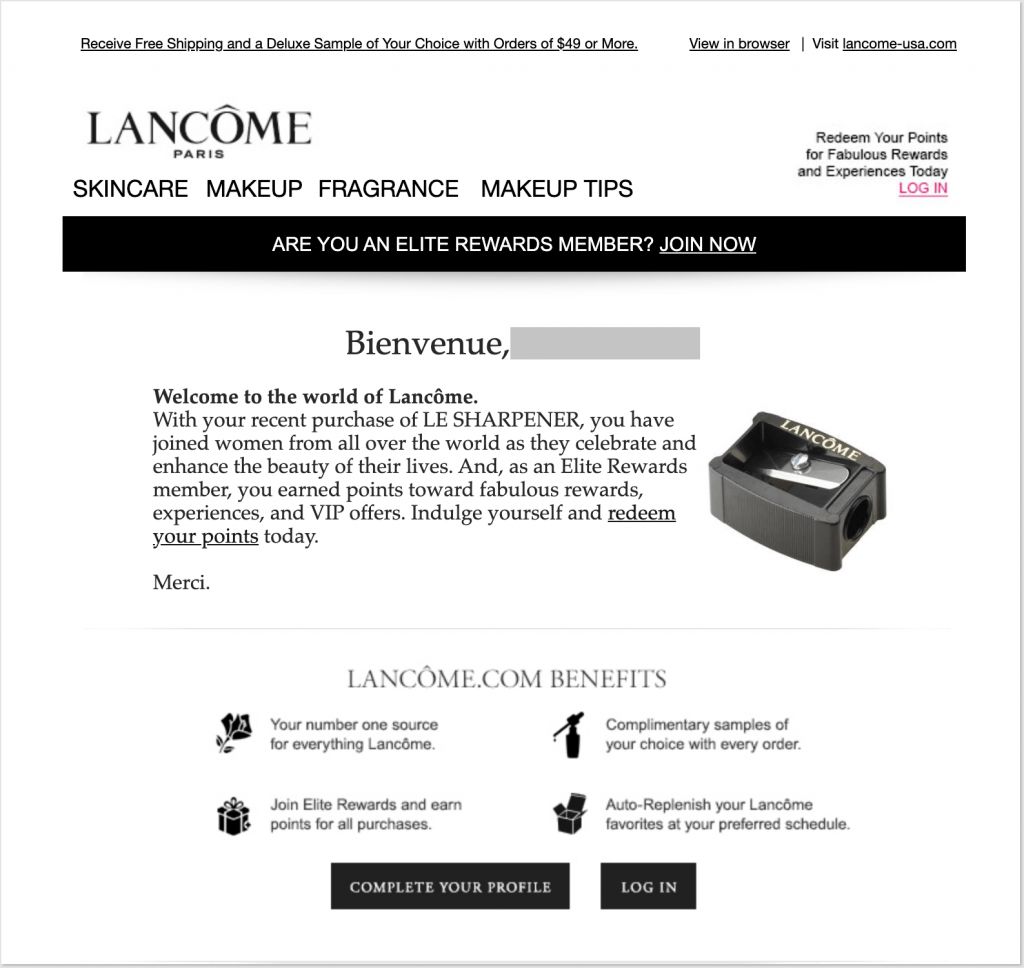 This way, the company makes the smart choice to turn one-time purchases into repeat customers. Since Lancôme's loyalty program is oriented to boosting the company's revenue, they don't abstain from promotion at this stage. By mentioning your earned points in a non-distracting way, Lancôme both confirms a customer's choice and encourages them to give the next order a thought. So, remember to tell your clients of their unused bonuses that they're missing out on once in a while to enhance your business.
#6 Educate a client on how to use your product
Adding a user guide to a 'thank you for your order' email is worth the trouble. After all, customers won't get the full benefit if they get your product wrong. Therefore, they may not come back to you again. While reading about something new may feel like a routine, visual materials may turn up to be more helpful. Take a look at the next step-by-step guide by Allergy Buyers Club, an air-purifying appliances company:

This 'thank you for shopping with us' message includes a set of visual instructions on how to install and use an air purifier. The chances are that this information will come in handy, so customers won't rack their brains and waste their time. By showing (and not just telling) how to utilize a product, customers are more likely to understand it better and keep on using it in the future.
Educating your clients can be highly beneficial for your business. Here's why:
It builds customer trust
It enhances customer loyalty
It reduces complaints
If you sell products that need some setting up, don't neglect to send 'thank you for your order' email just before your client's package is shipped. So, the more informed your customers are, the more satisfied they are with their purchases.
How to tweak a 'thank you for your order' email
Now you know what it takes to create a decent appreciation email that will grow your business. And with HelpCrunch, you can build your own well-structured appreciation email at the click of a button.
HelpCrunch offers you two options: auto messages and manual messages. Both of them are fully customizable, so you can change the settings the way you like it. They are designed so that you can type in your preferred message title, choose a sender, and decide whether you want to send it right now or a bit later.
With this feature-packed text editor, you can shape a 'thank you for your purchase' email as you wish:
Come up with the text of your email
Save it as a template for further activities
Keep it as a draft
Or save and send it right off the bat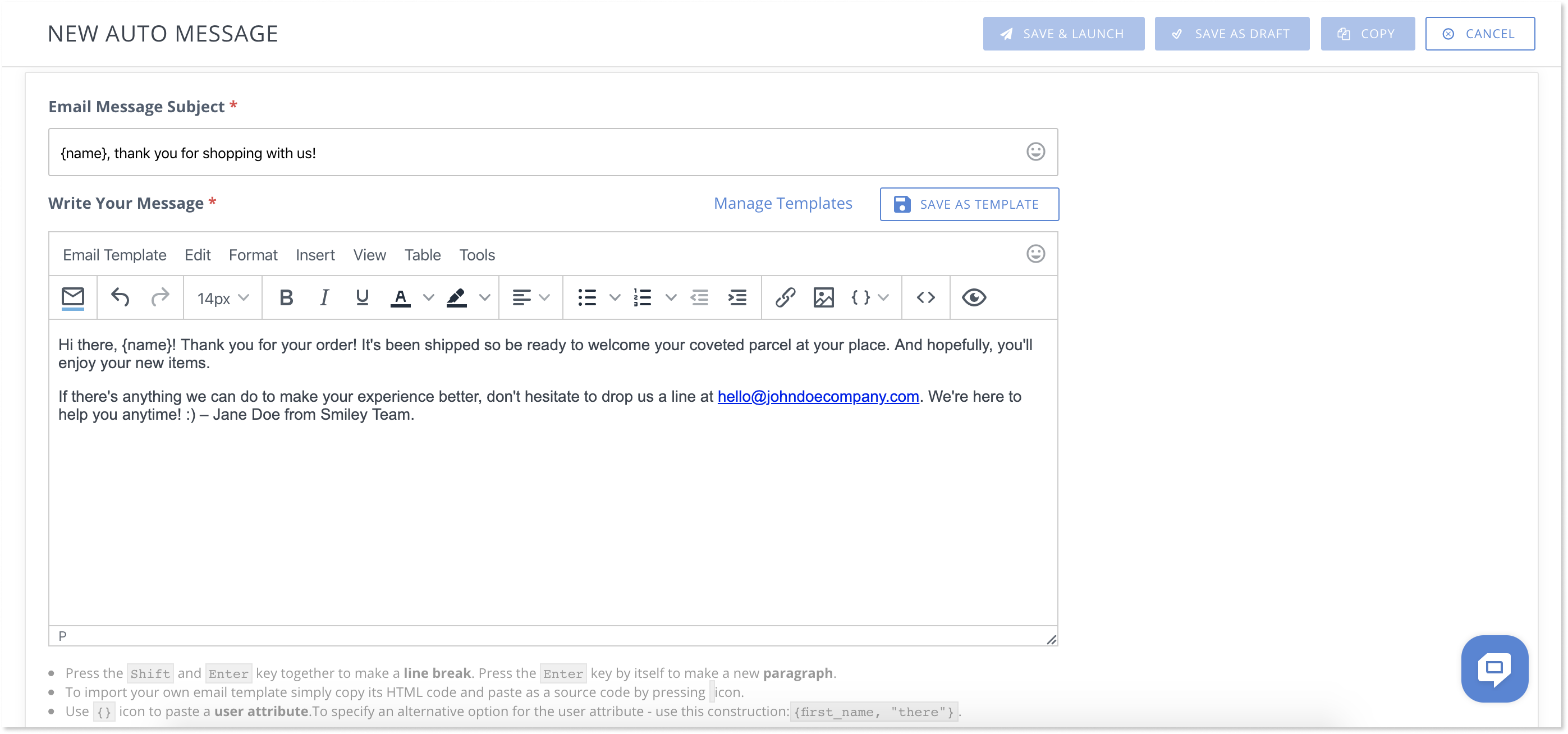 You can make the most of your 'thank you for shopping with us' message if you think over a targeting strategy. With well-thought-out algorithms, your email is more likely to reach the appropriate audience. The HelpCrunch auto message tools provide you with an opportunity to filter users by any criteria you need: from a browser language to a timezone.
That's it! By following these steps, you can fully modify your email campaign and achieve long-awaited results.
Bottom line
'Thank you for your order' emails are a goldmine for online marketing. However, not every brand knows who to turn them to their advantage. With just a handful of efforts and helpful tactics, you can design a 'thank you for purchasing with us' message that a customer will be pleased to read.
Keep in mind that it's worth including detailed order information, showing what stages a package is going through, offering some bonus products, and vouching for the buyer's choice.
Besides, a successful 'thank you for shopping with us' email promotes a company's loyalty campaign and has an easy-to-understand installation guide. You can put all of that into practice by creating an account with HelpCrunch and see how these features work together.
HelpCrunch articles delivered straight to your inbox 🚀
All the latests posts. One email per month.
No strings attached.
Read also
Sales & Marketing
One of the most crucial milestones of a brand journey is understanding consumers' needs, detecting their pain points, and finding the most efficient strategies to eliminate them.
Sales & Marketing
Asking for forgiveness is not easy that's why I decided to collect for you the top 8 apology email examples from real life. Inside you will find a few templates, so check it out!
Sales & Marketing
People often think that sales and landing pages are quite similar. The truth is, their purposes and key elements quite differ. Learn all about the importance of sales pages and how to build one for your business.