7 Steps Towards Customer-Centric Selling
Looking for ways to implement a customer-centric selling approach? We've compiled the top 7 steps that will definitely help you achieve the goal. Check them out!

First, there was a product and no internet, hence, no automatic customer data collection. Business owners were focused on producing a good product or service, increasing the number of sold items, and consequently decreasing the price. The lower the cost, the more units buyers will purchase.
Take it from Henry Ford. Back in the old days, he didn't know whether he was selling 10 cars to one person or one car to ten different people. He didn't even care about it. All he wanted to do was to sell a lot of cars and make them affordable.
Second, there was a customer. Since the worldwide net entered each customer's life, we can zoom in on different kinds of people, see what they search for, what products they choose, what the pattern is, and so on. Simply put, collect and analyze digital customer data.
Someone looked at that extensive, constantly growing information about clients' online behavior and said: "Why not build our business around that data?" This is where customer-centric selling takes the stage.
What is customer-centric selling?
Customer-centric selling, or CCS, is a sales technique that abandons pushy tactics concerned only with product promotion and puts customers first. In CCS, the salesperson targets decision-makers to identify their challenges and offer relevant solutions.
Ok, let me show it to you. Imagine, you are at home chilling when suddenly the doorbell rings. There's a salesman at your door, offering a "magnificent Calbit 3000 vacuum cleaner" that "you must buy" because it has so many useful features. How would you feel? Irritated, I guess. This is how a product-selling methodology looks like.
Even if it's truly the best vacuum cleaner in the world and it does everything but breakfast, all these perks don't really matter as long as it's not relevant to a prospect.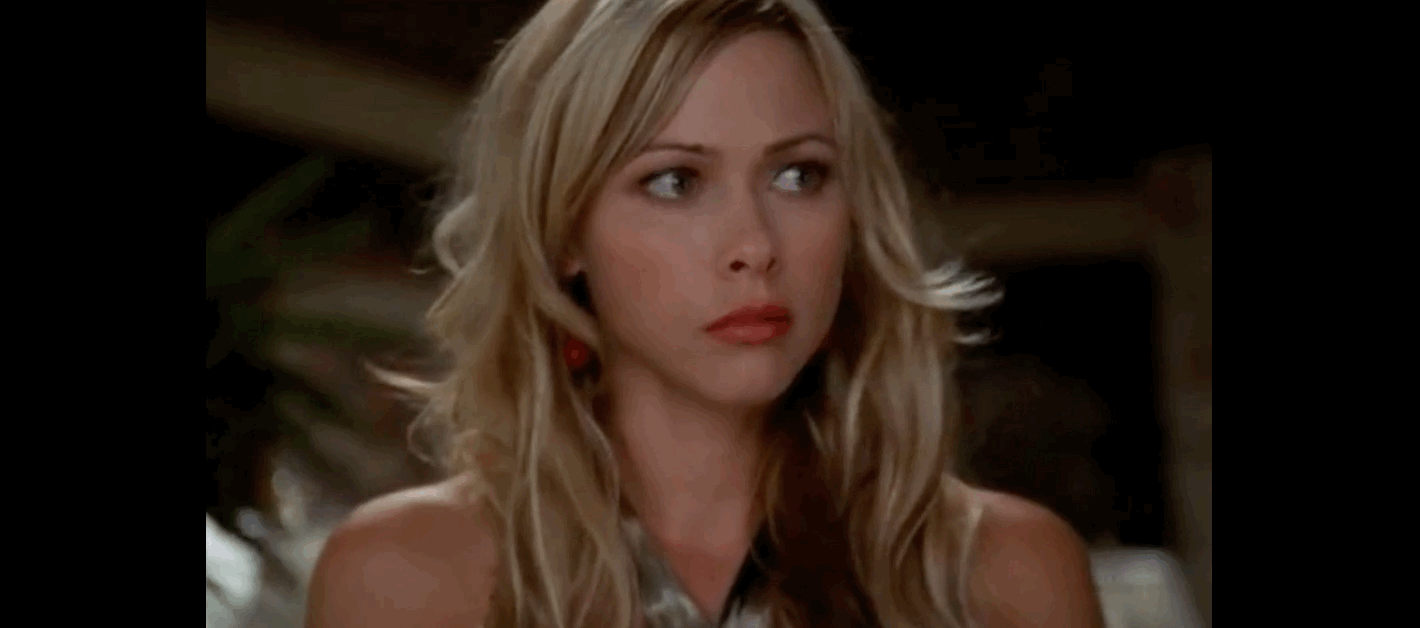 In a customer-centric sales approach, you are more concerned about aligning the offer with customers' current needs and solutions they seek at the moment.
When it comes to CCS, a sale must lead to one of three ends:
the buyer achieved the goal,
the problem was solved,
the need was satisfied.
If the product or service can't fulfill any of these, the deal is not possible and a salesman should walk away.
Product-oriented vs customer-centric approach
To make it even clearer to you, here is a quick table that illustrates the difference between two different methodologies.
In customer-centricity, everything turns around a customer and aims to satisfy their needs. However, there is still one question left in here. Do you have to make all customers happy or just some of them?
Customer is not always right
While talking about customer-centricity we can't fail to mention Peter Fader, a marketing professor at The Wharton School of the University of Pennsylvania. He is the author of two books: Customer Centricity: Focus on the Right Customers for Strategic Advantage and The Customer Centricity Playbook: Implement a Winning Strategy Driven by Customer Lifetime Value.
Prof. Fader adds a small but essential detail to the customer-centric selling definition. He suggests that companies should not focus on all of their customers but only on the right ones.
But who is 'the right customer'? A client that brings the most value to the company. And he is not talking about historic profitability but rather future-looking customer lifetime value. The company should sort a customer out based on what they will be worth to the firm in the future.
Challenges of the customer-centric selling approach
There are some roadblocks that might come your way. Accumulating data, analyzing it, tailoring the offer to each customer's needs and preferences can be challenging. However, it's the only way to improve customer experience.
Being customer-centric oriented also means targeting decision-makers. And it's where another challenge comes into play. When talking to high-level customers, many salespeople fail to relate to business issues, outcomes, and usage.
There is so much product training that sales reps become wind-up toys. And in today's environment, they never get to use the product training because people do the research on their own since they don't want to be influenced by sellers. So, I wish companies would cut 20% of their product training and invest in business training. That's a new salesperson. You have to make it a business proposition, not a product evaluation.

John Holland, the author of the CustomerCentric Selling book.
Despite all the struggles, the benefits of customer-centric selling methodology definitely outweigh.
Why is customer-centric selling important?
In a highly competitive world, customer-centricity is key. Only by resonating with people's specific needs, challenges, and goals can the company set up a sustainable relationship with clients.
As you've noticed, I could sing odds to CCS as it really has a lot of benefits for business. Here are just a few of them:
Increased customer satisfaction is what you get when you fulfill customers' needs exactly as you promised to. And statistically, 72% of satisfied users will share a positive experience with 6 or more people.
A better retention rate is what you see when customers are satisfied with your product or service. They tend to stay because it's easier than looking for a new solution. In turn, loyal customers bring a whole new bunch of benefits to your firm.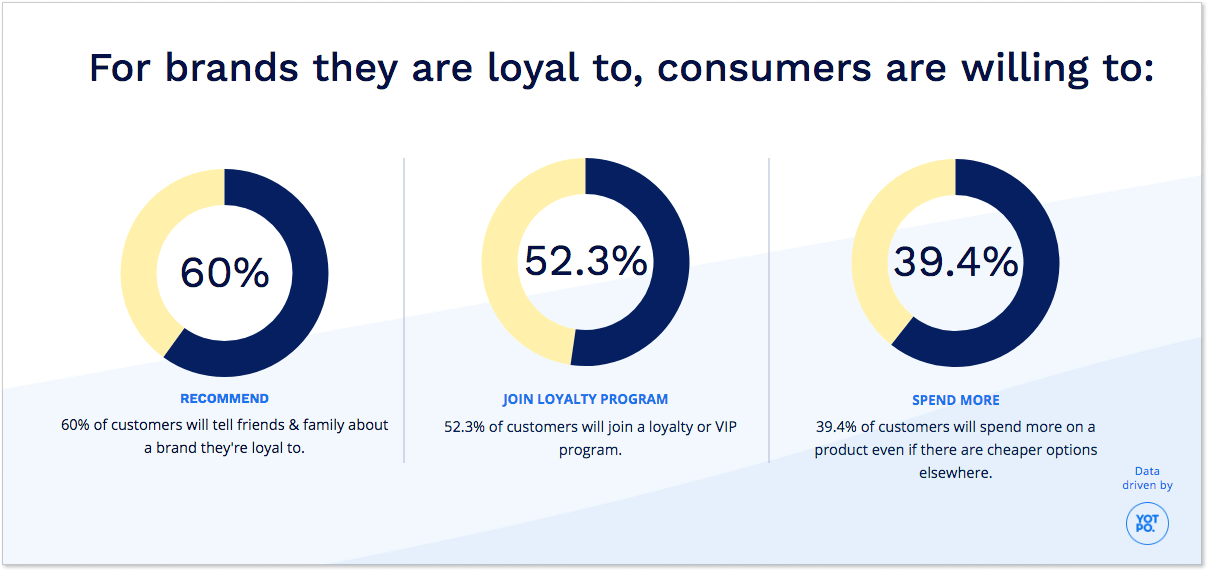 More sales is another benefit. When you genuinely aim to solve customers' current problems, people want to talk to you and, eventually, buy from you. Moreover, loyal customers spend almost 40% more with a business than new clients.
Clear growth opportunities come your way. By being customer-centric and focusing on clients, their needs, and feedback, you have a clear vision of how to improve your product or service. So, there is no need to invent a bicycle. Just go through your customers' reviews that fall below five stars and work on the gaps.
7 steps towards customer-centric selling
Finally, we got to the most important questions here: how to become a customer-centric selling company? What exactly should a brand do? Which actions to take? To answer these, we decided to break it down into 7 simple steps.
1. Ask relevant questions instead of offering your opinion
When you imagine a salesperson, you most probably see a slick-haired, smooth-talking man. Someone who is just running his mouth without listening to a customer.
While persistence may be a good trait, salespeople shouldn't treat prospect calls as a chance to force their opinion on someone else. Instead, they should ask relevant questions, give time to respond, and listen to clients carefully.
Empathy and curiosity help connect with customers on a much deeper level. No surprise that 82% of top-performing salespeople scored extremely high levels of curiosity.
Marc Wayshark, a sales strategist and bestselling author, suggests asking in-depth questions. Not just "What your struggle is?", but also "Tell me more about that challenge" and "What's a recent example of that?" Great professionals genuinely want to know what customers' struggles are and if their offer is the right fit.
This tactic is always applicable to any business, whether you're selling vacuum cleaners or an enterprise-level SaaS tool. Ultimately, you want to give value to your clients by fulfilling their needs. And, if you see that your offer can't solve the problem, let it go.
Focus on the clients' needs, not wants. Ask them questions about their goals and what they are trying to achieve. As I'm asking questions about what they are trying to accomplish, I am thinking about how our company can solve those problems. Sometimes the answer appears immediately and other times, our company doesn't have the ability to solve their problem. In both instances, I am honest and direct about what it is we can and cannot do. The value of honesty is repeat customers, even if I don't sell them something the first time.

© Jason Bahamundi, Owner, Run•Tri•Bike Magazine
2. Align your brand with the customer's voice and values
Today, people believe that companies have more power than governments in driving positive changes in the world. That's why 71% of customers prefer to invest in those brands whose values align with their own.
It pushes companies to go beyond their commercial interests and become true advocates for their values. So, to be a customer-centric firm you need to discover your customers' values and embody them in your tone, voice, actions within and outside of your organization.
As Simon Sinek, a British-American author and inspirational speaker, states "People don't buy 'what' you do, people buy 'why' you do it."
Look at some examples of mission statements from the largest tech companies for some more inspiration.
Google's Mission: "To organize the world's information and make it universally accessible and useful."
Amazon's Mission: "To delight our customers and make their lives easier, one innovative product, service, and idea at a time."
Netflix's Vision: "To become the best global entertainment distribution service, license entertainment content around the world, create markets that are accessible to filmmakers, and help content creators around the world to find a global audience."
3. Target decision-makers, not end-users
As you already know, customer-centric selling doesn't focus on features but problem solutions. Therefore, salespeople should target decision-makers – those who see business as a whole and seek effective solutions to help them grow.
Sure, the end-user might adore your offer. But unless the C-suite thinks alike, you are wasting your time.
How to know who is a decision-maker? Their job titles may vary from company to company. Amanda Clevinger from Snov.io offers the following division:
0-10 employees: The decision-makers are usually CEOs unless the company has a CTO for the product or CMO for marketing.
10-50 employees: Here look for Vice Presidents, as a rule, they have buying power in such companies.
50-500 employees: In this case, try reaching for specialized roles, such as Sales Manager, Business Development Manager, etc.
>500 employees: Look for the regional, specialized role, such as East Coast rep, Northern Europe rep, London rep, etc.
Then try to find the person you need through LinkedIn Sales Navigator, a great tool with advanced lead search. At first, it may even seem like an easy task, but don't be fascinated just yet. Many executives keep their contact details private and put gatekeepers (secretaries, assistants) in front of them.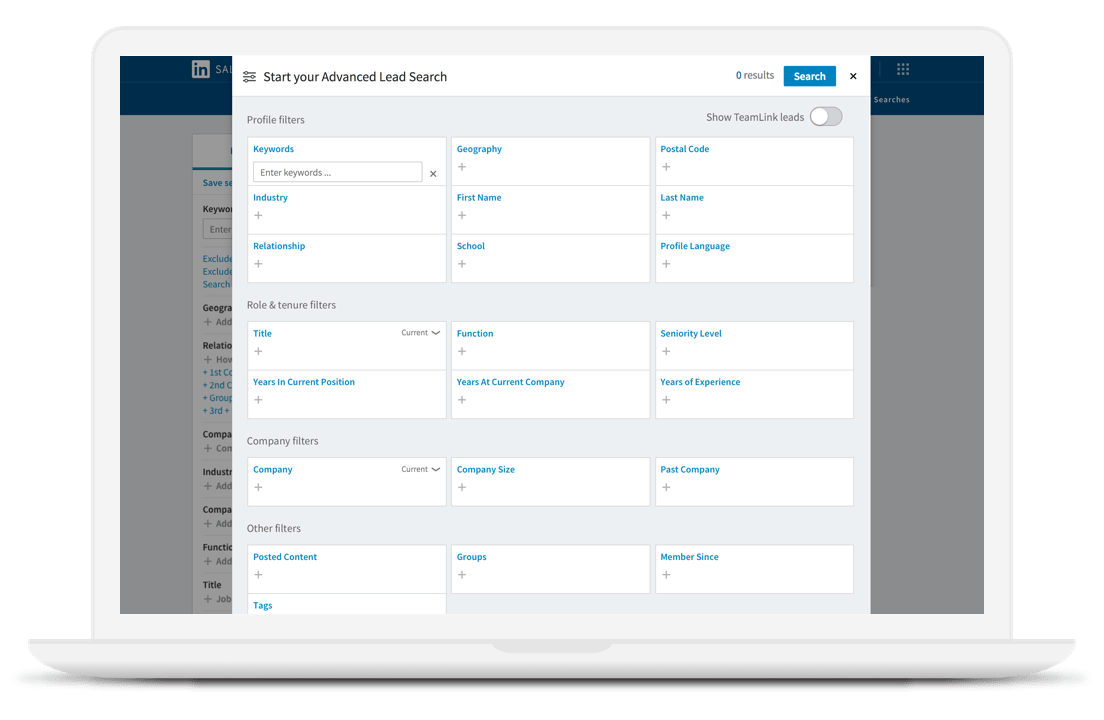 To succeed, stay consistent and bring those gatekeepers to your side. At some point, you will definitely draw their attention.
4. Promote product usage instead of features
This point logically follows from the previous one. When a salesperson talks to an executive, it's pointless to list product features. Instead, you should explain how a company can benefit from those features?
For instance, how do you feel when I say: "We have a live chat with plenty of useful features such as saved responses, online status indication, localization, chat rating, and whatnot." Maybe, a bit confused, thinking something like "So what? Why should I care?"
But what if I say: "We have a live chat that helps to convert more leads, drive sales and provide faster customer support." This is the only chance to hit people in their soft spot and make them think "Hm, maybe I do need this tool to increase sales after all."
That's what I am talking about. In customer-centric sales, you should explain in a really simple and clear way how a customer can benefit from your offer.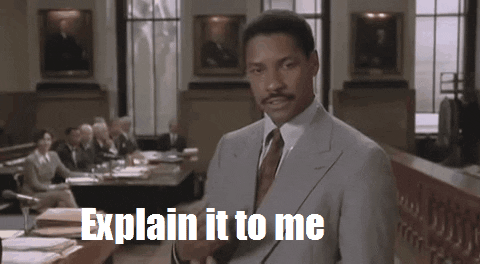 One of the many things that I absolutely love about digital marketing is the accuracy of insights that it offers. You no longer guess what your consumers need through trial and error rather you know what your consumers need to fact driven by data. We use Google Analytics and social media monitoring software to know what consumers are looking for and make our solutions to fit their needs. Customization and personalization enhance your customer-centricity and improves CX. We make our website around this thought and it has increased engagement and the time spent on our website and these KPIs are proof that this approach is doing well for us and our customers.

© Nathan Hughes, a Digital Marketing and SEO Manager at [ Diggity Marketing ]
5. Empower customers to overcome an issue, rather than just buy your product
Empowering a customer means providing them with the tools needed to be successful. It also implies giving clients the information to make well-informed decisions. After all, cooperating with a brand should help a customer to become one step closer to achieving their goals or solving their problems.
Actually, there is a huge difference between a salesperson who wants to sell and a companion who wants to help you overcome the challenges. Customers feel much more relaxed and open being around the latter ones.
We implement a customer-centric selling approach by first going into a call with no agenda or set pitch. We go into a conversation with a potential client looking to accomplish a few things; learn more about their business, why they thought it might be a good idea to meet, and what they are looking to accomplish. We simply give them the information on what we do, if we can accomplish what they are looking for and how we do it, and the price of our services. We simply speak with them as if we are having a conversation with a friend.

© Alex Carter, Director of Product Development, MaxExposure Business Solutions
To find out if you are empowering your customers or just selling to them, answer the following questions:
Is it your top priority to help customers become successful?
Will your product improve customers' business or life in any significant way?
Can your product effectively solve at least one problem for a customer?
If the answers are 'yes', then congrats! Customer empowerment is definitely your firm's superpower.
6. Leverage existing customers to generate more leads
Being customer-centric implies looking for ways to bring more clients thanks to the existing ones. And, it won't be so much of a challenge. Happy customers tend to share excellent product reviews that are gold nowadays. About 95% of consumers read clients' feedback before making a purchase.
What's the best way to push referrals? Two words: be grateful. Be grateful to your loyal customers for choosing you. Feeling happy about your attentive attitude, they will definitely advise your product or service to their friends.
There are so many ways to manifest that gratefulness:
Reward loyal customers with special offers, free samples, or discounts.
Implement affiliate programs and reward referrals.
Say 'thank you' to the customers after closing the deal.
Give unique positive emotions to clients with symbolic little gifts or special treatment.
In short, make your loyal customers feel appreciated.
Brian Kaskavalciyan shared a little story on the topic. His wife and business partner, Adi, started visiting all of their customers at the completion of their projects. She was bringing each of them a mug filled with chocolates to say "thank you" for their trust and their business.
Guess what? Suddenly, repeat and referral business more than doubles. "We saw a huge jump in our profits. And all it takes is showing your appreciation to your customers to get more referrals."
7. Adopt a live chat tool and knowledge base to improve your customer service and sales
The way you communicate with your clients is crucial when it comes to happy customers.
How easy is it for them to reach you? How fast are you with replies? Do you provide a self-help option for your clients? These are the questions you should ask yourself when moving towards a customer-centric sales approach.
Customers don't want to wait for hours or, god forbid, days for a reply. Neither do prospects and leads. Let's be honest, people only contact the support center as a last resort – if there is a problem they cannot solve by themselves. It means they need an answer ASAP.
And what's the fastest and modern way to reply to a client? It's a live chat tool. It allows you to quickly assist valuable leads on your website and keep them in the loop. Immediacy is the main reason why brands choose live chat for communication with customers.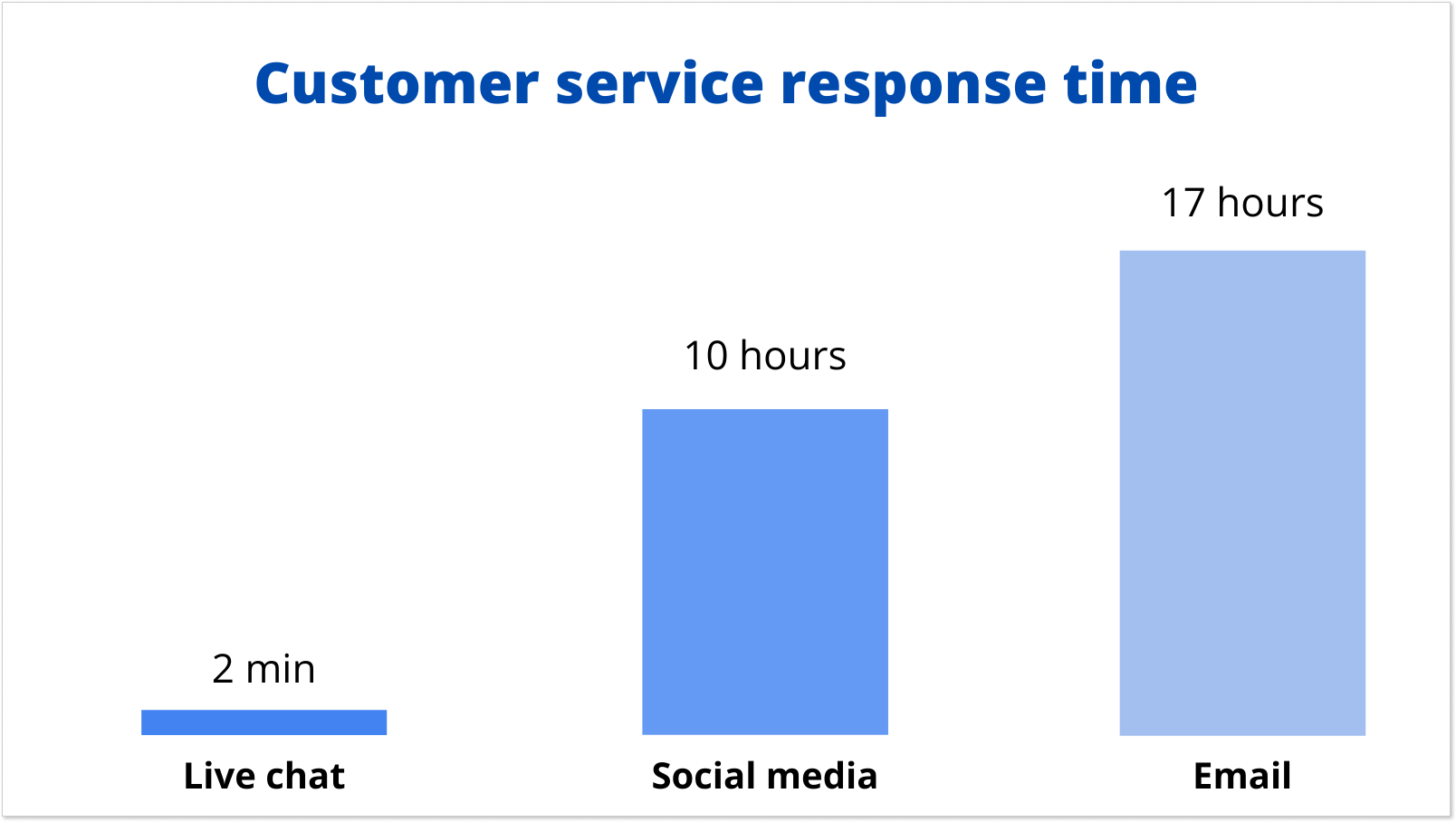 Moreover, a live chat as a channel is a perfect solution for creating modern conversation experiences. It shows the highest customer satisfaction level at 73%, compared to email at 61%, and phone support at 44%. As you see, getting assistance by phone is customers' least favorable way. (I am so much with them!)
People who are just browsing your website and leveraging your product may need a little nudge. Reach out to them with proactive messages or a chatbot, engage in a live chat conversation, and provide the best answers as promptly as possible.
Many live chat platforms, such as HelpCrunch, for example, offer much more than just a chatting tool. It can be a one-stop solution for your business with a knowledge base, automated messages, customized pop-ups, reports, and email marketing features.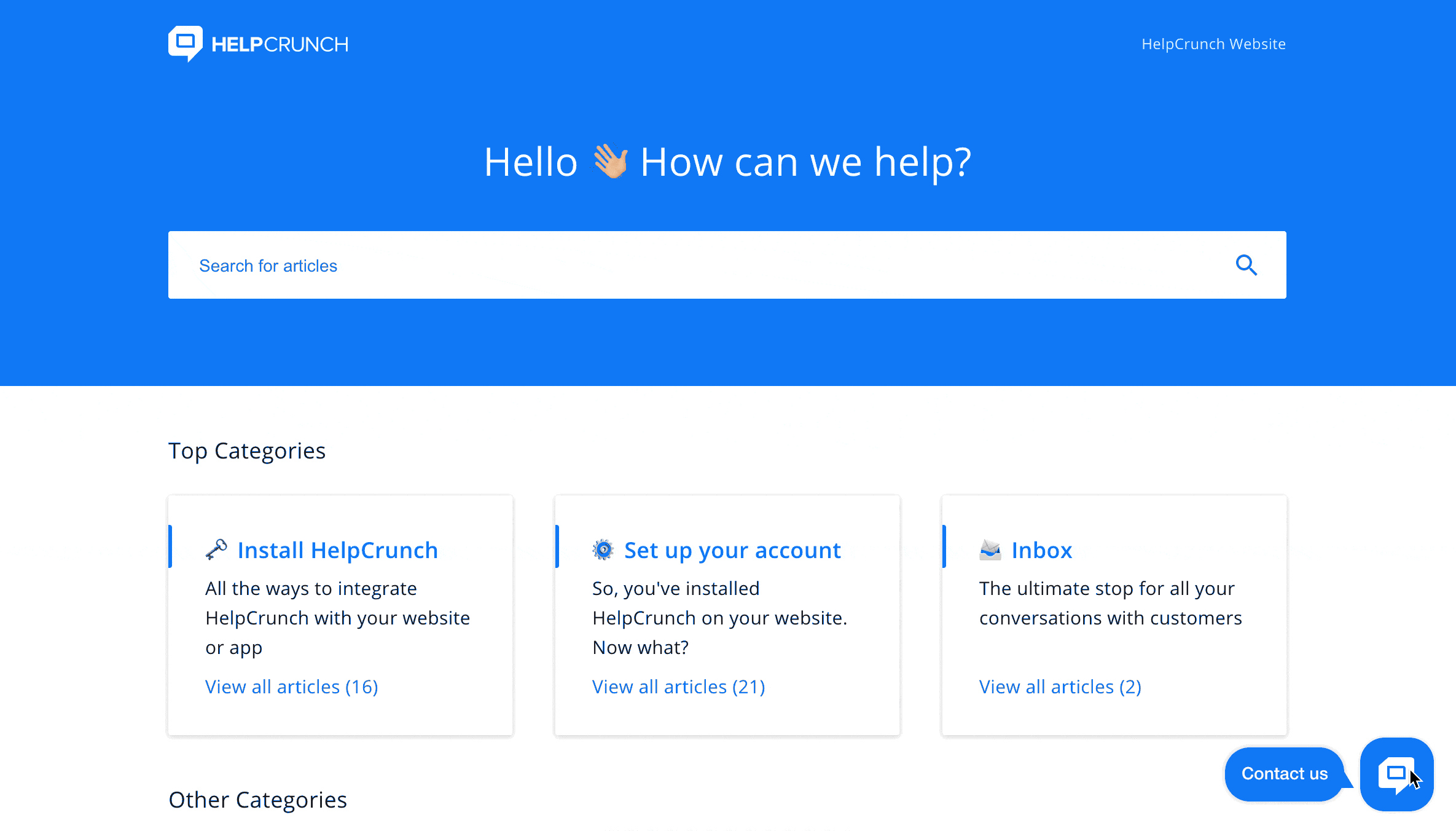 To find out if your company is already customer-centric, just take the test.
Conclusion
If you want to make your firm successful in the long run, being customer-focused is the right path. This selling methodology requires a company-wide approach, not just an extra effort from the marketing and sales departments.
But let's take one step at a time. Start with something small like adding a live chat widget to your website, for instance. It will allow you to convert more leads and speed up the interaction with customers. Start your 14-day free trial with HelpCrunch and set up the chat easily in minutes. No credit card needed.