7 Time-Tested Strategies to Build Positive Customer Relationships
Positive customer relations mean higher revenue. If you are wondering how to build them, we are here at your service. Learn the top 7 proved strategies and make customers fall in love with your brand.

Now there are plenty of products and service options on the market for any request. How then do people decide which product to choose and stick to?
Customer relations is the answer.
Sure, it might sound not as sexy as product development or sales. But remember that customers buy from people they like and can create a relationship with. Does your business ensure that opportunity?
While you think, let me tell you that my mission here is not to persuade you into anything but rather to explain what customer relationships are and what can happen if you prioritize them.
What is customer relations?
For starters, let's have a quick look at the definition of customer relations.
As of today, there are two schools of marketers. The first one believes that customer relationships include every way of communication between businesses and customers.
The second school emphasizes that customer relations are about one-way communication only — you reaching out to your customers. So, situations where customers are texting or calling you are not taken into account here.
We are of the first opinion. (Of course, we are. We are building a customer communication platform here, what else would we think).
Customer relationship is a term that comprises all the tools, methods, and processes utilized to improve interactions with former, current, and potential customers. In other words, any communication with a customer – from Facebook ads to newsletters and chat support – is part of your successful customer relations.
All activities within customer relationships can be either reactive or proactive.
Reactive activities are about solving current issues and responding to customer complaints. The ability to react and fix things quickly is essential when creating productive customer relations. Otherwise, unresolved issues and problems lead to frustration, disappointment, and even customer churn.
Proactive actions focus on building long-term customer relations with clients. You don't need to wait until the issue arises. Instead, you can be constantly looking for ways to improve your customer experience in the long run and provide help before clients ask for it. The fresh report by Gartner shows that not many companies provide proactive service nowadays.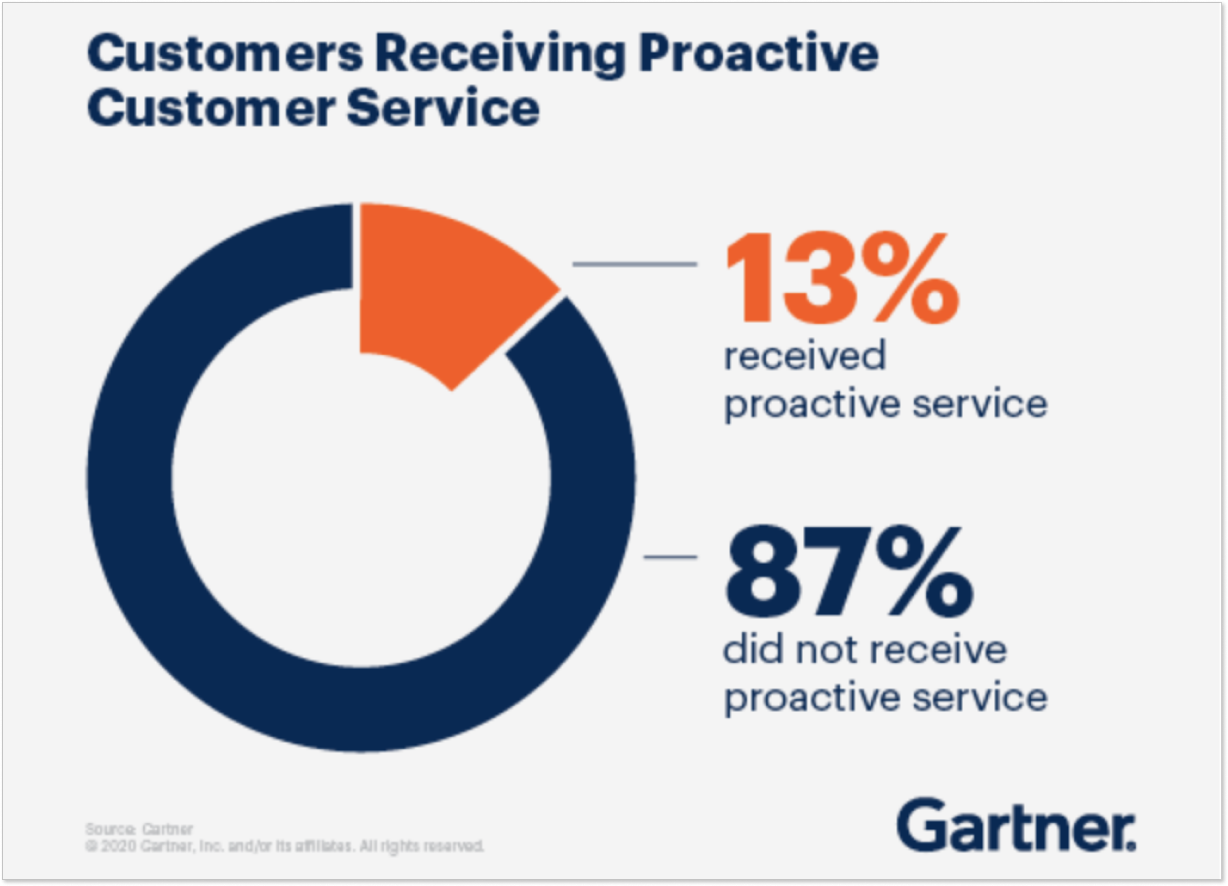 No matter whether reactive or proactive, every single interaction you have with your customers is crucial. It always says something about you, your brand, and your business.
Customer relations vs customer service
First things first. These are two different things. But the latter is closely tied to the former.
Let me elaborate here. Customer relations imply all kinds of interactions between you and your client, including:
Marketing (blog content, social media, advertising)
Product (design, functionality, quality)
Customer service (technical support, sales queries, complaints)
Every stage of your buyers' journey shapes customer relations. That is why each action either contributes to the positive customer experience or takes points away from you. In turn, customer service is a part of customer relationships, and a crucial one. This is the only type of two-way direct communication with customers. Talking with clients one-on-one is always the best opportunity to get a ton of feedback and affect the overall impression of the company.
Importance of good customer relations
Brands rise and fall depending on the quality of their relationships with customers.
Why is that?
Because guess what, the word of mouth is going to get out anyway. If your customers are not happy with their experience, they are going to share it. And people will trust their friends more than marketing ads.
Moreover, unsatisfied customers will almost immediately leave your brand, directly affecting the profit. As many as 59% of customers ditch companies after several bad experiences, and 17% — after just one bad experience. Such a number can significantly take hold of the prospects for business development.
Now, let's talk about what people consider 'bad' experiences that can push them away from your company. It turns out that 68% of customers leave the brand just because they believe you don't care about them. That's where we go back to the importance of positive customer relations where there is no place for such a thought.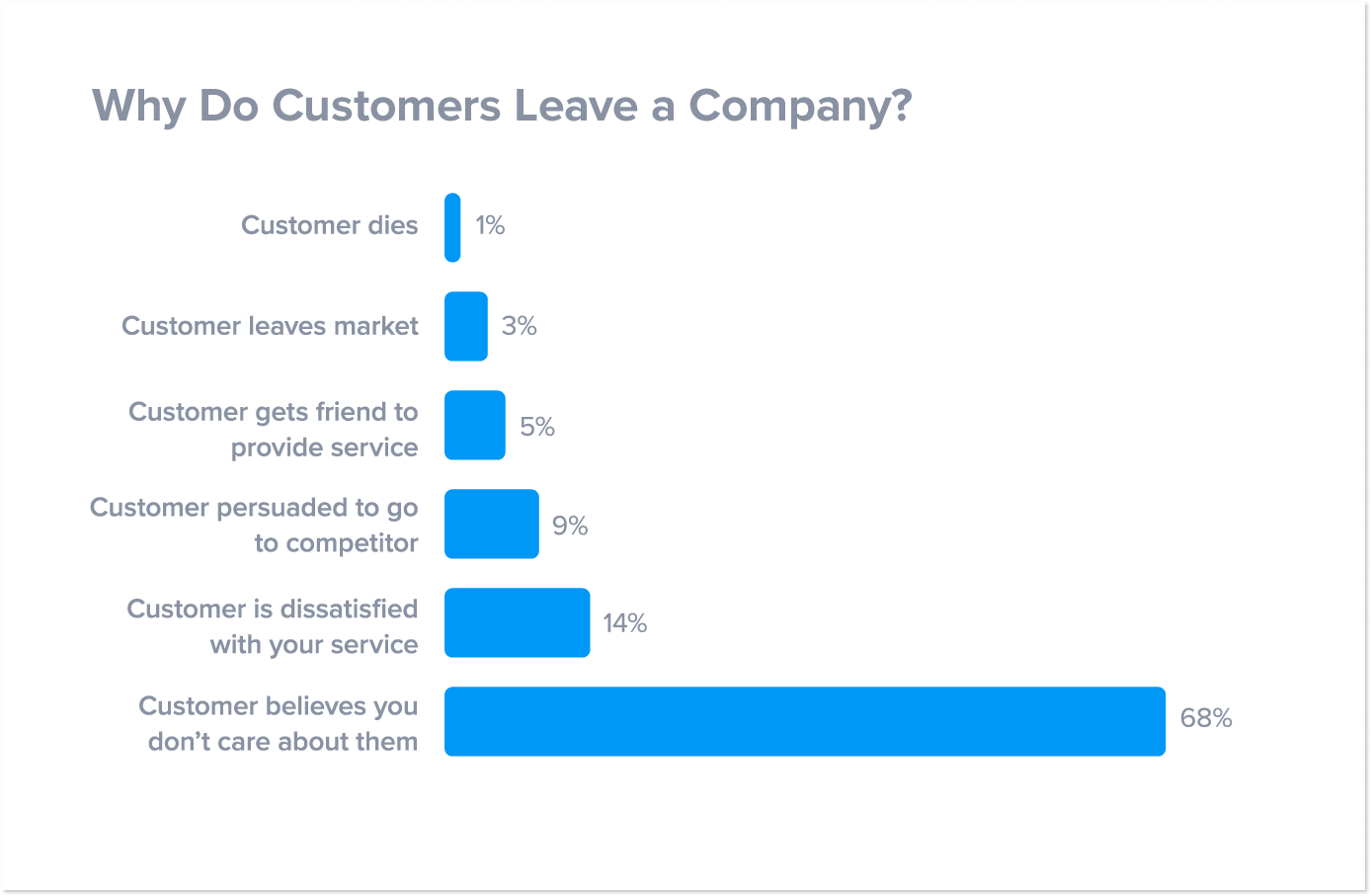 Benefits of positive customer relationships
There are lots of undeniable customer relations benefits, and here are the most important ones:
Customer satisfaction
If you are a business person, you probably know all about the importance of customer satisfaction. And I can imagine you do everything to measure it with CSAT, NPS, and other metrics. I have good news for you, the quality of customer relationships is directly related to their level of satisfaction.
Someone who has no issues, no product or service complaints, and enjoys a smooth interaction with your brand is a satisfied customer. About 72% of happy clients share their positive experiences with other people, and 92% of satisfied consumers trust recommendations from people they know.
In short, improving your CSAT scores means your happy customers will tell about their top-notch experiences to their families and friends, ultimately leading to more sales for your company.
Customer retention
By prioritizing customer relations, you can improve retention. It's about brands' ability to engage existing consumers to continue buying from them. In the long run, it leads to an increase in customers' lifetime value, higher revenue, and lower consumer churn.
Repeat customers are more trusting. Firstly, they tend to spend 67% more than new ones. The research by Bain & Company found that a 5% increase in customer retention can boost a company's profit by 25%. Secondly, existing customers are 50% more likely to try new products compared to first-time buyers.
And during the holiday season, repeat clients become even more valuable.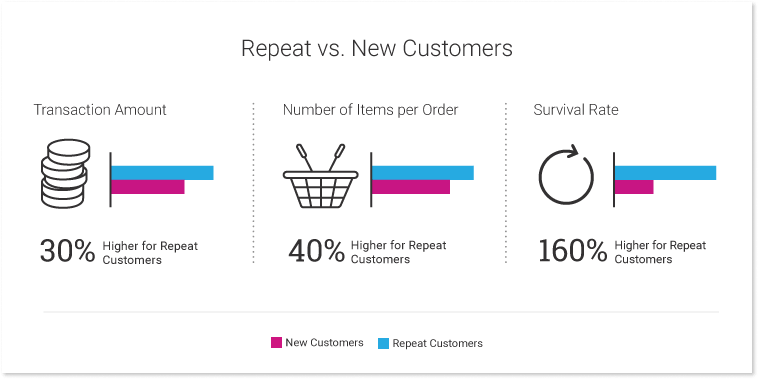 Customer loyalty
Usually, a happy customer is also a loyal one. If they like you, they come back for more. And, the probability of selling to an old customer is 60-70% higher than selling to a new prospect.
After the purchase, loyal customers tend to convert into brand advocates. They generate more leads by sharing their experience with friends. Reportedly, consumers discuss specific brands casually 90 times per week.
If you play your cards right, at some point your client base will start growing on its own.
7 strategies to improve customer relations, backed by real-life examples
Working on a relationship is important not only for a couple. A business can also follow a few simple rules and improve its performance and metrics.
To be precise, effective customer relations are not about certain tools but rather a company-wide approach. We have selected the top 7 most effective strategies that will help you improve customer relationships at your company.
1. Ensure fast customer support
On average, 71% of customers expect to get help within the first 5 minutes. If they don't get a response during that time, almost half (48%) leave the website and go somewhere else. It's not what you need to strengthen customer relations.
Okay then. If now you are asking yourself about the fastest way to provide customer support, this bar chart might come in handy. It shows how soon respondents expect to get assistance on each communication channel.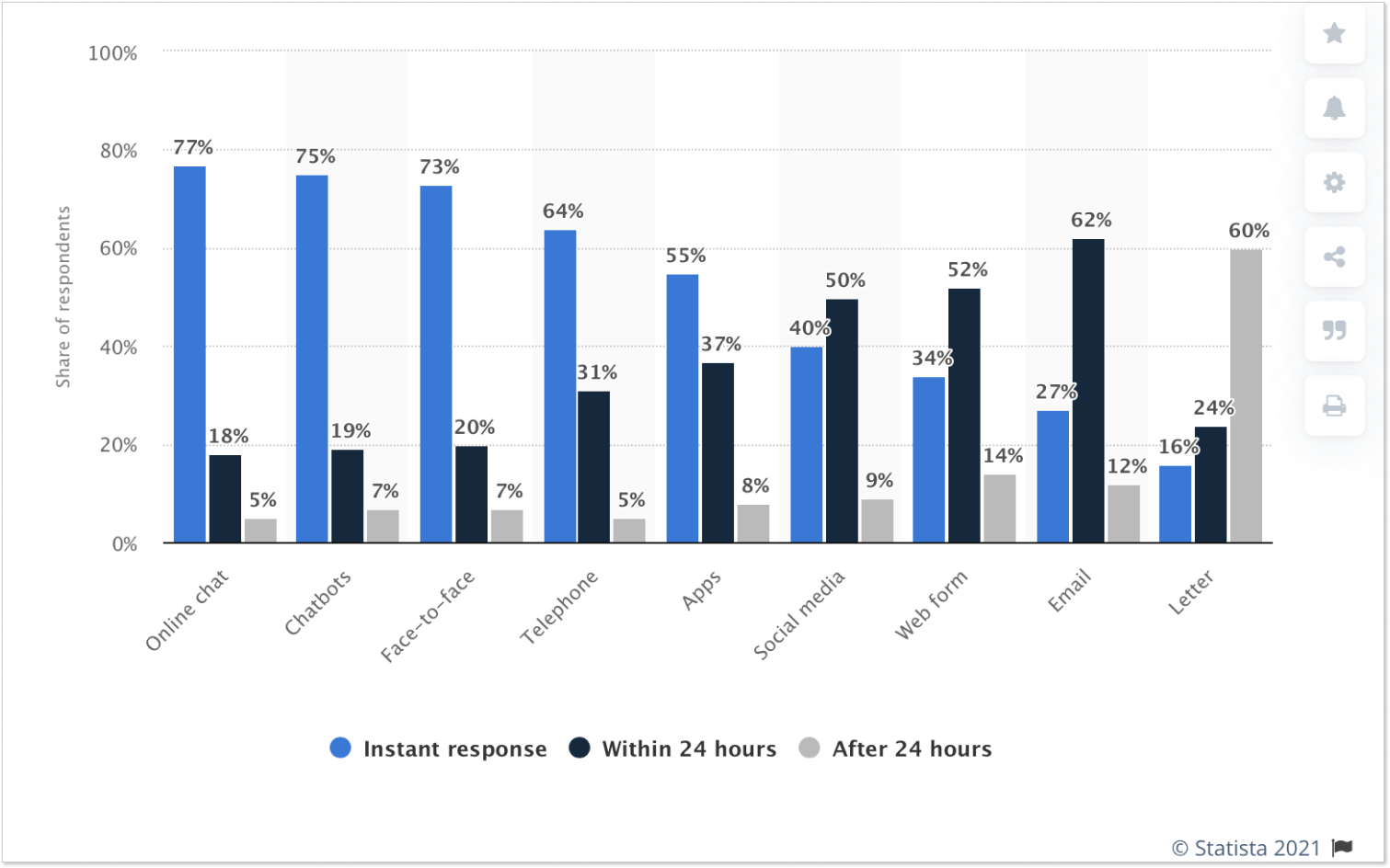 Online chat, chatbots, and face-to-face communication are seemingly the Top 3 fastest ways to connect with a prospect and add more value to positive customer relations. Although face-to-face interaction holds lots of benefits, it is not always possible when it comes to online business. Thus, live chat software might be just what you need in this case. It's fast, easy to use, and operated by a real person.
What are the other benefits of a live chat widget?
Except for the opportunity to reinforce customer relations, one agent can simultaneously talk to 5 clients or leads. The average response time is under 2 minutes. For example, HelpCrunch customer communication software allows you or your brand's agents to use pre-saved responses to common questions and speed up the support process even more. The tool also enables you to create simple chatbot scenarios that can automate your work and make the customer experience better.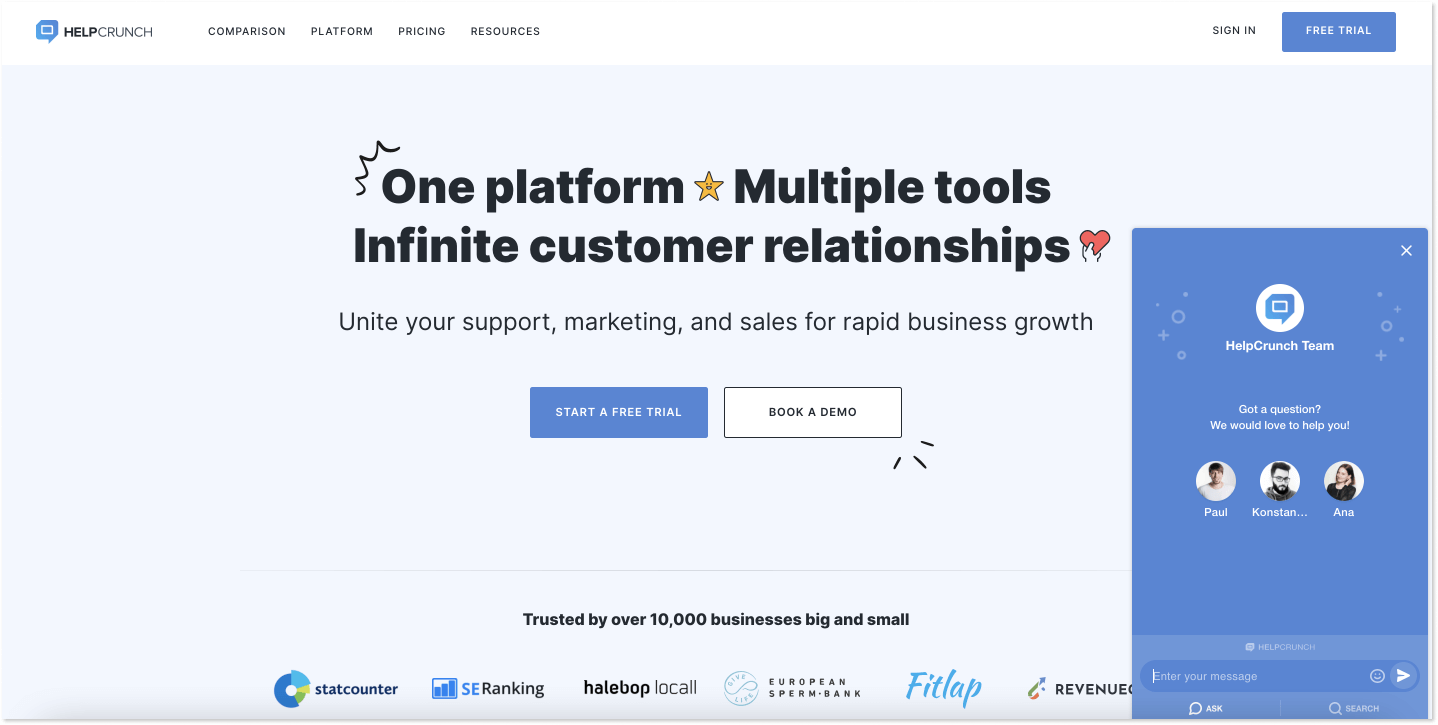 2. Provide self-help options to improve customer relationships
When prioritizing customer relations, it's understandable that you can't be available 24/7 to offer timely assistance. But what if your clients are there, at your website, knocking at your door in the middle of the night? Sure, there can be an automatic form to fill out or a customer service chatbot. But if there is no way to get an immediate solution to their problem, they will most likely leave without sharing an email address. 
A detailed knowledge base can become a single repository where clients are able to find every necessary information about your product by themselves. It allows you to help your users at any time of the day. Moreover, it's also cost-effective and important for positive customer relations.
Interestingly, when engaging with the support department, 66% of users start with self-service first before reaching out to an agent. Clients will surely appreciate it if you create a page for them that contains answers to the frequently asked questions.
Dropbox pulls out the answers to the most common questions right on its Help Center page. Customers can immediately find all the necessary information, whether they are looking for password reset information or the ways to share folders on Dropbox.
Another great way to improve your customer relations is to integrate an FAQ section into your chat widget. You can easily do it with HelpCrunch software so that the customers can immediately notice a "Search" option in the chat.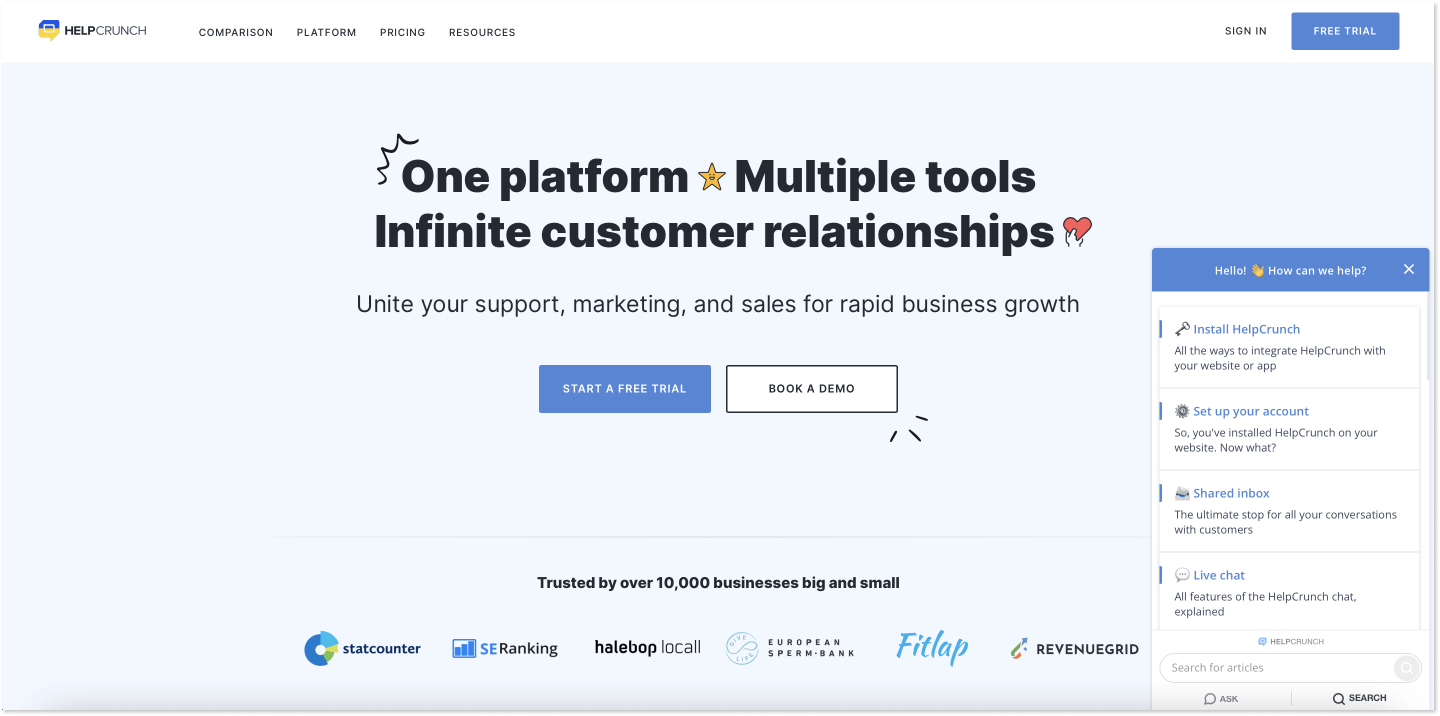 3. Offer omnichannel customer experience
Omnichannel means synchronizing all of the interaction channels in one thread to deliver consistent support. In other words, your businesses can effectively serve customers no matter how many touchpoints they use. This is a tried-and-true way to make customer relations worthwhile.
A customer can hop on and off from their phone to the desktop, then walk into a physical store and have the same experience the whole way through. There is no need to explain their story every time they interact with a brand.
Omnichannel customer support is a must for any world-known enterprise that works on its customer relations. For instance, the beauty company Sephora connects its shoppers' in-store visits to their online purchases. While shopping in a physical store, customers can access their Beauty Bag account on tablets provided in the shop.
Moreover, there is an opportunity to virtually try on products using digital software and add favorite items to a wish list. Clients can purchase them later via the app.
Thanks to the Beauty Bag feature, Sephora helps its customers narrow their options and keep track of products that they intend to acquire.
4. Create new emotional moments for positive customer relations
Nowadays, you can hear a lot of marketers saying, "Don't just keep your clients satisfied — create an emotional connection".
Connection is almost impossible to measure, and yet users want meaningful customer relationship with your brand. True connection is going beyond basic transactions and polite thank-you's. Anytime you communicate with clients, you can create human moments that matter to your business. One example in e-commerce is creating a pleasant unboxing experience that your customers will not forget.
According to PsychologyToday, people react much better to the emotional parts of the ads compared to the linear texts. In fact, the message that conveys strong feelings is more likely to become viral, generate more leads, and have a positive impact on customer relations in the foreseeable future.
Coca-Cola is well-known for its emotional campaigns and the ability to maintain positive customer relations. One of their emotional campaigns was "Choose Happiness" which encouraged consumers to share happy memories and experiences that made them feel joyful during that summer.
But it doesn't mean you should always use happiness as an emotion to strengthen customer relations. A touching commercial of an Asian insurance company, MetLife, appeals to the feeling of sadness.
Throughout the spot ("My dad is a liar") a girl is reading a poem about her dad. First, she calls him "the sweetest daddy in the world", "the most handsome", her "superman". And then suddenly she admits him to be a liar. Her dad is lying about his job, money, and even about the fact that he is happy. This story illustrates the sacrifice that parents around the world make for their children and their better future every day.
MetLife promotes educational insurance for children by creating an emotional connection to the father. It's a sufficient way to create long-lasting customer relations. In the end, we hear the voice saying, "MetLife values the dream of every parent to give their children a good education to pursue a better life."
That's what we call a strong emotional connection (Gosh, I cried again while rewatching it).
5. Feedback makes customer relations perfect
Nowadays, brands need to turn their focus from product to people to strengthen their customer relations. To do that, you have to connect with clients on a personal level.
Okay, roger that. But how do you find out exactly what your clients want and need right now?
The first thing to do is go and ask, and there are a few ways to accomplish that. For instance, use social media and post your questionnaire there. As per Pew Research center, 7 in 10 Facebook users in the U.S. visit the site daily, and almost 50% — several times per day. So while an email can land in spam, the post has a chance to be noticed by customers on social media.
There are many other tools that can help you measure customer emotions toward your business, like Emojics, for example. The software allows you to collect user feedback online without making it boring for clients. Website visitors, subscribers, and customers can share their feedback via reaction buttons. All it takes them to share their views is to choose a relevant emoji.
Once you get the feedback, you can figure out what makes your clients happy (do more of it) and what makes them angry (do less of it). Real insights without any hassle will boost your customer relations.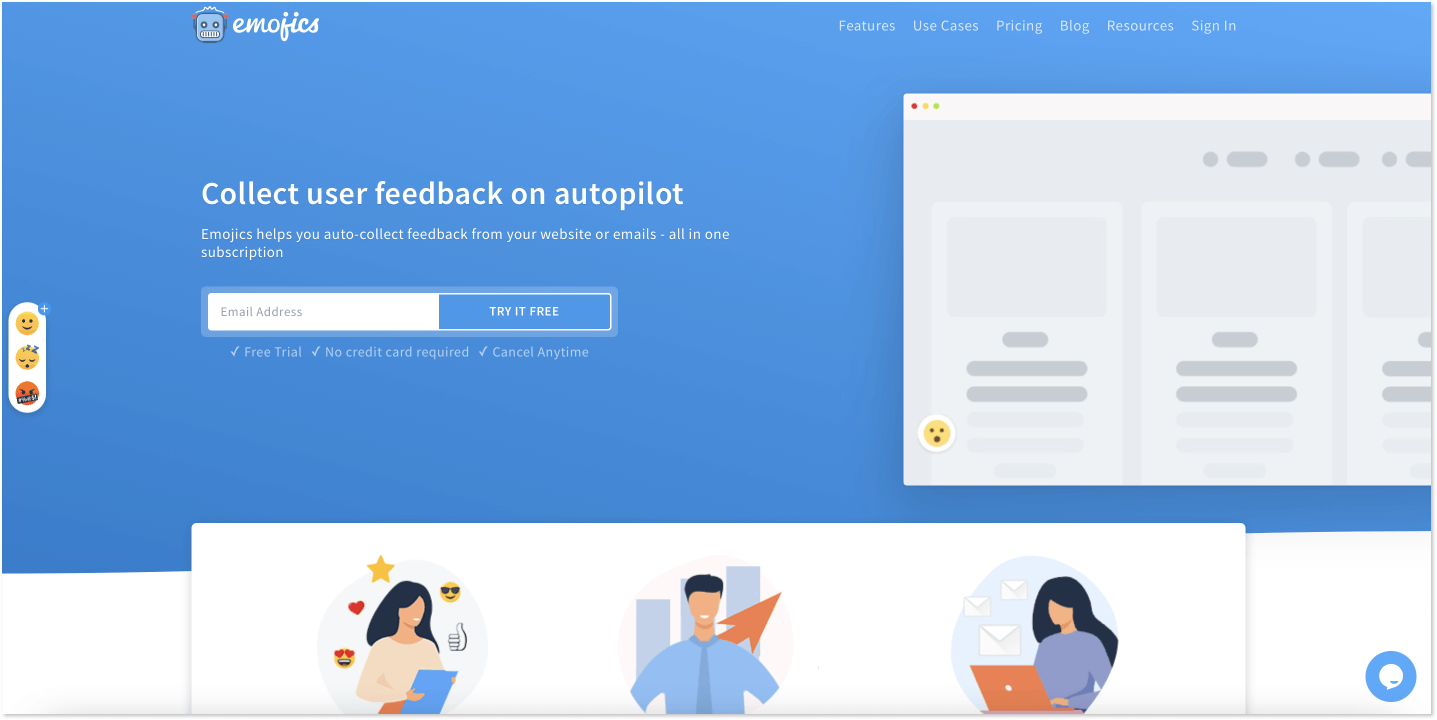 6. Know what features customers expect from you
Another way to boost customer relations is to keep a customer wish list and constantly update it. One way that we use in HelpCrunch to do so is by talking to clients directly via a smooth-running live chat software, providing demos, and sharing surveys.
Try to include a few simple questions about customer expectations or their post-purchase experience. It's a great opportunity to discover what your active customer base expects from you and how they feel about your product. Here is an example of our most recent New Year's survey.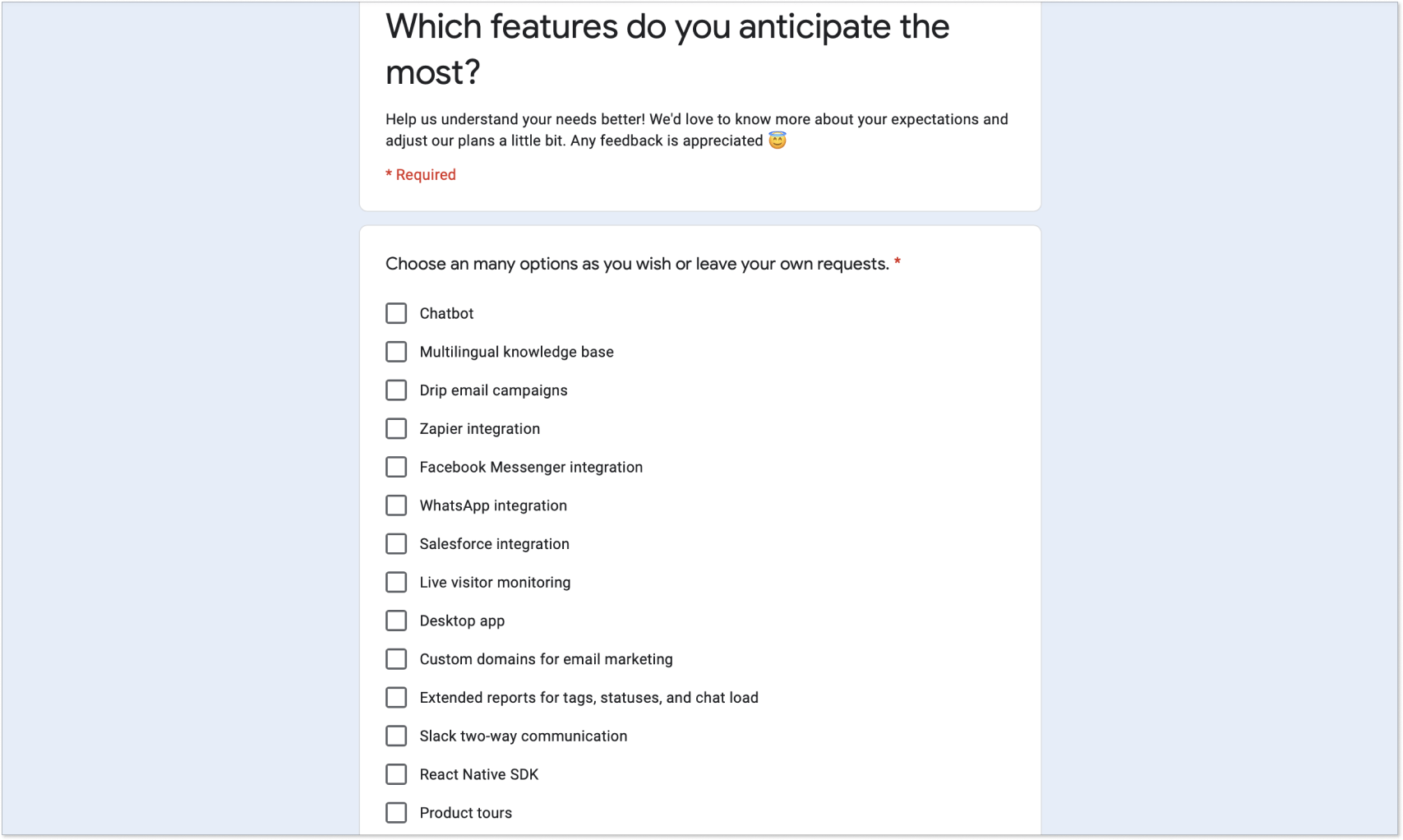 You can also use customer feedback to innovate your product as a part of winning customer relations. Clients always have many valuable ideas about how you can improve their experience. Why not benefit from it as Salesforce does?
The company has created the IdeasExchange platform where customers can share their innovative ideas about new features, UX & UI. Some of them have a chance to be adopted by the business later.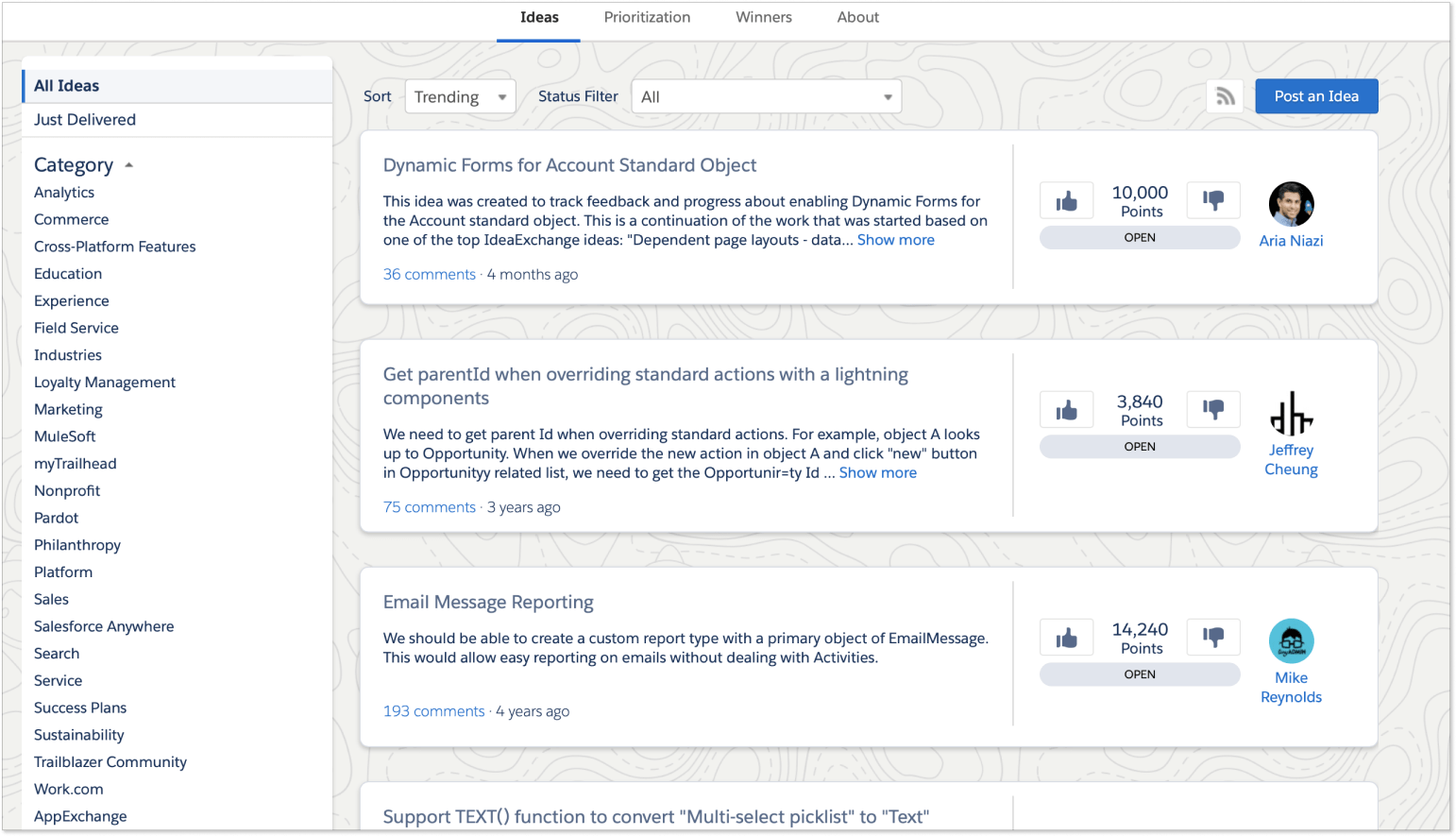 7. Offer discounts, loyalty, and referral programs
Once you've learned the needs of your customers and gone through their feedback, it's high time to polish your offer. I'm talking about things that prove to your customers that you appreciate them. You can offer discounts, bonuses, free samples, loyalty, and referral programs.
Discounts are usually a quick way to draw customers to your business. The very word "discount" or "save money" arouses interest among clients. By offering cut-price, you can attract new leads, improve your reputation among repeat customers, increase sales, or free up some space in your storage.
Bonuses are a great opportunity to boost customer relations. It's about offering something extra for free and giving it to your client once they make a purchase. They can include free event access, e-books, workshop recordings, or coaching sessions. The main goal of a bonus is to add value to your paid offer and make leads feel like your main product is affordable.
Free sample marketing is when you give your product or service away to prospective leads for free. Many benefits can come from it – like brand awareness, the opportunity to build trust with loyal customers, create buzz among clients, increase subscriptions, etc.
Referral programs imply a systematic way of encouraging existing customers to refer their friends and relatives to your business. In return, they get rewards (major discounts, free samples, or access to other services) for bringing in new clients. The main goal is to expand your customer base and boost brand loyalty.
A loyalty program rewards your shoppers for engaging with a brand frequently. Those could be points that clients accumulate to buy some goods for them or member-inclusive benefits, like a VIP card. The purpose here is to level up customer relationship, and loyalty and ensure the continuous growth of your business.
Amazon is known for its generous loyalty programs. As of Q1 2019, 62% of all U.S. households are Amazon Prime subscribers. In 2021, as per The Hollywood Reporter, the Amazon Prime service surpassed 200 million worldwide subscribers.
What an immersive amount that is. What's the secret behind such a success?
Amazon explored and then addressed its customers' biggest pain point – shipping costs. Now the service's main perk is free two-day shipping.
Positive customer relations: summary
Customer relations mean the quality of interaction between you and your consumers. The higher the quality, the more sales you get.
If you want to improve customer relationship, you must put your client satisfaction first. Explore the whole buyer's journey starting with the awareness stage to the after-purchase experience. Analyze your strengths and weaknesses. Making your purchasers happy is constant work, but a genuine and creative approach will get you there.
HelpCrunch is a one-stop communication platform that can boost your customer relations in a few steps. We are offering a live chat for quick support, a knowledge base for self-service, email marketing tools for keeping in touch with your existing and prospective clients, and many other benefits. Start your free 14-day trial now (no credit card required).