How to Grow Your Business and Build Customer Loyalty with a Referral Program
If you run out of ideas on how to skyrocket your business and boost customer loyalty, we're excited to share some with you. Check out how a thought-through referral program can grow your brand.

What do billion-dollar brands like Airbnb, Dropbox, and PayPal have in common?
They all have a successful referral program that played a major role in user growth and customer loyalty.
These brands used their referral programs to acquire millions of users when they were just small tech startups. They still use referral programs today to build customer loyalty and expand their platforms into new regions.
When executed properly, referral programs can be a source of serious growth and customer retention for your business.
We took a closer look at some of the most successful referral programs in the world to dissect the strategies they used to upscale their businesses.
But first, let's take a look at the benefits of referral marketing.
How Referral Marketing Can Grow Your Business
Referral marketing harnesses the power of "word-of-mouth" marketing. People that are impressed with your brand will recommend you to their friends.
For example, one person can refer 3 new clients. Then those 3 people can refer another 3 customers each to your business, and so on.
The best part is that the first person can keep referring new clients for as long as they like. Especially if you offer them a reasonable incentive to do so.
All of this is a recipe for viral growth and can be used to upscale your business.
Referral Marketing Builds Customer Loyalty
Once a customer is locked into your referral program, they won't use competing brands. Some users share bad customer service stories, and loyal clients will go around praising your brand.
Your clients would rather stay on your platform to earn more rewards and perks from your referral program, instead of going somewhere else and losing out.
Because of this, your referral program should offer excellent perks to its members. This will keep them on your platform longer, giving you more time to build loyal relationships.
Offering exclusive rewards is an excellent incentive for your customers to stay loyal to your brand. Tesla gave out invites to parties and factory tours to clients that successfully referred people to Tesla.

Uber structured their referral program into a tier system. The more points you earn from referrals or using their service, the quicker you move up in membership status.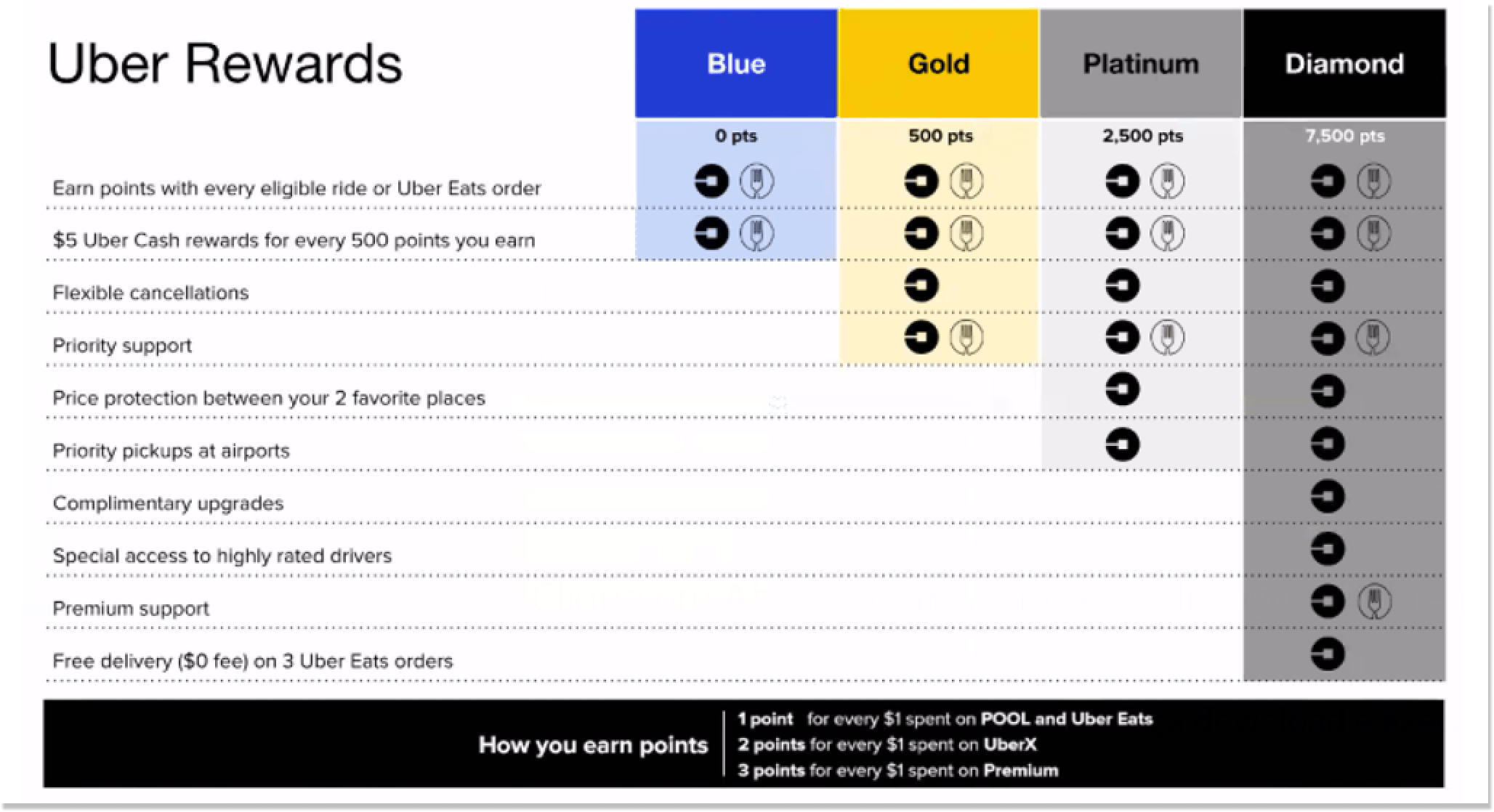 The higher your membership status, the more perks you can enjoy.
Uber customers already on Platinum or Diamond will not want to use a competing brand like Lyft because they will miss out on their exclusive Uber membership perks.
Therefore, users are destined to stick with Uber to continue earning points and enjoying perks and rewards on the platform.
Acquiring new users and keeping them on your platform can be extremely lucrative. Fortnite impressively generated billions of dollars from a free game because they know how to keep users on their platform.
Next up: We take a look at 3 excellent examples of companies that went from humble startups to multi-billion dollar firms with the aid of simple referral programs that upscaled their business and built customer loyalty.
Crafting an Efficient Referral Program like Airbnb
Airbnb has a simple referral system. You refer a friend to the Airbnb platform. Then both of you earn a discount on your next trip.
This simple referral strategy allows users to pay less for their next booking after successfully referring someone. It also allows a new referred user to test out the Airbnb platform at a discounted price.
A win-win for everyone, especially for Airbnb! They managed to increase their bookings by 25% after updating their referral program.
The Airbnb referral program has been around for a very long time, probably from its early startup days. However, it was nowhere near as efficient and polished as it is today.
Their initial referral program was only available on their desktop website, and it was hard to find.
Airbnb turned things around after making these changes:
Airbnb relaunched its referral program through a dedicated marketing campaign so that it could reach as many people possible.
You can easily access the referral program on both mobile and web platforms.
The referral program is seamlessly integrated within the Airbnb app.
Airbnb turned their focus towards mobile and app integration. This means users can easily share referral links from the Airbnb app to other apps like Whatsapp or Facebook.
To sum up the relaunch – Airbnb made its referral program convenient, easy to use, and beneficial for its customers.
An Efficient Referral Program – Benefits include:
Airbnb's new referral program is now available on all platforms. Most customers only have mobile smartphones.
Users can now easily access the referral program now that it has been optimized for mobile. Those with just smartphones can easily earn rewards from the referral program.
Both parties, including the person being referred to Airbnb, earn a reward for each referral. Everyone benefits!
You also have the option to join a referral program for Airbnb hosts.
Offer Excellent Rewards like Dropbox
Dropbox developed an excellent referral program that helped them to upscale their startup from a million to 4 million users within a year. They accomplished this with a simple yet effective referral program.
Dropbox users earn an additional 500MB of space to their account for every new user they refer to the platform.
Dropbox is in the business of offering people online storage. So rewarding people with more online storage for every new referral is an excellent incentive.
The best part, the 500MB additional storage stays on the user's account for life! The only catch is that the maximum storage that Dropbox will reward you with is 16GB.
A new user can sign up for a free 2GB Dropbox account, refer 32 new users, then earn a total of 16GB space that they can continue to use for life.
500MB of storage won't cost Dropbox much, but it certainly means a lot to a user on an online storage platform.
Offer Excellent Rewards – Benefits include:
You can strategically upscale your startup with an ongoing referral program.
Dropbox's referral marketing strategy is ideal for brands that can afford to offer their own product or service as an incentive.
Users that get a piece of your product or service for free just for referring a friend very beneficial to them. They are getting something from you for free instead of having to pay for it.
500MB additional storage as a reward is excellent for building customer loyalty. Users will have to continue to stay on the platform to use the extra storage they achieved.
Invest in Your Referral Program like PayPal
PayPal is famously known for upscaling their startup with an interesting referral program. In the initial stages of their startup (Elon Musk days), they devised a strategy that would help them to acquire millions of new users for their platform.
PayPal offered people $20 to open an account and $20 for every person they refer to the platform.
This meant that PayPal users were rewarded with real cash that they could use to spend on anything or transfer it to another user.
This simple cash-only referral program helped PayPal to acquire 100k users to the platform within the first month of implementing the program.
The same referral program helped them acquire 1 million users in 2000 and a further 5 million later that year.
PayPal's early growth is an excellent example of using cash to fund a referral program that can rapidly grow the Startup's userbase.
Paypal's Referral Program Today
The beauty of PayPal's referral program is that it's not an ongoing campaign. They strategically implement the program in specific countries/regions for a limited time only.
If Paypal is looking to grow its user base in Europe, it will allocate funds to that region and run its referral program there until the funding has depleted.
For example, PayPal allocates $100k to their referral program that runs for three months. PayPal then offers $20 for referrals in the first month, then $10 in the second month, and $5 in the last month.
PayPal uses their referral program as a "growth tool" that is powered by funding. It allows them to push cash into their referral program purely to acquire new users.
Invest in Your Referral Program – Benefits Include:
Upscale your business in a short time frame.
Acquire new users in foreign markets.
Invest excess advertising funds to this short term referral program.
Include the referral program's budget in your advertising budget.
Build hype towards your brand during a promotional period.
TL:DR
Referral marketing is a powerful form of viral marketing that major tech companies have used to grow their platforms. Their simple yet effective referral programs effectively lock users into their platforms, giving these brands more time to earn their customers' trust and loyalty.
Referral marketing isn't reserved only for major corporations. Small to medium brands can also try to host their own referral program. The online learning platform, Testbook, achieved massive success with a referral contest. A short term referral program aimed at generating a ton of leads.
So, what is your view on referral marketing? Does your company have a referral program in place? Let us know in the comments below.