11 Best FAQ Software to Streamline Customer Support
Feature-packed FAQ software can ease your customer service workflow by all odds.

Picture a situation. Another day at work, and bam! This customer refers to you with the same issue they did a week ago. Your thoughts? "In one ear and out the other or what? I've already spelled the question out for them!"
Yeah, this stuff happens. Giving one answer over and over again might be overwhelming. However, you can streamline the whole process hands down. How?
By choosing FAQ software that is laced with everything a self-respecting business owner would ever crave. Imagine you have a help center powerful enough to let your users hunt up any information they need. Just like that, with minimum effort. It would settle the problem.
Hopefully, I roused your curiosity as we're discussing all the ins and outs of frequently asked question portals today.
What is FAQ software?
FAQ software is customer support software, designed for self-service to streamline and automate assistance across different industries. It provides businesses and organizations with a centralized platform to create, categorize, and distribute answers to common questions.
The tool typically includes a user-friendly interface that allows you to easily add, edit, and remove questions and answers. Brands can create categories and subcategories based on different topics or areas of interest. A well-thought-through structure ensures that customers can easily navigate the FAQ page and locate the information they need quickly.
Furthermore, some FAQ software provides integrations with live chats and chatbots, enabling automated responses to common queries. It helps businesses deliver consistent and accurate information across different touchpoints, enhancing the customer experience and reducing the burden on support teams.
11 best FAQ software to go with
92% of users claim they would use a resource hub for self-support if it were available. Fortunately, the market is flooded with solutions that suit every taste. Though our readers always get the ace of aces. We listed 11 options and covered all their benefits. So read, think, and have your pick!
A quick best FAQ software comparison:
FREE TRIAL
PRICING FROM
FAQ TOOLSET
G2 RATING
HelpCrunch
14 days
$15/month
per team member
Visual editor
Chat widget integration
SEO-friendly KB
Full customization
4.7/5
⭐️⭐️⭐️⭐️⭐️
Stonly
14 days
$249/month
Customization
Performance analytics
Dynamic variables to personalize the experience
4.8/5
⭐️⭐️⭐️⭐️⭐️
Support Hero
14 days
$49/month for 1 admin
Searchable FAQs
Multilingual support
Advanced statistics
4.5/5
⭐️⭐️⭐️⭐️⭐️
HelpSite
30 days
Free or $14.99/month
Contact form
Simple interface
Customization
4.9/5
⭐️⭐️⭐️⭐️⭐️
Scribe
Free basic plan
$29/month per seat
Help construct FAQ responses
Auto-generation step-by-step procedures
Creating different process-related FAQs
4.8/5
⭐️⭐️⭐️⭐️⭐️
SupportBee
14 days
$15/month per user
Text editor
Full customization
Fast search
File uploading
4.1/5
⭐️⭐️⭐️⭐️
Malcolm!
14 days
$50/month (1 team member)
Fast easy search
User ratings and feedback
Password protect content
5/5
⭐️⭐️⭐️⭐️⭐️
ProProfs Knowledge Base
15 days
$79/month per author
Pre-made templates
File import
SEO features
Customization
4.6/5
⭐️⭐️⭐️⭐️⭐️
Document360
14 days
Free or $199/month per project
Category manager
Analytics
Easy editor
Versioning
4.7/5
⭐️⭐️⭐️⭐️⭐️
Helprace
30 days
$10/month per agent
No registration
Service rep's answer pinning
Contact form integration
Topic merging
4.4/5
⭐️⭐️⭐️⭐️
ChipBot
Free plan
Free or $10/month
Support in a widget
Answer grouping
Easy code installation

5/5
⭐️⭐️⭐️⭐️⭐️
1. HelpCrunch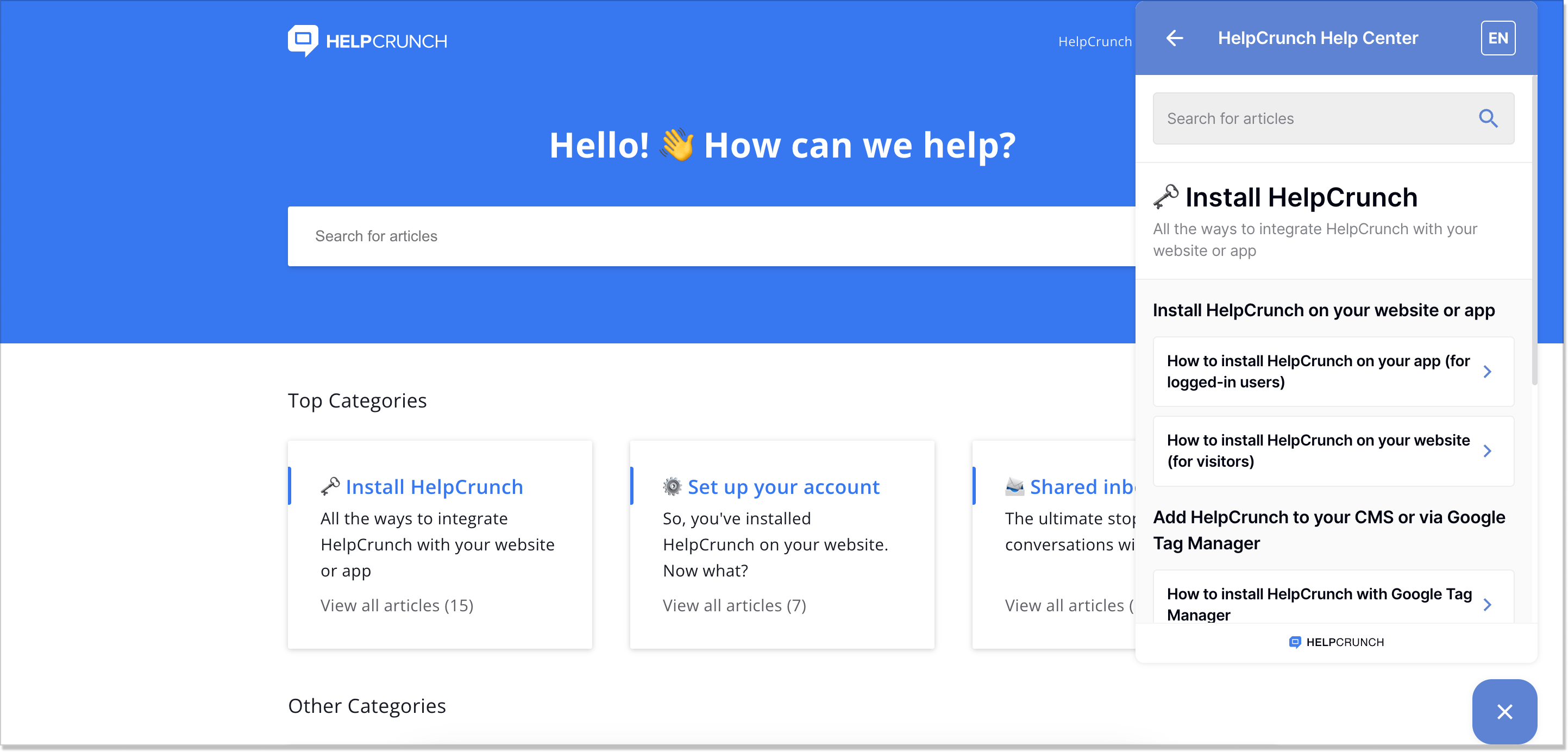 HelpCrunch is a powerful FAQ software offering a robust toolkit like a no-code editor, SEO settings, and an easy-to-adjust structure. The platform also provides shared inbox, live chat, chatbot, popups, and email marketing tools for flawless customer support.

The rich WYSIWYG editor for neatly formatted content lets you play around with text paragraphs and visual elements when you write an article. Make the piece public or leave it private as a draft, add images, create anchor menus, or highlight important text pieces as info boxes with different colors. Besides, you can preview the article and decide whether it needs to be brushed up.
HelpCrunch FAQ software can also help you contribute to the SEO of your content. When creating an article, you can add a title, meta description, and keywords to enhance the searchability of your article and improve your website traffic.
But this is just scratching the surface. The FAQ tool from HelpCrunch is integrated into the chat widget for more convenience: allow your customers to search for information faster, without questioning a service rep. Moreover, you can set up the chatbot to share knowledge base articles with customers when they ask for a solution. Sounds intriguing, doesn't it?
Key features:
User-friendly editor
Easily create categories and subcategories
Add images, GIFs, and videos
Set up SEO settings
Establish access control by a password or a trusted IP
Customize the resource hub with JavaScript and CSS
Multilingual knowledge base
Powerful tool for search
Feedback survey in the form of emojis to collect user opinions
Pricing: As for the money matters, the solution goes with two pricing plans: Basic ($15/mo) and Pro ($25/mo) if billed monthly. For this price, you get the full knowledge base functionality, live chat, a basic CRM, and popups. Within the 'Pro' plan, you also get the chatbot.
HelpCrunch has an Enterprise package that you can customize based on your business needs. Plus, there's a free 14-day trial available so that you can take this FAQ knowledge base solution for a spin.
Rating on G2: 4.7 / 5 ⭐️⭐️⭐️⭐️⭐️
2. Stonly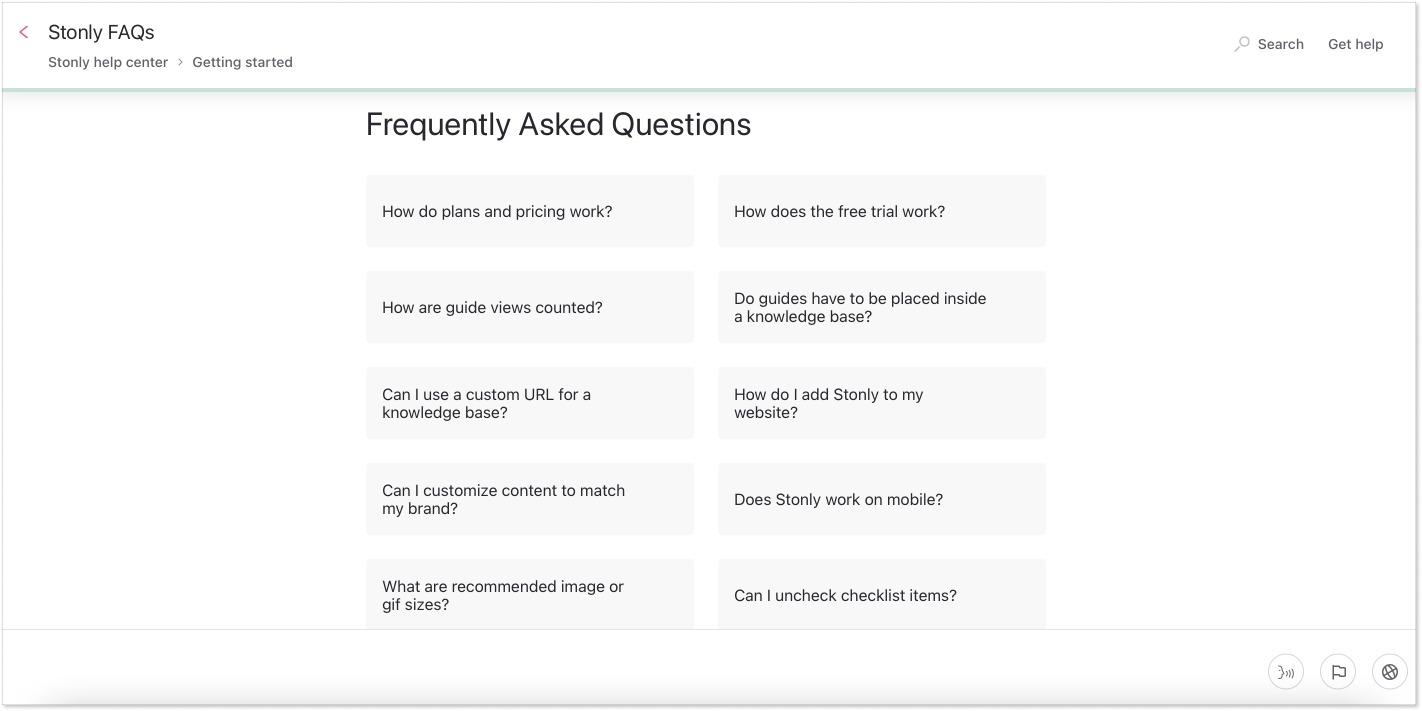 Stonly is an interactive guide platform that allows companies to create FAQ tools, step-by-step guides, tutorials, and product walkthroughs that can be embedded directly into their websites or applications. Overall, the company aims to simplify the user onboarding process.
One of the key features of Stonly is its intuitive and clean interface for creating interactive guides. The platform offers a drag-and-drop editor that enables businesses to design and customize their onboarding experiences without any coding knowledge. You can add interactive elements, such as tooltips, hotspots, checklists, and video content, to guide users through different features or processes.
Key features:
Easy-to-use interface
Drag-and-drop editor
Interactive guides
Robust analytics and insights
Customizable appearance and branding
Pricing starts at: $249/month (if billed monthly) which includes 4,000 guide views and 5 team members. If the number of views exceeds 4k, you will have to pay an additional +$250 a month.
Rating on G2: 4.8 / 5 ⭐️⭐️⭐️⭐️⭐️
3. Support Hero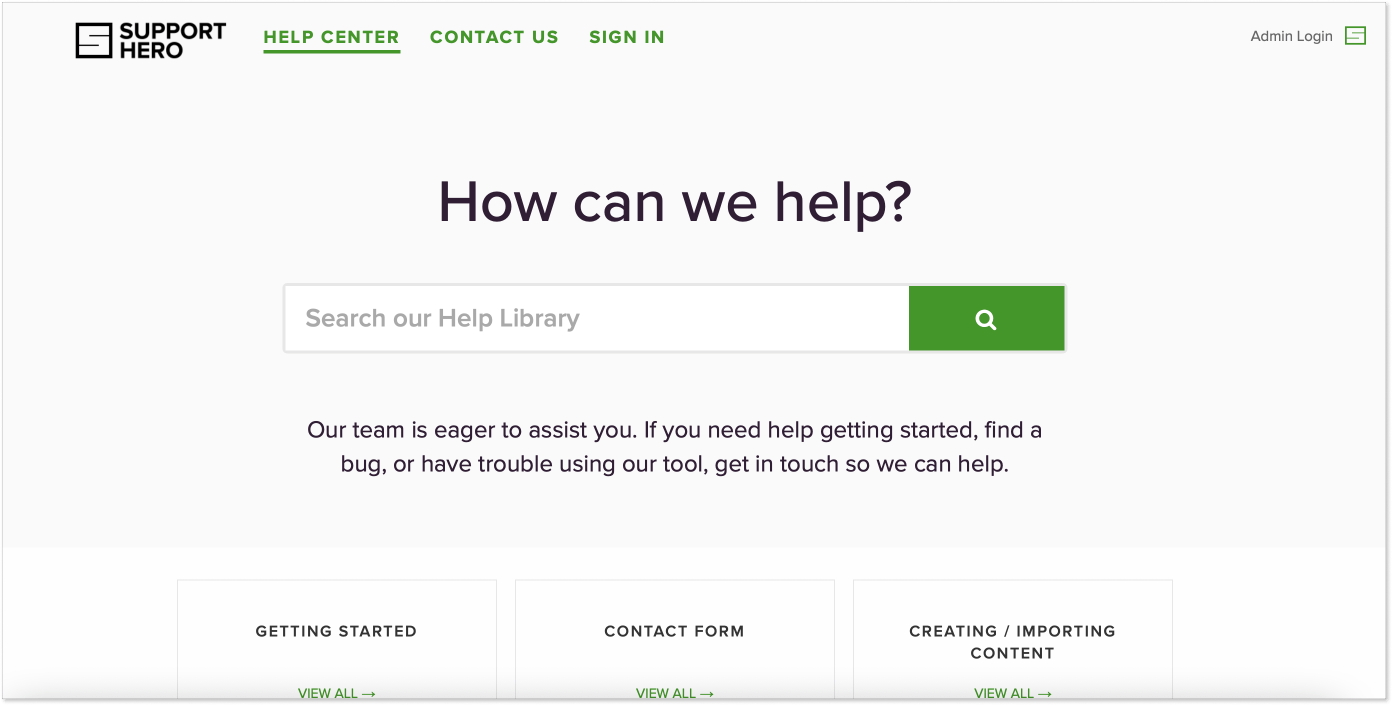 Support Hero is a customer support knowledge base platform. It provides businesses with tools to create and manage a comprehensive knowledge base and FAQ, allowing them to find answers to questions and resolve customer issues on their own.
The tool allows businesses to create a branded knowledge base that contains articles, FAQs, and documentation covering various topics related to their products or services. These resources are organized in a user-friendly manner, making it easy for customers to navigate and find the information they need. The knowledge base can be customized to match the company's branding and style.
Key features:
Creation of helpful articles, tutorials, and documentation
Customizable layout of the FAQ/knowledge base
Autocomplete, suggested articles, and advanced search filters
Integration with Help Desk software
Multilingual knowledge base
Pricing starts at: $49/month for 1 admin
Rating at G2: 4.5 / 5 ⭐️⭐️⭐️⭐️⭐️
4. HelpSite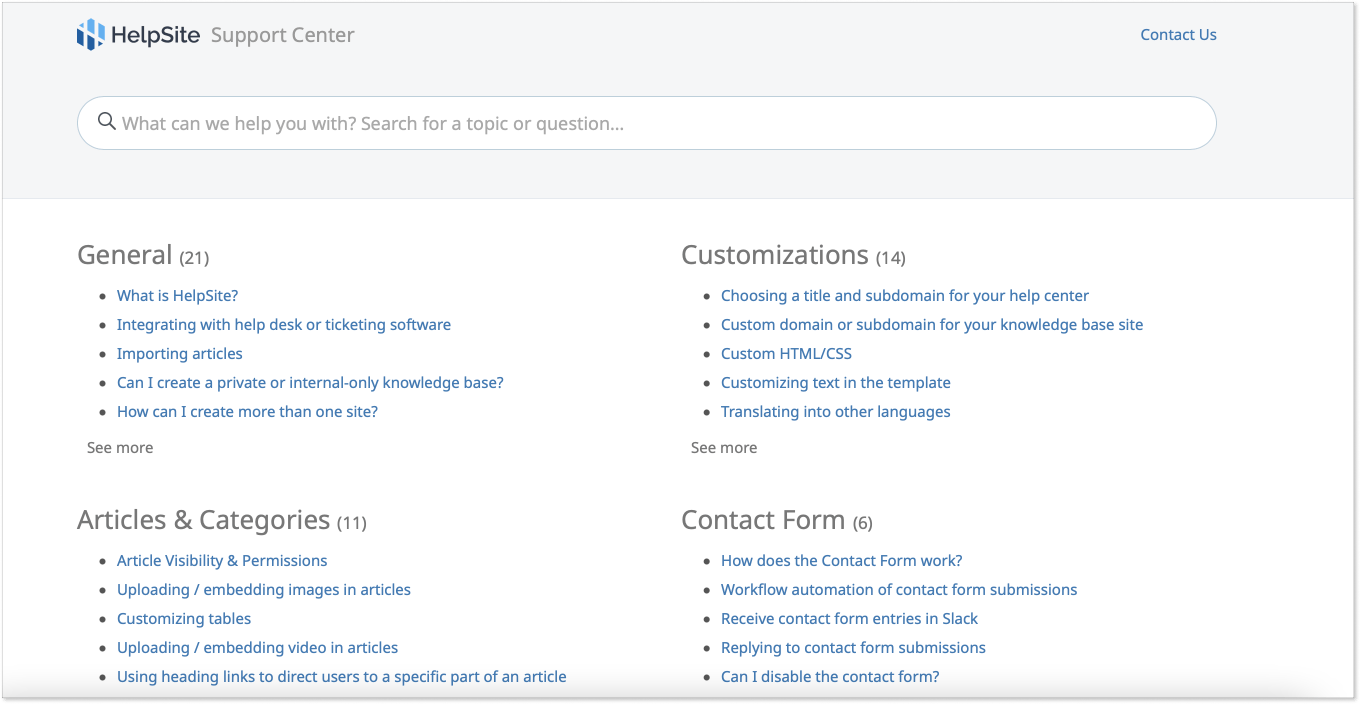 An FAQ portal should be digestible and not provoke more questions than a user had. HelpSite can guarantee simplicity along the way. This FAQ tool is everything you need for crafting a simple portal specifically for self-service. Nothing will take a user's mind off when they navigate it.
HelpSite allows businesses to easily create an organized knowledge base by adding frequently asked questions (FAQs), articles, tutorials, and other support resources. The software supports customization of the help center's design, branding, and layout to maintain a consistent user experience aligned with the company's visual identity.
You can integrate HelpSite with live chat platforms, such as Intercom and Drift, to offer real-time support to your customers. Additionally, HelpSite offers analytics and reporting features to track user behavior, measure article performance, and gain insights for continuous improvement.
In just a couple of clicks, you can build a mobile-friendly and skimmable help center packed with some interesting features.
Key features:
A smart contact form that auto-suggests articles as you type your question
A simple admin interface
Customizable features to make your resource hub a part of your brand identity
Support multiple languages
Usage of your own custom domain for your knowledge base
Pricing starts at: Free basic plan or $14.99/month
Rating on G2: 4.9 / 5 ⭐️⭐️⭐️⭐️⭐️
5. Scribe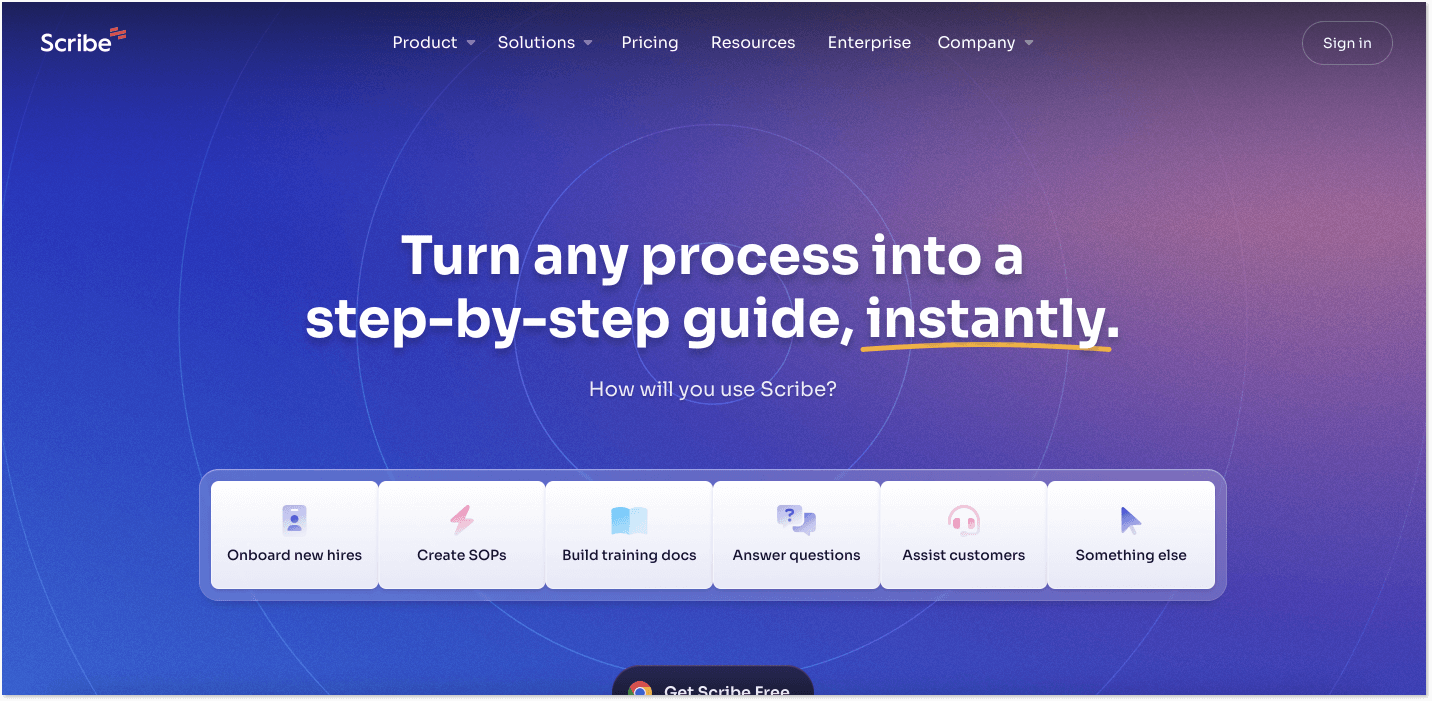 Scribe stands out as not your ordinary FAQ solution due to its efficiency in constructing FAQ responses with ease and speed. Basically, it's a software platform that specializes in creating interactive and engaging guides for various processes and procedures.
It allows you to capture screenshots or record videos of each step in a process and annotate them with text, arrows, highlights, and other visual elements. Afterward, these guides can serve as perfect FAQ answers.
The interactive nature of the guides allows users to follow along and interact with each step, ensuring clarity and understanding. It can be valuable software for businesses, educators, and anyone needing to create clear and effective instructional materials.
Key features:
Automatic creation of step-by-step guides
Easy to customize
Embed-generated guides into your knowledge base
Possibility to redact employee or customer data from screenshots
Pricing starts at: free basic plan or $29/month per seat
Rating on G2: 4.8 / 5 ⭐️⭐️⭐️⭐️⭐️
6. SupportBee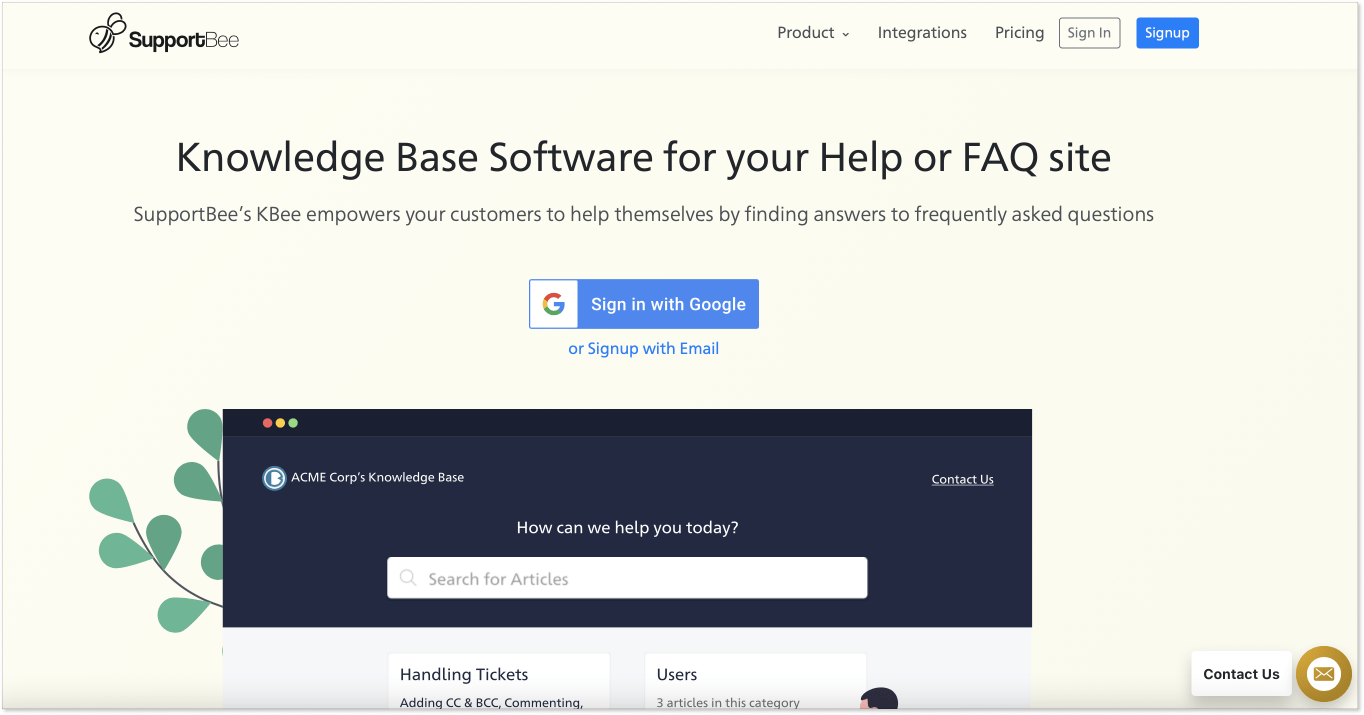 SupportBee is FAQ software and a ticketing system to make sure no client issue falls through the cracks. Here you can not only encourage do-it-yourself customer service but also prioritize, collaborate on, and organize emails.
SupportBee is an ideal match for companies where the frequency of FAQs on the website is medium, and email is a crucial part of our day-to-day lives. Just like HelpCrunch, SupportBee has also a shared inbox for managing communications and working together with content.
Key features:
Rich text editor for creating all types of docs
Full customization process
Fast search function to help customers find their answers without much hassle
Multiple help centers for managing documentation on different sites
Snippets for easy linking your articles
Files uploading (videos, PDFs, images, etc.)
Pricing starts at: $15/mo per user
Rating on G2: 4.1 / 5 ⭐️⭐️⭐️⭐️
7. Malcolm!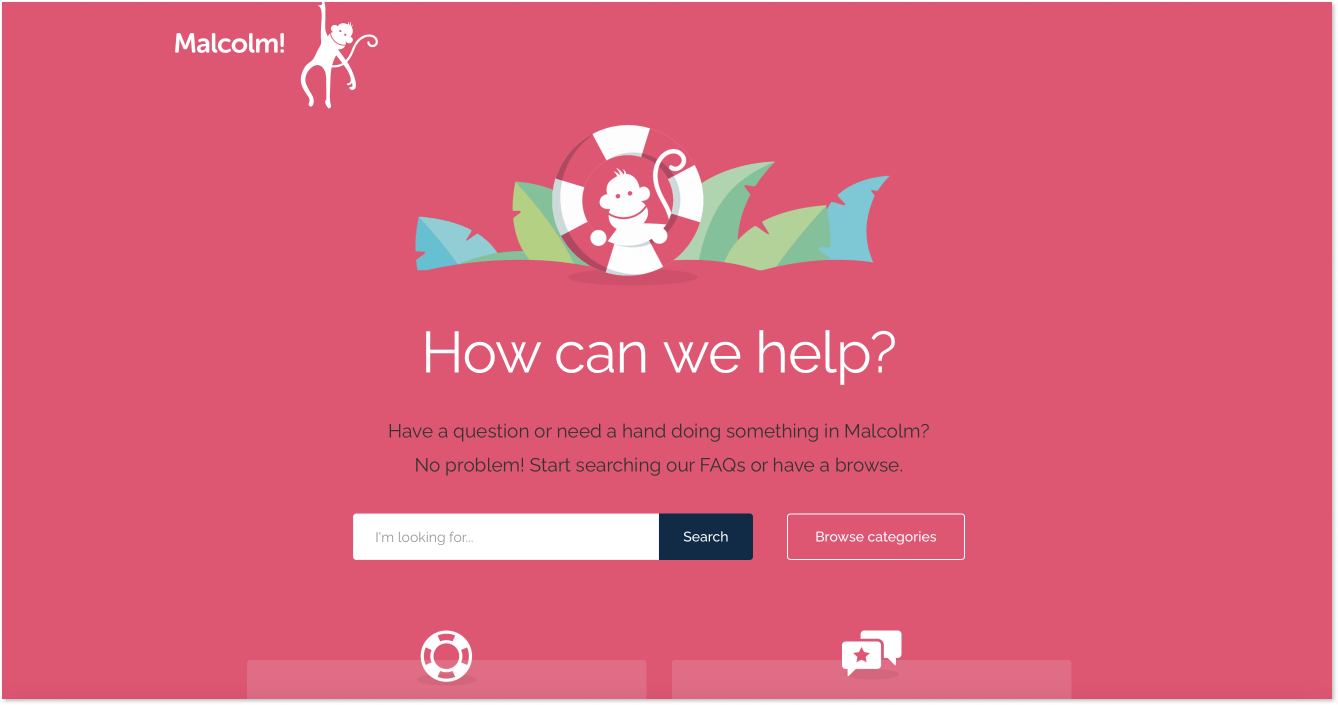 Malcolm! is a customer support and knowledge base tool that focuses on providing a self-service option for businesses. It enables companies to create interactive FAQs, knowledge bases, and other self-help resources to assist customers in finding answers to their questions and resolving issues on their own.
The platform offers a user-friendly interface that allows businesses to easily create and organize knowledge base articles, FAQs, and tutorials. These resources can be customized with branding elements to maintain a consistent look and feel with the company's website or application.
Key features:
User-friendly editor
Interactive workflows (allows businesses to guide users through a series of questions and provide personalized recommendations or solutions based on their responses)
Comprehensive customization opportunities
Powerful search functionality
User Feedback and Ratings
Pricing starts at: $50/month managed by 1 team member. It includes up to 30 FAQs or articles. If you exceed that limit, you will have to pay up to $85/month for several team members.
Rating on G2: 5 / 5 ⭐️⭐️⭐️⭐️⭐️
8. ProProfs Knowledge Base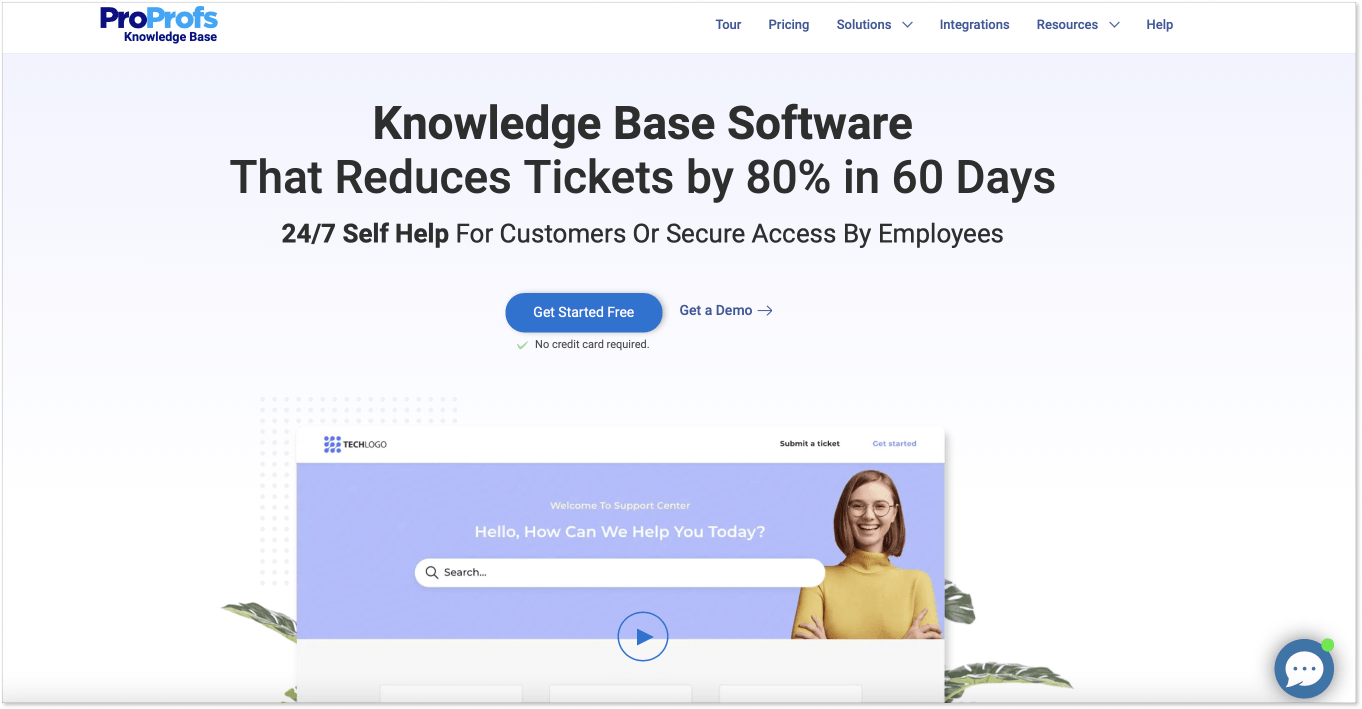 ProProfs is an easy-to-use FAQ solution that involves nothing extra. I mean, if you're in pursuit of a tool to make both your team's and customers' lives easier without going into many details, then give it a try.
With this solution, you can set your help center, user guide, wiki, or manual. As you can probably guess, the best part here is that this online FAQ software is incredibly easy to set up. Everything you need is literally a stable Internet connection and a powerful device. A specially designed collection of templates or a brand-new piece – it's your call.
Key features:
Creation of a resource hub in minutes
100+ pre-made templates to use or build your own from scratch
Customization opportunities allowing you to adjust the brand's logo and color scheme
Import of Google Docs, PDFs, and other visuals in just a few clicks
SEO features to optimize your hub for search engines
Pricing starts at: $79/month per author
Rating on G2: 4.6 / 5 ⭐️⭐️⭐️⭐️
9. Document360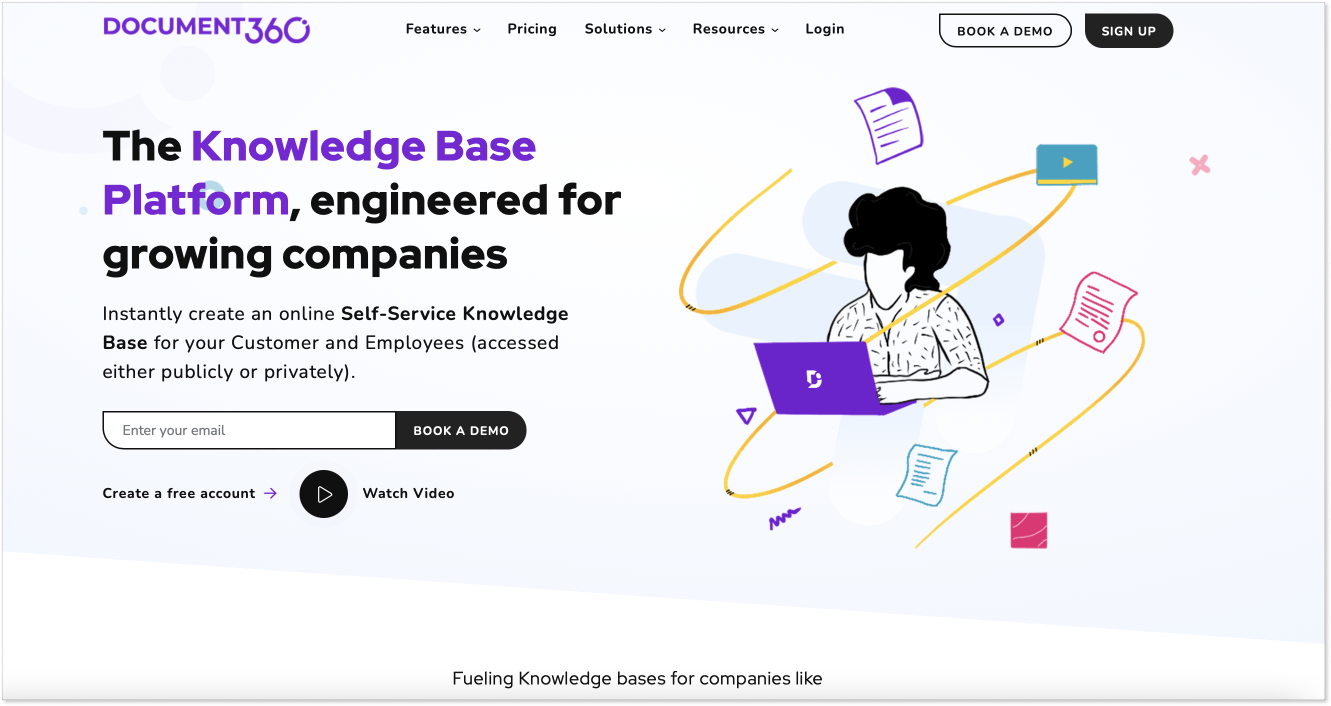 Document360 warrants its name to the full. This SaaS platform helps you create a 360-degree view of customer self-service with well-oiled FAQ database software for websites.
It helps businesses create, manage, and publish comprehensive documentation for their products, services, or internal processes. The platform allows structuring content into categories, articles, and sub-articles, performing rich text editing (adding images, videos, code snippets, and other multimedia elements), and customizing templates & branding options.
Additionally, Document360 offers analytics and reporting features to track customer engagement, article performance, and search trends, providing insights for continuous improvement.
Key features:
Comprehensive analytics.
Different editor options (WYSIWYG for already familiar work with texts and Markdown for producing code-heavy docs)
Versioning and revisions. Document360 lets you view multiple article versions and roll back to a previous version.
Commenting. You can collaborate with other editors in your team while working on a piece by tagging them with @.
Pricing starts at: free or $199/month per project
Rating on G2: 4.7 / 5 ⭐️⭐️⭐️⭐️⭐️
10. Helprace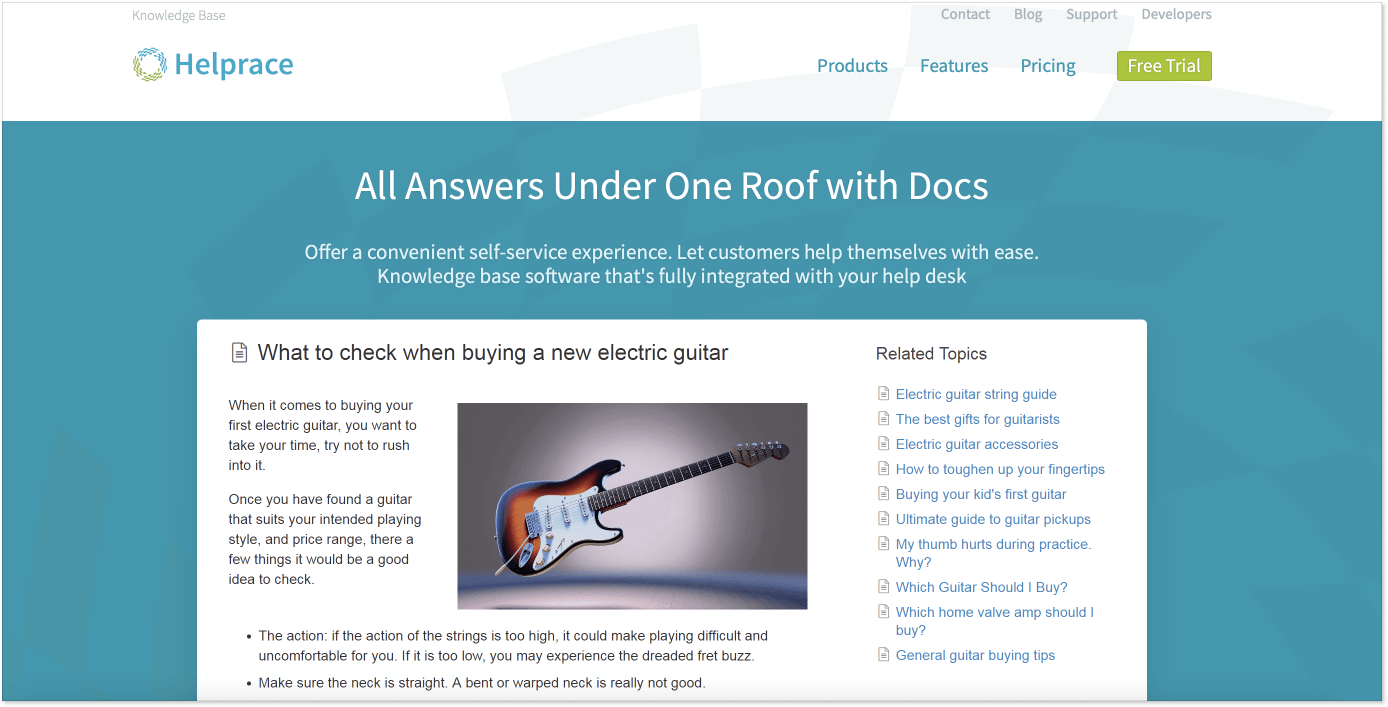 If you're looking for a FAQ tool without frills, Helprace might fit the bill. The software can help you create private or public self-service portals and gather customer feedback with a widget.
The truth is that Helprace is the kind of FAQ management software offering you a bunch of features for making both customers' and service reps' lives much easier. Just like the majority of solutions we covered here, Helprace works on all devices (phone, desktop, and tab).
Key features:
Ask questions faster without registering or logging
Omit duplicate queries to streamline your work
Update and inform customers about the status of their query
Pin the best customer service team's answer to the top of the discussion
Integrate a contact form with your FAQ website
Merge topics together
Pricing starts at: $10/month per agent
Rating on G2: 4.4 / 5 ⭐️⭐️⭐️⭐️
11. ChipBot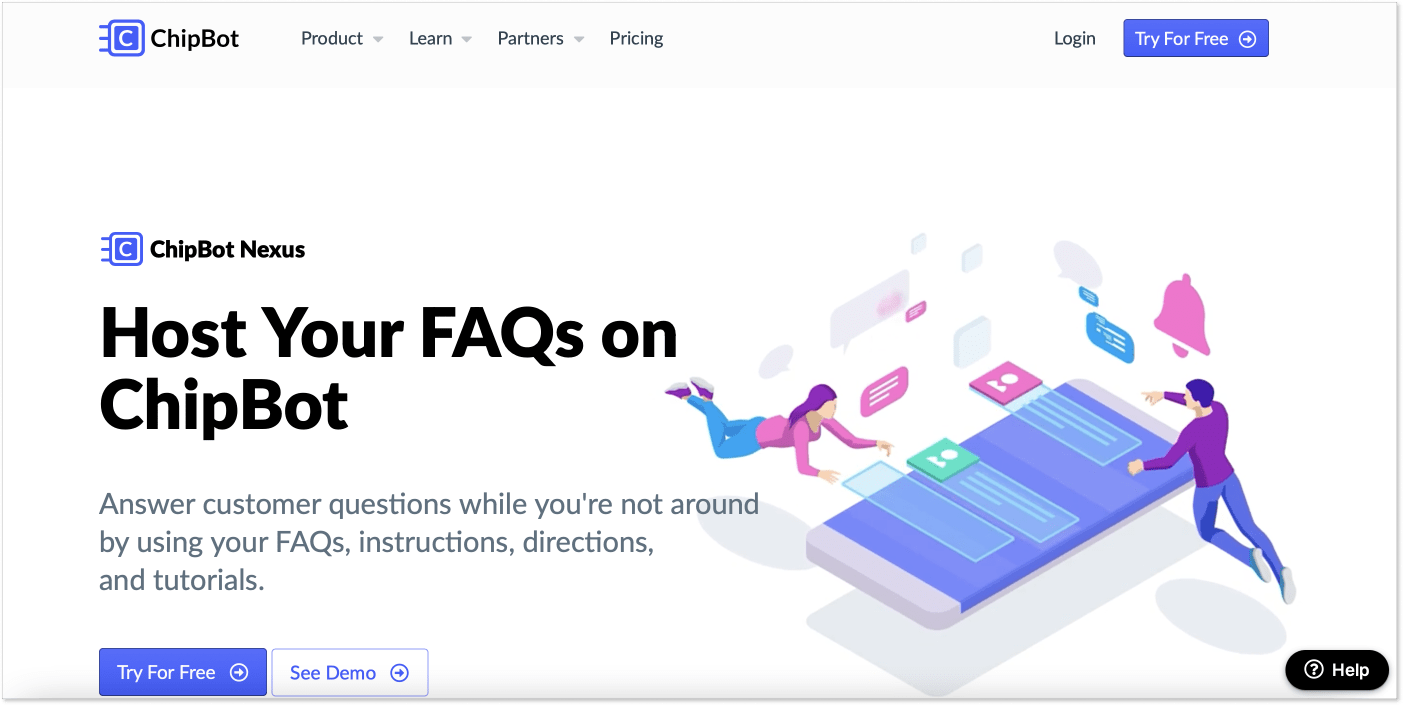 "Support customer without live chat," says the ChipBot Nexus landing page. In my humble opinion, this is next to impossible, but let's give this information the benefit of the doubt.
The main specific of the Nexus FAQ software is, well, supporting customers with a frequently asked questions section. Once a client comes up with your query, they can easily find what they're looking for by clicking the "Ask a Question" button.
After that, there's a choice: browse the set of product questions, look through tutorials and guides, type in a question, or comb through the FAQ panel. So yes, no support rep is required.
Sure thing, you can categorize questions when building your FAQ help center, add as many visuals as you want, and even embed a FAQ piece into any pages on your website, like with WordPress plugins.
Key features:
Easy content organisation
FAQ generator
Powerful search feature
Customer behavior analysis
Easy installation
Pricing starts at: free or $10/month
Rating on G2: 5 / 5 ⭐️⭐️⭐️⭐️⭐️
What are the fundamental features of an FAQ tool?
It's crucial to know what specific features to keep in mind when looking for the right FAQ software.
Without further ado, let's get going!
One of the fundamental features of FAQ software is the ability to create and maintain a neat structure of the content. By organizing information in a structured manner, businesses ensure that customers can quickly find the answers they need, reducing the load on support teams.
Advanced search capabilities
There is nothing worse than a search bar that doesn't actually search for anything. Imagine the feeling of a user who types in a question and gets something like "Nothing here matches your search" or just a bunch of irrelevant articles.
On the contrary, robust search capabilities enable users to find information quickly, even with a vast knowledge base. By implementing features like keyword search, filters, and advanced analytics, FAQ software ensures that users can locate the most accurate and appropriate answers to their queries efficiently.
Integration with other support tools
Live chat integration or chatbot functionality allows users to interact with the system in real-time, receiving instant responses to their queries. These features not only enhance customer satisfaction but also provide businesses with an opportunity to address specific concerns or provide tailored assistance.
Customization and branding
To maintain consistency and reinforce their brand identity, businesses can customize the appearance and branding of the FAQ software. This includes incorporating company logos, choosing color schemes, and matching the software's visual design with the overall brand image.
By tracking metrics such as search queries, popular topics, and user engagement, businesses can gain a deeper understanding of their customer's needs and identify areas for improvement. These insights enable continuous refinement of the knowledge base content, ensuring it remains relevant.
What do you gain by adopting FAQ software?
Implementing FAQ software can bring numerous benefits to businesses, both in terms of customer support efficiency and overall organizational effectiveness. Let's explore the main advantages that come with utilizing FAQ.
Improved customer support
One of the primary benefits of FAQ software is its ability to provide better customer support. By offering a centralized knowledge base accessible 24/7, brands can empower their customers to find answers quickly and independently. This reduces the reliance on support teams and decreases response times, resulting in improved customer satisfaction.
Cost and time effectiveness
FAQ software can significantly reduce support costs and save valuable time for both customers and support agents. With an easily accessible knowledge base, customers can find answers to their questions without needing to reach out to support teams, thereby reducing the volume of incoming support tickets.
This, in turn, allows support agents to focus on more complex or specialized inquiries, leading to increased productivity.
Consistent and accurate information
Maintaining consistency and accuracy in customer support is crucial for building trust and credibility. FAQ software ensures that customers receive reliable information by providing a single source of truth for frequently asked questions.
The centralized knowledge base ensures that all users access the same set of answers, eliminating inconsistencies that may arise from multiple support agents providing different responses.
Insights for continuous improvement
The tool often includes analytics and reporting features that offer valuable insights into customer behavior and knowledge base performance. By analyzing metrics such as search queries, popular topics, and user engagement, businesses can gain a deeper understanding of customer needs and preferences.
How to choose the right FAQ software?
Knowing all the top FAQ software tools, their main features, and the benefits this platform can bring you, how do you choose the right solution?
In short, the very best software for your brand is the one that allows you to easily create, edit, structure, publish and distribute your helpful resources. At first sight, that makes perfect sense and sounds really simple, but it doesn't mean you already know what software to choose (or, do you? 😉)
So, here is a quick checklist when looking for the best solution for your company:
✅ Put together a list of the most vital features that you need to have within your FAQ (check the fundamental FAQ software features paragraph in this article)
✅ Answer the question – do you need just an FAQ system solely, or better a tool that comprises all the functionality for full-cycle customer service? (Shared inbox, live chat, chatbot, knowledge base, email marketing, etc.)
✅ From the whole variety of options, select the top-3 or 5 tools that best meet your business needs.
✅ Sign up for a free trial with the one you fancy the most
✅ Test it and if you like it, adopt the solution at your company!
Remember, that it's a subjective choice and what works for some company might now work for another one. It all depends on your needs, the size of your team, the amount of helpful materials you want to provide, your budget in the end, and many other factors.
Bottom line
Deciding on FAQ software might seem like a tall order. But not after you read this piece till the end! Pricey or free, 10 or 25 articles, simple or feature-packed: we listed 8 solutions for every budget and need.
But hey, who are we to not let you choose the cream of the crops? The checklist is as easy as ABC. Sign up for a free trial with HelpCrunch, make a few clicks, toss in a unique personality, and savor your neatly built frequently asked questions portal.
Frequently Asked Questions
Speaking of FAQ tools, we would love to provide answers to some common questions ourselves. Please, take a look at them below.
How do I create an FAQ database?
When writing an FAQ, the first step is to identify the most common questions and concerns of your customers. Collect data from your customer support team, interactions, surveys, and website analytics to gather insights into the frequently asked questions.
Once you have a list, craft clear and concise answers that provide accurate information. Organize the questions and answers into categories or topics to facilitate easy navigation for users.
Regularly review and update its database based on customer feedback, new product releases, or evolving business needs.
Are FAQs good for SEO?
Yes, your SEO strategy can benefit from FAQ. Including a help center on your website allows you to target long-tail keywords and answer specific questions that potential customers may search for. When you optimize your FAQ content with relevant keywords and provide detailed and valuable answers, search engines recognize the relevance and usefulness of your content, which can improve your organic search rankings.
Where do I put an FAQ section on my website?
One common approach is to include a dedicated "FAQ" or "Help Center" link in the main navigation menu, making it easily accessible from any page on your website. Another option is to have a prominent "FAQ" button or tab on the homepage, attracting users' attention right from the start.
Additionally, if the software allows, you can integrate your FAQ into the live chat widget. This way users will be able to find the help center more easily and get assistance independently.
See some of the best FAQ examples to get inspired and check where other brands place their FAQ sections. Good luck! May the knowledge be with you 😉