Pages of Frequently Asked Questions, or FAQ for short, are an immensely popular channel of customer self-support. If you somehow don't have an FAQ page in 2022, it's high time you get one.
In this post, we won't be debating about whether you need an FAQ page or not. Rather, we will see how to make it as effective and useful for customers as possible. If you are building an FAQ page from scratch or planning a facelift for your existing one, I have some tips for you. 
Why do you need an FAQ page?
Customers love it when they can find an answer to their questions on their own. You don't have to trust me on this, trust the statistics: 81% of consumers want to have more self-service options. This is why they want companies to have FAQ pages: they have a question – you have an answer. Easy-peasy.
To satisfy all customers' expectations, I recommend that you create and maintain both a knowledge base and an FAQ page. The knowledge base definition suggests that it is a more profound and detailed resource, while FAQs are brief and concise (but not always!). Together, they form a complete knowledge center where customers can find all the information they need.
In addition to the obviously superb customer experiences, FAQ pages give you tons of other benefits:
Higher product adoption rate. Frequently asked questions are usually very practical, which means that the customer either has already purchased your product or is considering doing it soon. They want to know how it works, which indicates that their interest is already rather high.
Higher trust in your business. Through answers to FAQs, you establish yourself as an expert in the field. The information you provide helps customers resolve issues they struggle with. As a result, you get points for providing useful information.
Better SEO. FAQ pages are great traffic drivers because of their searchable content. They include keywords and phrases (also called long-tail keywords) that are often found in browser searches.
Of course, these benefits only occur when you set up your FAQ page right. This is what this post is about. Read on for FAQ page building tips and examples.
How to create an FAQ page
In this post, we won't get into the mysteries of FAQ page design and layout. Rather, we will see what you should include to make it work both for you and your customers.
However, before we jump into the details of creating FAQ content, one piece of advice: most probably, your knowledge base tool supports creating FAQs, too. Use it to ensure uniformity, consistency, and common management of your self-service resources.
Watch for the most frequent questions
OK, by definition, an FAQ page contains answers to frequently asked questions. But how do you know which of the questions are, indeed, frequently asked?
Customer support channels
Your customers suggest the questions that belong on the FAQ page. If you don't have an FAQ page yet or customers cannot find it, they will ask questions to your support team.
Monitor all the support channels you have to catch the issues that occur most often. Some of them may inspire a more profound piece of content, such as a blog post or a knowledge base article (check these examples of a knowledge base to see what may be included there). Some, however, will be just perfect for the FAQ page:
How do you deliver?
How can I return the product?
Do you have an offline store?
Can I upgrade to another pricing plan?
You get the idea. Watch for brief questions requiring brief answers – those are your candidates for the FAQ page. As an example, look at the questions that Spotify answers on its page – most of them require simple and straightforward answers.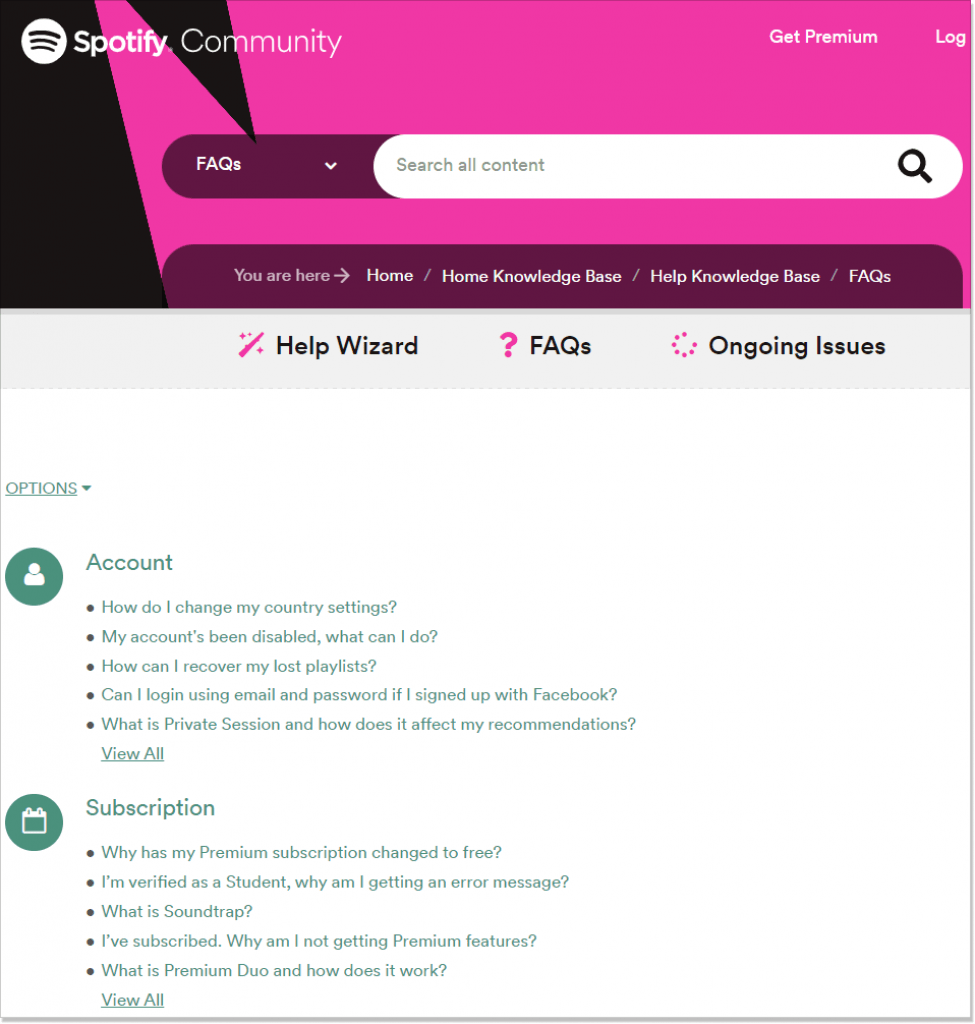 Keywords from Google, Quora, and similar resources
People ask questions not only on dedicated FAQ pages. Very often, they just go to the vastness of the World Wide Web and seek information there. You can pick up FAQ ideas from the search trends in browsers (Google would be your sure-fire option, as it holds 92% of the entire search market) and special resources, such as Quora, Stack Overflow, or Reddit.
Of course, it will take time and effort to sort through millions of search queries, but as a result, you will get a more effective FAQ page that brings customers to you. Besides, there are special tools that can help you research the current trends. For example, Google has a service that is called just that – Google Trends, showing what people search for.
Competitors' websites
If you offer similar products or services, your customers might ask similar questions. Browse your competitors' FAQ pages for ideas. You might find questions that you did not think about. Adapt them, as necessary, and include in your page.
Your competitors' websites might give you inspiration not only for the FAQ page but for other self-service resources, such as the knowledge base. If you see a topic that might enhance your users' experience, write a similar one describing your product specifics. Use a knowledge base document template to speed up your work and achieve content uniformity and consistency. 
And don't worry, your competitors do it, too.
Include important company information
You can not only monitor users' questions to enhance your FAQ page but also anticipate them. Don't wait until they flood your support service with requests about your refund policy – include it as an answer to an FAQ.
Your collection of Frequently Asked Questions can be a mini-knowledge base with the most important facts laid down in a short and clear format:
Payment and delivery terms – this information is always necessary. Even if you have it somewhere else, for example, as a menu item on the main page, it won't hurt to repeat it as an FAQ.
Product differences and choosing guidelines – it may be a good idea to explain how your pricing plans differ from each other and what may be the typical use cases for each of them.
Company facts and values – you can use the FAQ page to educate customers about your business. Here, you can include things customers did not ask for but may be interested to know, such as the company history, manifested values, fun facts, and trivia.
For example, see what Kleenex chose to include in its FAQ page. You can learn how the Kleenex tissue was invented and which innovations the brand implements.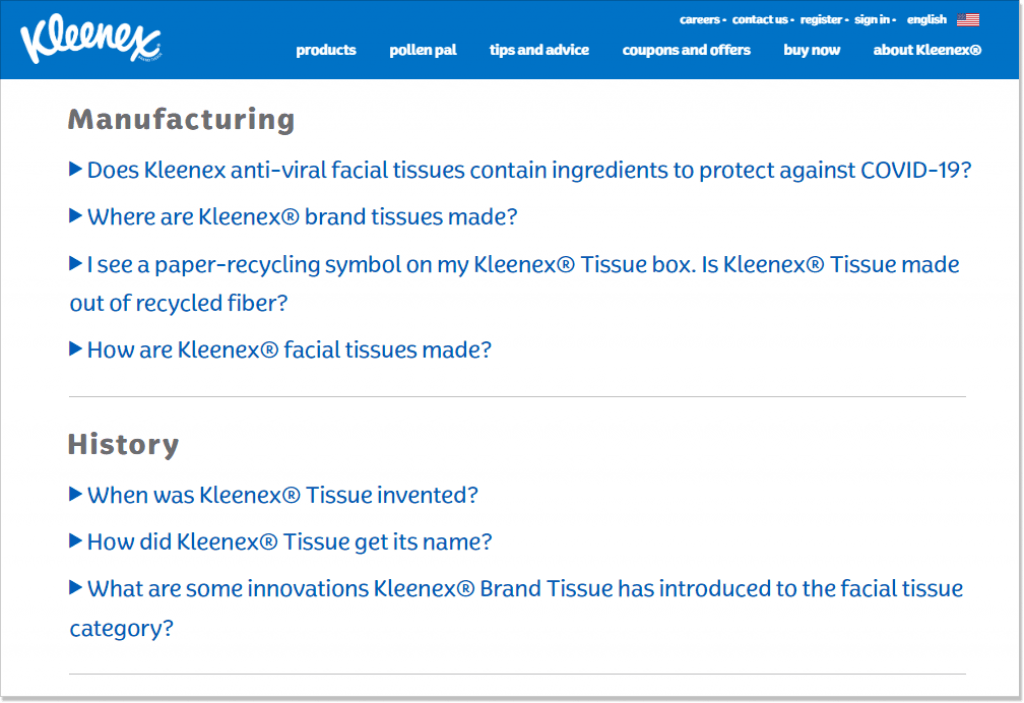 Make your FAQ easy to find
The whole idea of FAQs is to provide help quickly. Thus, the customer should not spend a lot of time finding the page itself. Place it so that it is visible and intuitively recognizable. Most often, a link to the FAQ page is found at the bottom of your home page together with other important links. This is where customers expect to find it, so do not reinvent the wheel.
It is also a popular practice to group support resources together on a common Help page. However, if you can make FAQ a separate item on your home page, it would be even better visible and easier found.
If you browse Netflix's home page, you will see that this video streaming service not only offers FAQ as a dedicated link but also displays some of the most popular questions. Visitors can navigate to the FAQ page immediately.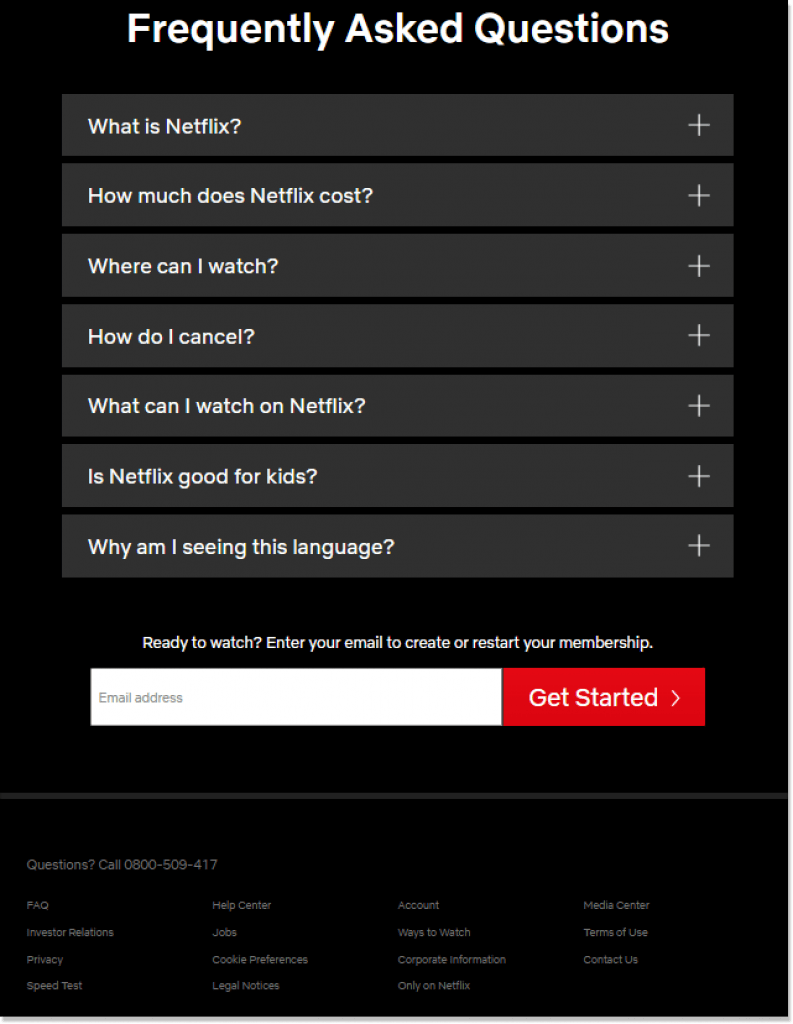 Organize questions in categories
Easy navigation and intuitiveness should be among the main priorities in your FAQ page design. This is where customers come for quick answers to their questions, so make it easy for them.
A good practice is to group questions and answers into categories. This way, customers can, on the one hand, find information easier and, on the other hand, see all the related topics. As a result, they get a complete picture of the product, service, policy, or procedure they were looking for.
In designing your FAQ page, you can mirror the category structure you adopted for your knowledge base. Many tools, such as HelpCrunch's knowledge base tool, support grouping articles into categories to facilitate browsing.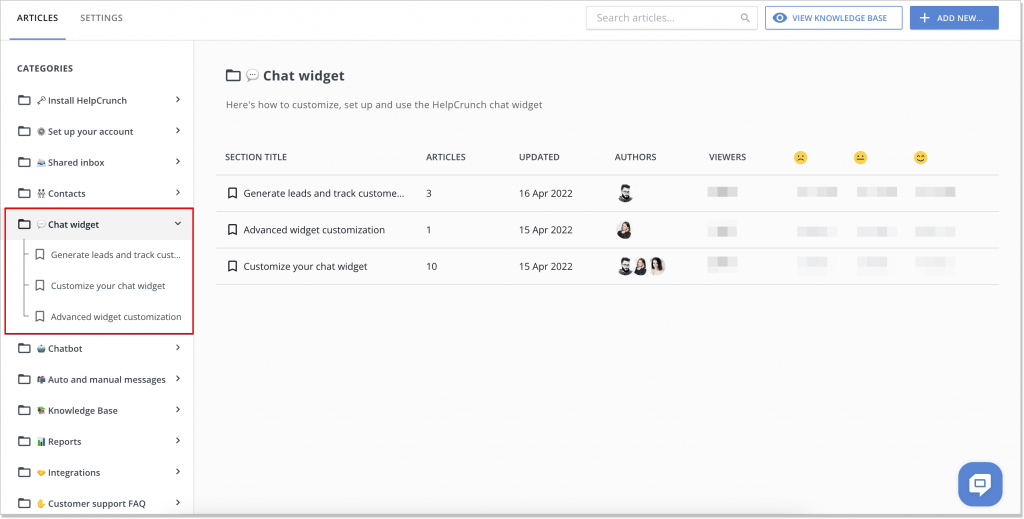 As an inspiration, check the FAQ page of Wizz Air. All questions related to bookings, travel information, pricing, etc. are under common headings making it easier for you to navigate the page.
Write questions from the user's point of view
Earlier, I mentioned keywords that you should look for and include in the FAQ content. In fact, just keywords are not enough these days. What you should aim for is the so-called "long-tail keyword", which are, in fact, complete search phrases.
The reason is that today, people do not search for words. They search for "intent". Think about what you type in the search box. Most probably, you do not search for "account", "Wednesday", or "gift certificate" (well, you might, but the results may be far from what you expect). Instead, you search for "how to restore my Facebook account", "Wednesday watch in high quality" or "how can I redeem an IKEA gift certificate". You express your intent, thus narrowing the results and getting those that are actually useful. The statistics support this by showing that as many as 80% of web queries express intent. 
This pattern fits FAQ pages like a glove. Phrase your questions like your customers would phrase their search queries. Use words like "I" and "my" to create questions that your users would ask.
Also, use the language your customers would use, don't make questions too sophisticated. Instead of "How to terminate my contract obligations?" write "How to cancel my subscription?"
In addition to improving the customer experience, this technique can boost your SEO, too.
As an example, let's look at the FAQ page of Microsoft 365. The questions are exactly what users would ask, which makes them clear and highly searchable.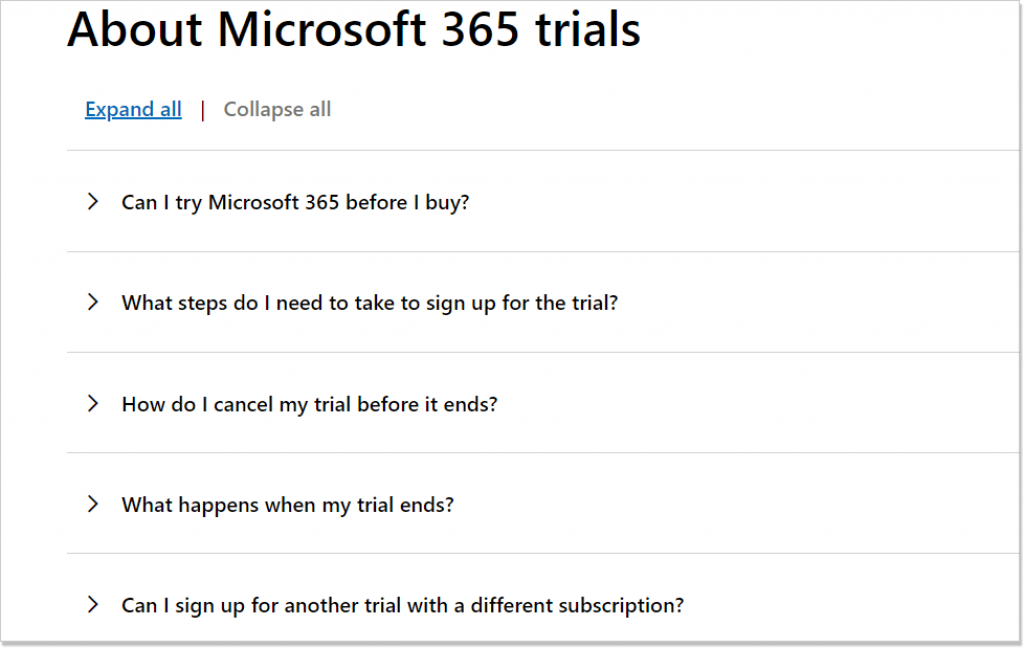 Make answers clear and concise
By now, you must be eager to learn how to write a good FAQ page. Well, there is no cookie-cutter solution that fits all. Every business is different and, therefore, their FAQ pages are also different and even unique in some aspects.
Still, some basic principles are the same:
Provide full answers. The FAQ page should contain all the details the customer needs. Today, FAQ tools support images and media, so you can enhance your answer with graphics, videos, or animation.
Try to avoid links to other pages. It's not a good idea to make the user jump between pages to find the answer to a simple question. If you are writing an answer to "What are your delivery terms?" do not redirect the user with "For delivery terms, see here." Rather, answer the question immediately: "We ship within 24 hours after receiving the order. The delivery may take up to 10 days".
Answer "Yes" and "No" questions with "Yes" and "No". FAQ pages are meant for skimming rather than reading. Starting the answer with "Yes" or "No" allows the reader to get what they need before they even read it to the end.
Make the page easily searchable
You can optimize the searchability of your FAQ page by implementing structured data. Simply put, you can add tags and meta descriptions to your content, so that Google recognizes the question and the answer immediately.
Structured data allows your questions to be shown directly in Google Search. As a result, you can expect a higher click-through rate and an increase in your website traffic.

Monitor the FAQ page performance
Any self-service resource is effective only when people find it useful. To find out whether your FAQ page is actually serving its purpose, you need to monitor its performance constantly. To get a complete picture, measure your page performance using different techniques:
Check your support logs to see if the question you included in the FAQ became less frequent. If so, you are on the right track. If, however, you continue to see customers' inquiries or tickets on the same subject, your FAQ resource needs some adjustment. Maybe, it isn't visible or user-friendly enough, which makes customers resort to customer support channels to get help.
Use analytical tools, such as Google Analytics. They give you complete data of how your web page is performing in many ways. You will get multiple metrics, logs, and reports that show how your website is doing and if any improvements are in order.
Implement customer surveys. Add a simple rating widget to your FAQ page and ask customers to rate whether the article was useful or not. The results you gather will show which articles customers find helpful and which need to be revised. This is, for example, what Lightspeed eCommerce did to measure its FAQ page performance.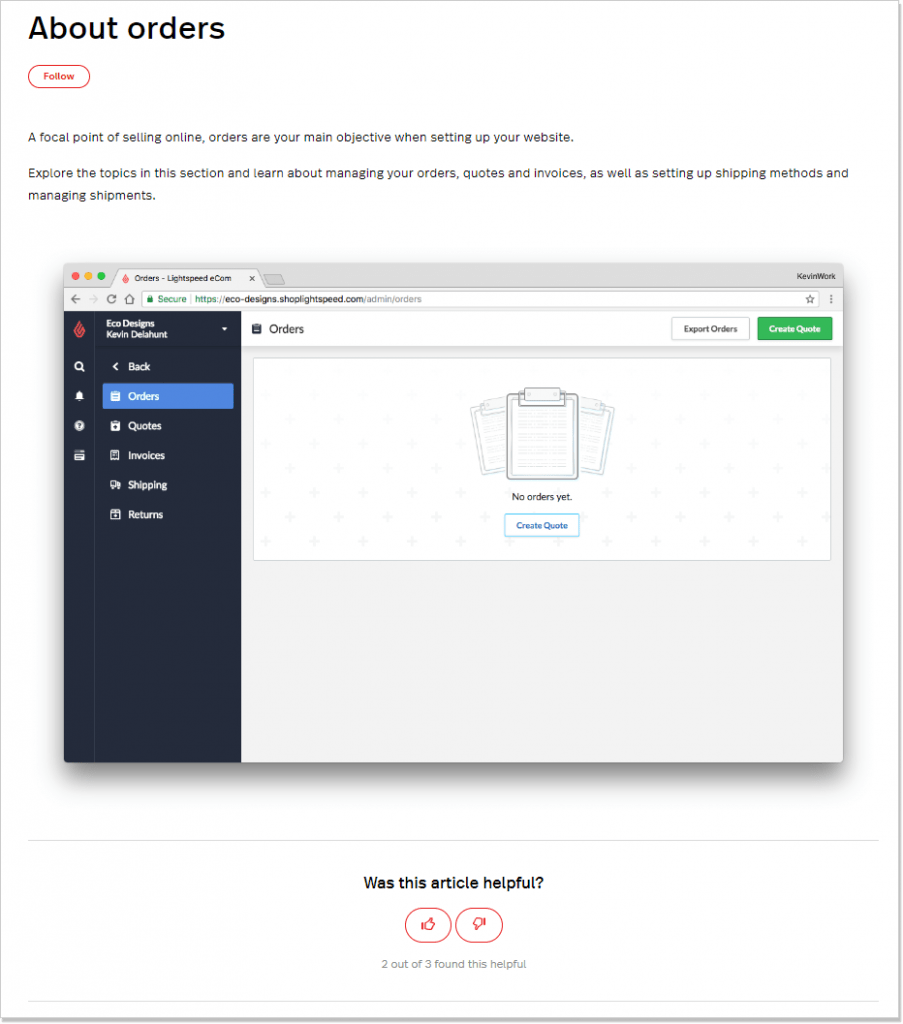 Let's wrap it up
Building a good FAQ base is not an easy task. You might find that to be brief and concise may be more difficult than to be detailed and verbose.
Still, an FAQ is a necessary component of your customer service strategy. I hope this post can give you some actionable ideas for creating an FAQ page that will bring benefits to both your customers and your business.
HelpCrunch articles delivered straight to your inbox 🚀
All the latests posts. One email per month
No strings attached
Read Also
Support
Even a tiny startup faces its clients' wants, pain points, and behavior at some point. Does it ring any bells to you? We explain how to set up customer service for a small business, achieve maximum effectiveness, and boost customer satisfaction.
Support
A post-chat survey can help you get real-time feedback from your customers. Read our guide to ask the right questions that users want to answer and improve your customer experience.
Support
Looking for inspiration? We've put together some of the best tips and examples on how to make your eCommerce FAQ page stand out. Have a look and improve your self-support tool today. Good luck!