Knowledge Base Templates That Unweight Your Writing Burden
Writing articles might be a back-breaker. Use our knowledge base article templates to save yourself time and trouble while doing it.
Welcome aboard! You've made the right choice by selecting the perfect software for seamless customer self-service. But hold on, do you feel like something's missing? Well, you're right! Now comes the challenging part – creating effective knowledge base articles. Fret not, we've got your back!
In this blog post, we'll walk you through the power of a knowledge base template. We'll discuss how it can save you tons of trouble streamlining the knowledge base creation process, ensuring consistency, and enhancing customer experience.
Ready to leverage the power of templates for your business? Good, no more late-night struggles writing "how-to" articles. Let's dive in and make your knowledge base shine!
5 most common knowledge base article templates to focus on
A pre-made knowledge base article template is a surefire way to streamline the whole writing process. You just see the structure and blocks needed and insert the information about every single feature of your product or service.

But this is the tricky part. You shouldn't lump the entire content under a general umbrella. Each template will depend on the type of article you're working on. Decide how you want to convey the information: is it a Q&A section or maybe a detailed product overview?
Also, keep in mind that there are different types of knowledge base, including internal knowledge base and external. Each of these types provides a specific user experience.

We've collected five widely spread templates to help you harmonize the info across your company and create a single source of knowledge.
Straight-to-the-point FAQ section
If I were to ask, an FAQ page is the most popular pattern when it comes to choosing a template. Generally, it consists of common issues existing customers or website visitors have plus company policies.
Given that this informational article format usually occurs as a "Question & Answer" bundle, it can also function as self-sufficient pieces: you see simple questions and instantly get an answer.
The whole layout goes like this (yeah, it's pretty easy):
Title: Question
Introduction: More detail to the question in the title or a short description of what you're going to talk about
Answer (covering only the crux)
While writing knowledge base articles and using this pattern, make sure you don't waffle. I mean, there must be no redundant information, and everything you say must be up to the point. To structure the knowledge base content, ask your customer service team to provide you with repetitive questions and how they solve them. This will help you omit unnecessary fluff, form article sections, and keep your FAQ page as beneficial as possible.
2. Vivid how-to article
If you don't know how to explain some process connected to your product, demonstrate it! This template is the easiest way to actually show a user how your product or service needs to operate.
In fact, such a pattern is sometimes called a step-by-step guide or a tutorial. For instance, we at HelpCrunch have this beneficial how-to article on adding a live chat to a website. There you can watch explanatory video tutorials containing all the important steps to take. Besides, everything is backed by the accompanying text.
Ensure you follow the pattern:
Title, where you specify the topic
Introduction, where you briefly explain the chase in 2-3 sentences
Main body, where you show how this and that should be implemented.
Step 1…
Step 2…
Step 3…
Conclusion, where you sum the info up and provide further instructions (additional material)
Note! A how-to article template is your perfect chance to include as many visuals as you like. You should strike a balance, though. Nobody likes patchy texts and tons of images.
Another great example here would be Miro's piece on how to export a board in different formats. Not only is this template packed with images, graphics, and numerous asterisks, but it also has this little hack at the end of the article: an FAQ section.
3. Customer onboarding routine
There is no second chance for a first impression. That's why when a new client signs up or makes the first purchase with you, use all your charms to tell how much you care for them from day one.
Consider welcome emails a part of your onboarding flow and infuse the following knowledge base article template:
Title, for instance, "Getting started with [company]"
Introduction, where you show the brand's basics or history
Main body, where you enlist simple steps or instructions that can help a user get the ball going quicker
A small knowledge base section with some customer questions about the product or service description
Conclusion, where you specify other company resources that might be of help
Note! To give your customers a better idea, include some images, GIFs, or videos on utilizing your product or service. This way, you only promote customer self-service and reduce the number of queries your team should handle.
This basic help center article template can comprise diverse walkthroughs, tutorials, or even short versions of FAQs. In other words, everything you think matters to people digging into your product. That is precisely how Document360 has developed its piece below👇🏻
4. Troubleshooting guide
Have you ever faced troubles being right inside a service and with no help around? Imagine your clients need assistance with some issue inside your interface.
In the best-case scenario, they will try to reach out to you first (which disagrees with proactive customer service, by the way). And in the worst-case scenario, people will take their adieu to you. Now, choose your plausible scenario.
Anyway, of all knowledge base templates, a troubleshooting guide could be more in-depth. It stands between an ordinary FAQ section and a how-to article. You can add it to your KB and create content with anchor links throughout the customer journey.
Speaking of its structure, you might want to go with:
Title, where you name the issue
A quick introduction, where you enlist possible reasons why this could happen in the first place
Main body, where you provide solutions to the problem
In conclusion, where you mention some alternative ways to handle the problem
Note! When drafting this type of knowledge base article template, remember to keep it simple and structured. Use step-by-step instructions, screenshots, and other visual elements to save your clients much trouble. Leave your contact information so customers can contact your customer support team if they fail to crack the problem.
A perfect template example would be the one from Wrike. The team created a special section in their knowledge base called Troubleshooting, where they keep all possible mishaps a user might face. Such article types are highly structured and have instructions for every complicated troubleshooting step. Way to go!
Product or service overview
Your active customers might know the ropes of your product or service pretty well. But how to ensure prospective leads get familiar with it too?
For that, include granular overviews, like tool description articles, etc., while framing your knowledge article templates. They will help those customers who just want to start their journey with you and already existing ones – dive deeper into your brand.
To illustrate, here is Fibery and how they provide their product use cases in the knowledge base. The guys have a separate section for that – Why do you need Fibery? where you can read and watch all the company's essentials and understand it better. Such key pieces are very handy for buyers to make decisions.
The given example follows this simple pattern (you can do the same):
Title, where you mention the product feature/use case/etc.
A short description of the article
Introduction 1, where you give all the necessary info about the first product feature/use case/etc.
Video 1, to show a vivid example of everything you've just talked about (you can make not only a video but also images or even a whole gallery to depict the foregoing)
Introduction 2, with everything a customer should know about the second product feature/use case/etc.
Video 2, or any other material you think fit to describe the nub
In conclusion, where you might want to provide some additional material and give your contact details
What's vital to note here is Fibery's videos explaining the key development processes in the company. You might want to do the same when choosing your article template so that your content isn't cobbled-together but organized.
Note! Another pro point for this template is that it can be a great sales team asset. Your sales agents can use such product or service types of articles when conducting demos, which could seal the deal faster.
Customizing the knowledge base template
When creating a knowledge base, templates can be a big time-saver. Templates are organized and look great, so you don't have to start from scratch. Besides, you can customize them to match your brand's style.
a. Tailoring the look and feel to match your brand
Every business has its unique brand identity, and your knowledge base should reflect that. Knowledge base tools offer a range of customization options, allowing you to tailor the look and feel to match your brand.
Customize the color scheme, font styles, and layouts to align with your brand guidelines.
Add your company logo and favicon to the knowledge base, ensuring your brand is prominently displayed and easily recognizable.
Choose from various pre-designed templates or create a custom design from scratch to showcase your brand's personality and values.
For example, HelpCrunch's knowledge base settings offer color scheme settings, changing logos, and more.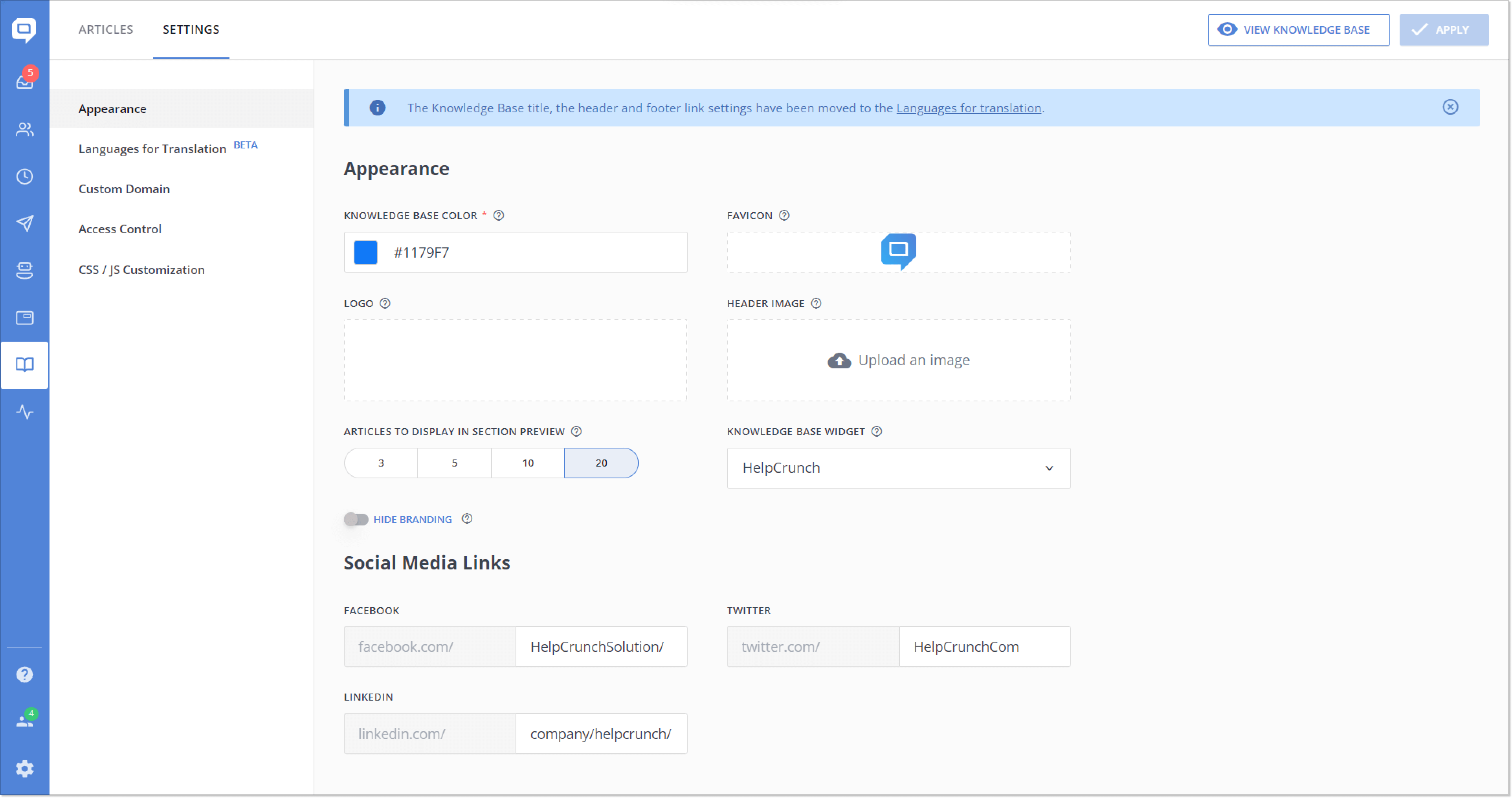 b. Adding custom fields and attributes
To provide comprehensive and targeted support, you must be able to add custom fields and attributes to your articles. This enables you to organize articles by categories and tags, making it easier for customers to find relevant information quickly. It will also help with better ranking in search engines.
Implementing custom metadata, such as categories, user roles, or language-specific tags, creates a highly personalized user experience. And remember to include images, videos, and infographics to enrich your content and make it more engaging for an audience.
c. Integrating with other HelpCrunch features
HelpCrunch is an all-around customer service software platform. Thus, its knowledge base can be integrated with other powerful features, including HelpBot and our live chat. It gives you some significant advantages:
Integrating the KB with the HelpBot widget allows customers to find answers instantly while engaging with the chatbot, removing the burden on the support service.
Utilizing the live chat feature enables customers to find relevant articles with links quickly right in the chat, again making your support team's life easier.
The multilingual support option is just a solid benefit. It ensures your knowledge base is accessible to customers from different language backgrounds.
In addition, we are already working on integrating artificial intelligence and will soon present new features.
Now let's move on to some specific examples from different industries.
Real-world examples and case study
a. Software as a Service (SaaS): knowledge base template for onboarding
Seamless onboarding and user assistance are crucial for customer success and retention. Using a well-designed knowledge base template for onboarding can make the process smoother and less time-consuming for both customers and your team.
For example, Asana is a popular project management software used by over 100,000 organizations worldwide. Their support portal's homepage has a clean and modern layout, making it easy to find their different support resources. Every article in the onboarding section is well-organized, with many screenshots and examples.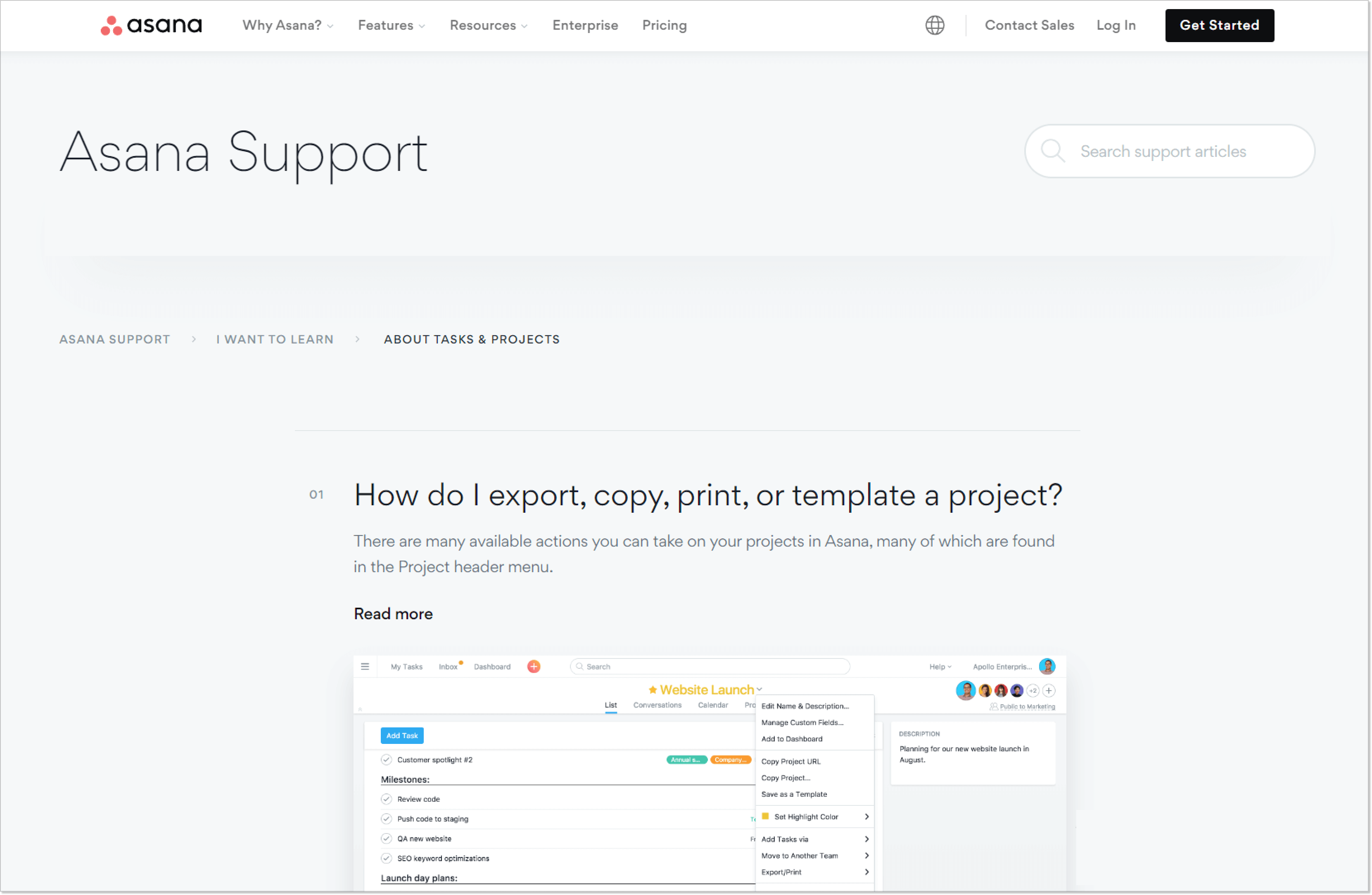 b. E-commerce: using a template for product documentation
In e-commerce, dealing with lots of products and detailed documentation can be a big challenge. Creating all that from scratch takes a lot of time and resources. But there's a solution! A knowledge base template designed specifically for e-commerce can make things easier and improve support. Don't forget to add a search bar to improve the user experience.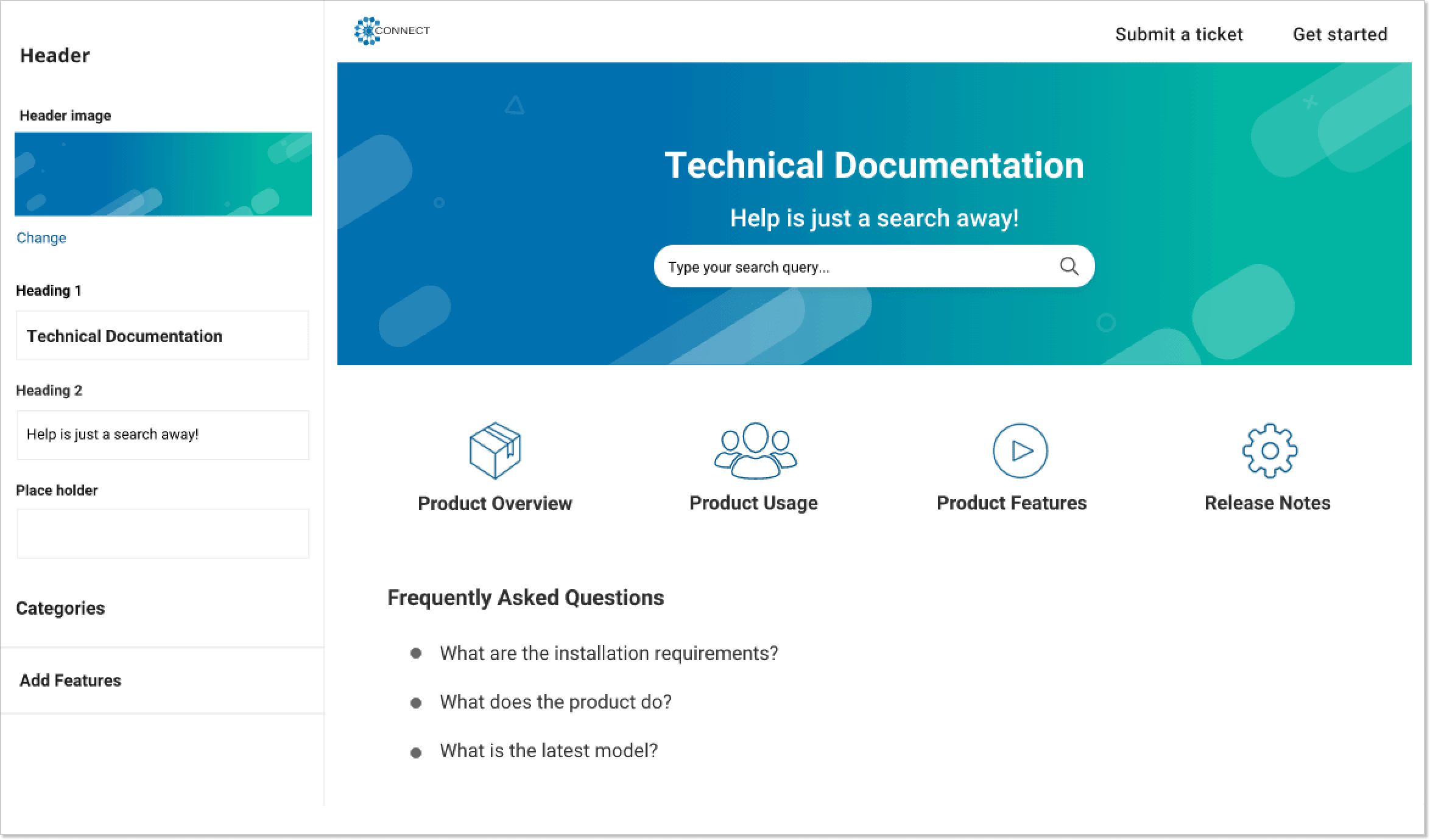 c. Technical support: applying a template for troubleshooting
In technical support, addressing complex issues, such as problems with a credit card, requires precise and consistent documentation. A knowledge base template tailored for troubleshooting can enhance problem-solving capabilities.
If you want to see some examples of troubleshooting articles, you can check out Khan Academy's help center. They have a whole category dedicated to troubleshooting and bugs, with lots of helpful articles with links on fixing common technical issues.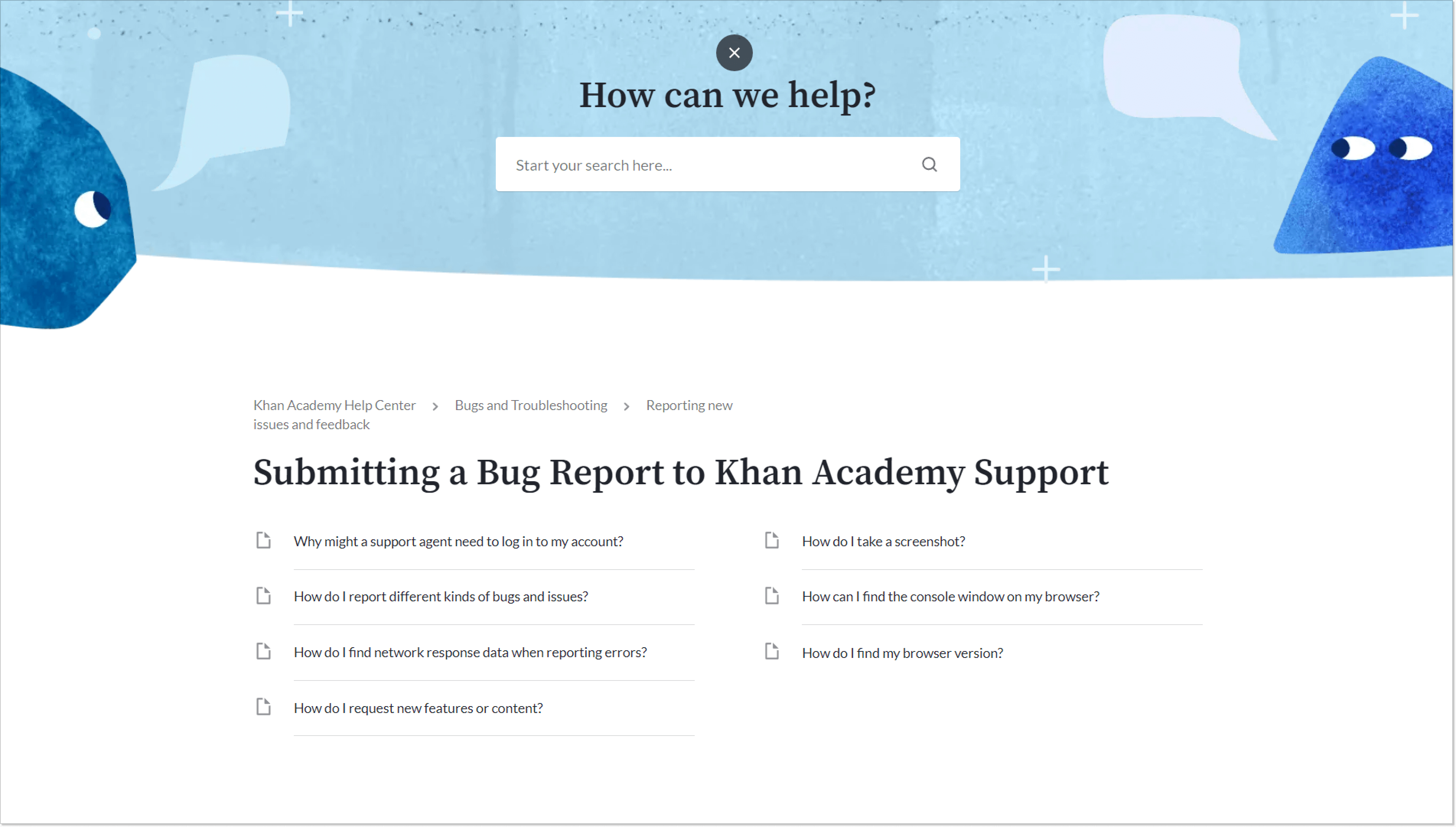 Summarizing
Now that you know the score, time to actually create effective articles using one of our knowledge base form templates. But remember that there is no one-size-fits-all option. Everything is up to your company's image, the content you want to shape, and the goal to achieve.
Not to waste another minute, look at HelpCrunch – a platform to build exceptional customer experience using only essential tools. With our text editor, you will forget the words "generic," "scattered," and "hectic." Create a free account to start building the knowledge bases of your dreams (a 14-day trial, no strings attached).
FAQ
How do you organize KB articles?
When writing knowledge base articles with links, stay focused and avoid adding extra stuff people don't need and will not be searched through search engines. Talk to your customer service team about the usual questions they get and how they answer them. This will help you make clear and valuable FAQ sections. Use labels and tags to organize the articles by topic and keywords, so users can easily find what they want.
What is a knowledge base for customer experience?
A knowledge base is like a helpful library with articles, guides, and FAQs about a product or service. It has all the necessary information to understand how things work and fix any problems you encounter, which greatly helps to improve the consumer experience.
Why is it essential to develop a consumer knowledge base?
Creating a consumer knowledge base is crucial for many reasons:
Helps people find answers independently, anytime.
Reduces support costs by cutting down on repetitive inquiries.
Improves customer satisfaction with quick and relevant information.
Demonstrates expertise and boosts brand credibility.
Streamlines onboarding and training for complex products.
Encourages self-service, increasing engagement.
Supports business growth by handling more inquiries efficiently.
Provides valuable user insights for improvements and support strategies.
How do you share knowledge with clients?
Here's how businesses can effectively share knowledge with their clients:
Send newsletters: Keep your clients informed with regular newsletters containing updates, industry insights, and valuable tips. It's a great way to stay connected with them.
Conduct webinars and workshops: Host interactive sessions on specific topics related to your industry. Clients can learn from experts and ask questions in real time.
Use social media: Share informative content like blog posts, infographics, videos, and industry news on your social media platforms. It helps you reach a broader audience and engage with clients.
Host Q&A sessions: Organize live Q&A sessions or forums where clients can ask questions and get immediate answers. It encourages knowledge-sharing among clients.
Develop e-books and whitepapers: Create detailed resources on topics of interest to your clients. These e-books and whitepapers can be valuable references whenever they need guidance.
Use knowledge bases:Create a knowledge base to share articles with links and information about your business and product with clients.