Writing a Well-Oiled Knowledge Base Article: Things to Consider First
So how to write that brilliant knowledge base article eventually? We tell you how!

You've probably read the title and thought: "What is, in fact, a well-oiled article? Is it even the case for help centers?" Actually, it is. With comprehensive actionable content and inner links that lead to additional relevant posts, a reader will have no further questions after reading your text.
Interested?
In this blog post, we will provide you with 5 steps that can help you to create a successful knowledge base article.
What is a knowledge base article?
In short, this is a piece of detailed helpful information that you can immediately apply. It usually features a step-by-step guide about a product to teach users something or to help them solve common problems. We call it an 'article', however, it doesn't necessarily have to be written. You can share video guides, images, or infographics to demonstrate your point.
Why is creating effective knowledge base articles tough?
Firstly, you need to talk about complex things in simple language. Recall that famous quote from Einstein saying: "If you can't explain it to a six-year-old, you don't understand it yourself." To describe multistage instructions for installing or configuring the software clearly, a subject-matter expert must know the product from head to toe. And not every member of any team can boast of this.
Secondly, knowledge base content should speak to a range of different people, from complete beginners in tech to geeks and experts. While using simple language, it can't sound like you are talking to dummies yet providing a quick solution to them. For instance, if you're writing about knowledge base settings for SEO, skip the SEO definition. In this case, assume that readers already know it, since they are looking for setting instructions.
Thirdly, the knowledge base has to cover all possible topics – anything that your customers may need help with or issues that they might run into. To do that, companies usually start with in-depth research of any road bumps on a customer journey. Also, they take into account FAQs.
Ok-ok, so where to start, you may ask? It's always better to start from the beginning.
Types of knowledge base articles
Like almost everything in this world, so can the texts for a help hub also be different. Some common article types that you might come across are:
How-to articles or step-by-step instructions
This kind of KB article template describes the steps a user should take to accomplish one single action or task. It usually answers questions that start with "How to…": 
"How to install the widget?"
"How to change the color of the interface?"
"How to reset the password?" etc.
As it follows from its name, a troubleshooting article offers a comprehensive guide to a particular issue that a user is struggling with. It addresses not a question, but rather a specific problem like:
I noticed unauthorized activity in my account
Can't sign in from a third-party service
Don't receive a verification email
These quick posts are made to give answers to the most common questions your customer base might be so curious about (McDonald's has developed them with flying colors). You can break all those questions down into sections—billing, account setting, or reporting—and share answers in blocks:
Product descriptions and informational articles
Product and informational content offer an educational overview of service, system, concept, or functionality and are not intended to help customers solve an issue at all. It usually provides background information that assists readers in better understanding the product or service offered.
5 easy steps to create a knowledge base article
Think about your audience
Content in KB, like customer support in general, needs to be tailored to your clients. It means that the language, the manner, and the article itself should speak to the target audience. Otherwise, the information you offer might be irrelevant or just boring to users.
By leveraging surveys, for instance, try to find answers to the following questions about your buying persona:
What aspects of your product or service are the most challenging for the users?
How do your customers feel about the lively manner of storytelling spiced with a handful of humor in KB? Or do they prefer concrete info, without further ado?
What format of supporting content do they prefer – written text, video, audio, or infographics?
How technically savvy do they consider themselves?
Without knowing your audience's preferences, your knowledge base won't be able to fully cater to their needs and wants.
Hypothetically, you may already know a few answers to the questions listed above as part of your marketing strategy. But if not, no worries. There is no harm in surveying some of your users when building your knowledge base. When the tool is ready, release a 'beta' version first to a selected number of customers. It can help you improve the content, and the format and spot the areas for refining.
Build the knowledge base content structure
Ok then. Now you have all the information collected in one place. It's time to decide on the design and structure of your content.
Most of these begin with a traditional home page for the help center. This Canva example clearly displays how effective knowledge base materials should be organized.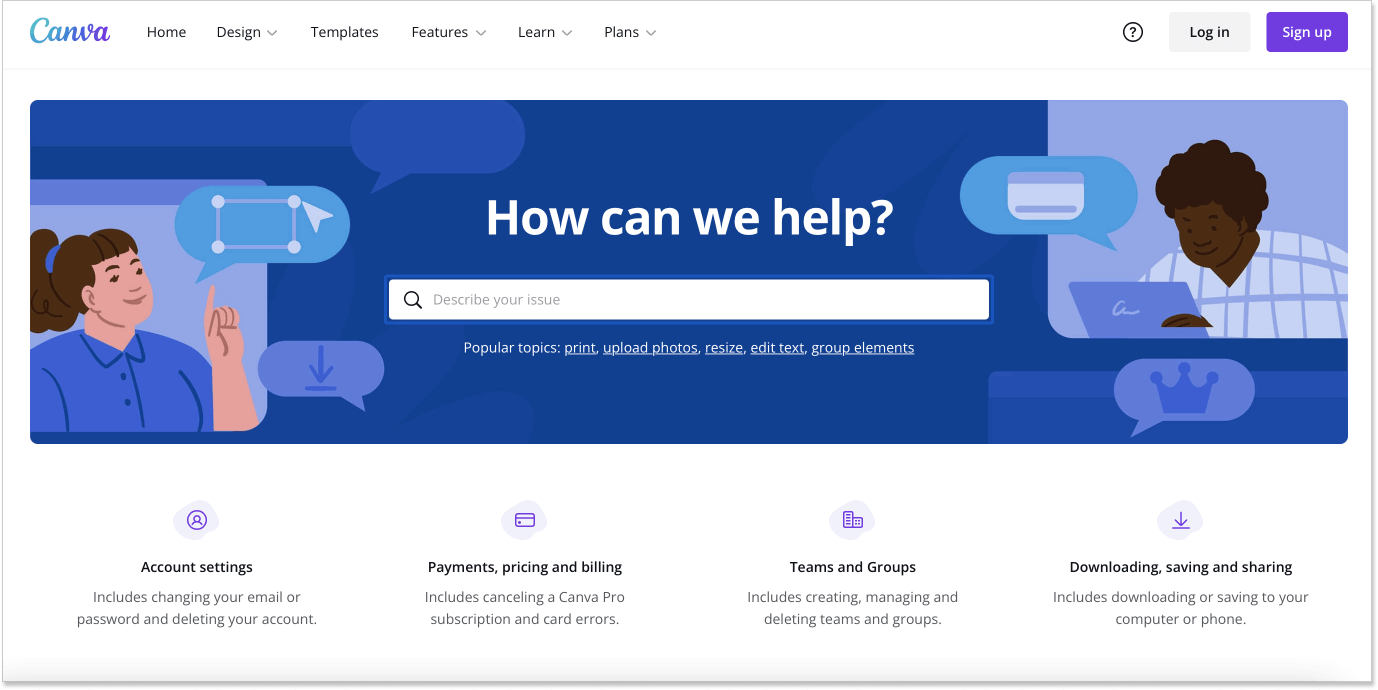 Canva allows users to describe a specific issue, navigate by categories ("Account settings," "Payments," "Downloading", etc.), or search by top articles.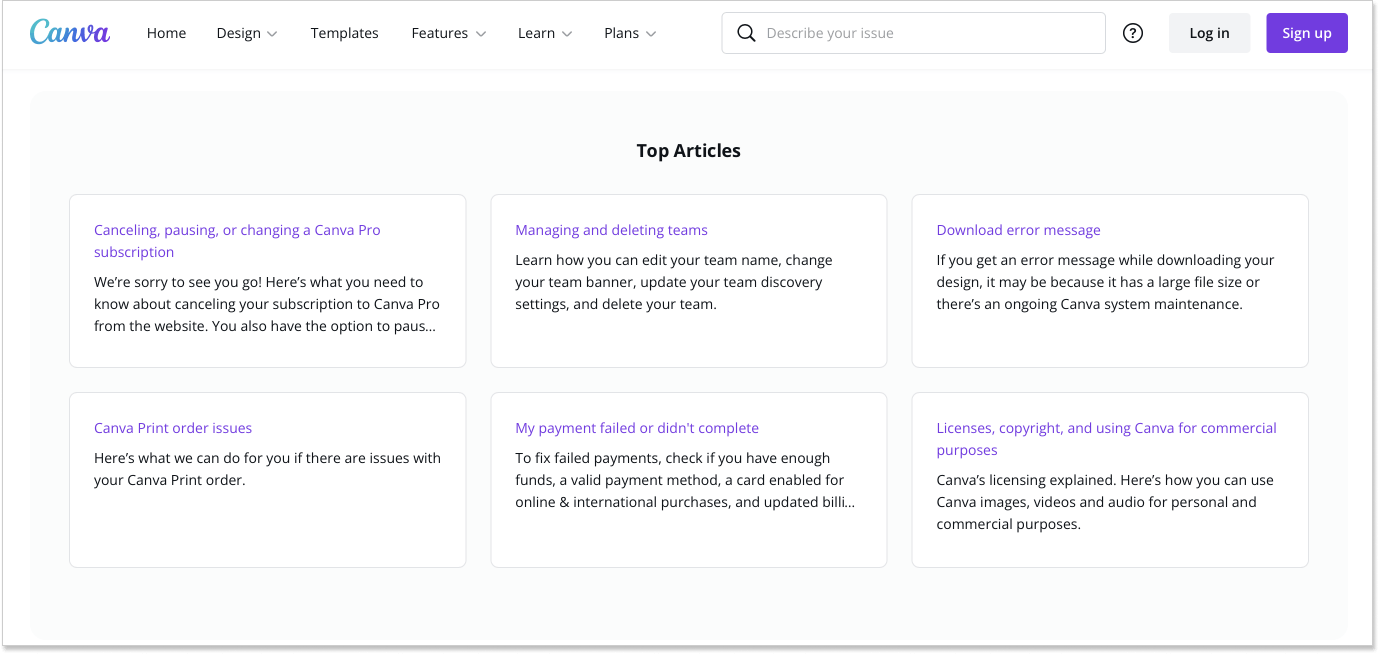 It's incredibly important to make your help desk page easy to navigate through. Ask yourself if a customer has a problem is it easy for them to find the solution? The focal points here would be:
Placing a search bar on the home page and making it noticeable,
Breaking down the content by topics,
Highlighting the most popular knowledge base articles,
Adding internal links to the related content.

3. Decide on your writing process
This is the moment when you finally take a pen, a clean slate, and start writing (or just a laptop for that matter). Let's eventually find out how to write a successful piece. Choose the type of article you want to write. Product description? Troubleshooting? How-to?
Then you have to come up with a headline. Unlike writing catchy titles for blog posts, you better focus on a strong and clear headline in KB that says plainly what the text is about. There should be no room for assumptions.
| | |
| --- | --- |
| Blog post title | Title for an article in your help center |
| The 5 best ways to attract customers you've ever seen | How to set up a proactive chat to attract customers on autopilot? |
Apart from that, there are a few more general rules for writing support content:
Be specific in your content. Say precisely what to 'click' step by step to get a wishful result.
Use visuals like images, screenshots, and infographics to explain a complex process.
Apply bullet points to break up the text and make it more readable.
Format the content. Use bold to bring readers' attention to a specific word.
Use symbols, like ">" to demonstrate a series of clicks in a single step.
In a nutshell, prioritize simple titles/terms and clarity over complexity and nuance in your pieces. A while ago, I would recommend you use AI Detector to make sure your KB writer is not using some AI writing software or paraphraser. As of now, the cutting-edge ChatGPT and AI techs will be in handy for all the writers out there 🙂

4. Optimize SEO
Have you known that an effective article can help you get noticed by Google search? Yes, it can and should. So, when writing for a help center, keep an eye on specific keywords. It's better to use prevalent terms like "build", "pay", and "set up" in your KB (they will vary depending on the context and the overall knowledge base content) to raise the chances of improving SEO metrics.
Some knowledge base tools allow you to fill in SEO data like title, meta description, meta keyword, social title, description, and image.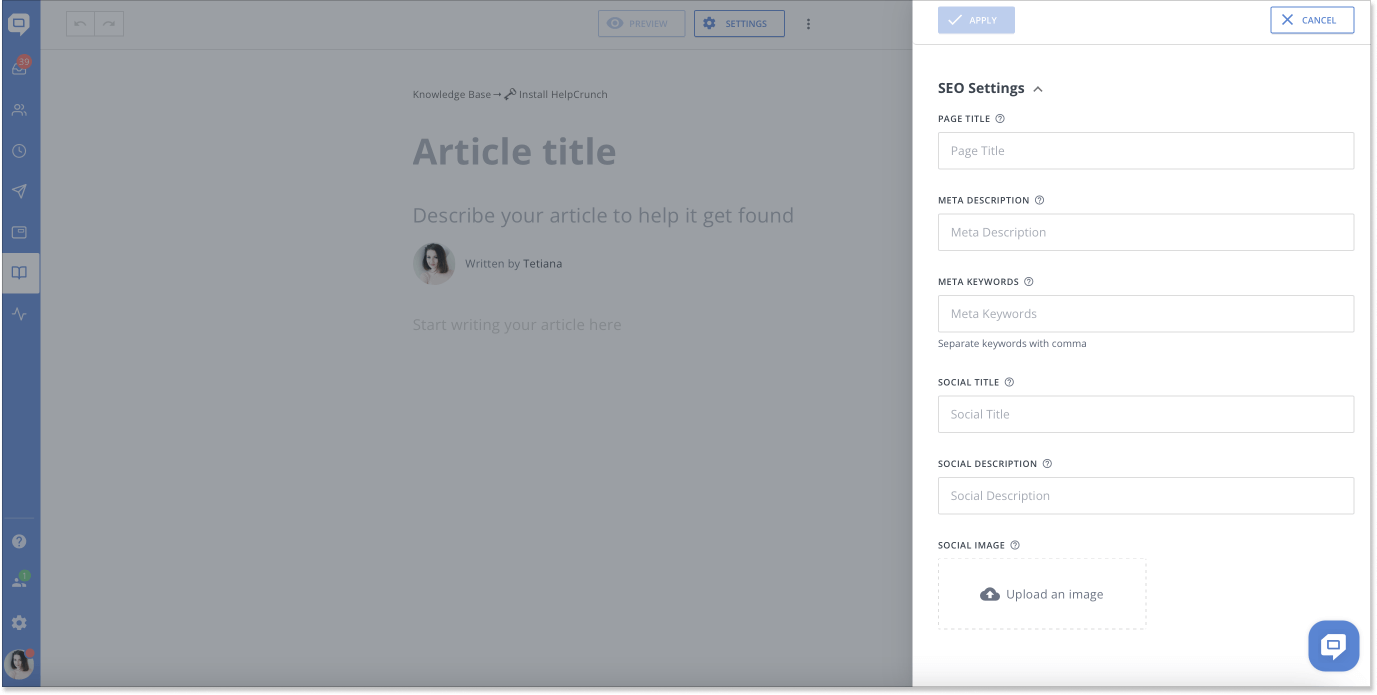 Make sure to include the keyword phrase in your title, URL, and meta description as well. It has a huge impact on whether you show up or not.

5. Choose the right tool
When you know how to create effective knowledge base content, just one question is left. What is the knowledge base best software that you can rely on? How to know which one is the best for you?

We at HelpCrunch love good customer experience. That is why we can not but briefly introduce you to our knowledge base functionality (that has all the chances to become your must-have feature). The HelpCrunch help center represents a modern and sleek WYSIWYG editor that will help you compose, store, monitor, and brush up on your collection of articles hands down.
Speaking of the key features you are about to enjoy, they are as follows:
Solid structure – create categories, sections, and well-written articles for improved user experience. By the way, you can use this functionality both for customers and as an internal knowledge base for your team.
SEO-friendliness – thanks to our editor mentioned above, you can easily embellish your guides with images, videos, and other materials so that your audience gets what they are looking for, and search engines would parse the content without obstacles.
Chat widget integration – let your customer support team focus on more complex issues and integrate your resource hub with the chat widget. This way, clients can find the sought-after answers on their own without jumping between the tabs.
In-depth reports – monitor the gaps in the articles search and act respectively if need be. As our help center is also multilingual, you can clearly check materials that have to be translated. Stay on the same wavelength with your users!
Of course, I highly recommend the HelpCrunch software, a customer service software platform. It offers just the right set of tools – live chat, a popup builder, a knowledge base, and email marketing functionality.
The most affordable plan starts from $15/mo per agent, and it does include the knowledge base. On top of that, you can easily add a help center option to the live chat widget. So that users can choose to either turn to an agent or find the answer themselves faster.
Now, with all the knowledge base article examples on your hands, would you be interested in actually developing one?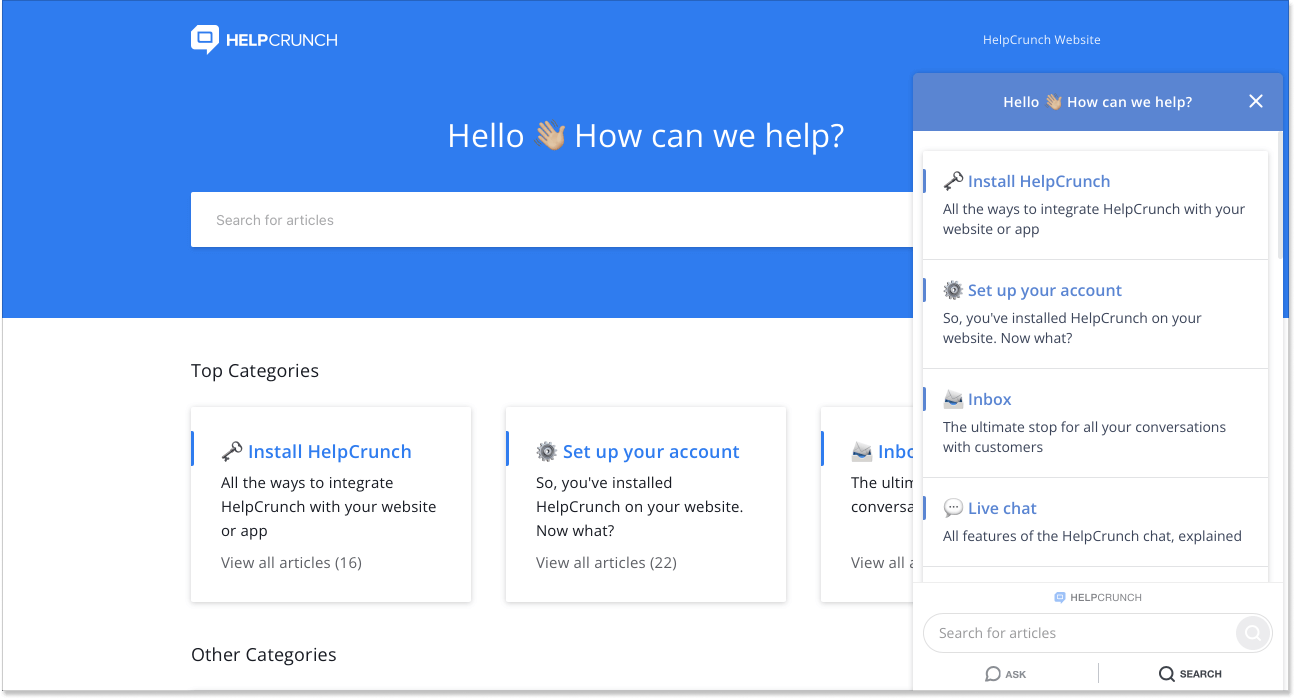 What's next? Reviewing and updating knowledge base articles
Content relevancy is the number one priority when it comes to knowledge base posts. You may have a brilliant writing style and amazing pictures to illustrate your point, but if it's not relevant you may lose the client right away.
To not miss the next article update, keep track of past and upcoming feature releases in a task manager like Notion or Trello.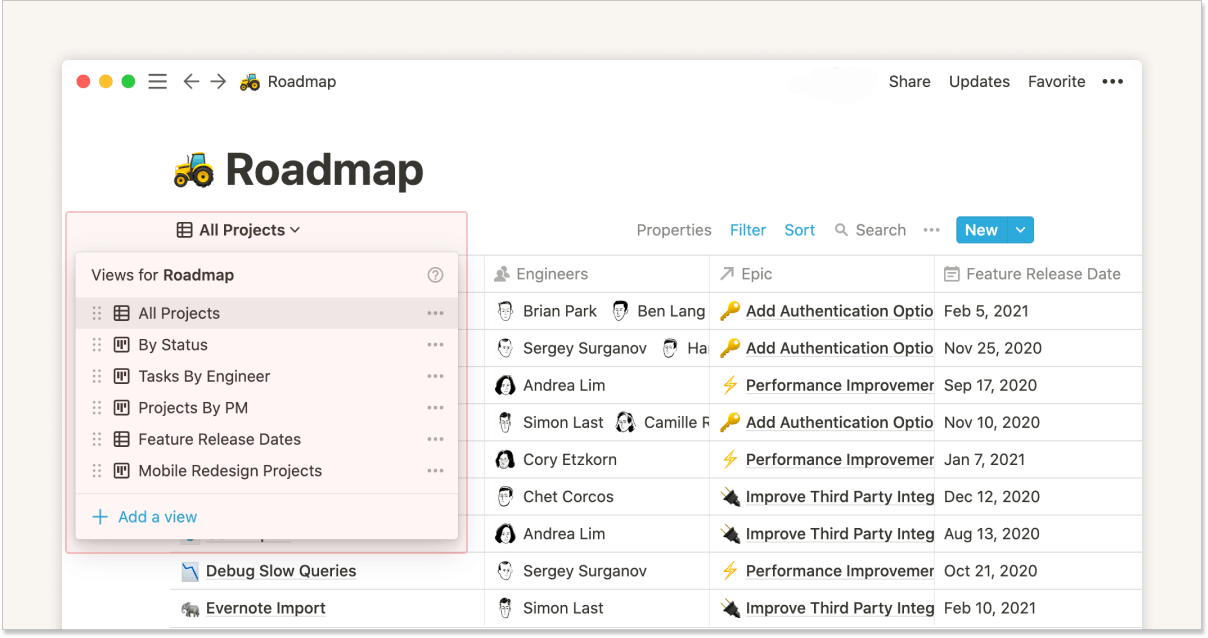 This way, it will be easier to refresh the content on time as your product or service gets enriched with new functionality. Also, avoid repeating the same information in a few different articles. It's just a bad tone.
Think about assigning the knowledge base to a specific person who will be responsible for writing articles and updating them. It can be a person from your customer success team since they are the ones to know exactly what users like, dislike, and look for.
Another question is how do you know if users are happy with your knowledge base content and leaving it with their problem solved and questions answered?
There are two main ways to measure the effectiveness of the content on your help page.
First, include simple surveys at the end of each article. These surveys are usually really quick and ask a reader to answer just one question – "Was this article helpful?" Beneath, you can add a few emojis or thumbs-up/thumbs-down icons, so users can just click on one of them. After that, in the Report section, you will see how well each article performs.

The second way to tell if your KB is effective is to provide an email address, live chat widget, or a phone number for users and encourage them to get in touch for further questions. If you get plenty of messages/calls, then probably you need to work on the help page more.
But I'd say that the first approach is definitely more effective. Many people avoid reaching for customer support. So, if users don't like the article, they may just leave the page without ever contacting you.
Promoting and integrating your knowledge base
Now, when an article is written, it's time to distribute it across different channels. You can definitely use it to support marketing content (on social media, for instance), demonstrate on success calls with customers, send newsletters, or refer to it in blog posts when explaining a complex concept. Not only does this approach provide a more in-depth explanation of the term, but it also illustrates your product in action.
I do not mean to brag but here is the thing: you can make your explanatory content go round and round without your assistance. How? Just integrate your HelpCrunch help center with the chatbot – it will do the rest. Every time a user comes in with a question, the bot can send them relevant materials in a matter of seconds.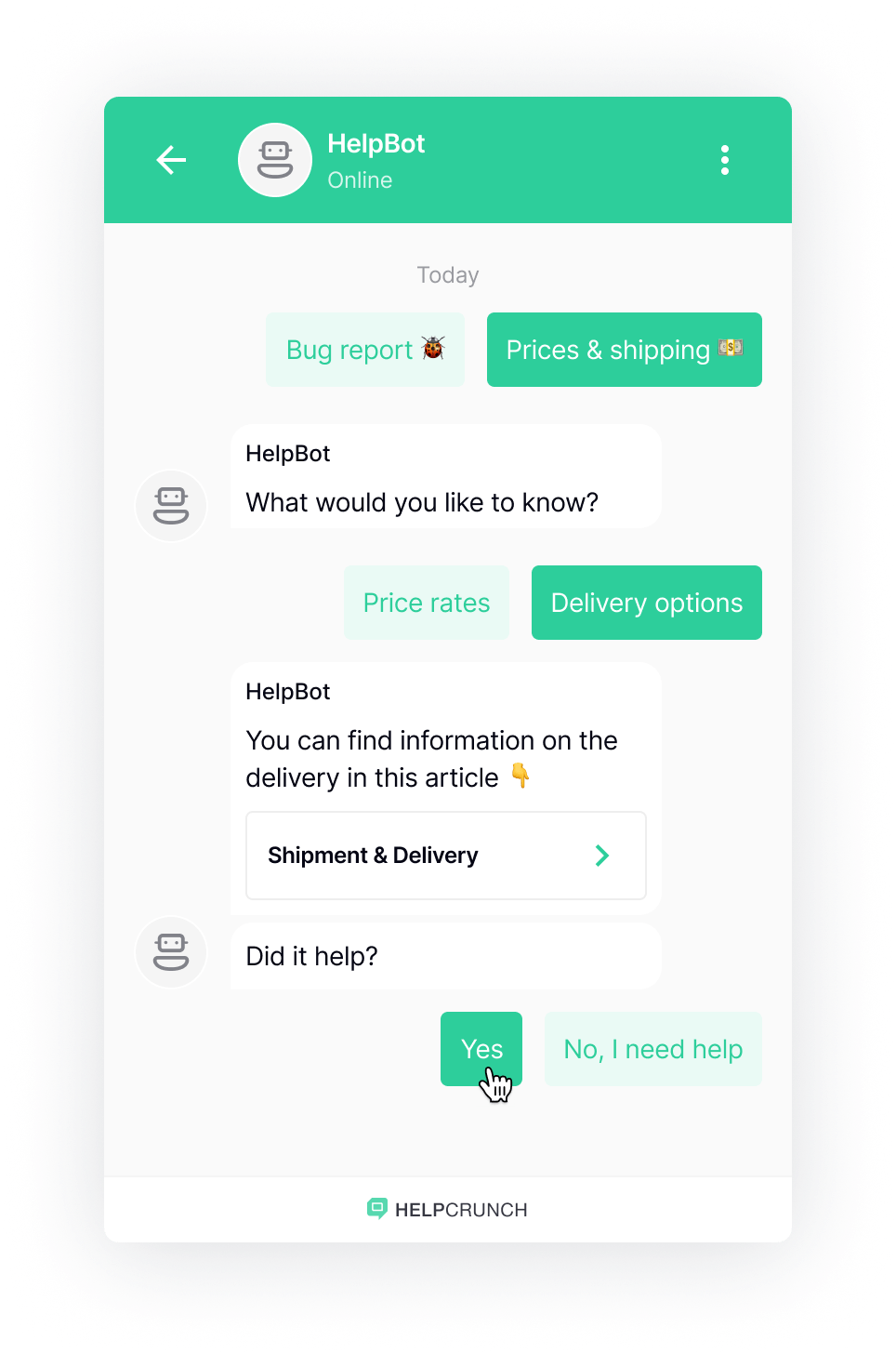 Best knowledge base articles examples
Get knowledge and inspiration from the best templates. We've collected some knowledge base examples to ignite the fire of your creativity.
The app designed for note-taking explains how to get started with the tool in three quick steps. It's simple, short, and to the point. I especially like how they divided actions by different types of software customers may use.
When you just enter their help page, you immediately notice their engaging illustrations near each section. Moreover, a little communication window pops up in a few seconds asking if you like their new knowledge base.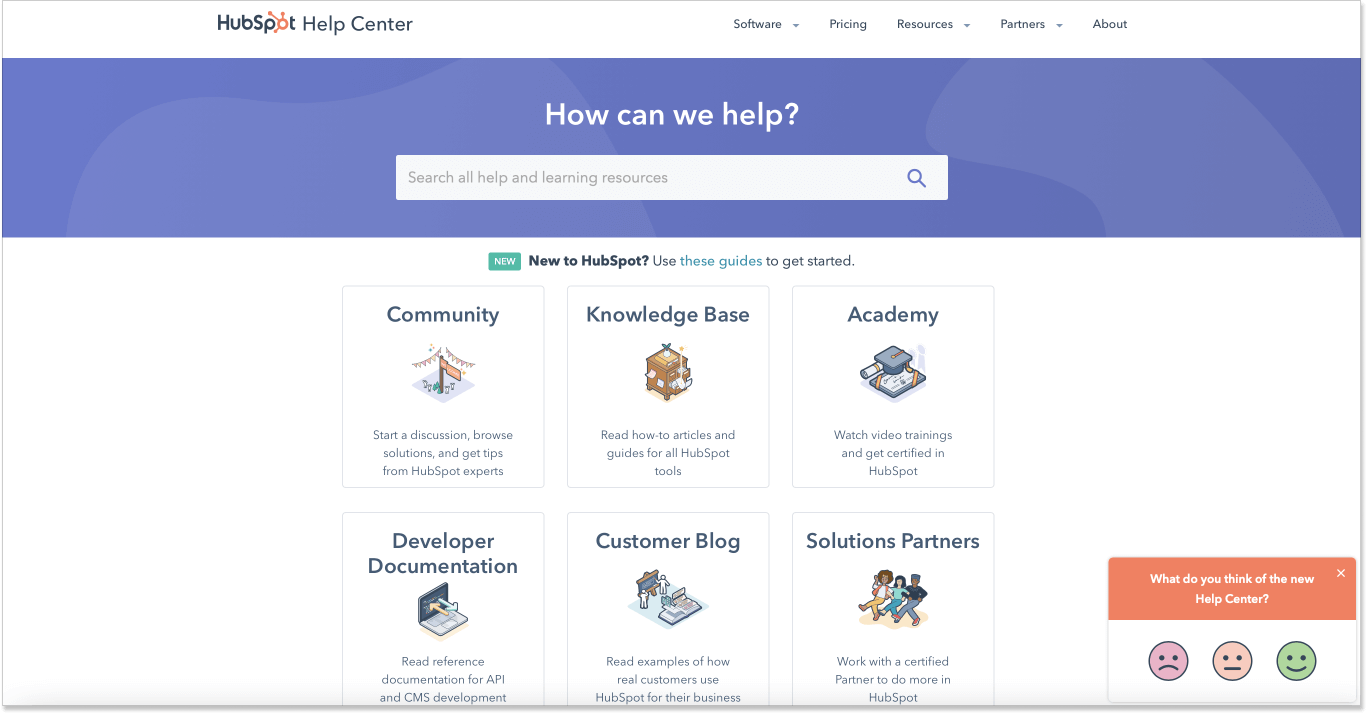 A HubSpot's help article on how to set up notifications is not that entertaining. But still, it does explain the process, includes screenshots, bullet points, bold text, and related articles section which can help a reader to find additional information.
The world-known tech giant is also paying attention to the effectiveness of its resource center.
For example, below you can see an example of their article with the headline "Set up family sharing". Here you can see screenshots, and step-by-step instructions depending on the gadget you are using – iPhone or Mac. Throughout the text, you can find links to related content. In the end, there is a little survey to learn if the content was helpful.
Also, the company offers readers to go to the Apple community and ask questions there to discuss issues with other users.
Takeaways
To write a self-service article that answers every customer service question, you need to use simple language, provide actionable information on how to fix the issue and include internal links to the related content. Then your customer will leave satisfied and with no questions on their mind.
What else you need is a great knowledge base software that allows you to fulfill your ideas and provide stable support content to the users. We recommend HelpCrunch as a reliable knowledge base tool that among others offers functionality for support, marketing, and sales. Start your 14-day free trial now, put knowledge base article examples from this blog post into force, and see what I am talking about.